Sometimes I love Mondays!
18/05/2019 - 18:16
Do you ever go to a place for a wander and find that the rest of the World simply disappears for a while?
I have a few places I visit where that happens and for a few hours (or sometimes days) I get to, for want of a better phrase, 'bathe in Nature', simply to be absorbed by it, watch and be amazed by it and just to enjoy sights sounds and smells.
The other Monday, I spent a good while at RSPB Lakenheath, which I'd not visited since last summer. It was simply the loveliest way to start the week….
Having driven past a flock of photographers readying themselves to watch roaring metal birds, I stepped out of the car and into a haven of birdsong. Nearby there were small birds chattering and off in the distance a Cuckoo was calling. I decided to have a wander along the riverbank that overlooks Brandon Fen, so set off along the family trail, coming to a clear area, where a Green Woodpecker flew low across the grass and clung to the base of one of the trees, quickly shimmying behind the trunk. As I looked past the trees, some way ahead I could see a russet brown something bouncing amongst the vegetation, before it wandered further out into clearer view – it was a Muntjac.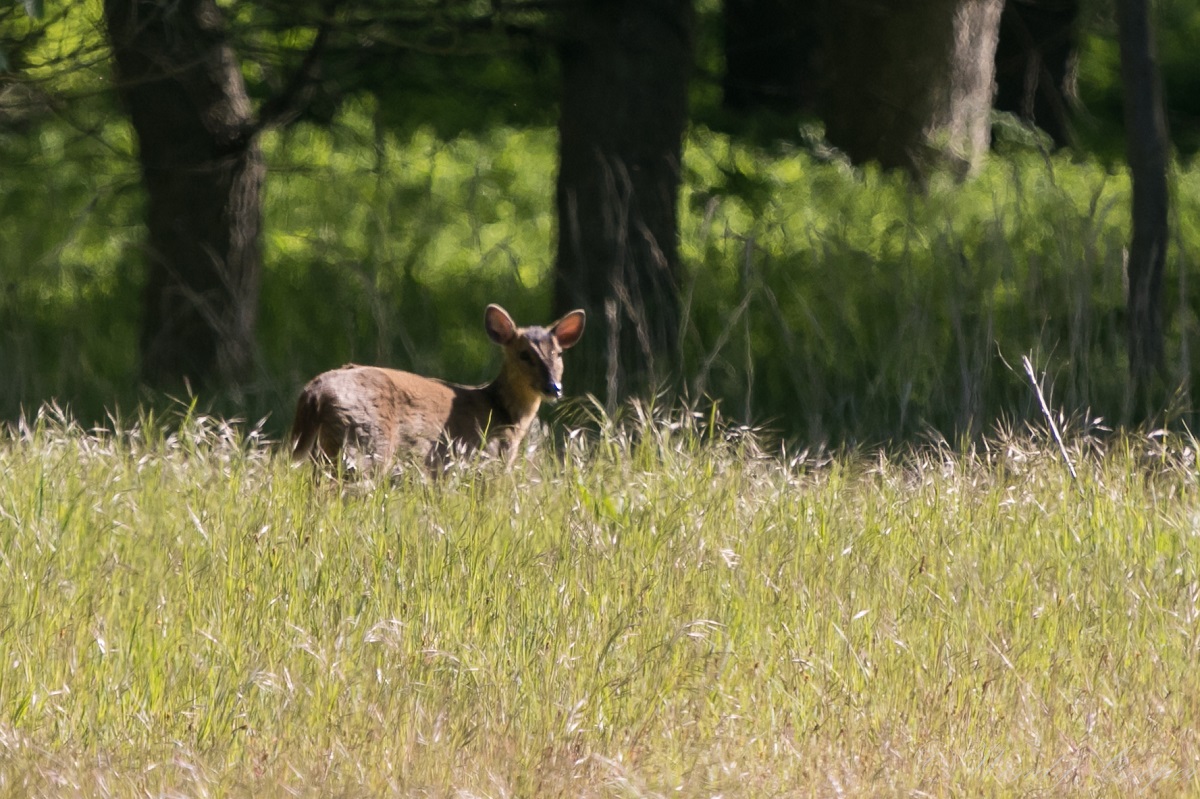 I watched for a while before it morphed into the fresh greenery under the trees and carried on walking, peering to my right through the trees in case it reappeared. Just ahead of me, a loud and familiar chorus rang out, watching low branches, I found the singer and was rewarded with a private audience with a Wren – also being treated to several more stanzas of song as well.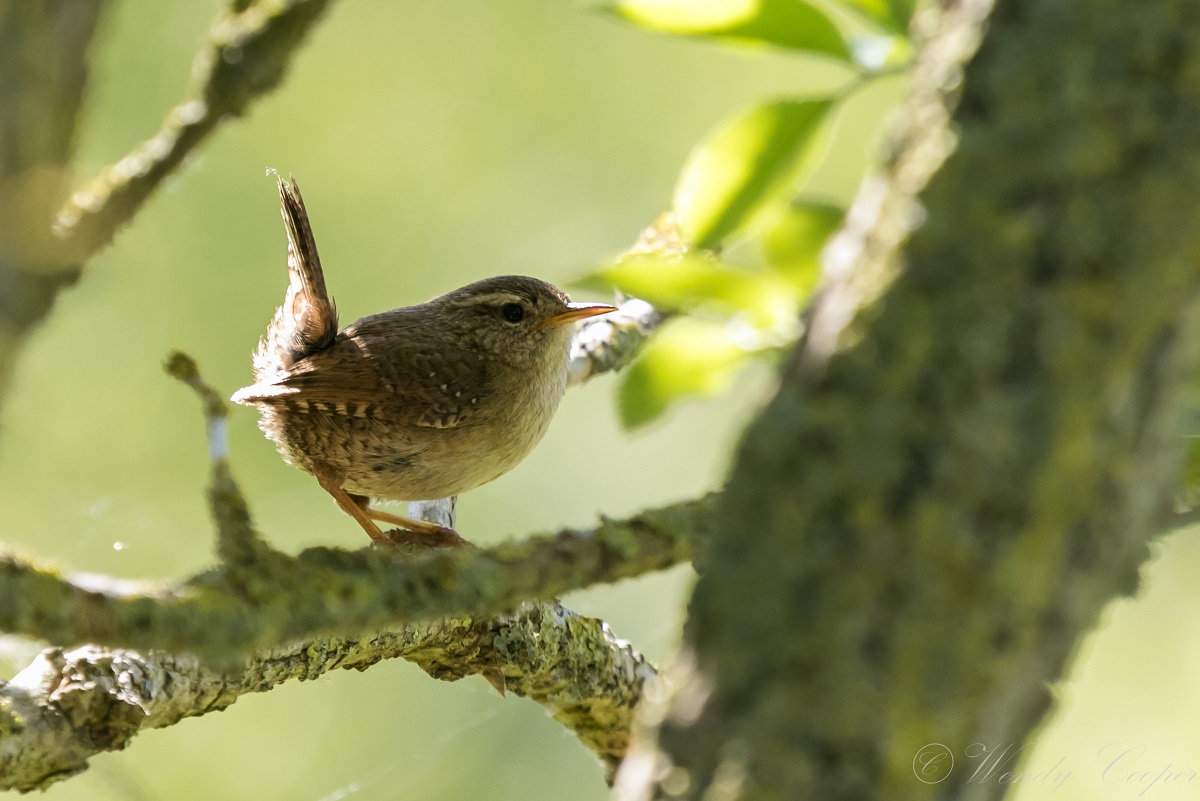 Walking on, the Cuckoo was still calling off in the distance and as I reached the riverbank, the reedbeds were full of Sedge Warblers – an out of sight choir all singing away in the depths of the reeds. From time to time I could see them flit through the reeds, but none were feeling bold enough to take the lead song high up.
Looking further afield, I heard, then caught sight of an Oystercatcher as it flew over to the Washland and there was a fast high flyby from three Hobbys. The Cuckoo was still calling and I could hear another calling from a different direction as well. Wandering on, enjoying the azure blue sky, fresh emerald greens of new foliage and the bleached blonde of the reeds, I heard a 'question' being sung.
Scanning over the reedtops, I spotted the questioner, a male Reed Bunting. For a while he perched up high being blown back and forth by the breeze before he found a more secure and comfortable perch on a sturdy fluffy reedhead.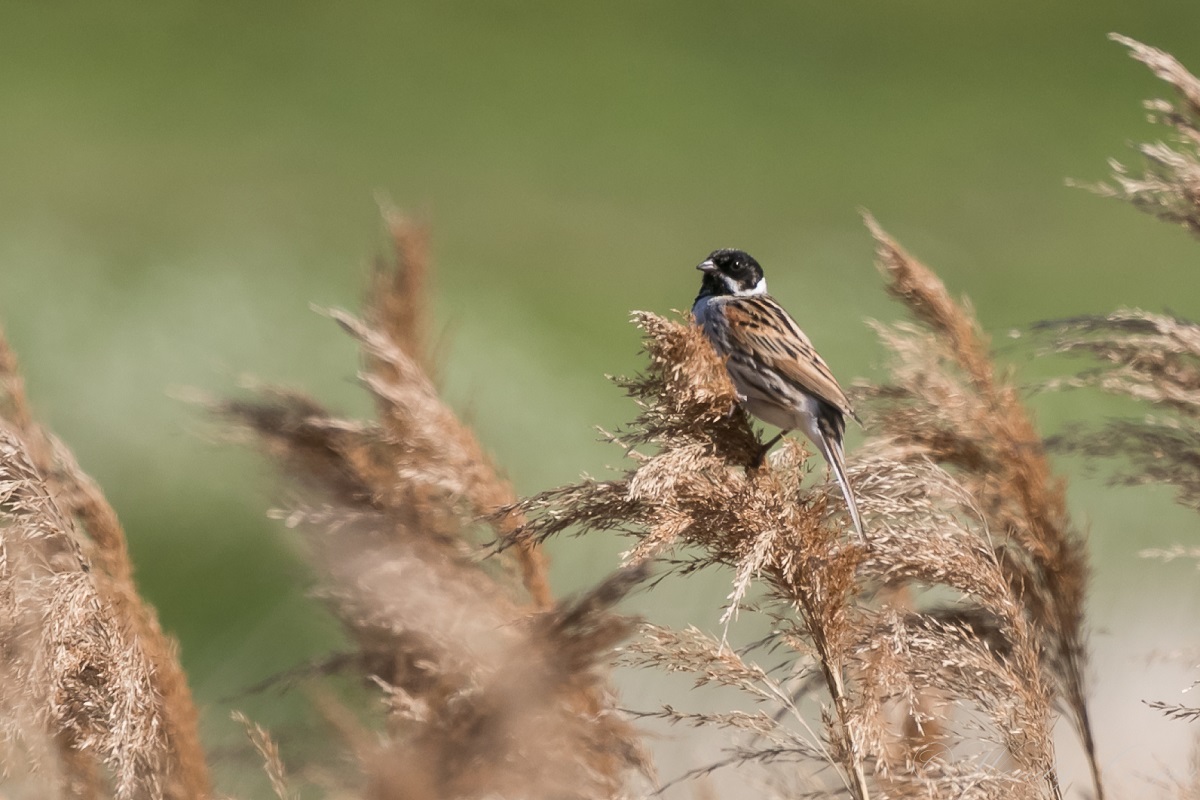 He stayed put a while, before flying off on Bunting business. Looking along the curve of the river, which was a smooth reflection of the sky and bordering greens, a Mute Swan was serenely gliding along.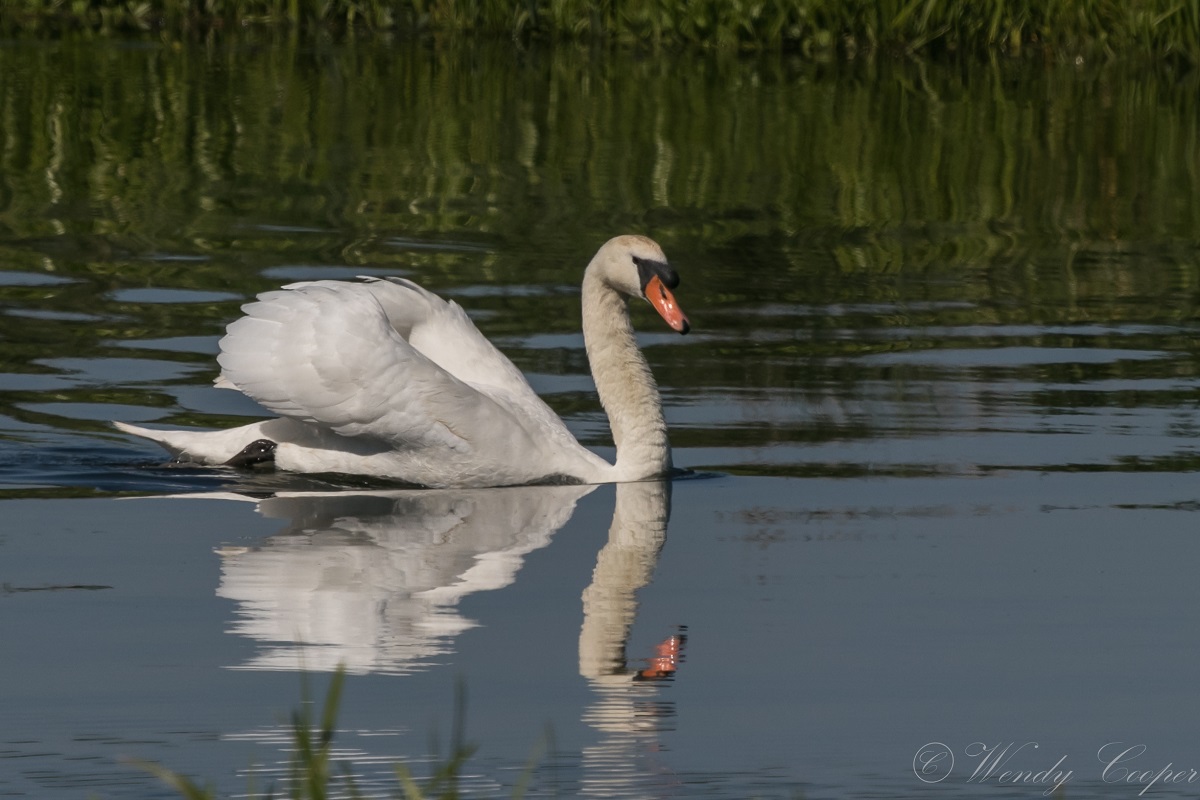 Further along in the reeds, I heard another 'question' and looked carefully… another 'secret' Reed Bunting, perched importantly and calling, before flitting off on important Reed Bunting business.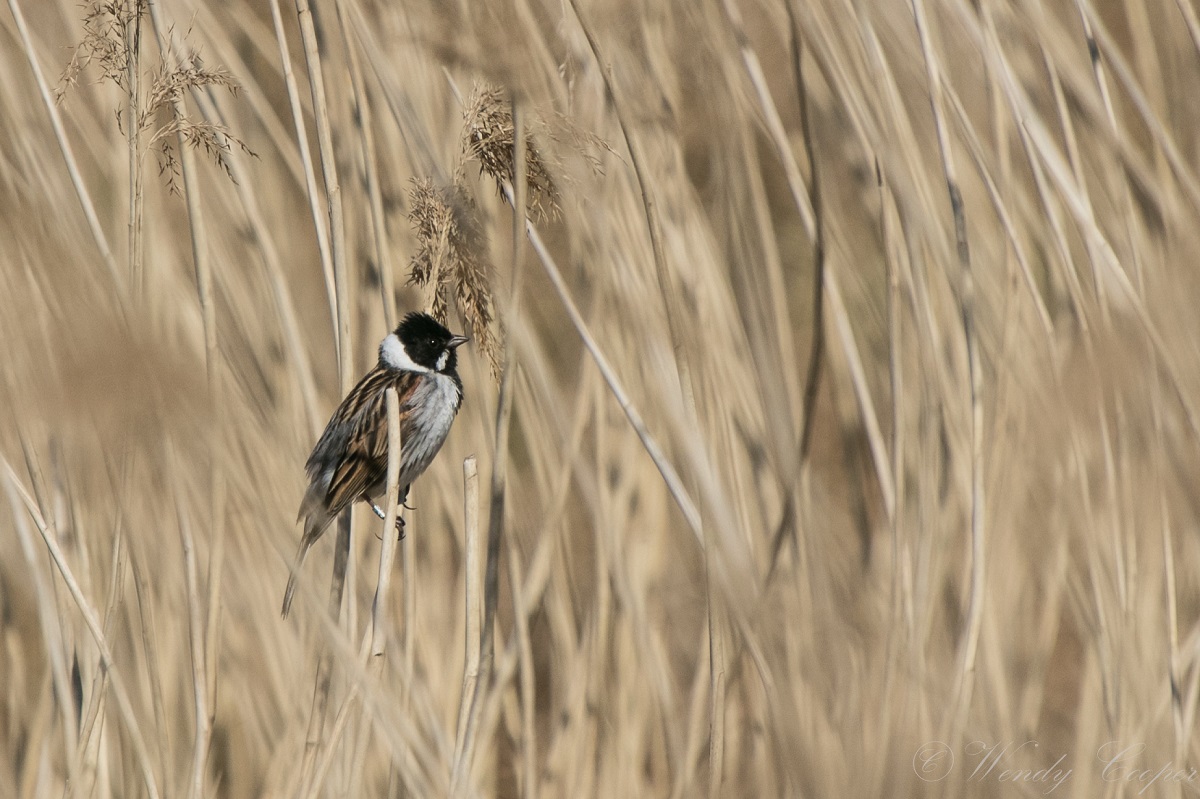 Leaving the riverbank, I then began to follow my usual path parallel to the riverbank and alongside the East Woods. After stopping by the visitor centre, where a Moorhen was overseeing the pond,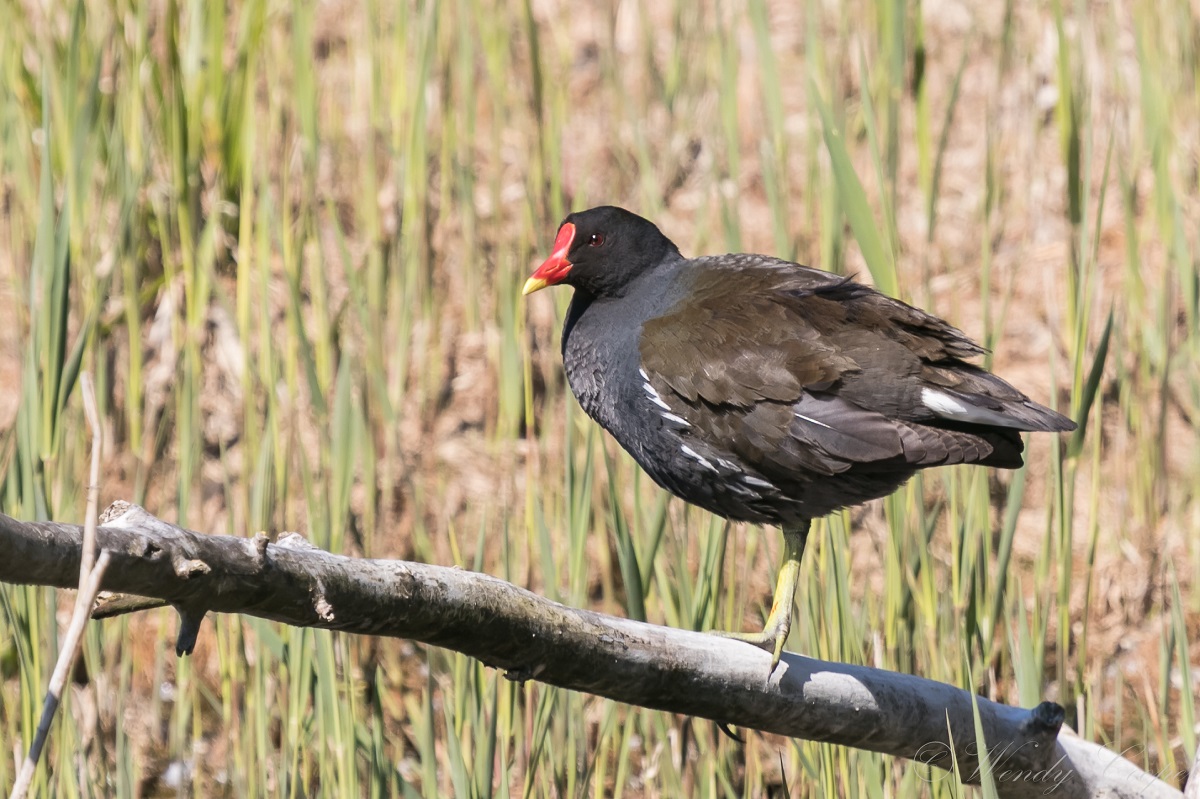 I wandered along enjoying hearing Wrens, warblers and far off Cuckoos calling; pausing at the photography station to see if anyone was about, I was treated to watching a couple of Moorhen chicks wandering and looking for titbits – Mum could be heard nearby telling them to watch their step!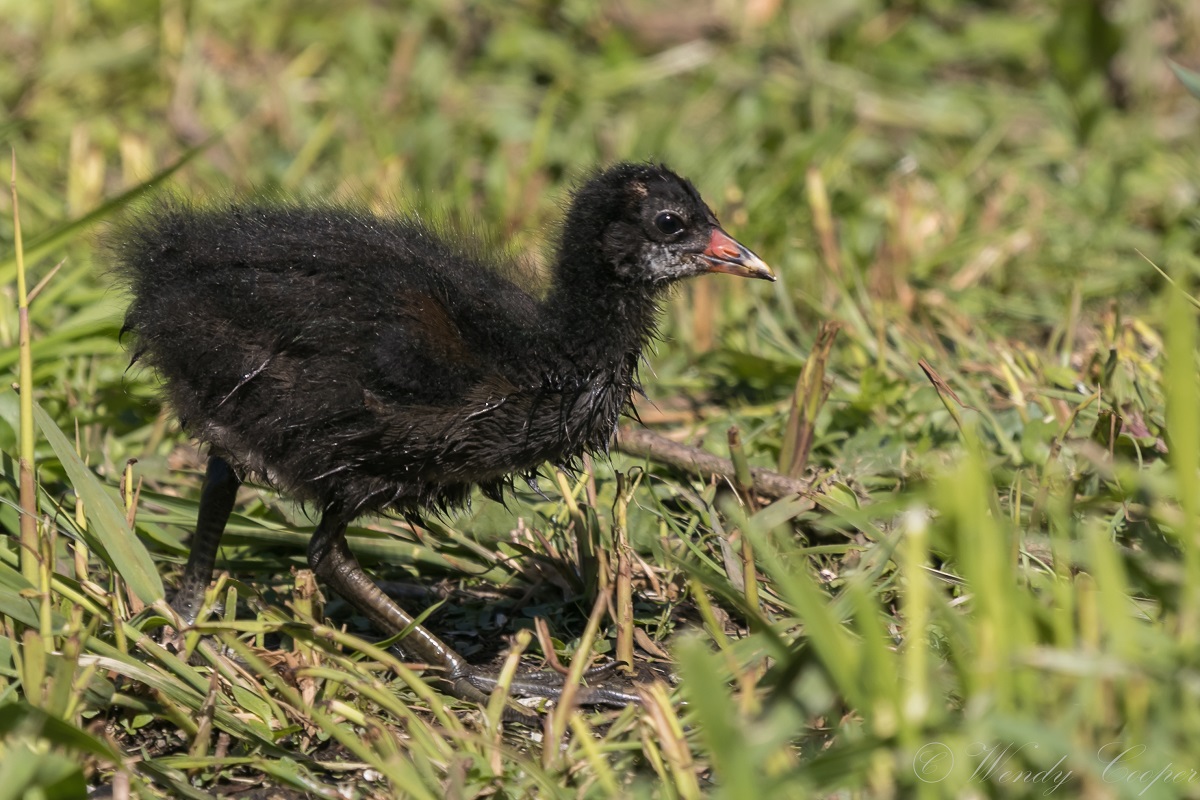 A bit further along the path, I was loudly serenaded by a Cetti's Warbler, which despite my best efforts at peering through branches and staring at the trees, peeled several times but never did appear, occasionally Wrens would declare and then flit, I caught the occasional strains of Whitethroat song, whilst from high up in the poplars, the Crows were having a leisurely but noisy gossip and stretch of their wings.
From time to time I was hearing a song new to me – like a high pitched 'churring'. Having glimpsed a few distant flittings along the edge of the reeds behind the poplars, I paid closer attention to a small bird balancing on a reed at the edge…
Careful, albeit puzzled listening and several moments of peering through the binoculars, plus a few photo's later and I realised I was looking at and listening to my first Grasshopper Warbler!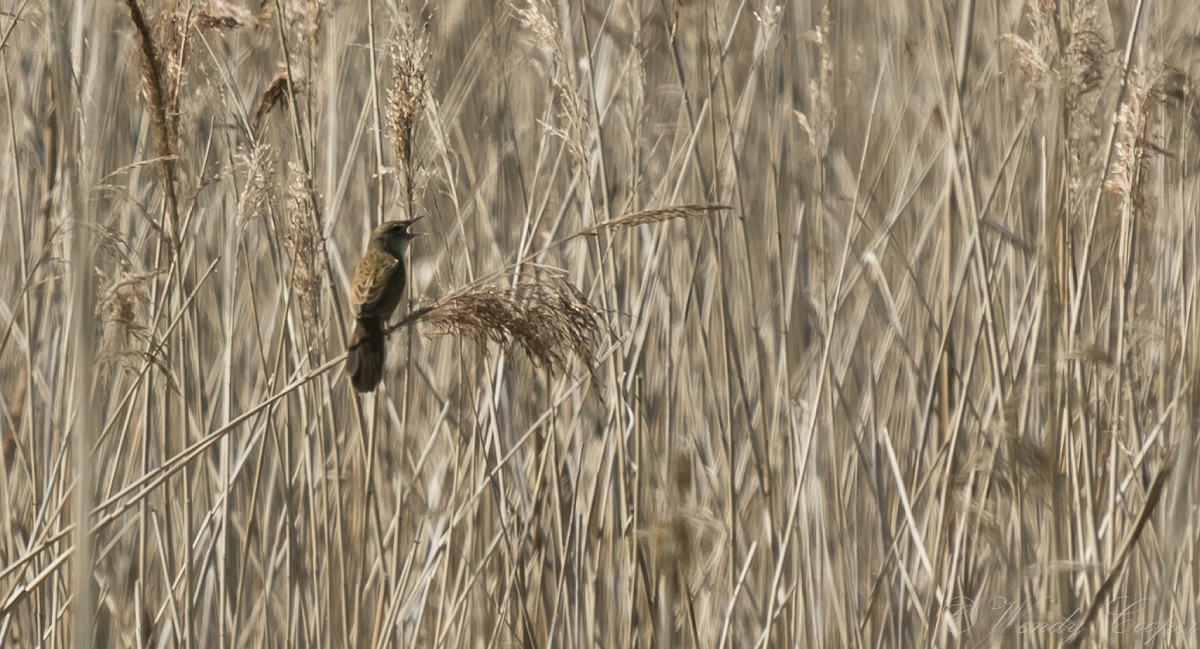 These are summer migrant visitors from Africa and South Asia. They do breed here and are more often heard than seen, preferring to stay undercover in rushes or dense grassland.
The Grasshopper Warbler decided after a while to retreat to the sanctuary of the reeds, so on I wandered, with a few Peacock Butterflies occasionally fluttering past, a furious flyby and return by a Small Copper, who paused and glared at me momentarily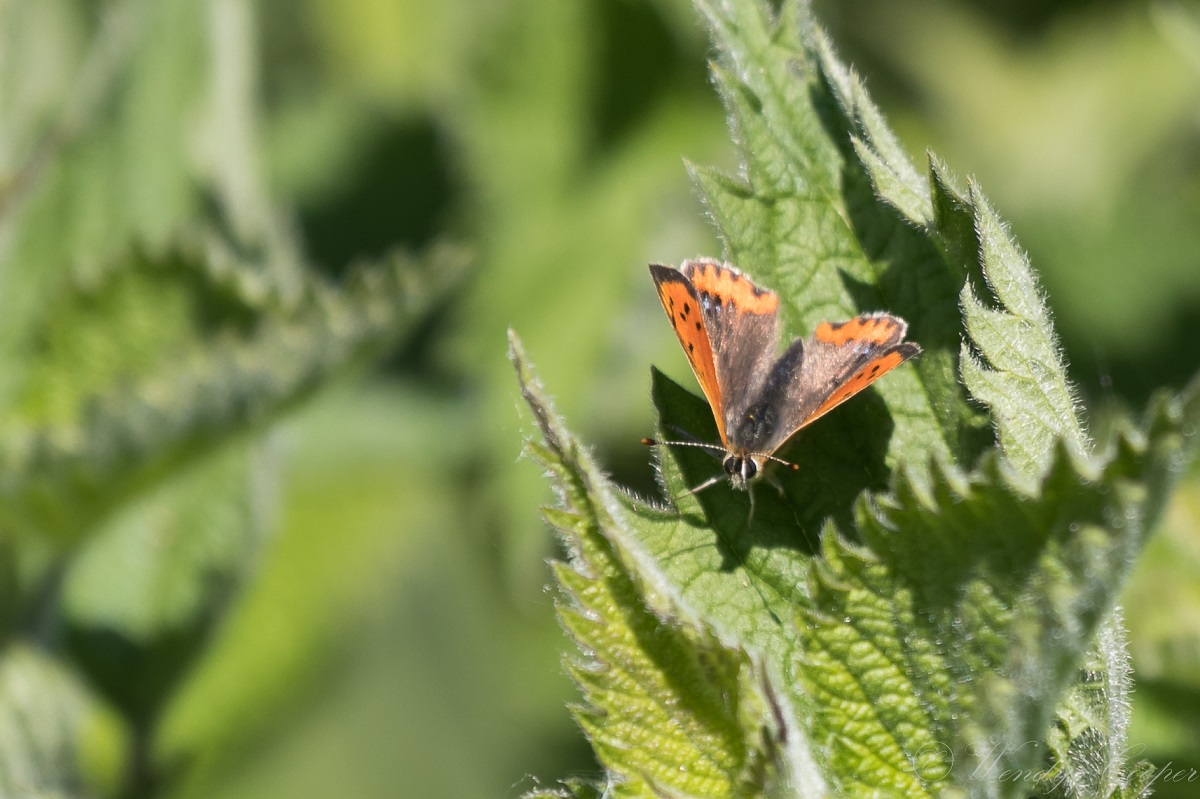 and further taunts from another Cetti's Warbler and a Chiff Chaff chiffing away as well as a few chorus's from a Whitethroat, who also stayed well hidden!
I made my way along to the New Fen viewpoint, pausing along the way to watch a Coot feeding two youngsters and a rather smart pair of Tufted Ducks.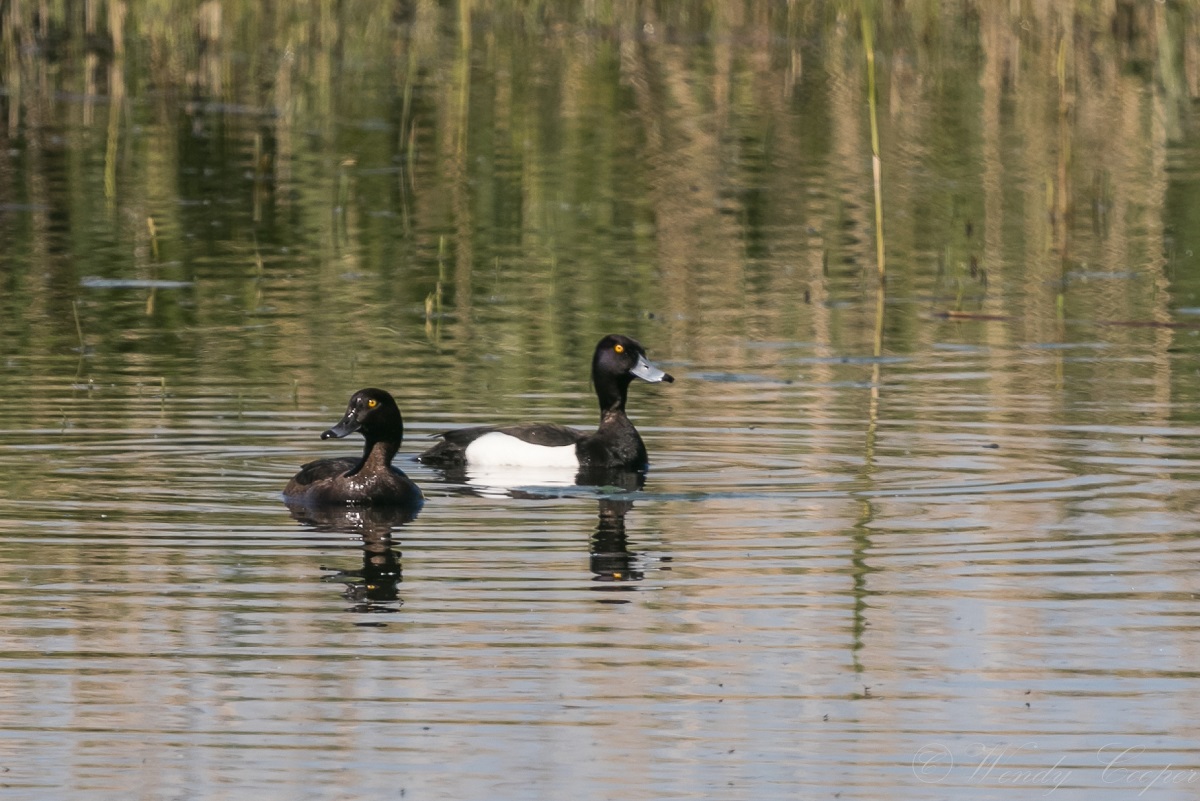 At the viewpoint I could still hear the Cuckoo calling, there was a Great Spotted Woodpecker occasionally 'kicking' and from the reeds, the continued song from the Sedge Warblers. Every now and then a 'question' could be heard and a glimpse of small birds flitting across the tops of the reeds. Out on the water a Mum Coot was being kept busy by four little Cootlets along the edge of the reeds

whilst a pair of Tufted ducks were bathing in the middle of the water.

Far off over by the river a male Marsh Harrier rose and began to quarter over the reeds.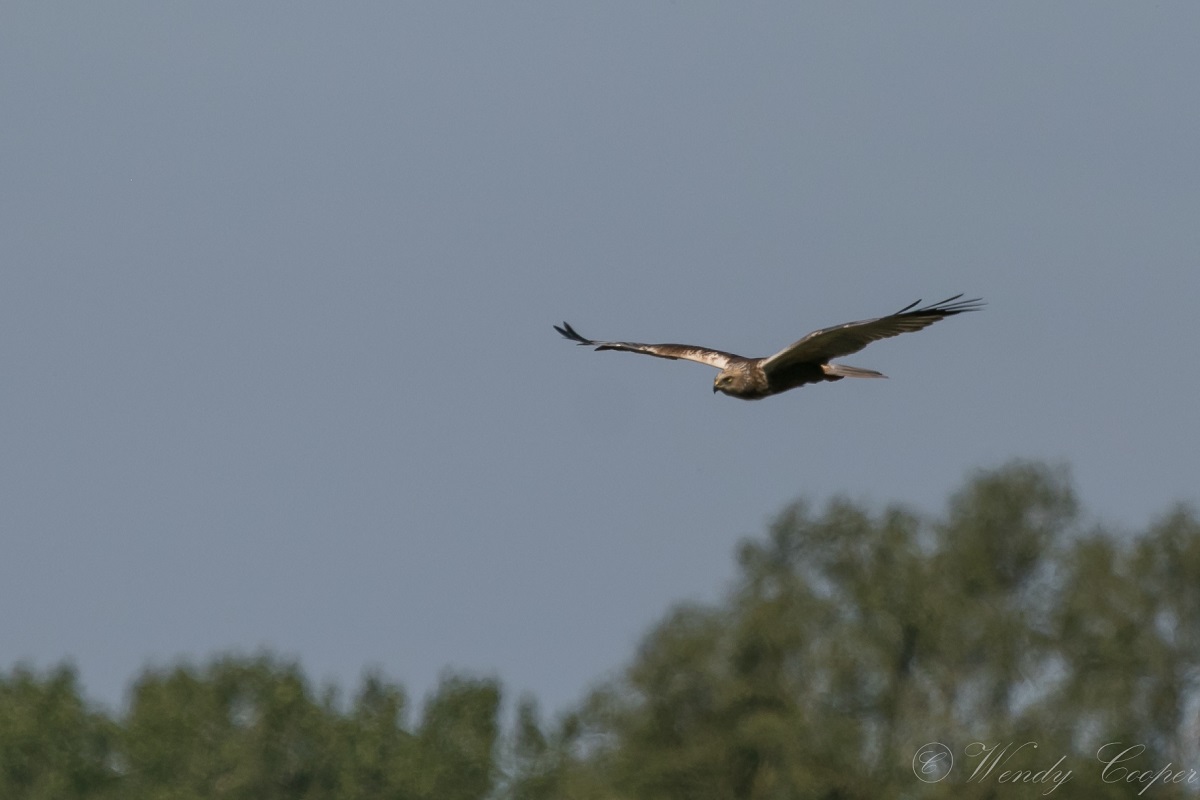 Finding nothing to satisfy his search, I watched as gradually he rose higher and higher into the blue before floating away.
I followed the track along to the Mere hide, accompanied by 'questions' and watched the tops of the reeds. Just within sight was another Reed Bunting and in a nearby Willow a female was perched, possibly watching him.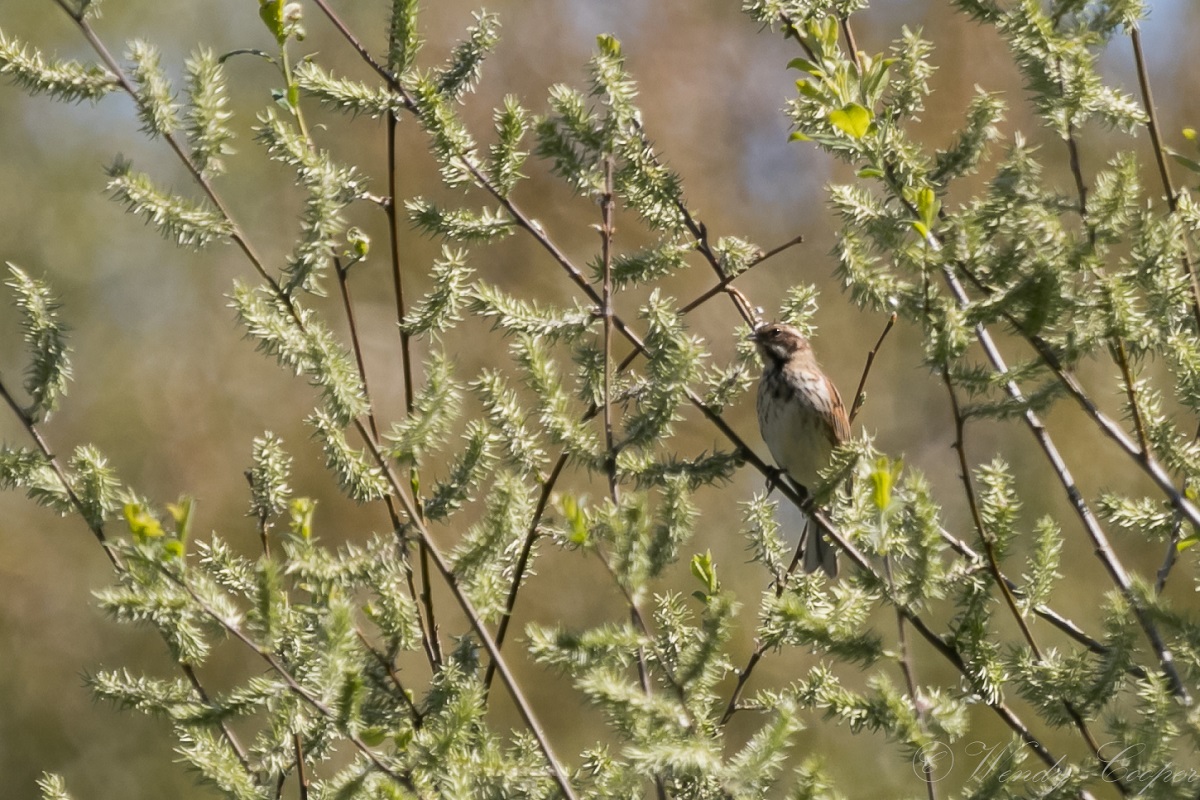 A little further along and I was declared at by a Whitethroat from the top branches of another willow before he flew off to another perch to continue declaring.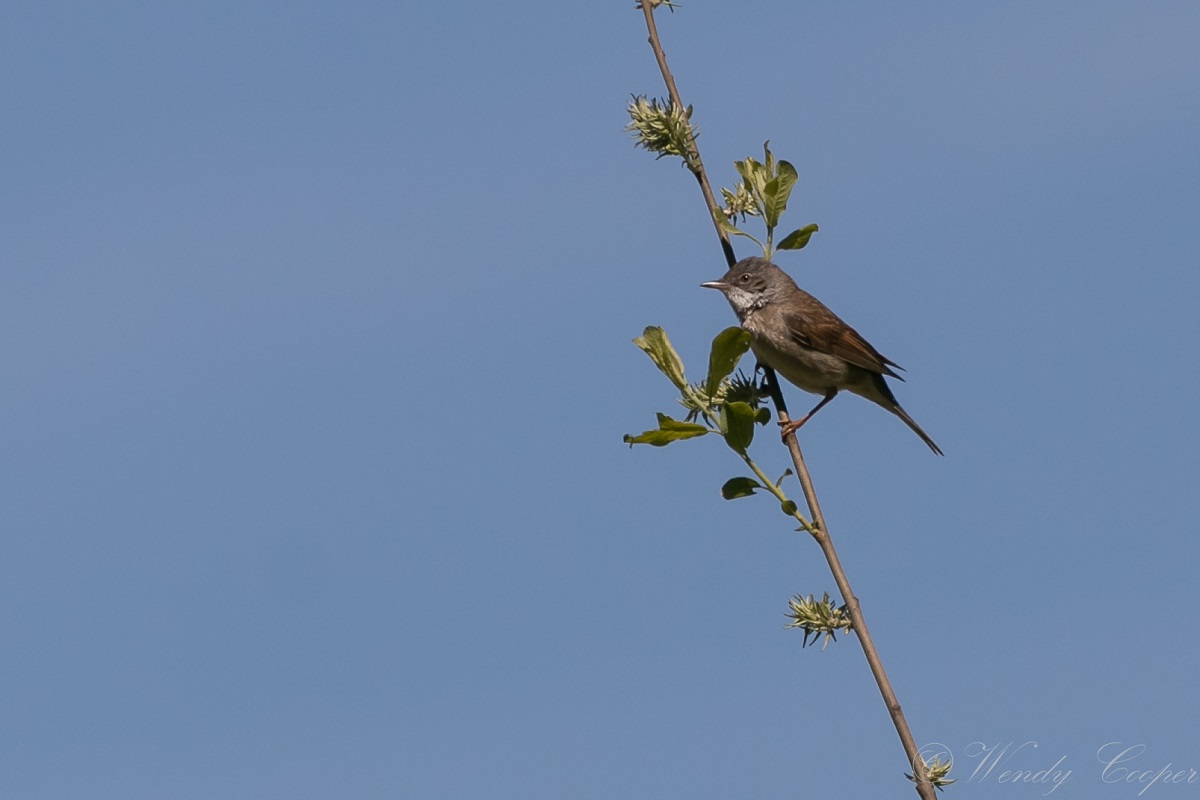 As I was walking, there were flybys from Peacocks, rising up from spots where they had been basking. At one point I had to pause as I had a fresh and shiny damsel heading straight for and around me,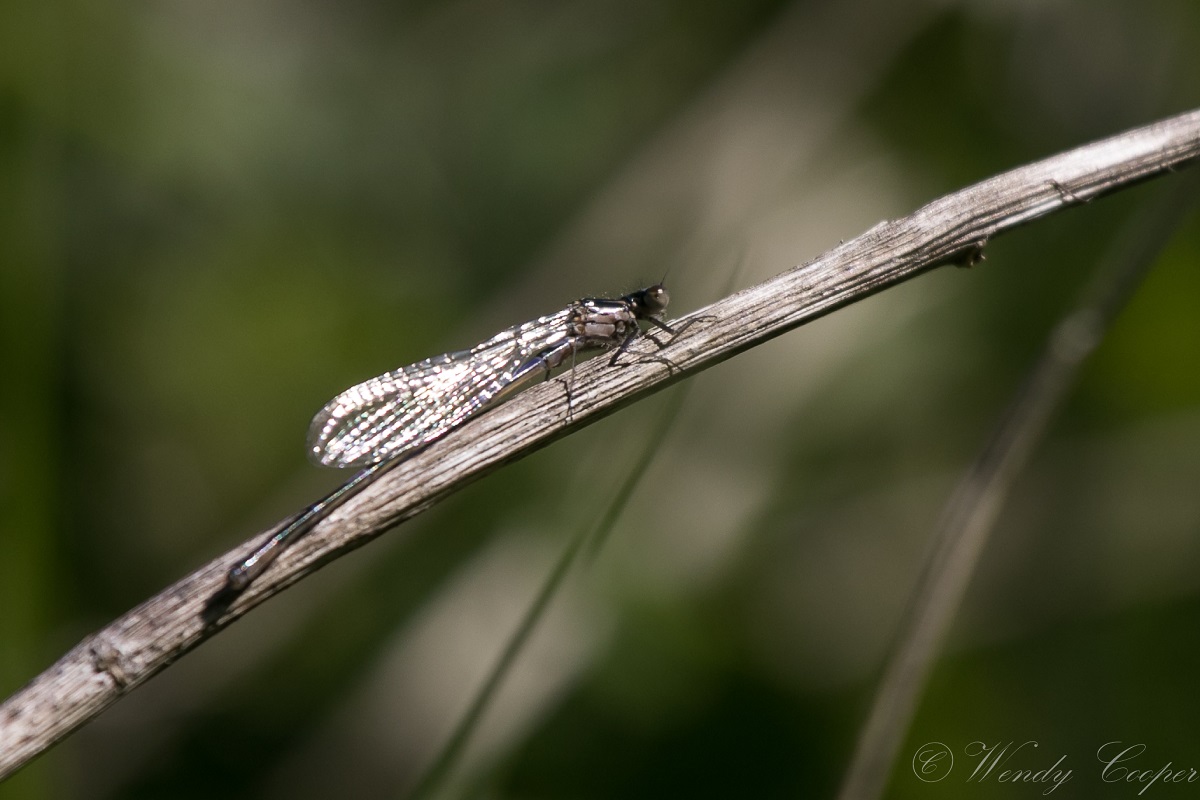 before it settled, gleaming in the sunshine, on a nearby stem. All the while, a chorus was coming from Sedge Warblers in the reeds – suddenly one hopped halfway up, clinging and singing and looking about.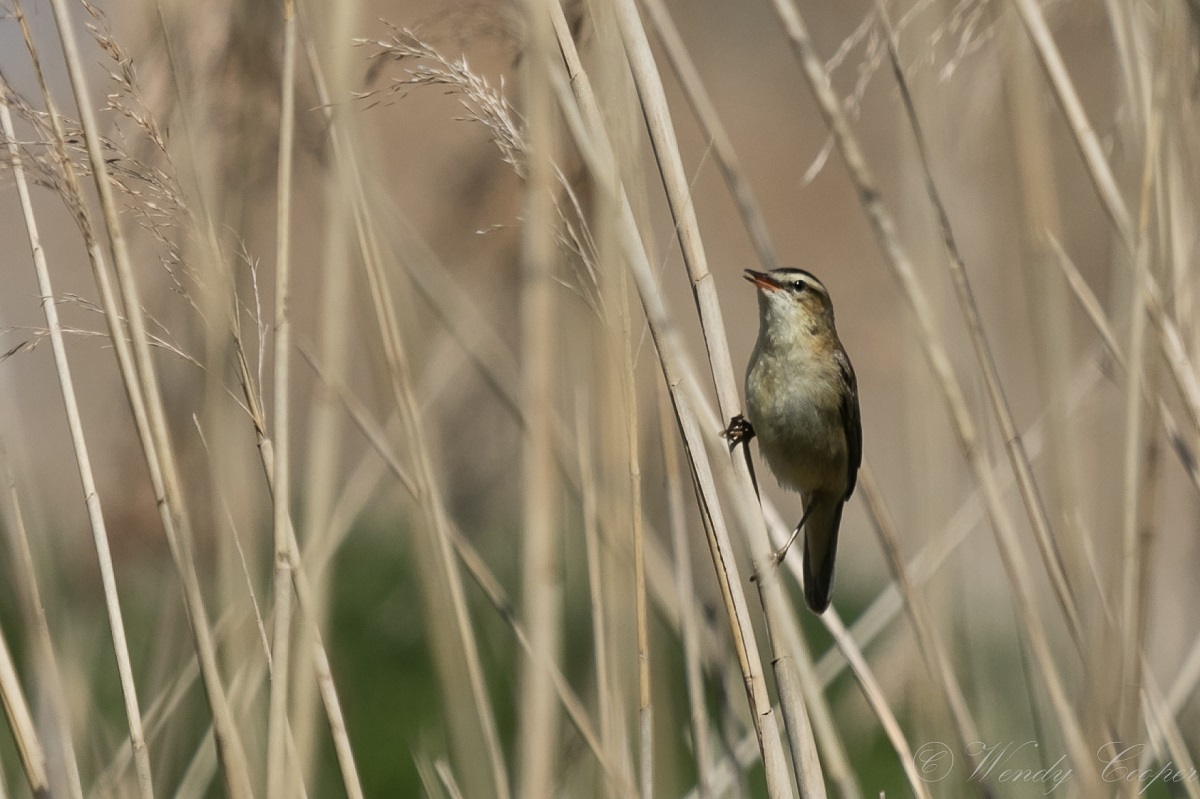 After a while he became a little bolder and perched higher up – still in full voice before stopping to listen for an answering call every now and then.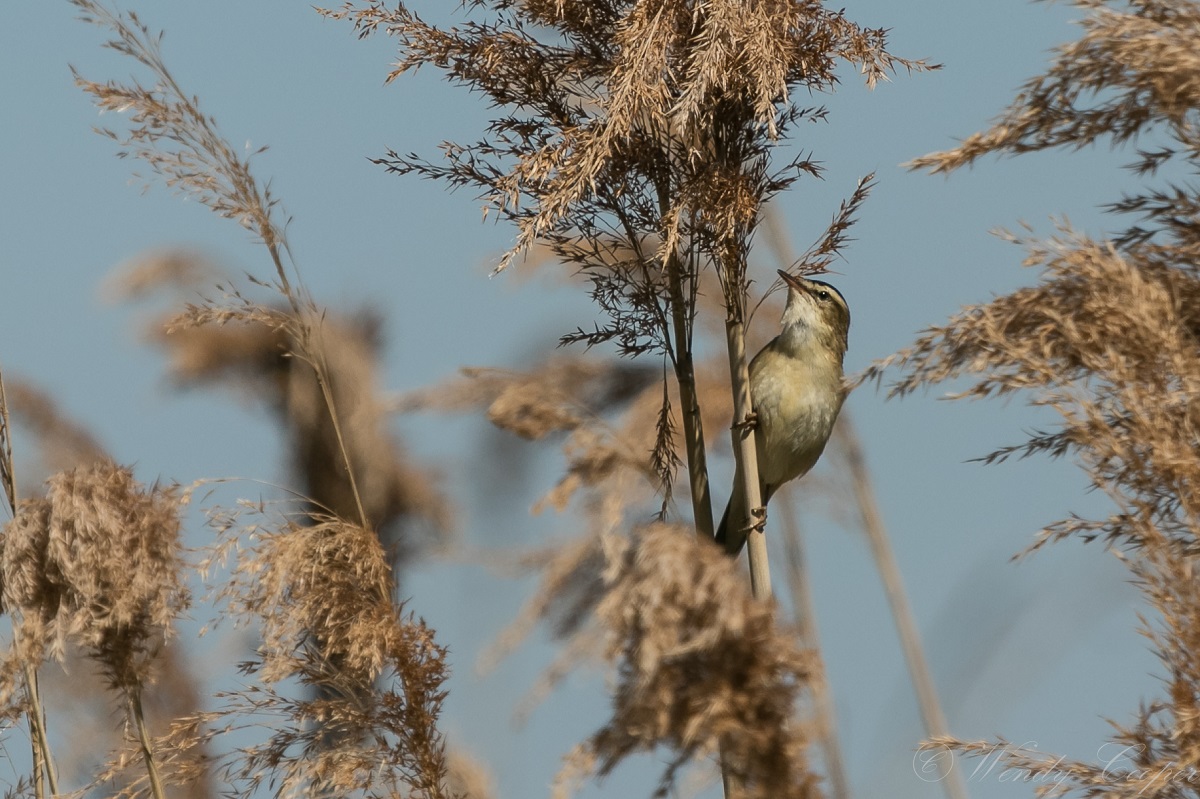 At the Mere hide it was quiet, there were a trio of happy looking Mallards patrolling the water, whilst a female appeared from out the reeds opposite the hide with four ducklings.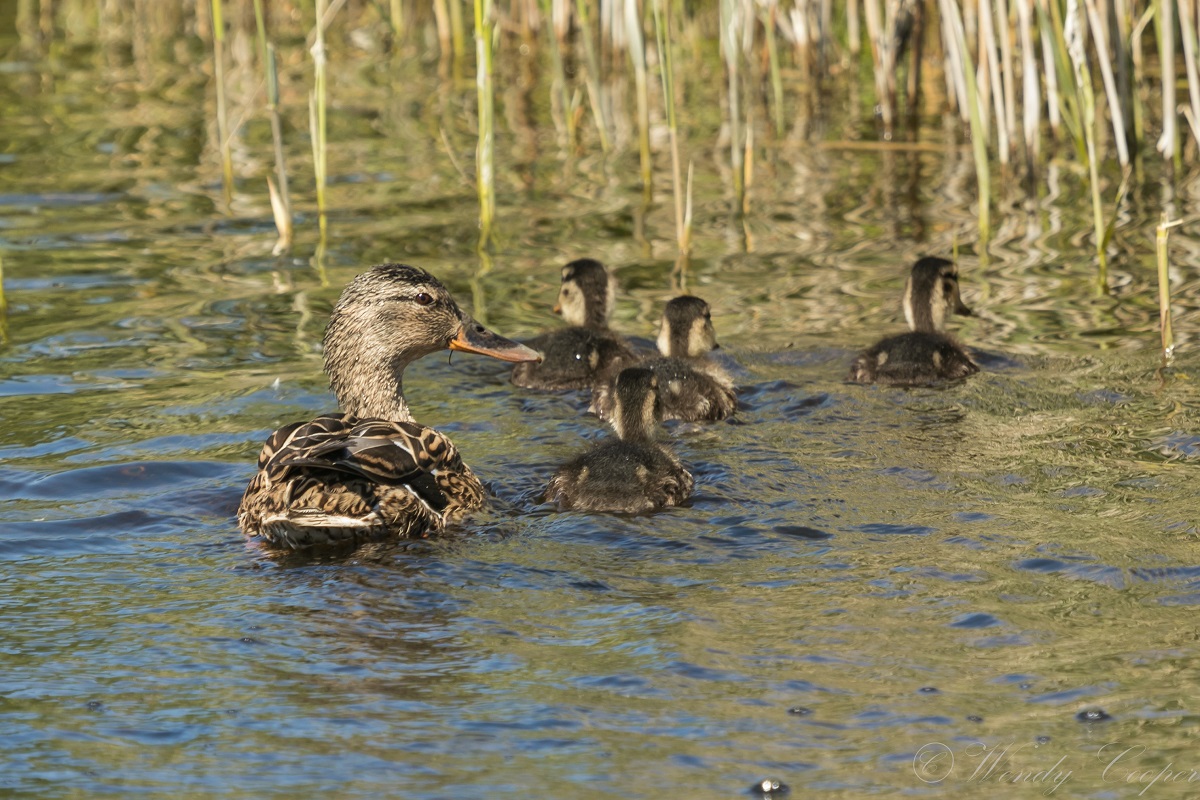 They had a little paddle about, before she escorted them back into the cover of the reeds. A Mute Swan then glided across in front of the hide, where there was a prolonged preening session!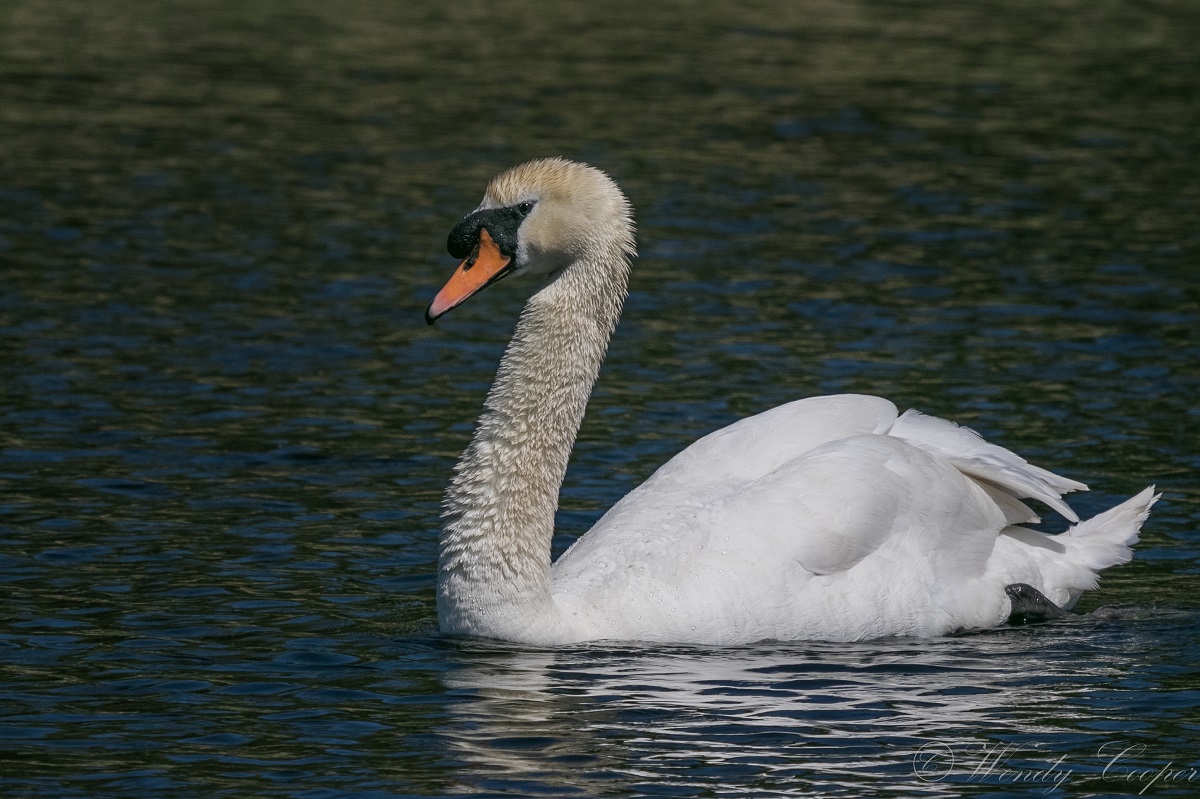 I had hoped for a glimpse of a Bittern, however I was content enough with him adding his voice to the bird chorus, hearing that lovely 'Boom' several times.
Wandering on I paused a while at the end of the 'green' path which leads to Joist Fen to enjoy watching and listening to a very smart and vocal Whitethroat. First of all he was atop a tall willow, having a good sing and looking about,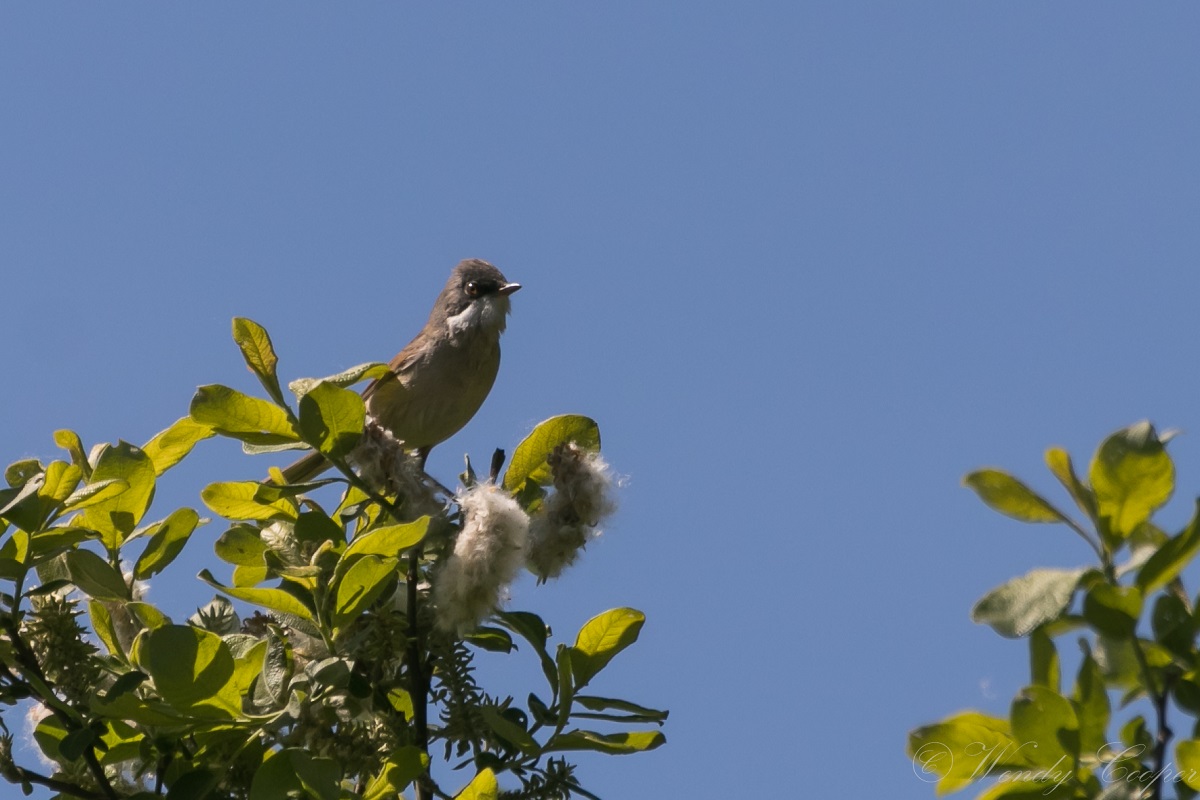 Then flew down lower and perched across the path from me on some reeds… (it was rude not to and such a lovely close view as well)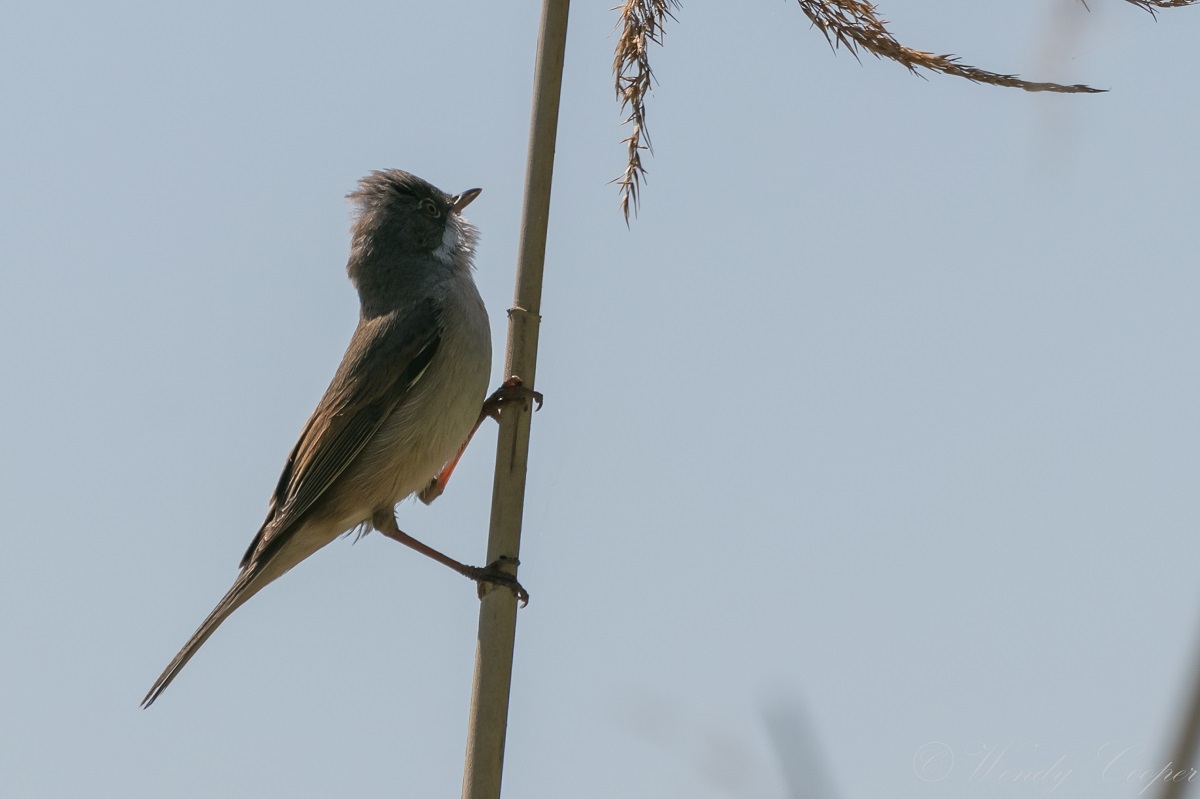 Before flitting slightly deeper undercover and then returning to the top of 'his tree' to begin the cycle again.
Wandering on, the reeds were still full of warbler songs with an occasional Cuckoo call as accompaniment. This path is usually good for butterflies and Peacocks and the occasional Holly Blue continued to either float or furiously flutter by, depending on whether they were enroute or seeing off rivals.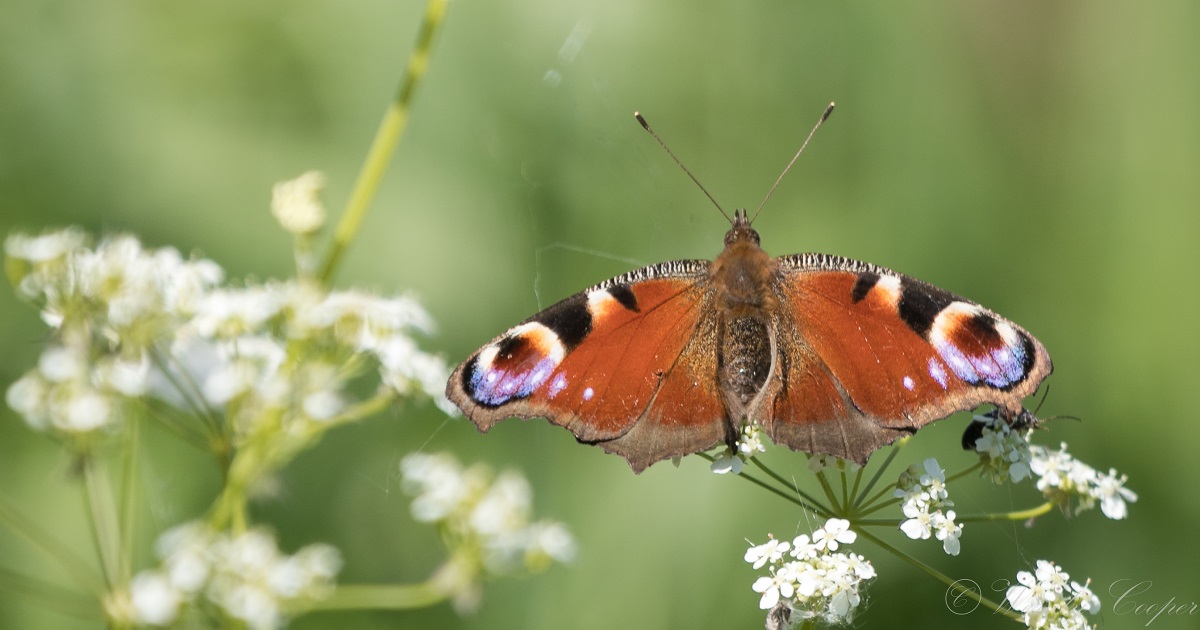 Peering through the reeds by one of the meres I noticed a Great Crested Grebe diving and further on a Mother Greylag Goose shepherding four goslings along.
At the lookout, there were Gadwall, with Coots and Moorhens around the edges of the reeds, however high above in the 'big blue' there were little fast arrows dining on the wing – Hobbys!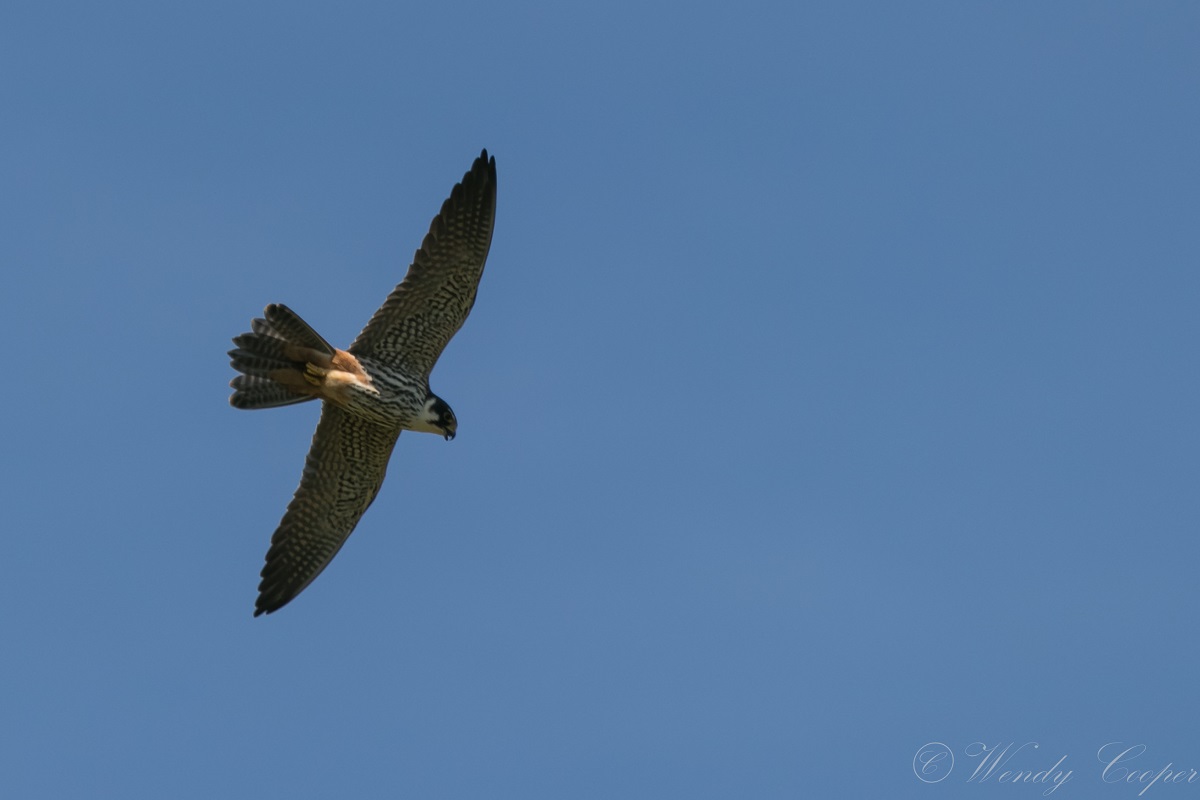 The Hobby is a Schedule 1 bird that that is a summer visitor from from Africa. They are similar in size to a Kestrel however they are incredible aerial predators, feeding on insects - dragonflies - as well as small birds – Hirondines being a favoured target.
(Not dust spots but insects)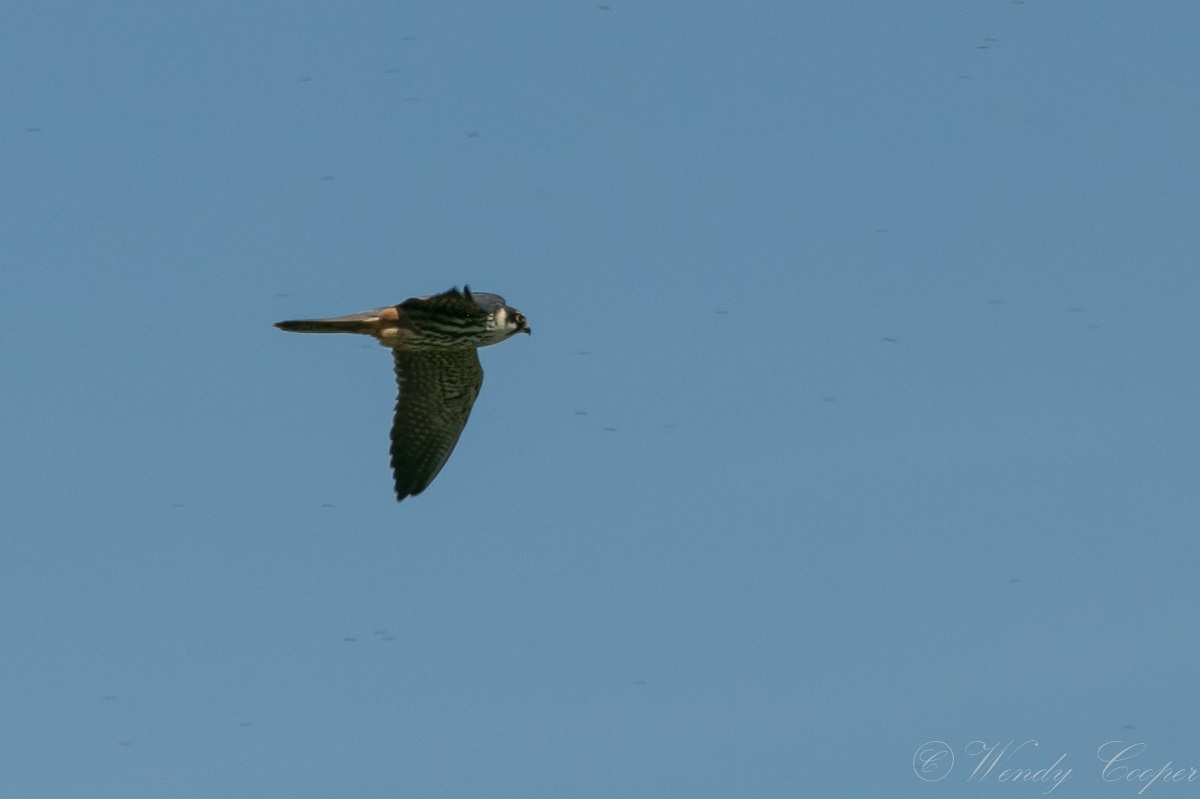 A fair number of them breed when they visit, preferring areas of heathland and woodland and they can be seen hunting in areas where there is an abundance of food, both insect and birdwise, ie over wetlands, reedbeds and gravel pits.
Dining on the wing & disposing of the leftovers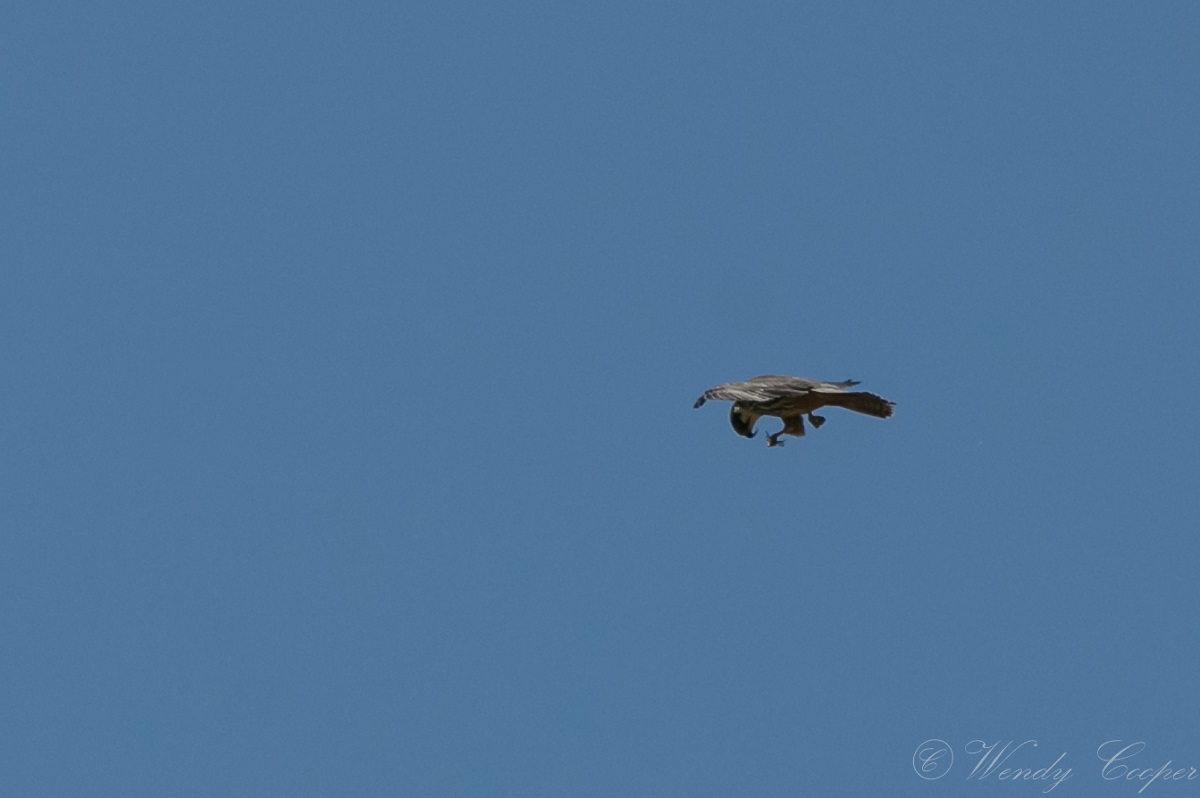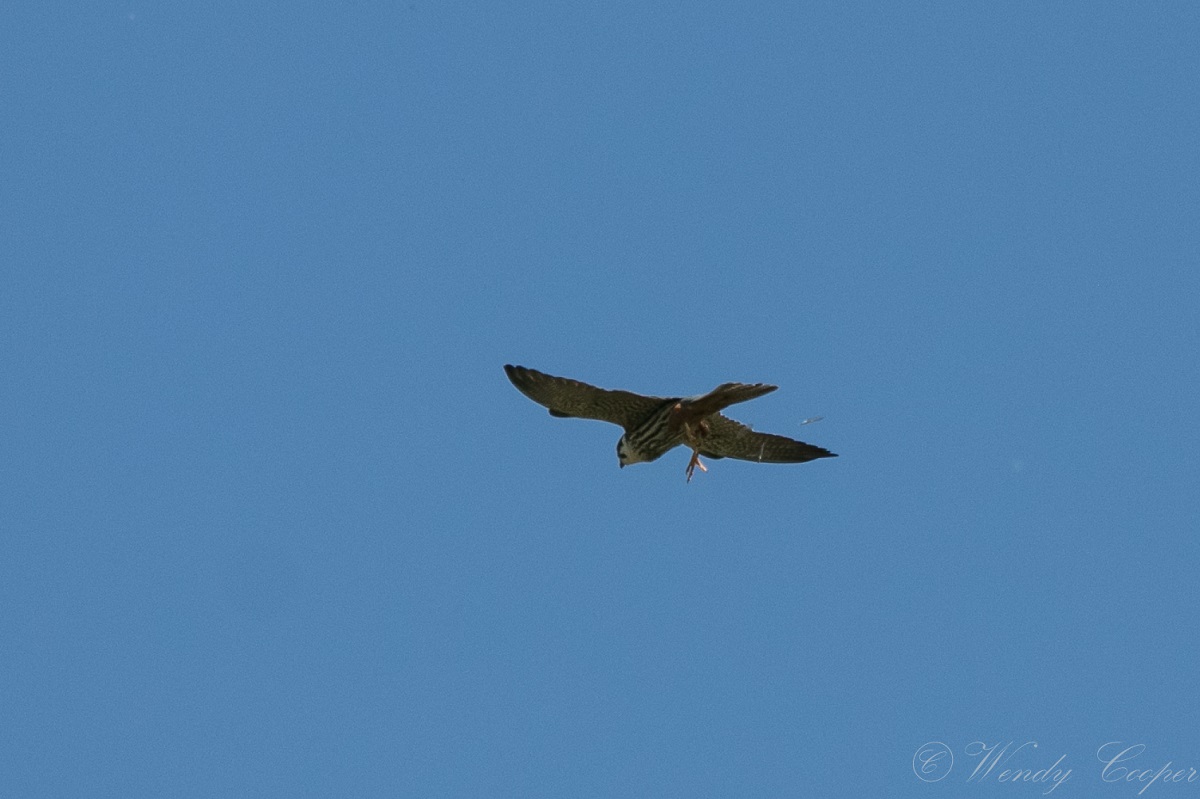 I watched from the viewpoint for a while, before starting the return loop of my walk. The avian chorus still continued, with one of the singers occasionally appearing.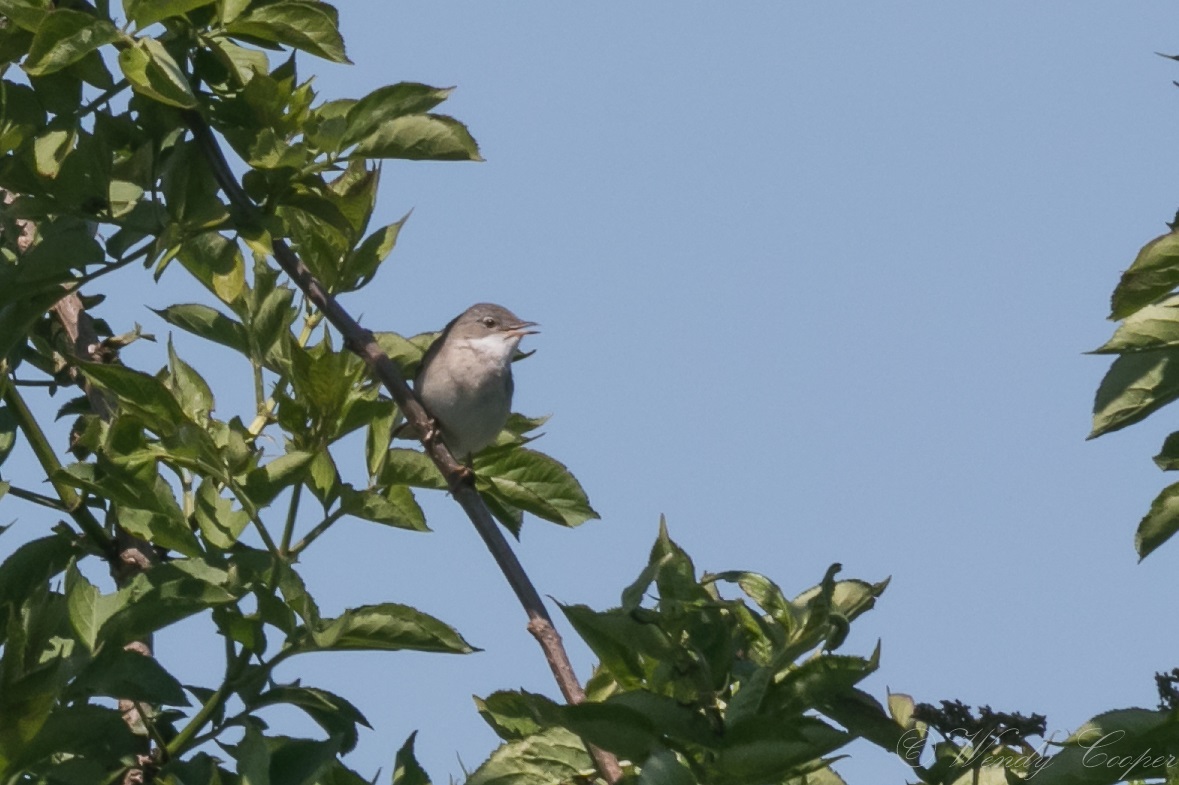 As I watched the Whitethroat, one of the Hobbys decided to take a break and perched momentarily some way off,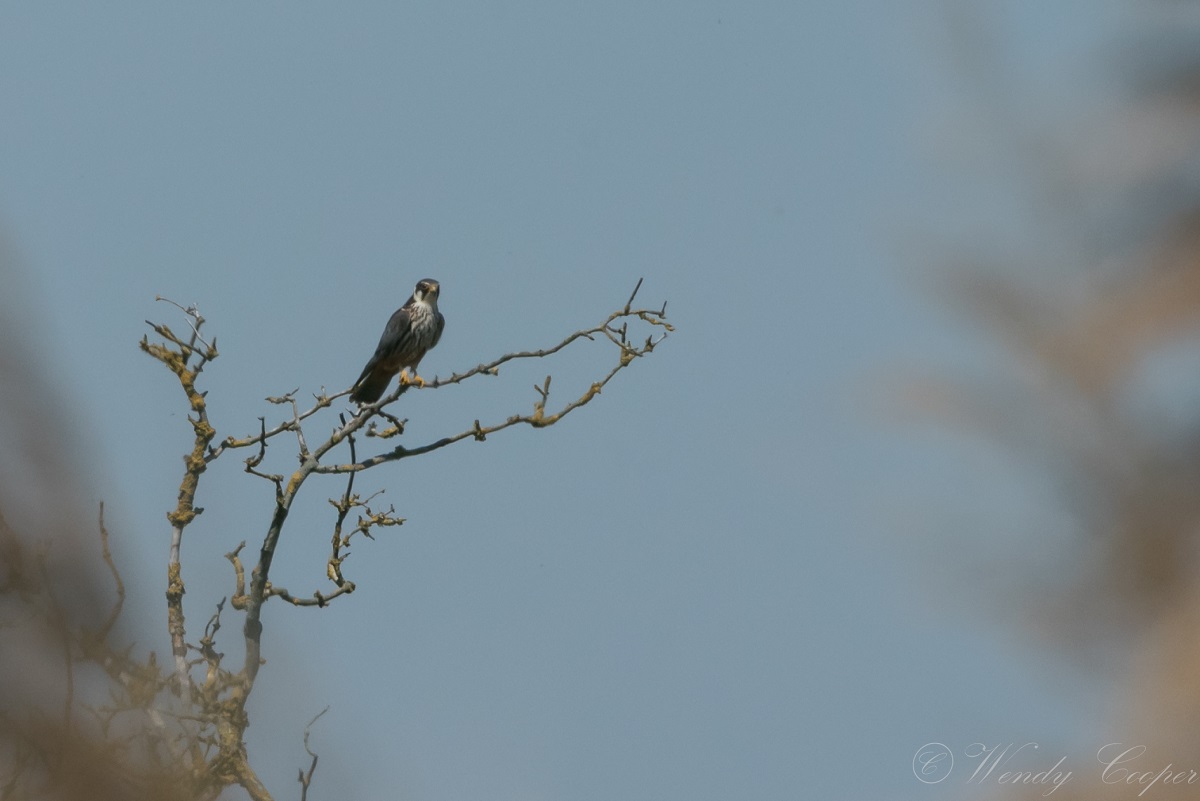 Before taking to the air again.
I paused at the mere where I thought I'd seen the Great Crested Grebe and after a few moments he surfaced for a while before diving again…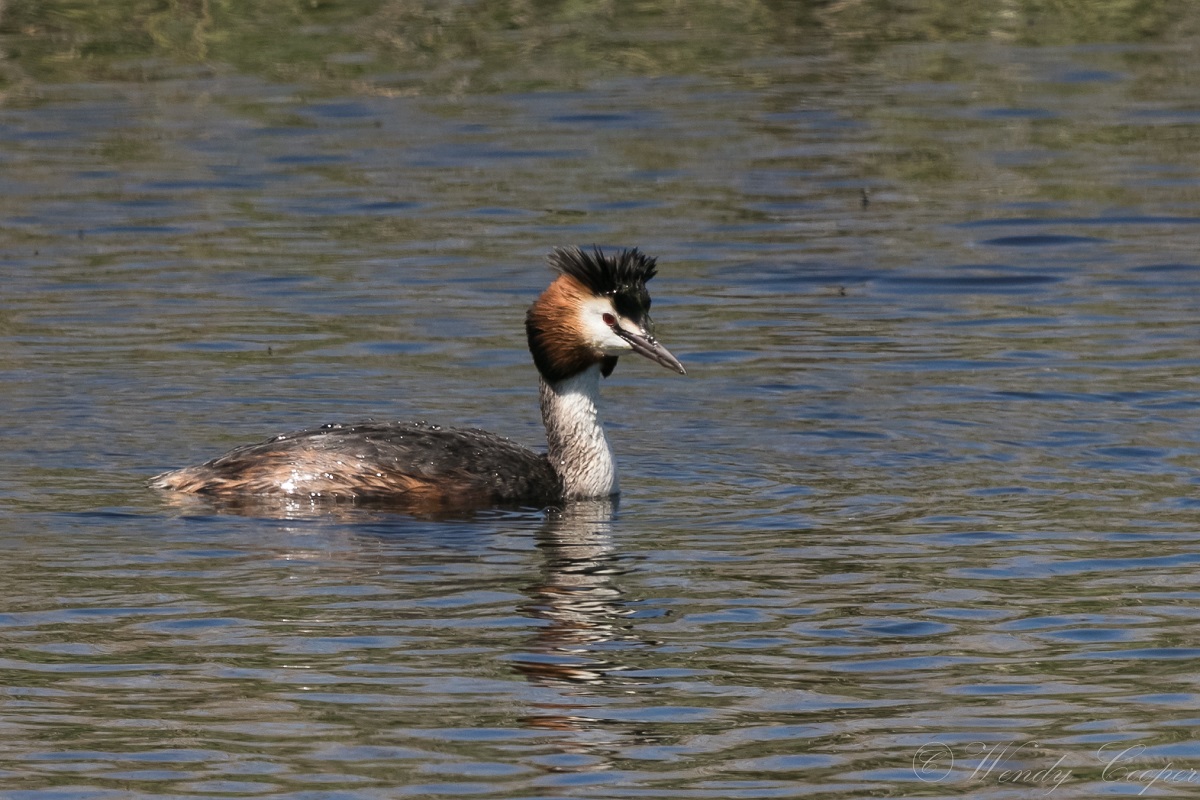 On the mere behind me there were a number of Shoveller ducks preening and dabbling.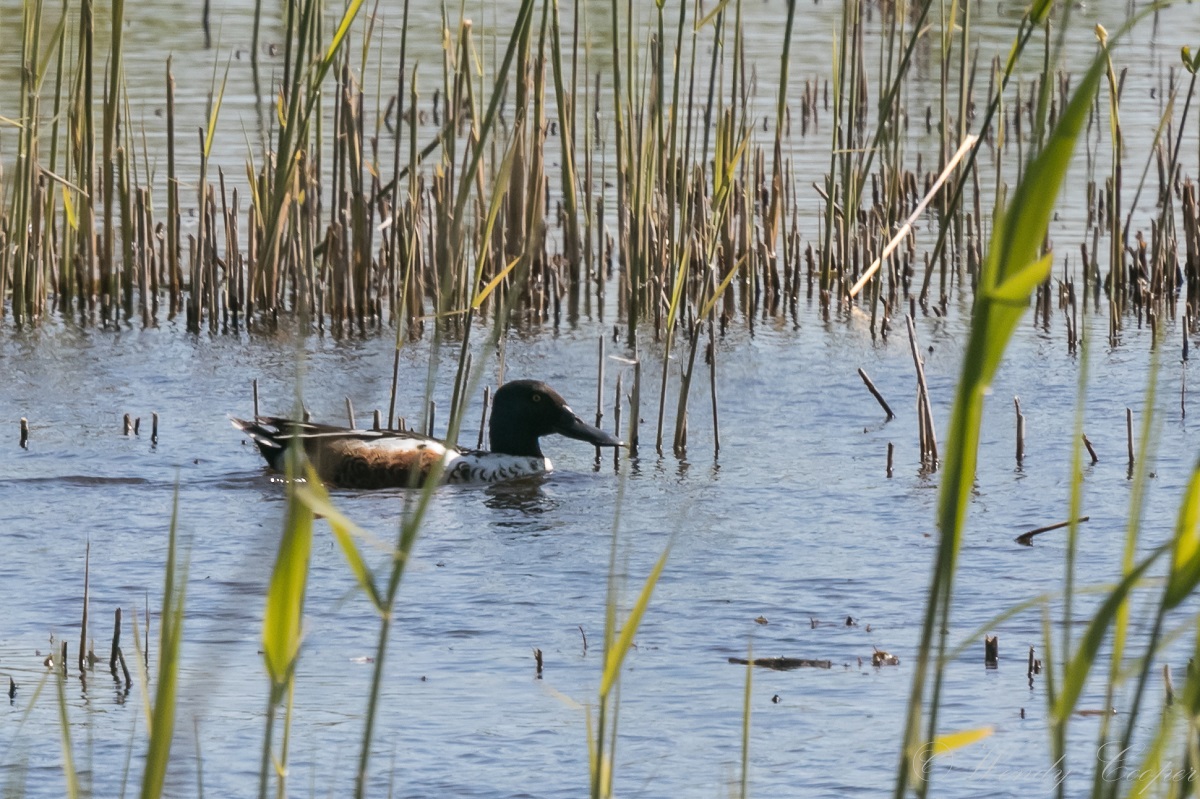 I wandered back slowly, looking skywards as I enjoyed the speed and grace of the Hobbys to a soundtrack of Warblers, Wrens, Cuckoos, an occasional 'Boom' and in the last part of my stroll a rather Hitchcockian chorus from the Corvid roost…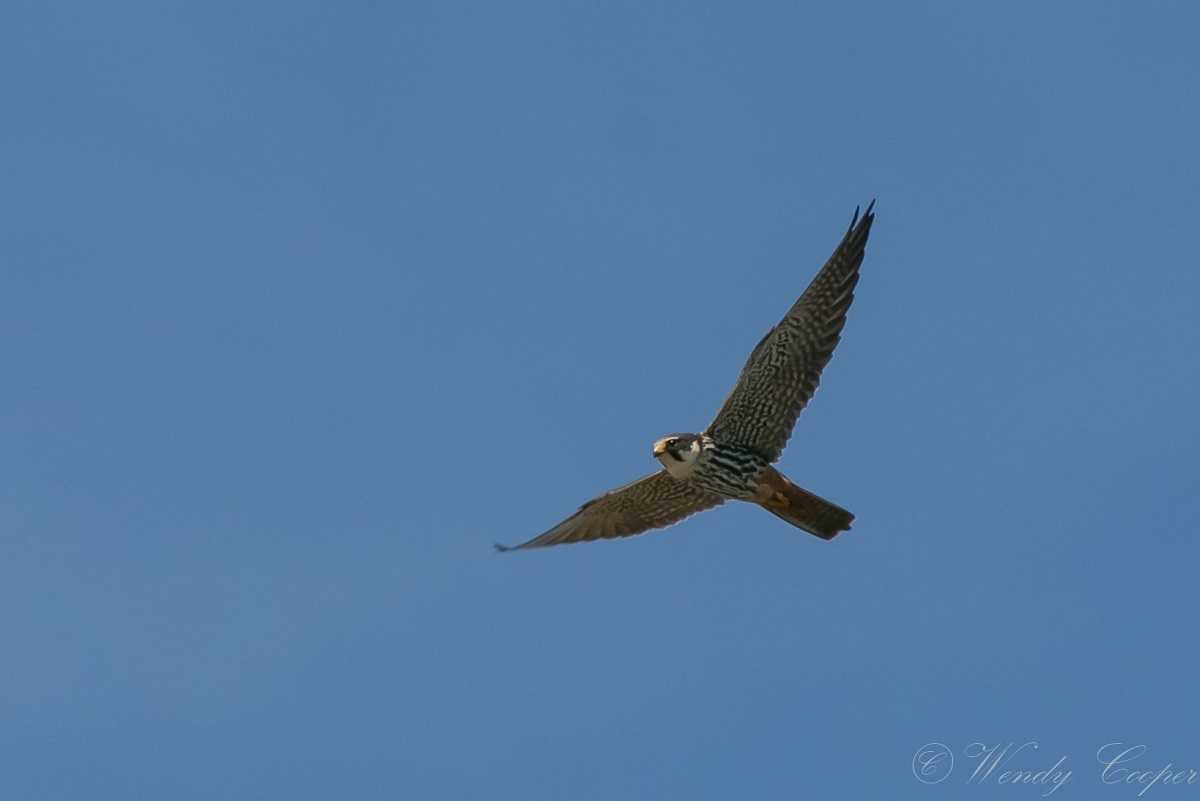 Definitely an excellent start to the week!
I hope you have enjoyed my blog, if you would like an email notification when my next blog is published, please add your email address to the 'Sign Up' box below, you will then receive an email with which to confirm your subscription.
As always, comments, feedback or questions are welcome, so please feel free to contact me via the comments section below or via the guestbook.
Comments