See Her In Her Summer Clothes...
07/07/2018 - 15:12
53 Red Kites, 14 Buzzards and 7 Kestrels....
So went the 'count the' game on our journey across country to spend a few days in the Forest of Dean. For the past few years we have visited in spring, autumn and even winter, so thought it was high time to visit and see the Forest in her summer clothes. We were not disappointed!
For our first afternoon, we decided to have a couple of short wanders in shadier locations - it was warm! Our first wander was at Wenchford, where there is always something to watch. As we usually do, we had a slow stroll along the brook, watching a pair of Grey Wagtails flitting and smaller birds in the Oak branches above us.
We were being surveyed from a safe distance by a curious Jay, when suddenly from the far side of the bank a pair of small dark birds flew at pace along the surface of the water. There was a bit of a 'Whoop' moment as I realised that they were a pair of Juvenile Dippers! I have only had a fleeting glimpse of an adult, some years ago in the same location and these are always on our wishlist when visiting.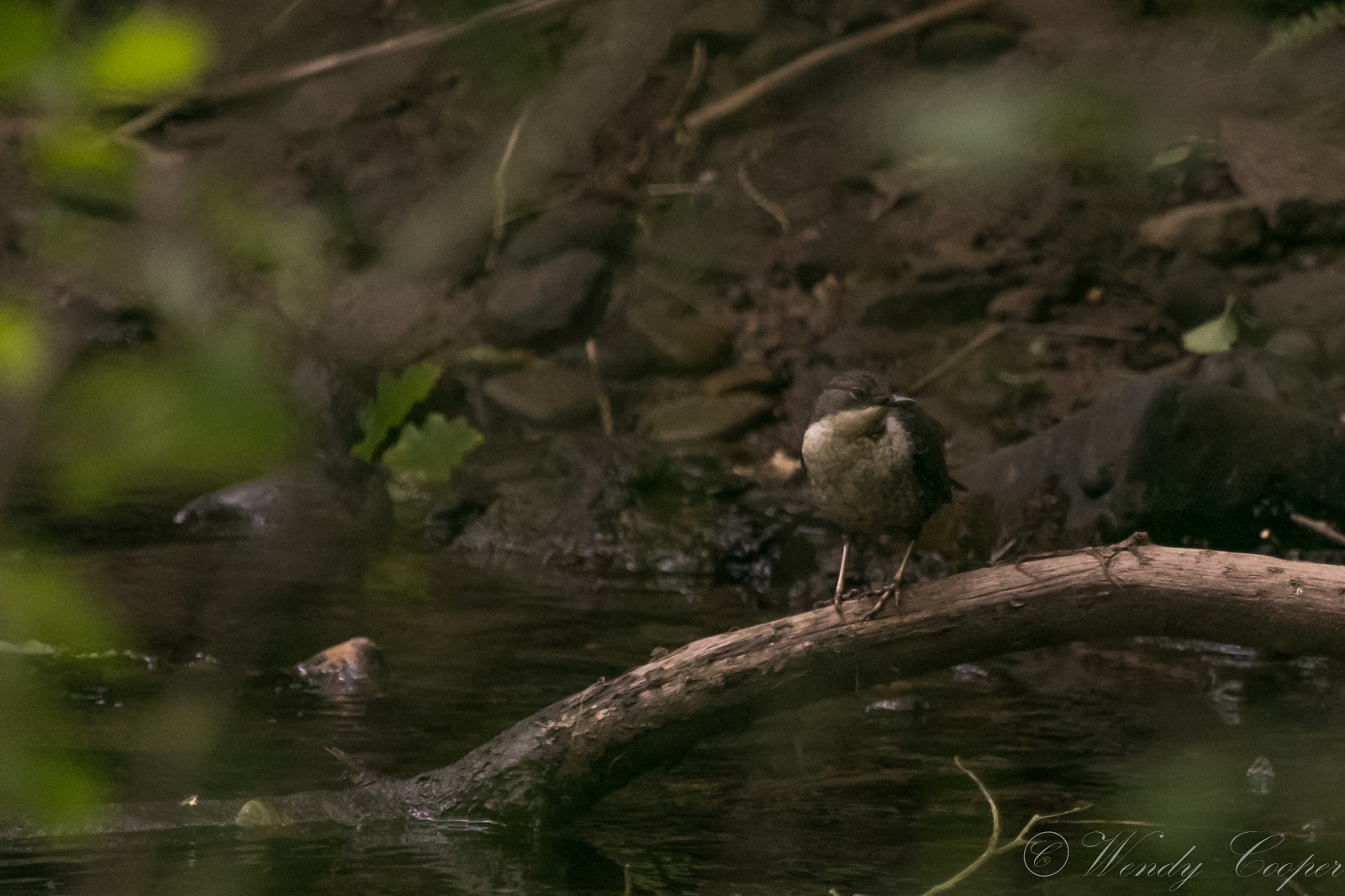 Dippers live around fast flowing rivers and streams and are powerful little birds, being able to swim and walk quite comfortably in fast flowing water whilst they forage for invertebrates, like Caddisfly larvae to feed on. They fly low over the water and can sometimes be spotted perched on rocks midstream.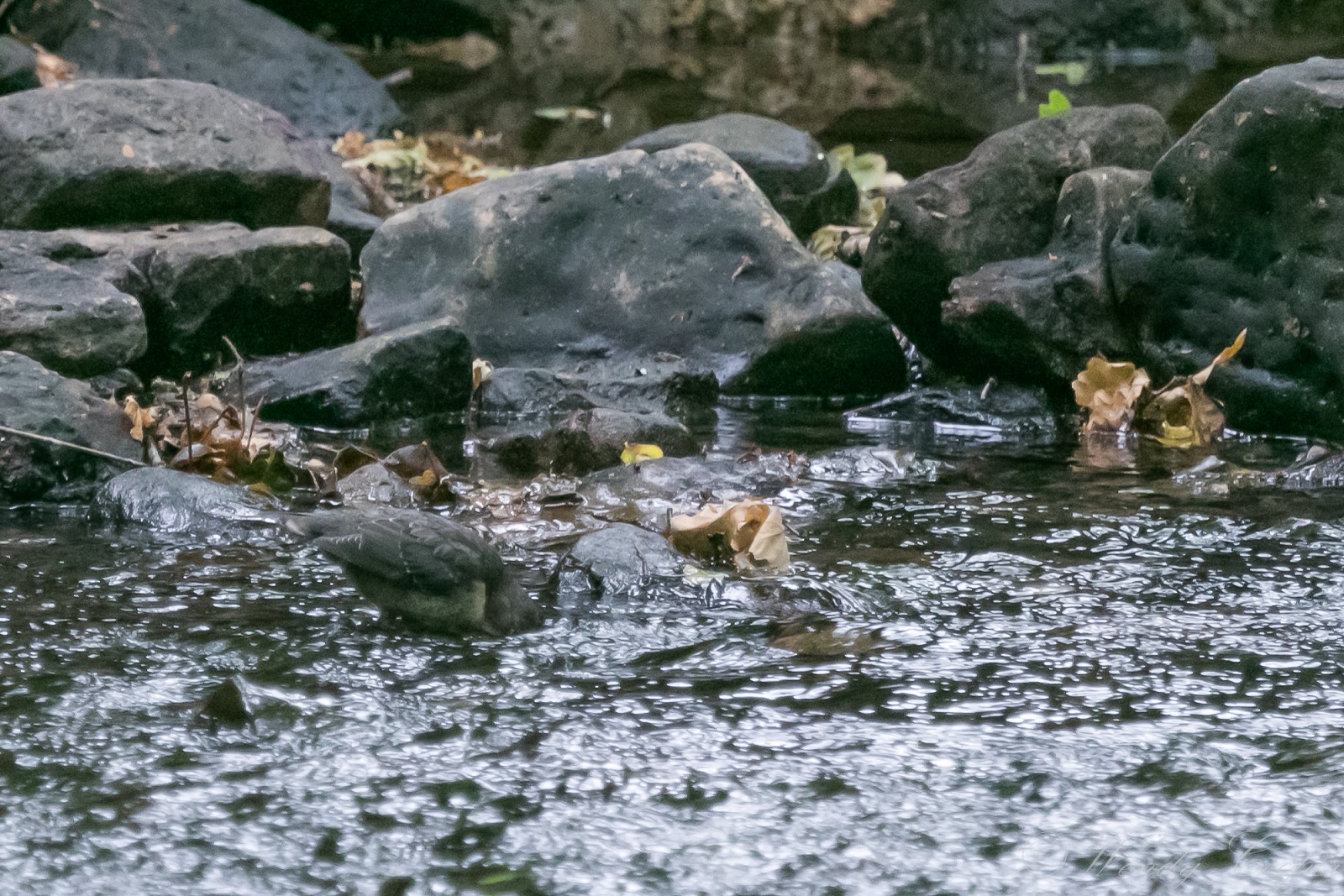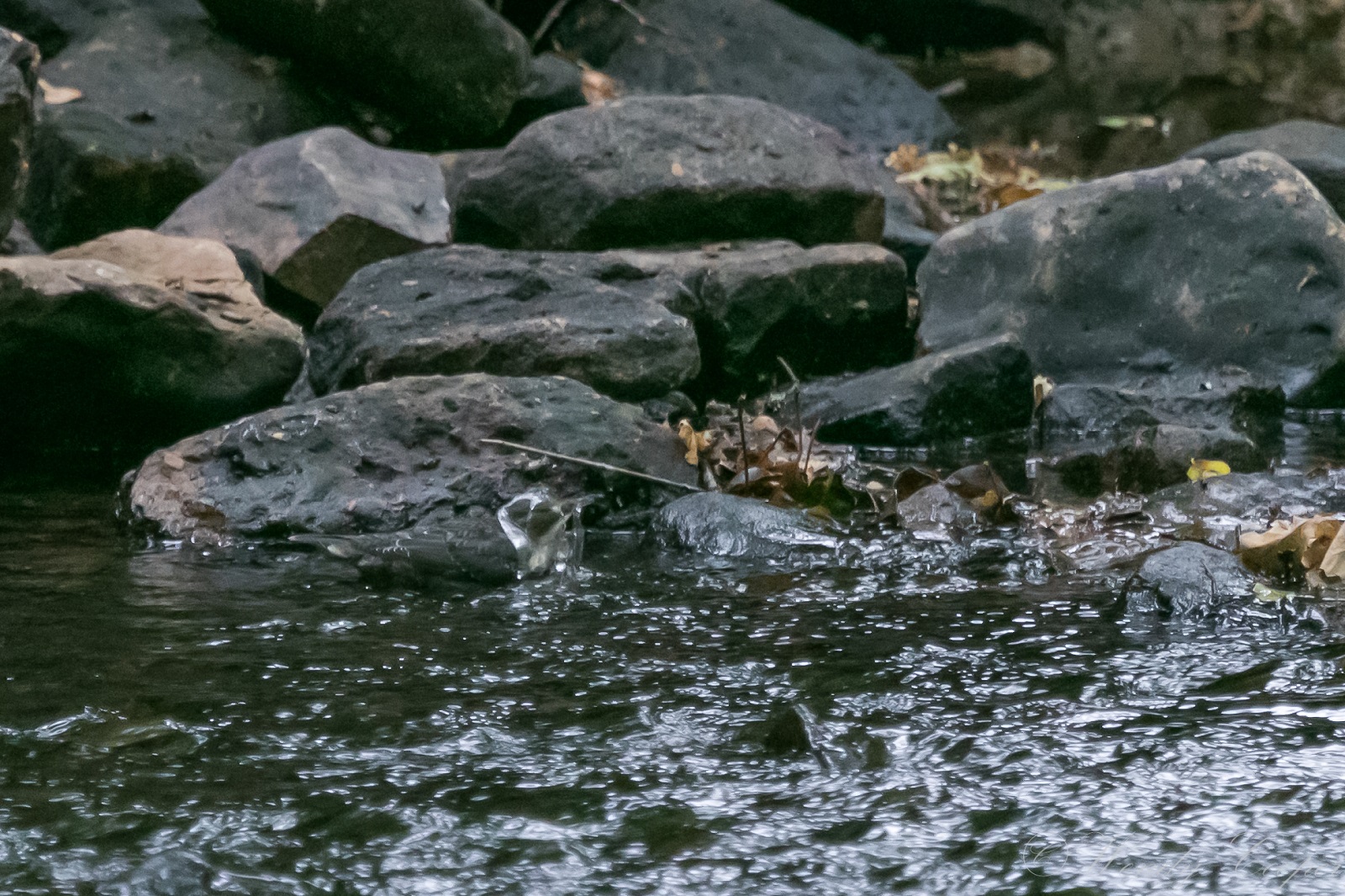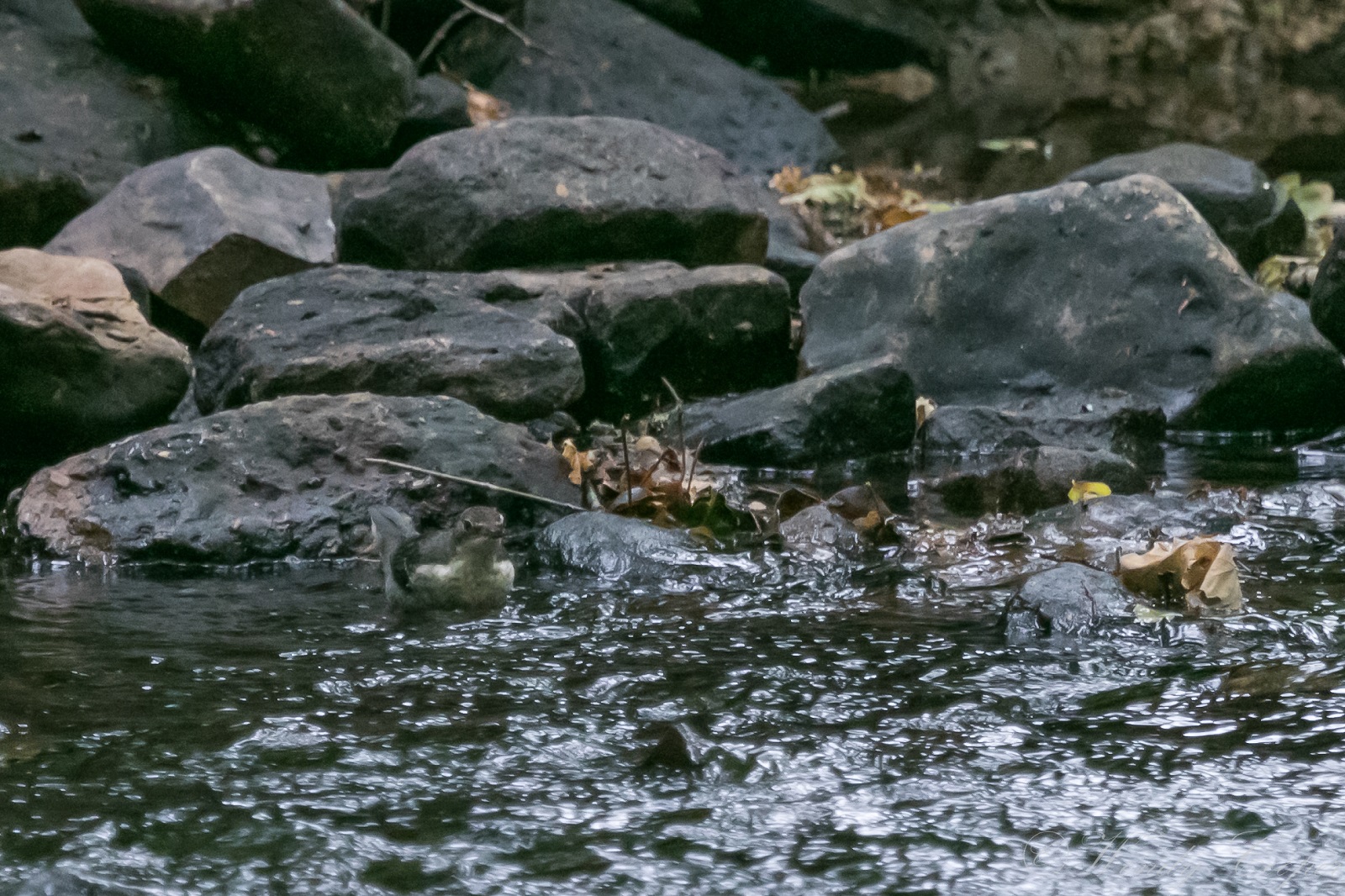 This pair soon separated to find the best forage points, I followed one upstream from a distance so as not to disturb and was delighted to watch it bobbing in the water, diving and reappearing further upstream with a beakful and occasionally pausing on a rock or bough, so I had some lovely views of a Dipper, doing Dipper things! Hubby, meanwhile was enjoying similar views of it's sibling, further downstream.
After a while the Dippers went out of sight, so we stopped on one of the benches to take in the view and a Grey Wagtail appeared on the shingles in the brook in front of us, with another nearby midstream on a rock with a beakful of insects. A close up view of these busy birds is a rare treat, so we enjoyed watching them foraging about for food.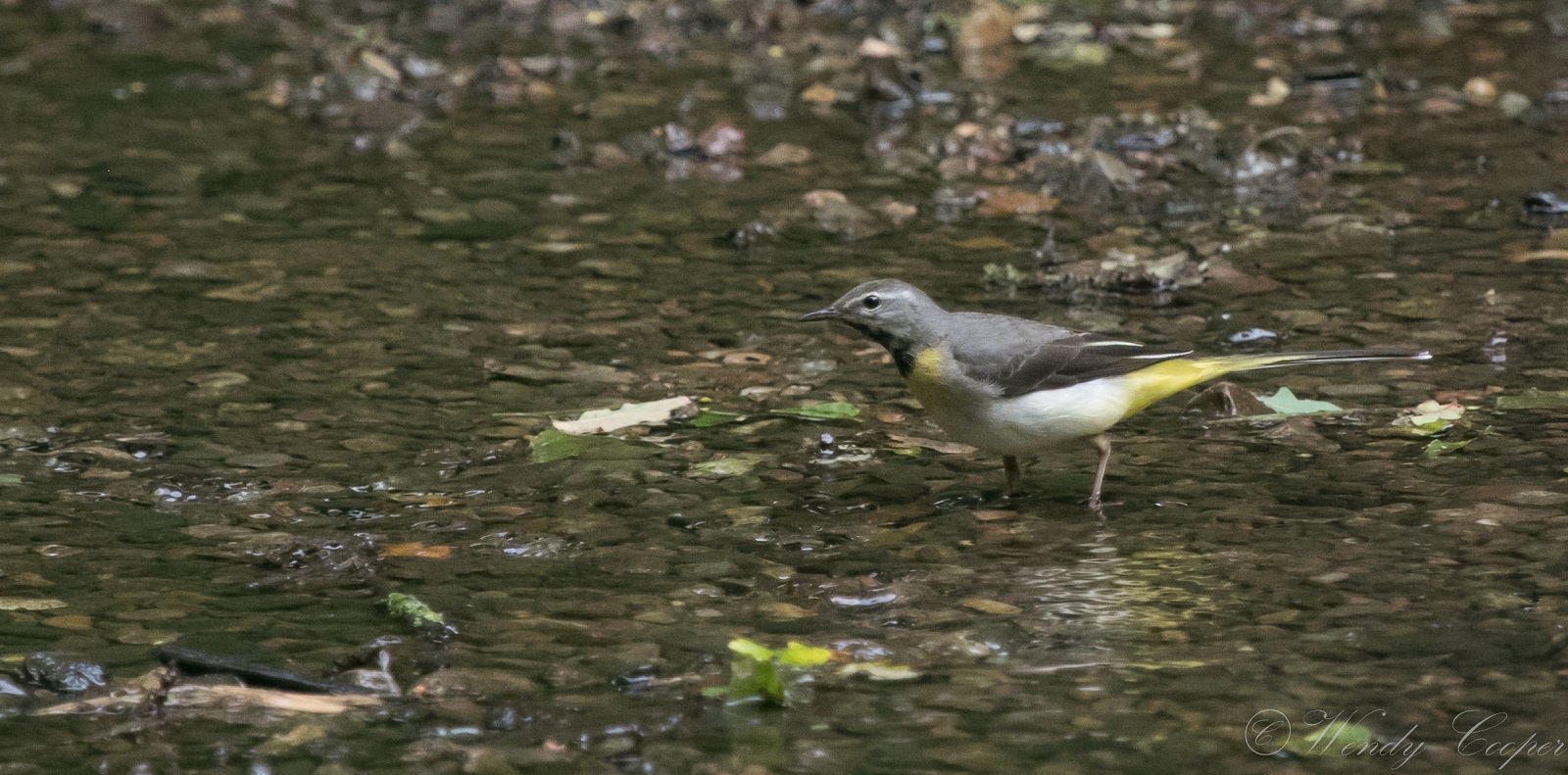 Our next wander was at RSPB Nagshead, where we went to the Lower Hide. It is quite a pretty stroll down to the hide, very lush through the wooded part with a smattering of foxgloves interrupting the green. Most of the birds were heard, but not seen - probably waiting until later in the evening when it would be cooler. There were a few very vocal Wrens, a Chiff Chaff, a Nuthatch pinging and on more than one Oak tree, I watched Treecreepers scooting up and foraging, glimpsing youngsters as well that were waiting on food from parents.
On reaching the hide, it was quite quiet apart from one persistant call. Suddenly the owner appeared on one of the perches in the pond in front of us. A rather smart male Redstart!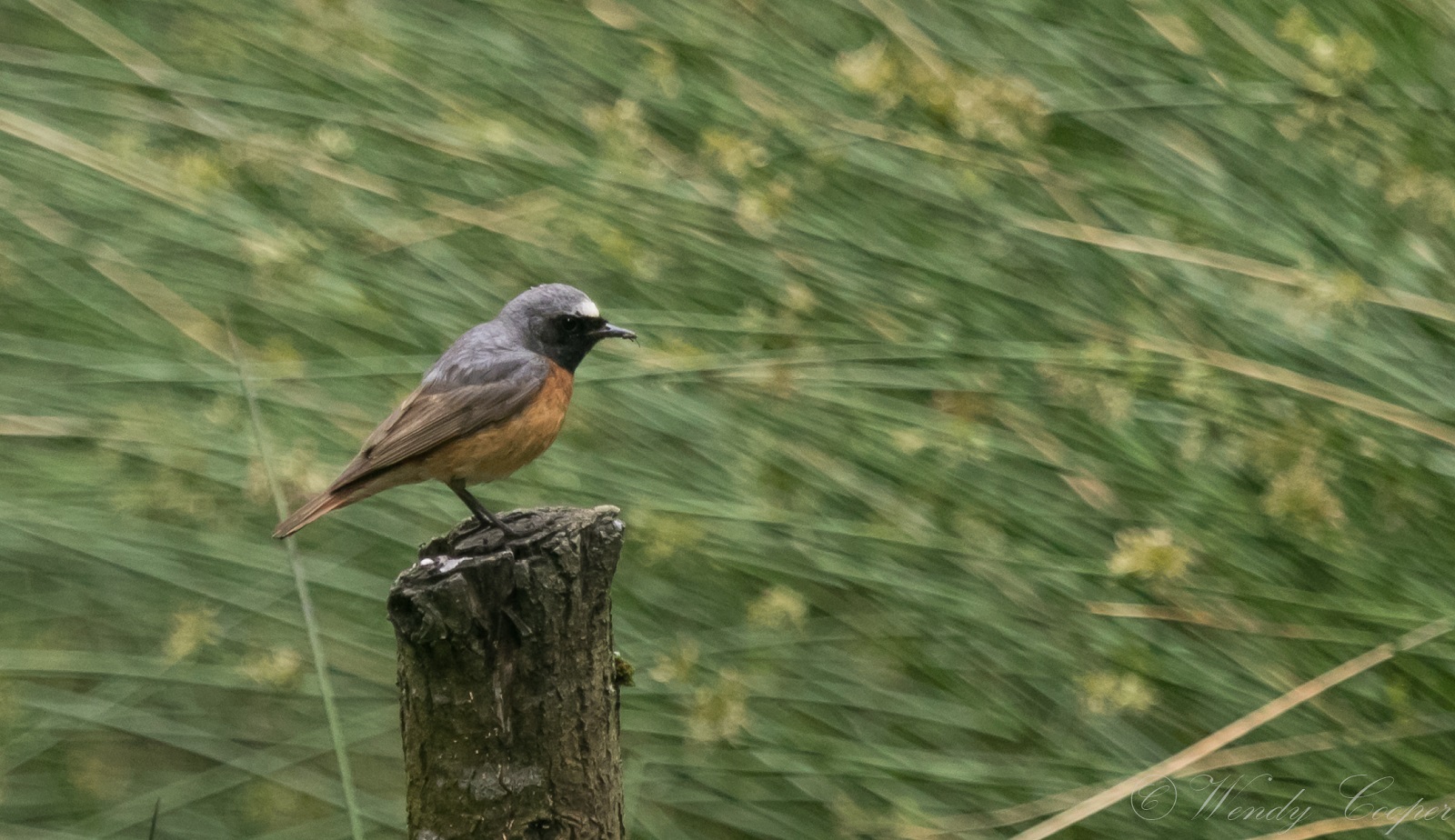 Now I will happily admit here that we didn't have a clue what he was until later in the evening when I got my fieldguide out and we looked him up! It was the first time we had seen one - what a handsome bird!
Redstarts are summer visitors that breed in and favour mature woodland, nesting mostly in holes in trees. Over the next few days, we watched both him and the female (who is pretty but understated in colours) both collecting insects for nearby youngsters, although we were not lucky enough to see those.
After watching him a while, as well as a bathing Blue Tit and lone Mandarin Female (was she taking a break from nest duties I wonder?) we wandered back and paused at the Nursery pond, however, it was still very sunny and warm, so although dragonflies were whizzing about, none were settling.
The next morning we had a brief stroll at Woorgreens, a bit of a recce for a longer walk, then on to Cannop Ponds, which was not without a moment of drama!
At the bridge there were quite a few Mandarin ducklings, all paddling about, Mum in tow, before they all scrambled down the slope into the stream which leads to the second pond.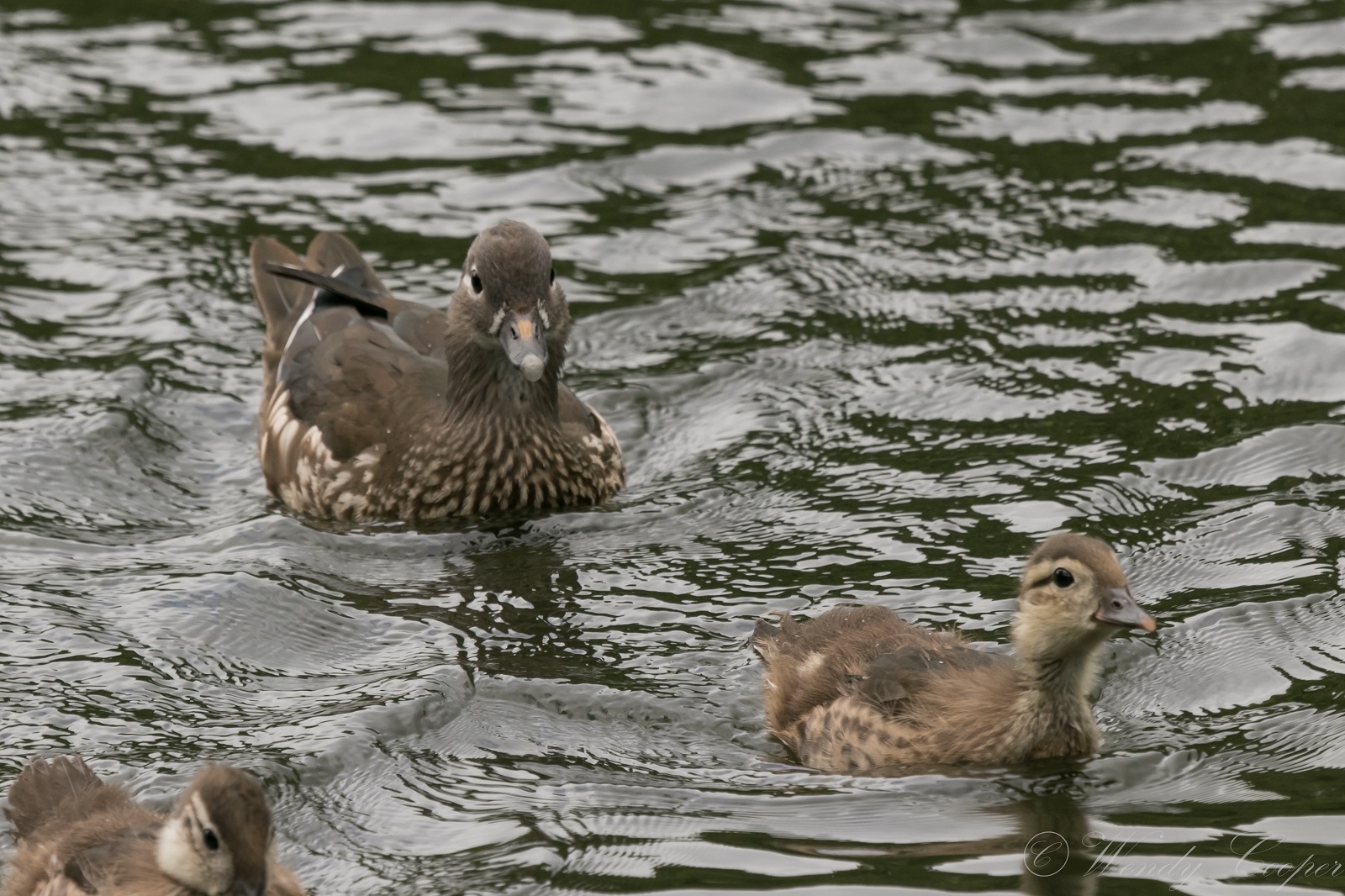 All but one of the ducklings went down the slope, with one little straggler remaining in the pond at the top, calling the others to come back. He didn't follow them, but carried on paddling away along the shoreline nearby.
We wandered on, watching Tufted Ducks grooming and diving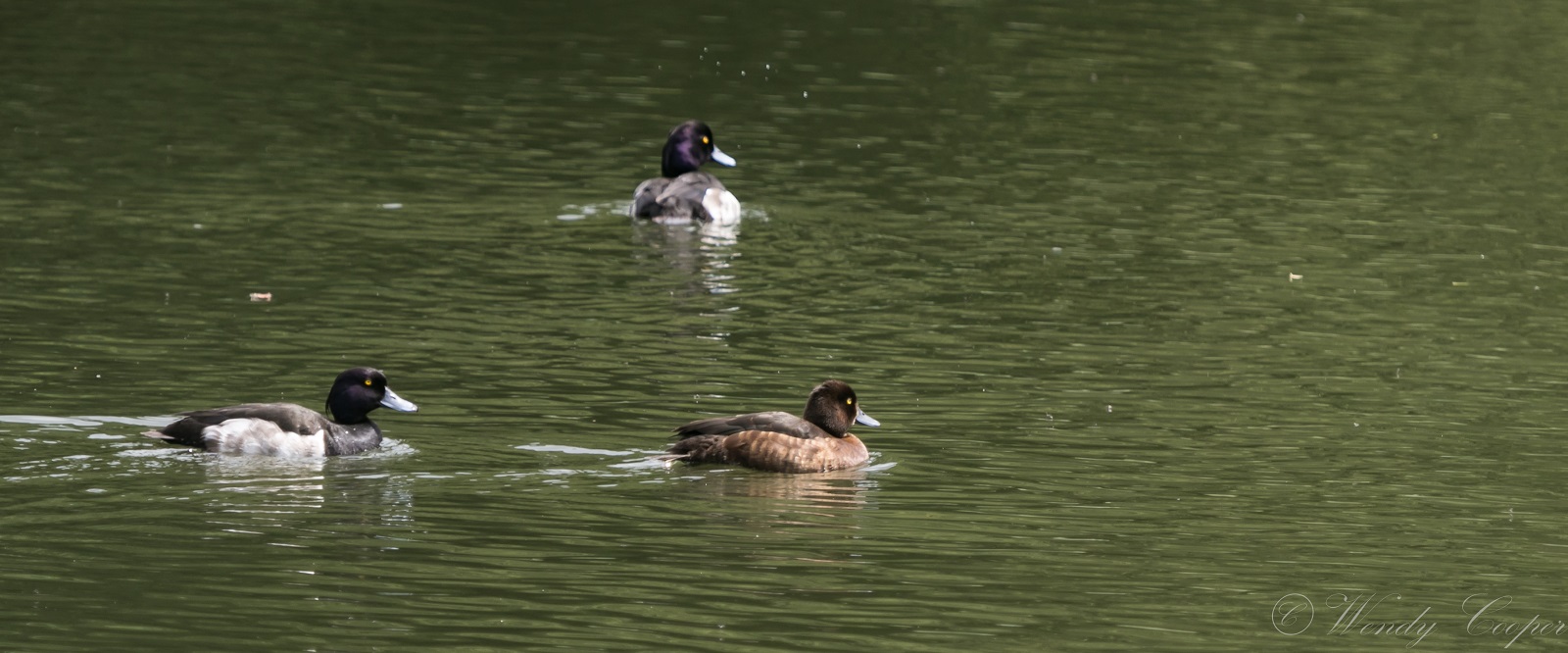 Little Grebes bobbing along on the water, suddenly disappearing underneath it then re-appearing with a tasty morsel,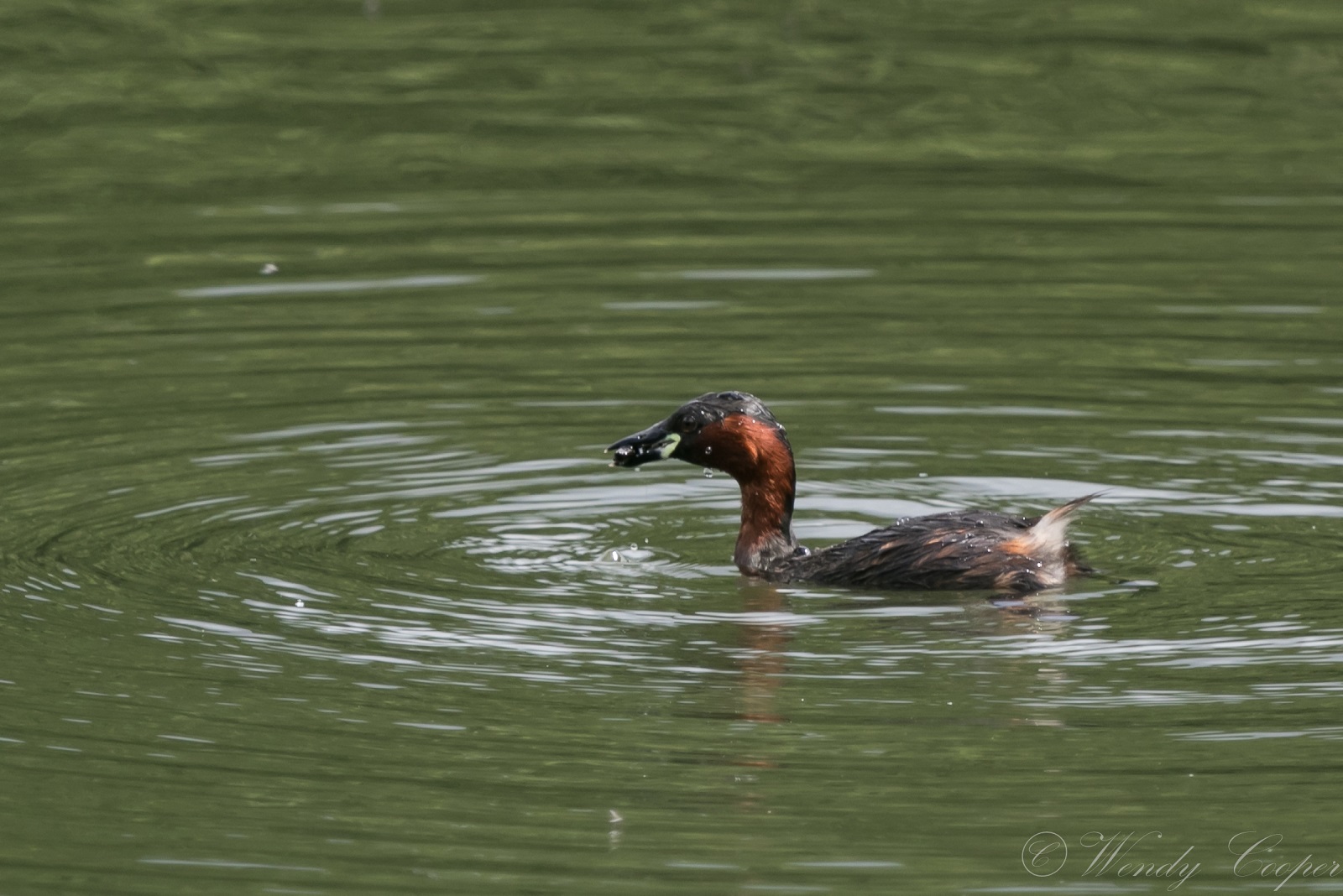 Here and there were Coots and quite a few well grown Cootlets, now dabbling for themselves, but no less vocal,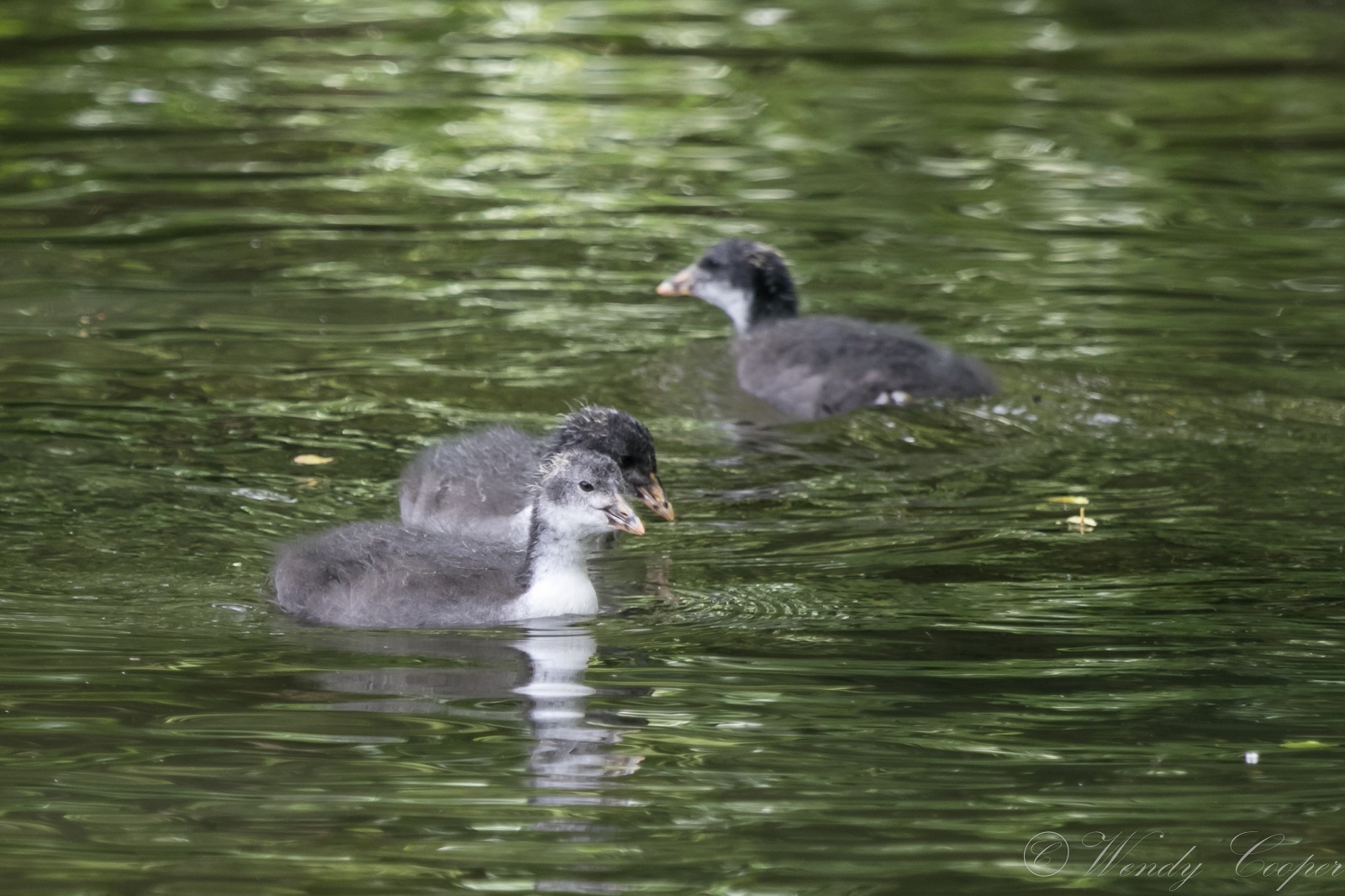 and over the far side of the lake, a Swan and Cygnets were gliding serenely along. (When we had visited last year, I don't recall seeing the Swans, so was very pleased to see that a new pair have taken up residence)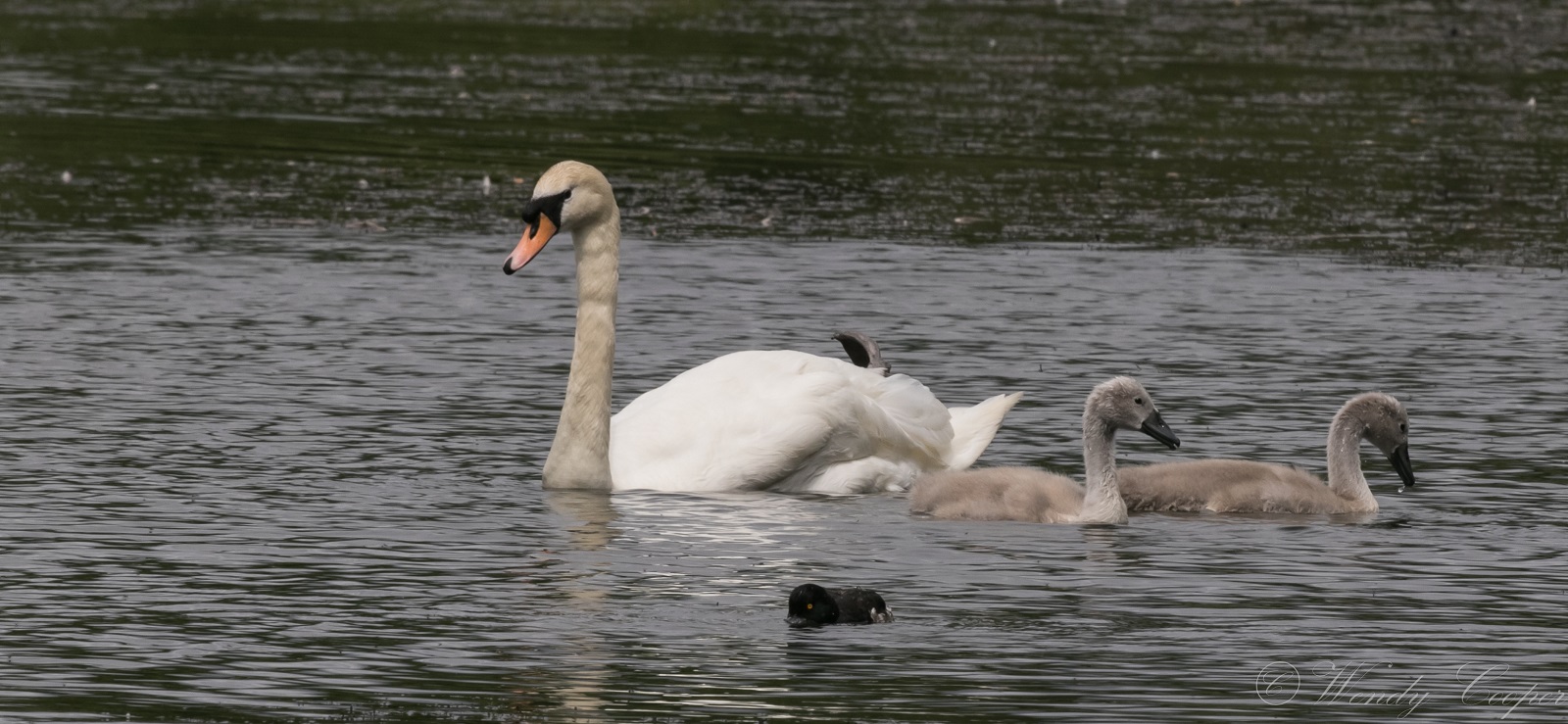 Overhead there were a few Ravens and from time to time one or two Lesser Black Backed Gulls were gliding around watching proceedings.
All of a sudden, a commotion!
One of the Gulls had been looking and listening and had seen an opportunity for a meal - he had caught the stray Mandarin Ducking. Now I am quite matter-of-fact about these things, Nature may have 'cute' moments but in reality it is all about survival and can seem quite harsh to gentler souls - a nearby family were quite shocked and Hubby too.... So I've refrained from including a particular image, although there is a link to the Flickr set at the end of the blog.
Anyhow, the commotion with the Gull caught the attention of the Cob Swan, who, after going to check that it wasn't a Cygnet that the Gull had caught,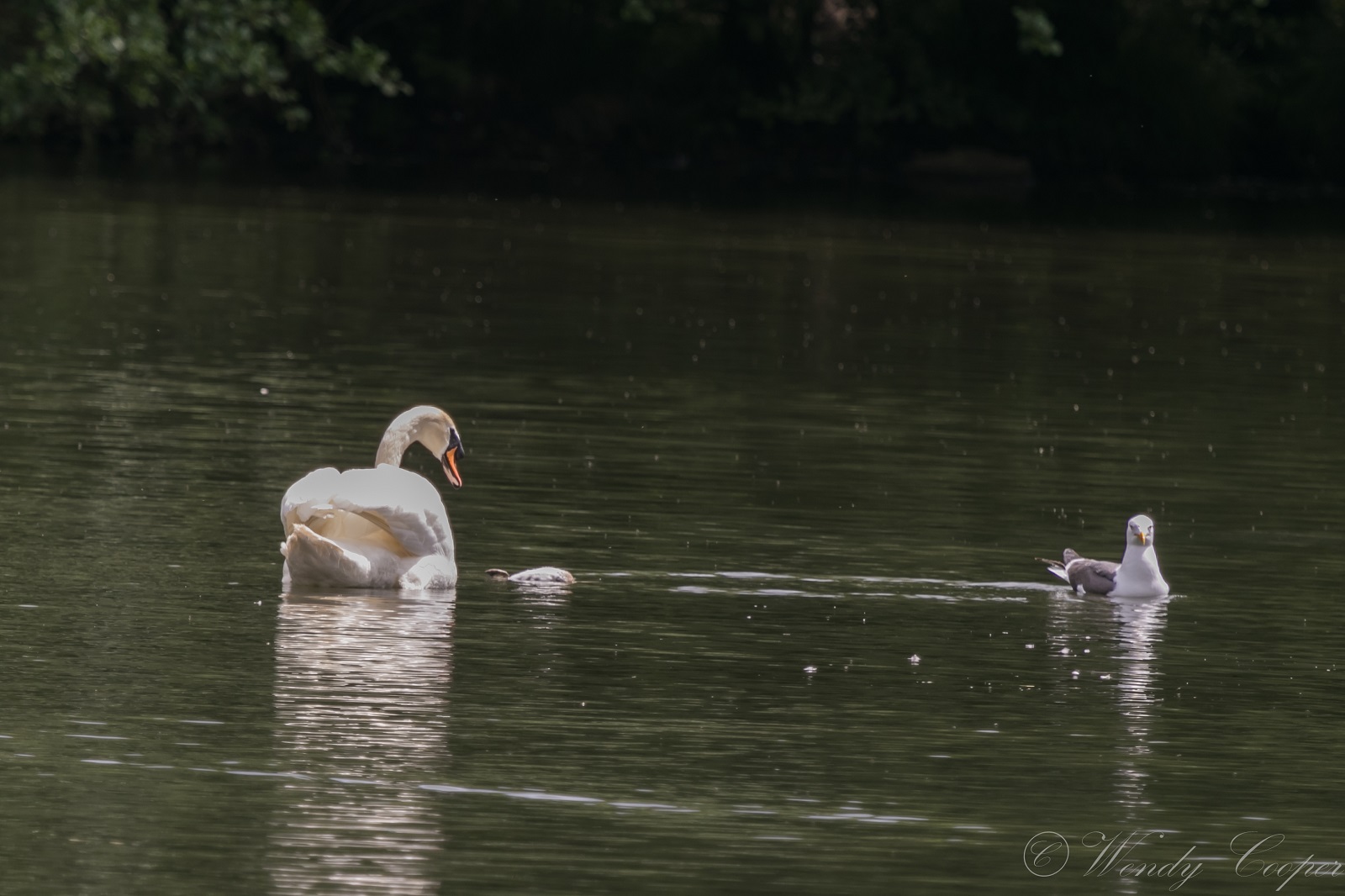 began to chase the Mallards, the Tufteds and anything else in case it thought was a threat. He wasn't happy and put on a fine display of power! Strangely though, he didn't chase the Gulls!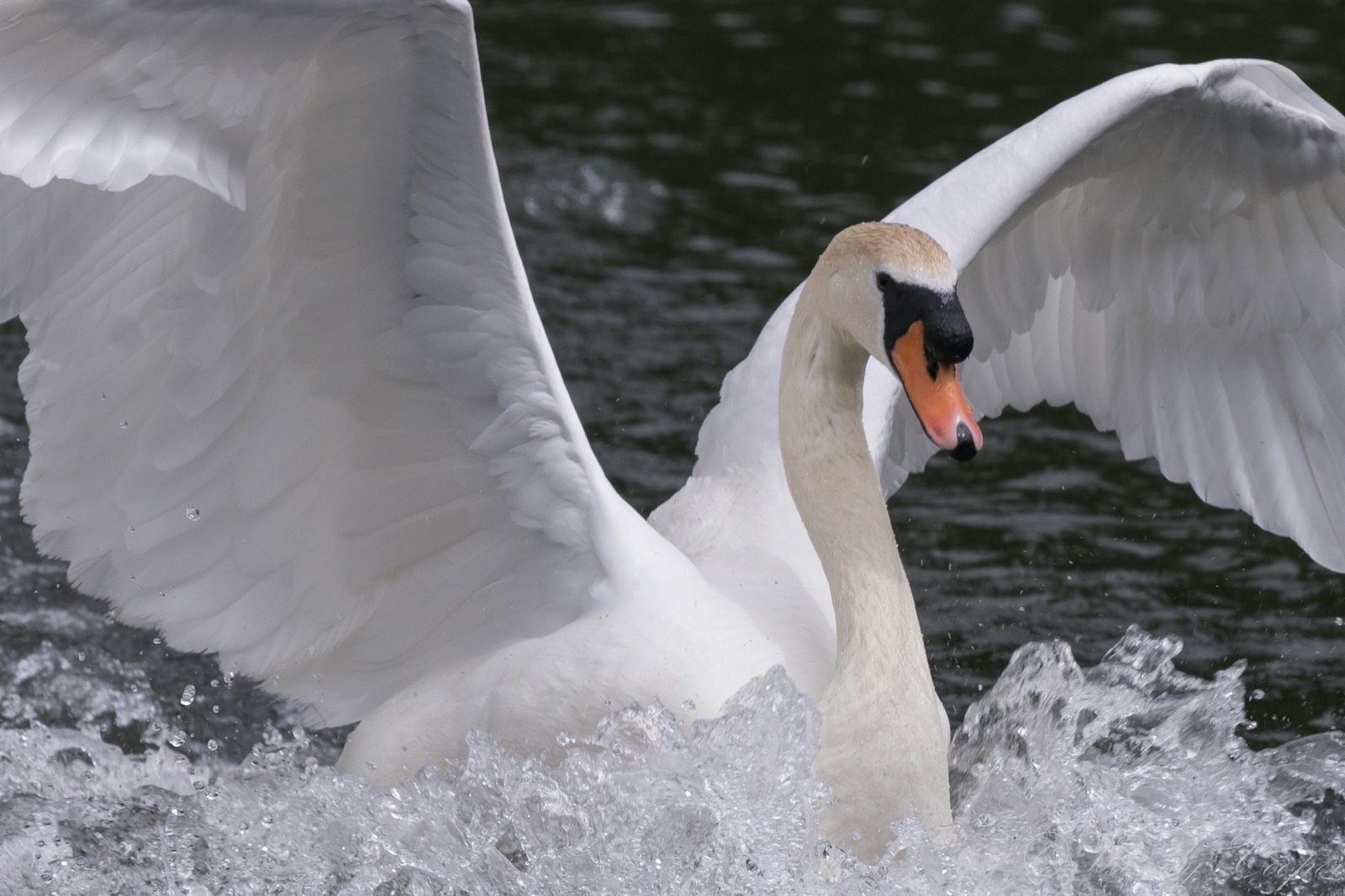 We carried on our circuit of the lake, watching the ducks continuing about their business and admiring a few of the damselflies that were at the reedbed end of the lake.
Now as many of you may recall, a favourite animal of mine to watch are Wild Boar, whilst they are much maligned by some, I think they are awesome animals, both to watch and to learn about, so every time we visit the Forest, we make an attempt to see them.
For most of the year they are in family groups, called Sounders, as they raise their young - duties somewhat collectively taken on by the Sows, with the male Boar being more solitary once they are of breeding age. One reason that some folks do not like them, is that certainly over the winter months, their feeding habits look a tad untidy, however, they root for tubers and insects and turn over the forest floor, aerating and waking the ground as they do so : Nature's Gardeners. In the warmer months, they will shelter under and feed around the bracken, sometimes helping to clear it by doing so. (The quantities of bracken, which smothers the ground in the Forest prevents more natural flora from growing).
I had arranged to meet with a friend, who knows the Forest well, in the hope of just maybe being able to see and watch Boar. Unfortunately, we were a little too early in the day, although a squeal was heard and little legs going past under the conifers seen, however I learned an awful lot about their habits as we walked, being shown where they had slept and other field signs and my friend described to me their habits and the behaviour of the Sounders that he had watched in that part of the Forest.
We did lurk for a while in one particular spot, where he knew they were close by, however whilst the Boar proved bashful, we were spotted by at least one Fallow Deer, at first there was just a flicking tail, then one of the ladies became brave enough to peer out through the bracken at us!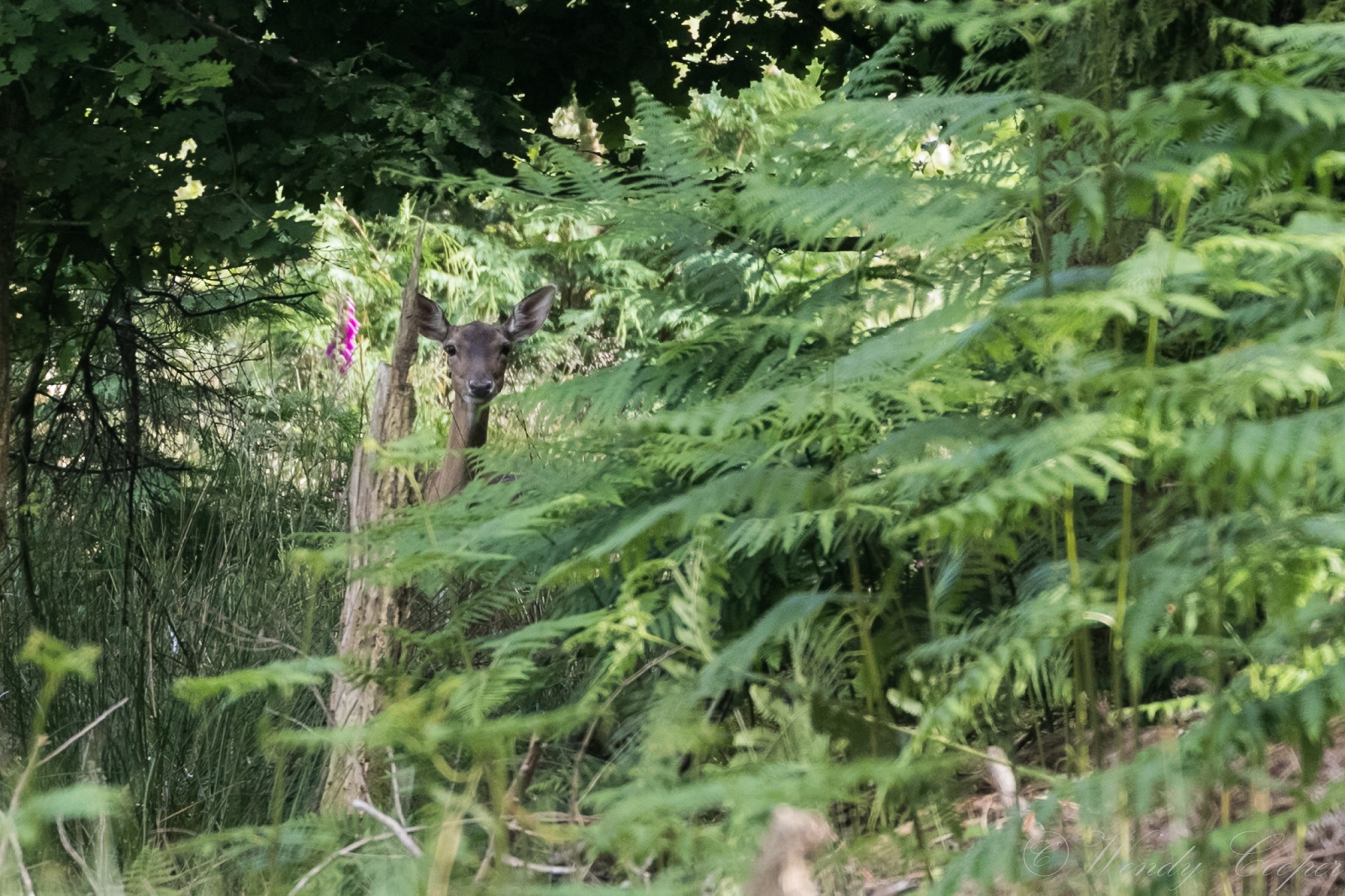 Just as we got up to walk back, a small bird landed on the ground just ahead of us, unperturbed by our presence, it hopped along, looking for food on the churned surface, I managed a 'grabbit' shot, it looks like a Tree Pipit, many of these will have youngsters at the moment, so it will have been out foraging for food for hungry mouths - another favour from the Boar, turning over the soil and revealing bugs for the birds!;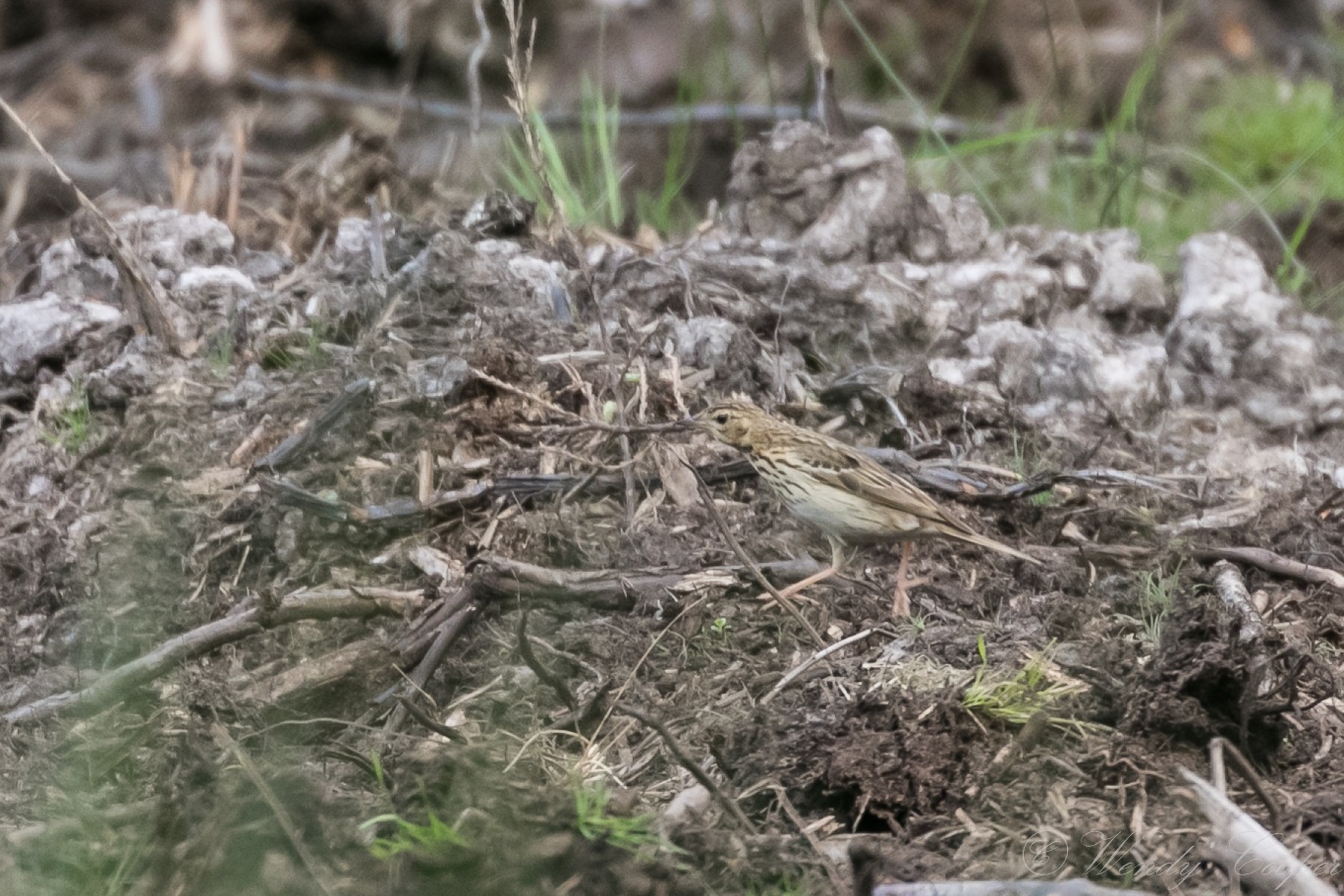 meanwhile, my companion was photographing a rarer species, a 'Lesser Spotted Tog in the Forest of Dean' (photo used with permission ©CaldwellCreations). A rarity indeed as I make a point of staying away from the business end of a camera... :)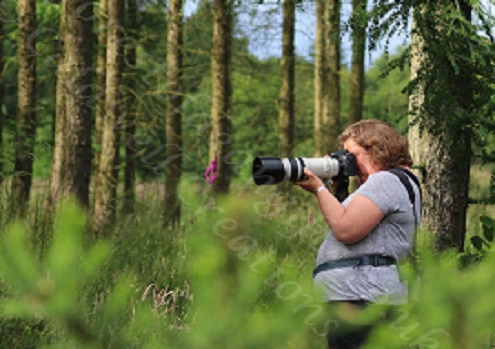 Ahem... back to the wildlife!
The next morning, Hubby and I spent a while at Symonds Yat, hoping to watch the Peregrines. We did get to watch a pair of Buzzards riding on the thermals,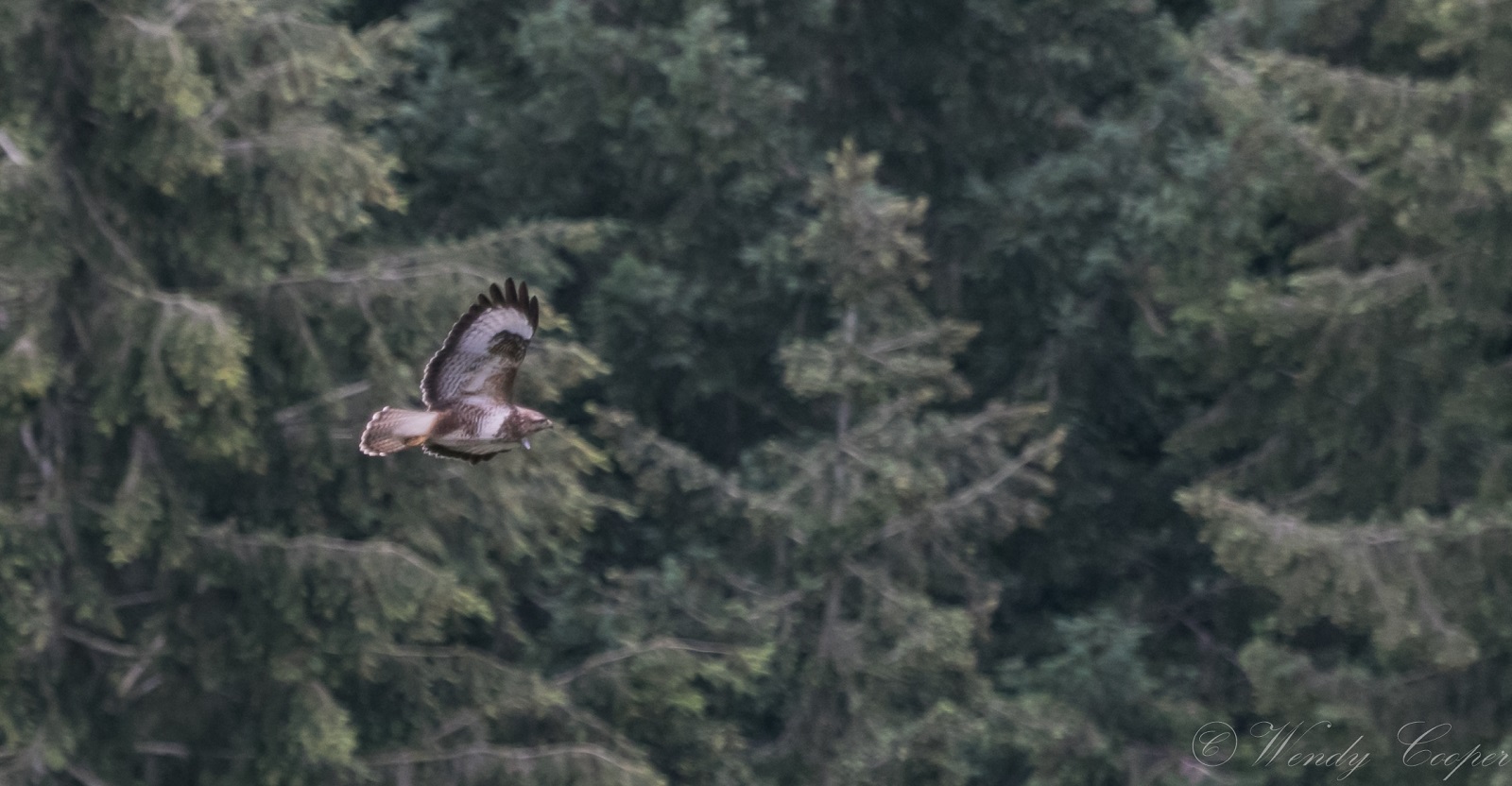 before one of them had a little 'Corvid trouble', as always eventually shrugging off the Crow and floating away. The Buzzards were quite active and appeared a few times, but no Peregrines!
There was a moment's excitement, when several of us were looking at a very distant grey bird perched in the top of a tree, however once it turned round, it revealed itself as a pigeon (Come on now, we've all had that moment where a far off speck is momentarily something wished for and it's not!)
A short while later however, a gentleman that had been watching in a different direction mentioned that he could see a Peregrine. I turned my binoculars in that direction and with a little help, could just about see the bird perched partway up an old pine. Turns out, that a new pair have taken over the cliffs where they nest and that this was most likely one of the previous inhabitants who has been watching the area.
In the afternoon, we had a proper wander at Woorgreens and Crabtree, a favourite location! Our first pause was near a couple of little pools where there was a good variety of Dragons and Damsels, we saw :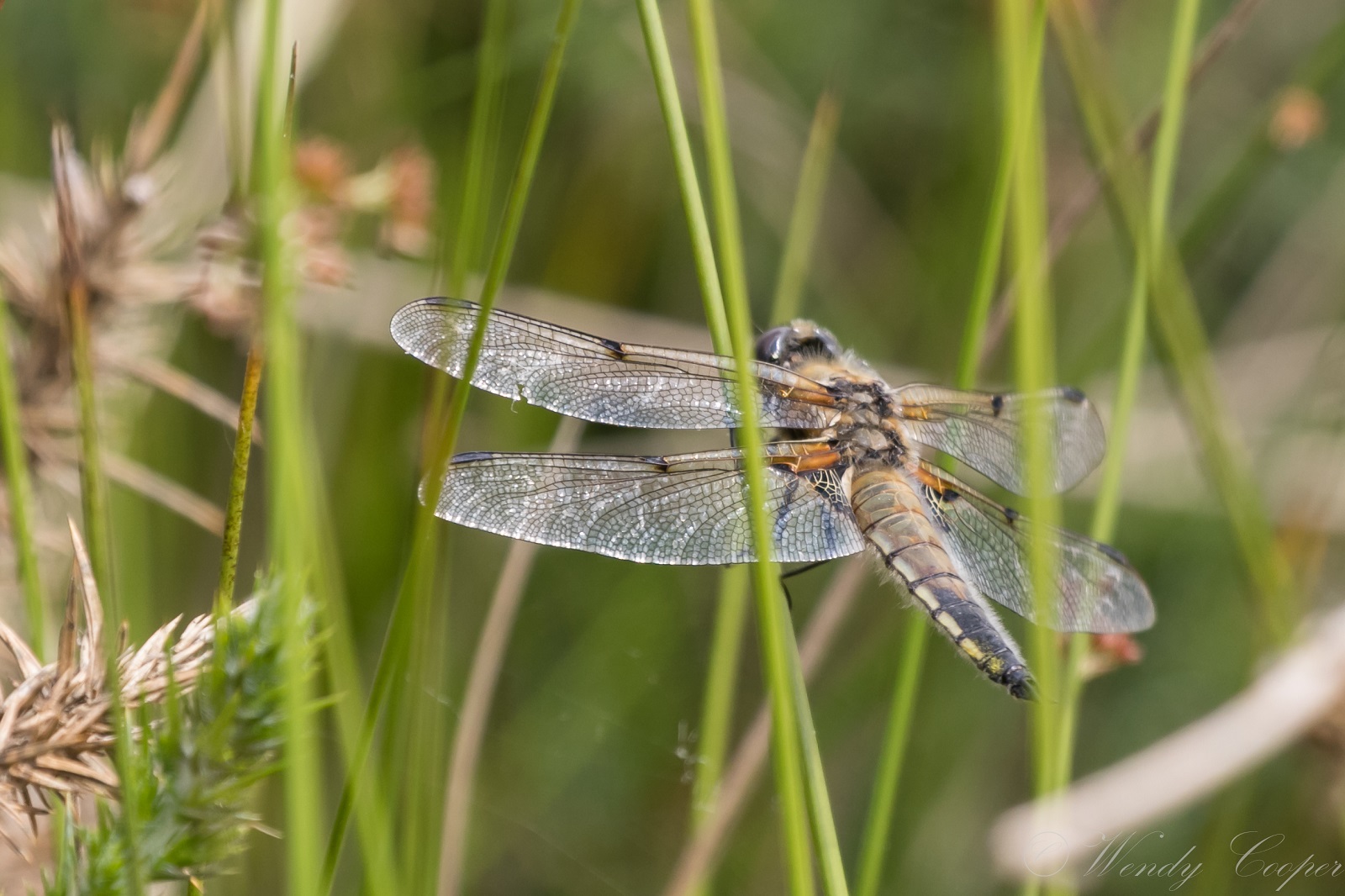 Four Spot Chaser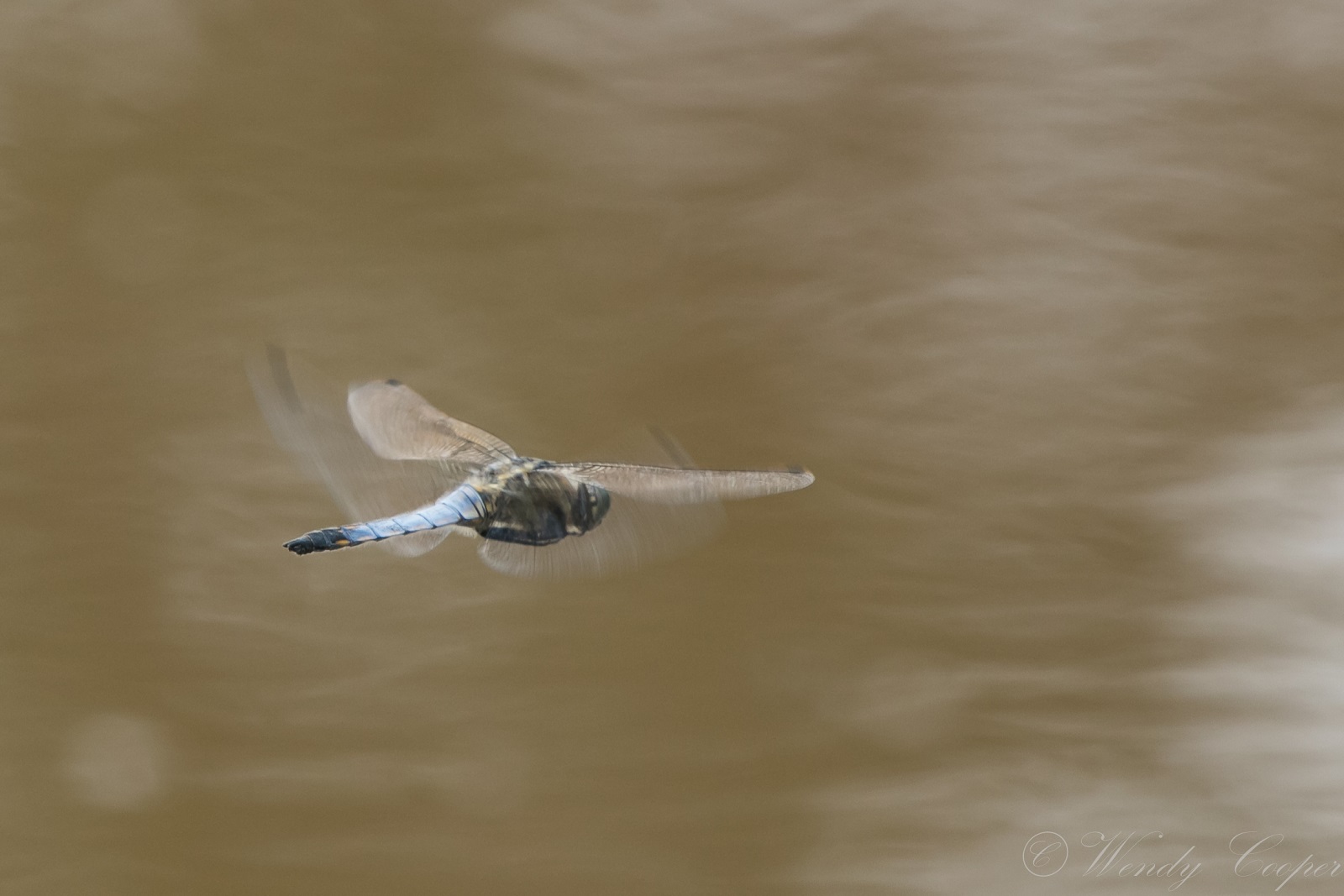 Broad Bodied Chaser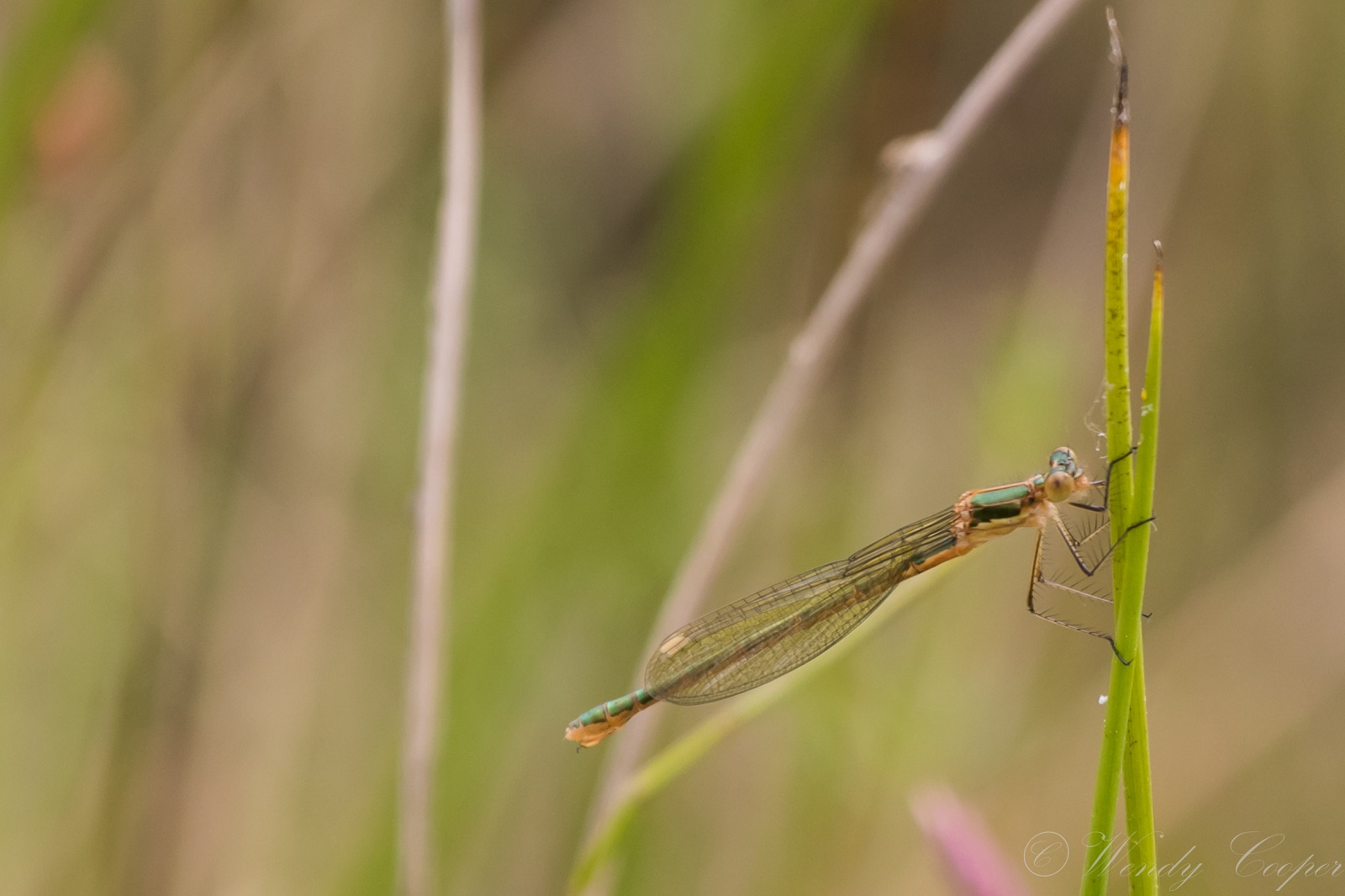 Emerald Damselfly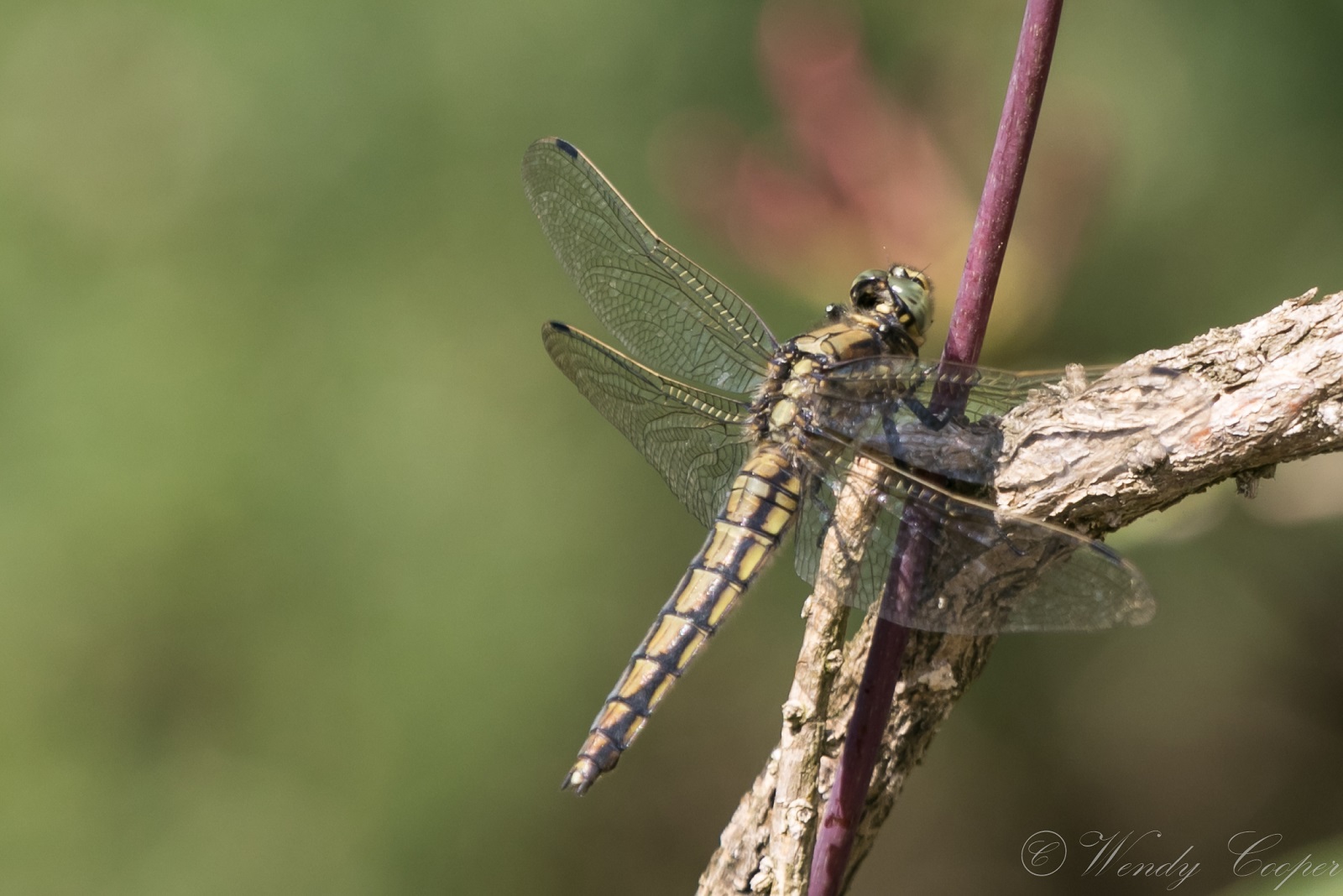 Black Tailed Skimmer
as well as Large Red and Common Blue Damselflies and were able to watch some of the females oviposting (laying eggs) in the water.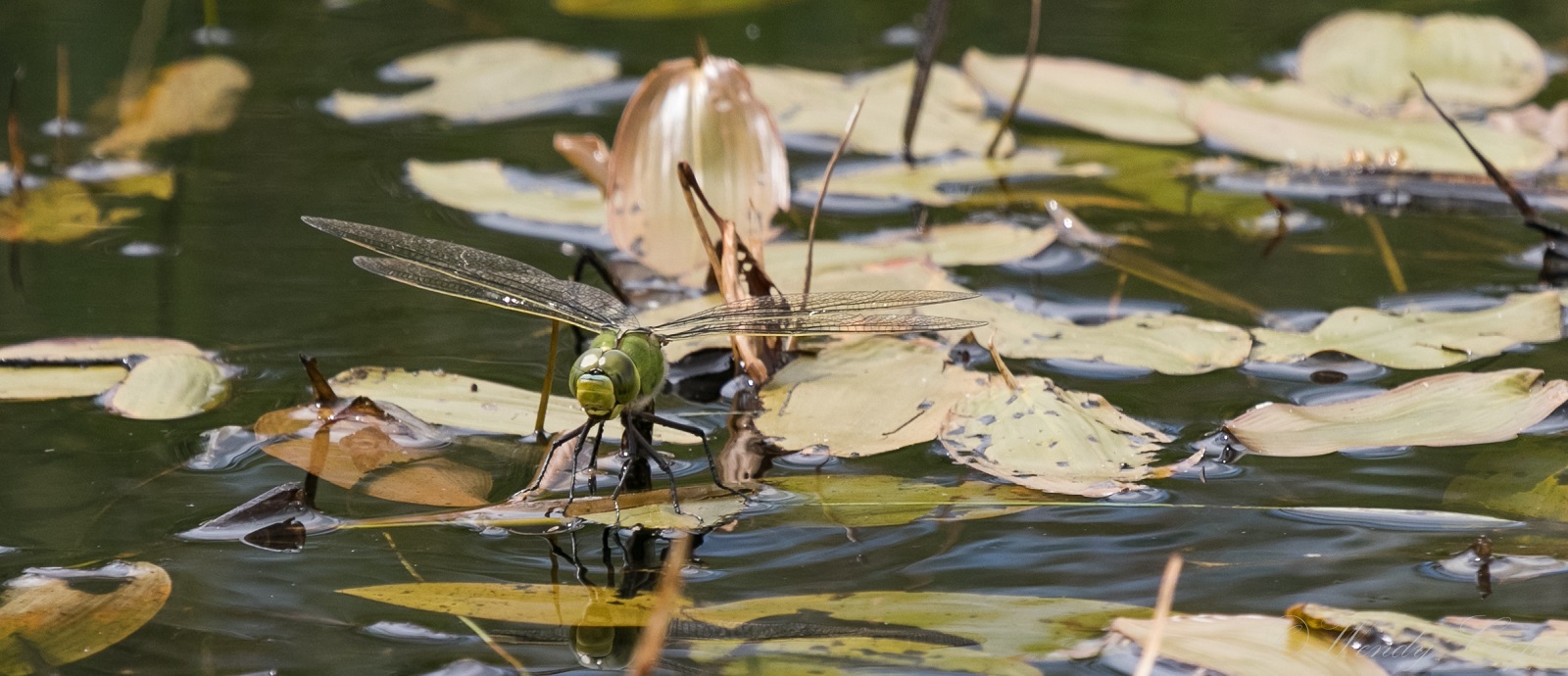 As we continued our walk, we paused for a moment to watch two Hobbys floating overhead on the hunt for a meal on the wing - dragonflies are one of their main foods!
Heading up Crabtree Hill, we were surrounded by birdsong, only occasionally catching a glimpse of the singers as they flitted across to a new spot. It was very warm! Towards the top of the hill, one of the Linnets was a little bolder and sat atop the bracken for a few moments.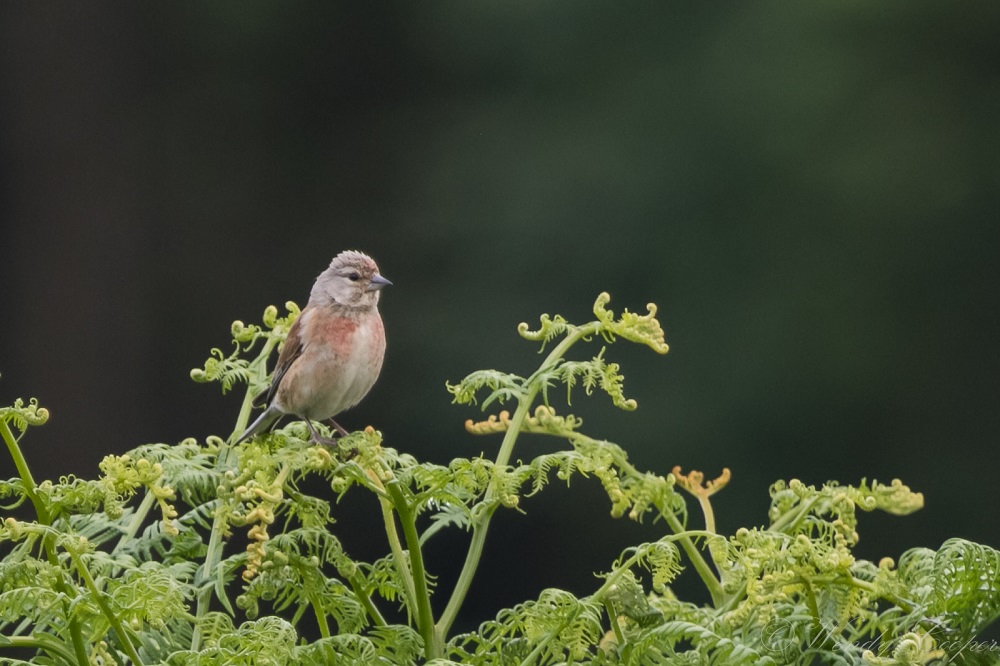 Whilst enjoying watching the Linnet, I could also hear song from one of the trees next to the path, out of sight from the camera (but not from me peering through the branches) I could see a Tree Pipit and from time to time also saw others doing their 'fly up' display whilst singing.
On our way back down the hill, whilst peering over the bracken, Hubby spotted a very handsome Stonechat at the top of a tree, we watched him, as well as a female for quite some time.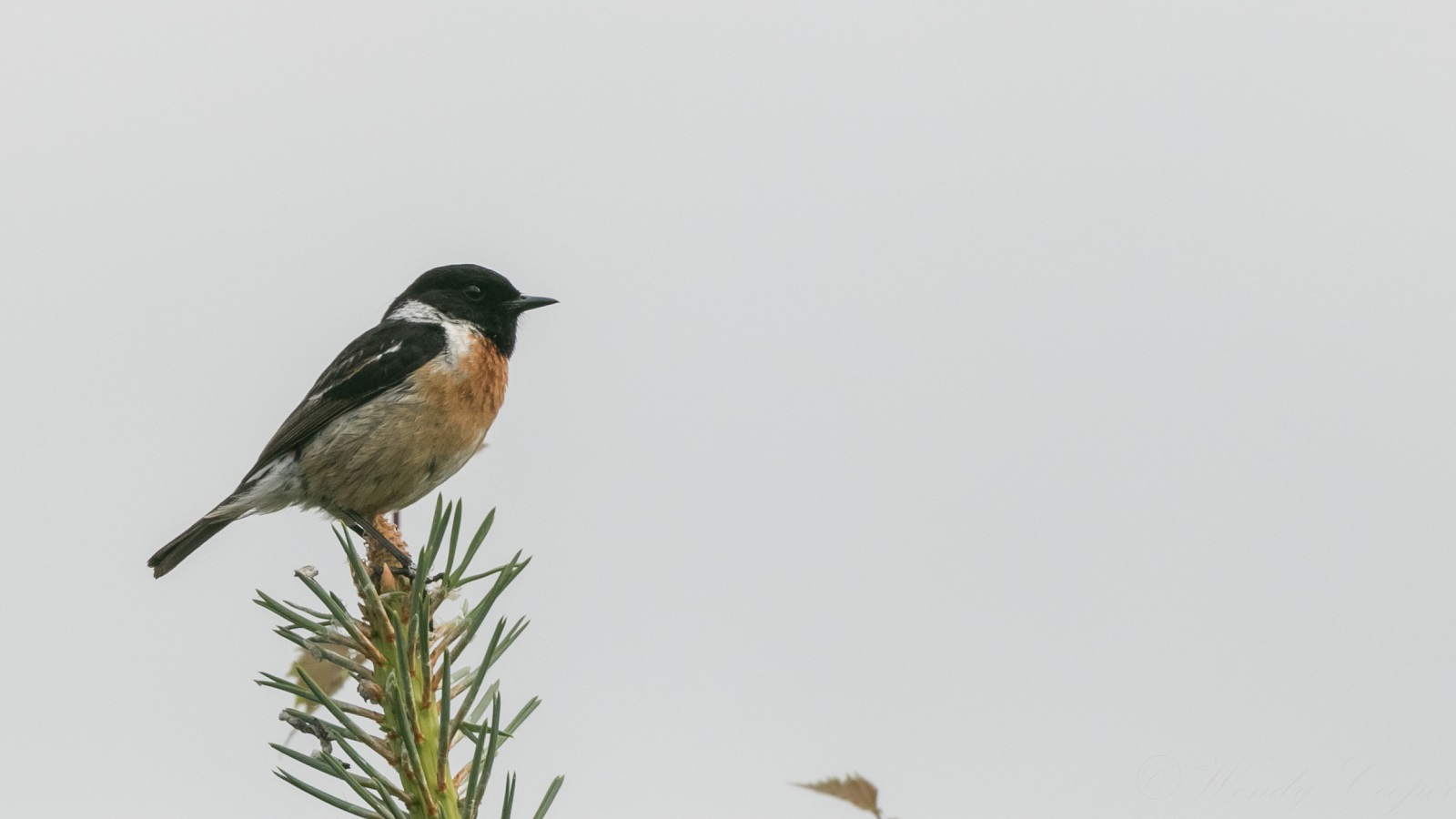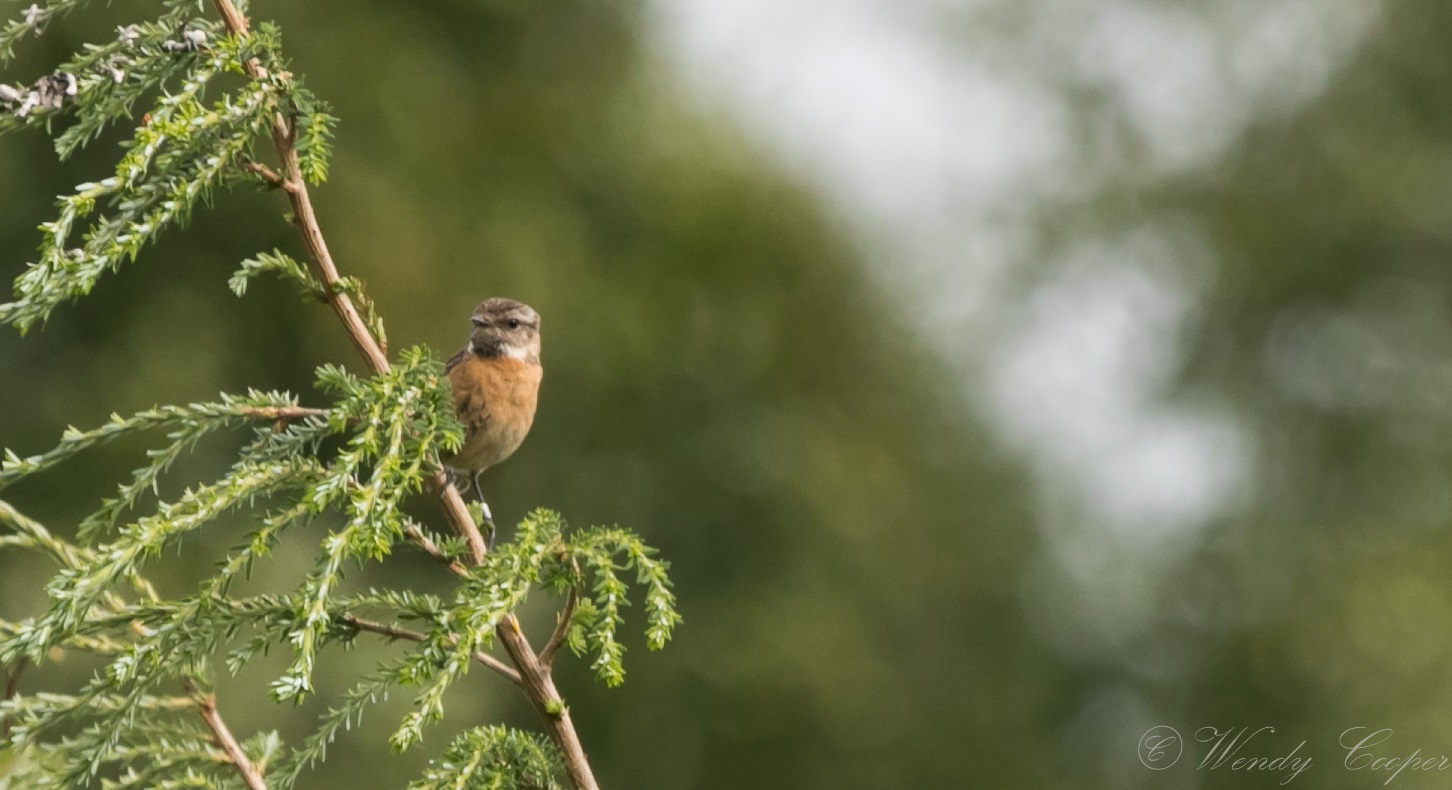 From nearby in the scrub, the unmistakeable Brrp from a Whitethroat was heard and eventually a fleeting glimpse as it popped up and then out of sight again!
Overhead the treetops we could hear 'mewing' and from time to time also caught glimpses of two Buzzards having some kind of conversation - eventually they disappeared off in different directions and out of sight.
Our last full day, we decided to try a couple of 'new' wanders, the first one being around the back of Cannop. Once again it was very warm and so whilst we could hear, in the main, the birds were trying to stay out of the heat. The first part of the route was through mature woodland, with plenty of Oak trees. Looking into the woods, we had a bit of a treat - lots of Treecreepers!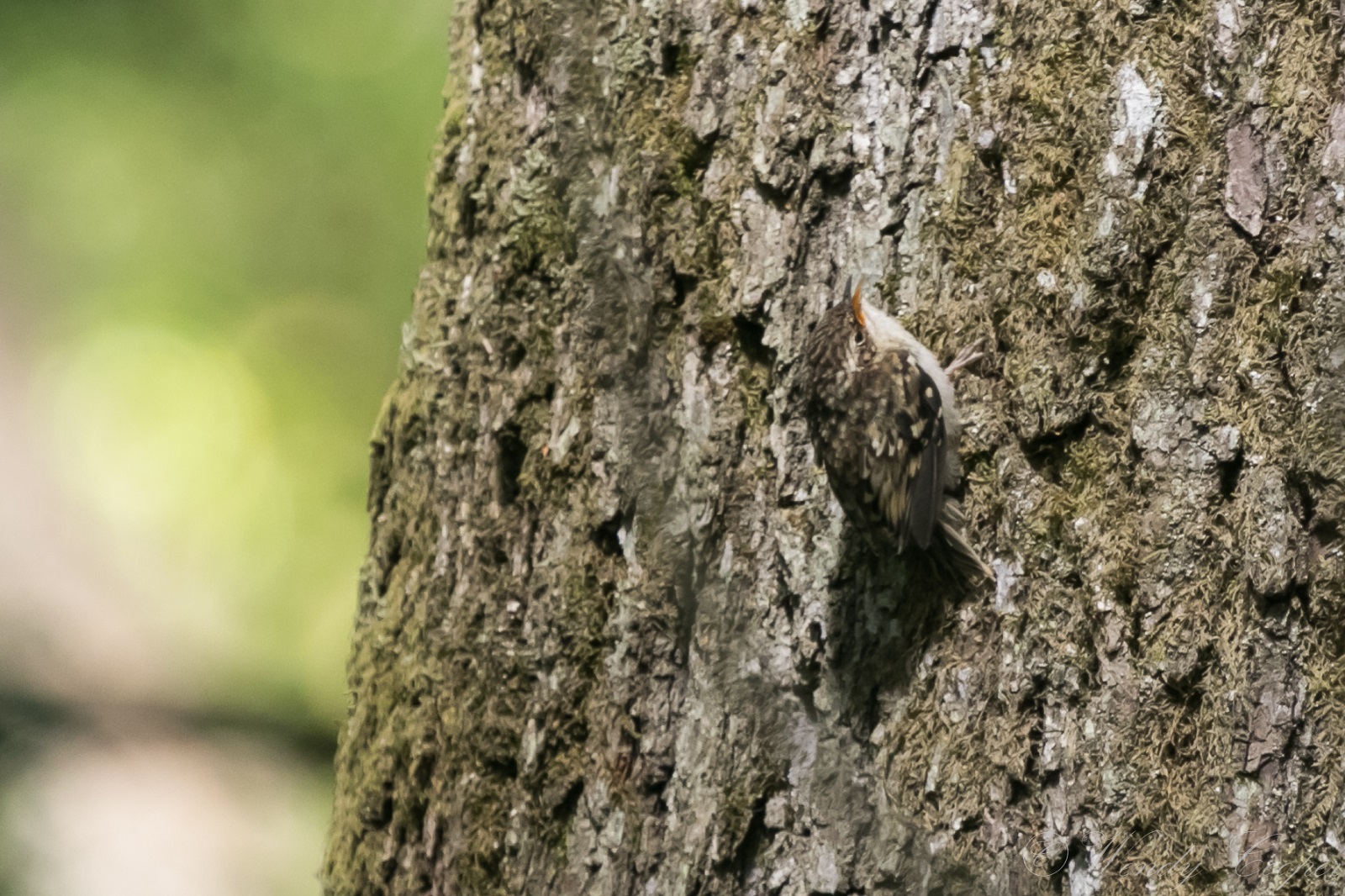 Now the Treecreepers at home are a bashful lot, however the ones we were watching were busy - there were a lot of fledglings clinging to the trunks and a lot of busy parents looking for food, we even watched one youngster being fed a big moth!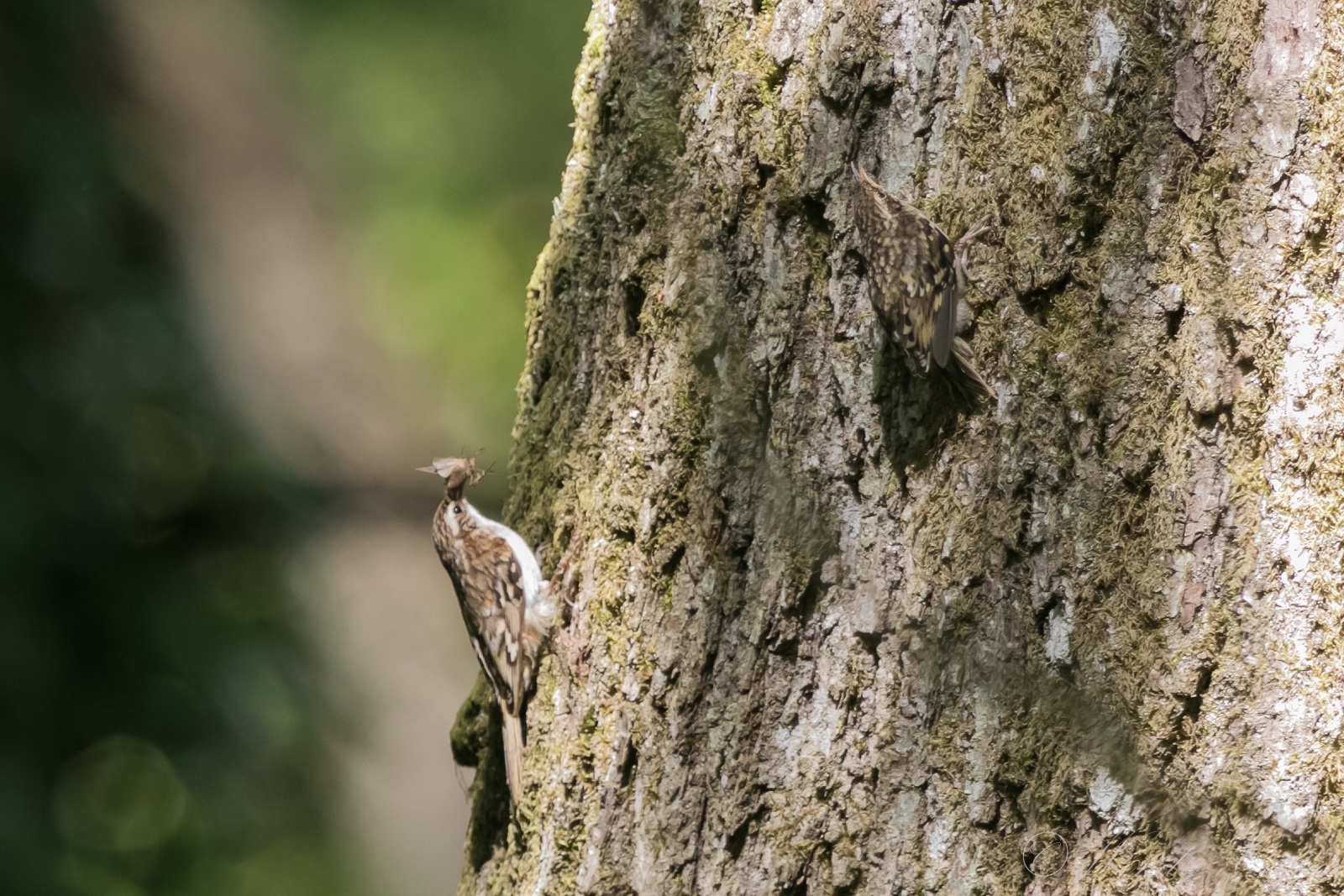 There were a few large Dragonflies on the wing, one being a Golden Ringed Dragonfly, however despite stillness from us, he refused to settle - being warmed up andd looking for a mate. I also saw my first Ringlet butterfly of the year,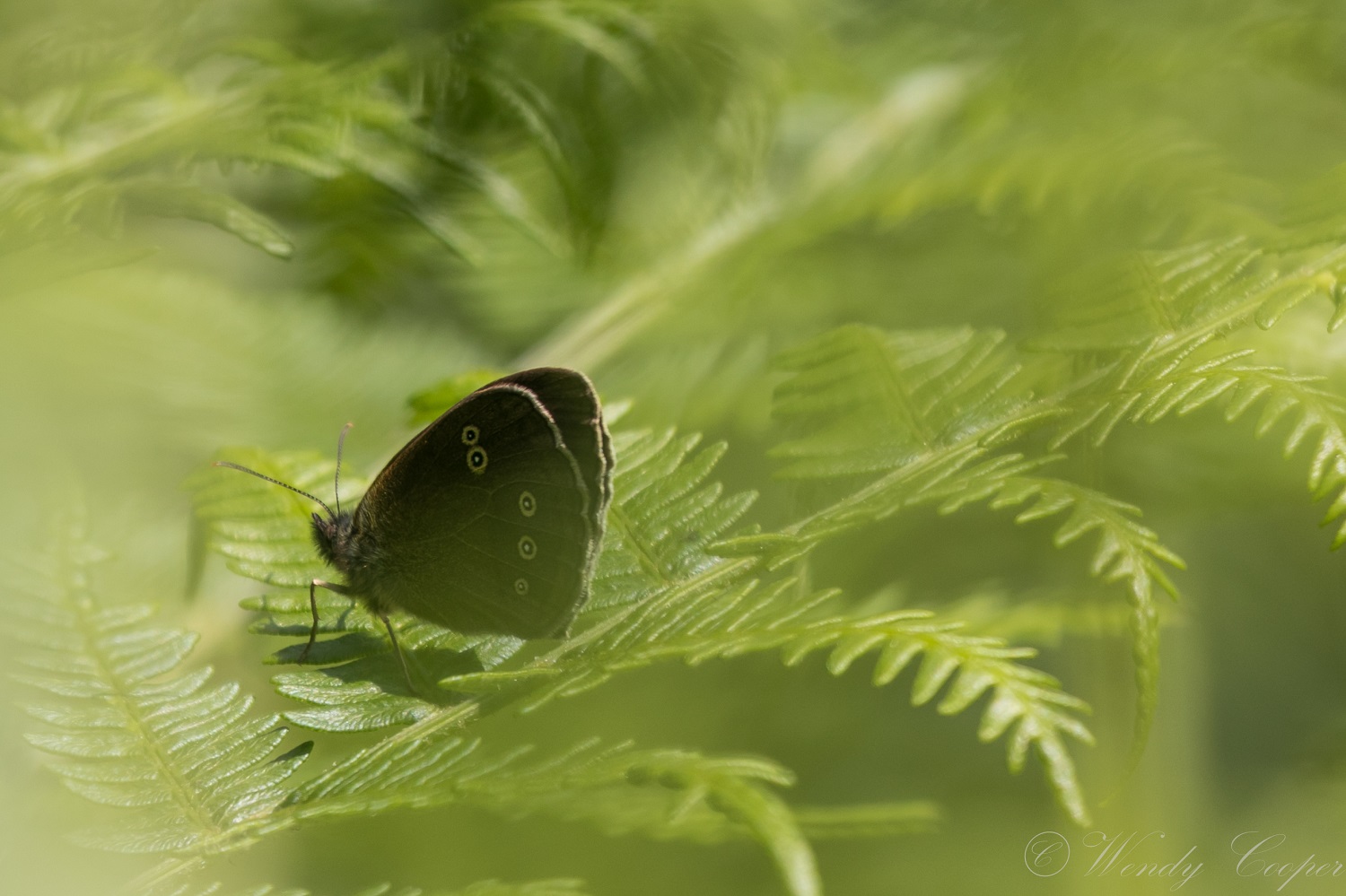 a Large Skipper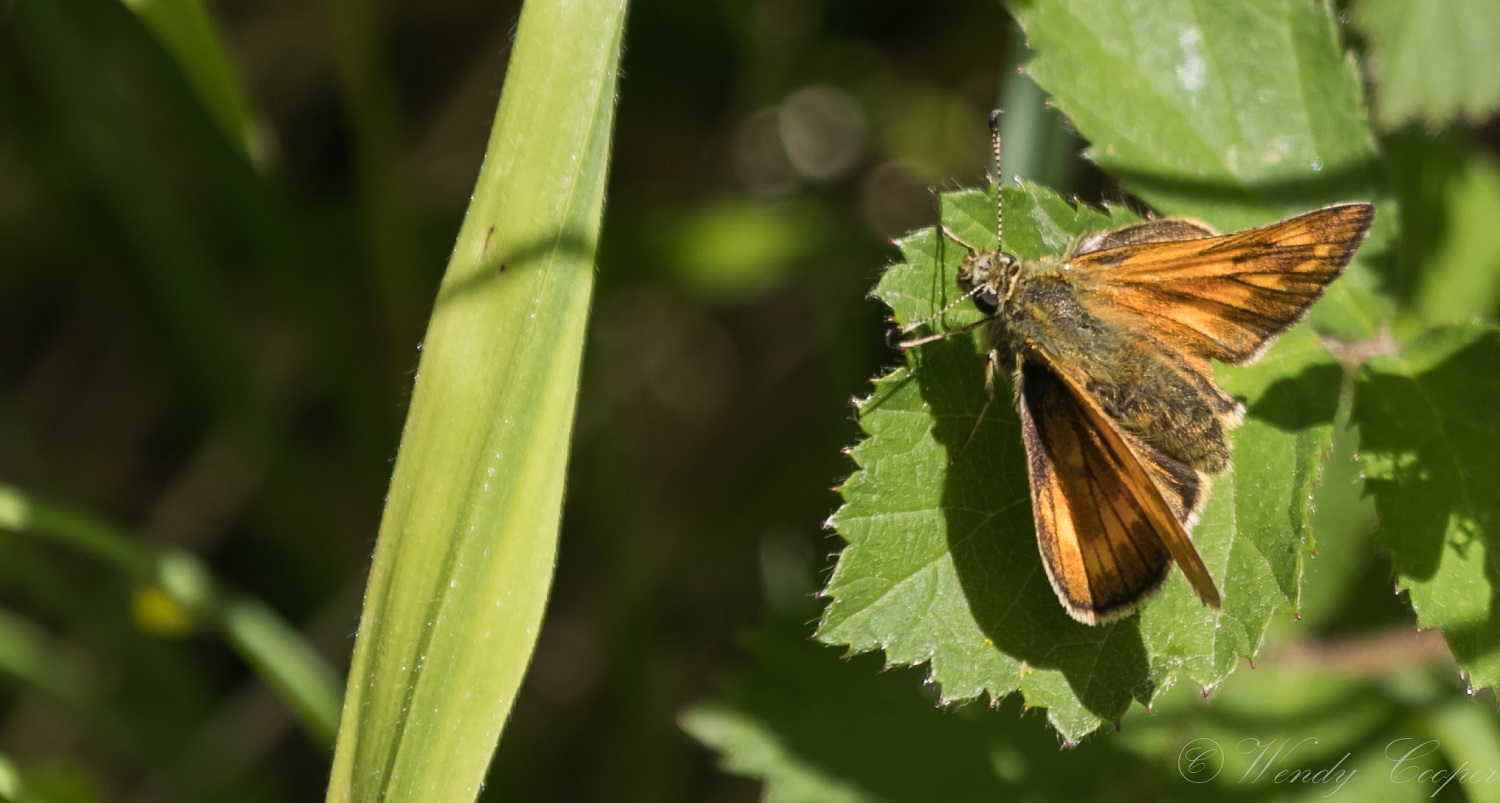 and I lost count of the number of Speckled Wood Butterflies - having only seen one to date at home, something of a treat!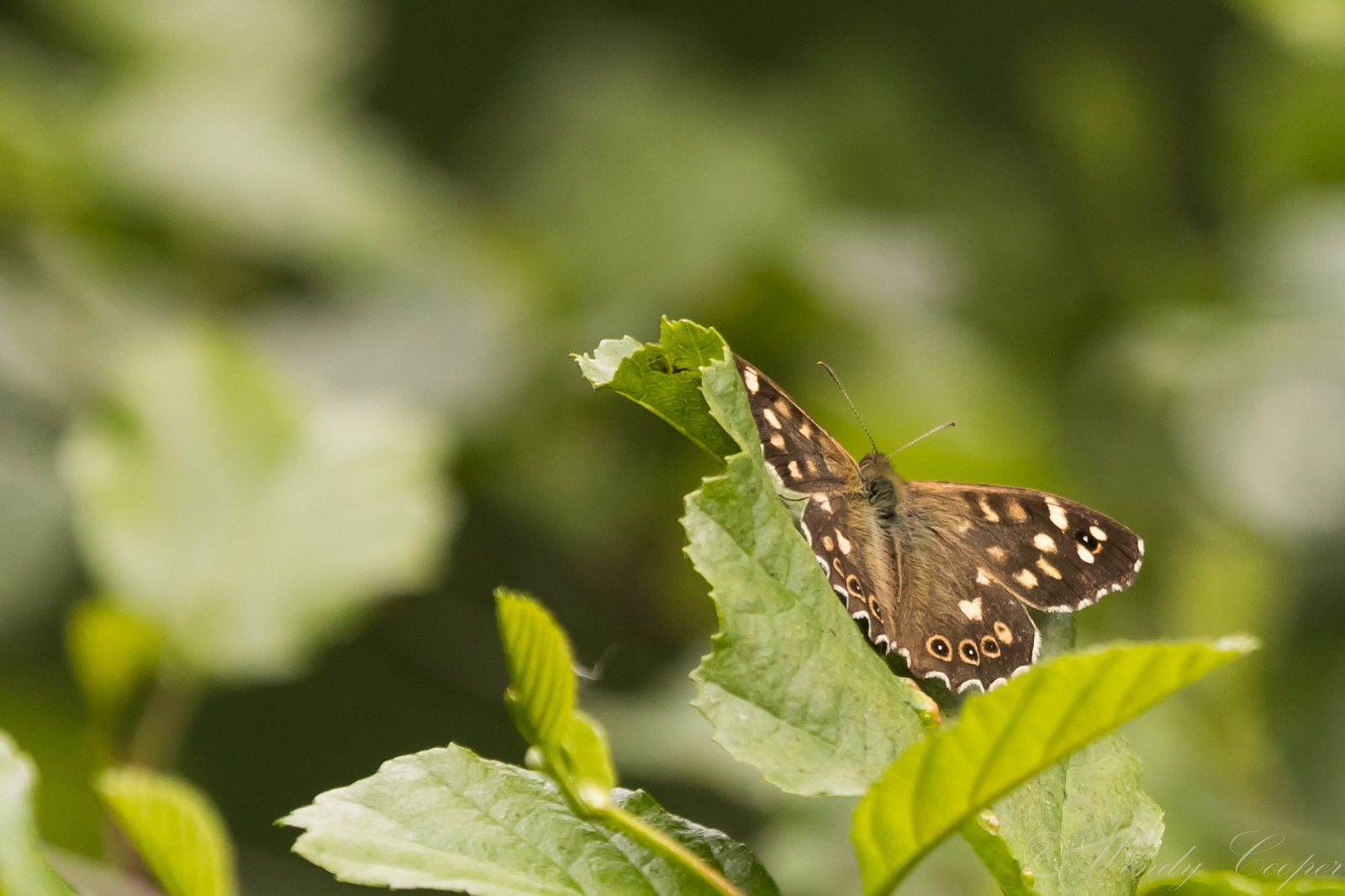 The rest of our walk round we simply enjoyed the surroundings, lush greens and occasional flashes of cerise from the foxgloves which were blooming in abundance. We could also see field-signs of some of the more elusive inhabitants of the Forest.
After lunch we had a short stop in the hide at Nagshead, where further views of the Redstart were enjoyed,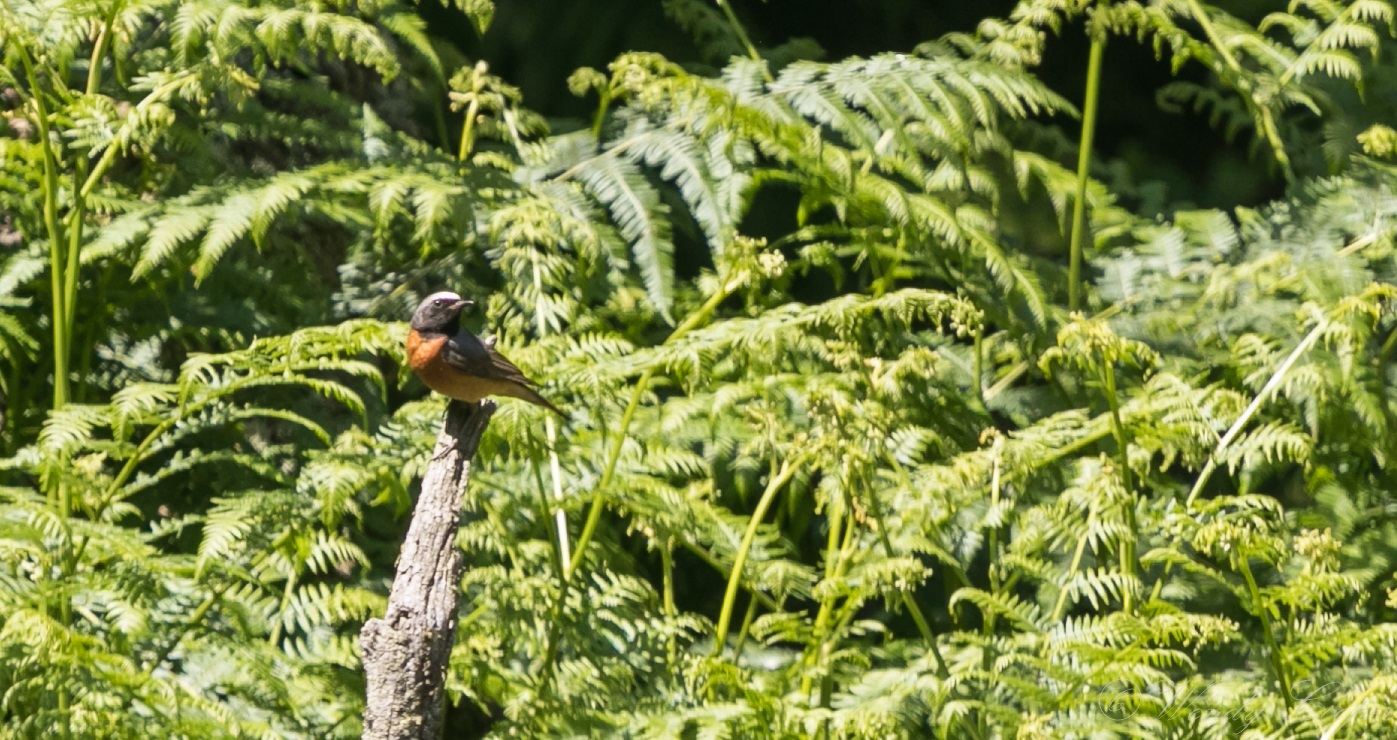 as well as a a couple of young Grey Wagtails and a bathing Blackbird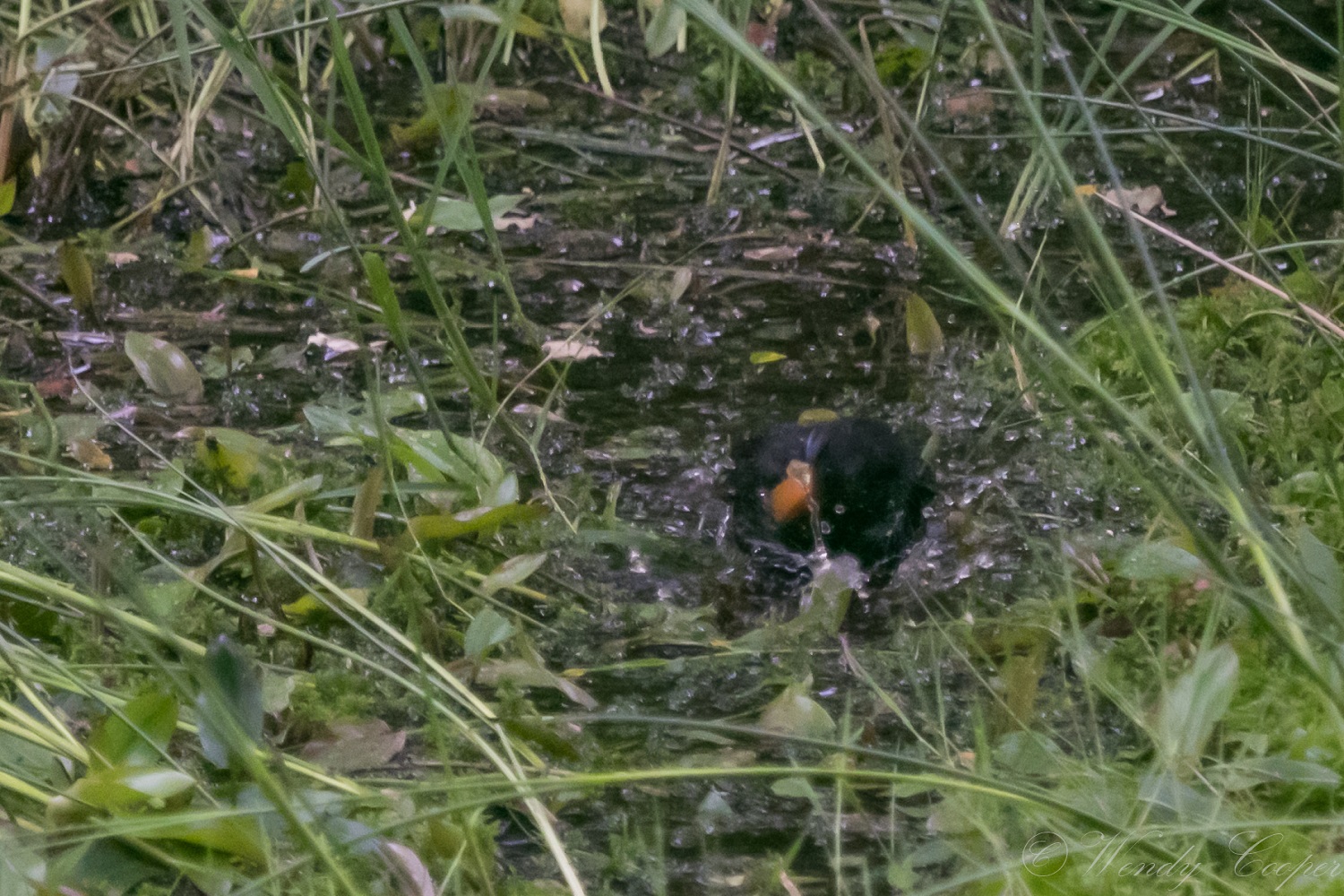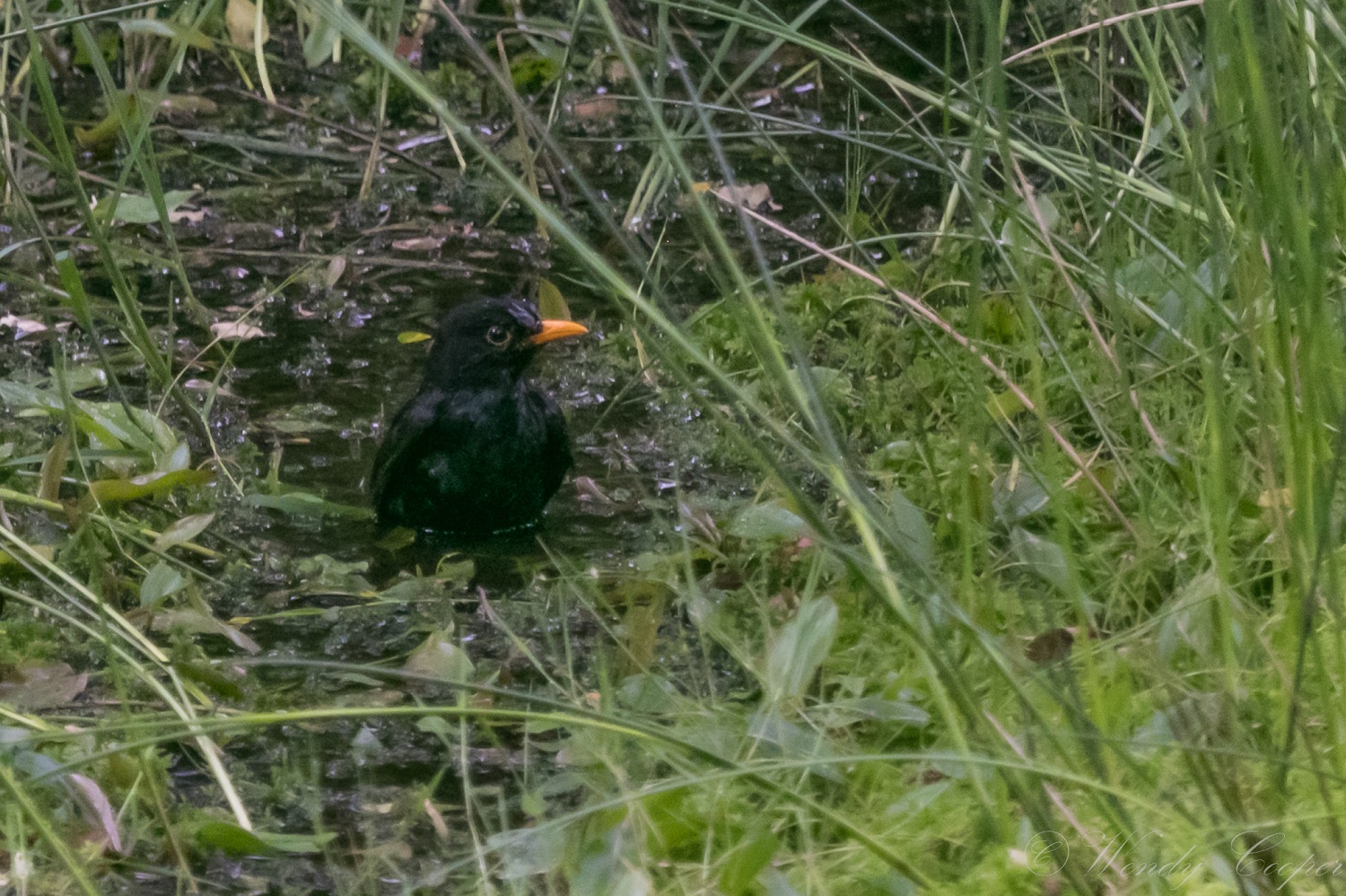 and Thrush, contemplating a bath as well, although he seemed to settle for a drink instead!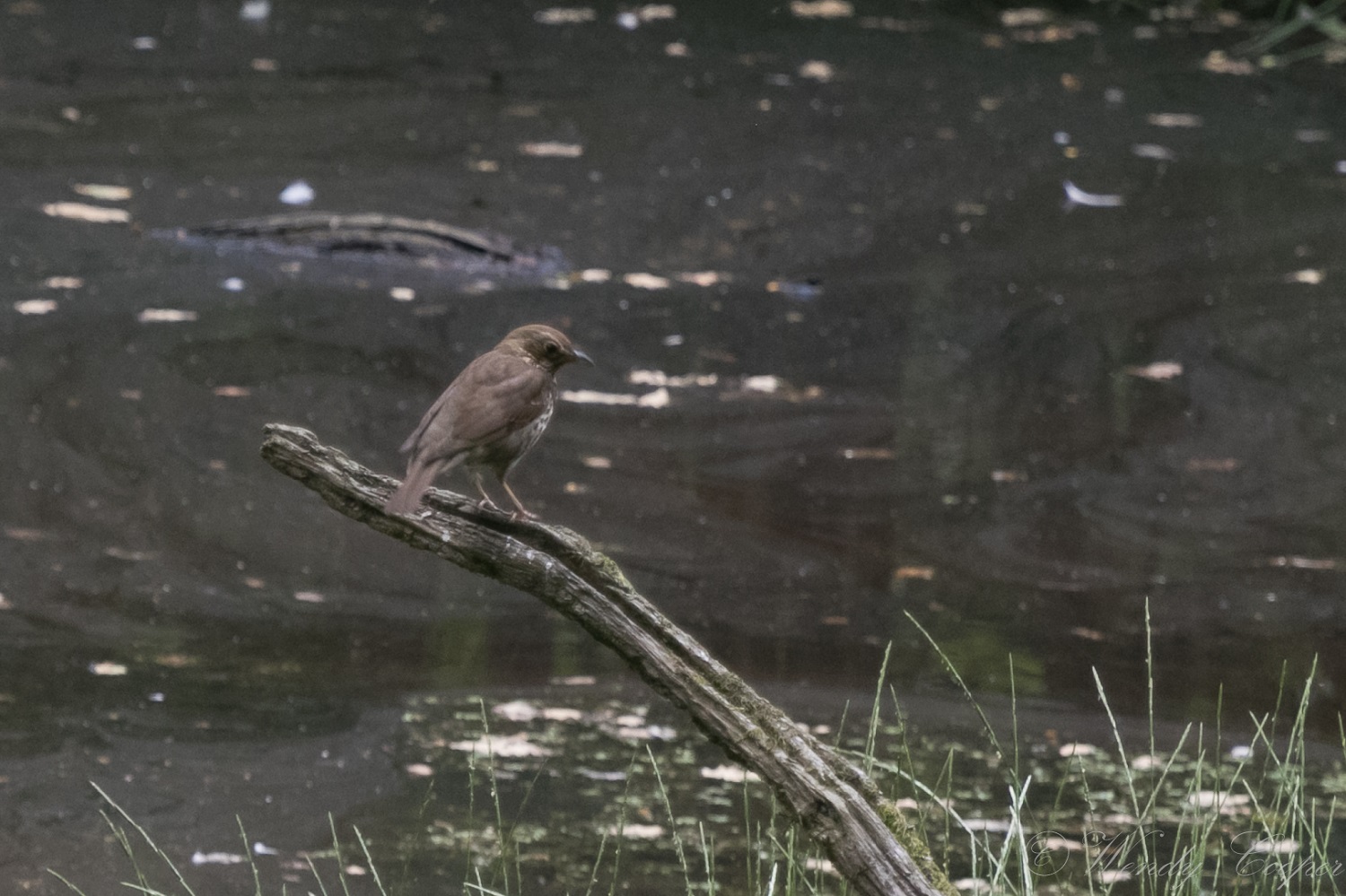 Further round our walk, we were following the 'long route' around Nagshead, which we have not done before, whilst it was quiet on birds to watch, it was a beautiful, albeit steep route to follow (ripples in East Anglia, Hills in the Forest!) One part took us past a huge quarry, which looked like good habitat for falcons, another alongside an area of 'heath' which although it was muchly swamped by bracken, showed many signs of Boar and there were quite a few small birds heard. For a short while we stopped and watched a little family of Great Tit youngsters exploring the bracken tops.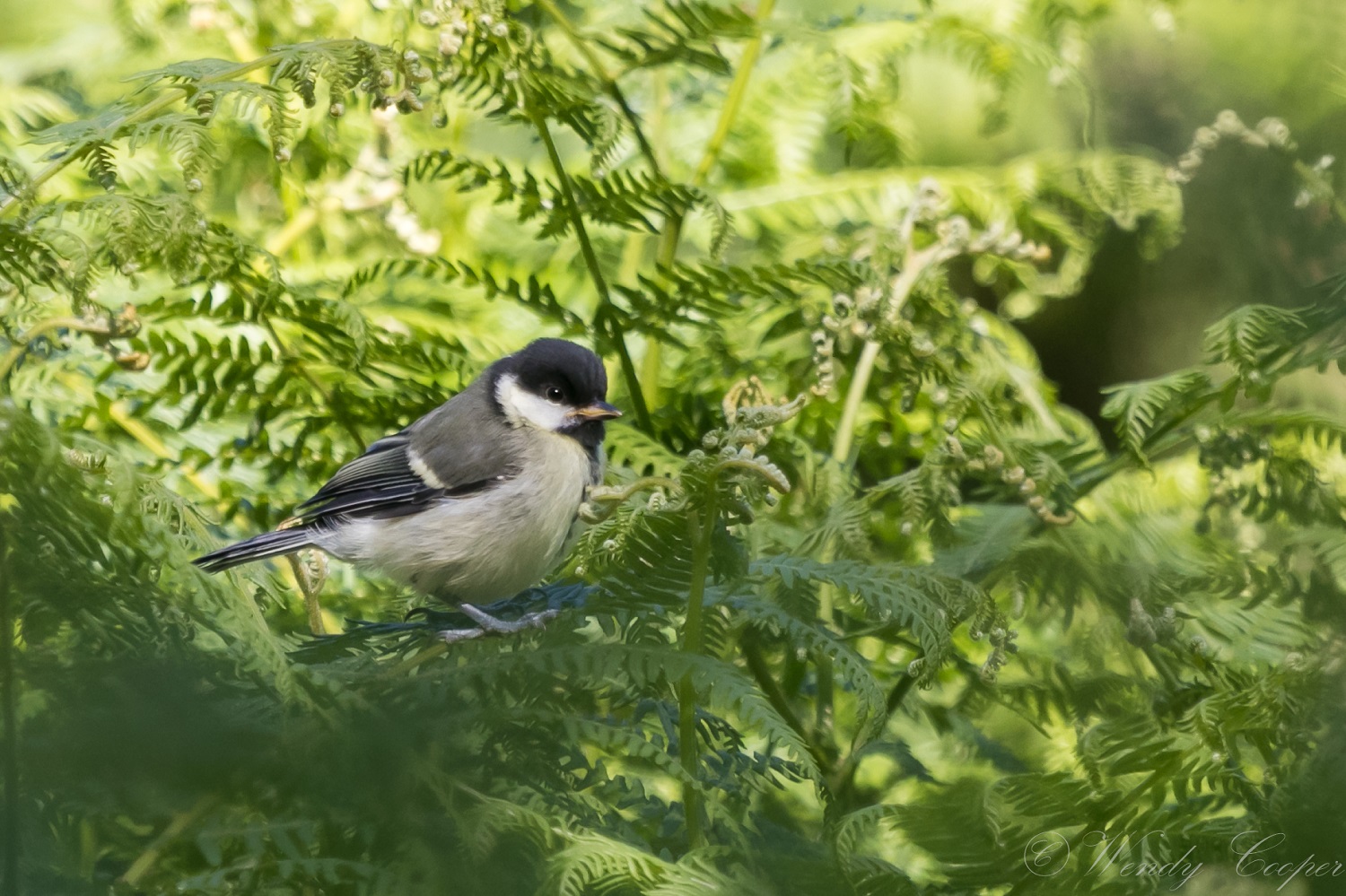 Our time had run out, however, after a a few days of wandering around in the Forest, listening, watching and delighting, we returned home refreshed (and I'm already figuring out more walks to do on our next trip!)
If you would like to browse more photographs from our trip, the link to the Flickr album is here (Click on the pic and it will take you through!)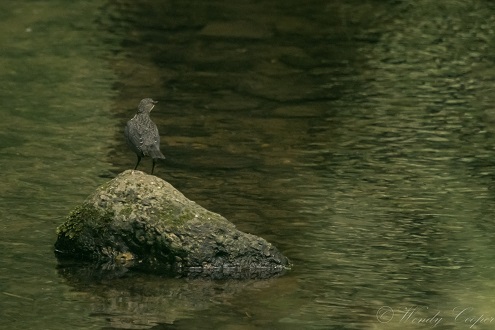 I hope you have enjoyed my blog, if you would like an email notification when my next blog is published, please add your email address to the 'Sign Up' box below, you will then receive an email with which to confirm your subscription.
As always, comments, feedback or questions are welcome, so please feel free to contact me via the comments section below or via the guestbook.
Comments