Postcard From Suffolk (Part Two): Another day of 'firsts'
Trip Reports
> Postcard From Suffolk (Part Two): Another day of 'firsts'
20/05/2017 - 17:06
After watching the Bitterns on our first afternoon, I decided to have a dawn walk the next morning on the off chance that there might be a spot of early morning excitement! The alarm was set for 5:30 and just before six am I was wandering on Dingle Marsh.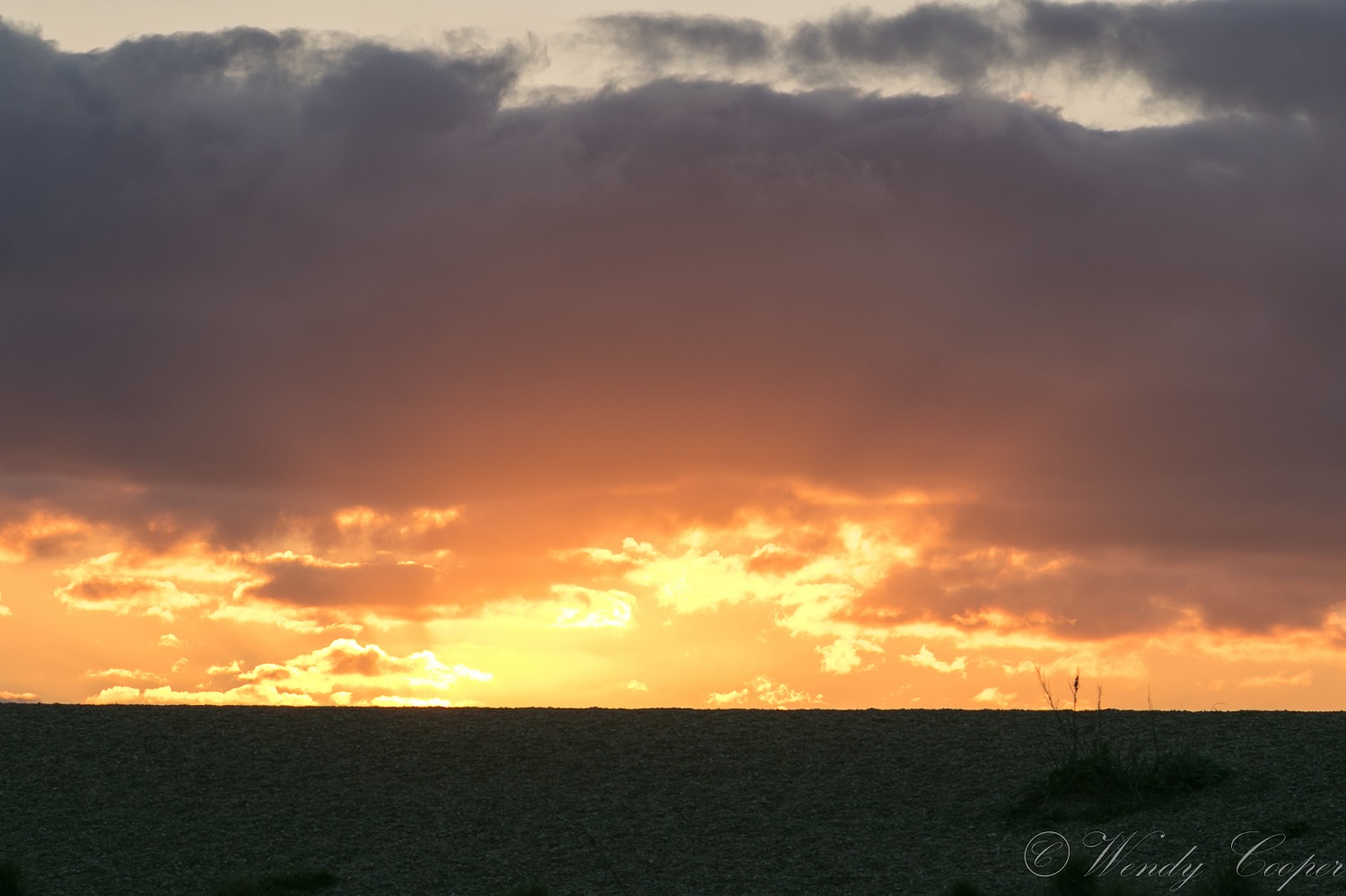 The sun was just rising and it was very still. Coming across the tops of the reeds there was an occasional Black Headed Gull, flying over before deciding which pool to settle on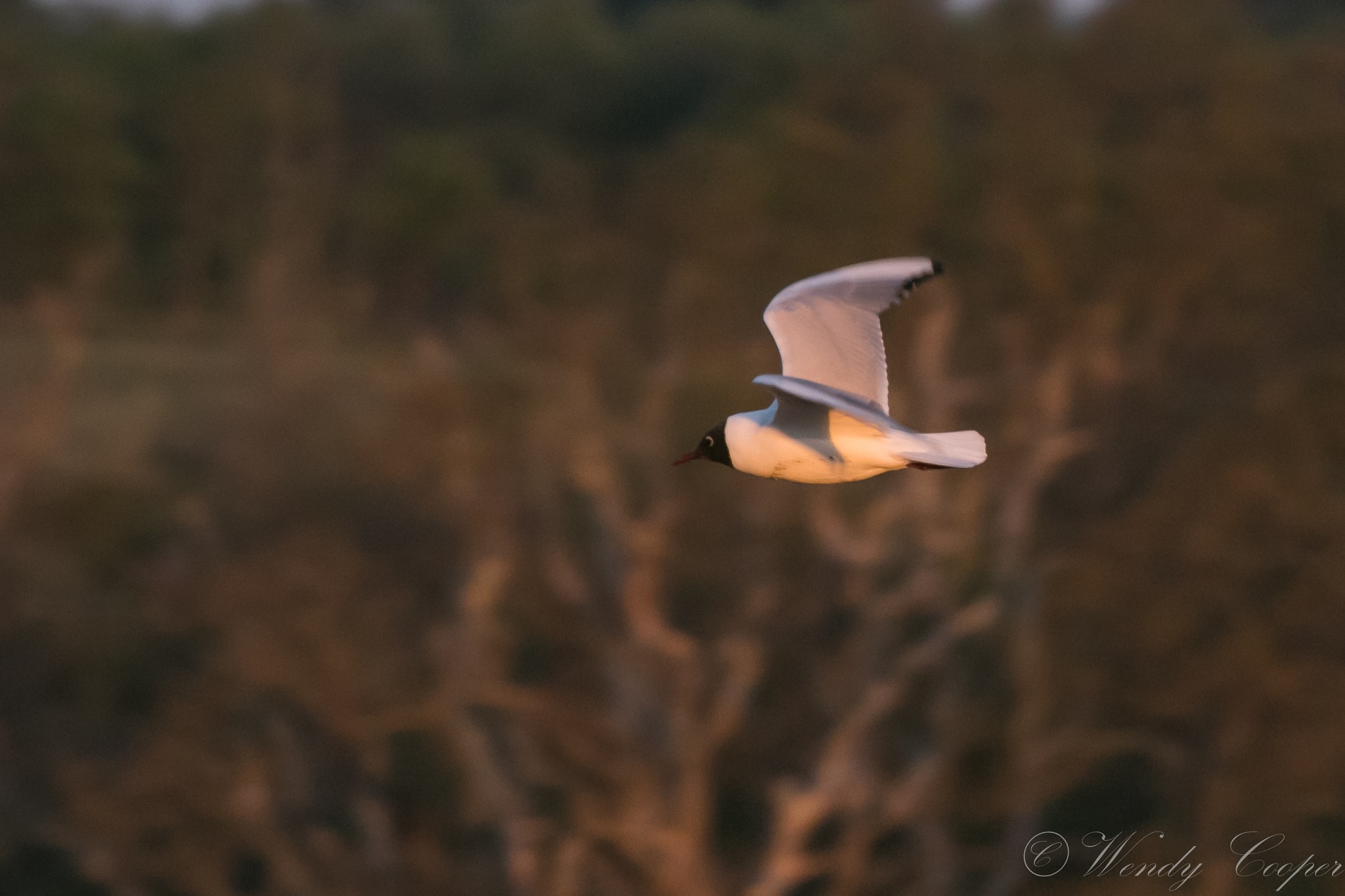 and through the reeds on the first pool I came to, I could see one gull already settled and a Little Egret beginning to step daintily through the water to look for breakfast.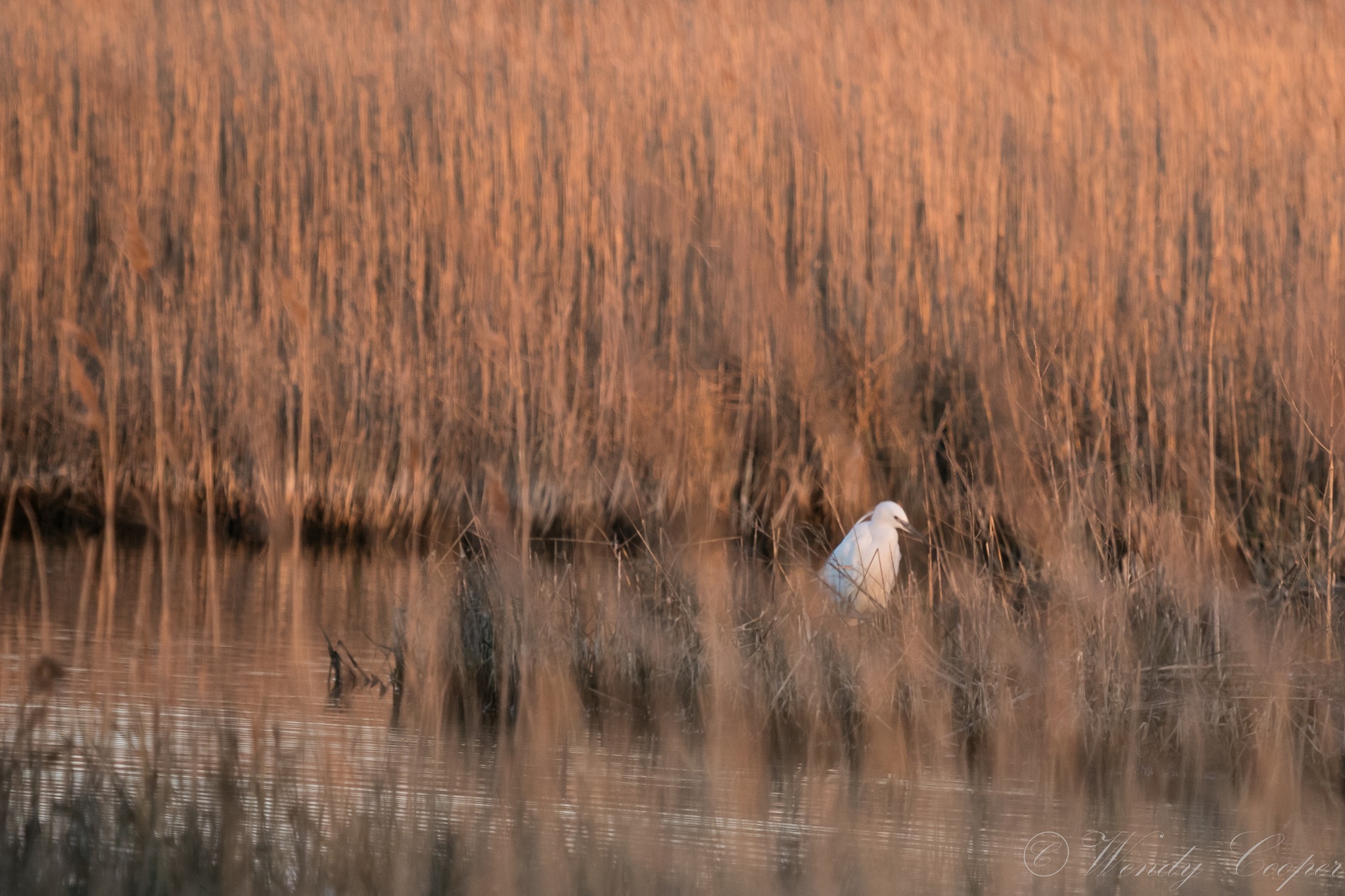 I started to wander along the edge of the reedbeds and could hear Skylarks and Meadow Pipits singing ahead of me. As the light improved I could see quite a few Skylarks pecking around in the grass and shingles for food.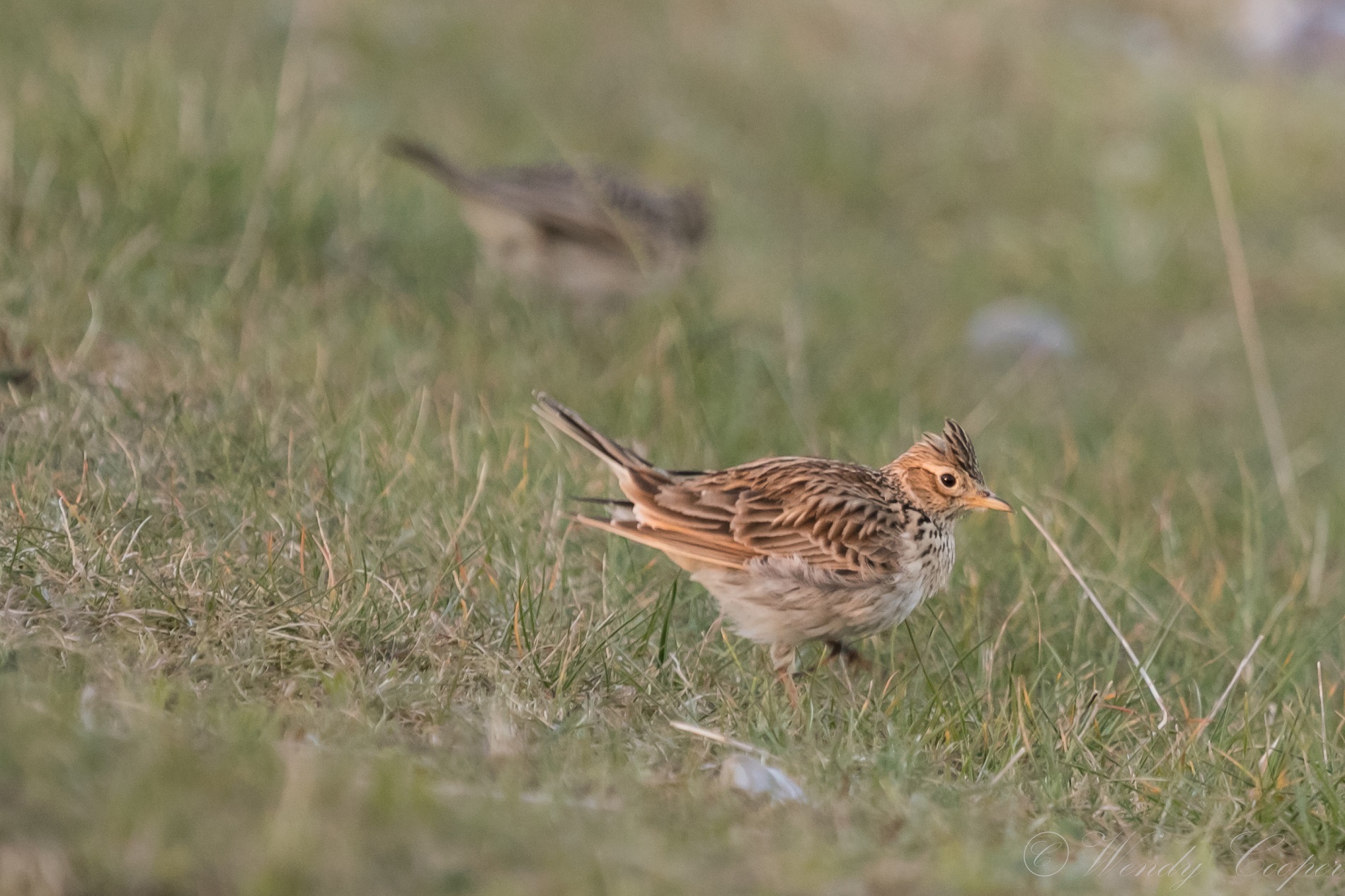 I spent quite some time crouched down at their level, watching them forage, photographing and simply delighting in being that close to them. From time to time, if there was a 'you're in my spot' discussion between them, then one would soar up, singing and serenade me and the others from on high before coming gracefully back down to the ground and picking a new spot of look for breakfast.
After a while (in the interests of not seizing up - the ol' knees aren't what they used to be!) I began to slowly wander on along the reedbed side, every so often hearing a staccato 'pic pic pic pic' followed by the sight of another small brown bird soaring up, singing all the while, before parachuting down again.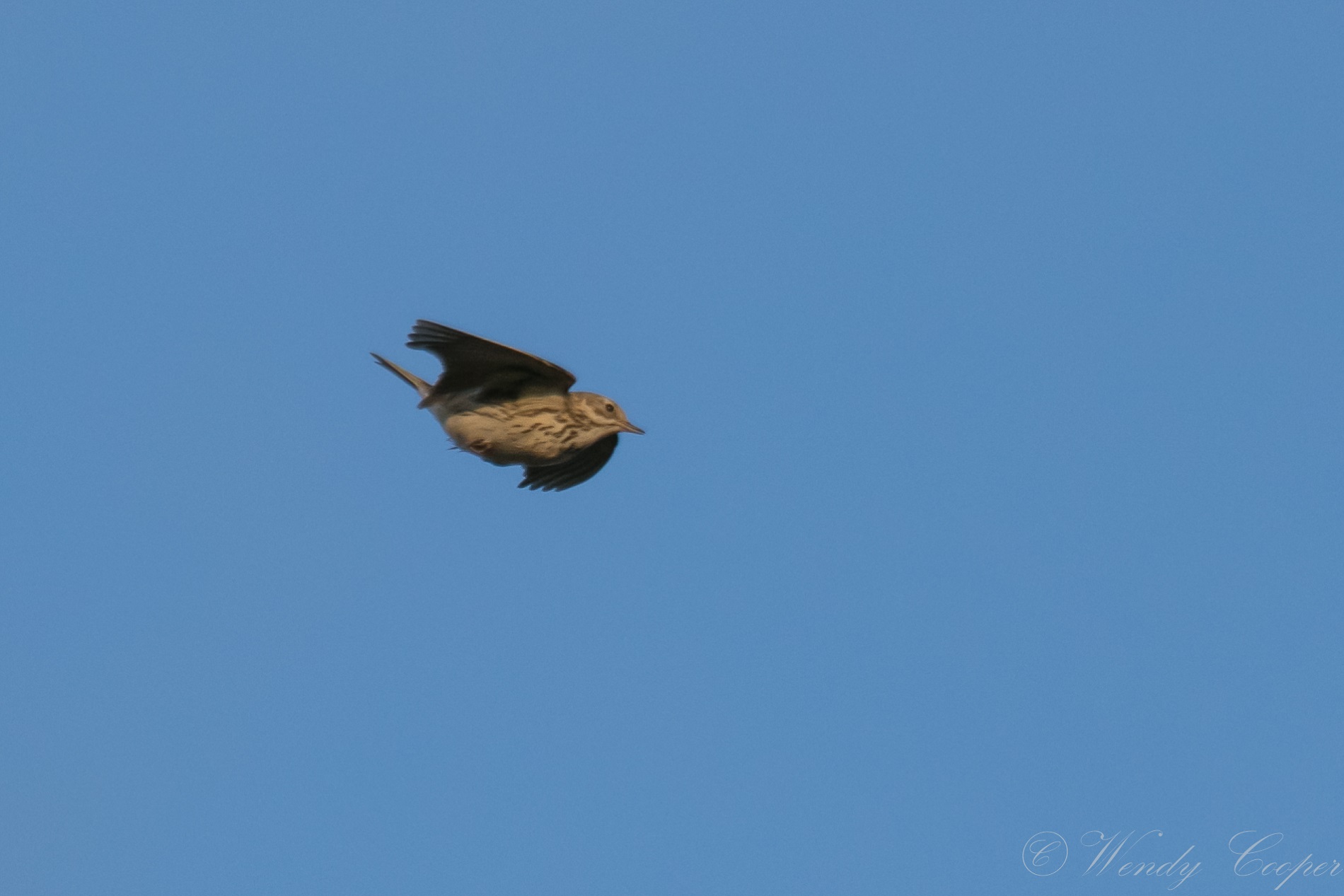 Now I've seen Meadow Pipits before, usually perched atop bracken or fenceposts and often with a beakful of bugs. Well this morning I was seeing a new behaviour - they were in display mode and were displaying similarly to the Tree Pipits I have watched in the spring in the Forest of Dean. Mingled with the melodies from the Skylarks, there were plenty of equally sweet melodies from the Pipits as well. It was almost my own private dawn chorus!
I kept stopping and watching every time I heard their 'opening' refrain and watched them soar, watching carefully where they were landing - sometimes deep in the reeds, at others on clumps of grass along the edges. With some degree of stealth and stillness, as unlike the Skylarks they were quite shy, I eventually managed to get within a reasonable distance of one a little while after he had parachuted down - had to look carefully though as they do blend in well with their surroundings!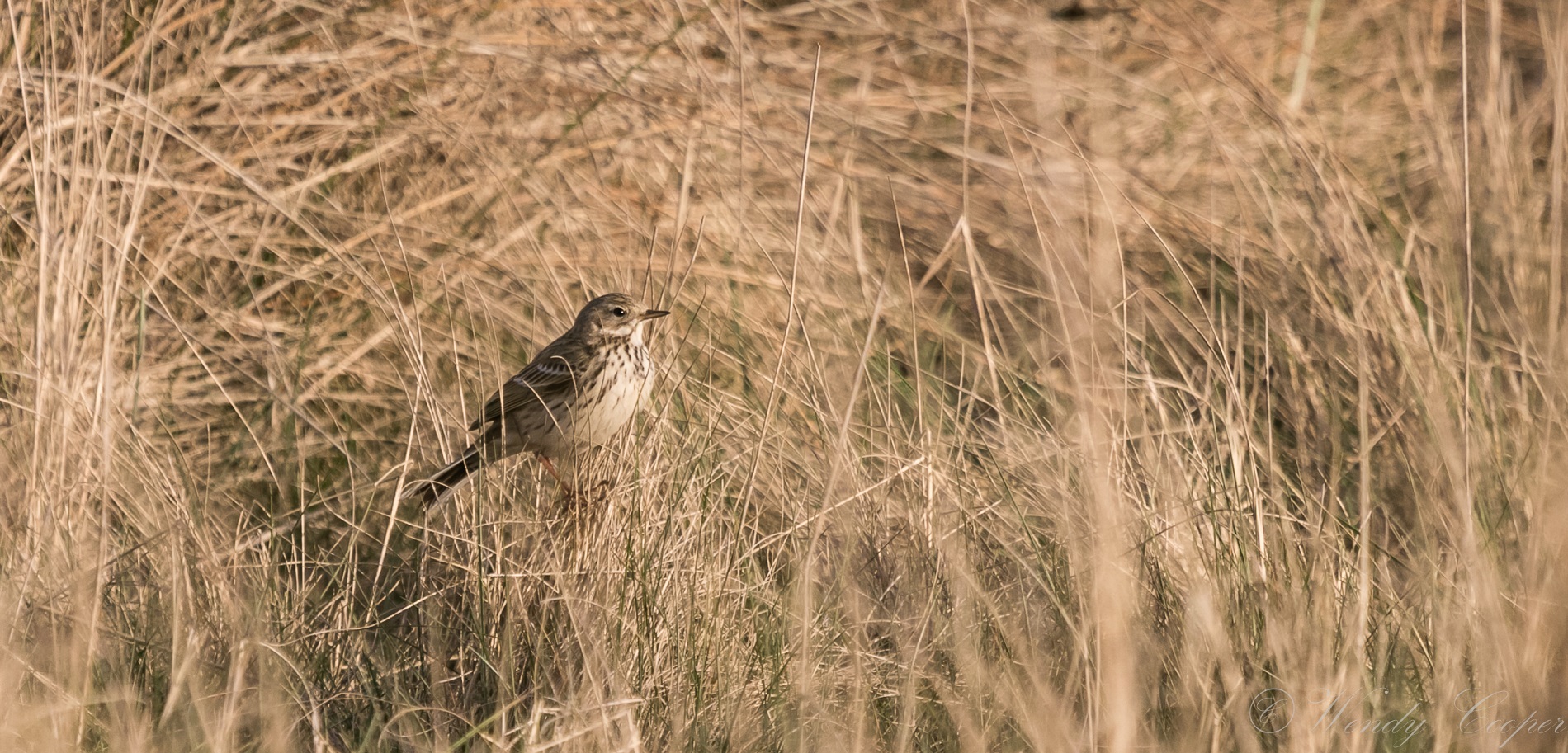 I continued wandering until I reached the rope barrier, set, I believe, in case the Terns decide to nest again. Many years ago Hubby and I walked along the shingle beach from Dunwich to Walberswick and alongside the Tern colony that was there. It was the first time we'd seen Common Terns and we had the added amazement of watching them fish as well. Since the Marsh got flooded a few years back, either we've timed it wrong or been unlucky, but I've not seen them there since.
Anyway, I wandered along, being serenaded by Skylarks and Meadow Pipits and kept an eye open across the reeds. After a while I saw a Little Egret high above me, so paused to watch it's graceful flight.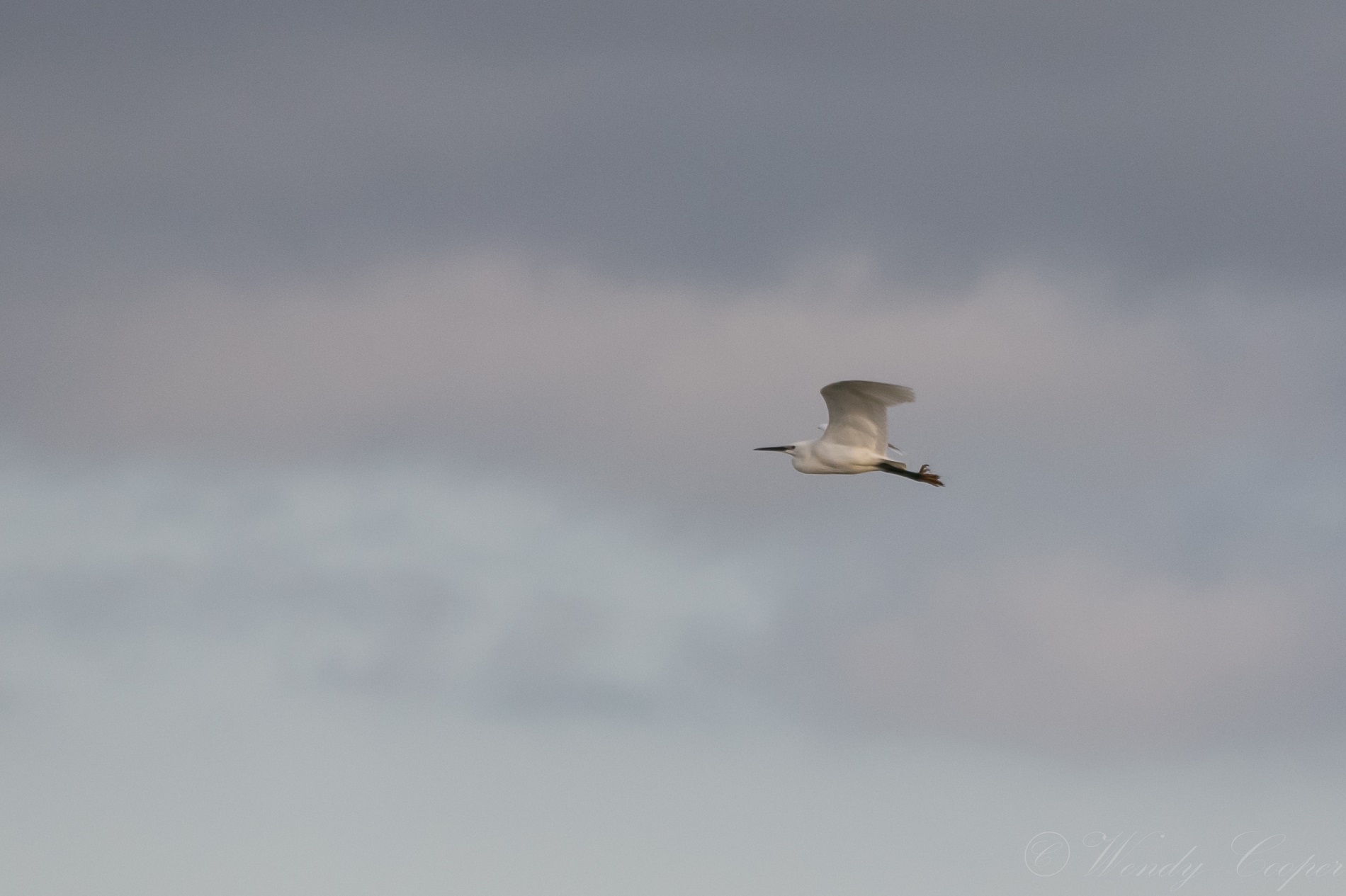 After a moment or two it came around and skimmed across the top of the reeds,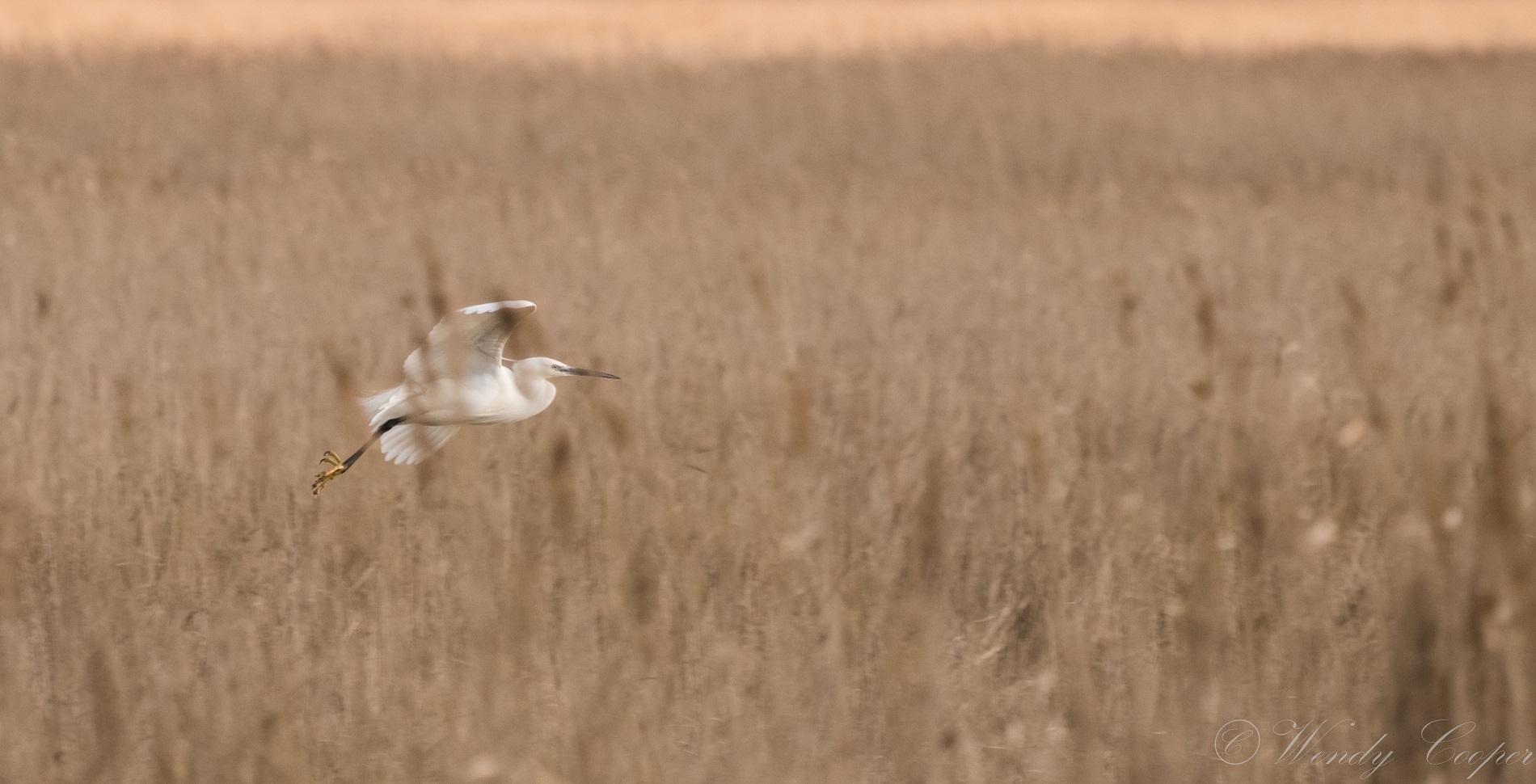 before settling down near a water channel and glaring at me for a few moments!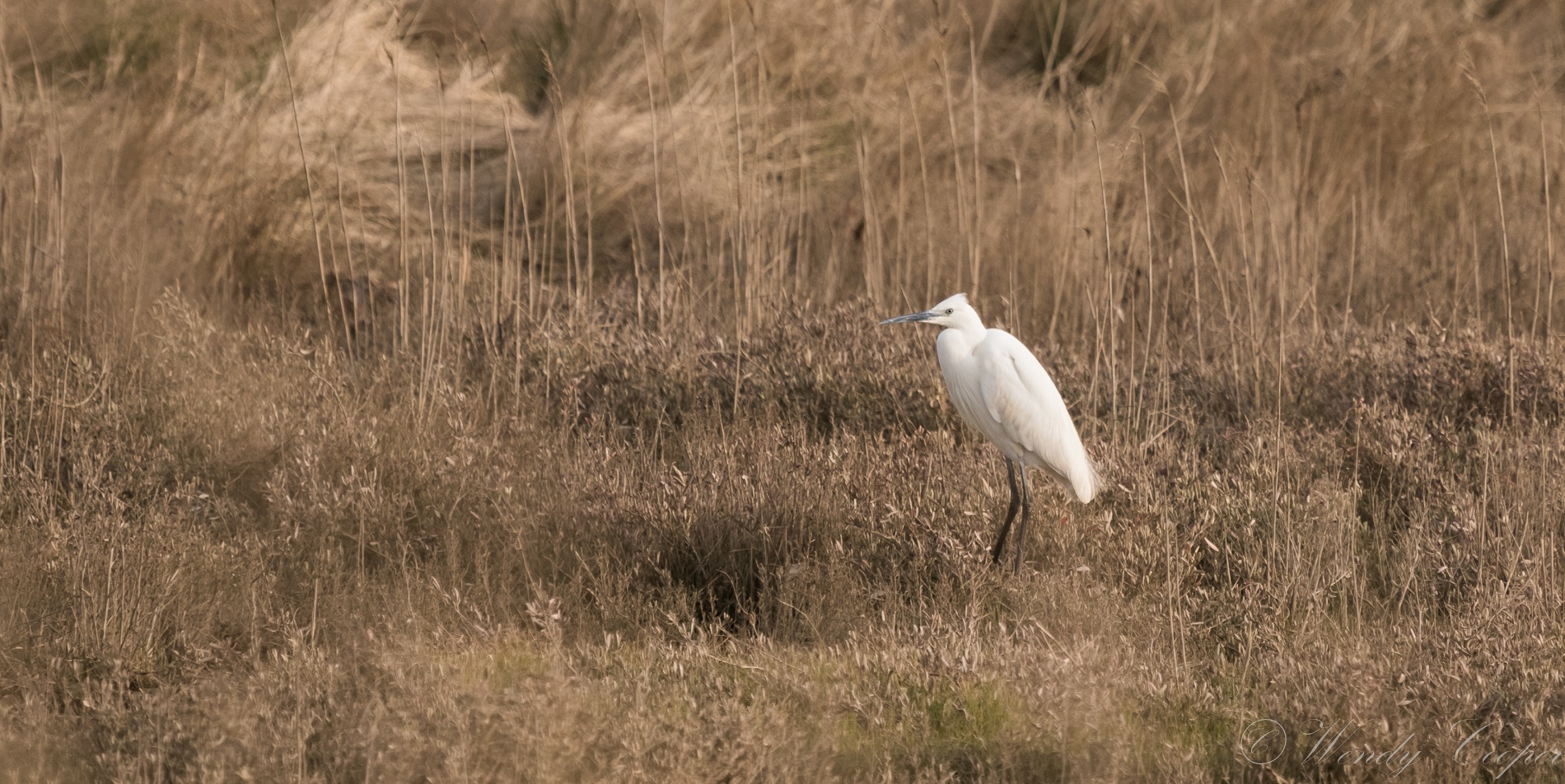 Turning back the way I came, I spotted a lone Curlew on the wing - I had thought I'd heard one earlier on my stroll, but hadn't been sure.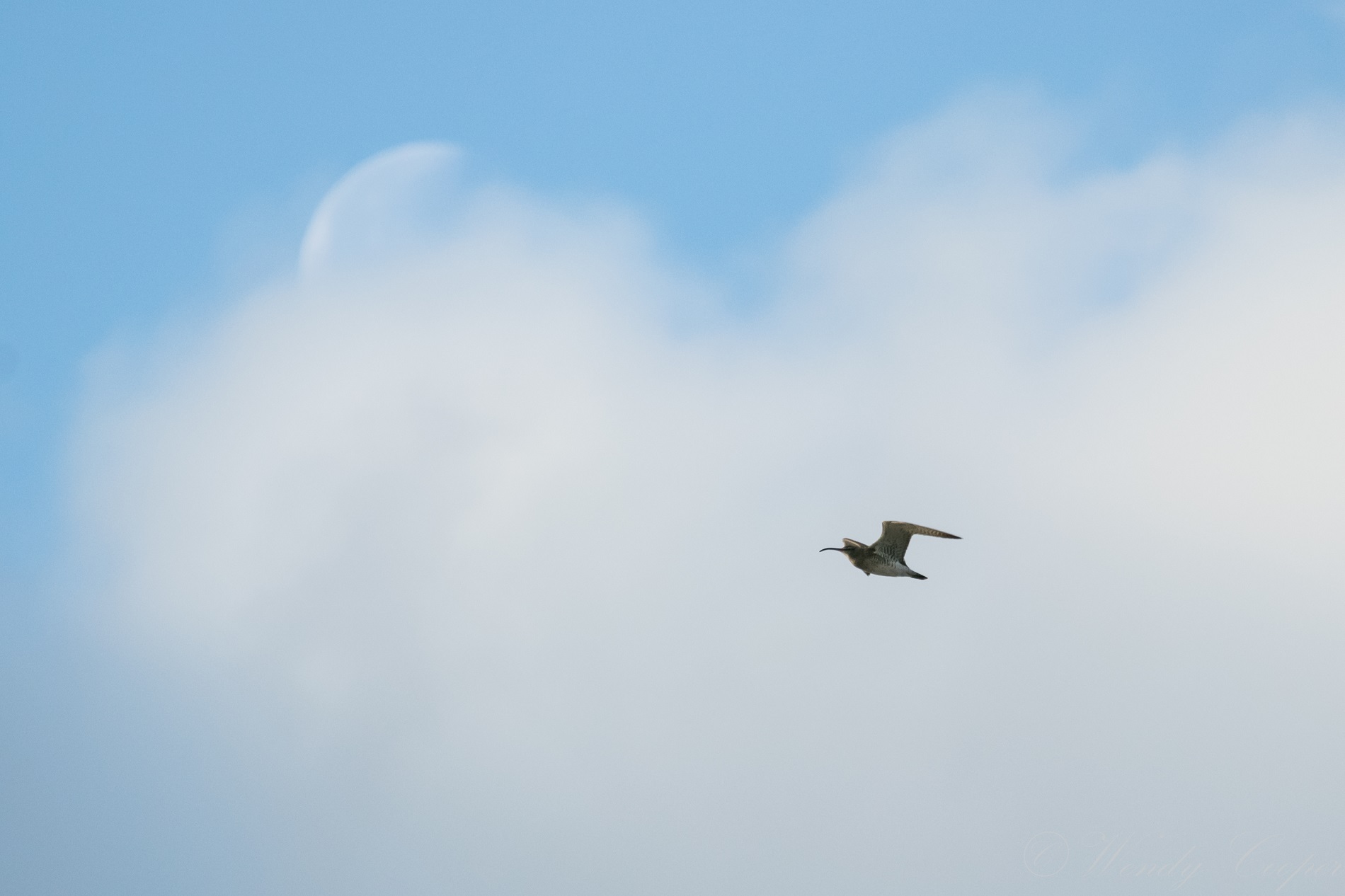 Ahead of me Skylarks and Meadow Pipits continued soaring and also foraging, I couldn't resist the temptation to stop for a while longer and watch them at fairly close quarters for a while.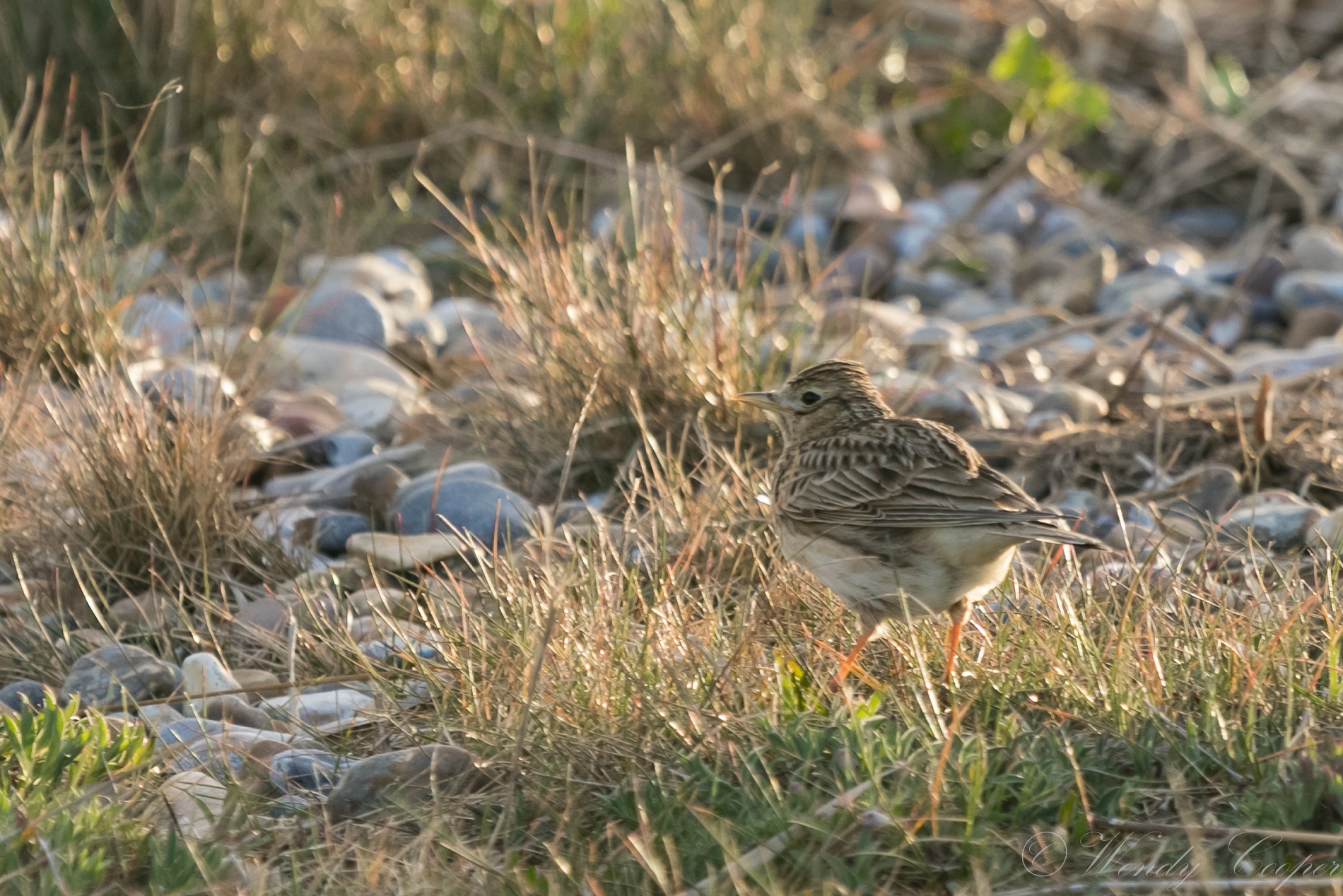 Two songs that had been notably absent from the others were the Reed and Sedge Warblers, however there had been some very strong winds around Easter time which seemed in many parts to delay their arrival. That said, I did keep looking carefully at the reeds and an eye on likely perches - after a short while I was rewarded - a lone male Reed Bunting popped up for a look about.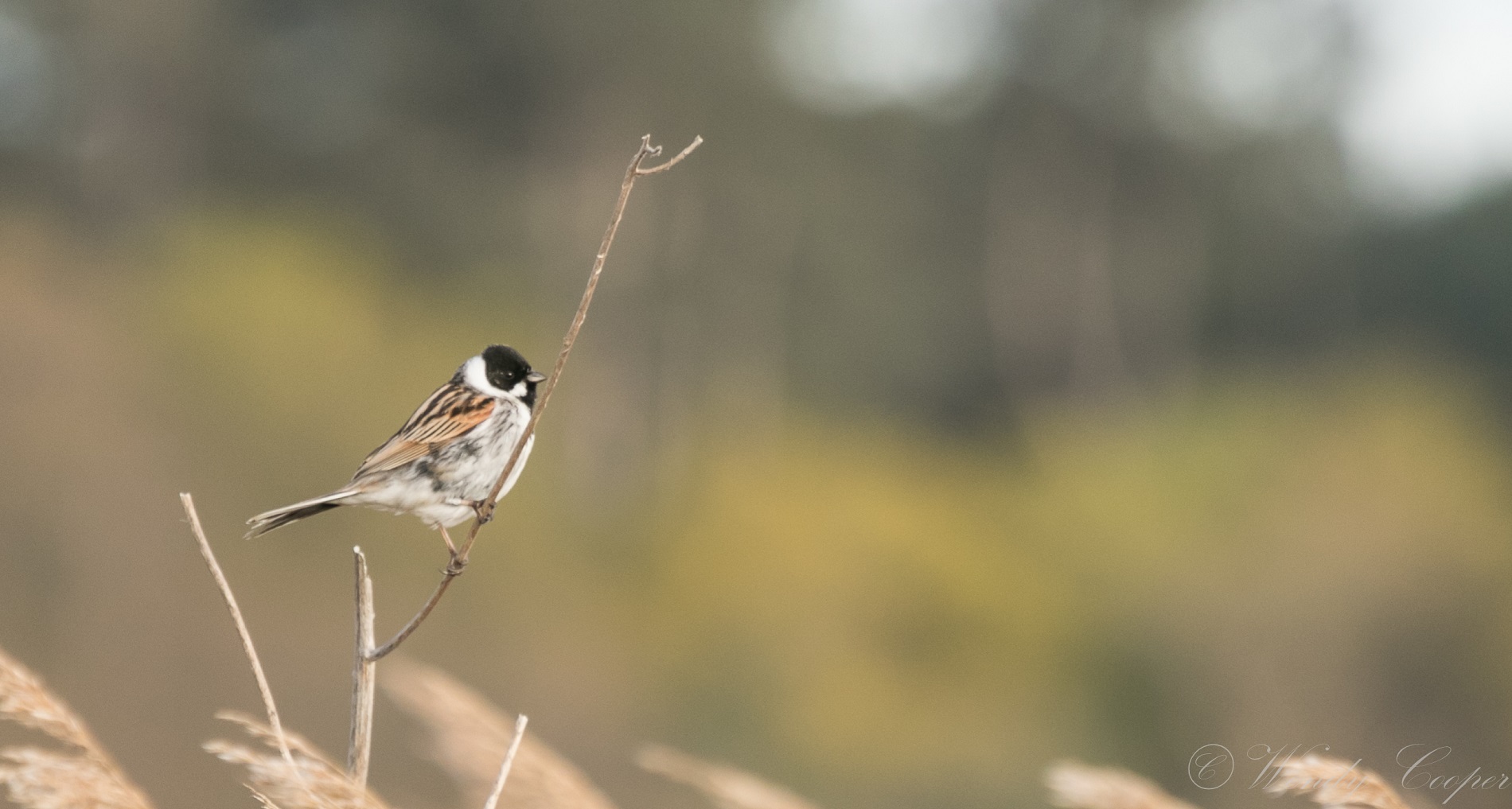 He shortly popped back undercover again, however, almost back at the start of my stroll, I spotted a bashful female Reed Bunting in the edge of the reeds.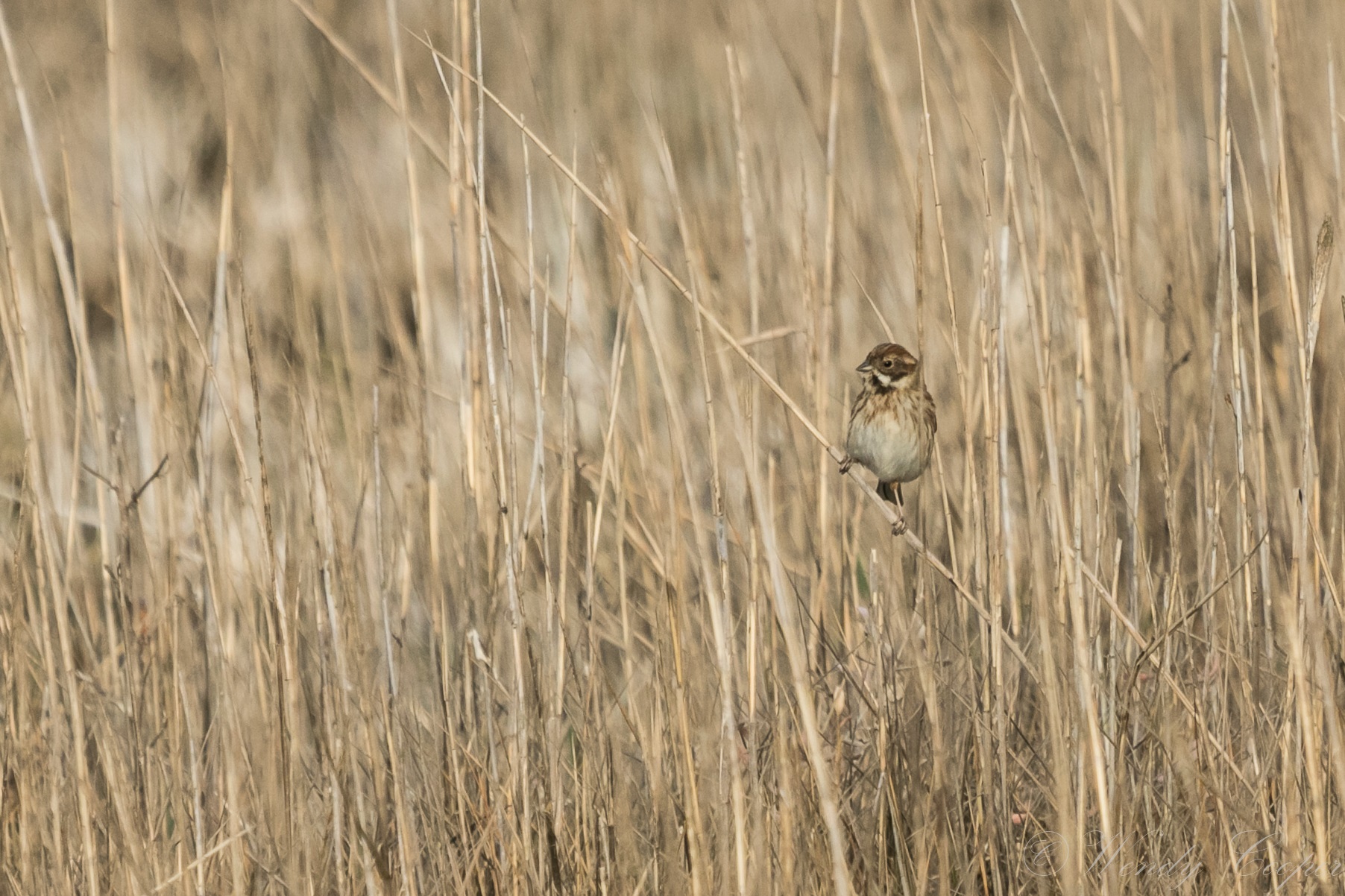 After breakfast we decided to have another little wander on Dunwich Heath. The weather was very mild, bright and a whole lot less windy than the previous day.
We wandered up to the most likely spot on the heath and I could see the occasional Stonechat on top of the heather,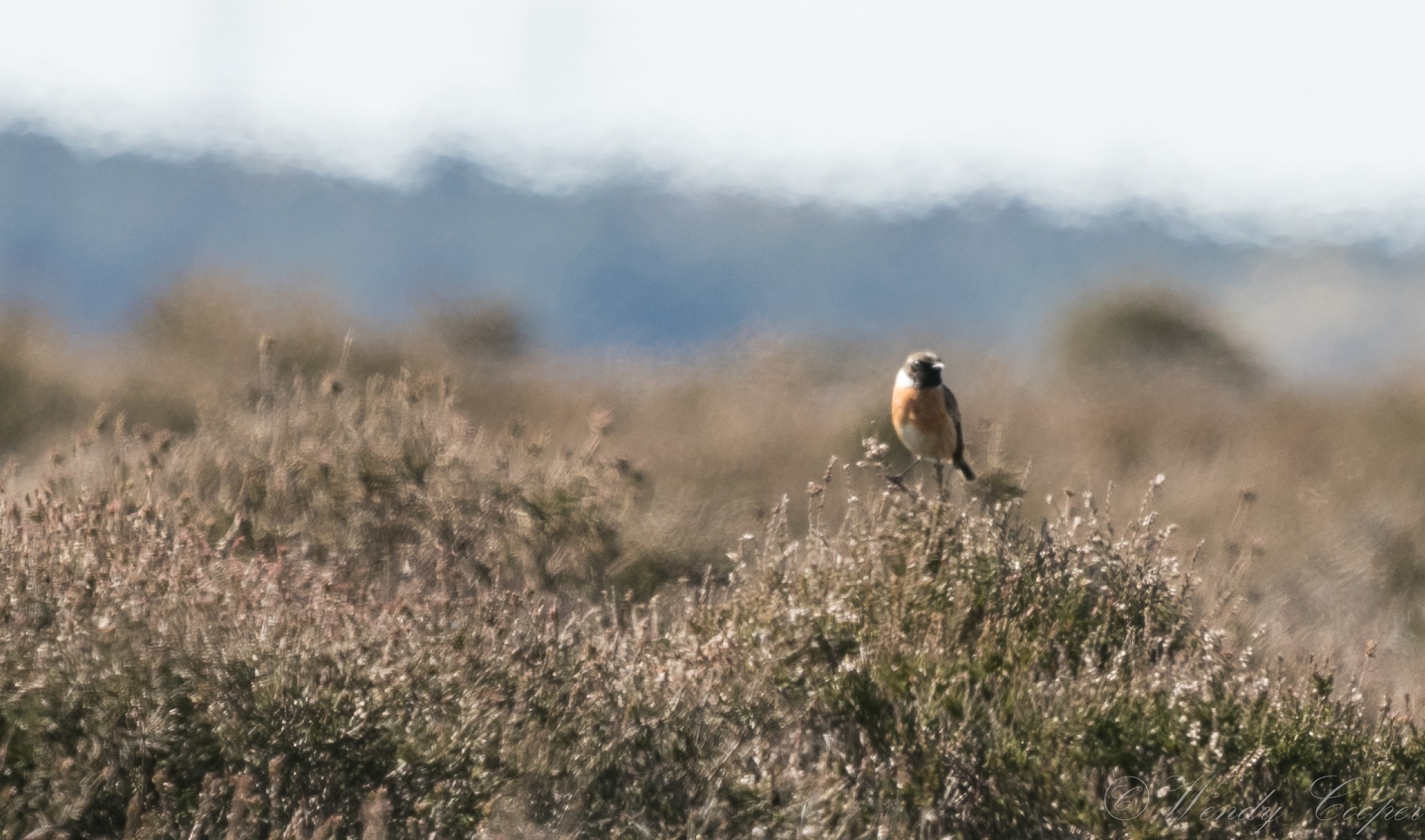 and a momentary glimpse was had of a Dartford Warbler...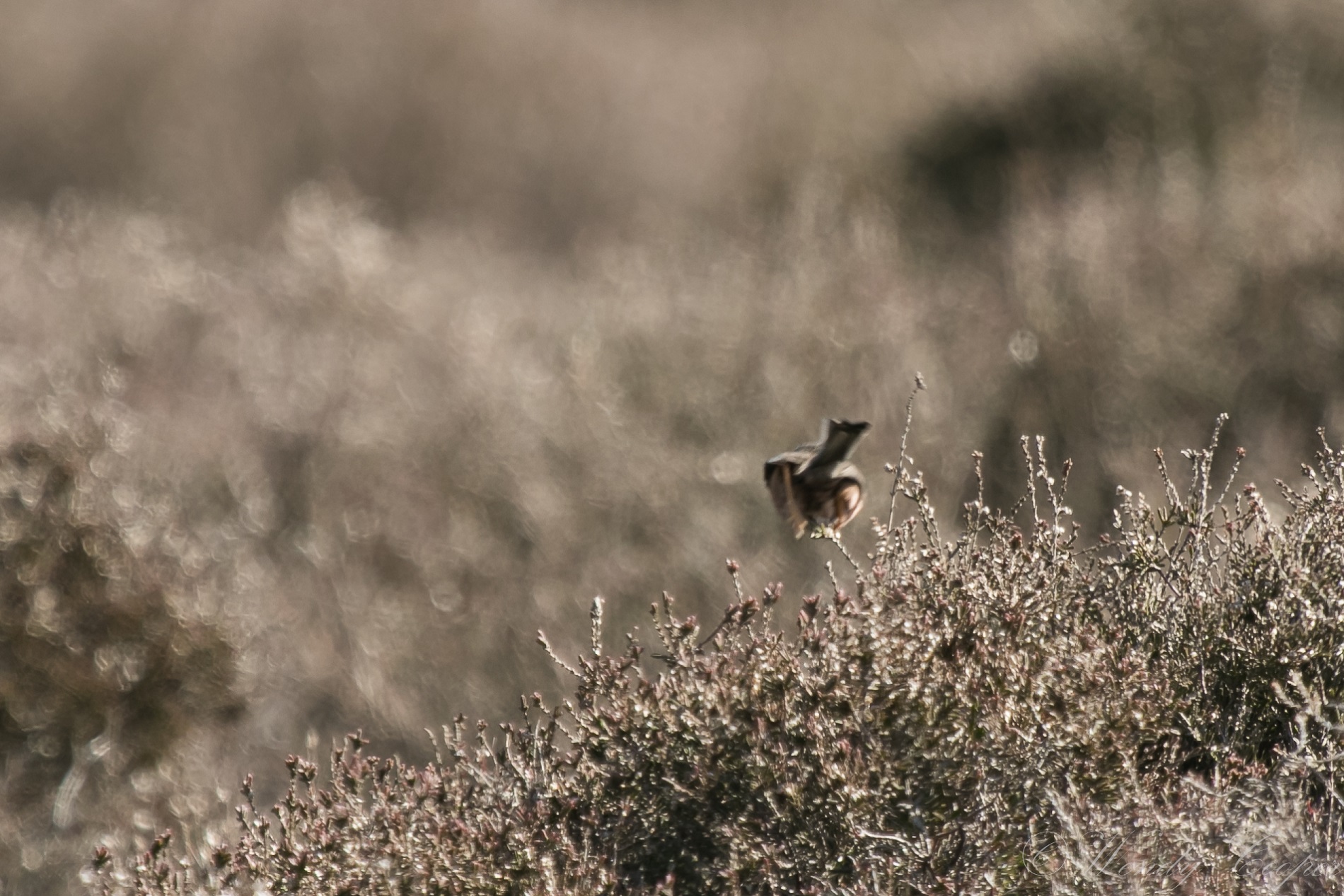 Not quite the view I had hoped for! however, I could hear them and kept getting brief glimpses as they did their 'jack in a box' thing. I kept listening as well and could hear a gentle song interspersed with 'brrrp brrrp' and began to look about to locate the singer.
After a few moments I saw a small bird flit between two small trees. Closer views with the binoculars left me very surprised... There was a male Dartford Warbler sitting in the tree, having a bit of a sing and also a bit of a snack on some of the insects in the tree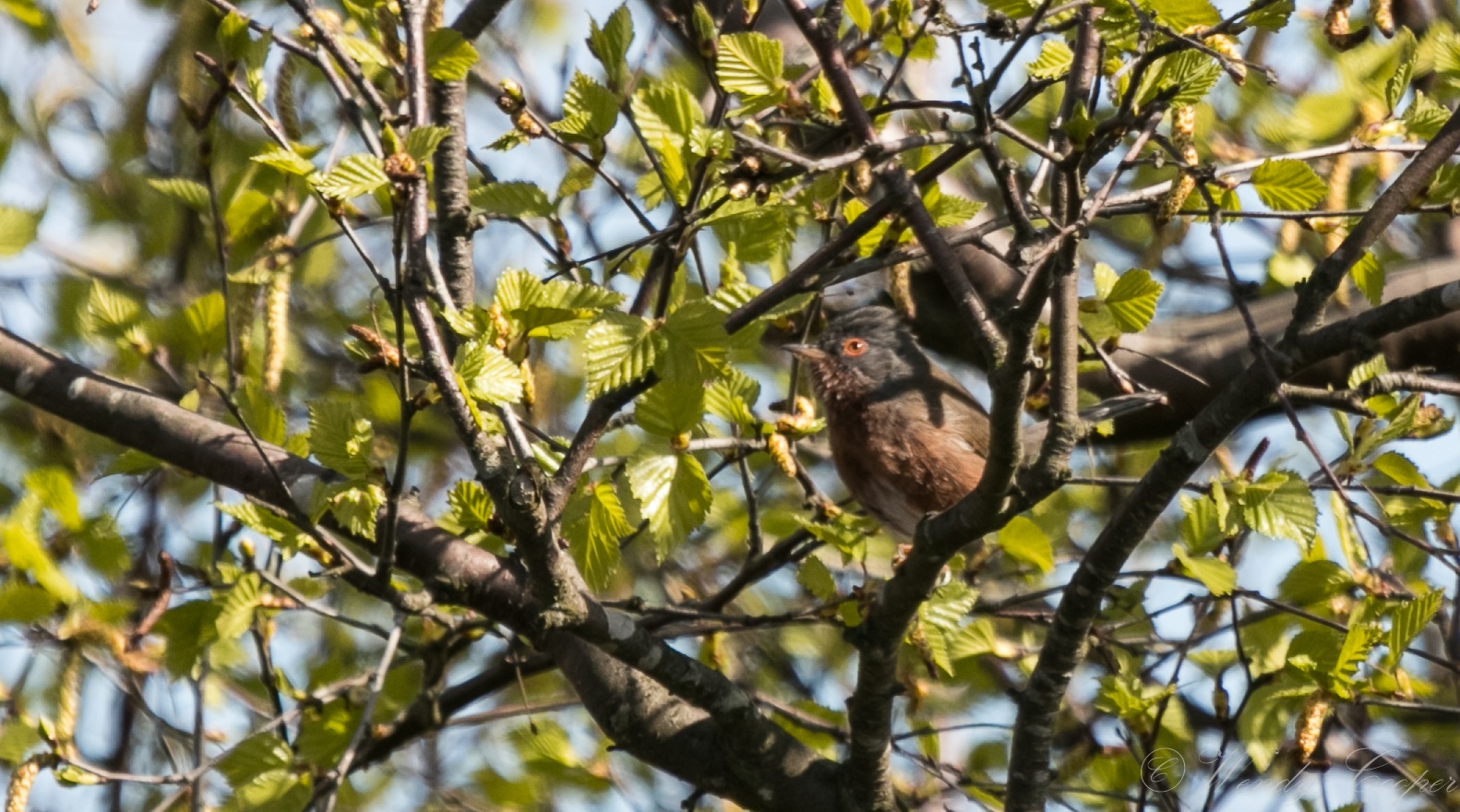 I carried on watching for a while, however he was soon back down in the heather only popping up from time to time, so we wandered back with thoughts of coffee... There was of course a brief delay, whilst I lurked around the car park and made the acquaintance of some rather smart Greenfinches, which I rarely ever see at home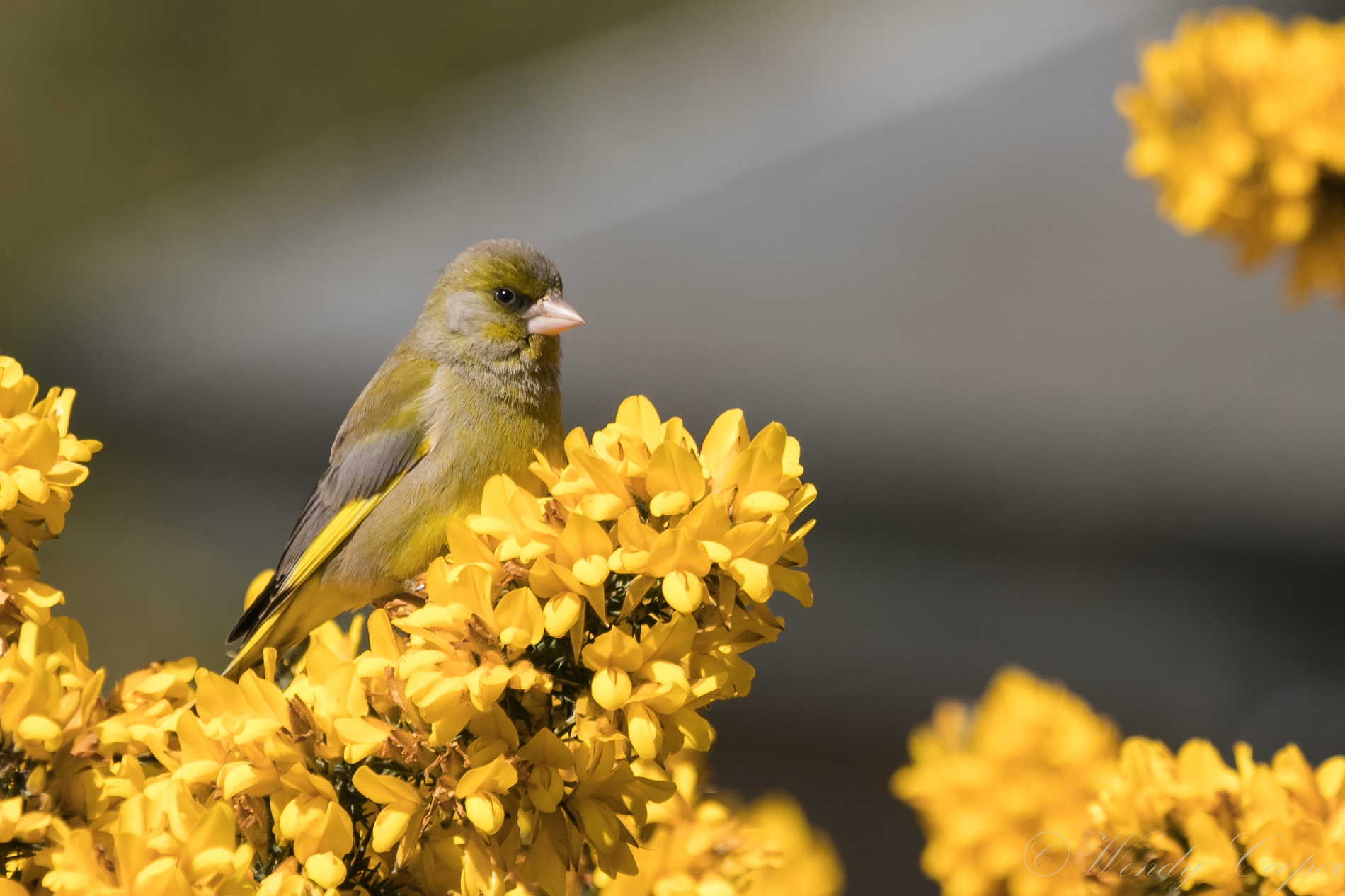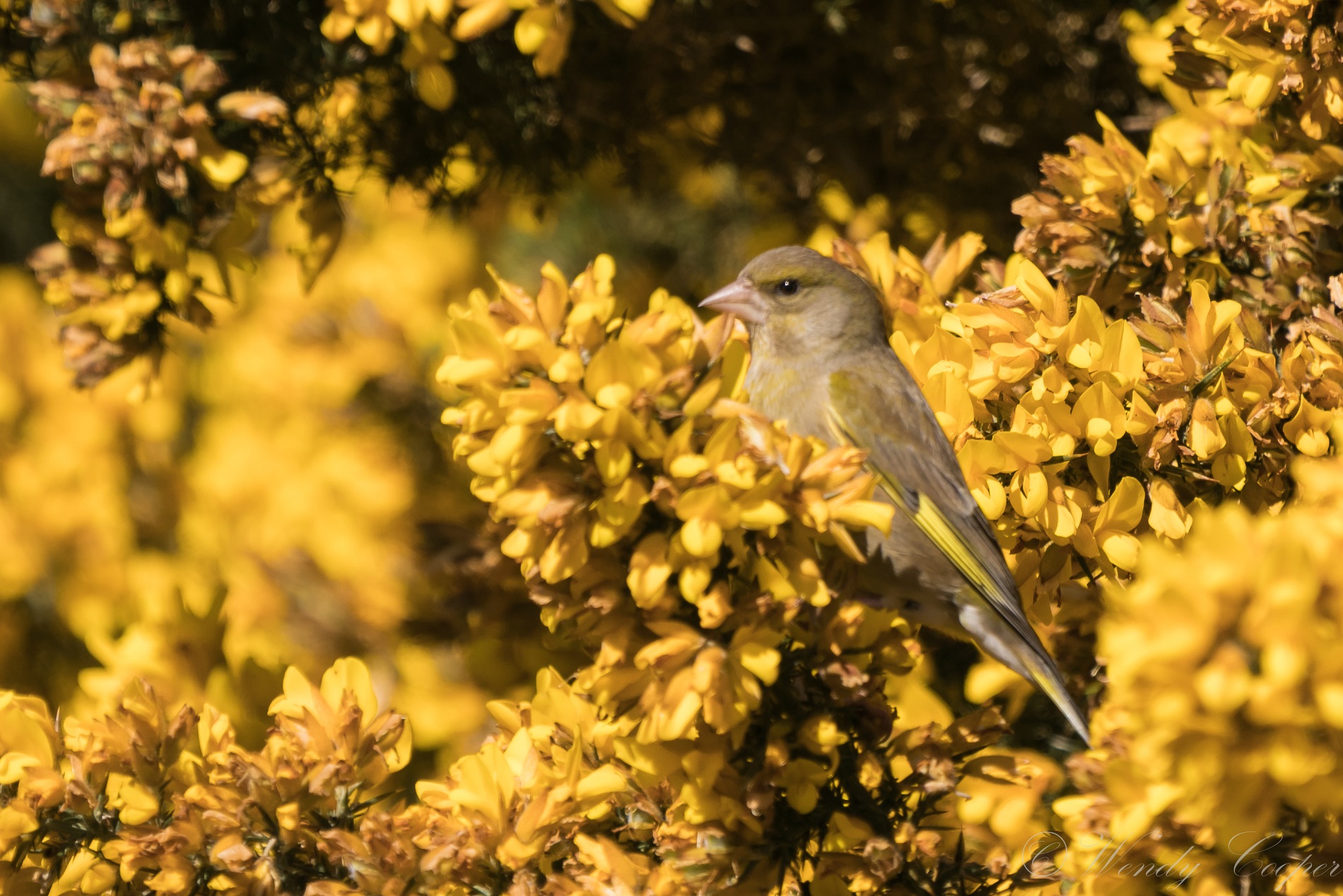 and also a very smart pair of Chaffinches, that were not quite as skittish as those that I see on my home patch!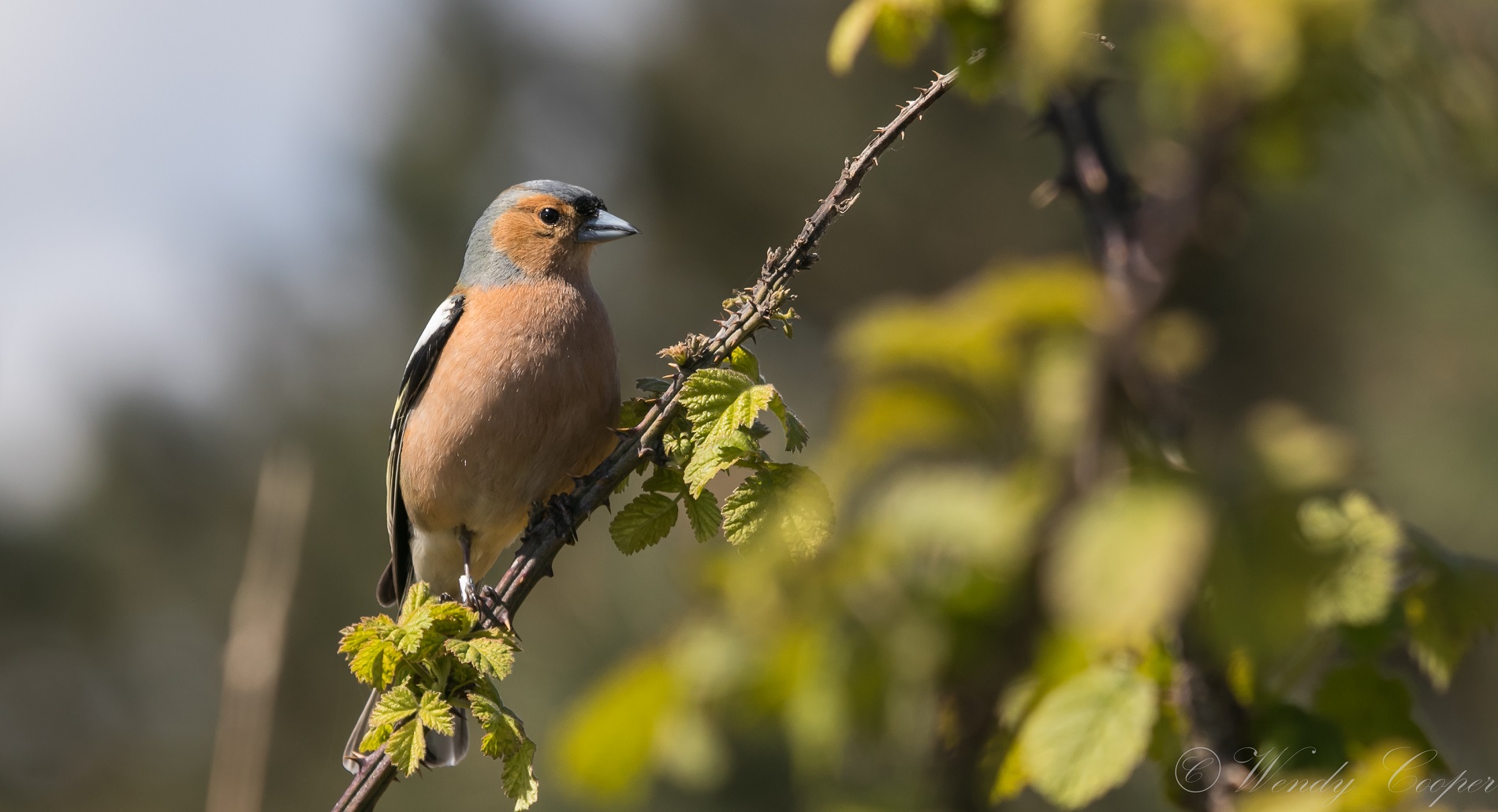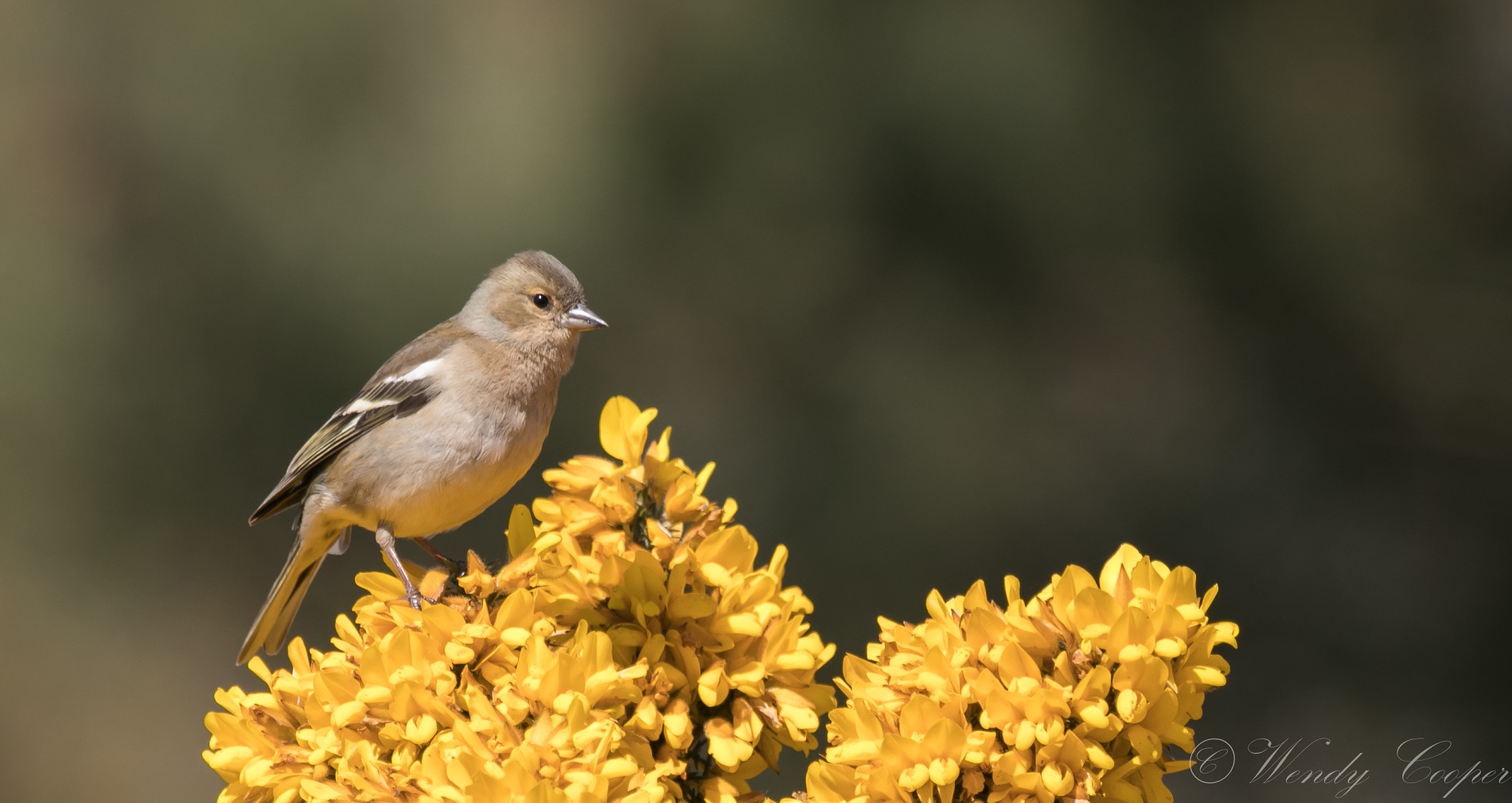 After the slightly delayed coffee break, we headed just up the road for a wander at Minsmere. This time we decided to take a stroll along the North Wall and out to the East Hide.
As we reached the point where the Stone Curlews usually nest, we could see some degree of excitement amongst the onlookers there (They had been looking for a Ring Ouzel) - a female Adder was sliding rather rapidly across the grass!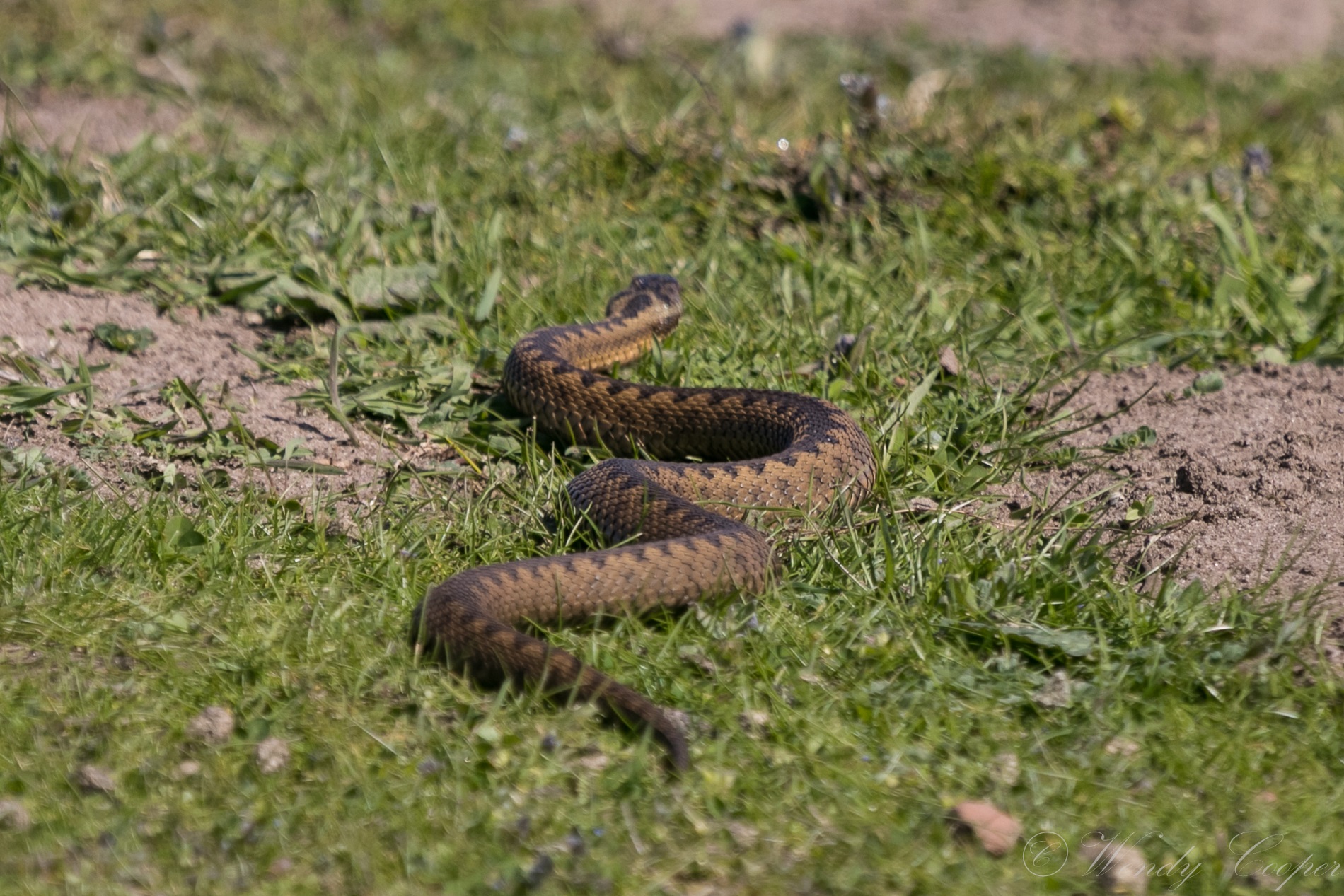 Click on the pics to go large!

Now we have only seen Adders once before, a few years back at New Fancy in the Forest of Dean, so this was quite a treat! The Adder is the UK's only venomous snake and also, instead of laying eggs as Grass Snakes do, they are ovovivparous and give birth to live young. They prefer dry habitats such as heathland and moorland and often benefit from conservation works to encourage other reptile species, unfortunately though they are not as common as they once were.
After the Adder, we spent a while peering out across the 'plain' where there was a very handsome Wheatear posing in the middle,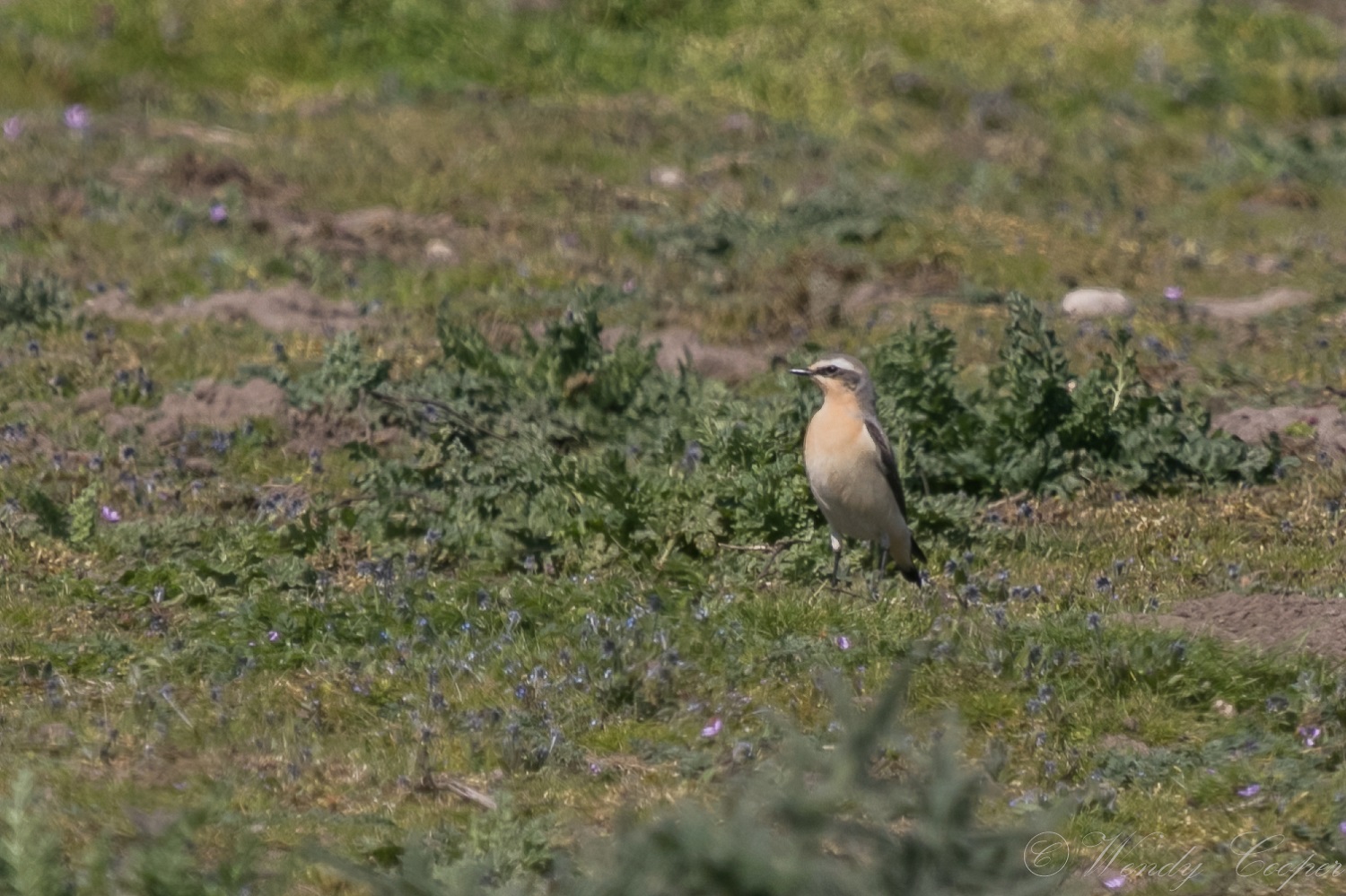 As well as a few Pied Wagtails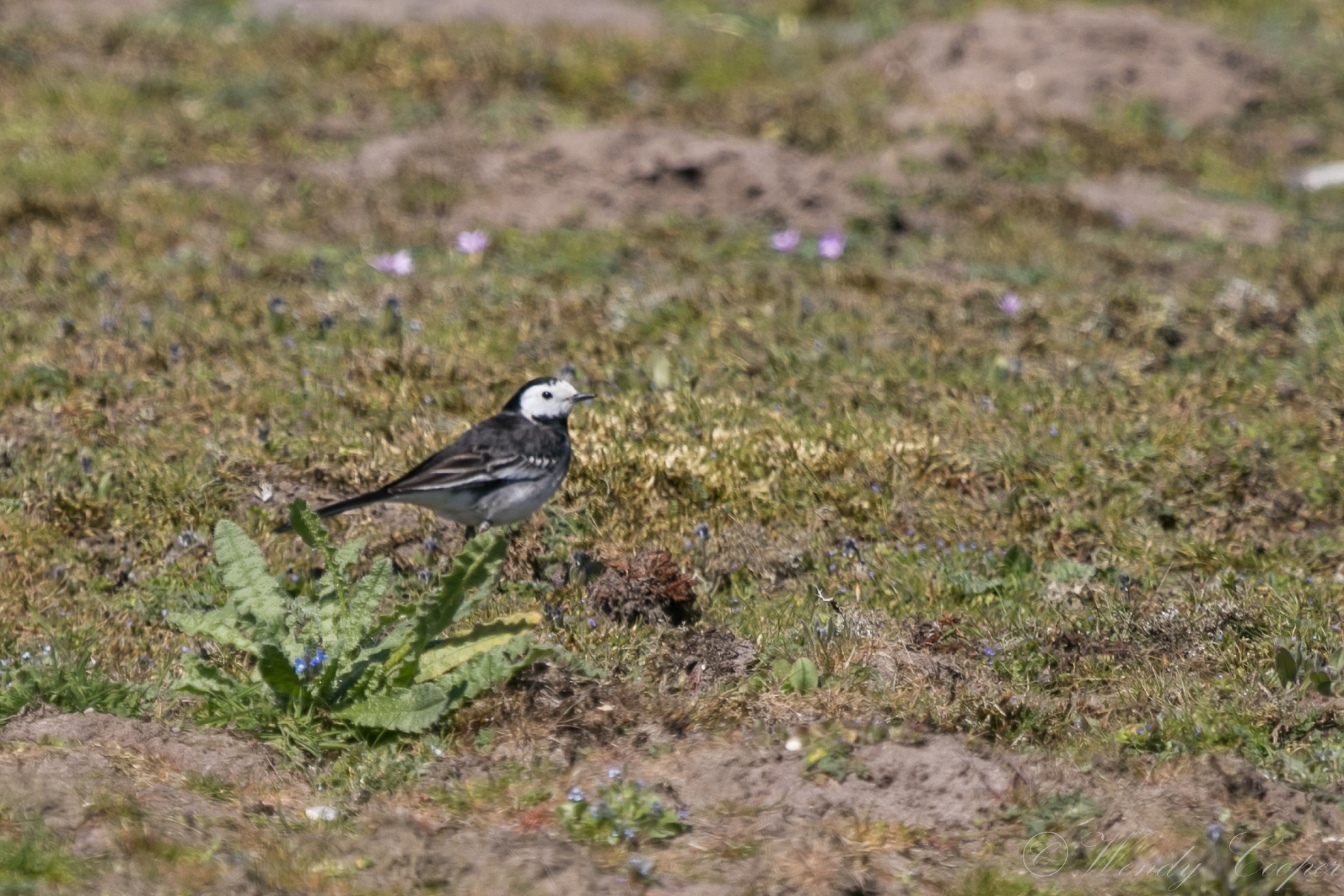 and plenty of Linnets pecking around on the sandy soil.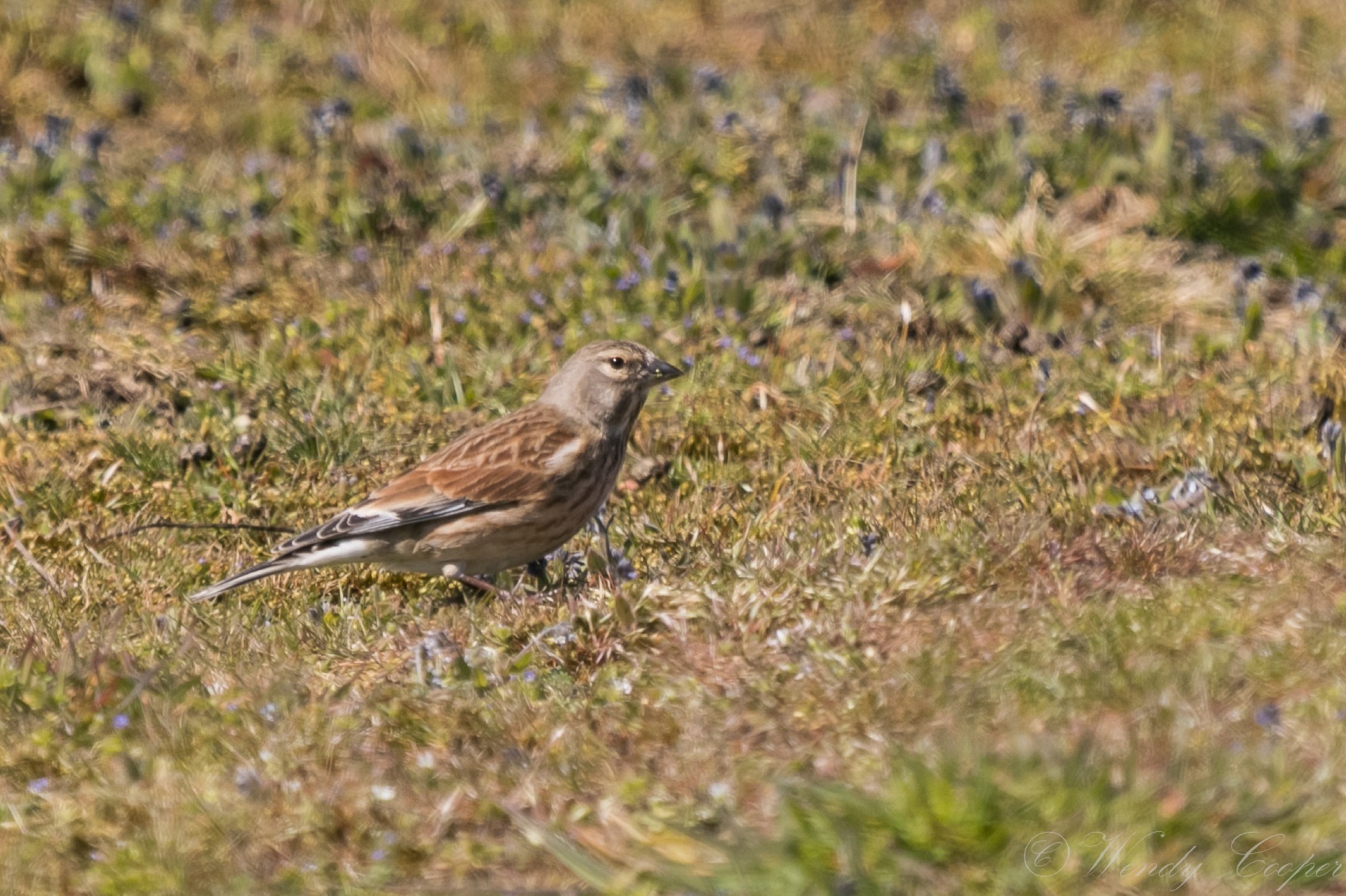 We carried on to the beach, hearing Reed Buntings from time to time and also listening to the cacophony of sound that the assortment of Gulls were making over on the scrapes!
Just before we went into the East Hide we had the briefest of glimpses of a Kestrel hovering over the dunes and could hear and see more Linnets flitting around the gorse bushes. (The gorse was in full bloom and smelt absloutely delicious in the sunshine)
Once in the hide, we were entertained for some while by two pairs of Black Headed Gulls on the little scrape in front of us. They were both busy nest building, however there seemed to be a spot of competition occurring as they tried to outdo each other with the size of the sticks they were bringing and attempting to arrange. All of the 'islands' on the scrape were full of an assortment of gulls and here and there, we could also see Redshanks scurrying about. It was very noisy and very busy!
Noise aside, a quiet moment was to be had, when a lone Avocet (there were others about, but some way off) began to feed just in front of the hide.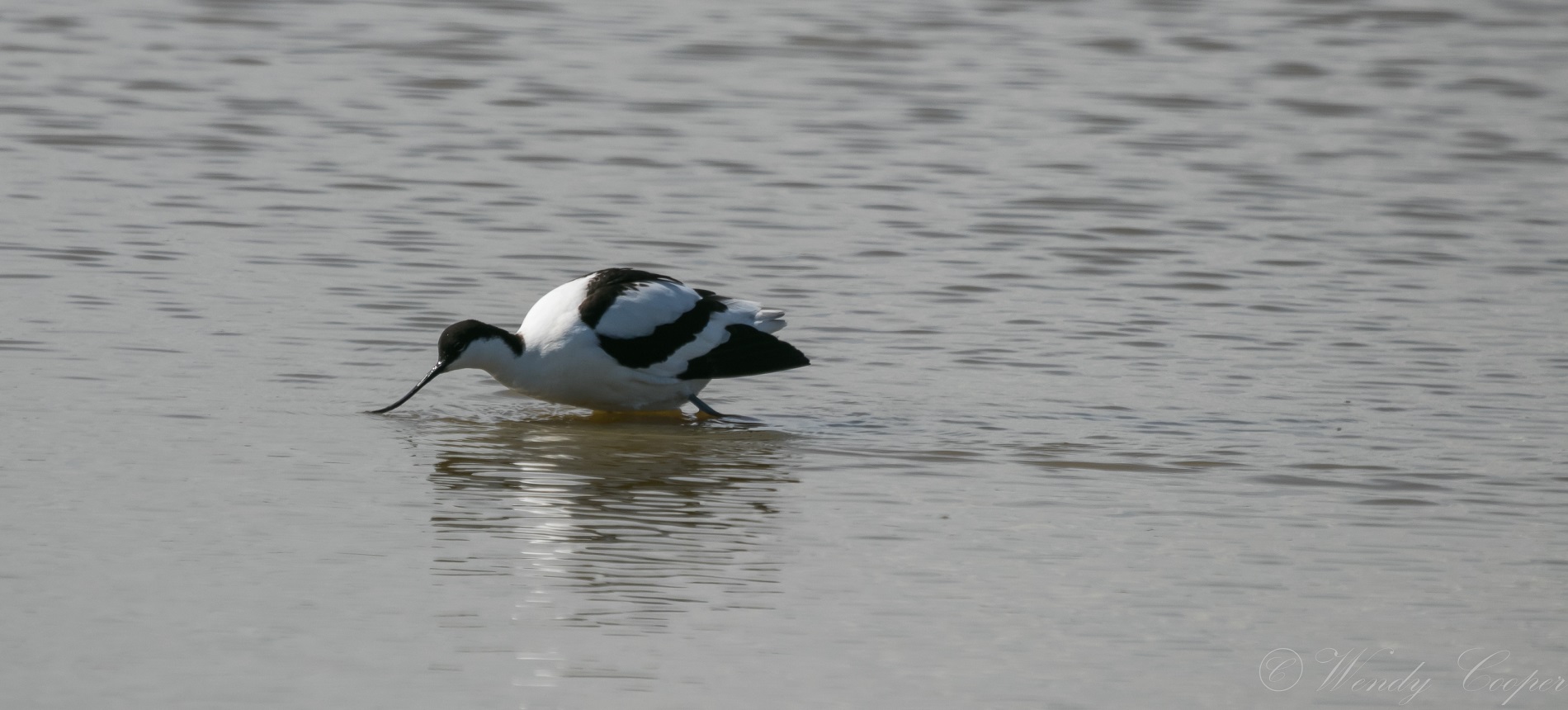 Before settling quietly to let lunch go down....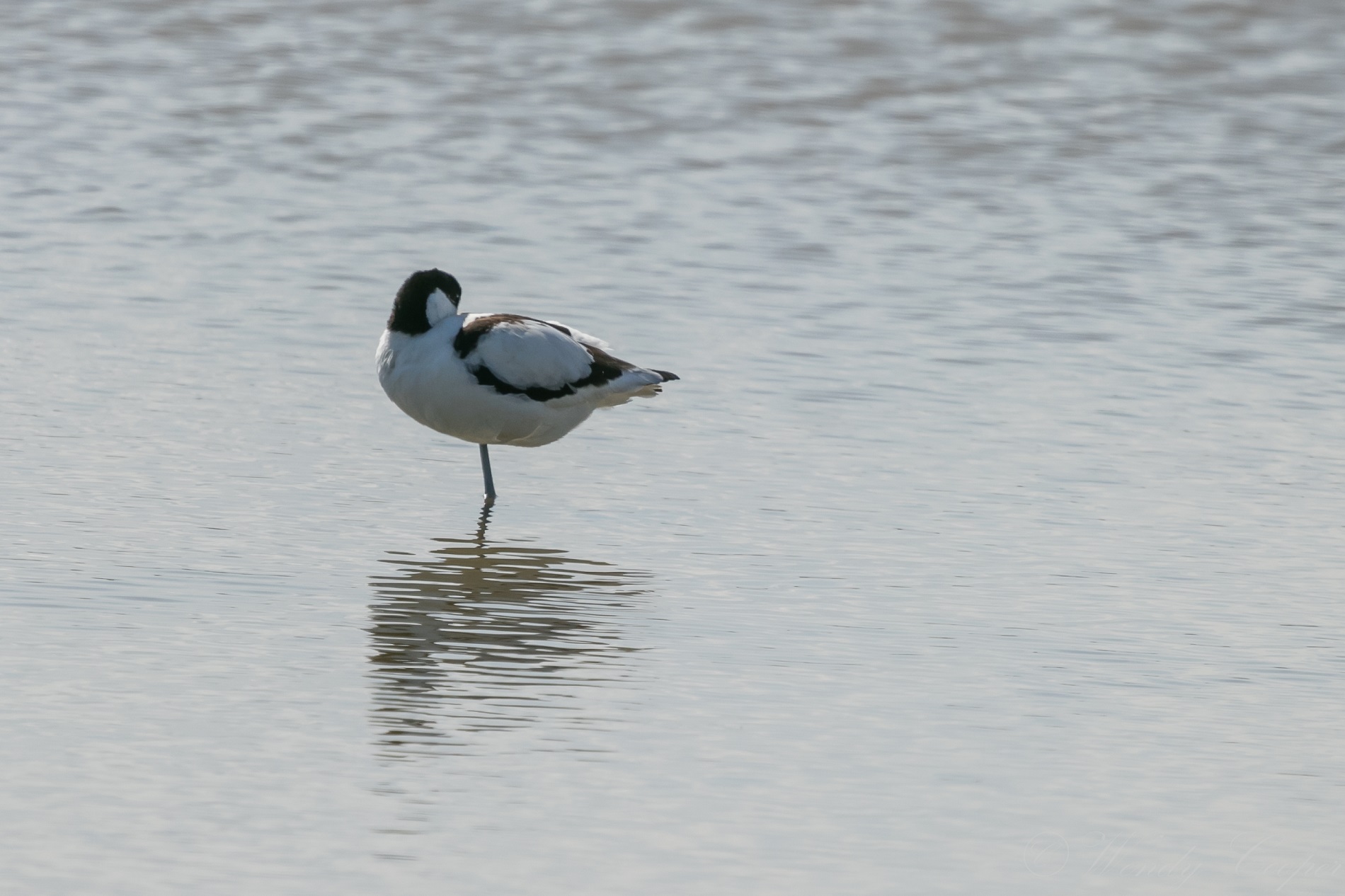 Speaking of lunchtime, we realised that it was somwhat past ours, so started to head back. I paused for a short while, watching the Reeds, thinking I'd caught a glimpse of a Reed Bunting, no luck, so I walked on to catch Hubby up. He was quite some way ahead at the viewpoint for the Stone Curlews, where I could see quite a crowd following something on the ground. When I arrived, Himself informed me that I'd just missed a second Adder.
All of a sudden, Hubby says 'there's another in front of you!' and sure enough there was a handsome male Adder right on the edge of the path a few metres away. As he woke up, he began to make his way across the grass and I seized the opportunity for a few photo's. They don't half move fast!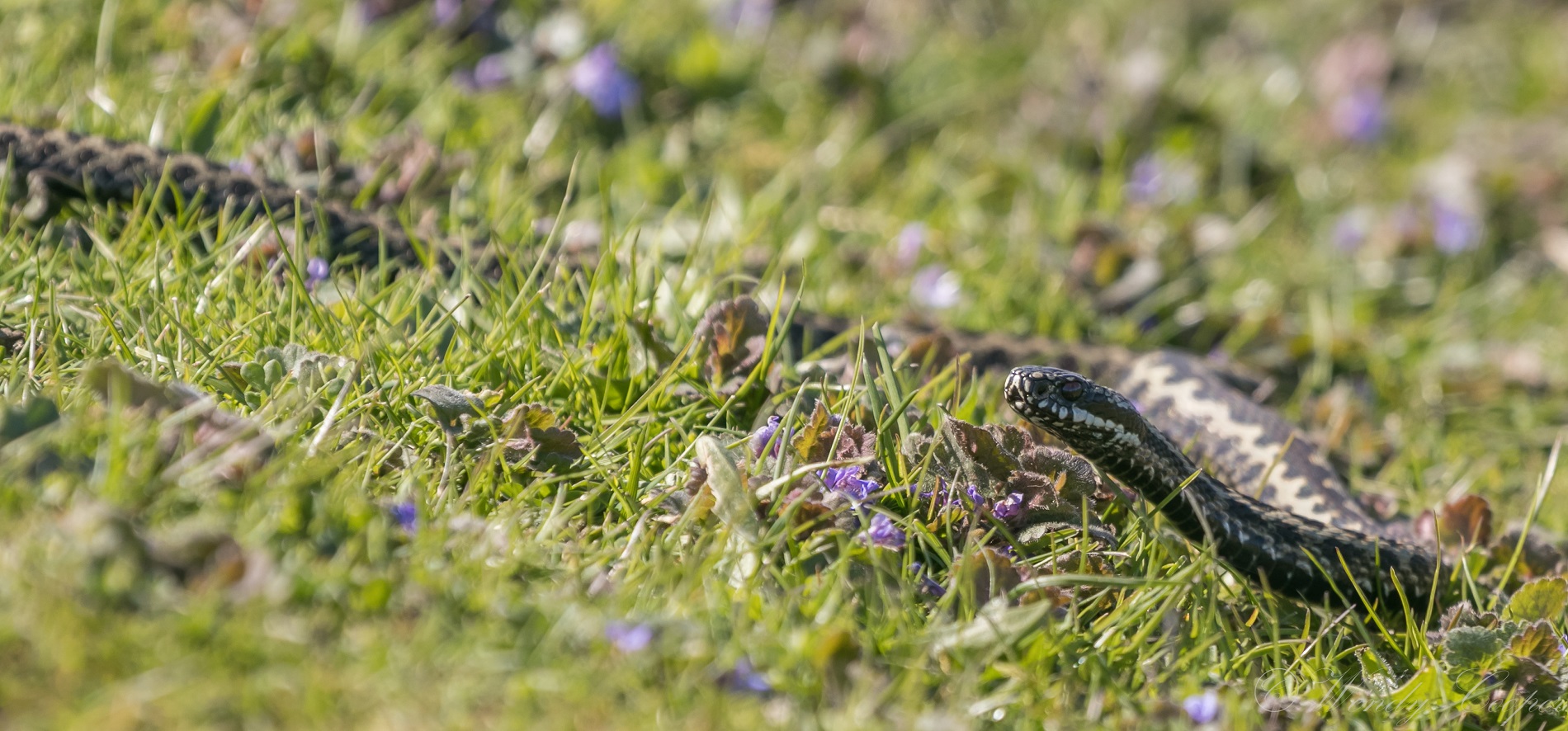 Click on the pics to go large!

We eventually left to have a very late lunch, after watching him slither across the grass and into the reeds, leaving behind a baffled looking Wheatear that was wondering why all the attention was not on him!
So I had a day of more 'firsts', seeing Meadow Pipits display for the first time, a Dartford Warbler in a tree and learning it's song (I've previously only knowingly heard Brrp!), seeing my first Wheatear in decades as well as Adders in action instead of basking!
I hope you have enjoyed my blog, if you would like an email notification when my next blog is published, please add your email address to the 'Sign Up' box below and don't forget to look for the 'confirmation email' to confirm your subscription.
As always, comments, feedback or questions are welcome, so please feel free to contact me via the comments section below or via the guestbook.
Comments