Postcard from Suffolk (Part One) : A Busy Afternoon in the Bittern Hide!
Trip Reports
> Postcard from Suffolk (Part One) : A Busy Afternoon in the Bittern Hide!
01/05/2017 - 17:14
Well after a drive untroubled by traffic issues and a very pleasant lunch, we decided to have a little wander at Dunwich Heath as our first stop.
It was bright but incredibly windy, so we set off on a clockwise stroll, heading along the bottom of the heath and up alongside the woods. At the start of the path we were greeted by a Stonechat, however along the path by the woods, although it was sheltered from the wind, we could hear birds singing but not see them.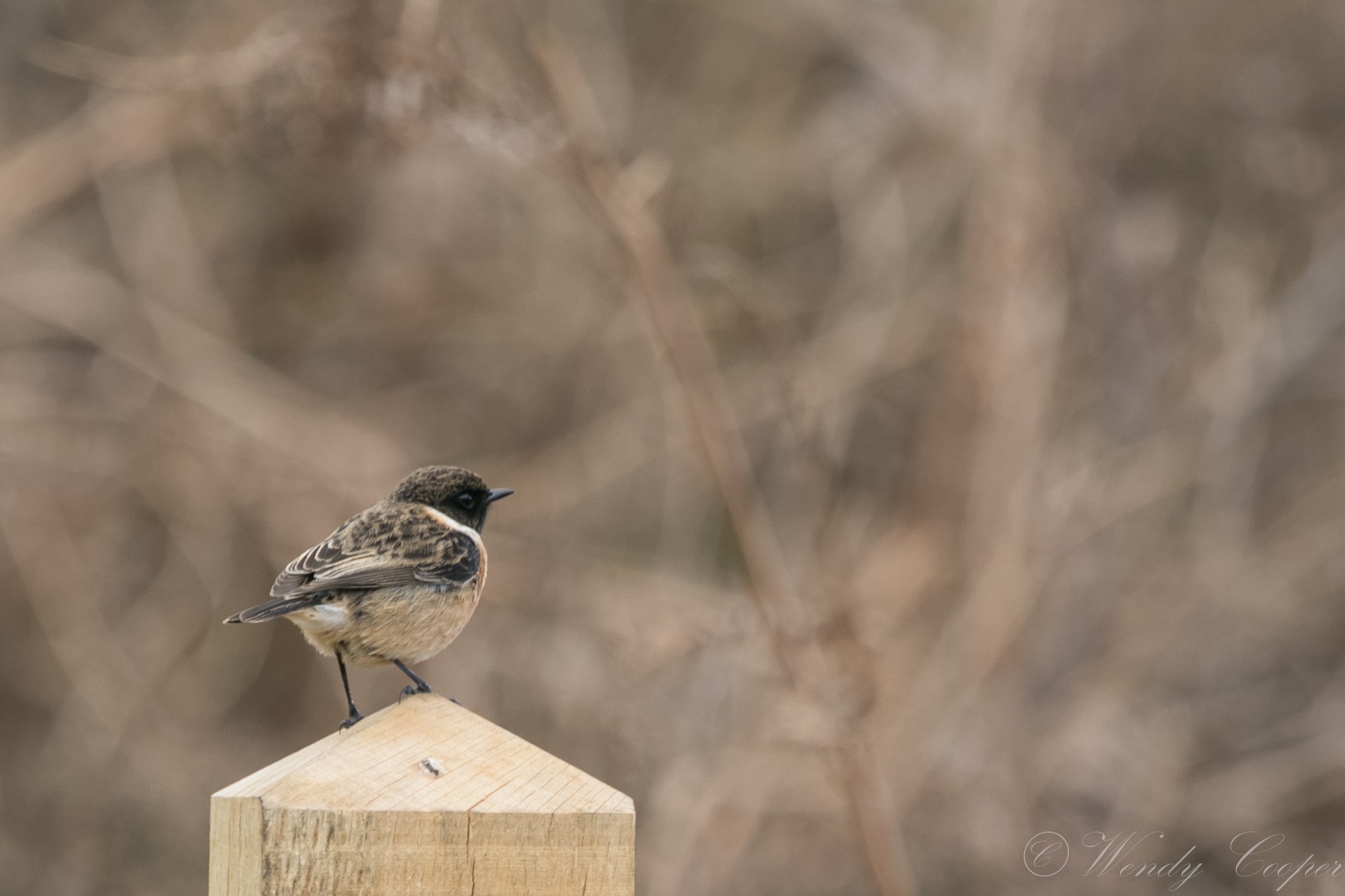 From time to time we could hear Chiff Chaffs and as we walked along the top path, I began to look for one in the trees ahead that I could hear. There was no sign, however as I looked out across the heather, I could see a small familiar bird perched atop one of the bushes. It was another Stonechat, so I watched awhile to see if another heath dweller would also appear, usually if there is a Stonechat, nearby there may very well be a Dartford Warbler!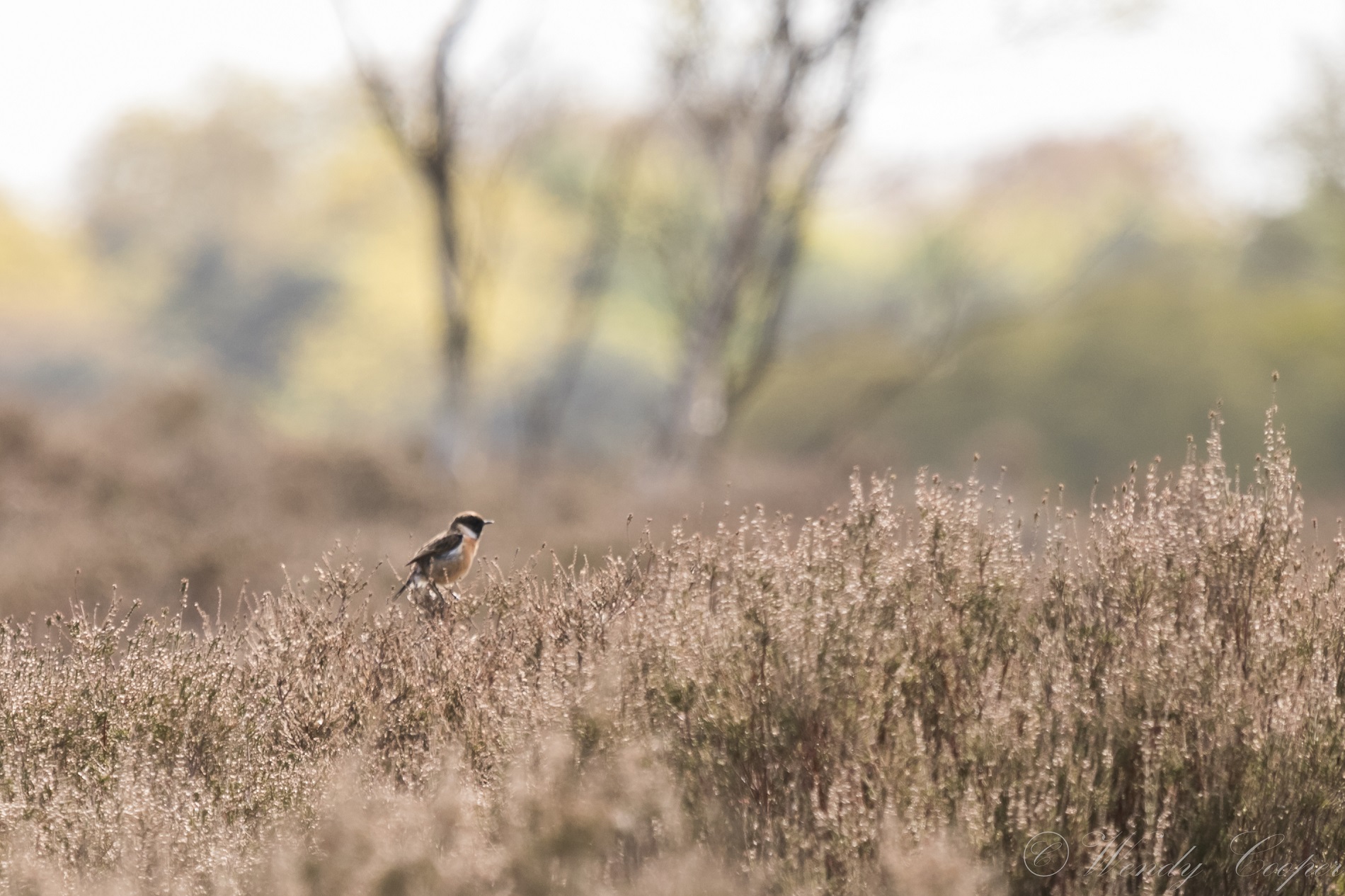 The Stonechat stayed up for a while and I briefly caught a glimpse of a Dartford Warbler, who, in the strong breeze, was definitely not stopping for me to take a photo! We continued on and paused for a while to enjoy the views over the heath. Behind us was a small copse of birch trees and hearing another Chiff Chaff, I had a tiptoe wander, to see if I could see the singer. After a few moments, I could see him flitting about, feeding and calling from amidst the branches.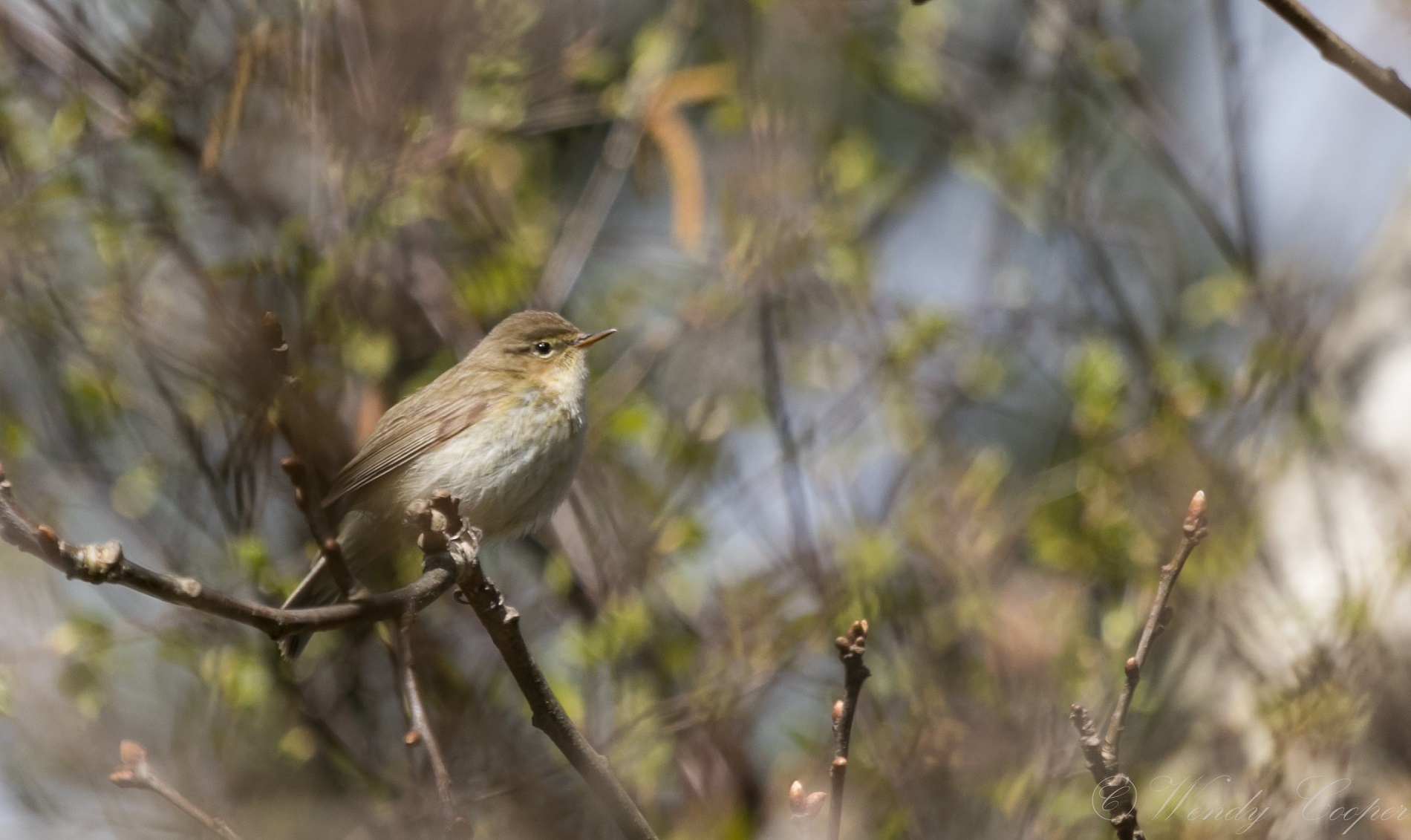 After watching him for a while, we continued of for a cup of tea, before deciding to spend the remainder of the afternoon just up the road at RSPB Minsmere.
Were we in for a treat!
Arriving at Minsmere, we decided that a decent while spent in the Bittern hide would be a good way to round off the afternoon. Having spent late afternoons and early evenings there, we have often had some excellent views of the Reserve's residents.
This afternoon would be no different; as we entered the hide, a fellow watcher kindly pointed out a Bittern that had just emerged from the reeds in the right hand 'channel'.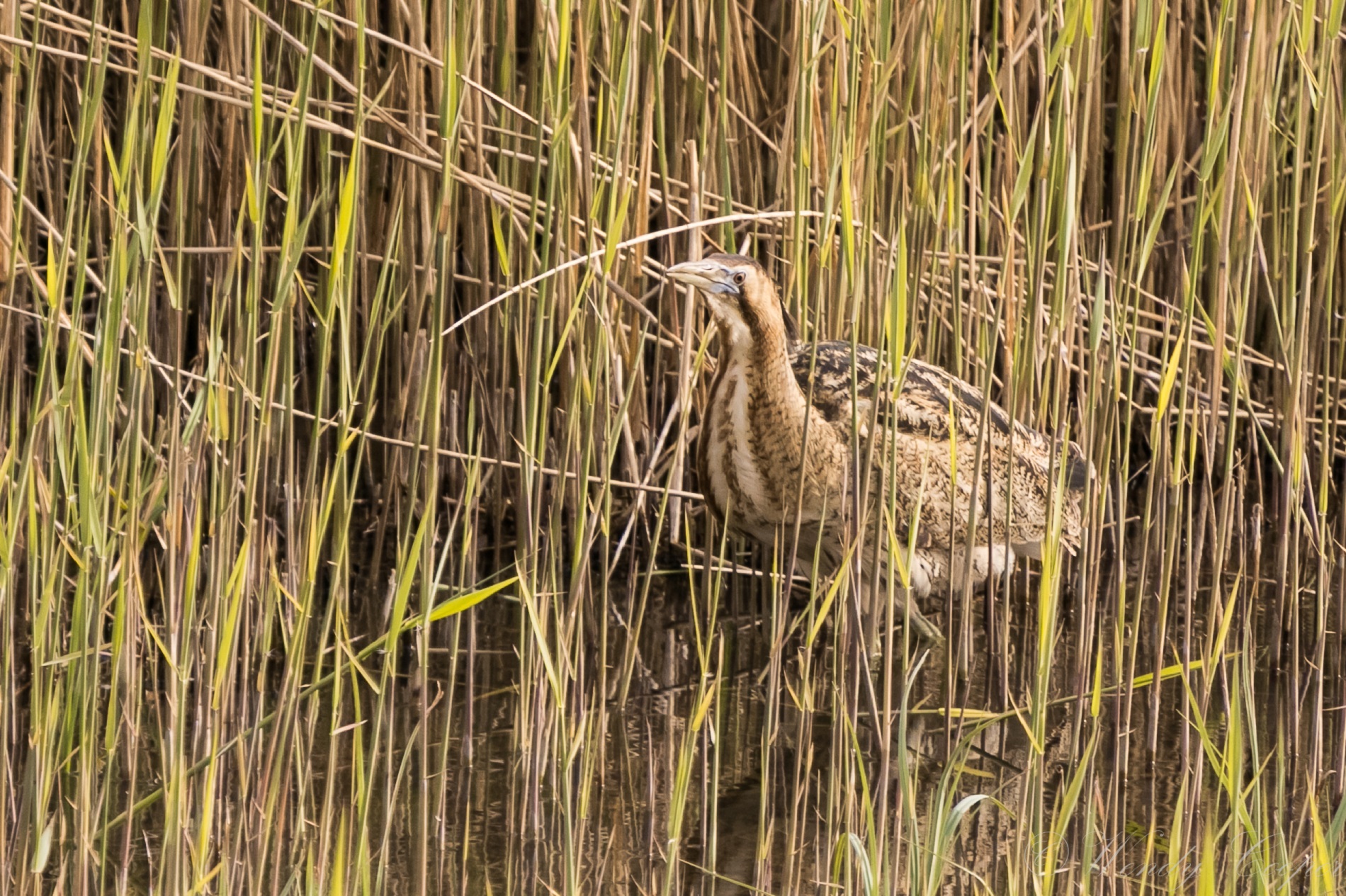 Eurasian Bitterns, members of the Heron family are shy and secretive birds, favouring reedbed habitats and can occasionally be seen skulking slowly along reedbed margins as they look for food.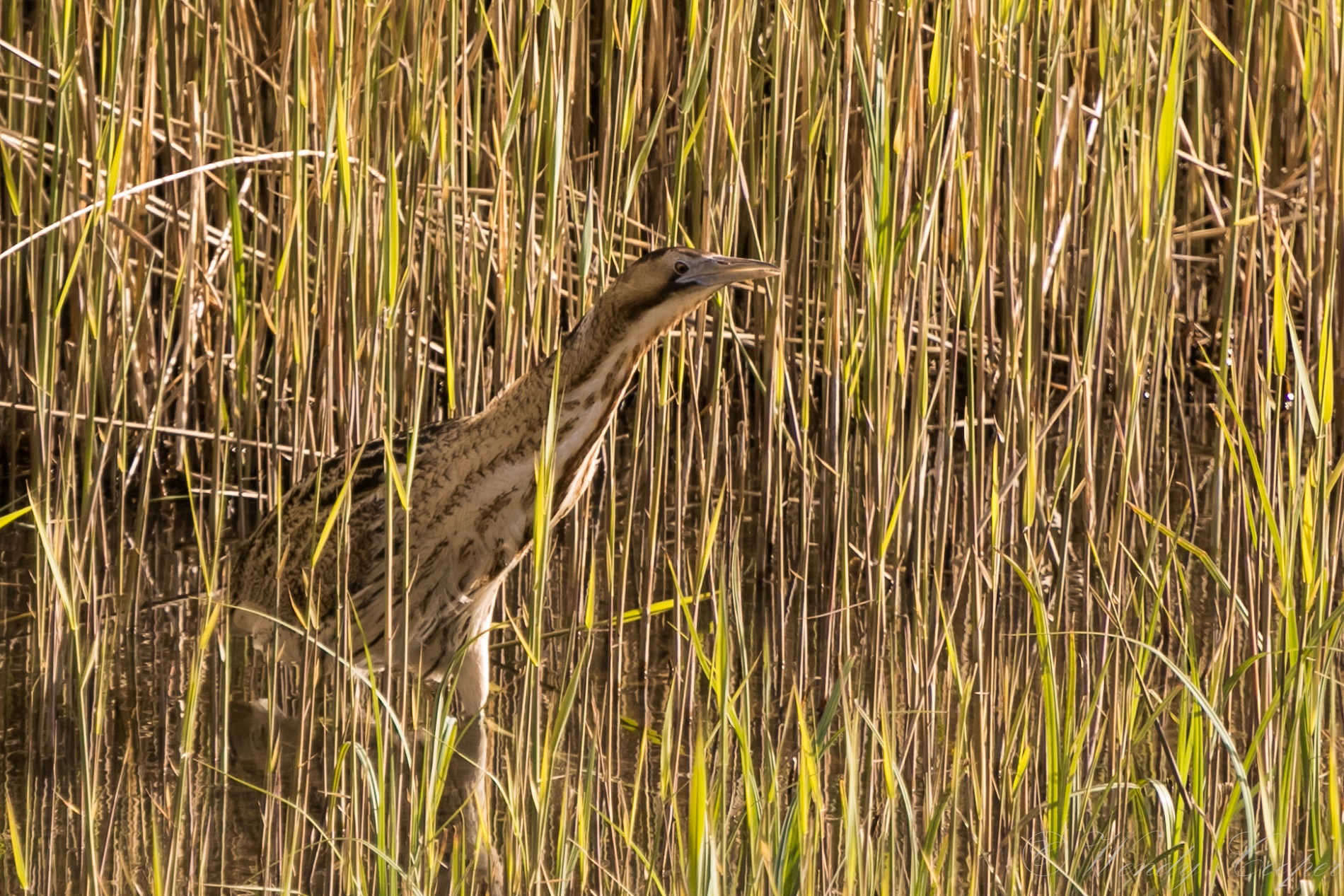 This one was doing just that, working his way through the reeds in front of us, he seemed to be finding a fine selection of small fish to dine on. Bitterns also feed on small mammals, amphibians, insects and will also take fledgling birds. They have a most varied diet!
Poised...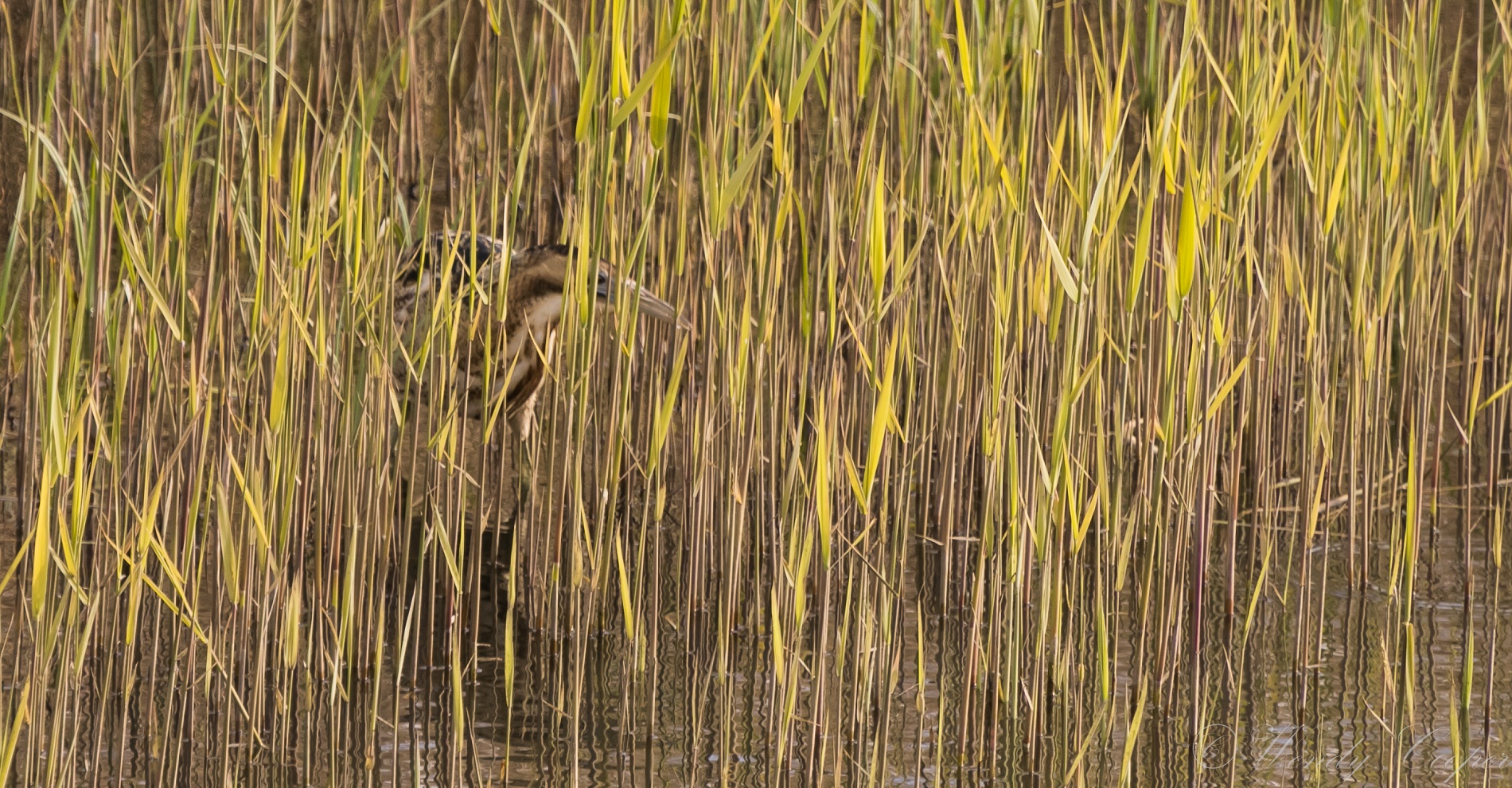 Strike!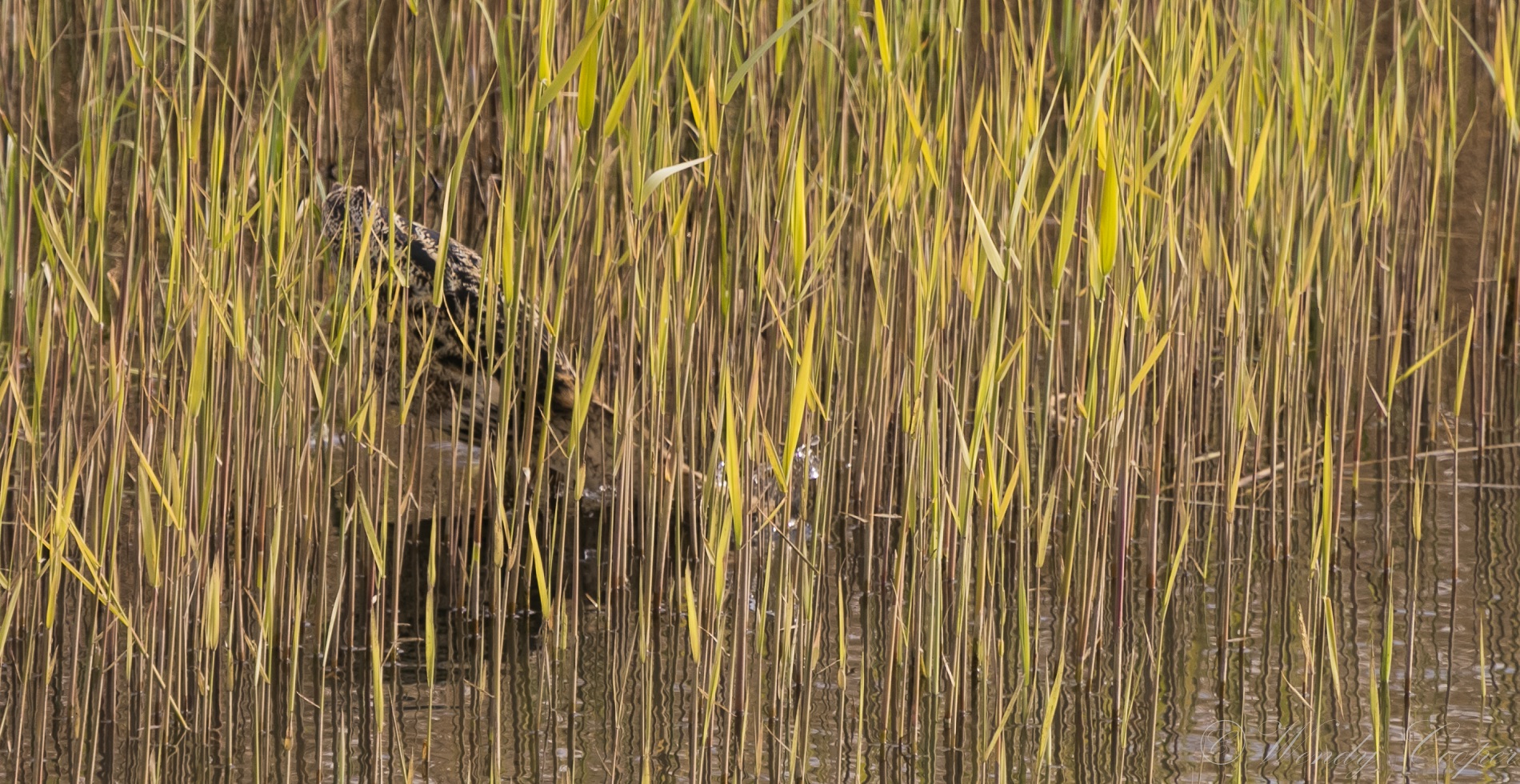 Got One!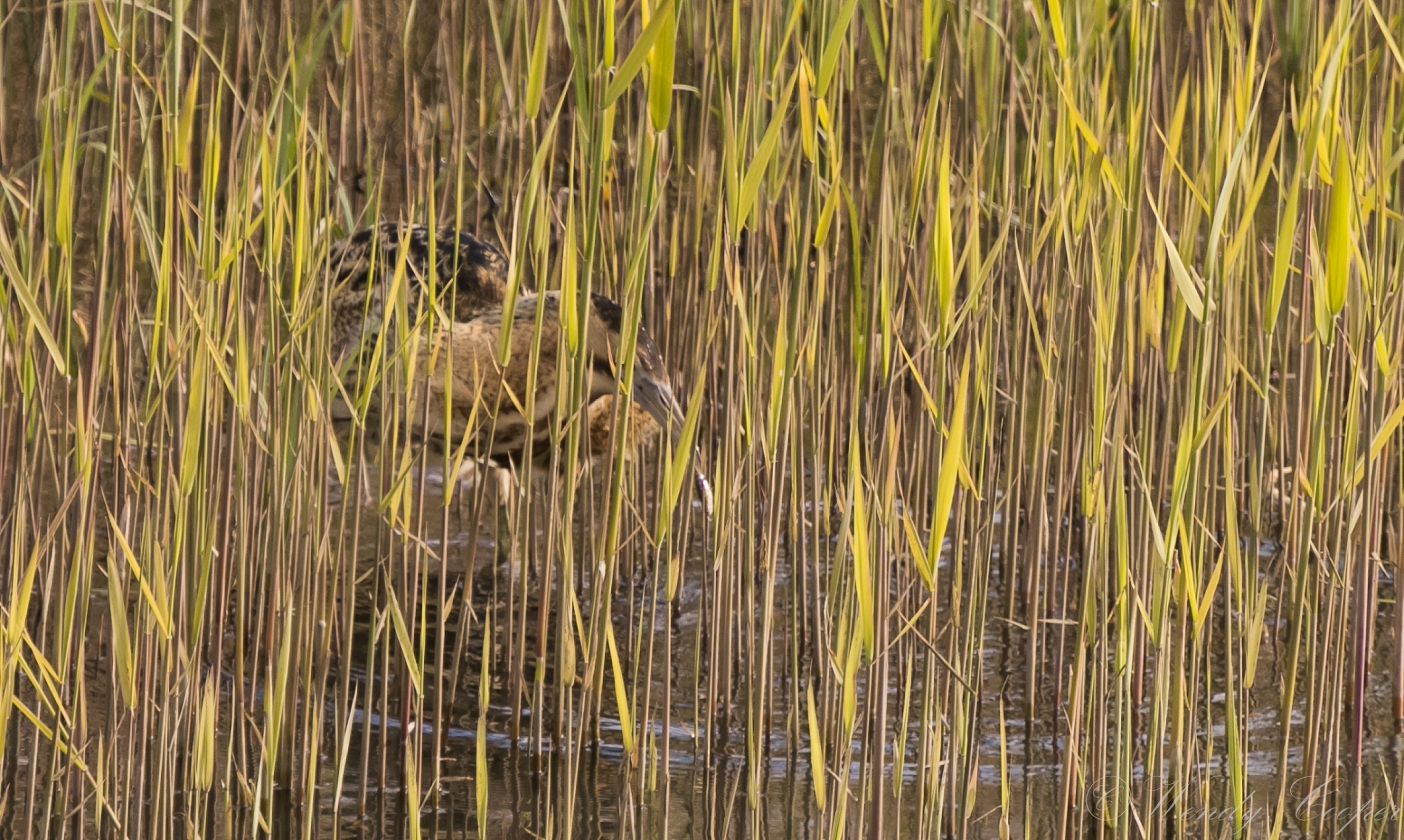 The Bittern carried on fishing in front of the hide, at one point pausing to have a good look up at his audience.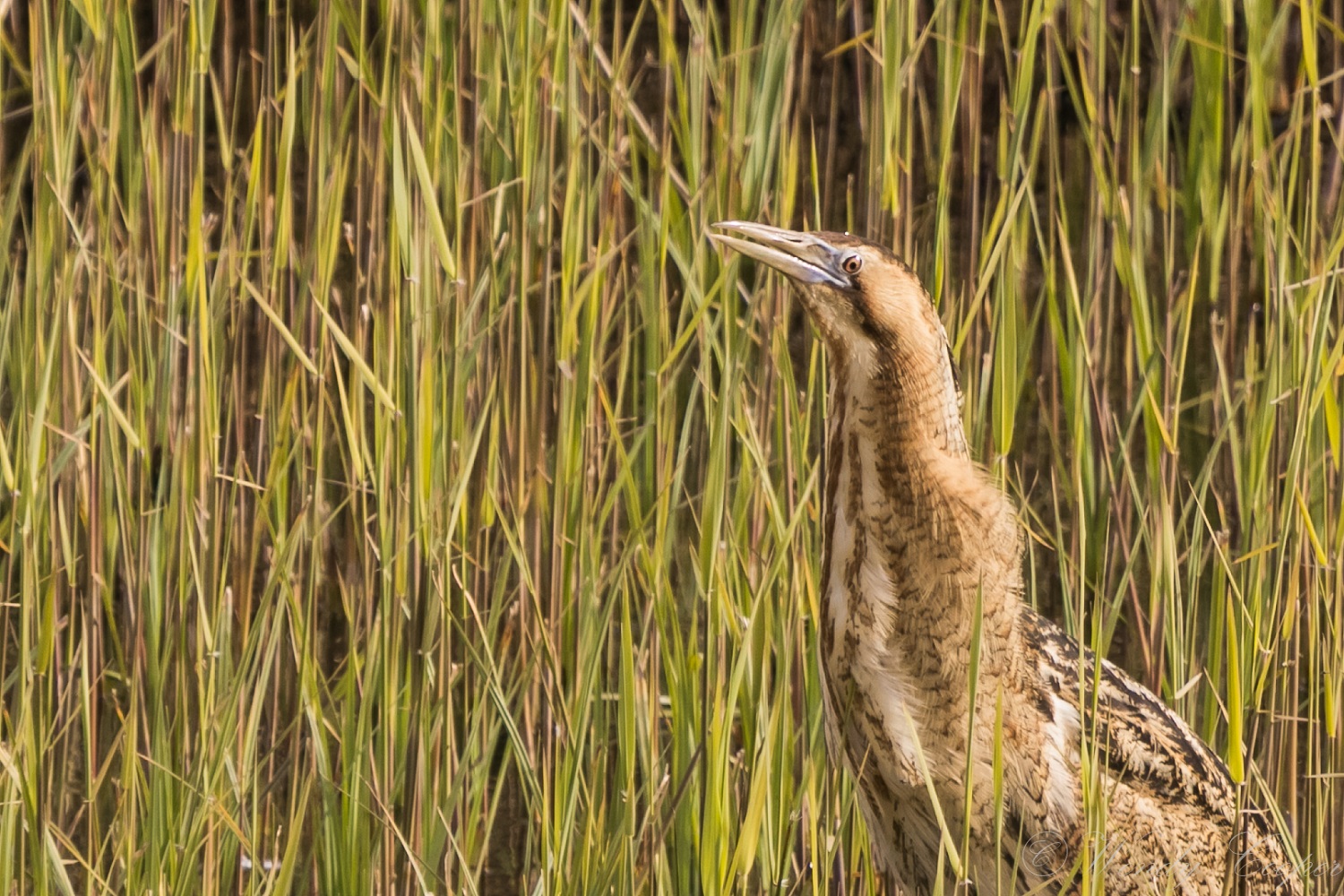 As he continued, I looked across the reeds and could see one of the Marsh Harriers approaching. He looked as though he was quartering and searching for food.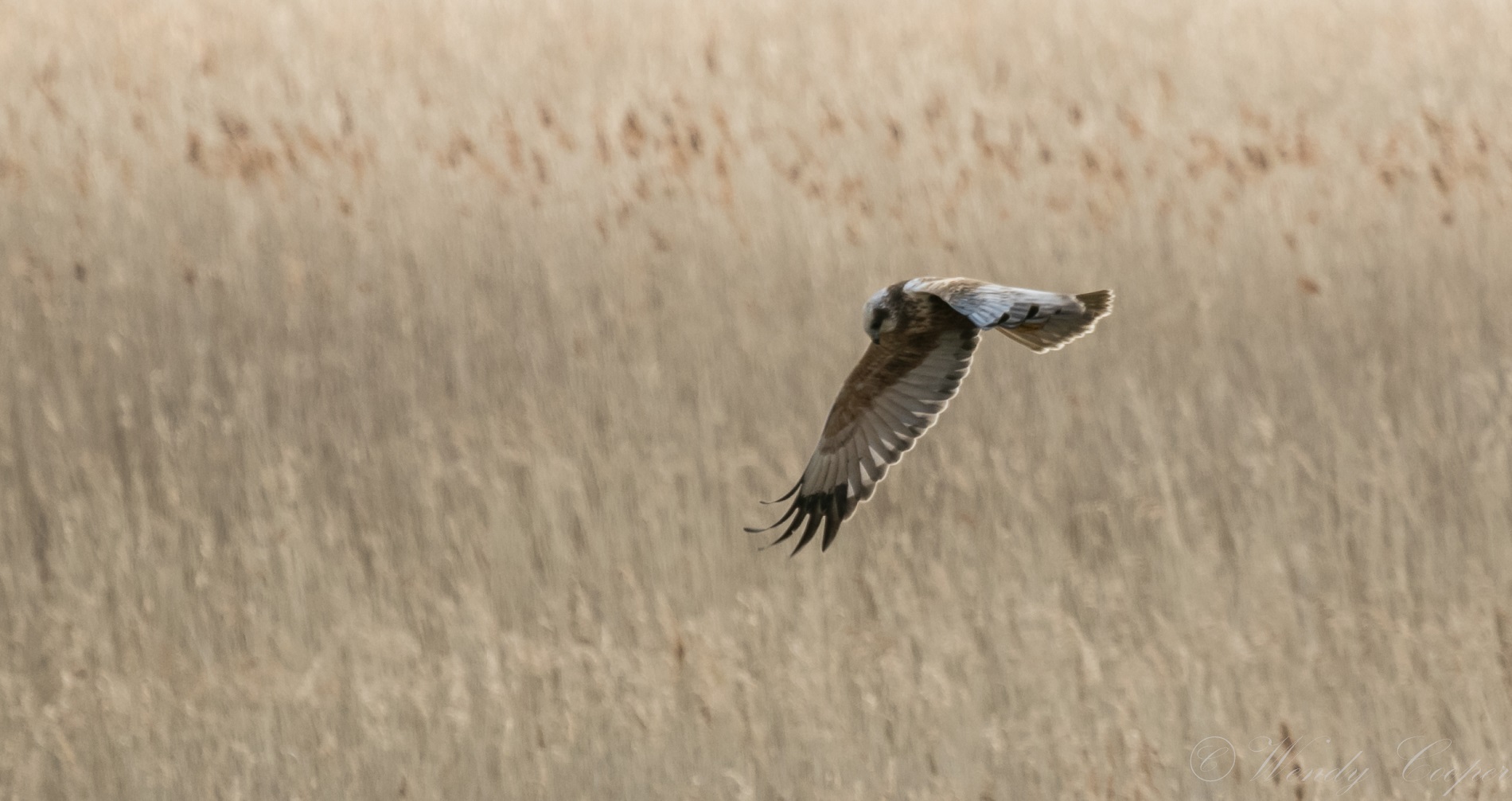 He gradually got closer and closer,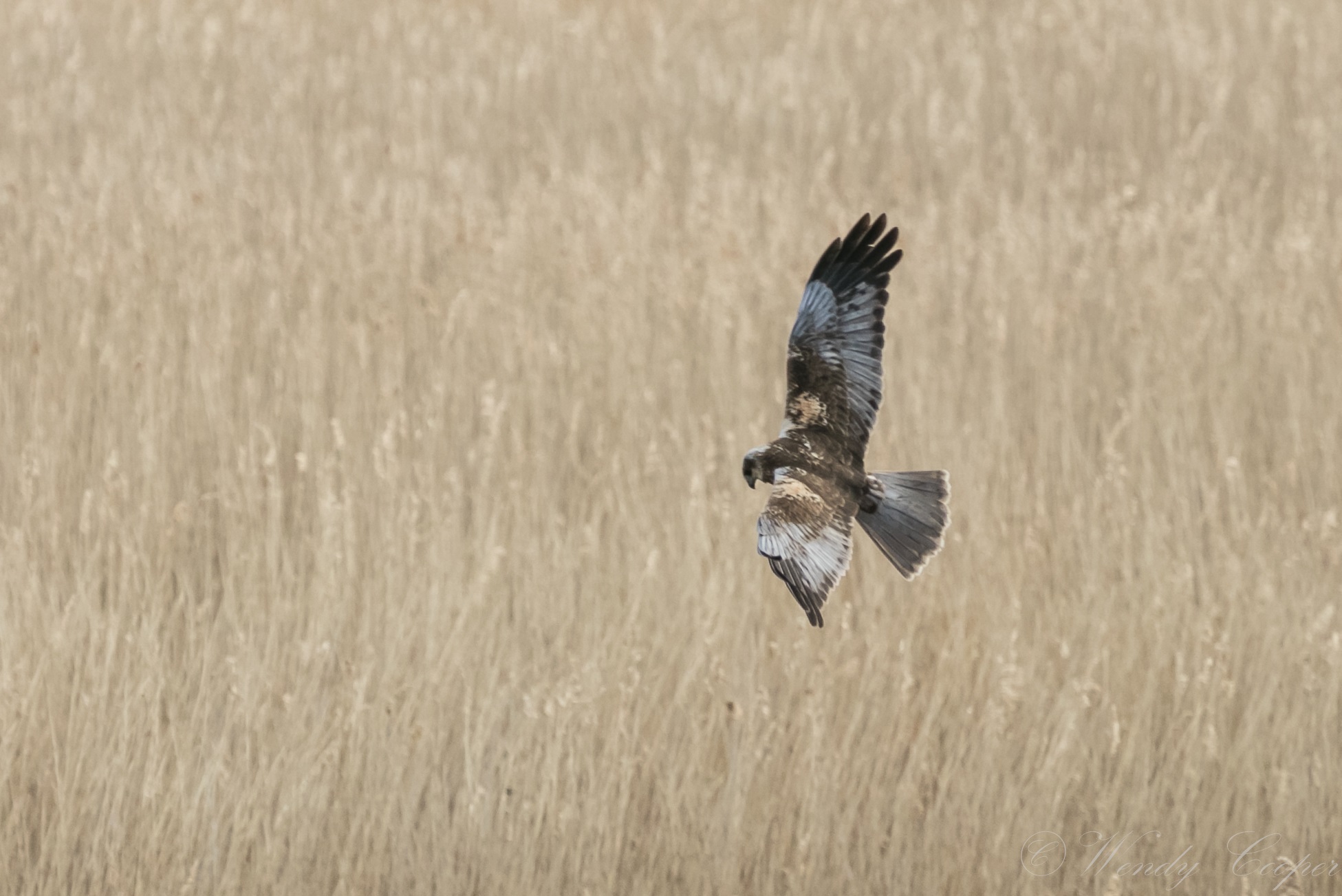 Before moving a little further off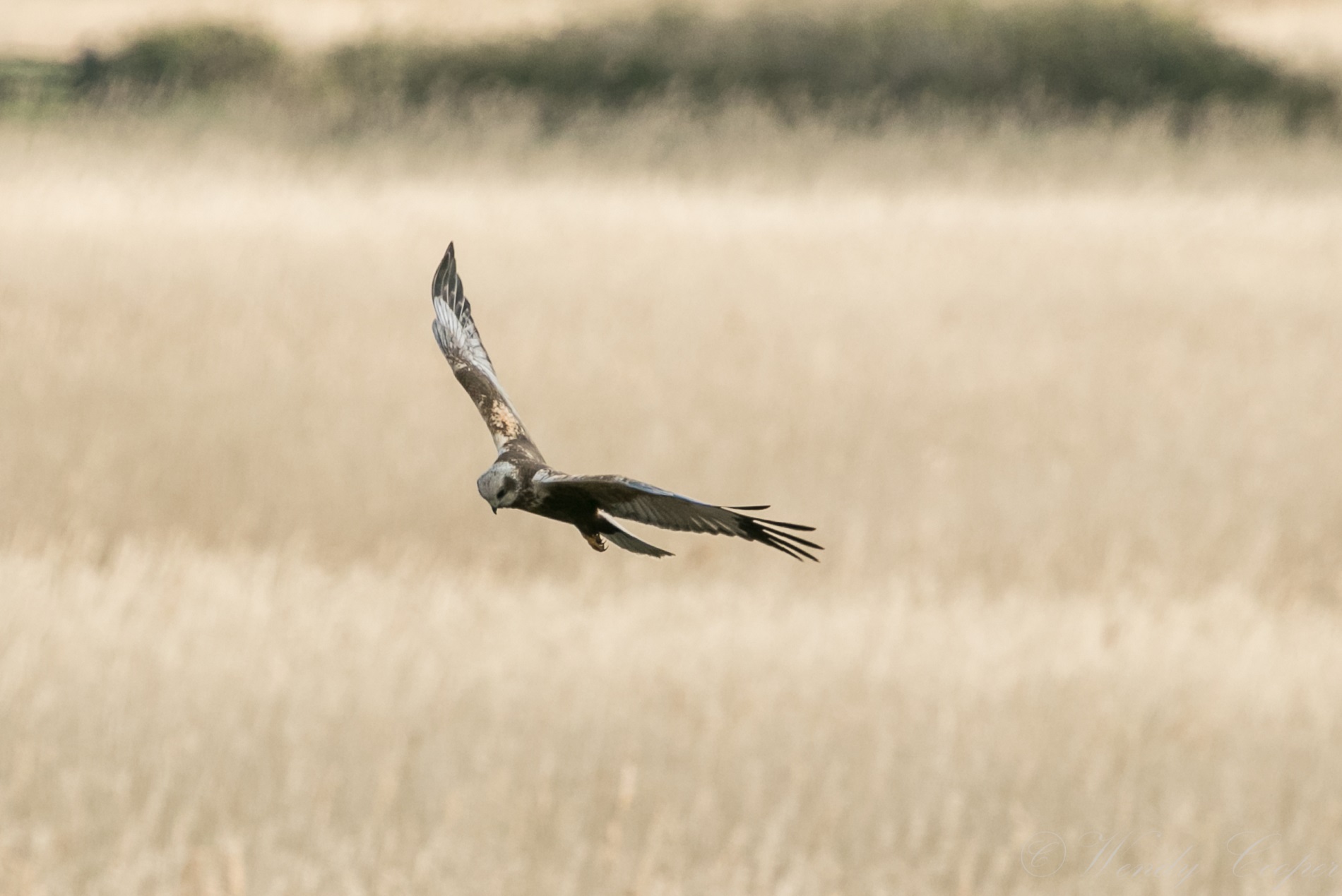 And then continued to quarter nearby, over to our right. At one pont, we had an almost head-on view!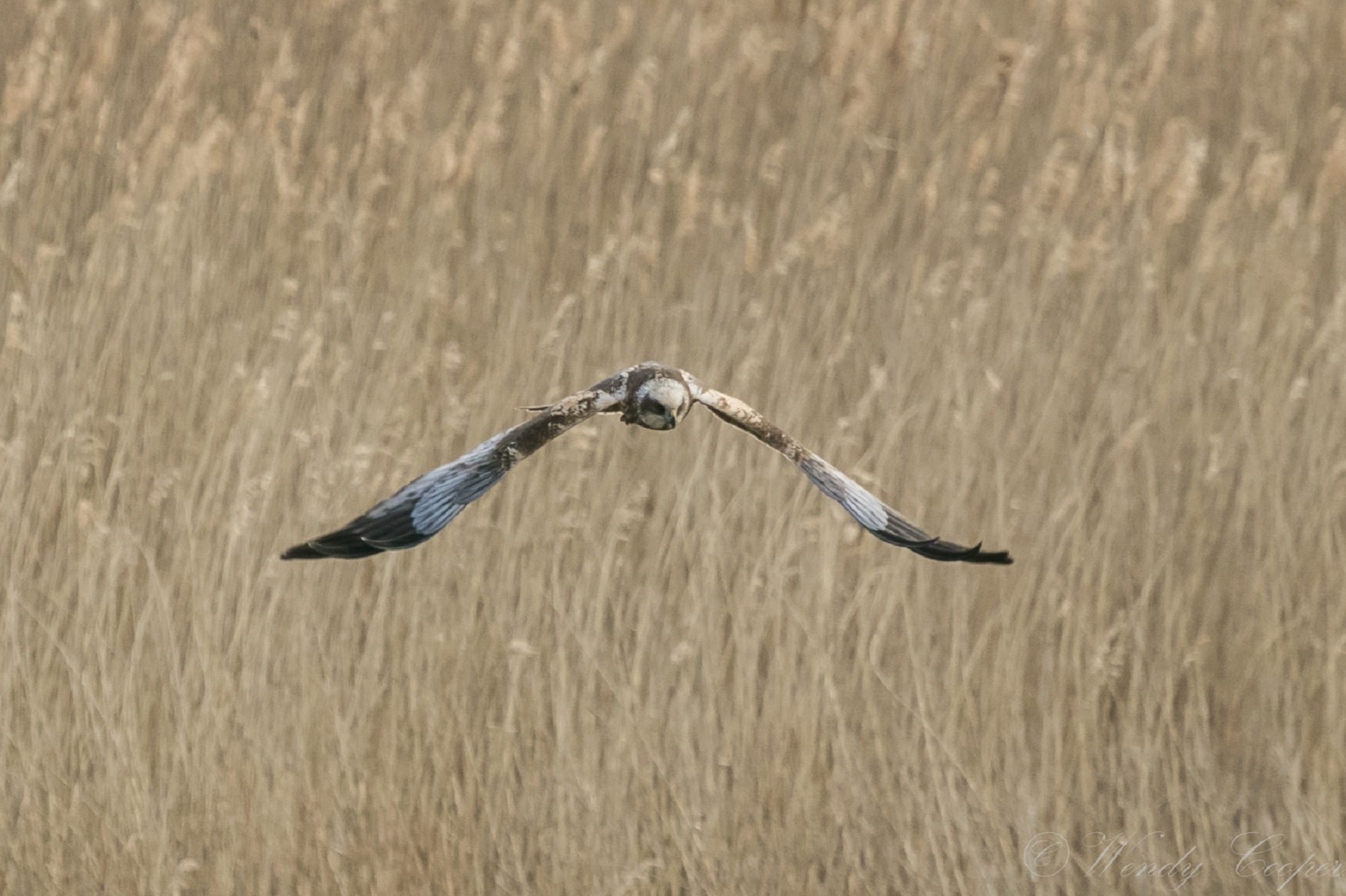 As the Marsh Harrier got further away, the Bittern was still slowly working his way through the reeds, pausing every now and then to catch a tasty morsel or just to look around.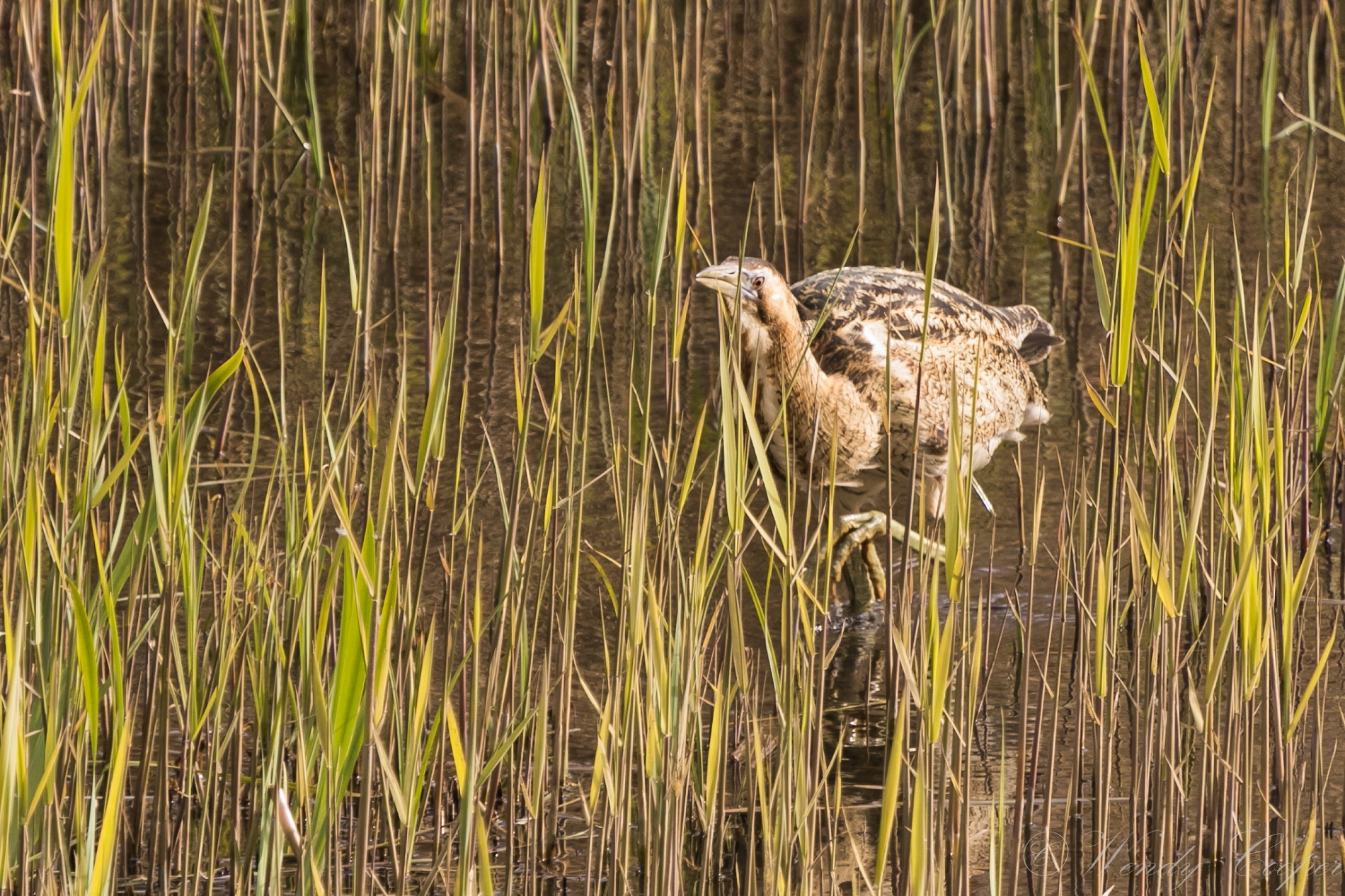 Whilst the Bittern continued, a pair of Coots were finding choice amounts of vegetation to dine on, they were staying out of harm's way down in the left hand corner.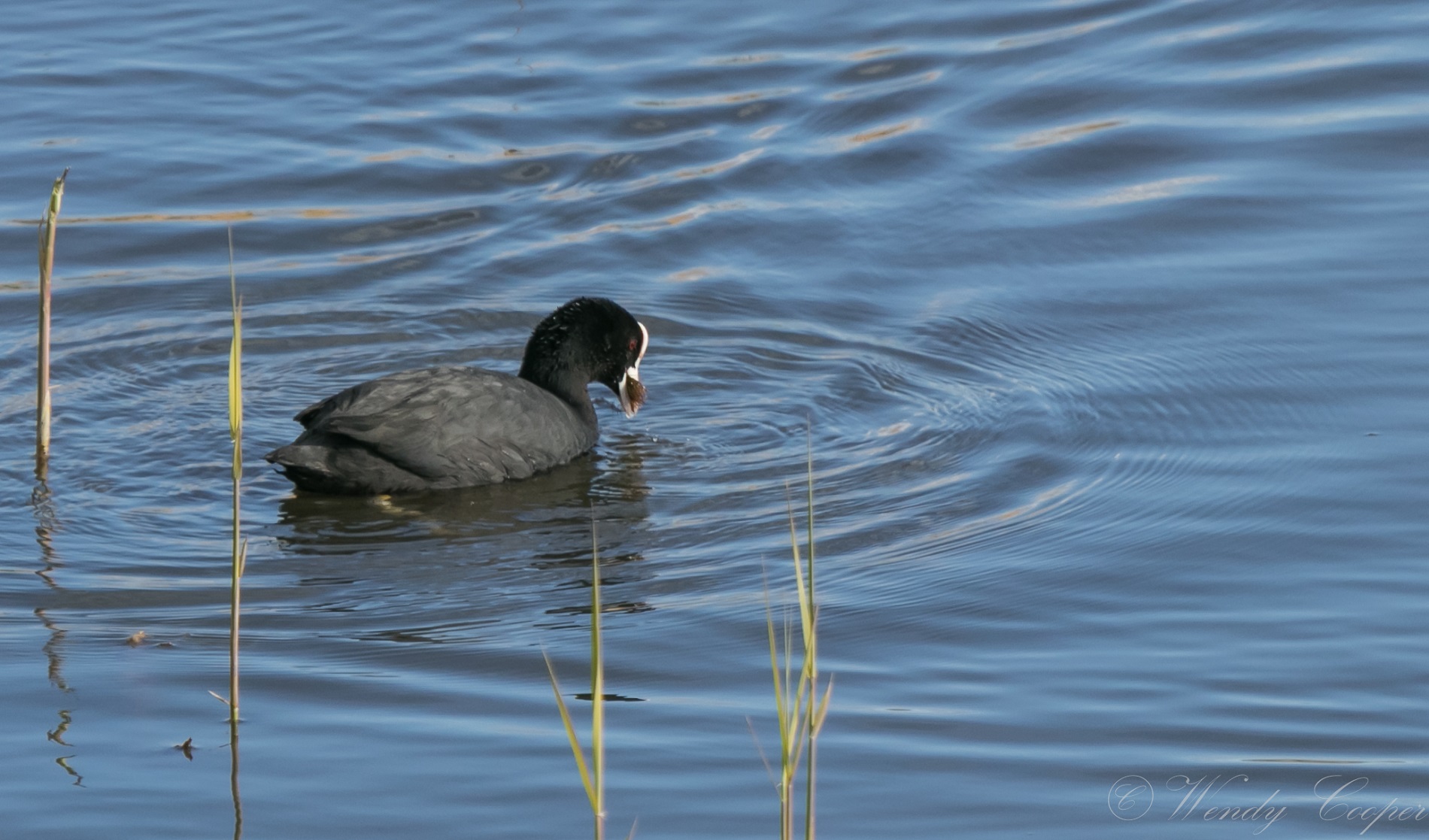 Flying across the front of the hide, a Grey Heron decided to make an entrance and 'entering the circuit' so to speak, floated down into a clearing in the reeds over to our right.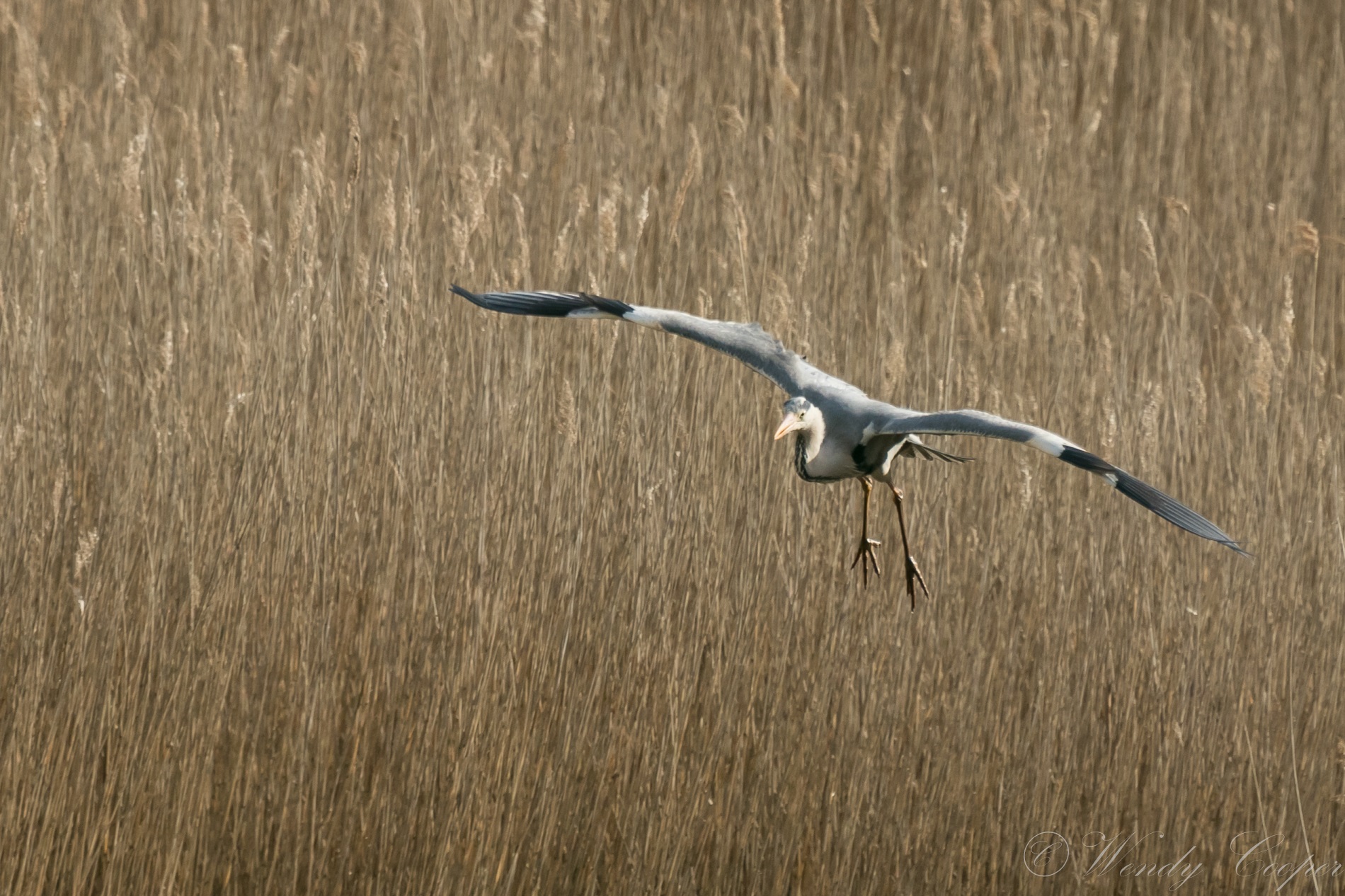 Once settled, this 'cousin' of the Bittern followed his lead and also began to fish...
Aim..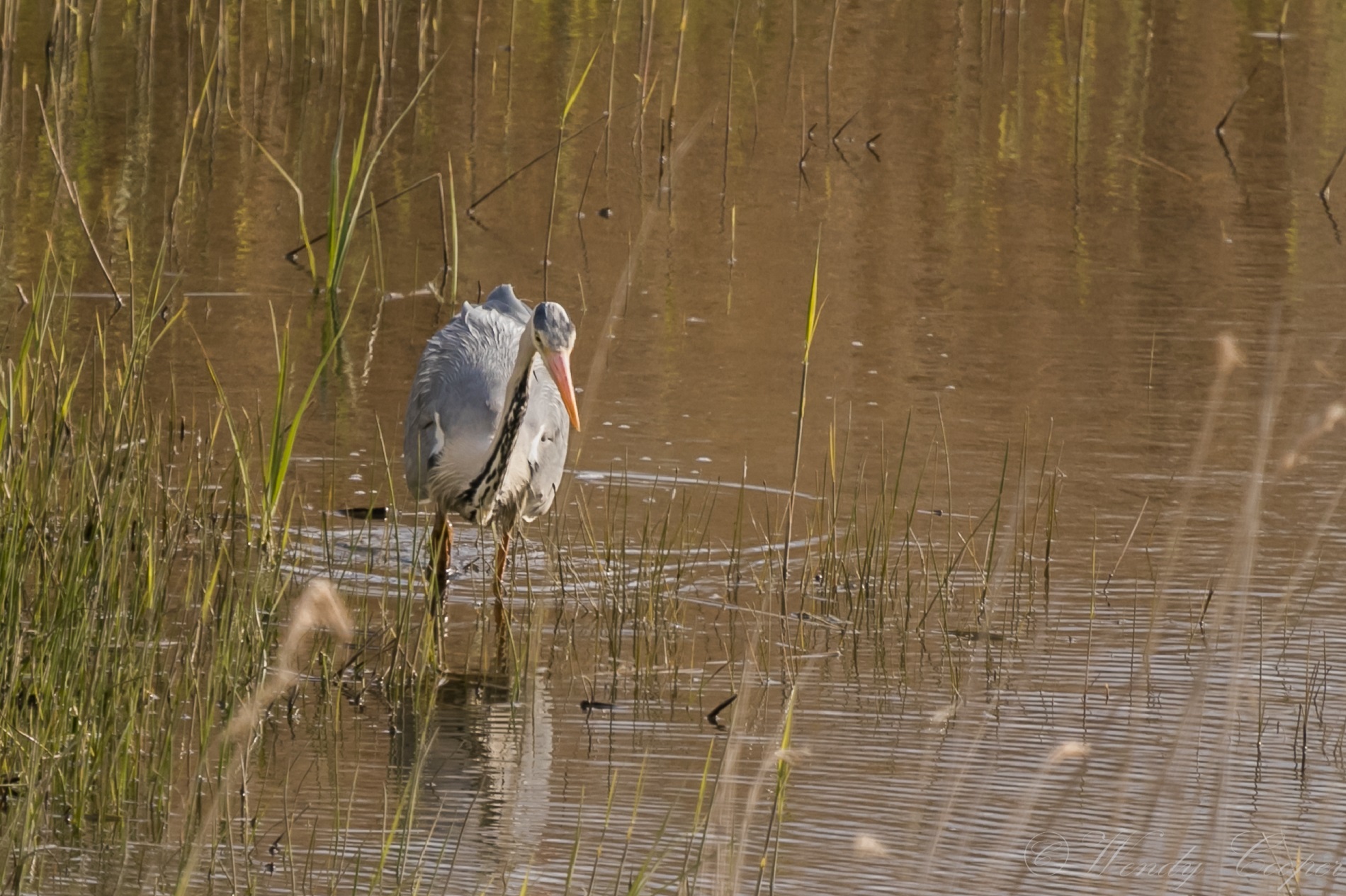 Strike!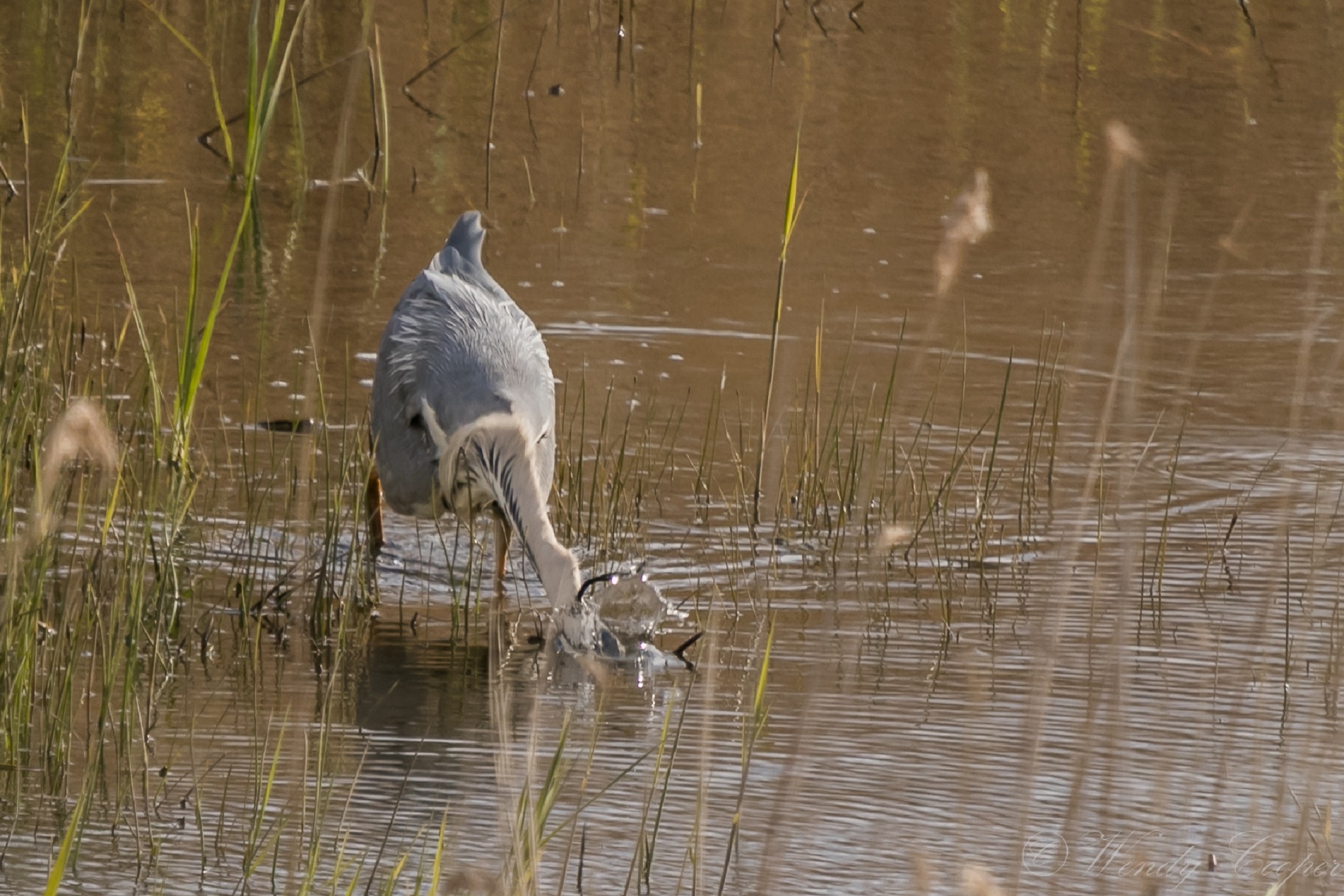 Gotta-fish!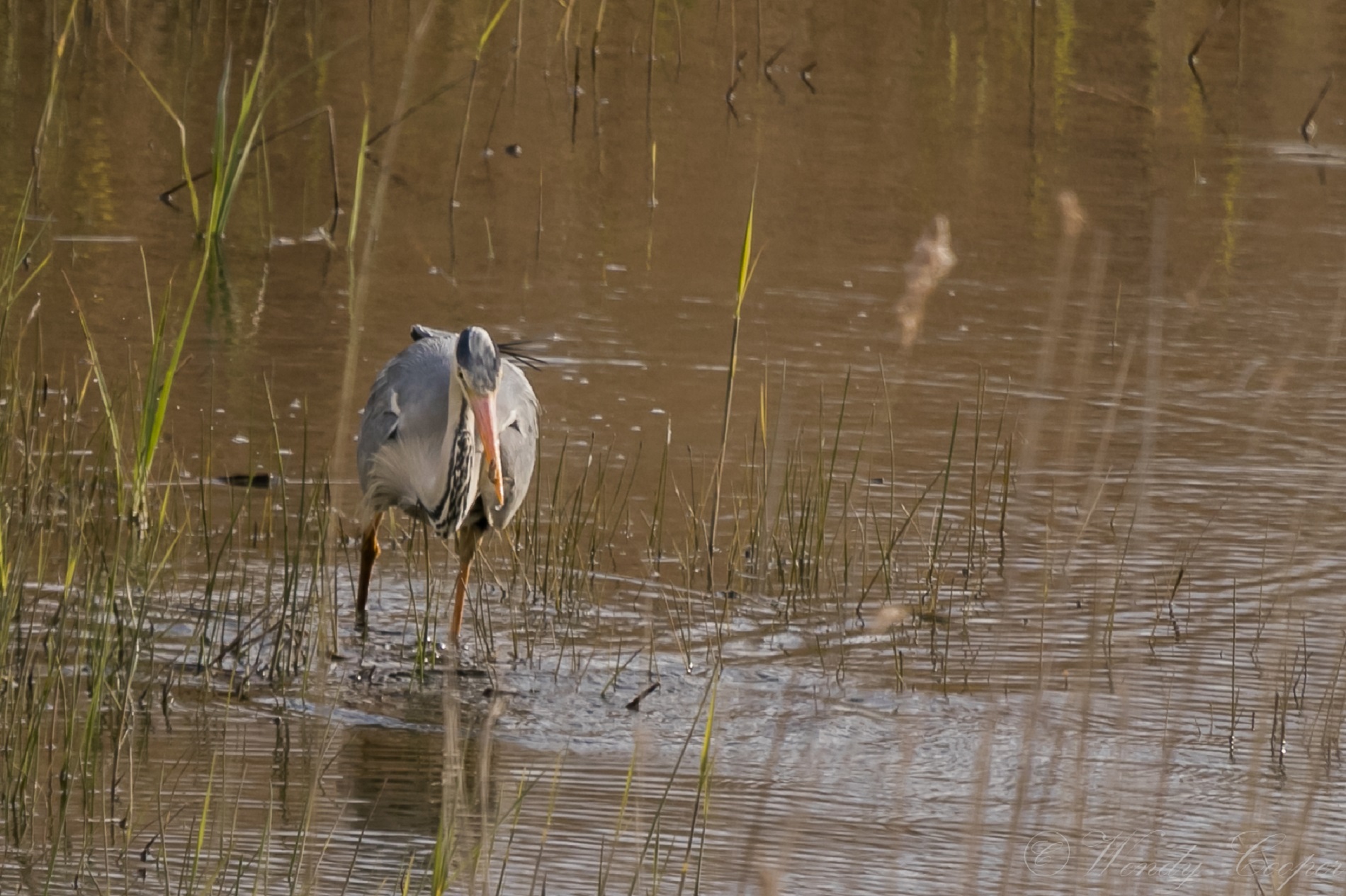 After a few more catches the Heron settled into statue mode, looking rather handsome in the sunshine.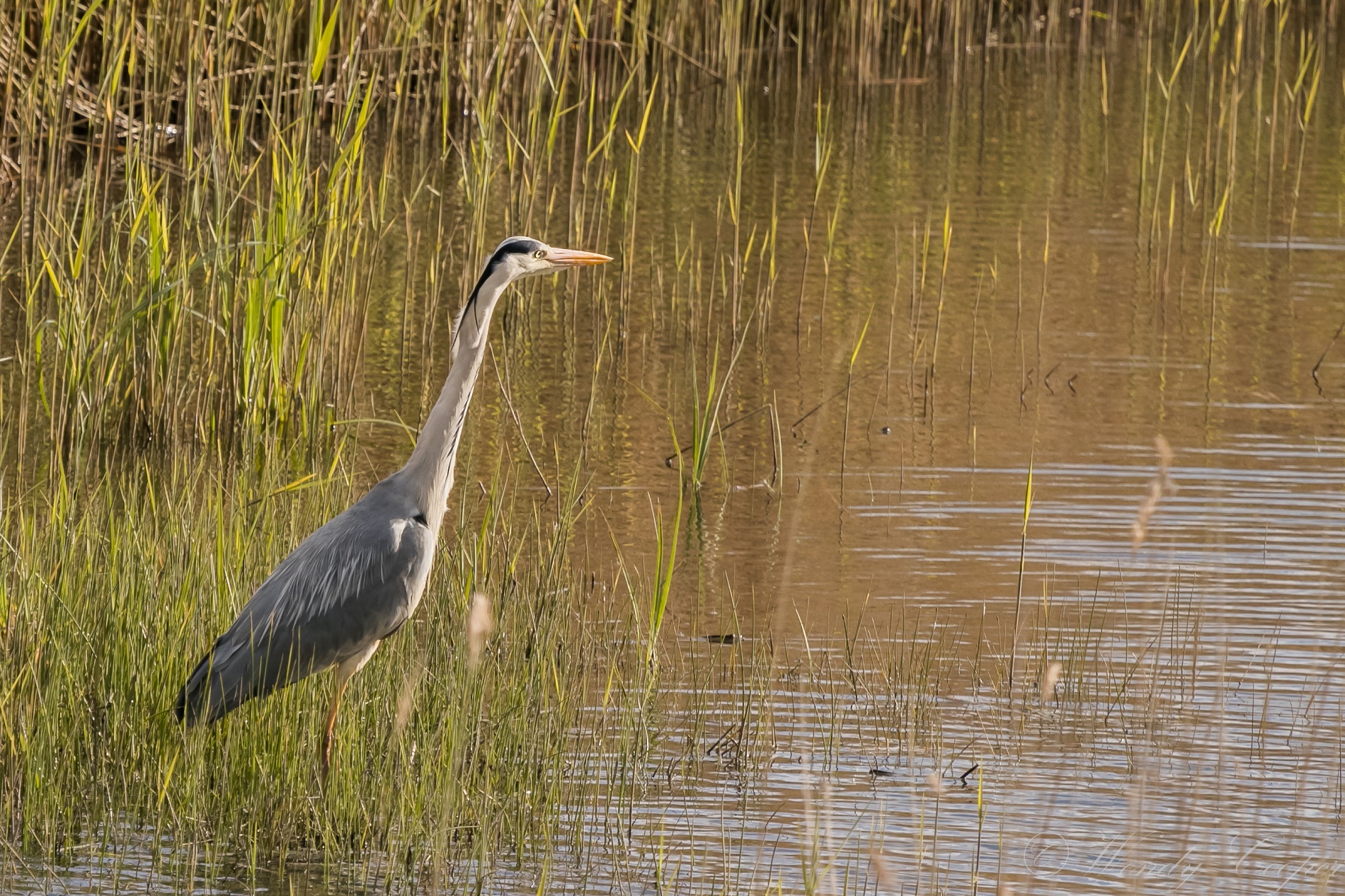 The Bittern, meanwhile had progressed to the left hand channel, crossed it and was progressing towards us down the reed margin, pausing occasionally for a spot of fishing.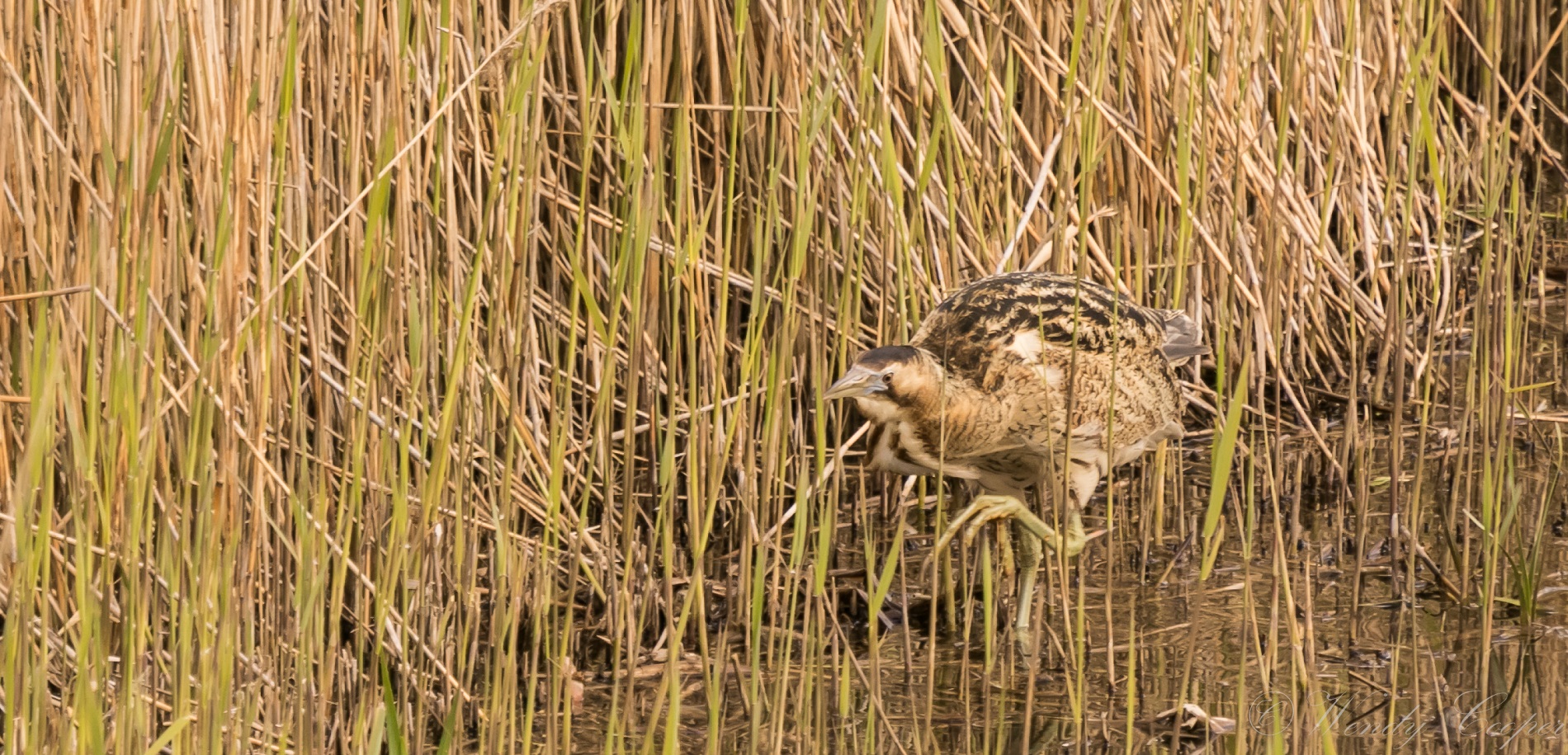 Suddenly there was a (quiet) exclamation from the other end of the hide... A second Bittern had arrived!
All eyes were on the newcomer as it settled in the left-hand channel.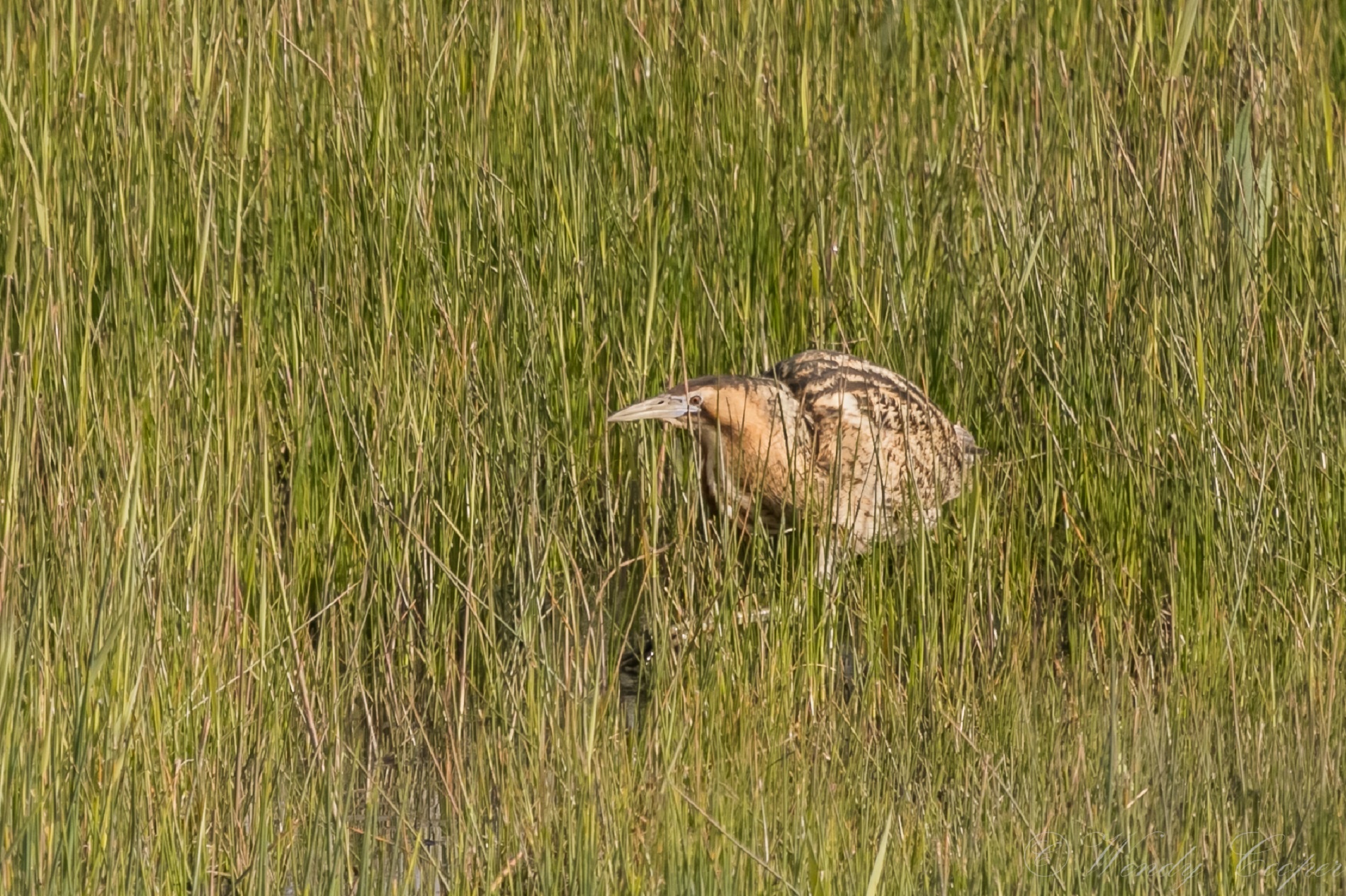 Bittern number two proceeded to follow a similar route down the channel and along the reeds in front of the hide, occasionally stopping to fish.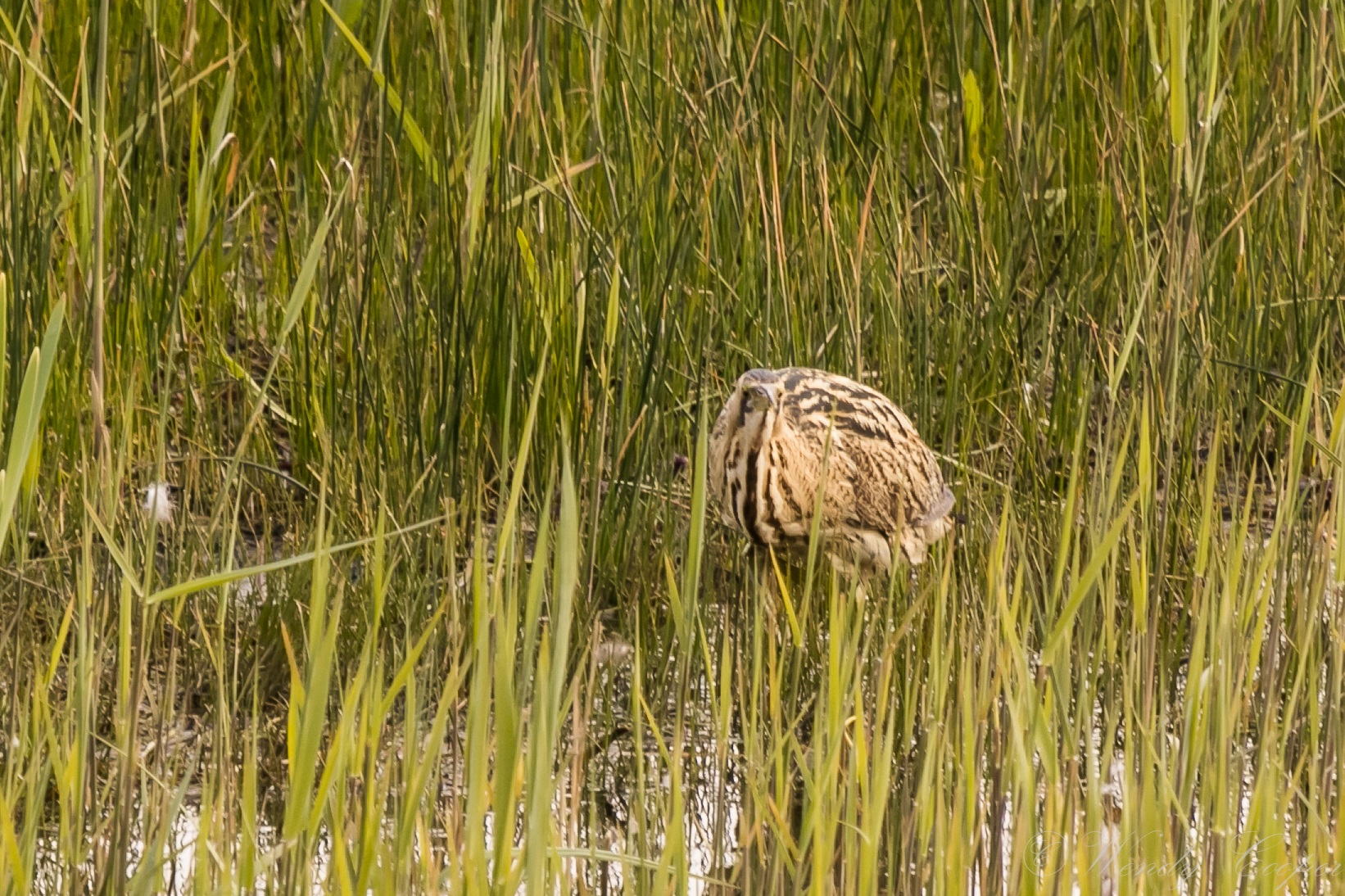 After a while it paused and looked across to Bittern number one.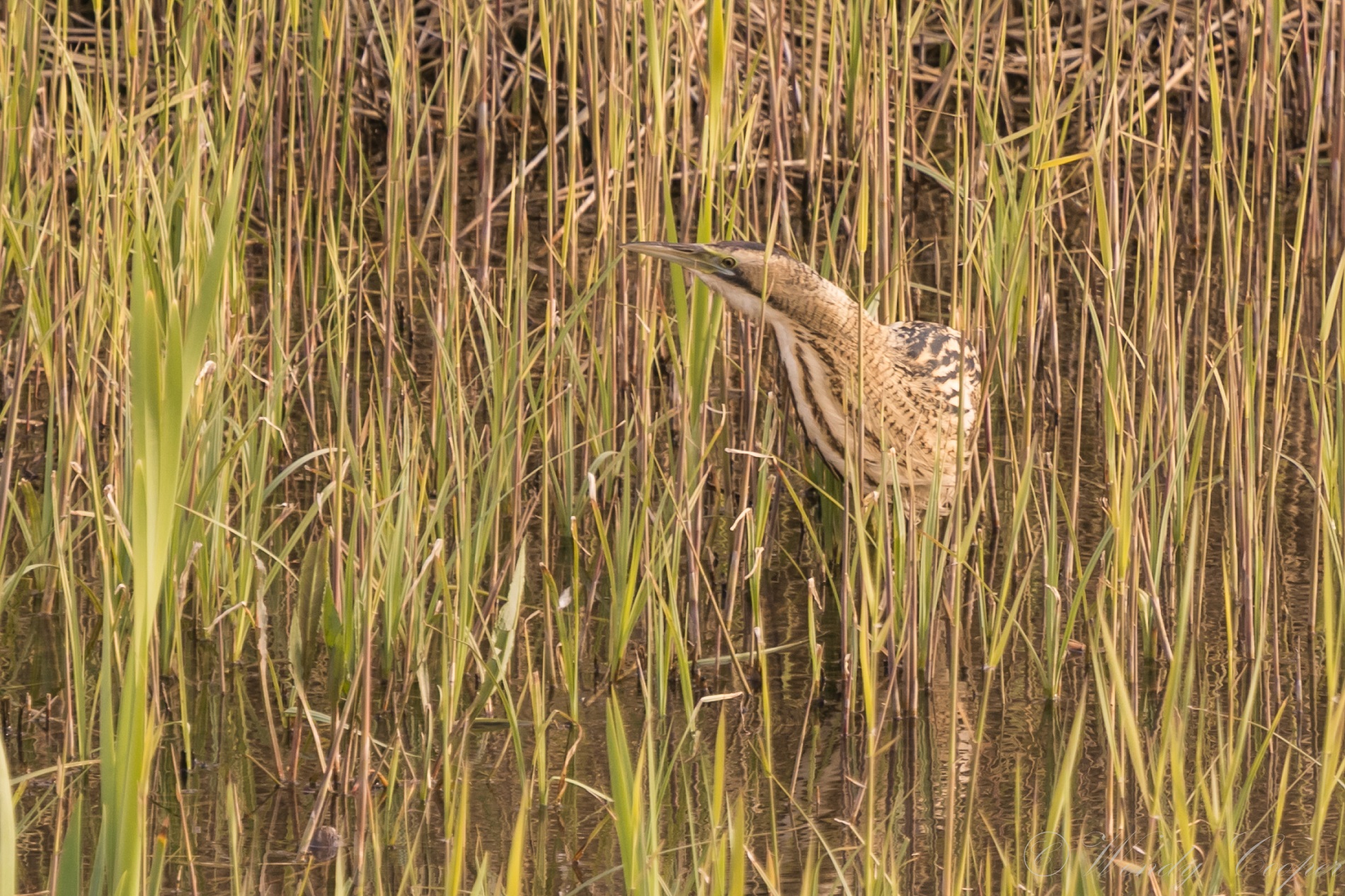 At this point Bittern Number one stopped what he was doing, it was a rather attractive Lady Bittern who had just arrived!
Now I've only ever seen Bitterns skulk slowly through the reeds, the only time I've seen them do anything fast, is when they are in flight. Bittern Number one spotted the Lady in the middle and decided a hasty swim was in order to reach her.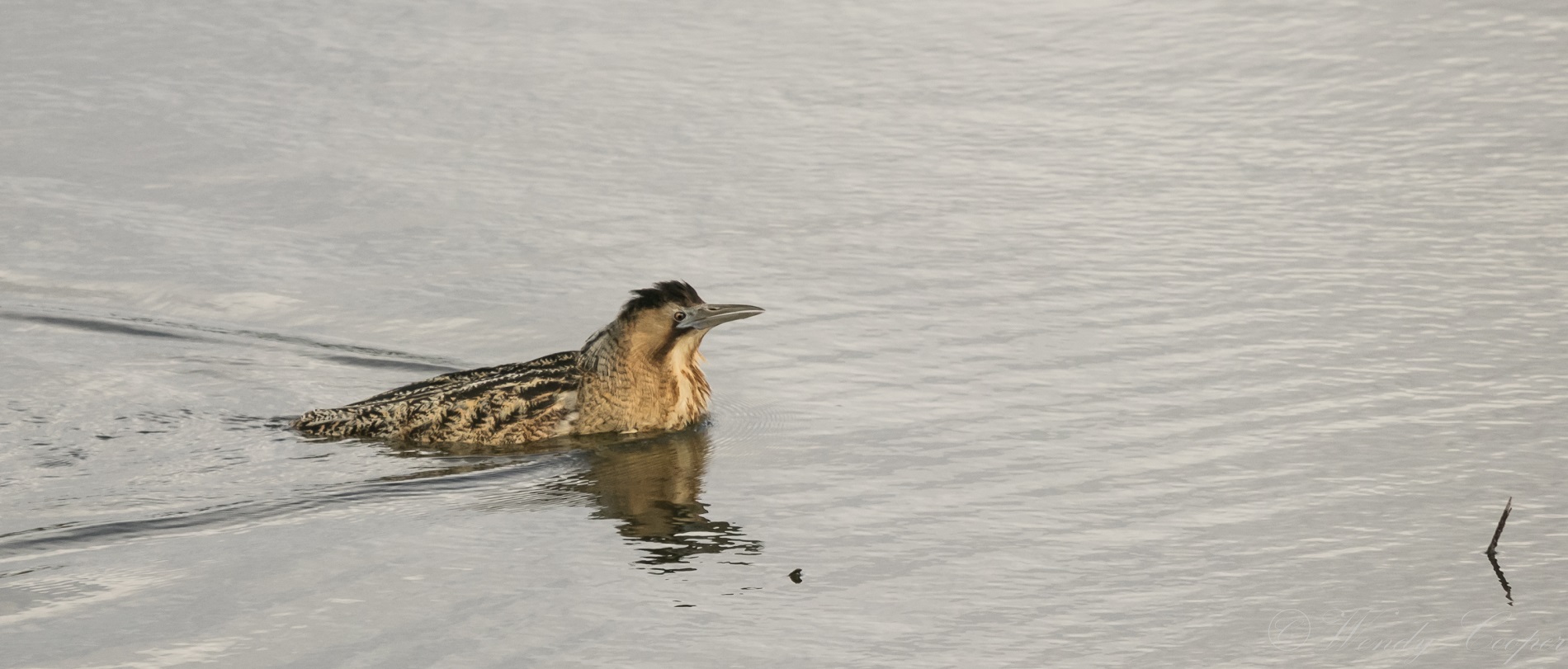 On reaching the other side of the channel, he climbed out carefully and began fluffing himself up,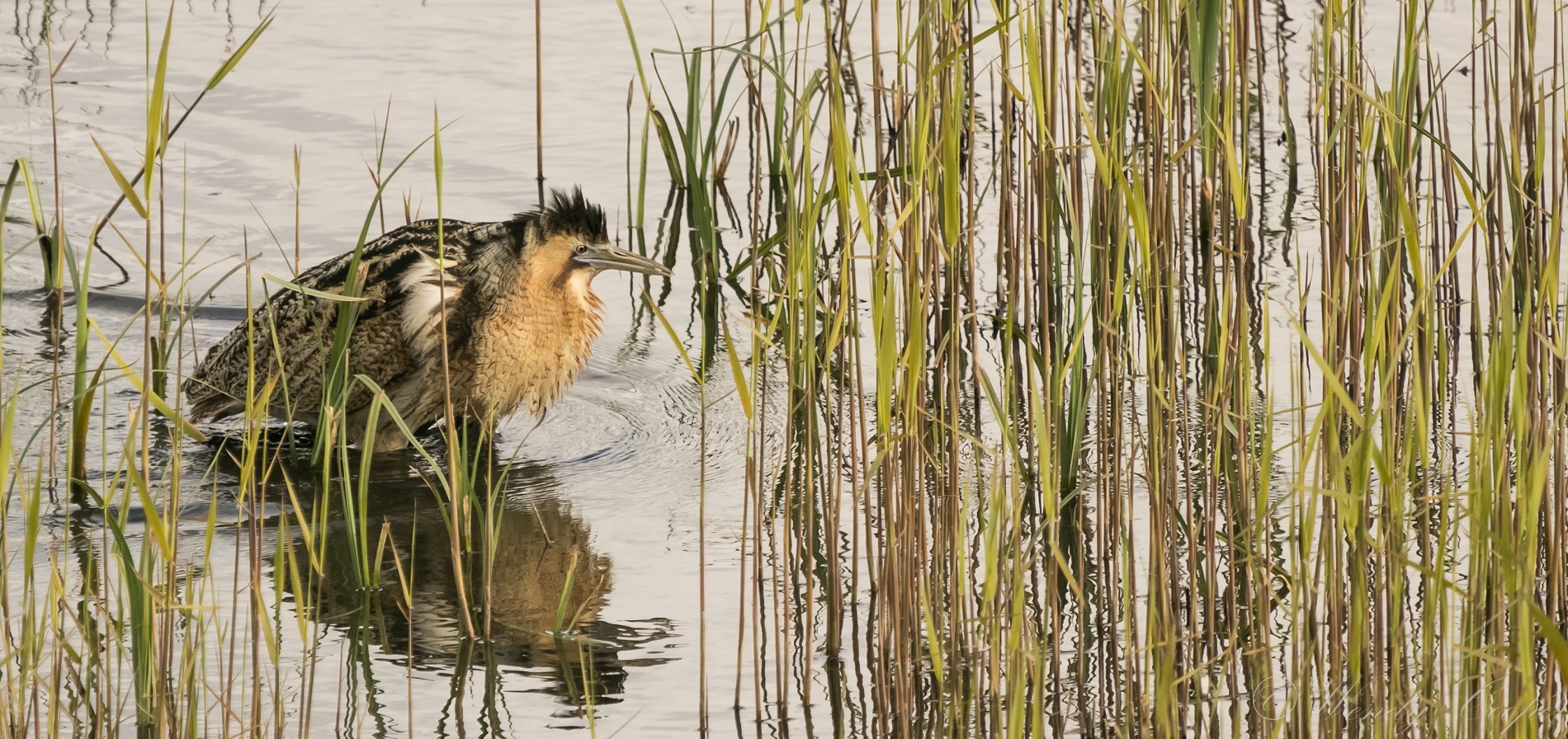 and went to meet his Beau, who by this time had moved to the corner of the reeds. The pair of them had a moment or two acquainting themselves,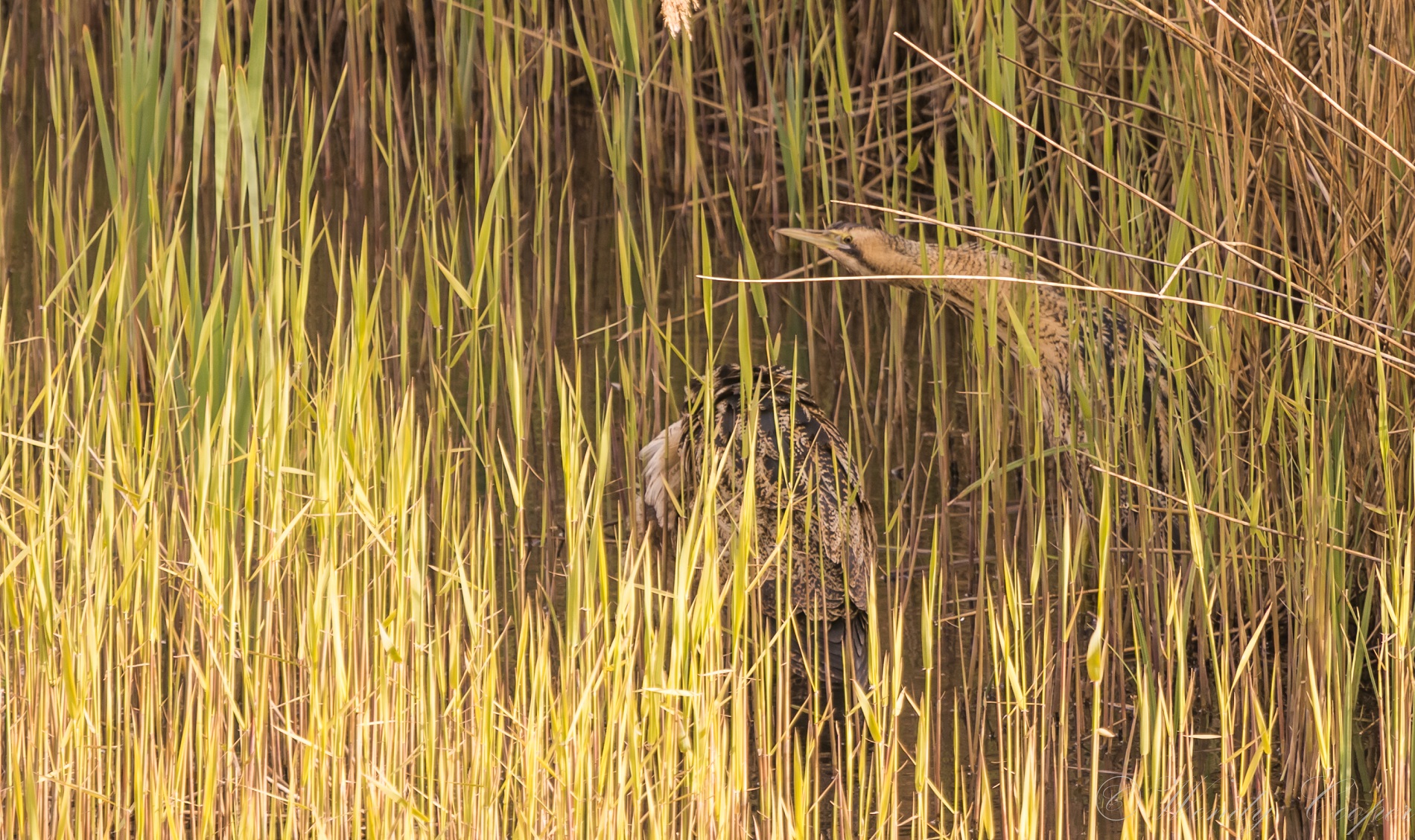 before gradually wandering out into the open and into the short reeds in front of the hide.
Now Bittern courtship is not exactly something that you get to see everyday, in fact in all the years that we have been to Minsmere and watched Bitterns at this time of year, it is something that we have never seen.
The Male fluffed himself up and paraded back and forth in front of his Lady, who spent some time watching him and stretching her neck up and or towards him. She would then have a wander back and forth in front or around him... all this conducted at a very leisurely pace.
Below are a selection of images of assorted poses that I captured:
Feathers all on display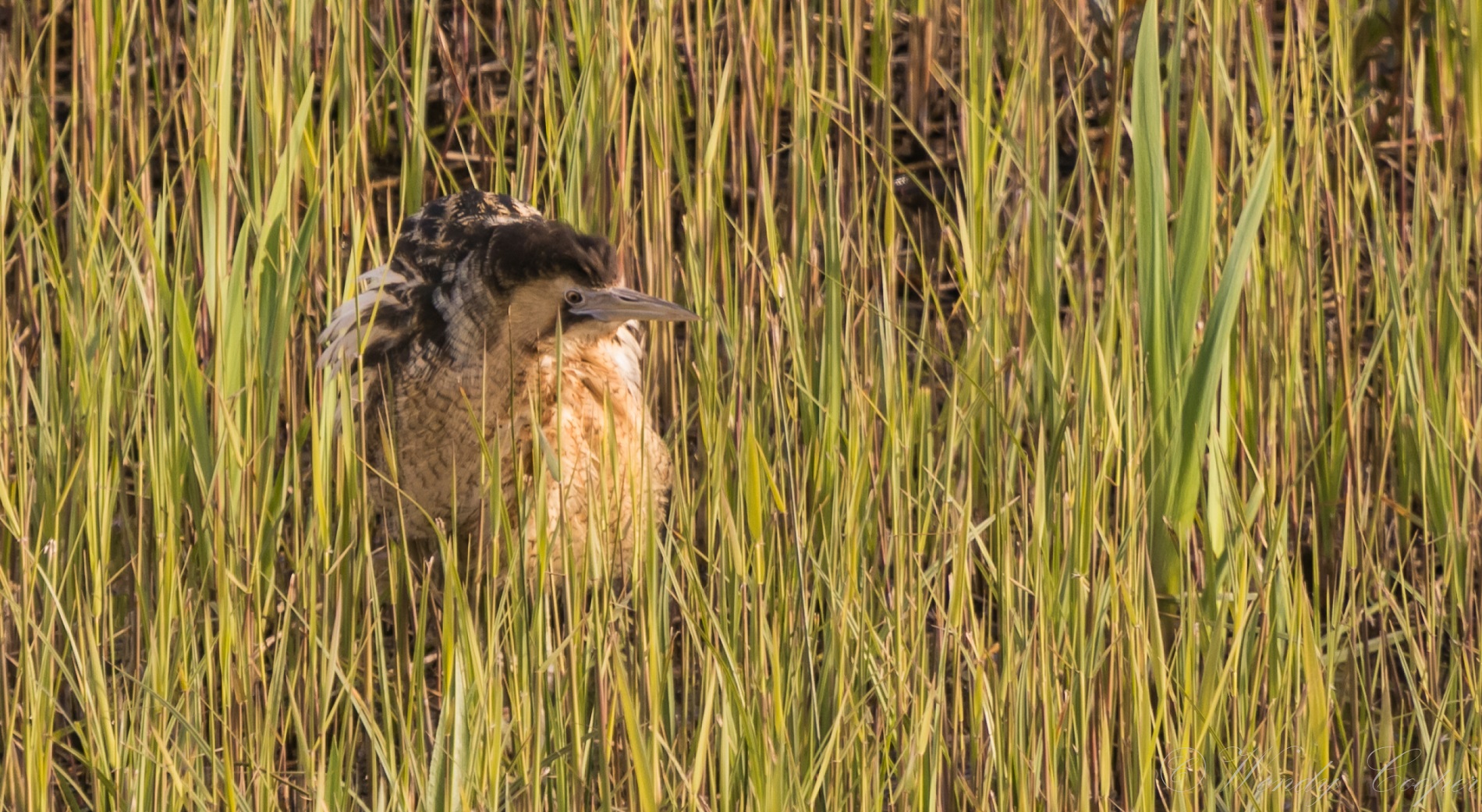 Standing tall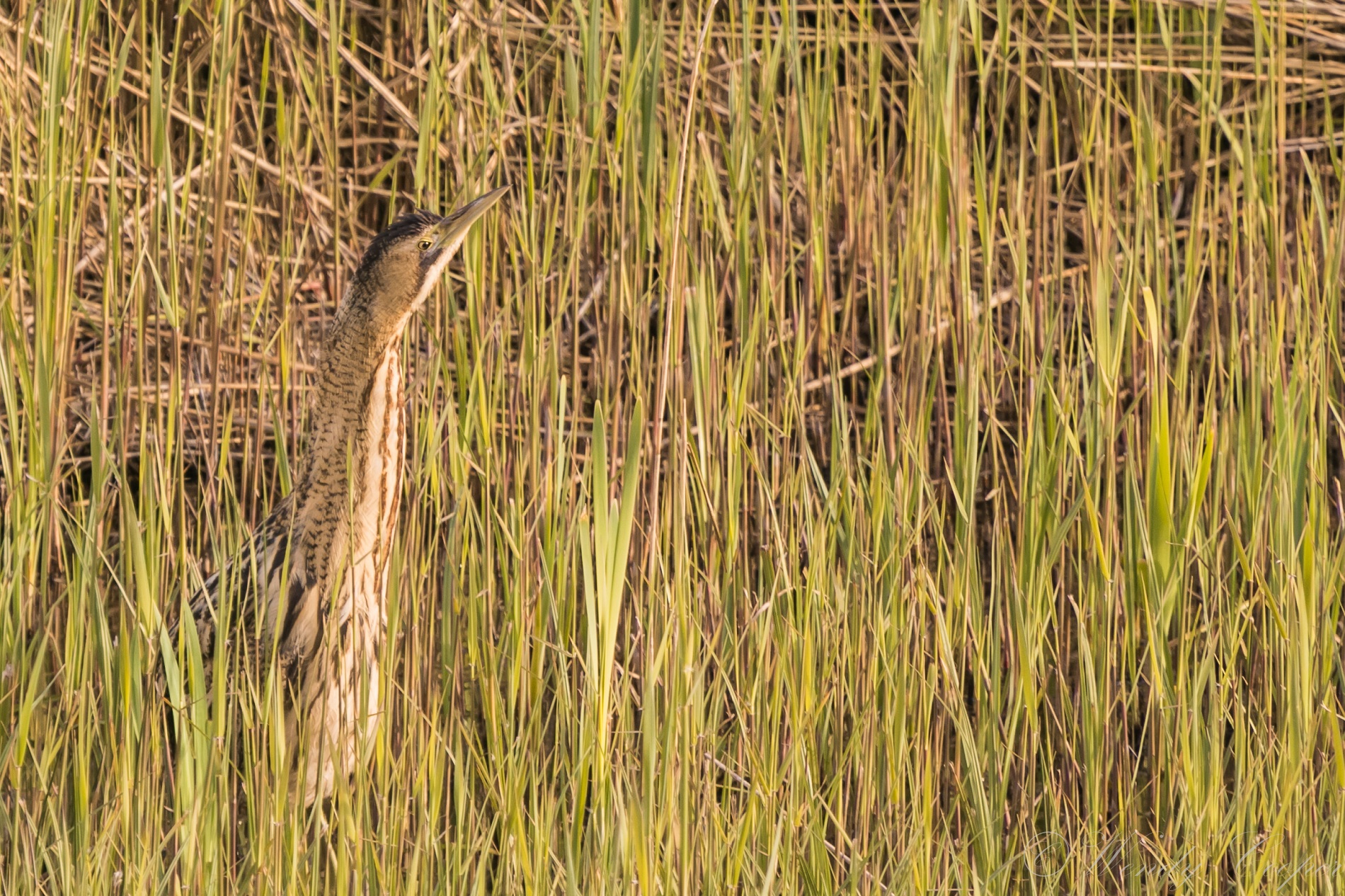 Ruffles and stretches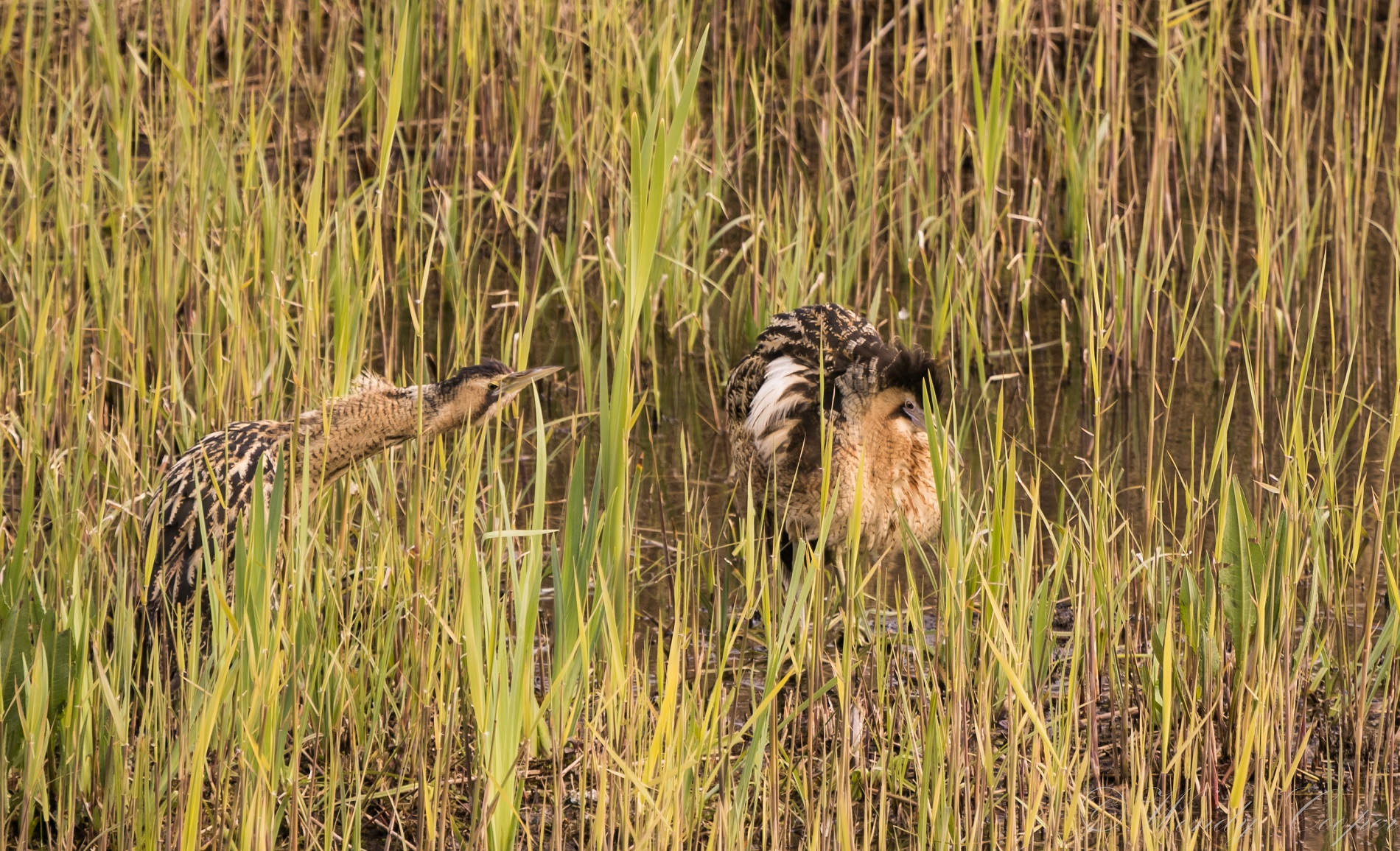 The handsome couple.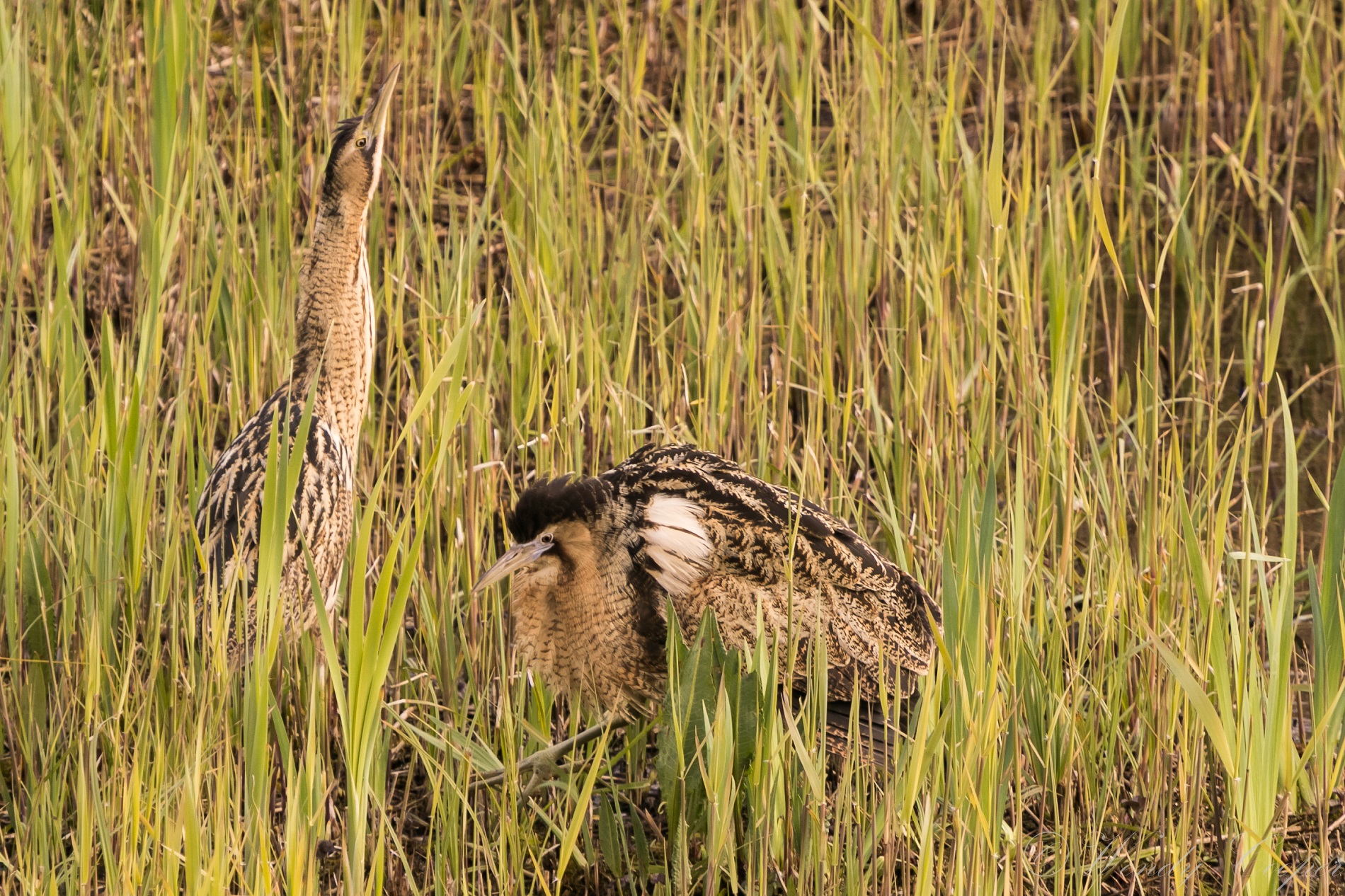 The wandering around each other phase seemed to continue for quite some time, with various similar poses being struck with each watching the other. After a while, they had positioned themselves so that he was facing the hide and she was facing him. Now his 'display' involved fluffing up his plumage to show himself off at his best as well as softly 'booming' from time to time, he also was staying quite hunched up and not extending his neck.
The Lady Bittern's display, once they were face to face, was quite different. She extended her neck and fluffed all her neck feathers out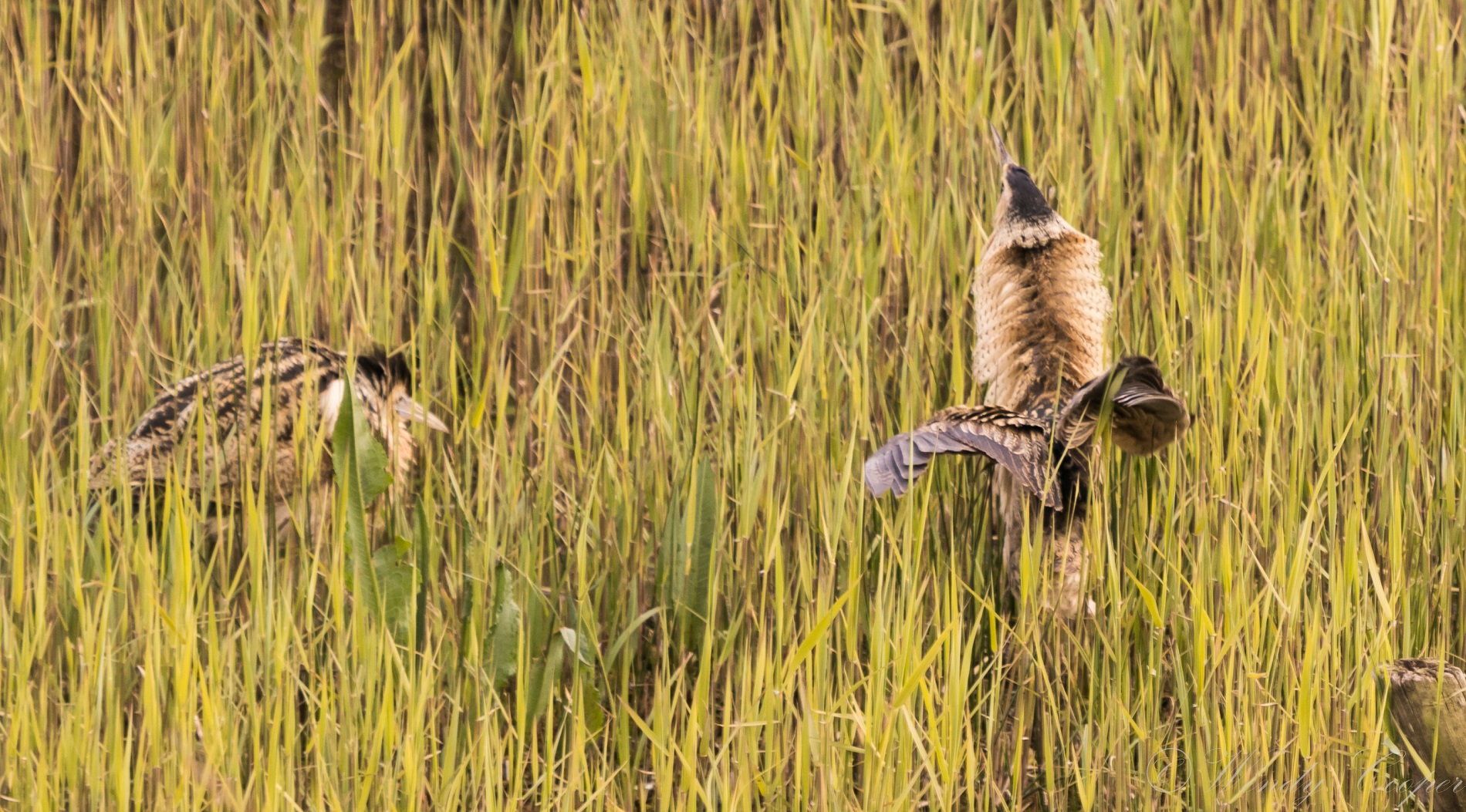 and it seemed to involve a fair amount of strategic wing-work as well.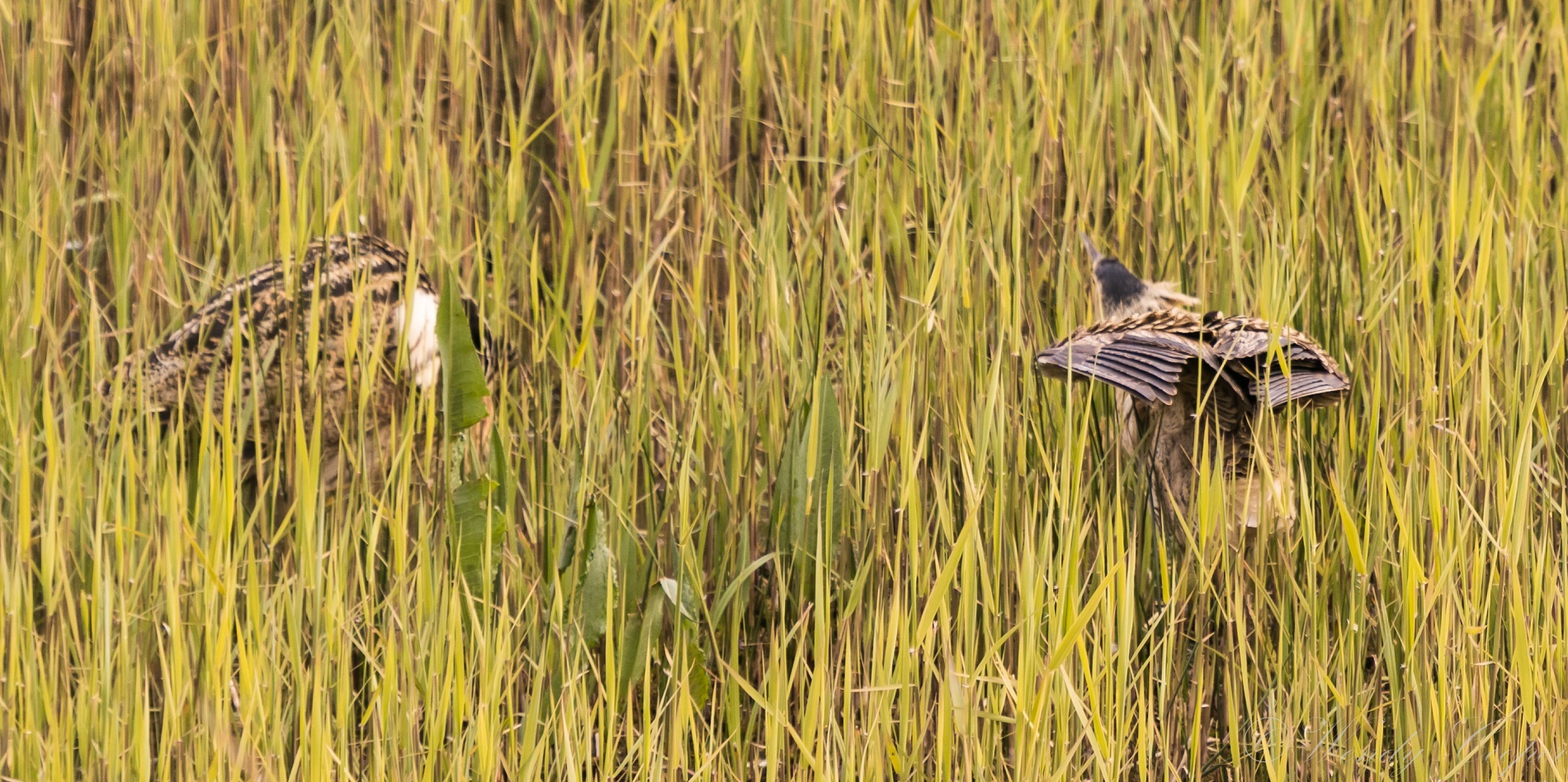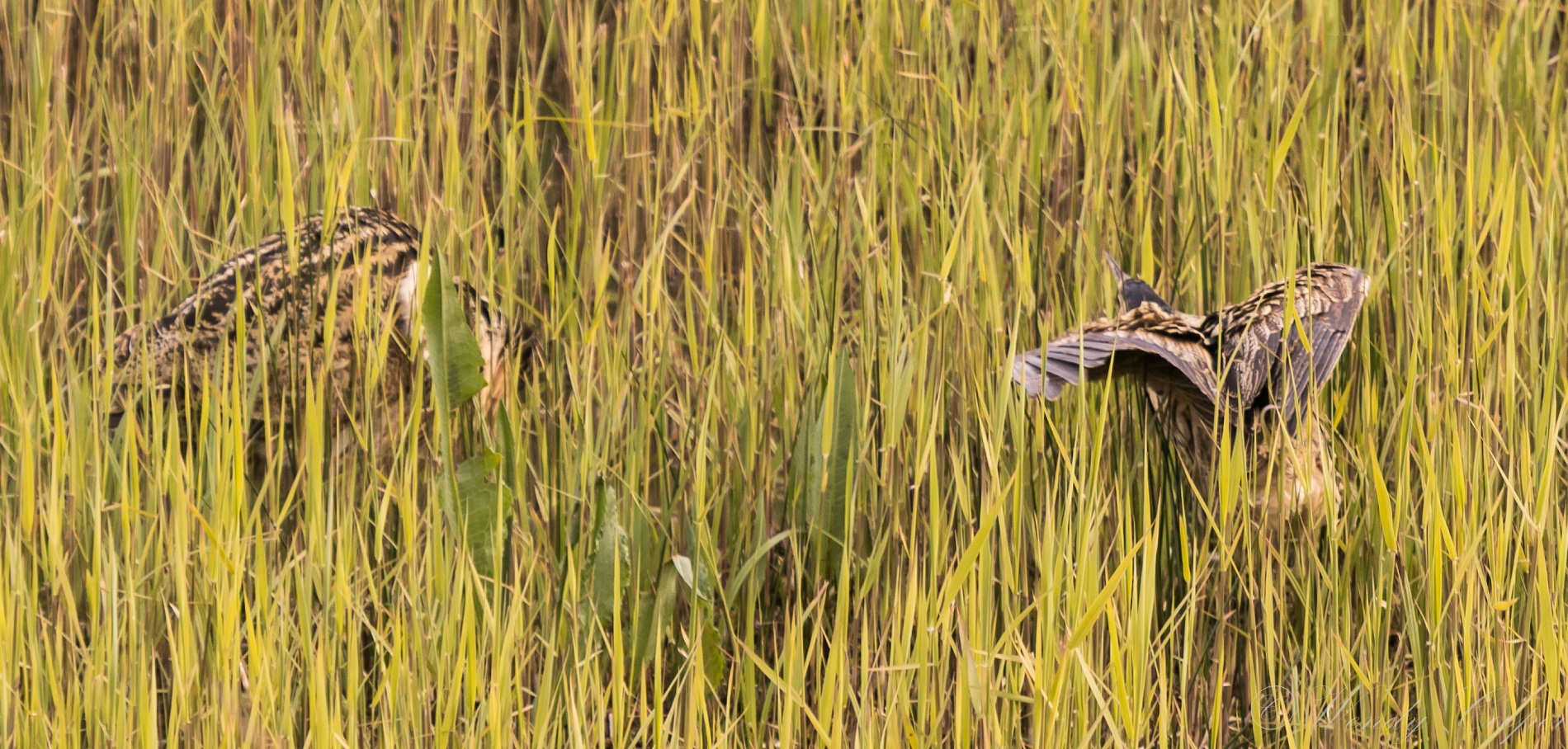 Male Bitterns will mate with several females, however it is the female Bittern that builds the nest in the reeds, incubates the eggs and feeds the youngsters, all by herself.
The circling and inspecting continued and I glanced up across the reedbeds, (I sometimes do, on a 'just in case' basis) and could see that the female Marsh Harrier was having a spot of bother with some corvids.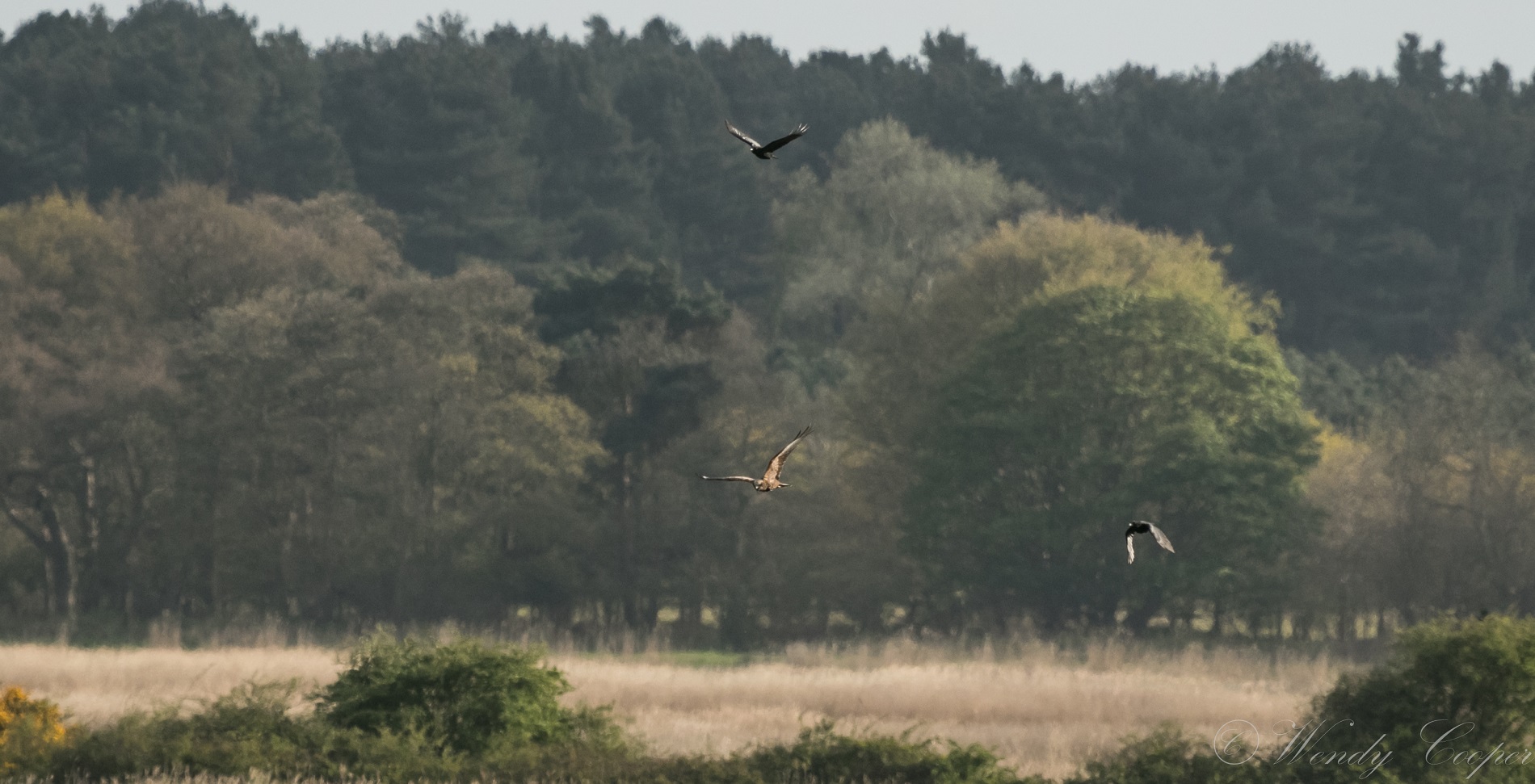 She was right out over the back, however she gradually progressed across the reedbed and disappeared into the reeds.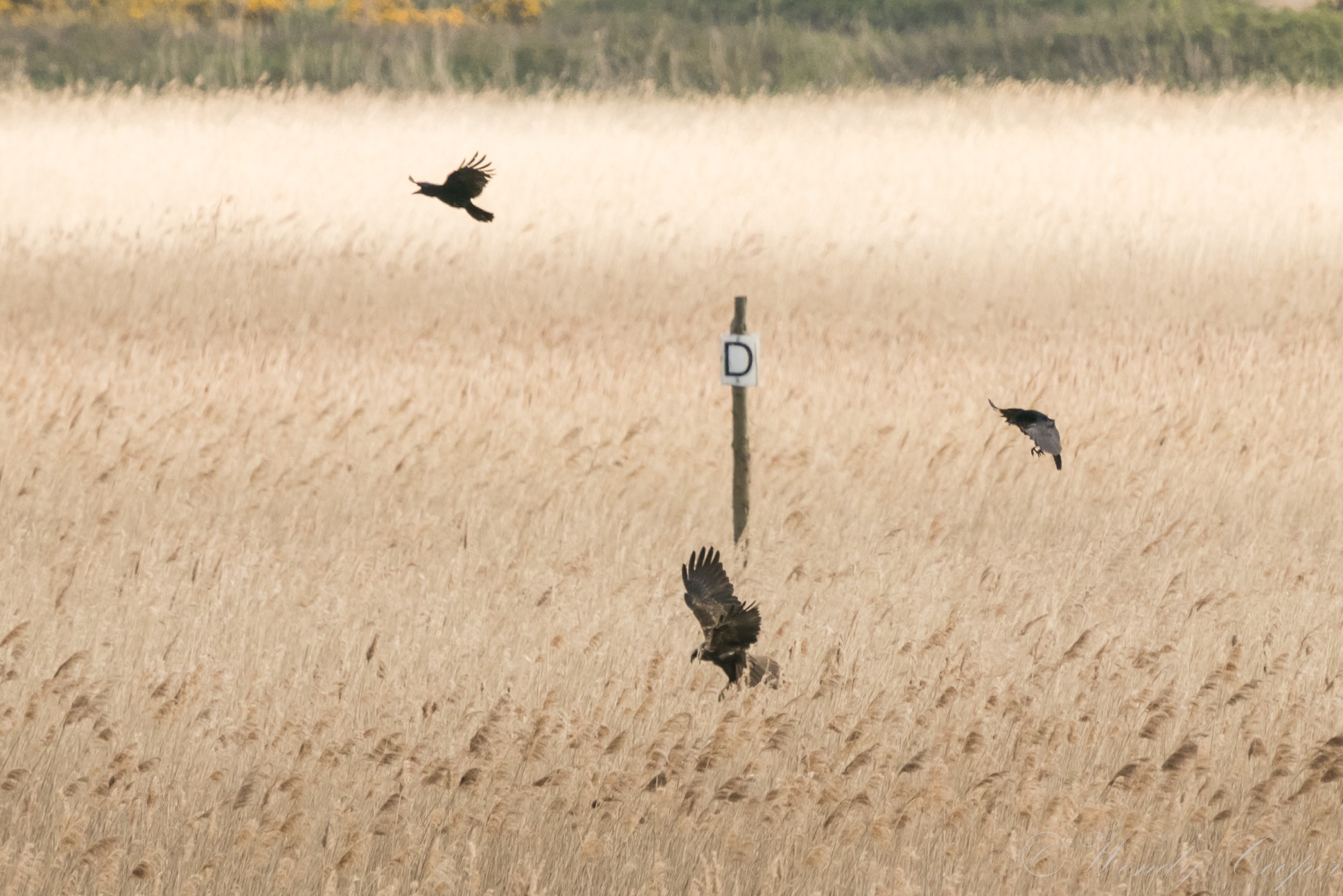 Over the next few days, we would see her and the male returning to the same spot in the reeds so just possibly? (Marsh Harriers nest on the ground)
In front of us, courtship continued for a short while more,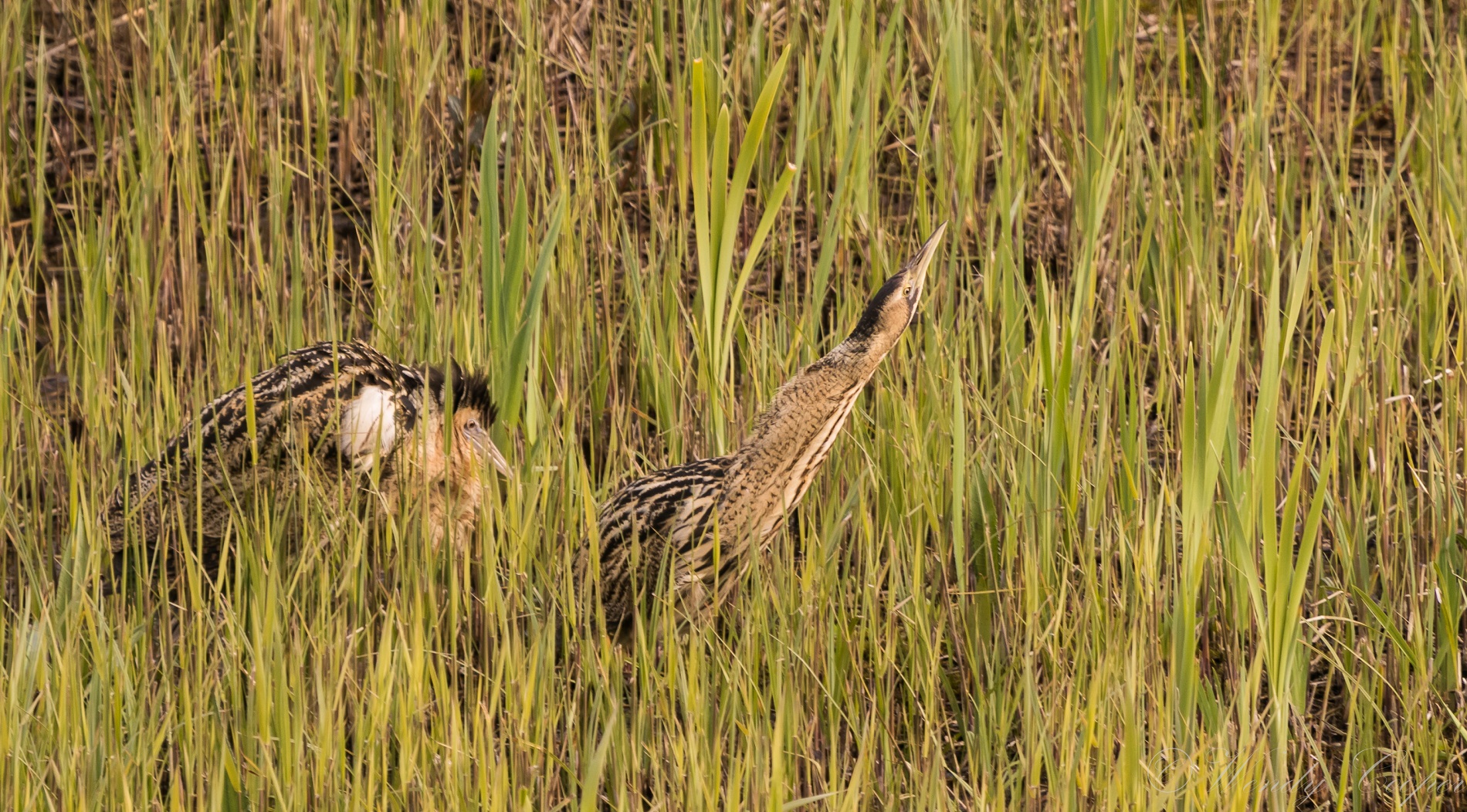 With one final pose, before the pair of them decided to continue in a more secluded spot away from such curious onlookers!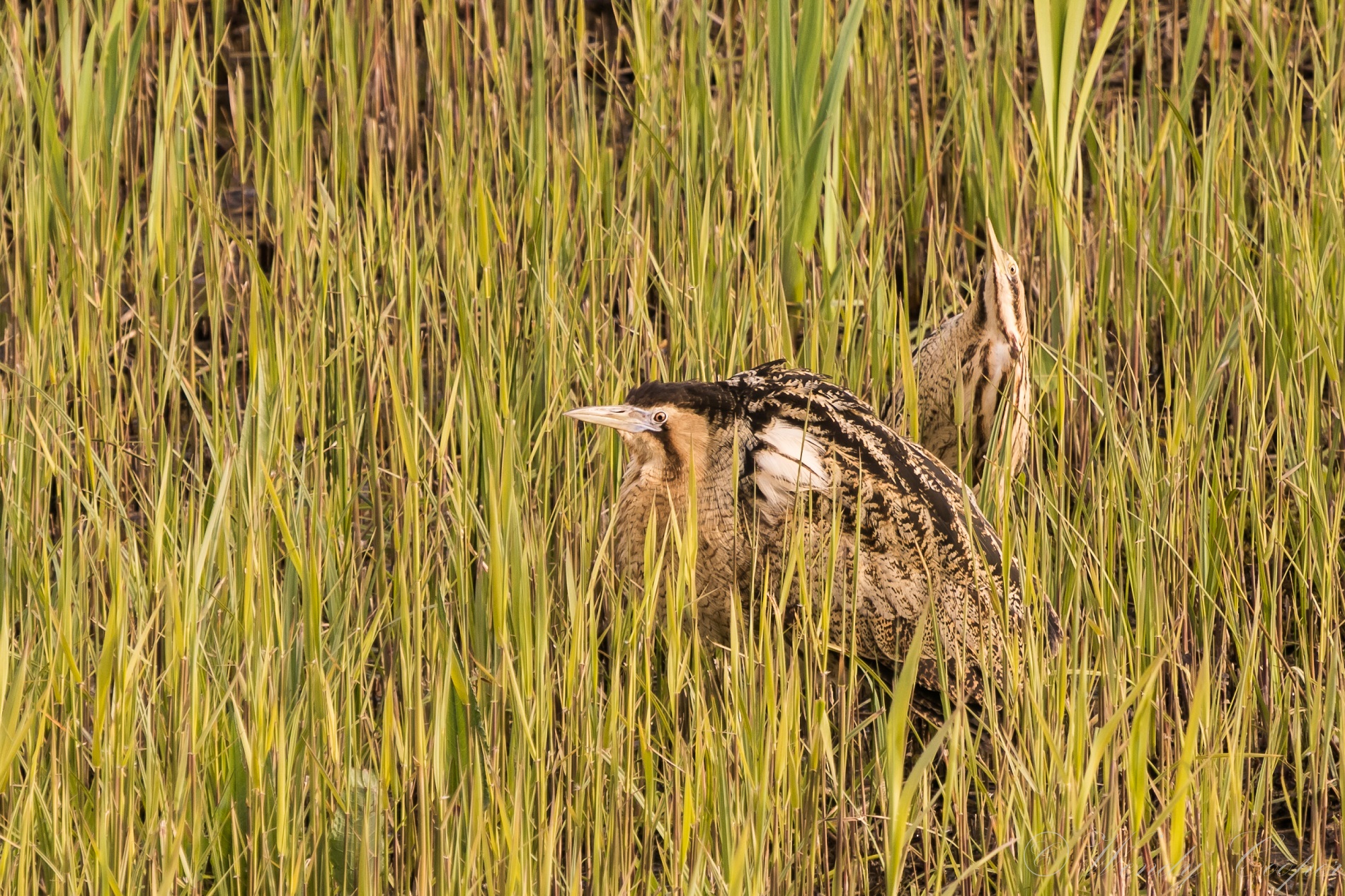 And the Grey Heron?
Well he had moved part of the way along the left channel and as we left, looked most disgruntled to have had his limelight stolen by the Bitterns!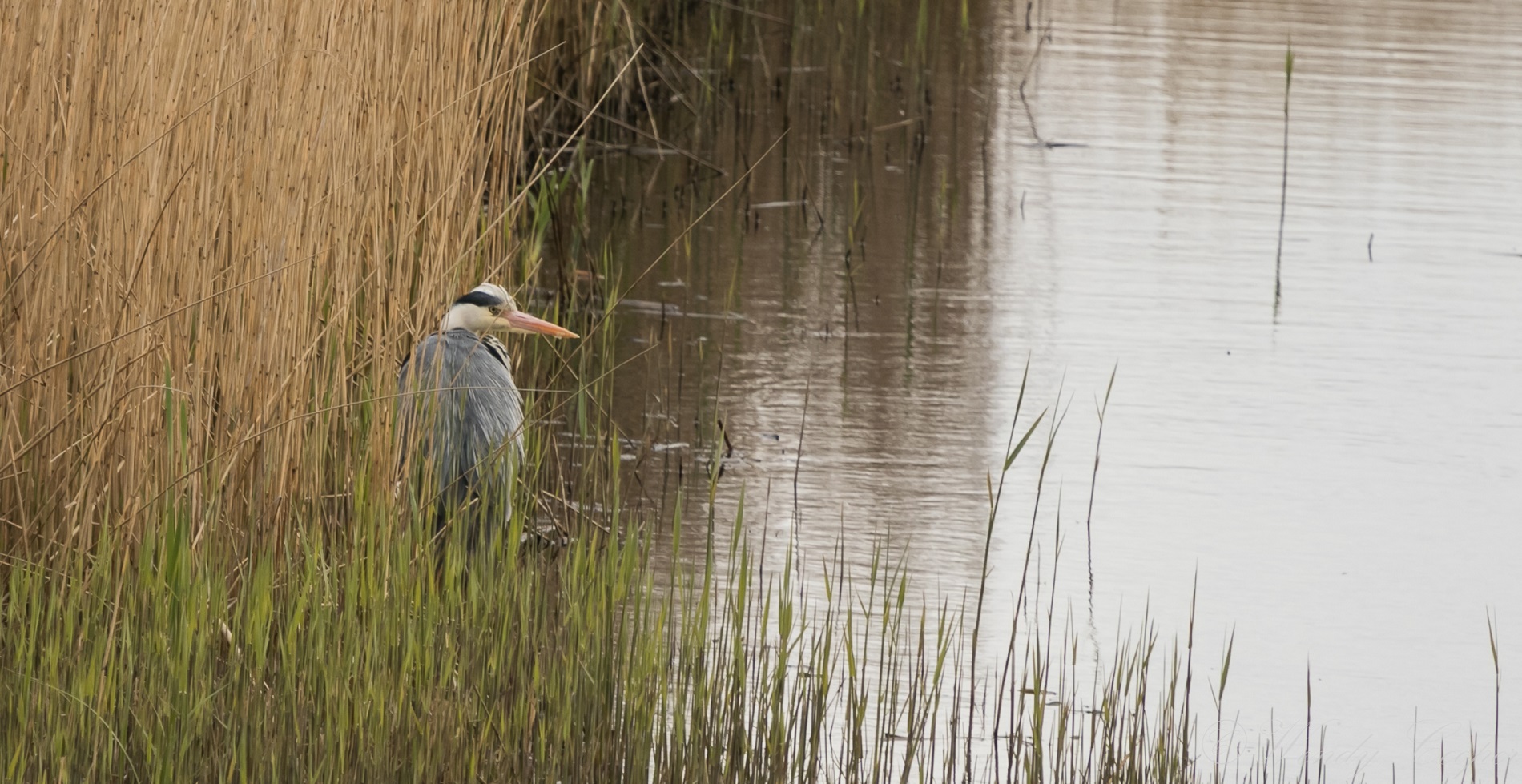 I hope you have enjoyed my blog, if you would like an email notification when my next blog is published, please add your email address to the 'Sign Up' box below.
As always, comments, feedback or questions are welcome, so please feel free to contact me via the comments section below or via the guestbook.
Comments