On Titchwell Beach...
21/11/2015 - 16:03
Well back at the end of October, we spent a few days up in Norfolk, it was mostly wet... followed by more wet, however on the Sunday, we woke to a morning of 'washed clean' skies and sunshine. There was nothing for it, but to go for a stroll down to the beach at one of our favourite haunts, RSPB Titchwell, where there is always something to see!
We decided to keep to the path which runs down to the beach, keeping an eye open over the marshes to one side and the scrapes to the other. Near the start, on the marsh side we watched a Chinese Water Deer grazing along one of the mud channels.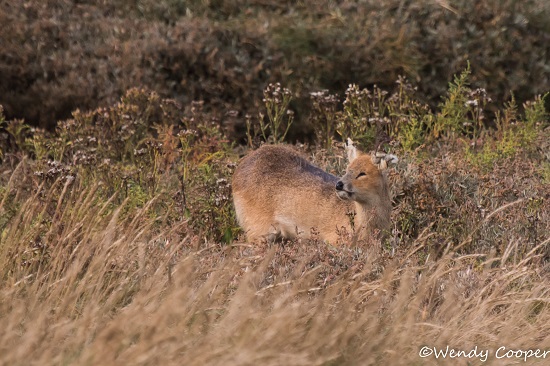 Chinese Water Deer; these are quite solitary creatures, but can be seen most often on wet marshy habitats, and are quite strong swimmers should the need arise. They are not a native species, but were introduced, from China, back in the nineteenth century. Whilst they are slowly increasing over here, in their native Asia, they are a vulnerable species.
Meanwhile, behind us over the lagoons and scrapes, there were flocks of Brent and Greylag Geese arriving from the nearby fields and the previous day, we had watched a flock of Greylags being flushed from breakfast, after one of the local Marsh Harriers had been on patrol. The various flocks of geese made their way on to the lagoons or as we later found, to the beach.
Incoming! Brent Geese.

We also watched a sizeable flock of Golden Plover fly up and around before settling down again.
Part of a flight of Golden Plover.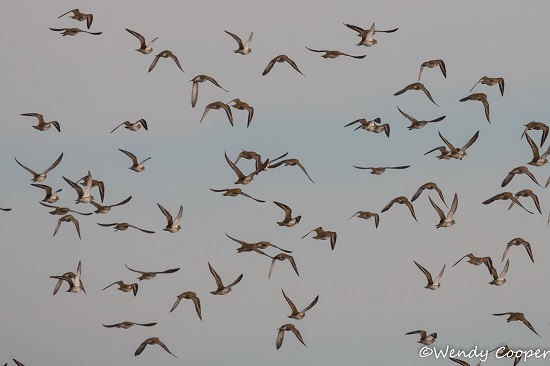 As we approached the beach, over on the marsh, amongst the vegetation, there was a small dot of 'blonde'. Looking through the binoculars, I could see someone who'd gotten brave and broken cover from the bushes, a solitary female Reed Bunting. We had caught glimpses of these at Blakeney, with them quickly flitting from bush to bush, however this lady stayed up having a good look around for a while.
Female Reed Bunting on lookout.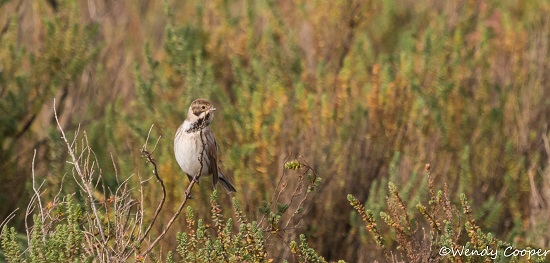 A little further on at the crest of the dunes on the edge of the beach, a familiar song was heard - perched in a stand of naked branches, a small Wren was singing it's head off; being more used to seeing these around wood or heathland areas, I was very pleasantly surprised and stopped to listen awhile, whilst it 'declared' across that corner of the marsh.
Wren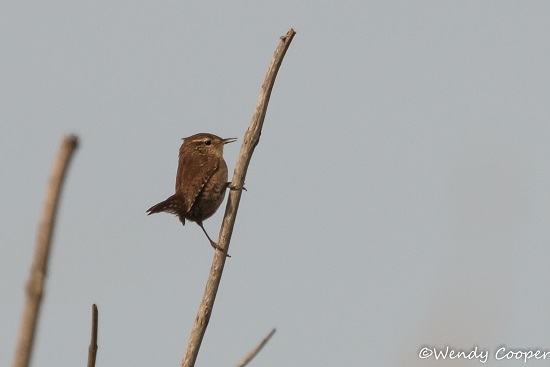 And now we had arrived! Huge skies, what seems like acres of sand barred with lines of razor shells and waterways, and we'd timed it well - the tide was out!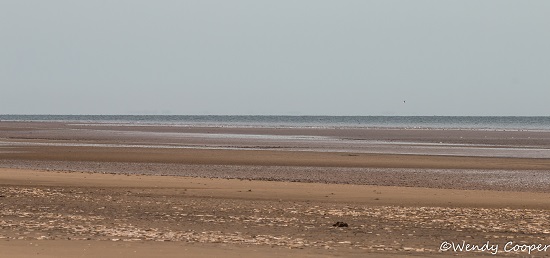 We decided to wander down to the water line - uncovered by the sea, there is a stretch of rockpools along the water's edge, which is always favoured by a variety of birds - we were not to be disappointed! As the tide goes out, all sorts of natural debris - seaweeds and shells - collect on top of the rocks, some of the pools even had the tiniest of fish in them, as well, no doubt, as some other more timid inhabitants.
Foraging around in the piles of shells and digging around in the sandier parts and pools, there were several smart looking Oystercatchers, Dunlin and plenty of Redshanks.
Oystercatchers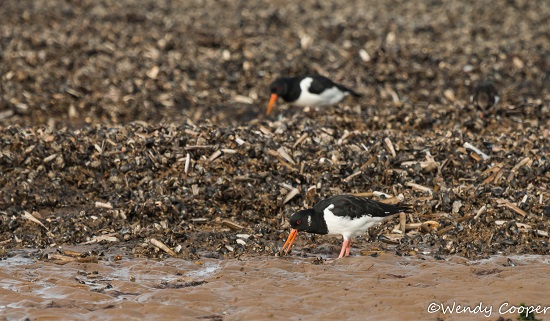 Dunlin (Winter plumage)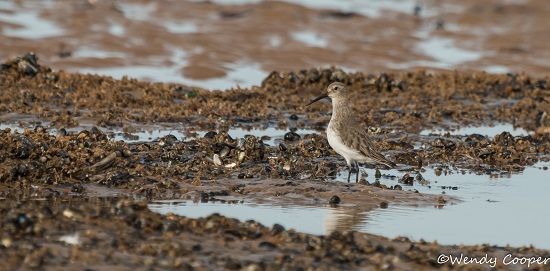 Redshanks and Dunlin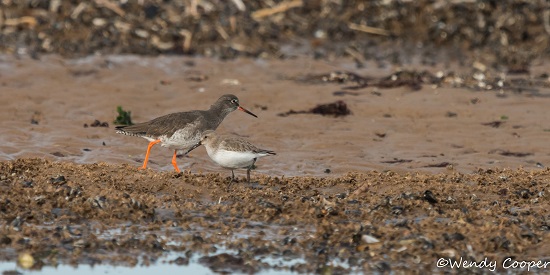 Peering alternatively between the binoculars and camera, (so far I've somehow not managed a photo with the binoculars, although there have been moments of confusion!) I could see something, rather well camoflaged, pecking around amongst the mixture of sand, shells and weed; watching carefully, a small Turnstone revealed itself; these, like Oystercatchers, I find to be quite 'cheeky' characters and love seeing them - they are very busy birds and at times can be quite bold - I've seen them before at the end of Southwold pier waiting on the fishermen. I've also often seen them at Brancaster Staithe, foraging near the lobster pots or other equipment left by the local fishermen. This one paused, blending in very well amongst it's surroundings, facing me for just long enough, before disappearing behind the banquet table again. These are migrants, at this time of year usually from Canada and Greenland, or in the summer months, from Europe. and do not usually breed in the UK. They have a wide and very varied diet.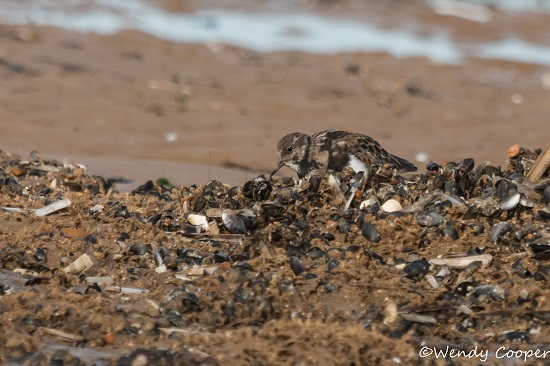 Looking around the pools, there were a few Curlews which had ventured out onto the beach, digging around in the sand with their long bills, From time to time, there would be a swopping of places as one would fly in and chase another off, what it suspected was a good spot for foraging.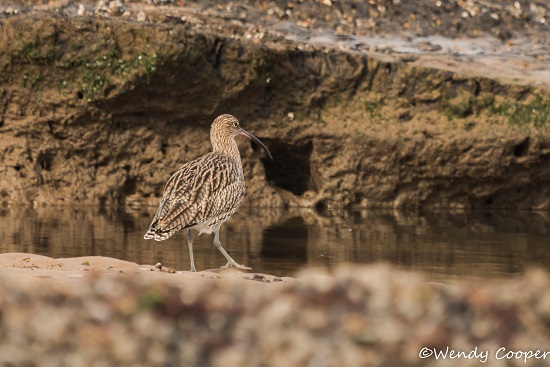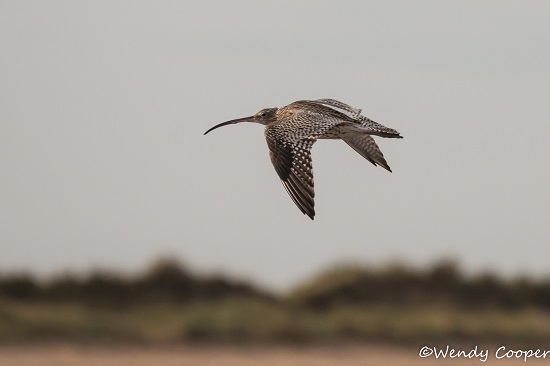 The Curlew is our largest wading bird and can be found along the East Coast, as well as in the Pennines and in parts of Wales and Scotland, where there are breeding populations although it should be noted that they are an 'Amber List' species. Numbers of Curlew often increase in the colder months when some birds migrate here to overwinter. They have a very evocative call and mostly feed on worms and shellfish, which are found by touch. Whenever we visit Norfolk, they are a familiar sight, both on the mudflats and marshes and also wandering on sandy beaches and in the tideways. When they are on the marshes, their stripey plumage gives them very good camoflage!
Whilst mostly wandering alone, along the water's edge, the Curlew were foraging for food along with a selection of other waders, without chasing them away. There were Black Tailed Godwit, Knot, Oystercatchers, Turnstones, Herring gulls and even a couple of distant Little Egrets.
Black Tailed Godwit (Winter plumage)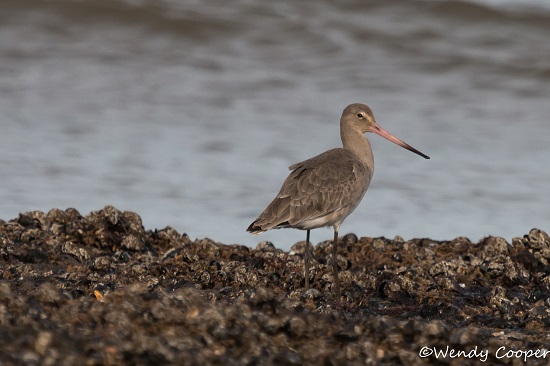 Knot : these can often be found in huge flocks and create quite a spectacle when they all take off together.

Turnstone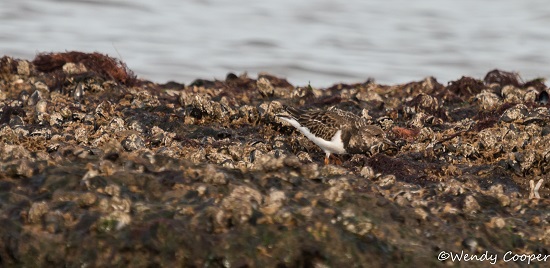 Allsorts!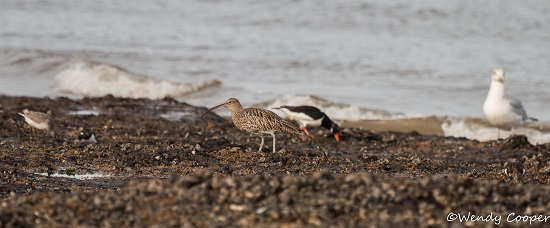 Pecking and running around with the other birds and blending in very well against the background, was a Ringed Plover. These can be seen all year round usually aroung the coast, but they also may frequent inland areas such as flooded gravel or sand pits. Many are native birds and are here all year, whilst others are just passing through. The Ringed Plover is quite small and has a varied but insect and mollusc based diet.
Ringed Plover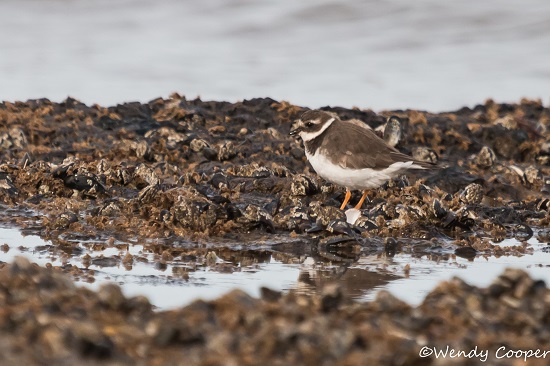 Further along the water's edge, there were more Curlew and Knot either wading or digging around for food.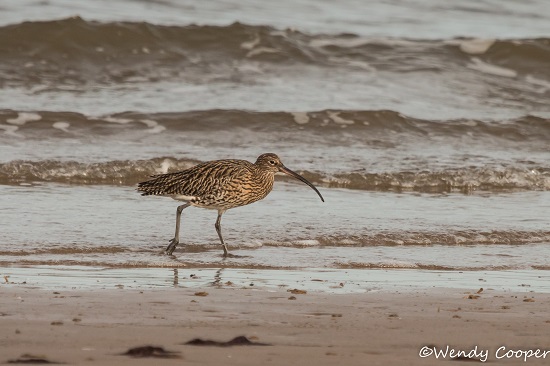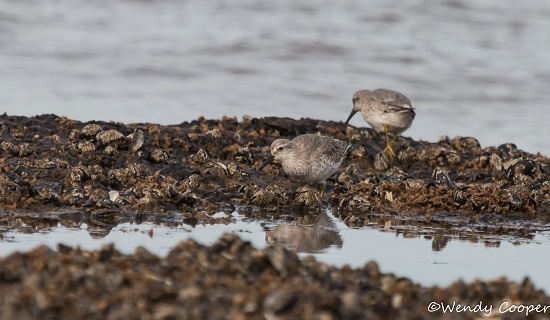 Whilst this Curlew, oblivious to me, looked up from probing the soft edges of a rockpool.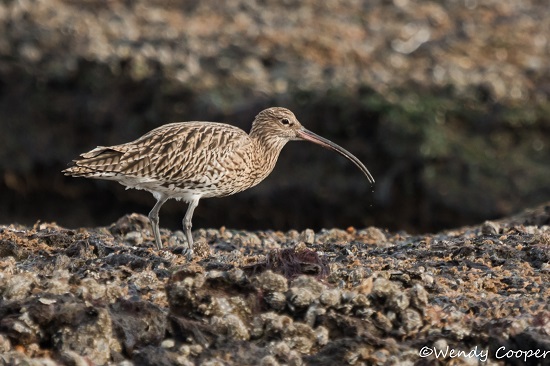 Now you may recall that I mentioned Geese at the beach earlier on... well as we turned to walk back and looked along the coastline, sure enough, all along the water's edge, there were small flocks of Brent Geese, either paddling at the edge or preparing to go out and 'bob' around in the waves for a while.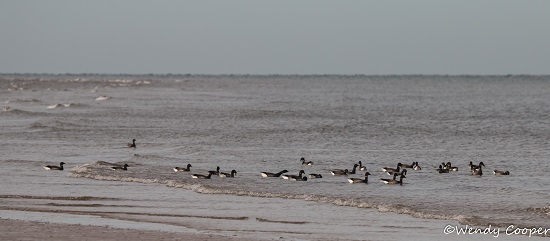 There is always plenty to see at Titchwell and I would highly recommend a visit, on the day that we were there, there were also sightings of a Great Grey shrike and a Short Eared Owl - all year round there is something to see!
https://www.rspb.org.uk/discoverandenjoynature/seenature/reserves/guide/t/titchwellmarsh/index.aspx
I hope you have enjoyed my blog, if you would like an email notification when my next blog is published, please add your email address to the 'Sign Up' box below.
As always, comments, feedback or questions are welcome, so please feel free to contact me via the comments section below or via the guestbook.
Comments