On The Matter of Owls...
24/11/2018 - 18:48
Through my 'nature' year, there are landmarks in time; spring is seeing green fuses, the yellow faces of Lesser Celandines and the first Bluebells, whilst watching our everyday extraordinary birds begin to display in courtship and delighting in their song, to summer - announced by the local meadow being in full bloom with orchids, buttercups and the appearance of the first butterflies – each species announcing progress through the season with their appearance, whilst watching the birds as they busily raise youngsters, to the arrival of autumn with ripe fruits, birds reappearing to feed up for the coming cold months and the explosion of colour that is the grand finale before the winter sets in.
Just as autumn ends and winter begins to wrap her chilly cloak around the country, winter visitors begin to arrive, in some cases to join our resident populations, Fieldfares, Redwings, Waders, Geese and smaller birds – Goldcrests, Great and Blue Tits, Blackbirds even…
And then there are the Short Eared Owls.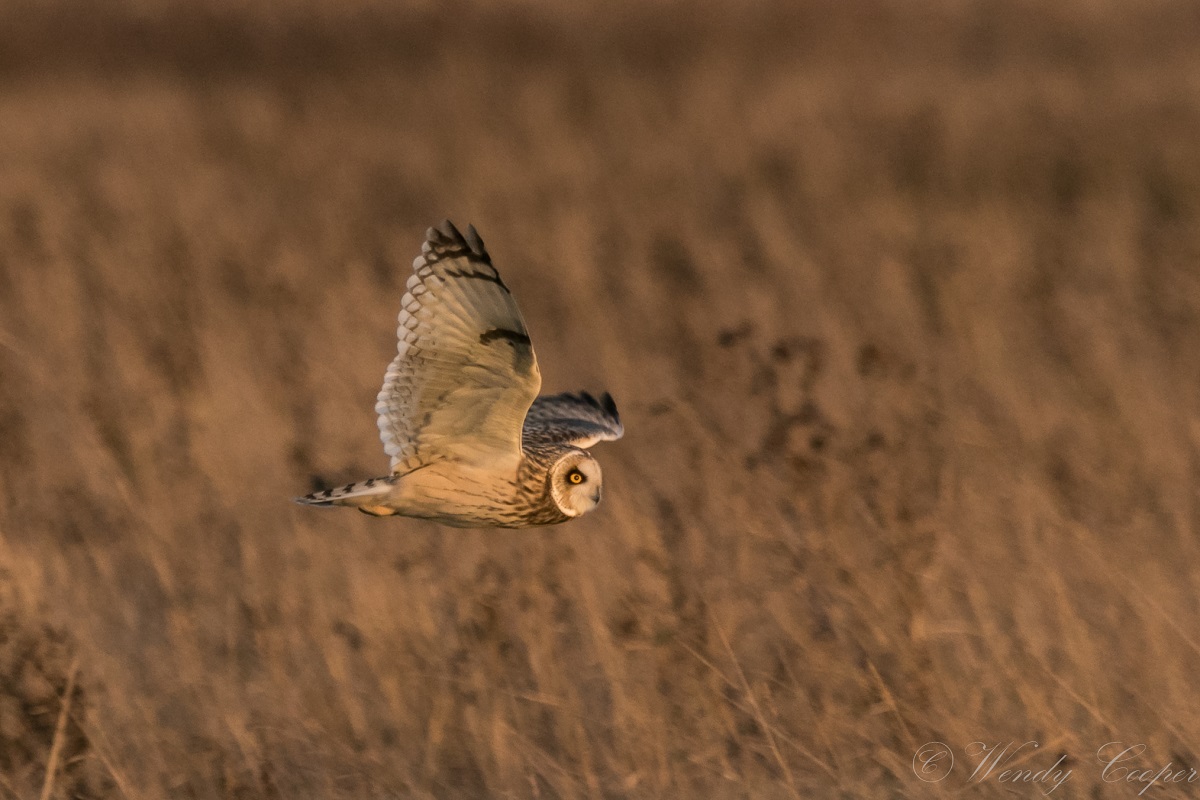 Now over the years, I have on occasion heard the local Tawny Owls, however, until earlier this year I had never seen them, a chance encounter in the summer allowed me a huge magic moment. Barn Owls, well the first ever one that we saw was at RSPB Titchwell, in June several years ago, hunting one morning – I managed a few decent images, but was mesmerised watching this beautiful Owl as it quartered… Since then I have had a few fleeting glimpses of other Barn Owls – always an 'Oh Wow' moment and always when there's nowhere to park or without the camera!
I think because of (for me) their elusiveness, Owls of whatever kind hold a certain mystery and magic; not only are they beautiful in both appearance and movement, they are awesome predators, evolution has equipped them with incredible sight and hearing and even special feathers that are silent in flight, flight in which they are incredibly agile and fast.
There is a small Short Eared Owl (they are Amber listed) breeding population in the northern parts of the UK and Scotland, however come late autumn, they will be joined (most years) by visitors from Scandinavia who overwinter here, mostly in the southern parts of the UK. The Owls favour scrubby grassland or heathland where there is a good population of small mammals, voles, wood mice and shrews being choice items on their menu, although they will catch small birds as well.
In mid-October I had seen a few reports of Short Eared Owl sightings, so decided to spend a little time at Wicken and Burwell Fens, where I had seen them before. Of course, it's not just a case of turning up and there is an Owl, they appear when they are good and ready and not before, but whilst waiting there is plenty else to watch!
The first afternoon I visited, on my walk over to the site, I heard and saw flocks of Fieldfares chuckling and playing musical branches in a hedgerow of hawthorn, bright with berries.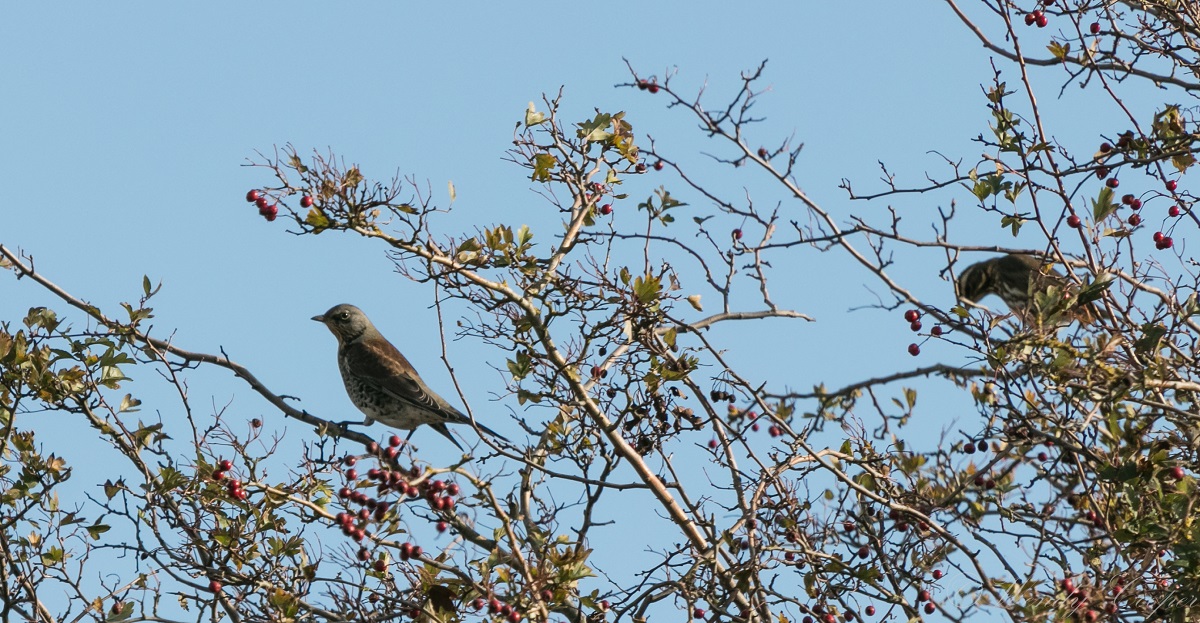 As I crossed the Lode, there were a family of Mute Swans gliding majestically and serenely along, the Cob in 'display' mode – beautiful with the sunlight in his feathers.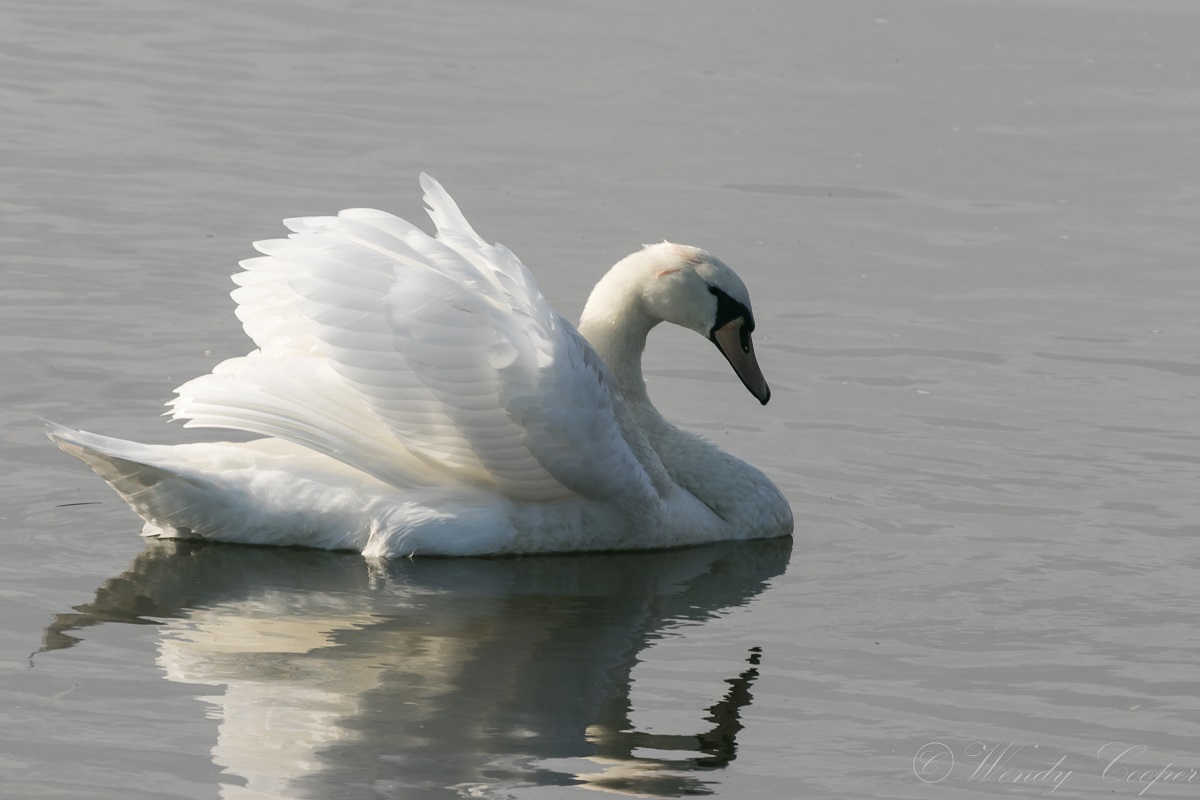 Walking across the Fen I could see a few Kestrels on the hover and small charms of Goldfinches chattered through the air, settling on thistle and burdock seedheads to feed. Once at my chosen spot, closer views were had of Kestrels – one even settling on a fencepost to dine.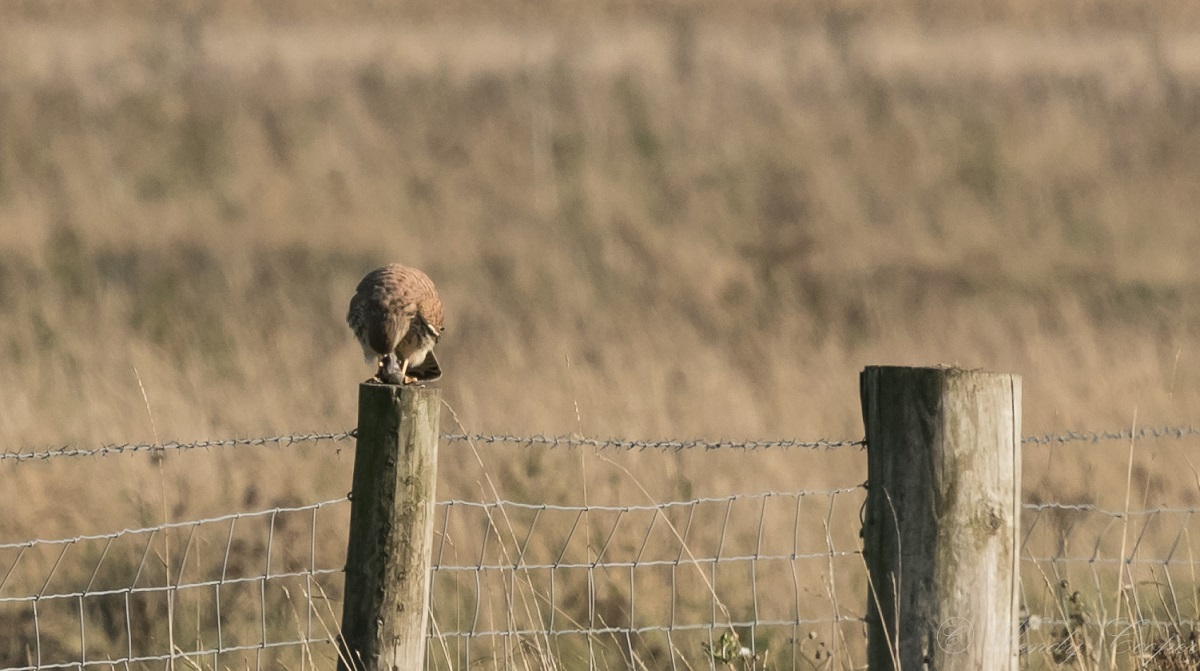 Whilst in the distance I watched a swirl of Lapwings and also saw a Red Kite floating overhead. After a while, some way off, a familiar shape and flight was seen – a Short Eared Owl! Gradually the Owl quartered its' way closer, surveying back and forth over the grasses and occasionally pausing before plummeting down, then shortly reappearing again.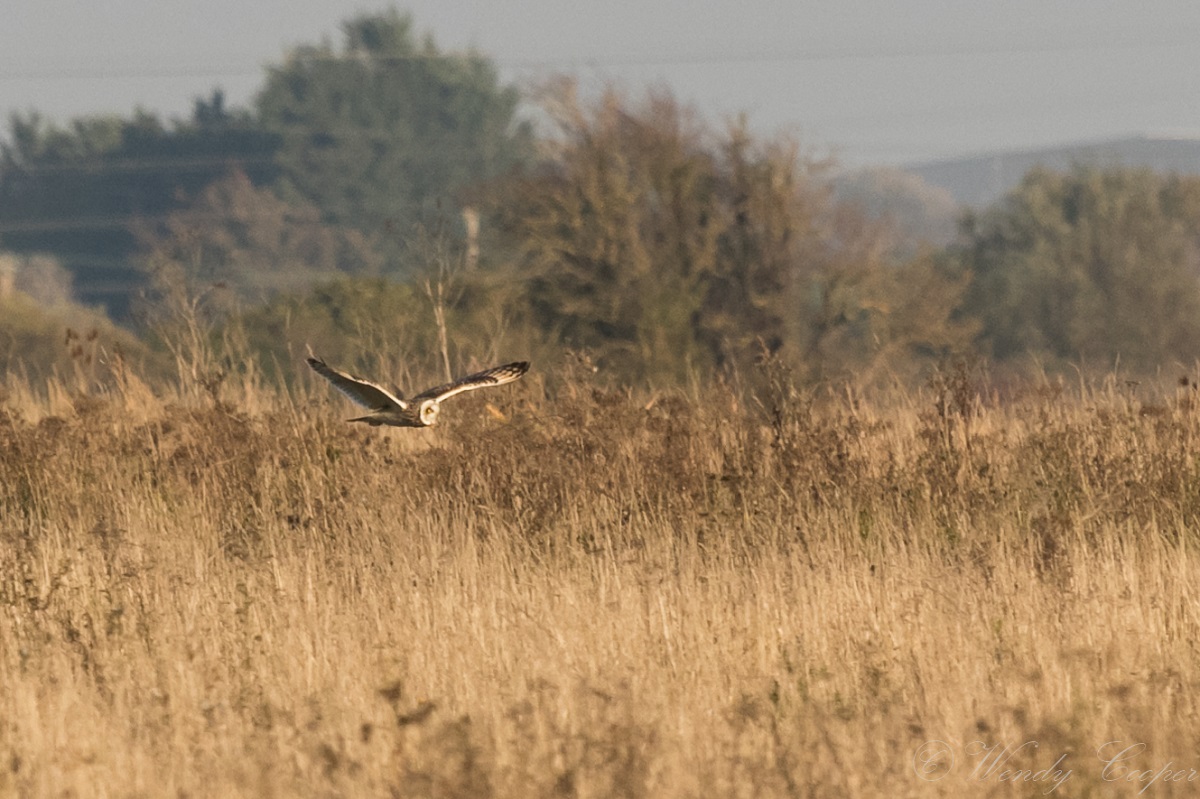 Along the bank of the lode a pale ghost also began to fly, it was a Barn Owl! This too quartered and surveyed for food, getting just close enough for a few record shots – totally silly smiles for me at watching two favourite birds!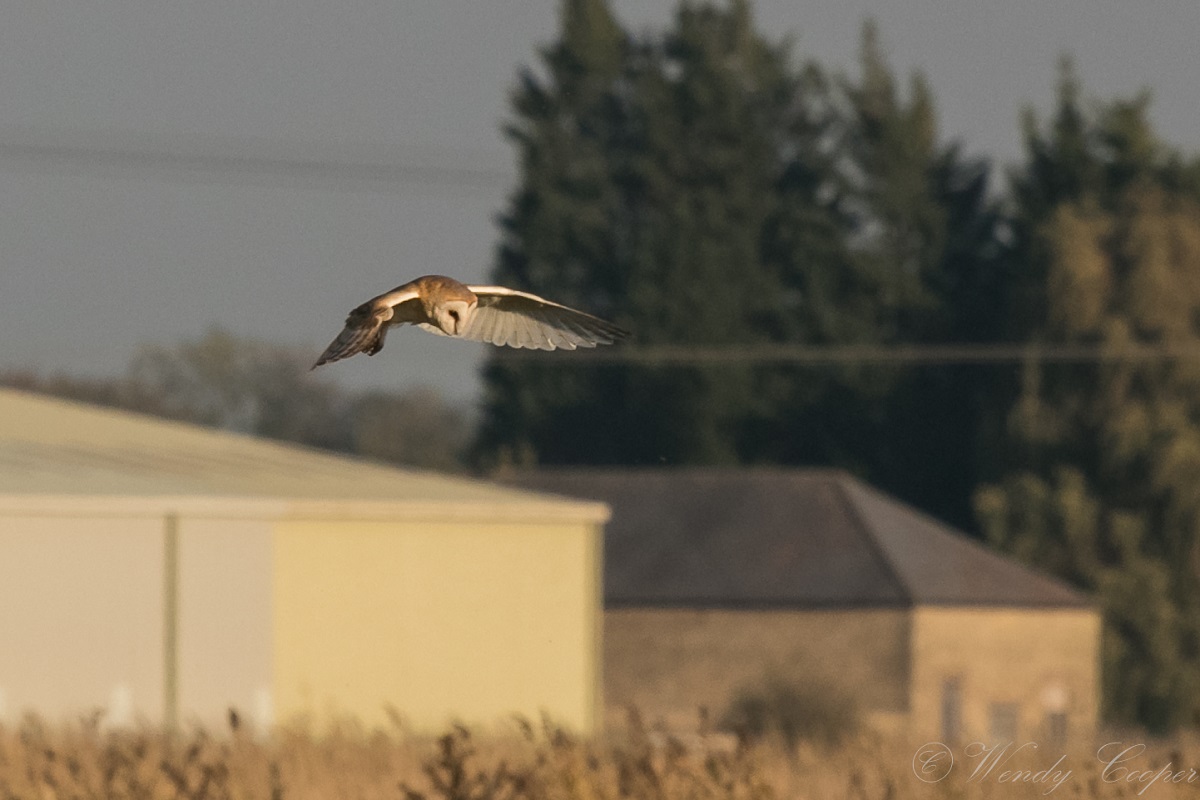 After the Barn Owl had passed through, I spent the rest of that afternoon watching two Short Eared Owls hunting, below are a couple of favourite moments: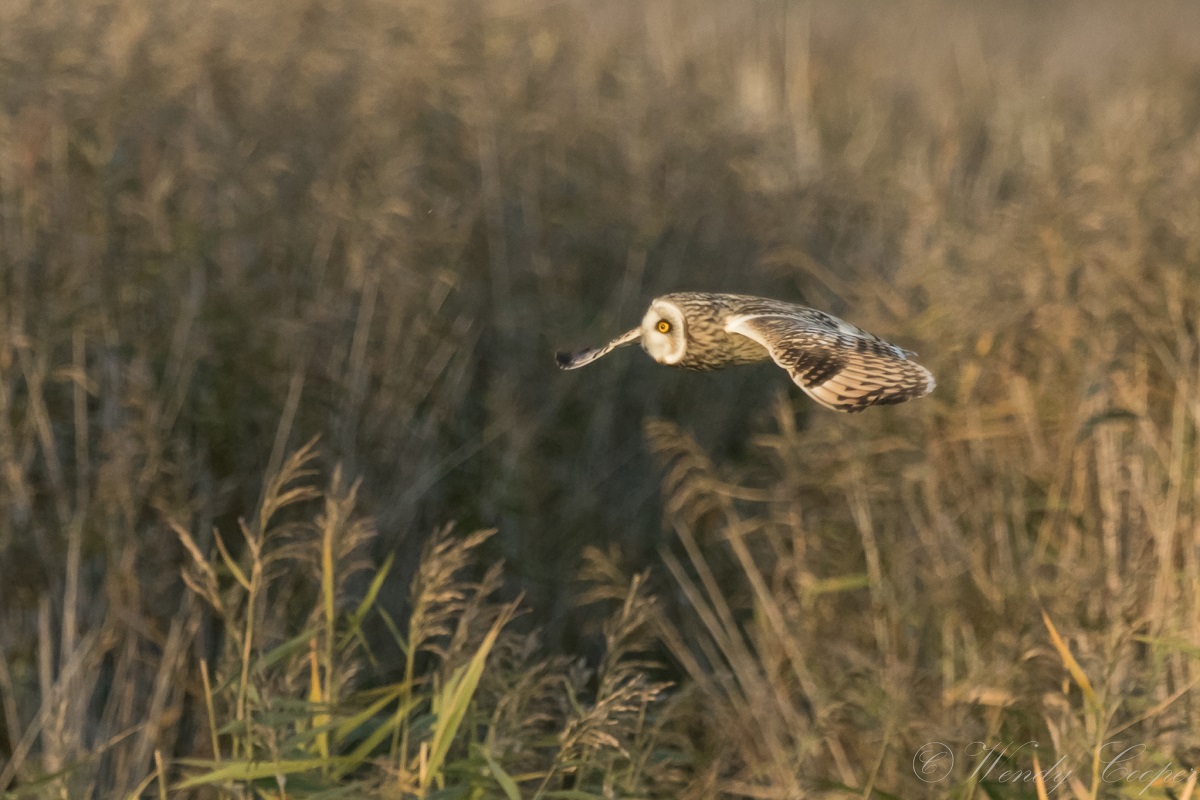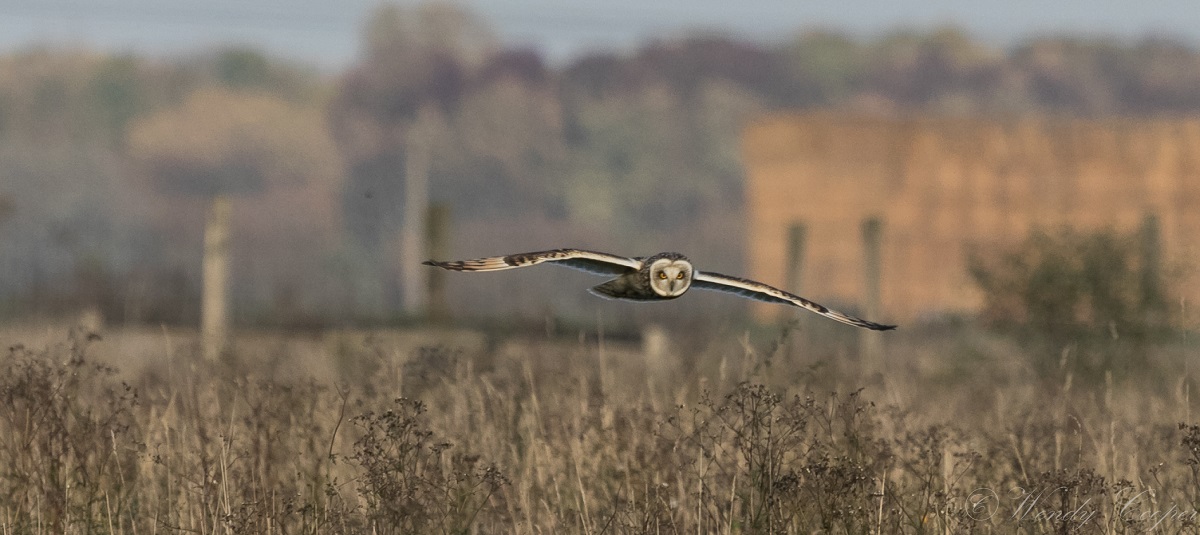 On another visit, it was somewhat breezier – the Owls prefer calm conditions, as the afternoon progressed, a Grey Heron decided to do a few flyovers, however appeared most indignant once attention was diverted as the Owls eventually came out to hunt!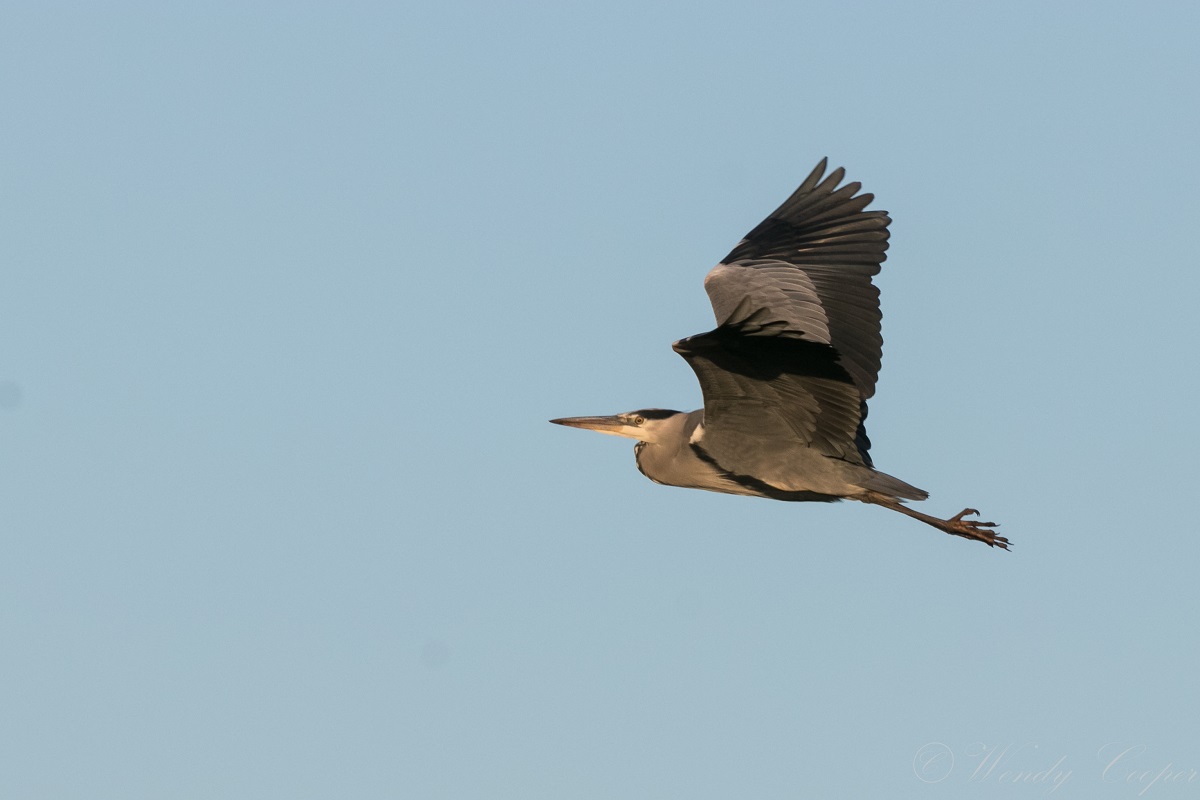 Flyby...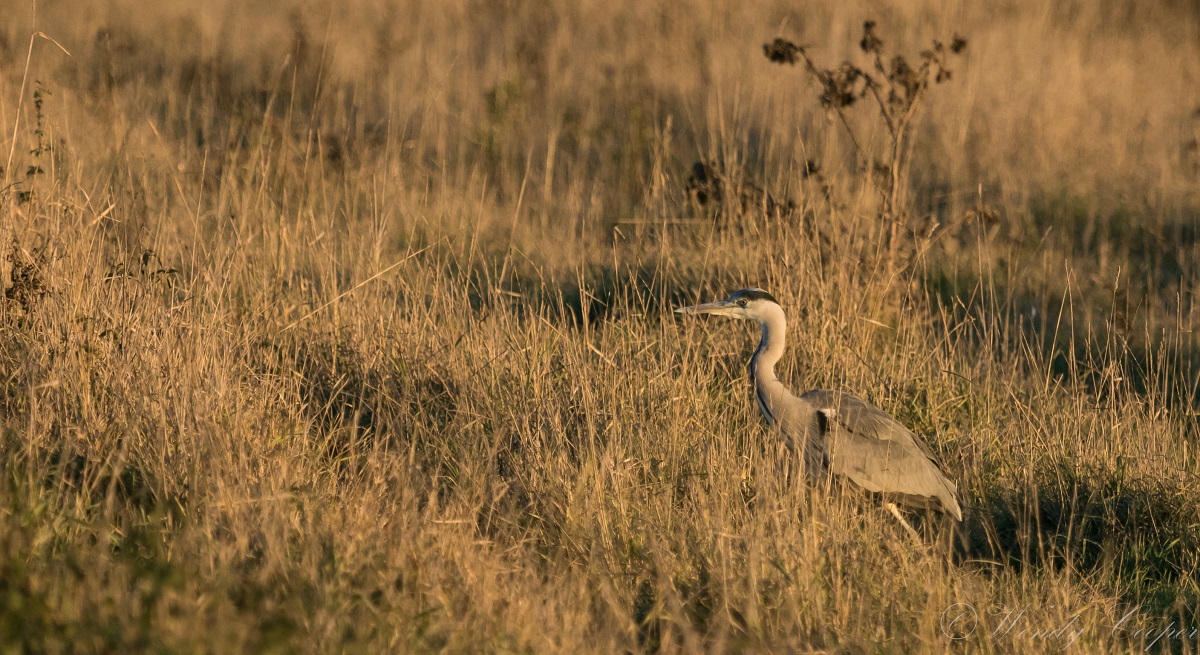 By the track ahead, determind to be noticed!
Whilst we were also surveyed cautiously from some way off by Roe Deer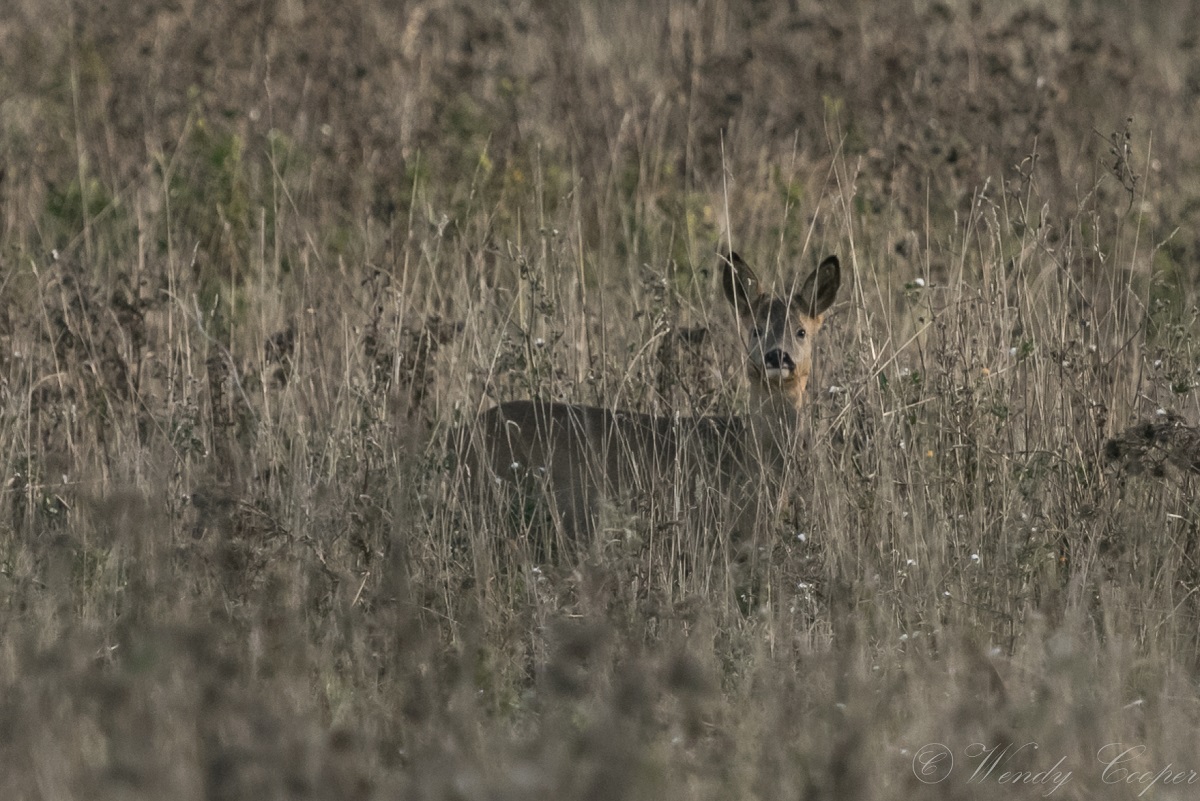 The Konik ponies meanwhile continued grazing, taking no heed of the watchers, or for that matter the small flock of Starlings which kept hitching a ride!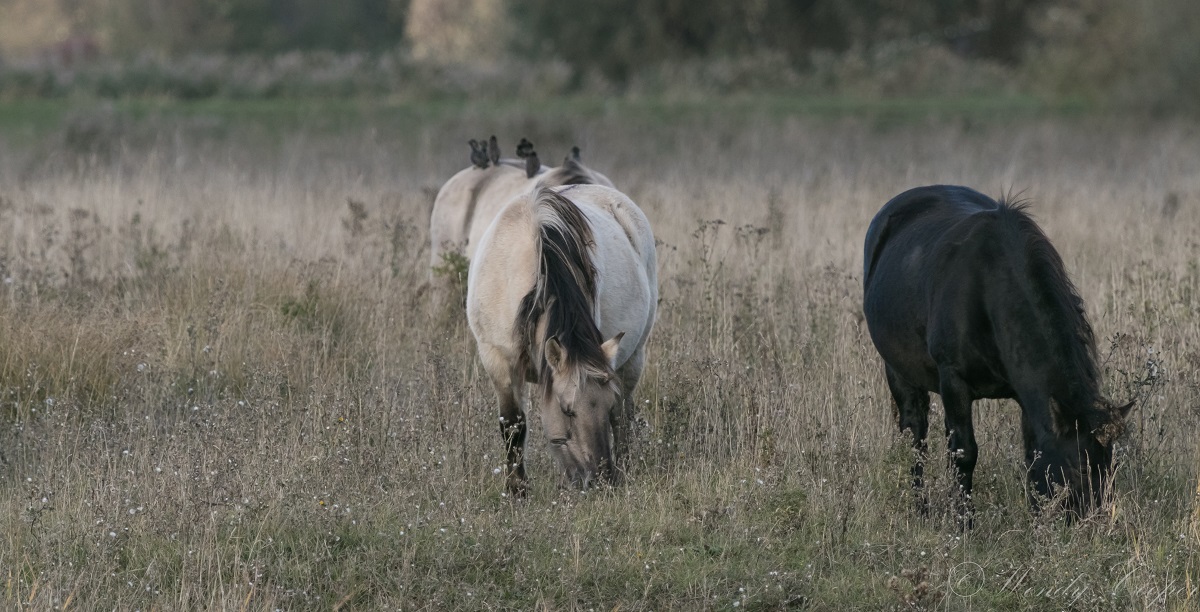 And the Kestrels continued to hover and hunt, flying back and forth over the Fen looking for good spots to do so.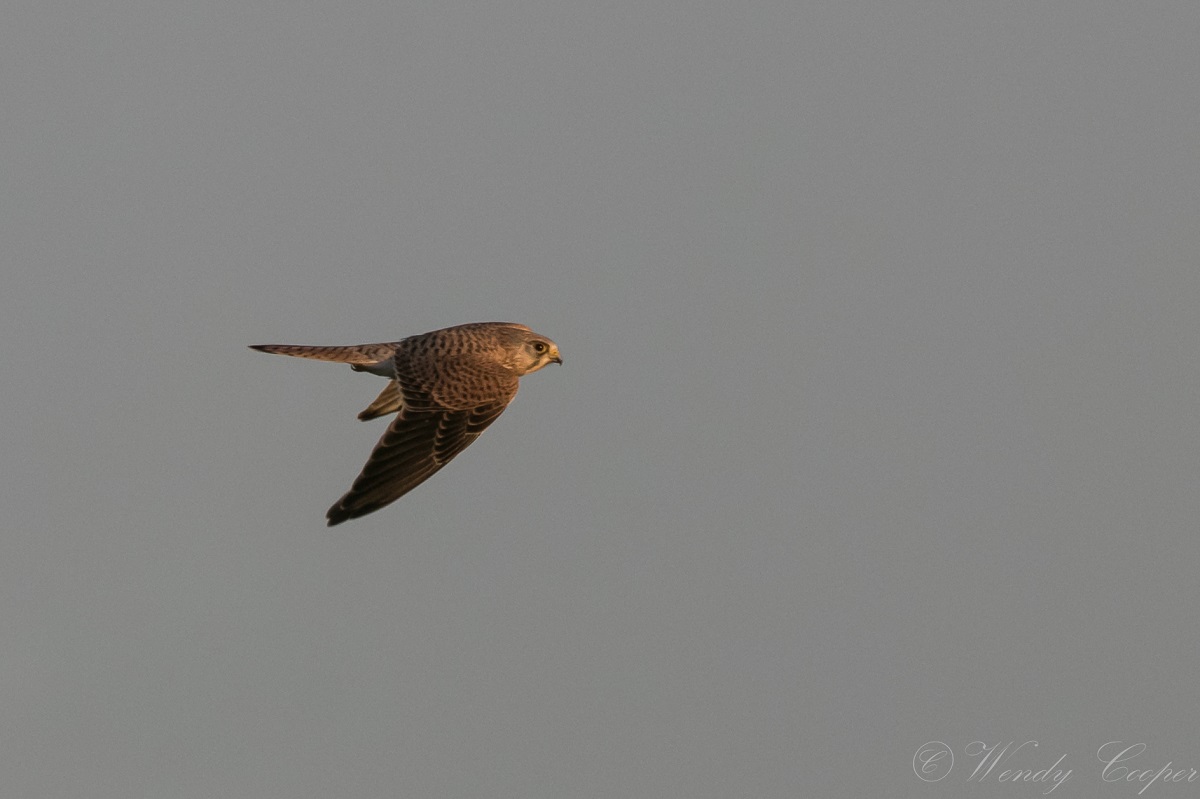 On my walk back to the car just as the sun was setting that evening, I spotted a Barn Owl quartering through the dusk and then watched another Short Eared Owl as it quartered over the grasses next to the path.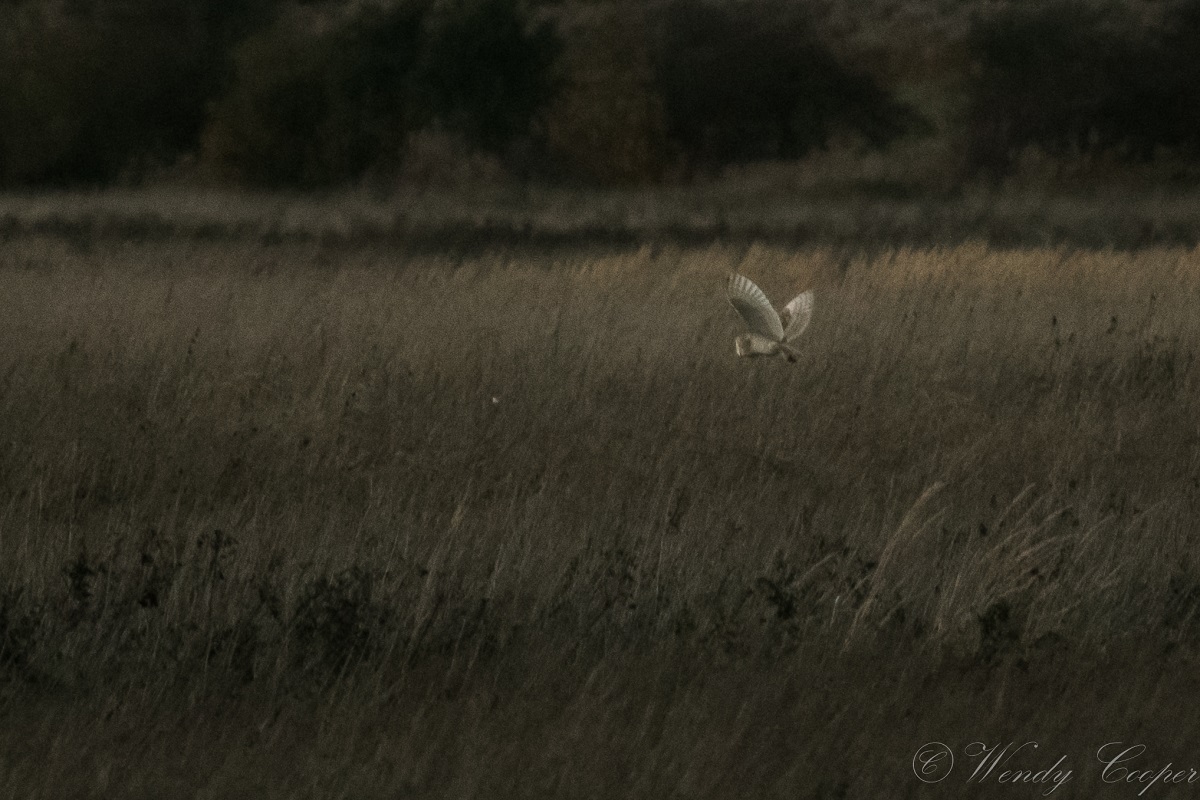 A few more visits were made, so below (indulge me!) are a few favourite images I managed of the Owls in action :
Taking a closer look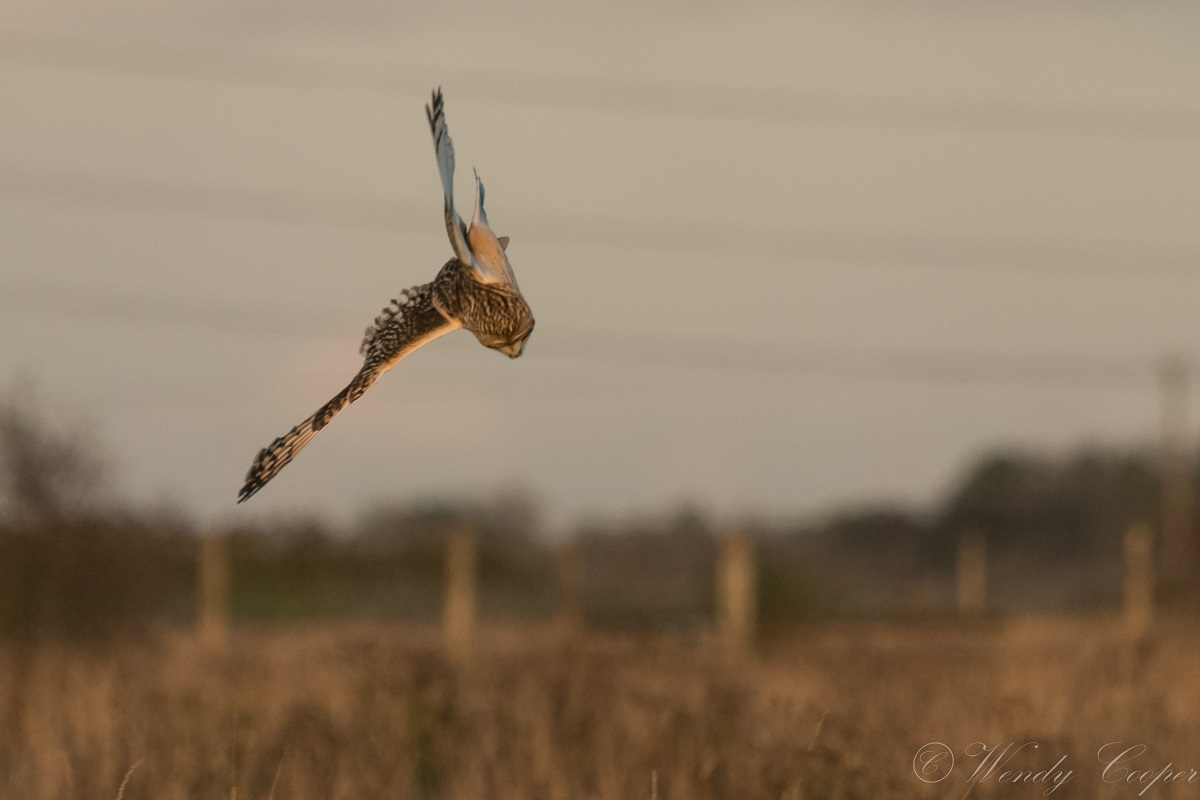 Lift-off from the grasses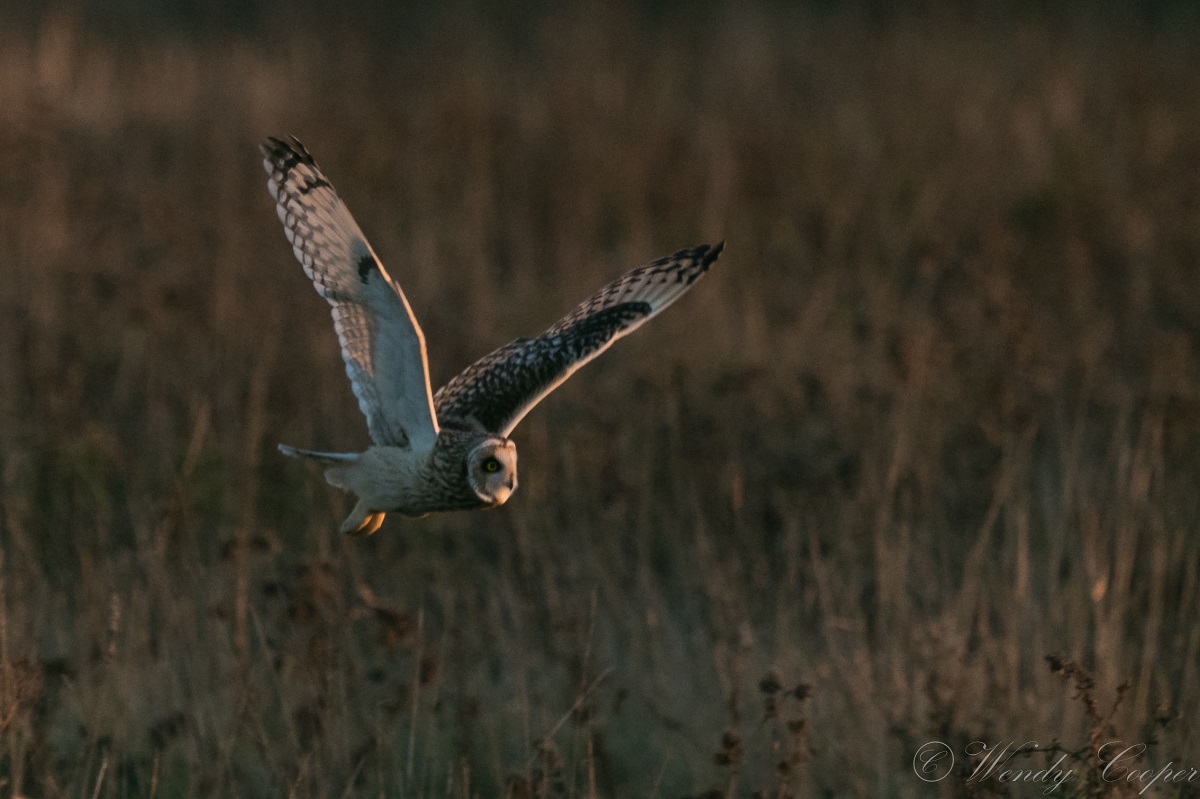 Checking for Voles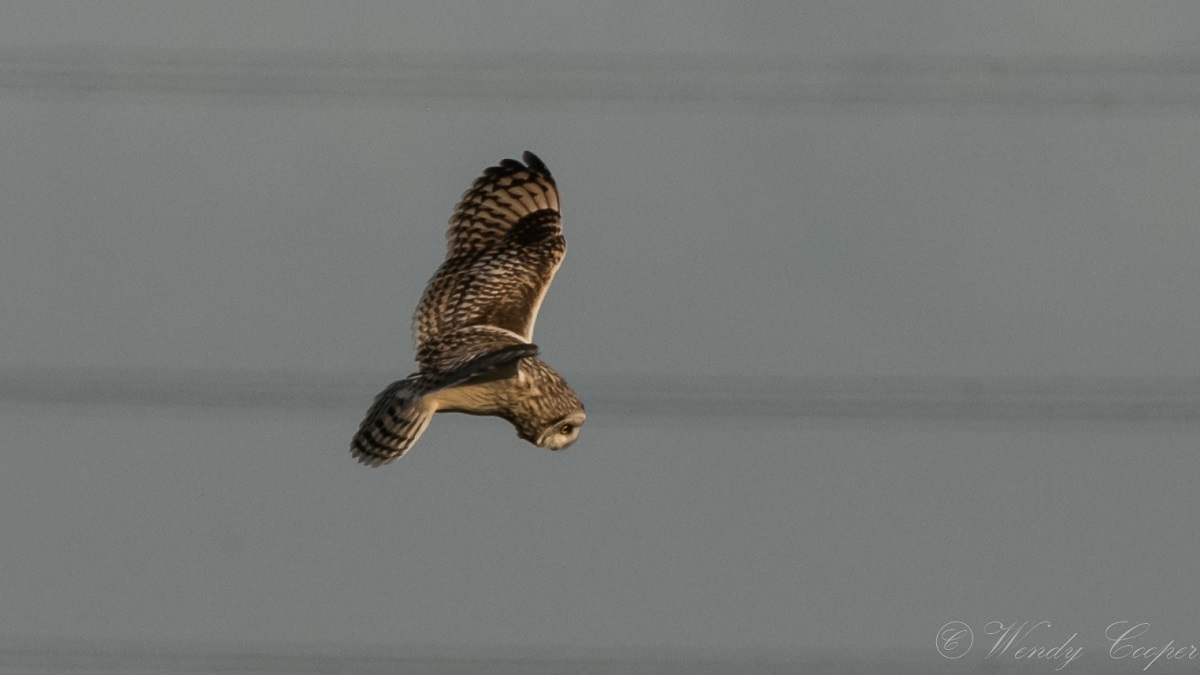 Taking a moment..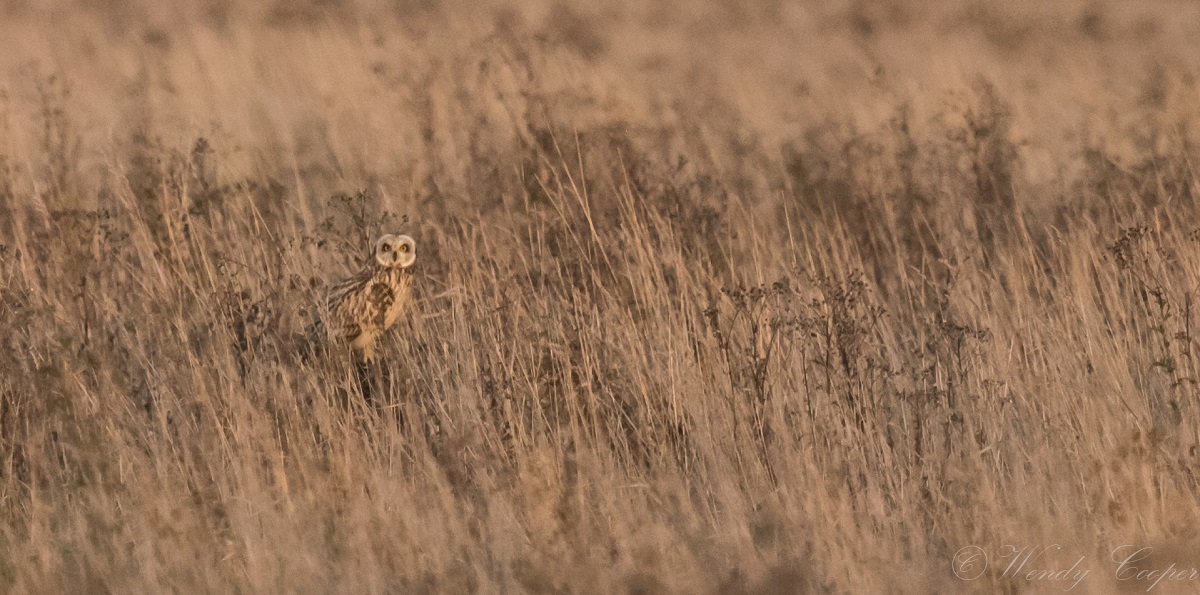 Watching the Watchers back!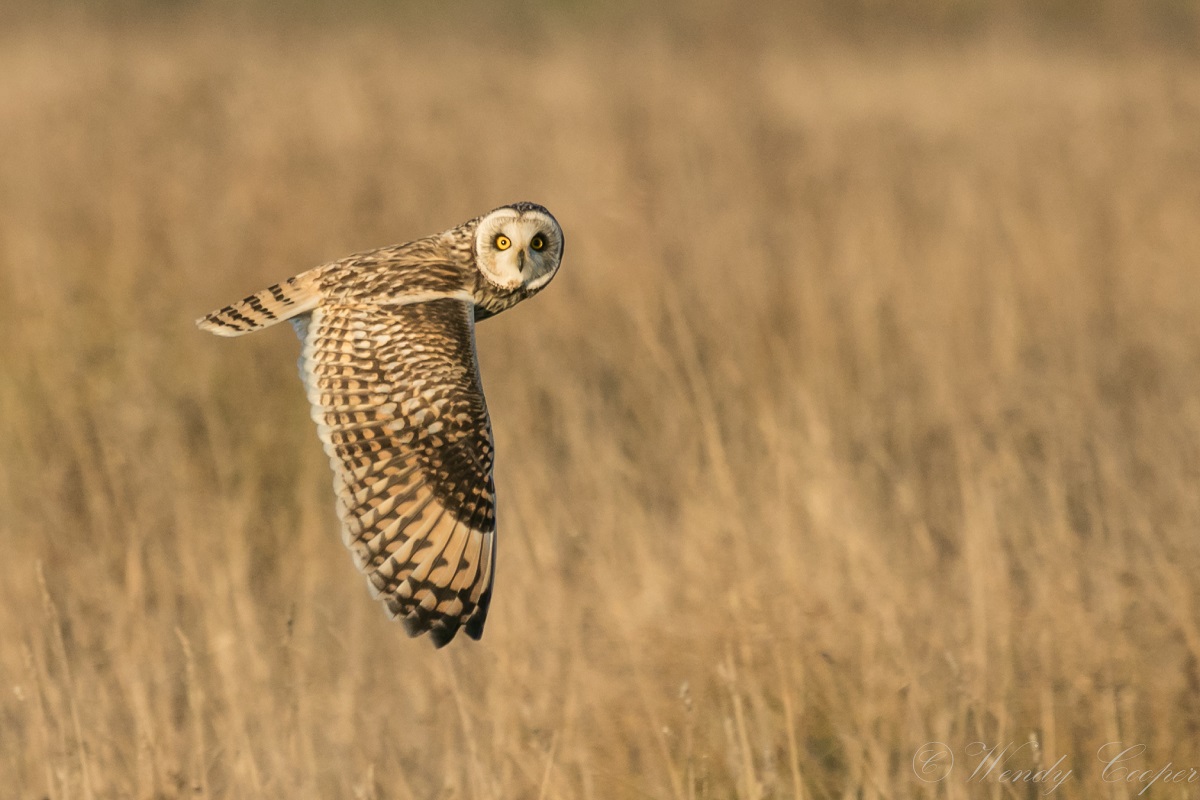 Whilst on the hunt, the Owls not only interact with each other - 'you're in my spot' moments, but also contend with Kestrels trying to appropriate their prey and the unwanted attentions of Corvids. They are mesmerising to watch and whilst mostly hunting in daylight, do continue after dusk. For more of the Owls in action, please feel free to pop over to an album on flickr.
Footnote...
One of the absolute delights about this part of the Fens, is the walk back just as the sun is setting. There are huge flocks of Corvids going to roost, skeins of geese honking to each other as they fly to their night time resting place and the songs of Wrens, Blackbirds, Fieldfares, Cetti's Warblers as they settle down for the night. On more than one occasion I have caught a ghostly glimpse of a Barn Owl, or been watched by Roe Deer through the reeds as I walk or been hooted at from a way off in the trees by a Tawny Owl. One evening I managed to capture a little of this with a video on my phone, not the best quality but do click through below with the sound on for a hint of magic!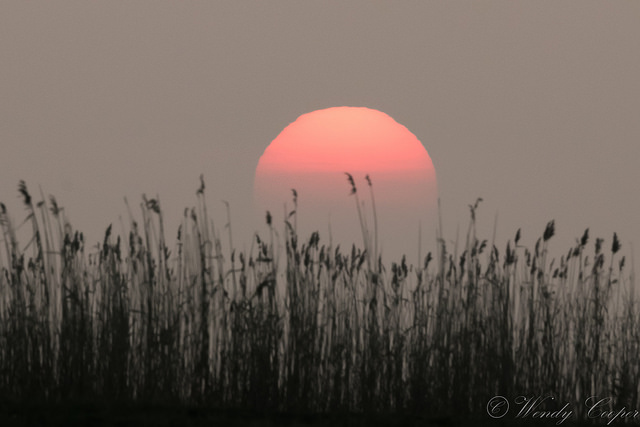 I hope you have enjoyed my blog, if you would like an email notification when my next blog is published, please add your email address to the 'Sign Up' box below, you will then receive an email with which to confirm your subscription.
As always, comments, feedback or questions are welcome, so please feel free to contact me via the comments section below or via the guestbook.
Comments