Nippy Norfolk!
29/12/2017 - 14:16
Well at the beginning of December we had a short break on the North Norfolk coast and it definitely blew the cobwebs out!
We arrived after driving through snow flurries and a bit of a 'whiteout' at Fakenham and decided an early lunch was in order at a favourite pub in Blakeney. Whilst we enjoyed our lunch and cozy surroundings, the view out over the saltmarshes was often obscured by squalls of rain, sleet and hail, with a soundtrack of the sound of the wind buffeting the windows!
After lunch we decided that an afternoon at Cley was in order - himself opted to sit in the visitor center, avoid the weather and enjoy the panoramic view out towards the beach, with tea and cake, whilst I, well you guessed it, well wrapped up and almost waterproofed, decided to go for a wander.
Once outside, I soon realised that due to the wind (and also intermittant driving lumpy rain) I stood no chance of a)holding the camera still and b) seeing too much as apart from a few unhappy looking Greylag Geese huddled despondantly on the grass, it appeared most else had taken cover apart from a small flock of Brent Geese, who flew over looking for a good spot to graze.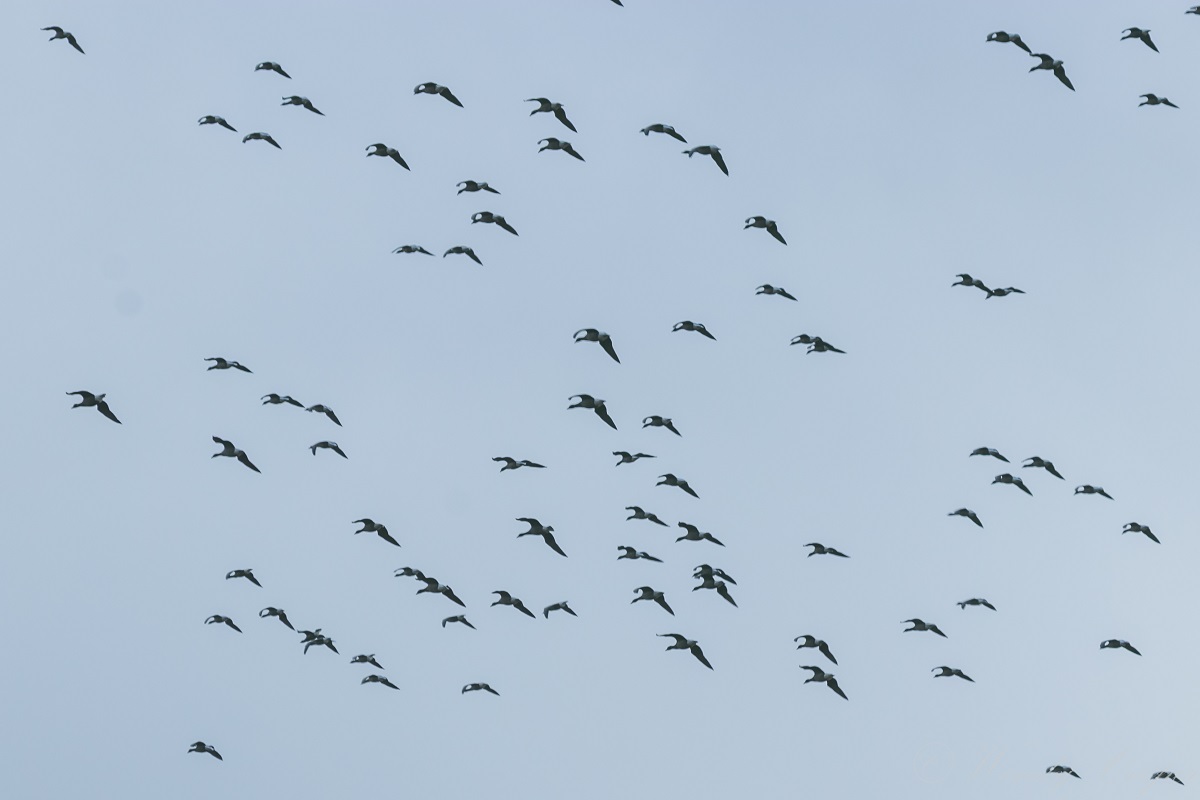 After a brisk and at times blown sideways walk, I made it to the little group of hides in the middle and settled myself down.
Peering out across both meres, there were huddles of Ducks grooming dabbling and dozing out on the scrapes. The water was very choppy and it was blowing steadily, with occasional gusts - there were also sqally showers and moments of bright sunshine and it was cold! How our waterbirds manage to stand in such cold waters amazes me.
The closest group of water fowl were Teal, with a couple of Shelduck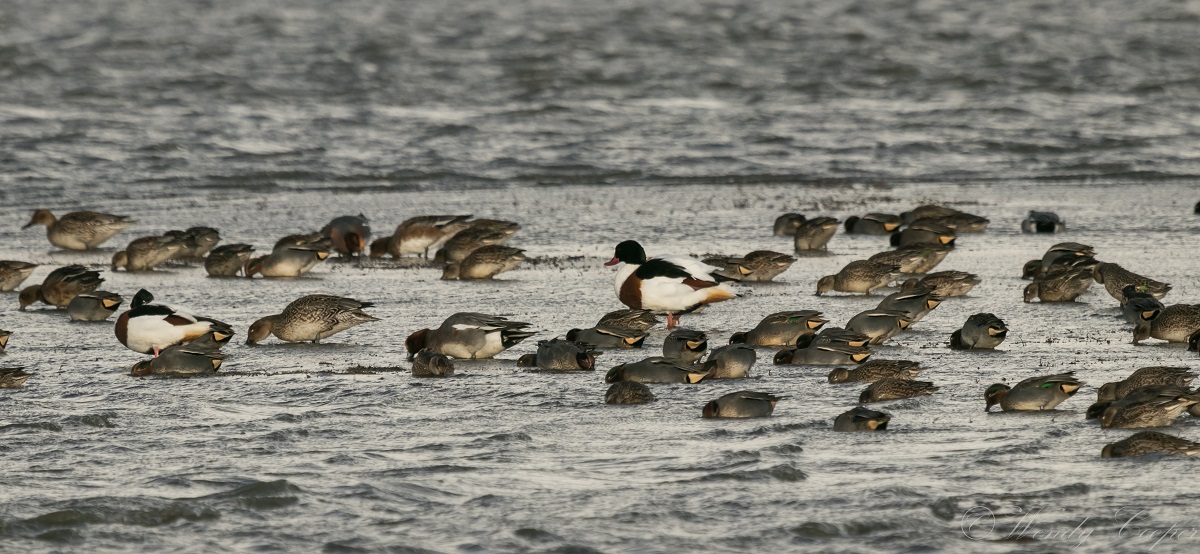 From time to time they would be joined by a Lapwing, who after making a bit of an entrance settled down amongst them.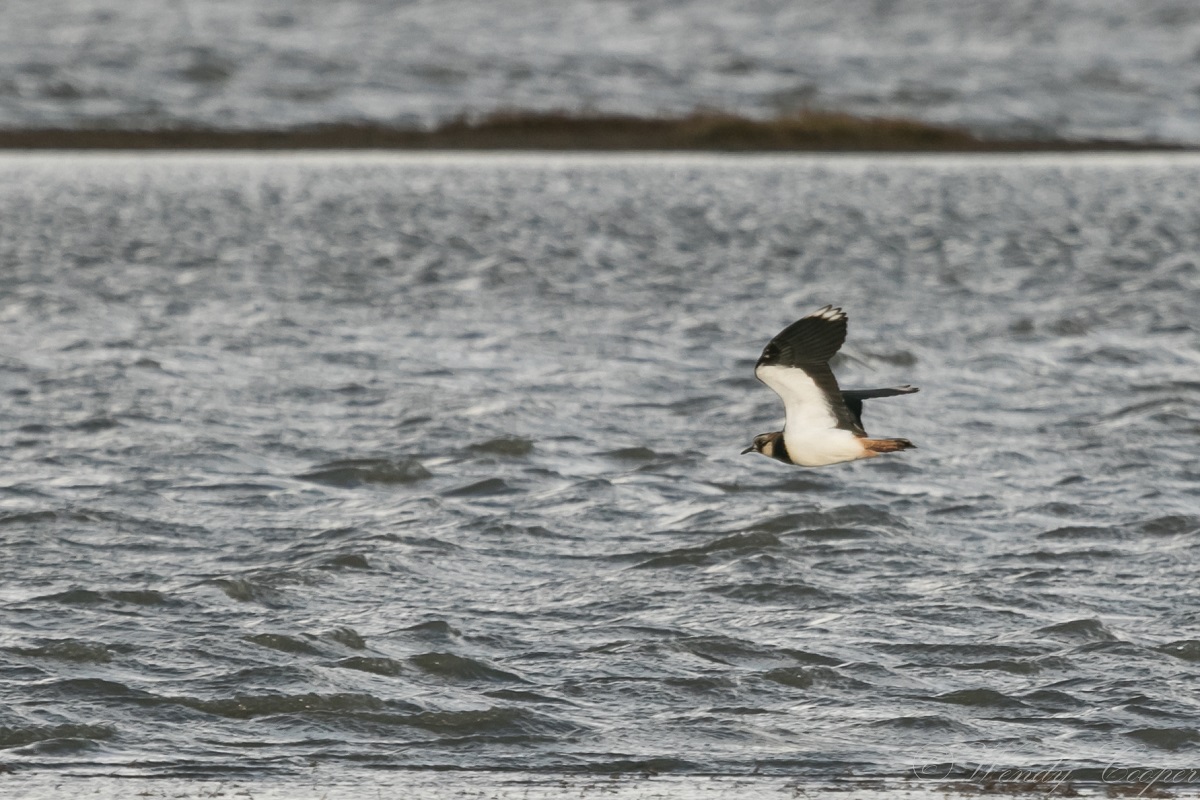 In the distance I could hear a small commotion and watched as a little flock of Wigeon flew from one mere to another, almost in slow motion.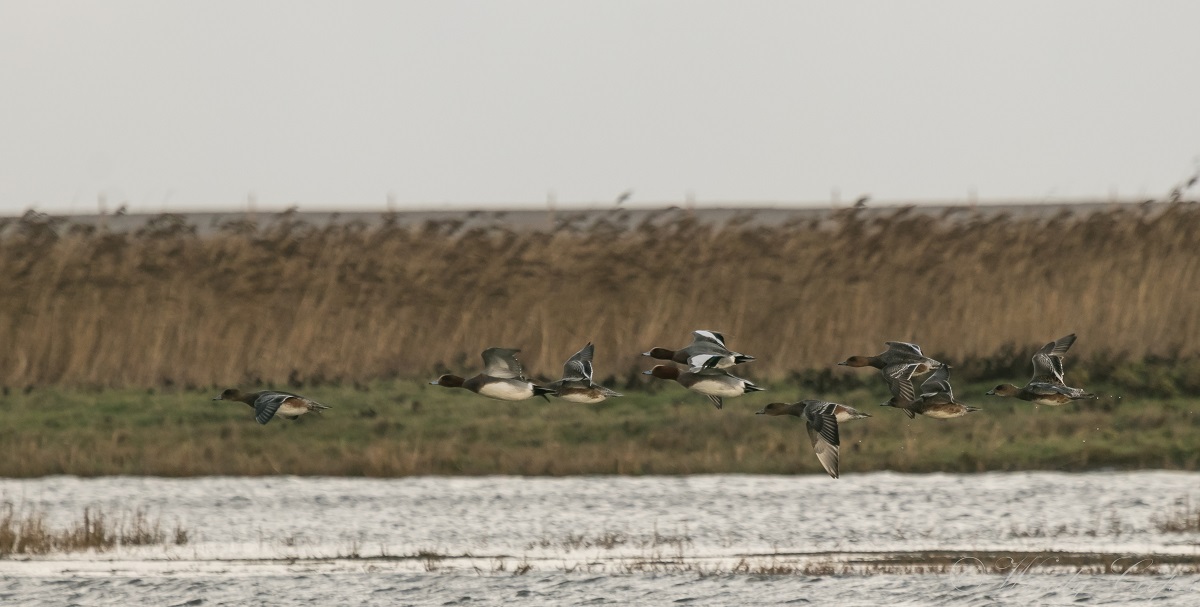 Scanning out along the beach line, occasionally I could see great spumes of white water as the waves pummelled the beach and here and there I could see Gulls simply hang gliding or being blown backwards. From time to time the sun came out, making rainbows out at sea. To my surprise, I spotted a familiar shape floating along the top of the reeds at the back of the mere, a Marsh Harrier.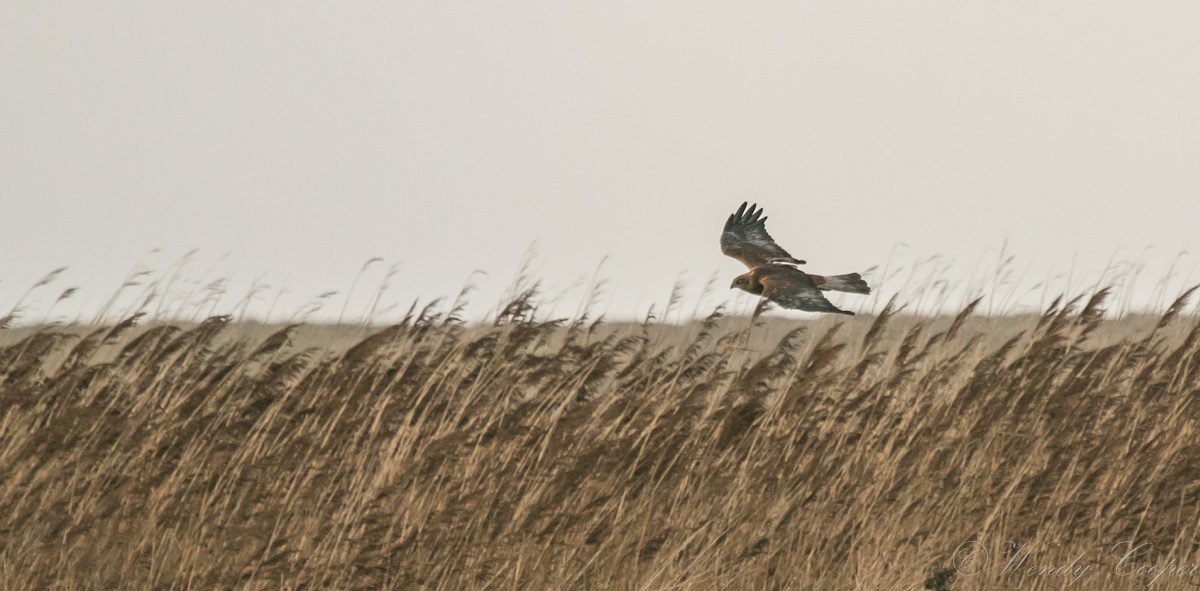 Gliding along, seemingly unconcerned by the conditions, I then spotted a second Marsh Harrier, a juvenile and they both went briefly to roost on the ground in a clump of reeds at the corner of the mere; Junior certainly didn't look too impressed with the weather!
After a few moments, Dad took to the air again. Now, even in the hide, the strength of the wind could be felt and heard, so I watched incredulous as he proceeded to do a bit of a circuit and a flyby, completely straight and level!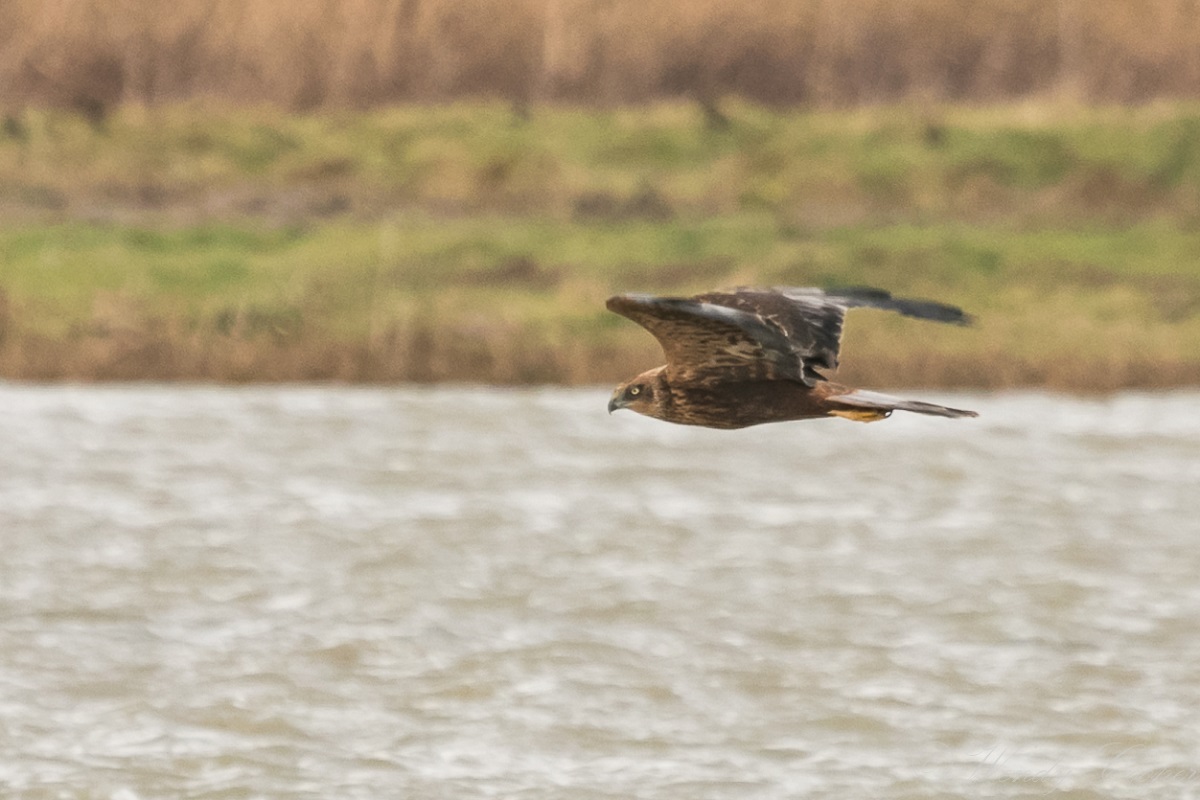 The flyby wasn't just for fun however (despite a few 'are you getting all this' glances in my direction). It seemed like Junior had been told to wait and watch from the reeds, whilst Dad did a practical demonstration of how to 'put the wind up the ducks' and choose dinner -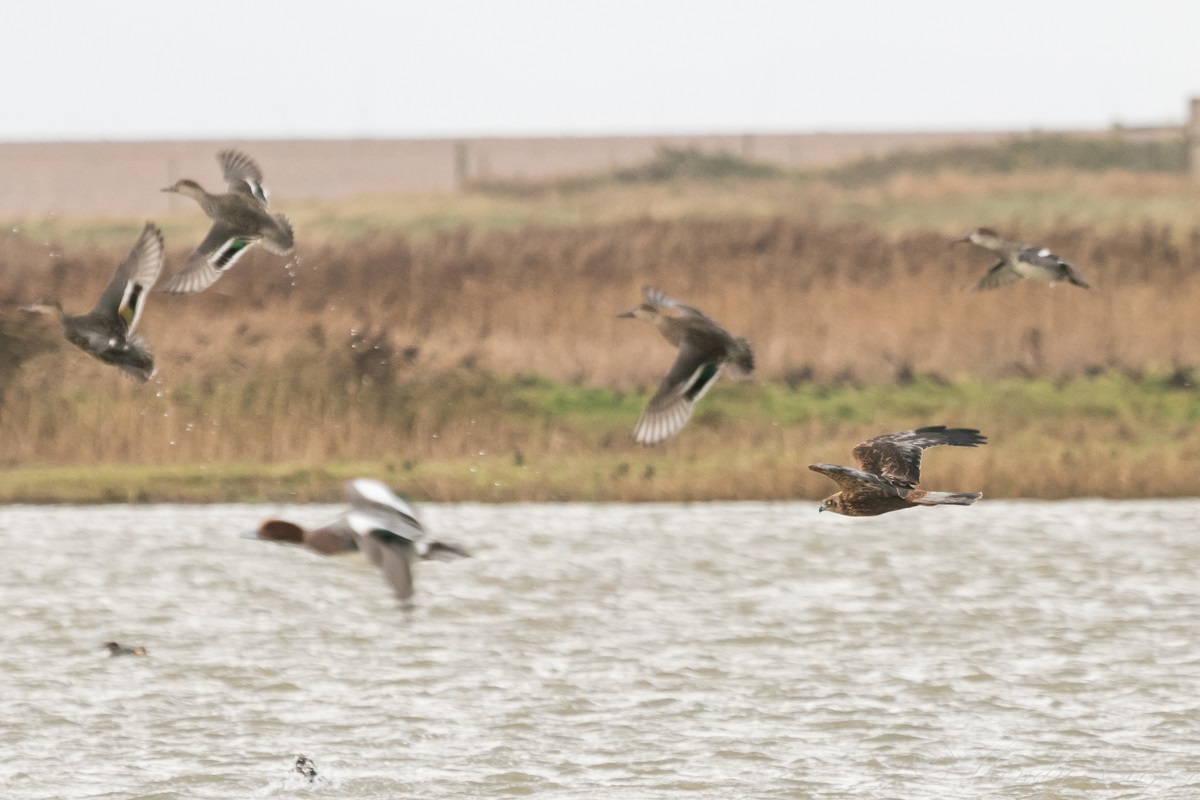 No ducks were caught (last one on the water is lunch) however, the pair of them continued to fly and seemingly quarter a bit further off.
It brightened up a little, so I decided to walk round to the other hide, timing it between showers. As I reached the entrance, a definite 'ping ping' was heard - Reedlings, however they were staying very low down in the reeds!
There was a bit of a commotion heard and all of a sudden, a flock of Greylag geese took off, staying as low as they could just the other side of a bank of reeds,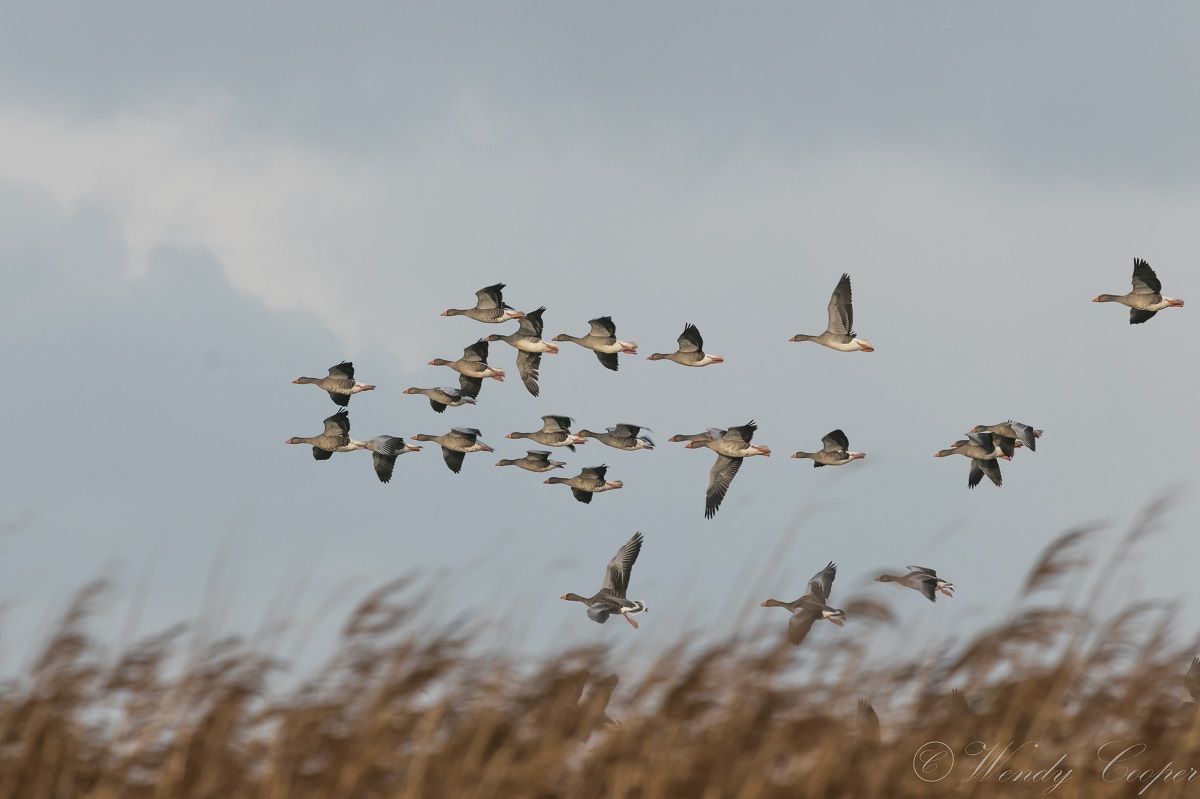 after a few moments in the hide, the reason became clear as another Marsh Harrier floated along over the reeds and out towards the beach. Having watched for a while I decided that I'd better make tracks back to the Visitor Center. Thinking the few spits of rain were not too bad, by the time I reached the reception area I was drenched! Kind of miss-timed the walk with a very heavy icy cold squall.
Over a cup of tea and whilst waiting to dry out a little, Hubby and I sat and watched the weather, which by now was a little choppy to say the least, there was a Kestrel right outside, a few flocks of geese far out on the marsh and far off by the beach, no less than five Marsh Harriers hang gliding with amazing control, paying no heed to the walls of water on the beach, or it seemed the wind!
After a stormy night, the following morning was bright, very windy and very cold, so we went to RSPB Titchwell and headed down to the beach.
When we arrived, the tide was out, so I wandered down carefully to the bank of rocks and pools - that we had not seen many birds on the scrapes was suddenly explained - they were all here feeding!
Every direction I looked, there were waders and Gulls, all foraging together in the shingle, sand, piles of razor shells and amidst the limpets and clumps of seaweed. Brilliant!
Not knowing quite which way to look and not wanting to spook any of them, I slowly picked a spot and knelt down for an almost waders' eye view of the world. I got to watch them at close quarters, how they foraged, and how they interacted with each other.
Noisiest and boldest were the Oystercatchers, these were foraging alongside Common Gulls and Redshanks in some places and with Turnstones in others.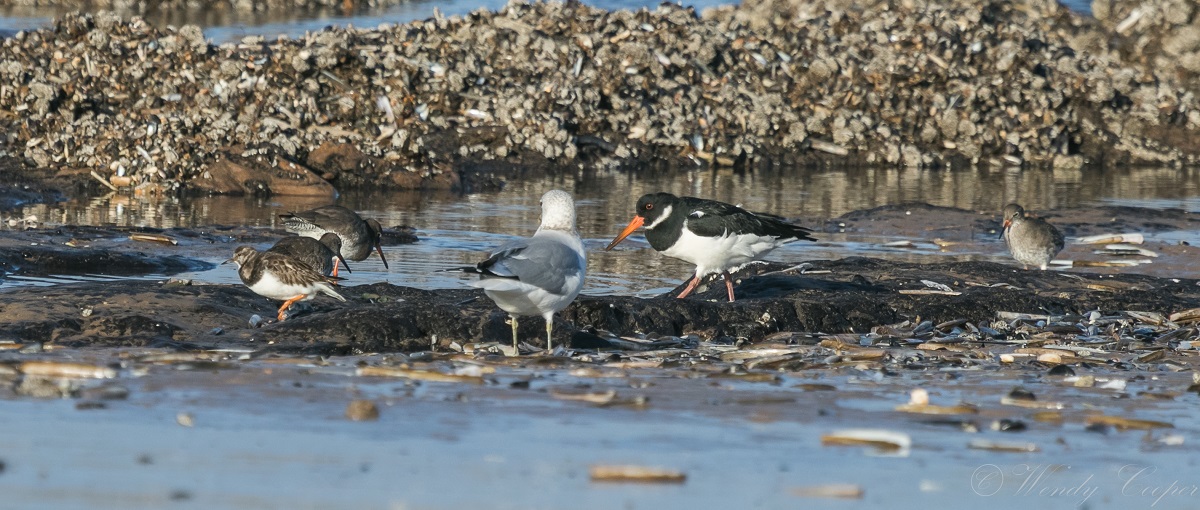 in fact quite a few different birds were foraging contentedly (mostly!) alongside each other,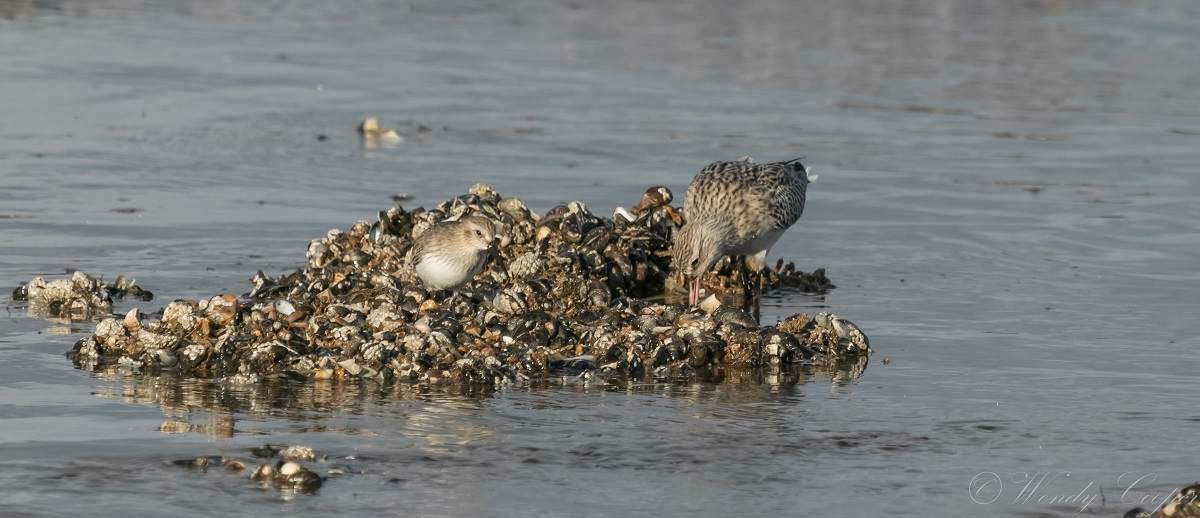 some even seeming to work together - like this Dunlin and Bar Tailed Godwit - the Dunlin would follow it (and later a Knot) around, investigating where the larger bird had been foraging in case of leftovers.
As I watched, I gradually managed to pick out each different type of bird - watching each one go about their business was an absolute delight and the photo's a real bonus - so here's who I saw!
OysterCatcher pair, going for a stroll along the water's edge: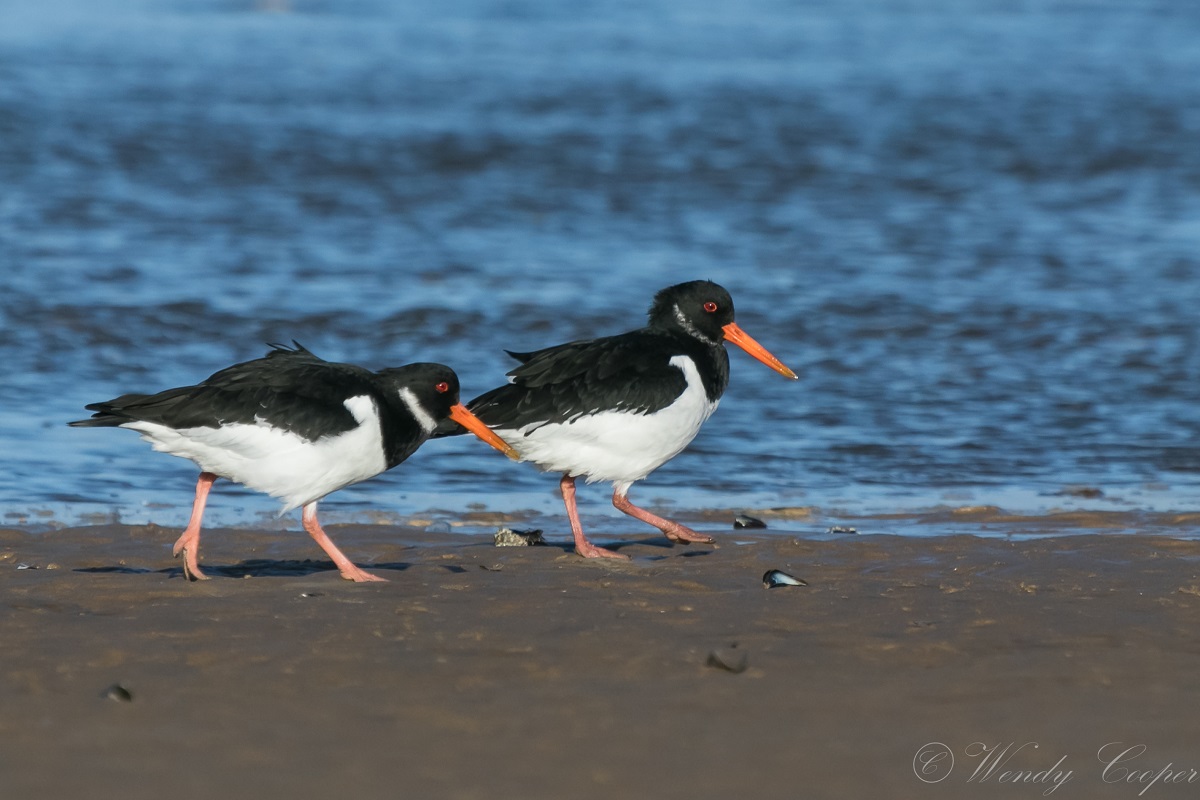 Turnstones, in the process of doing just that and flipping shells and pebbles over: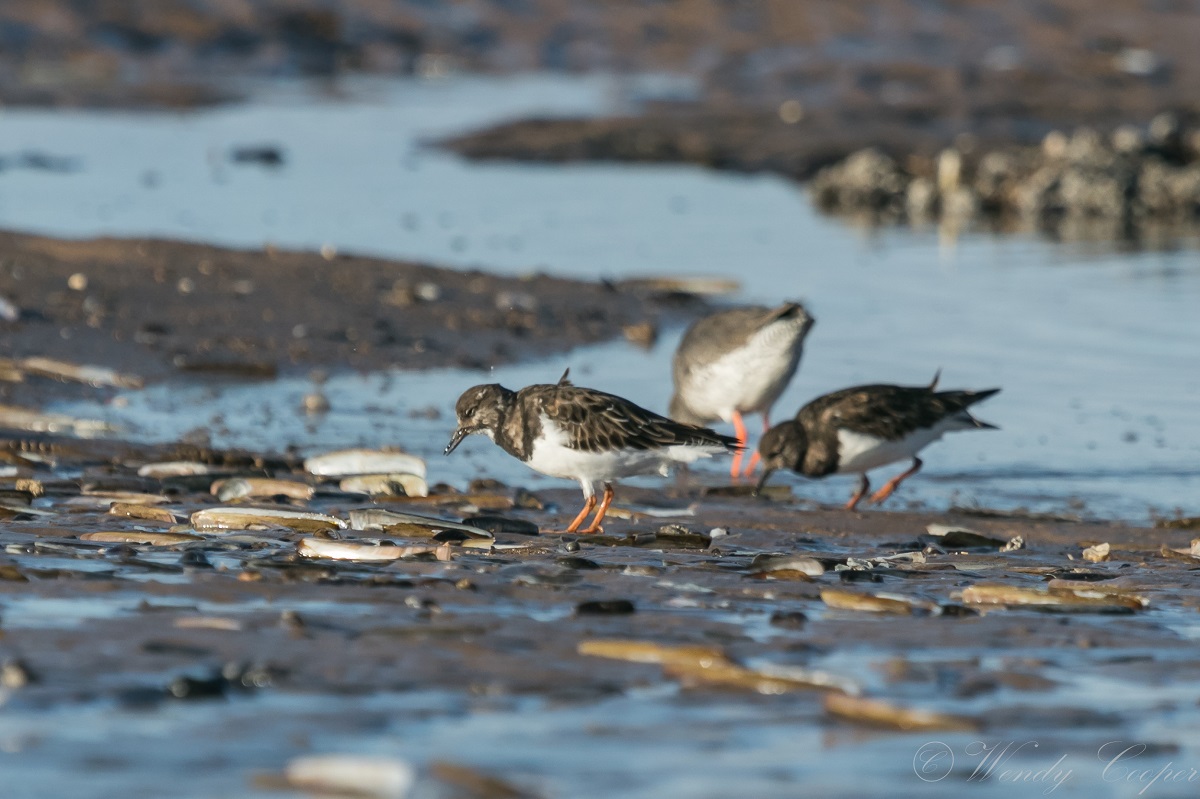 Bar Tailed Godwit, an overwintering migrant from the Arctic and often seen around our coastline: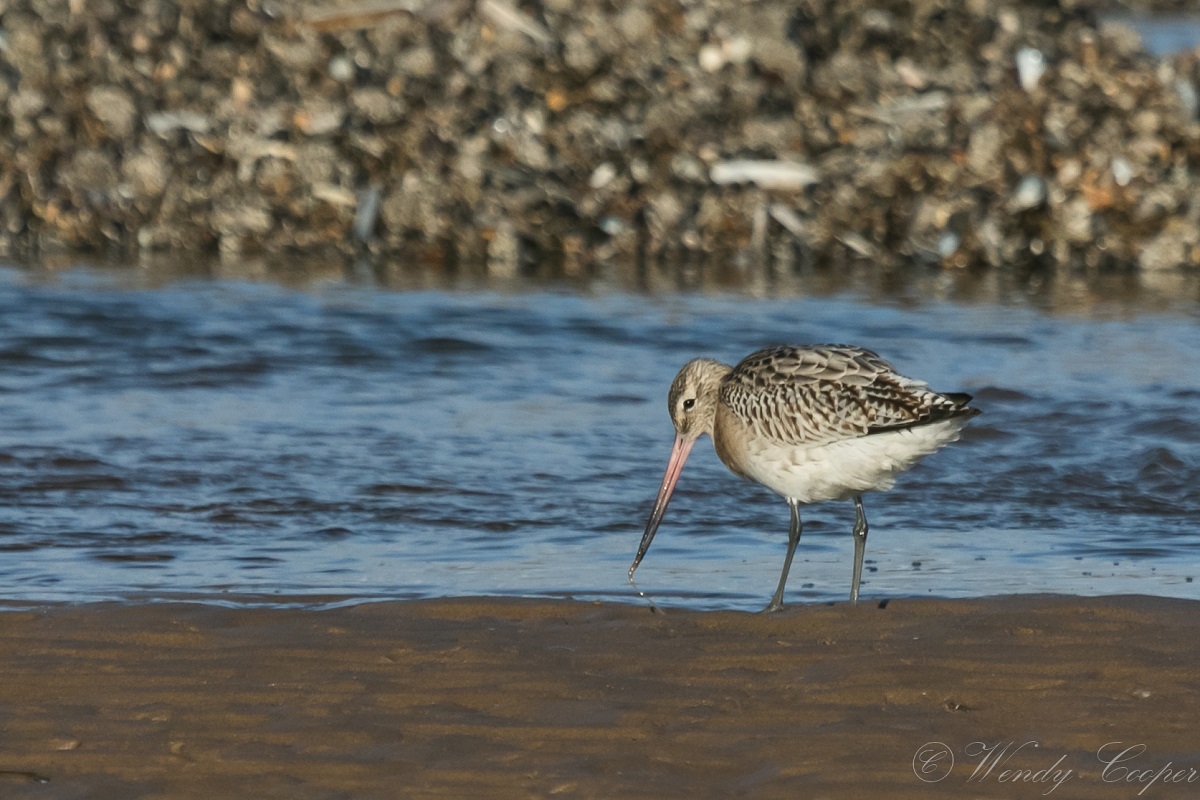 Black Tailed Godwit, the European Godwits do breed here at a few selected sites. however these usually overwinter in West Africa, this is probably an Icelandic bird overwintering here: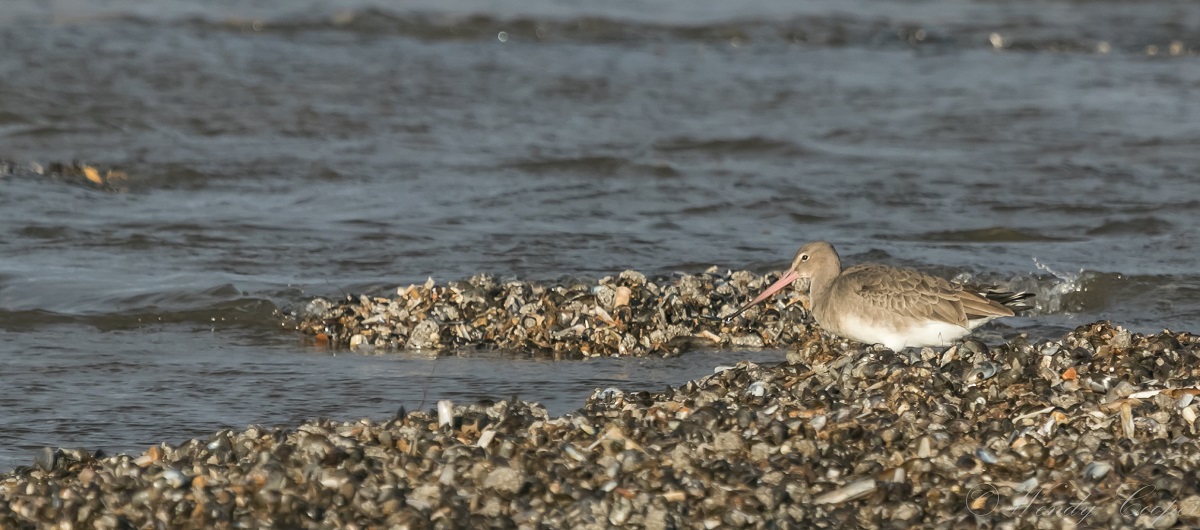 Dunlin, these are one of our smaller waders and can often be seen, some of them are migrants from Russia, Iceland and Greenland and overwinter here, others are our resident birds who live and breed here.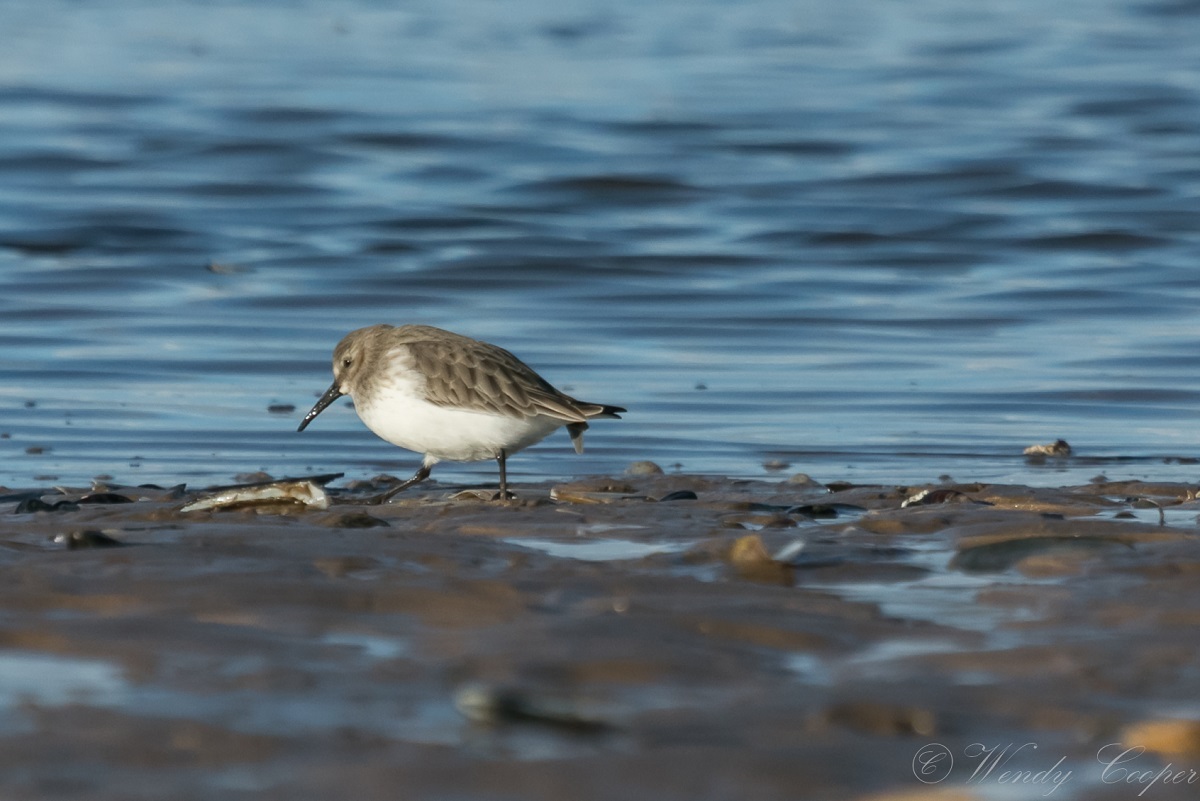 The Knot is another of our long distance migrant visitors, arriving to overwinter here in August and leaving in May to return to the Arctic to breed: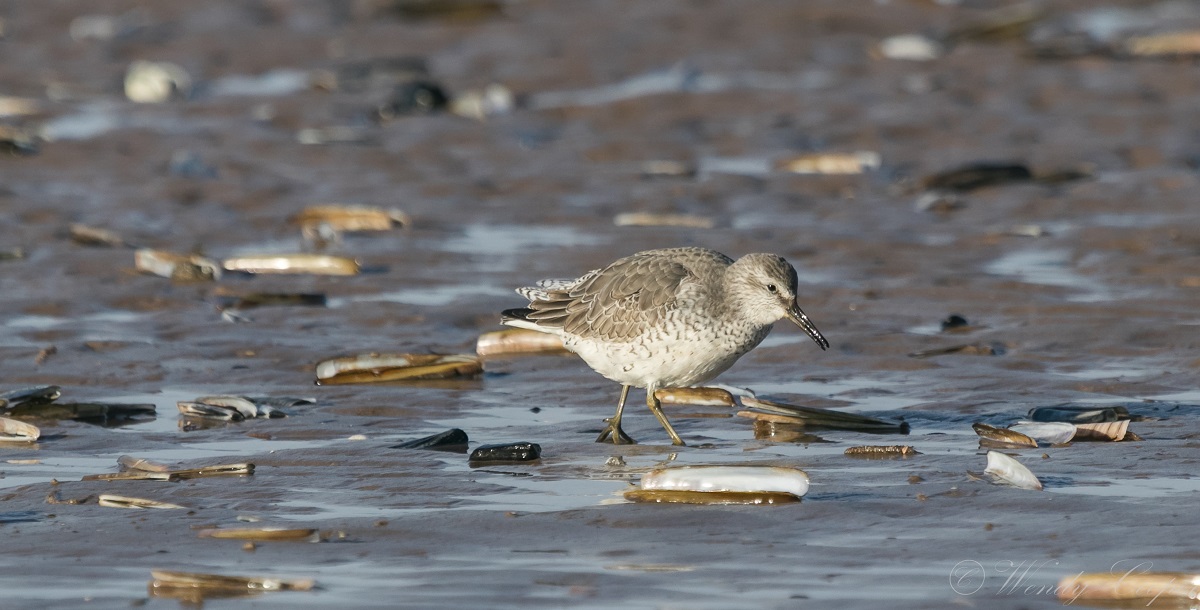 For a comparison in size between the Dunlin and Knot, the Dunlin had been following the Knot about hoping for easy pickings for a meal: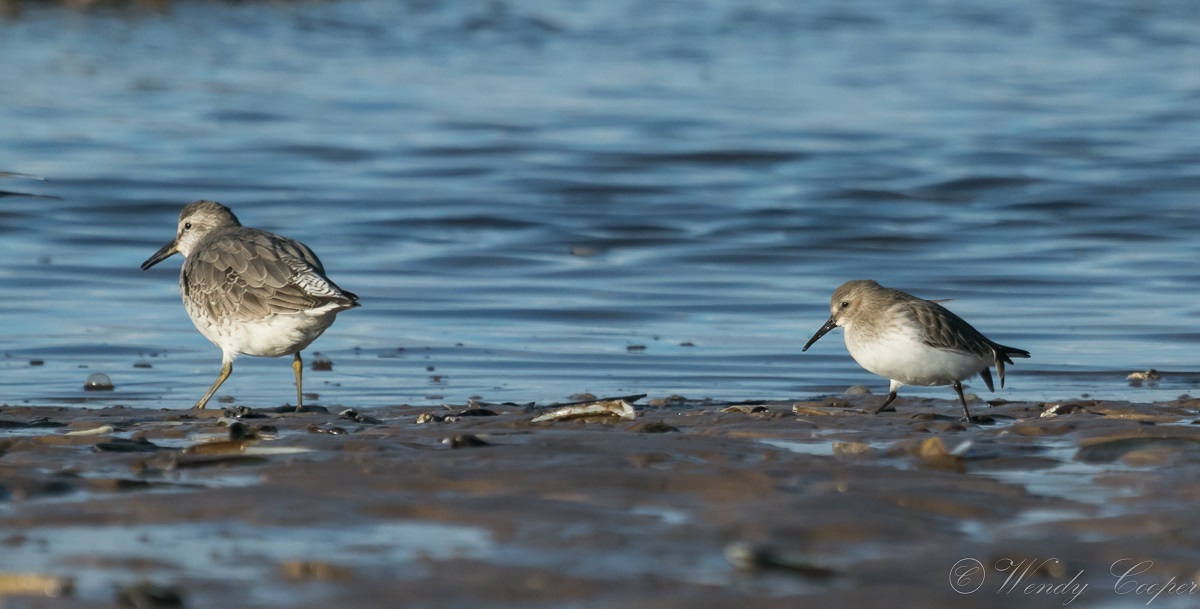 From one of our smallest waders (the Dunlin) to one of our largest, I watched this Curlew for quite some time as it gracefully negotiated the shingle, deep pools and remained completely unruffled in the wind: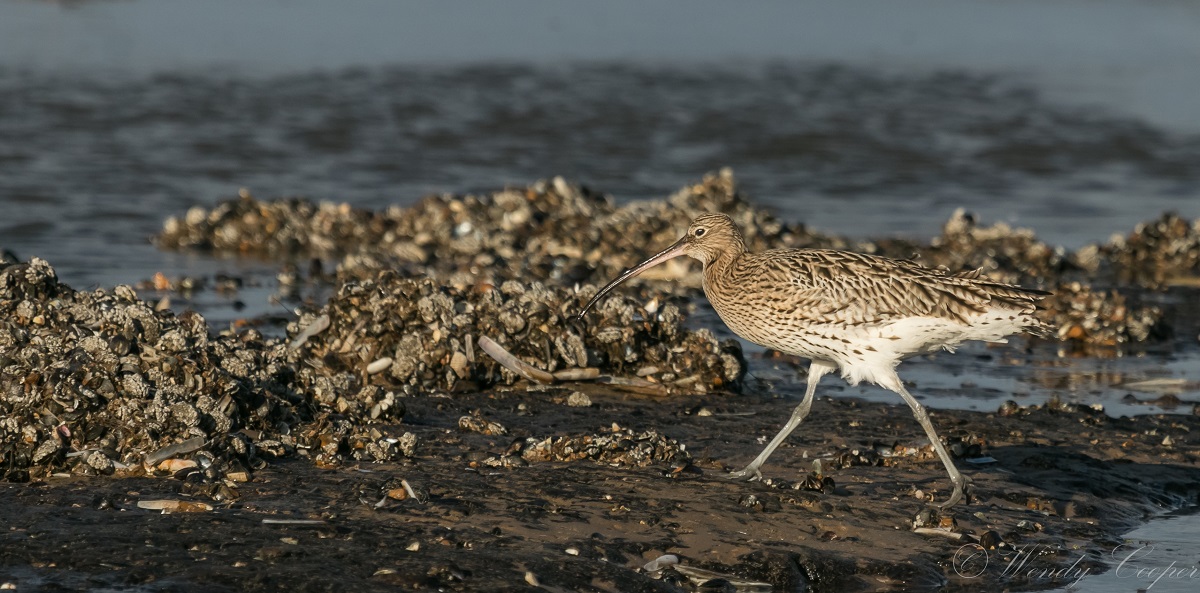 And an extremely characterful but common sight, the Redshanks: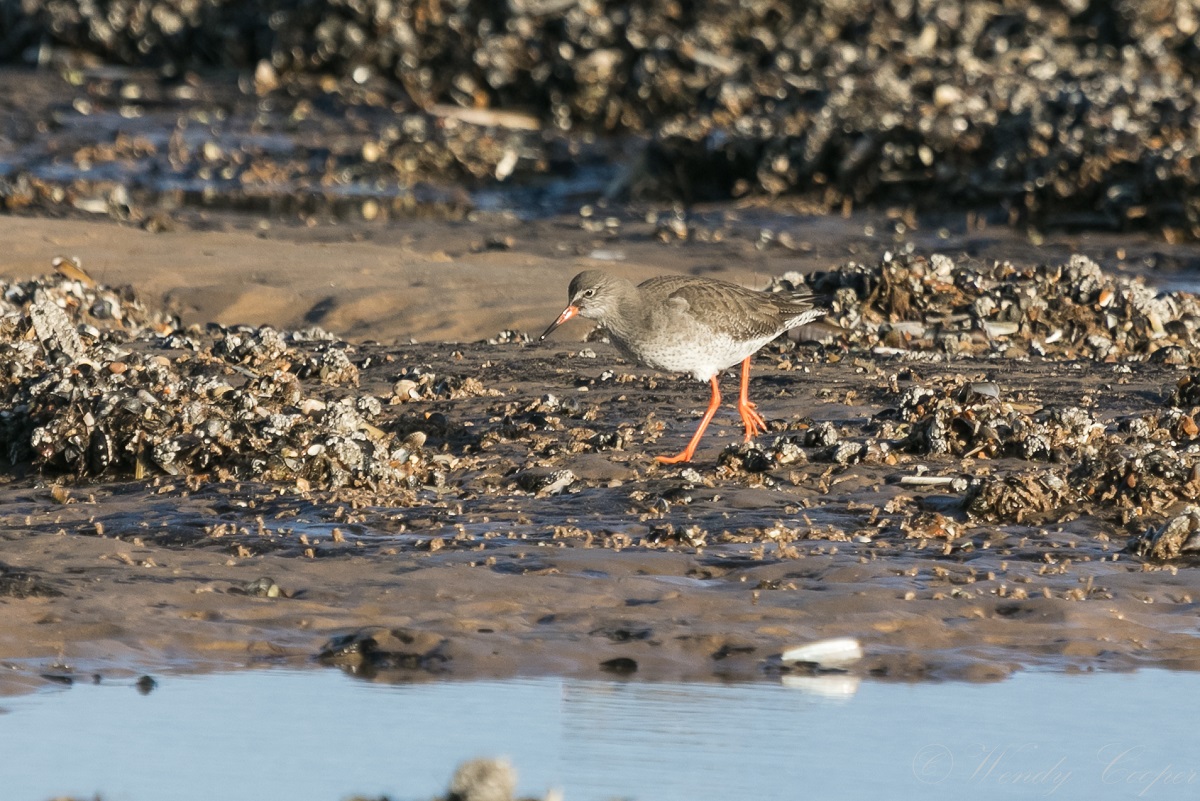 One of my favourite long distance migrants, the Sanderling.These do not breed here, that happens high up in the Arctic, instead many stop off here on migration between the Arctic, South America or South Africa - an incredible journey for such a tiny bird!
All the while that I was watching and photographing, I had an avian chaparone, who kept coming to check that I was not causing trouble - this Black Headed Gull was most observant and very confiding and certainly made the grin even broader - there is something very special about those moments when a wild creature gets a little nearer by apparent choice or curiosity - and no, I didn't have any chips in my pocket!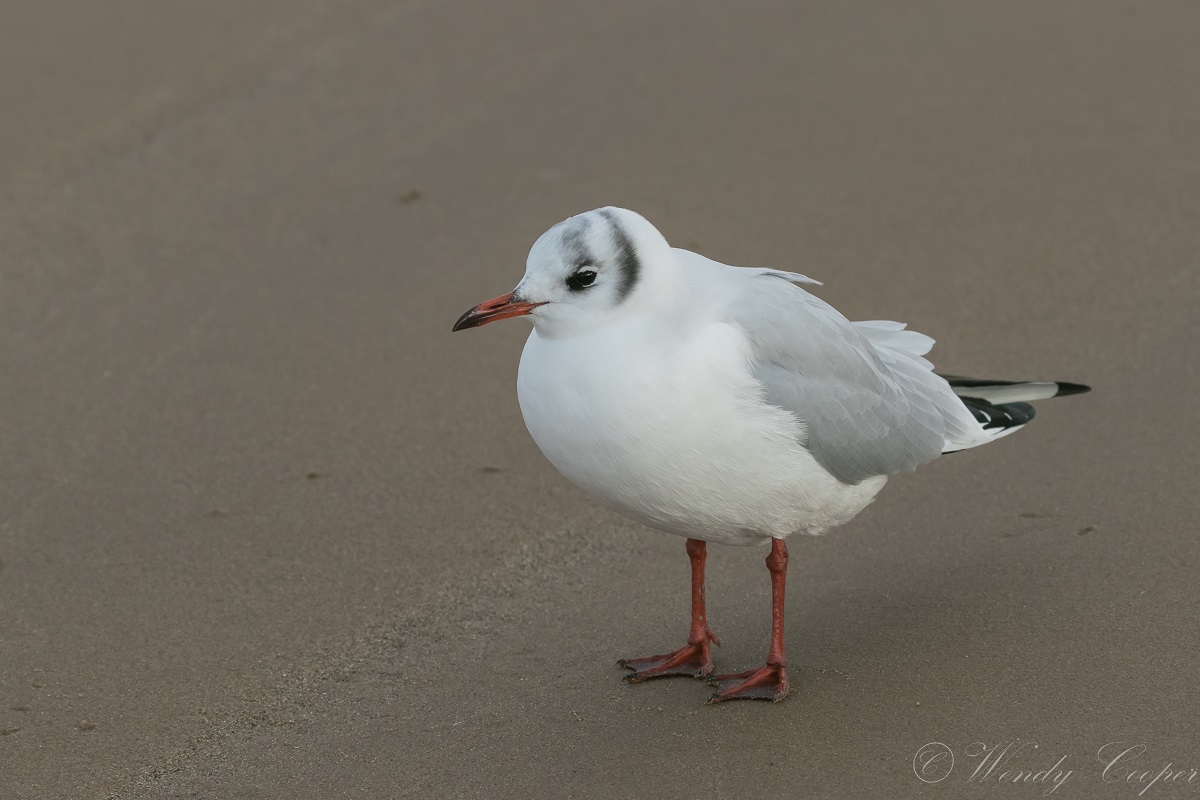 Realising that my hands and face were now numb with cold (the sun may have been out, but it was very cold and windy down by the tideline) and after a view further along the water,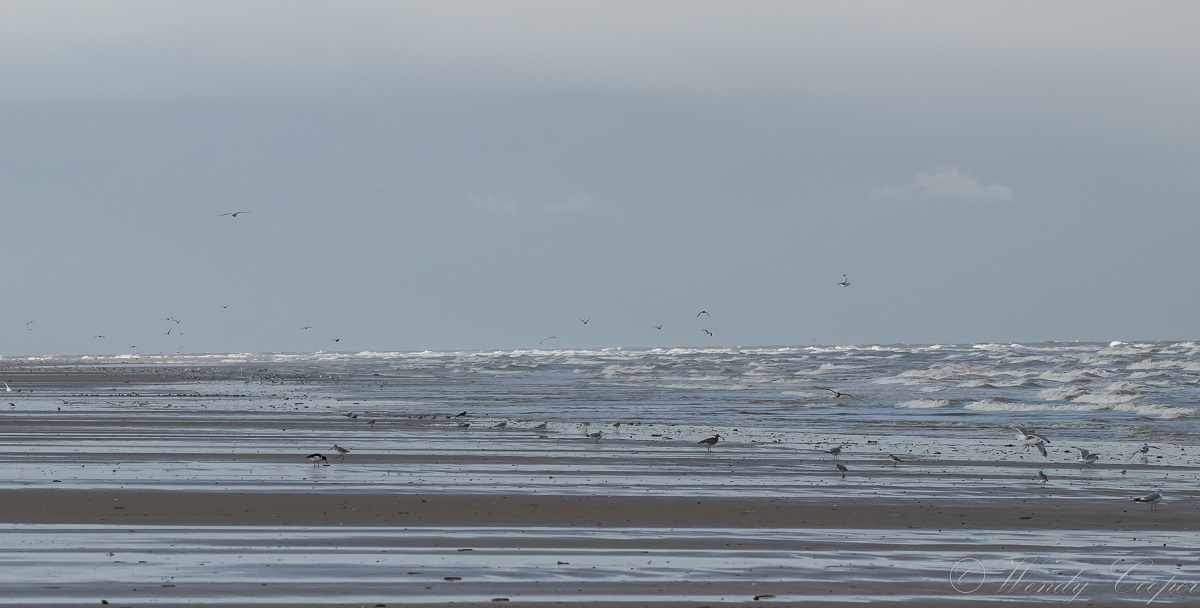 I made my way back to meet with Hubby and we started to walk back. It blew, then it blew harder and a few spots turned into sideways rain... we were a bit soggy by the time we reached the car, at which point the sun came out again!
A late lunch to warm up, then a chilly pause at Brancaster Staithe, where a lone Common Gull was on sentry duty in a freezing stiff breeze and far off against a cloud scudded sky, Gulls flew to safe spots for the night as our visit concluded.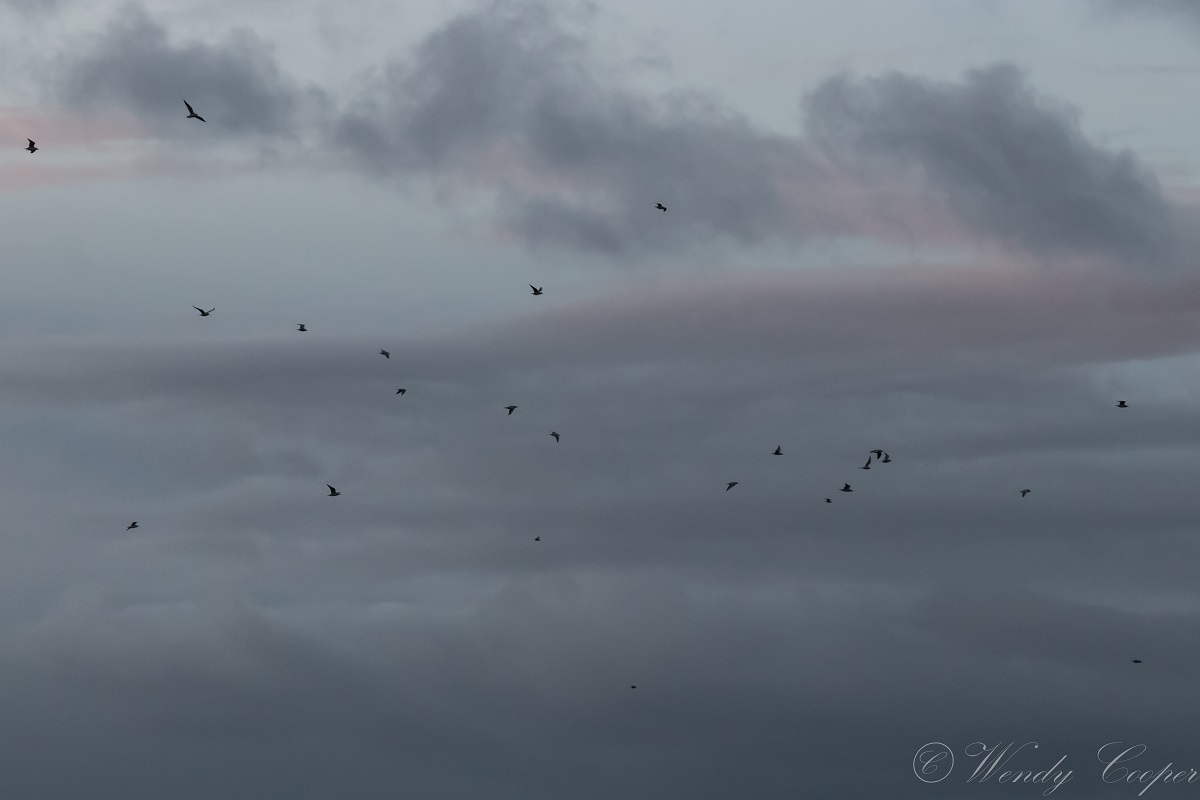 I hope you have enjoyed my blog, if you would like an email notification when my next blog is published, please add your email address to the 'Sign Up' box below, you will then receive an email with which to confirm your subscription.
As always, comments, feedback or questions are welcome, so please feel free to contact me via the comments section below or via the guestbook.
Comments