Looking Back over My Diary of 2015
Allsorts!
> Looking Back over My Diary of 2015
31/12/2015 - 12:30
Well as 2015 draws to a close, I was having a browse through my Nature Diary and thought I'd share some of my favourite moments. For me, it has been an exciting year, with quite a few sightings of creatures I have not seen before, or of moments of watching old favourites and as I learn more about the natural world, having more appreciation and wonderment at seeing them.
We start off back in January, when we had a day out at RSPB Lakenheath. We'd been there briefly before, but decided to have a 'proper' walk round. It was a bright, but chilly afternoon with plenty about to see, from Reed Buntings up close and sunbathing outside the visitor centre, to a far off view of the Cranes, however the highlight of the afternoon were our first ever sightings of Bearded Reedlings.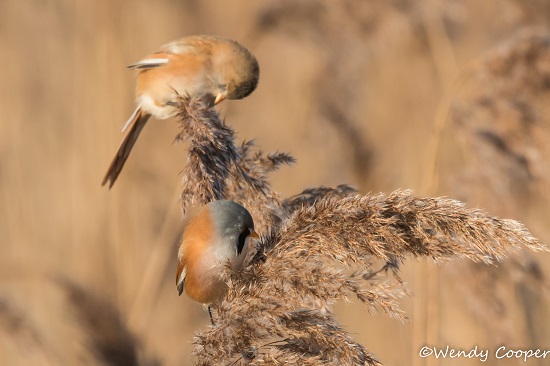 These tiny birds live in reedbeds and are extremely agile amongst the reeds, feeding on seeds and insects and were very busy that afternoon, feeding up against the cold. Bearded Reedlings, whilst there are many breeding pairs, are Amber listed as sadly many of our species are.
In February we had a weekend away in North Norfolk, where we stopped off at NWT Cley for a while. We had beautiful views of a Little Egret feeding right outside one of the hides and very distant views of a lone Male Garganey, there were also Ruffs, Redshanks and plenty of ducks about as well as several Godwits in a mixture of summer and winter colours. All of this was watched and listened to with a chorus of honking going on in the background and occasional glimpses of small flocks of Brent Geese taking to the air and then resettling.
Now we've seen a few flocks of geese on our Norfolk trips and have always loved watching them fly as a team as they choose their spot on the fields or make a grand entrance onto one of the expanses of water at Cley or Titchwell. Late afternoon, upon our return to the carpark, from the marsh and the surrounding area, the volume of the honking grew, now accompanied by the rustle of wings, as all the little groups of Brent Geese formed up into the biggest formation we have ever seen. As we stood and watched, (with me squeaking 'Oh Wow!' over and over!) an enormous black cloud flew over us, heading inland; at the last moment, calls from another smaller flock heading up the coastline were heard, the big flock simply turned as one and swept them up - safety in numbers - before heading off to the fields for the night. A breathtaking spectacle!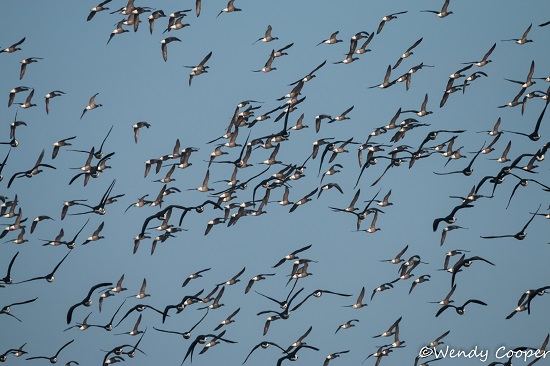 Many of the Brent Geese that visit the Norfolk coast in the winter are from Russia, whilst in more Northern coastal areas and also in Ireland, the Brent that visit are most likely to be over-wintering from Greenland and Norway.
Meanwhile, back on my local patch, Spring was starting to happen, with Bluebells beginning to appear and buds beginning to shoot. There were hints of green about as well as courting activity beginning to be seen amongst the local flocks of Great and Blue tits, territories being declared by the Robins and Wrens and the anticipation of when the first Chiff Chaff may arrive back. Sure enough as March turned to April, a familiar song was heard -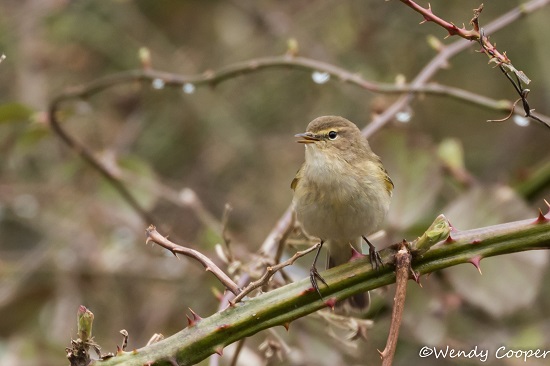 The first, of several local Chiff chaffs had returned from the Mediterranean and was in his usual spot! I could now begin to keep an eye open in the coming months, as there are several little areas along my walk where I had seen them foraging for food for youngsters, would this be a good year? (it was!)
Meanwhile, over in a little pond near the entrance to the woods, the frogs had begun to wake up and arrive for the annual Frog Ball and I spent part of a weekend listening to a froggy choir and photographing them as they chose their partners.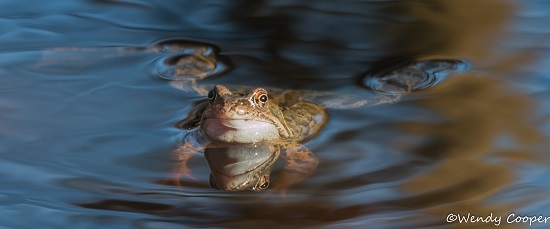 I also had a surprise encounter in the woods in early April, when I saw my first ever Weasel. I spent sometime waiting quietly, after first having seen two bright little eyes peeking at me from a hole under a log, to seeing lunch (a squirrel) being brought in, before getting closer views.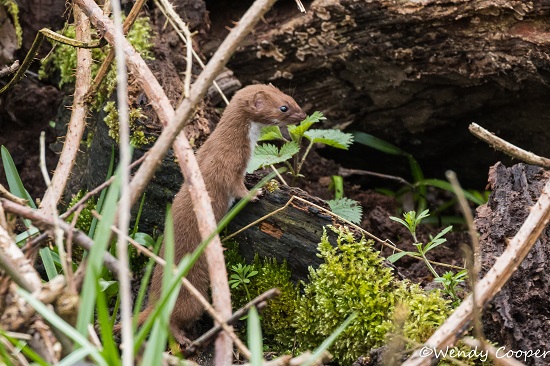 In late April we headed to the Forest of Dean to celebrate my Half Century in the most beautiful surroundings. Whilst out walking I got to see my first ever Willow Warblers, Tree Pipits and Adders as well as a host of more familiar creatures - Ravens, Buzzards, Blackcaps, Mute Swans and Mandarins to name but a few, although I still have Peregines on my wishlist for a future visit - will 2016 be the year I wonder?
A few days before my birthday, I had the best two minutes and sixteen seconds of utter wonderment, whilst we watched a Wild Boar Sow foraging with four youngsters.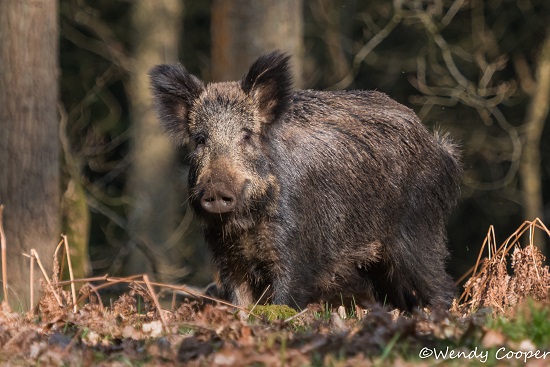 It is wonderful to see these animals and whilst I appreciate that they are not the tidiest in their foraging habits, they are no threat to us and maybe they can teach us a thing or two about living alongside our natural neighbours.
Back at home I had started to hear the song of a favourite but elusive bird, the Blackcap.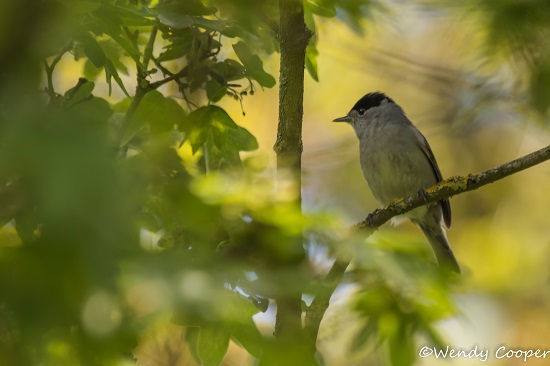 In 2014 I had caught a glimpse of a few, however this year, I heard at least four males singing from deep within the trees. On my local walks it was lovely just to stop and be serenaded by these and the other songbirds as they declared their territories or called for a mate.
In June we had a short trip to Suffolk where I finally managed to dispense with my theory that Cetti's Warblers were movement triggered tape recordings - I had always heard them but had never actually seen one... Anyway, during a stroll back from the Island Mere hide at RSPB Minsmere, I was finally able to see for myself - a small brown bird watching me and singing that distinctive chorus with a twinkle in it's eye!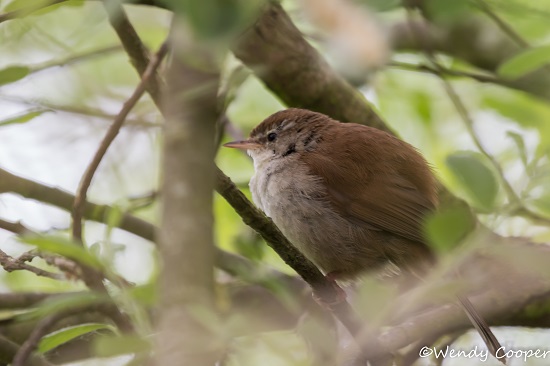 We also spent a quiet Sunday morning in the Wildlife Lookout, where, despite drizzle and gloom, we had close up views of a Marsh Harrier and I managed to capture one of my favourite images of of an elegant Avocet quietly feeding away.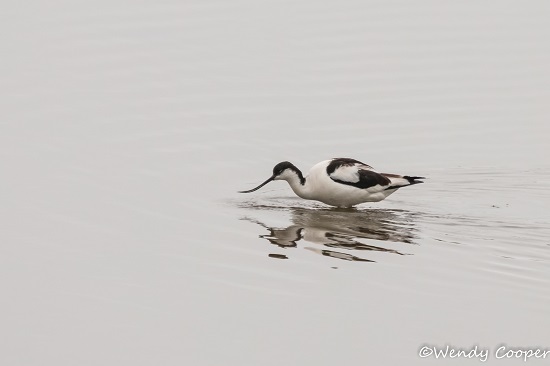 We returned to Suffolk in July for a short summer break and one morning I kept a promise to myself to get up REALLY early and go for a walk along Dingle Marsh. I was not disappointed - it was just me and the birds - Little Egrets, being serenaded by two beautiful Skylarks, Oystercatchers chattering as they flew past, the occasional Gull floating along on the breeze and a chorus coming from the reeds.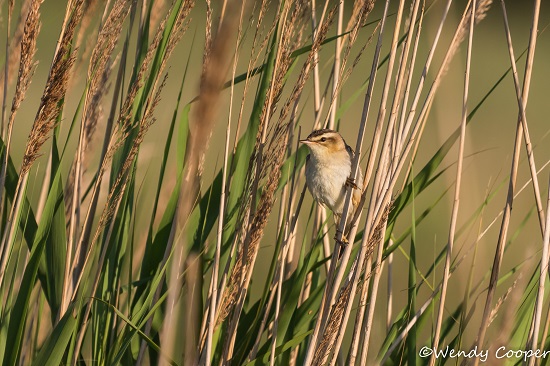 While I was watching the reeds carefully, the singers popped up to see if anyone was listening and I had some lovely views of Sedge Warblers and Reed Buntings. It was a magical start to our day!
We had a beautiful few days around the Dunwich area and plenty of exploring was done with many old favourites seen. On a walk around Dunwich Heath, where we saw plenty of Dartford Warblers doing that 'peek-a-boo' thing, we were treated to seeing a pair of Woodlarks running along the path in front of us. We managed to watch them carefully from a distance as they were foraging for food which was being taken back to a nest, so whilst delighted, we didn't want to disturb!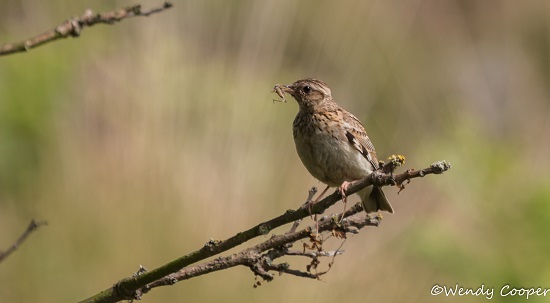 Later that evening, we also went to Westleton Heath, where much to my delight, not only did we listen to the churring of the NIghtjars, I also caught a brief glimpse of one in flight.
On our return home, I frequented my local patch through the summer months, watching and walking amongst the butterflies as they appeared. The first were the Meadow Browns and Ringlets, followed by Small Tortoiseshells and Peacocks, with the occasional handsome passing Brimstone and then the Gatekeepers and Whites. On one particularly warm summer evening, I recall standing on a 'rabbit-run' path through the tall grasses, surrounded by fluttering butterflies as they went about settling in the last rays of sun for the night. Magic!
I also had a few first's in my butterfly spotting sessions; I have something of a soft spot for the tinier butterflies, particularly the Lycaenidaes - I've watched Common Blues and Brown Argus with delight on the local patch over the past few years and so I was dancing to say the least, when I got to see three 'new' to me over the course of the summer: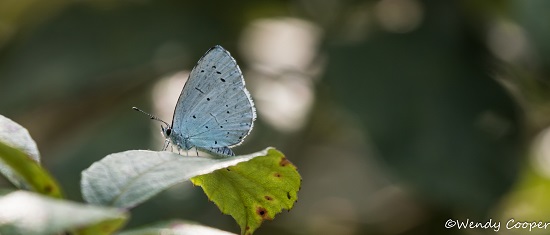 The first was the Holly Blue, which once I'd spotted one, seemed to be everywhere! It also explained to me why there were tiny dainty blue butterflies fluttering around the garden, when I only expected to see Brown Argus and Common Blues on patches of grassland!
The next were Small Copper butterflies, I'd seen one years ago, when I'd not a clue what I was seeing, but this year,

after carefully walking into the taller grassy areas, I was able to watch a few at close quarters either feeding or maintaining their territories - wonderful little characters!
The biggest surprise of all was one Saturday morning, when I was alongside a bank of brambles which are overhung by oak trees.
After I'd gone through my books, I learnt that there is a whole other world of creatures up in the tree canopies (well more than I'd realised anyway - the more I learn, the more I realise I don't know!) including colonies of butterflies. Not just any butterfly, mind, but a Purple Hairstreak. Now I've never seen ANY kind of Hairstreak butterfly before, so there was dancing and a crick in my neck for the rest of the summer as I peered intently upwards at the trees!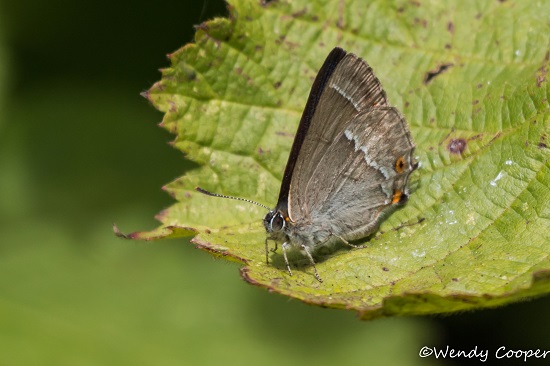 On a few unseasonably warm weekends in the Autumn, I also discovered a colony of Common Lizards on my local walks.

Now I've walked past 'their' log many a time without seeing anything, but a few happy hours were spent crouching in the sunshine watching the adults and youngsters darting about or basking. I shall definitely be keeping a look out for them next summer!
Autumn was rather quiet on the home front, it stayed very mild and the flora and fauna all seemed a little confused! Suddenly in late October, all the colours began to appear.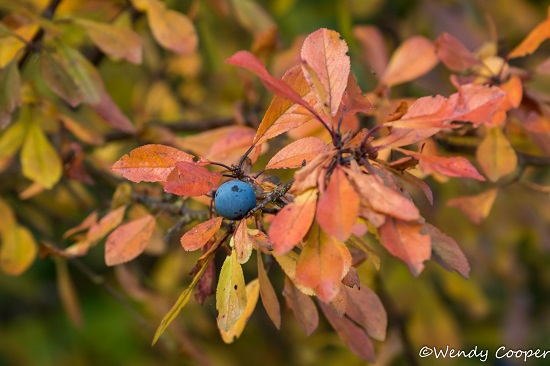 The abundance of fruit was also surprising and I was very surprised to still see numbers of Comma butterflies out and about in late October / early November.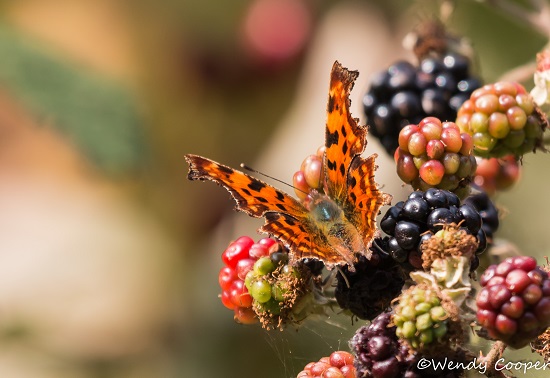 That said, they were all very fresh looking individuals, which were making the most of blackberries and other late blooms to nectar upon, whilst the local birds were taking advantage of the berries and seeds. One morning, whilst out and about I even saw a few Siskins amongst a flock Chaffinch and Goldfinch, busy feeding away - I have not seen any in the local area for a good few years.
To round off my year, I had a day out in the Cambridge area during the Christmas break. Now usually I will take 'pot luck' as to what I see when out and about, however, I had a wish to see Short Eared Owls - I had seen so many beautiful images of them I was curious to watch them 'in the feather' so to speak.
I had time for a little wander before reaching the area that I hoped to see the owls at. Whilst walking, I was not disappointed, I had some lovely views of Fieldfares, which I've not really seen 'properly' for many years.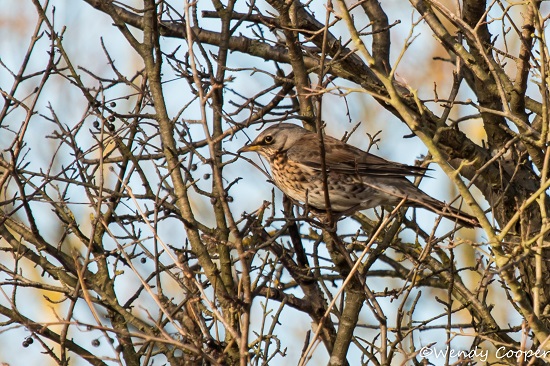 I stood for quite sometime, watching their acrobatics within the branches as a small flock feasted on assorted berries. They are agile for quite big birds and certainly blend in well with their surroundings.
As I continued my walk I also had a private audience with a hunting Male Kestrel and spent quite a while watching and marvelling at his flight skills - holding a spot despite a very strong breeze!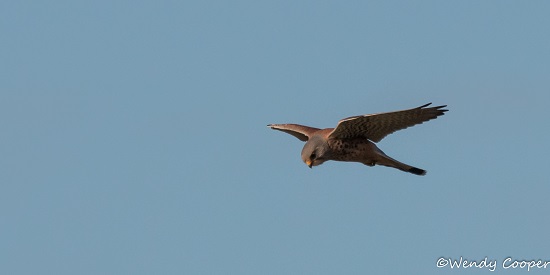 I still do the 'count the Kestrels' thing on most journeys, so I was mesmerised watching this small bird of prey at fairly close quarters going about his business.
Whilst I was waiting for the owls to appear, in the surrounding fields I also saw Roe deer, a crazy looking Green Woodpecker and spent some time delighting in watching flocks of Lapwings and Golden Plover as they flew up and around.
Towards the end of the afternoon, a cry of 'Owl' went up from one of the other Birders and to my delight I got to watch two of these beauties begin their evening hunt.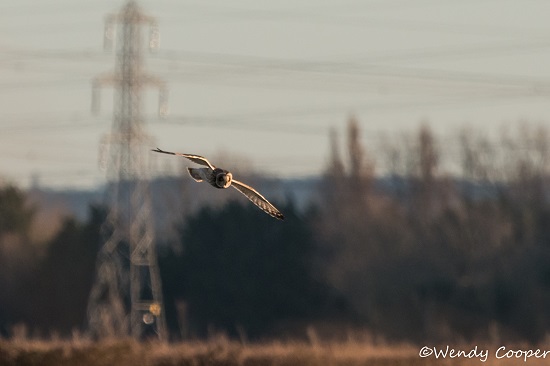 To say I was a little excited, would be an understatement - just about managed to keep control of the camera - but they are beautiful birds and needless to say, I will be off to watch them again as soon as I can, as well as have a further explore of the surrounding area - there are other residents as well as the Owls!
So as the sun sets on 2015, I have some wonderful memories of and total delight in what I've been able to see. I also realise just how much more there is out there to see and how much more I have to learn!
Here's to a Happy and Healthy 2016 filled with wonderment to all of you!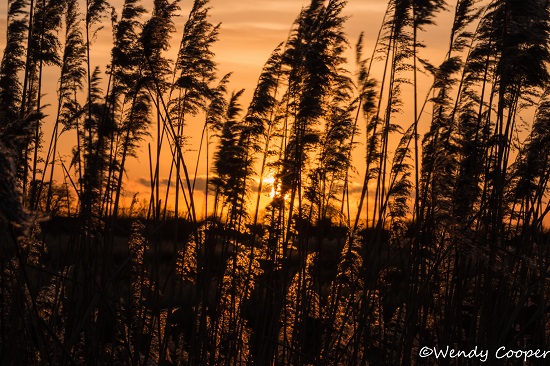 I hope you have enjoyed my blog, if you would like an email notification when my next blog is published, please add your email address to the 'Sign Up' box below.
As always, comments, feedback or questions are welcome, so please feel free to contact me via the comments section below or via the guestbook.
Comments