Forest Magic
28/04/2019 - 15:03
Forty three Red Kites, fourteen Common Buzzards and seven Kestrels… The journey passed quickly and we had arrived for a week of Forest delights and magic moments…
Our first stop was RSPB Nagshead for a gentle stretch of the legs after being cooped up in the car. We wandered along towards the Lower Hide, after being greeted by a Blackbird by the pond and watching a Mistle Thrush preening high up in the trees.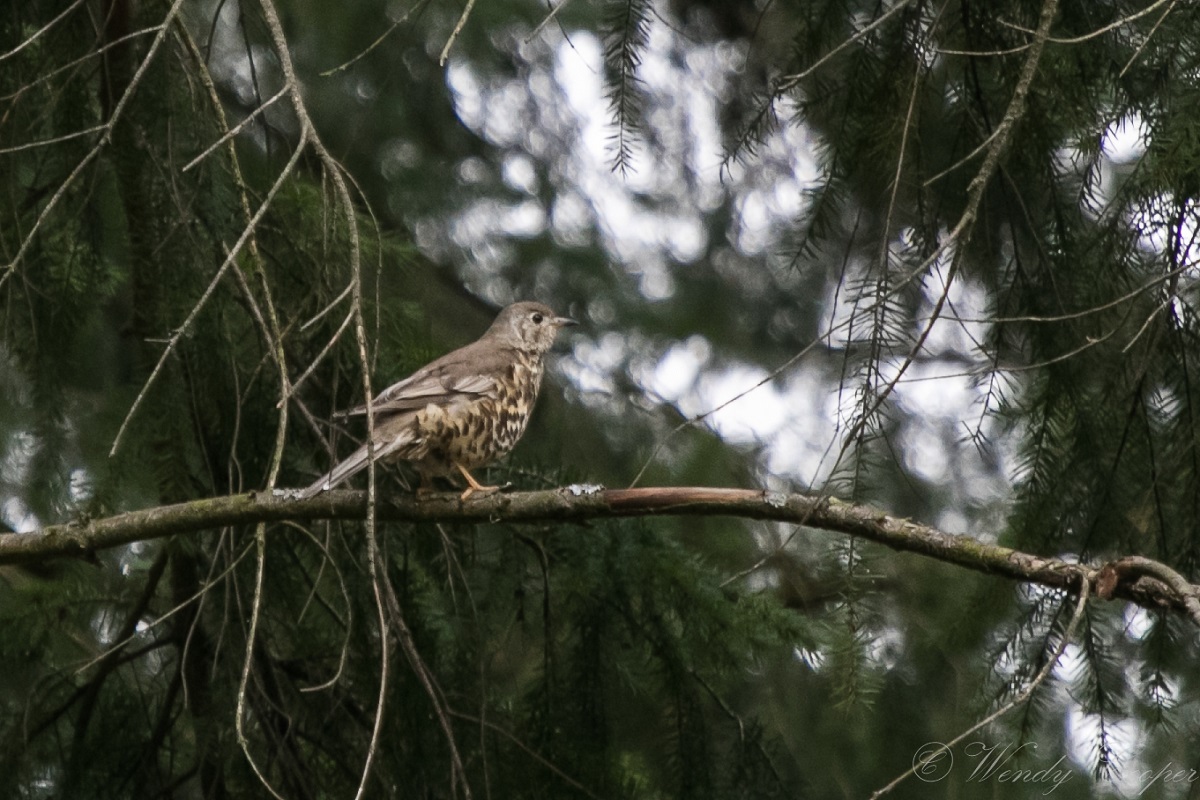 Once settled at the hide, we watched a Nuthatch busily foraging in the big Oak, Robins, Grey Squirrels and Grey Wagtails making use of the pond and then could see a small bird swirling around the branches of the tree in the middle.
After watching for a while, we realised it was the Redstart and we watched him flitting between the island and a tree on the bank for some time before he came and settled briefly right up in front of the hide.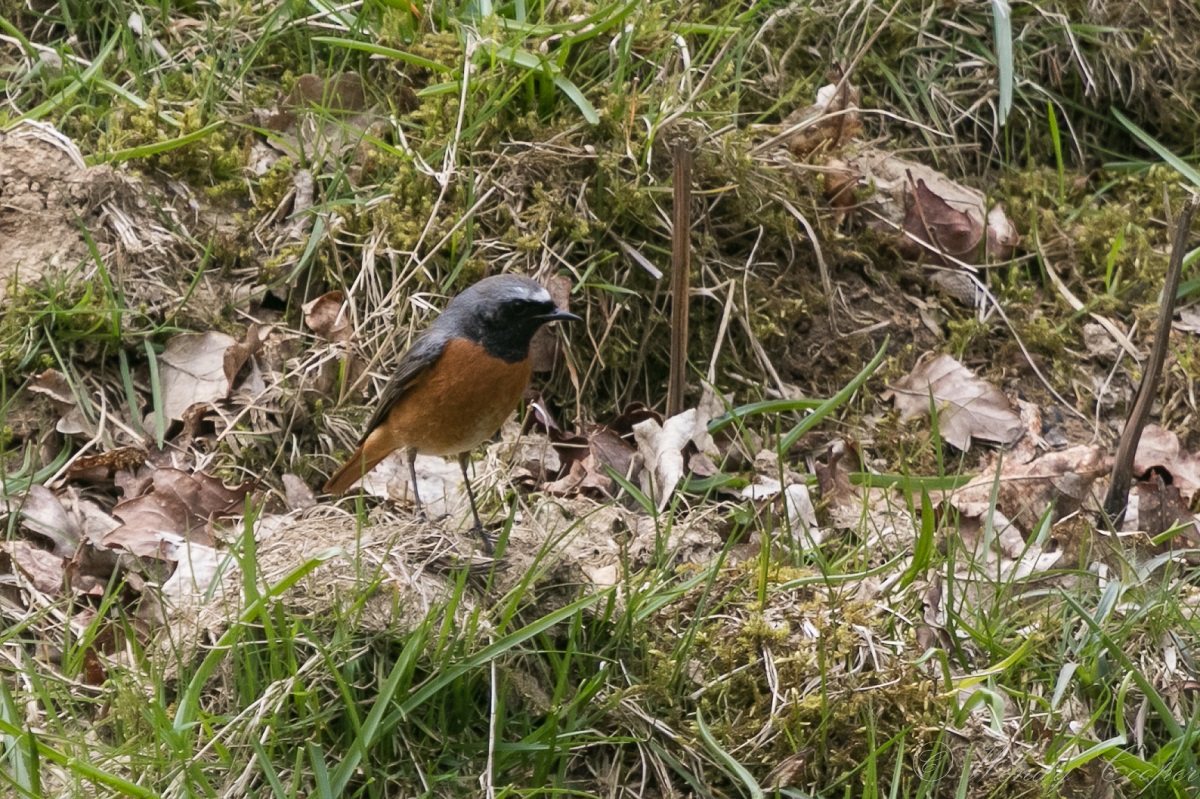 As we wandered back, I was admiring some of the blossom when Hubby quietly beckoned. We watched delightedly through the trees as a Wild Boar Sow was contentedly rooting, unaware of us.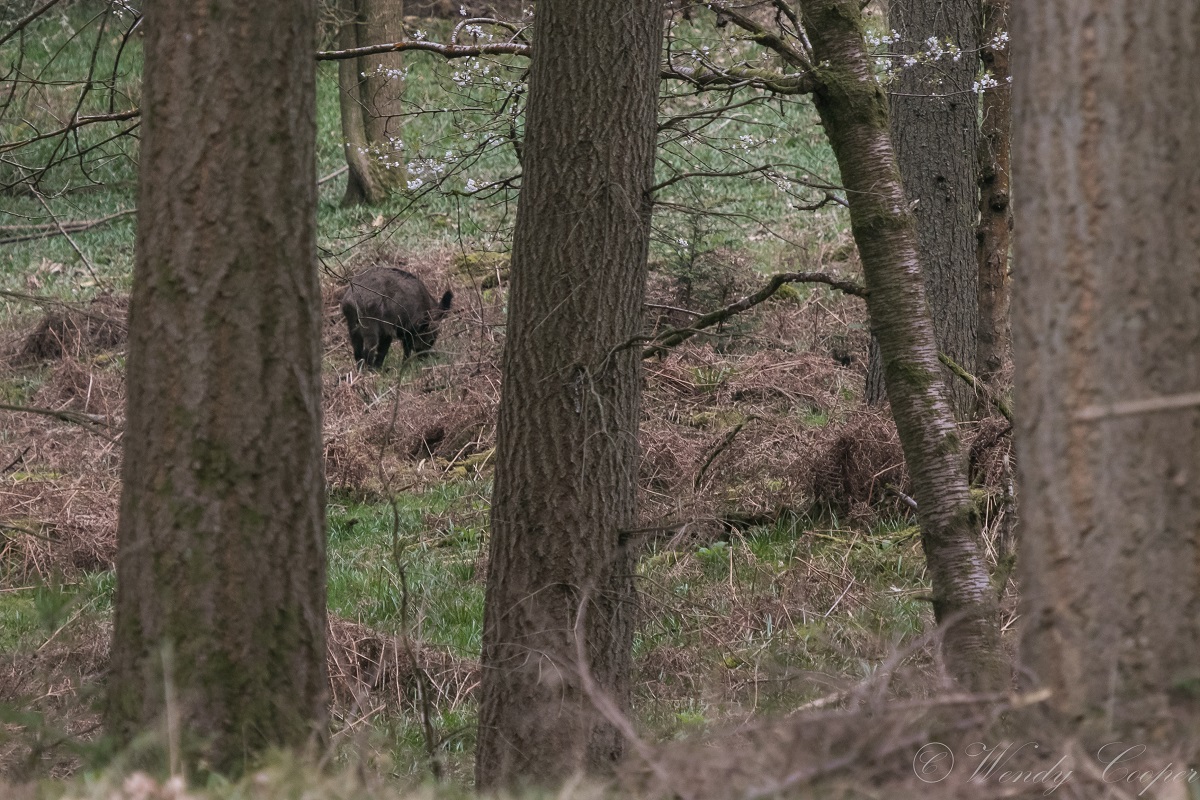 We watched as she disappeared under the conifers, with youngsters appearing out of the bracken and following her.
Next morning, I met up with a good friend for a 'see what we shall see' wander off the paths in the Forest – whilst there are never any guarantees with wildlife, we were hoping for a little more success than on our wanders last year; you may recall I have a bit of a soft spot for Wild Boar and when we are in the Forest, we always hope to watch them. This time of year, the Sows are busy raising youngsters and are often about during daylight with hungry mouths to feed.
Our first encounter of the morning were two surprised looking Fallow Deer, who watched back;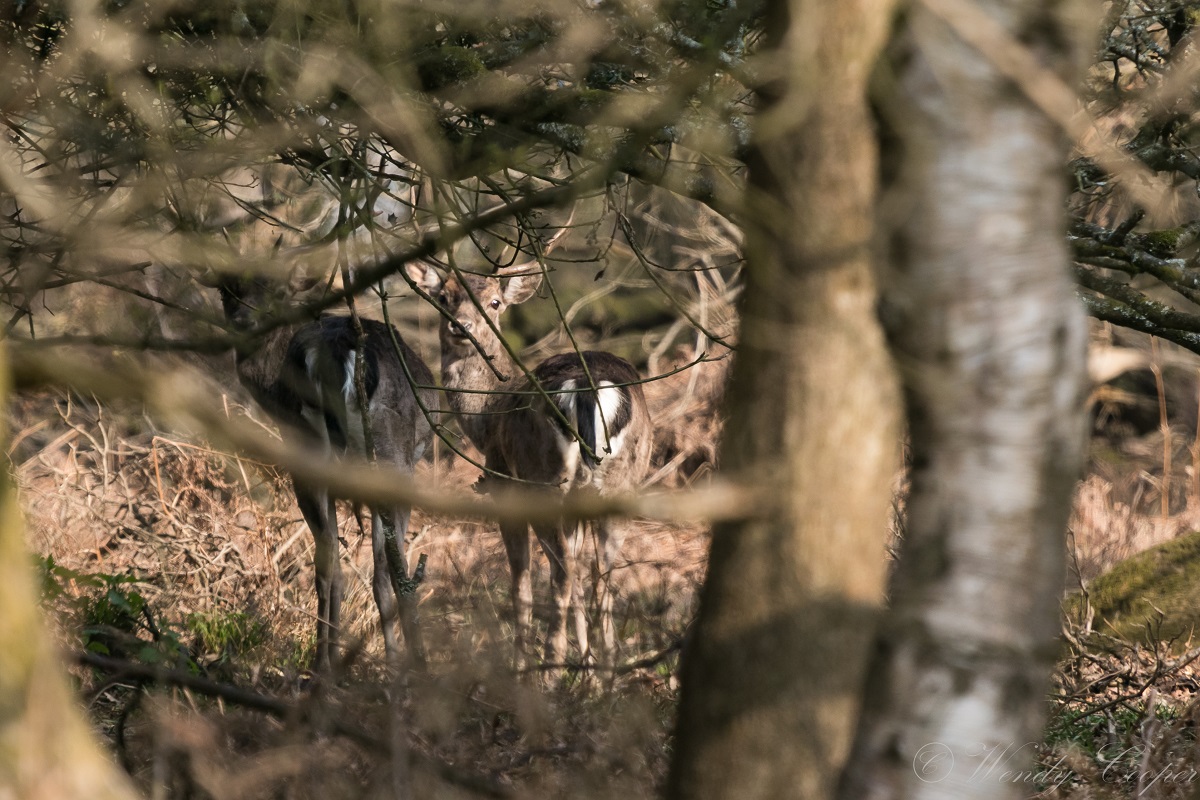 then appeared to have a short conflab and morphed back into the trees. We wandered on and after a while heard a squeal. Treading as quietly as we could through brash and peering through branches, we didn't see them, however, after completing a bit of a loop, damp prints across the track in front of us confirmed that the Boar had outwitted us and chosen a different spot to forage!
Not disheartened, we moved on to a different part of the Forest which was well and truly 'off the paths', there is definitely an art to walking quietly through old bits of tree and in my case in not falling in every streamlet or ditch going! As before my friend pointed out to me various field signs and told me about behaviours that he had observed; after a while, he spotted something on the edge of the trees so we both knelt and watched…
First a Sow that was foraging unaware of us,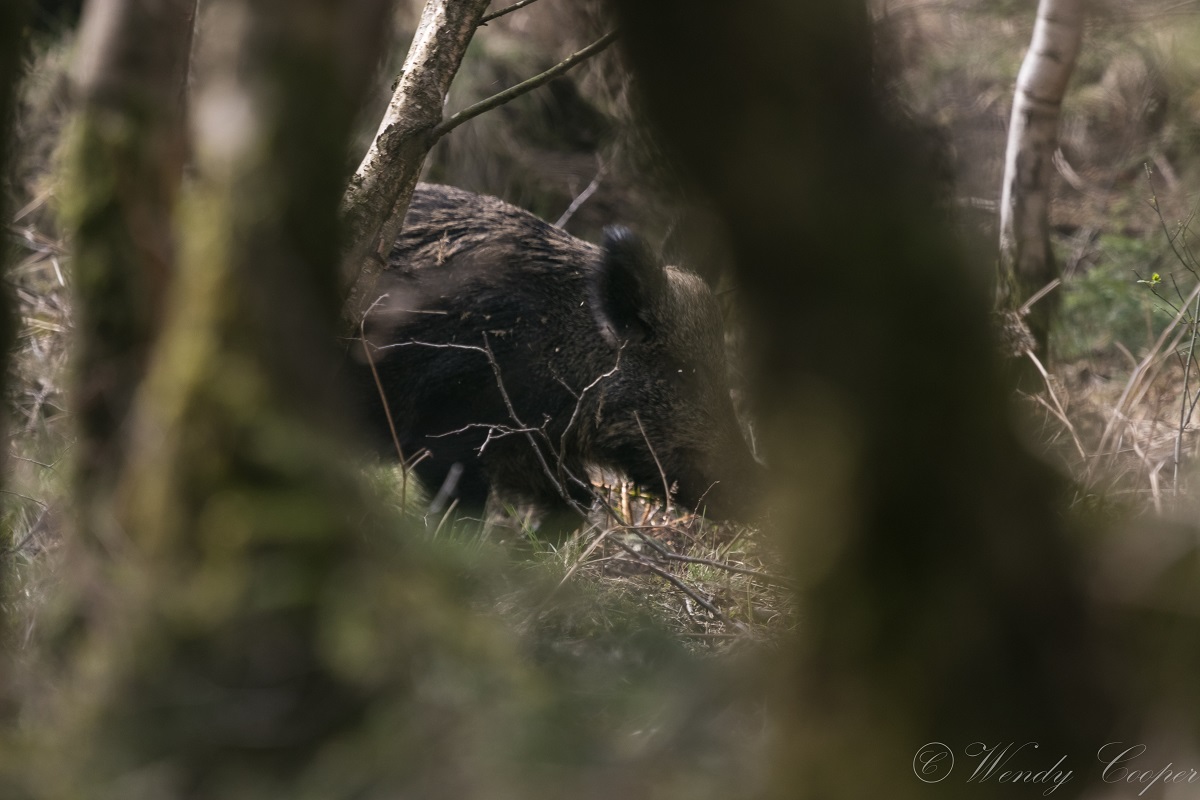 then looking closer through the trees we realised there were youngsters also rooting along.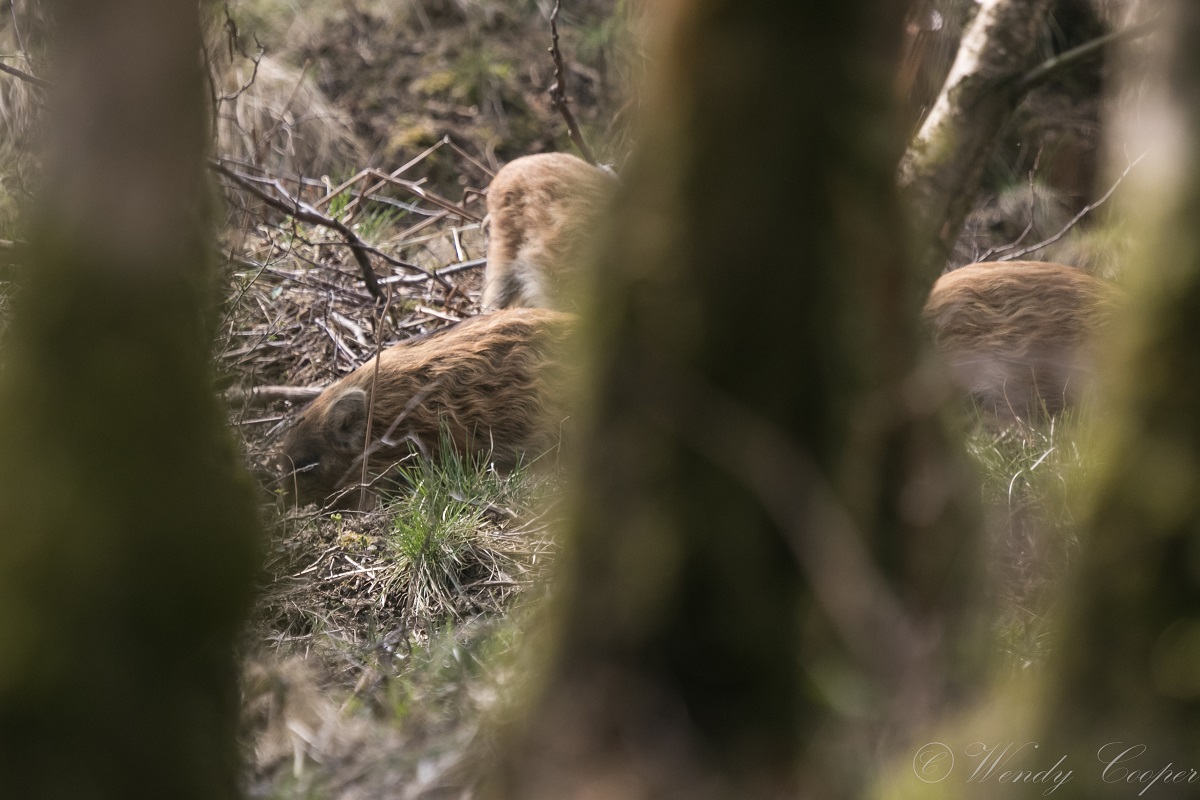 I will say here, that the best photography does not always reflect to the best wildlife moments. Watching two completely Wild Sows and several youngsters from some distance away, undisturbed or aware of us, going about their business, was absolutely magical.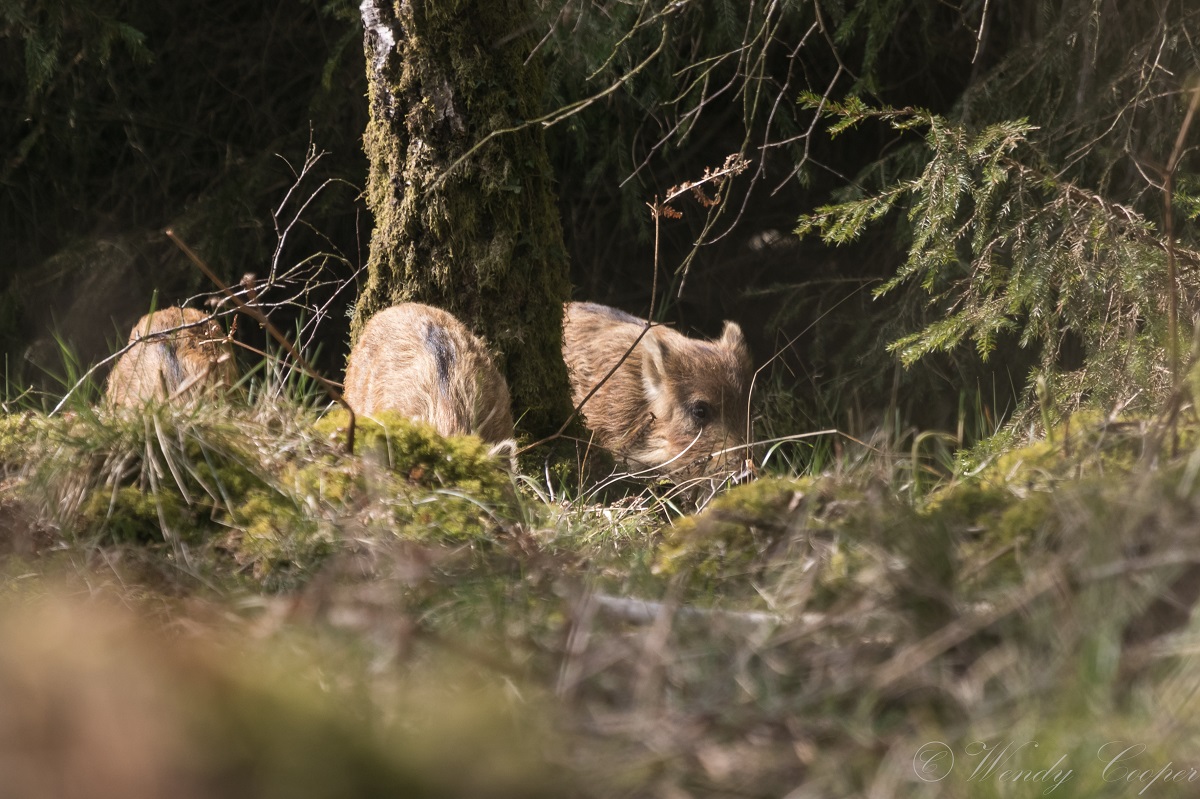 We watched for some time until they meandered off under the trees and out of sight.
Continuing our wander, by now with silly grins in place, we saw the same small Sounder again crossing the track, whilst we waited and watched with a chap walking his dog (the dog was on a lead and under control) before continuing our walk back into the trees.
We eventually came to a small clearing, full of old bracken when suddenly I saw some little legs through the vegetation in front of us, we both dropped to the ground and stayed quiet, rewarded with a very close view of the owner of the legs.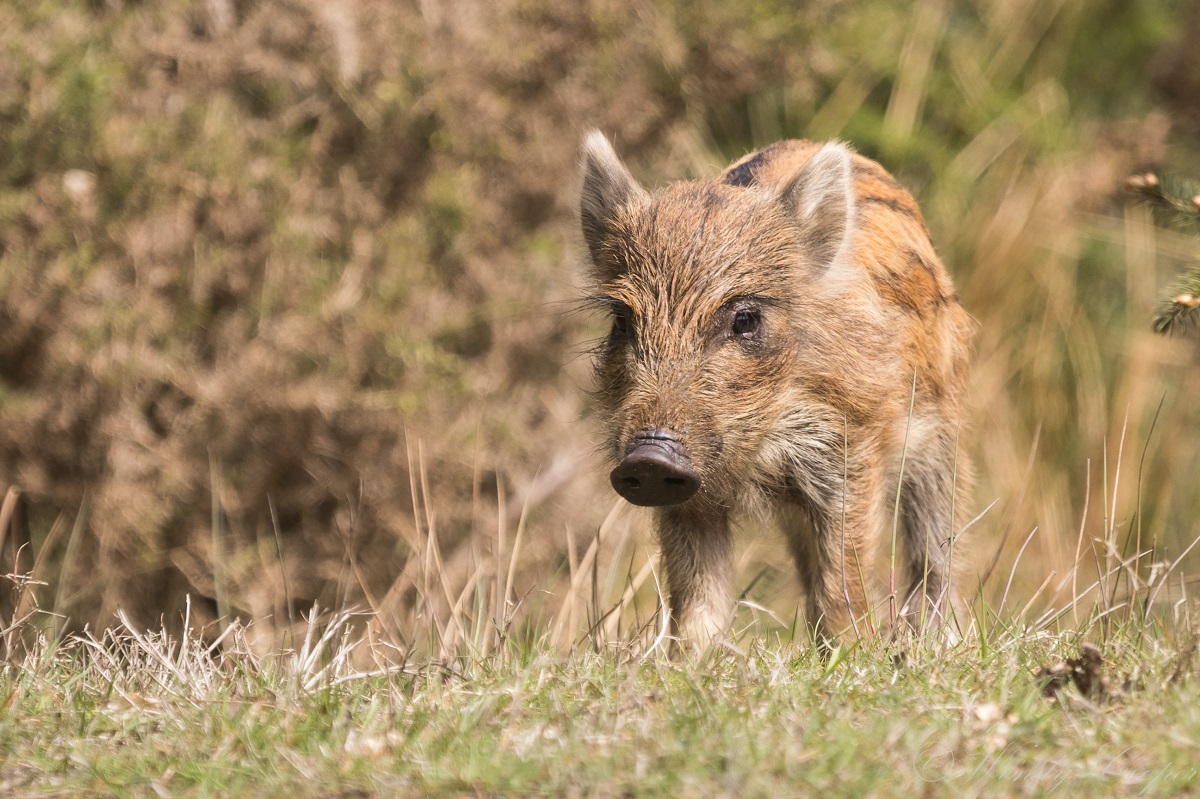 He looked around for a moment, before picking up our scent on the air – the breeze was not particularly in our favour as it was swirling around a bit – after having a good sniff and peering at two crouched blobs (us) he did a few more sniffs and then wandered back into the undergrowth to Mum…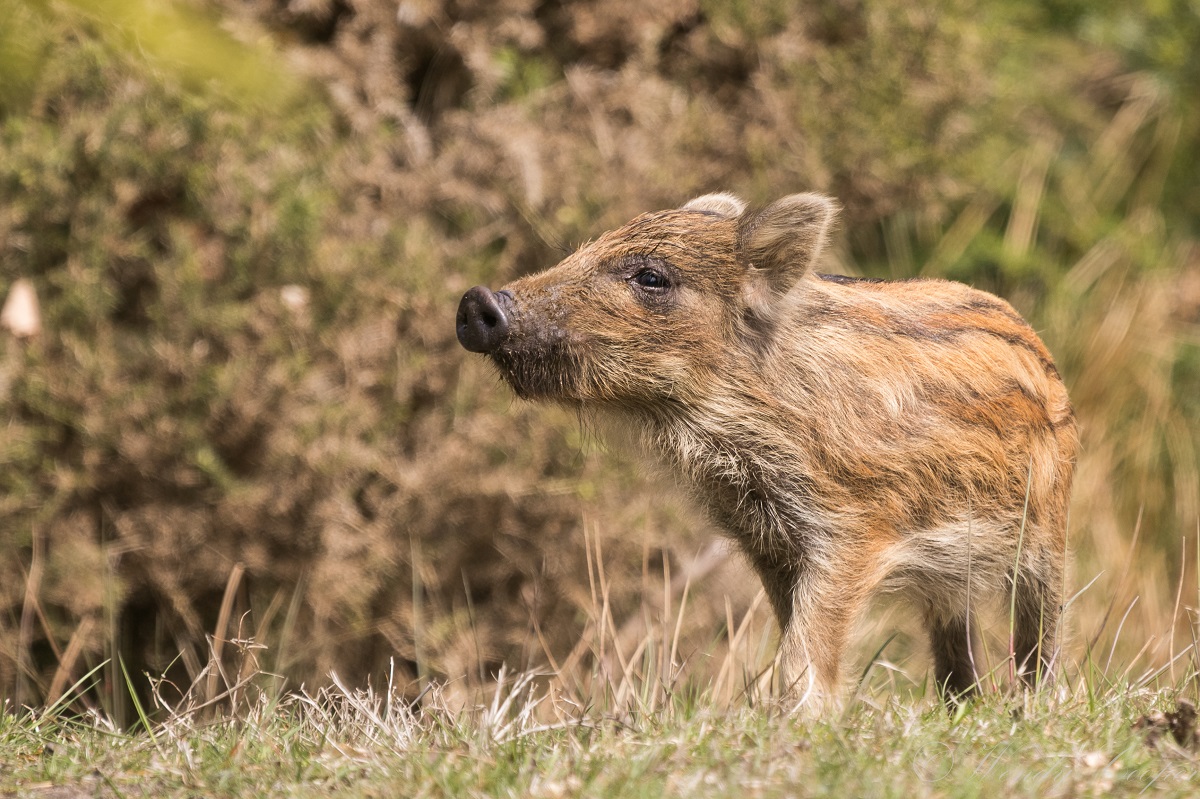 Both of us had even bigger silly grins at this close encounter – absolutely magical watching a youngster being suitably cautious and curious but not being panicked by our presence.
After a bit more of a walk, where we could see the members of the Sounder moving around in the undergrowth, we left them to continue their day, still undisturbed.
To round off our stroll, we stopped off for an entirely different encounter – a bird this time – when we arrived there was no sign, so started to chat, then glancing along the brook we saw a Dipper, perched on a rock and having a time-out moment.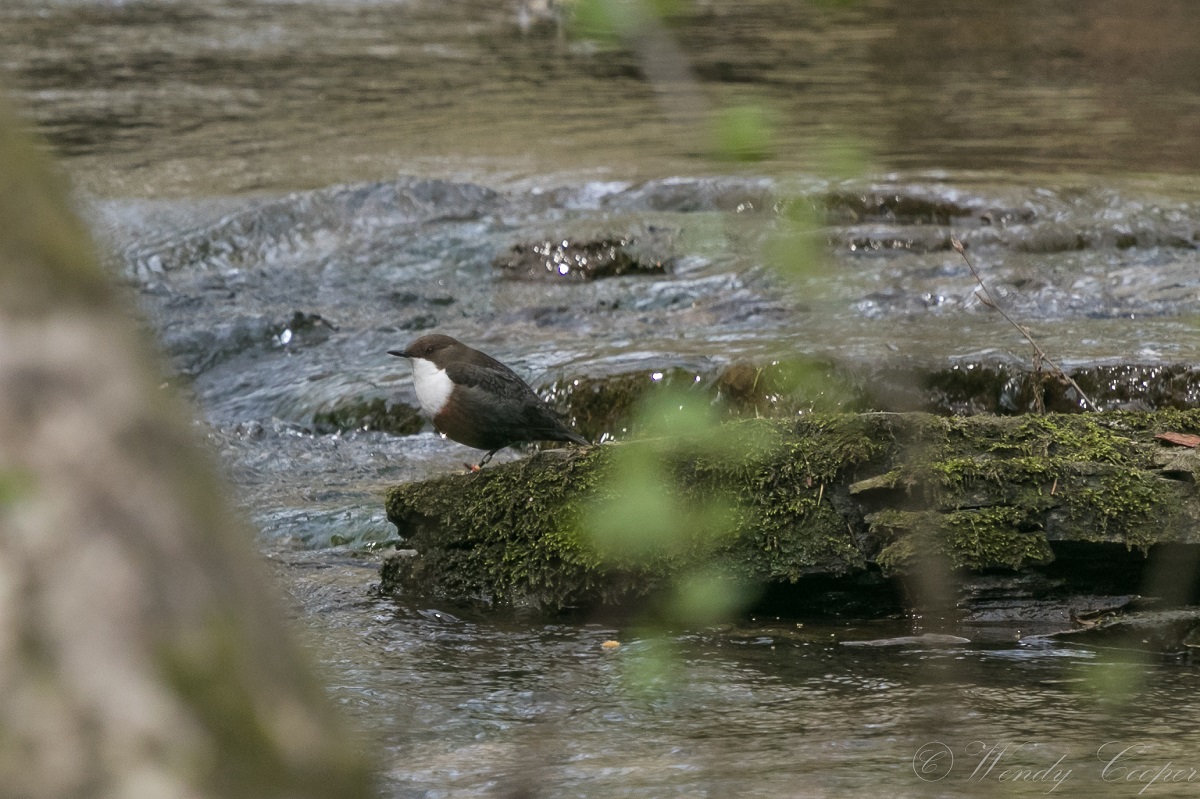 Later in the afternoon, Hubby and I returned to Nagshead and to the hide. This time we watched a pair of Mandarins and Great Tits bathing, however the Redstart was away on other business. Once more we were able to watch the Sow through the trees as she foraged for supper. On our drive back to the hotel we also paused to watch a small herd of Fallow Deer grazing at the edge of the Forest.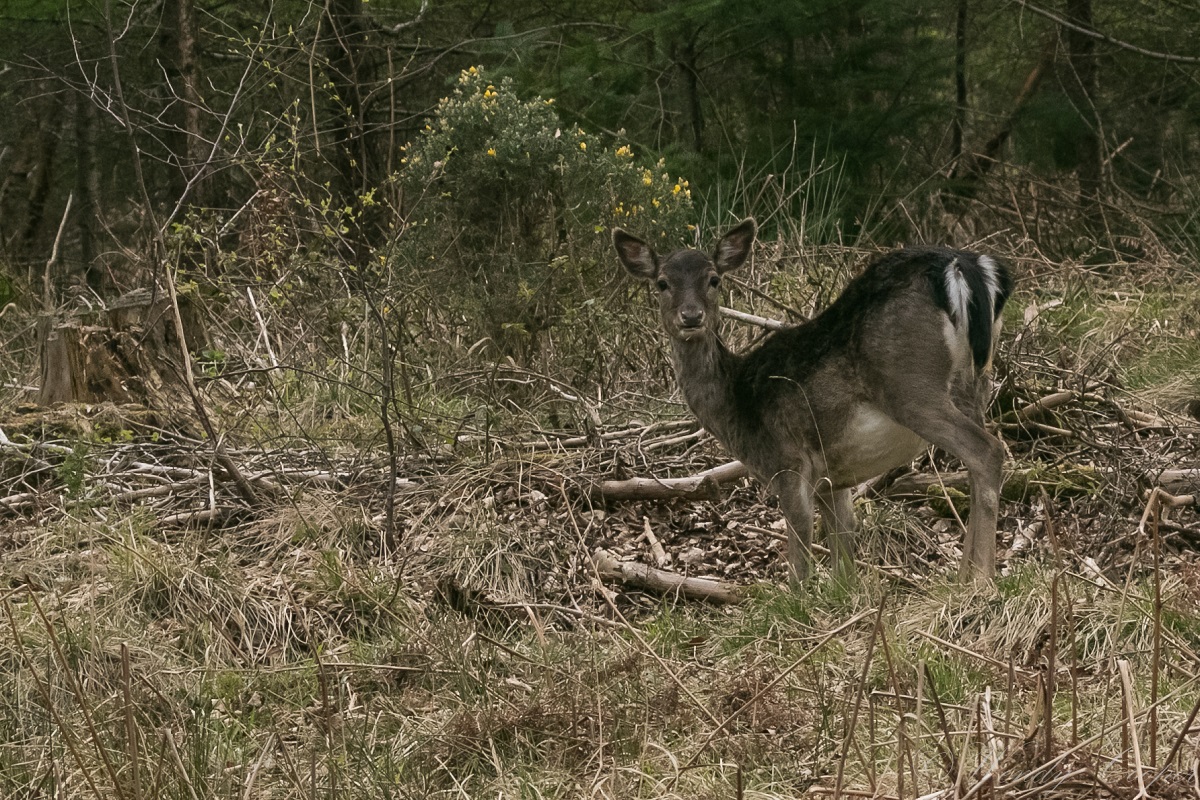 We woke to a damp morning, but decided that there is no such thing as the wrong weather, so waterproofed up we set off for a stroll, first at Wenchford, where a fleeting glimpse was had of a Dipper as well as a serenade from a damp Robin.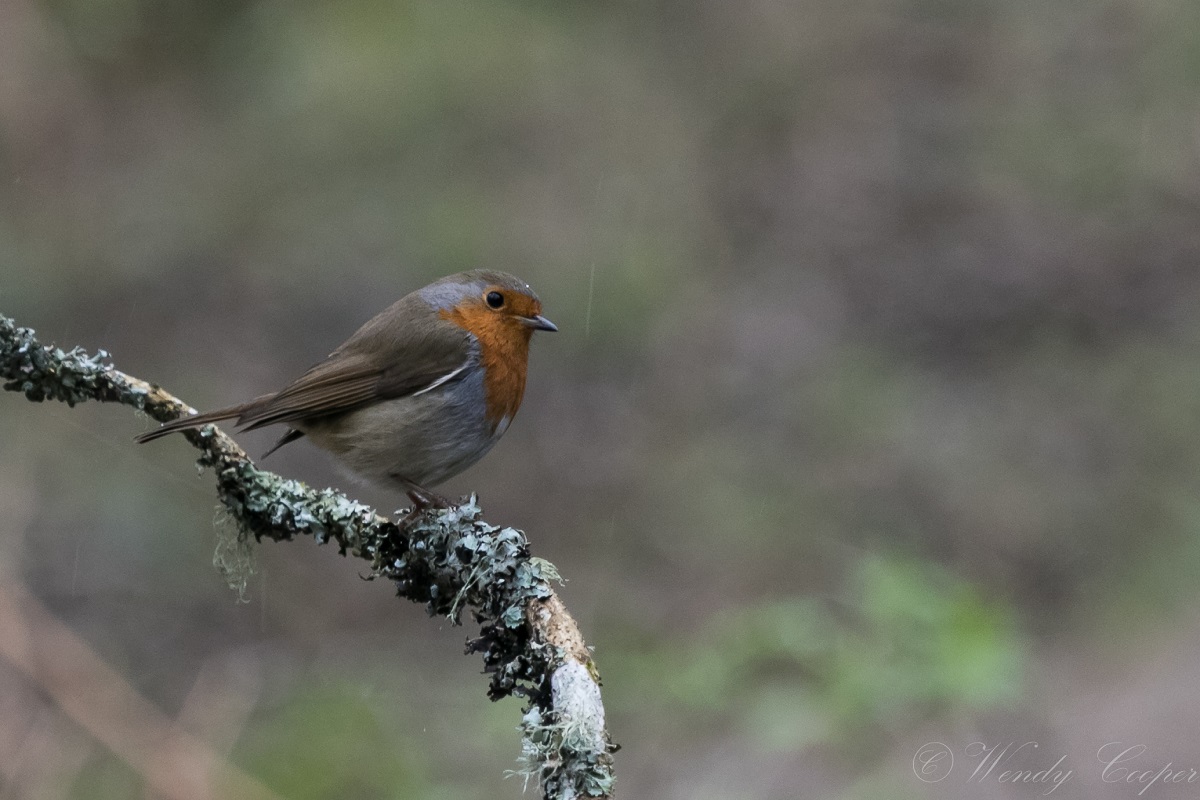 We then had a short walk at Cannop where the Mute Swan was on her nest, whilst the Cob patrolled the waters nearby.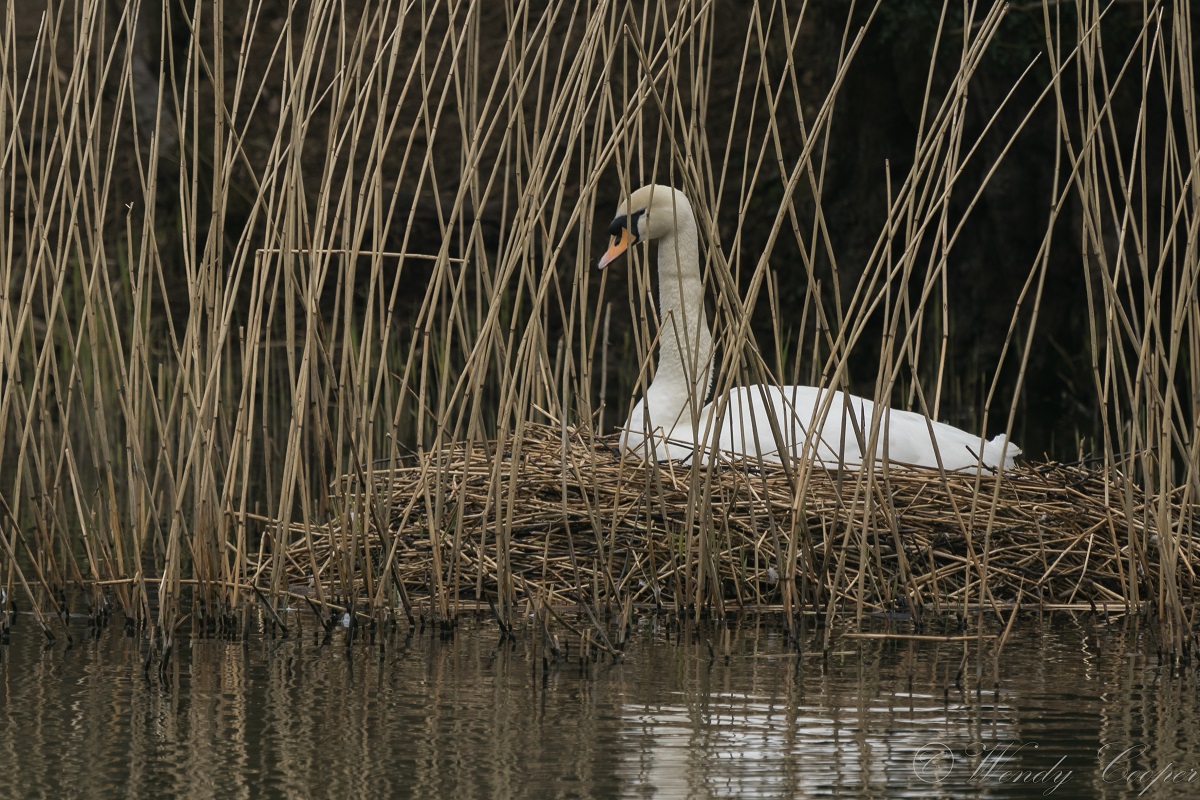 There were a few Coots about, a rather vocal Little Grebe as well as a number of Tufted Ducks and Mallards.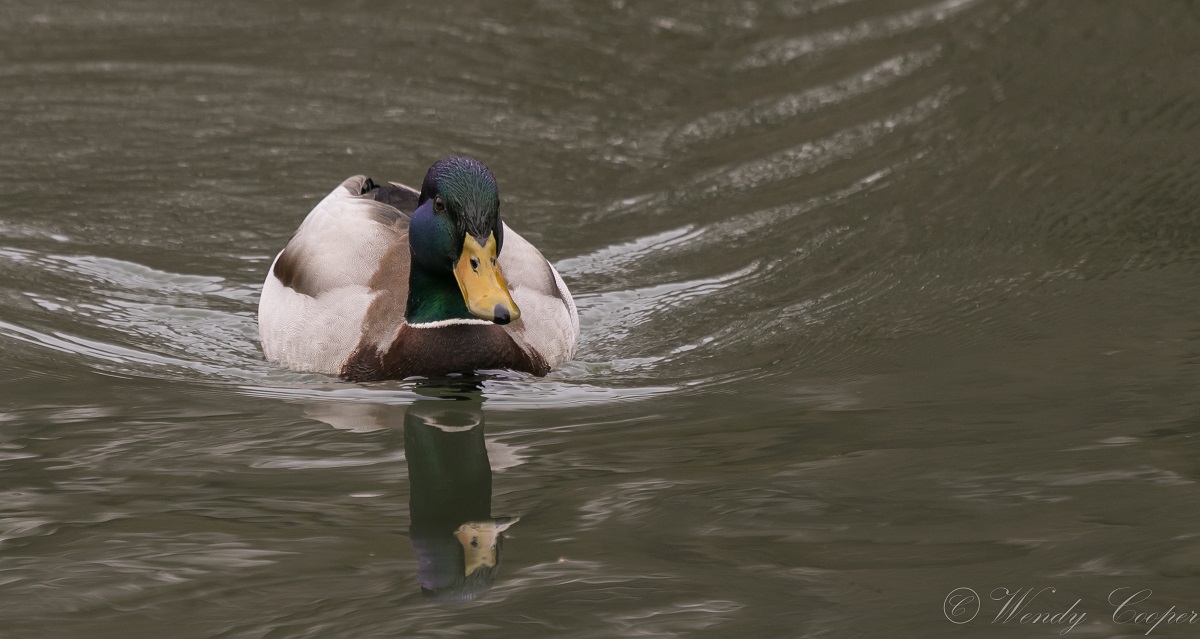 Despite the dull weather, the birds were in full song and after watching a singing tree for a while, I was rewarded with not only several serenades, but also some lovely views of a smart Male Blackcap.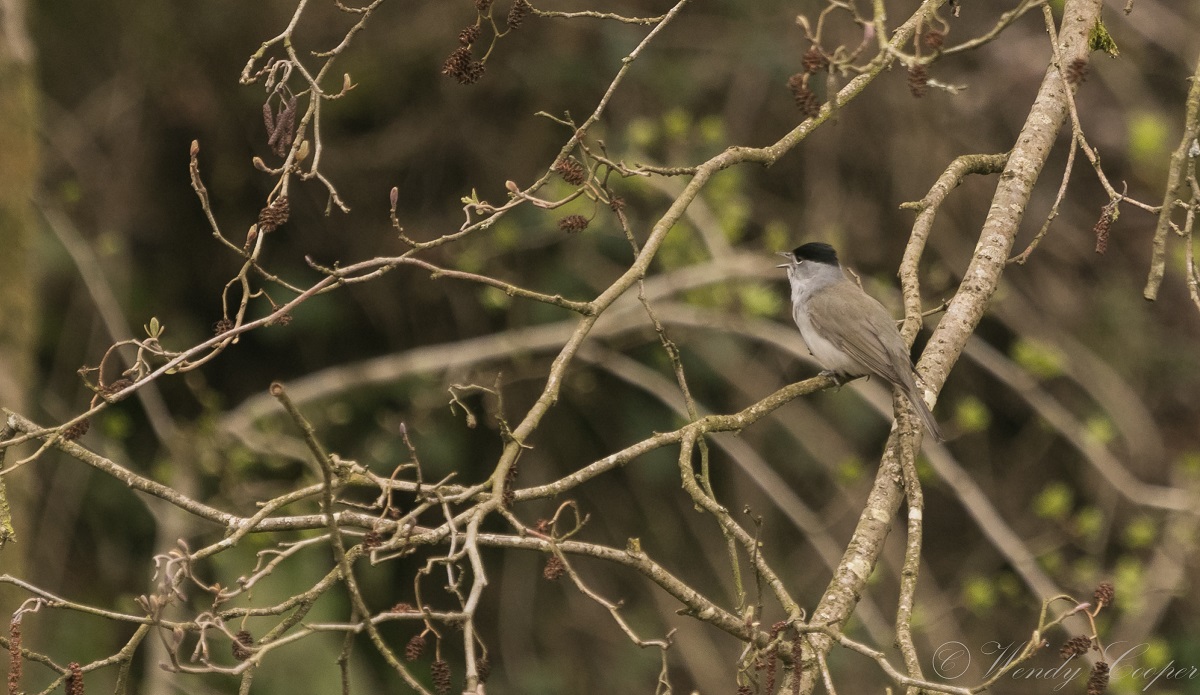 After lunch, we had a wander at a nearby nature reserve. As soon as we left the car, hearts were lifted by the chorus of birdsong we could hear – Willow Warblers, Wrens, Chaffinches, Great Tits and the chatter of Blue Tits, in fact in all the places we wandered, it was a feast for the ears!
Wandering past gorse, we could see Stonechats and a Tree Pipit perched, whilst further on we watched and listened to a Great Spotted Woodpecker, perched precariously on the slenderest top branches of a spruce.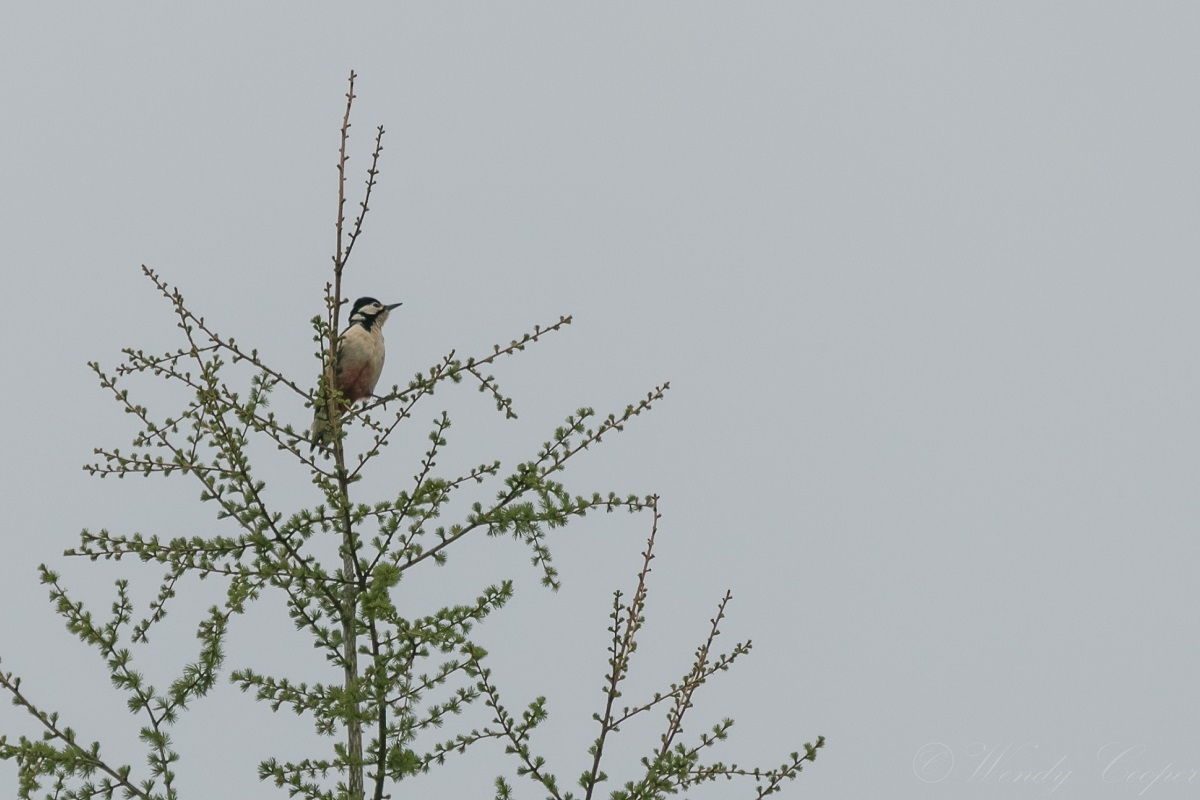 As we turned to wander up the hill, there were silly grins as two familiar shapes crossed the path.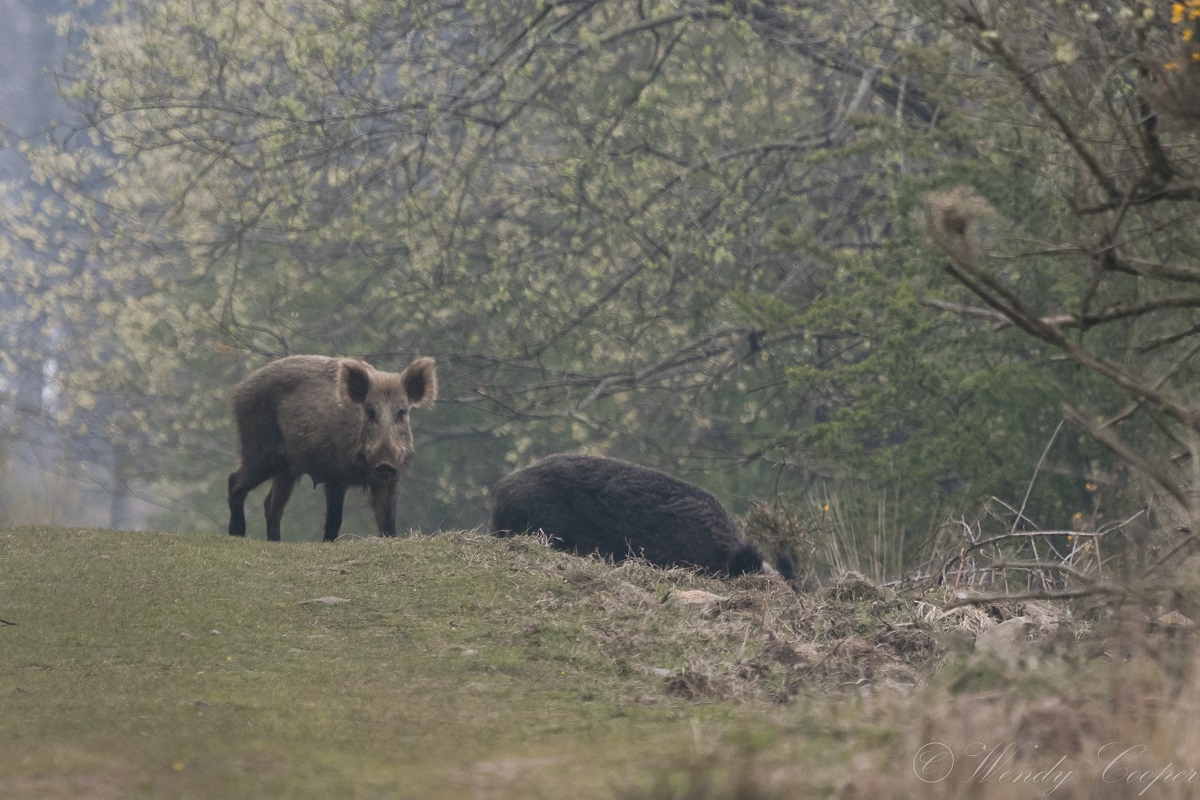 There was a group of Wild Boar. We quietly walked up and stood some distance away (these are large crops) and watched as they crossed the path and rooted around, ignoring us. Wonderful natural behaviour to observe.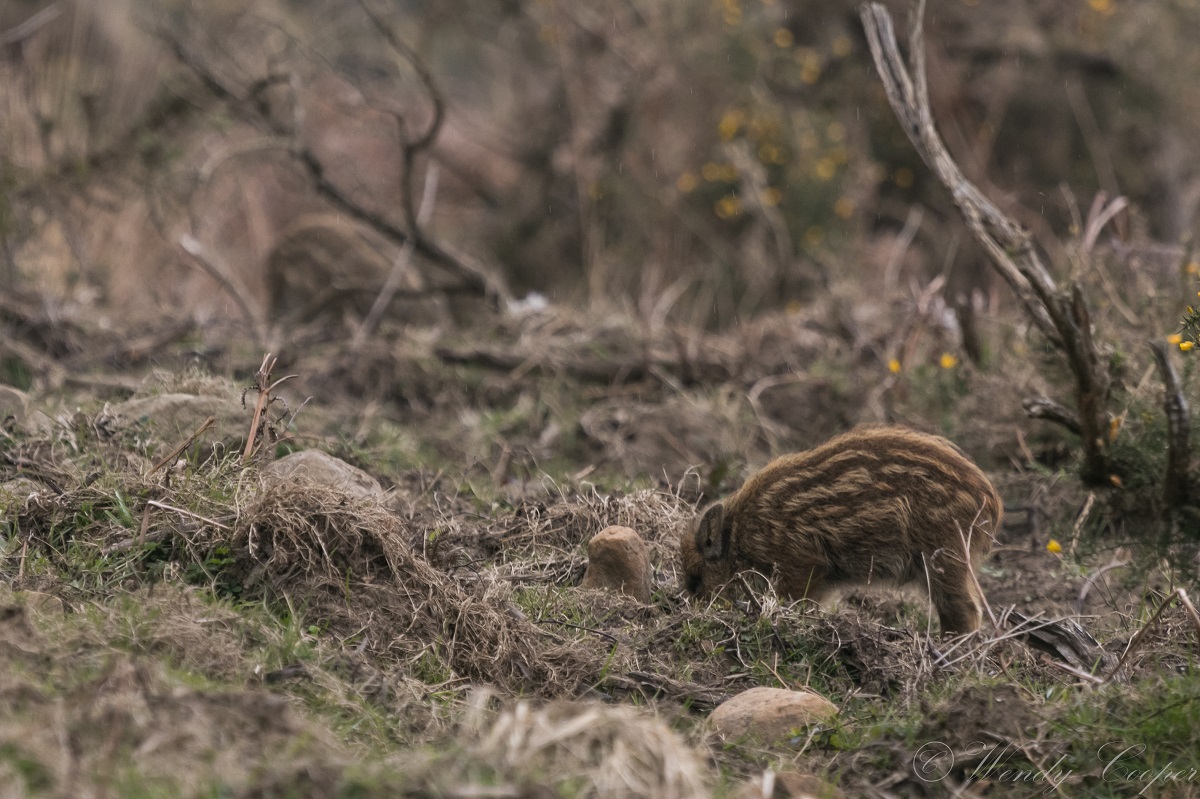 After a while, I wandered a tiny bit closer and one of the Sows worked out what I was, however there was no charging or panic, simply a disgusted snort and she gradually encouraged the other Sows and youngsters to slowly root in a direction away from the path. (for heaps more information about Wild Boar behaviour there is a very helpful website here )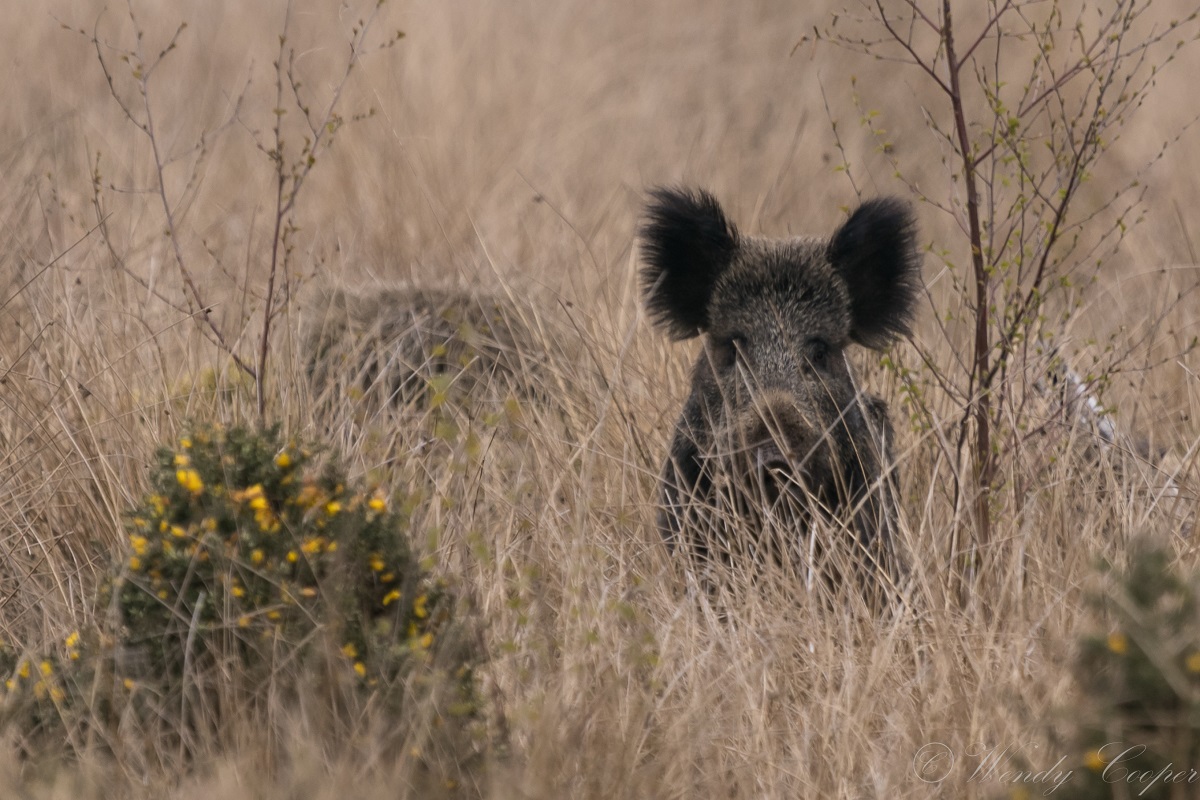 Continuing on our wander, we watched the Dartmoor Ponies grazing – a recent introduction to the reserve and I spent some time watching a pair of Willow Warblers having a 'sing off'. High above a Common Buzzard circled, then observed us from the tops of the trees.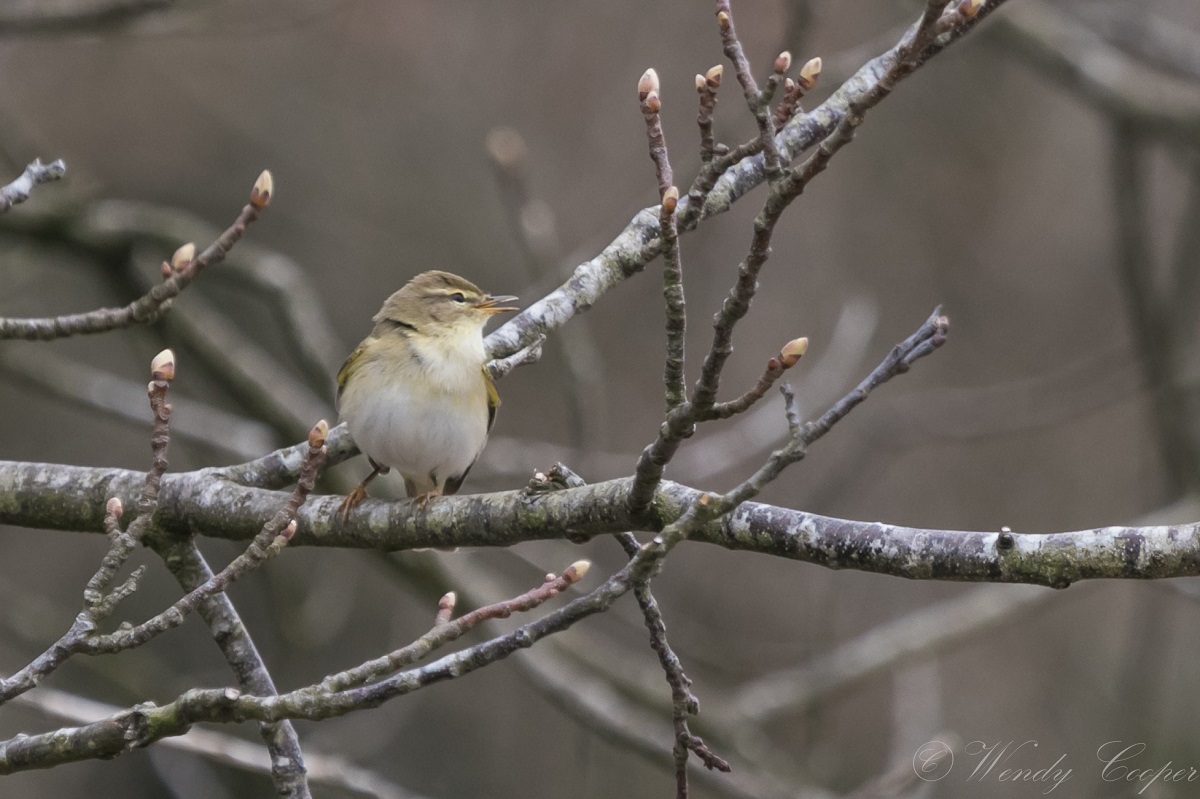 I also saw a Reed bunting, away from the nearby lake,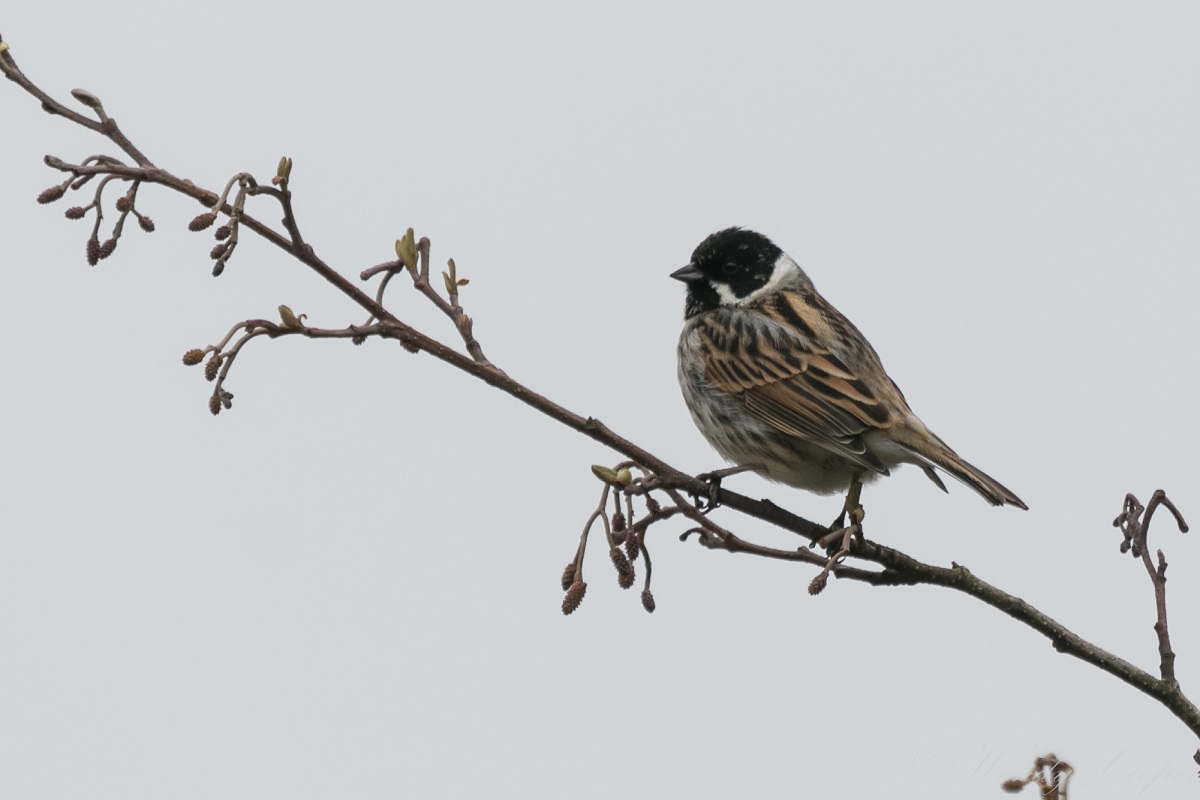 before spending a while watching a Stonechat declaring from the tops of the Gorse.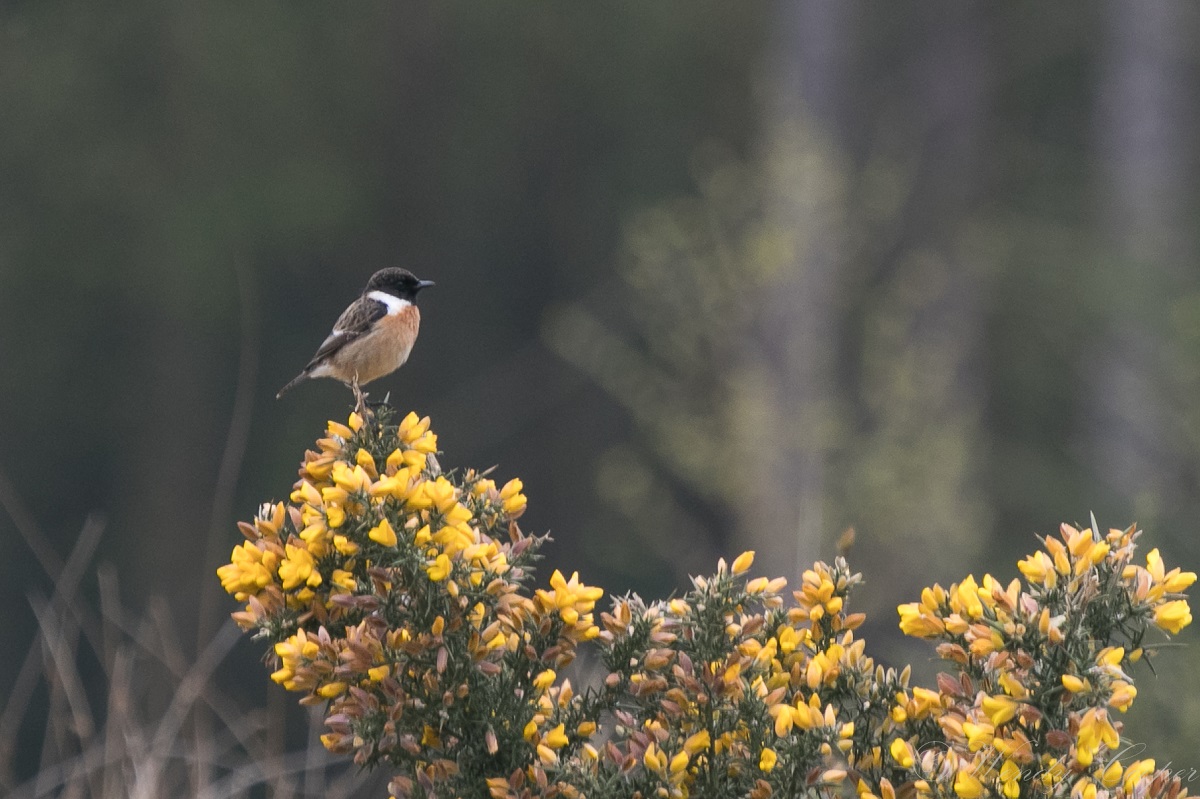 The following day was Hubby's birthday, so he chose where we wandered. There was me looking up castles and historic things for him as options, however he chose nature related places! Our first stop was a long watch (through the slowly clearing fog) at Symonds Yat.
Now usually we hope to watch Peregrines there as well as enjoy the view; however this year, the local Canada Geese have usurped the falcons and have nested in the cliff.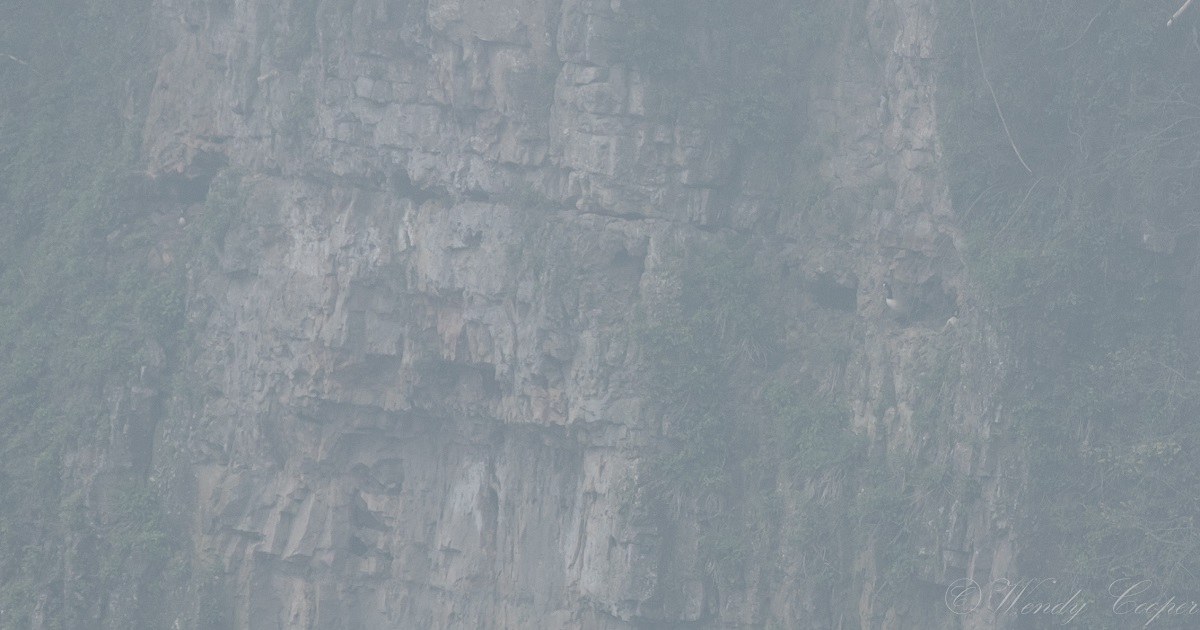 It was most peculiar to look at the nest holes and see Canada Geese there, however they have adapted to nesting this way to avoid losing their eggs when the river below rises – when the goslings hatch, the RSPB observers have watched them abseil down the cliff and then appear on the river. Needless to say, the Peregrines are not happy at being displaced and it remains to be seen where they will nest now.
Whilst we watched, we saw Common Buzzards having a mid-air get together, as well as an interaction with a corvid, saw the Cormorants resting in their usual tree and also got up close and personal with a Dunnock which perched and sang in the bushes just in front of the cliff.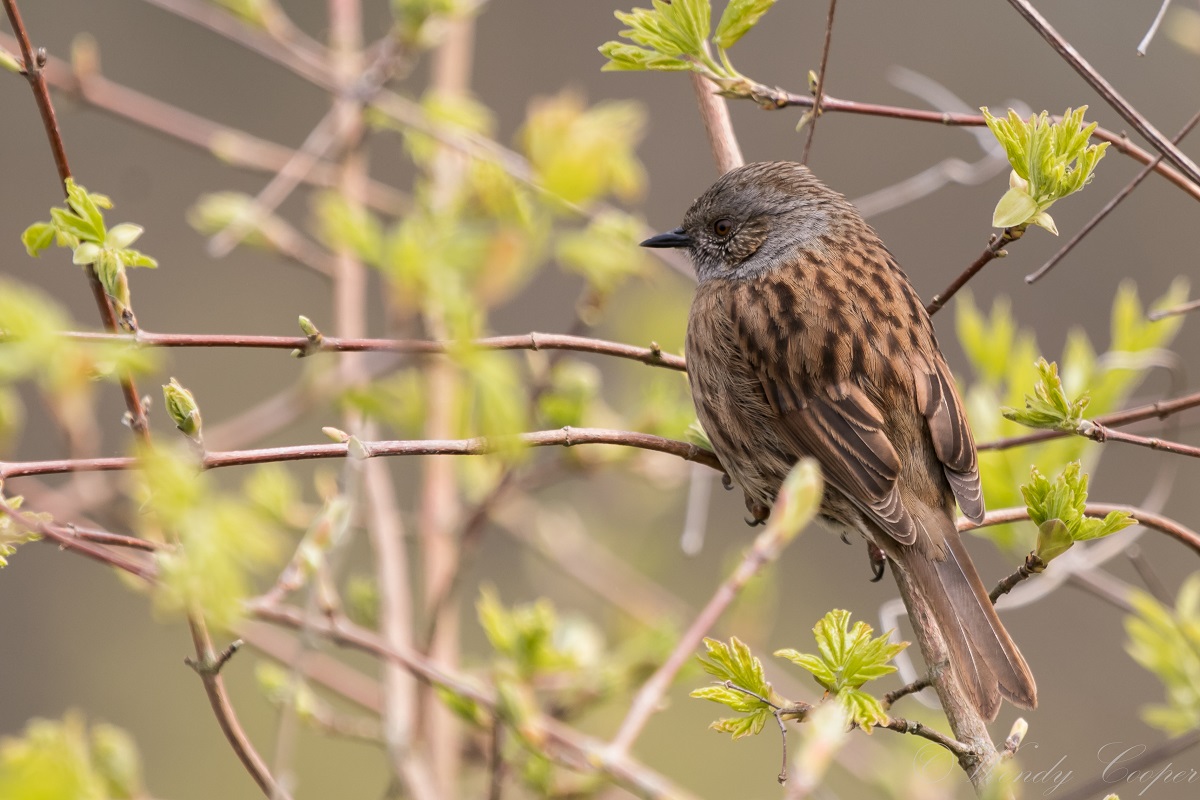 There was also a fast flyby from one of the Peregrines!
After lunch, a fairly lengthy stroll was had at Speechhouse, where once again the air was full of birdsong. Willow Warblers were spotted flitting as well as a brief glimpse of a Goldcrest. There were quite a few Speckled Wood Butterflies on the wing and I stood watching a pair duelling in the air for sometime.
The final stroll of the day was a favourite route at Cannop. We watched a few Mandarins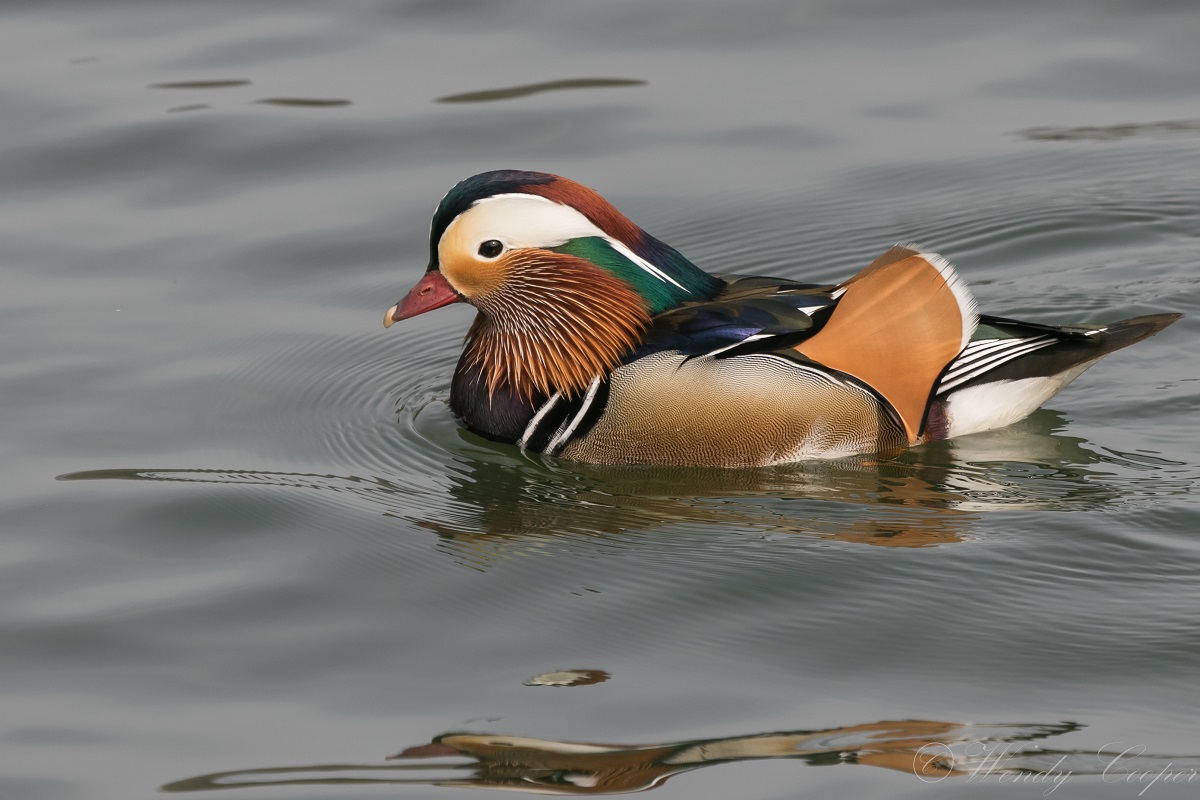 and a lone Greylag goose gliding along on the lake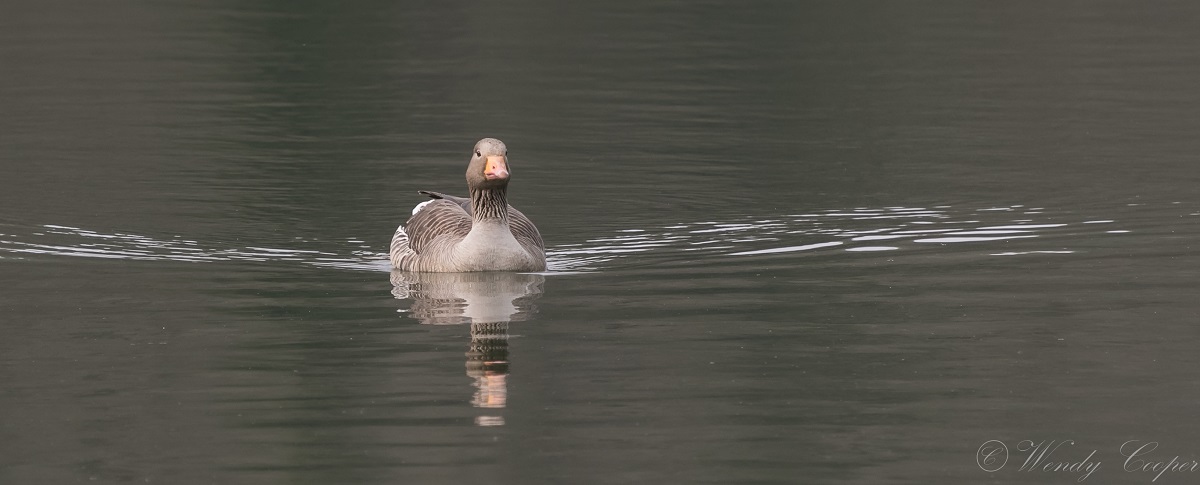 and spent a while watching a Pied Wagtail at the bridge as it found a few tasty morsels.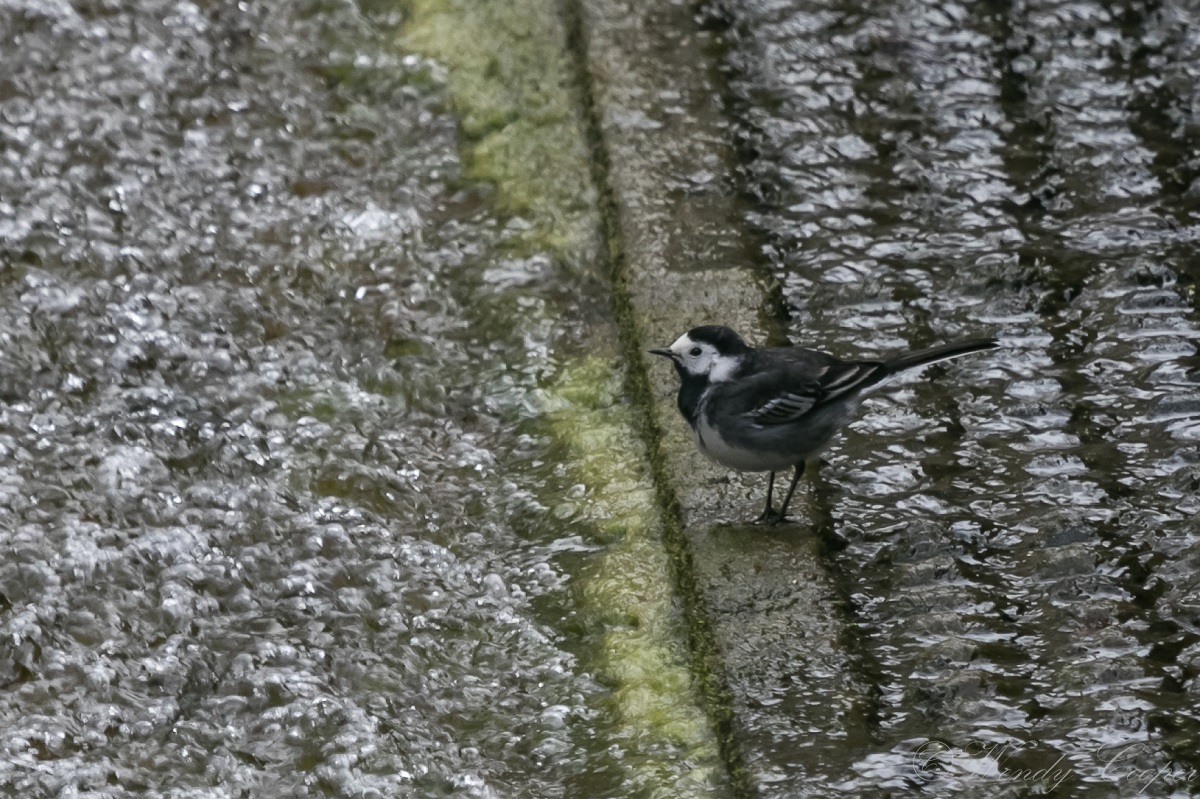 At the start of our path we watched and listened to a Song thrush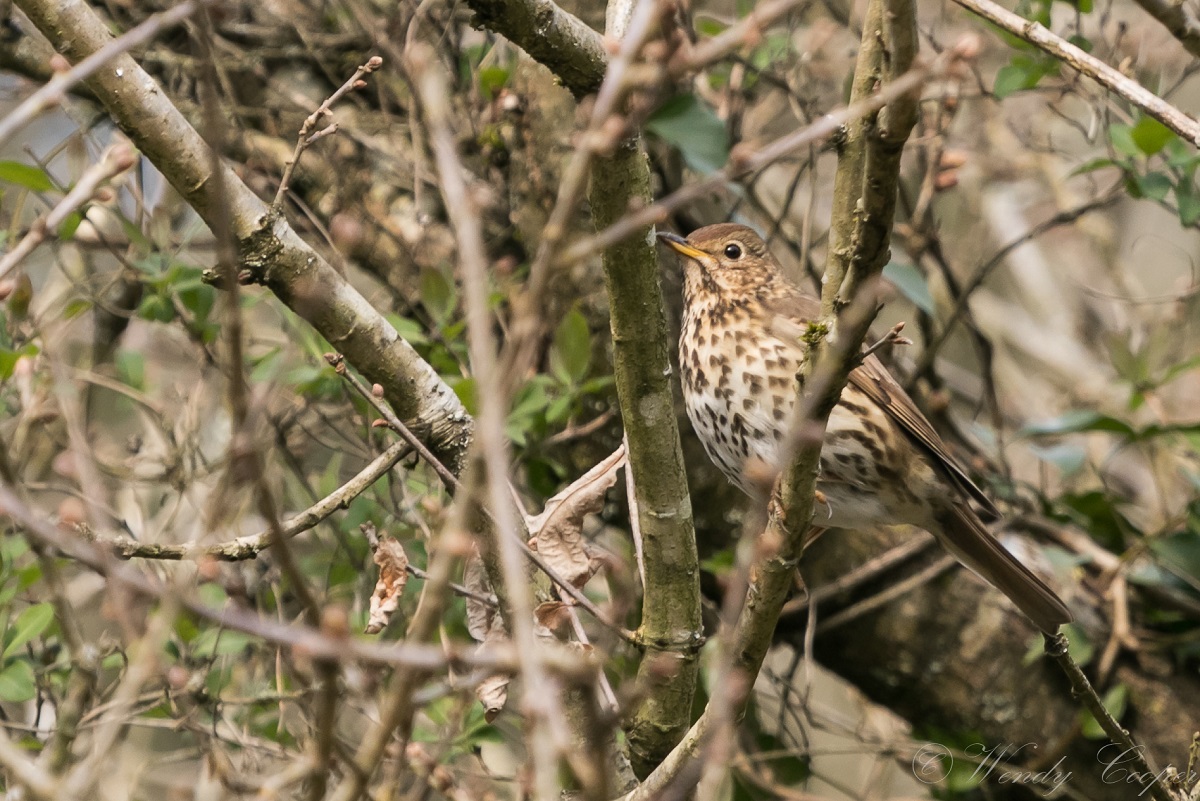 before being serenaded by Wrens and a lone Chaffinch as we walked. Here and there in the trees there were Nuthatches calling and foraging and in the middle of the woods, swirling around the branches of a fallen tree was a Redstart.
On our return route a movement caught my eye and in the green shade I realised I was in a brief but private audience with a Siskin!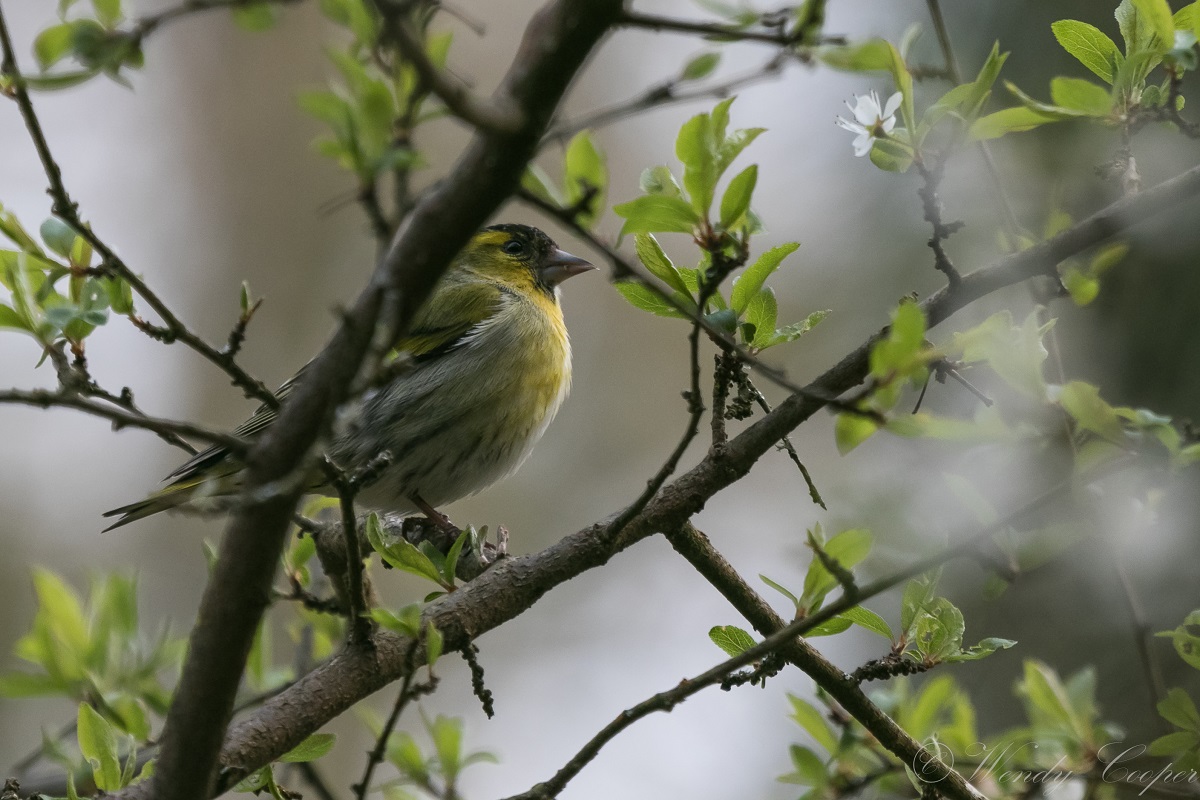 Our punultimate day and we decided to start with a gentle wander at Wenchford. All the usual small birds were already up and about – Wrens, Nuthatches, Chaffinches, Great, Blue and Coal Tits, Blackbirds and the 'Singing Bush' Blackcaps were all in full voice.
Standing at one spot along the brook, I noticed a small monochrome bird popping back and forth to a useful looking hole in an old part of a tree. I watched for quite some time, delighting in the views I was having – it was a male Pied Flycatcher.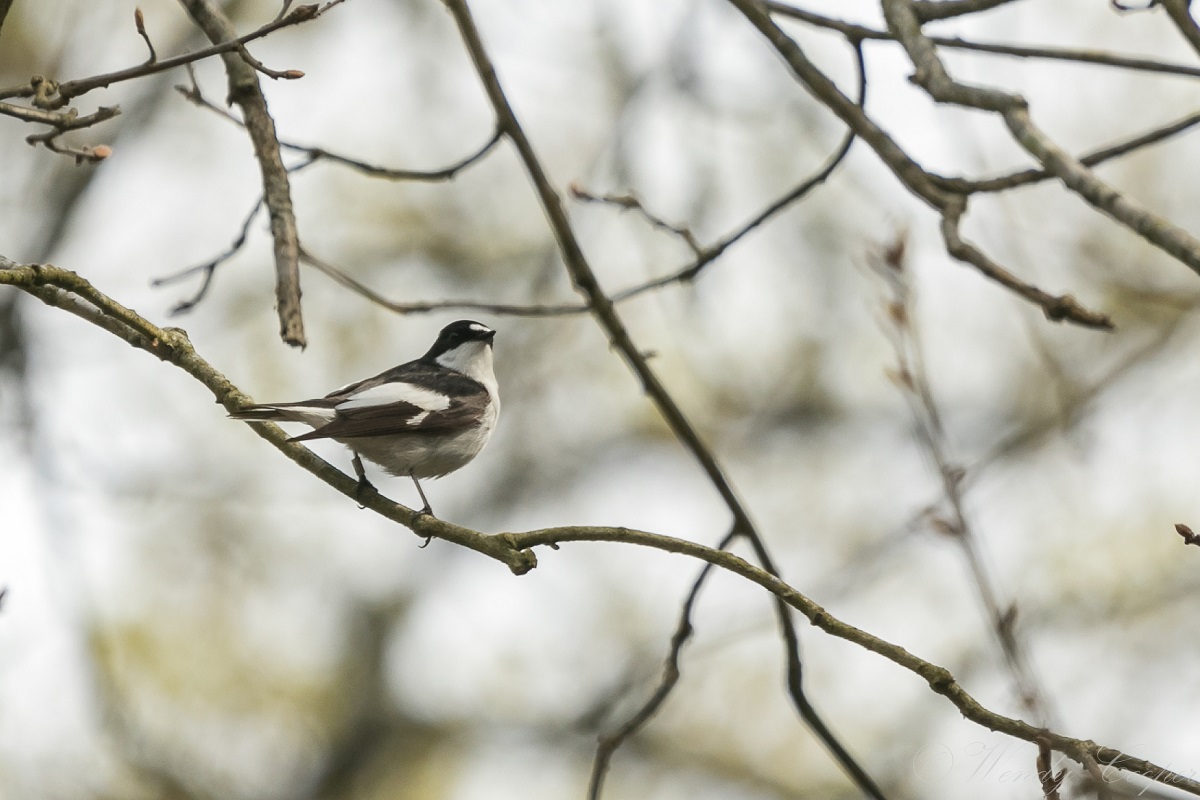 Pied Flycatchers are a summer visitor that overwinter in Africa. They prefer Oak woodland and swirl around in the tree canopy catching insects. I have only seen them once before, so watching this character was quite a treat!
We then returned for a longer walk at Cannop where once again the birds were in full voice. There were quite a few Orange Tip Butterflies on the wing, although none were settling and the warm sunshine had also woken up a few Dor Beetles which were stumbling through the verges.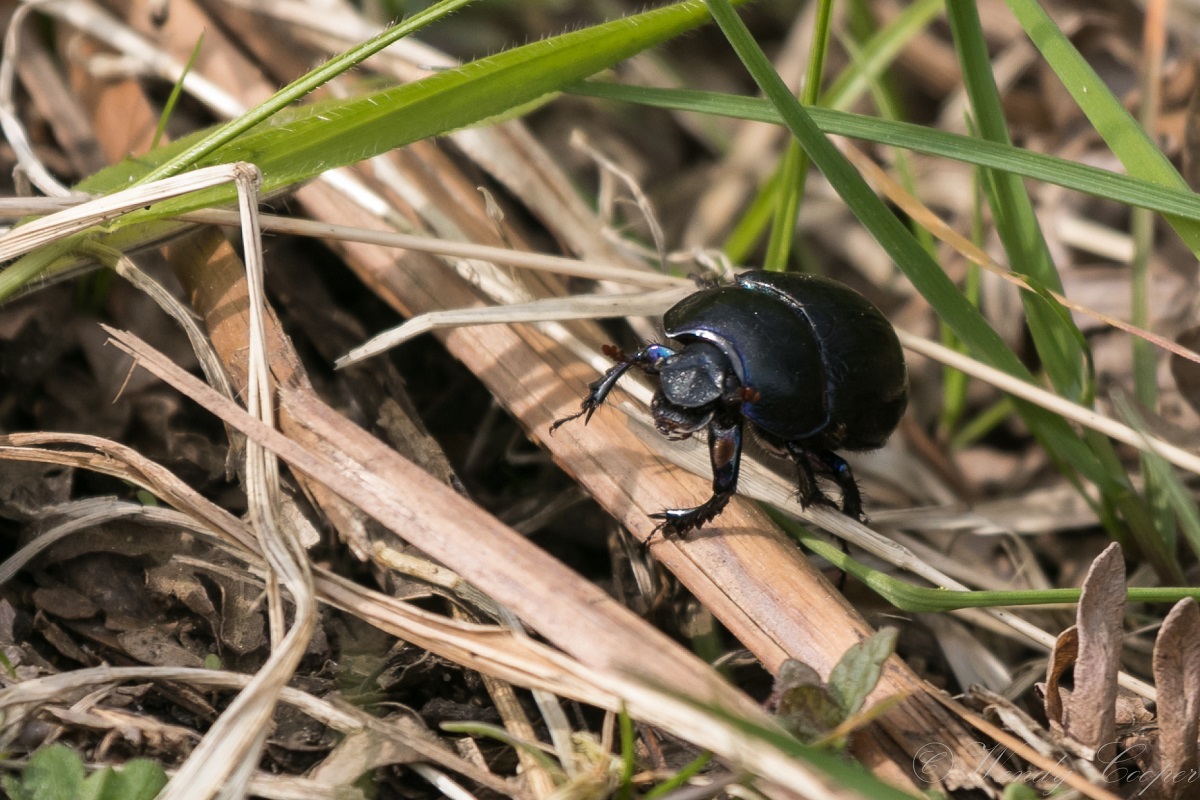 Along a stretch of young spruce and birch trees we got to watch and listen to Tree Pipits and Willow Warblers, with Chiff Chaffs calling as well. I also spotted a Wren –
We heard them nearly everywhere, however seeing them was often tricky as there is plenty of cover for them to hide in! Back at the lake we admired the Mandarins again, noticing a slight anomaly in the plumage of this one..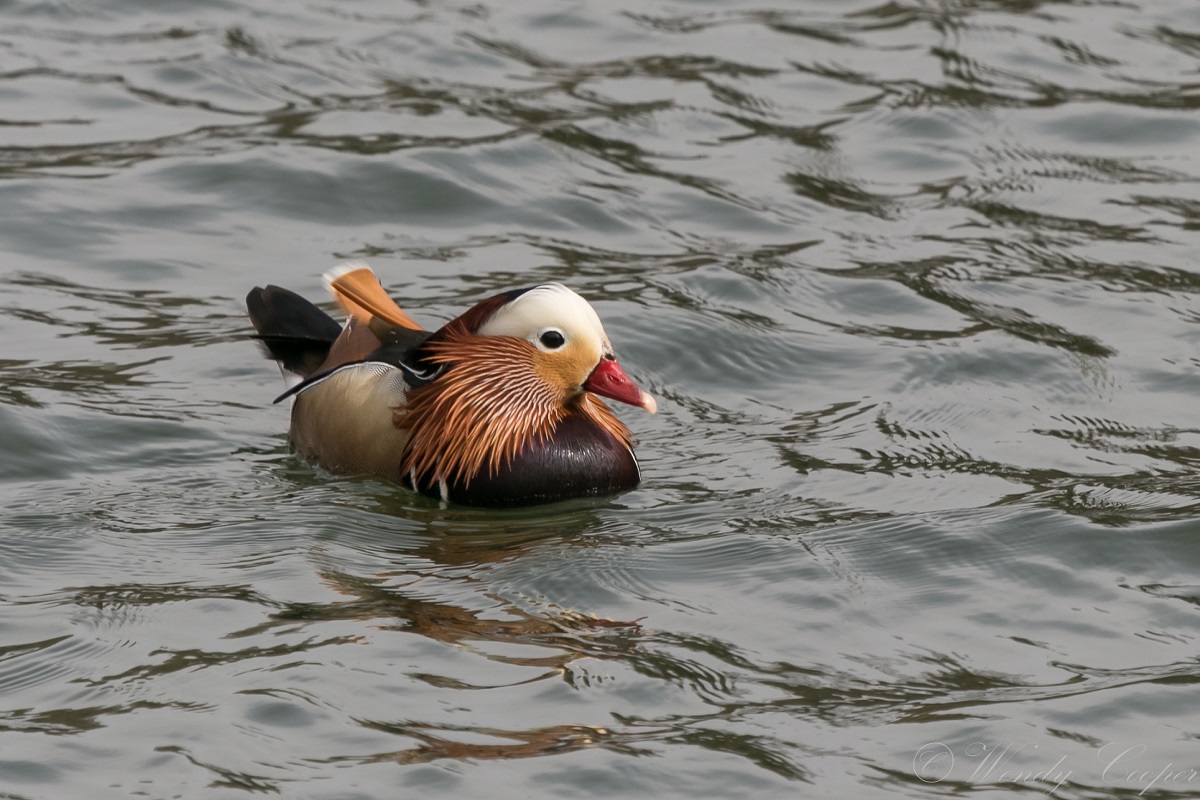 The day turned warm, so in the afternoon we returned for a further wander at the local reserve and had some lovely views of the Willow Warblers as they declared.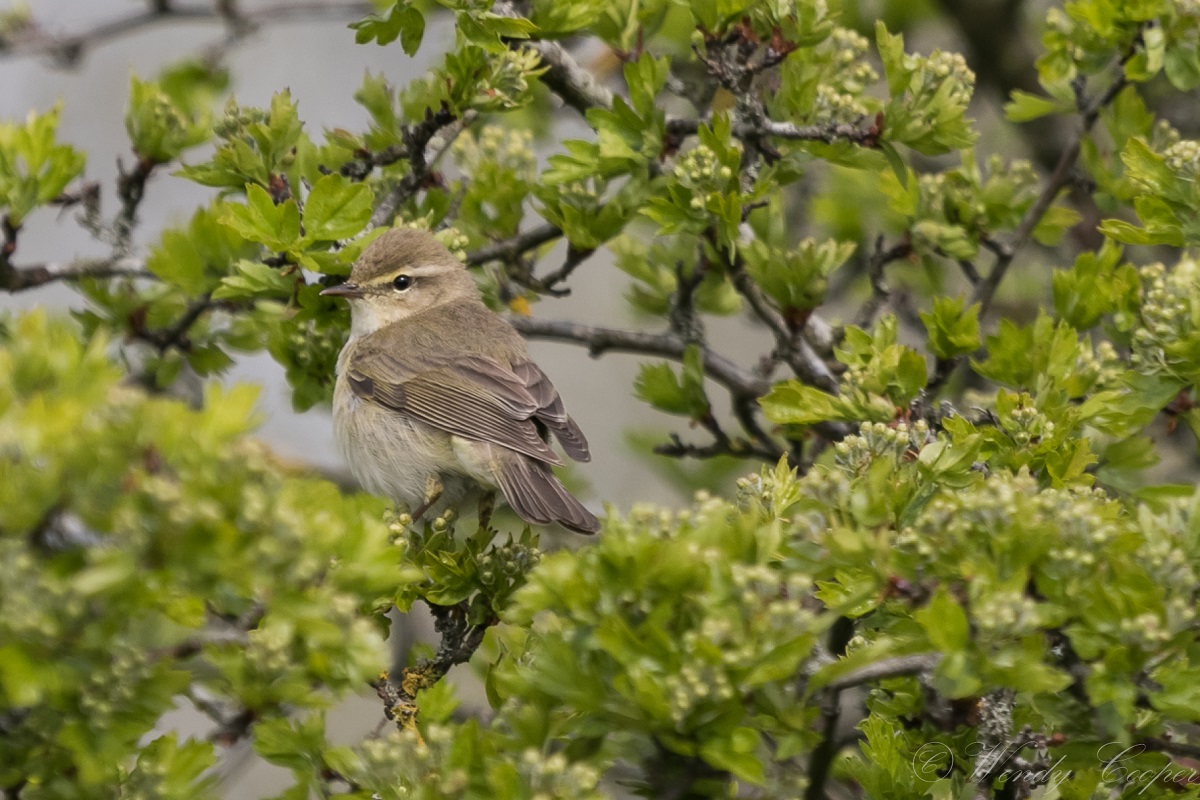 Birdsong being, it seemed, the theme of the day, we returned to Nagshead where some time was spent just standing and listening… (click here or on the image below and turn up the sound!!)
We again had a few glimpses of the Redstart at the hide and I also had a while watching a Chiff Chaff from fairly close quarters as it declared from a tree.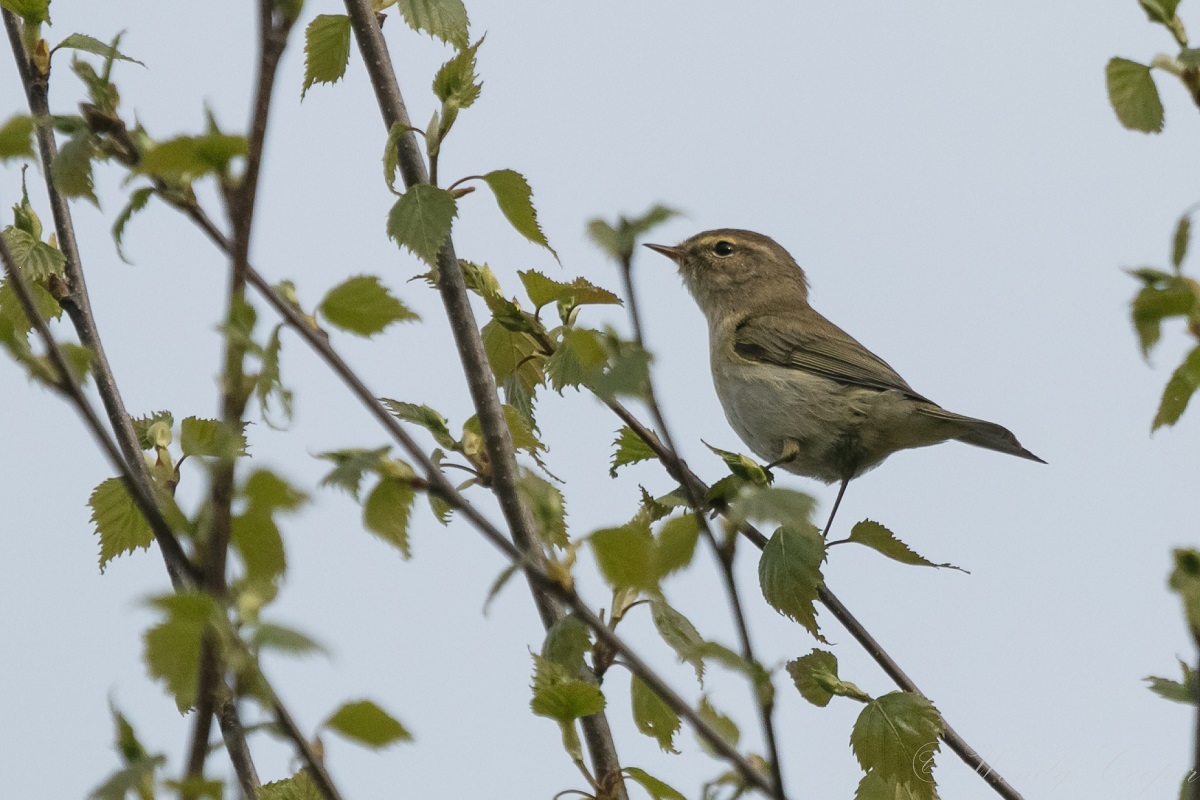 Our final morning and we popped back to where I had seen the Dipper earlier in the week – it looks like a very pretty bit of woodland, so has been added to the 'walks to do' list. No Dipper this time, but we had a little wander and watched a Nuthatch being busy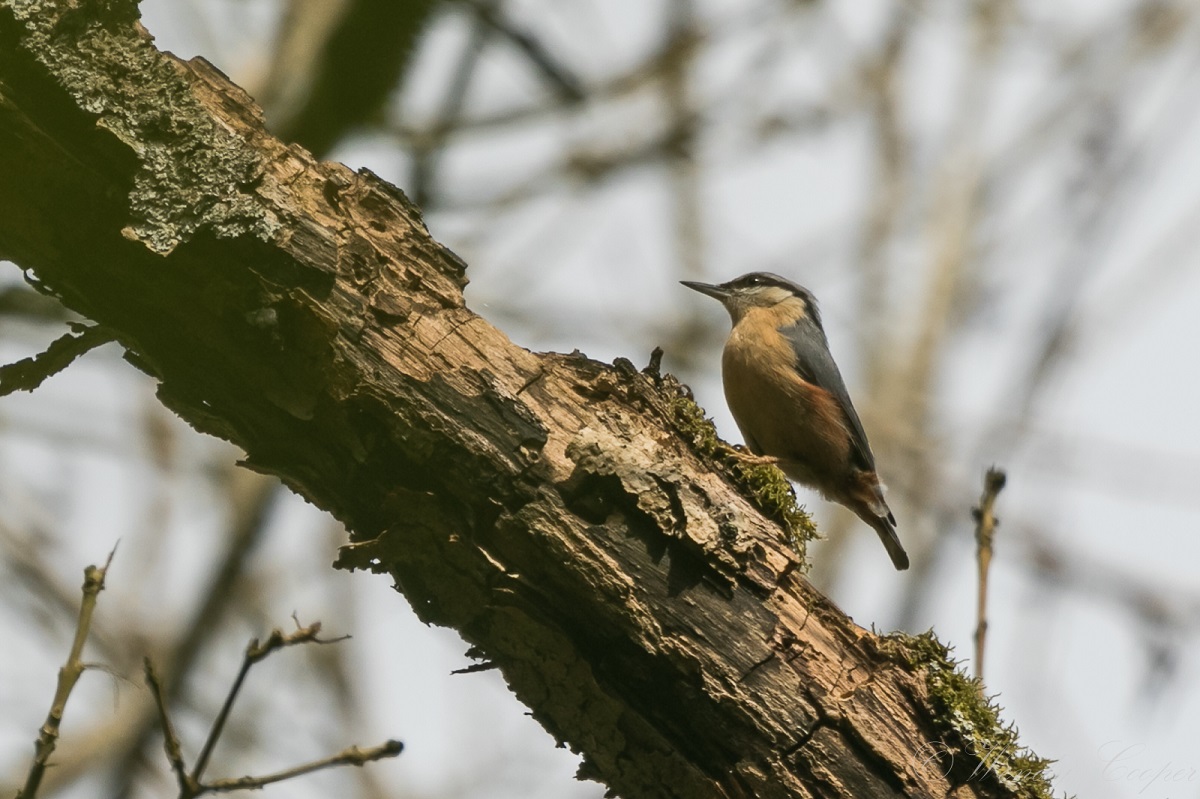 As well as a foraging Long Tailed Tit.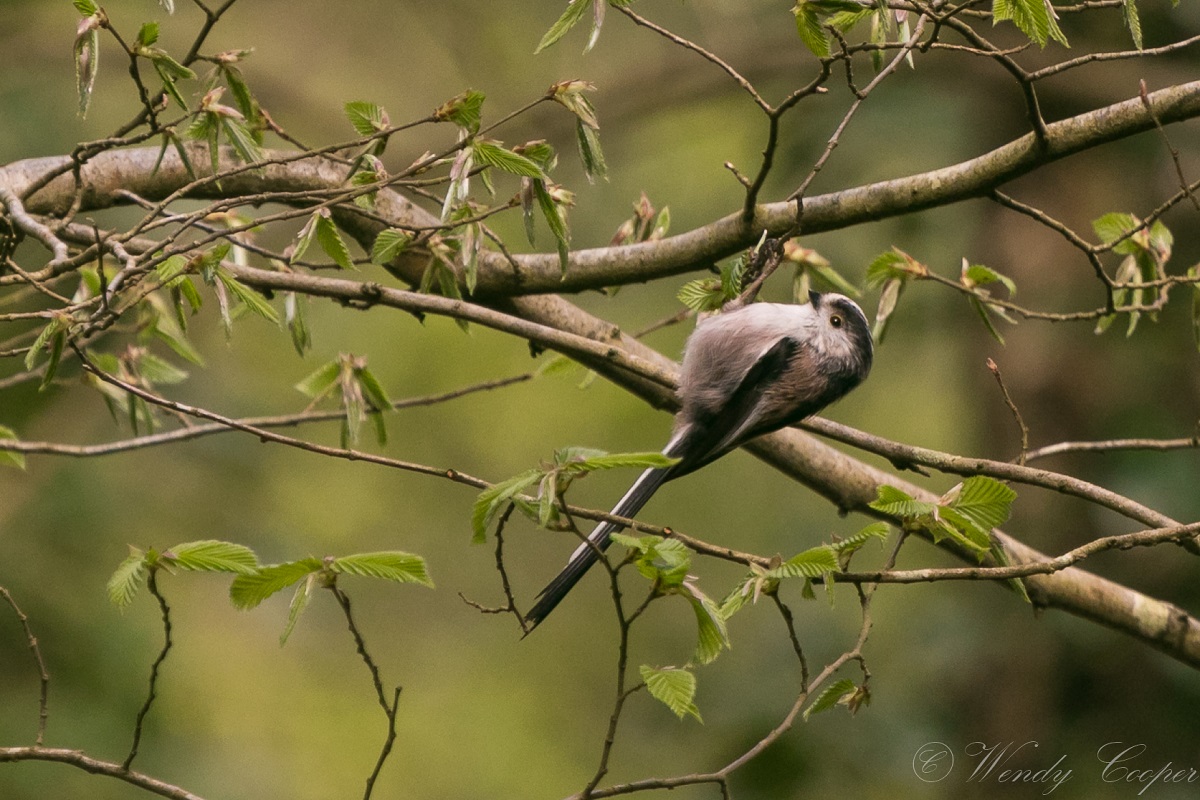 A quick coffee and watch at Symonds Yat and all too suddenly it was time to fly!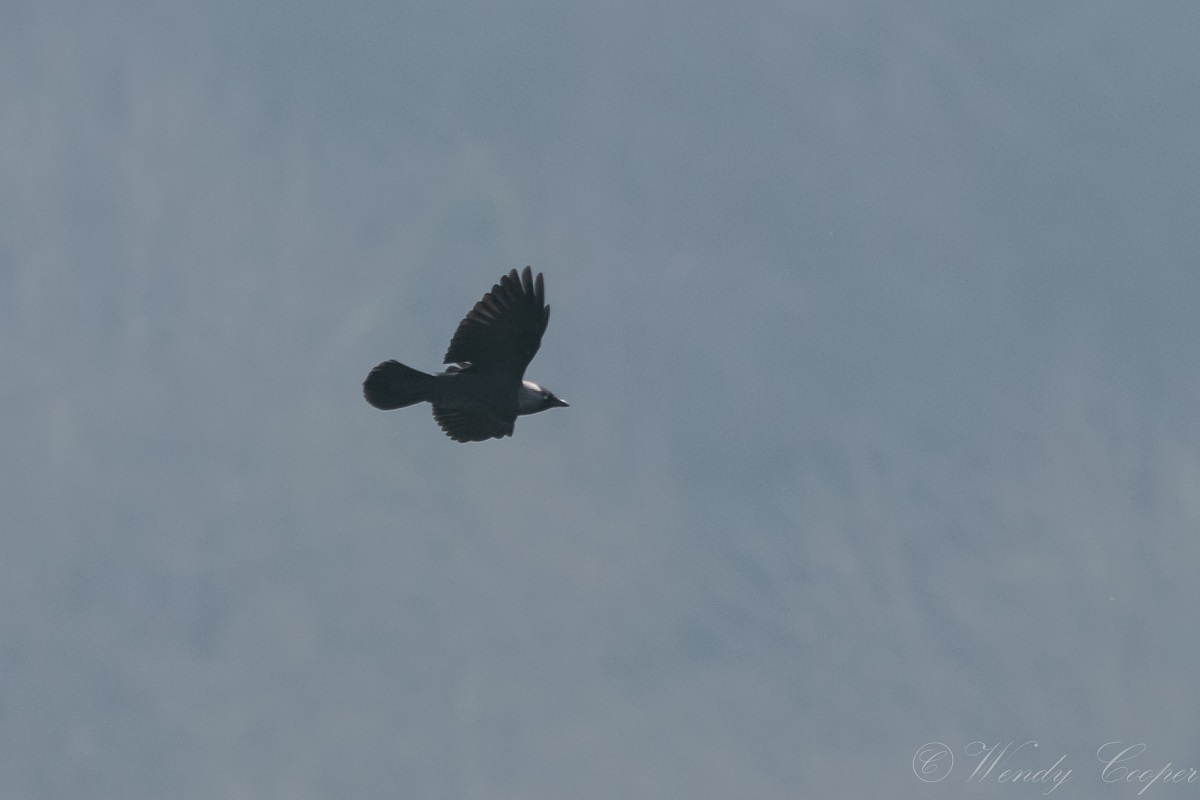 I hope you have enjoyed my blog, if you would like an email notification when my next blog is published, please add your email address to the 'Sign Up' box below, you will then receive an email with which to confirm your subscription.
As always, comments, feedback or questions are welcome, so please feel free to contact me via the comments section below or via the guestbook.
Comments