Different Wings...
24/06/2019 - 18:02
There is something very soothing and calming about watching Butterflies which brings a wonderment and sereneness.
I often stand entranced, watching as they flutter and float past me like bejewelled sunbeams or passing musical notes, determined on their course to find a partner, defend a territory, chase off a rival or find a prized source of nectar.
When watching, I have to be still and disciplined, a lurch or fast movement from me will distract them from their mission or disturb them from feeding – such fragility is to be respected, I am after all a mere onlooker.
At the beginning of the month I had noticed signs that the Butterflies were beginning to re-appear, having watched Speckled Wood, Brimstone, Orange Tips and Brown Argus.
The other morning, realising that the summer Solstice had suddenly arrived and Midsummer was almost upon us, I decided to have a little stroll on my Local Patch and concentrate solely on Butterflies – the birds after all have had a fair amount of attention from me over recent months!
On my way to the meadow, I wandered along the field margin with the woods; a couple of years ago, the farmer had a tidy up and pretty much all of the Bramble banks, an important source of nectar for all manner of Bees, Butterflies and other Minibeasts had been removed. The margin is now full of Nettles and Burdock and here and there tenacious Brambles are once putting forth hesitant shoots.
Looking along the Nettles and Burdock I noticed first one, then a second Small Tortoiseshell were taking advantage of the opening heads of Burdock.
Small Tortoiseshell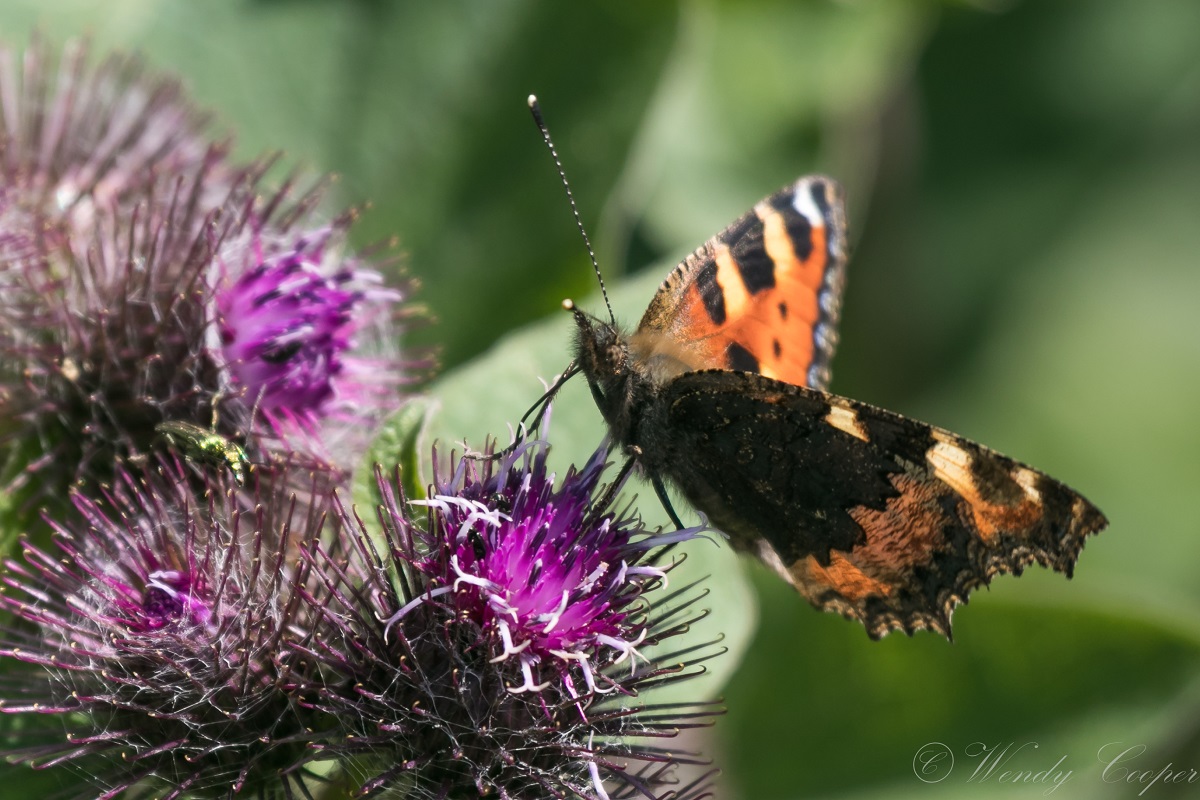 Both of the Butterflies looked quite fresh and were busy warming up and feeding on the purple flowers, from time to time being interrupted by Bees wanting to drink from the same bloom.
A little further along on the tops of the nettles was a black writhing mass of Caterpillars.
Peacock Caterpillars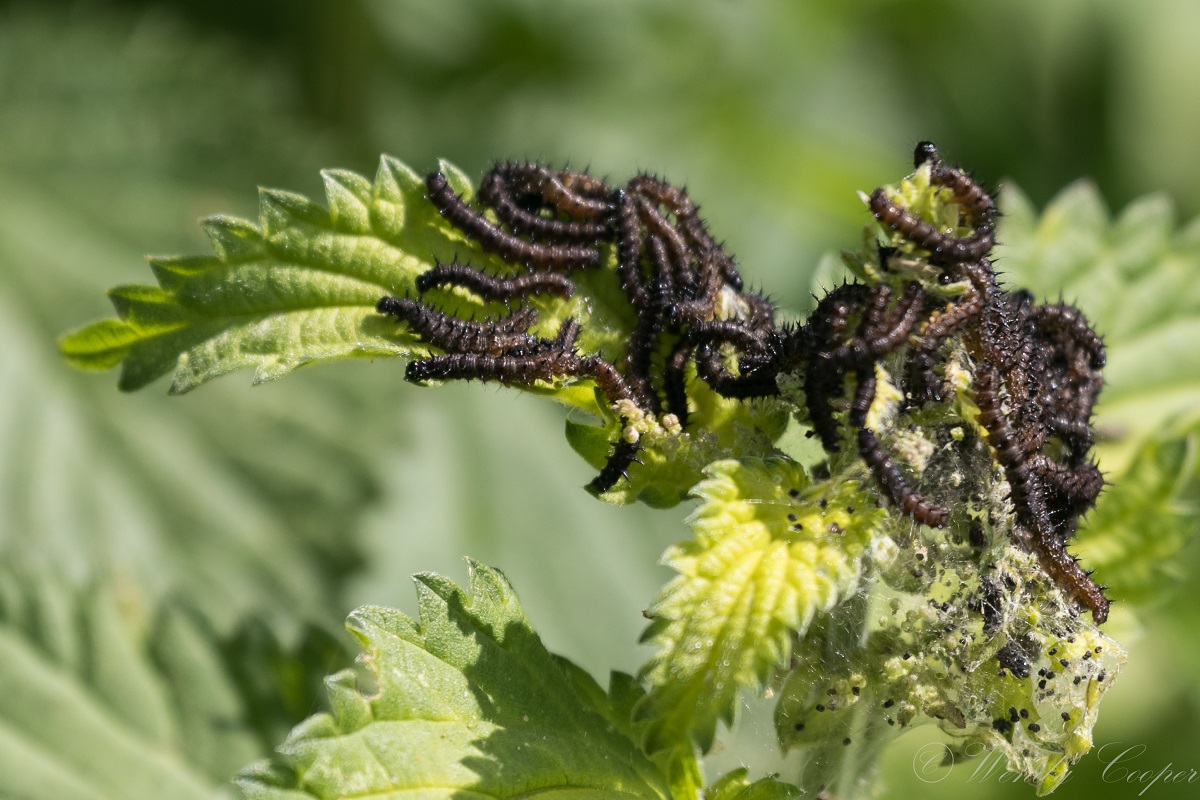 Underneath and just below the leaves on which they were resting was a silk 'tent'. The little spikey wrigglers were busy climbing over each other to find the best spot of the nettles . I wasn't too sure at the time, however, I believe these to be freshly emerged Peacock Butterflies – I did see a few Peacock Butterflies courting along this part of my route earlier in the year…
The meadow has bloomed in the past few weeks – the Buttercups have been replaced by tall grasses and thistles and low down there are Common Meadow Orchids and tiny white stars of Lesser Stitchwort. Here and there are spikes of St John's Wort and there are pillows of yellow trefoil.
Out in the meadow, I began to look carefully in the tall grass, moving slowly and being watchful. (With careful observation I carefully follow rabbit or Muntjac "runs" through the grass). Here and there, as my shadow disturbed them, one or two Meadow Browns fluttered up and then settled again in the grasses or onto thistles to feed.
Meadow Brown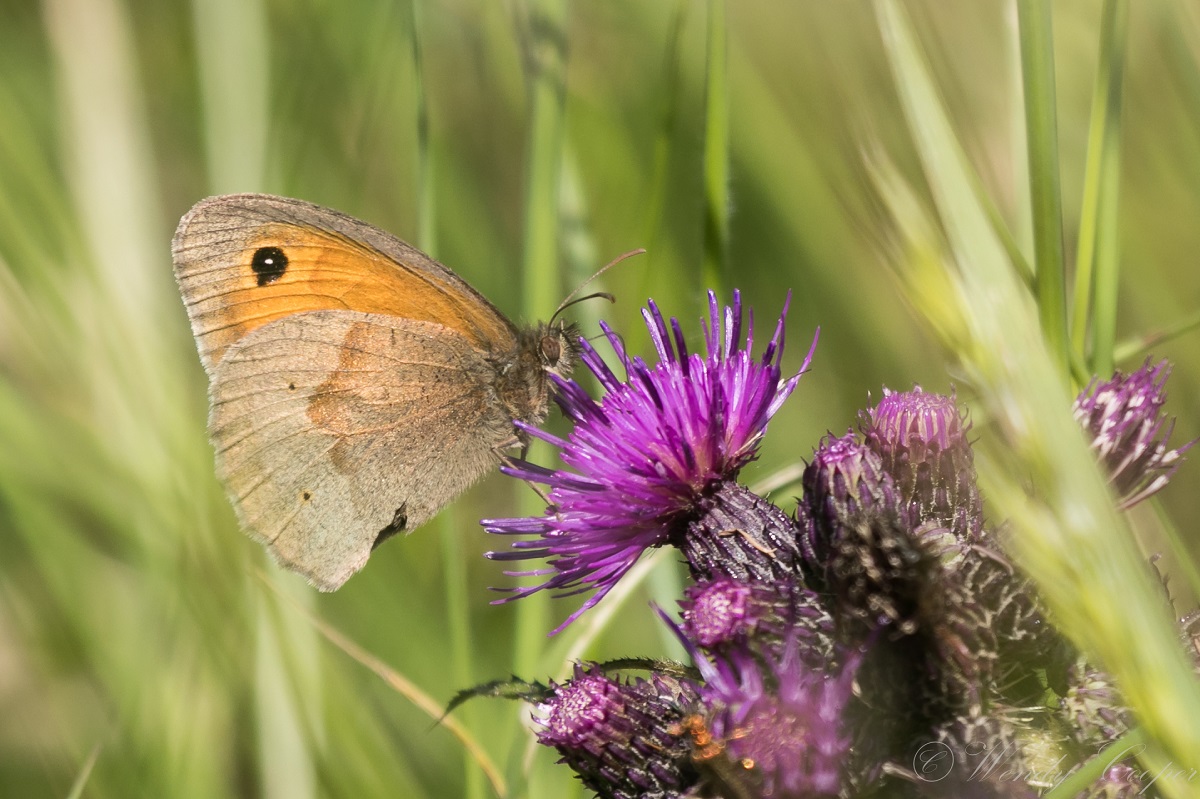 A small herald caught my eye.. just the one, but in the Butterfly Timetable on this little patch an important one – a Burnet Companion Moth.
Burnet Companion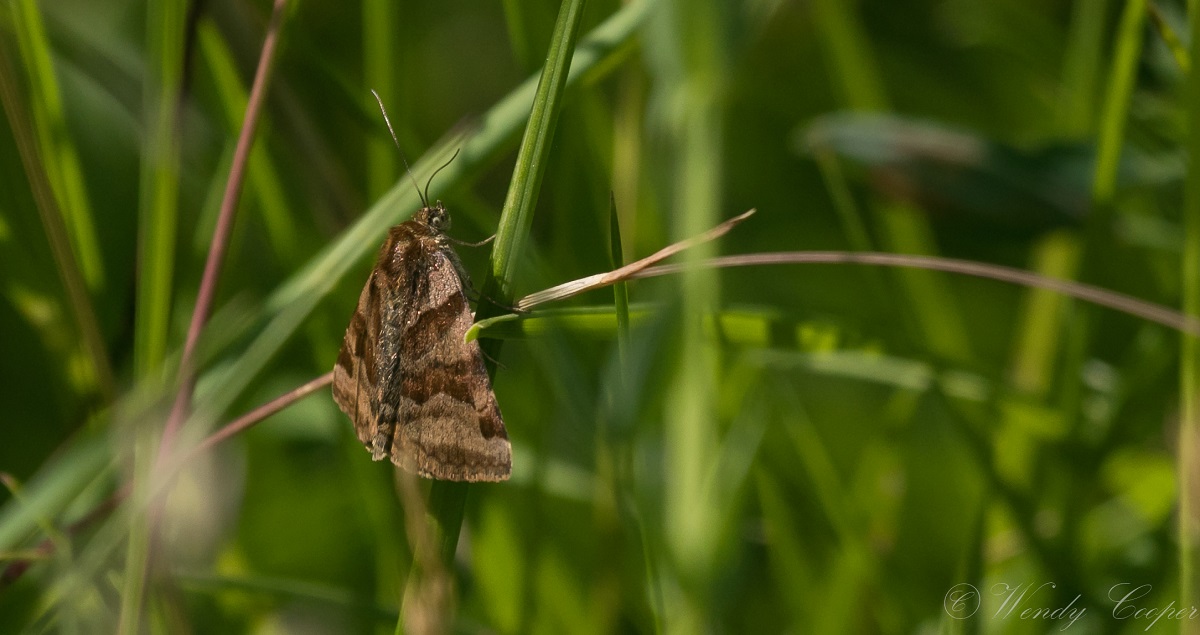 When I see these, then I KNOW that summer has arrived and the Butterflies are starting to appear!
Looking around, small busy motes of orange were fluttering; watching, they eventually settled, one on the trefoils, another on a thistle head– Skippers!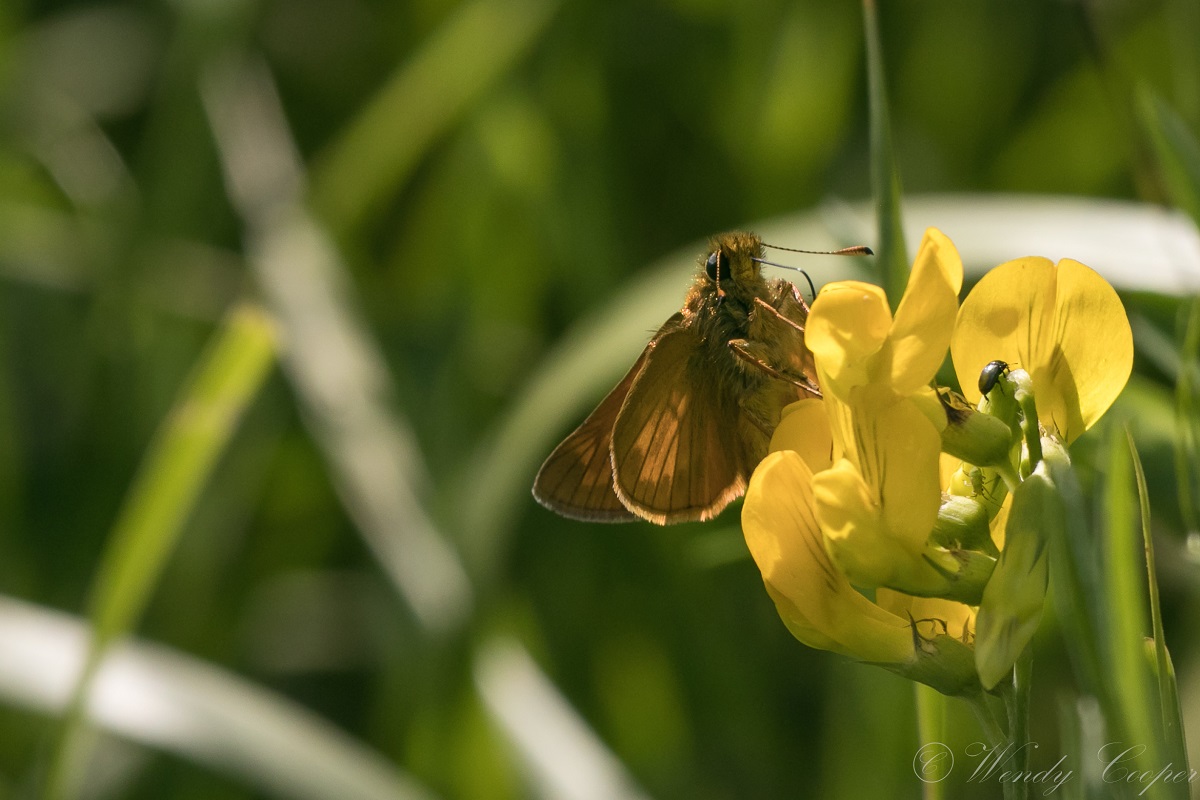 Now the 'orange' Skippers without fail confuse me every year – three species appear here, Large, Small and (appropriately!) Essex. Every year, there is much peering at club colourings and wing stripes (or not as the case may be), a lot of huffing and puffing and cross referencing, but I get there in the end… I think I have it figured now though – these were definitely Large Skippers – 'hooky' clubs, dark patterning / veining on the upper wings and on close examination of all the images I took, it appears to have been a ladies day out..
Large Skipper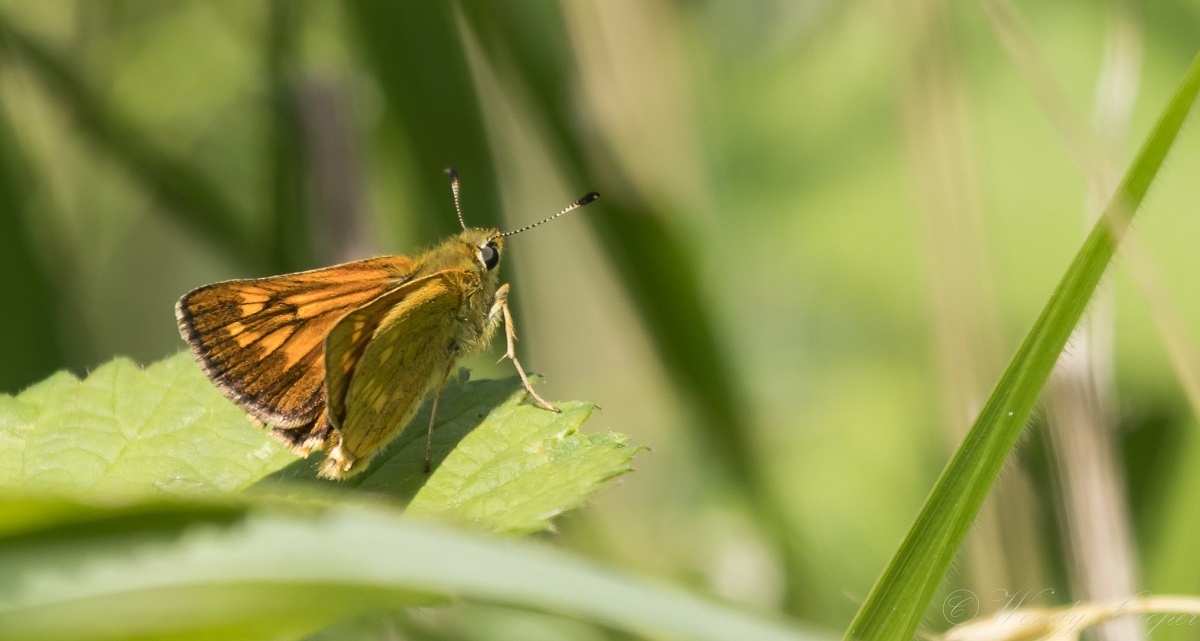 I watched a few of these ladies as they refreshed themselves both on the trefoils and also on the thistle heads.
Floating over the top of the grasses and settling on a thistle head, a large, but slightly faded butterfly caught my eye. A much travelled Painted Lady.
Painted Lady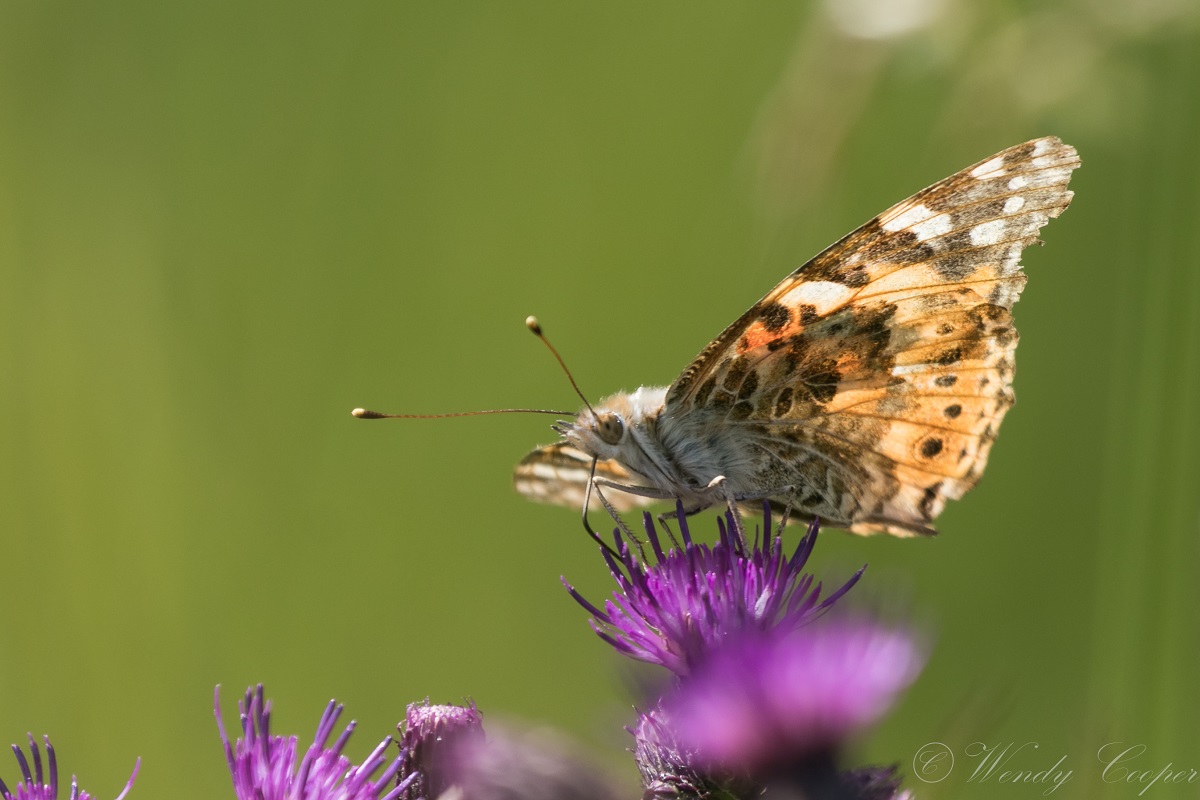 ​
These are Butterflies which migrate here, starting in Africa, moving across the continent and then gradually moving North across the UK. Some of them do breed here – in a previous year I had a wonderful encounter with a very fresh and bright Painted Lady in all her glory. This one however had it's own tale of travel – wings a little frayed around the edges and almost translucent in the sunshine – no less glorious than the 'box fresh' version.
I had watched any number of these a week ago, fluttering furiously on a short break in Norfolk, but this one was content to float from thistle head to thistle head to nectar.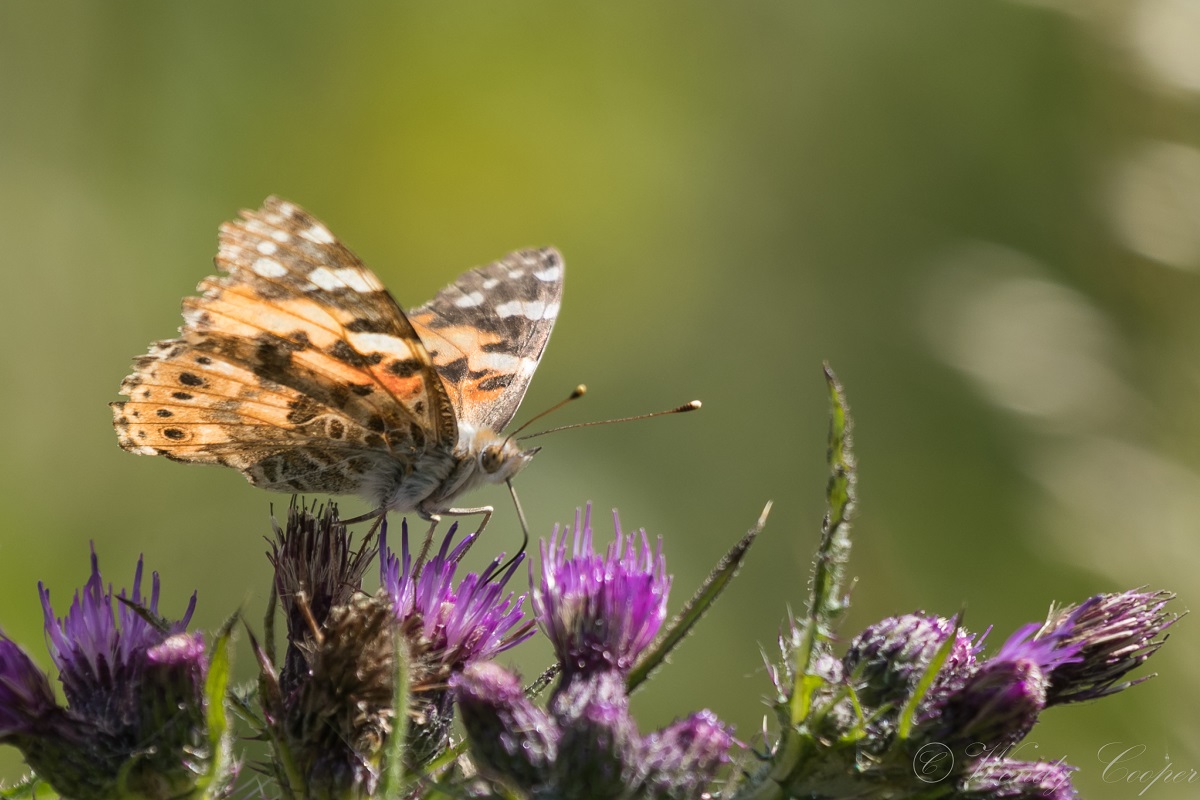 Brighter colours caught my eye and a little way off another Small Tortoiseshell was busily feeding in between moments of patrolling, occasionally tumbling in the air with another.
Small Tortoiseshell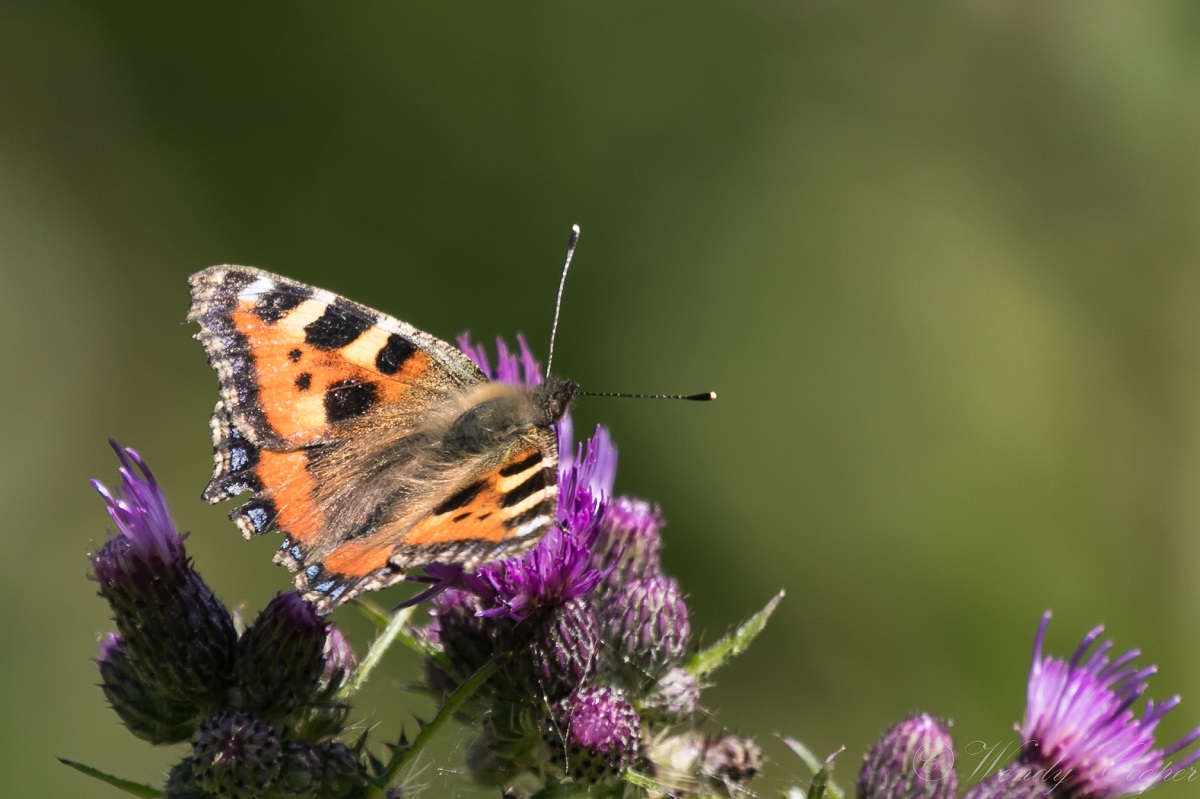 After a while I headed towards the Western end of the meadow; under the eaves of Oak trees there is still a decent sized bank of brambles – it is also something of a sun trap and so I was curious to see who would be 'dining out'. I was not disappointed – roused by the warmth, Meadow Browns were feeding and basking, as well as a few being in courting mode.
Meadow Brown: Underwing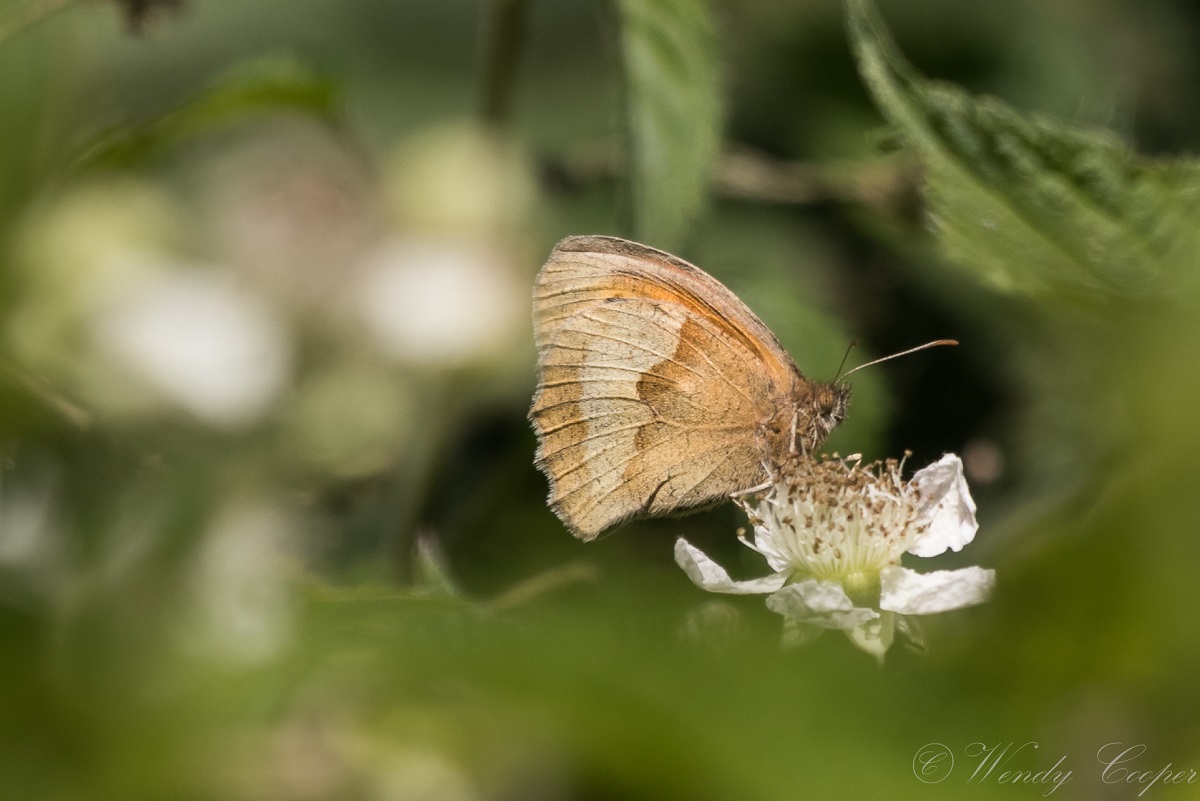 Meadow Brown: Upper Wing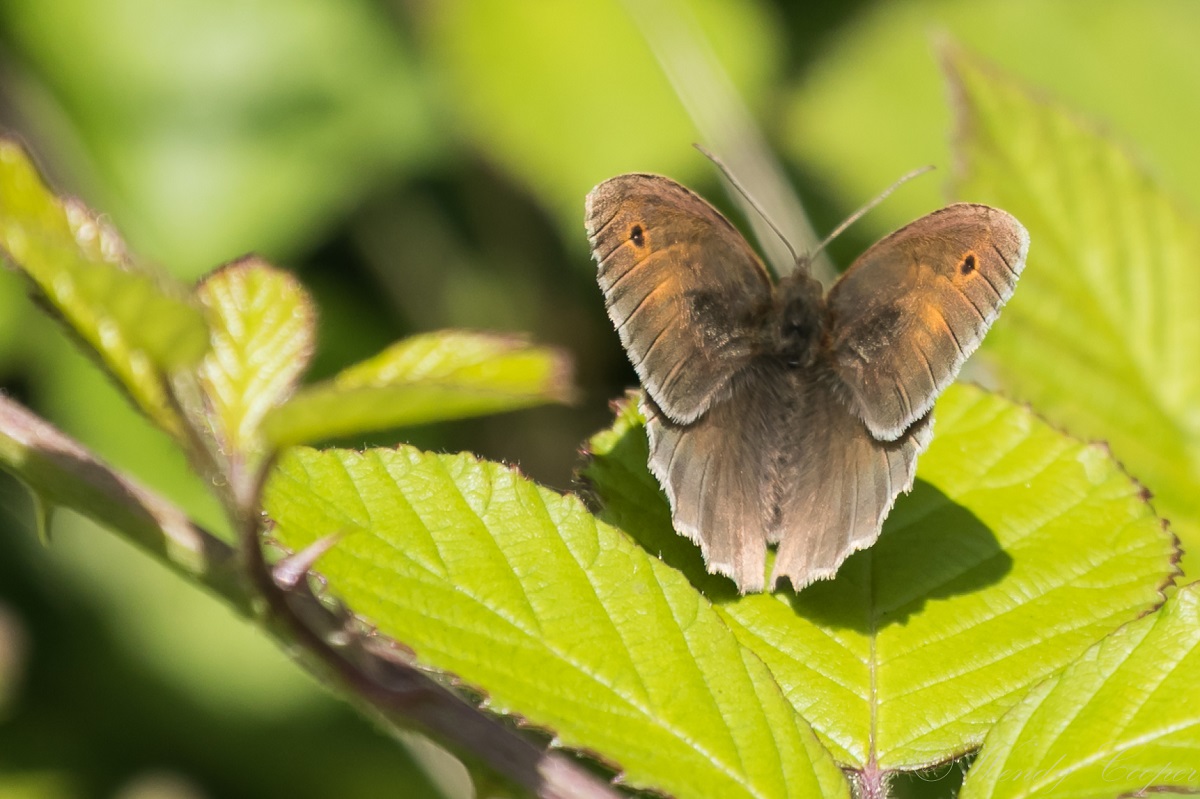 A different shade of orange caught my eye and an overwintered Comma was holding court high up on a bloom.
Comma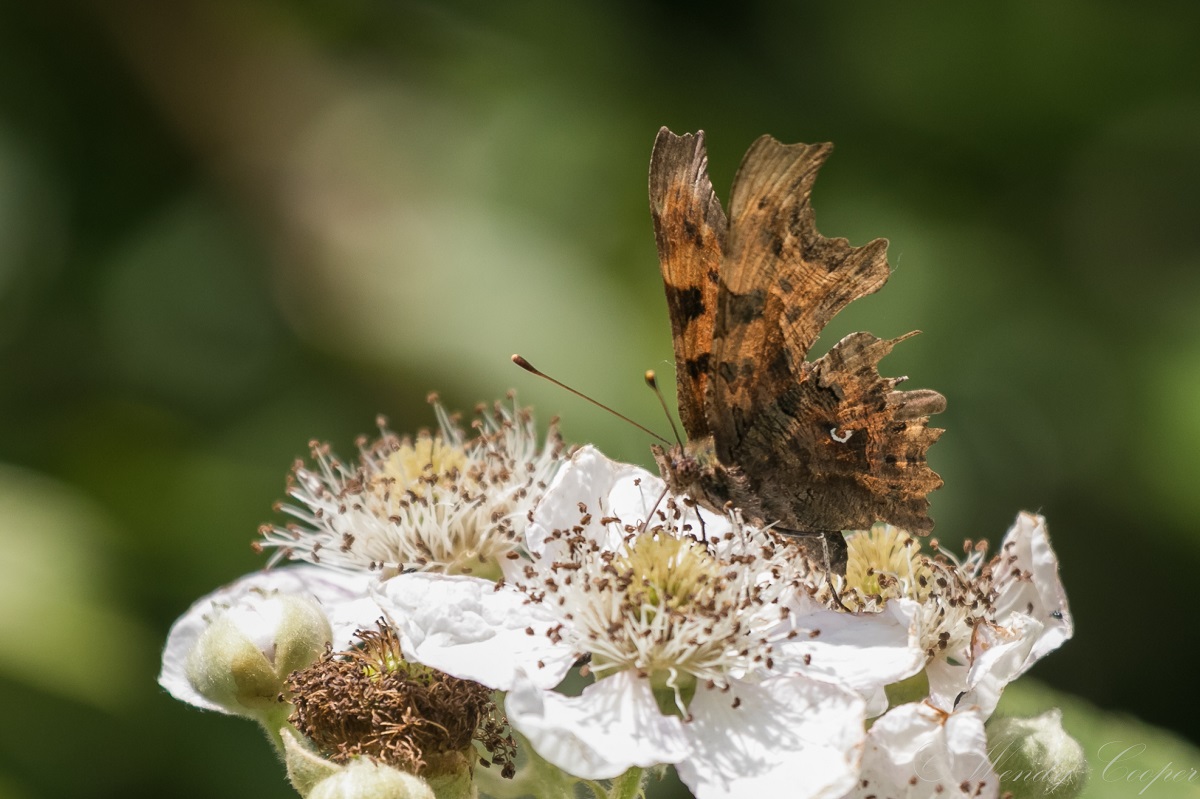 And too busy to settle for a photocall, Small Heath were feeding or duelling through the air.
A little way along and looking a little fresher than the first I had seen, a second Painted Lady was also taking full advantage of the bramble blooms
Painted Lady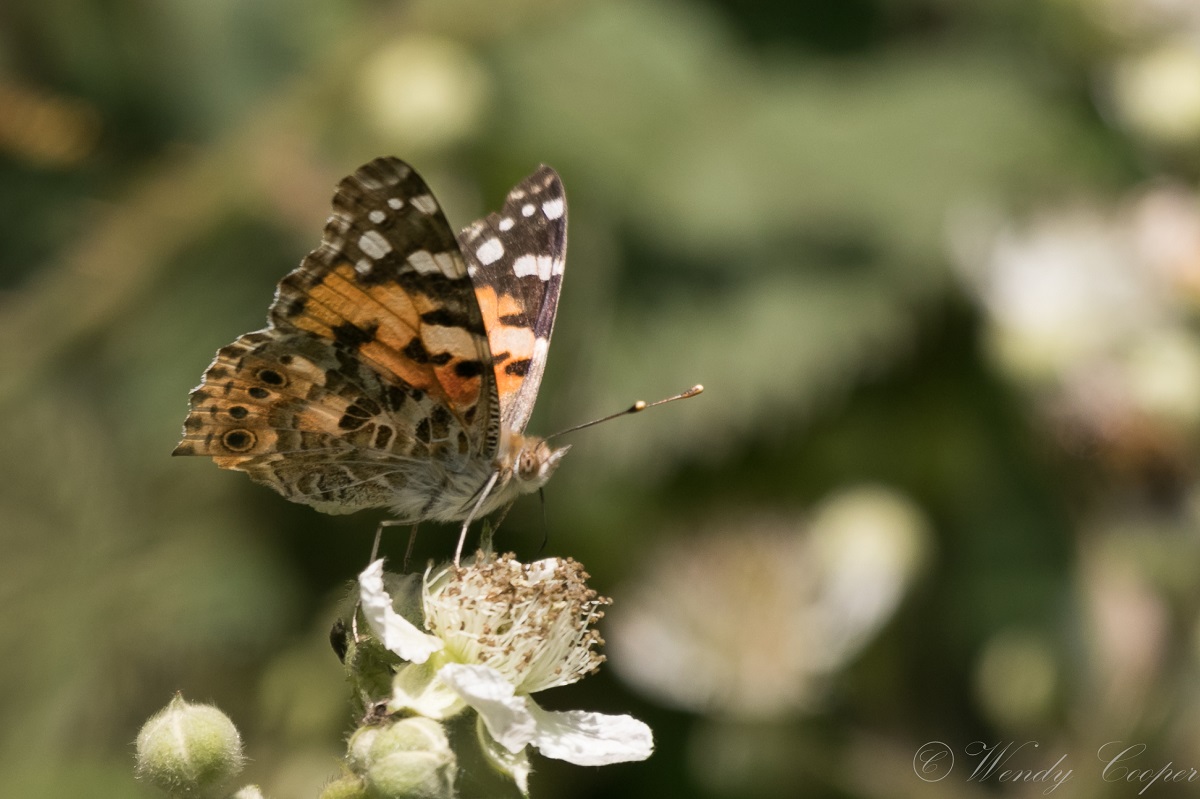 occasionally being interrupted by the occasional Bee wishing to dine from the same 'table'.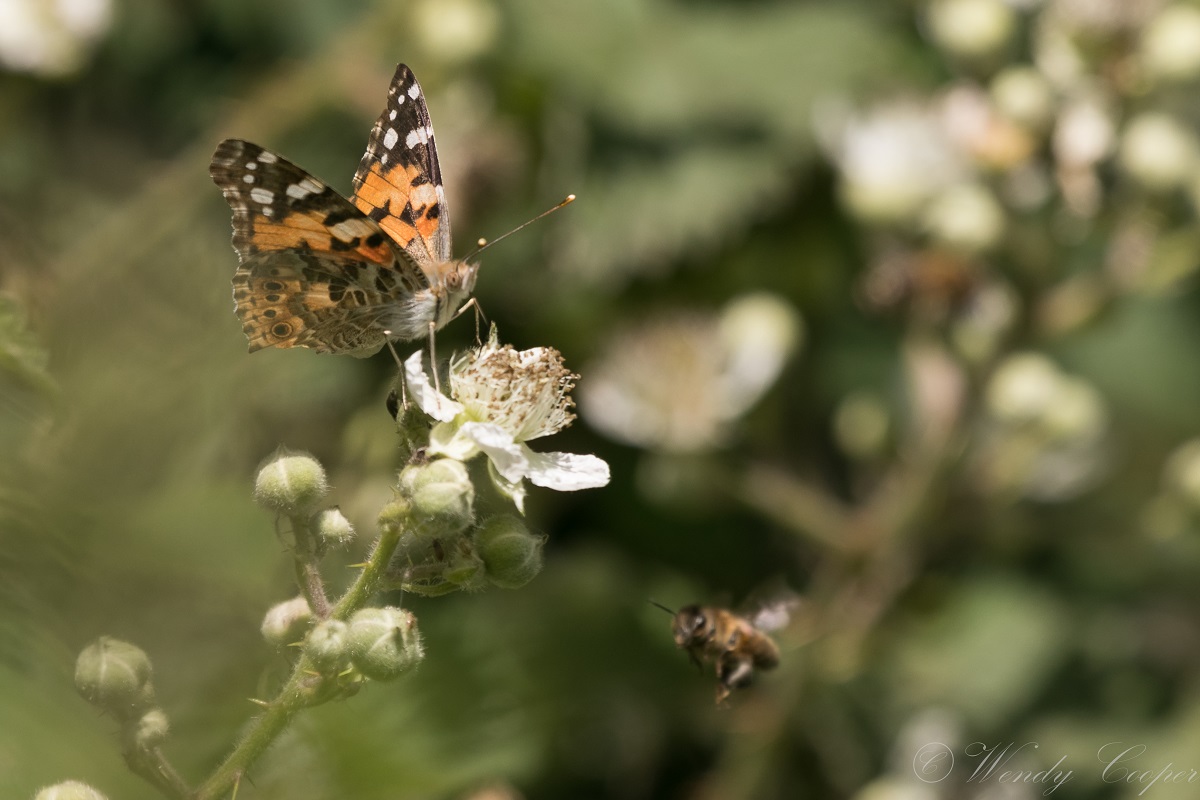 I decided to have a wander over to the Flitch Way for a looksee – there is one particular spot which is a real suntrap and is full of wildflowers – Oxeye Daisy, Scabious, Meadow Orchids, Everlasting Pea to name but a few.
Along the verge of the path, Small Heath were feeding from the Oxeye Daisies, although whenever there was a 'proximity warning' they were up and off and tumbling along.
Small Heath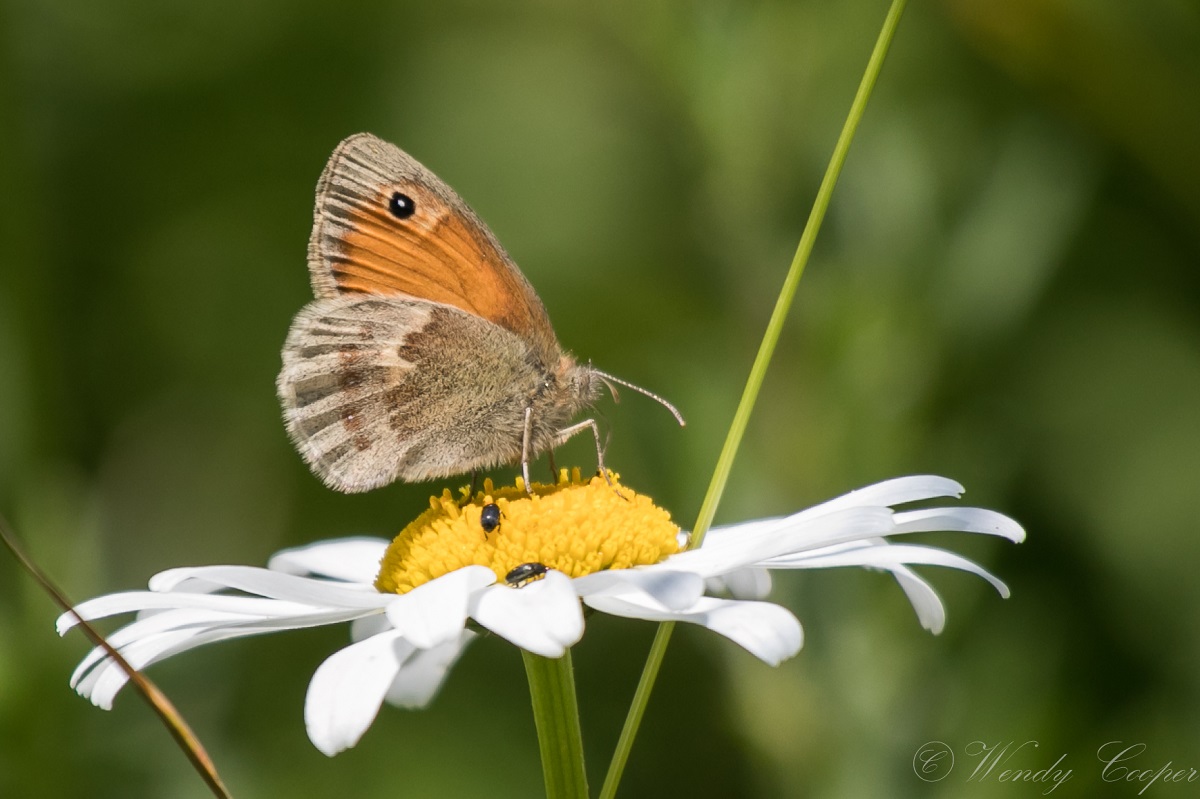 Dotted around on the Scabious and Daisies there were quite a few Meadow Browns – as with the Small Heath, these were also feeding or having aerial conversations. Then something new caught my eye… graceful, quite large and striking in monotone, there was a Marbled White Butterfly lazily floating along and looking for a good spot to feed.
Marbled White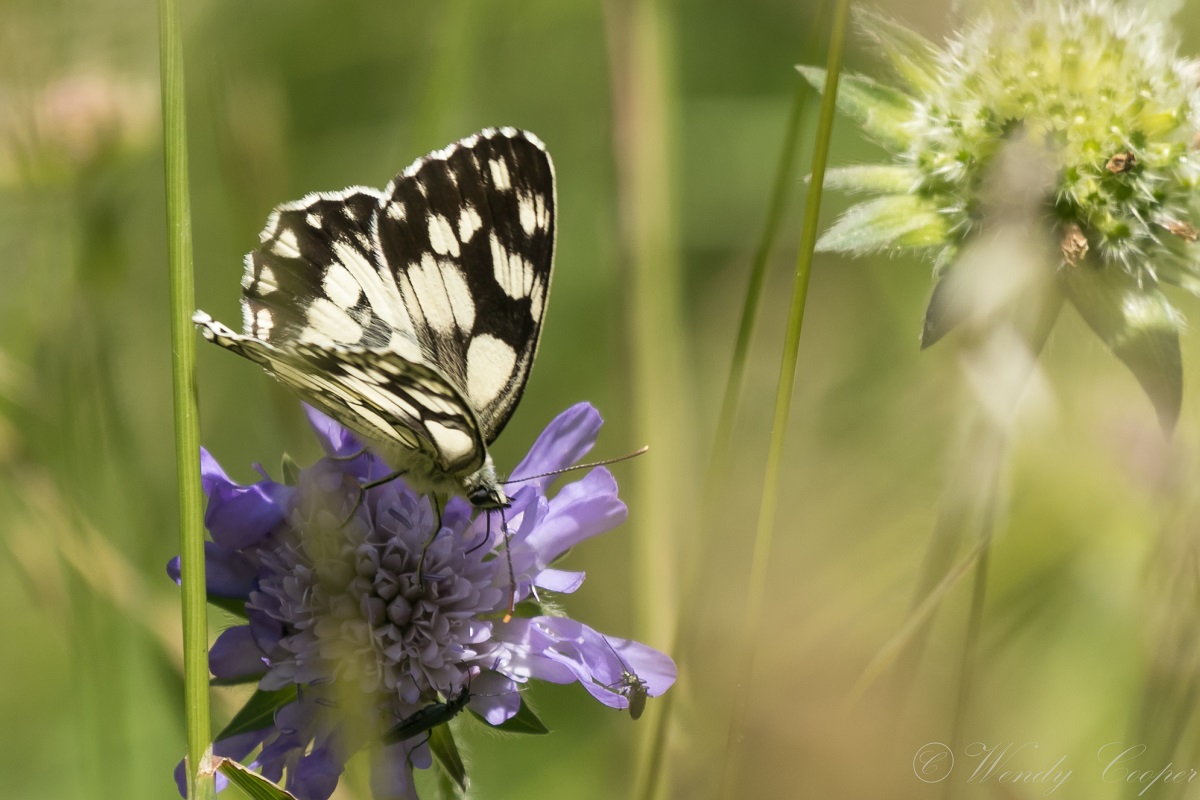 These Butterflies form discreet colonies between June and August, favouring flower rich grassy areas. Last year, whilst watching Common Blue Butterflies late in the summer, I had thought I had seen one floating across the meadow, however, putting it down to the heat and wishful thinking I thought no more of it -thinking back though I really did see one!
I sat for a while and just watched – males and females were patrolling back and forth (there were at least half a dozen on the wing) and from time to time settling to feed – favouring the Scabious.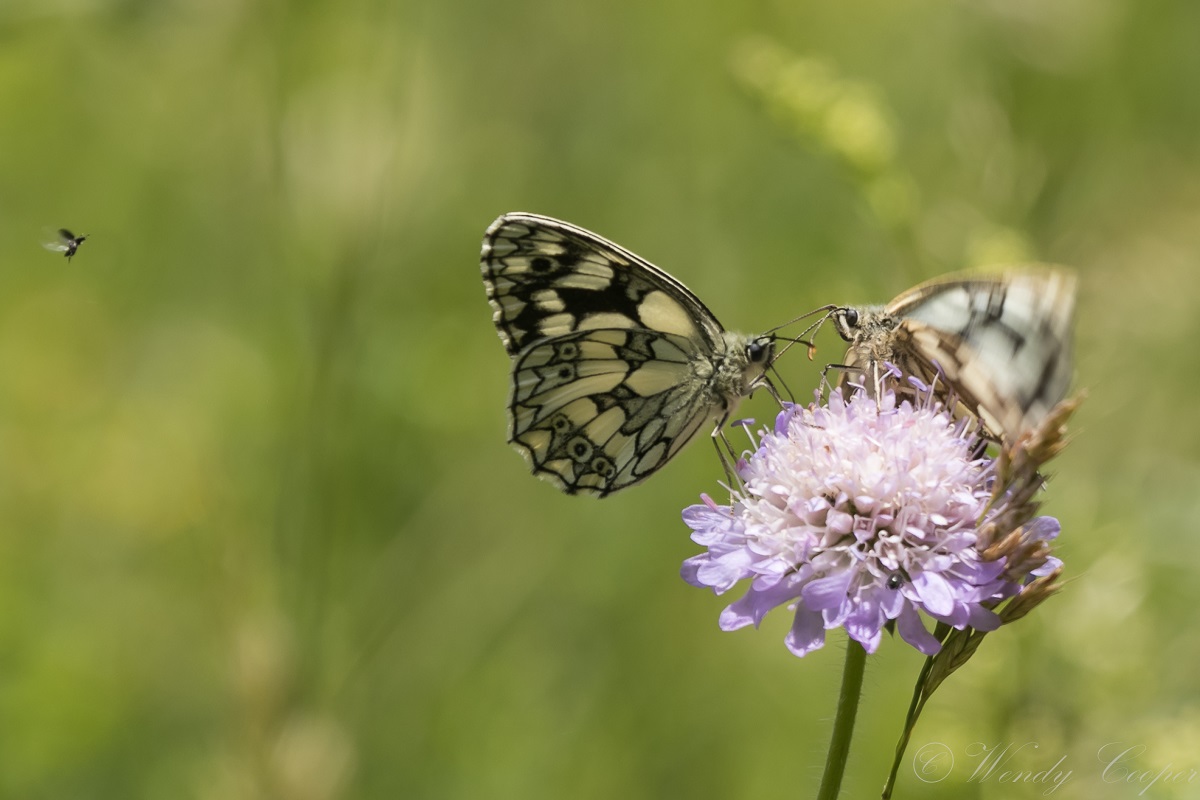 Occasionally there would be an interruption of a female from a male, (the female's underwings are slightly creamier in tone than the male's) however he was soon dismissed until she had finished dining!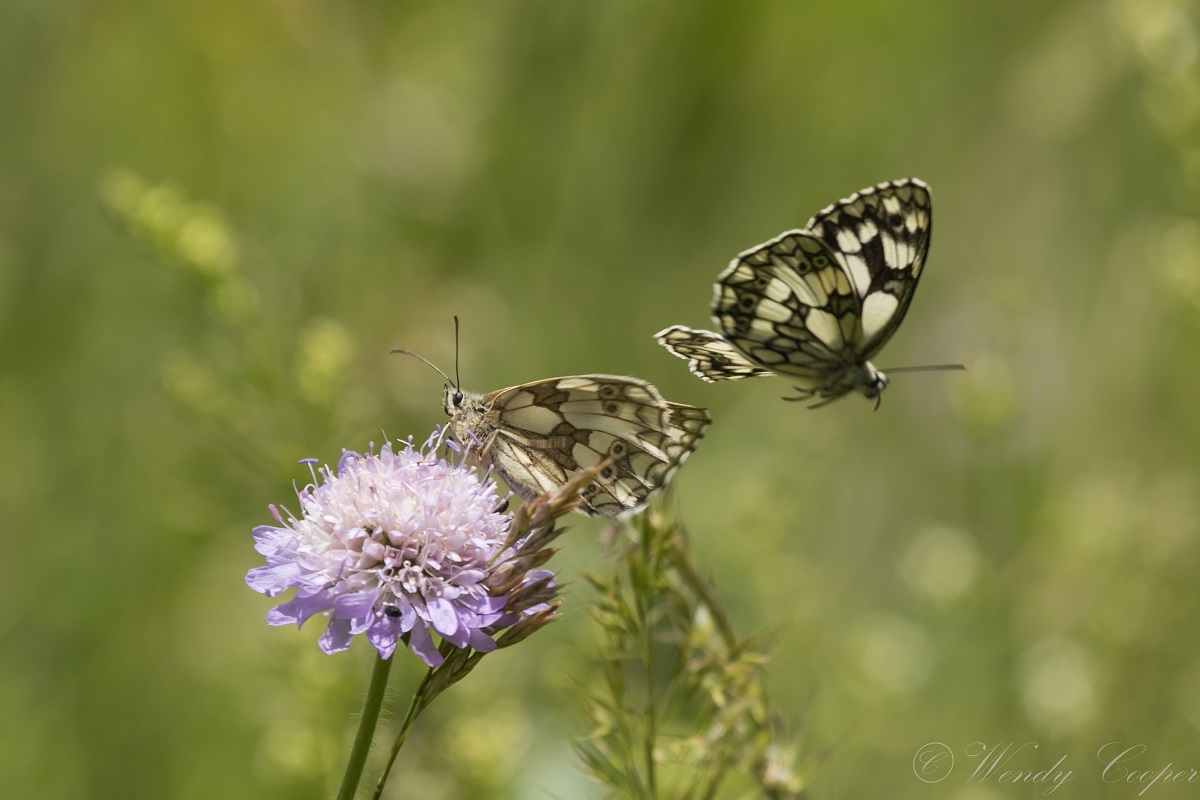 Generally when Butterfly watching, most species are loath to share their 'table' with other insects – I have often witnessed disputes with Bees, Hoverflies and flower beetles, however, the Marbled Whites appeared incredibly tolerant – I watched one share a Scabious head with two Bees and a Thick Legged Flower Beetle!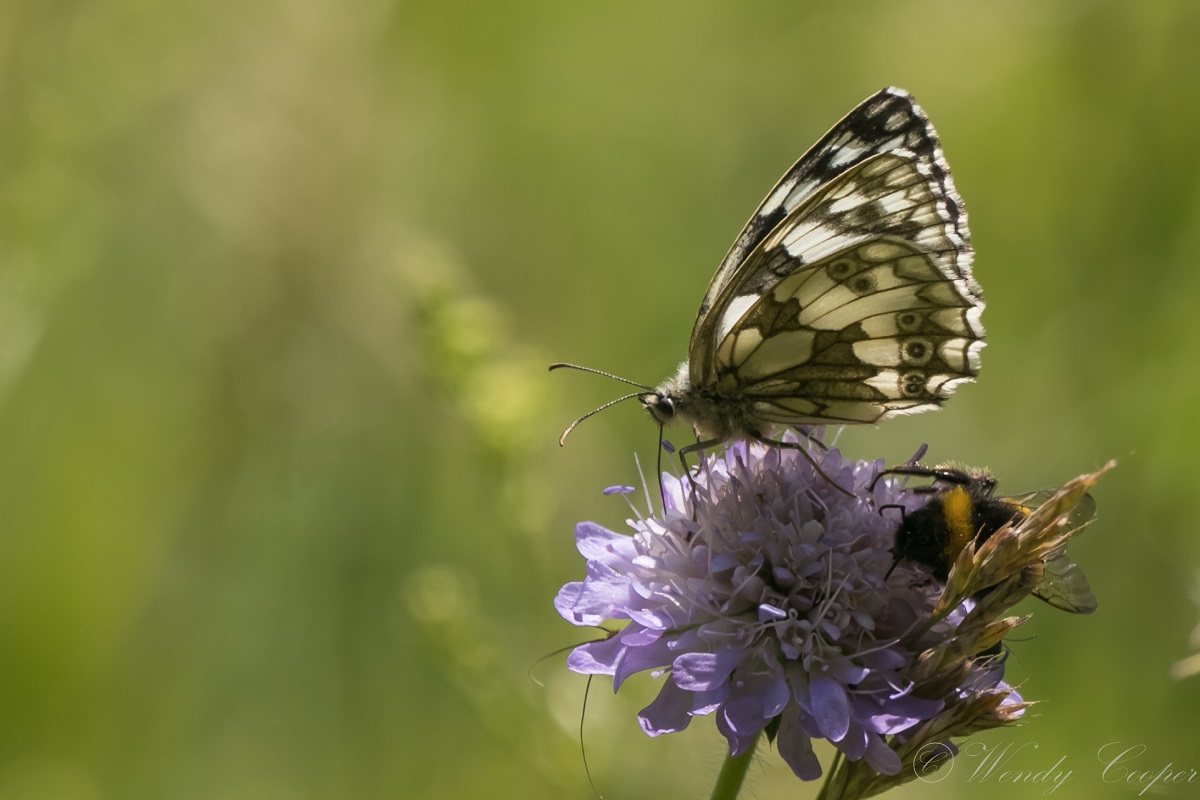 Realising time had run away I headed home, but not without stopping to watch a pair of feisty Speckled Woods having a fly off… Now for the rest of the Butterfly party to begin!
I hope you have enjoyed my blog, if you would like an email notification when my next blog is published, please add your email address to the 'Sign Up' box below, you will then receive an email with which to confirm your subscription. (please be sure to check junk/spam just in case – without the confirmation I cannot let you know about a new instalment!)
As always, comments, feedback or questions are welcome, so please feel free to contact me via the comments section below or via the guestbook.
Comments