A Wander at Wood Walton
27/09/2016 - 20:57
Would you like to join me for a walk around Wood Walton Fen?
After my visit to Wood Walton Fen in April, I recently managed to return for a further explore. So one day, midweek, I managed to take a day off work and set off. Wood Walton is set deep in the Cambridgeshire countryside and is beautiful and very peaceful.
The day started off quite misty and foggy in places and when I arrived at the Fen, there was still quite a bit of mist about, I had decided this time, that I would visit the water hides first and then the Harrier hide, late on in the afternoon. I set off along the trail for the water hides, walking past an area of grasses and reeds to my left, which had an electric fence around it and tall reeds to my right. Some of the grasses were still laden with dewy cobwebs, which were gradually drying as the sun came out and warmed everything up - it was going to be a warm day!
Squinting against the sun, above the field I could see a familiar shape hovering - a Kestrel! As I watched, it flew over to a birch tree and perched for a while, so I carried on walking, only for it to take off and begin hovering again as I got closer.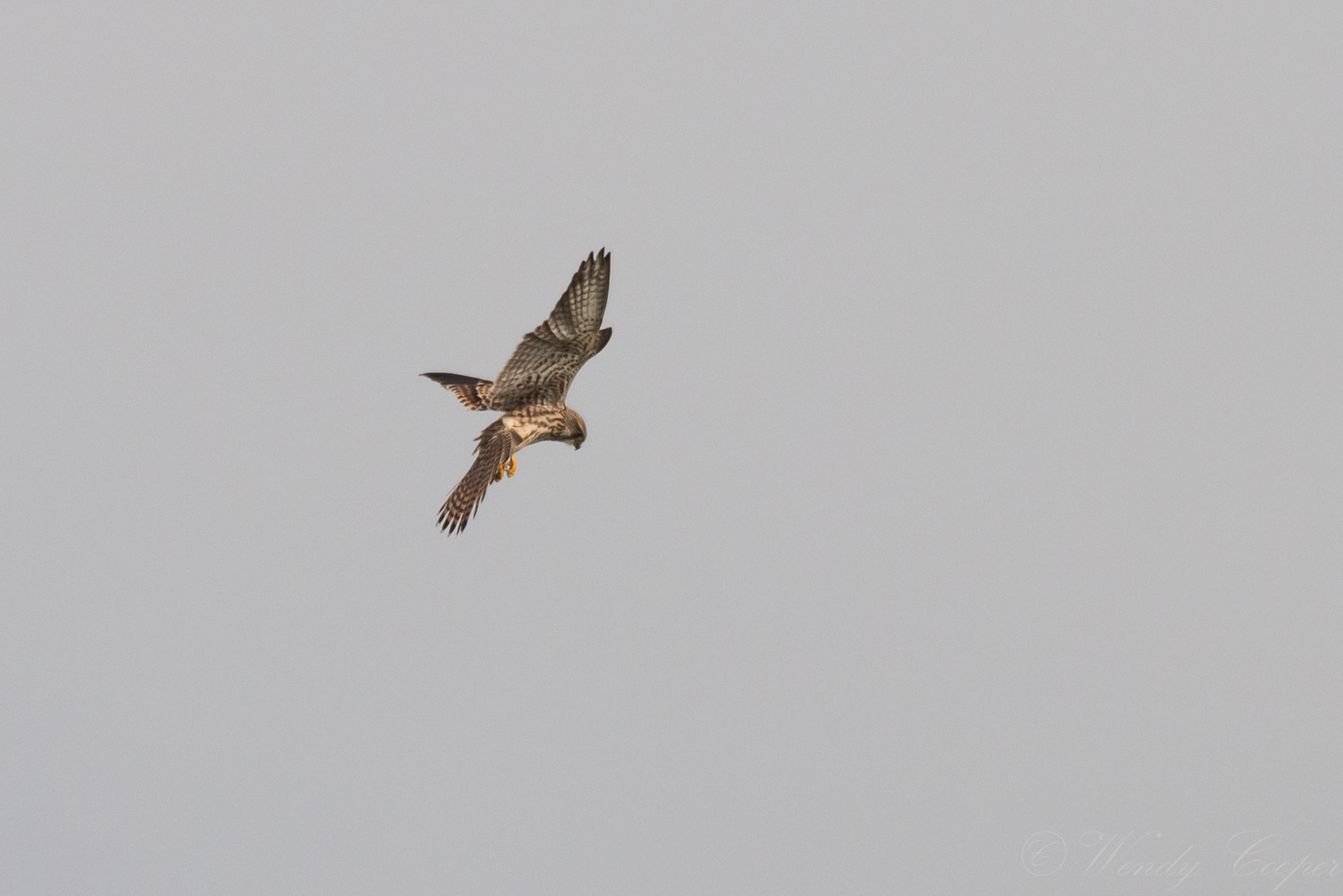 I stood watching for quite some time as she quartered and hovered her way around the field, before she then decided to stop for a while and survey the area from high up in an Oak tree.
She then took off again, surveying the same field over, before flying off over the taller reeds; as I watched her, a second Kestrel came out from the trees where she had been and went at speed across to where she was now hunting, after a moment or two, I saw them head off in separate directions. I continued walking along the trail, when I could hear familiar bird cries, a Buzzard and a Crow having a heated discussion. Scanning the treetops with the binoculars, I got to see quite an aerobatic bit of flying as the Buzzard attempted to dodge the crow, before disappearing behind the trees.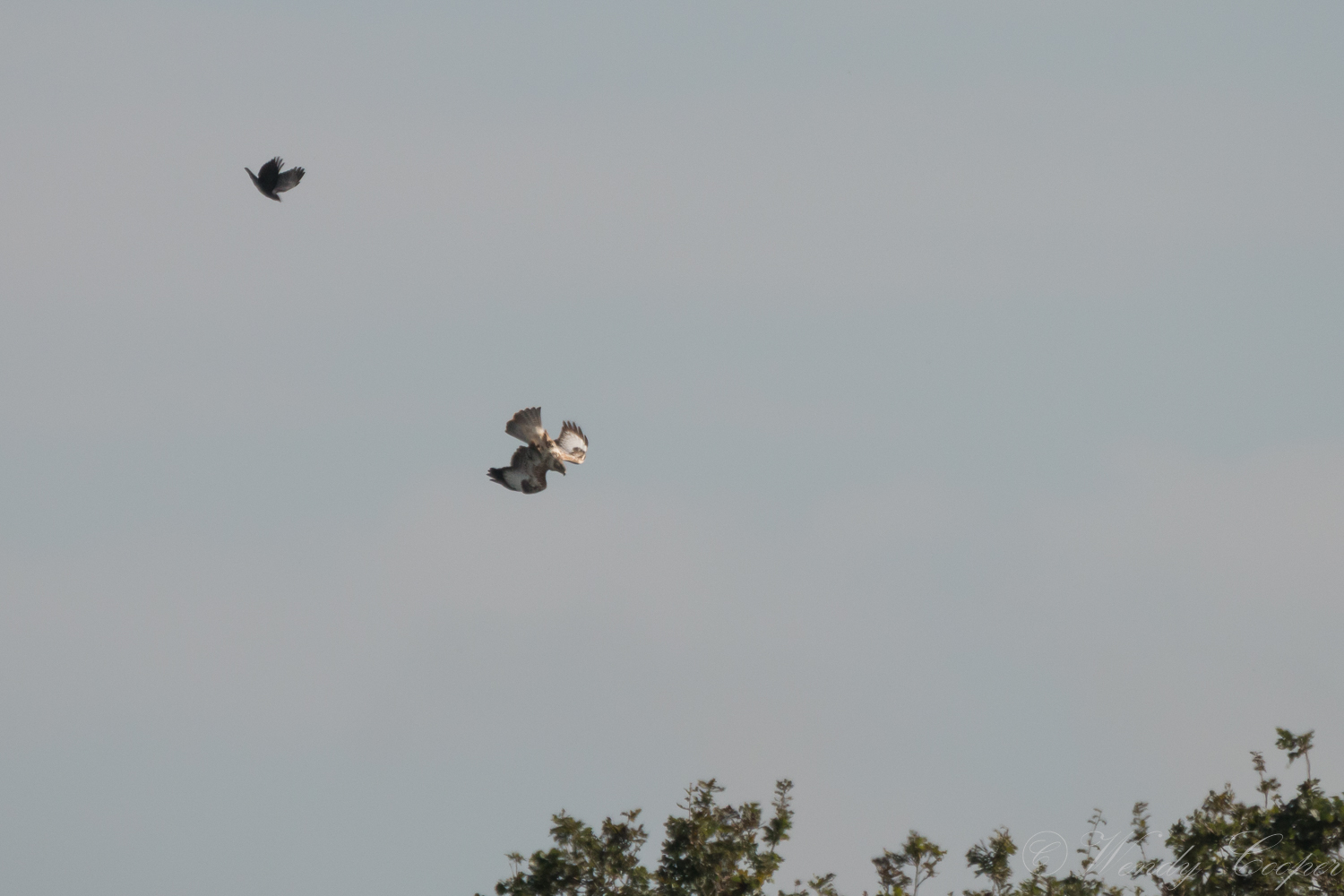 Continuing walking, I could hear Wrens and Robins singing from deep within the Hawthorns and reeds along the path. I was also dodging quite a few Ruddy Darters and small butterflies, which were settling for no-one! (judging by how they were flying and the little flashes of orange I was seeing, I think that as well as Red Admirals and Small Whites, there were quite a few Small Coppers about). Every now and then one of the Ruddy Darters would settle for a moment before setting off again in search of a mate - there were quite a few couples dancing through the air as well!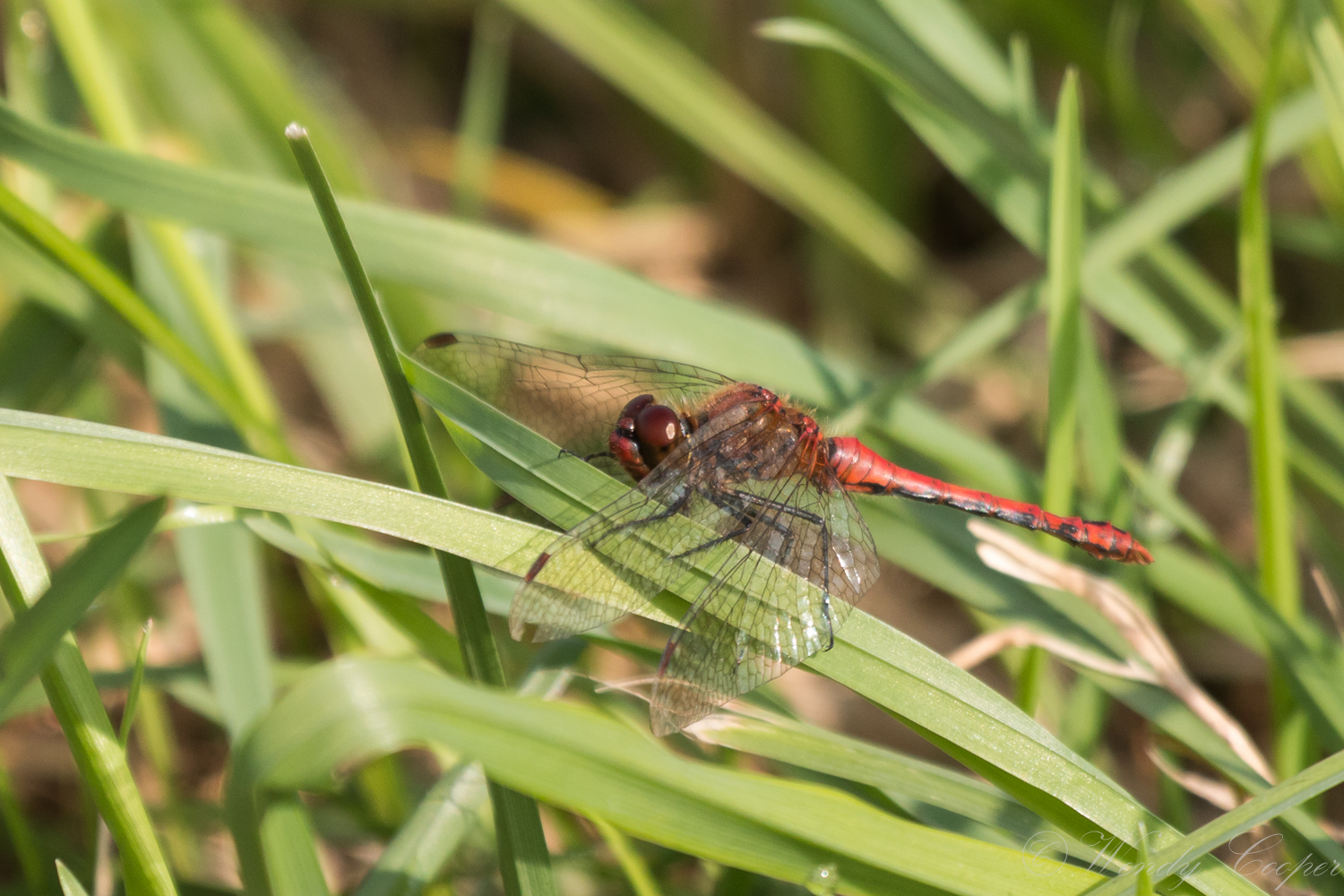 Amongst the dancing Ruddy Darters, were also quite a few Common Darters, some single and some coupled up. I spied this pair amongst the vegetation making fairies, although after a while the Lady Darter didn't look too happy as she ended up dangling under the reed stem they were on, although if it is possible for a male Darter to smile, in some shots I have he certainly seems to be!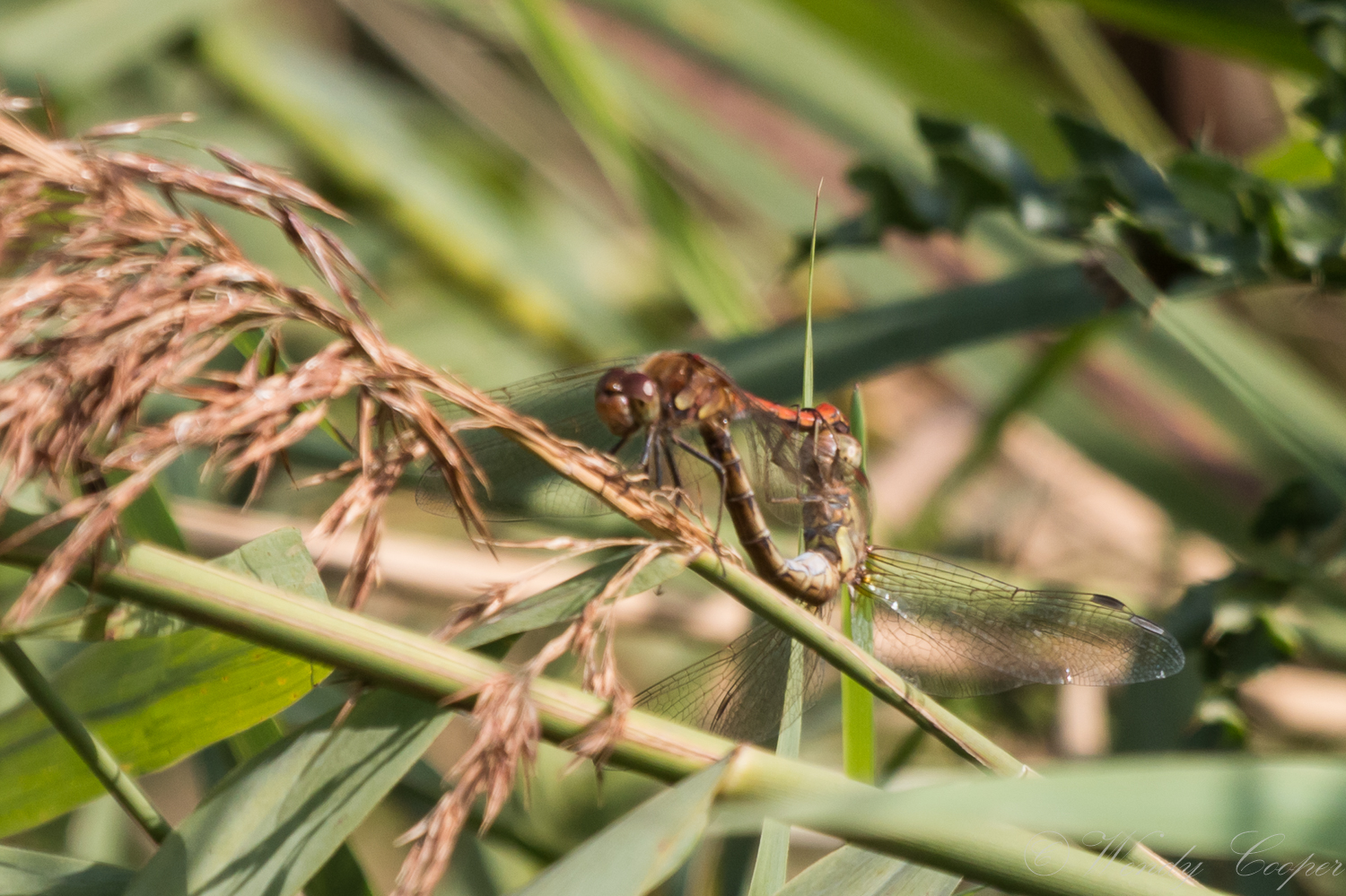 As I progressed along the path, I was keeping an eye open above me as well, seeing a Buzzard turning lazy circles far off and overhead a small group of Lapwings passing through.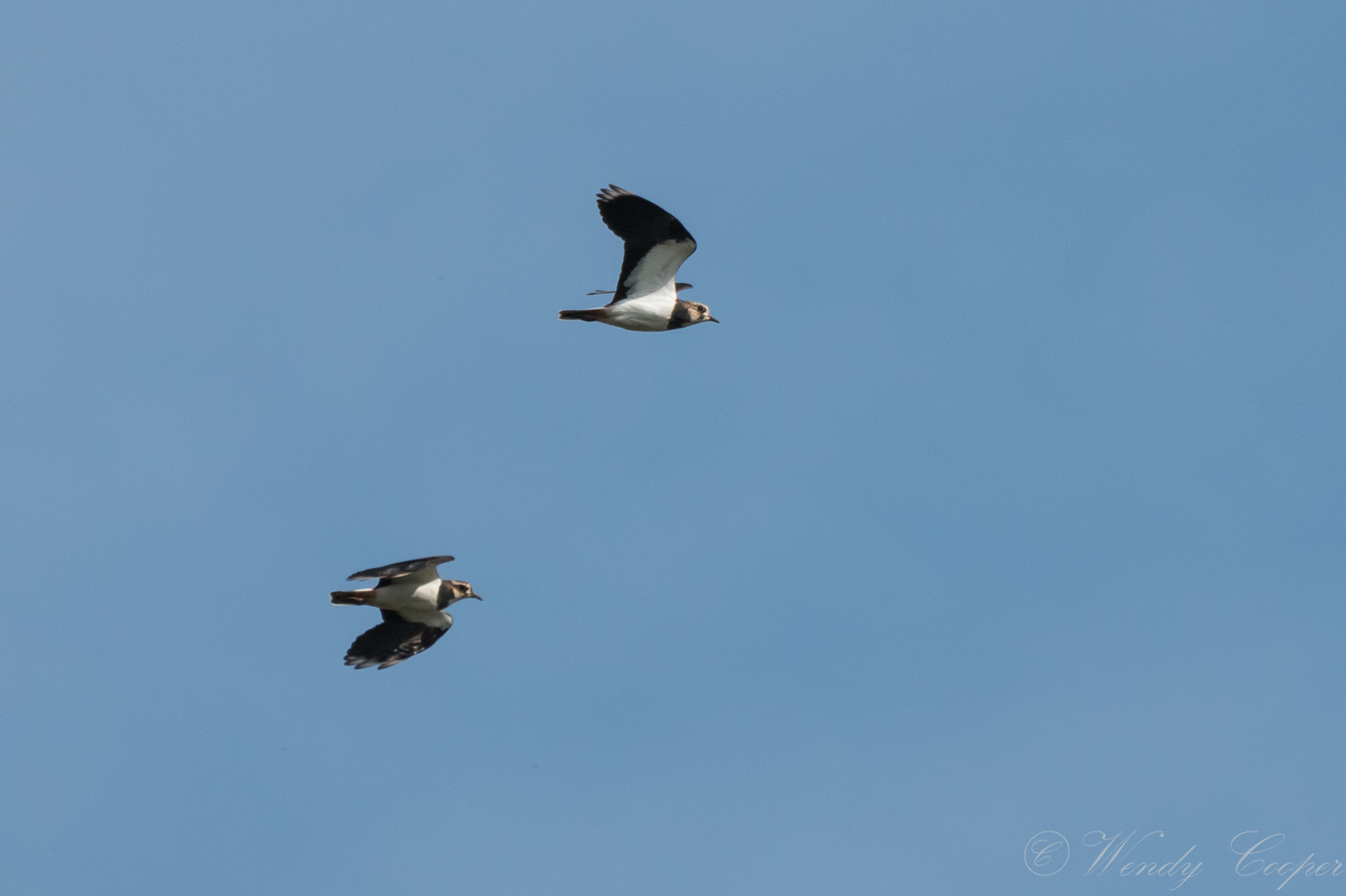 Still keeping a close eye on the reeds for minibeasts, I had one of a number of Migrant Hawkers whizzing around me so I stopped still in the hope that it would settle - after making me rather dizzy, it paused for a while, allowing me close up views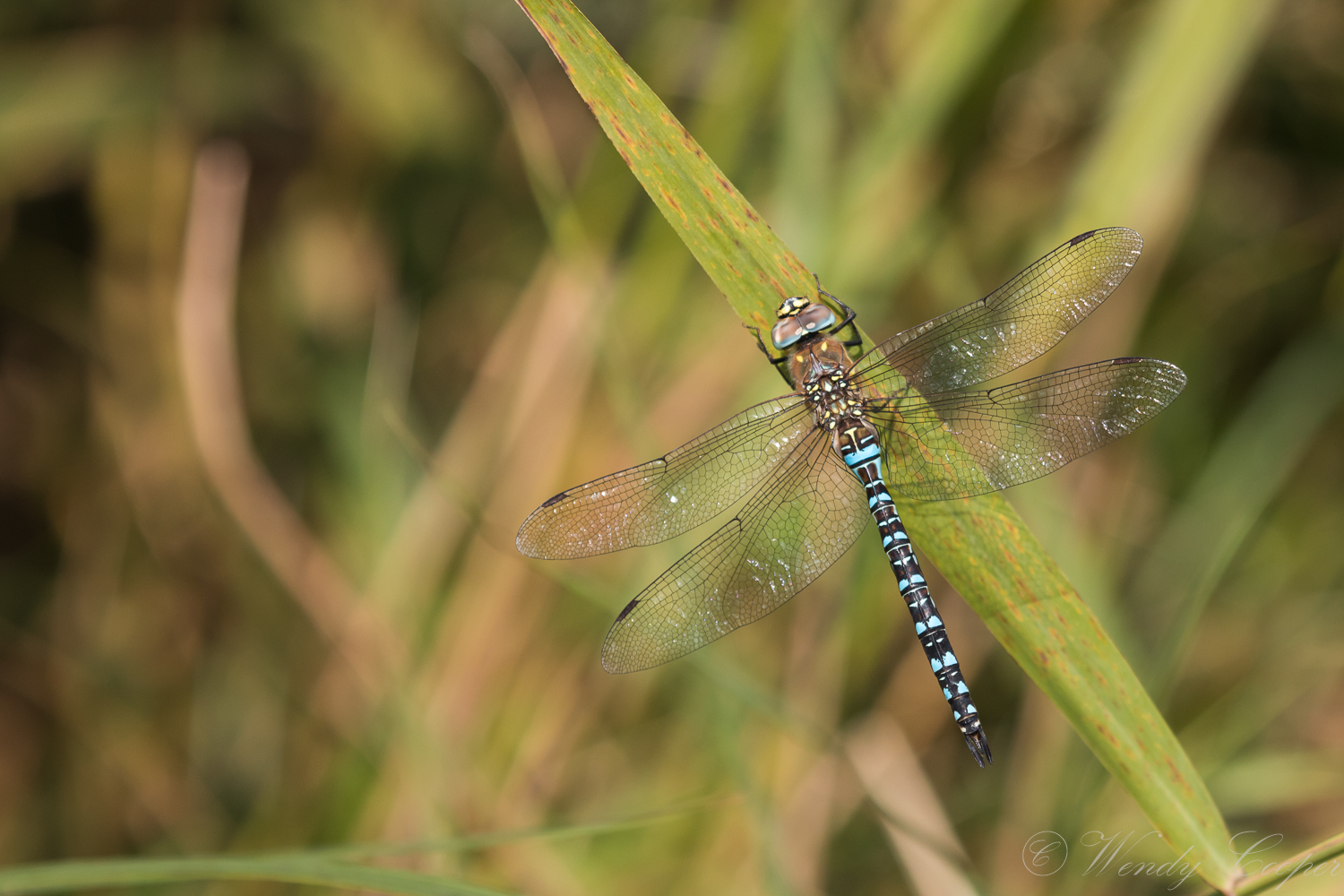 After the Migrant Hawker flew off, something small and bright green caught my eye against the purple of a thistle.. Not seen one of these before!
It is a Short Winged Conehead (Conocehalus dorsalis) It can be found on the coast, on saltmarsh habitat, however inland it is at home on fens, reedbeds and lowland pools. It is mostly omnivourous, but generally feeds on seedheads, rushes and sedges.
Arriving at Gordon's Hide, I made myself comfortable and had started to watch the flock of Mallards on the mere. There were a mixture of adults and juveniles who were still 'getting their colours' as well as a few which were still sporting 'baby feathers' as well as their adult ones.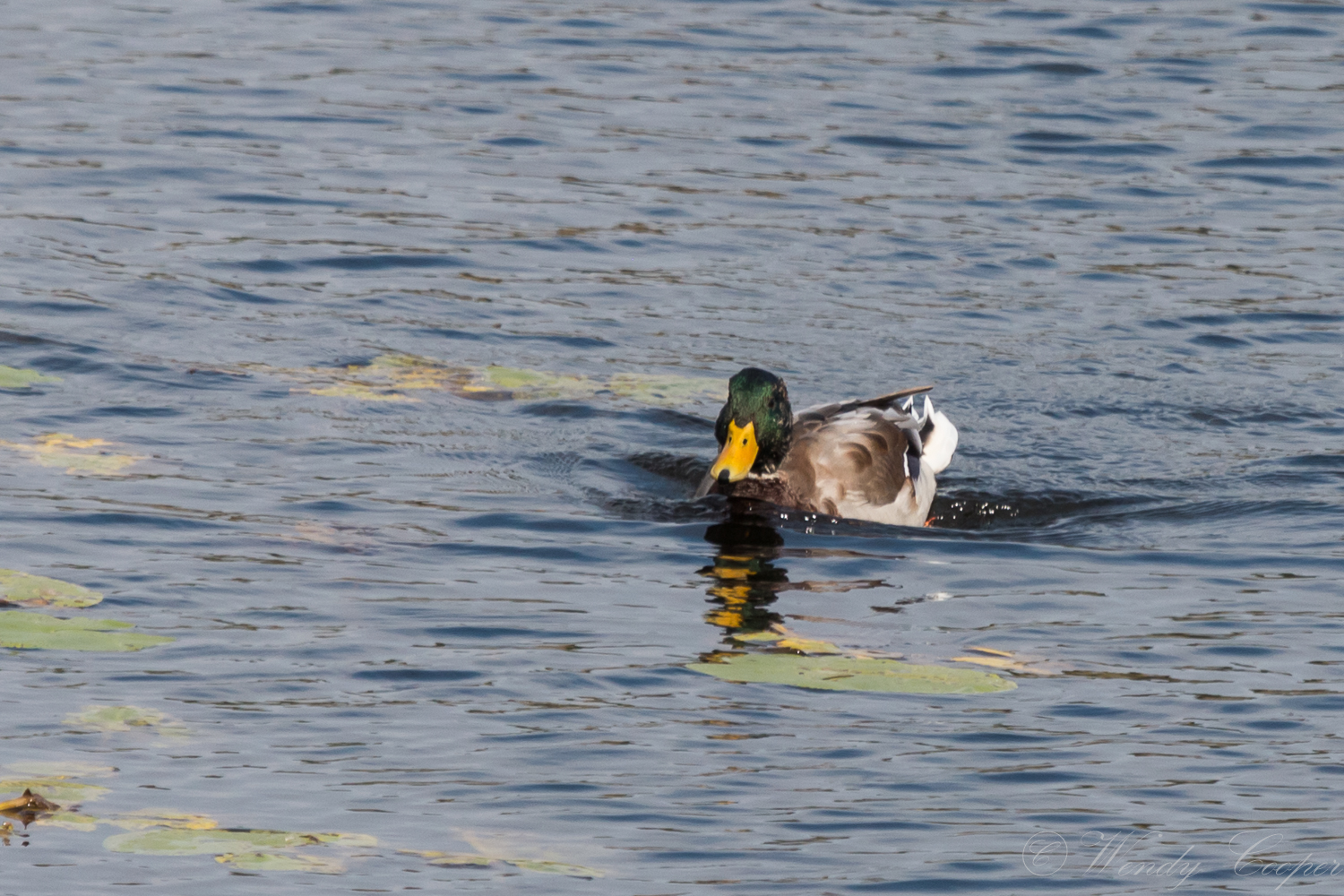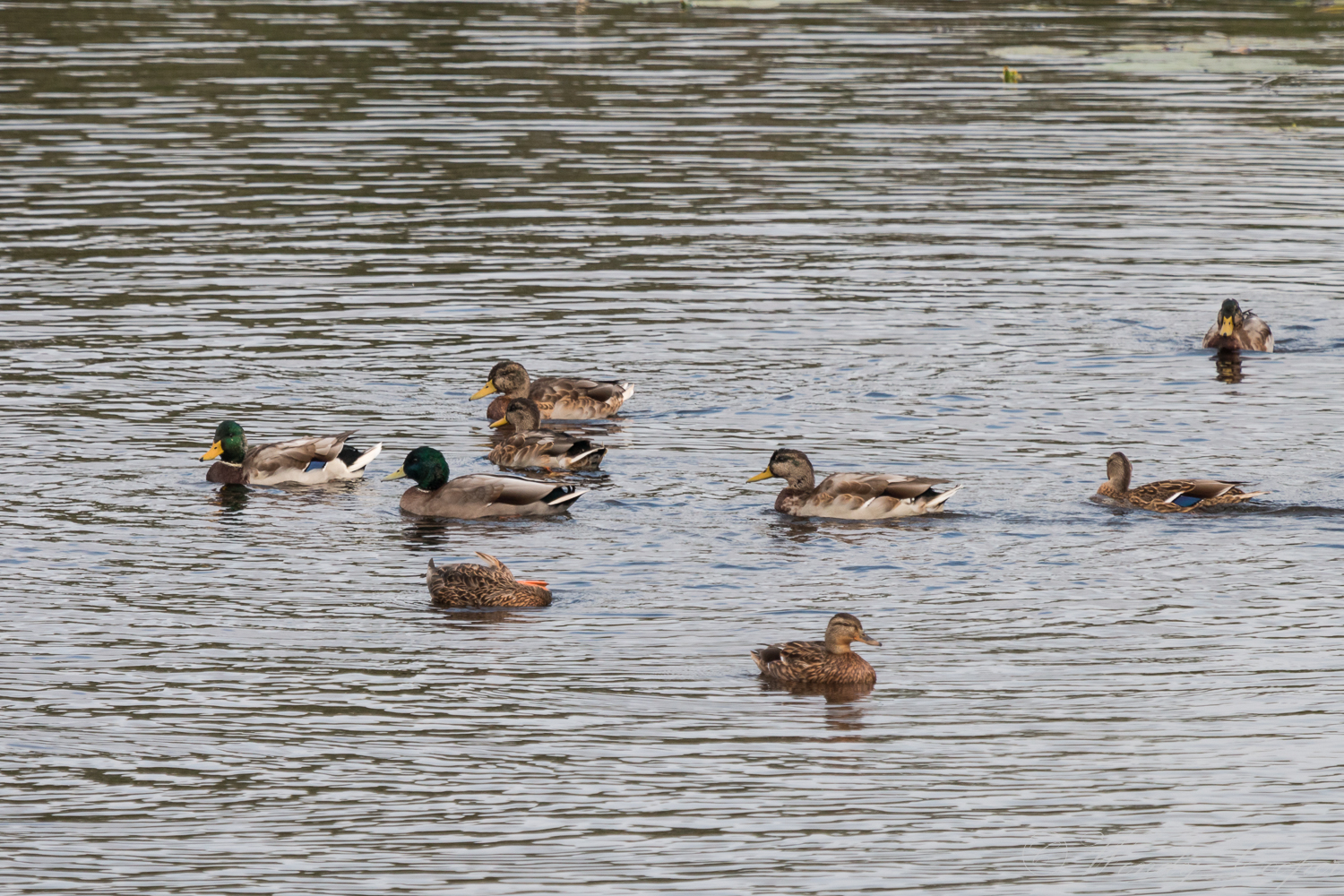 The Mallards were bathing, diving along across the water, flapping and chasing about in quite an entertaining fashion; here and there in the reeds, there were adult Mallards preening and having some quiet time, whilst at the far side of the mere, a group of Wigeon were stoically snoozing, despite the rumpus from the Mallards!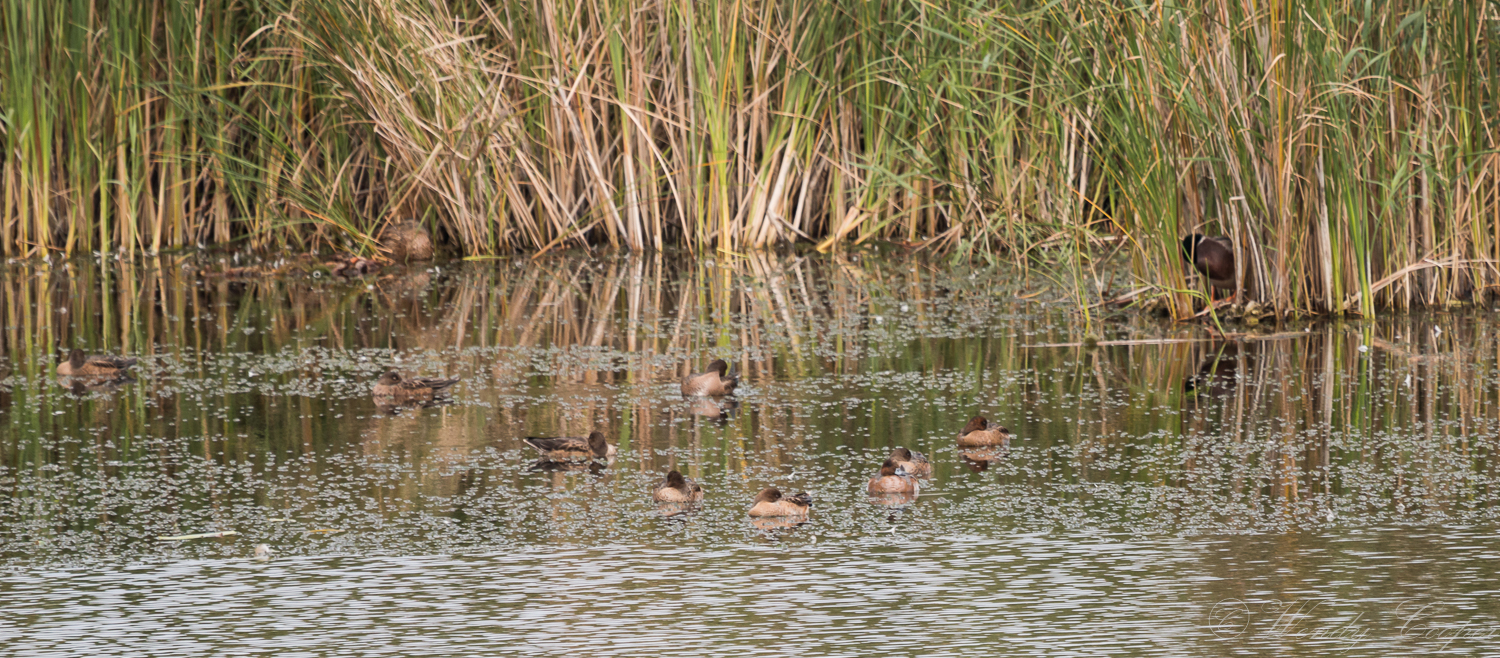 Looking out over the horizon, far off in the distance I could see a cloud swirling and flattening as a big flock of Lapwing traversed the sky, heading South to settle again. Overhead and very high up a pair of Red kites were circling, before drifting off in separate directions.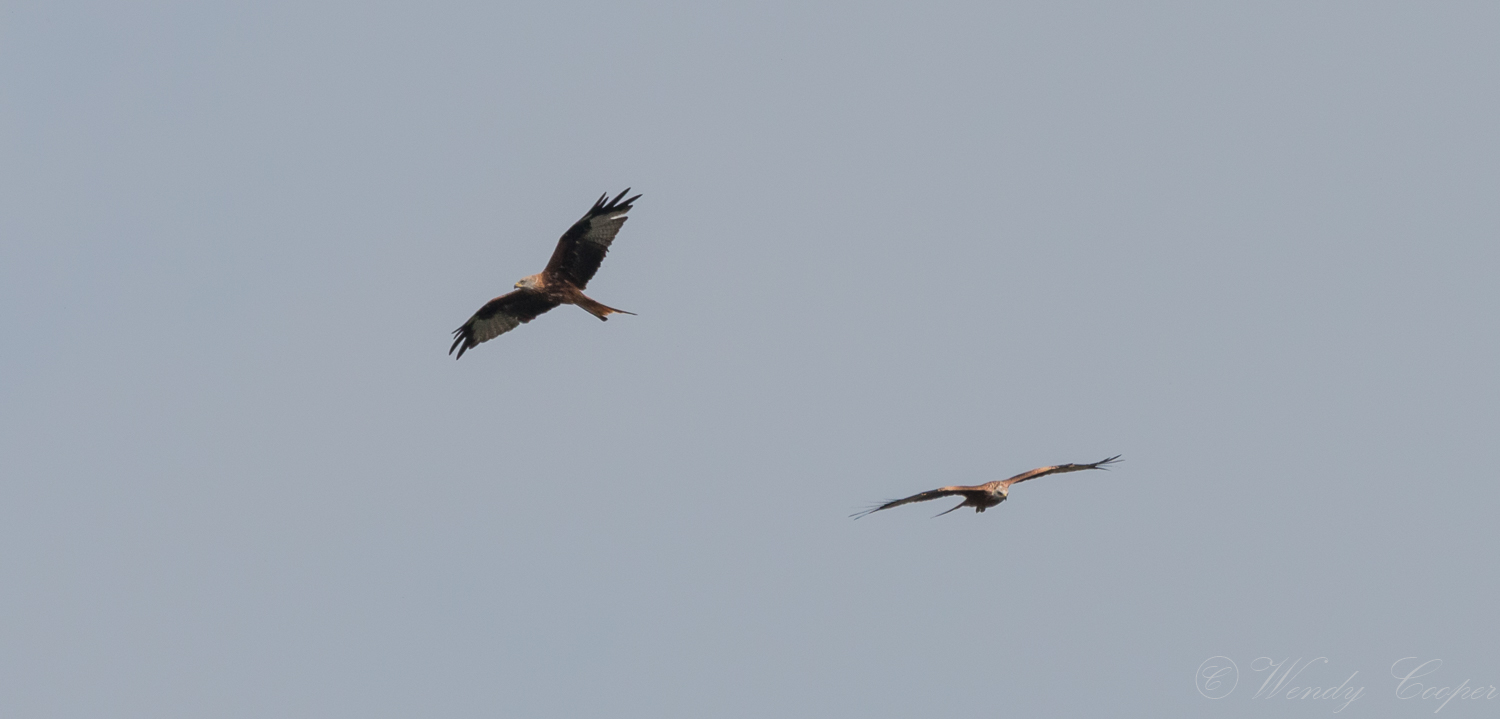 Looking over the reeds in front of the hide, a Migrant Hawker was buzzing about, suddenly pausing mid air - it had caught a snack! In the water below, near a clump of algae and vegetation I watched a joined pair of Common Darters - they were laying eggs - with the male rather violently dipping the female into the water, a behaviour I have not seen before.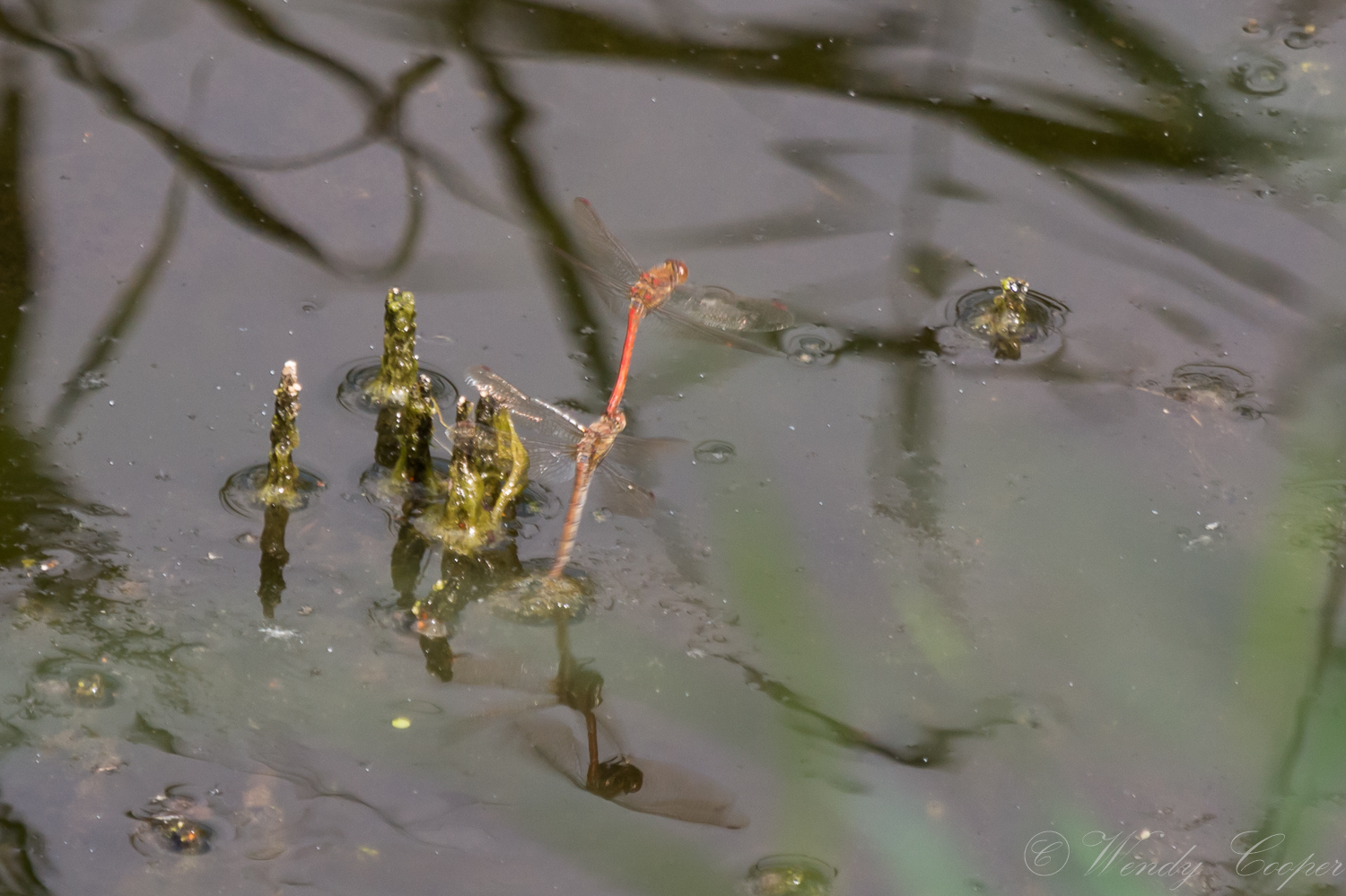 Suddenly a turquoise flash went across the middle of the mere and a Kingfisher settled in the Willow tree in the middle.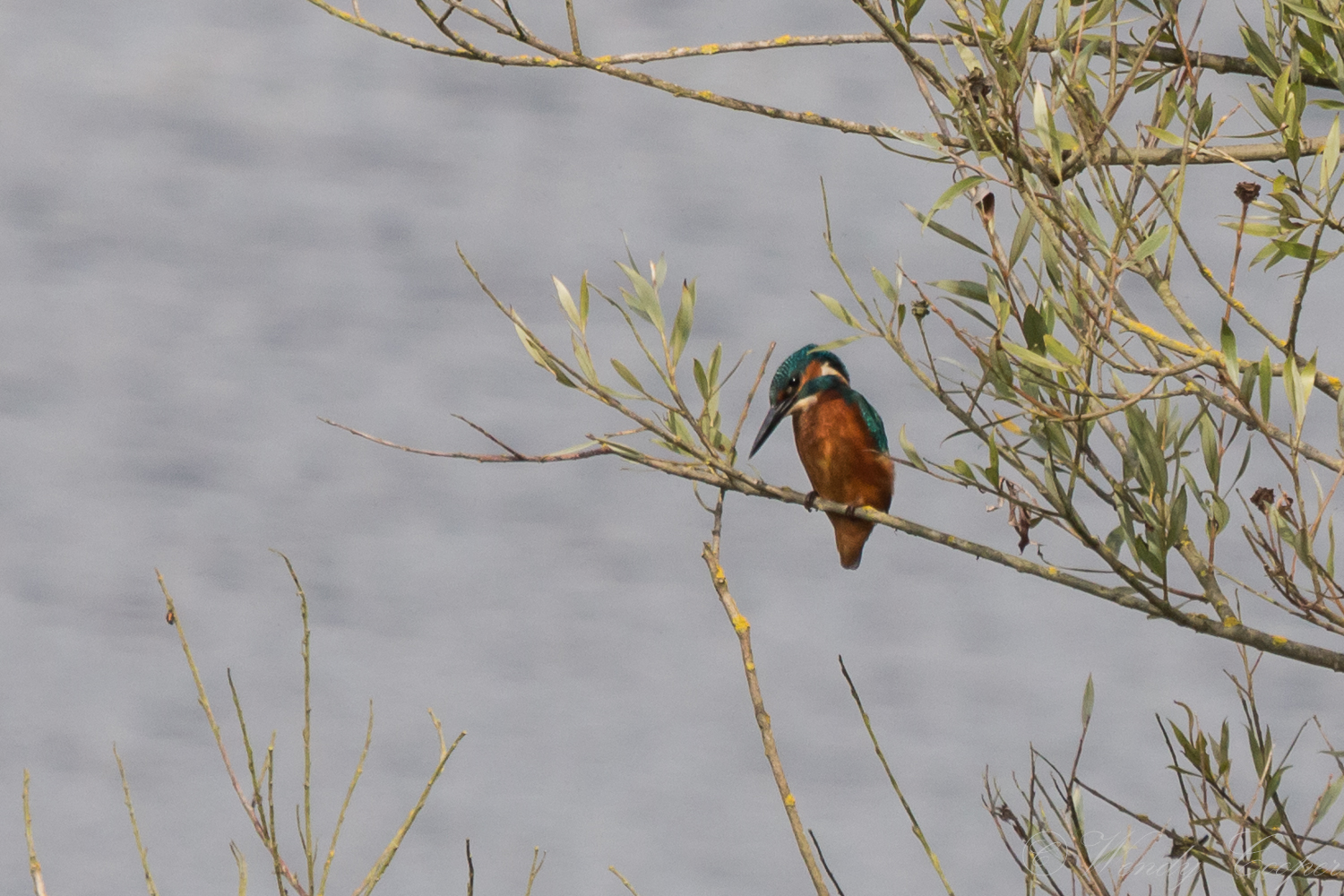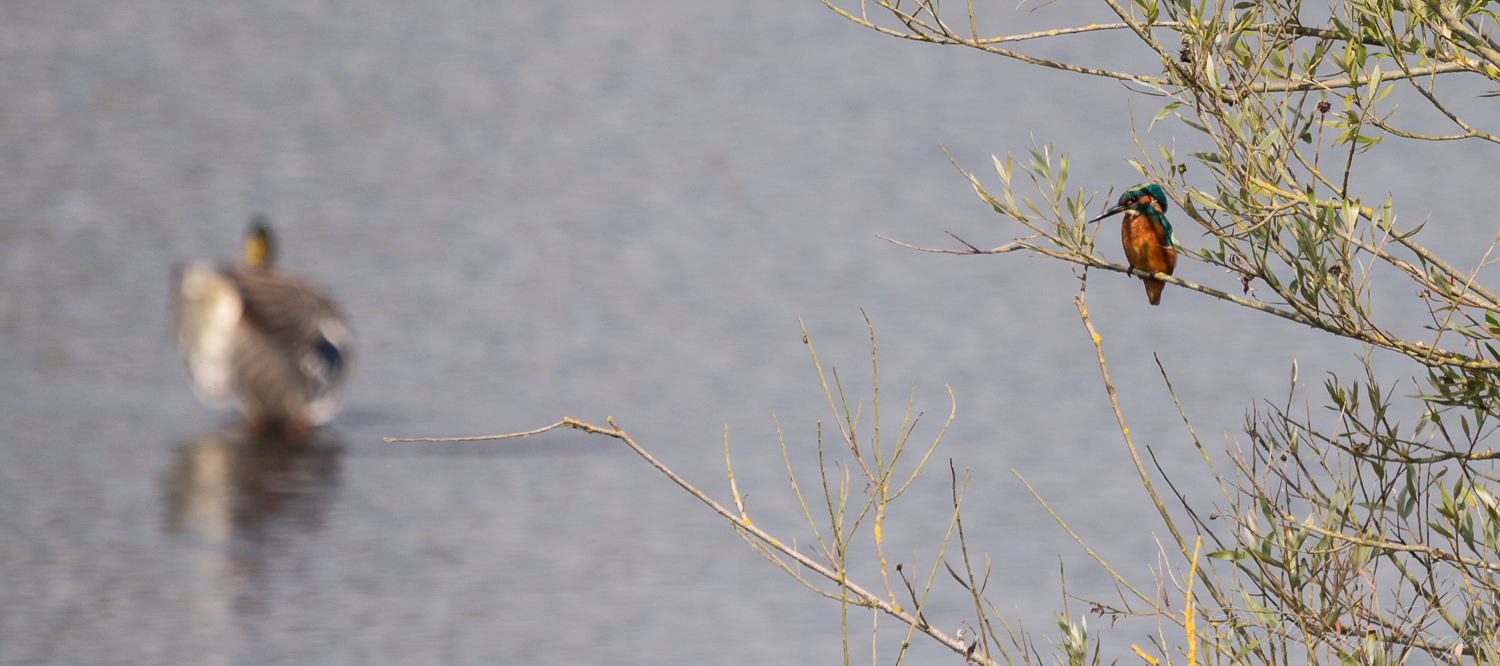 He perched quite high up in the tree, surveying the water below, occasionally flying off and returning, however as there were a few Mallards around and under the tree, I don't think there were any fish in that spot,so there was no diving on the water. After a while he did a circuit, perched the other side of the tree and then flew off. I took that as my cue to wander along back to the Rothschild Mere and the other hide.
Once I was back on the main path, I was once again dodging Ruddy and Common Darters who were dancing around singly and in pairs. Overhead to my left, I could see two small dark shapes in flight, as they came out of the sun, I could see not one, but two Hobbys! Looking carefully I could see a few dragonflies high up as well and sure enough, after a moment or two, one of the Hobbys was dining on the wing.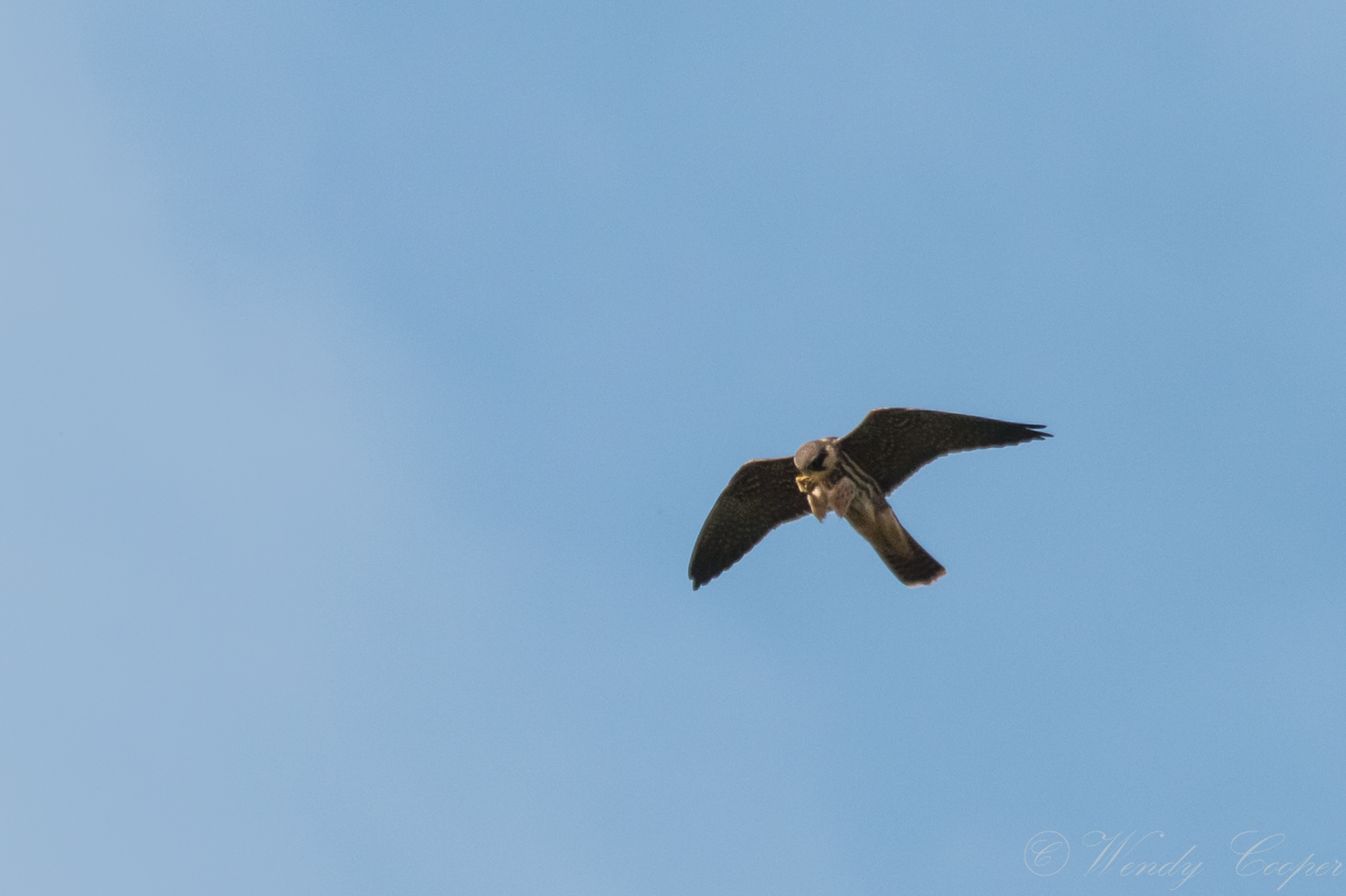 Meal finished flight continued, with the numbers of dragonflies and other 'buzzies' that were about, I suspect that they were having a veritable feast!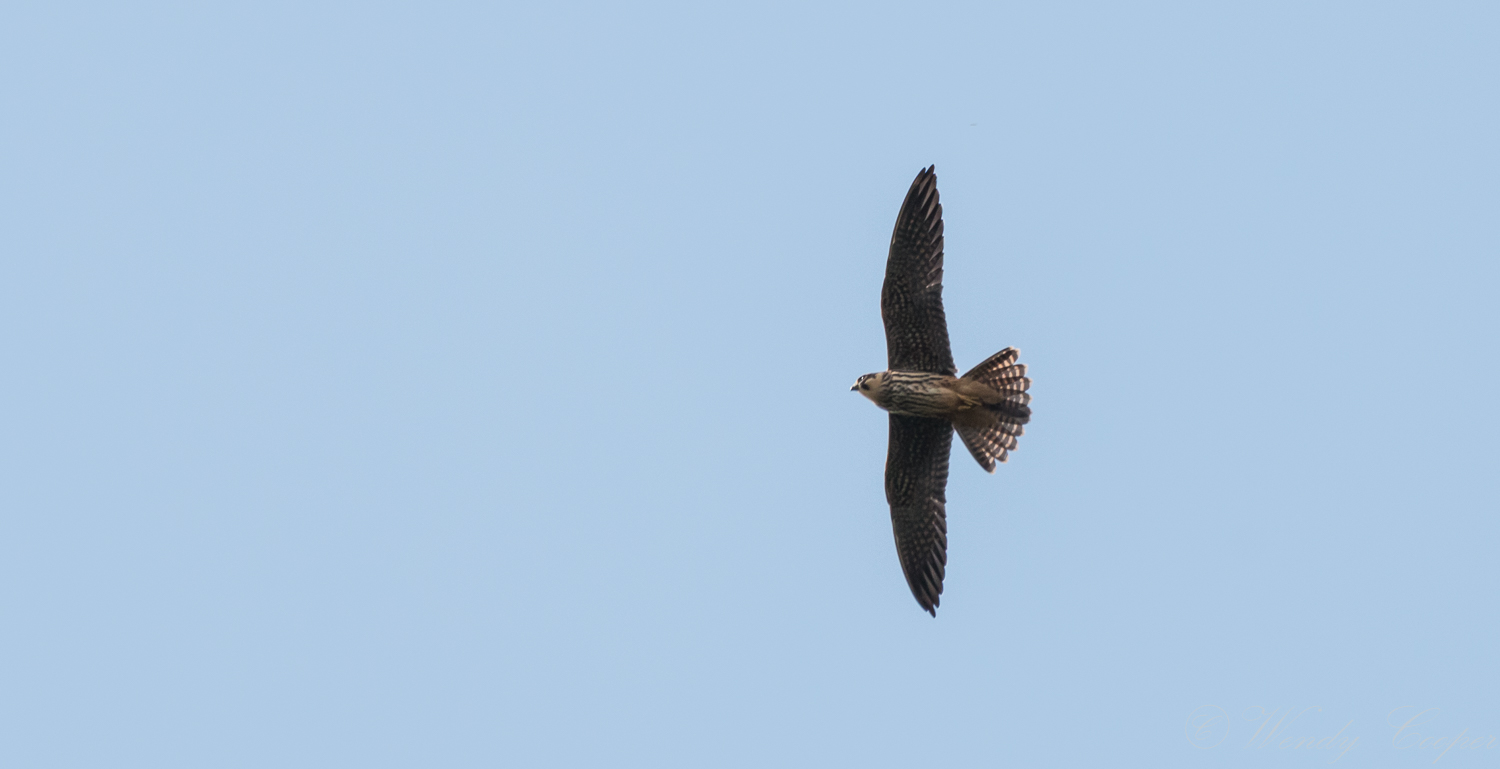 Walking down a cool green tunnel, I arrived at the smaller hide. Just outside, by the yardstick there are a couple of old posts in the water and a bit further out there was a small pontoon with two Cormorants stood surveying the mere.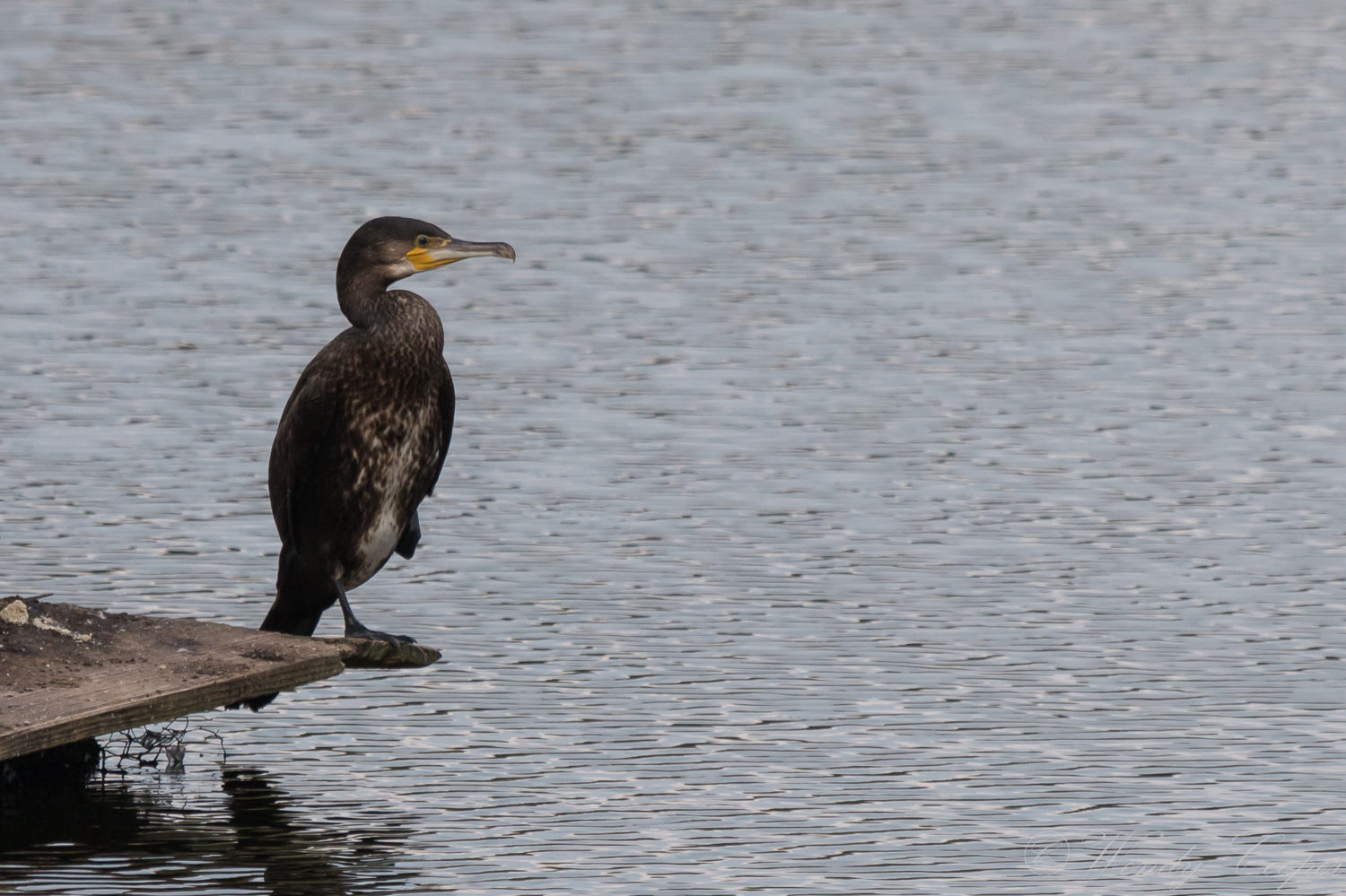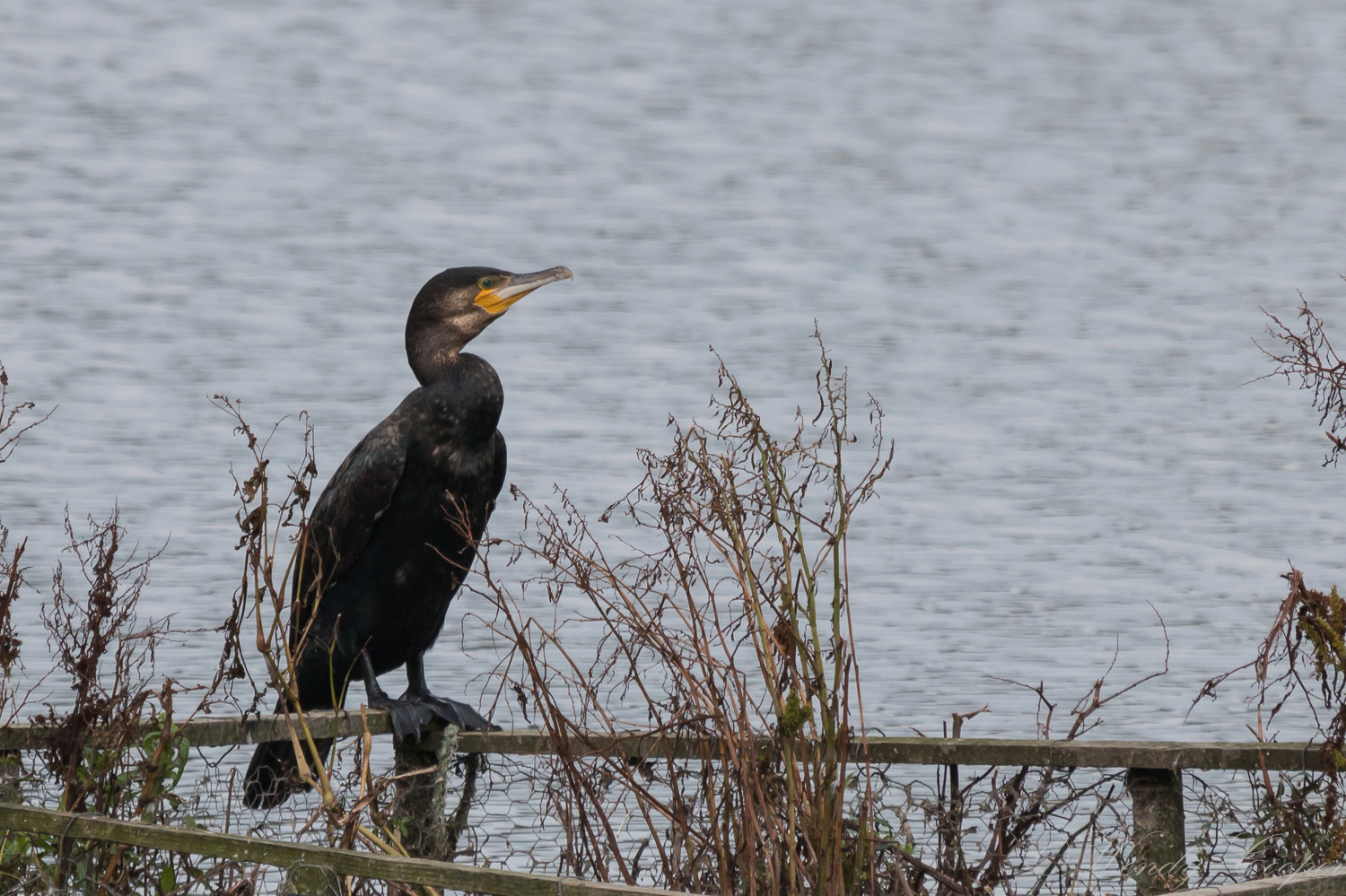 Over the far side by the reeds there was a Mute Swan, quietly minding it's own, whilst from around the corner and out of sight there came the sound of splashing followed by a lot of quacking as ducks chased each other across the water.
Another flash of turquoise and there in front of me was the Kingfisher again!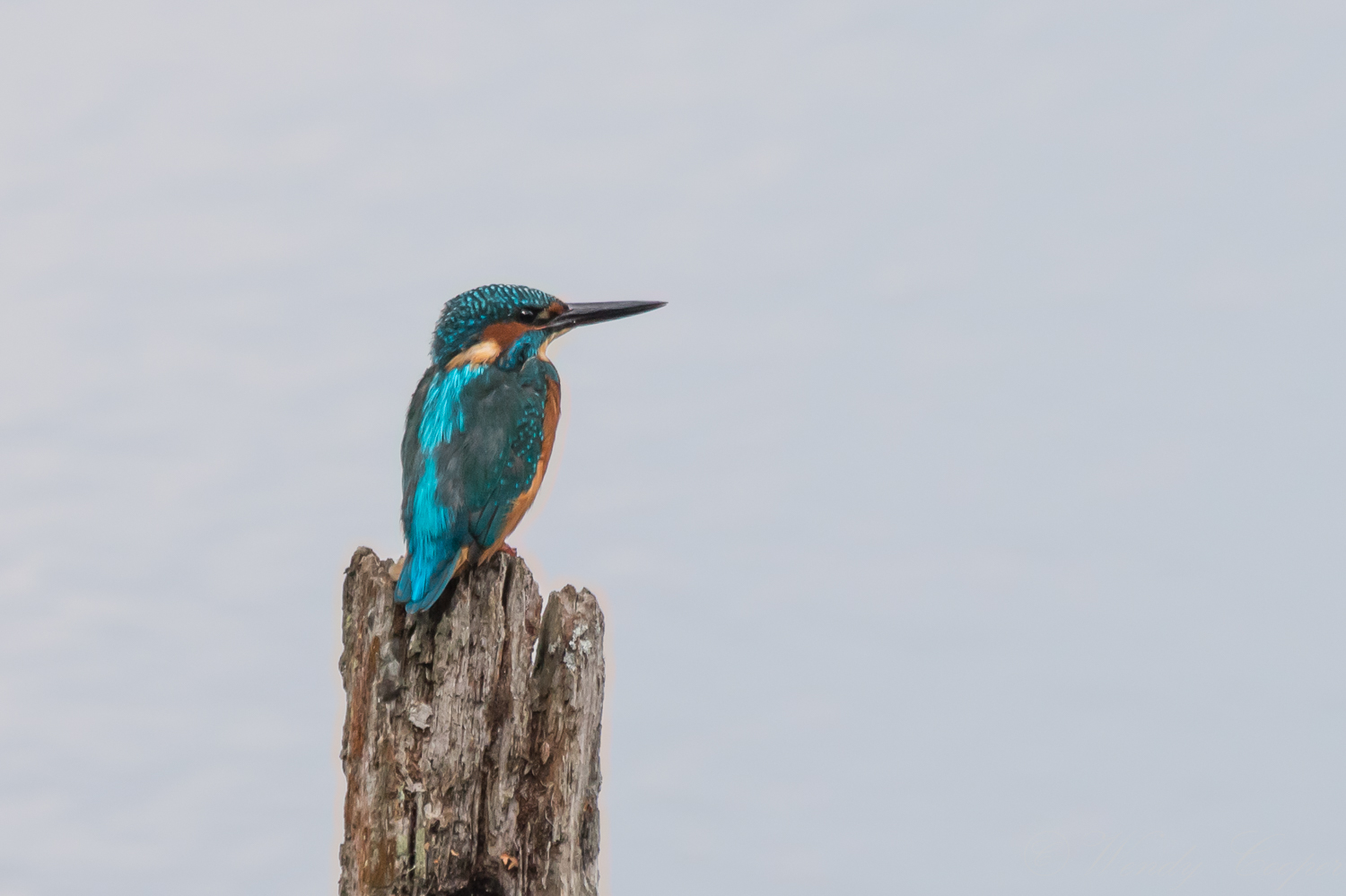 He sat for a while, looking about and occasionally diving into the water before flying off around the corner.
Meanwhile, the swan decided that a chanage of scenery was required, so taking the whole width of the mere, proceeded to take off....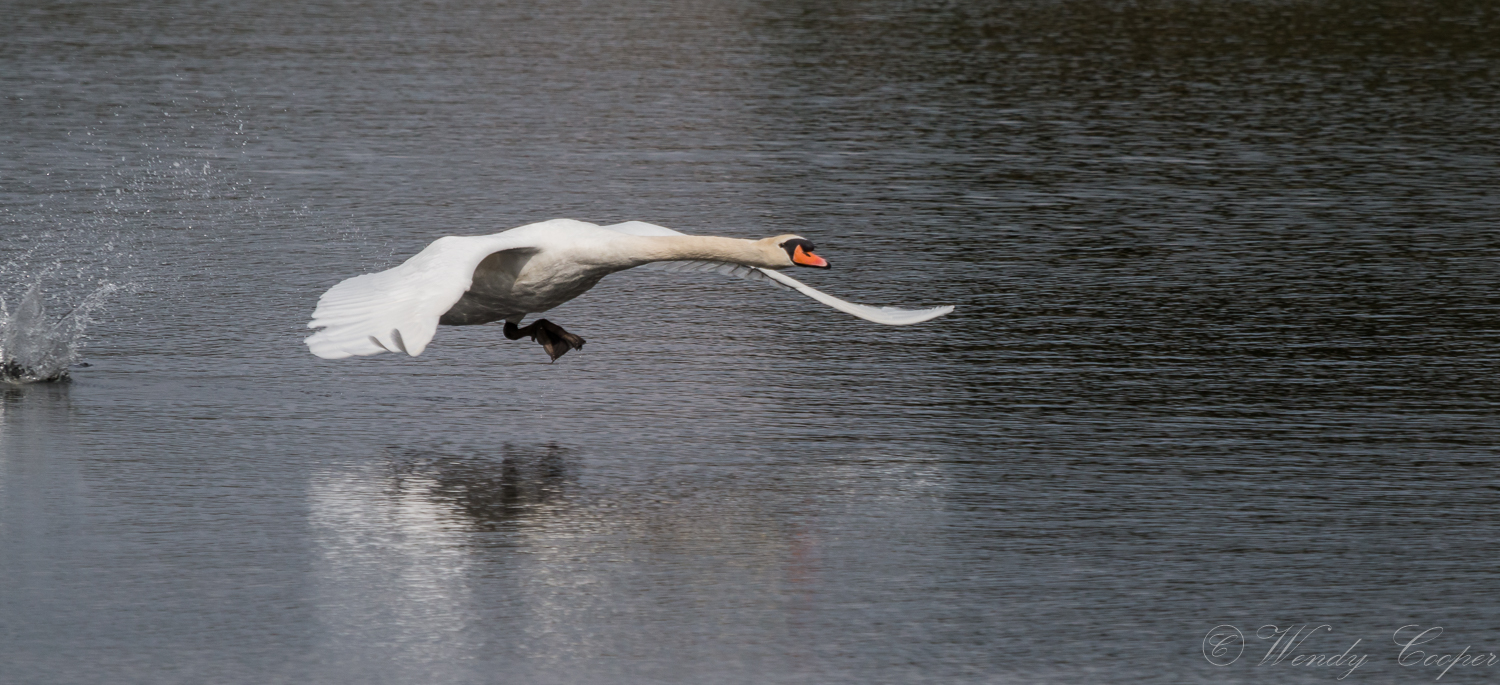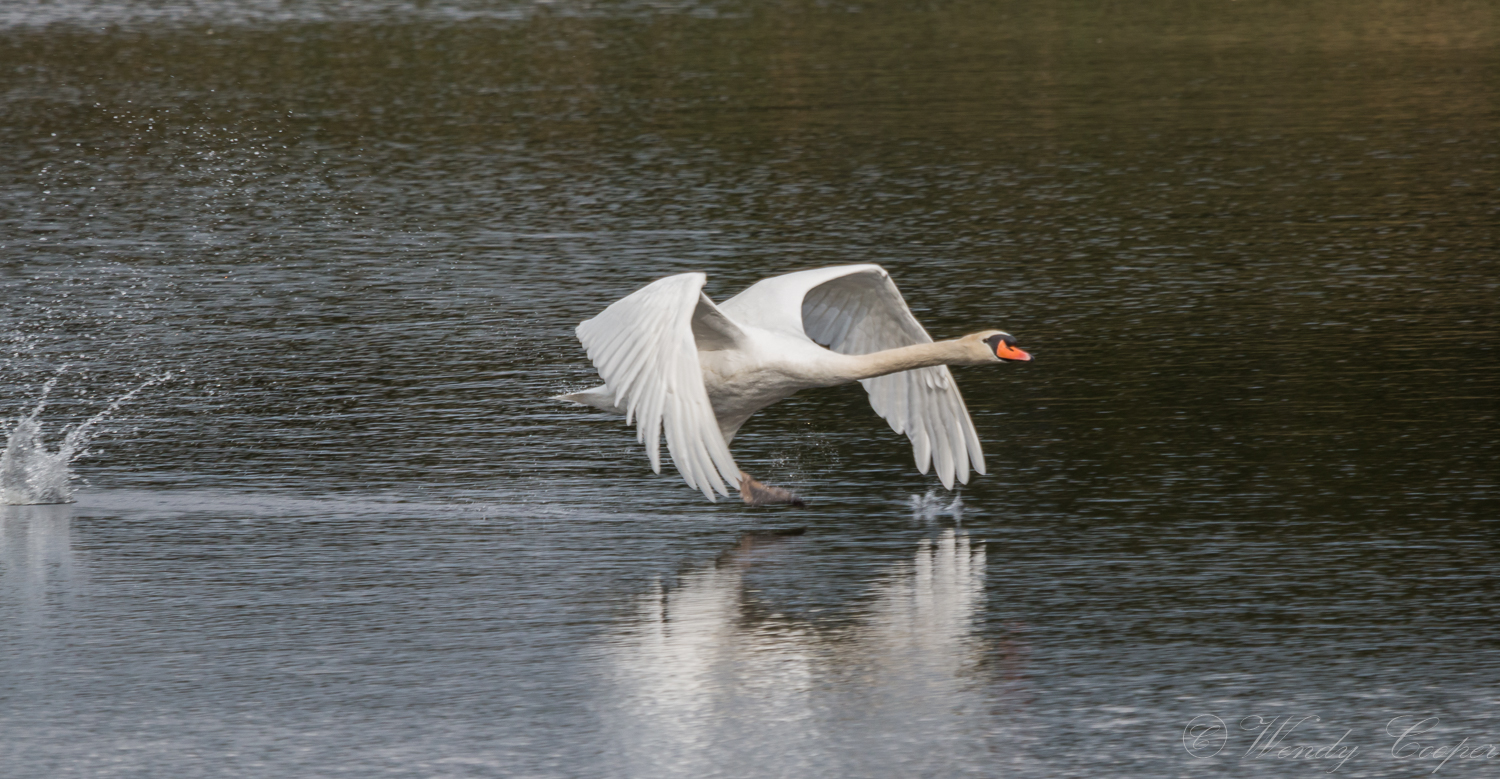 And finally lift off!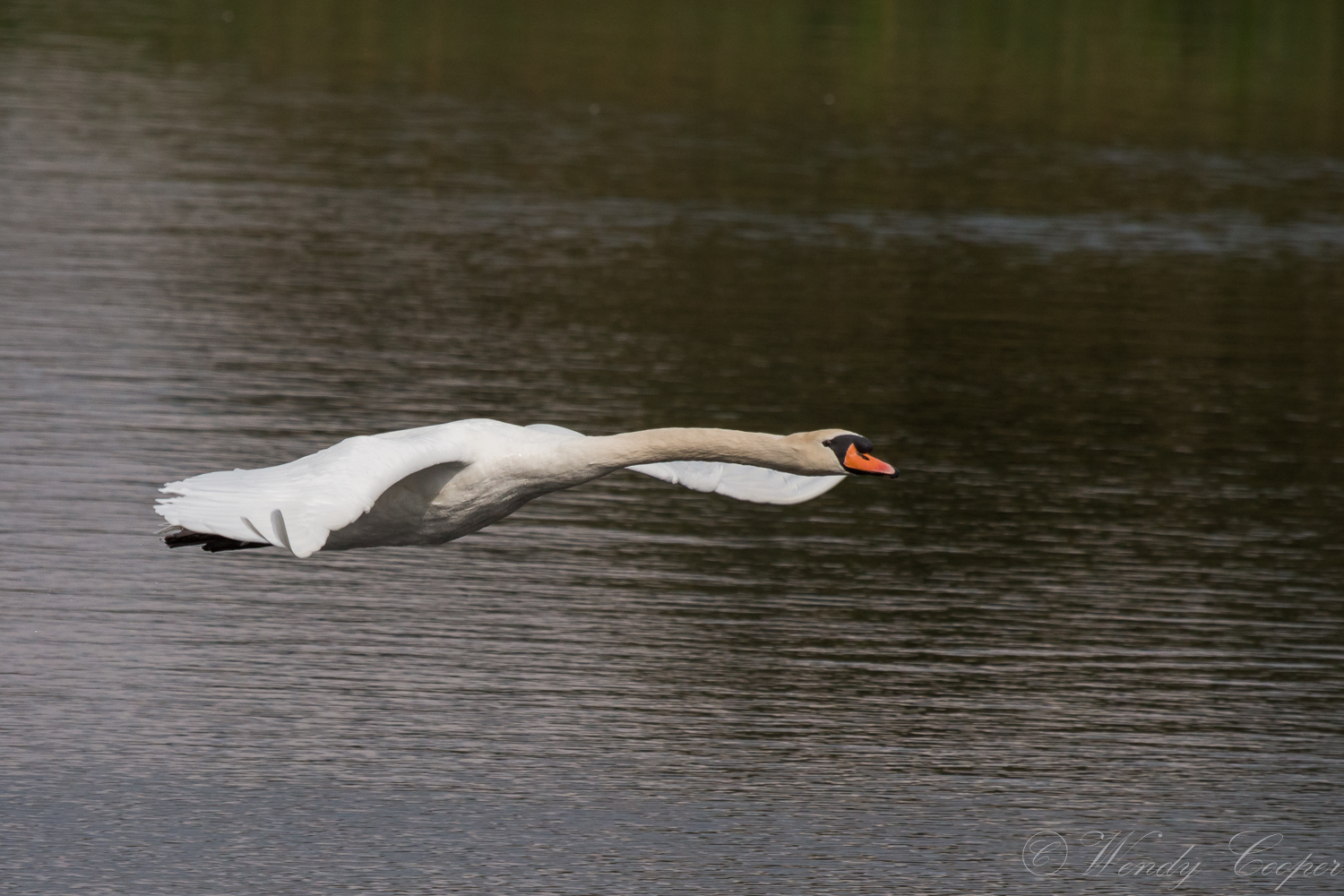 It was quite a sight following the Swan's take-off progress and I hadn't realised how much sound their wings make as they take to the air; despite the effort involved, they are incredibly graceful.
With the Swan's departure, the Kingfisher returned again and stood surveying the water around his perch. From time to time he would dive, or occasionally would zip from side to side across the surface of the water, possibly catching insects.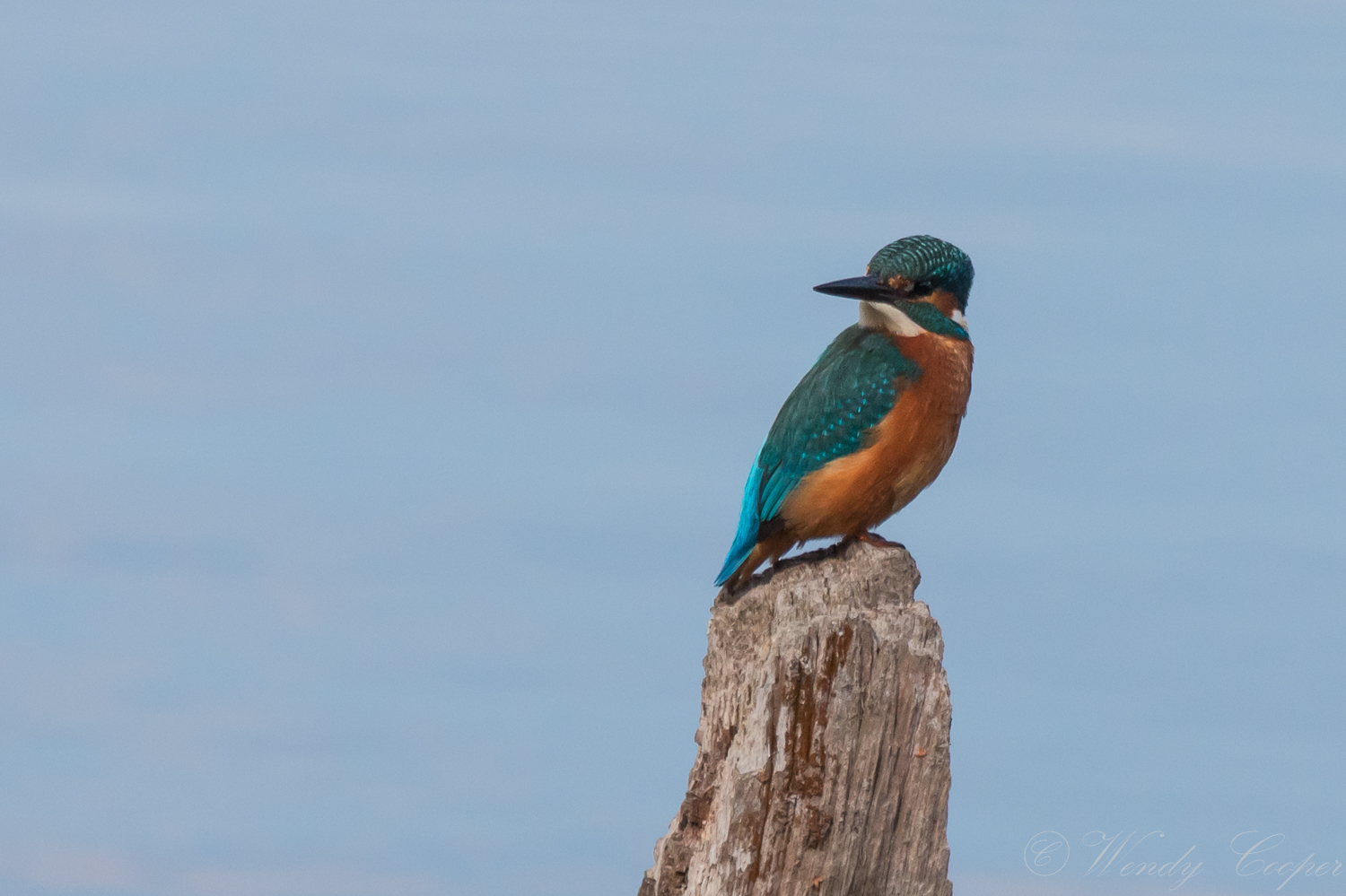 After the Kingfisher flew off again, across the trees at the side of the mere, a juvenile Marsh Harrier passed through, not noticing another female Kestrel who was perched in the branches of a dead tree, having a groom and then just sitting surveying the ground below.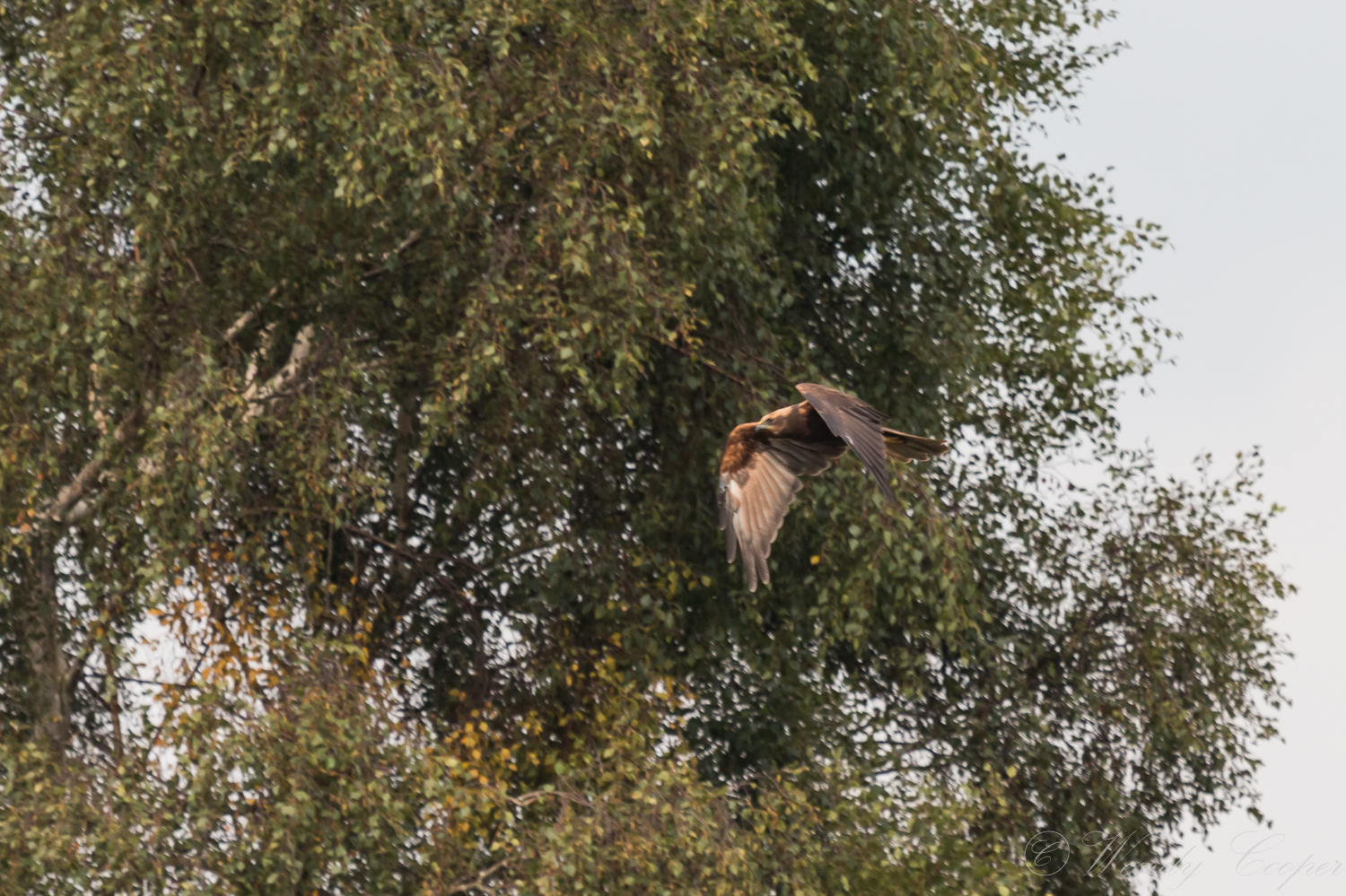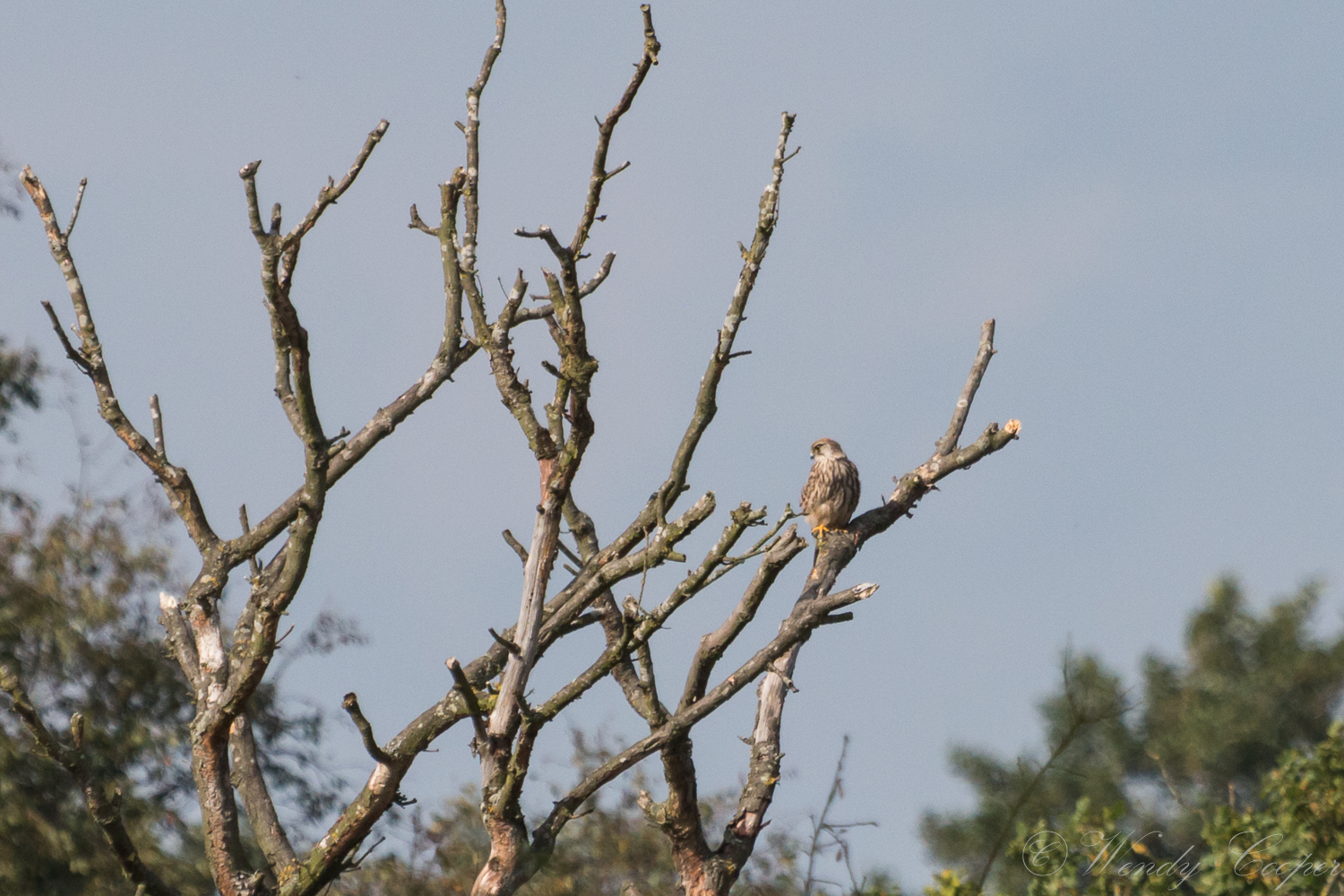 It was by now very warm and the remaining Cormorant on the pontoon ( one had flown off a while ago) was sitting panting in the heat.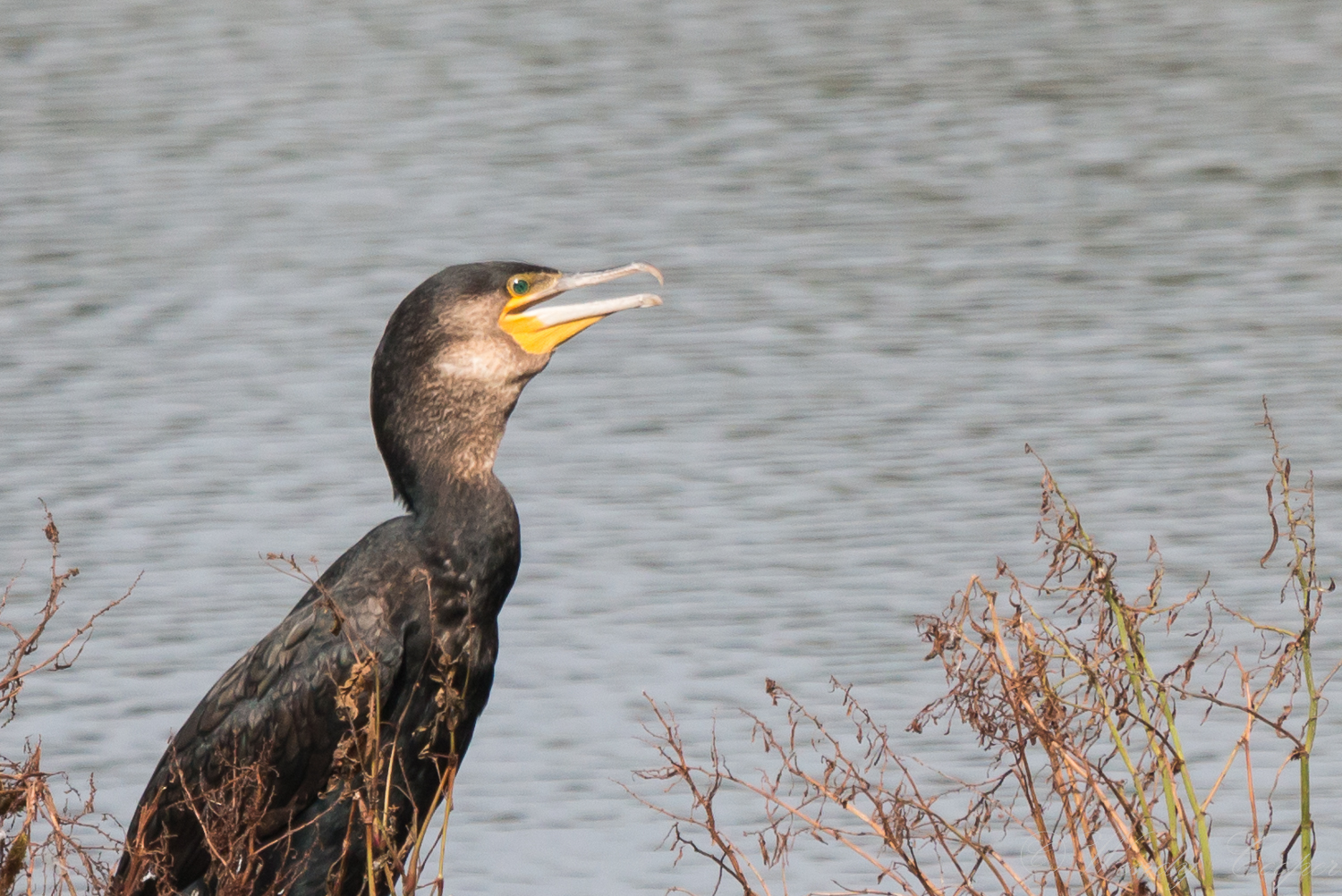 After a spot of feather checking and looking around carefully,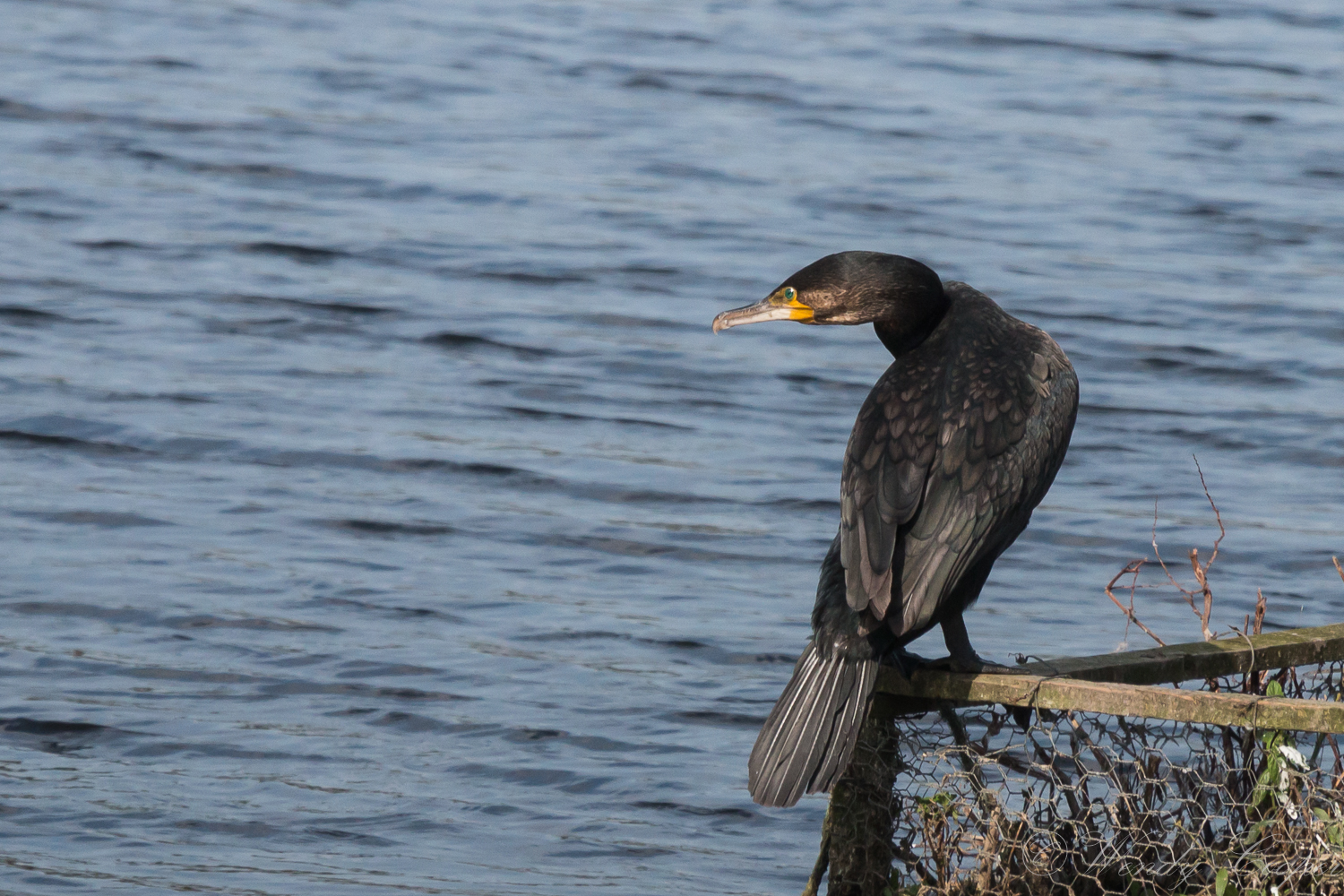 It slipped into the water for a paddle and a swim, before returning to the pontoon a while later to dry off.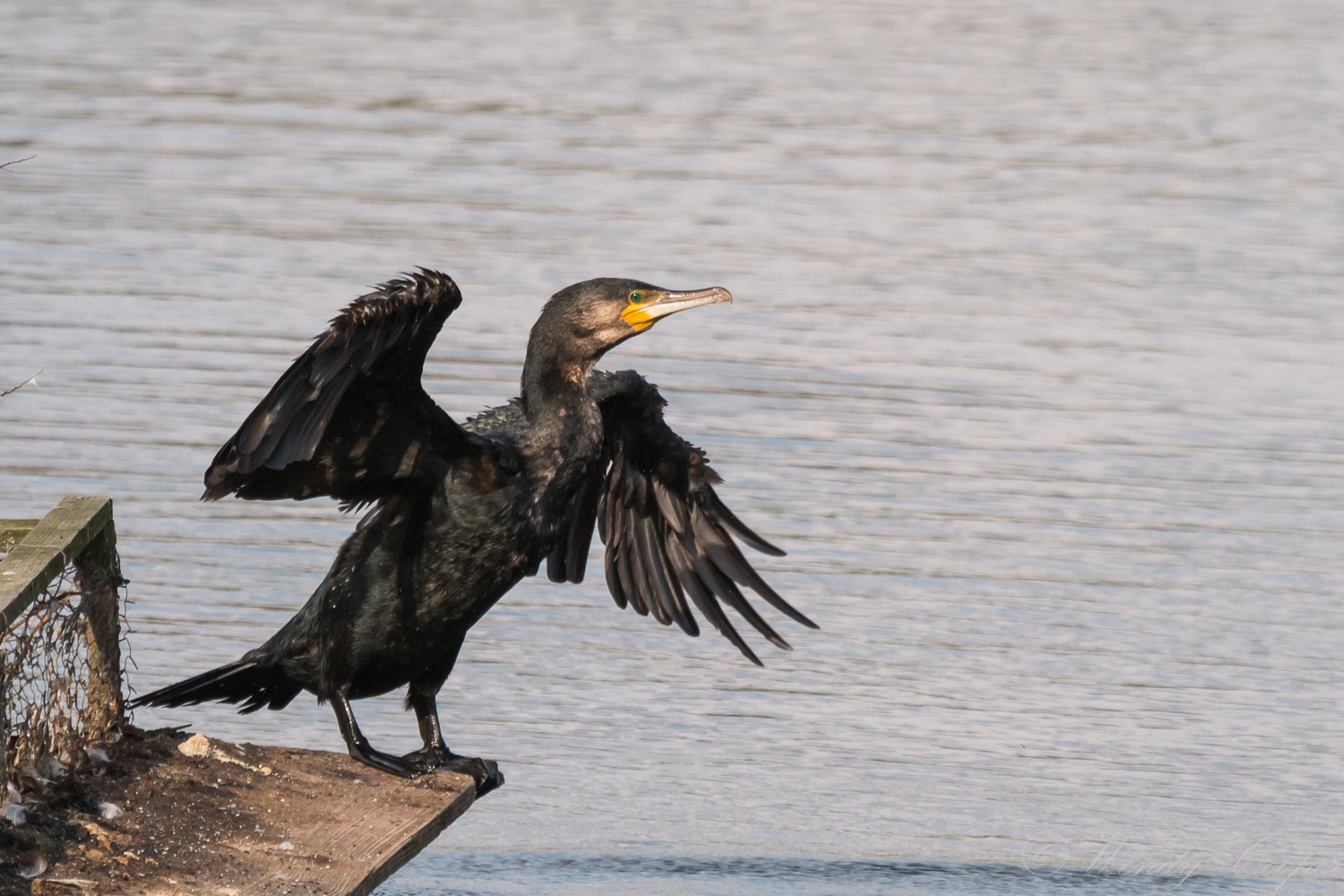 Watching over the back of the mere, a white bird approached at speed, it was the Mute Swan that had departed earlier on, arriving and landing as gracefully as it had departed.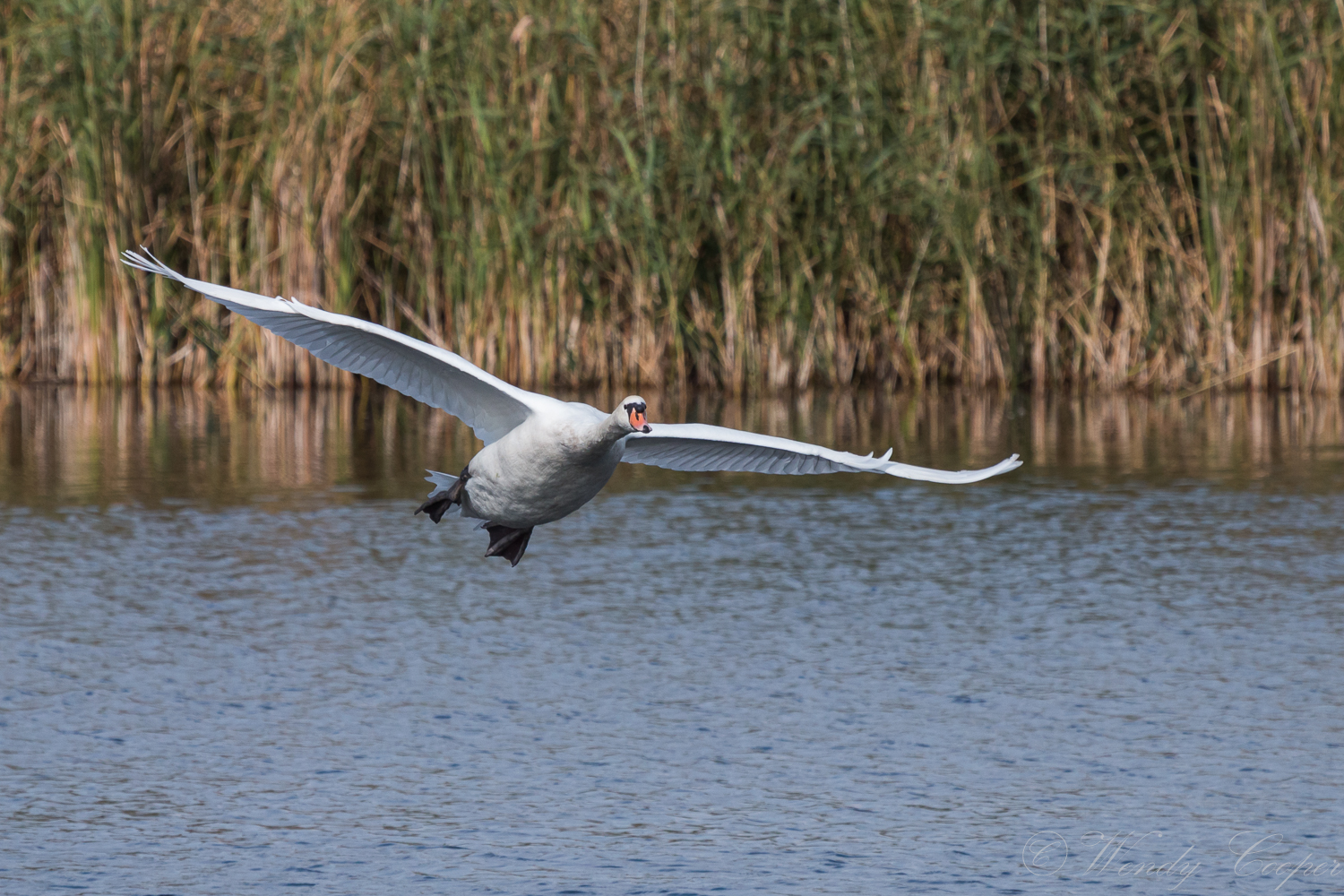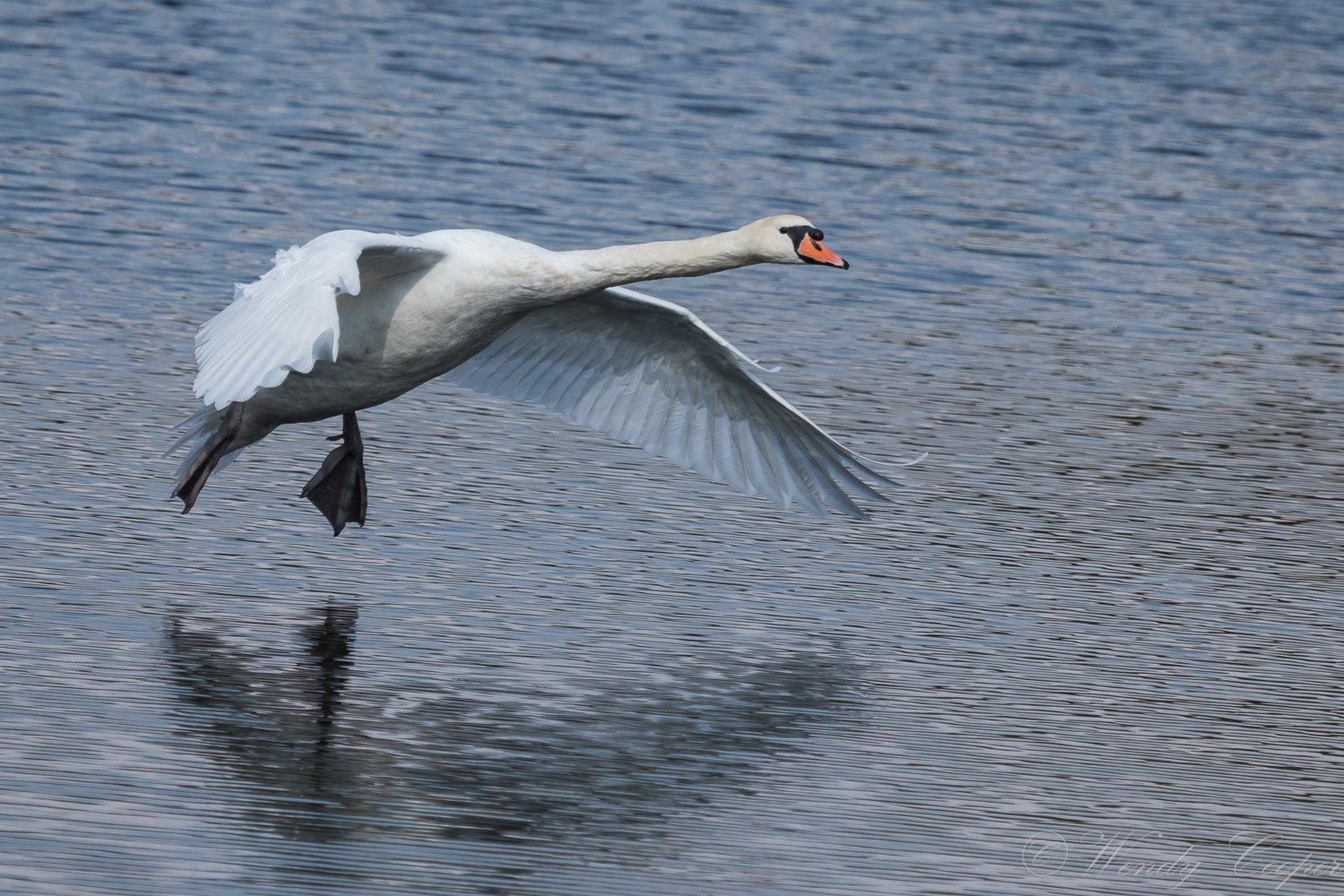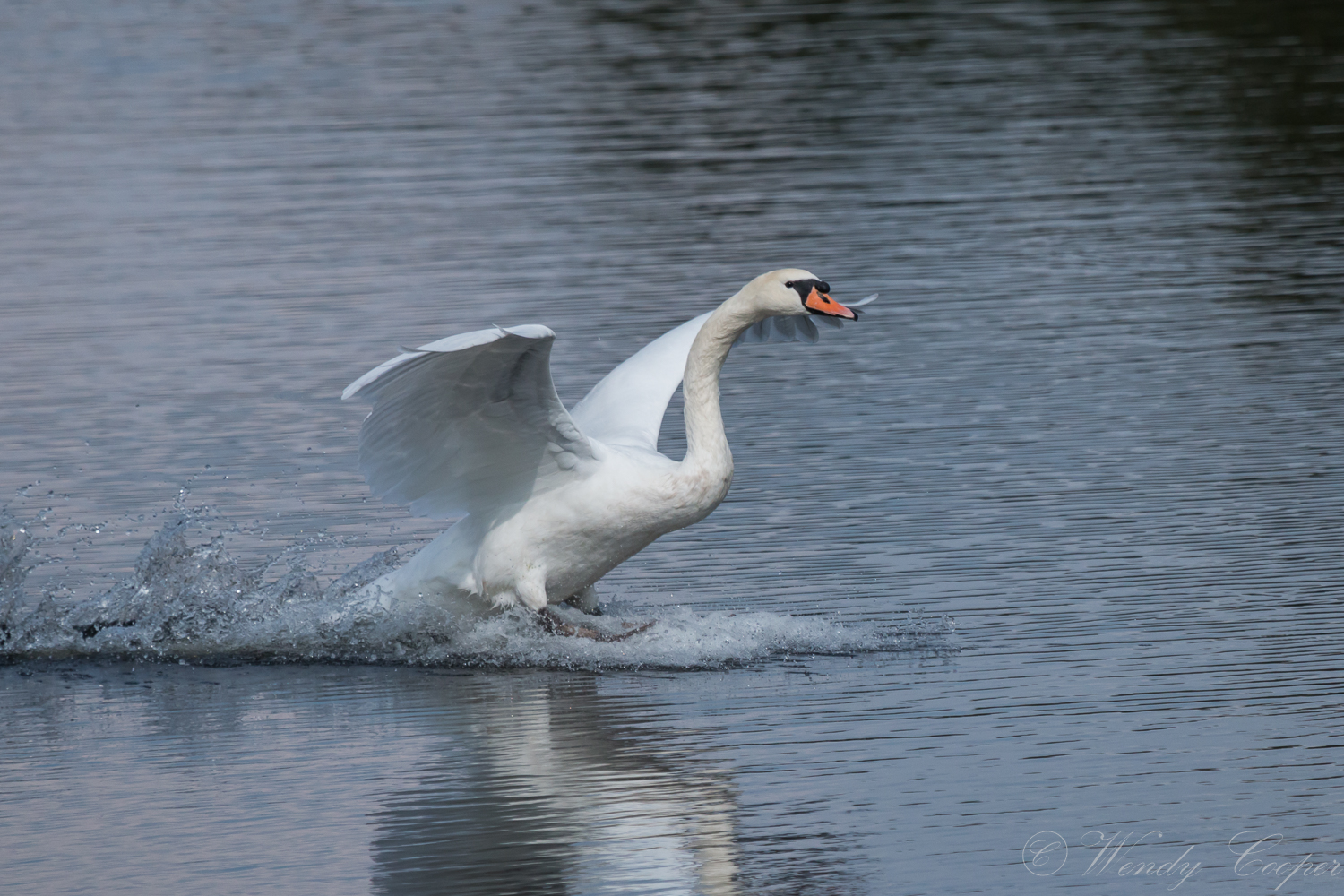 Touchdown accomplished, a now familiar 'Toot toot' was heard and the Kingfisher returned again.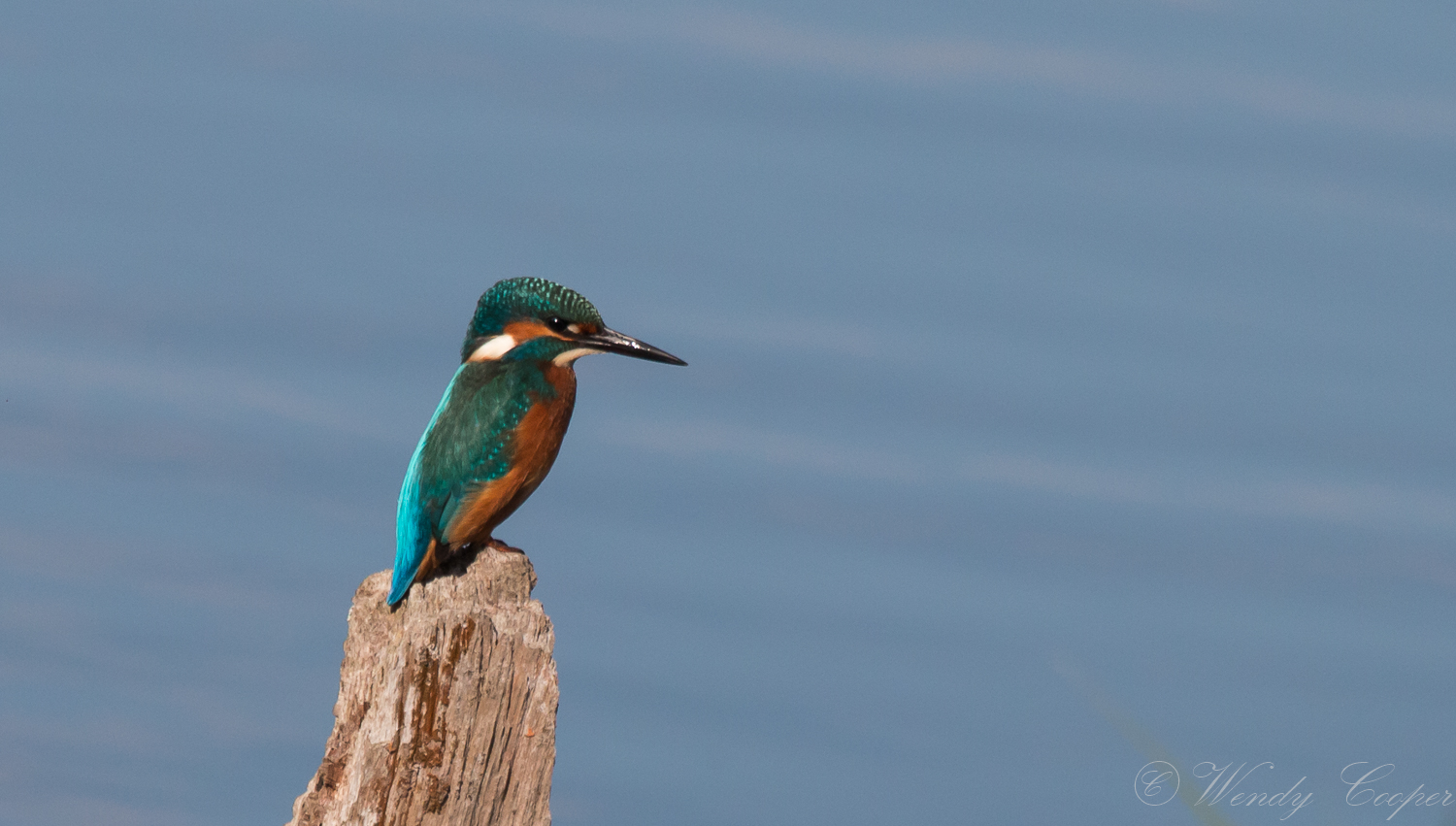 After a few moments he was off again, so I decided to carry on walking - other wise I would run out of day!
Turning left out of the hide, just to see where the path led, I wandered along with a ditch on my right and trees on my left. I could hear quite a few small birds chattering and suddenly could hear a rustling in the vegetation on the far side of the ditch, peering through, I'm not sure who was more surprised, me or a Chinese Water Deer, who rapidly reversed and bolted across the field, declaring an alarm to all within earshot! The path came to a dead end at one of the water courses so I retraced my steps and strolled back to the car to get my lunch and some more water, making a point of not getting too distracted enroute!
I did allow myself one distraction though, when a rather handsome Red Admiral settled for a moment in front of me - so far I had only seen them airbourne!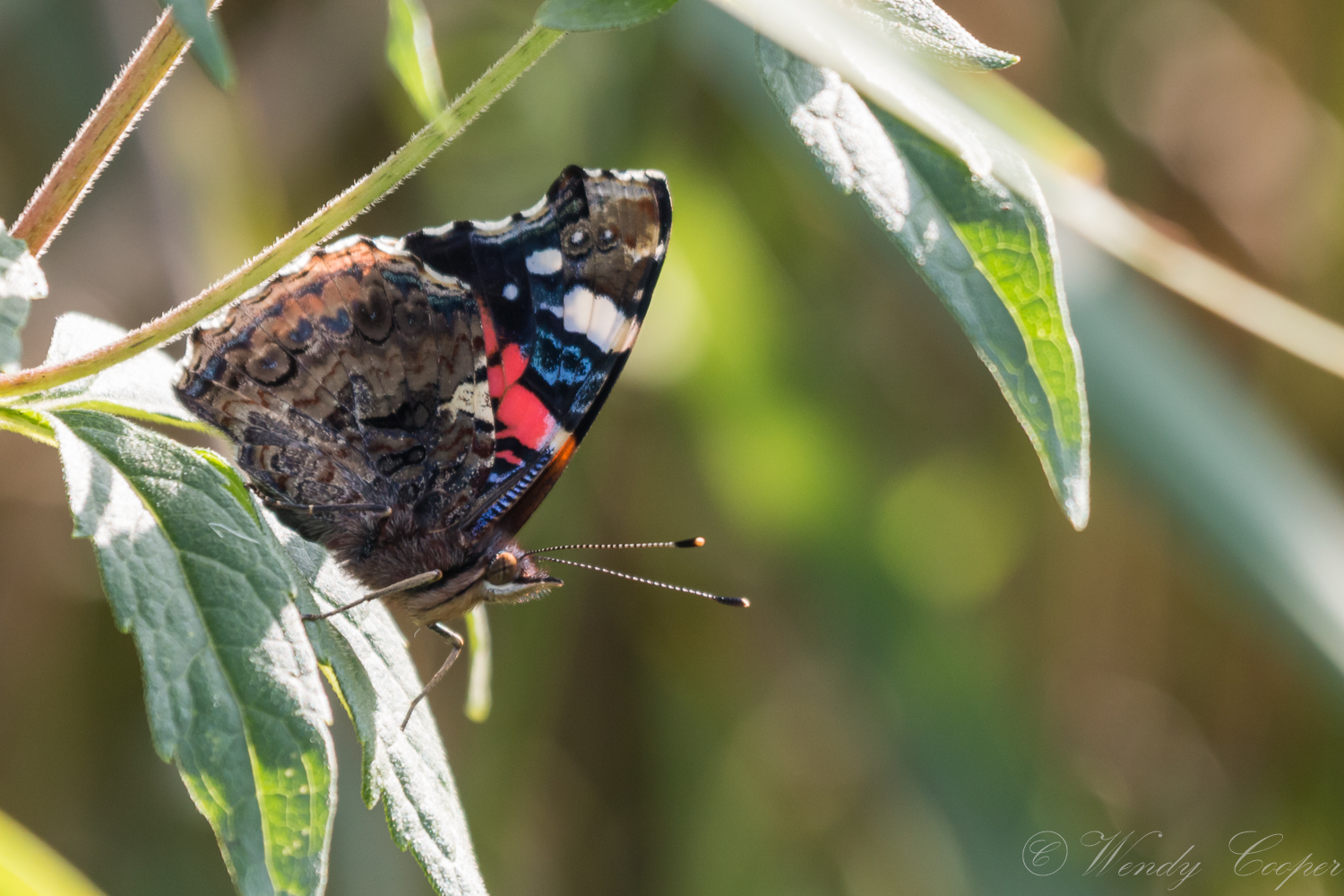 After lunch I began walking towards the Harrier Hide, peering down the paths as I did. I have a lot more exploring to do! Anyway I digress... some way off down one of the paths, bordered by a drain and reeds the otherside, a Chinese Water Deer was quietly grazing and quite oblivious to me.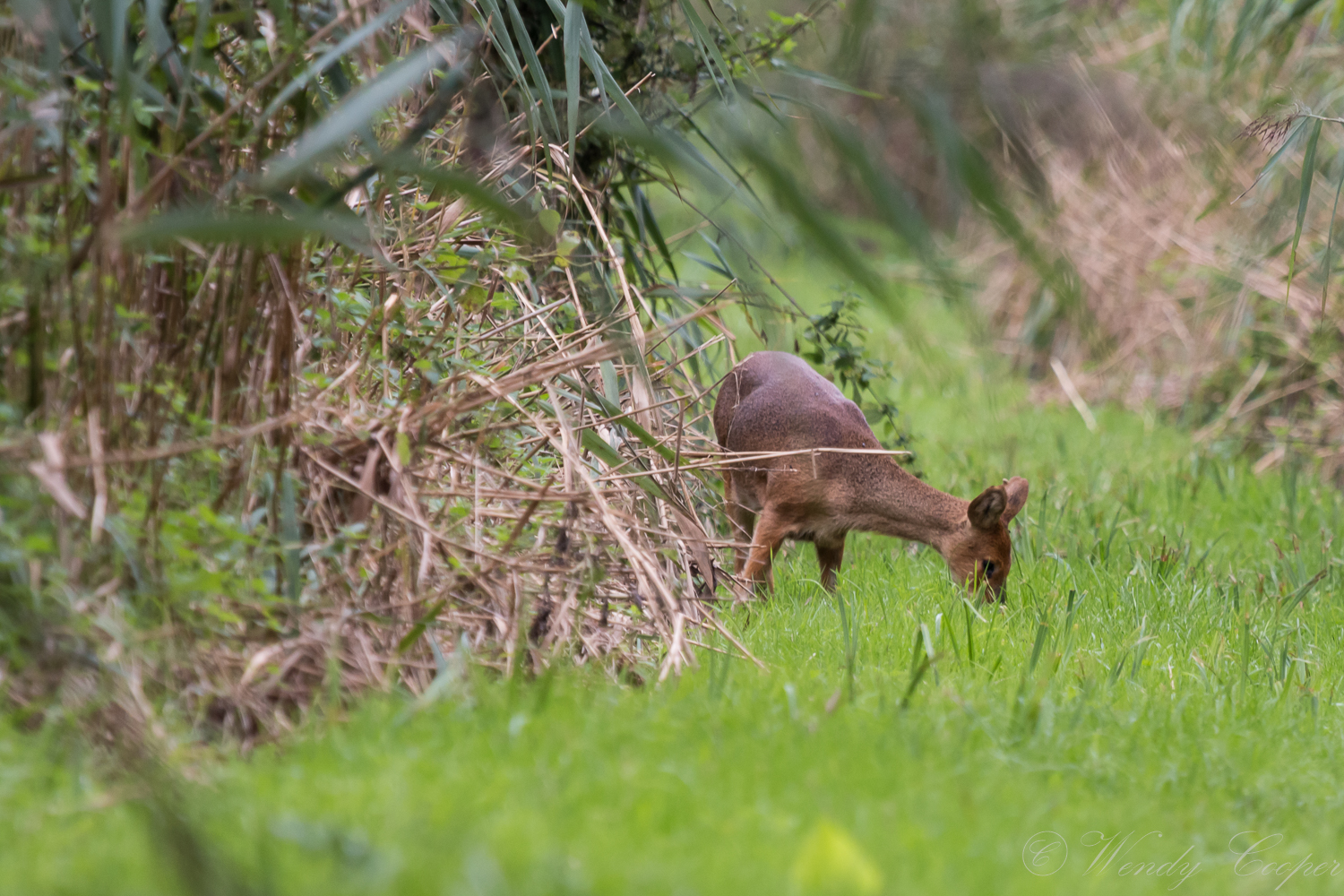 I was crouched down on the ground a good way off, she carried on for quite a while, at one point disappearing into the reeds on the right, before working her way back across again, occasionally looking up as she must have been able to hear the camera clicking.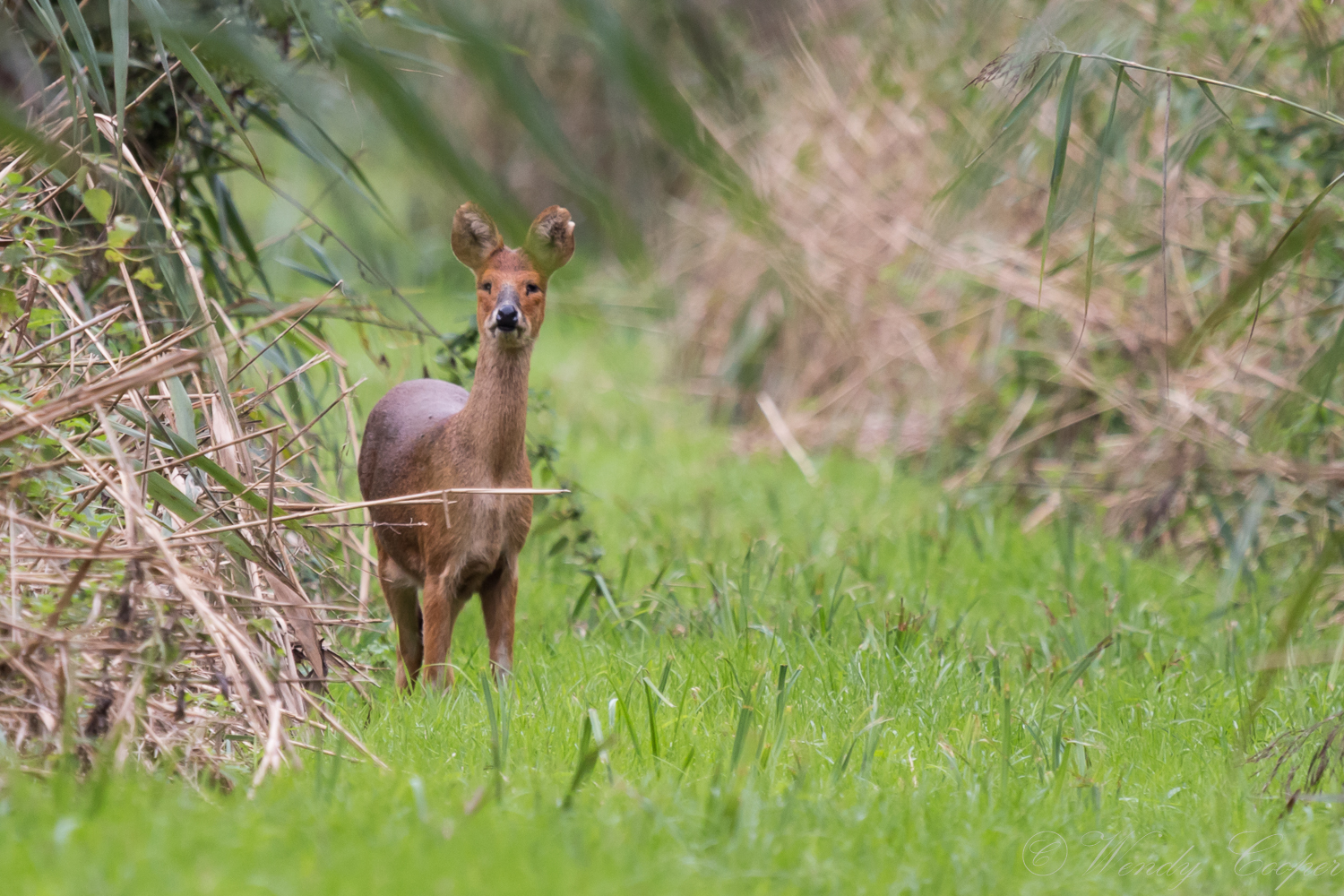 Eventually she decided that although I was quite a way off, it was time to go, so she didn't hang about! I was a good 10 metres from her and these are quite heavily cropped.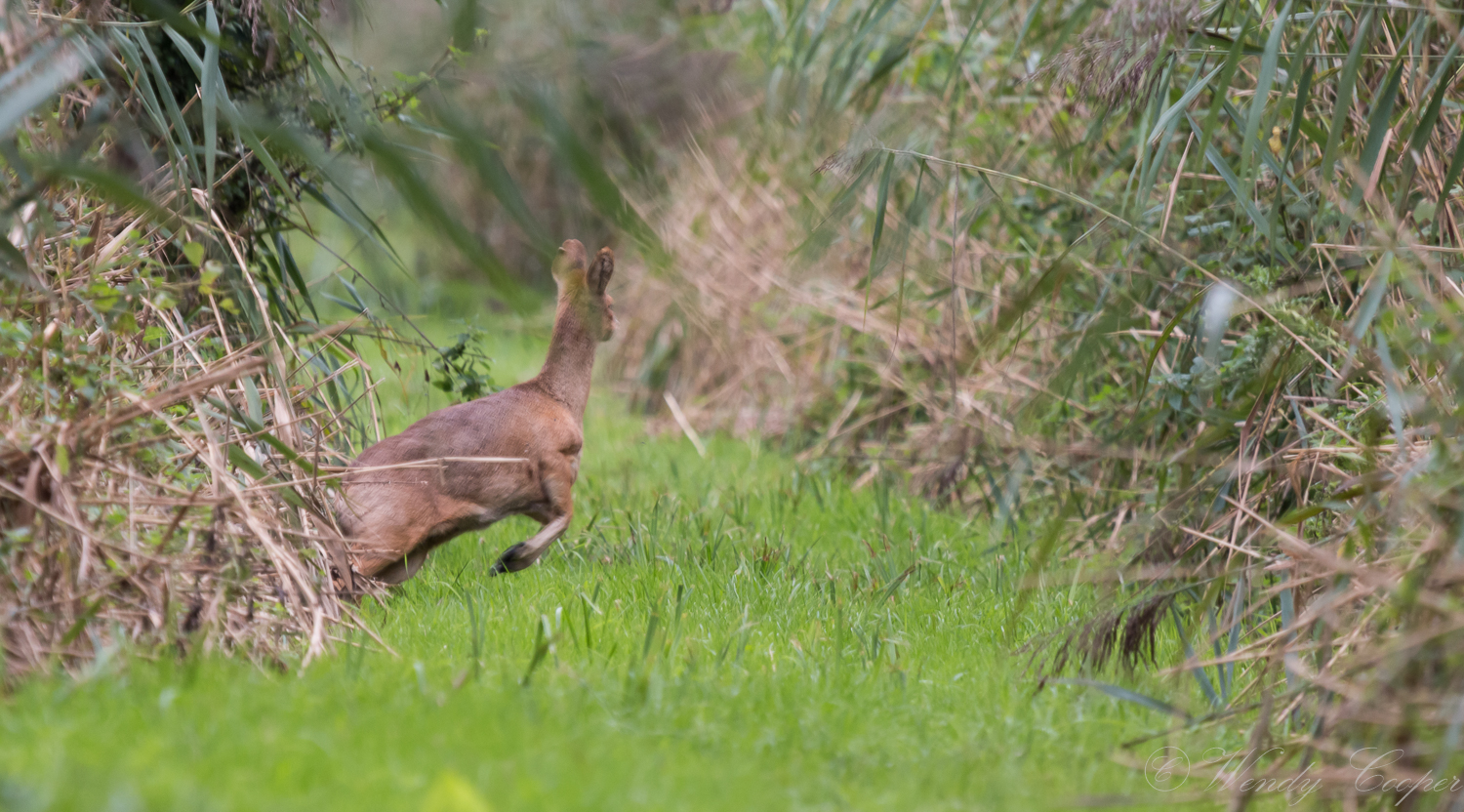 Now wandering along with a very silly grin on my face from the private audience I had just had, I arrived at the Harrier hide. A male was 'in the circuit' but had headed off by the time I got inside; I didn't have to wait long though, for another to appear.
This was a female, approaching at a reasonable pace straight towards the hide! Now you may have figured by now that these are one of my favourite birds, so I was just a tad on the excited side at the views I was getting! Not sure how I managed the camera, but I did get these shots of her: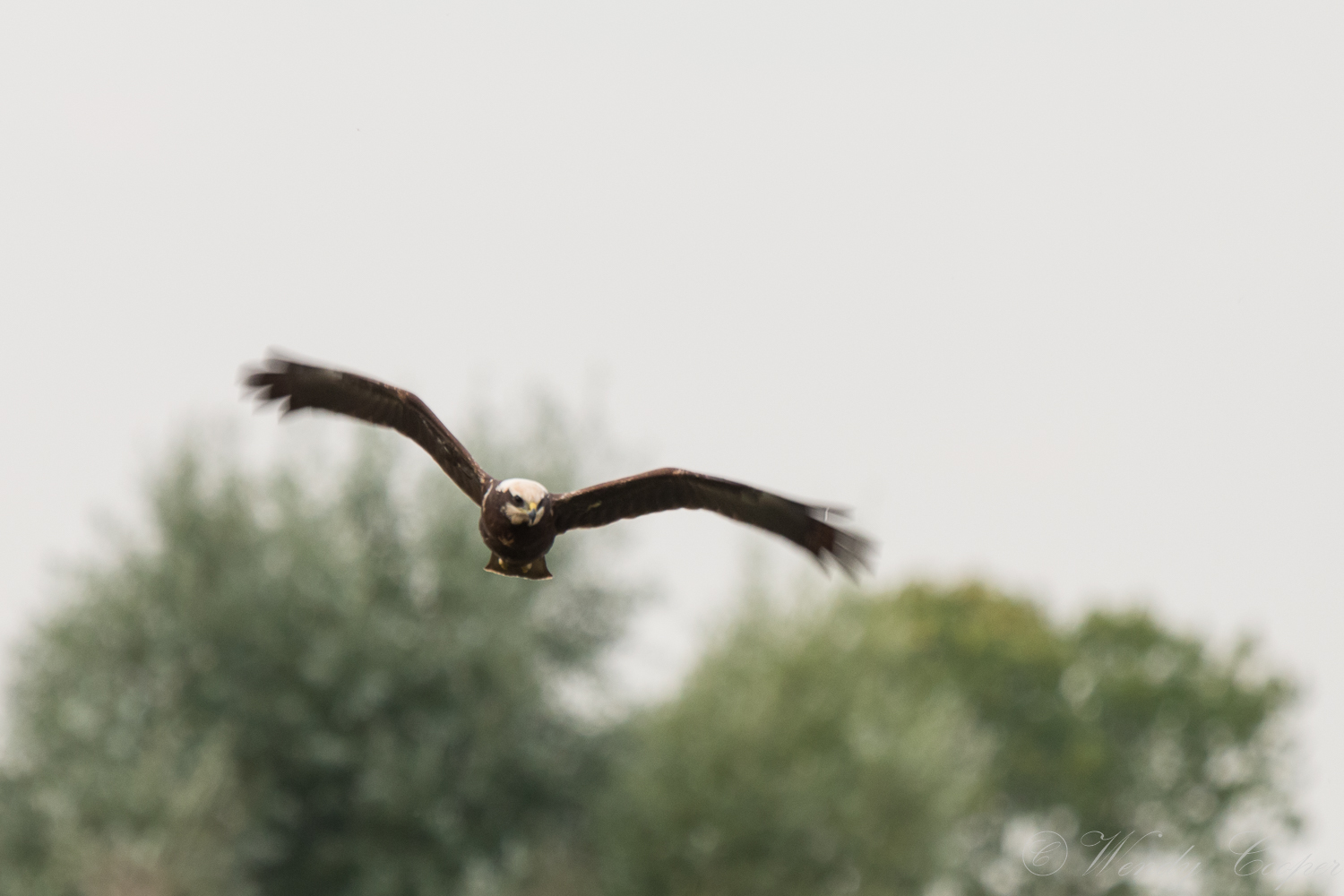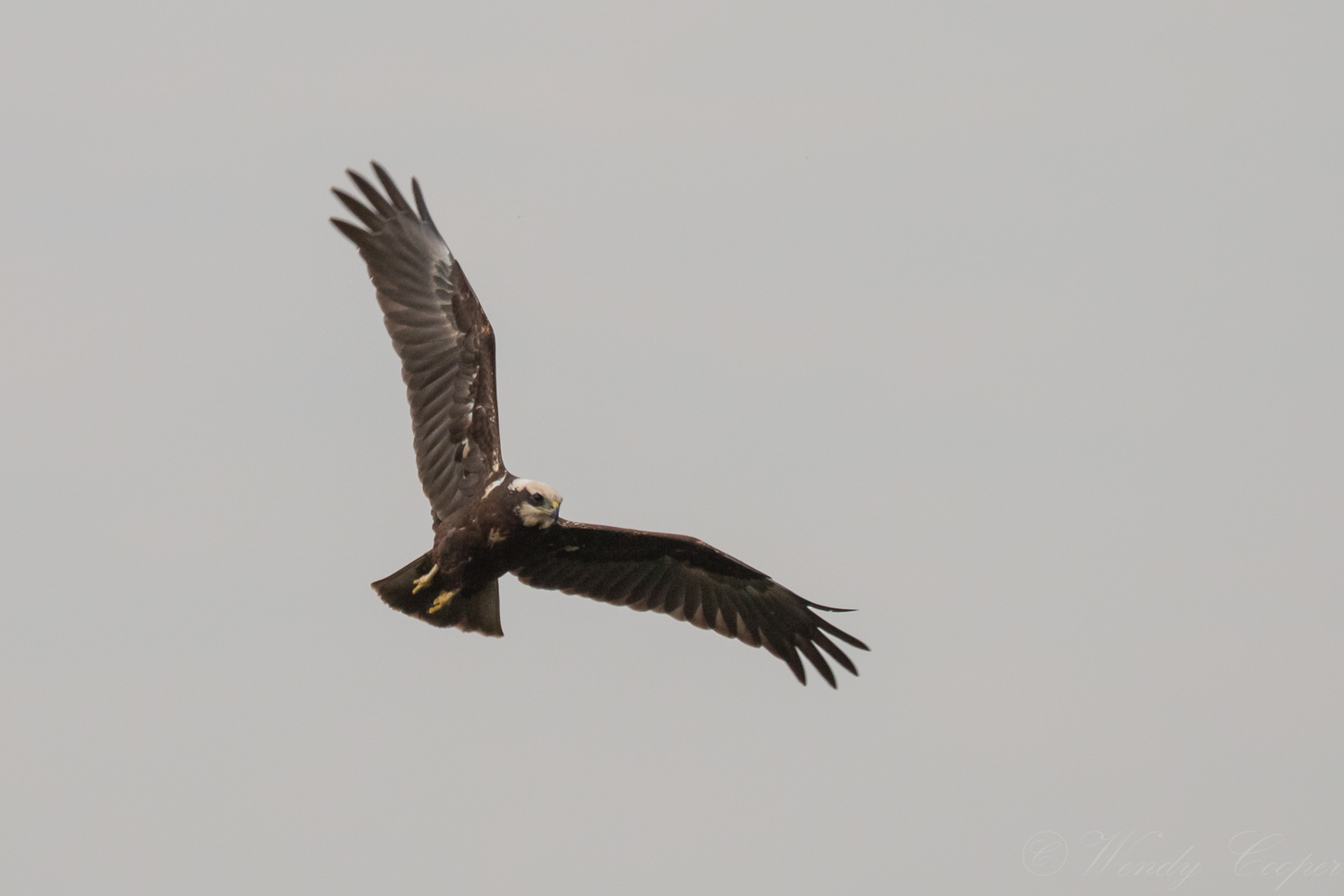 I have a feeling this was the female that I watched back in April, when she appeared to be feeding young. After that excitement it went quiet for a while and I was gazing at the reeds, which were rustling a bit out of sync with the breeze. After a while I figured it out and caught a few glimpses - there was a Reed Warbler foraging and feeding amongst the seedheads of the reeds.
With a bit of patience and fiddling about with the camera, I eventually managed to get a few rather pleasing behaviour / habitat images of this little bird going about it's business.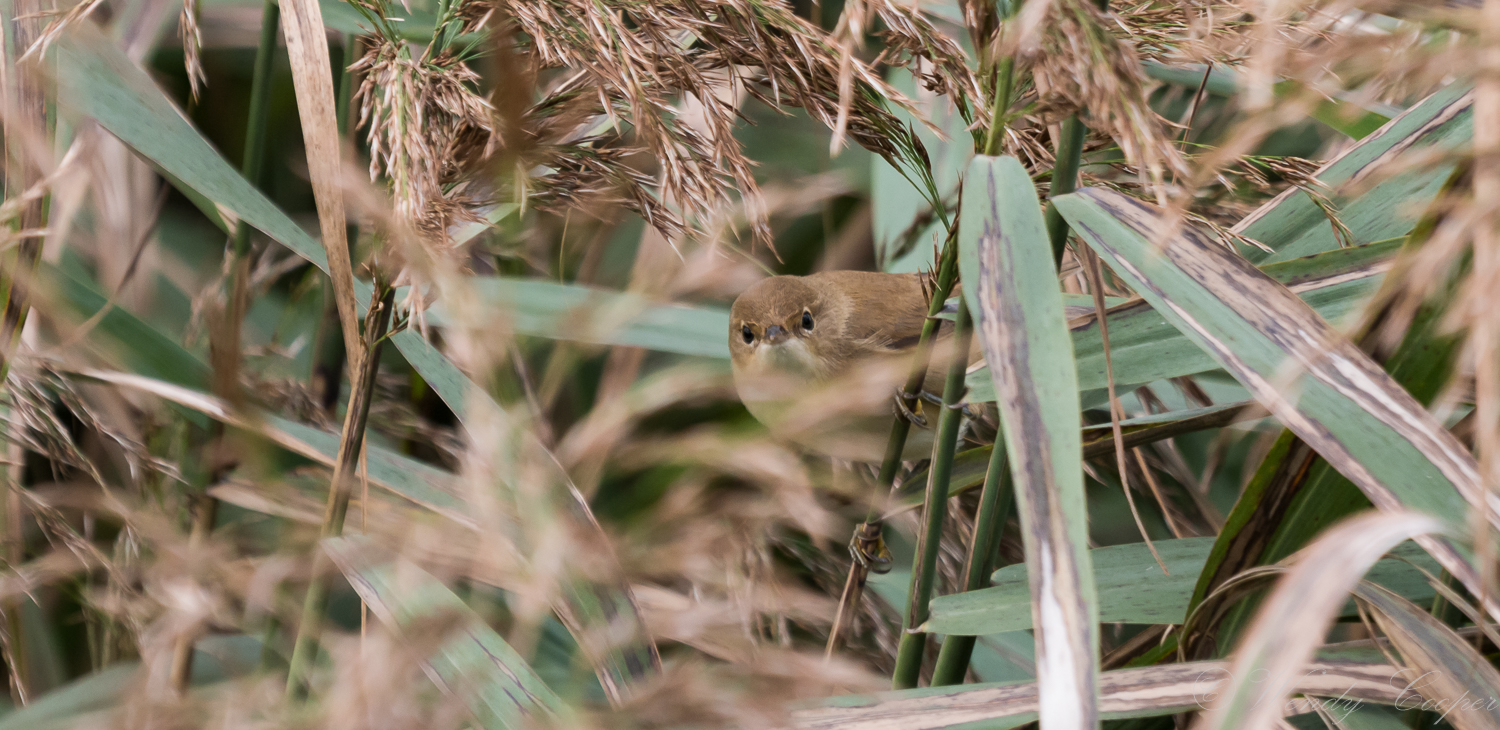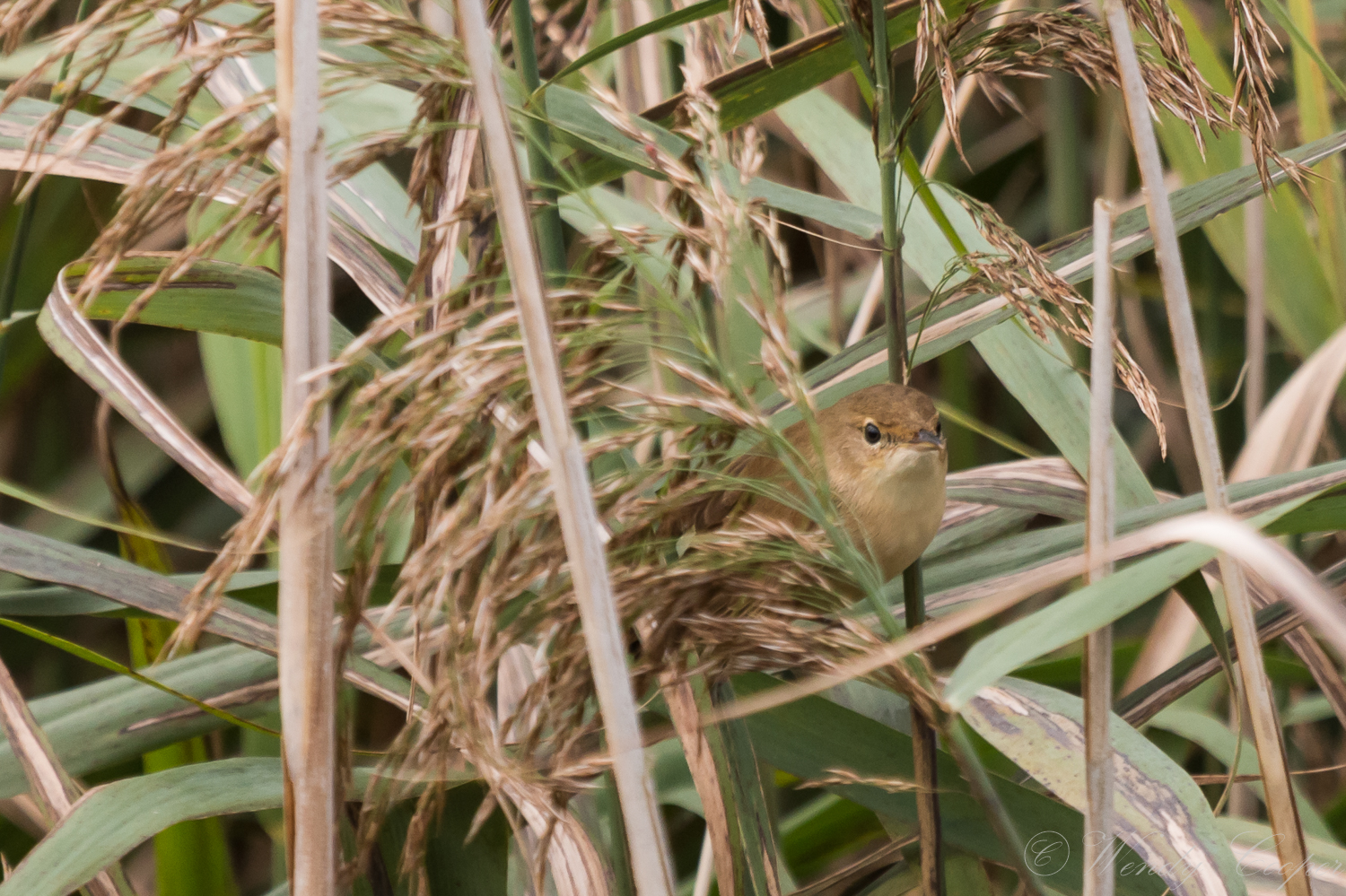 After a while the Reed Warbler was too deep in the reeds, so I turned my attention to the sky again and could see a Male marsh Harrier out against the trees.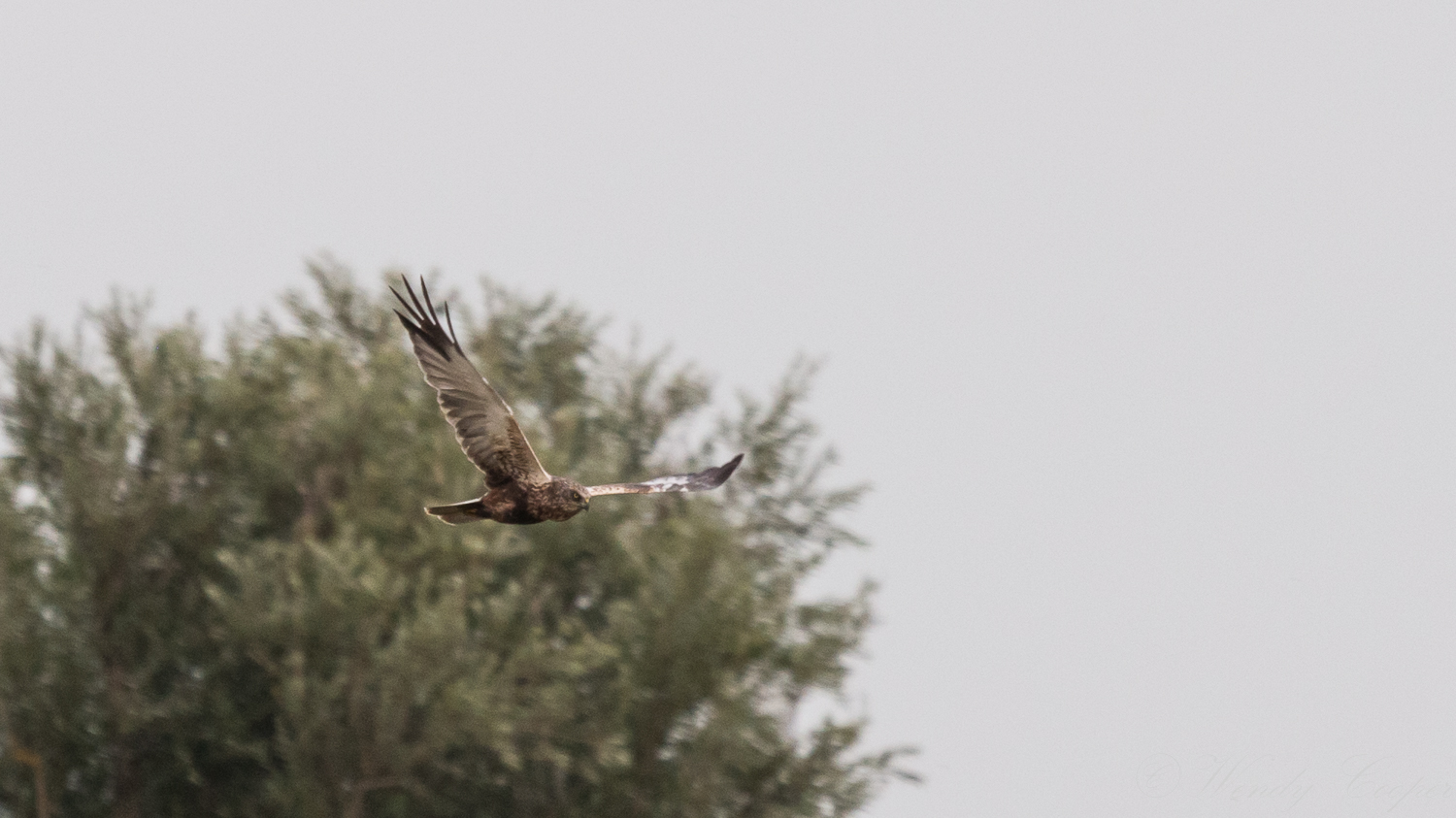 This one was darker in colour around the head, than the one which I saw back in April, however he certainly seemed to know his way about! After a while he disappeared off into the distance, so I had another try with the Reed Warbler and was rewarded with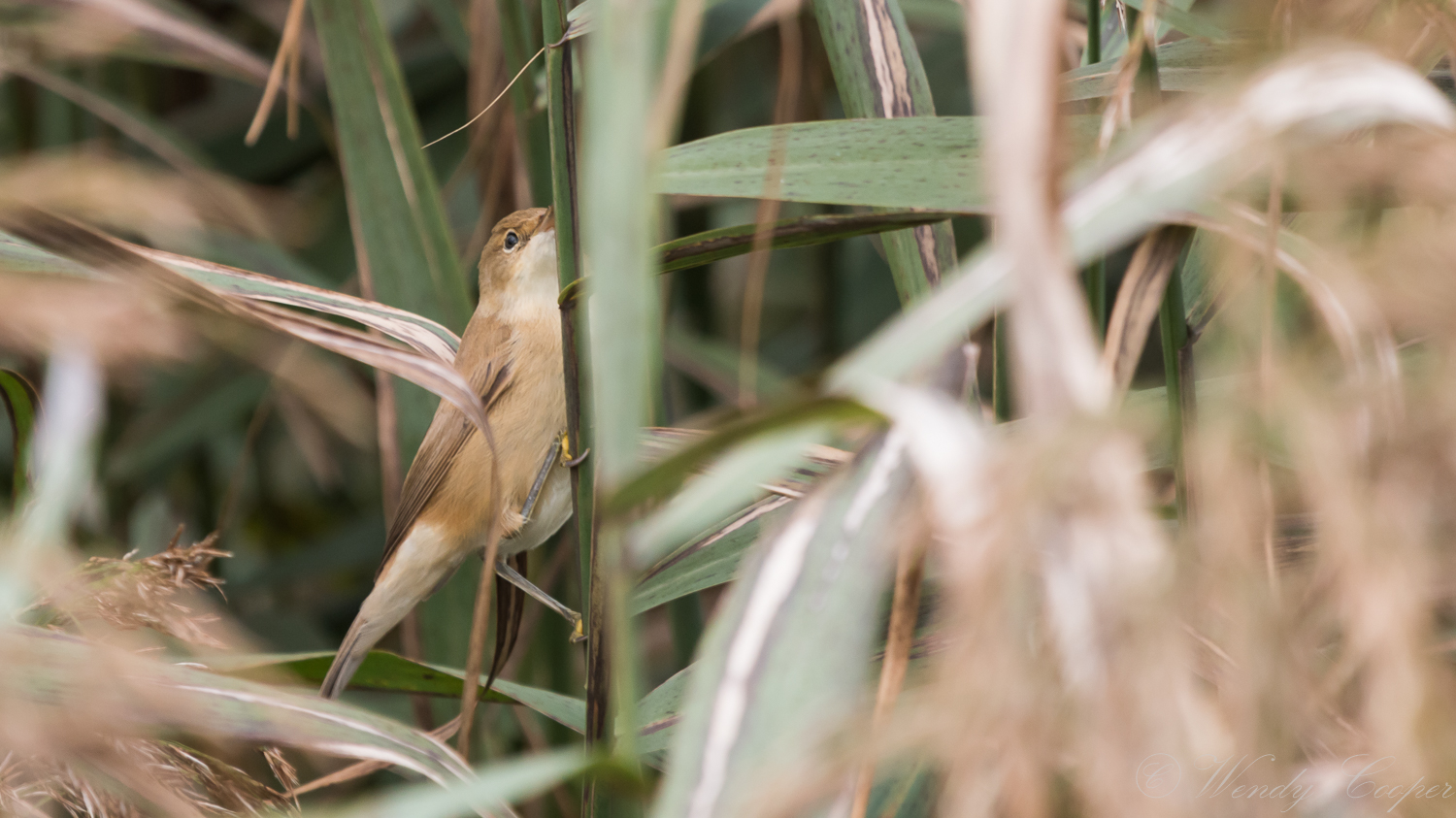 a rather bold emergence from this little character, before it disappeared deep into the reeds again.
Looking around one last time, some way off I could see a familiar silhouette, peering through the binoculars, I could see a smart juvenile Marsh Harrier some way off.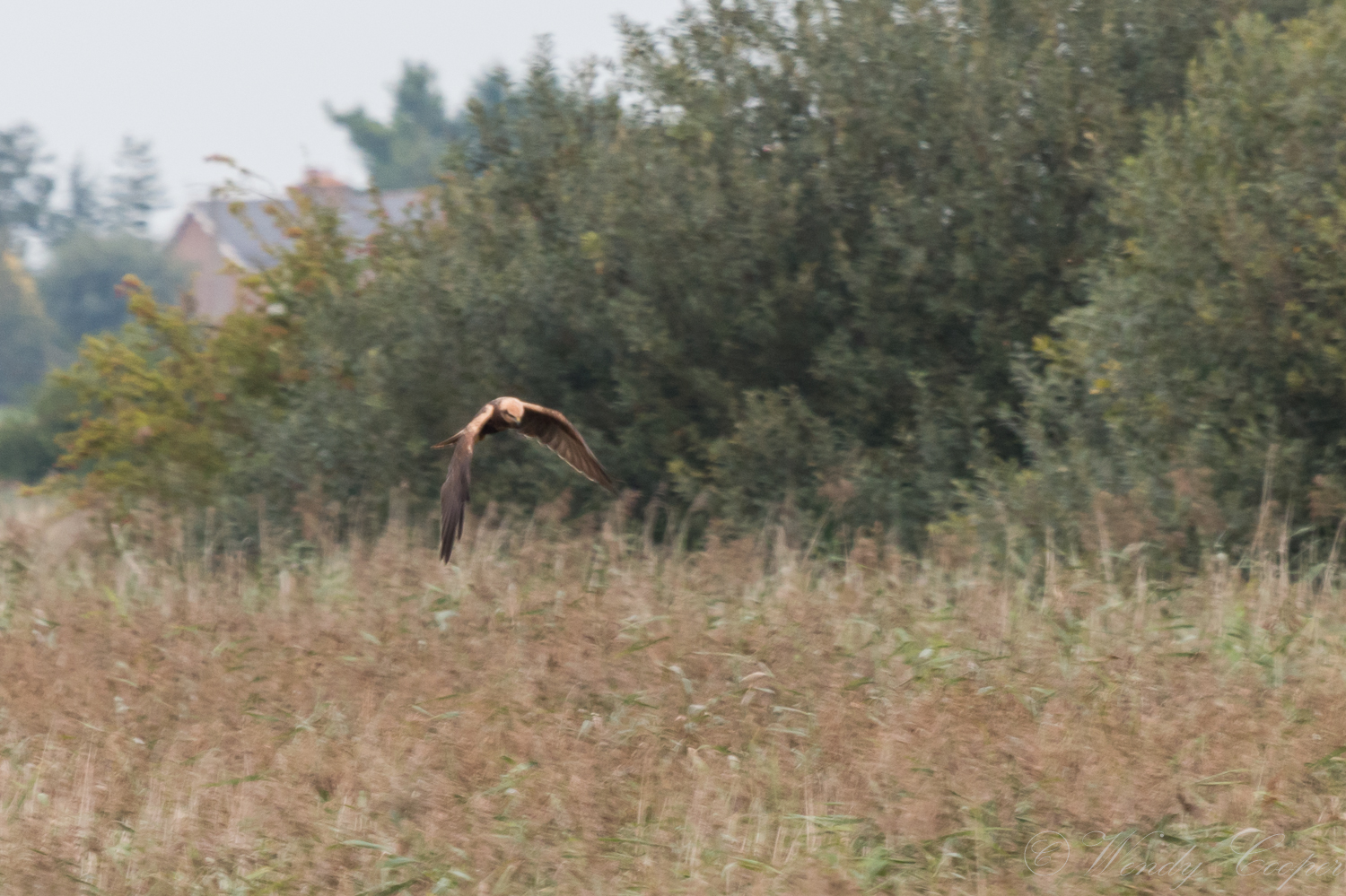 It carried along the treeline and out of sight. As time was getting on, I decided to start walking back to the car. Mindful that there may be another chance of seeing Chinese Water Deer, who are rather shy, I walked as quietly as I could. Sure enough, along the main path towards the Bungalow, a doe was grazing.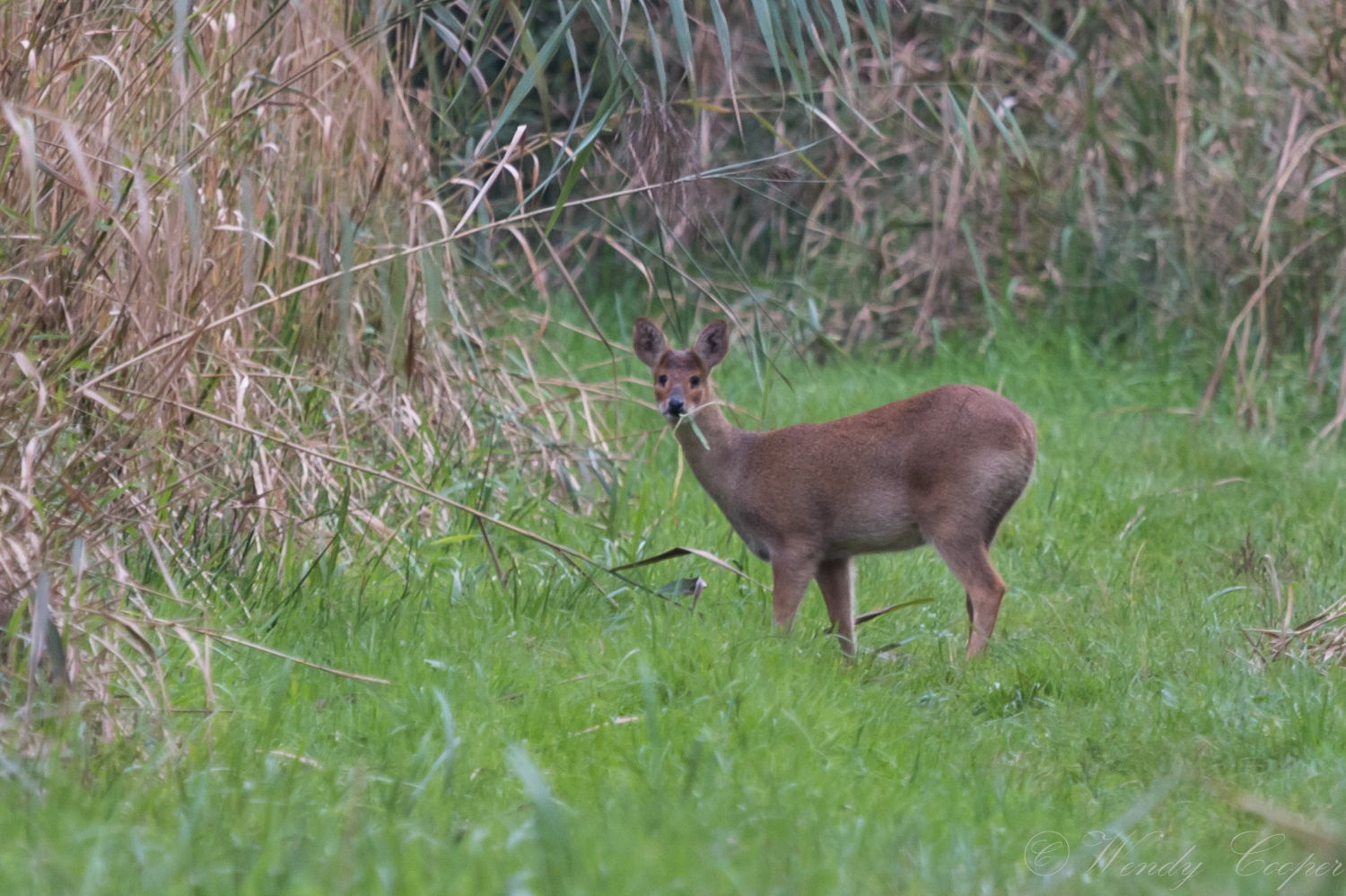 She saw me and looked up with a mouthful of supper, then decided that as I was so far off, to carry on. Well I approached in pigeon steps and everytime she so much as started to look up, stood stock still. It was lovely to watch her, grazing and so relaxed at one point that she had a good old scratch!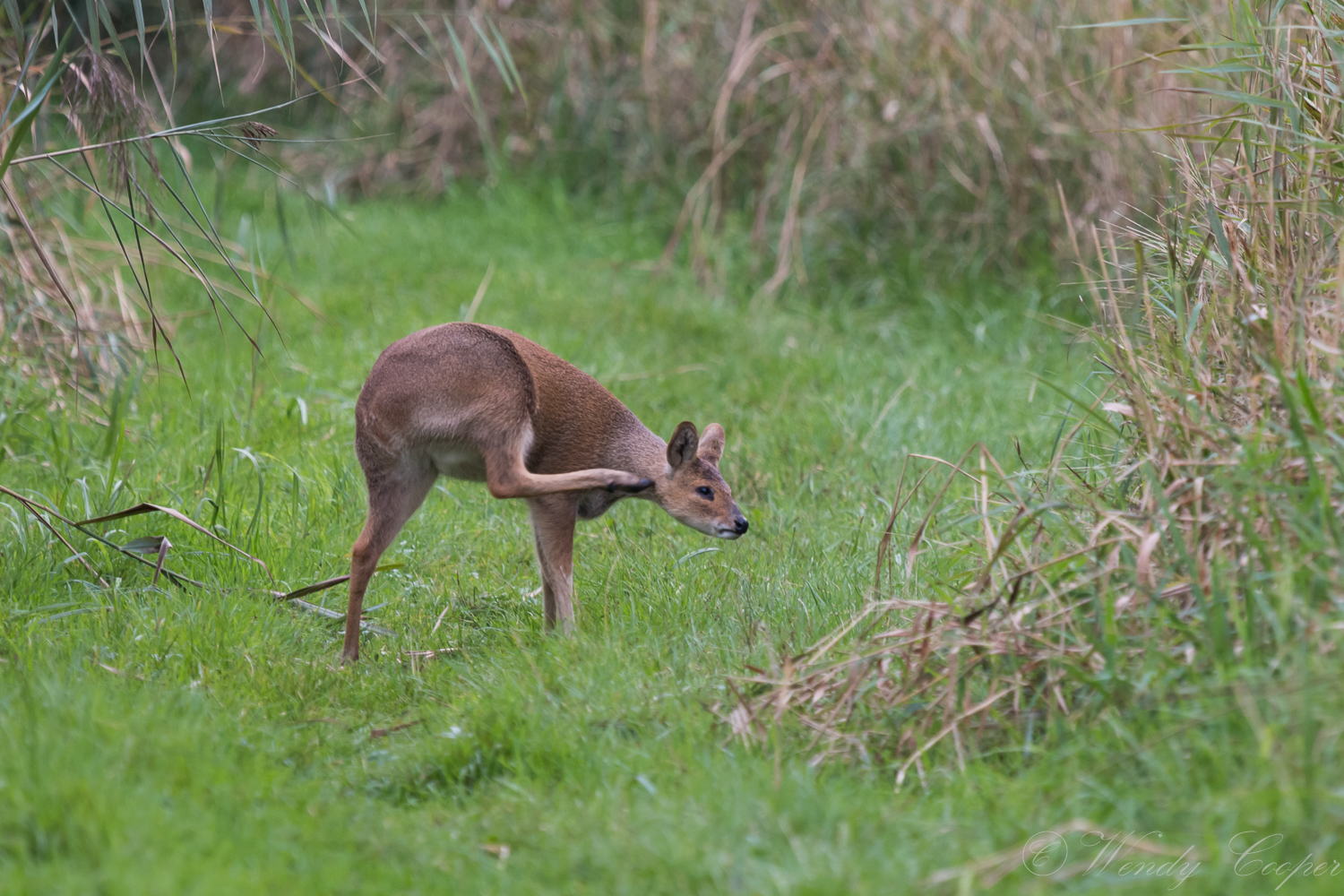 Eventually I managed to get a dozen or so metres away and continued to get some lovely views of her. After a while though, she worked out that it was me making the clicking sound (the camera) and ambled off into the reeds. My last image of her was this -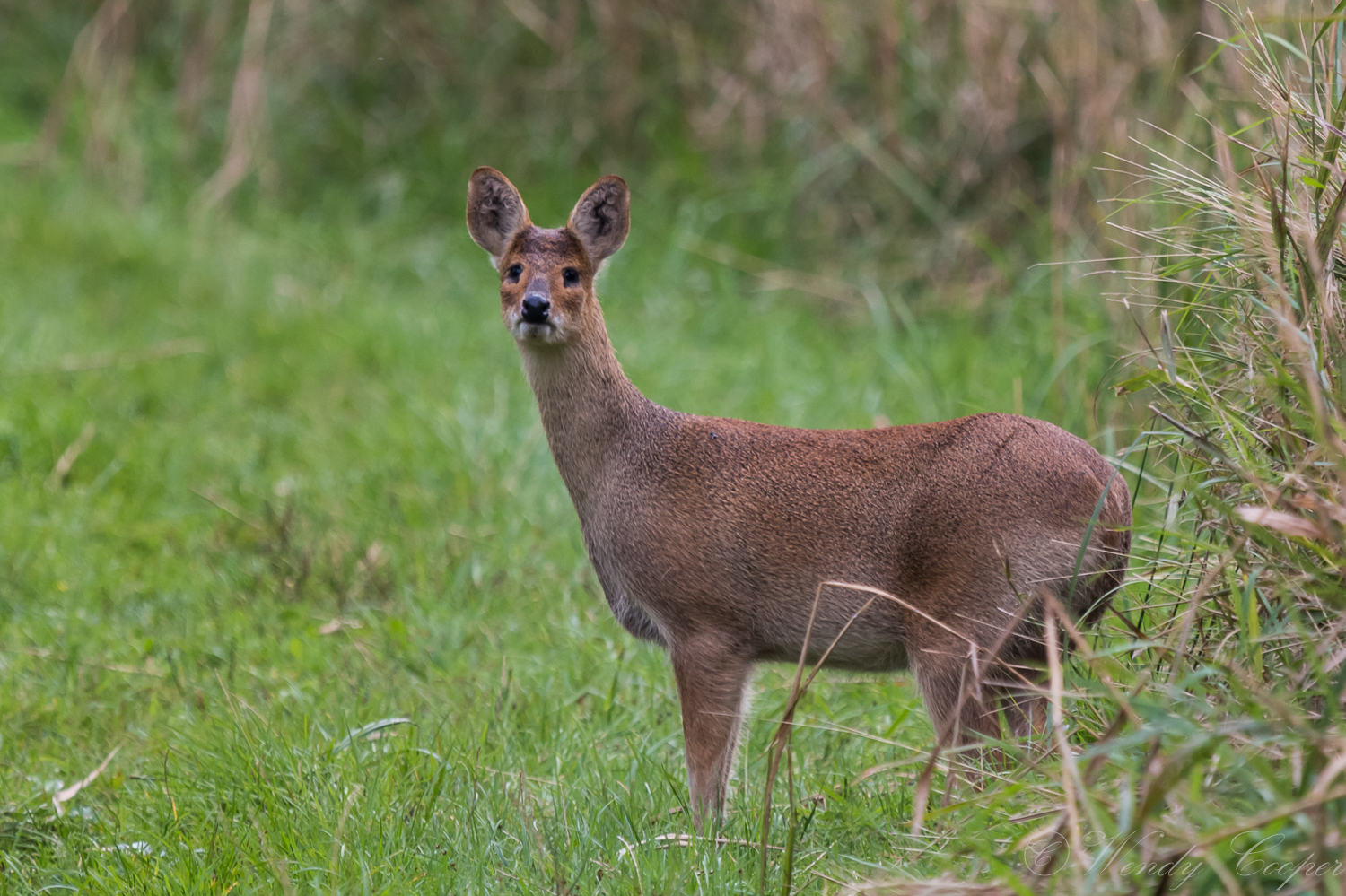 Which isn't cropped very much at all!
It has to be said, that I finished my walk back to the car and drove home with a very silly grin on my face - an absolutely wonderful day out and so many creatures to watch and delight in!
I hope you have enjoyed my blog, if you would like an email notification when my next blog is published, please add your email address to the 'Sign Up' box below.
As always, comments, feedback or questions are welcome, so please feel free to contact me via the comments section below or via the guestbook.
Comments