A Trip to Cley
24/03/2015 - 22:09
Back in February, we decided to have a little trip to the North Norfolk coast to blow out the cobwebs. It was a bright, sunny and chilly weekend and on the Saturday afternoon after lunch, we paid a visit to Cley next the Sea, a Norfolk Wildlife trust reserve. The reserve consists of saltmarsh, shingle beach and reed beds and not too far from the Visitor centre, there are a couple of scrapes with nice views from the hides. There are also plenty of walks out to the beach across the reserve, although they are still on the list to explore!
As you walk to the hides, you are mostly walking along the edge of the reedbeds and as we approached the first hide, just before it, sifting through the mud for tasty morsels were a Ruff and a Redshanks.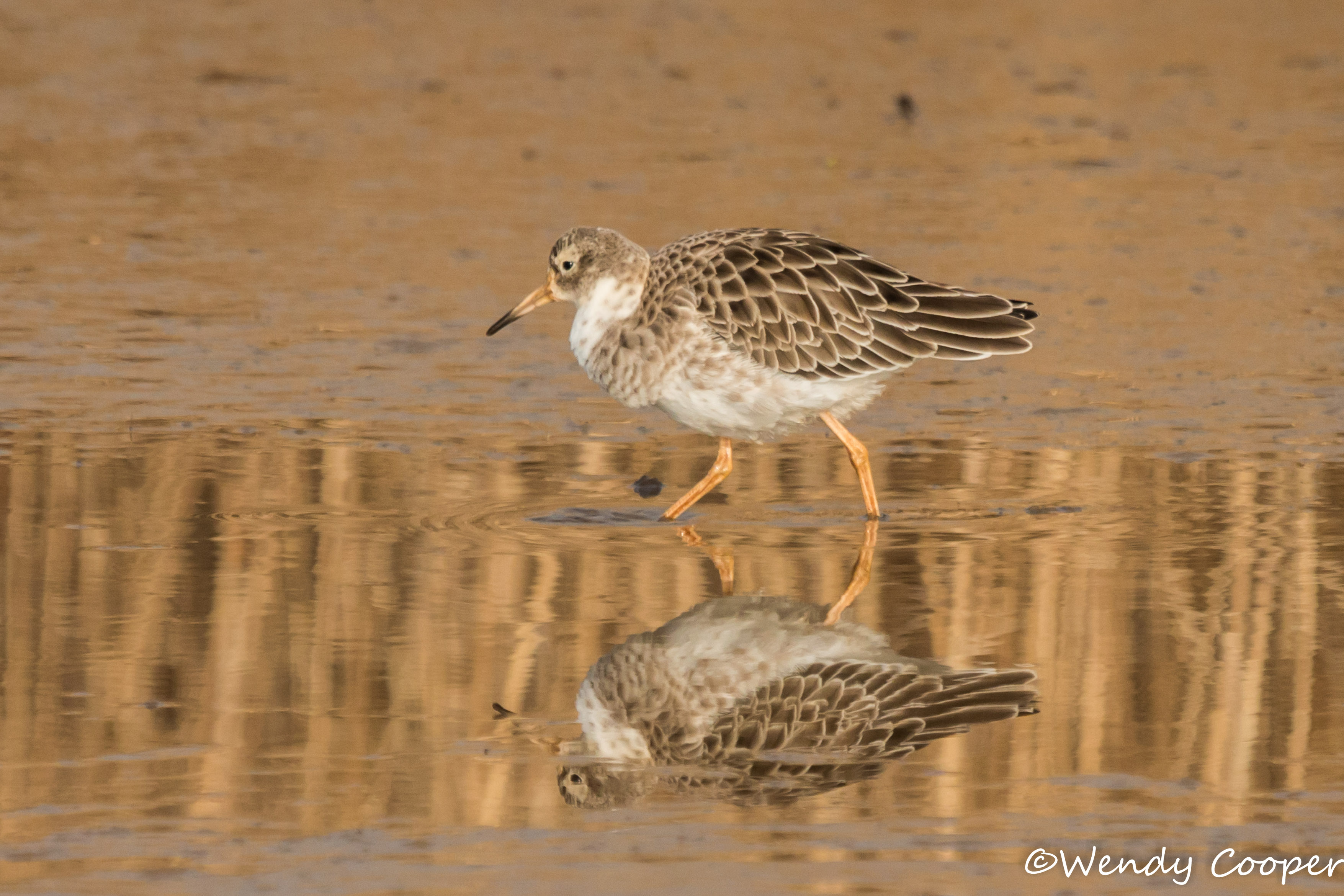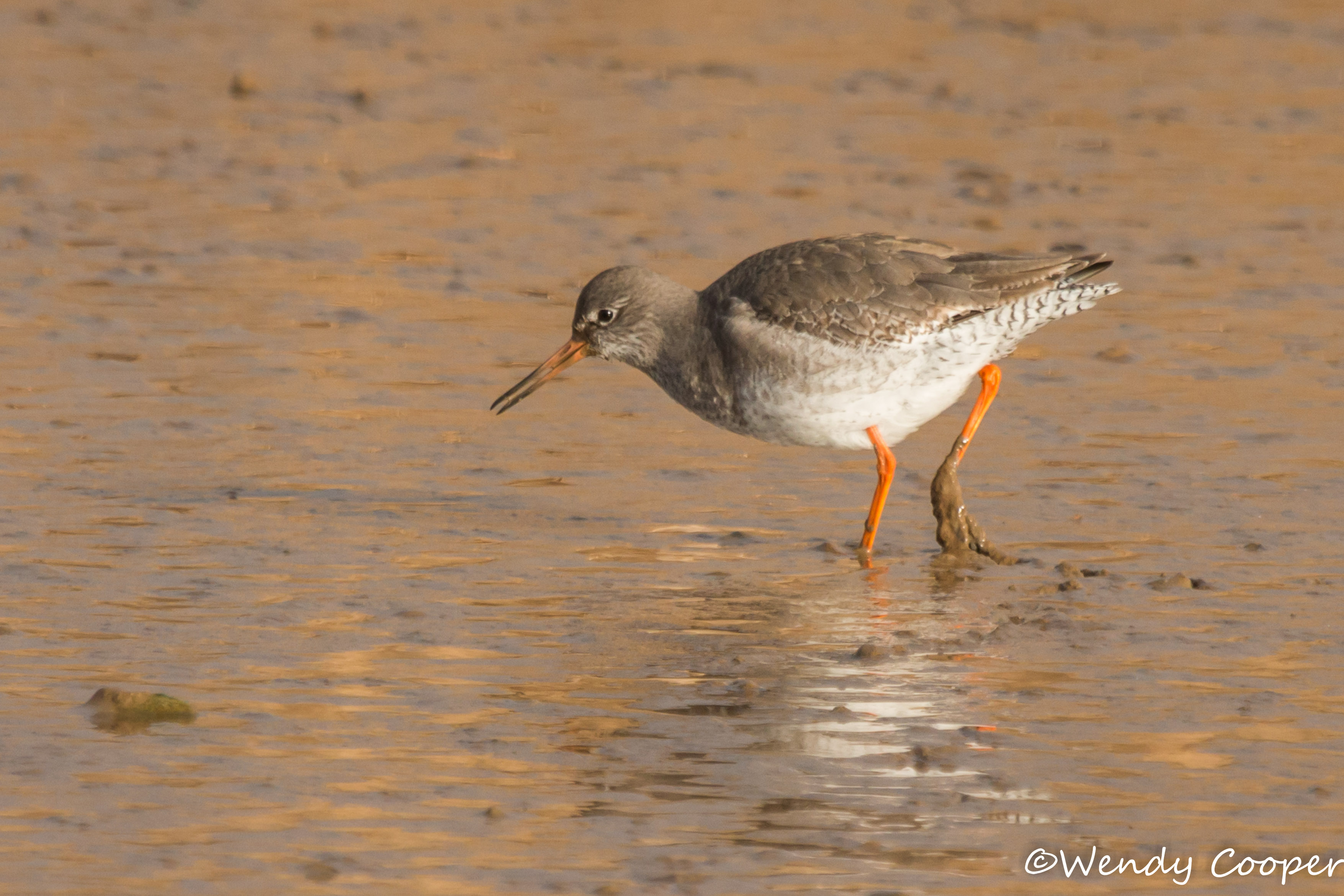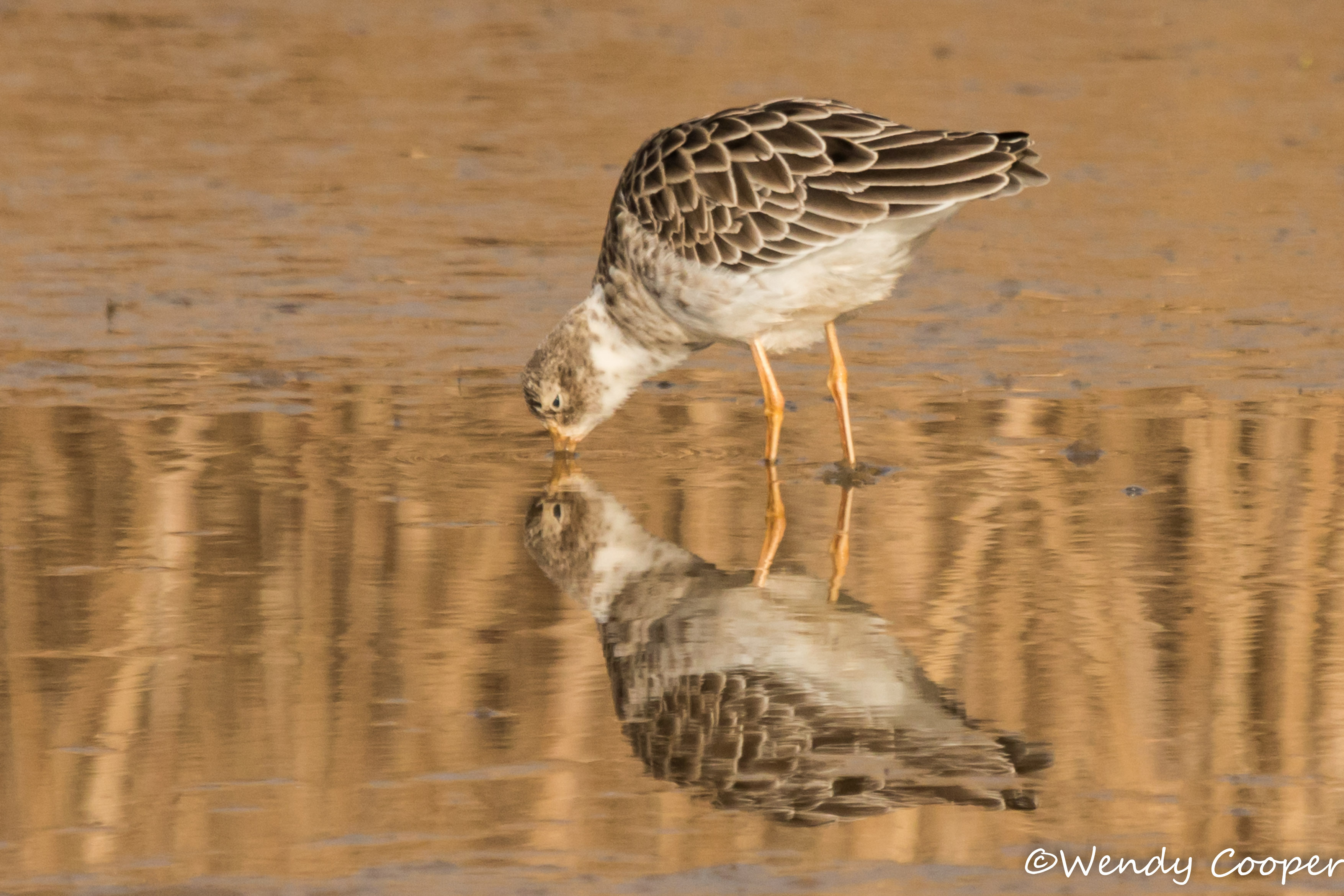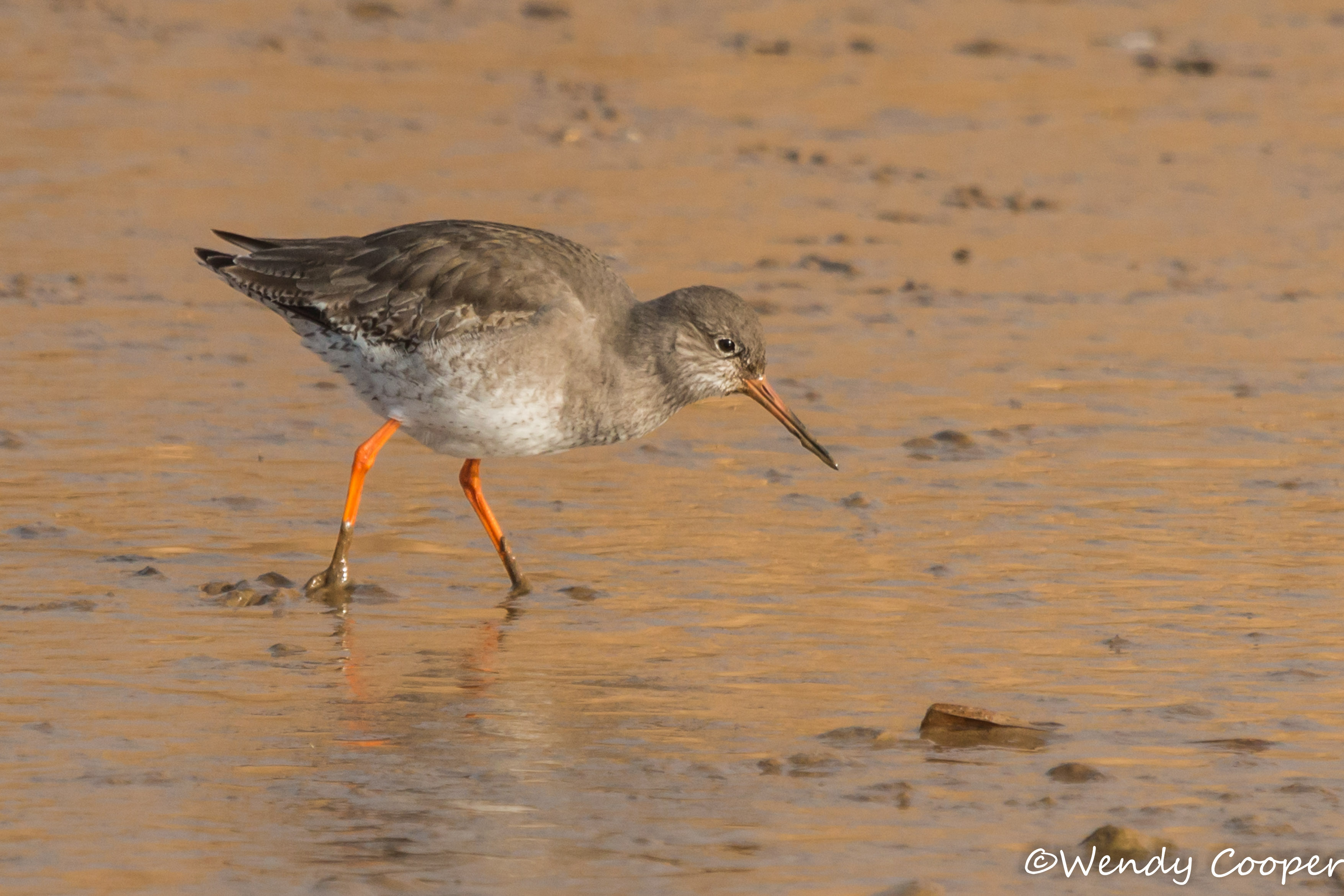 The pair of them were quite close to the path and unconcerned by by being watched at close quarters, so we made the most of such good views.
From the hide we could see, some way off, quite a few Teal and Lapwing as well as godwit and other waders looking for food.
We decided to walk round to the trio of hides in the middle; as we passed the cattle fencing, a meadow piptit flew up onto the fencing; not sure who was more surprised at seeing who, me or the bird. The pipit didn't stop for long, as it was rather breezy, there was quite a bit of feather disturbance going on!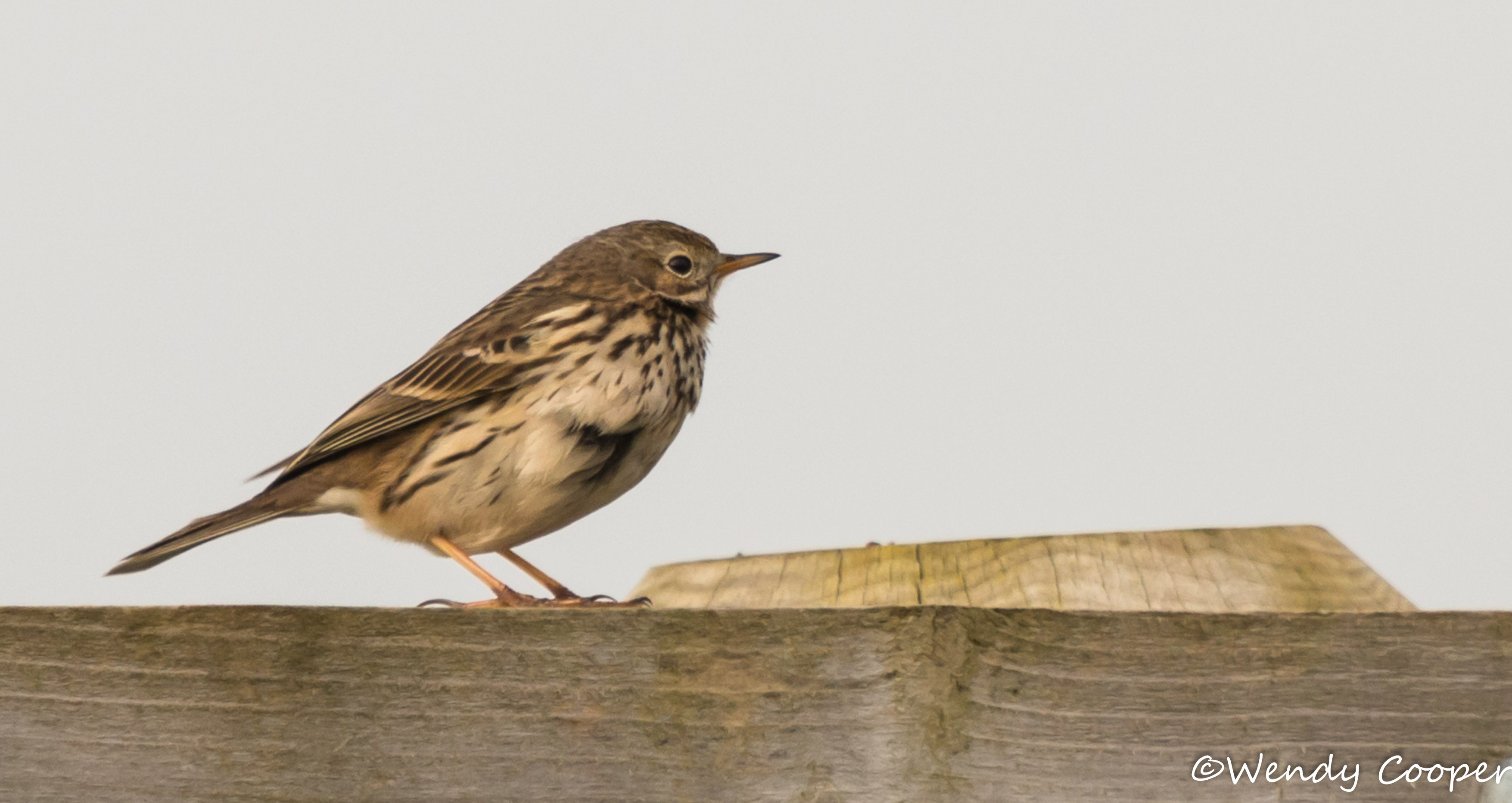 In the middle hides, we are always treated to excellent views of one of the many Little Egrets which can be seen here, they often fish literally outside the window :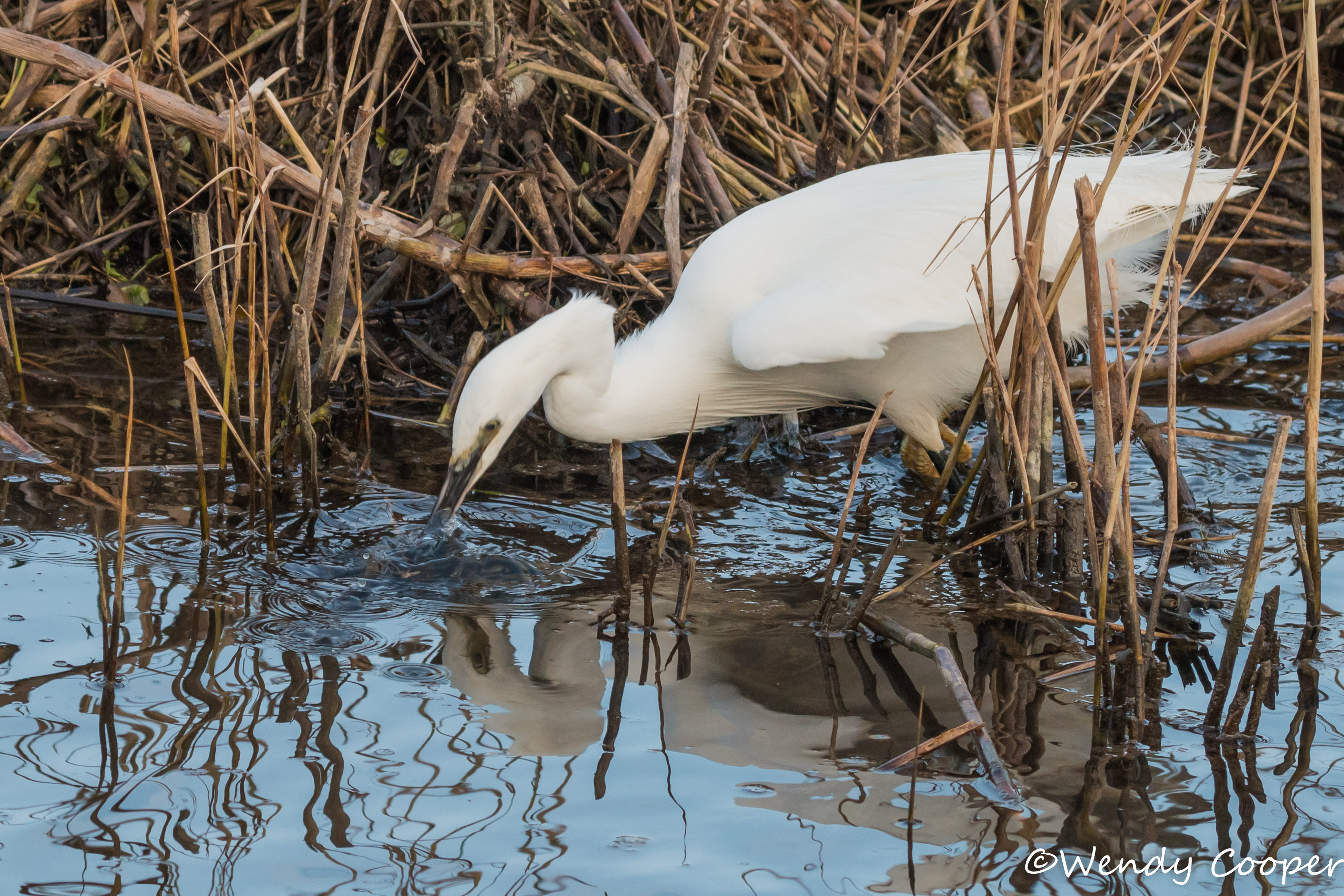 If you look closely, you can see lunch!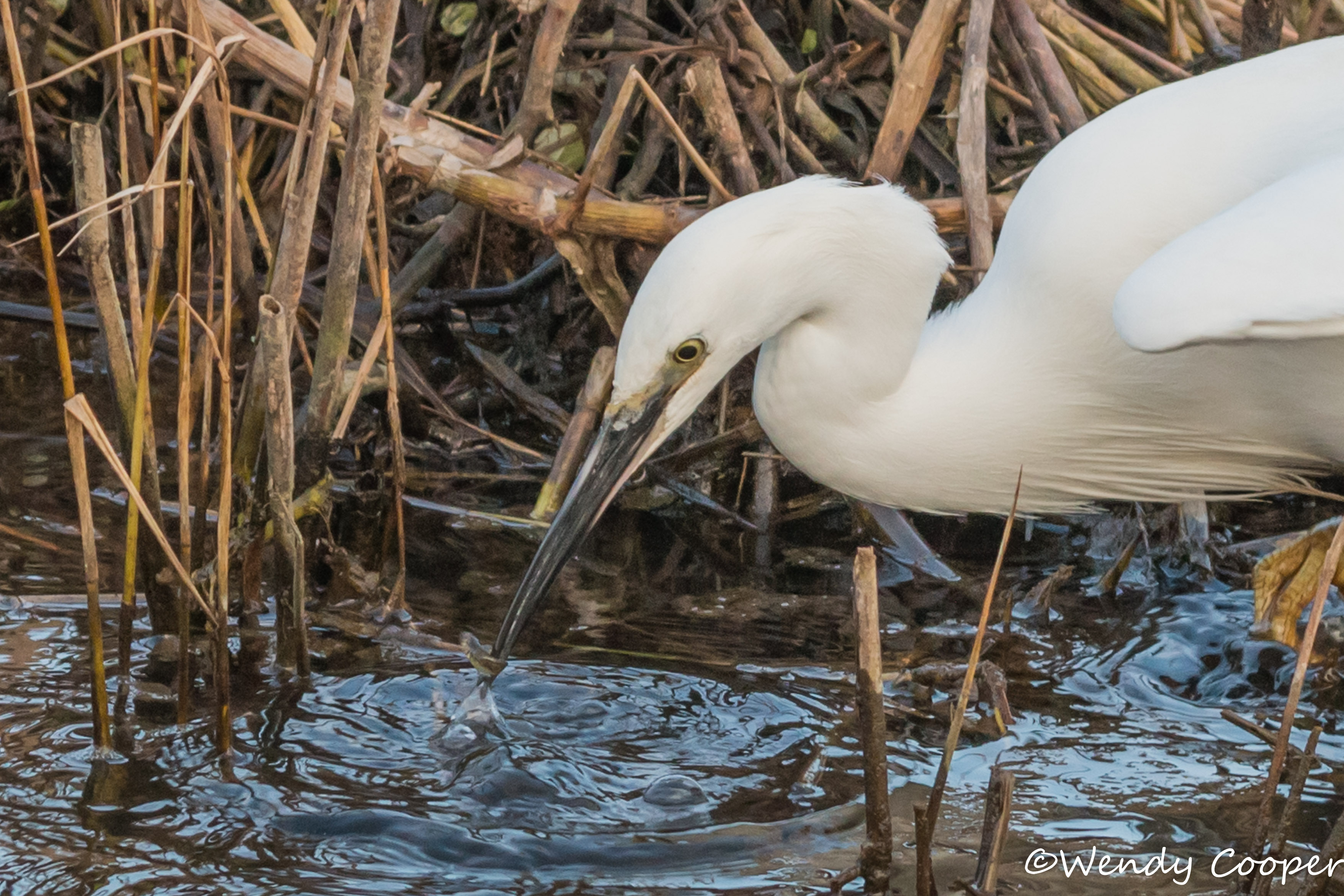 In between watching the Little Egret, we also watched Shelducks wandering and dabbling, as well as a group of Teal trying to doze, whilst facing into wind.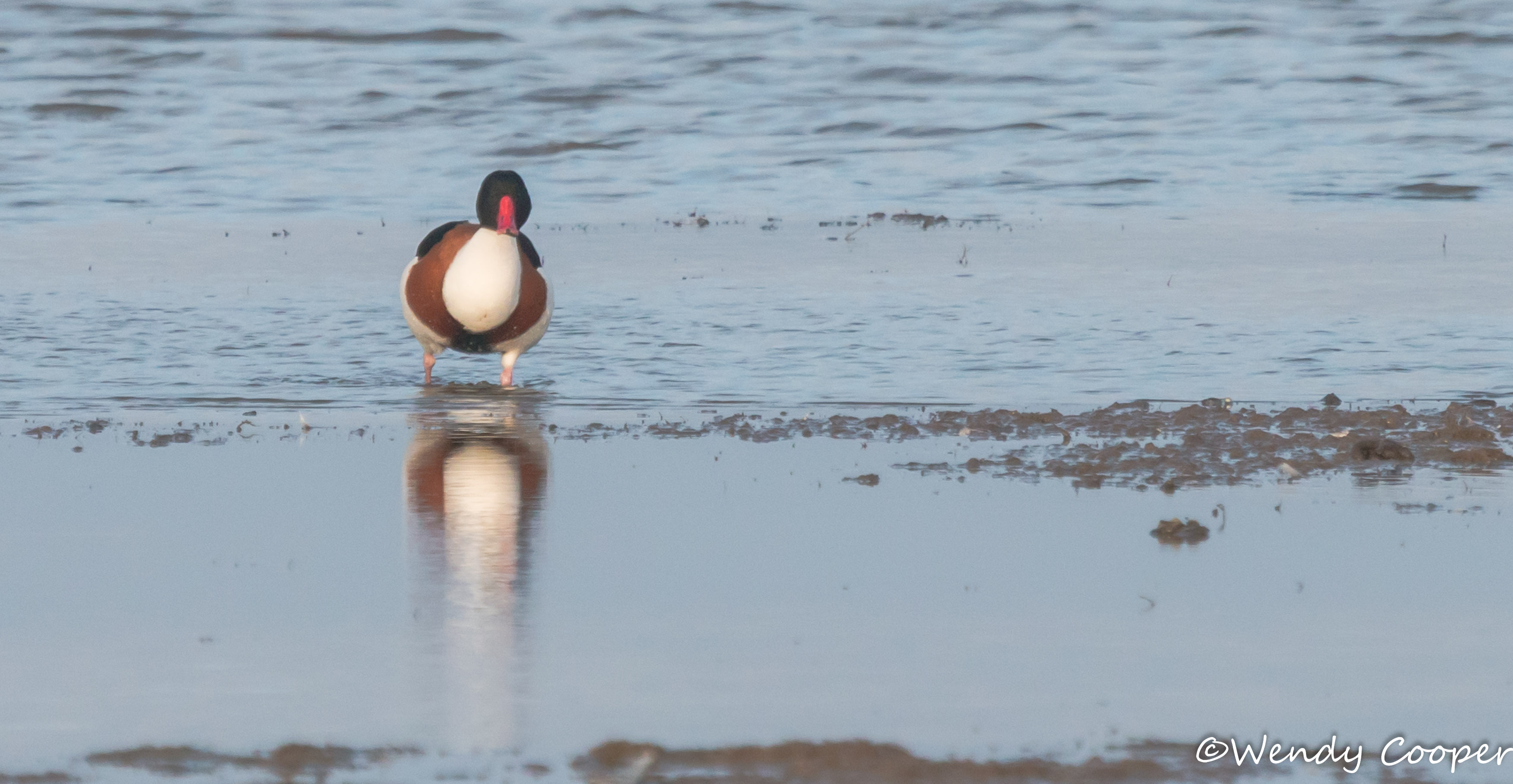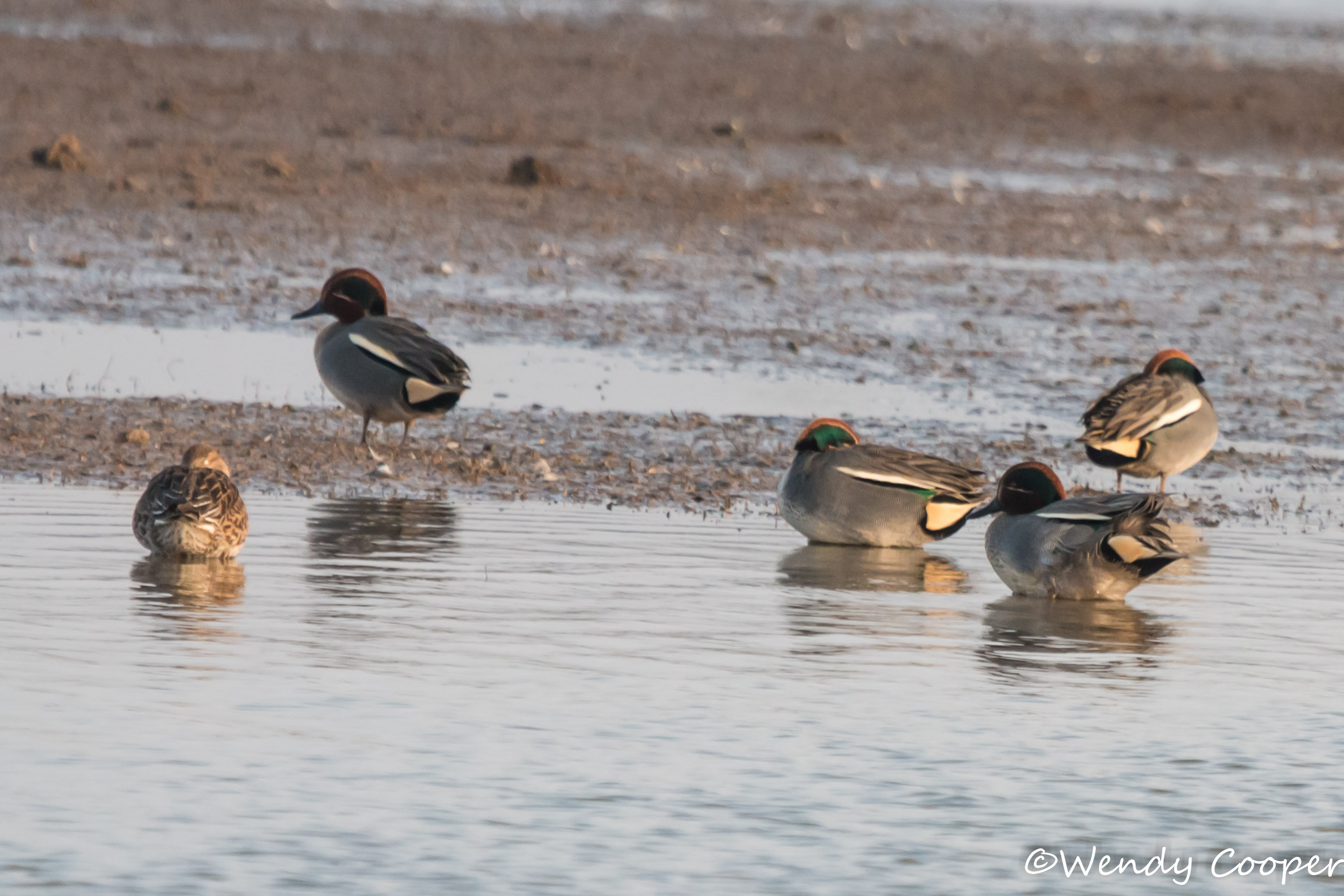 One of the ladies in the hide very kindly pointed out a male Garganey, who was hiding amongst a large group of Teal right over towards the beach, I had been looking, but as I tend to rely on the lens instead of binoculars, I was at a disadvantage, however she lined up her telescope and so I got see my first ever Garganey.
There were also a pair of Mute swans about, wasn't quite sure of the relationship as one still had an amount of juvenile colouring. There was also a godwit about, however it was slightly confused as it was still showing summer colours.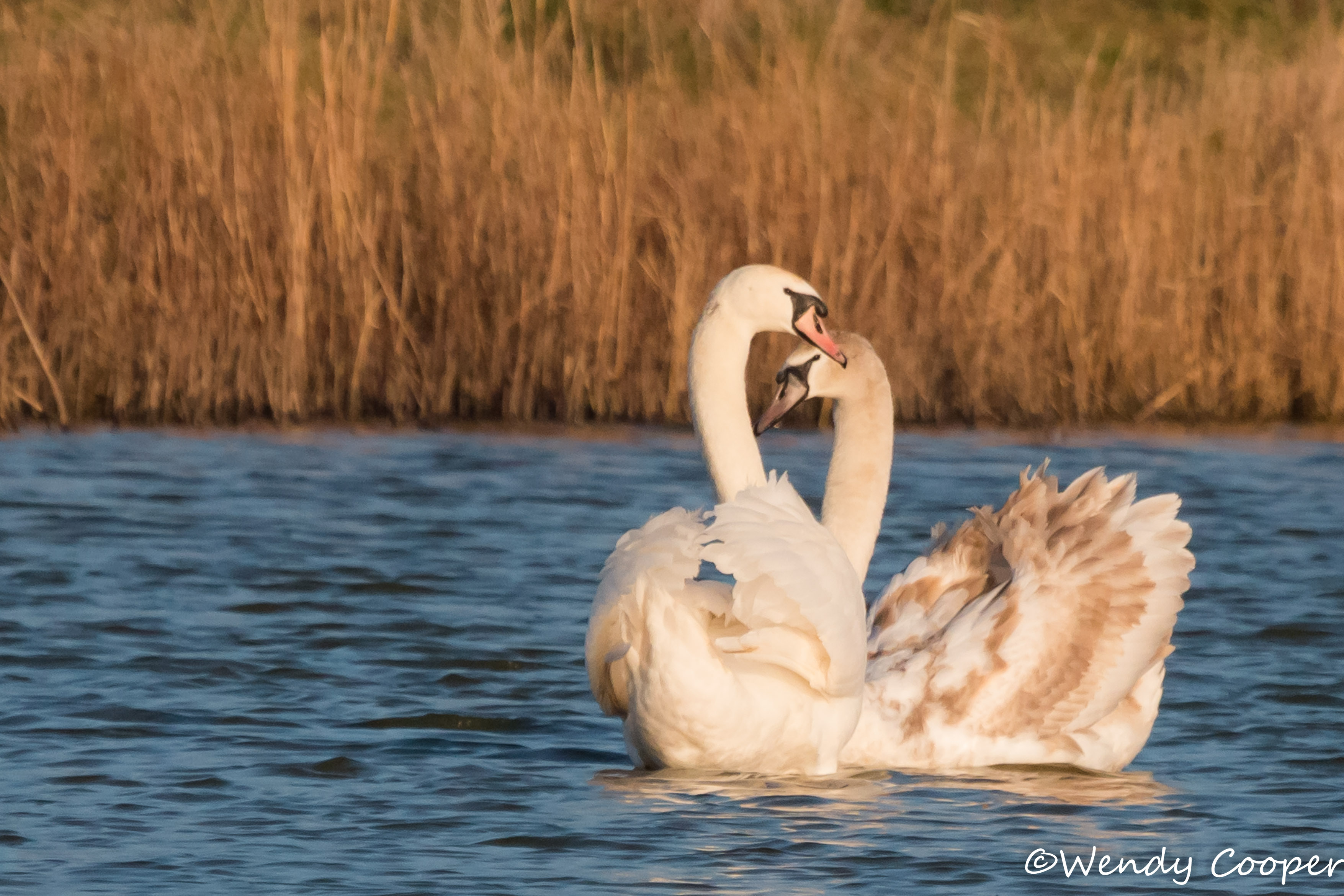 Just before we left the hides, the Little Egret came close again before flying off.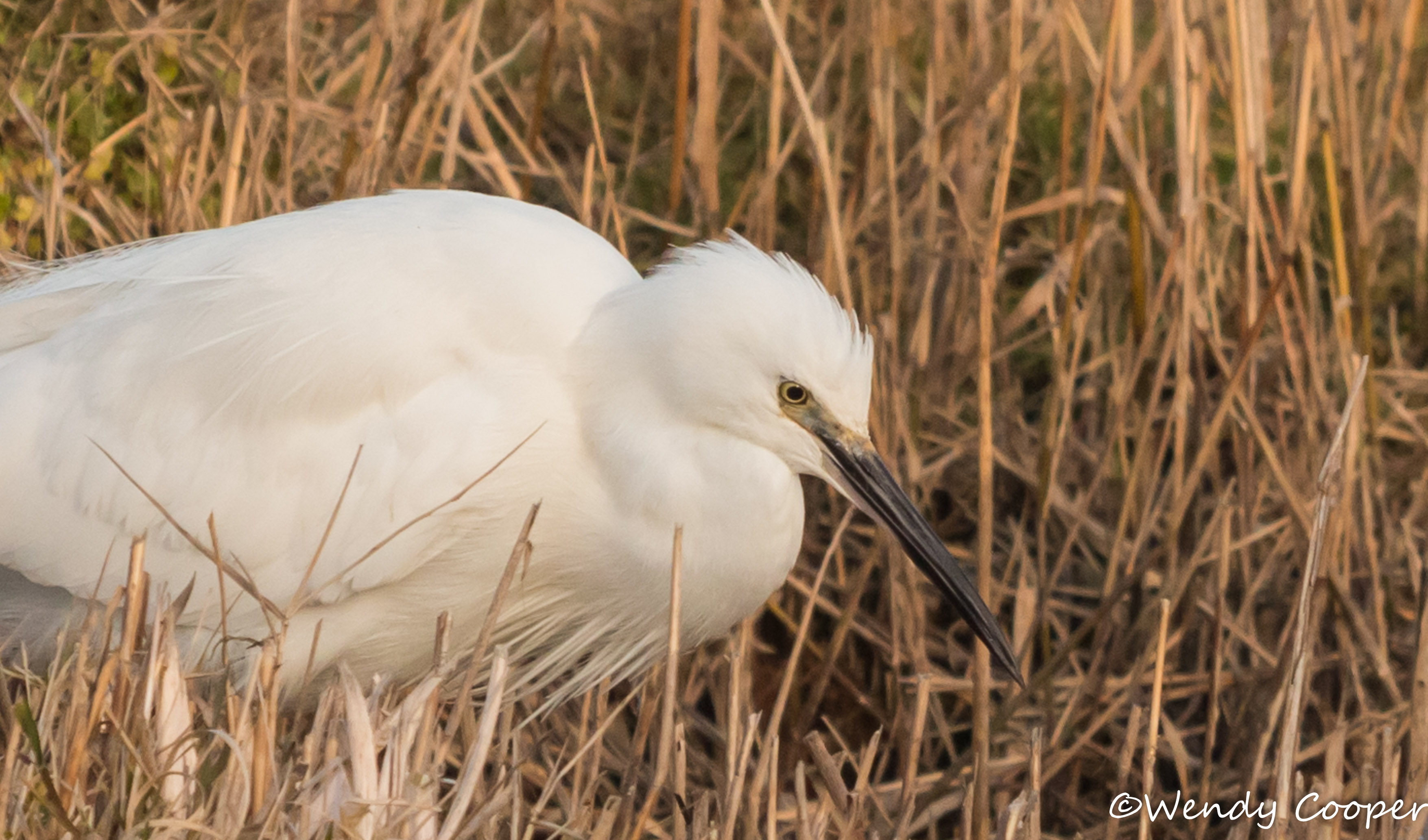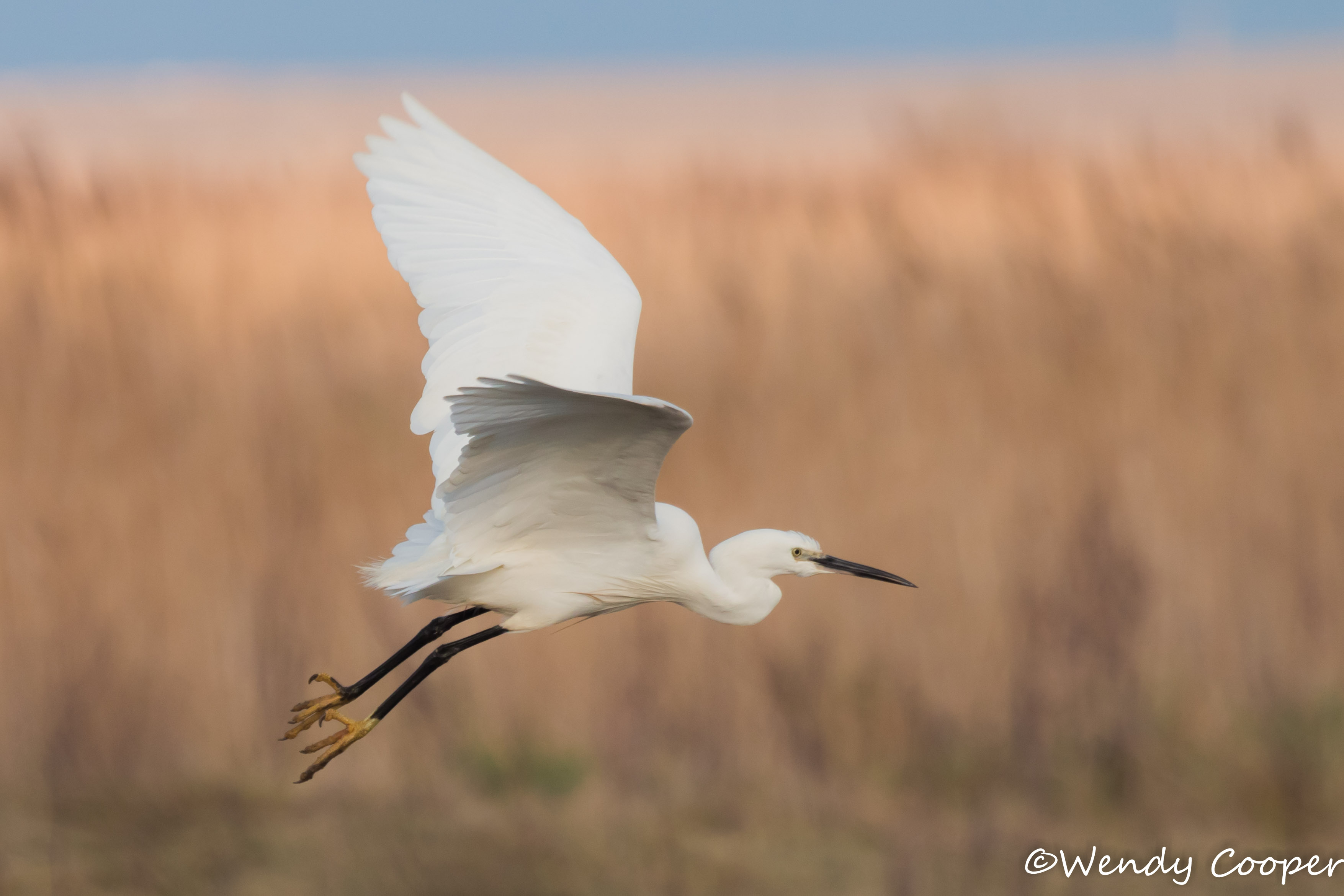 During the afternoon, we had been hearing a lot of geese chattering to each other and had seen them in flight as well. At one stage we watched what I thought was the biggest flock of Brent geese fly out across the marsh and settle, with a few settling on different spots along the walk back to the carpark. I managed to get a couple of shots of them grazing. They all work together, someone is always on lookout whilst others feed and they take it in turns to try and stay safe.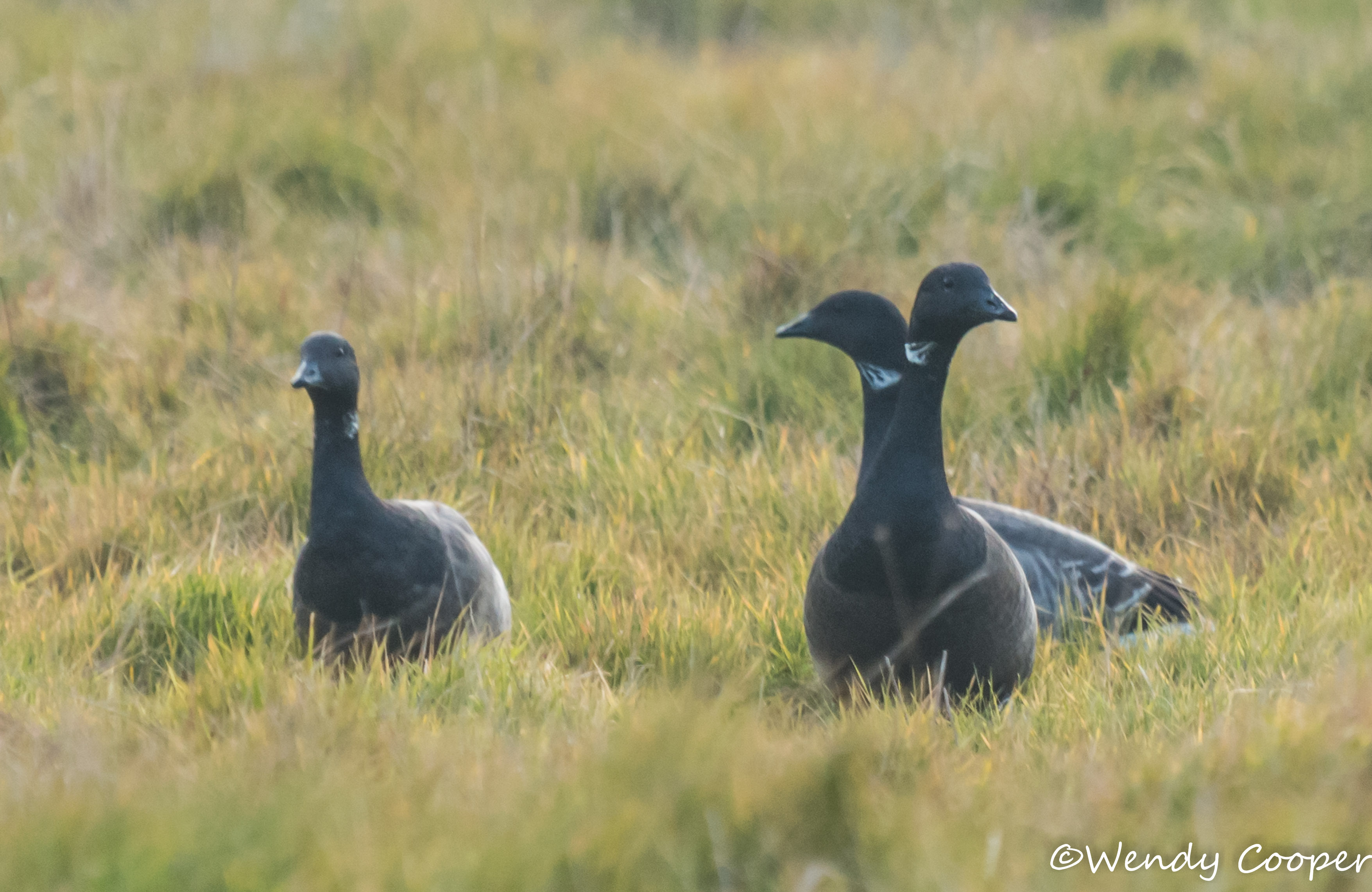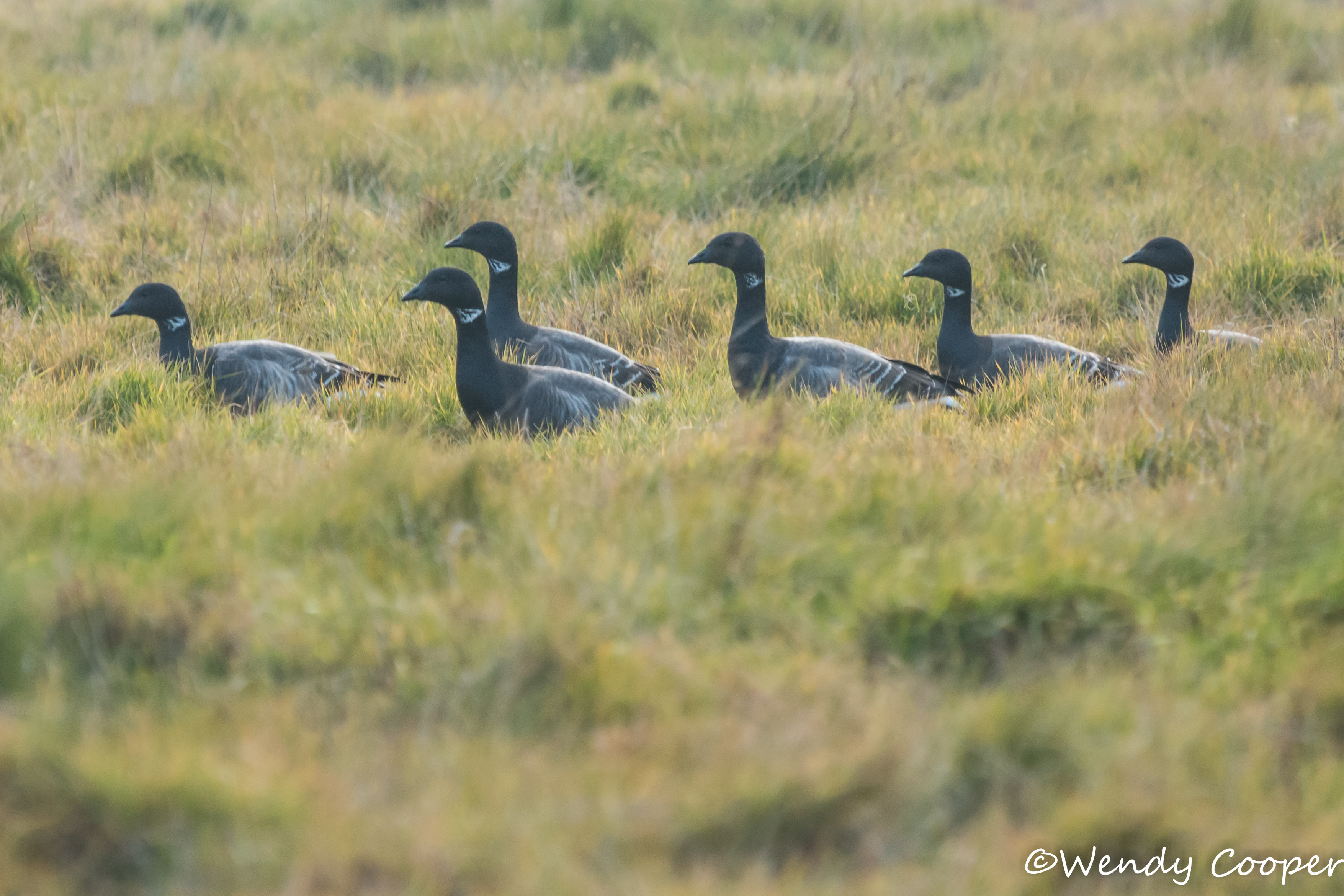 When we got back to the car, there was the loudest 'honking' conversation going on I have ever heard and as we watched, amazed, just about every goose off the marsh in a huge V's within V formation flew overhead. It was incredible to see; at one point there was a smaller flock coming to join from a different direction and the main flock, at some unheard command simply wheeled round and swept them up, before they all headed up onto the farmland to settle for the evening.
It was the first time I've ever seen a flock of that size (definitely more than hundreds!) and certainly elicited a big 'Oh WOW' at seeing them. I didn't even attempt to photograph the spectacle, however, this one is from the next morning, when we watched a smaller flock deciding where to settle for breakfast.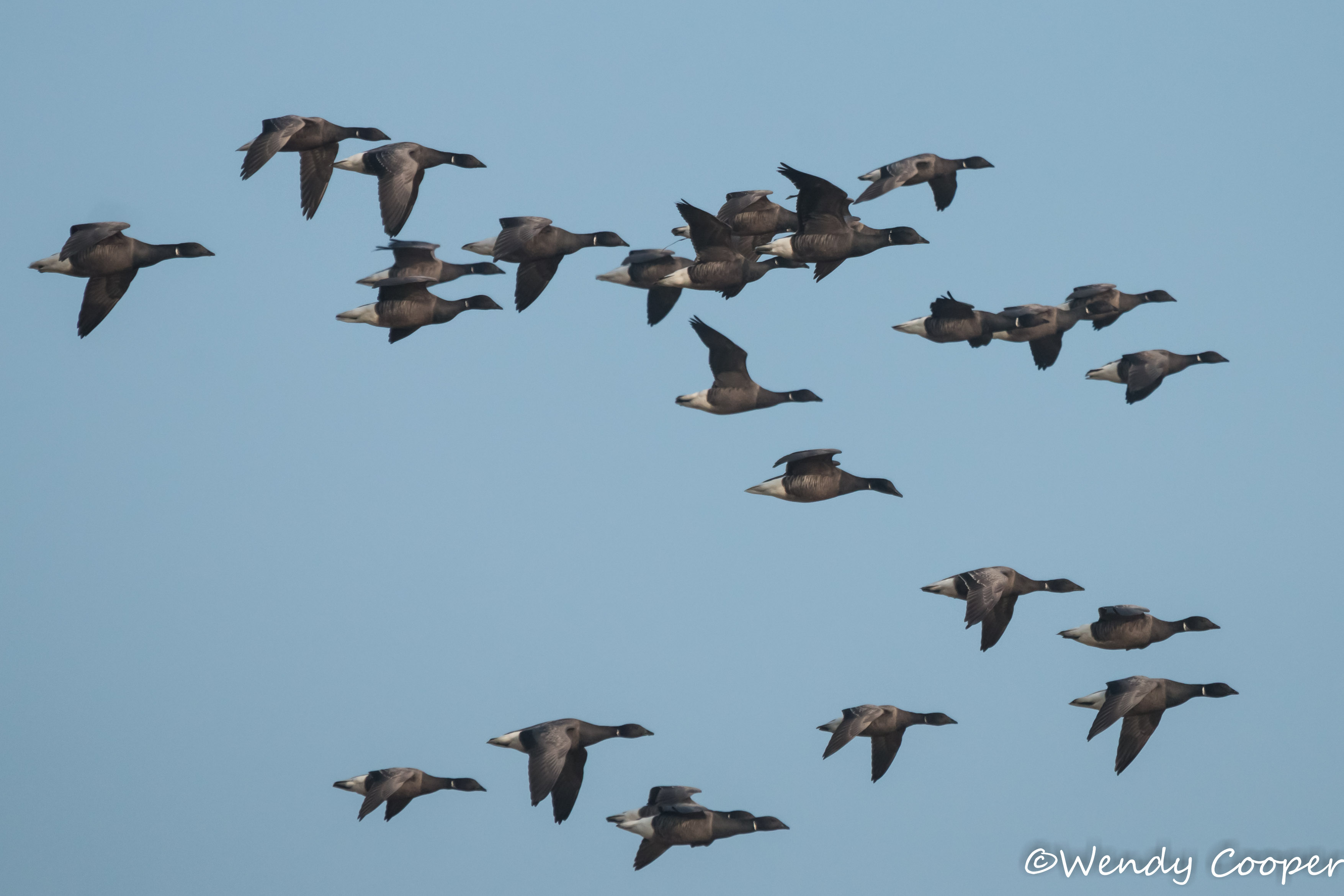 That's all from Cley,however on the Sunday we did have a wander at RSPB Titchwell, which will be in another blog!
I hope you have enjoyed my blog, if you would like an email notification when my next blog is published, please add your email address to the 'Sign Up' box below, you will then receive an email with which to confirm your subscription.
As always, comments, feedback or questions are welcome, so please feel free to contact me via the comments section below or via the guestbook.
Comments