A Short Trip to the Isle of Mull
15/07/2016 - 17:15
We decided this year, that we would pay a visit to the Isle of Mull for our holiday, so back in February, planning and booking began - a lovely hotel was found (we were also celebrating a special anniversary), the ferry and a boat trip booked, in the hope of seeing White Tailed Eagles and other seabirds that I have never seen before.
We duly arrived, in the rain, at Oban and drove onto the ferry, staying out on deck for most of the crossing; it was a bit damp, however we saw a couple of far off Seals popping their heads up and there were a few Gulls about. Depending on which side of the ferry you looked out from, port was overcast and gloomy, whilst on the starboard side towards Loch Linnhe, it was glorious blues skies and sunshine...
When we arrived at Craignure, the rain had eased up so we set off towards the hotel, experiencing a slight culture shock with the single track roads and passing places (himself, after a couple of hair-raising trips on some of the smaller roads, got used to them rather well! There is one stretch, which we shall ever call the 'Italian Job' bit though!). Roads aside, the landscape that we were passing through was stunning, from the views through Glen More to when we arrived at the outskirts of Loch Beg, we knew we would be in for a treat with our surroundings for next few days.
As we turned onto the road towards Tiroran, suddenly there was a loud squeal from me, we managed to safely pull over and there on our right, quite a way off, was a truly wonderful sight - a male Hen Harrier quartering. I grabbed the camera and sort of fell out of the car in the hope of at least a record image, however, such was the excitement that I made a total hash of the photos; no matter - that Grey Ghost, floating along over the ground was one of the most beautiful birds I have ever seen and one that I never expected to see either. A magical few moments.
Very early next morning I was up and out for a gentle stoll down to the edge of Loch Scridain, which a river through the hotel gardens ran down to. It was calm but very overcast. Along the rocks at the edge of the loch were a few sleepy looking Hooded Crows and the silence was broken at times by the call of Oystercatchers, who were skimming over the water and sharing the rocks with the crows.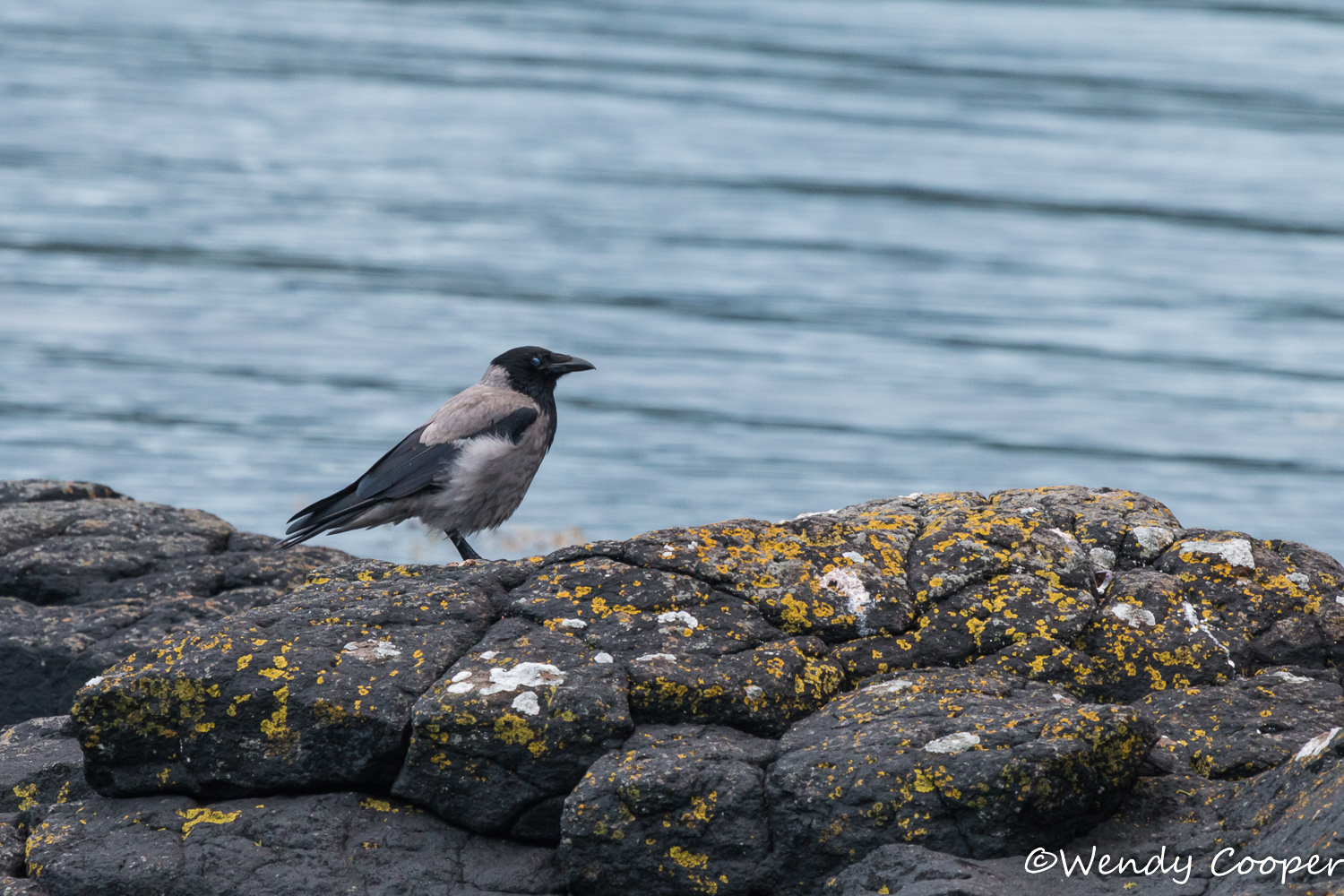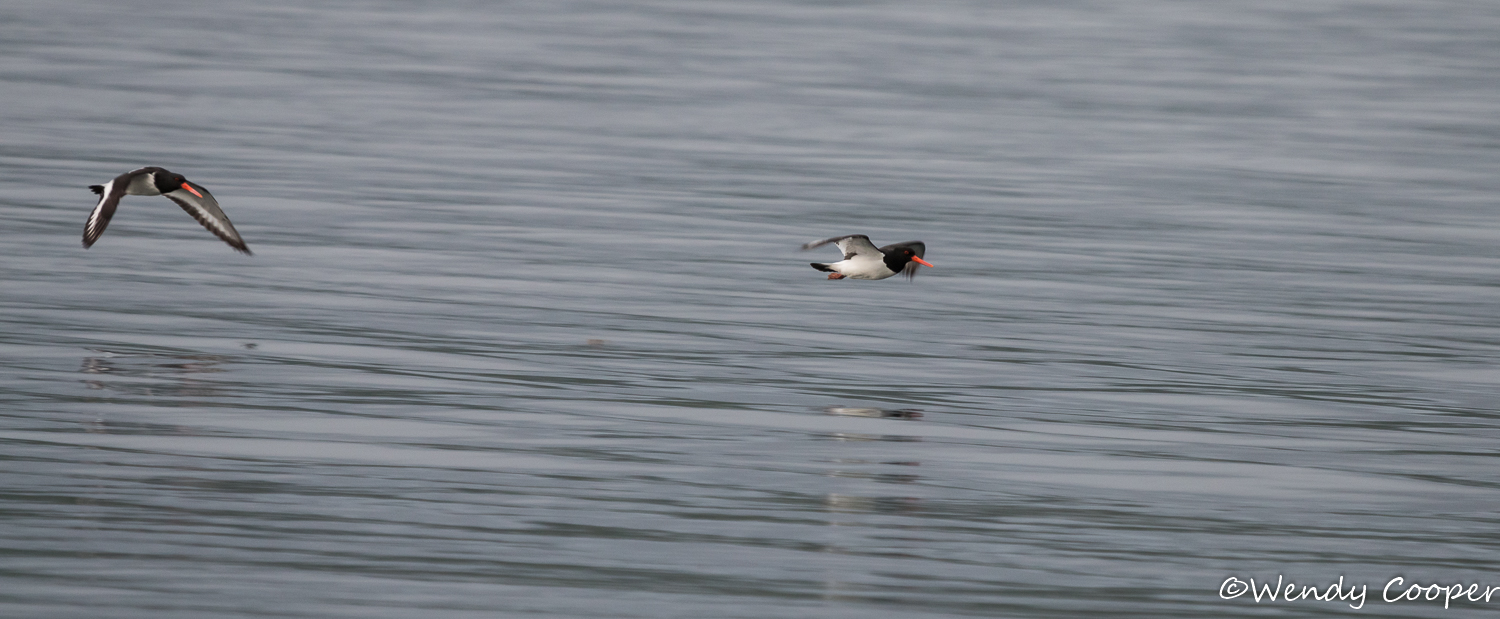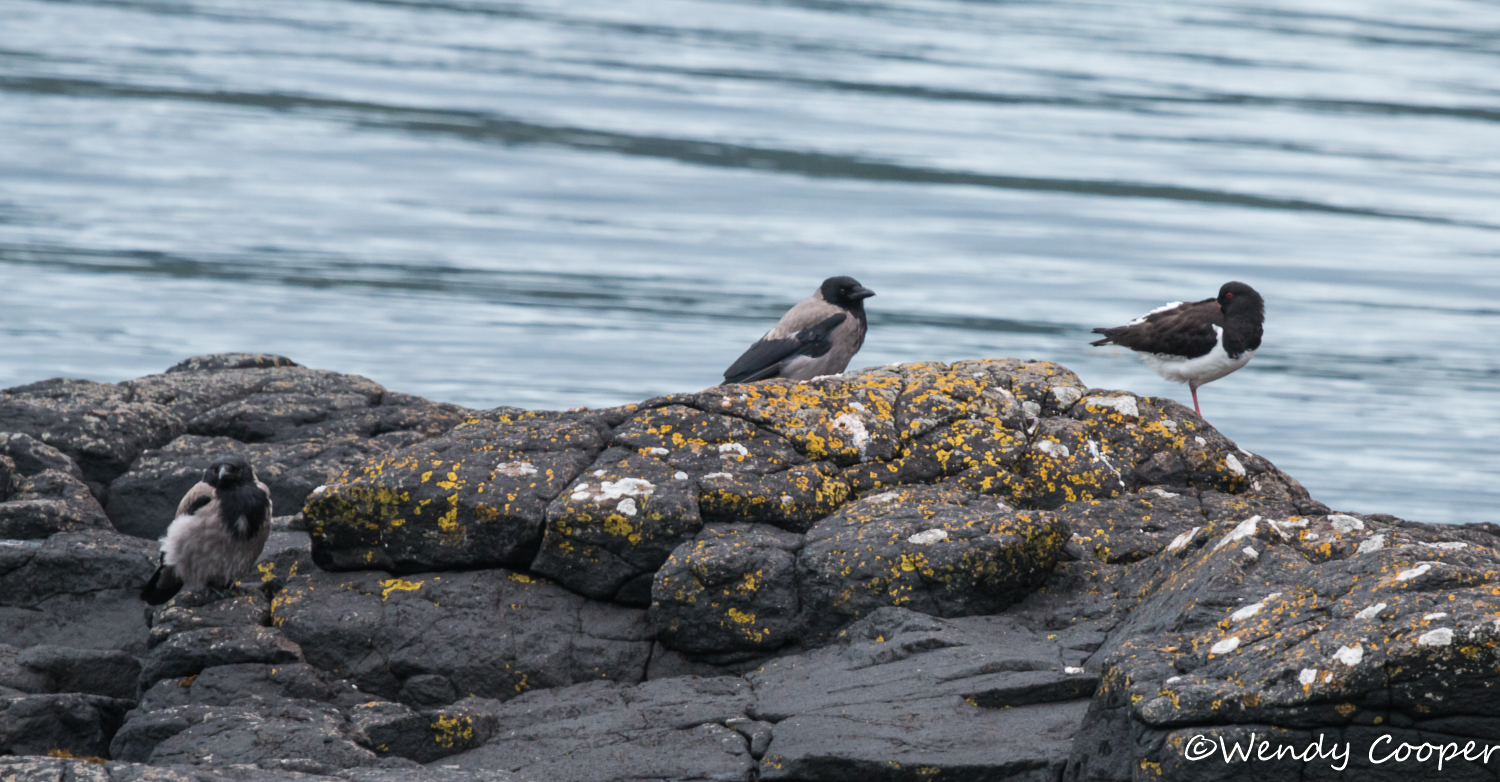 Whilst I sat near the outflow from the river, there were a few Swallows swooping about and a Grey Wagtail hopping around on the rocks. Here and there I could see Pied Wagtails flitting about, one stopped nearby on the fencing, they were out and about foraging for food.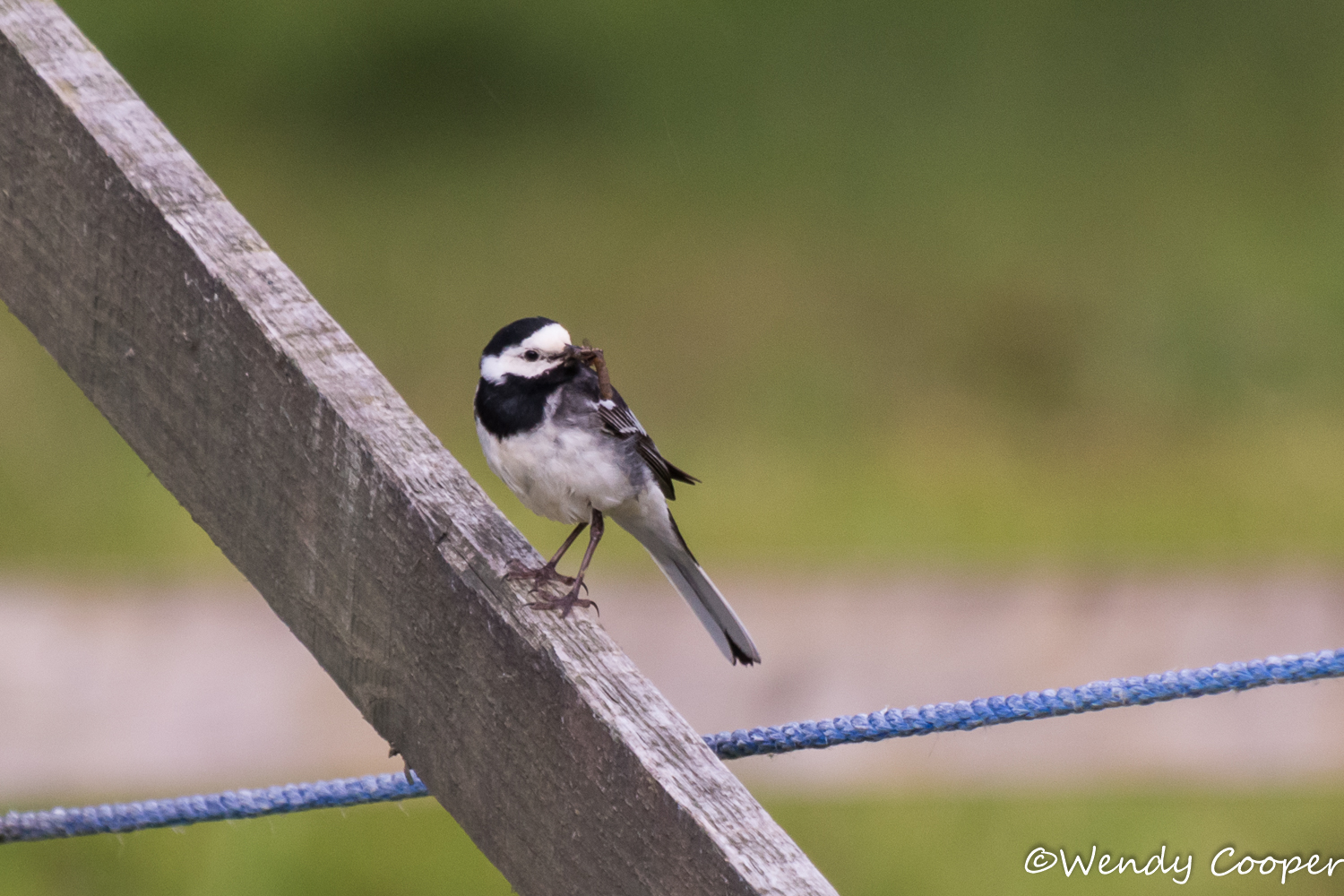 Back and forth across the water, between two outcrops of rocks, a pair of small pointy winged pale brown birds skimmed, piping as they flew - the light was getting worse, but as I watched them through the binoculars, I could see they were Common Sandpipers. They were busy foraging amongst the seaweed, constantly calling to each other and were very fast.
Suddenly, it started to rain, with the eastern end of the Loch and the mountains being shrouded in cloud and rain. The Loch was like a millpond - despite the rain it was so calm.. The following image is not in monochrome, that really was the light and scene I was gazing on - despite the rain, it was incredibly tranquil.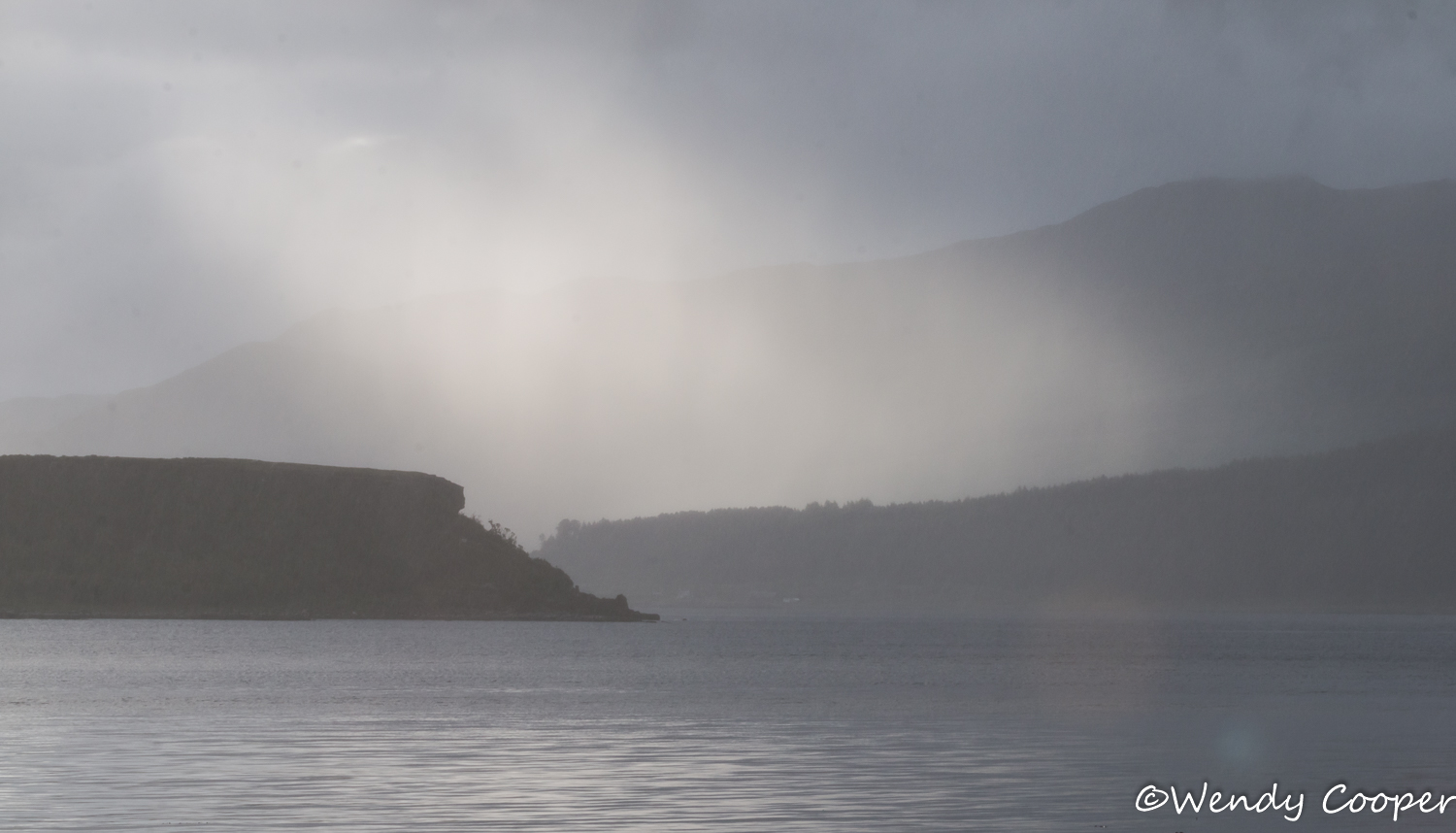 As the rain eased up, one of the local Grey Herons arrived. The previous evening, on our journey around Loch Beg and Scridain, we had marvelled at there seemingly being a Heron every fifty yards or so!
This one stood, like a statue in a circle of ripples as it waited for breakfast.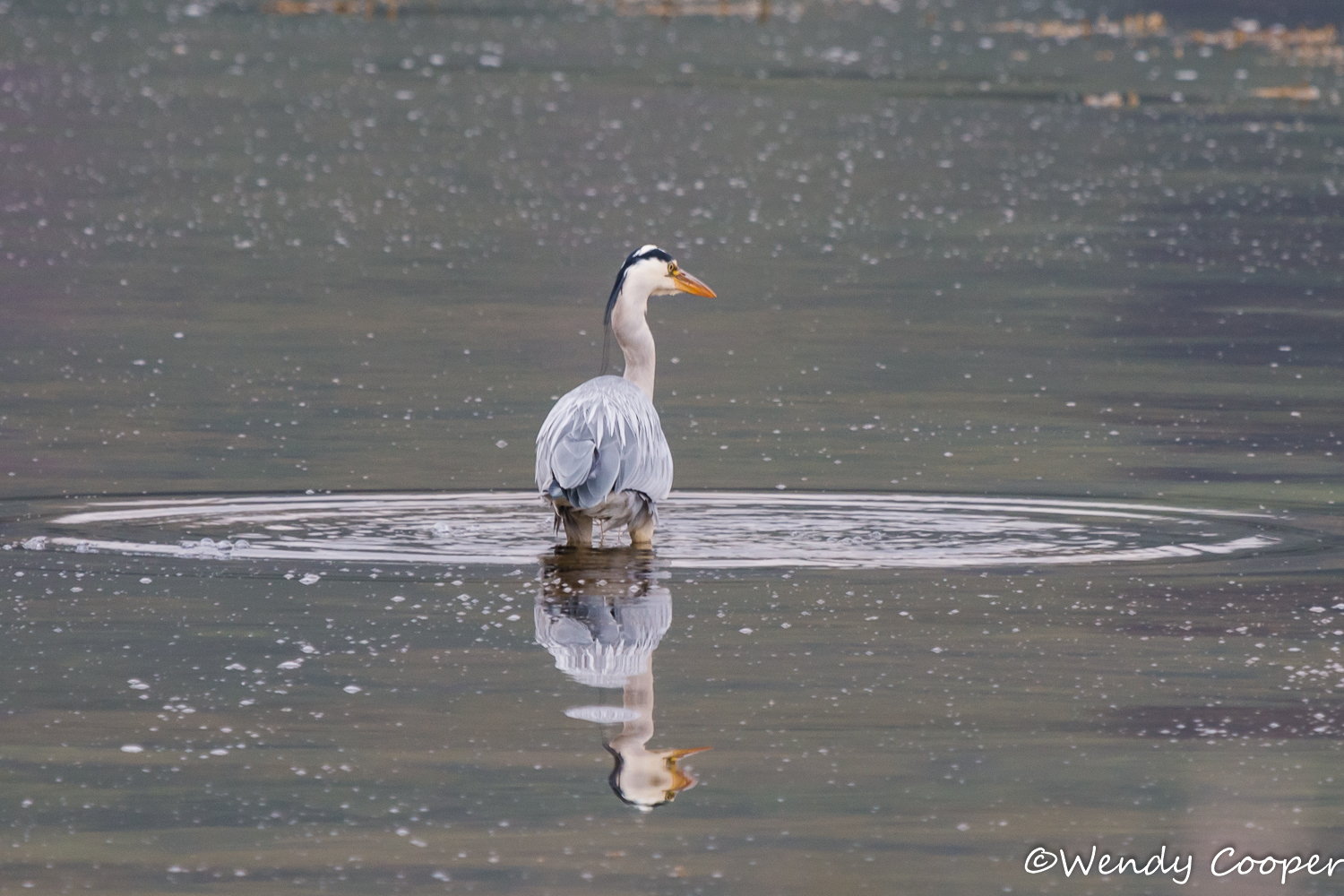 Back up at the hotel, Swallows were swooping about and I came under close scrutiny from the pair that were nesting in the porch, they didn't seem to mind Umanbeans going in and out of the doorway, however, if they wanted access to the nest (on top of the porch light) then they would chatter and swoop around you at quite a speed - we soon got used to their 'instructions'!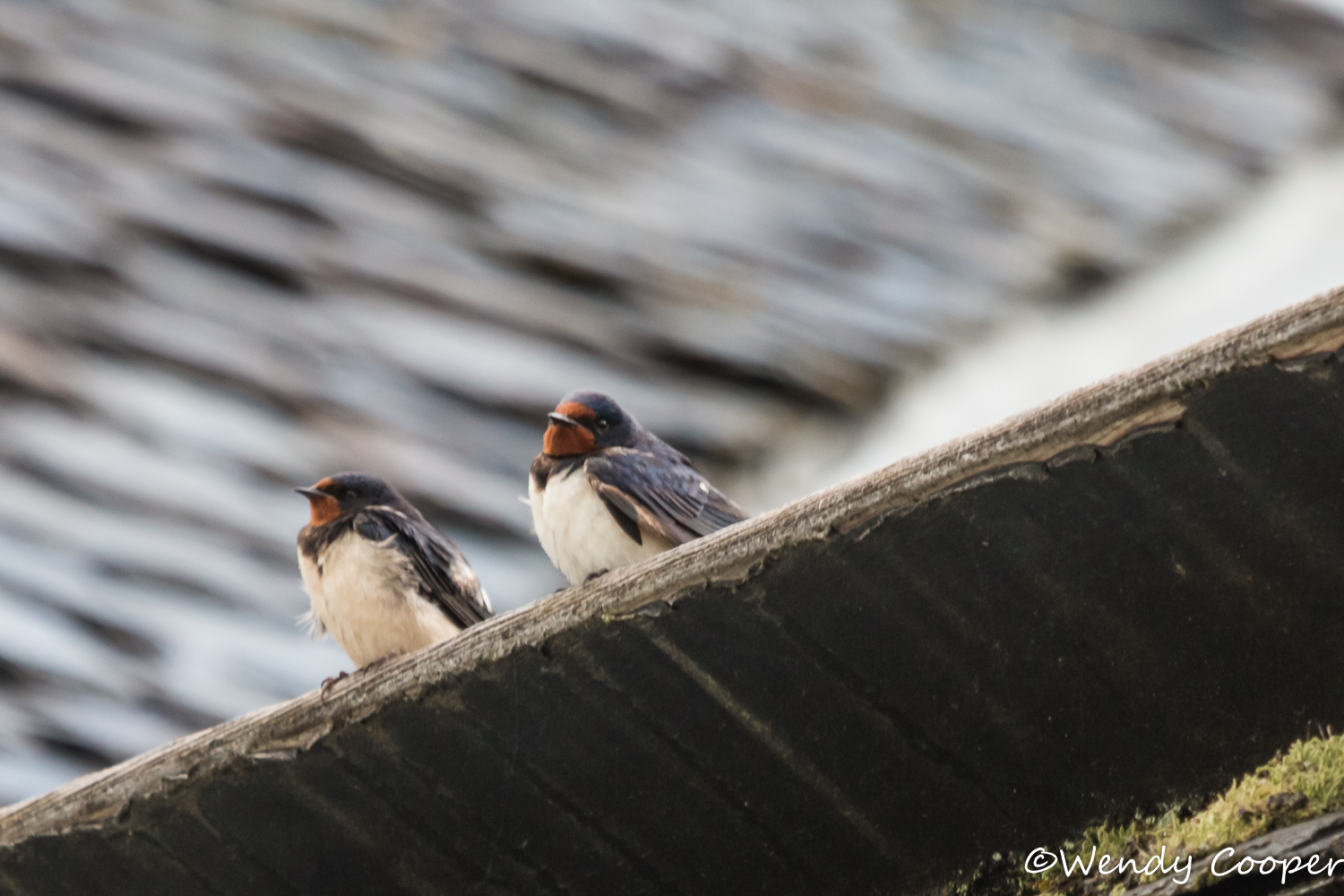 After breakfast, we set off to have a bit of an explore. Retracing our journey of the previous evening, we headed over towards the Eastern side of the Island. As we were dodging in and out of showers, some quite heavy at times, we headed up to Tobermory for a little look around and to do the 'touristy' thing.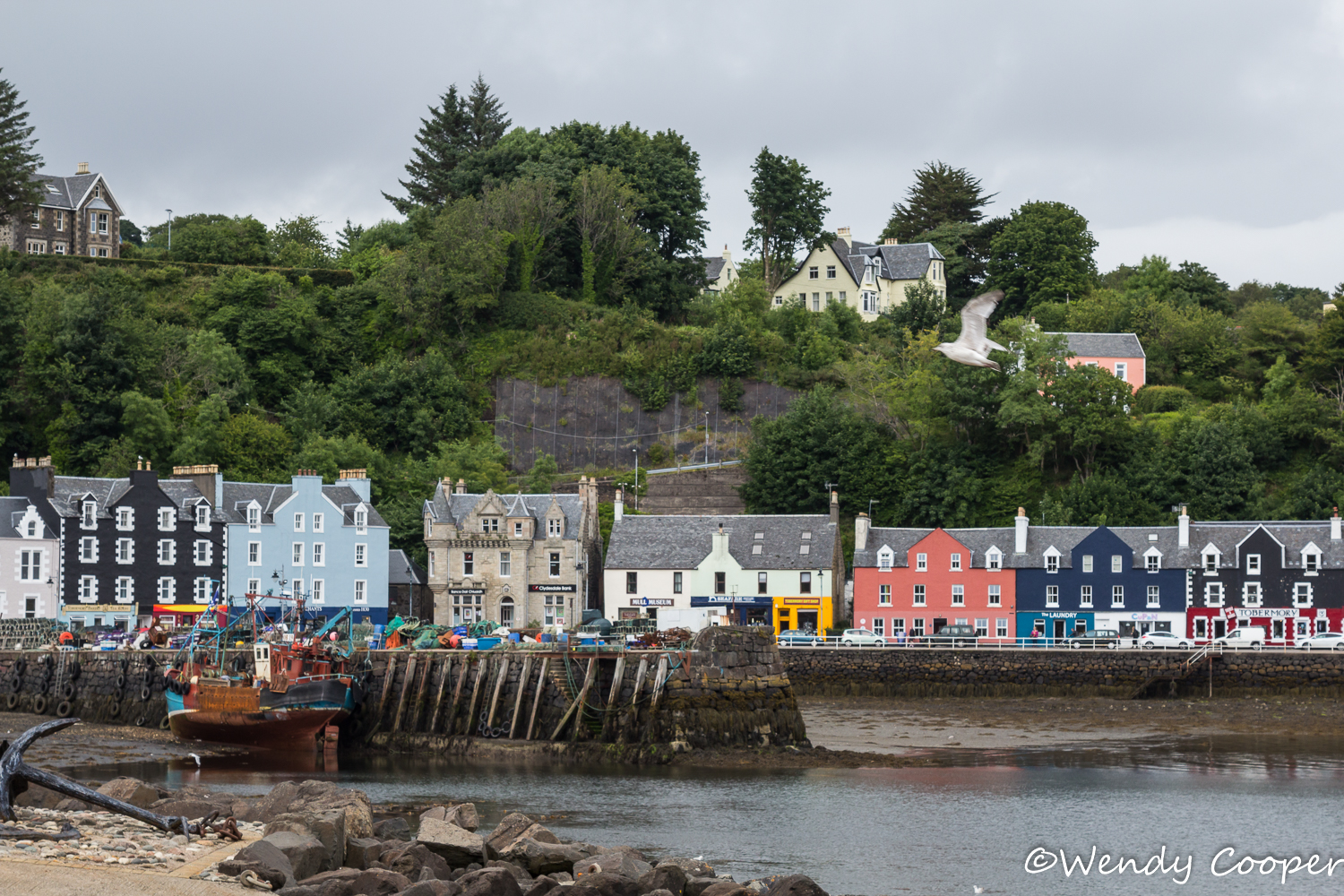 That didn't last long, as while taking photo's of the colourful waterfront, I was soon distracted by a group of bathing Herring Gulls and a youngster that obligingly posed for me just a few metres away on the rocks!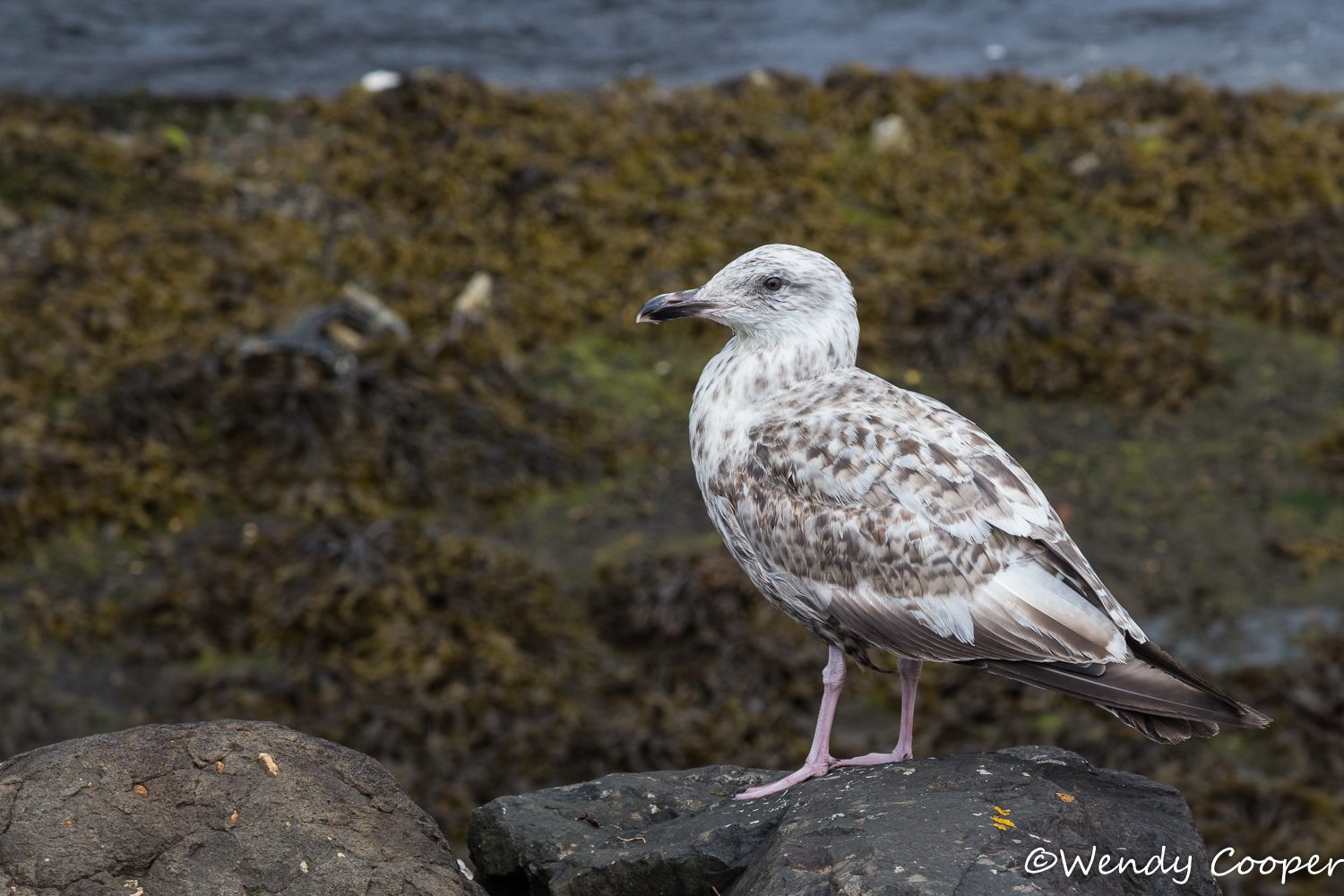 On our way southwards, we stopped briefly at Fishnish for a looksee and also at Grasspoint. When we got to Grasspoint, we had a short stroll near a little beach. After clambering around for a while on the rocks, we followed a little path along the top, then decided to head back for the brolly, before heading out onto the point proper. As we walked back to the car, between two huge banks of bracken, a number of Meadow Pipits were flitting about, chattering to each other and collecting insects.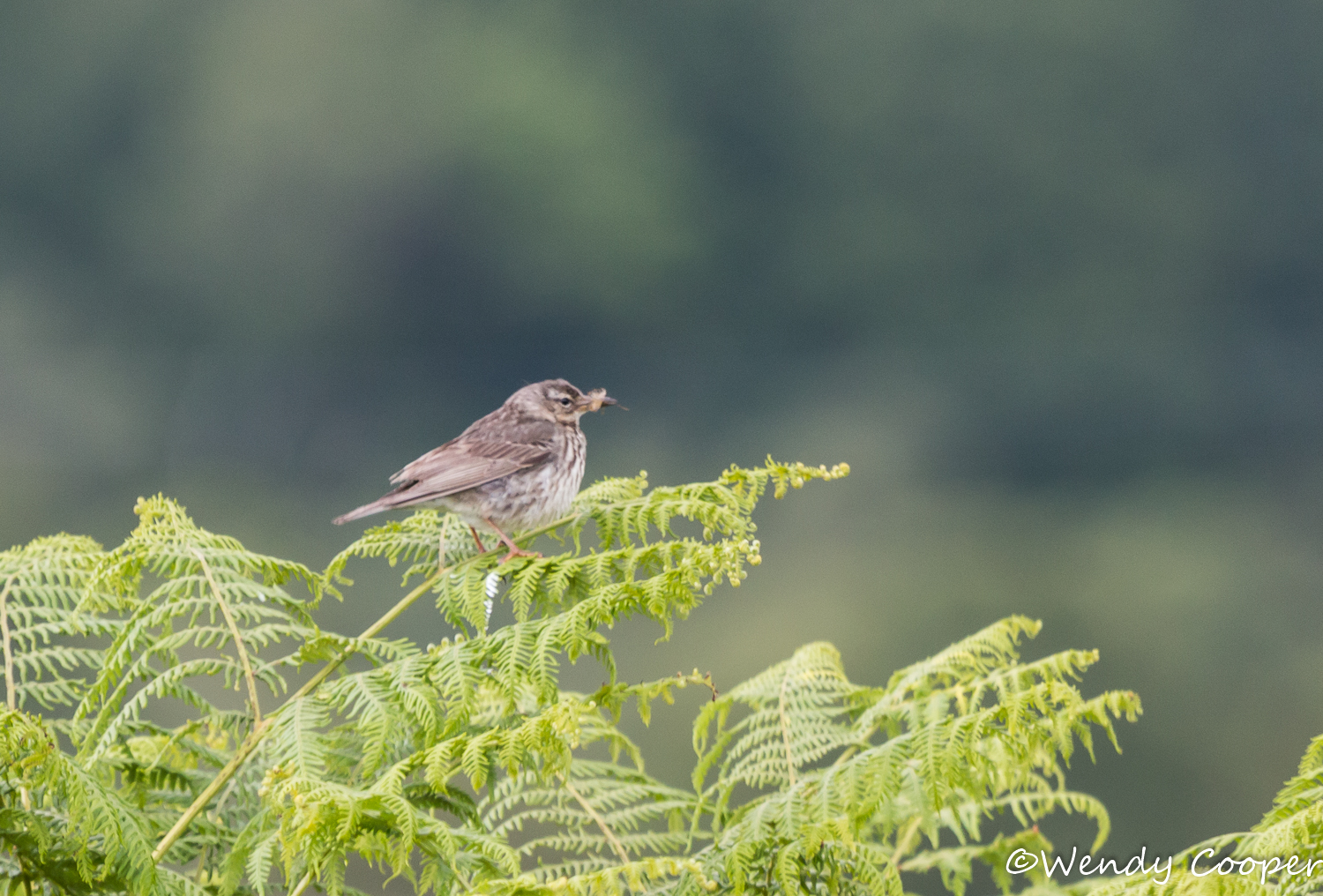 A couple of them paused briefly on top of the bracken fronds, affording some lovely views, before they flit off undercover with beakfuls of bugs (there were no shortage of insects, I can tell you!). As we reached the car, the heavens opened, horizontal rain that hurt! So we tried to sit it out a while, before deciding to head back to the hotel.
We managed to drive out of the weather and had some beautiful views through Glen More.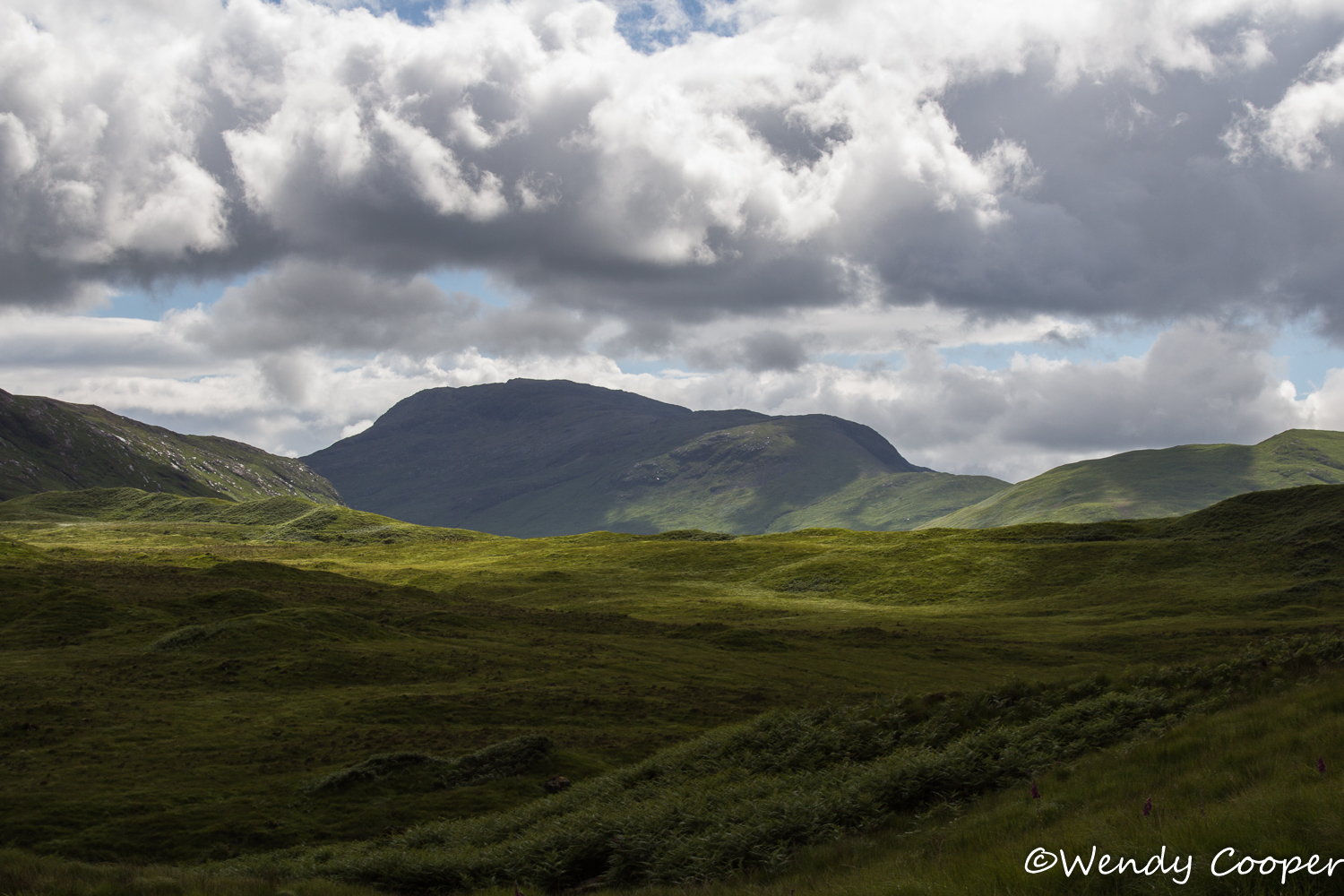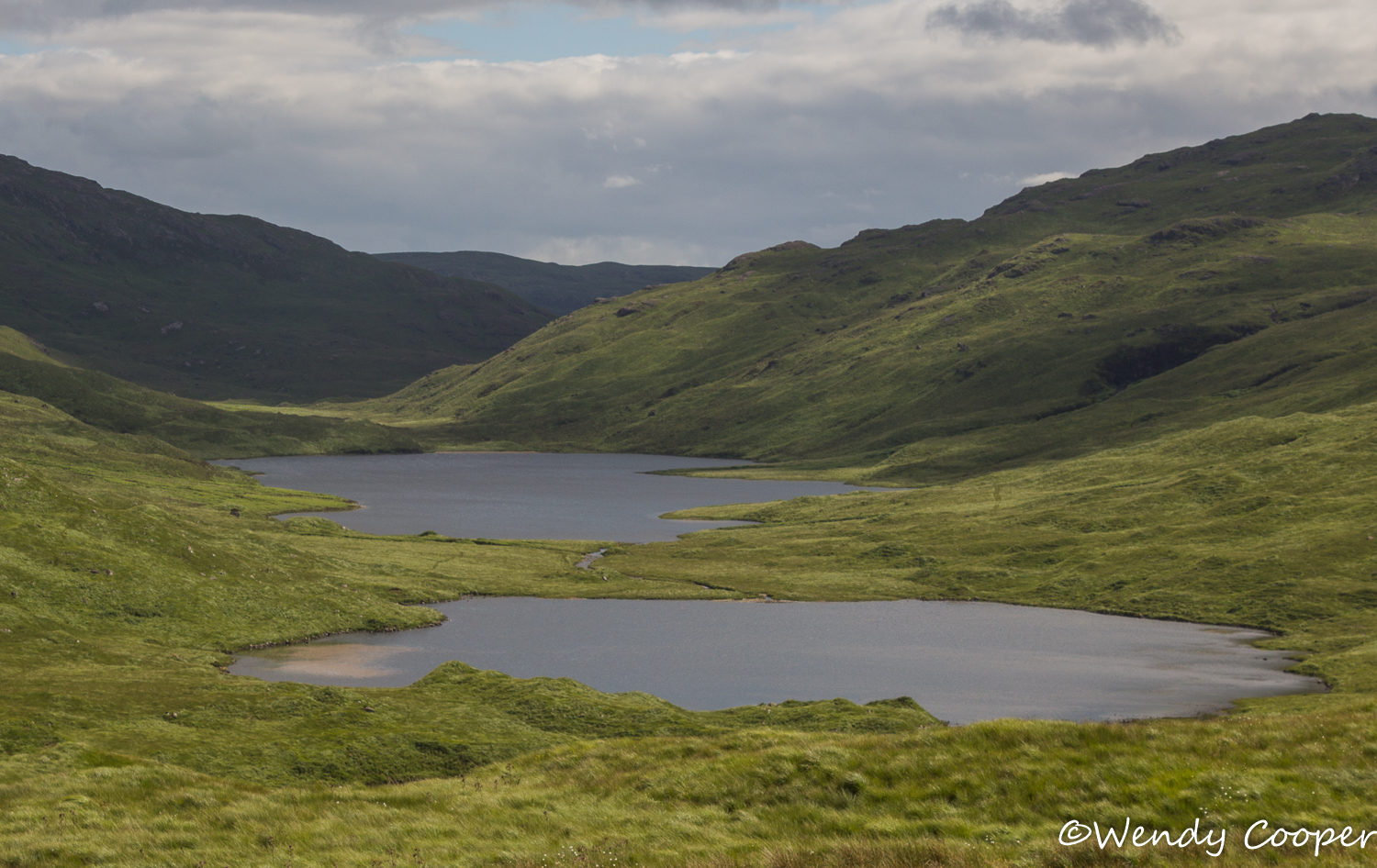 On our return to the hotel, after pausing a few times to enjoy the views, we headed down to the water's edge. On our arrival, a Grey Heron was close by the shore, fishing for supper amongst the seaweedy edge.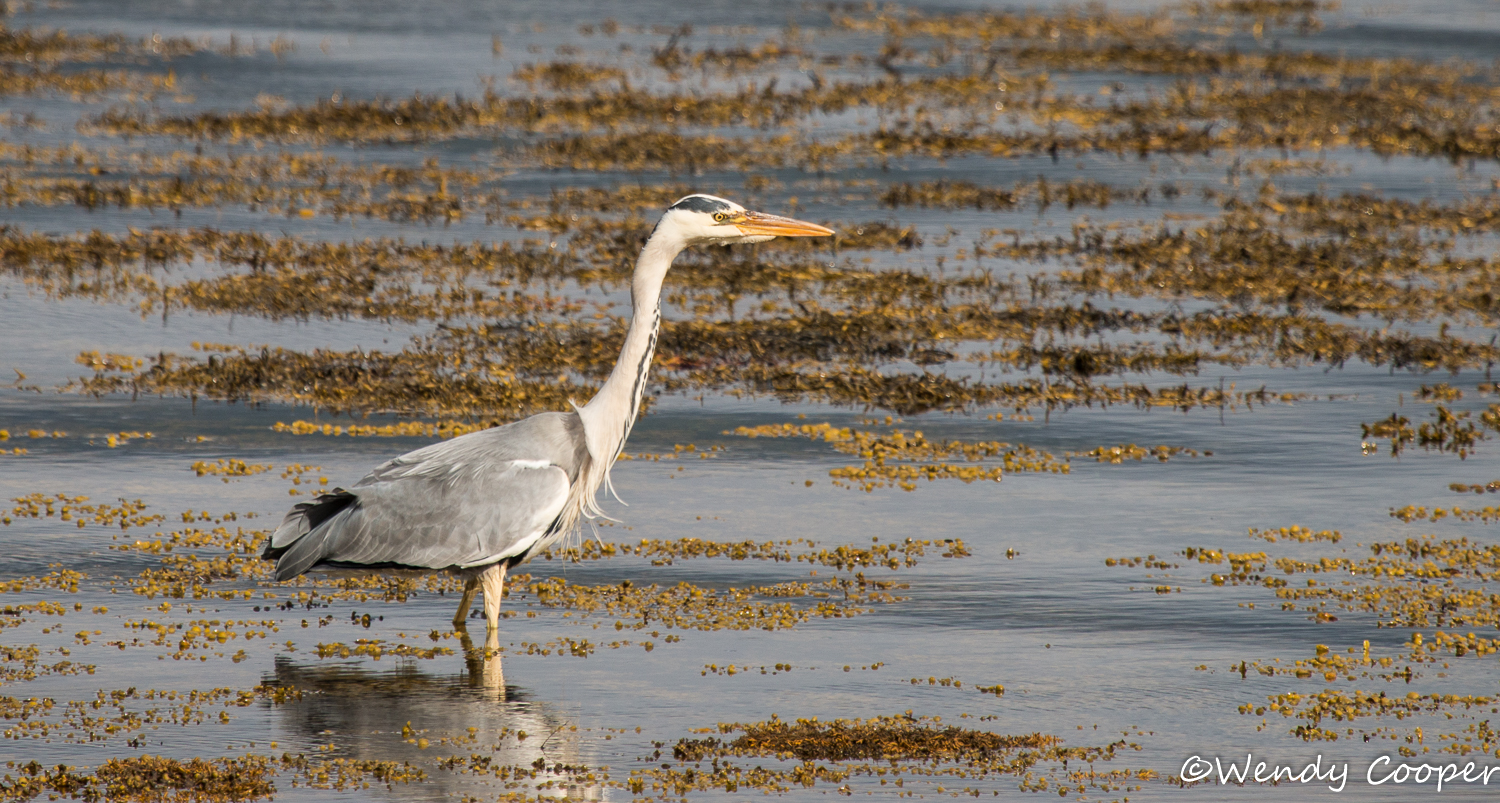 From behind us, up the hill, we could hear a raptor calling, as we watched, one of the local Buzzards appeared, tracing circles in the sky.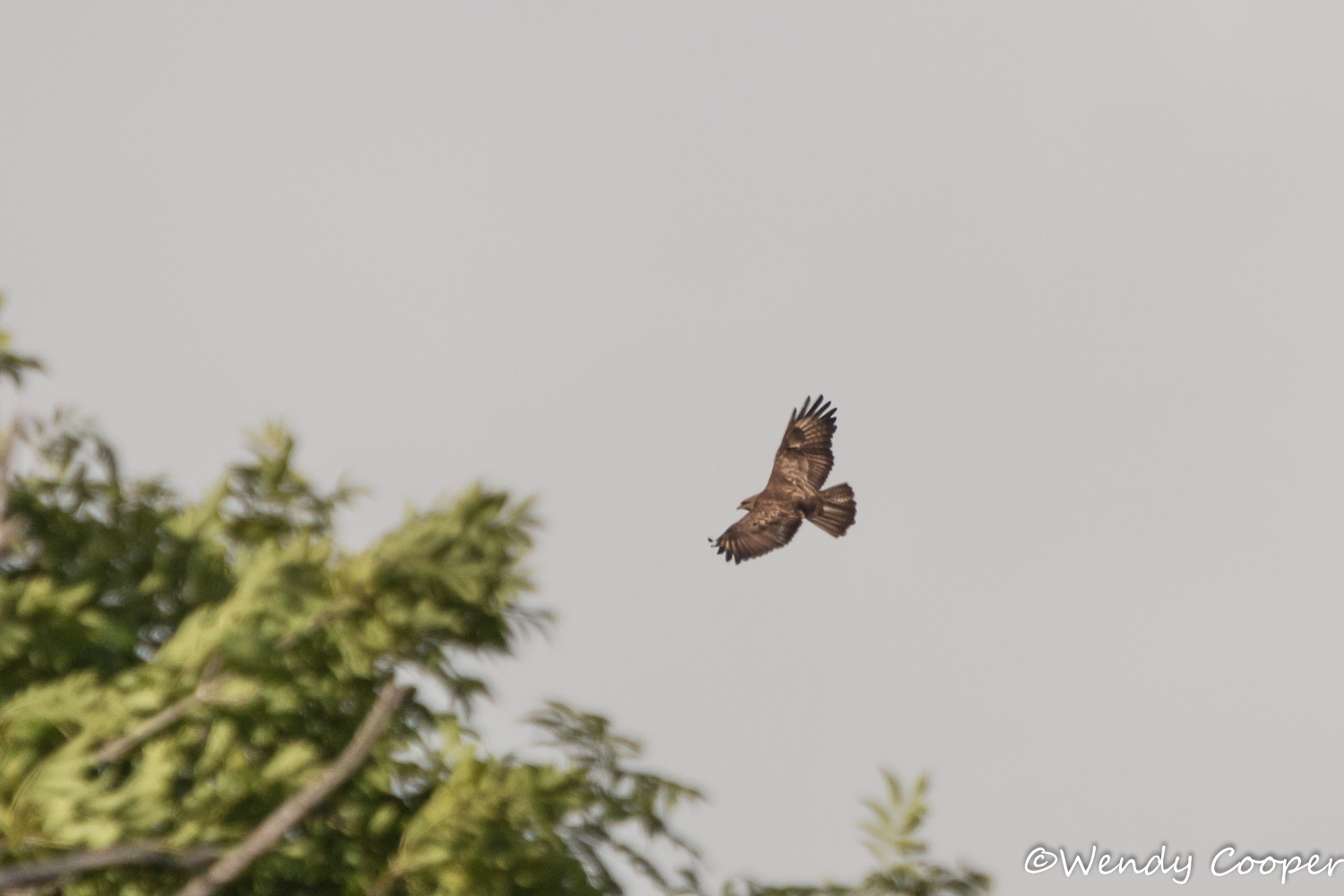 Further up behind the Hotel, was the Tiroran Eagles watchpoint, although on the two mornings I was about early, I heard quite a commotion from that direction, unfortunately I never saw them fly over to the Loch..
Away in front of us and at quite some speed, a Gannet, the first one I have ever seen, flew over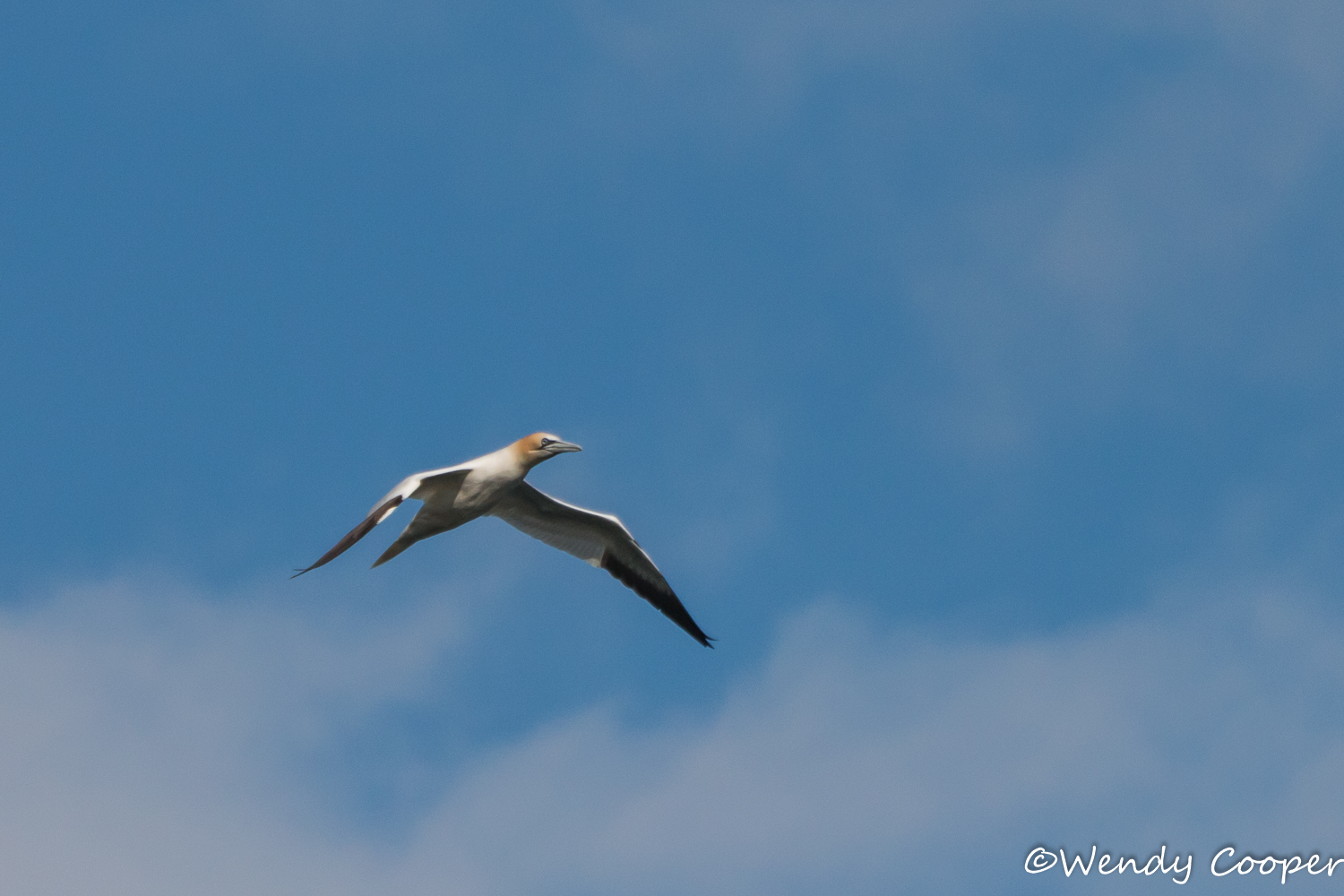 and we watched as from time to time it dove into the water whilst fishing. These are birds which have been on my 'wishlist' for as long as I can recall, so knowing that they frequent a few favoured locations, made this an unexpected treat - I'd not expected to see one up the Loch; their colours and shape are so distinctive, that even on the ferry trip home, I was easily (and happily) able to recognise a few that were flying past us. There were a few Herring Gulls about as well, with one giving an excellent flyby, low at first,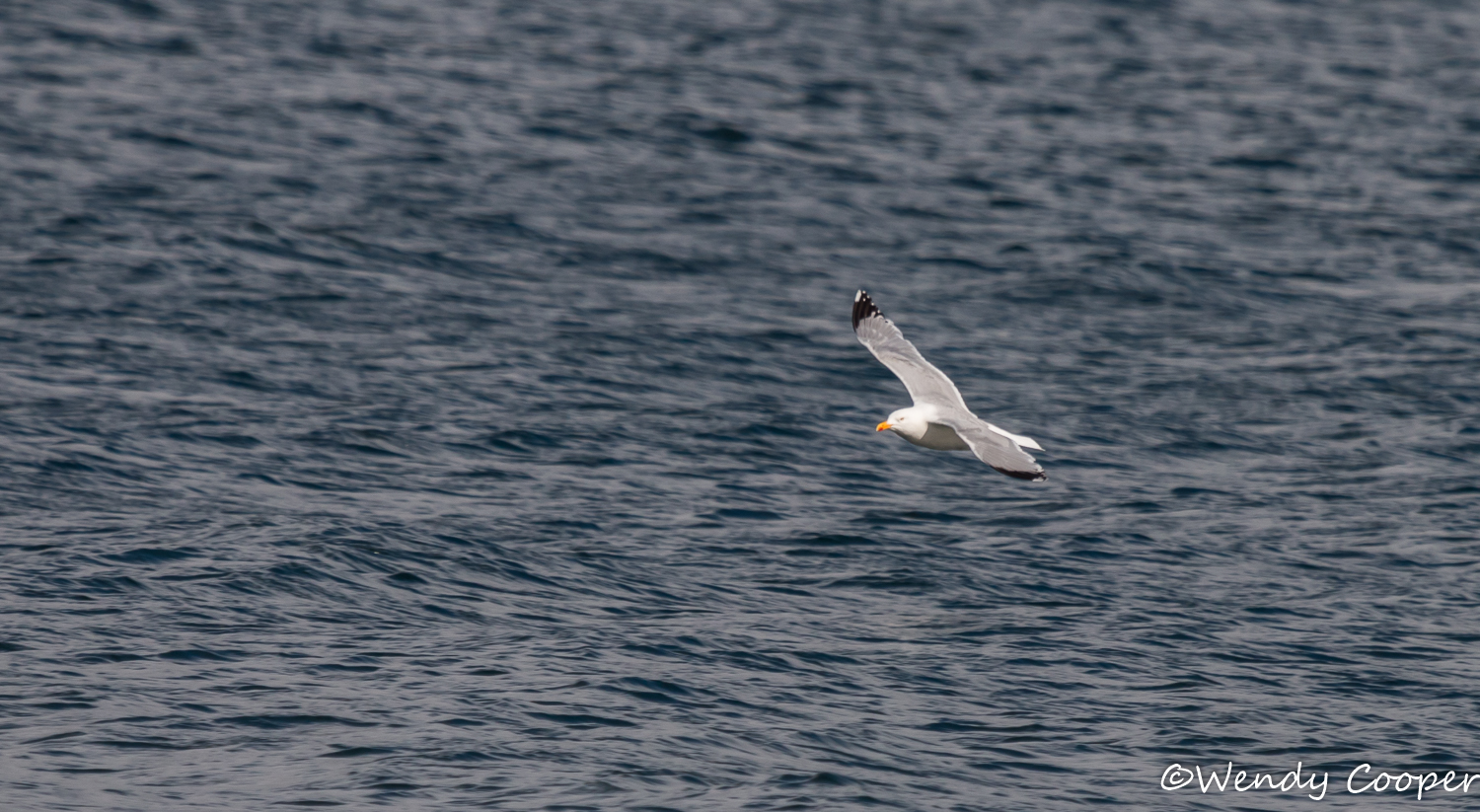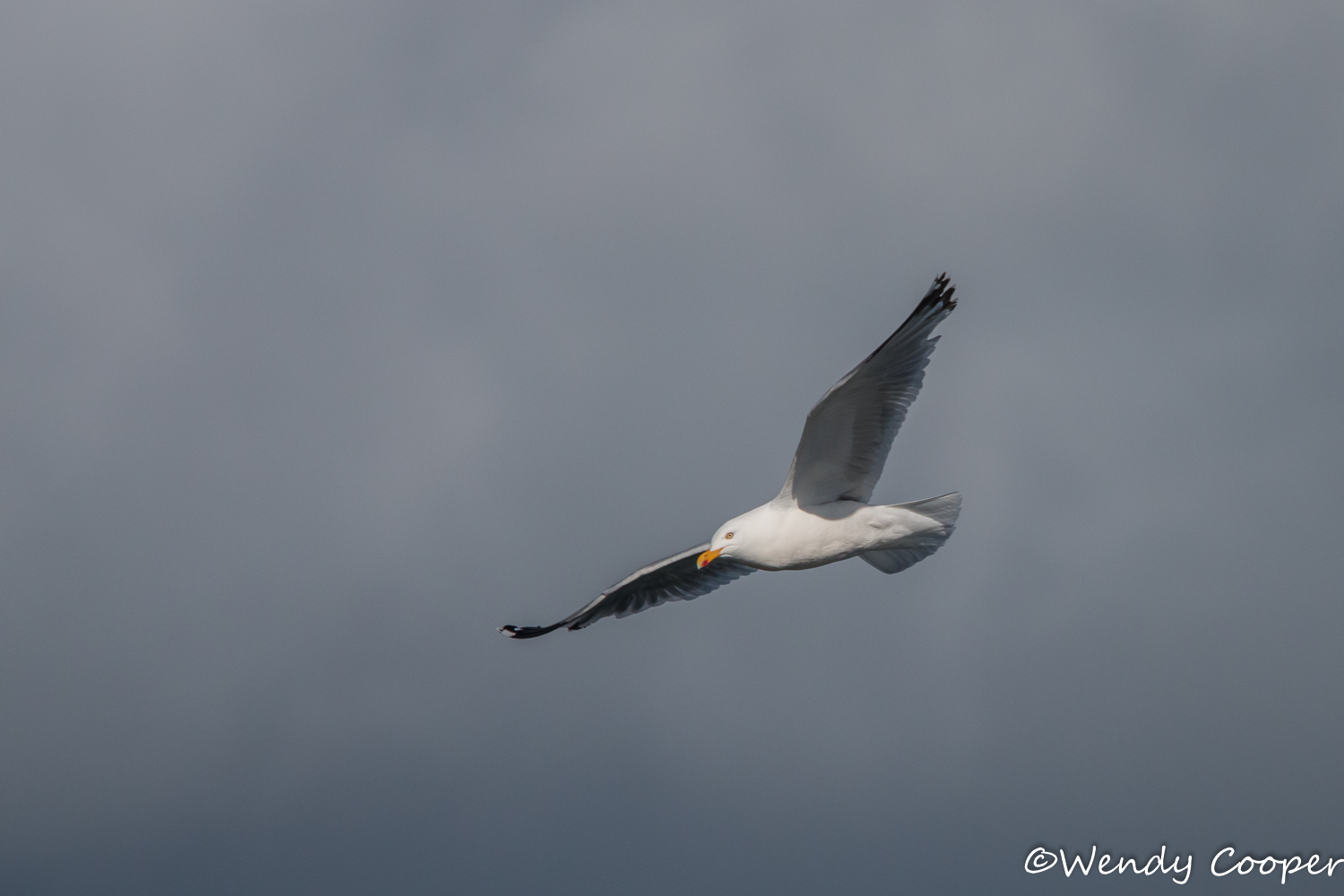 then right overhead, with a backdrop of rainclouds! Looking back east, while we were sitting in the sunshine, we could see there was quite a shower going on. The afternoon sun lit up the scene and we were treated to a rainbow.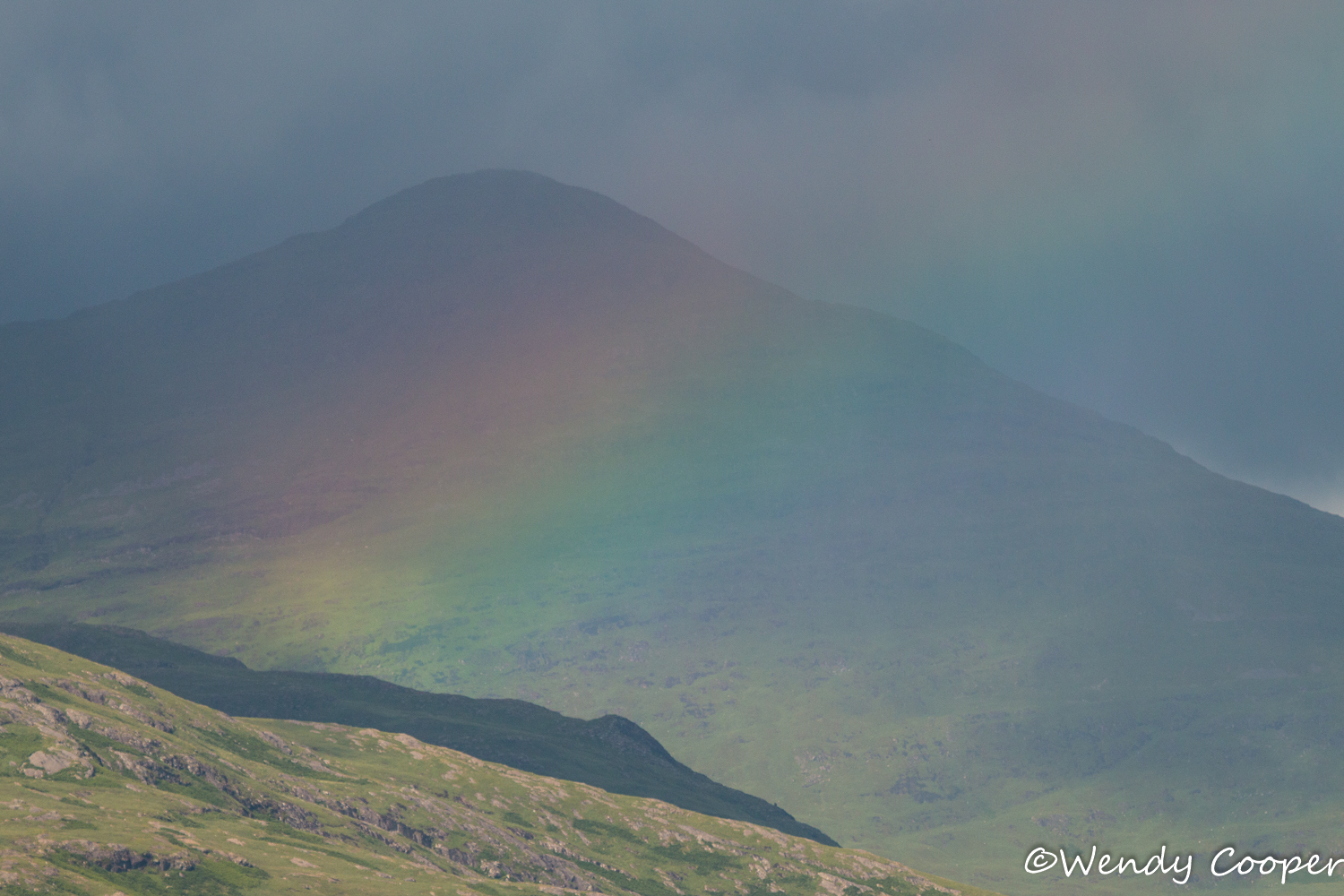 Looking around at the rocks close by, a familiar piping call was heard. The Common Sandpipers were back! Now as I have only ever seen these long distance, across a scrape, to see them so close, going about their business was an absolute delight!
They seemed a little bolder than earlier in the morning, one foraging down by the water,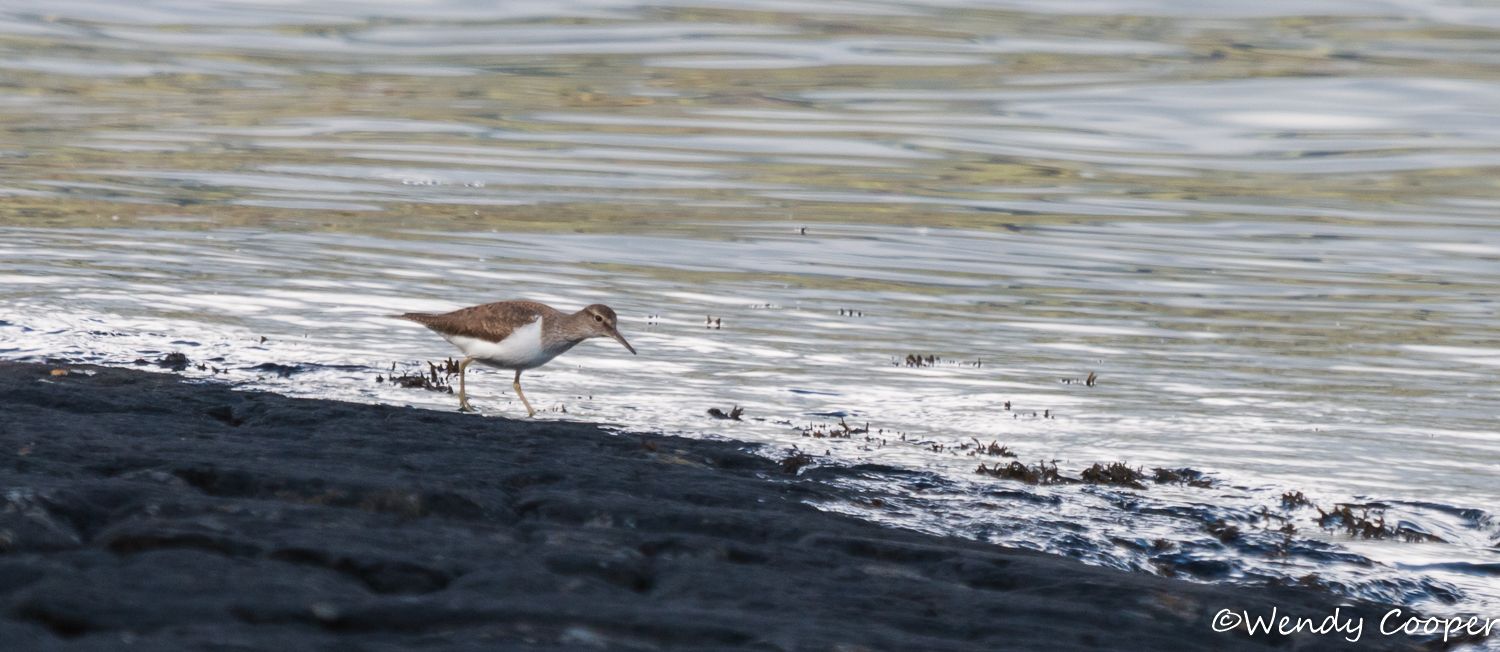 before running across the rocks towards us and the edge of the river outflow, before disappearing amongst the rocks.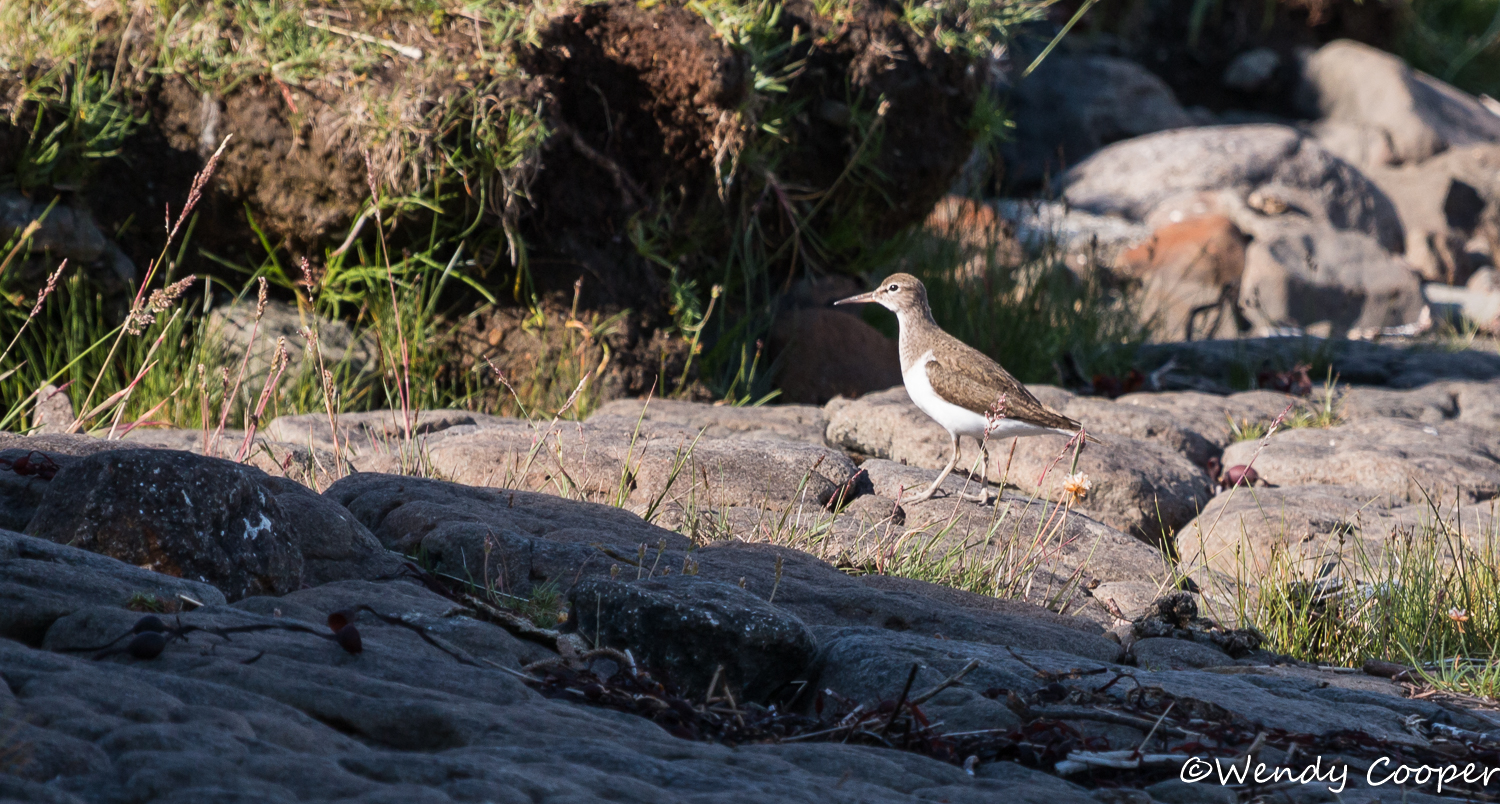 Next morning, the day of my Big Boat Trip arrived.... so did the rain - not just showers, but torrential joined up showers. We arrived early at Ulva, waiting in the car, we slowly watched with dismay as both the islands of Ulva and Eorsa disappeared behind a curtain of rain and cloud. I walked down to the jetty, in torrential rain, hoping that the crew of the Lady Jayne would say that it was drier out at sea, however, it was even wetter so the trip was cancelled.
Feeling decidedly glum, we left Ulva, however as we climbed the hill towards Loch Na Keal, a raptor flew out over the edge of the cliff and just hung there in the pouring rain, surveying the area below.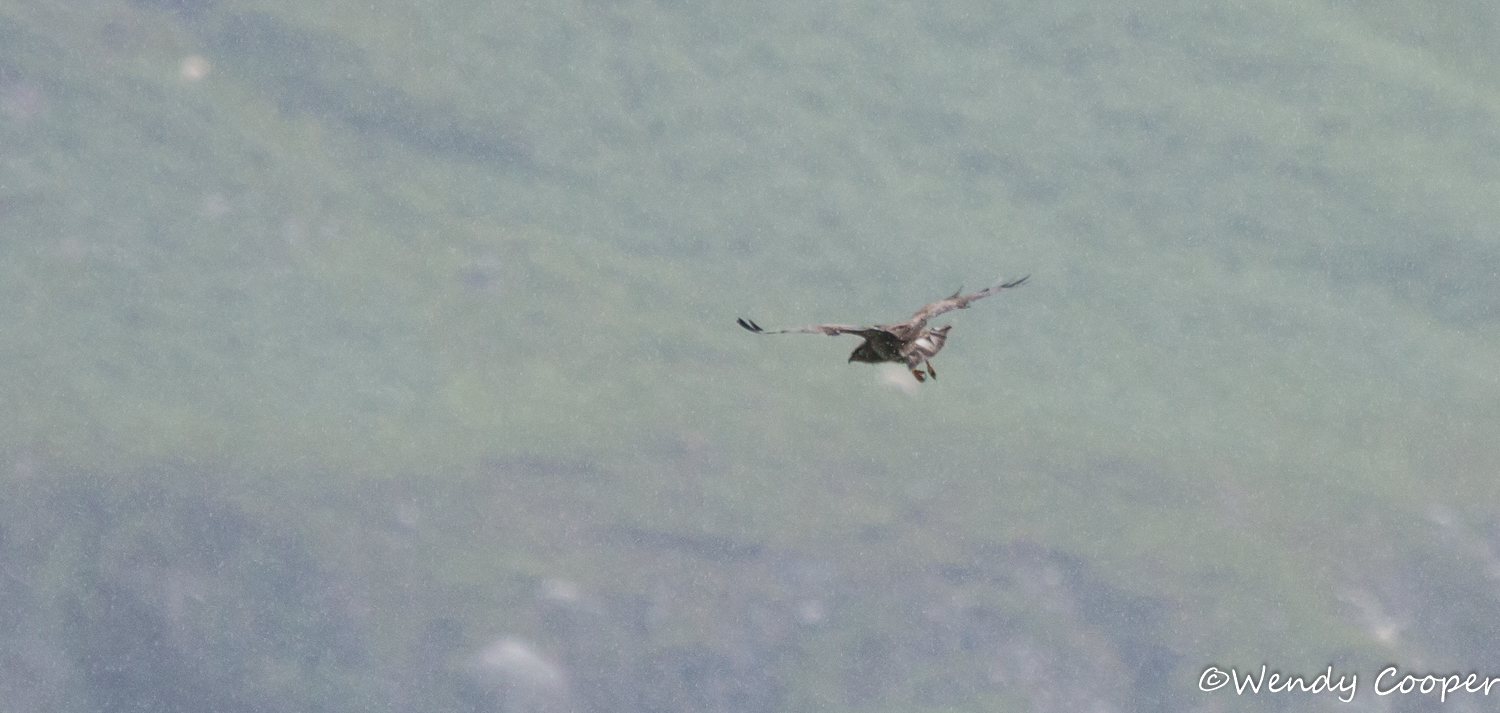 You know how it is when you so desperately hope to see something? Well we pulled over and out I got, the camera still had it's raincoat on, so took as many shots as I could before the bird was too far off.
Now I've watched Buzzards fly locally, soaring, flapping in a leisurely fashion across the fields, shrugging off the occasional Corvid, however, I've never seen one stock still, head down, midair. The above is a huge crop, that's not noise - that's rain by the way, close scrutiny of the back of the camera revealed it to be a Buzzard - much as I love them, this was one time I didn't want to see one!
Driving round Loch Na Keal, we paused frequently, watching the shoreline and scanning the rocks, cliffs and trees behind us as best we could in the gloom. Nothing Eagle shaped, however at one of our stops an imperious Grey Heron made an arrival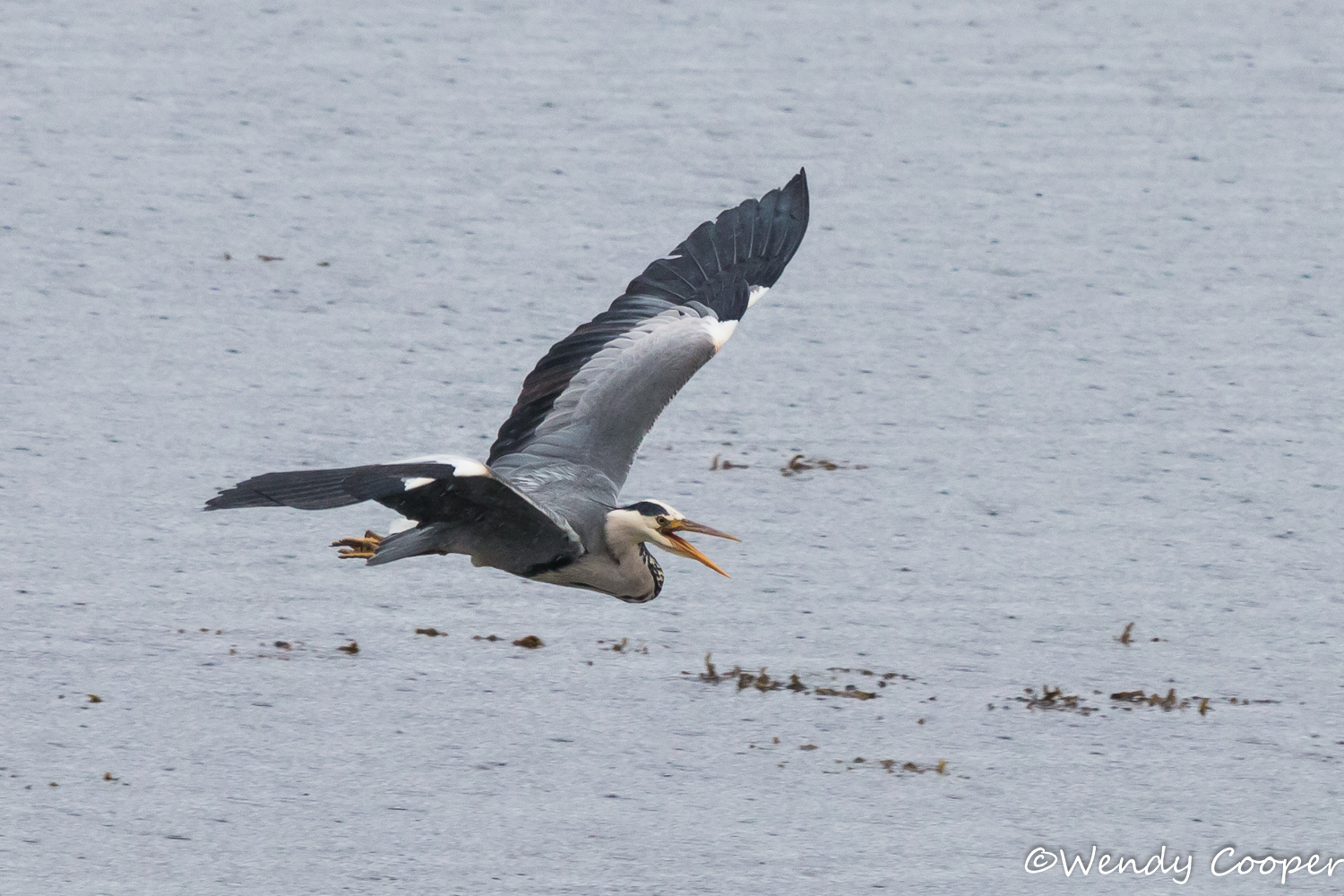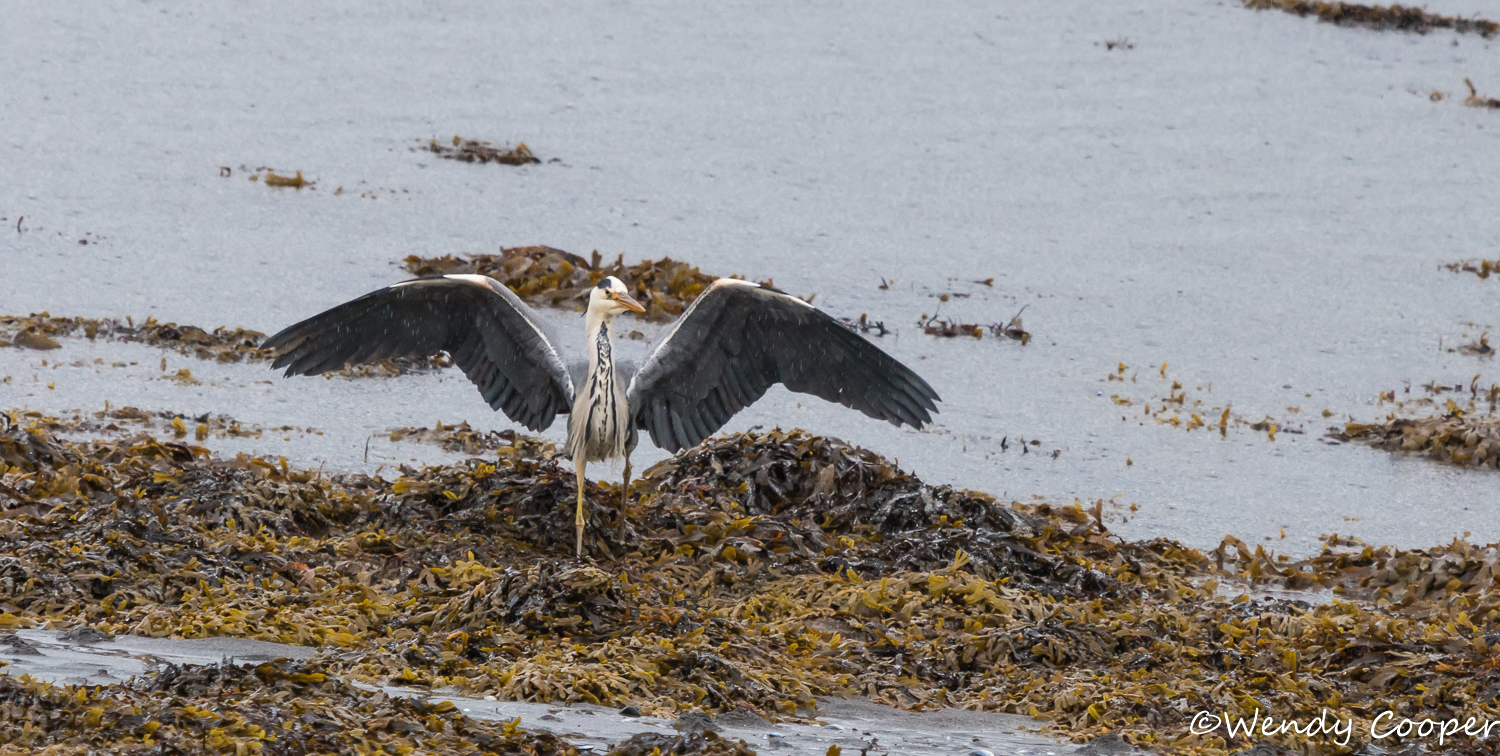 to an unimpressed audience of a soggy Hooded Crow

and a small flock of departing Canada Geese.

Not to be outdone by the Heron, we also had a few fly pasts from Oystercatchers.
After a cup of tea at Pennyghael, we decided to head back to dry out. As we got to the road back to the hotel, we pulled over for a little while, something was flying circuits. I got out and could hear Curlews calling loudly. This was a flat area at the head of the Loch, with a wide expanse of bracken clumps and medium height grasses. Now I know Curlews tend not to like sharing their space, however this one was particularly vocal!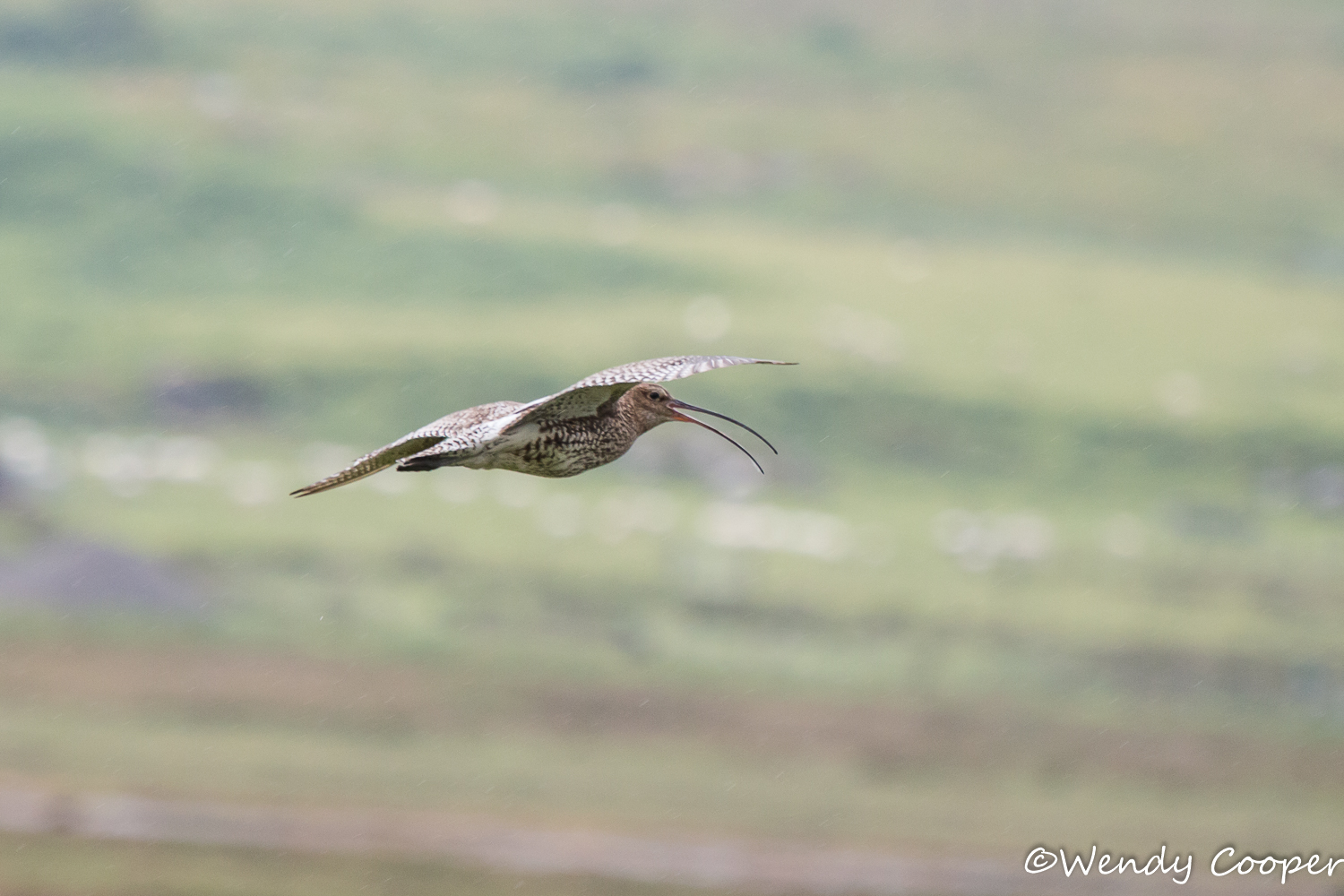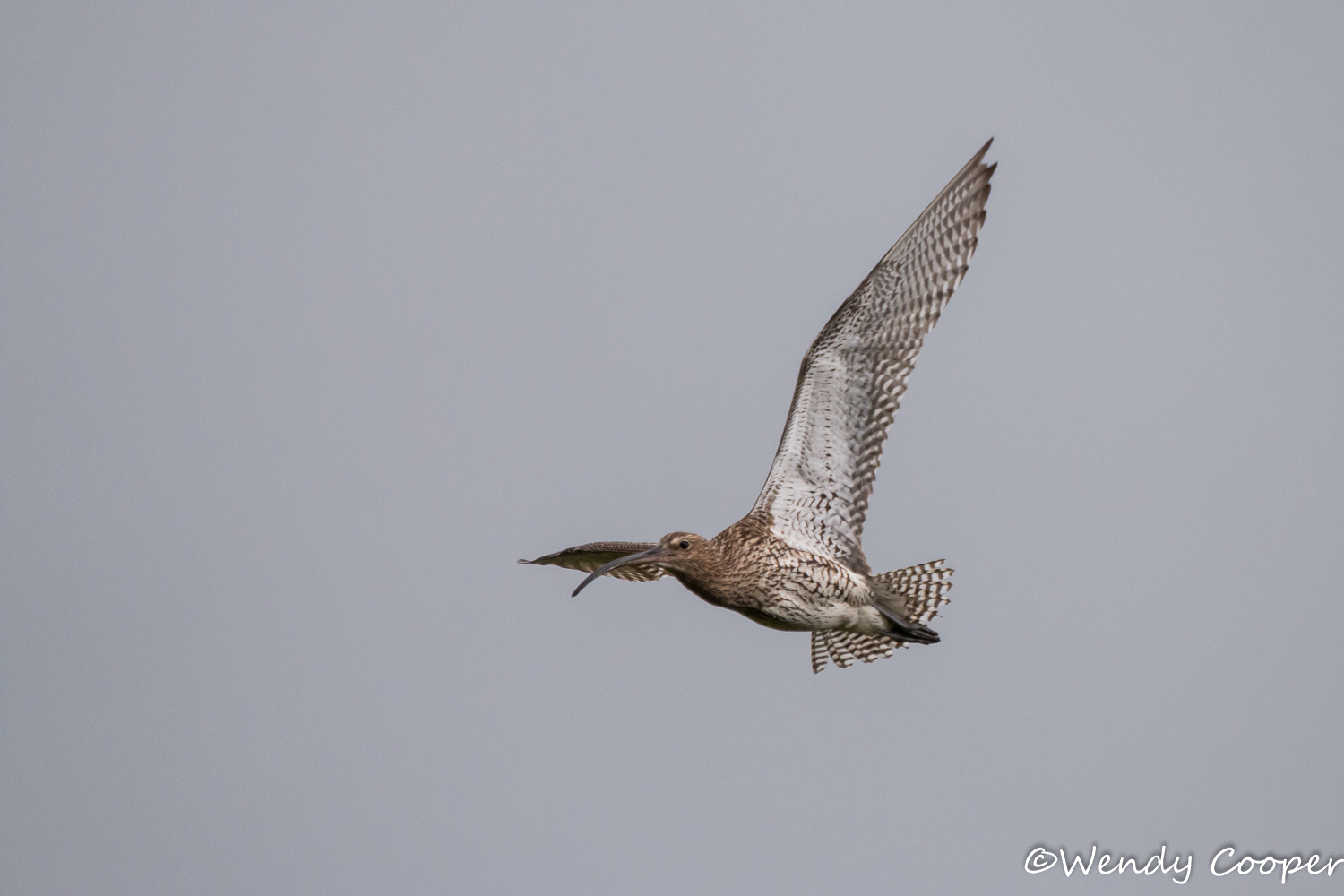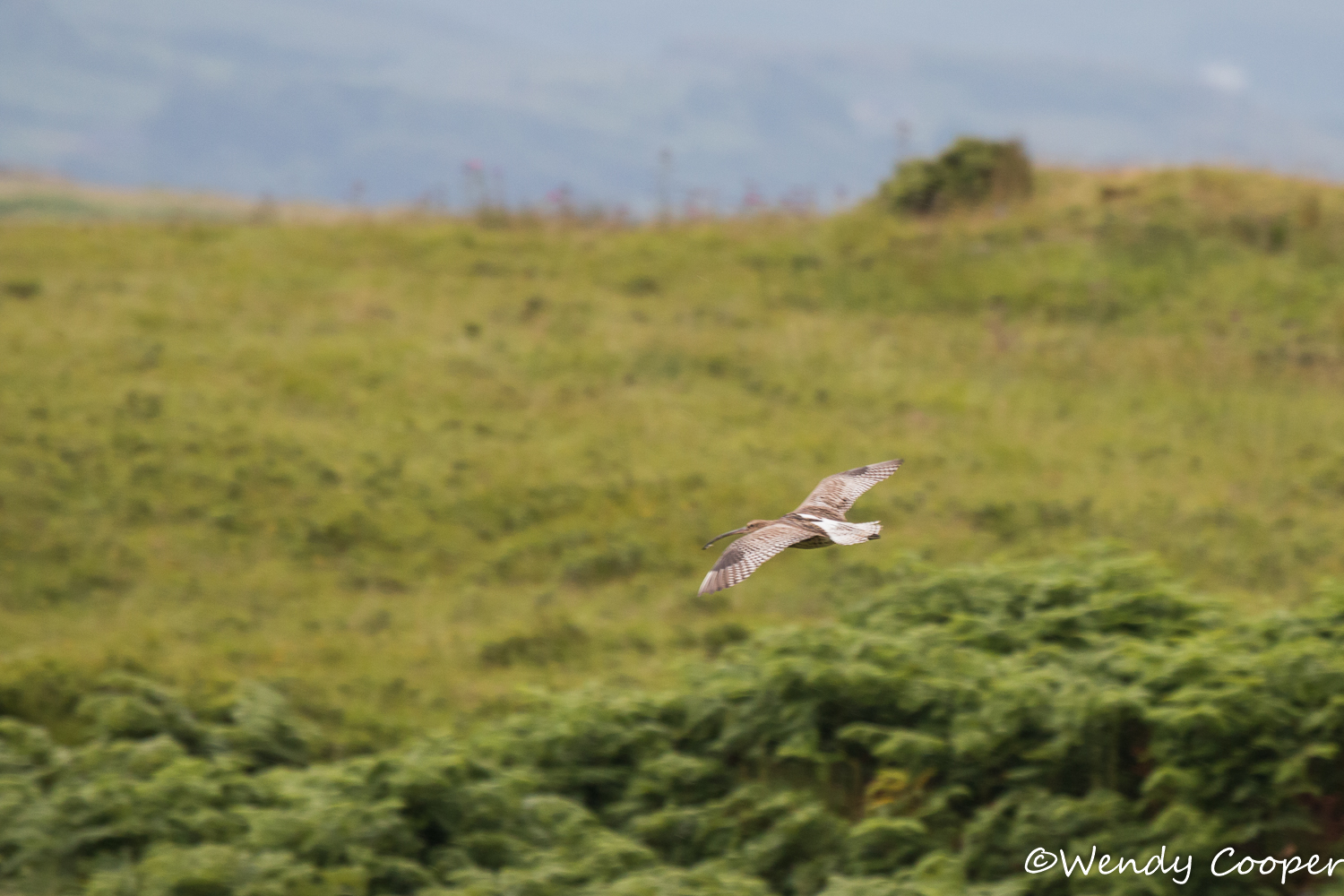 This one was certainly patrolling it's 'patch' and on every circuit, it would go to ground at a different point. We had some brilliant close up views (these were taken roadside - had no wish to disturb anyone residing in the grasses - welfare first, photo's second) as the bird flew ovehead and nearby.
Next day dawned fairly bright, so I had a quick pre-breakfast stroll down to the 'beach'. Sandpipers and Oystercatchers were about as well as an abundance of midges and Swallows. The Swallows were going low over the water and were very entertaining to watch. From time to time a few would perch on the fence behind me, so I took advantage of the eye level views!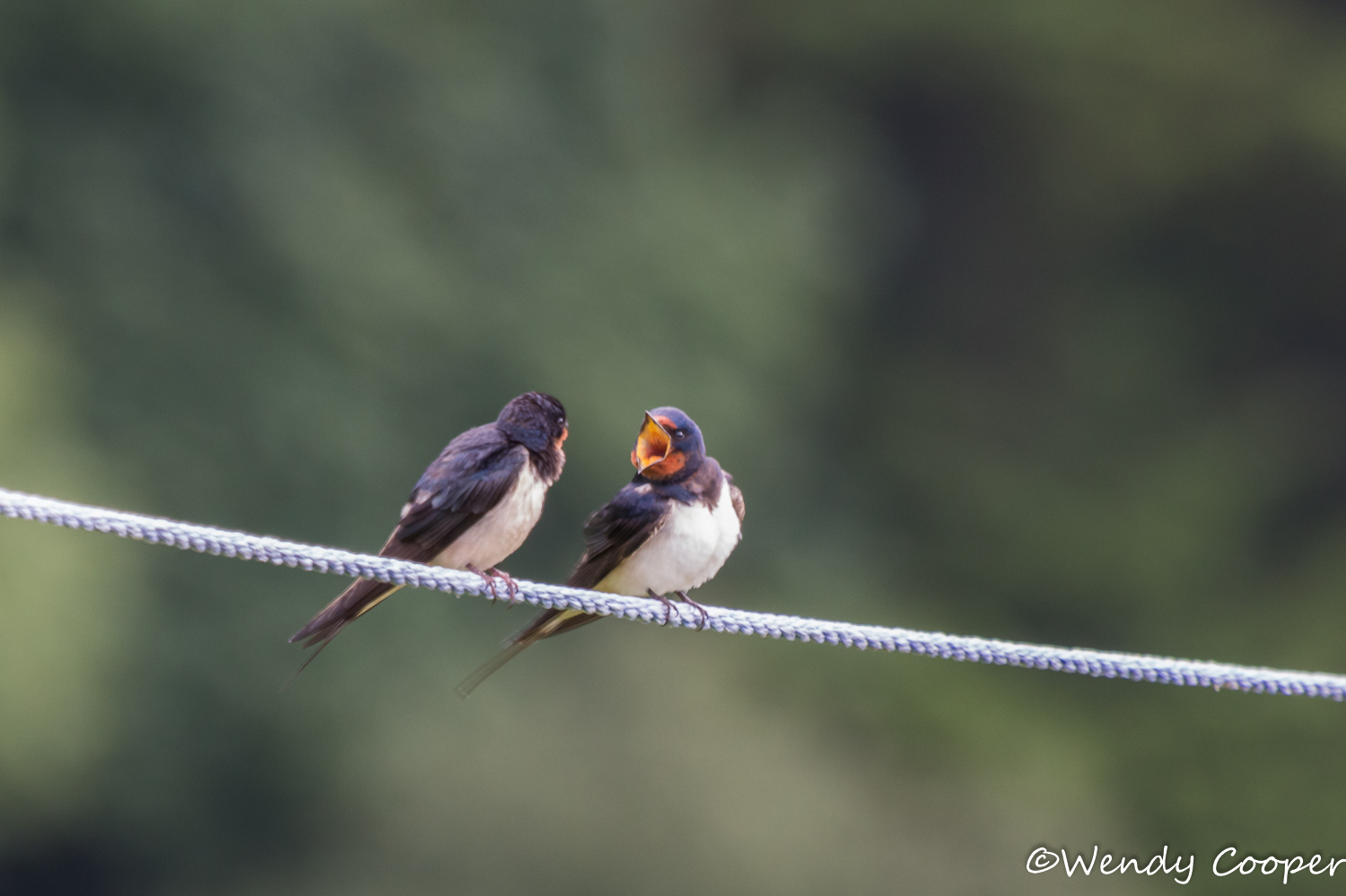 I think one of them was still a youngster, cheekily signalling that it required feeding from time to time, however it's companion was having none of it and there were a few 'looks' given, not only at the bird, but me too!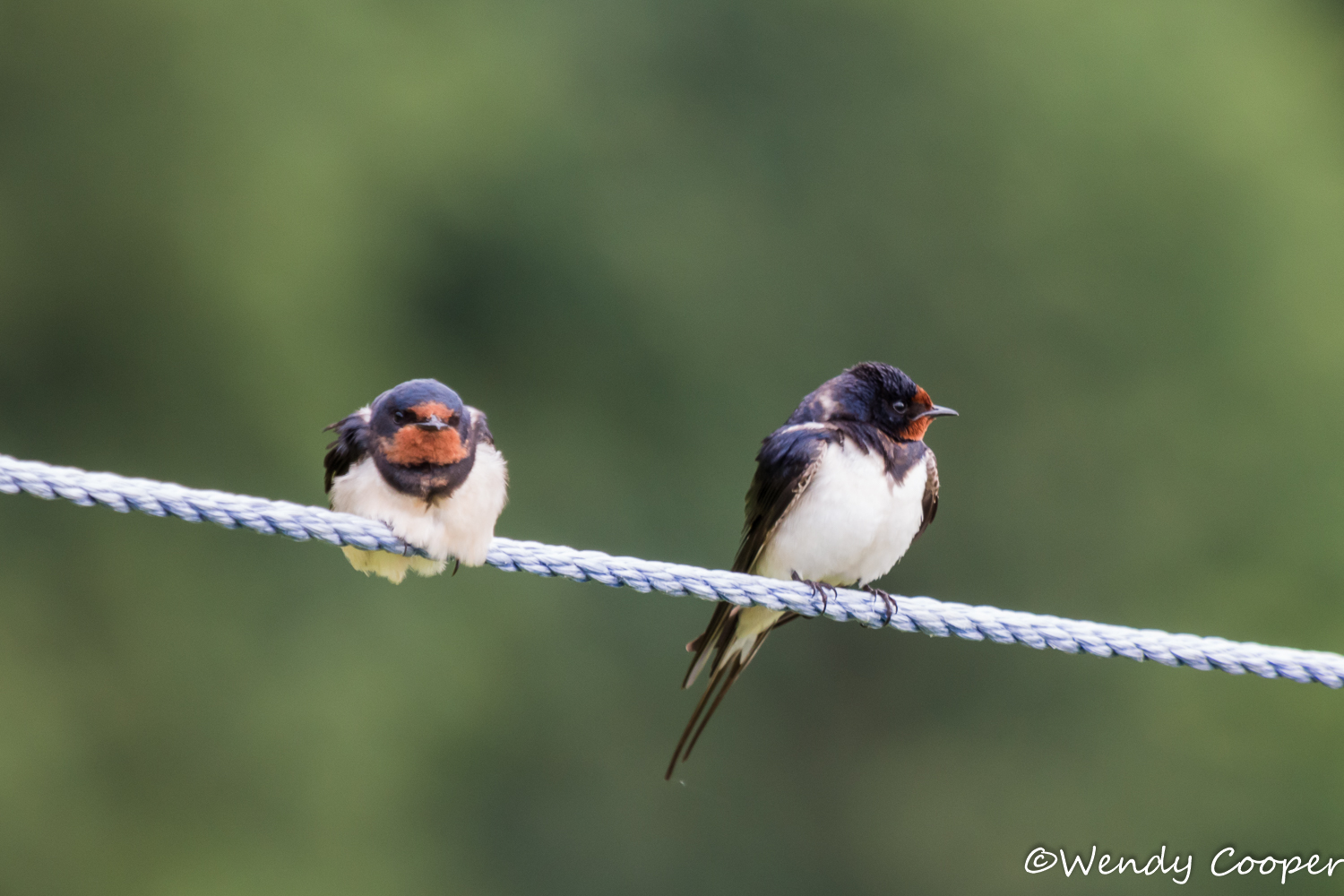 As it was forecast dry, we set off for Calgary Bay, hoping to suspend the motor tour of the island and get out walking for a while! On our way, we paused at the edge of Loch Beg; Himself telling me I was taking pictures of a rock. Well I've never seen a rock that bobs along in the water - awful light, so it wasn't until I was processing my photos that I realised it was no rock, it was a very smart Red Breasted Merganser I had been watching! (another First)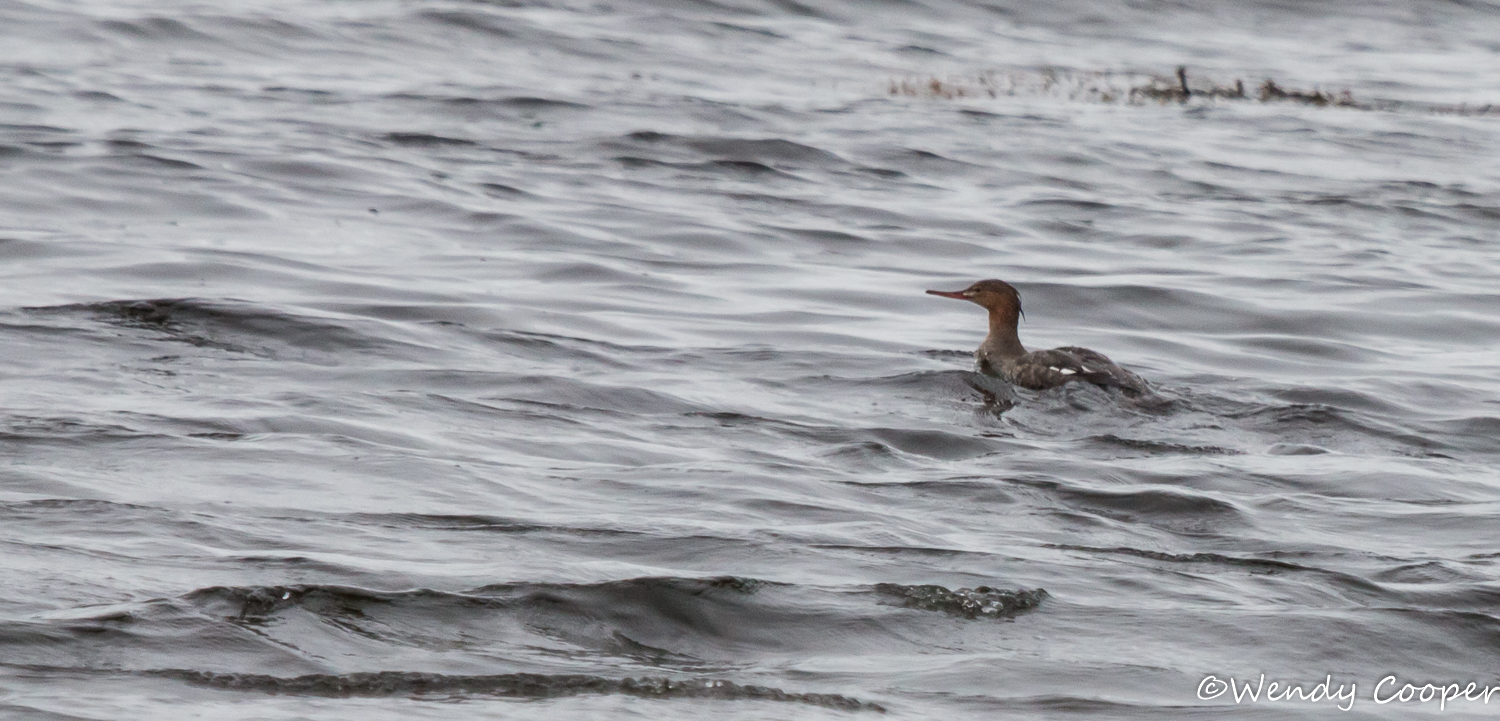 We arrived at the beach, beautiful pale sand and looked out to sea. Far off, 'weather' down to the water's surface. Determind, we set out along the path to the right of the bay, watching a few ducks bobbing about in the choppy water, listening to Wrens and even the occasional Chiff Chaff in the trees against the cliff and watching Common Sandpipers amongst the rocks.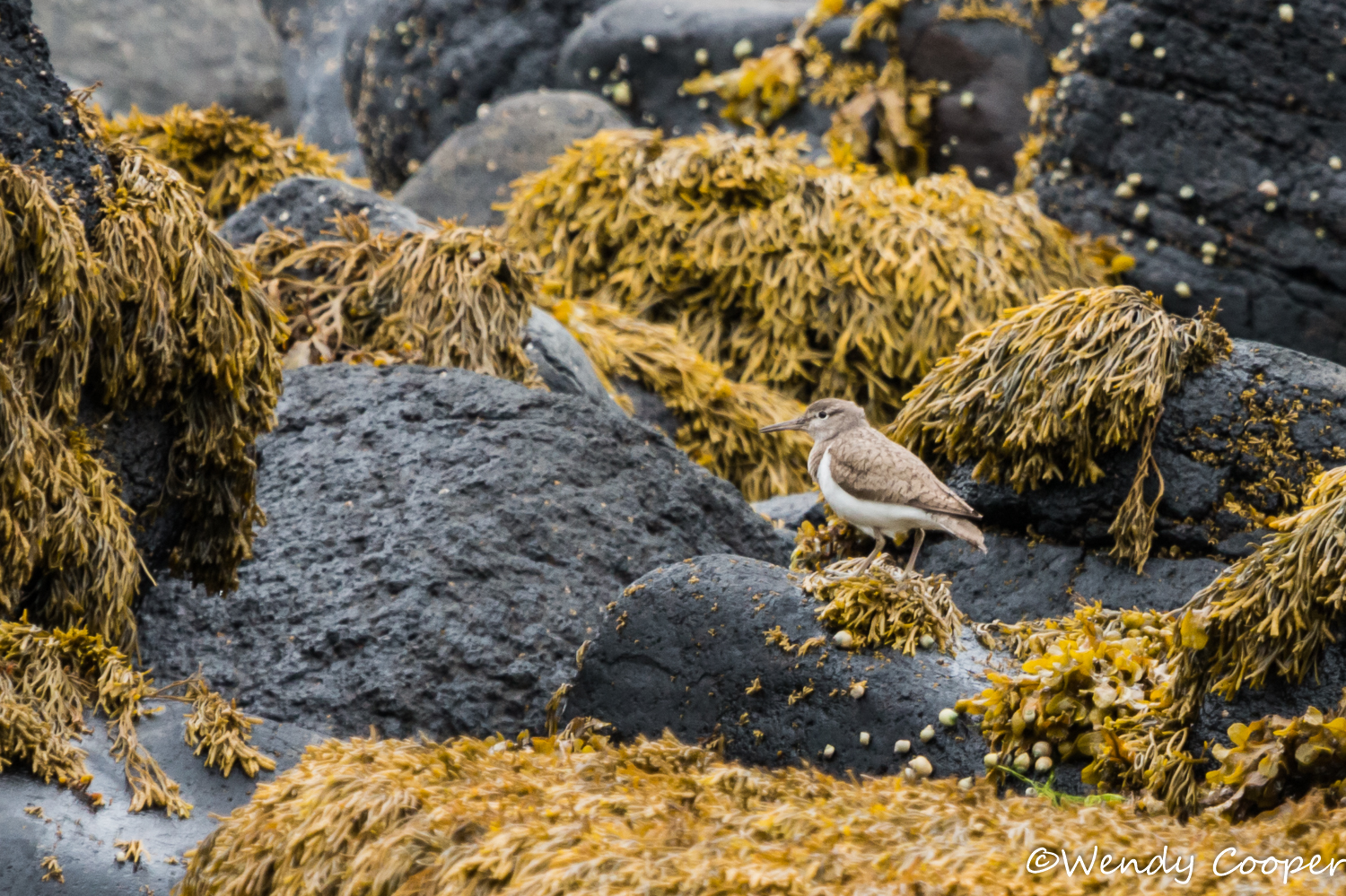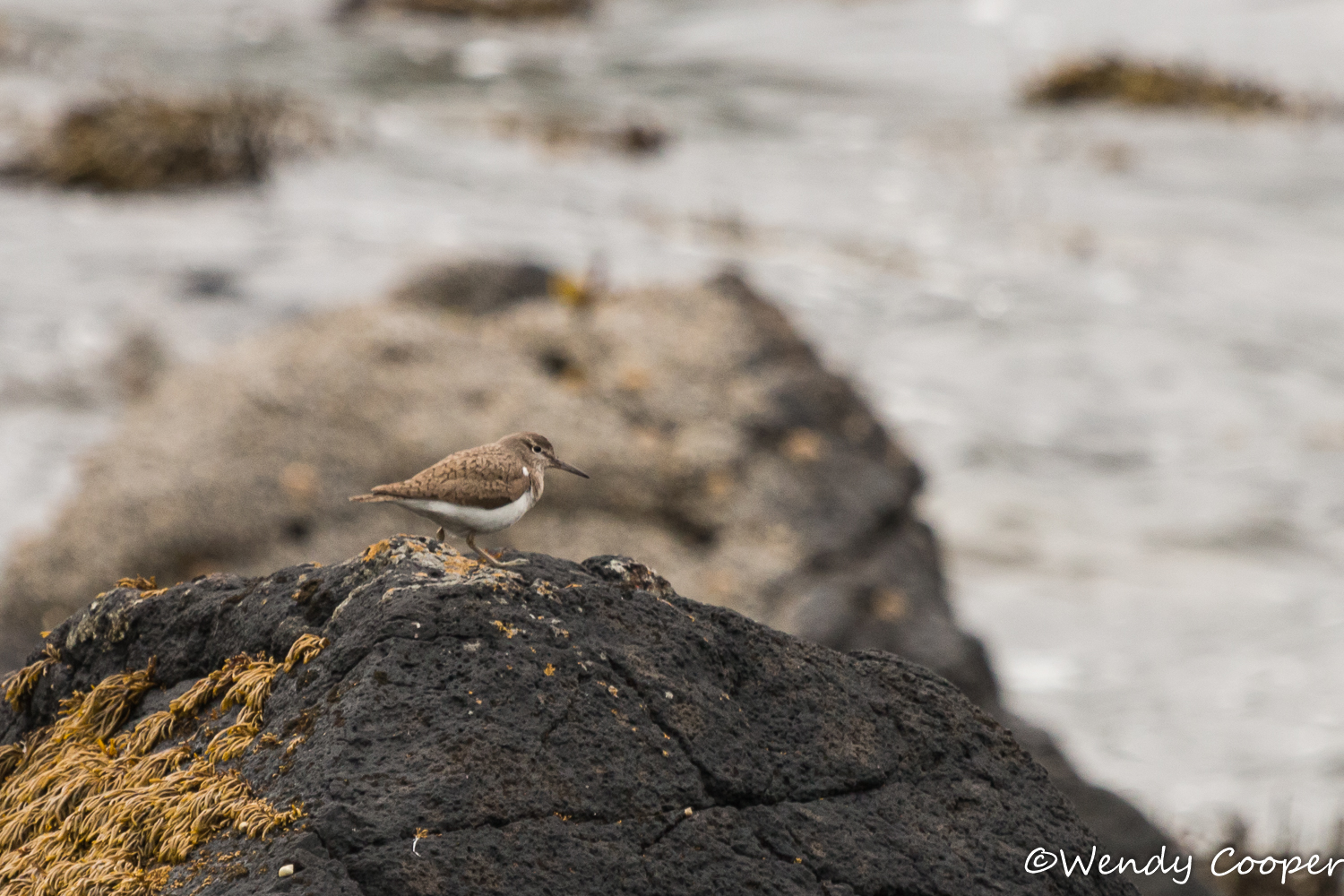 It was getting a little breezy, but we carried on.. then as though an industrial force sprinkler had been turned on, the rain arrived. Within moments, despite waterproofs we were drenched. We retraced our steps back to the car to try and sit it out, however after nearly an hour, the weather showed no sign of abating, so we decided to head south along the west coast, to try and at least outrun the worst of it.
On reaching Loch Na Keal, we stopped off for a spot of lunch after stopping off several times for a look-see along the shoreline. Not a great deal about - as it was a heavy drizzle, however, after lunch I did spot an Oystercatcher family.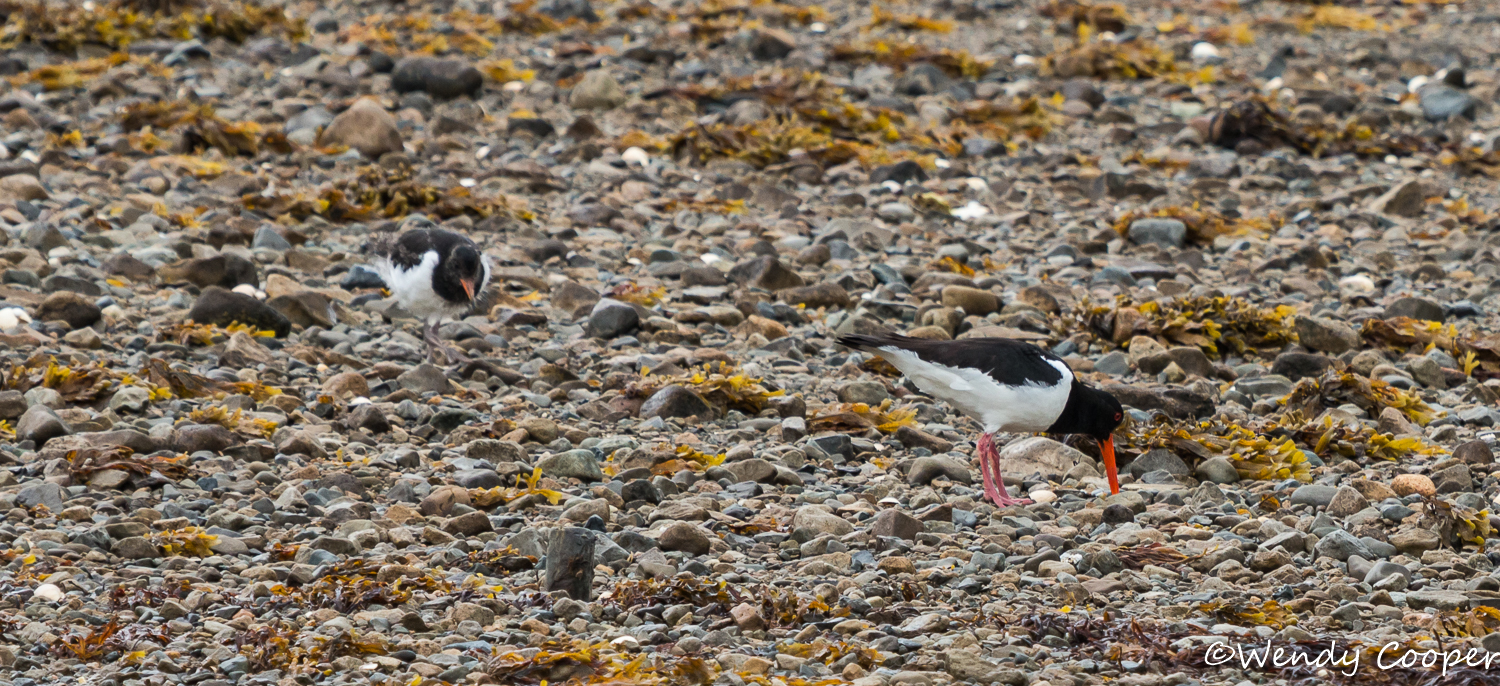 Mum was pecking around with a youngster, who was still fluffy, but had it's 'colours'.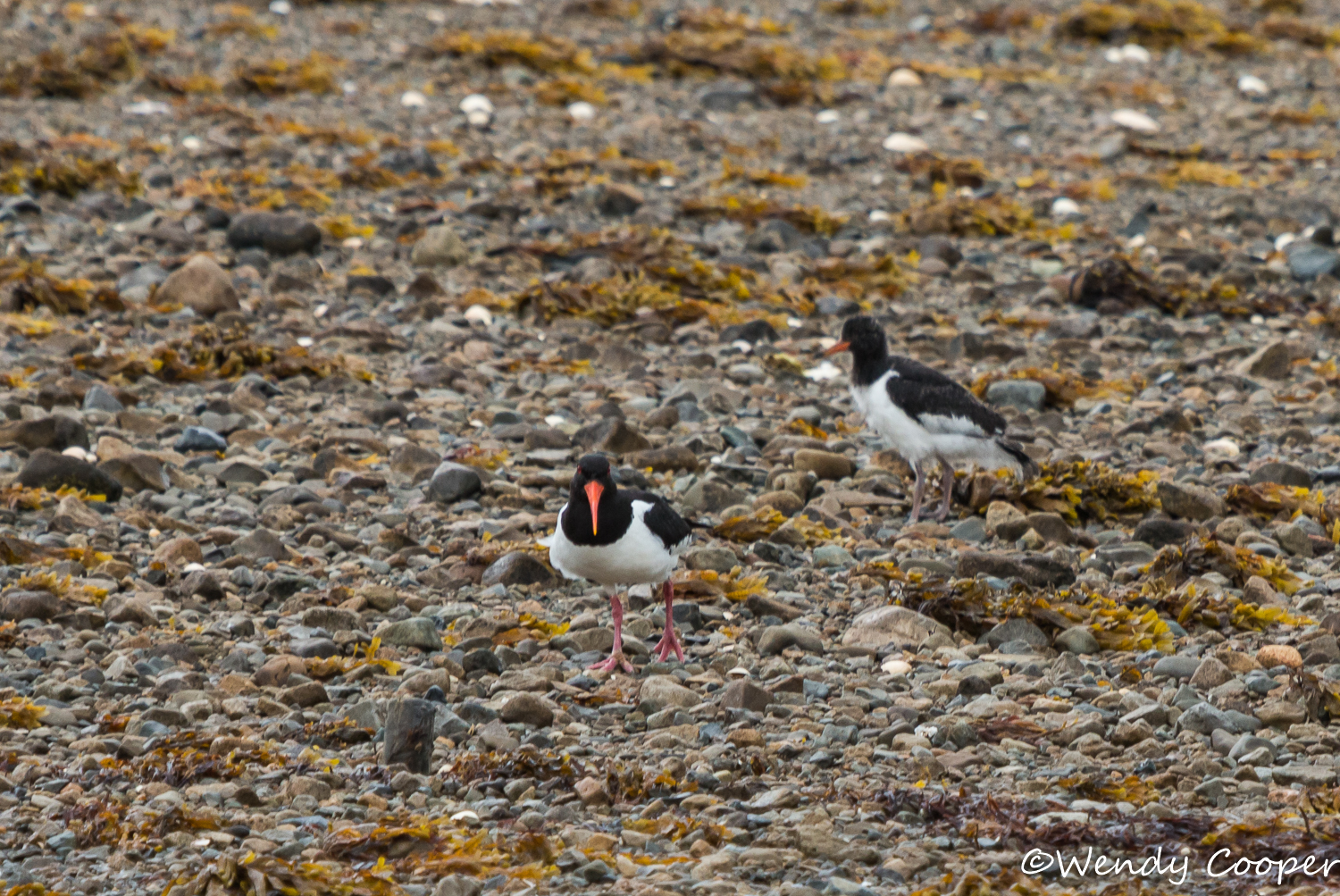 Junior, stayed close by most of the time, however, did cause some degree of consternation by running off along the waterline, causing both parents to start calling for a prompt return loudly. Dad, it seemed though, was happy to call from a rather comfortable position.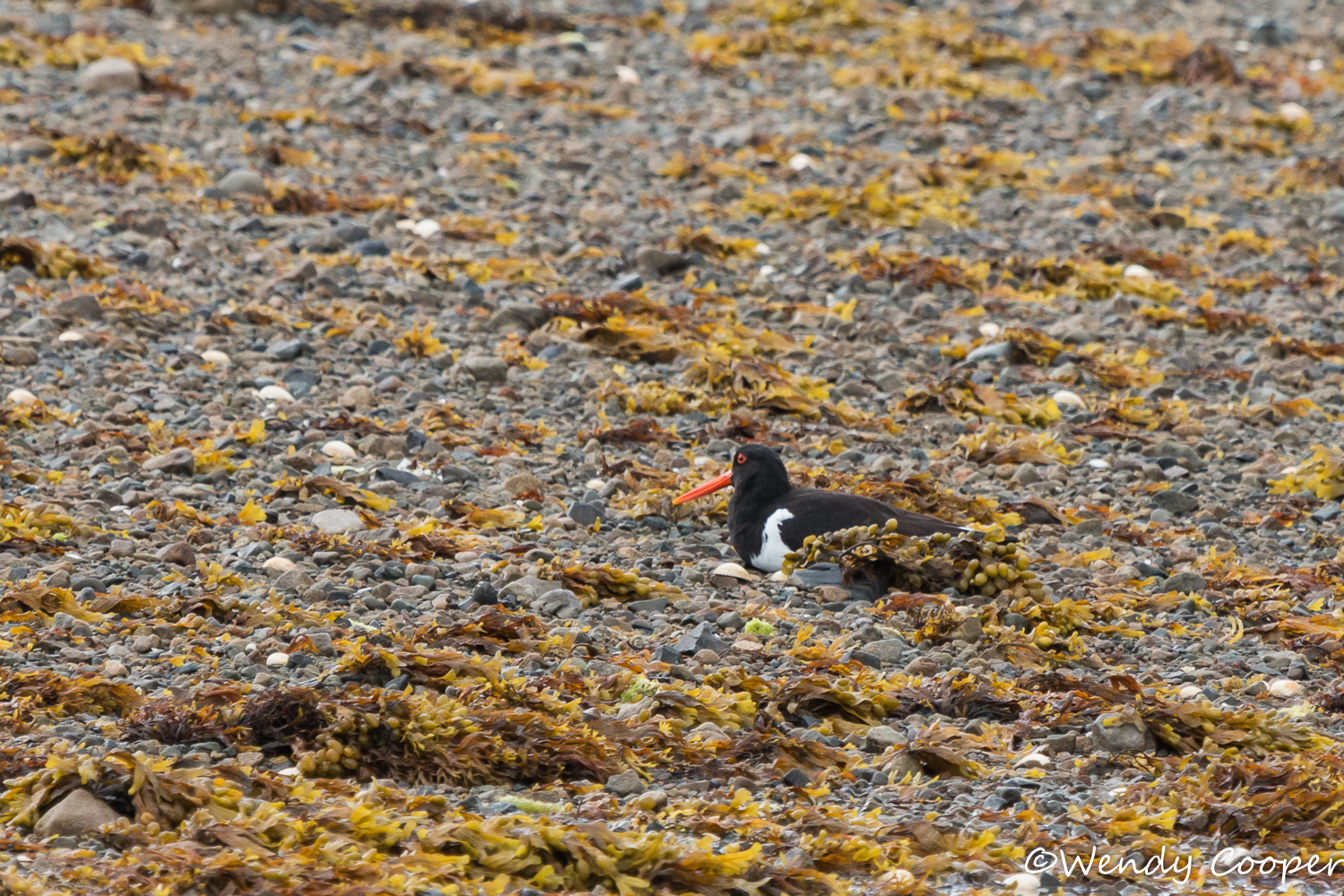 Looking in the direction that Junior had gone, their concern seemed very justified - a Black Backed Gull was perched and with a chick sized snack, the parents were right to be wary.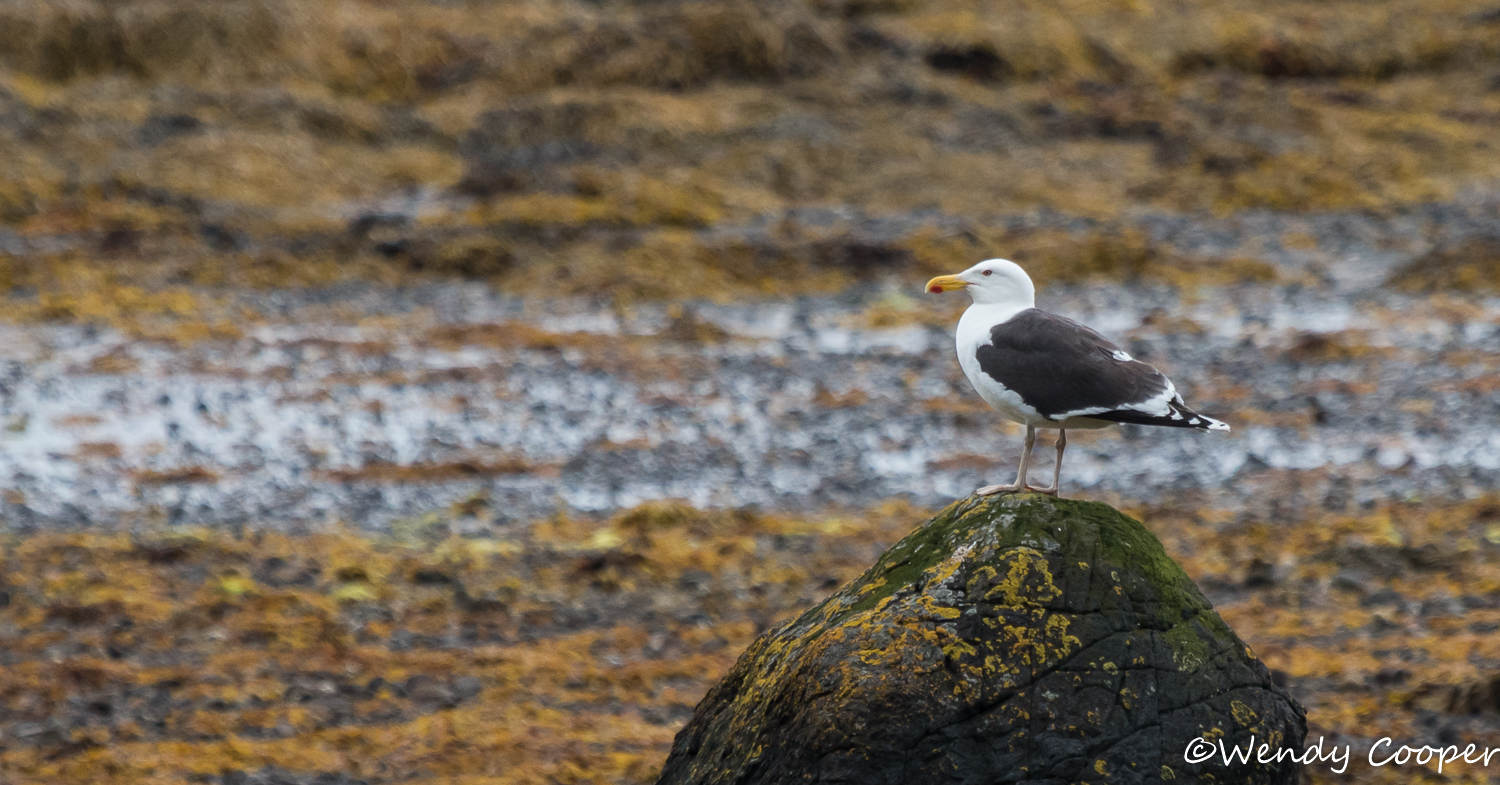 No harm was done and the youngster returned closer to the parents.
We decided to cut across to Salen and then try again for a walk at Grasspoint, hoping that we could stay ahead of the worst of the rain that seemed to be following us. When we got to Craignure however, the drizzle turned to steady rain, so we decided to head back.
As we reached the spot where we had seen the Hen Harrier and the Curlew, we pulled over. I stepped out of the car to have a look around and had brief views of a pale but handsome Short Eared Owl, only the second one that I had ever seen, the previous one being at Burwell Fen.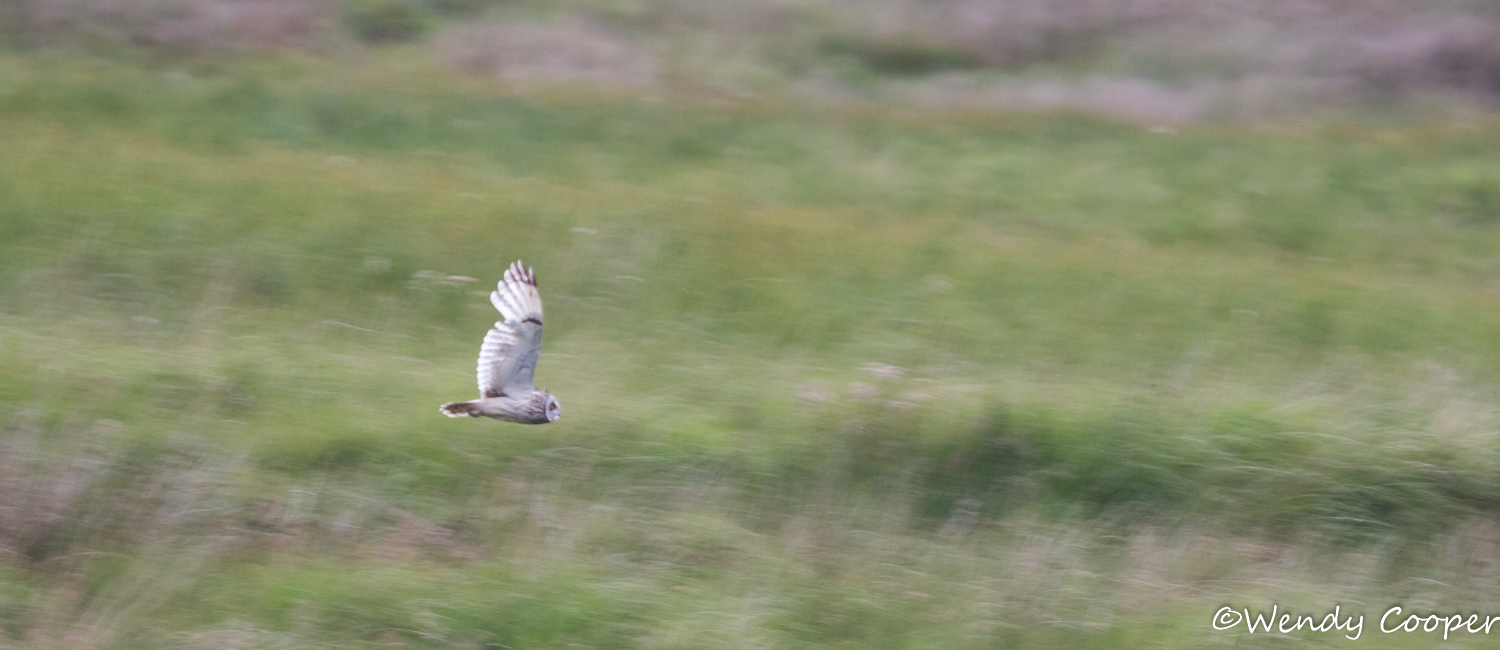 We waited for a short while in the hope that it would reappear, however it had gone to ground, so we carried on, stopping off several times along Loch Beg and Loch Scridain.
No sign of the morning's ducks, however, plenty of Hooded Crows, Swallows and Oystercatchers about. We even saw one of the Grey Herons on a new vantage point, looking somewhat pensive about the fishing conditions!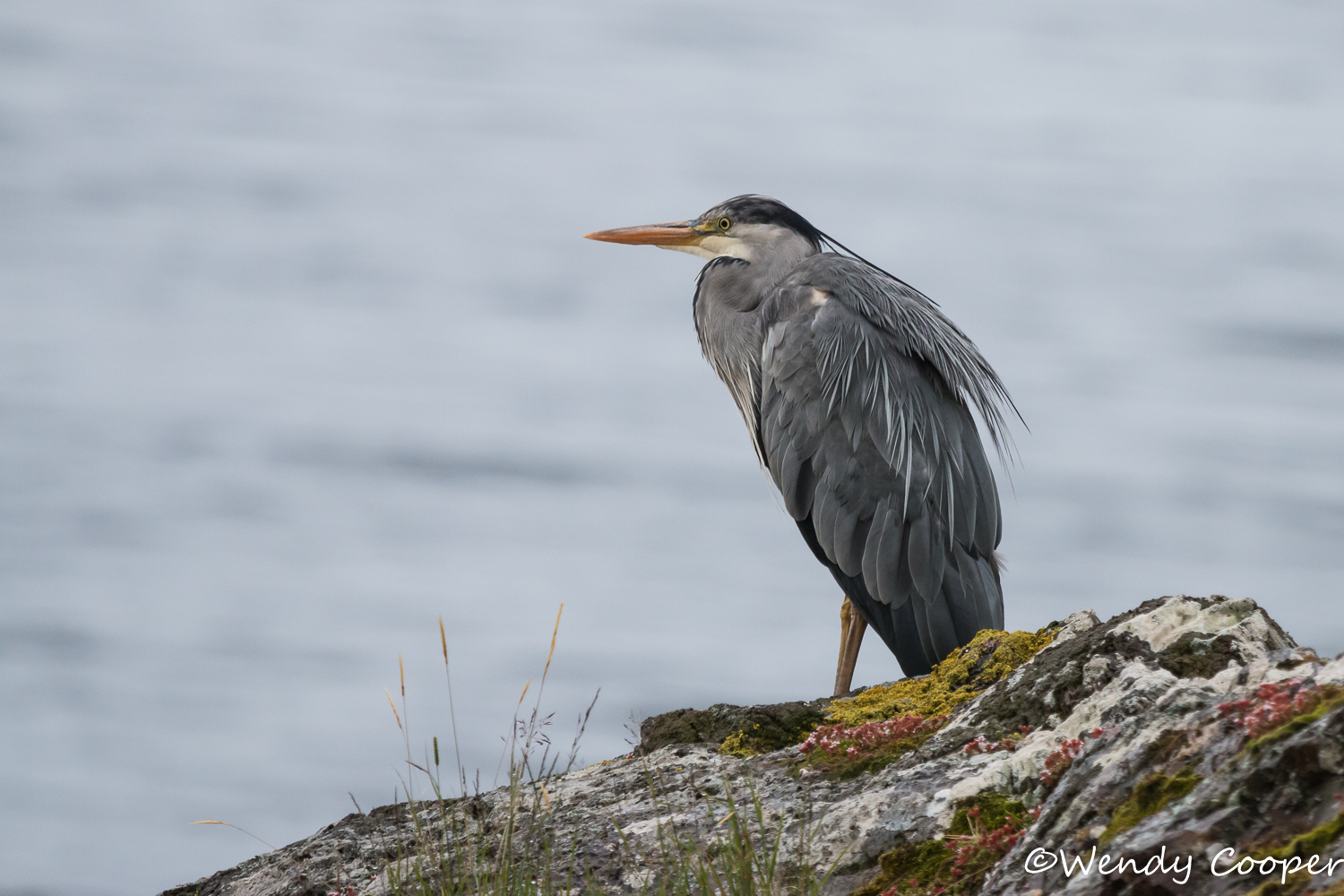 Our last morning, was an earlyish start to Craignure for the mid-morning ferry. We'd been joking that knowing our luck, ALL the wishlist wildlife would suddenly appear when we were short on time for viewing!
The usual suspects (all favourites of mine by the way) were along the edge of the Loch and as over the previous few days, all suitable perches were scanned in the hope of something Eagle shaped. No luck on the Eagle, however just off shore, on a most suitable flat rock, a large Seal was lounging! Himself knew the drill and pulled over, I fell out the car in excitement and watched for a while as the Seal surveyed it's surroundings and then watch bemused as a Herring Gull decided to share it's spot.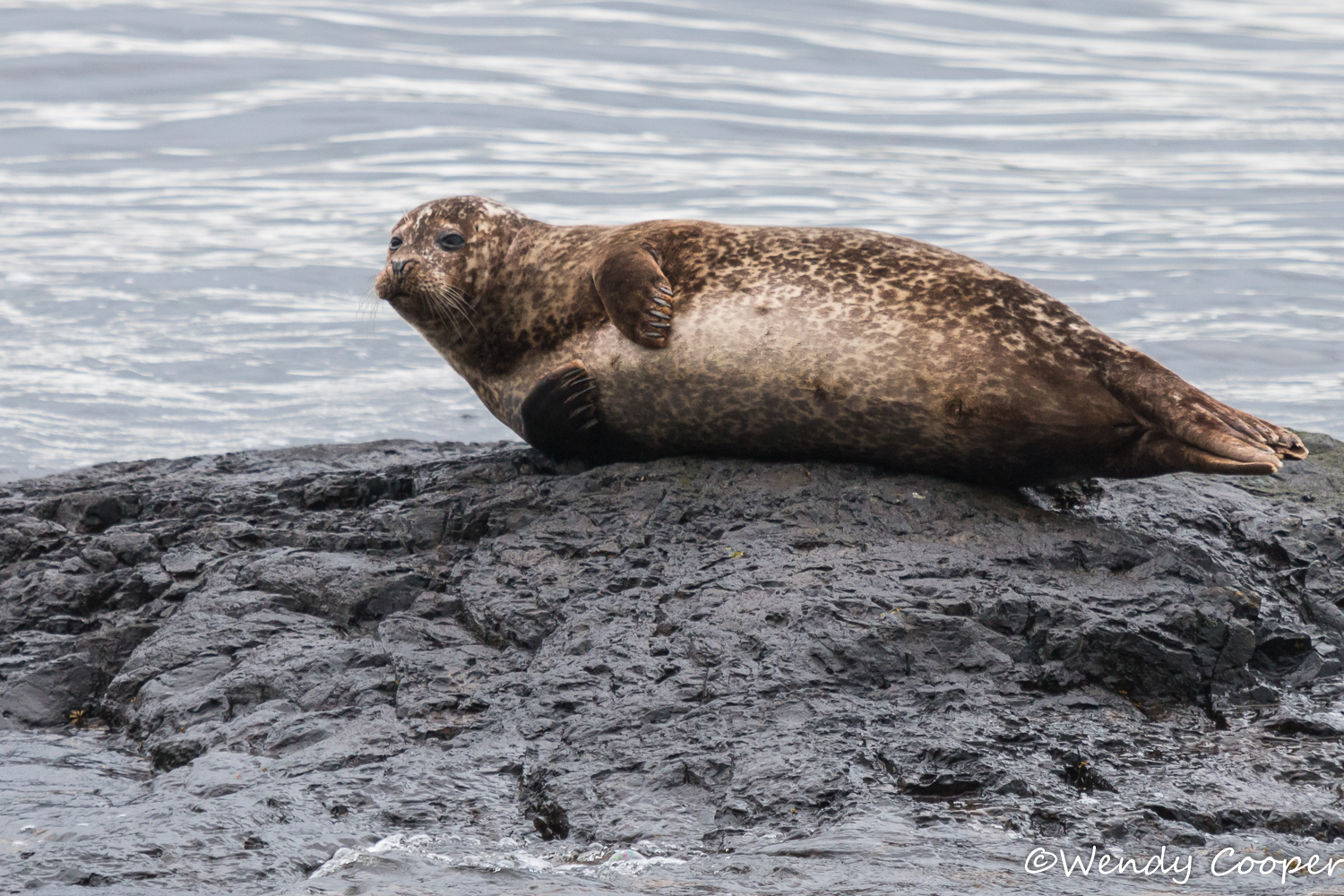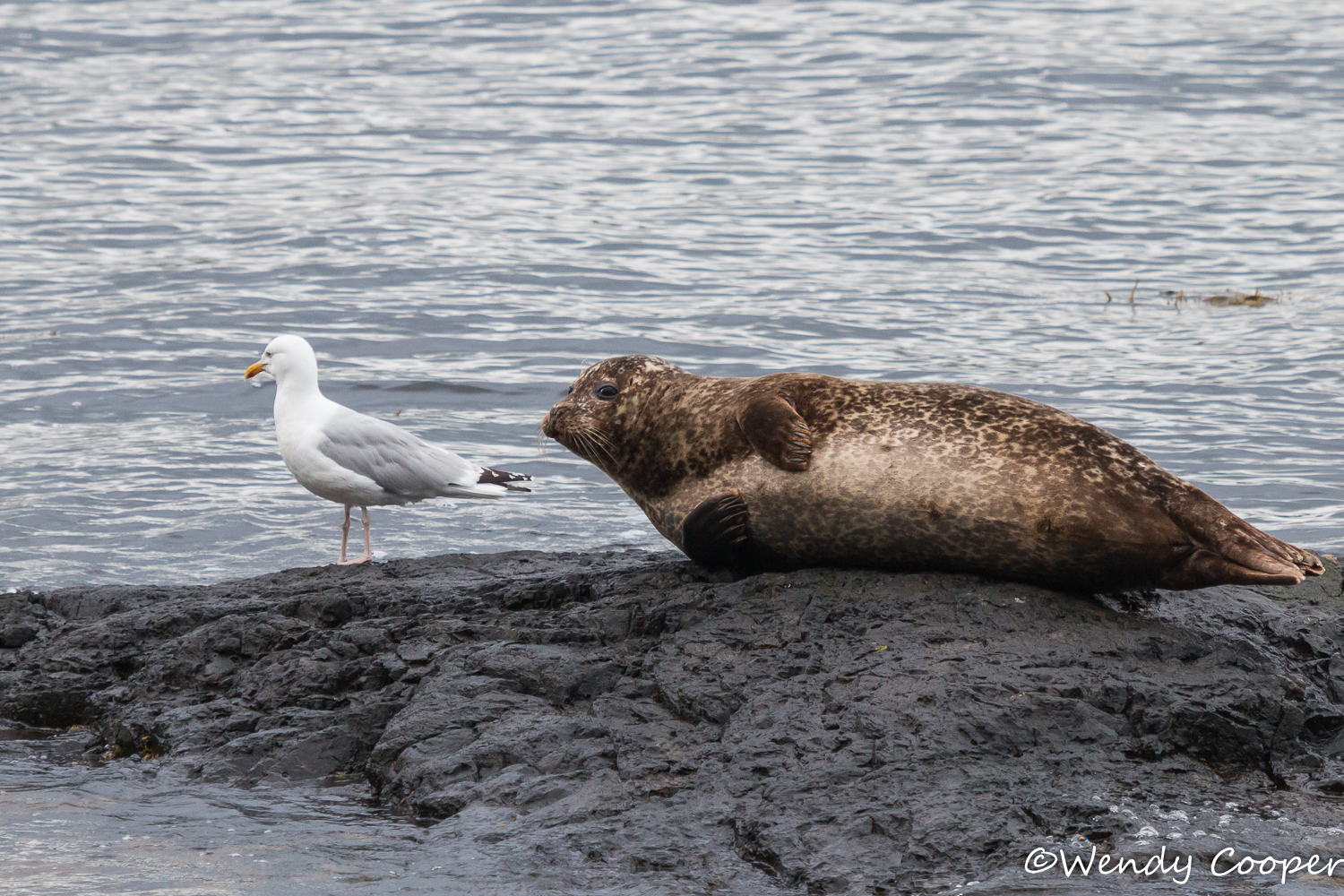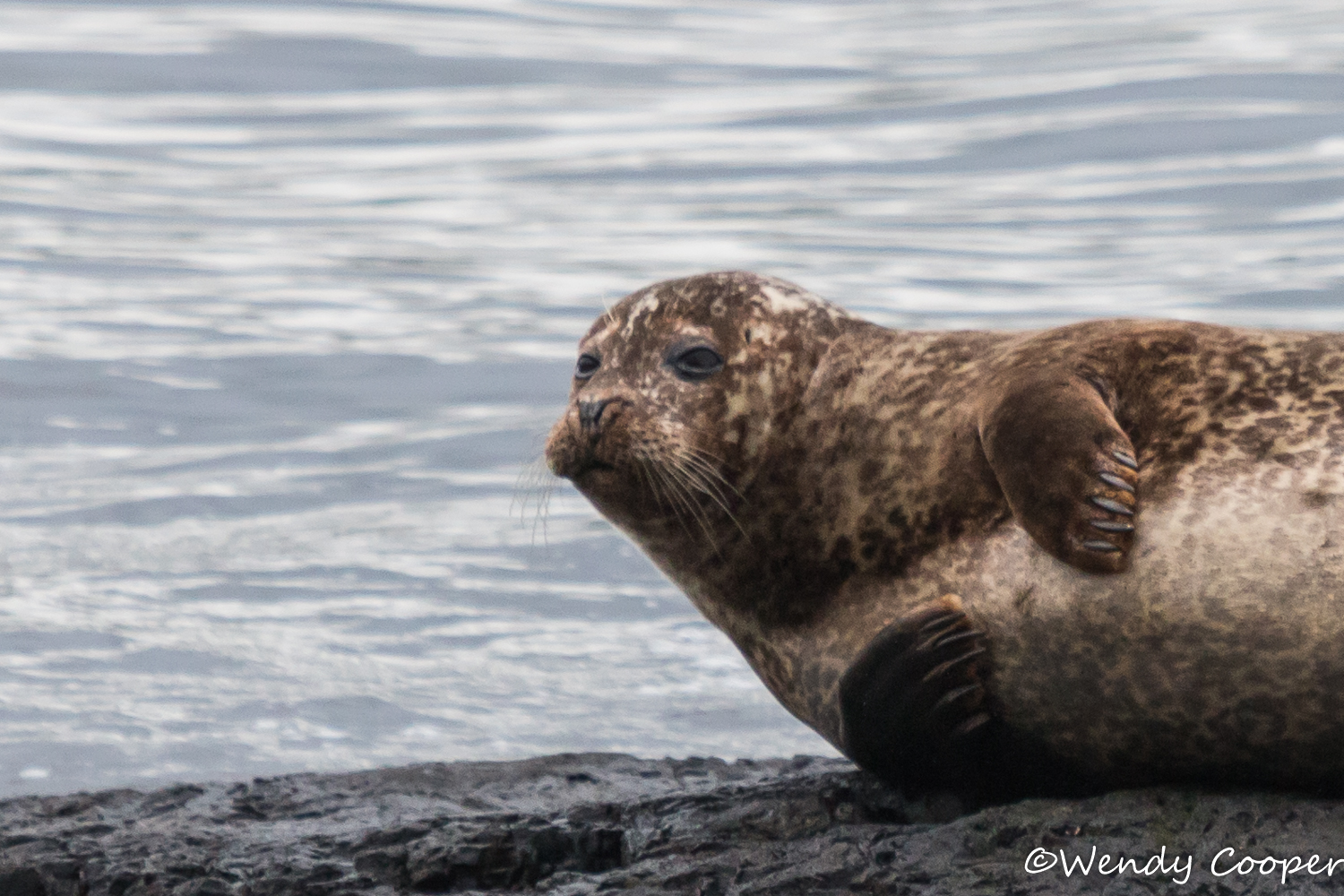 Once on board the Ferry, it brightened up somewhat, although depending on what direction you were looking, depended on sunshine or gloom! As the ferry began to depart, I was looking up the cliff at Craignure, when I spotted three Red Deer picking their way along whilst grazing.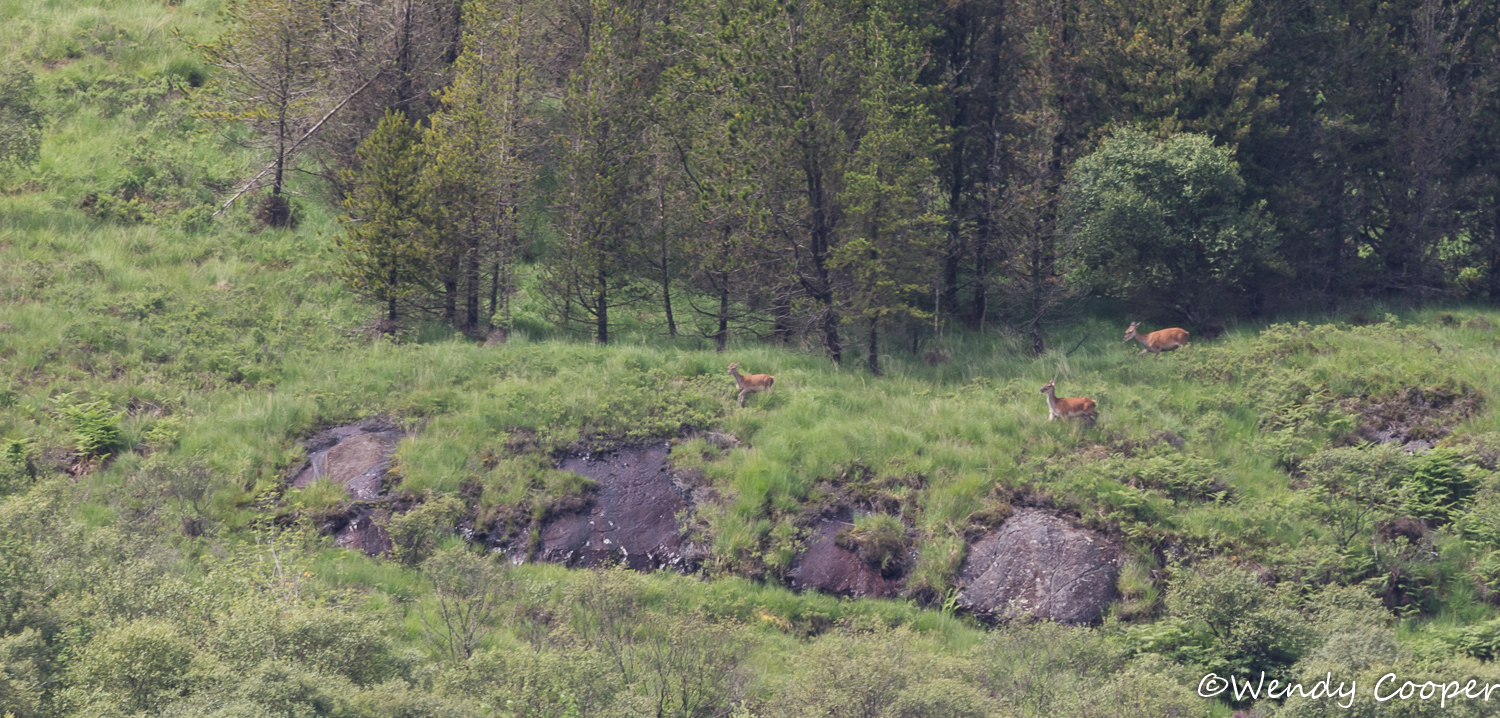 With some scenic beautiful views had on our way back to Oban, our few days were over.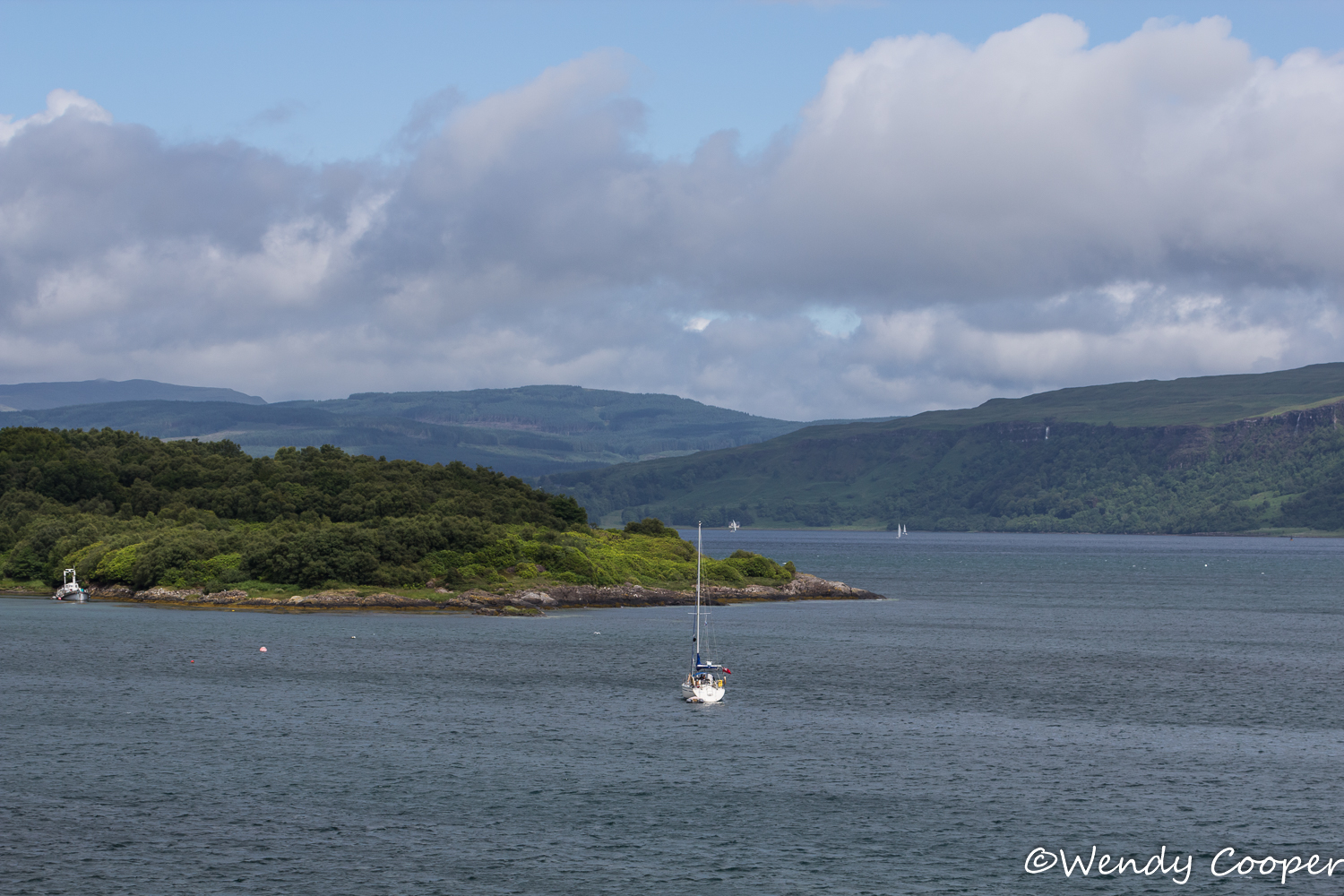 We shall definitely be returning and hope that next time it is a bit drier; we absolutely loved our time there and have had a bit of an explore, paving the way for future visits as we realise that we have plenty more exploring and wildlife watching to do!
As you know, I use the camera as a 'notebook' so I am gradually adding more photographs from the trip to an album on Flickr please do pop by for a browse!
I hope you have enjoyed my blog, if you would like an email notification when my next blog is published, please add your email address to the 'Sign Up' box below.
As always, comments, feedback or questions are welcome, so please feel free to contact me via the comments section below or via the guestbook.
Comments