A Return Ticket to a Treasure Trove of Nature...
Trip Reports
> A Return Ticket to a Treasure Trove of Nature...
18/06/2017 - 15:27
Well after last year's visit to the Isle of Mull, we realised that there was so much to see and enjoy that a return trip was in order. We decided to take a slightly different approach this year and instead of trying to explore the whole island in just a few days, to take a much more relaxed approach and lurk around a few chosen areas and just to sit back and watch and enjoy...
After a wet drive up to Oban, the ferry trip across to Craignure brought us out of the gloom and when we arrived on the Island we had a beautifully sunny drive across to our Hotel.
Enroute, whilst there was no Hen Harrier this year, we did get to watch a very handsome Buzzard sitting up on some power lines looking for supper.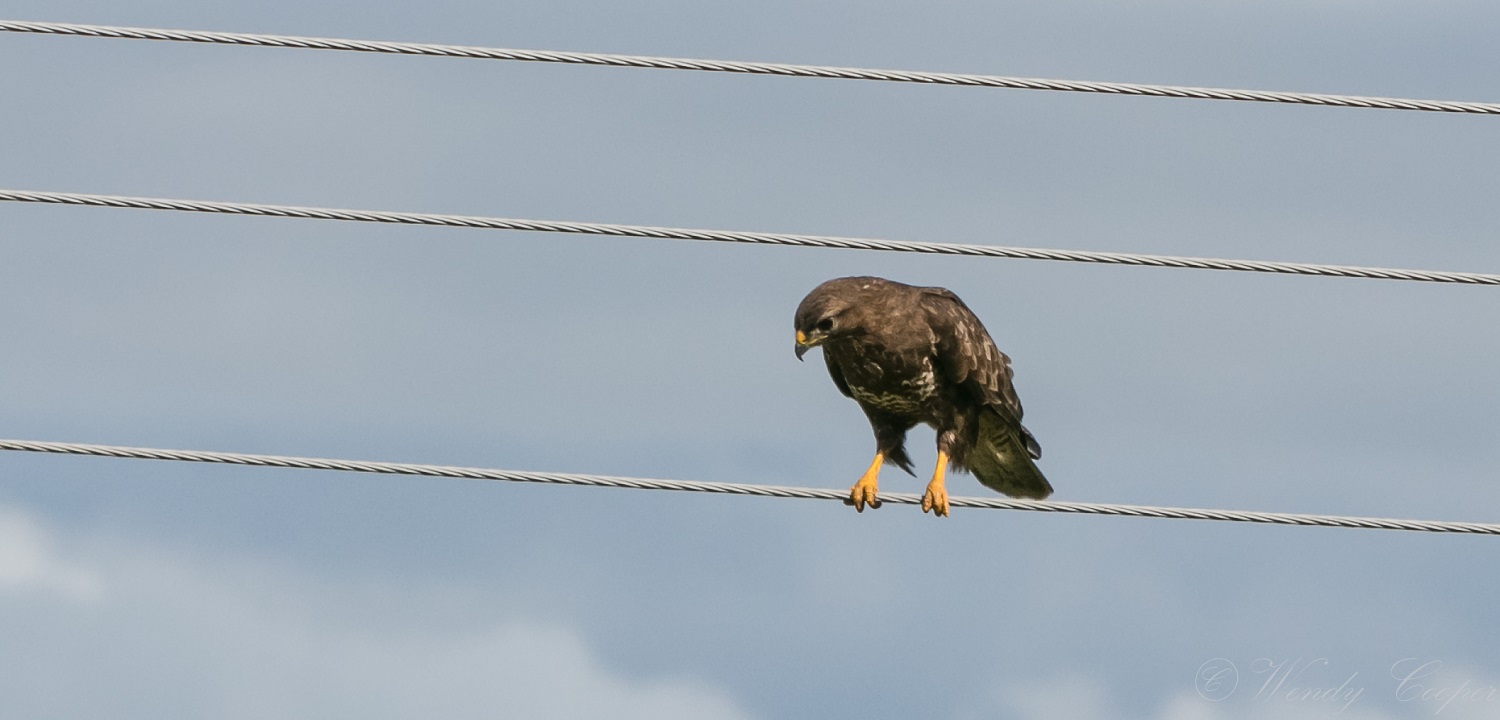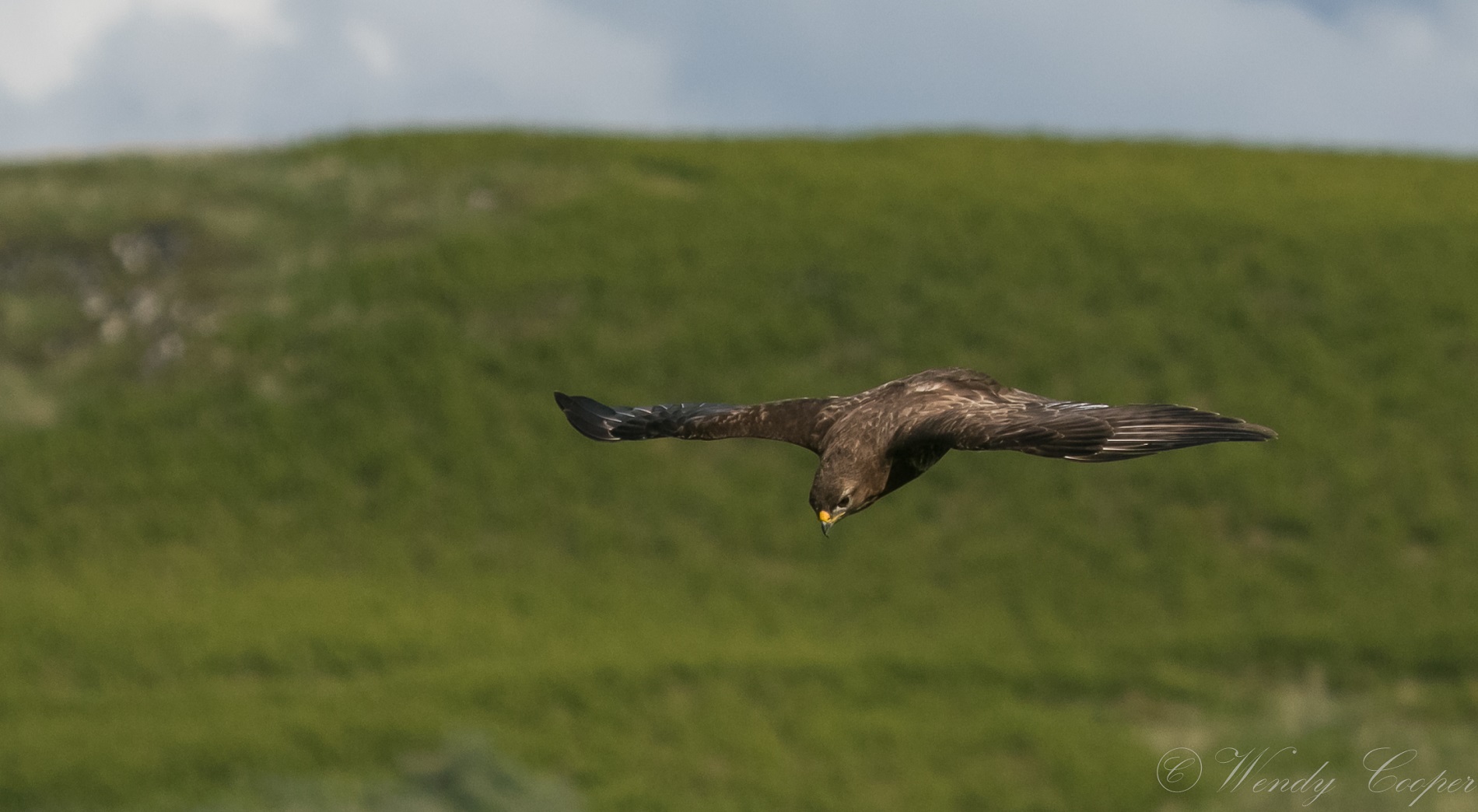 After a moment or two the Buzzard gracefully foated down from it's perch towards the ground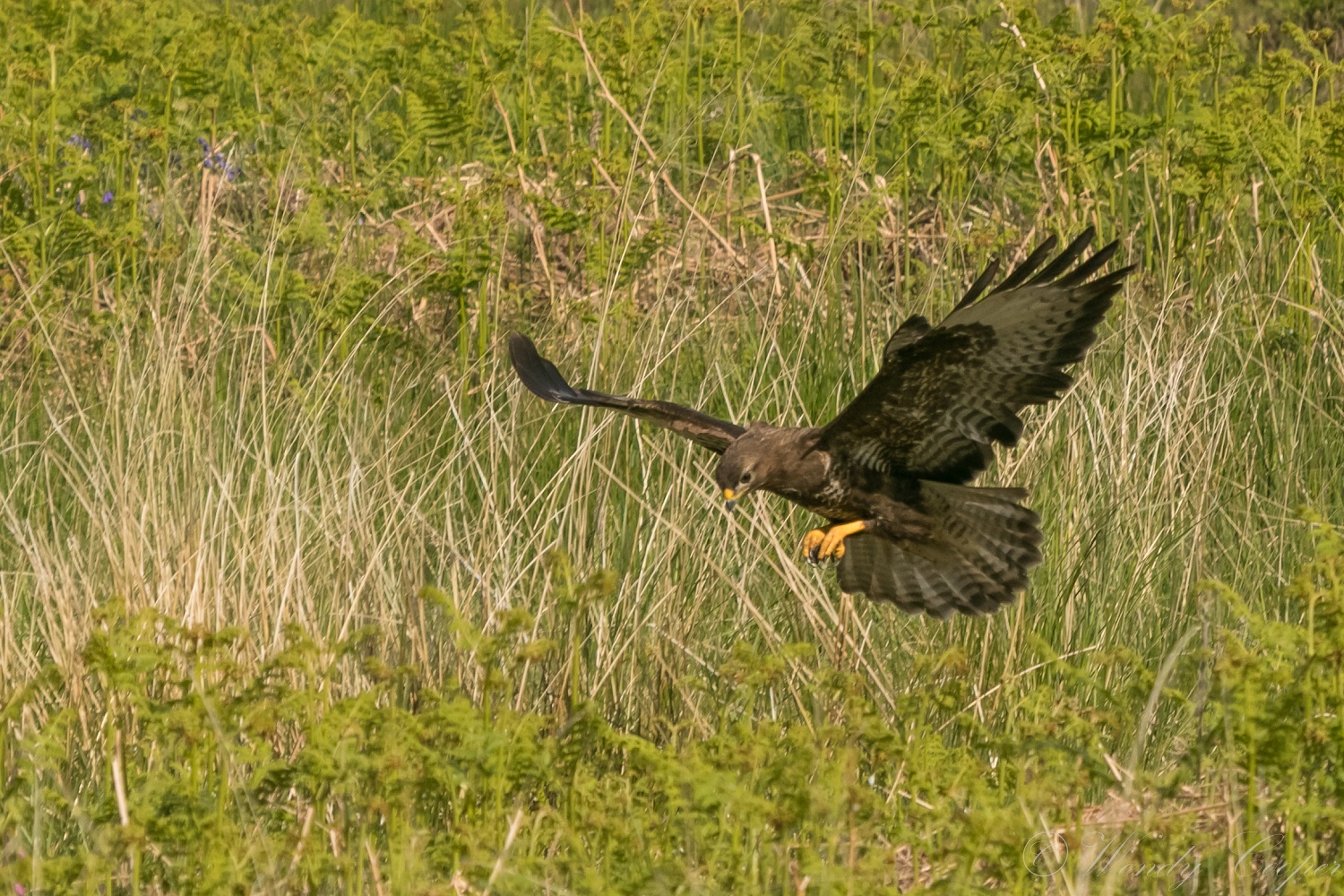 and collected supper, a small mammal, before It then retired back up to one of the poles, it's prize still in it's talons.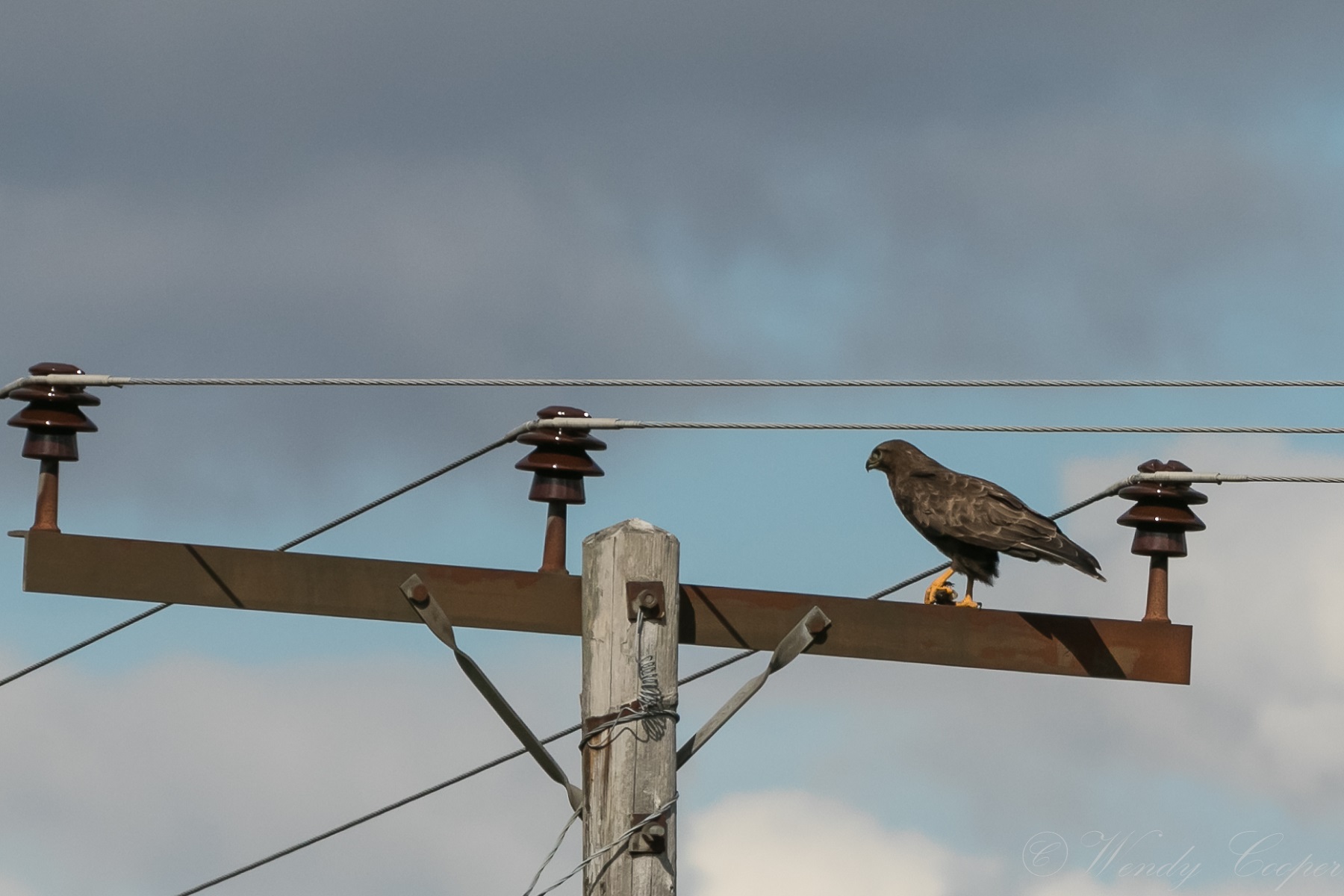 At the Hotel, where we had been so well looked last year, we received a warm welcome and as we were unloading the car, one of the Tiroran White Tailed Sea Eagles flew up from the Loch and disappeared overhead into the Tiroran Forest. This was a sight I had missed the previous year and the first glimpse I had ever had of these incredible birds - just as exciting to see as the Hen Harrier on our arrival last year!
Early next morning, I decided on a walk down to the Loch before breakfast. The previous evening's sunshine had been replaced by wall to wall rain and things were not looking good for a hoped-for boat trip in the afternoon to watch White Tailed Eagles. Putting that thought aside I wandered down in what I'd thought was light rain, however quite soon I was rather soggy!
Down at the Loch I was greeted by a rather damp and fed up looking Oystercatcher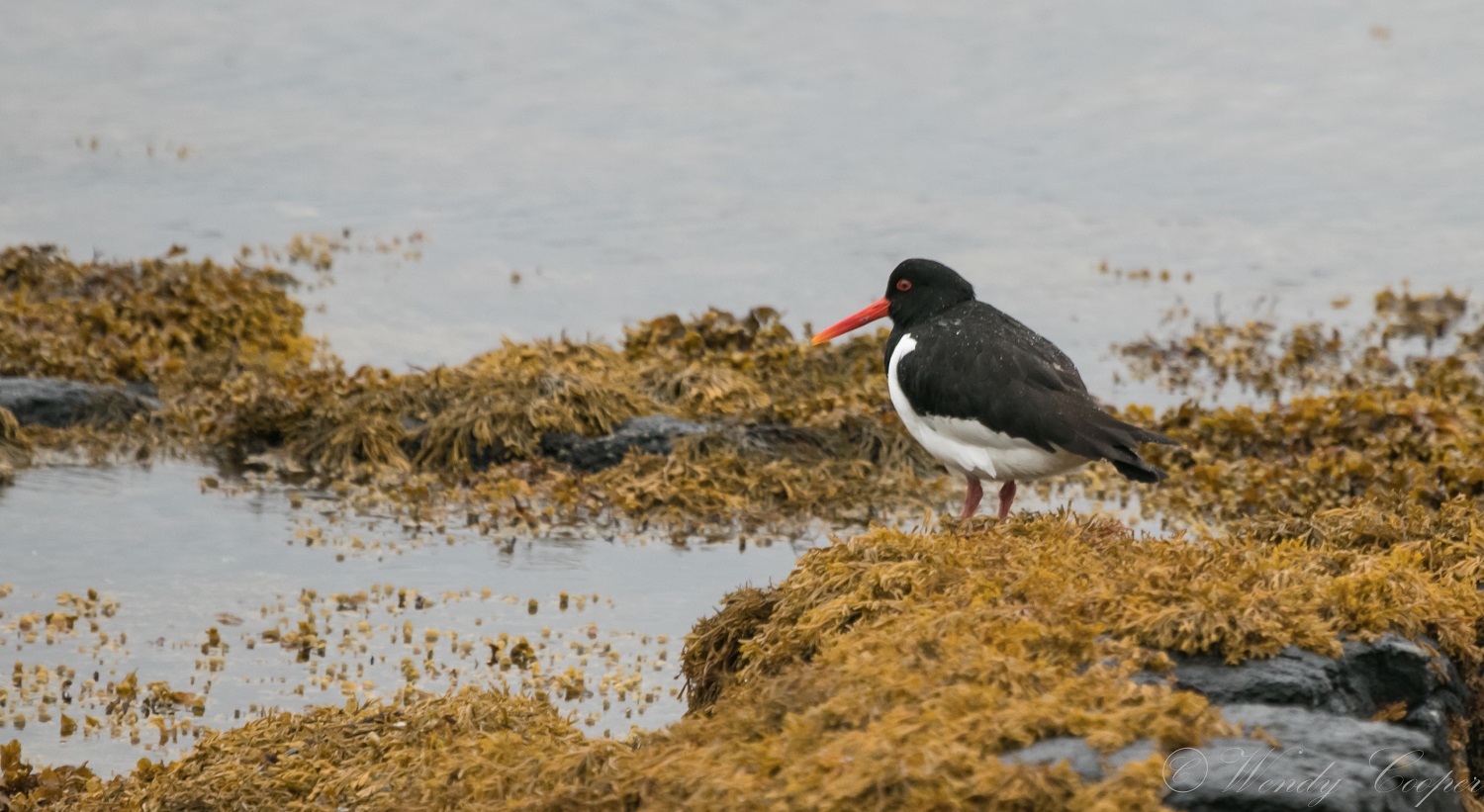 Not much else was about, there was a brief flyby from a Grey Heron and far off on a headland I could see a few curious cows grazing; further away at the western end of Loch Scridain I could see glints of silver over the water - a closer look through the binoculars revealed four Gannets gliding and diving occasionally, catching the light as they did so.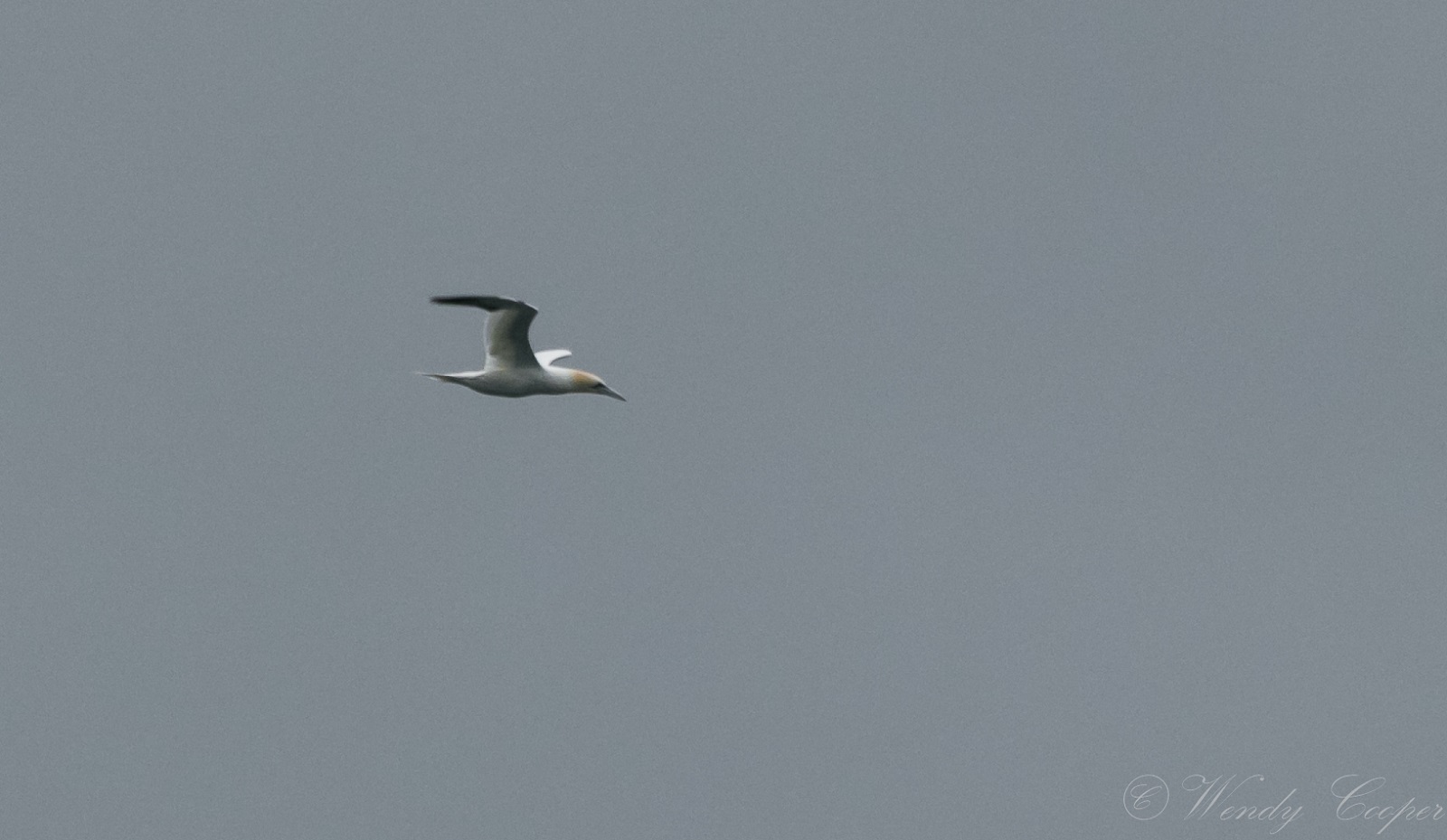 After breakfast a phonecall was made and as it was going to be far too damp and windy to be safe, for the second year, the hoped for boat trip (unless a place became available later in the week) was cancelled. Judith remembered me from last year and said she would add me to the cancellations list in case a space came up and to call back the following day in case... Ho Hum... Anyway after a bit of a rethink of how we'd planned our day, Hubby and I set off to have a little explore. As we left the hotel, well it got wetter and wetter, so we had a drive out towards Fionnphort, not having been along that route before.
Was it wet! Now being somewhat more comfortable with the roads than on our first visit, despite the conditions, a pleasant drive was had, we even spotted a few Seals on the colony which had been pointed out to us across the Loch from the Hotel! When we reached Fionnphort, the weather was markedly different, clear blue skies and sunshine, but it was exceedingly windy! After a coffee and noting how easy it was to get to Iona (added to the places to go on another trip) we retraced our steps back towards Pennyghael in the hope that the weather was starting to be 'blown through'.
After a cup of tea and a big slice of delicious homemade banana cake at the Pennyghael Post Office, we carried on round Loch Beg and found a spot to park up. Hubby was content to peer through the raindrops from the car, however, I decided to have a little wander.
Wildlife doesn't stop for the weather, there are little hungry mouths to feed, territories to defend and the next meal to be found, so sitting quietly there was plenty to see. Before I had left the car, in some bracken just behind us, I had seen a pipit sized bird, that was a slightly different in colouring to the Meadow Pipits I am familiar with. It was my first Rock Pipit.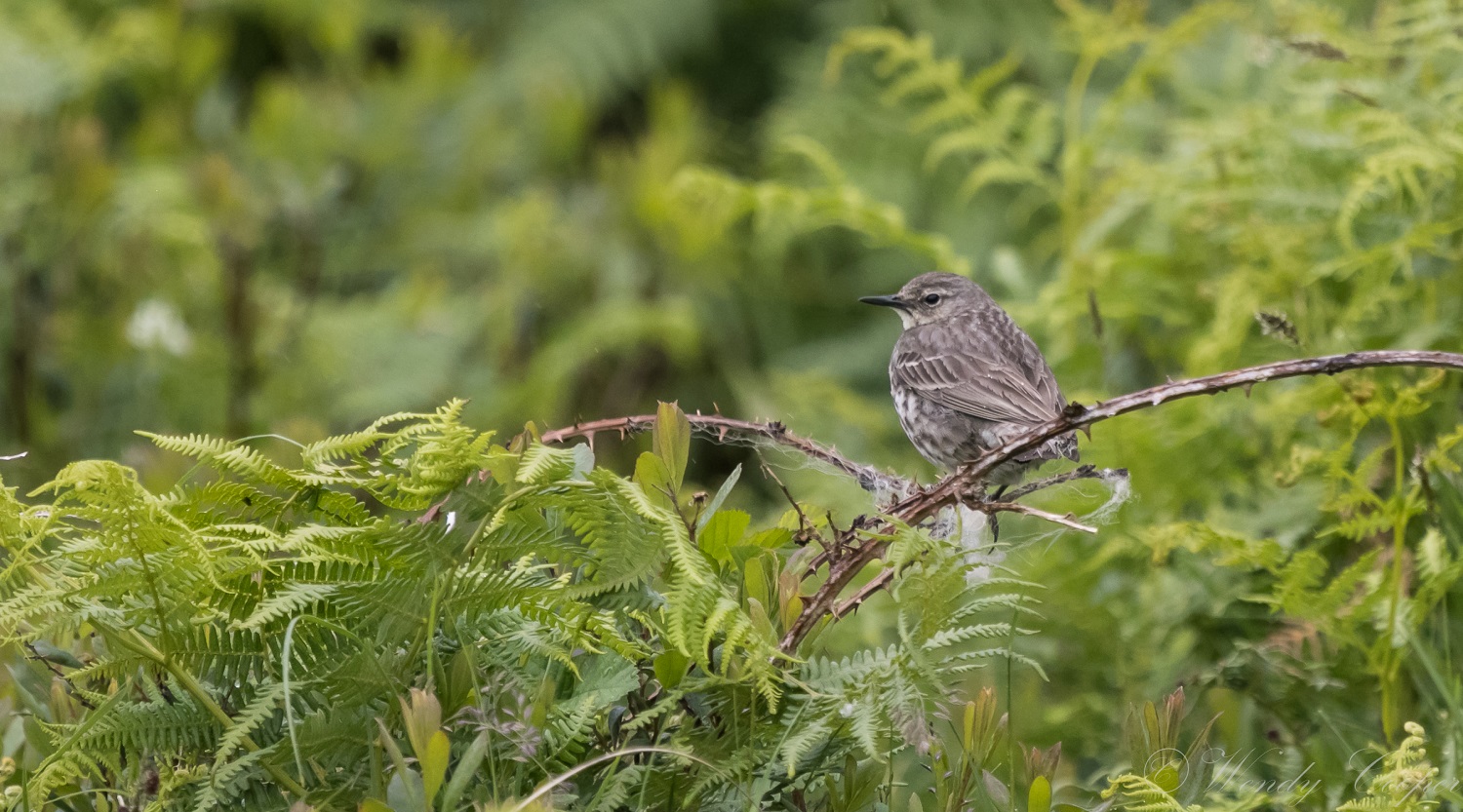 Down on the shoreline, I was able to watch a juvenile and a parent, the youngster demanding food, being duly supplied with it, but not always liking the dish!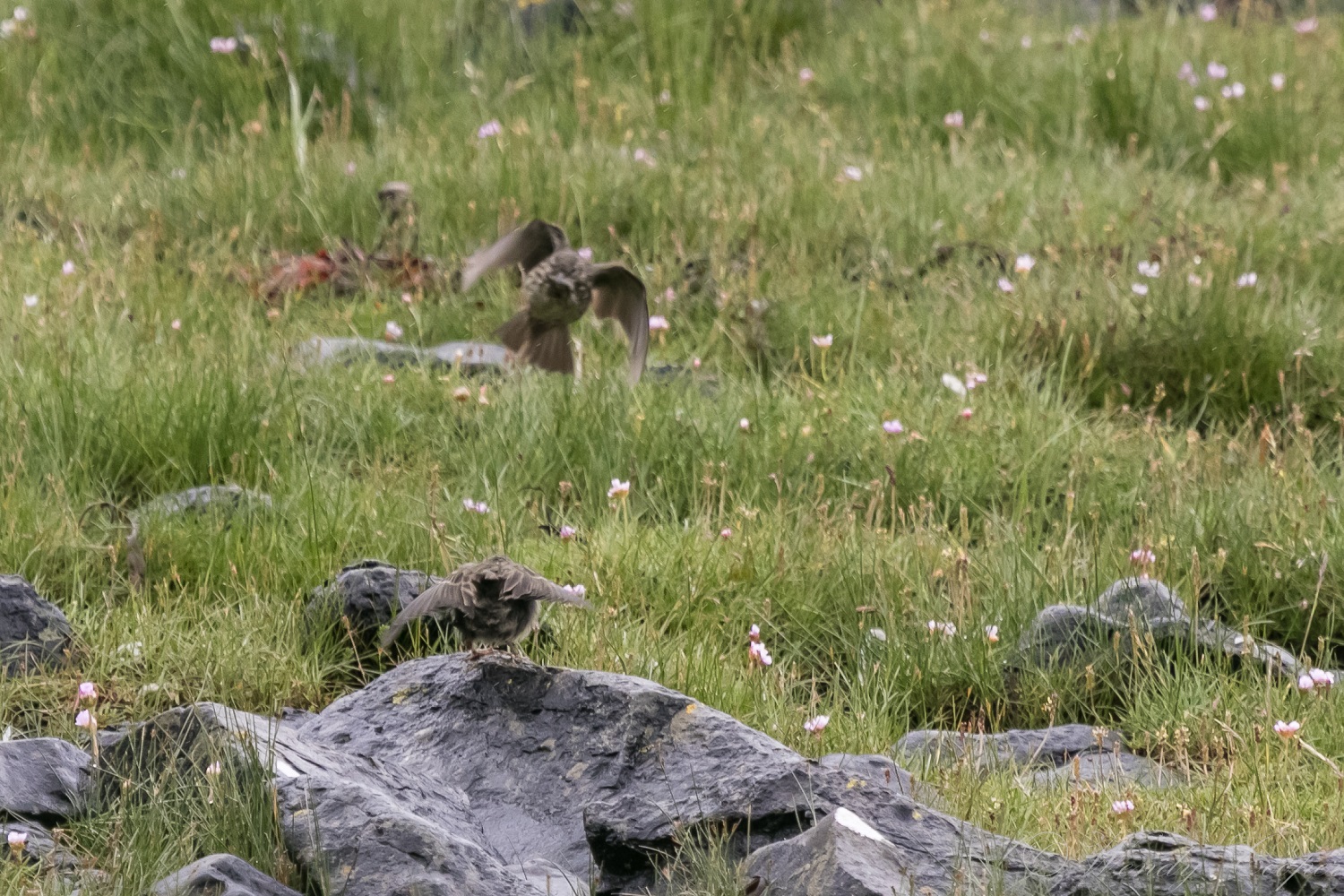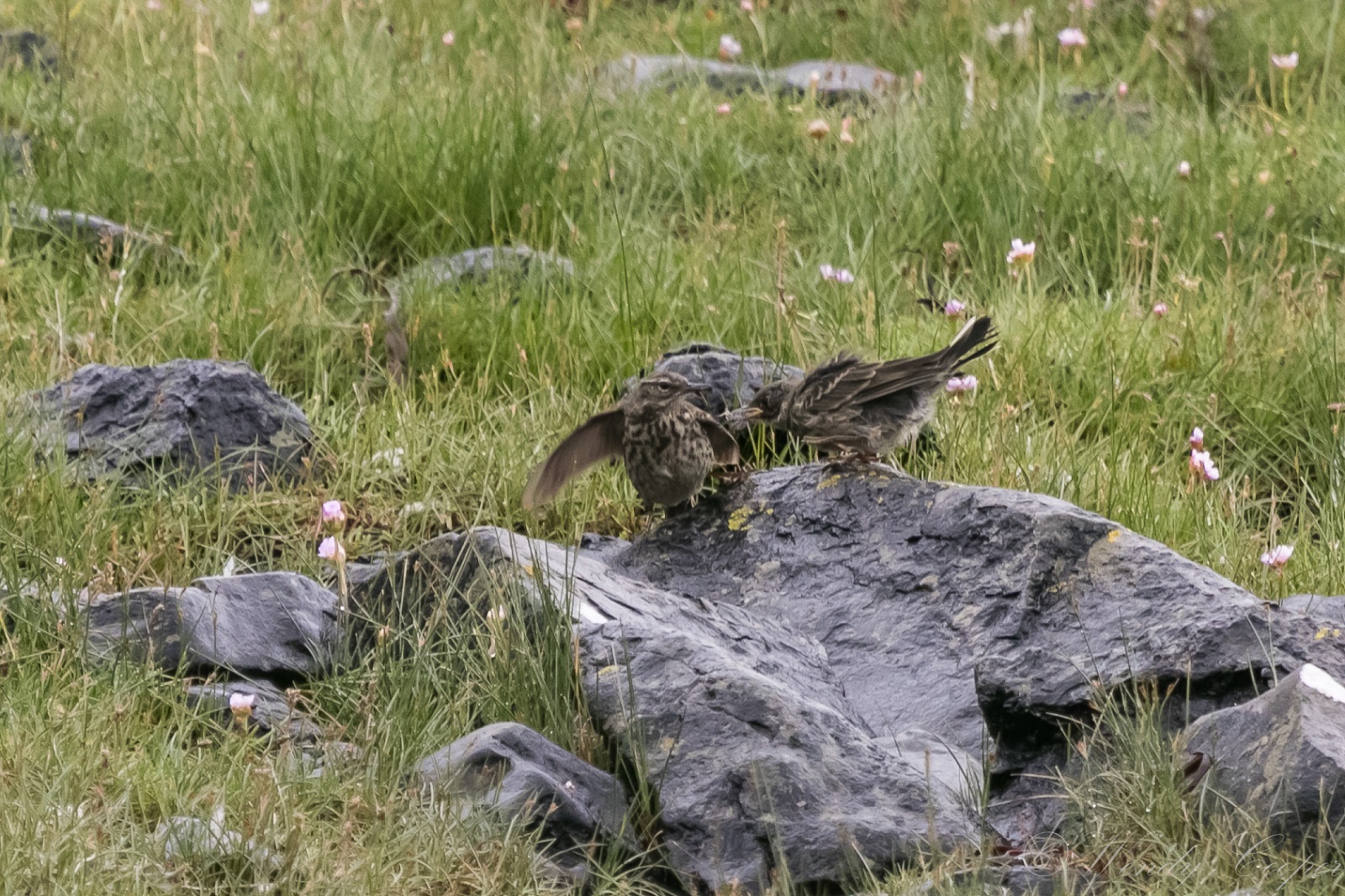 In a nearby rockpool, a male Mallard was making use of a quiet spot and I followed his example and found a comfortable rock to sit on.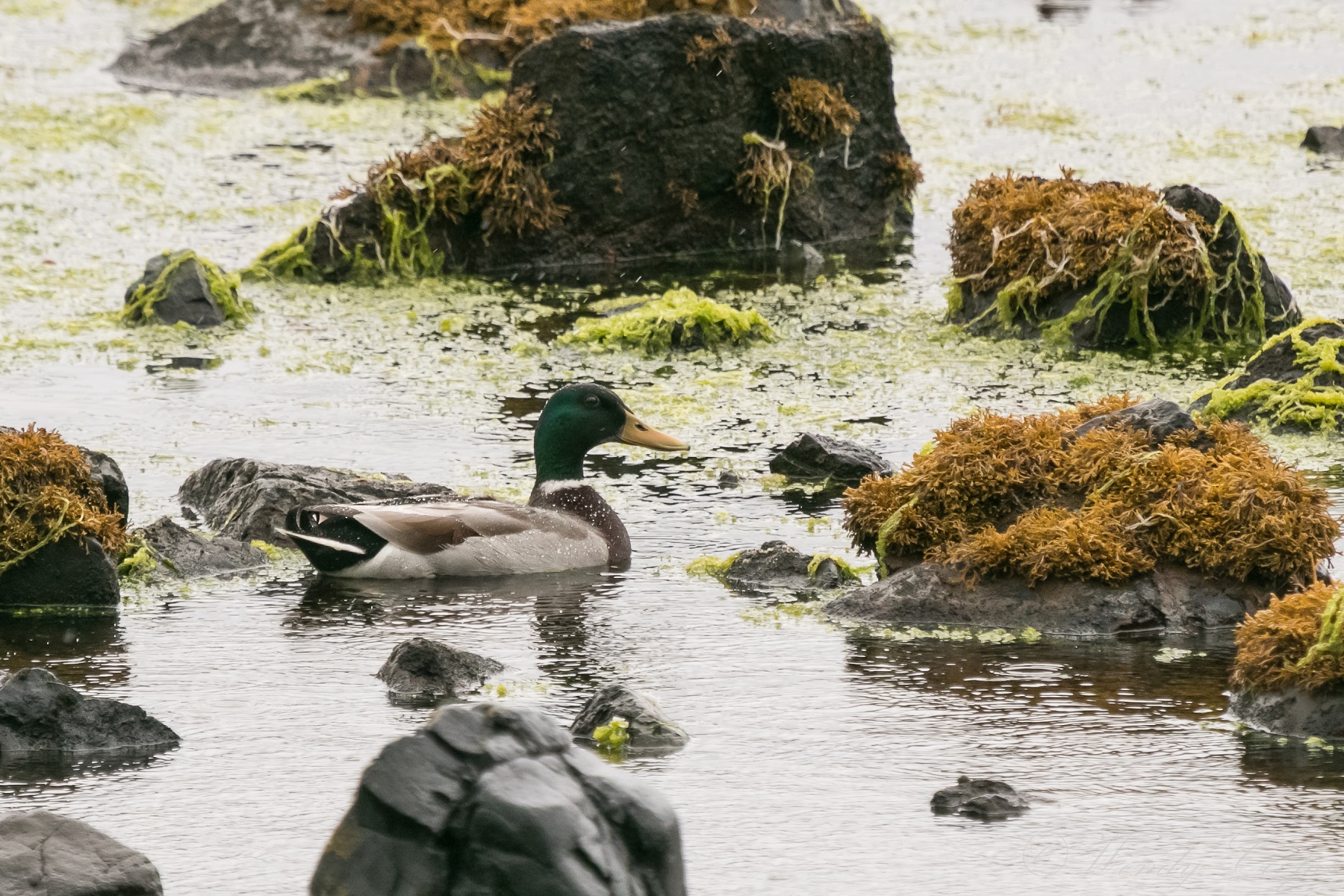 I could see a couple more Rock Pipits hopping around on the rocks, a youngster and an adult but I could also hear a continuous 'tswee-weee-wee' call and perched atop the rocks was a Common Sandpiper watching me rather quizzically.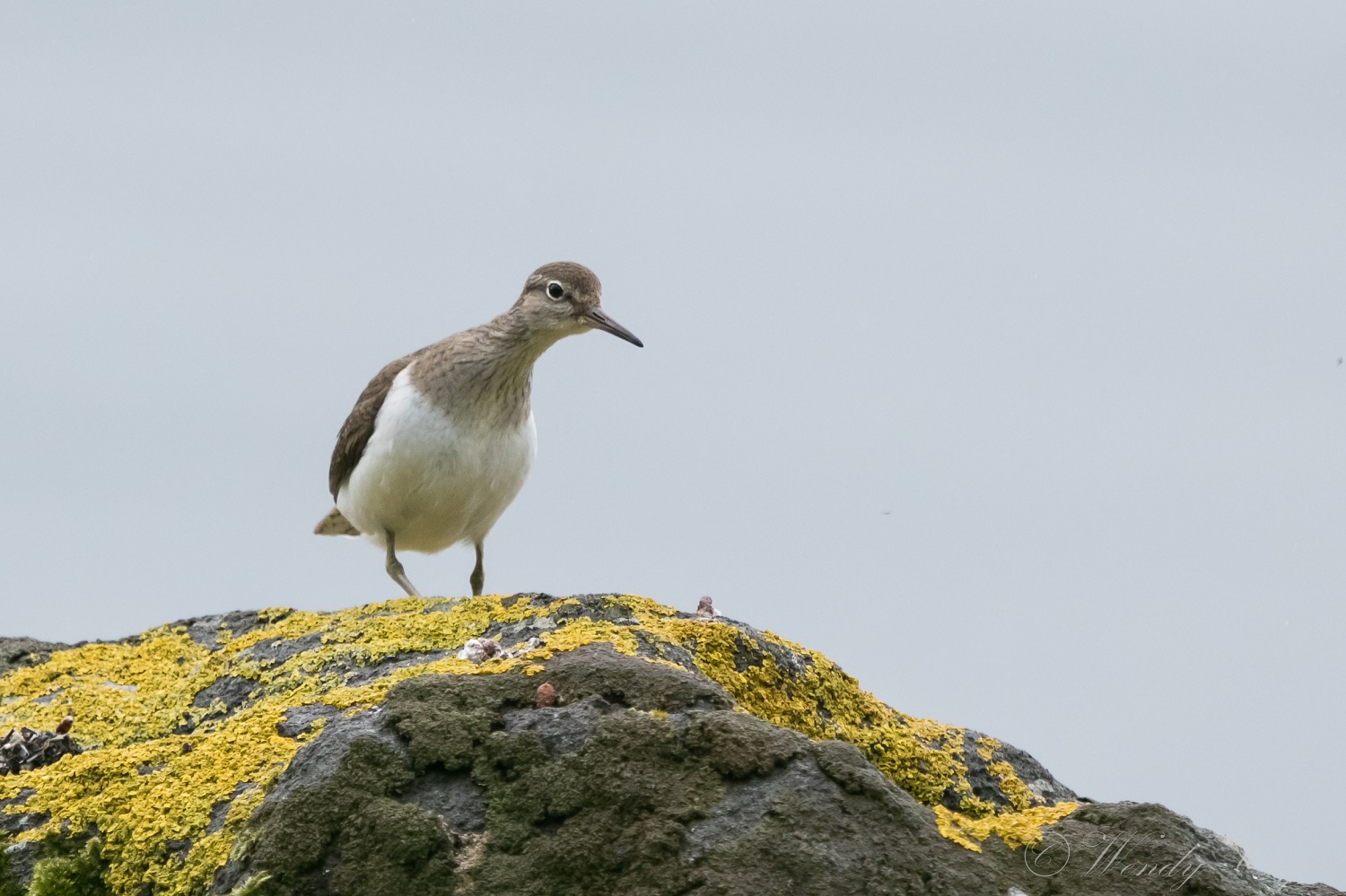 This busy little bird, chattering and bobbing it's tail, hopped it's way around the rocks and picked about in the tidemark of seaweed for titbits, keeping a close eye on me all the time.
After a little while, the reason for the close observation became clear - was I friend or was I foe? Two tiny chicks began to clamber around on the rocks in front of me, Tswee-weeing in little high voices like their parent, their tails-ends bobbing up and down as they went!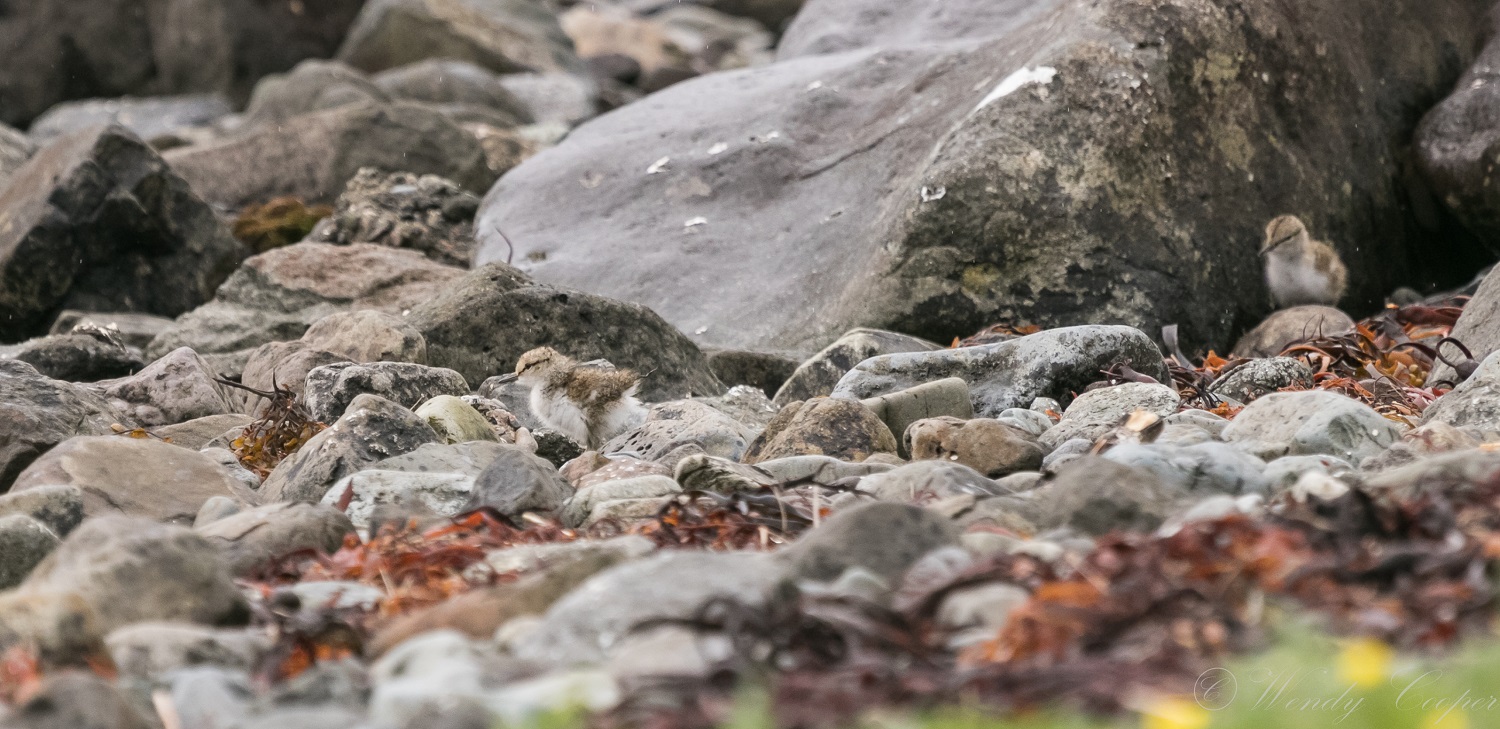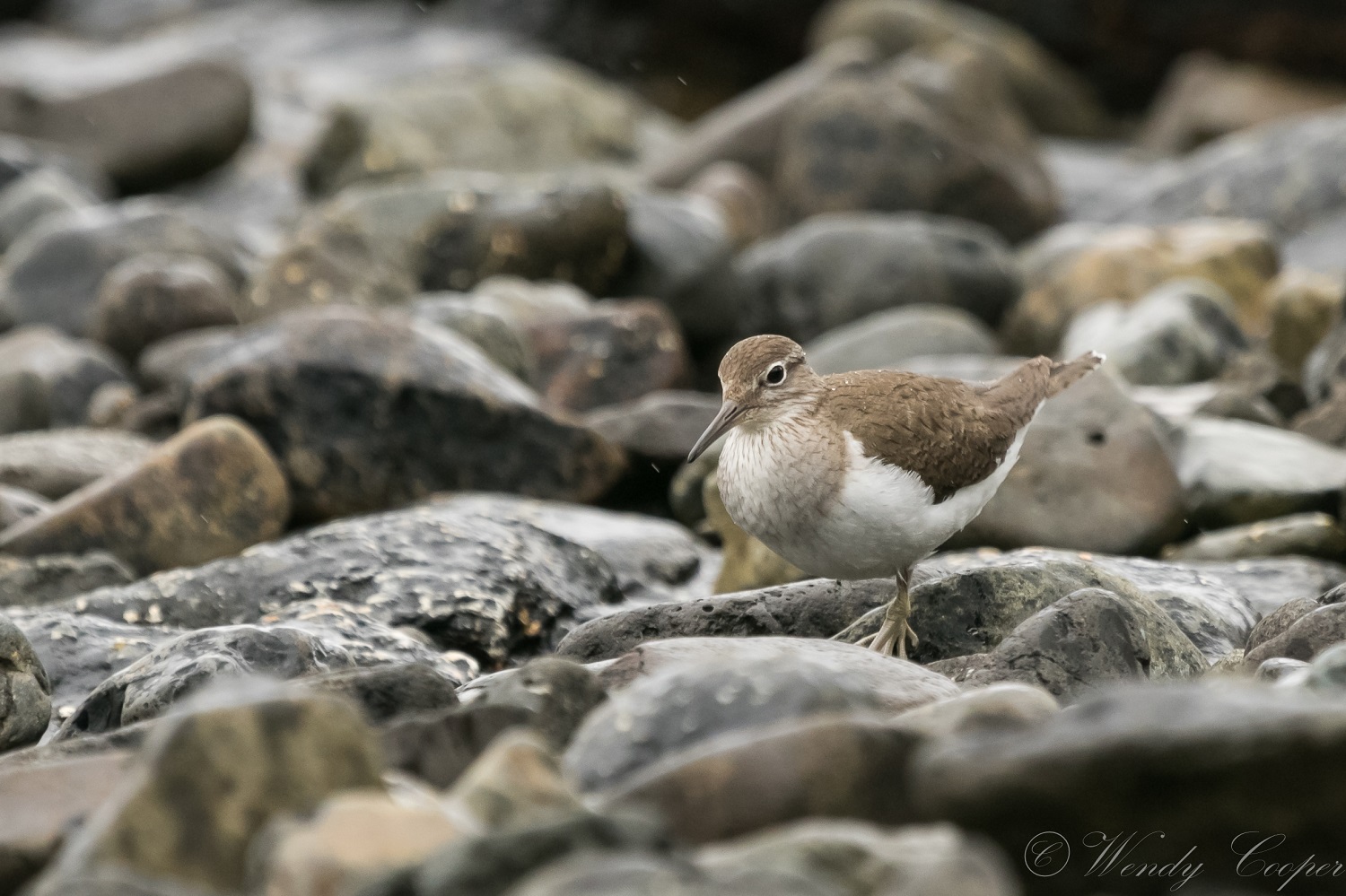 The adult bird began to get a little braver and came closer for a look at me, just to make sure I was no threat, but I stayed quiet and still, delighting in such close views of these active little birds.
After a while, one of the youngsters became quite bold and came a little closer for a forage and look-see, before running off into the rocks with it's parent and sibling.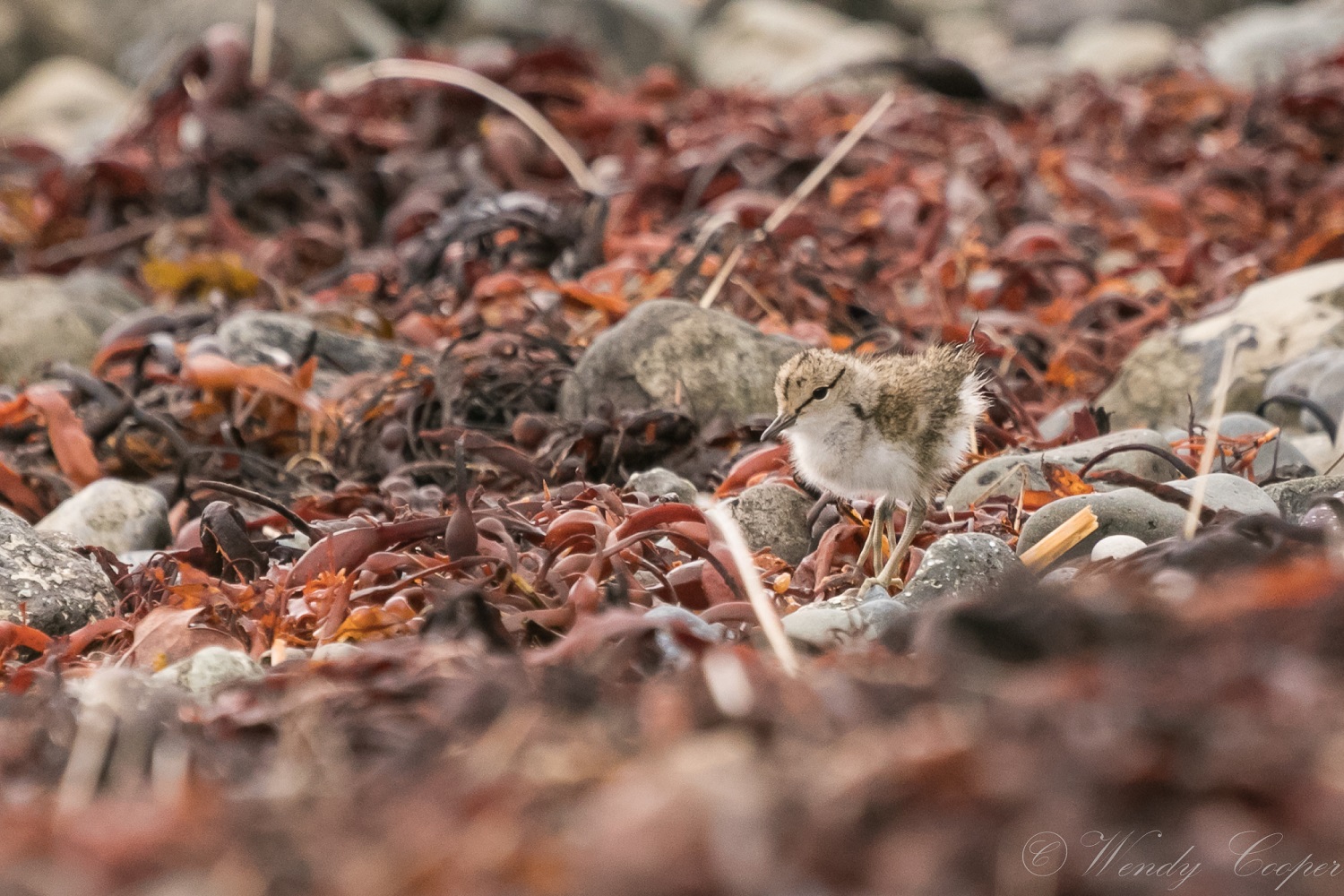 As I watched them amongst the rocks, I could hear two lots of familiar chirping, first of all, quite shyly, a Grey Wagtail appeared,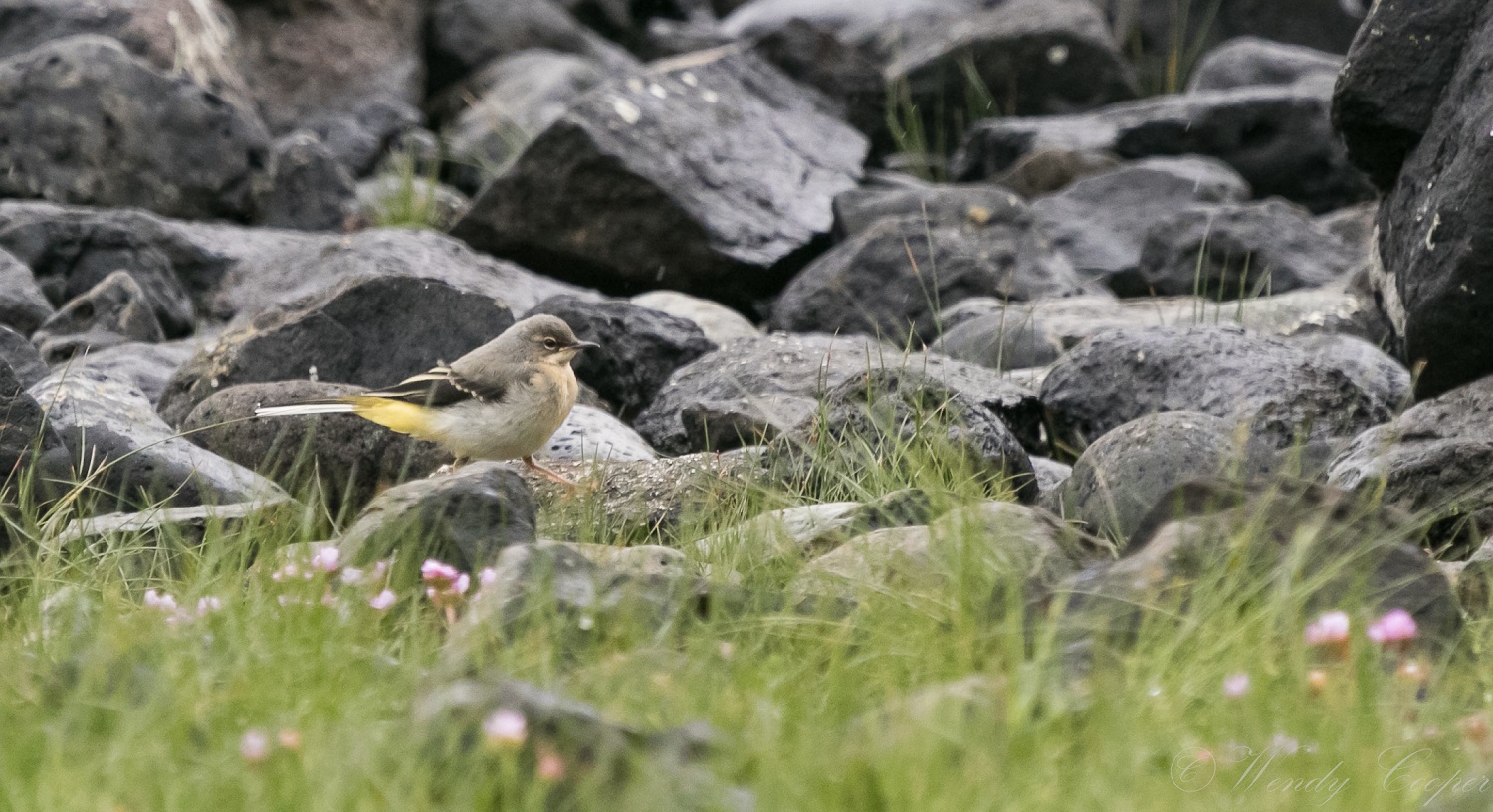 Then on the rocks by the water's edge a rather smart looking Pied Wagtail appeared.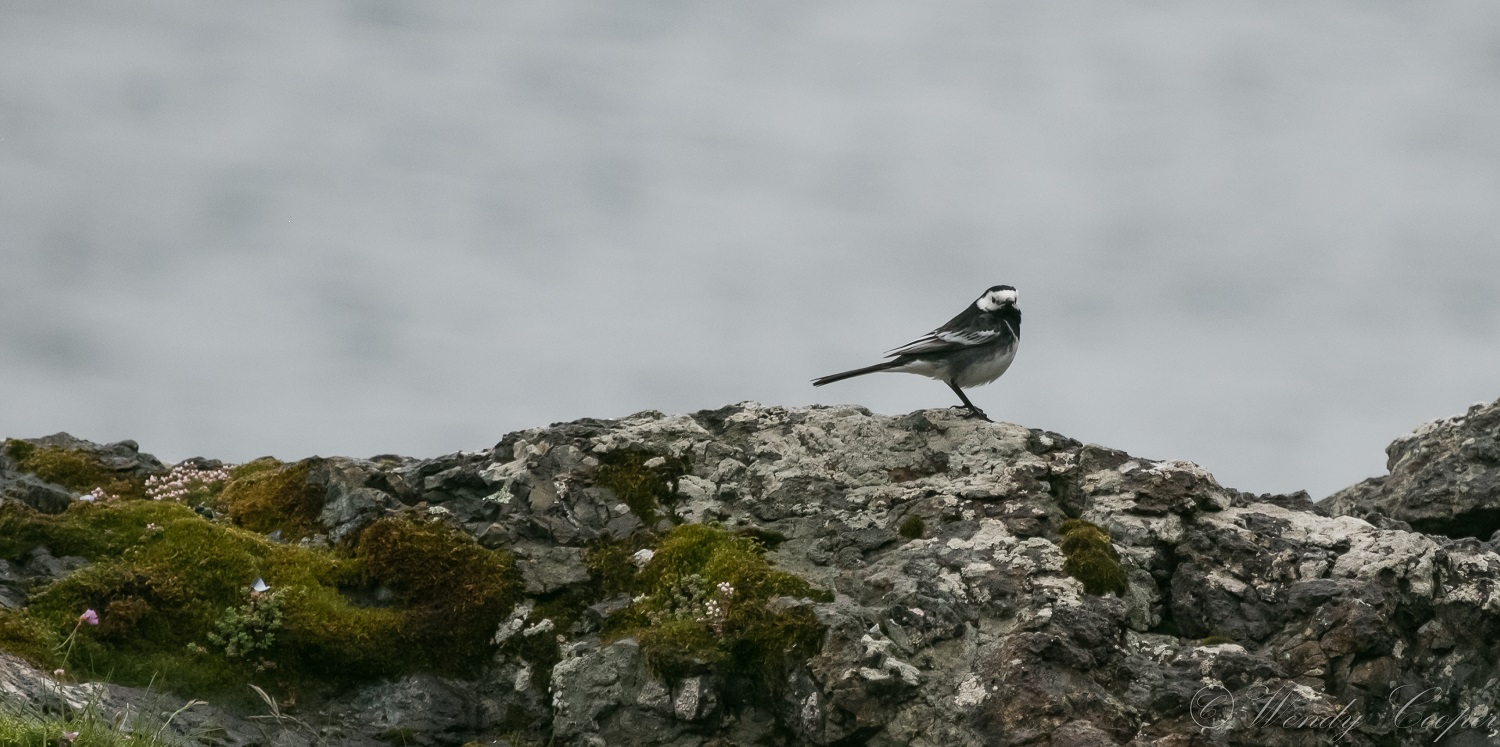 These both wagged around and flew their way off, most likely to continue finding tasty morsels for little mouths. Further along the shoreline, I could see a Grey Heron perched, with another landing a little further away. The one that was already settled, was a study in concentration as it waited for an opportune moment to begin hunting for food.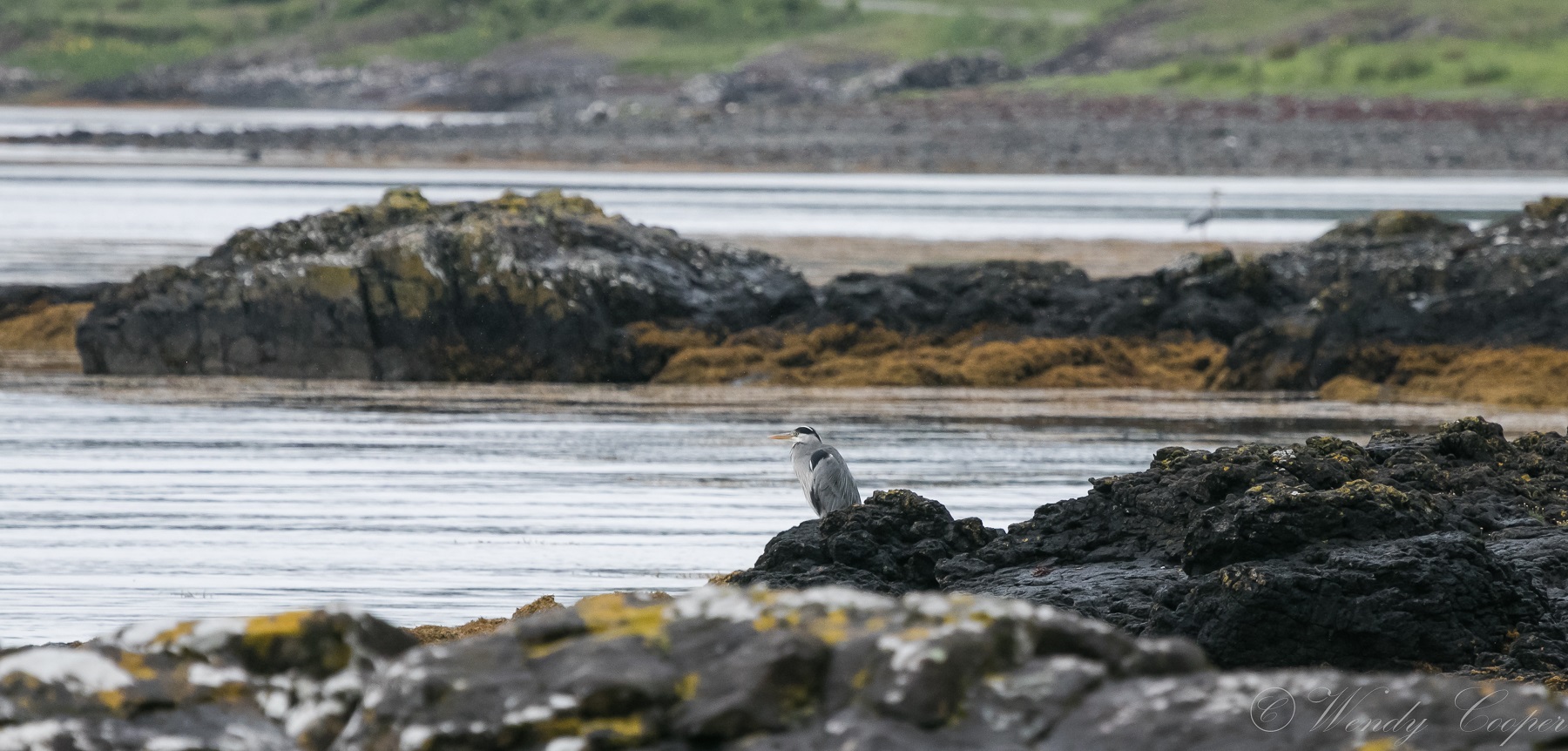 Realising that, despite the rain and liberal applications of bug stuff, i was starting to get bitten, I started to wander back to the car, almost there when there was frantic waving and pointing from Hubby out towards the bay - we were being watched!
Watching the water carefully, every now and then a head would appear, sometimes just eyes and nose, sometimes a bit more head and then almost a neck and shoulders, we were under observation from a Seal!
As we watched him popping up and down, he gradually swam a little further away each time.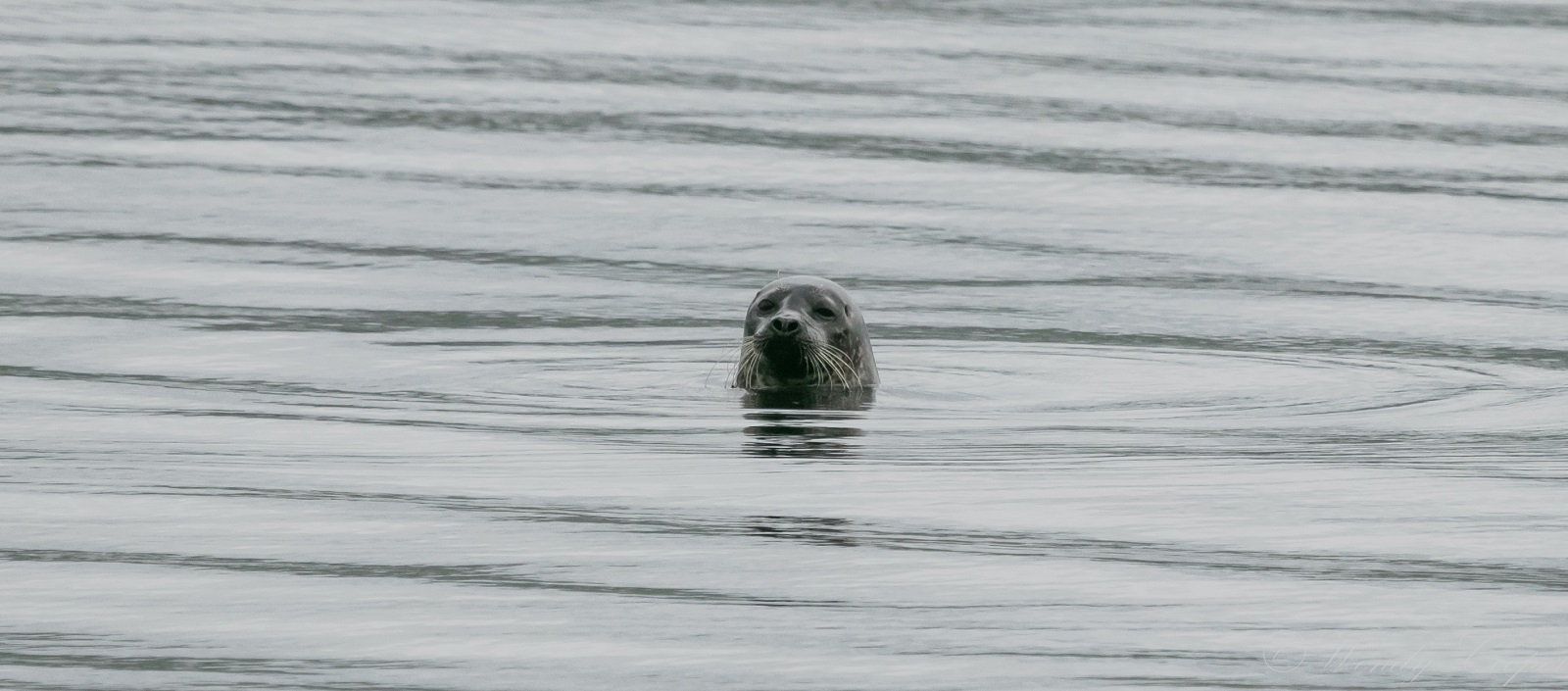 We decided to head back to the hotel, pausing once on our way to admire a pair of Red Breasted Mergansers which we had seen around the Loch a few times, this time they had been close by the shore for a preening session and were just heading out again.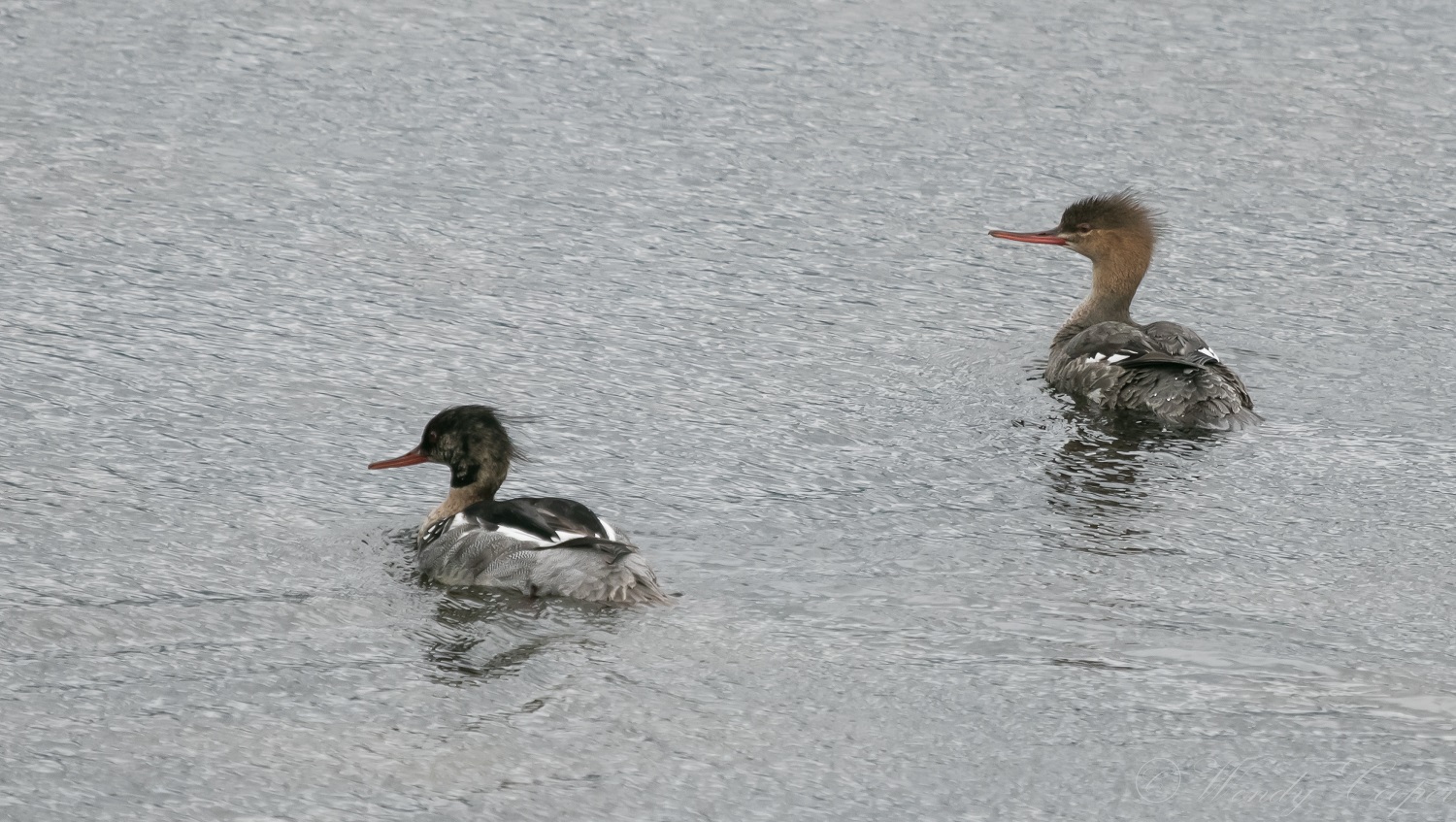 During the evening, we were chatting with Laurence the Hotel owner about our day and he enquired about the boat trip. I explained about the weather and the cancellation and that I needed to call again the next day, however he said to leave it with him, he knew how disappointed I was......
Wednesday morning dawned with brilliant blue skies and sunshine... and me having slept clean through the alarm for a second early morning stroll! (well I had such a nice sleep!) Anyway, after breakfast, we decided to wander down through the Hotel gardens to the bit of beach and see what was about.
Now the previous afternoon, we had been looking out suitably rockpool-ish places along the shoreline as well as maybe a few other spots that an Otter may favour for a roll around or to stop and dine. We'd even waited a while for the tide, however, whilst rockpools and seaweedy spots were found, no Otters were to be seen. (keep in mind that with Otters we are complete novices, beyond knowing that quiet and stillness is needed to watch them).
As we reached the stock fence and went through the gate onto the beach, we could see a head swimming in the loch before us. Looking through the binoculars, it was not a two headed Seal as we first thought, instead it was a pair of Otters!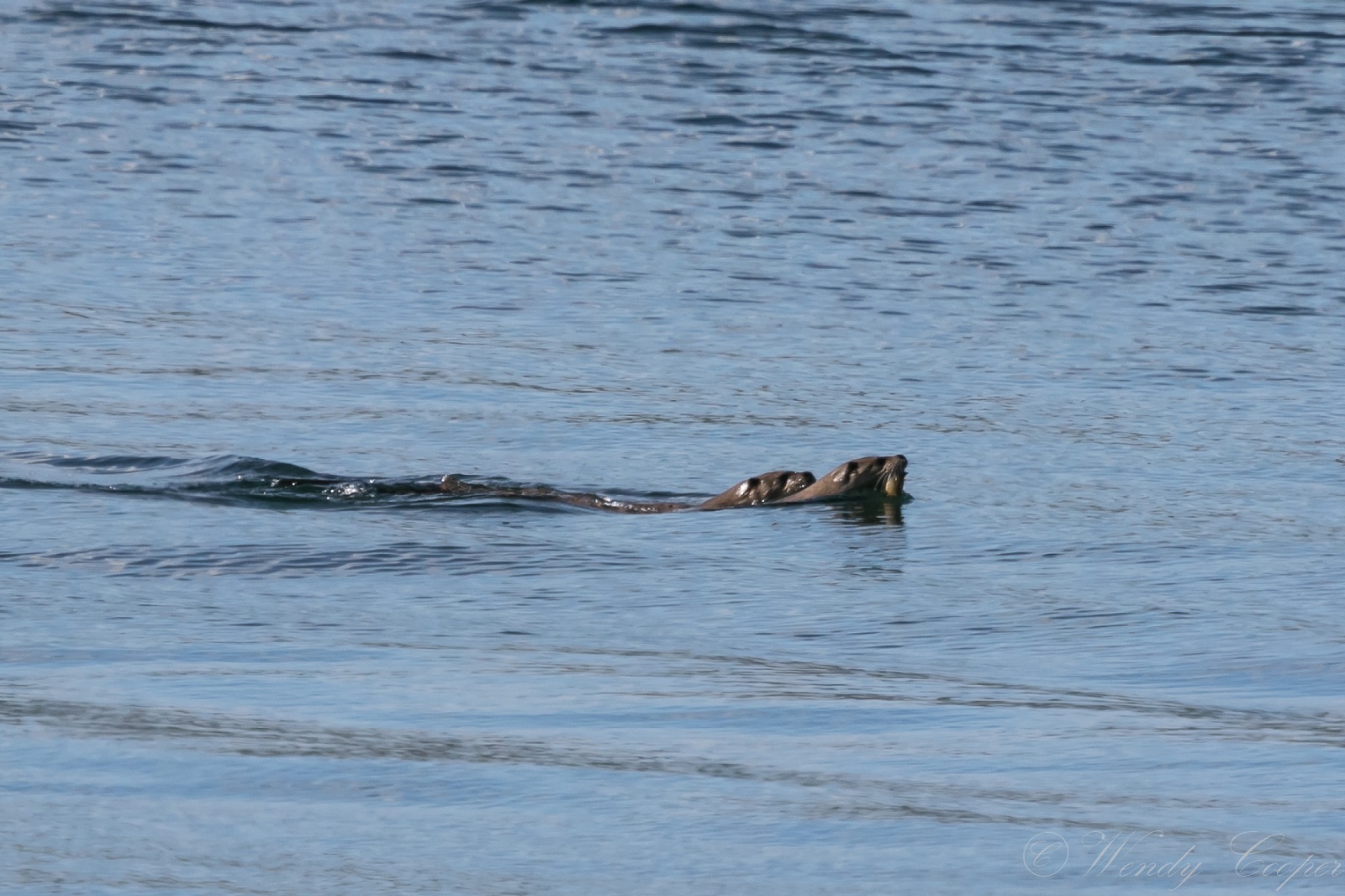 We carefully made our way over the rocks towards the spot where we had seen them leave the water and with huge silly grins watched them as first one had a chomp on a fish it had caught, then both had a bit of a roll around in the seaweed.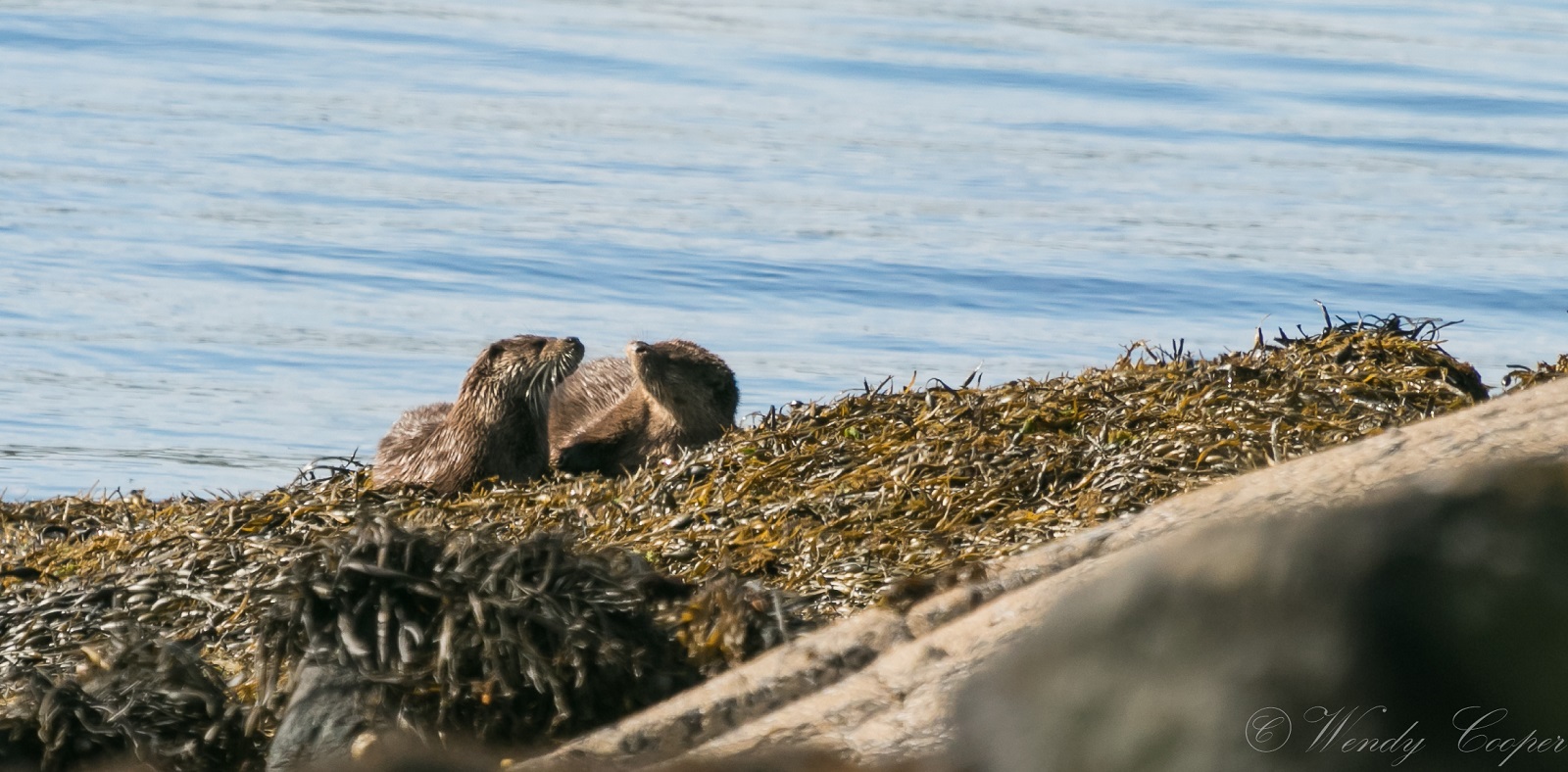 After a while they went back into the water, fishing again, before emerging further along the shore. They didn't stay long, heading back out to a big rocky outcrop in the loch, where first two emerged, followed by a third. They stayed there for quite sometime, tumbling and rolling about together or having a brief interlude of relaxing, before starting to 'play' again.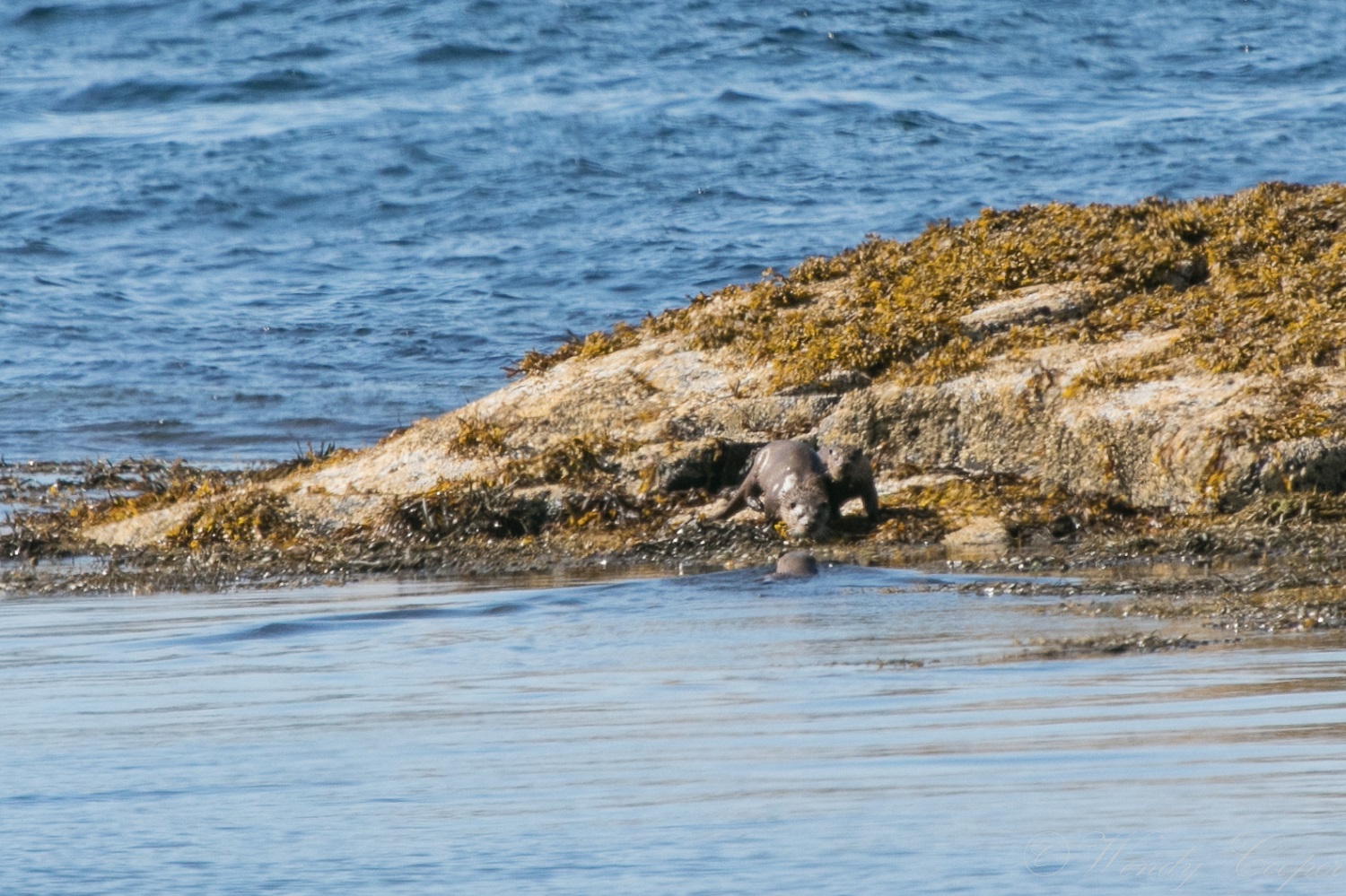 Both of us had just the biggest grins ever at watching their antics! We sat and watched for quite a while, enjoying the sunshine and the view, as well as the company of busy Pied Wagtails and Chiff Chaffs, who were busy foraging for food. At the hotel, whether we were down by the loch or up near the house, we were continually serenaded by Song Thrushes, Chaffinches, Blackbirds and Chiff Chaffs. On the previous morning whilst getting soaked, I had also sat and listened to a Cuckoo calling - during our few days there, we eventually worked out that the Cuckoo was most likely in the trees at Pennyghael across the Loch.
We sat for a while enjoying the sunshine, watching the birds out across the Loch, as well as a passing Grey Heron and one of the local Buzzards,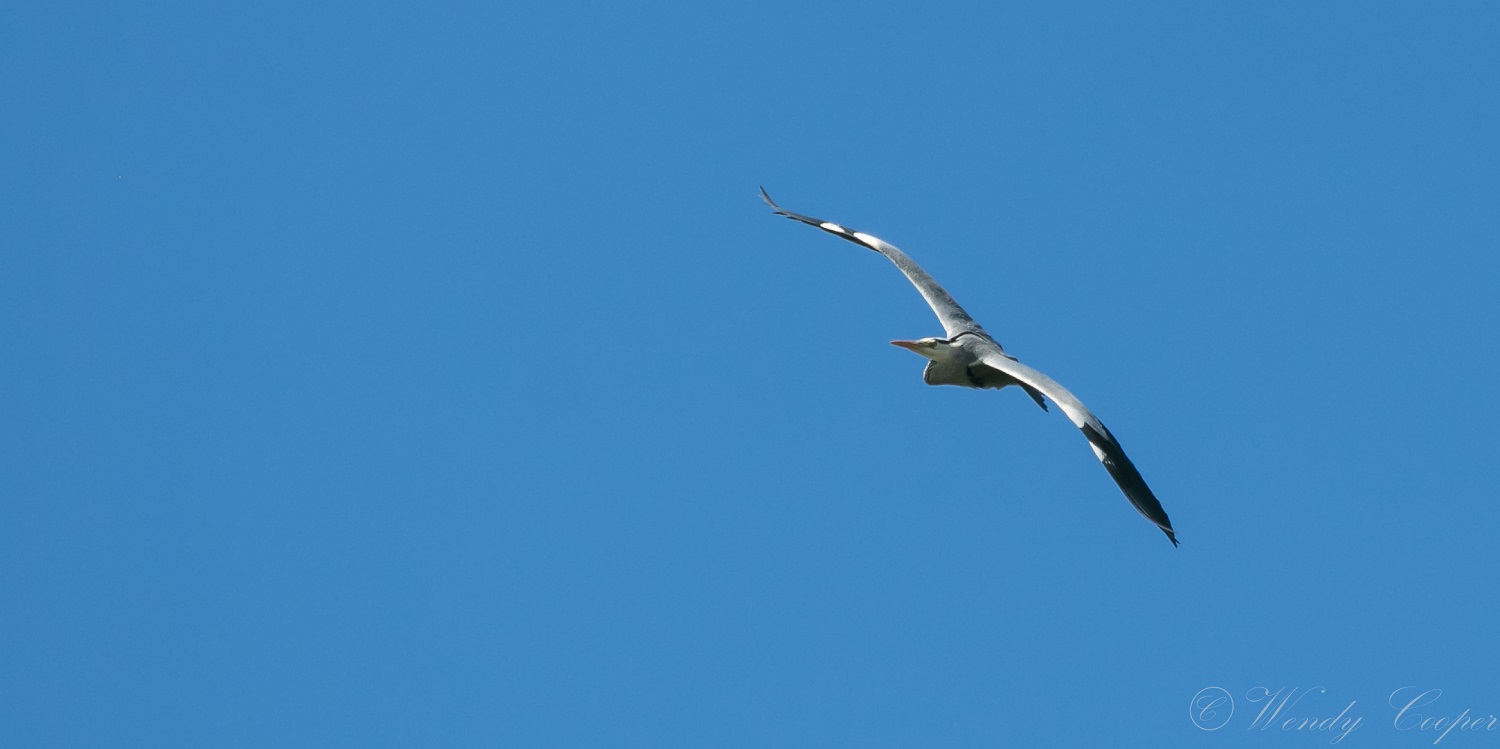 and a chance to watch a rather smart Hooded Crow, who perched up for a while, unaware of our scrutiny. What a glorious morning!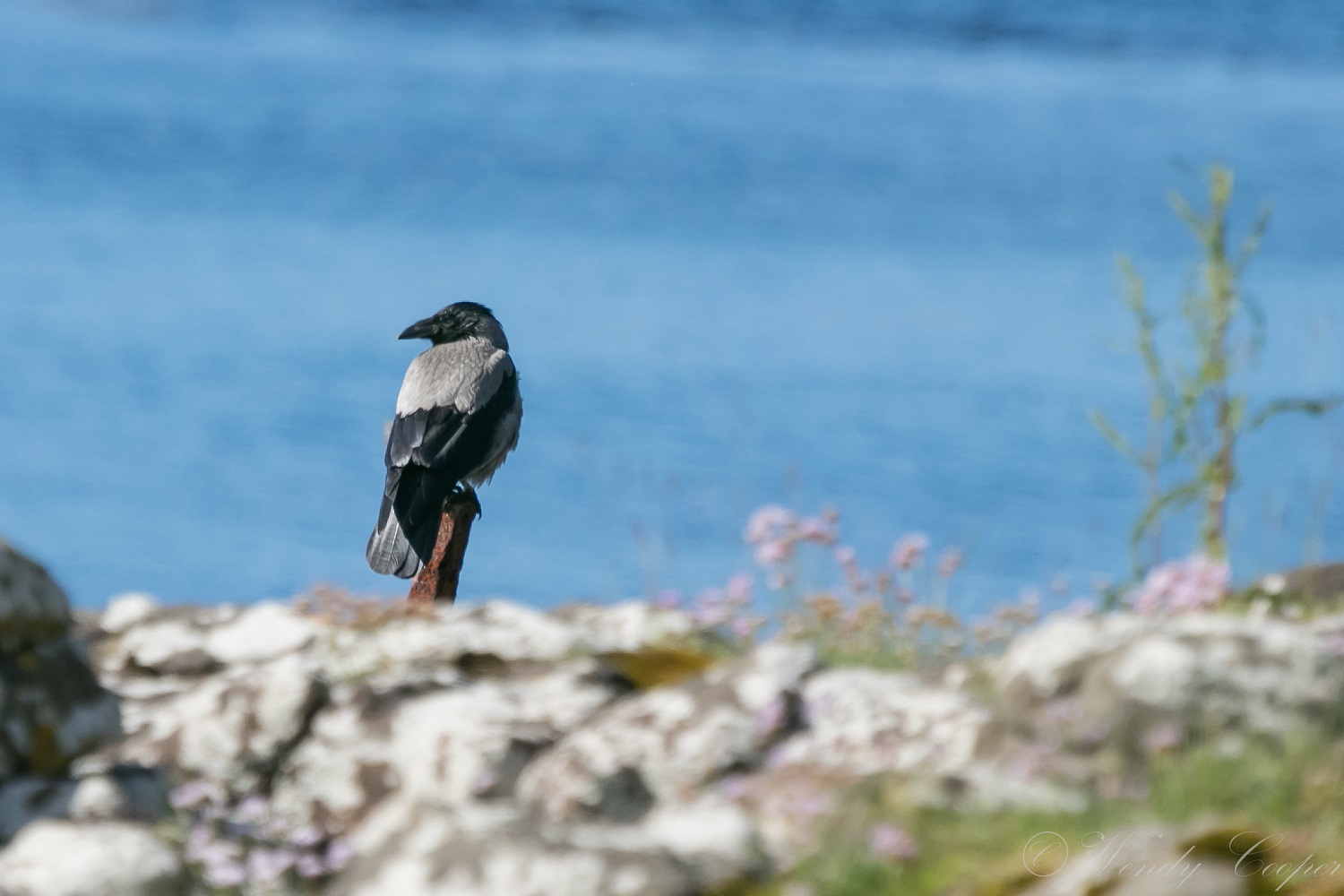 We decided that as the morning had nearly disappeared, we would make our way over to the shores of Loch Na Keal, park up and sit and watch for a while. As we went back through the gate to walk back up through the gardens, we saw another little head swimming around in the Loch, another Otter!
We stood and watched as he dived and swam, eventually heading back to shore with a big mouthful of something. He had a fish!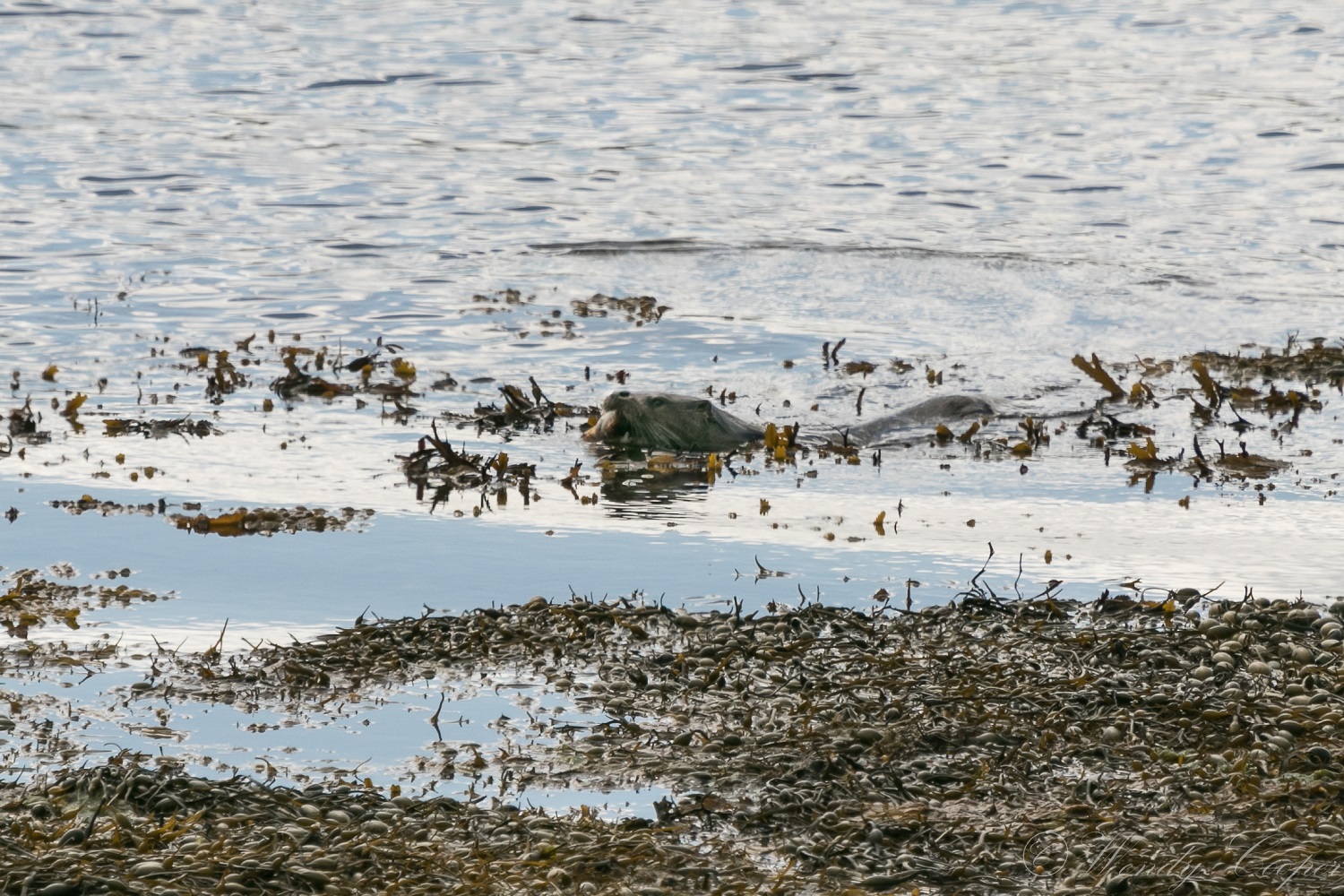 After a moment he was up in the seaweed having a fine feast.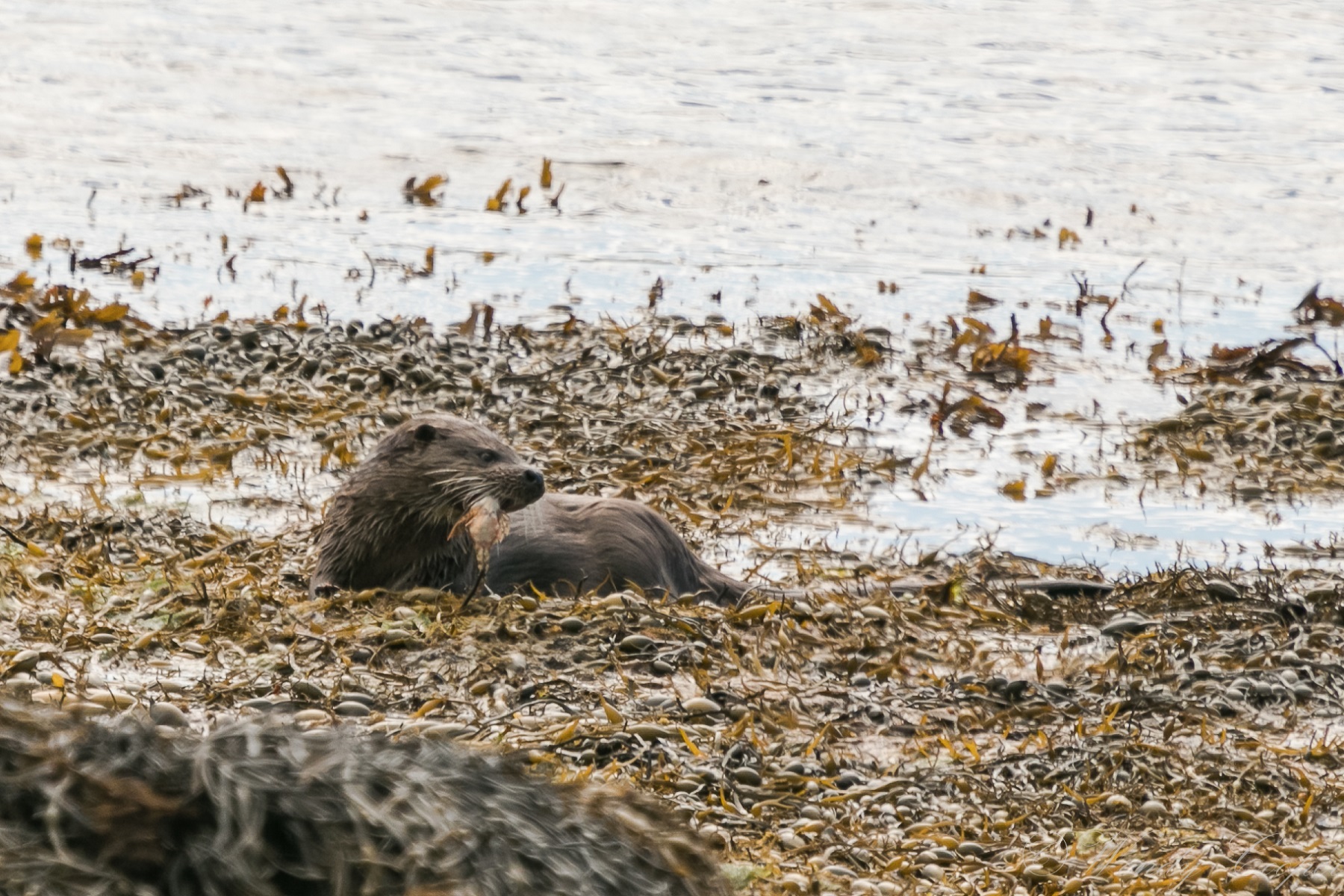 Before returning to the water to go fishing again.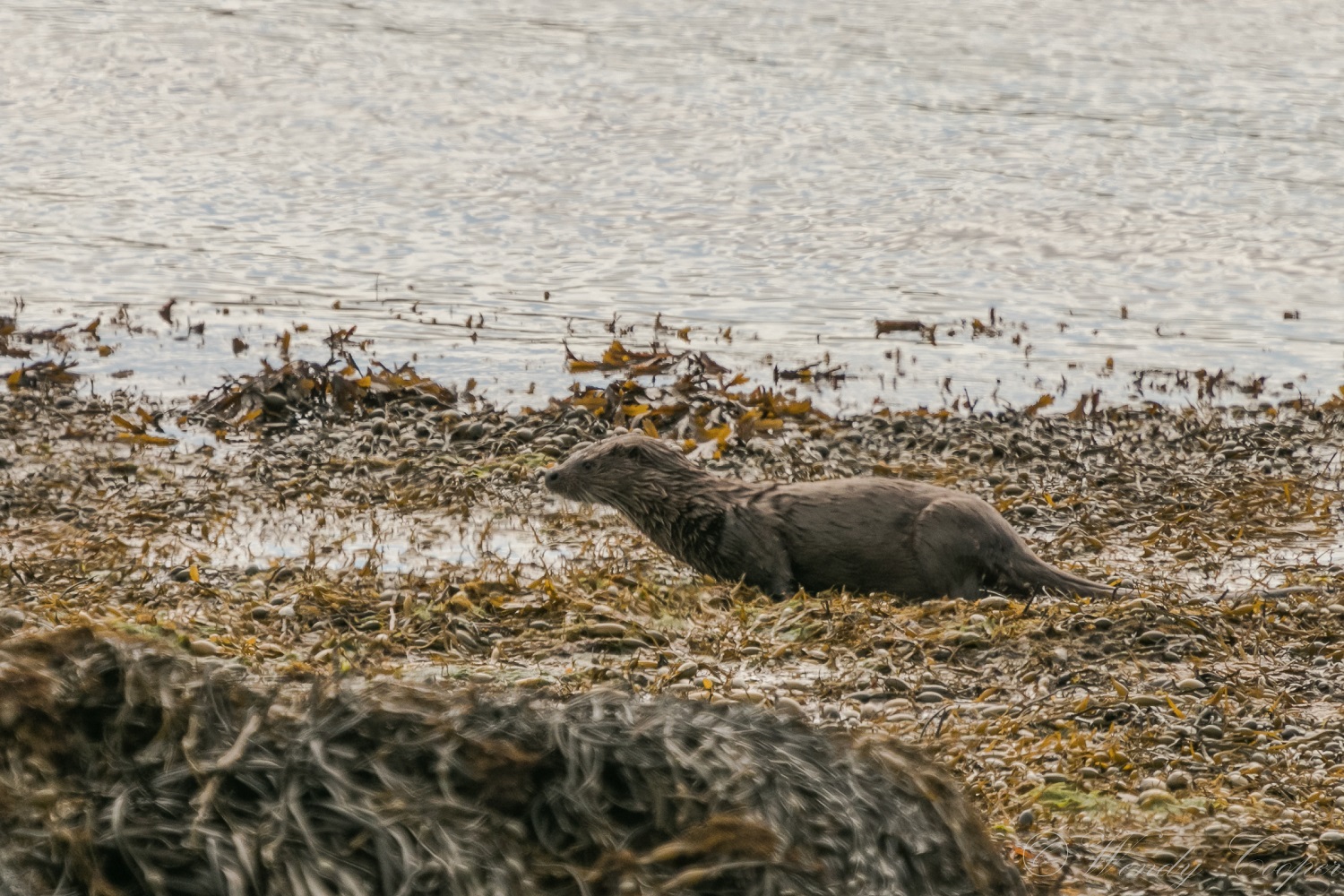 After a sunny drive round to Loch Na Keal, we parked up at a big layby and started to look around. There were quite a few other folk there, all watching another Otter, as well as a nearby Heron. We settled ourselves on a few of the more comfortable rocks to watch the fifth Otter of the day, however a trailer of barking dogs going past sent the Otter far out into the loch.
Quite a few folk were taking quite an interest in a stand of spruce trees some way up the hill behind us. Peering trough the binoculars, we soon realised why - there was a male White Tailed Sea eagle perched up in the trees!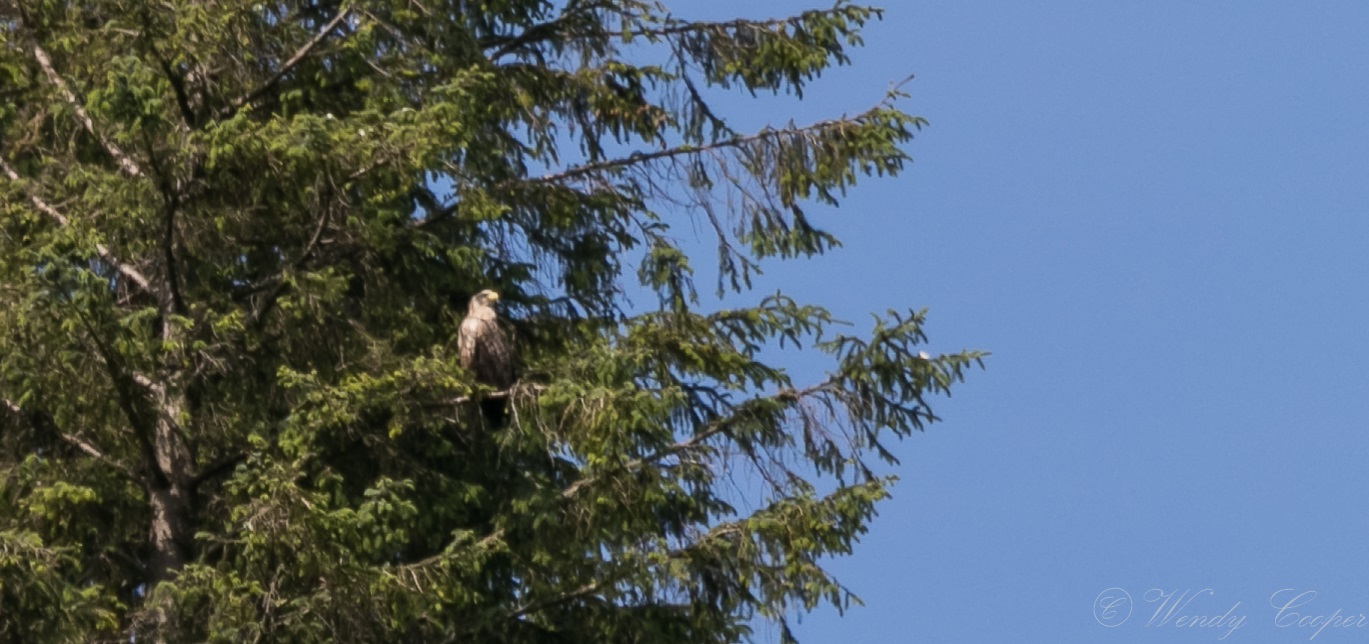 Across the Loch The Lady Jayne appeared and stopped near the far shore. They were waiting for Eagles. The Eagle sat looking about a while, called and then took off, shrugging off an impertinant corvid as it gradually gained height and floated across the loch.
He gradually went higher and higher, until he was out of sight and I later learned that he had gone down for a fish, catching up with the Lady Jayne further down the loch.
We sat and waited, watching the Otter far out in the loch as it swam and fished near a rocky outcrop and admired a very smart passing Grey Heron as it flew low over the water in front of us.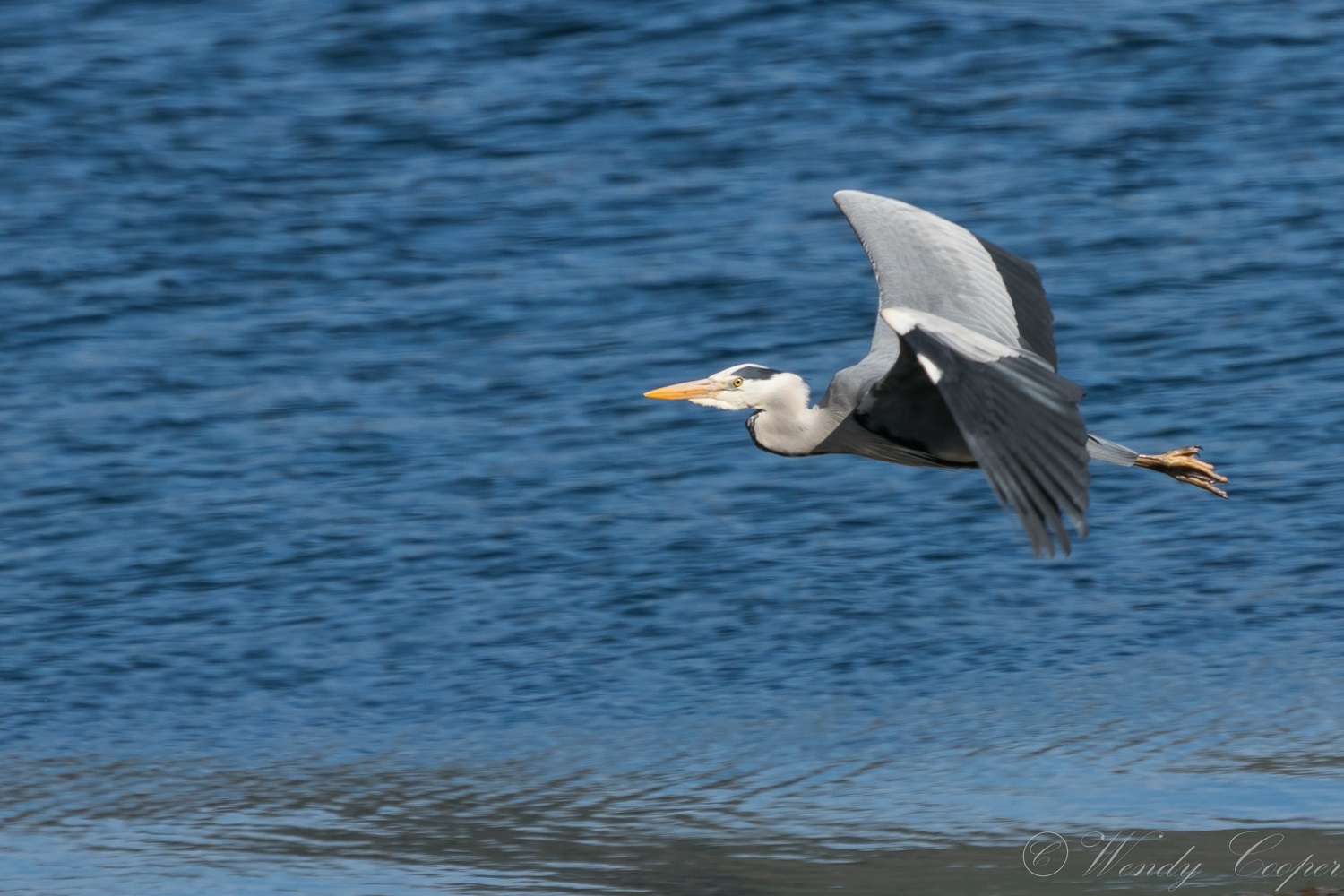 Whilst behind us, a Buzzard began to soar, not wanting to be outdone by the Eagle!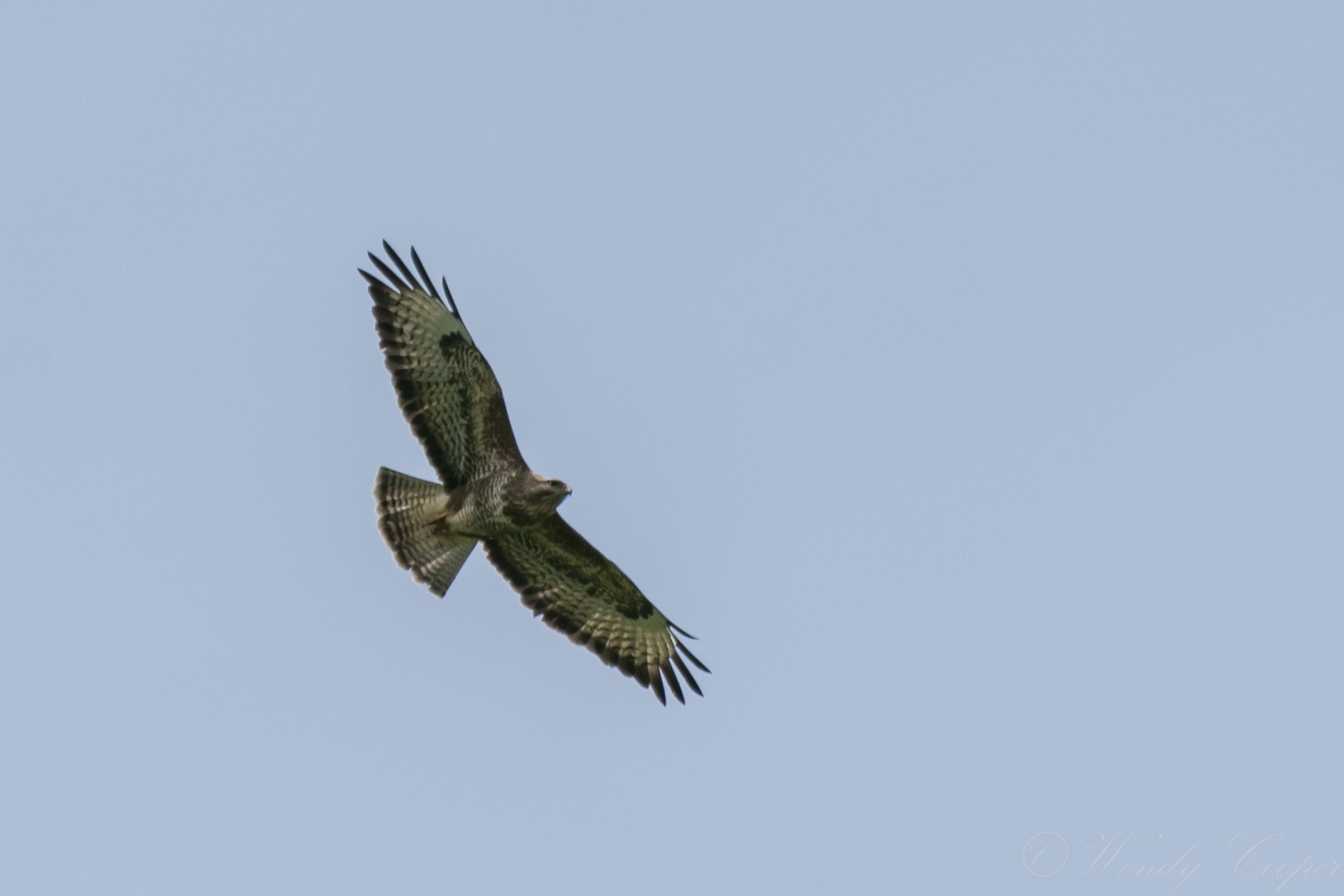 It was bliss... sunshine, raptors, Otters, passing shorebirds -there were also Oystercatchers, the voices of Common Sandpipers and a small flock of Greylag geese and an occasional Hooded Crow, plus low down in the grasses around the 'carpark' there were also a few flutterings. With the breeze, most were not settling, however one did, a small black day flying moth called a Chimney Sweeper, certainly a first for me! I sat and watched it settle briefly before taking to the air again.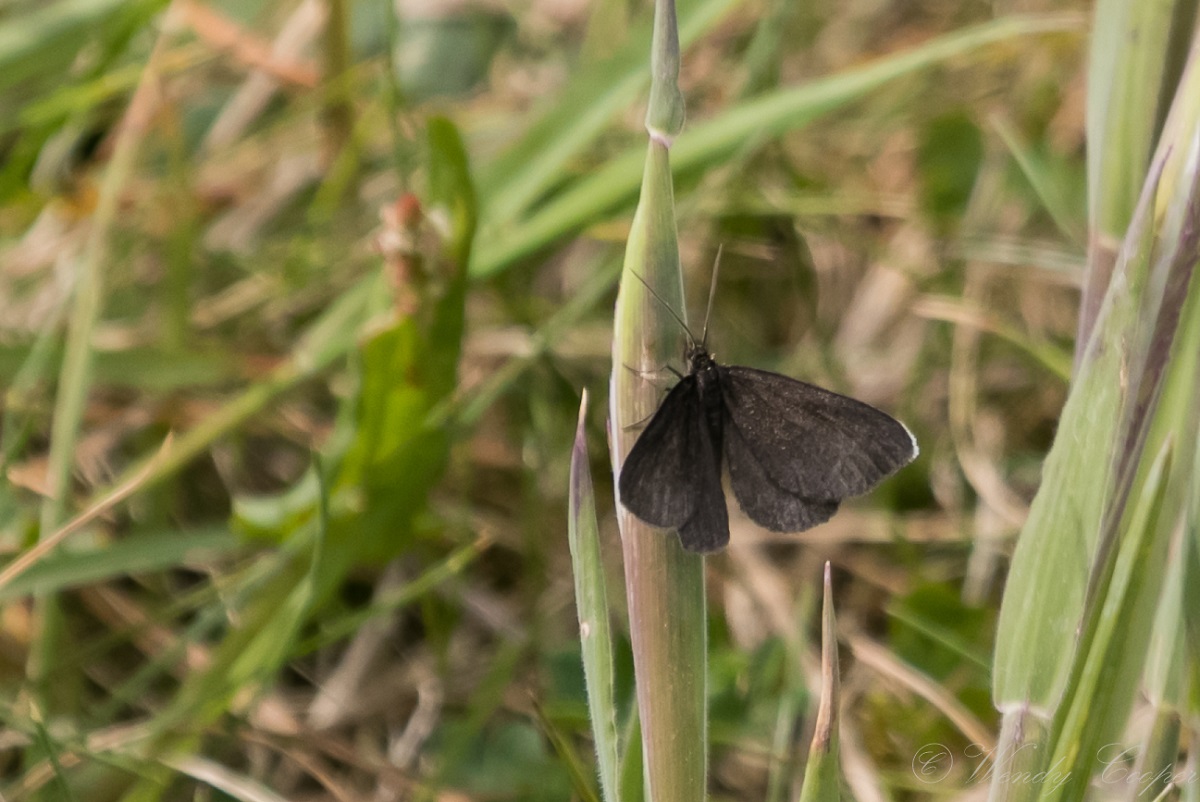 Over on the skyline across the loch we watched the Eagle return as he circled higher and higher, then prepared to glide across the loch and tuck himself onto a branch in the trees. The flock of Greylags noisily took off, flying up to a grazing patch in the hills behind us and we decided to head back - the afternoon had disappeared.
We had a leisurely drive back to the hotel, stopping to watch a Buzzard dining out near the closed Knock Bridge and had a wonderful moment with a Curlew flying a circuit as we turned off the main road, where we'd taken a moment to stop and just enjoy the birdsong - the air was full of song from Meadow Pipits and Skylarks - the Curlew was an unexpected bonus - we'd been hearing them and seeing them in silhouette here and there, but not seeing any airborne.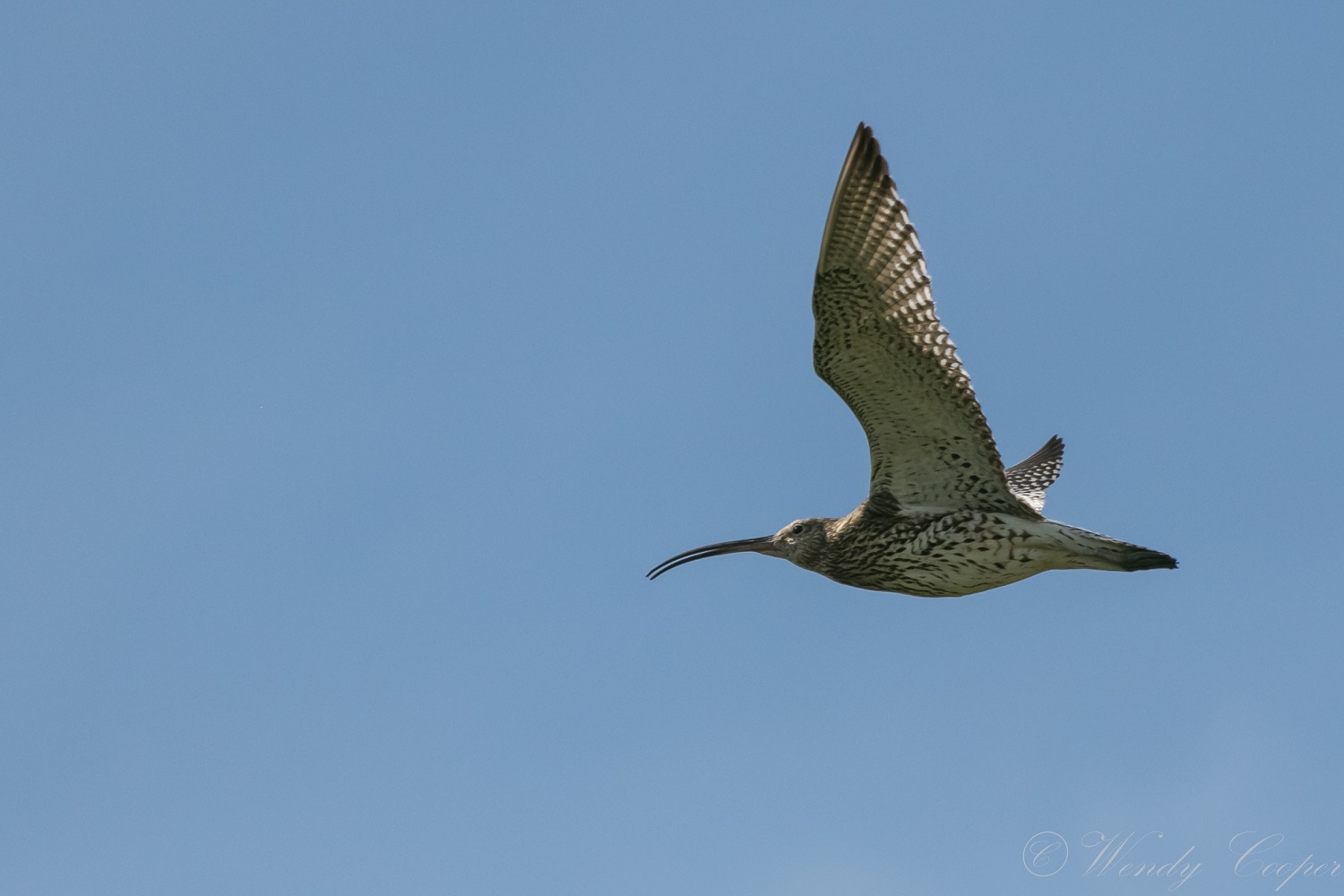 Back along Loch Scridain we watched a pair of Hooded Crows foraging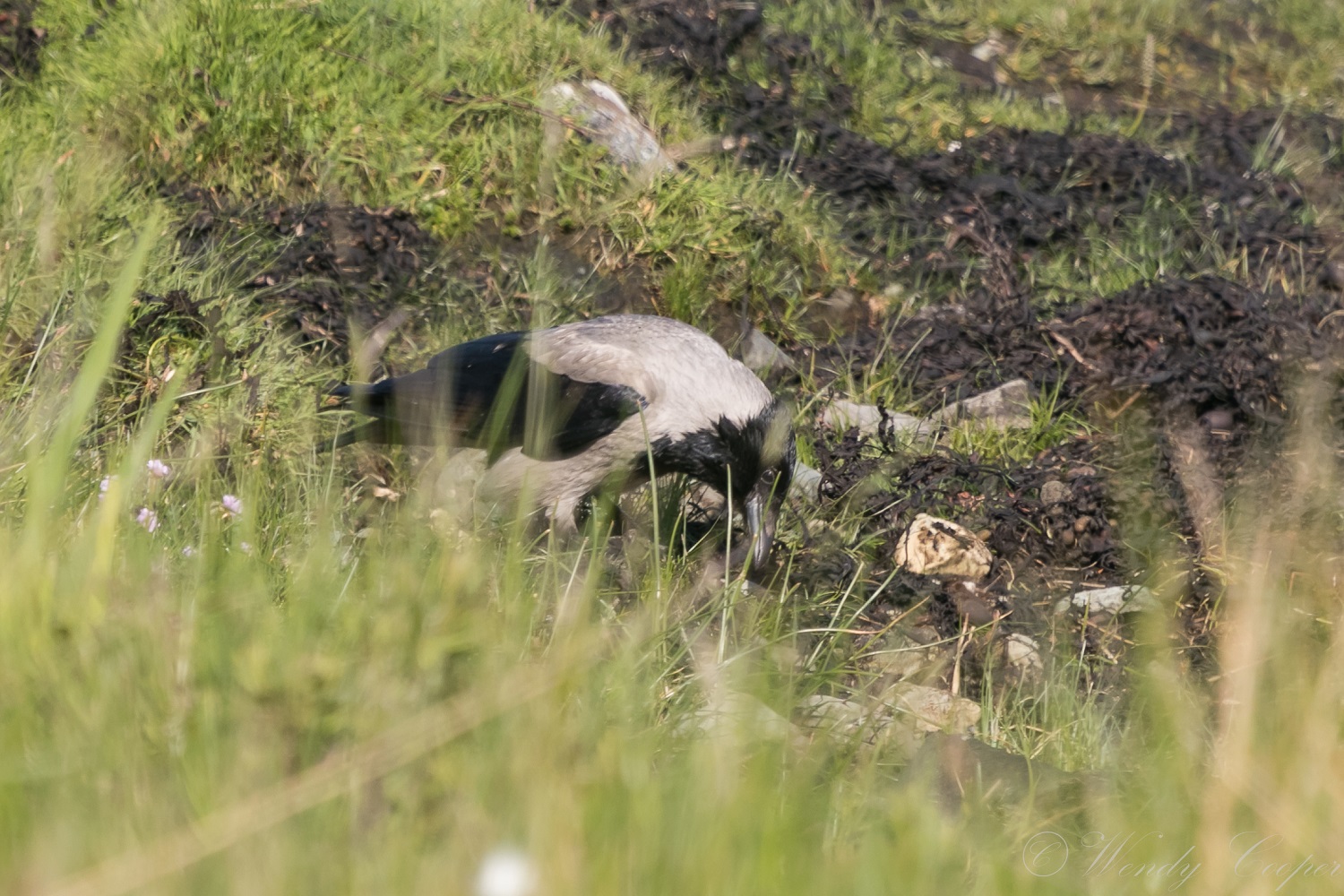 and were also serenaded once more by more pipits. Upon our return to the hotel, whilst we were choosing our menu for the evening, Laurence appeared - 'Ah, just the people!' He had very kindly telephoned Mull Charters to see if a space could be found for me and there was one available for the next morning, our last day! We had already had a totally brilliant day, but with the prospect of another excellent dinner and the long awaited boat trip, the silly grin got even bigger!
The next morning dawned in a sort of grey way, but we set off early to be at Ulva in time for me to get on the Lady Jayne, We drove through some really heavy downpours and the whole journey I was crossing, fingers, toes, eyes even, everything that the rain was localised. It was still a bit rainy when we got to Ulva, but the trip was a 'go' with it being OK further out at sea. I am not joking when I say I was off the scale excited - it wasn't just the prospect of Eagles, it was also what else we might see get to see as well.
The Lady Jayne set off from Ulva, passing a fairly sizeable Seal colony along the way. The Seals looked rather unimpressed with the latest batch of paparazzi sailing past, but were a delight to see nonetheless.
We were told along the way, that with the pupping season is near, the Eagles will benefit from this as they will tidy up after the Seals give birth - a meal that doesn't fight back so to speak.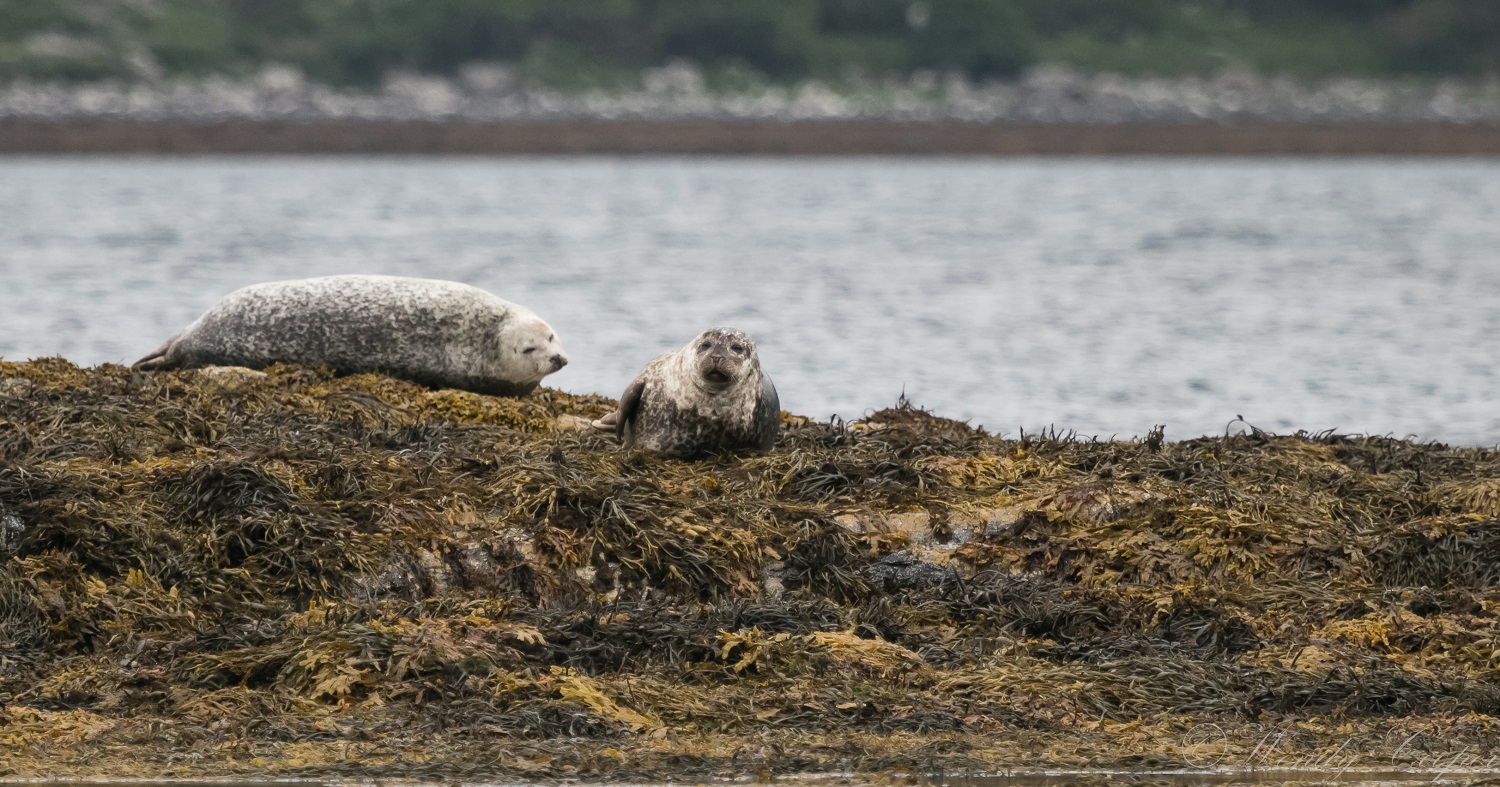 A short way out, we saw a male White Tailed Eagle sat up on a cliff, with a little further on a female perched up in 'her spot' atop a dead tree. Until that moment, viewing from the boat, I don't think I'd realised just quite how big these birds are, they are HUGE!
A fish was thrown and a quiet, 'she's coming' heard and sure enough.... well the next few images explain the next few moments...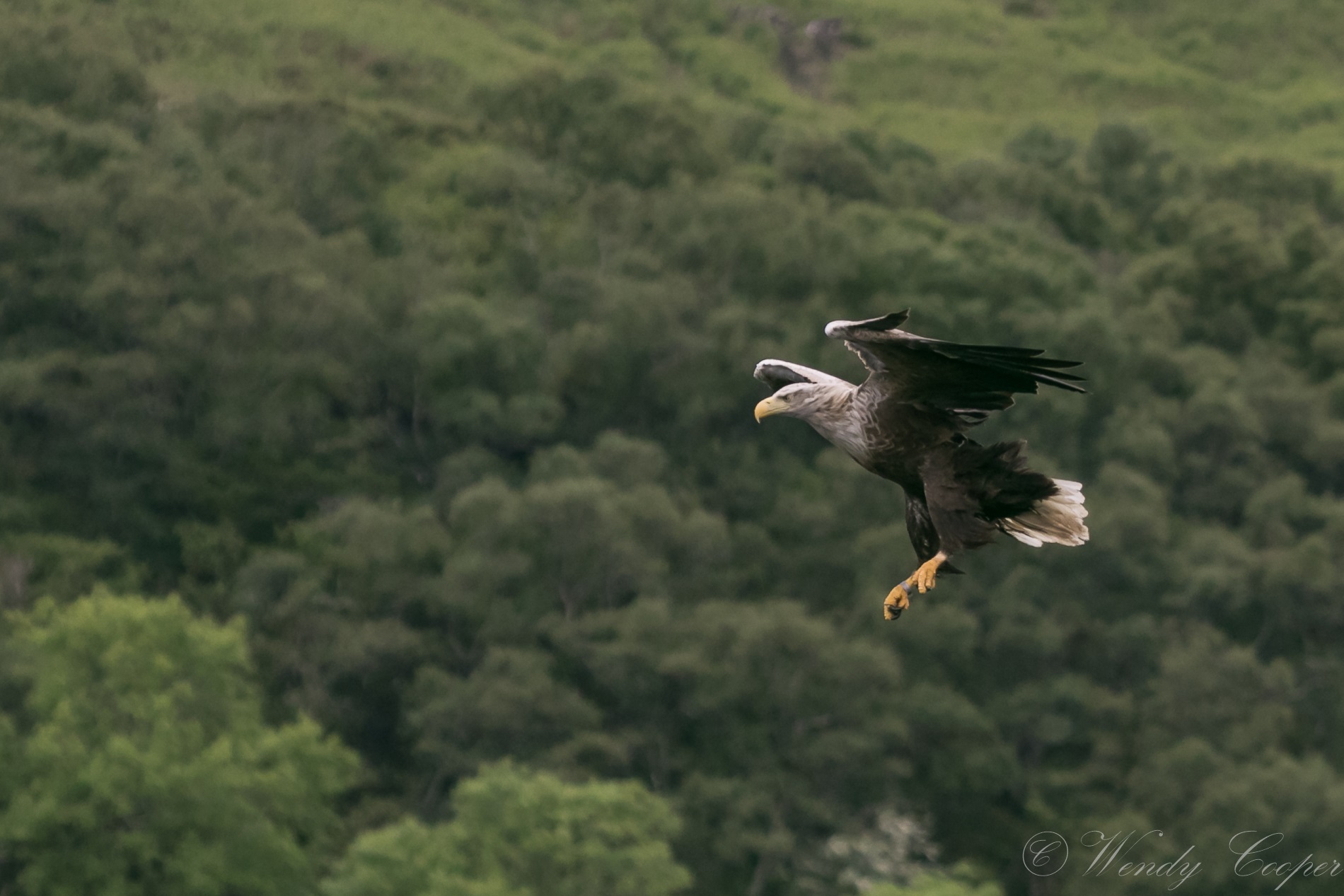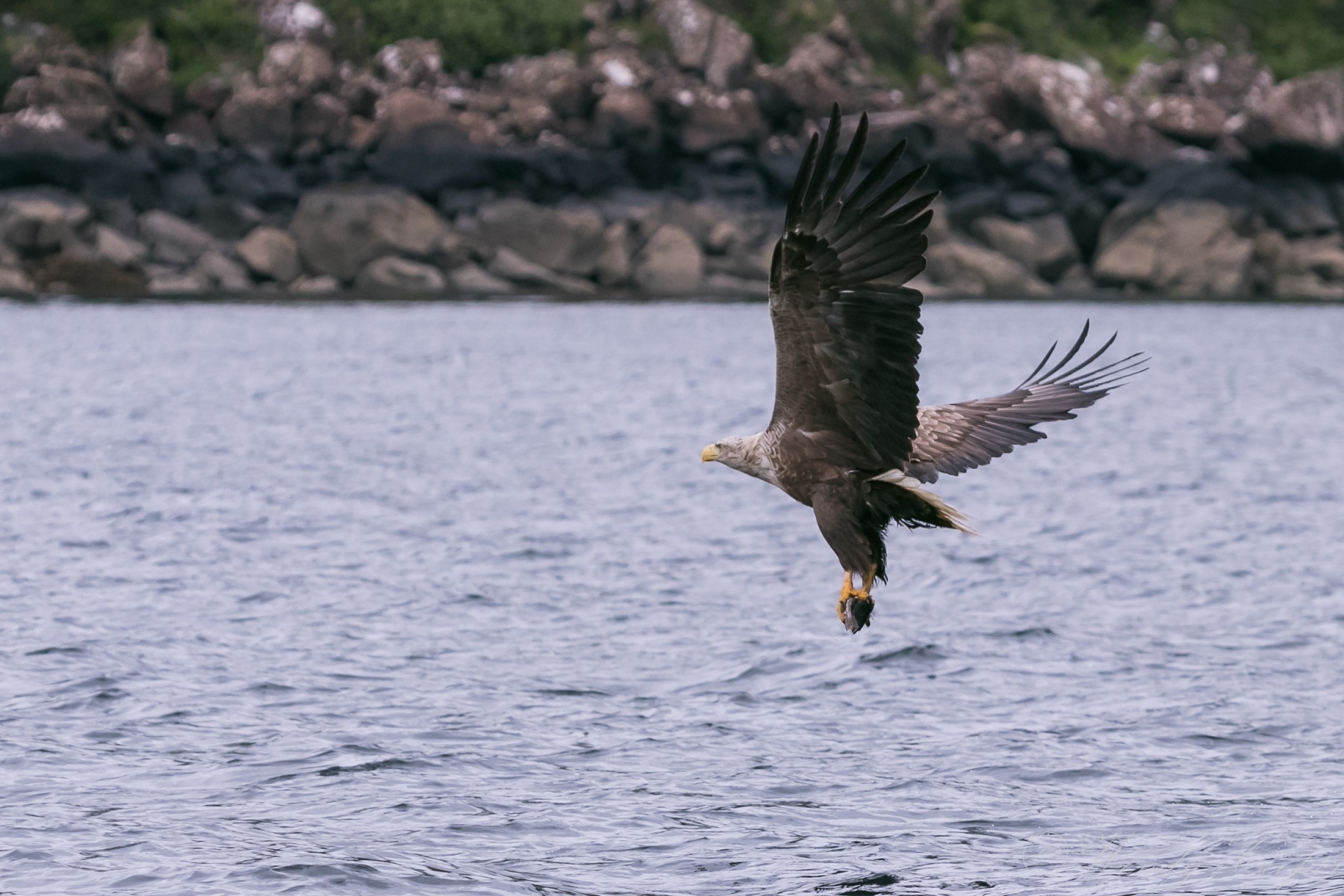 It wasn't until later, when I previewed my photo's that I realised that I had also caught this 'moment' as well! I'd love to know what that Gull was yelling...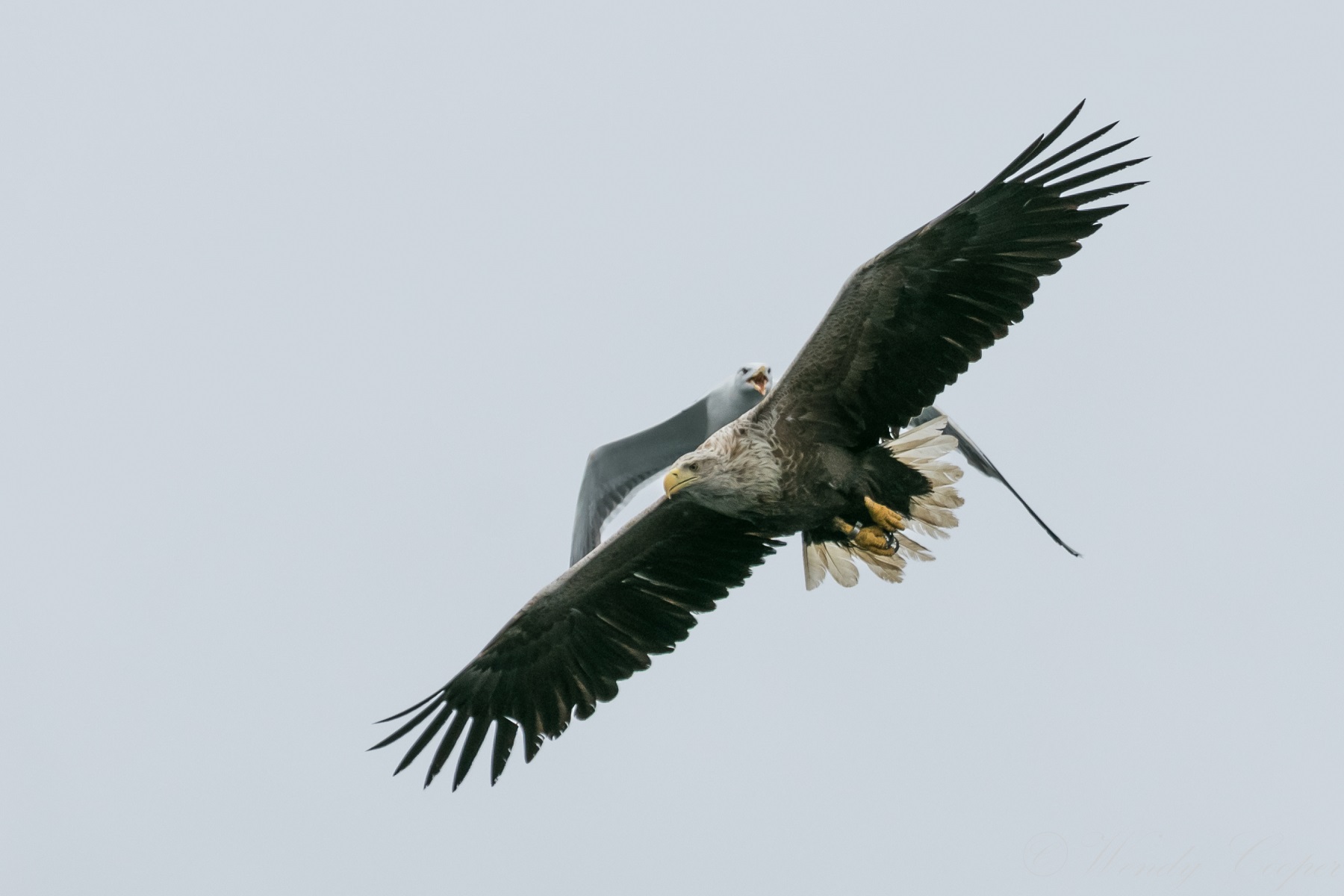 Absolute delight and so hard not to squeal with excitement...... Then one of the Eagles came down for a second fish, (here is a link to a Flickr album, where there are more images)

After a little while, all of us in silly grin mode, we sailed further along the shore, passing Black Guillemots bobbing about (another first for me) and Cormorants skimming above the waves as we went.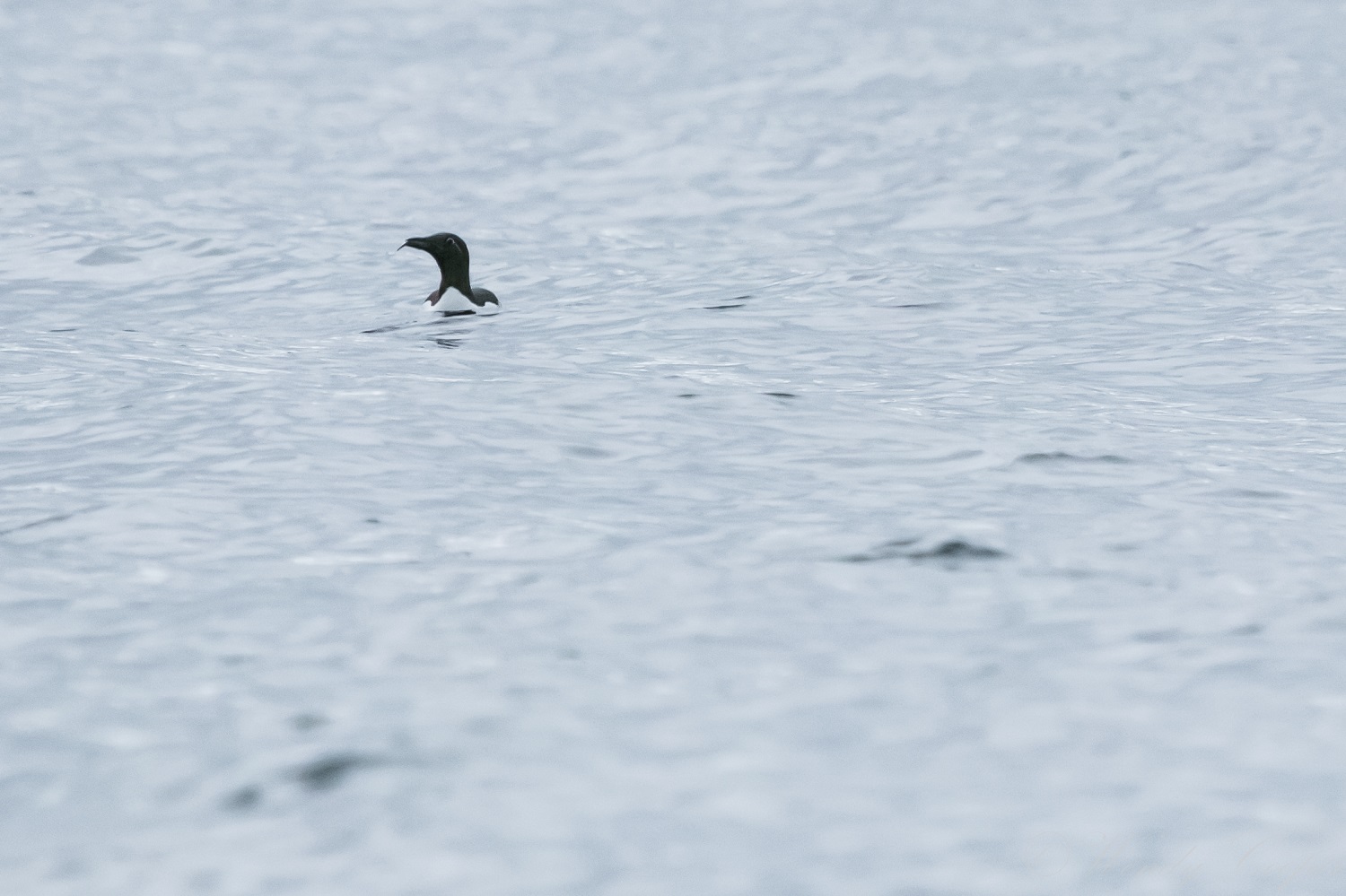 The engine went off and further on, high up on top of a cliff we could see another (this time unringed) male White Tailed Eagle. We were quite some way out, but again I was struck at the imposing presence that these birds have. There was a small airbourne speck near where he was perched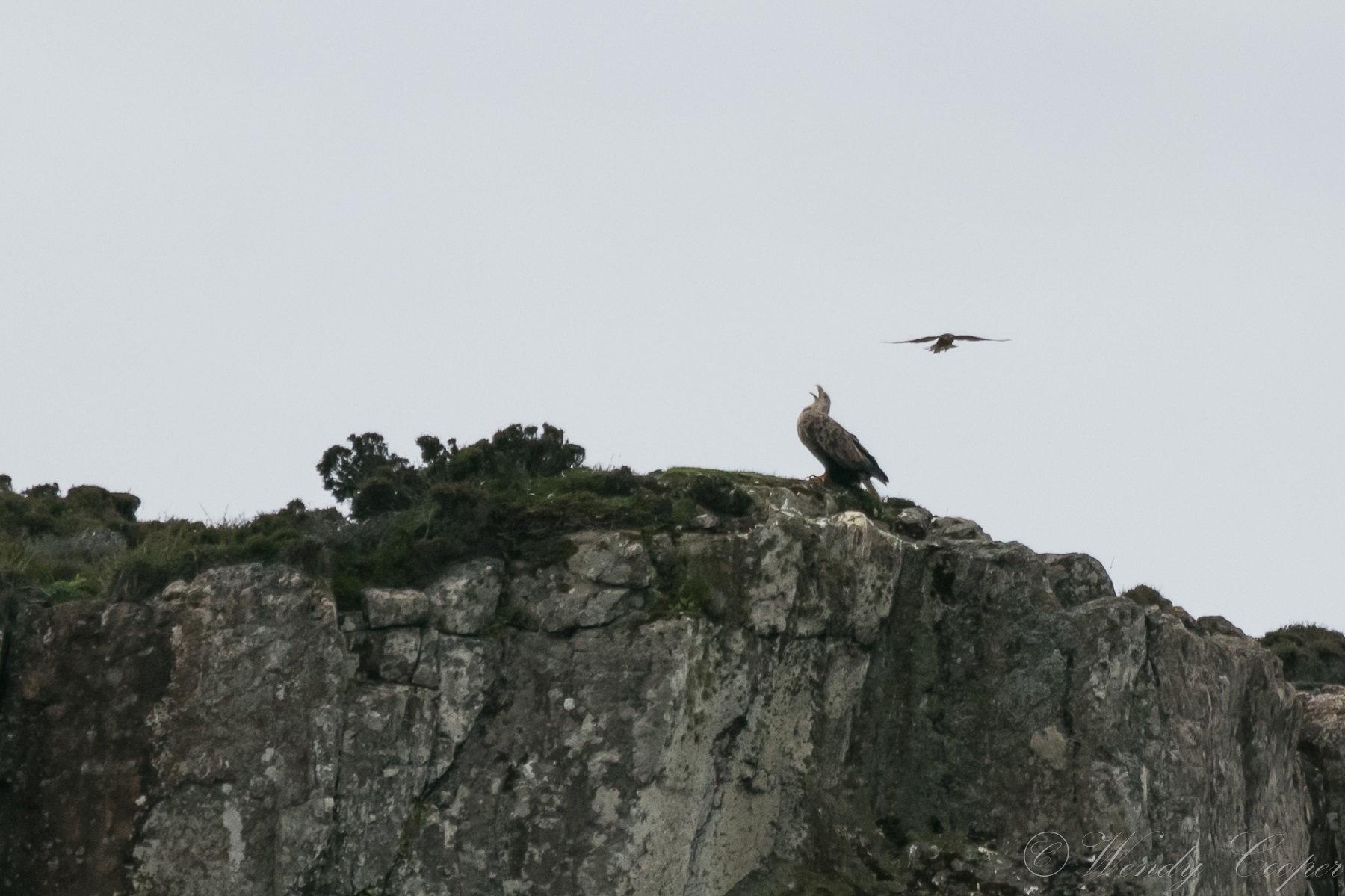 which was a Kestrel. In shots I have after he took off, the Kestrel is attempting to see the Eagle off (record shots only);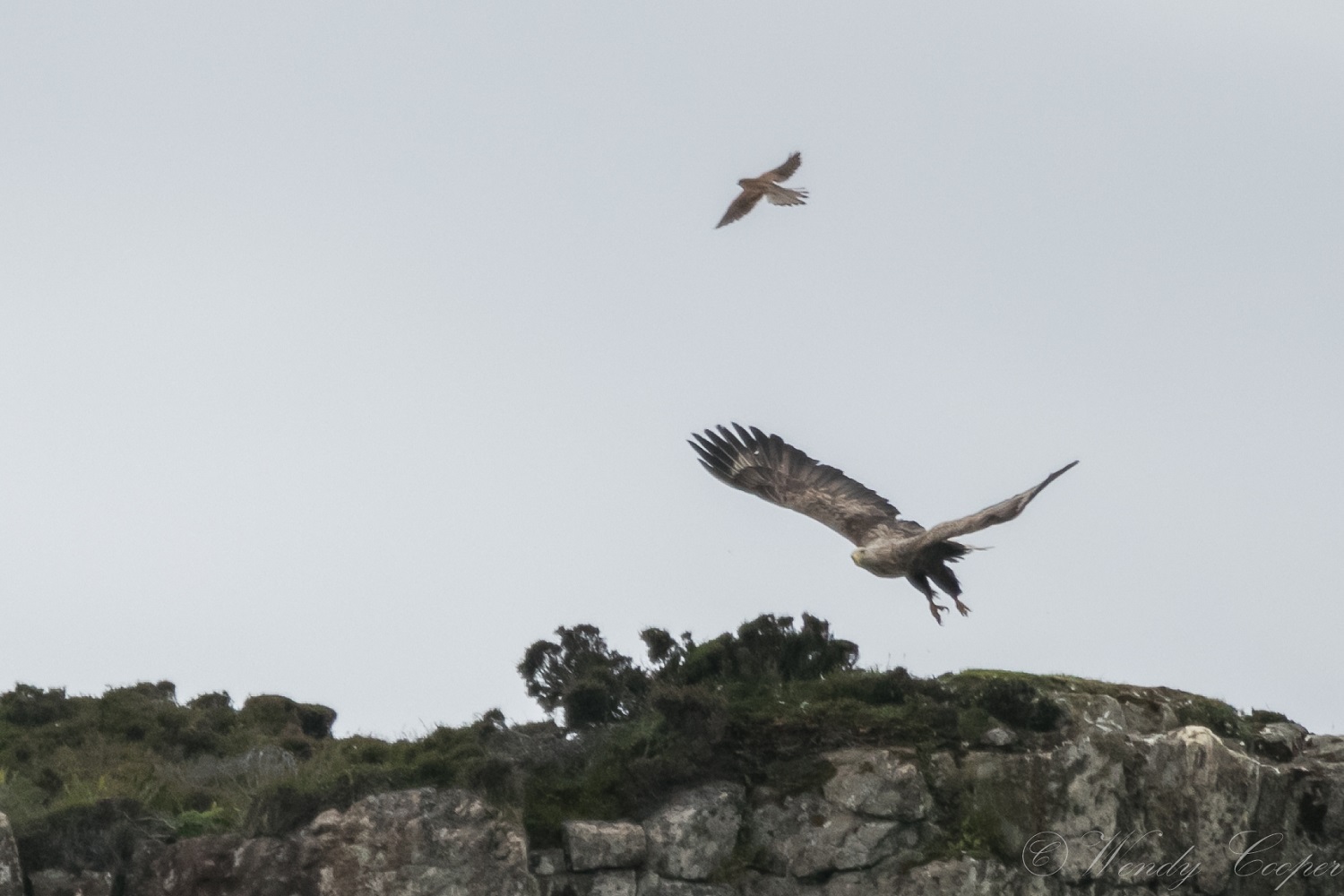 anyway, realising there was a free lunch available, down he came: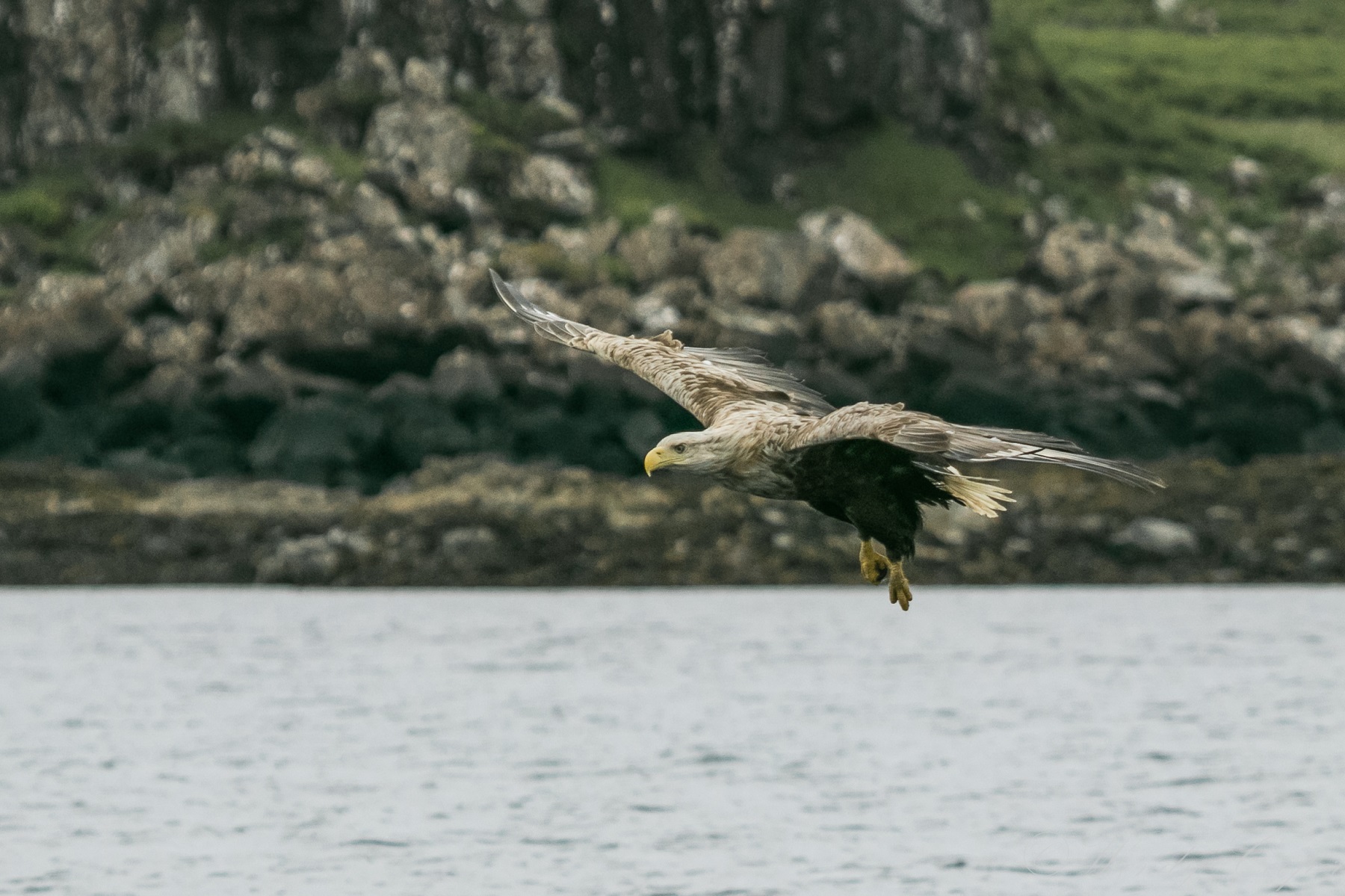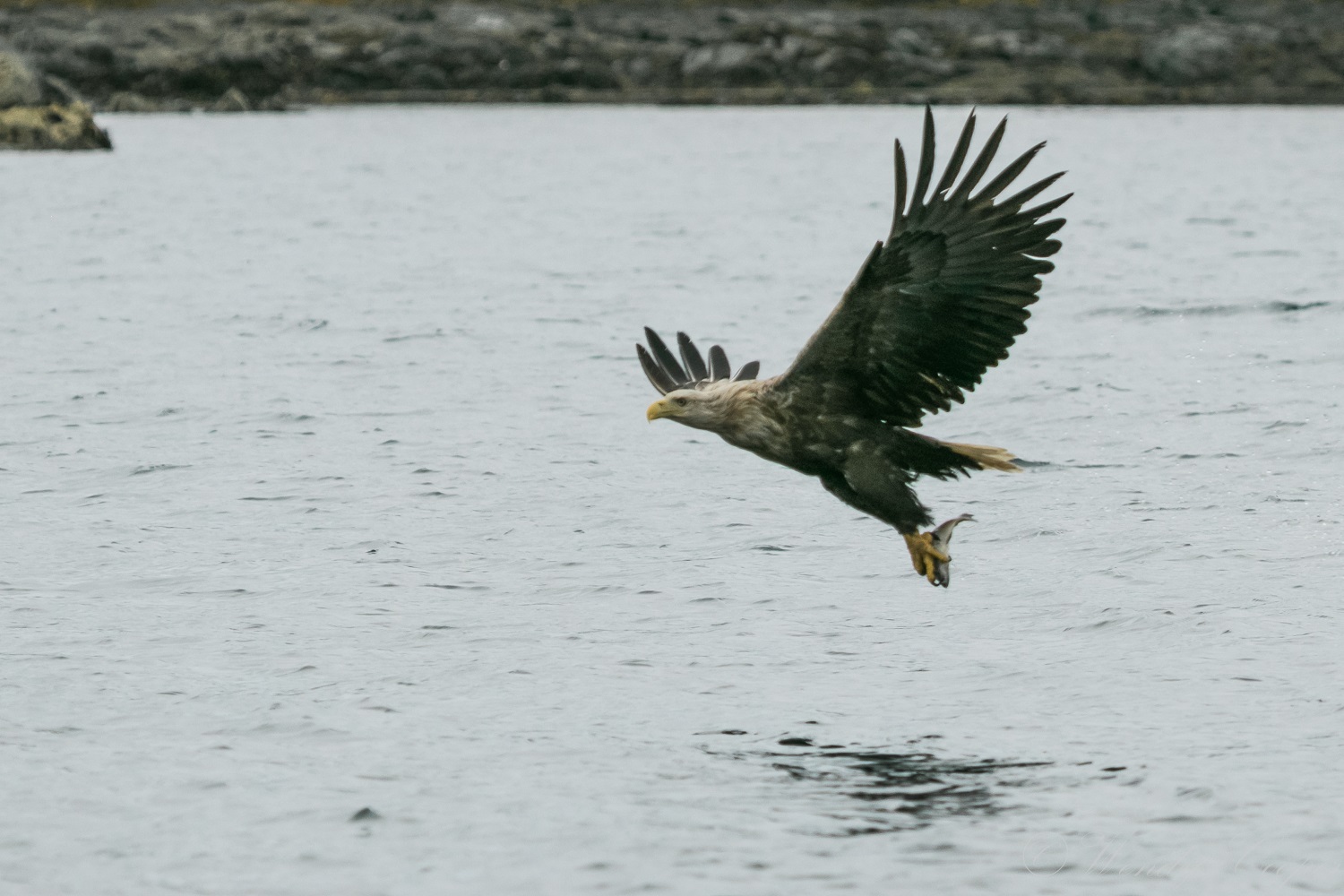 By now, my face must have been splitting - I was in total awe of these magnificent birds. They are gradually re-establishing themselves after a long abscence and are closely monitored. It was the briefest of glimpses into their lives, but it was how I wanted to see them, in their wild environment doing Eagle things! I am awestruck by these magnificent birds! I really wish I could watch them more through the seasons and see more of their lives and how they interact with their neighbours.
After a bit of a cruise round in the hope of seeing Cetaceans, we returned to Ulva all too soon, having passed more Guillemots and Cormorants out on the water as well as a large Tern Colony.
After lunch, We spent the afternoon at a rather damp Loch Na Keal, however with only a rather damp Grey heron about plus plenty of midgies and packing to do, a return was made to the hotel.
The next morning feeling thoroughly spoilt by the care taken of us at the hotel and at the riches of wildlife that we had been privileged to watch, it was time to go home. After a damp but calm ferry crossing, which had the added bonus of Guillemots and Gannets to watch, we reached Oban where we stopped for a coffee. Our parting view across the water was a graceful Common Tern.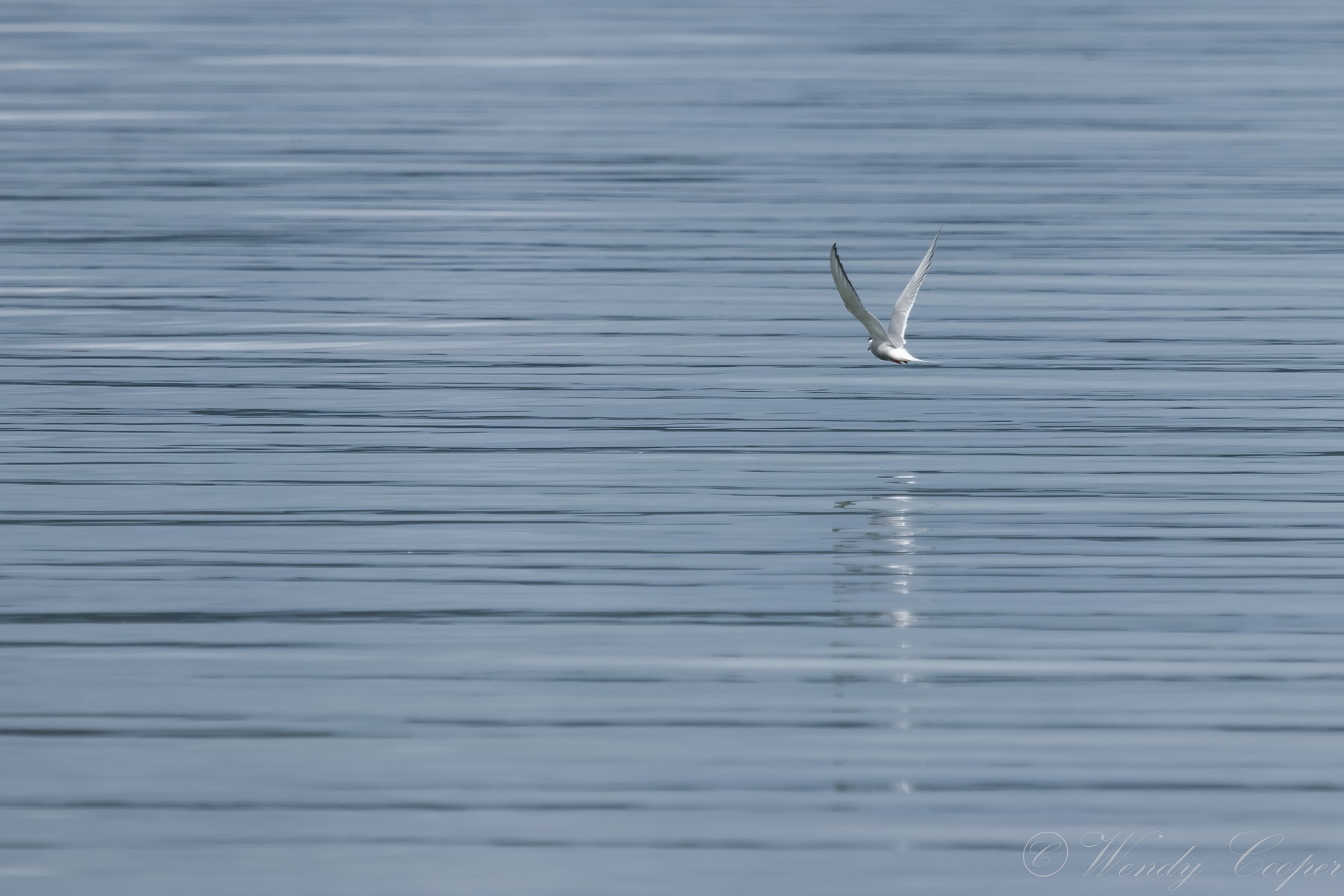 I hope you have enjoyed my blog, if you would like an email notification when my next blog is published, please add your email address to the 'Sign Up' box below.
As always, comments, feedback or questions are welcome, so please feel free to contact me via the comments section below or via the guestbook.
Comments