A Lot of Marsh Harriers!
29/04/2018 - 14:23
After weeks of wet, cold and grey, we decided that a change of scenery and pace was much needed, so after tossing a coin between fenland or forest, we opted for a few days up on the Suffolk coast... A favourite hotel booked, bags packed and off we set, the only unknown being the weather!
After a rather hefty, but delicious lunch, we decided a stroll at RSPB Minsmere was in order for the afternoon. it was bright and sunny, if a little chilly in the strong breeze but very nice for walking.
As soon as we left the visitor centre, we could hear and see a busy flock of Sand Martins on the wing; watching them as they dance in the air is mesmerising and we stopped and watched at their 'wall' for a while as some perched at the entrances or others disappeared into the burrows, or yet more flew in, out, back and forth.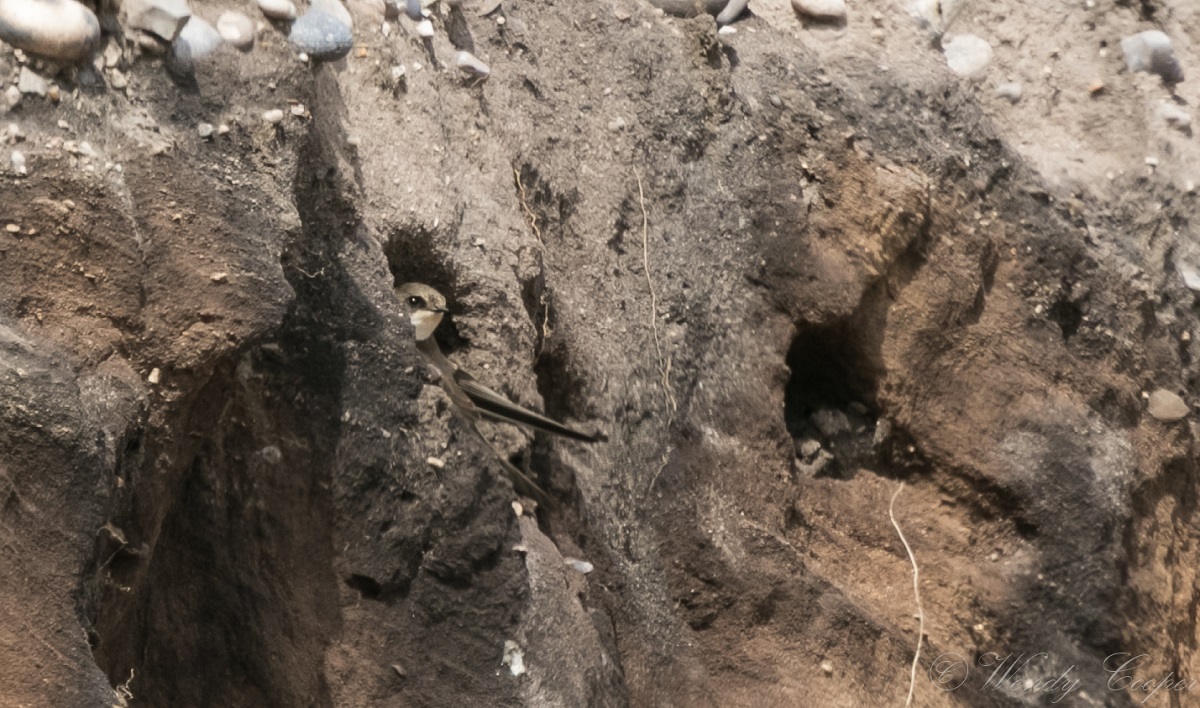 These tiny birds are amazing, nesting in sandy banks after a huge return journey from overwintering in Africa. They feed on the wing, on insects, so the nearby reedbeds and open water areas of Minsmere are ideal for providing plenty of food for them.
As we started towards the North Wall, we enjoyed the song of a Blackcap, which briefly made an appearance, before flitting off into the cover of a nearby Hawthorn tree to continue his serenade, with competition from a Chiff Chaff in the upper branches.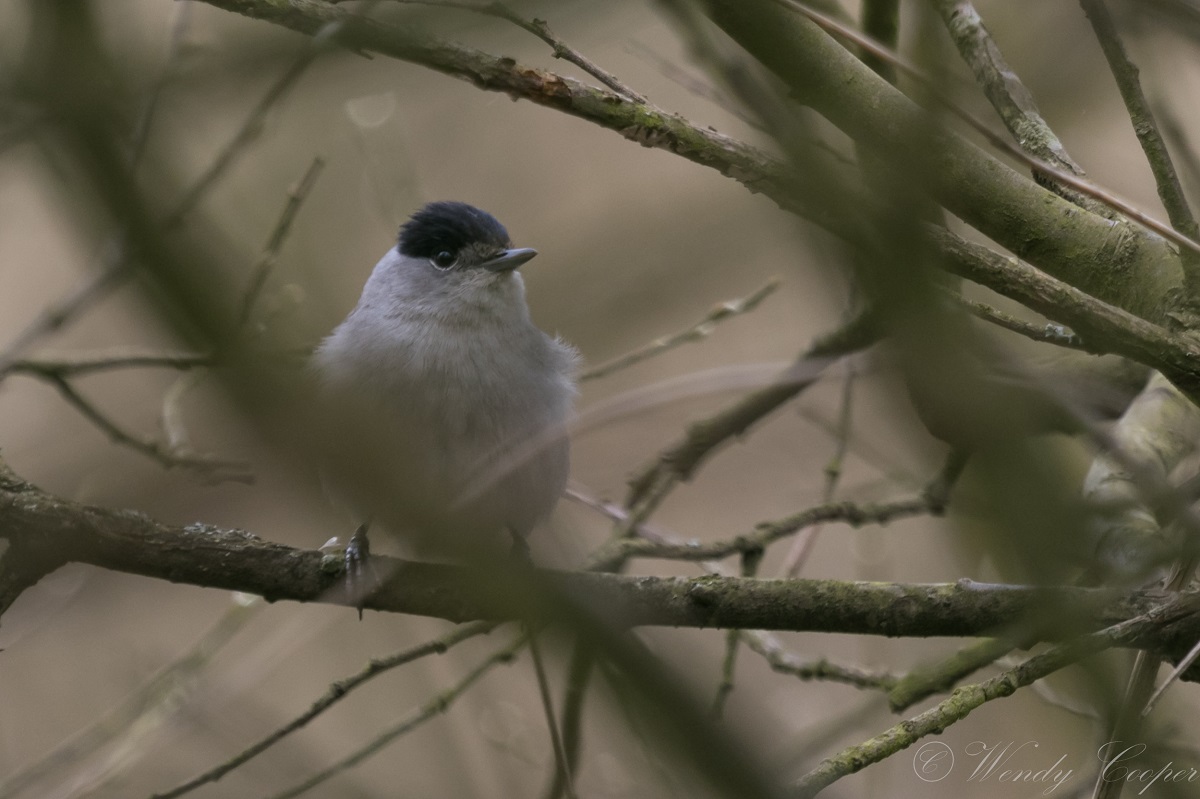 We could also hear Chaffinches and the occasional Wren amongst the trees and brambles at the start of the path.
As we went along the wall, it was very windy! We kept hearing a few warblers down in the reeds and peered carefully, however they were staying out of sight. Every now and then, Black Headed Gulls would coast along towards the scrape, which was providing a busy background soundtrack of Gulls chattering loudly. Looking towards the Coastguards Cottages up on Dunwich Heath, far off across the reedbeds we could see a lone Marsh Harrier quartering.
We continued on and stopped off briefly in the East hide, where we watched a mixture of gulls and some distant Avocets. I decided to have a look out of the side window - you never know what may be pecking around on the grass bank - and with help from another watcher, saw a very distant Ring Ouzel. These members of the Thrush family are mostly passage migrants, heading from the Mediterranean up to breeding grounds in Scandinavia, although there is a UK breeding population. A first for me, however I only managed a very dodgy record shot for my diary.
Somewhat closer were a pair of Bar Tailed Godwits, who were sharing grazing rights with a few Gulls and quite a few Jackdaws, as well as the occasional Oystercatcher.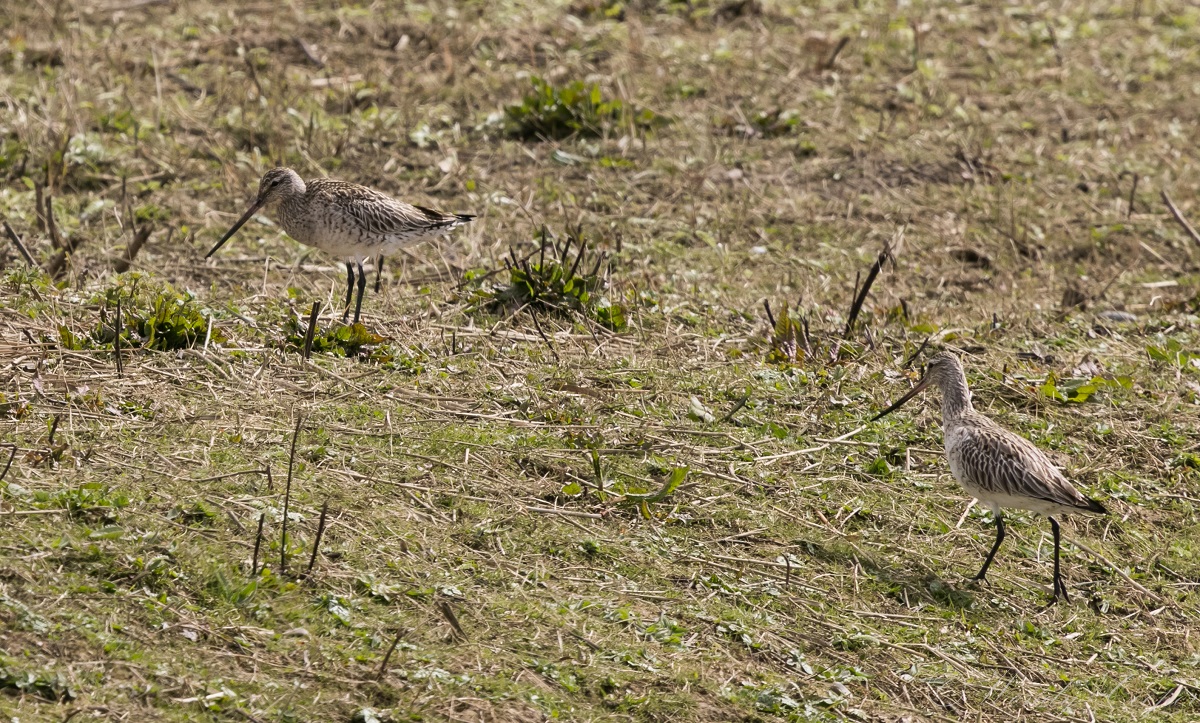 We continued on and near the South Hide, I looked again for the Ouzel, finally spotting it a little more clearly along the fenceline, although it was staying on the ground and out of the wind! Following the path onwards, we paused a while to watch one of the Marsh Harriers quartering some way out from the Bittern Hide; then deciding that a cup of tea was needed, we headed back to sit outside the visitor centre for tea and cake, whilst watching a bold Black Headed Gull chancing for crumbs, flybyes from the Sand Martins and the Chaffinches perched in the nearby bushes.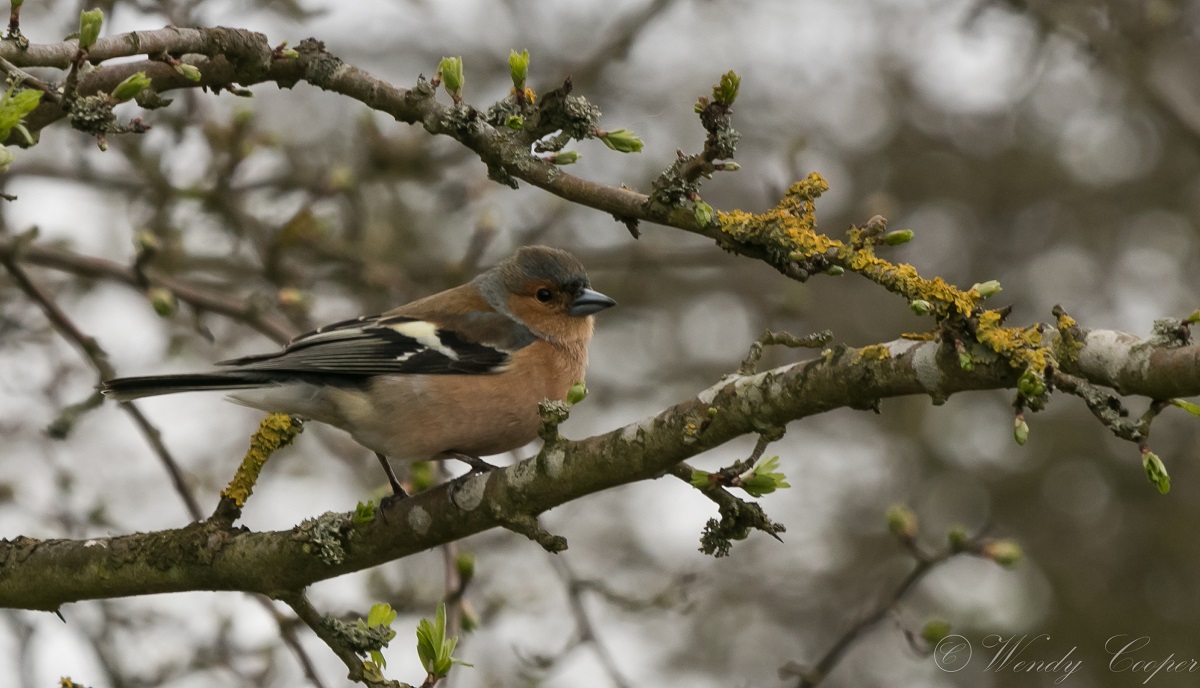 After tea, we fancied sitting quiet for a while, so headed to the Bittern Hide. From time to time we heard a Bittern 'booming' although it remained shy of appearing. Over to our right, a Male Marsh Harrier or two were quartering over the stretch of reeds between the Island Mere and Bittern hides. Far out in the direction of the sluice, we caught occasional glimpses of a female marsh Harrier, before she would return down into the same spot in the reeds.
Male Marsh Harrier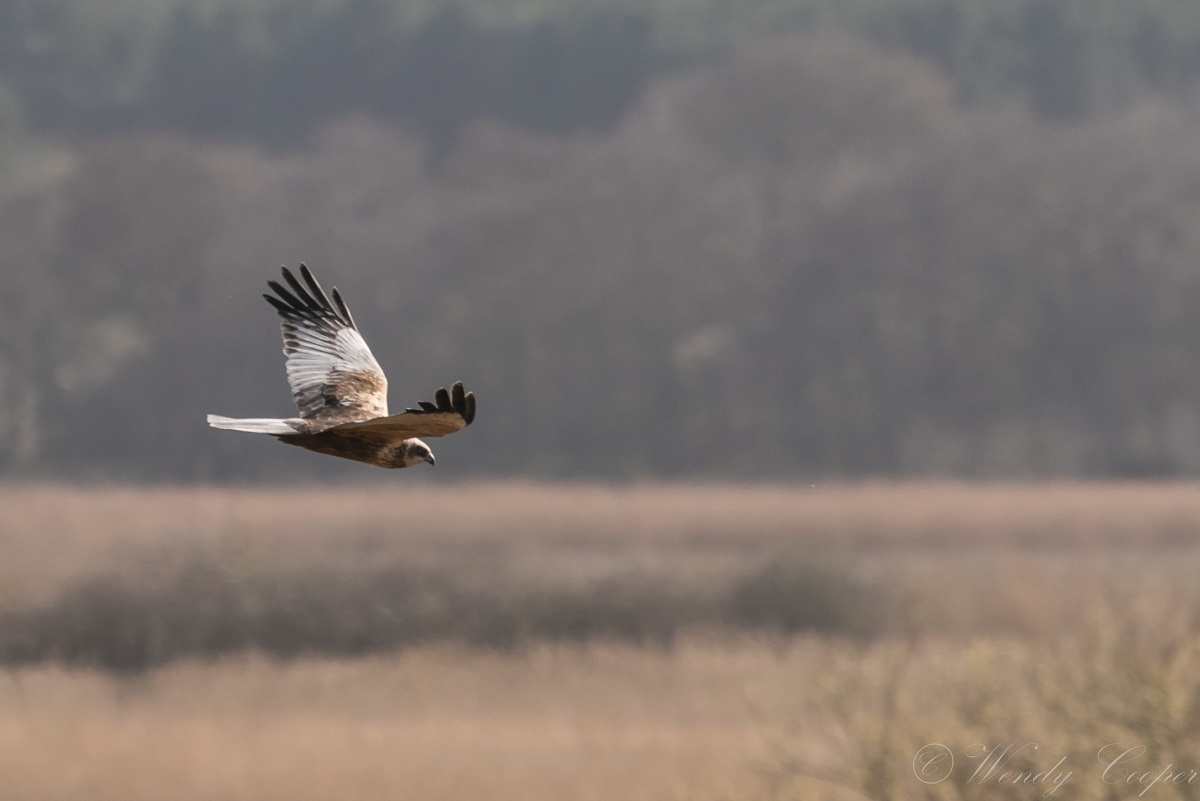 Female Marsh Harrier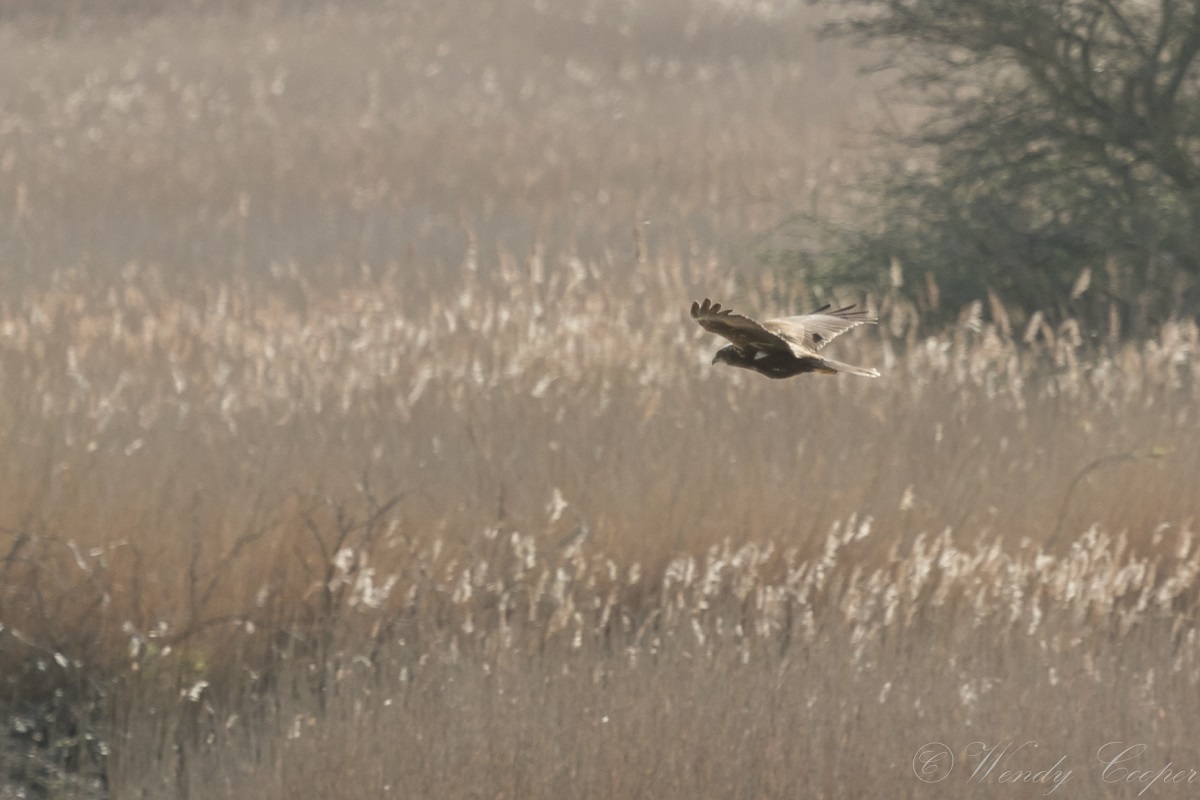 After a while, a female Red Deer stepped out onto the path, after wading through the water. She started to graze and then was joined by a second Deer, who had a good shake to lose some of the water she was soaked with.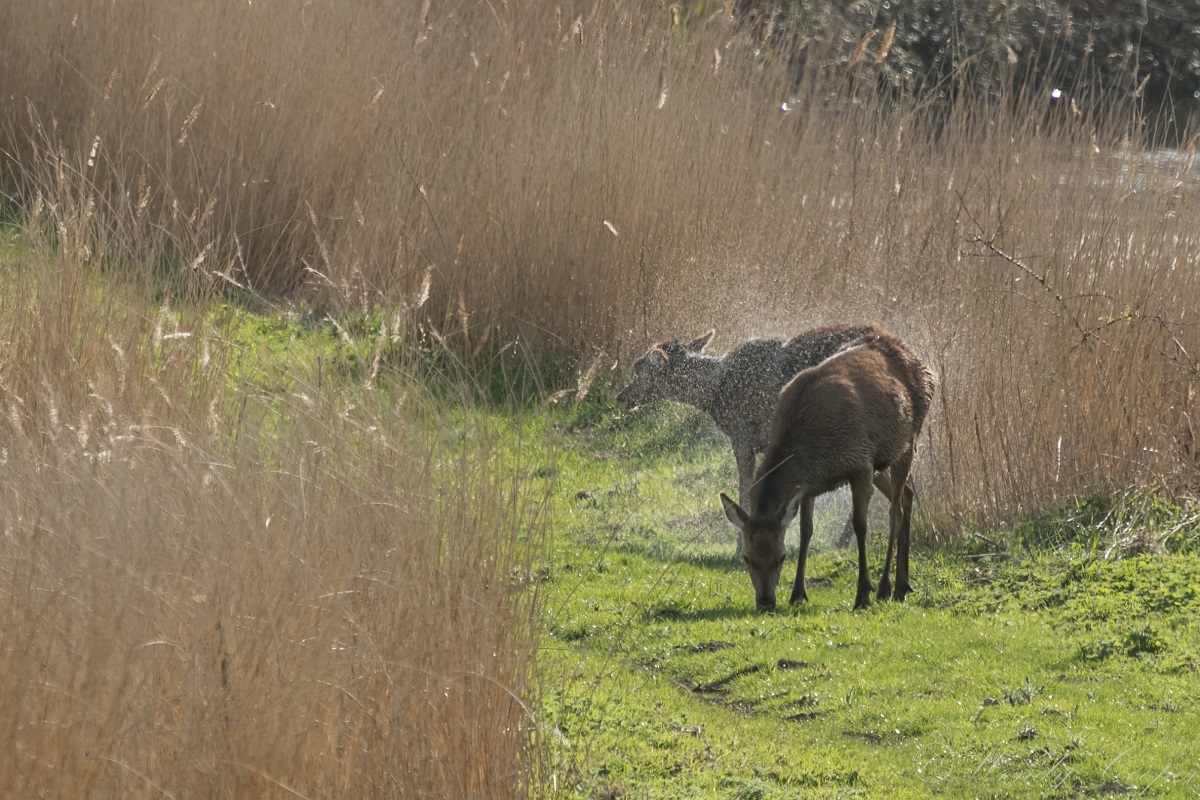 We sat and enjoyed watching the Harriers quartering, both near and far and gradually a few more Deer made their way through the reeds and water and emerged onto the path. After several glances up at the hide, they decided to carry on grazing and gradually ambled along the track, snacking as they went.
The male Marsh Harrier, began to fly a bit closer and we had some beautiful views of him as he did so. It was very windy but the Marsh Harrier's control in the air, regardless of how windy it is, never ceases to amaze me (See Nippy Norfolk) and today was no different, holding still as he paused to look more closely in the reeds or coasting over at the speed HE wanted and not the wind. A beautiful sight.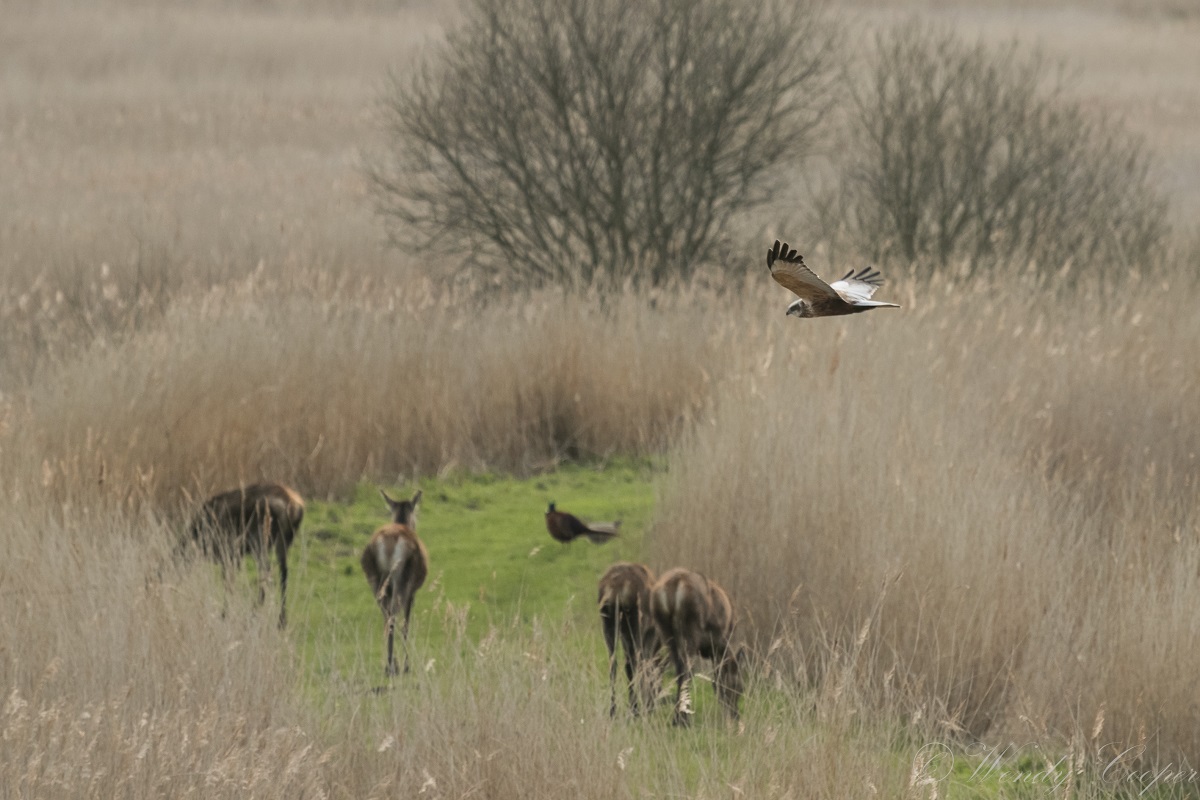 The next morning dawned bright and not quite as windy, so after a coffee and stroll on Southwold Pier, we stopped off at Hen Reedbeds, just at the observation spot for a little while. Opposite us and above, a female Marsh Harrier was patrolling against the line of trees, before sinking back into the reeds, whilst further out, we could see two males quartering at times, covering different parts of the reedbed. From time to time we caught a glimpse of a Grey Heron, who couldn't quite decide on the best fishing spot, whilst we were gravely surveyed by a Reed Bunting from a nearby tree.
We then fancied a walk at Dunwich Heath as the wind had eased off and it was turning into a rather nice warm day, so off we went, following our usual 'striaght up the middle' route. Walking slowly, listening hard and scanning the tops of the heather, a few hundred yards up the track we spotted a fairly close male Dartford Warbler. He was singing and looking around; not knowing what other views I might get, I took advantage...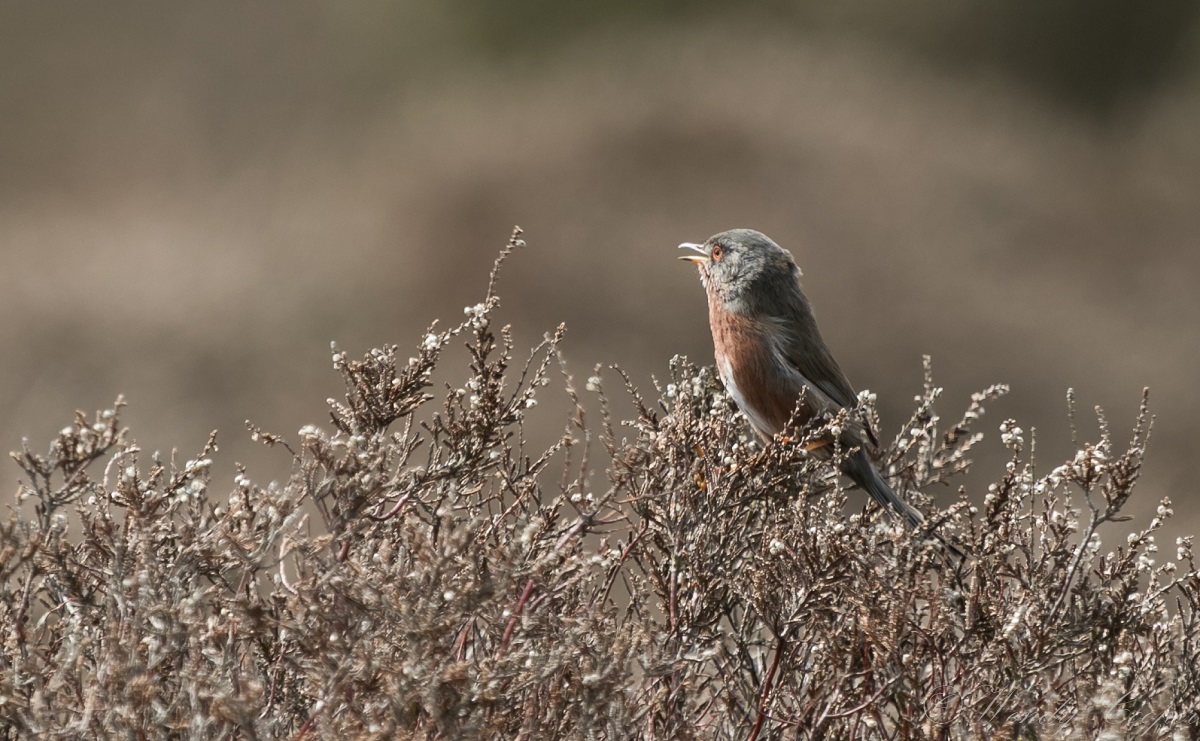 After a few moments he flew off, diving into the heather, where all we could hear was a familiar 'Brrrp' before he appeared again some way off again. We carried on walking, from time to time seeing little tick shaped birds popping up or flitting across and now and them hearing their song. After the winter we have just had, I was very happy to see so many flitting about. I did notice a distinct lack of Stonechats though - usually where there is a Stonechat, a Dartford Warbler will be nearby.
We carried on up the track and near the top, I kept hearing warblers, however after waiting a while I walked on to catch Hubby up. We had a sit on one of the benches along the top and just watched a pair of Warblers flitting about quite someway off. Further out over the heath we watched a Kestrel on the hover. Realising time was getting on, we began a slow stroll back (if you were out of the wind, it had turned very warm!)
As we began our way back down the track, we heard a commotion overhead and saw a Buzzard being harassed by a few corvids.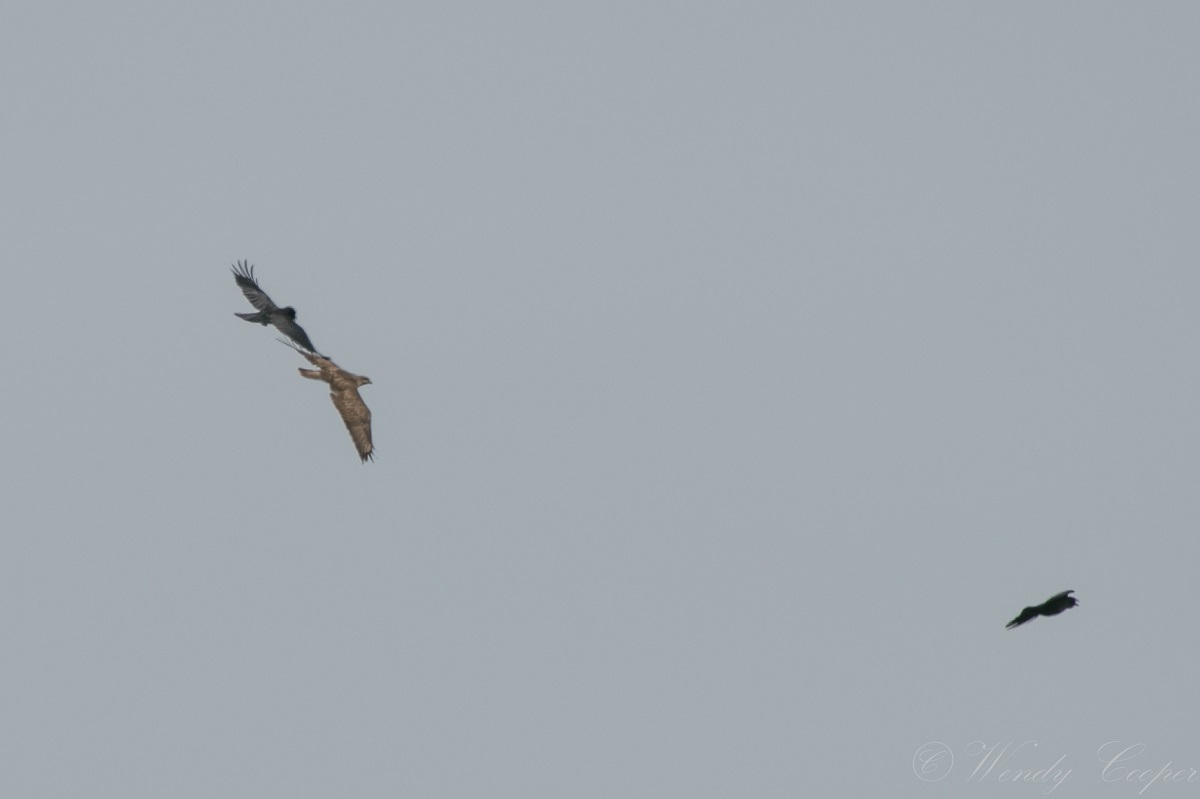 After a few moments the Buzzard shrugged them off and we wandered on. I paused again a little further along, as I could hear that bird again! This time though, he put in an appearance just long enough, before starting to do the jack-in-a-box thing that Dartfords excel at! Several more were sighed on our walk back to the car, far off, but all doing the jack-in-a-box dance.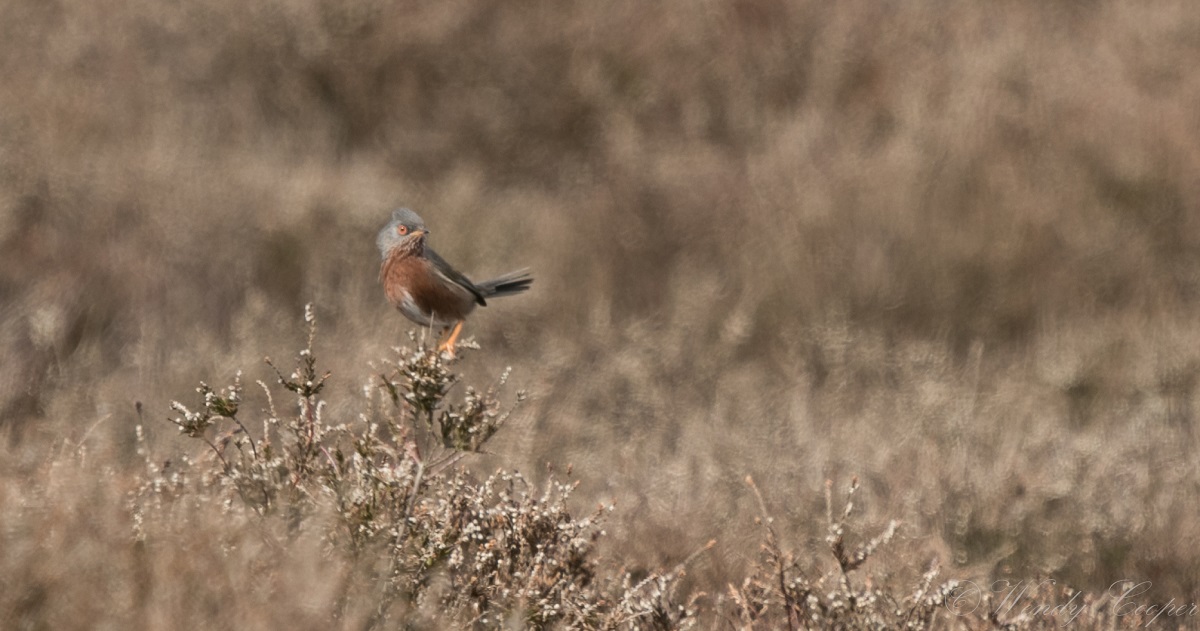 After lunch, we returned to Minsmere. As we left the visitor centre and stopped for a few moments by the Sand Martins, there were a lot of excited people coming back from the North Wall with very silly grins - a lone Hawfinch had been sighted! After a little while of watching the Sand Martins, we decided to have a wander along on the off chance. On the field where the Stone Curlews usually reside, tucked under an old Hawthorn tree was, one Hawfinch, warily pecking around on the ground.
These are very shy birds and are usually in flocks. They are our largest finch and are very beautiful to see, with colourful plumage and a very powerful beak, used for cracking fruit stones. This winter has seen an influx of migrants, however they are resident to the UK, preferring mature deciduous woodland. This, from what I can make out in my record photo ( heavily cropped) is a female, being somewhat paler in tone than the males.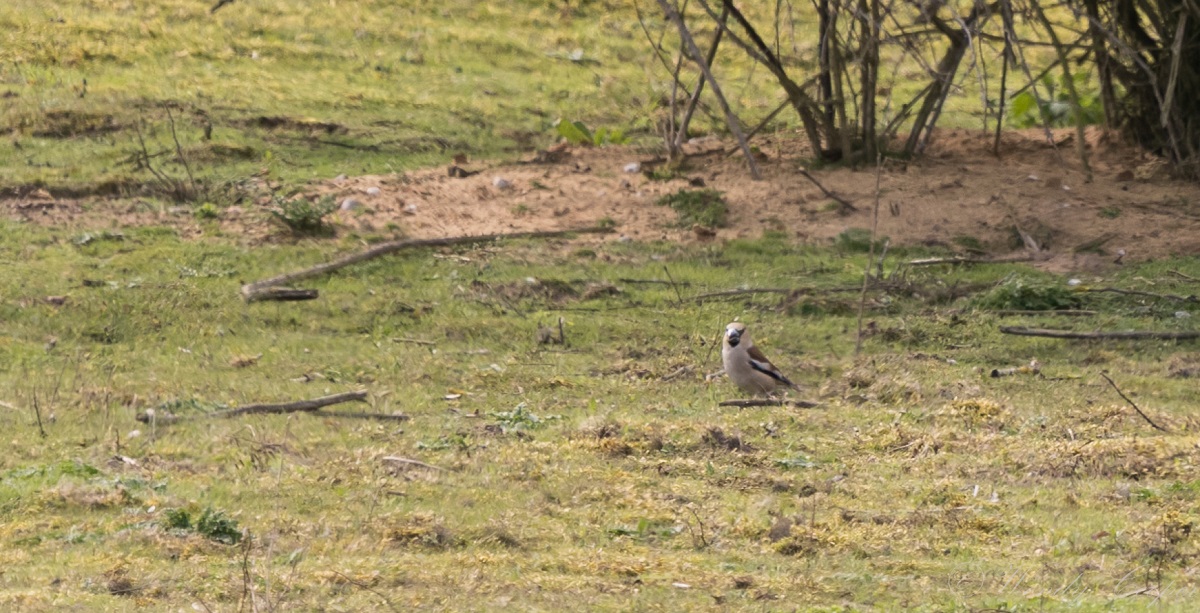 Retracing our steps, we headed for a late afternoon relax in the Bittern Hide, where once again we were treated to watching the aerial expertise of the Marsh Harriers. This time we watched several hunting displays, both near and far off, with three males and one female seen. As these are one of my favourite raptors, I was delighted, especially as once again we had some relatively close views from time to time as well as seeing them interact with each other further out.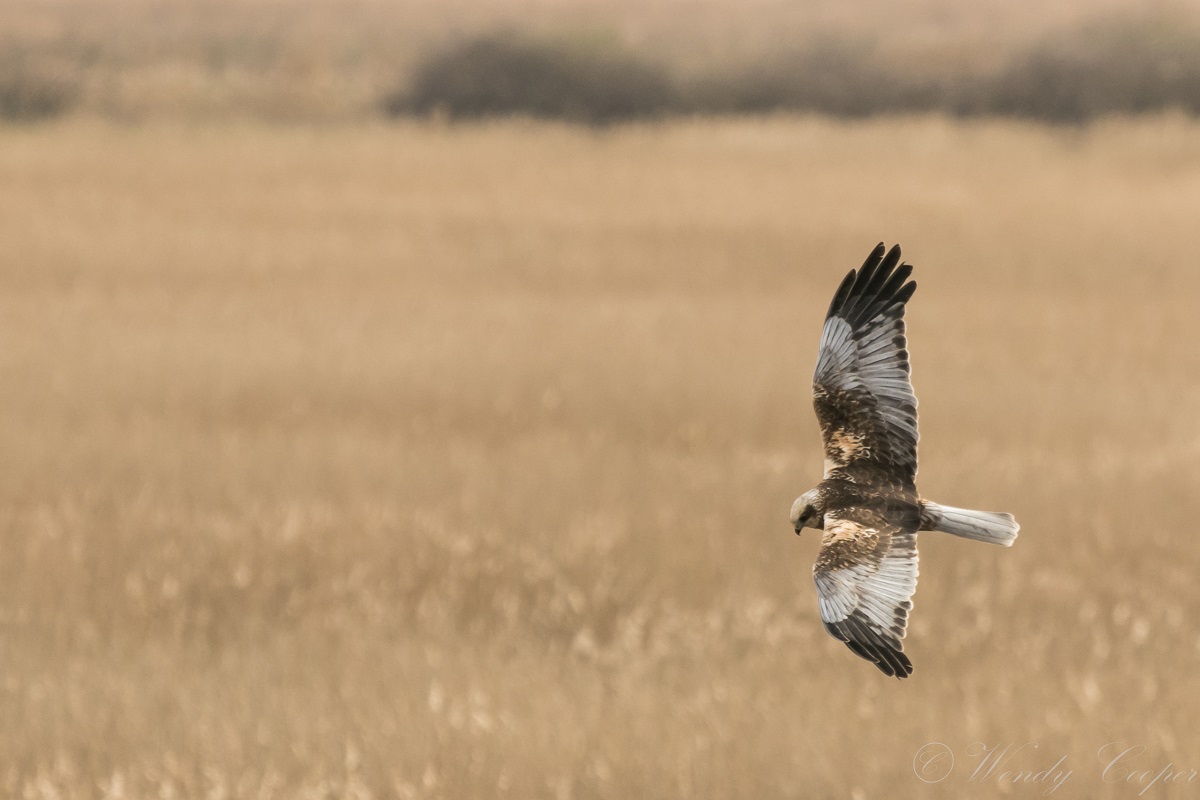 Out on the water in front of us, were a pair of Greylags and occasionally we heard the boom of a Bittern. Over the back, between two trees, I saw a movement and spotted a Red Deed Buck peering at us through the reeds.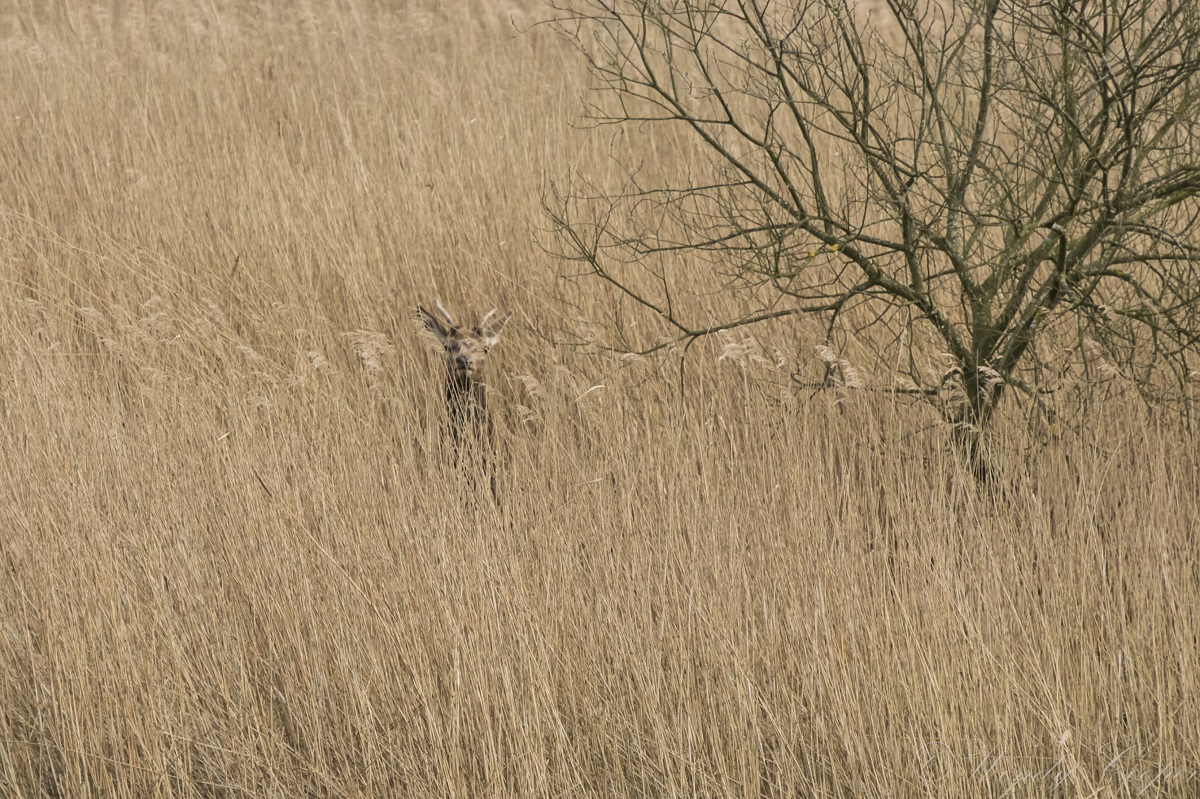 Apart from the Harriers, all was quiet and after one close flyby, we decided to walk on to the Wildlife lookout.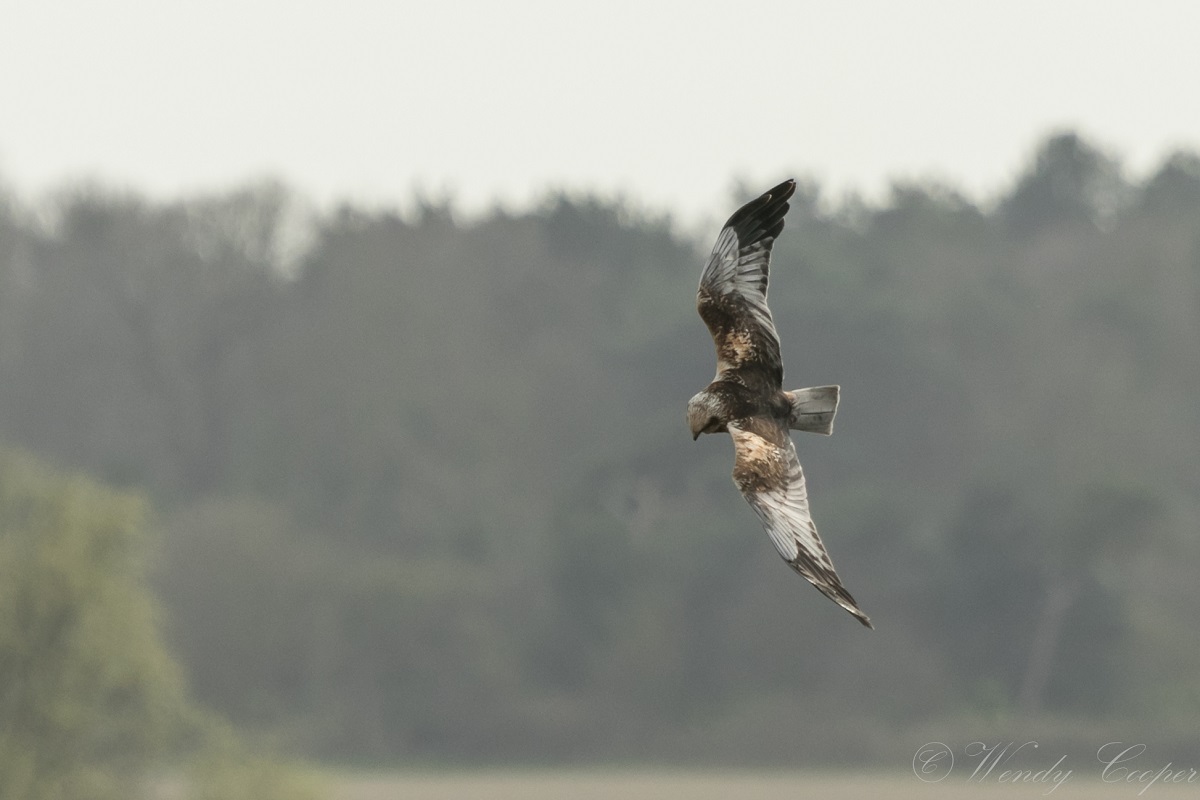 As we walked back through the woods, a movement caught my eye it was a Muntjac grazing. Now at home, these are incredibly skittish, however at the reserve they know that there are no dogs to chase them and so long as the 'umanbeans keep a respectful distance, some lovely views can be had. This lady was in a hurry though, so walking on we came to the lookout.
Once settled, we could see (and hear) the normal commotion amongst the gulls, whilst a family of Barnacle geese grazed unperturbed in front of us.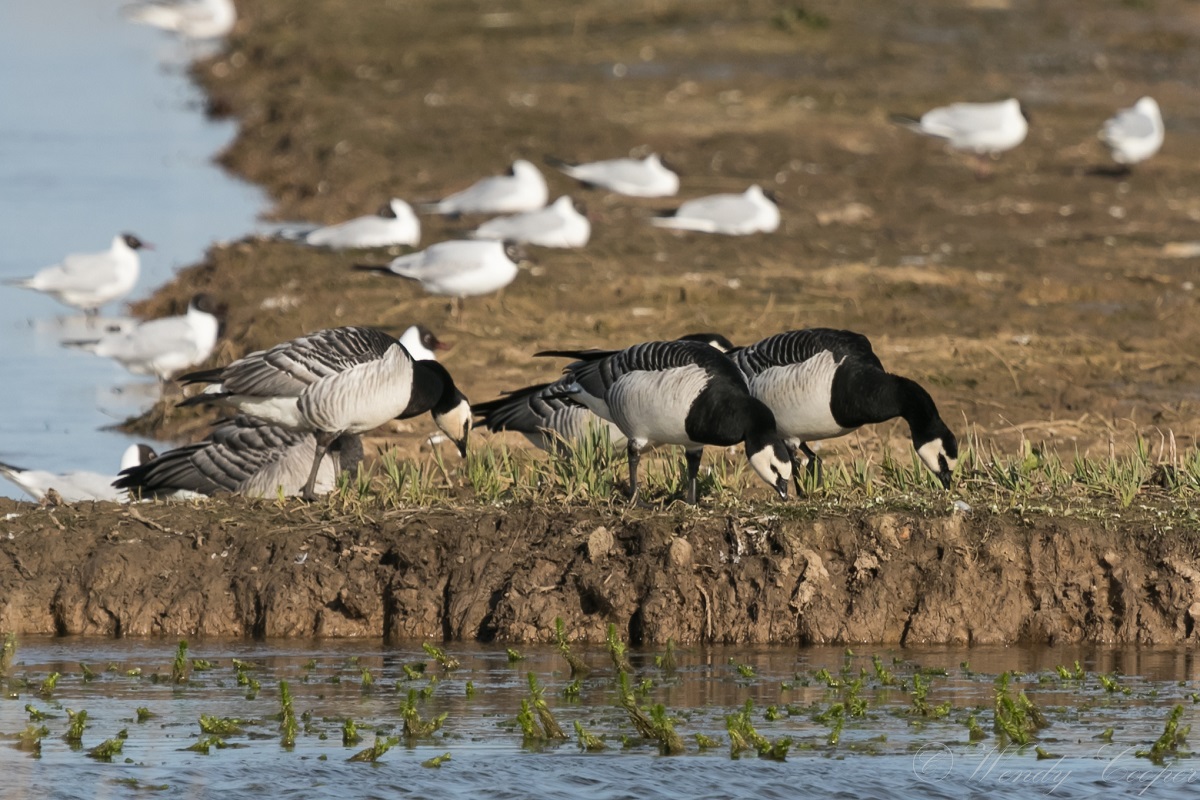 Closer still were a pair of male Gadwall bobbing along, as well as a pair of Shovellers drifting past. Over on a nearby spit were a few Avocets all standing elegantly,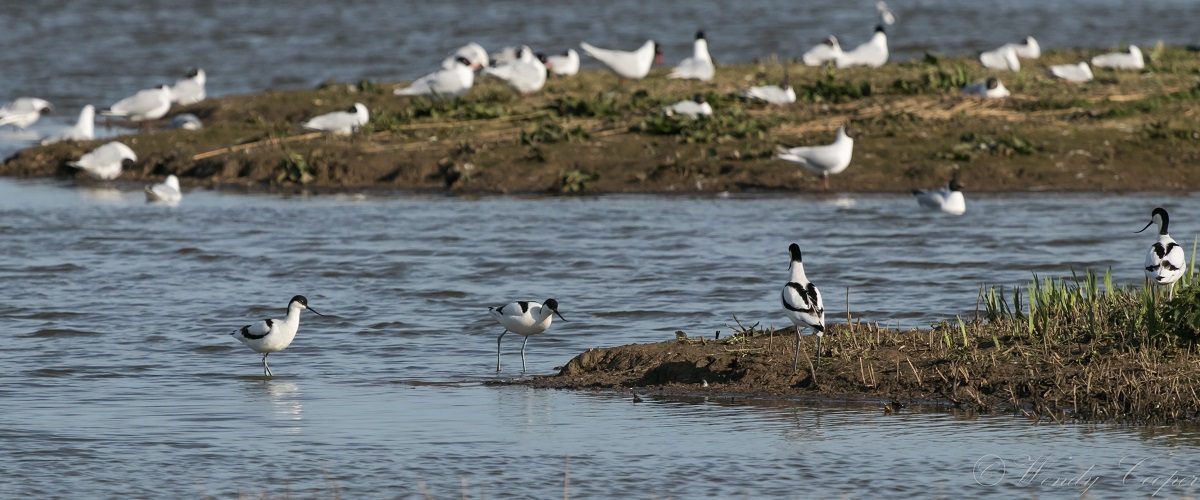 Until they all decided that they wanted the same spot - they even disagree in an elegant fashion!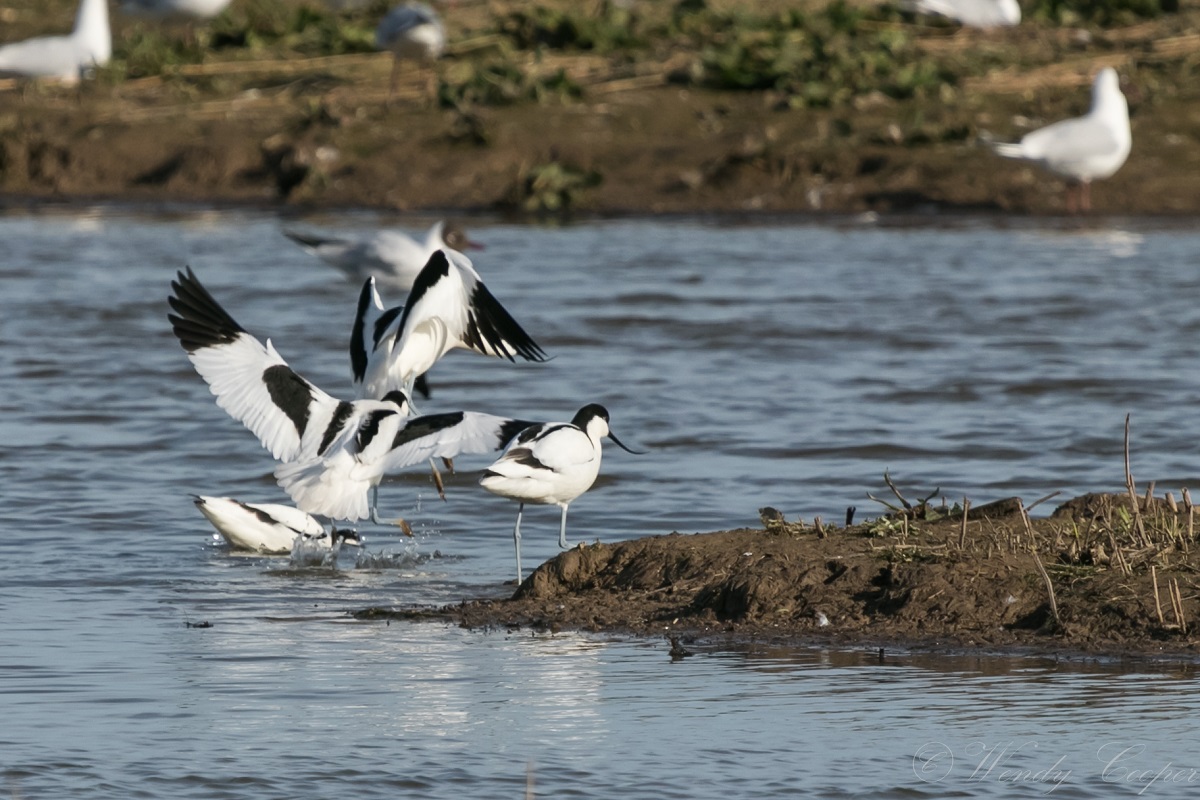 On our walk back through the woods, I recalled seeing Jackdaws nest building the year before, sure enough, in the same tree, a Jackdaw was sitting and looking hopeful, in between intermittant bouts of preening to look his best...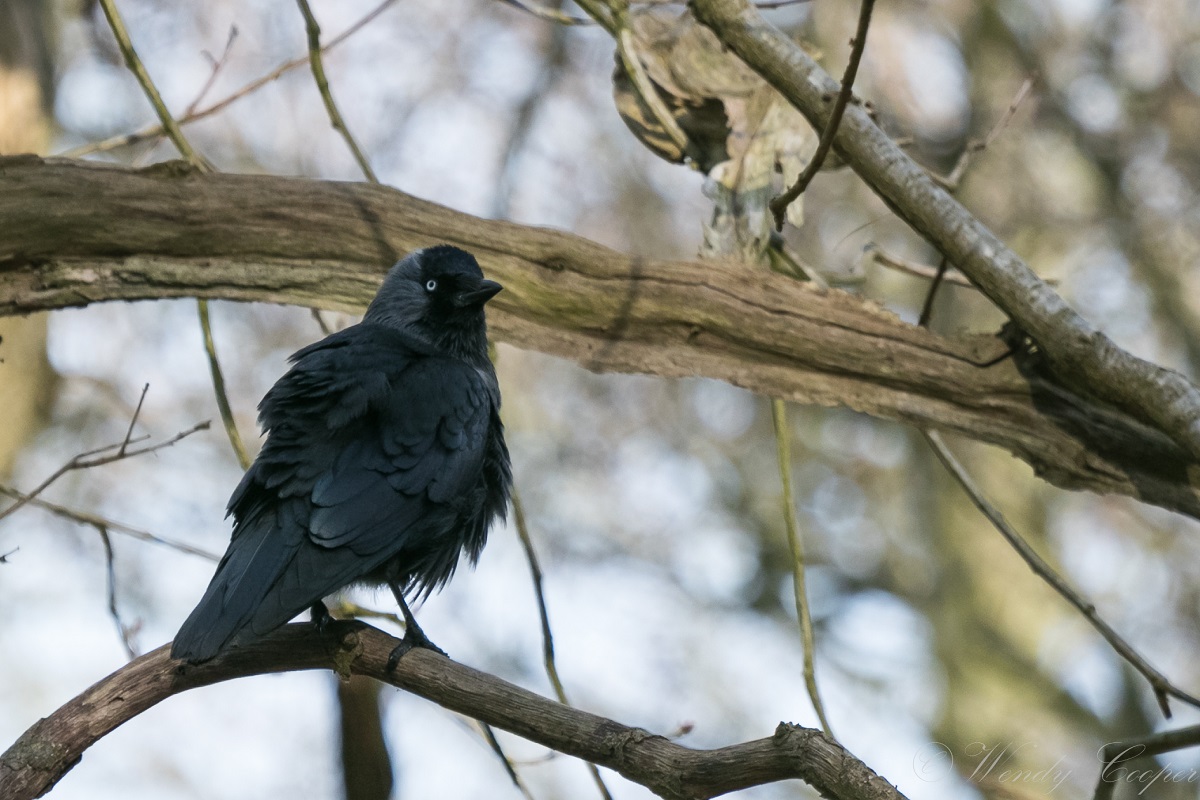 At 5 the next morning I was up and stumbling about, however after getting my act together, at 5:30, I was out on Dingle Marsh, just before the sun rose and delighting in the dawn chorus. Hardly any breeze, the air was filled with Skylark song and the occasional melodies from Wrens, Reed Buntings and Sedge Warblers. Overhead, gulls passed by with an occasional 'mew' and every now and then, there would be a 'peep peep' from Oystercatchers or Redshanks over on the beach.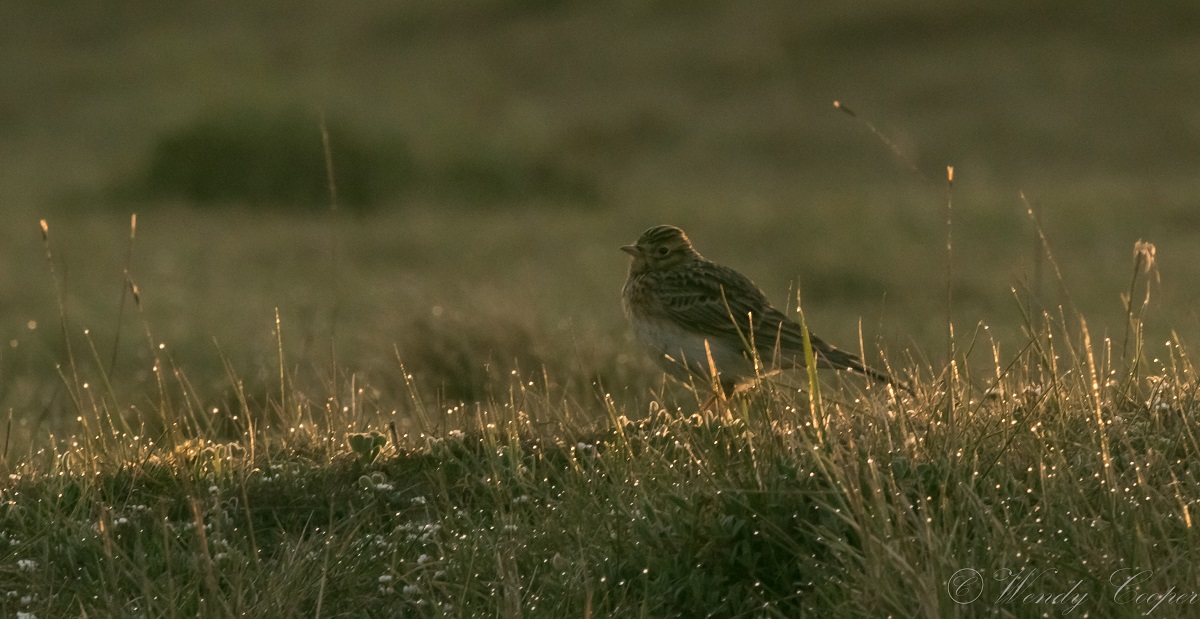 After a cold winter, I wasn't too sure how much had arrived back - some years, there are already plenty of warblers about, however, this year I only heard a few and they were staying some way out in the reeds. Along the grass and reed margins however in the usual hotspots, there were plenty of Skylarks. Some singing from down on the ground,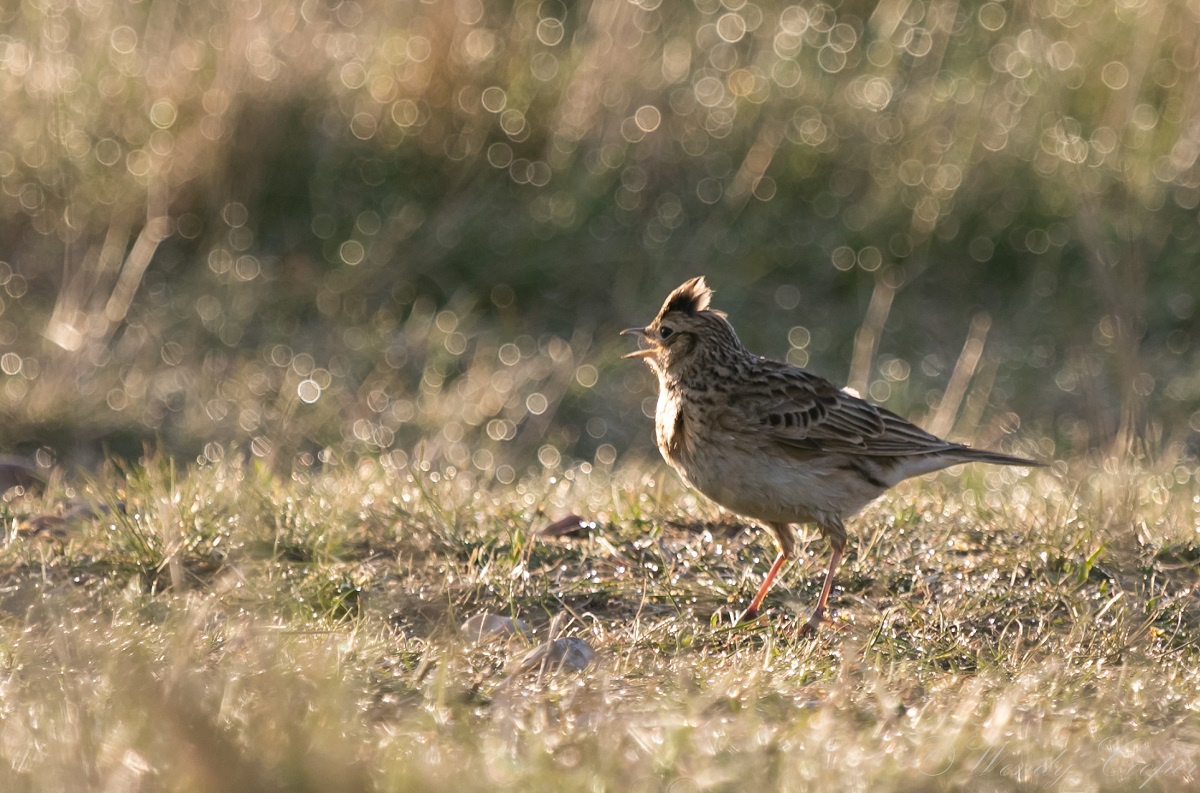 whilst others were soaring on song and displaying,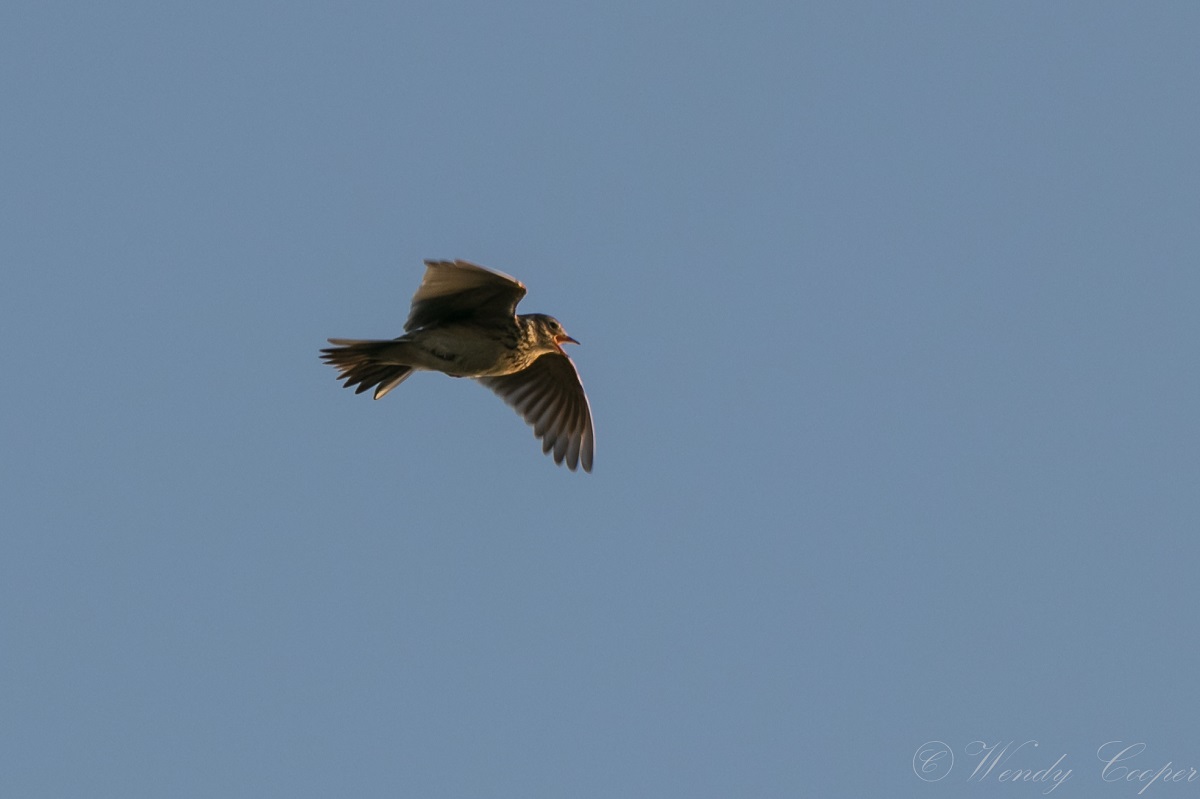 As the sun rose higher, I spotted a Reed Bunting who had popped up, given away by his 'question' call. We watched each other for a few moments before he flew out further across the reeds.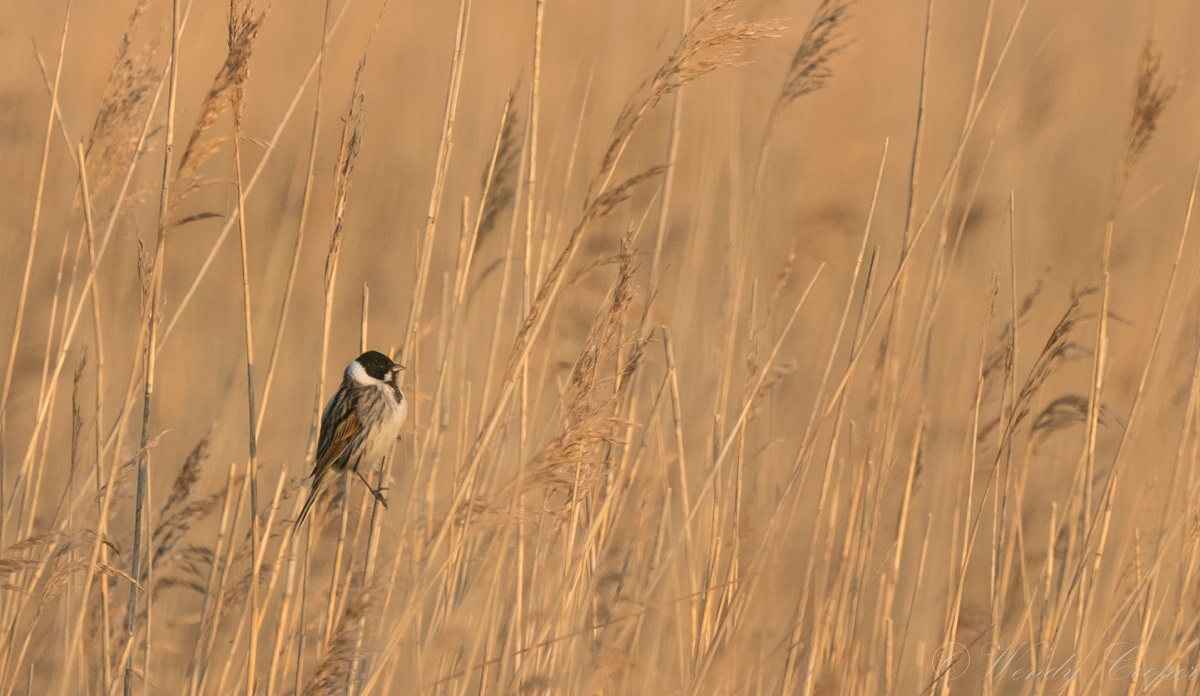 With more light, the Skylarks became more active, some starting to look around for breakfast, whilst another was collecting nesting materials,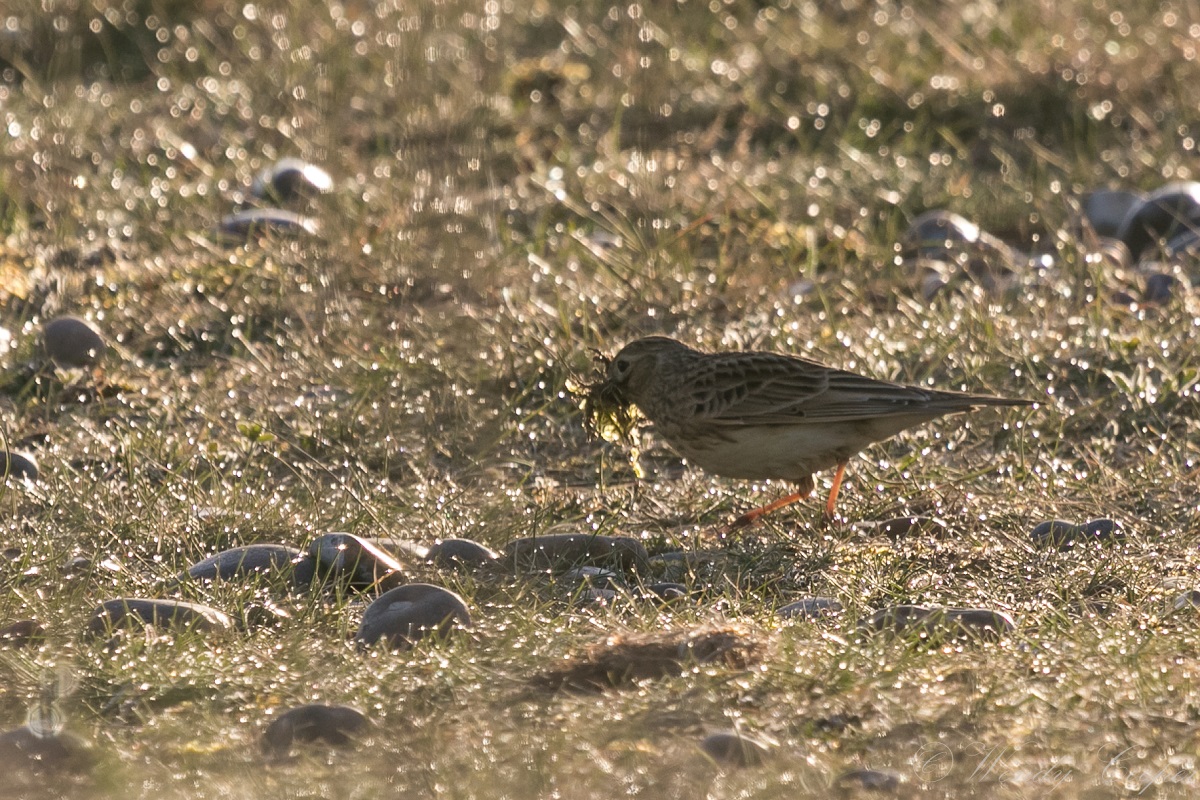 Whilst others were beginning to declare from the tops of bushes or taller tussocks of grass. Out on the meres, a pair of gulls had settled and a lone Redshanks had another pool to itself.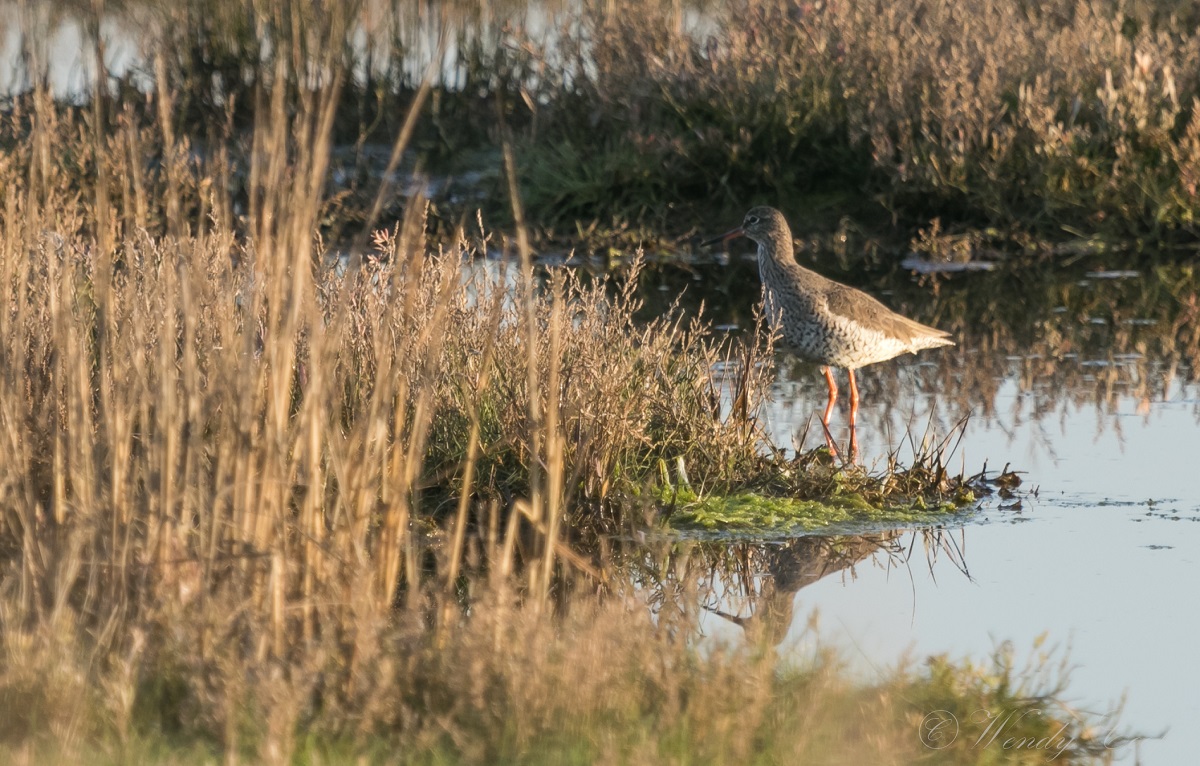 In the corner of the carpark, where he always is, a lone Sedge Warbler was singing away merrily, whilst flitting about in the reeds. With glorious light and song, well it was rude not too!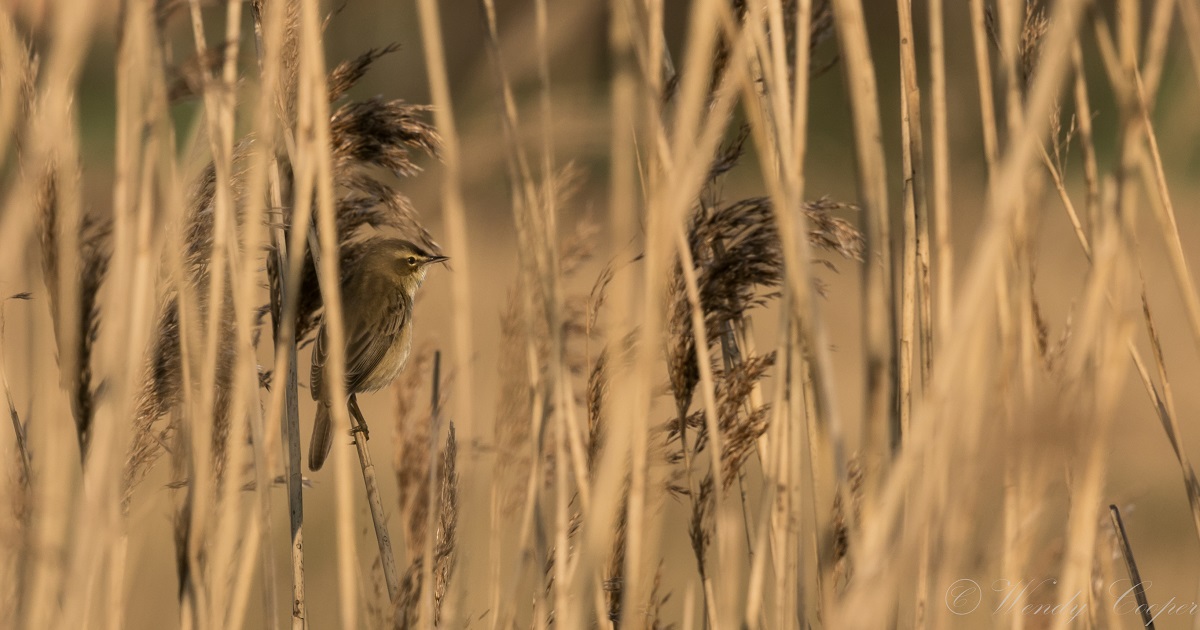 Walks like these always make me slow down and empty all the clutter that everyday life can bring and have a magic of their own when taking in some of what nature has to give. Feeling refreshed and hungry, I returned for breakfast, after which we headed towards Dunwich Heath for a 'proper' walk!
We decided to do a clockwise stroll around the heath - up past the woods, then back down the middle, so off we set. Compared to the previous days, the wind had dropped and it was warm. Following the woodside path, we could hear small songbirds up in the trees and caught a few glimpses of Great Tits and Coal Tits feeding.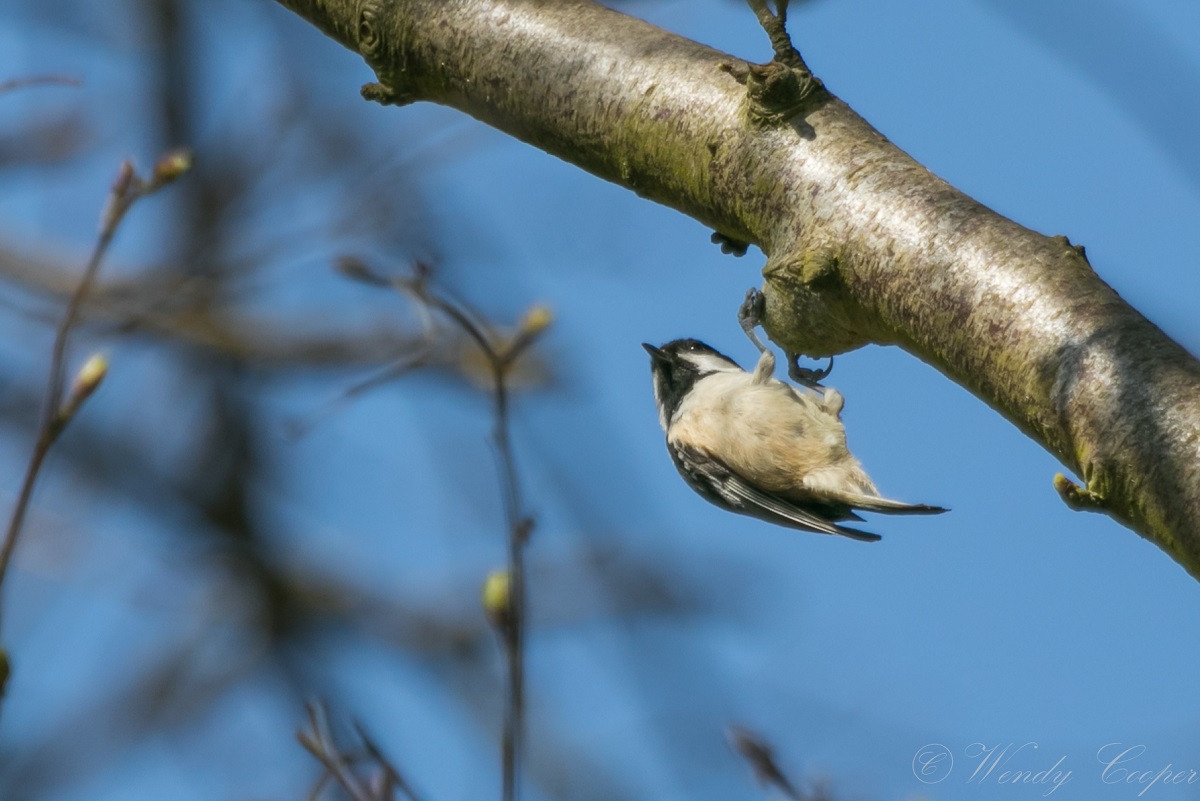 Far overhead we also saw a Buzzard gliding on thermals. At the top of the path, we stopped for a while as we could hear Dartfords, however, they were flitting about too far off to photograph although we enjoyed watching and listening to them for a while.
Along the path on our return route, we did get some more rather nice sightings though: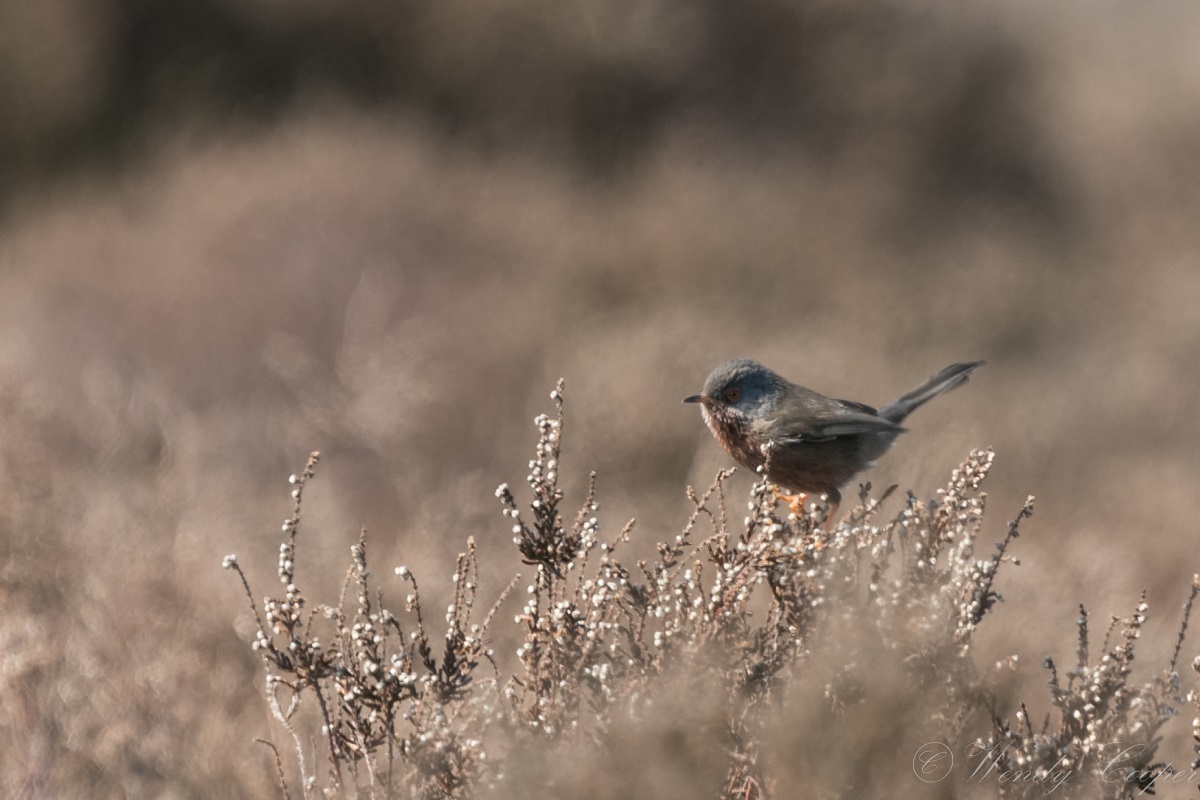 After a leisurely wander back and a pause for refreshments, we thought a little explore of Westleton Heath would be good, having only once forayed there before to listen to Nightjars (and got eaten by bugs in the process!)
Over on the heath it was warm.... but we decided to follow part of a bridleway and have a little look round. From time to time we could hear Dartfords as well as catch glimpses of them on the tops of the heather; we also heard or caught glimpses of Goldfinches and members of the Tit family when we were along a slightly wooded part. Back towards the carpark, we could hear similar, with Chiff Chaffs calling as well - these though decided to stay out of sight! A nice stroll, but time was getting on and lunch was needed!
After lunch we returned to Minsmere for the afternoon. First call was the Sand Martins, who were still busy, after watching for a while, we popped into the North Hide, where we watched Lapwings displaying nearby as they decided on territory. On our walk back, we were serenaded by Blackcaps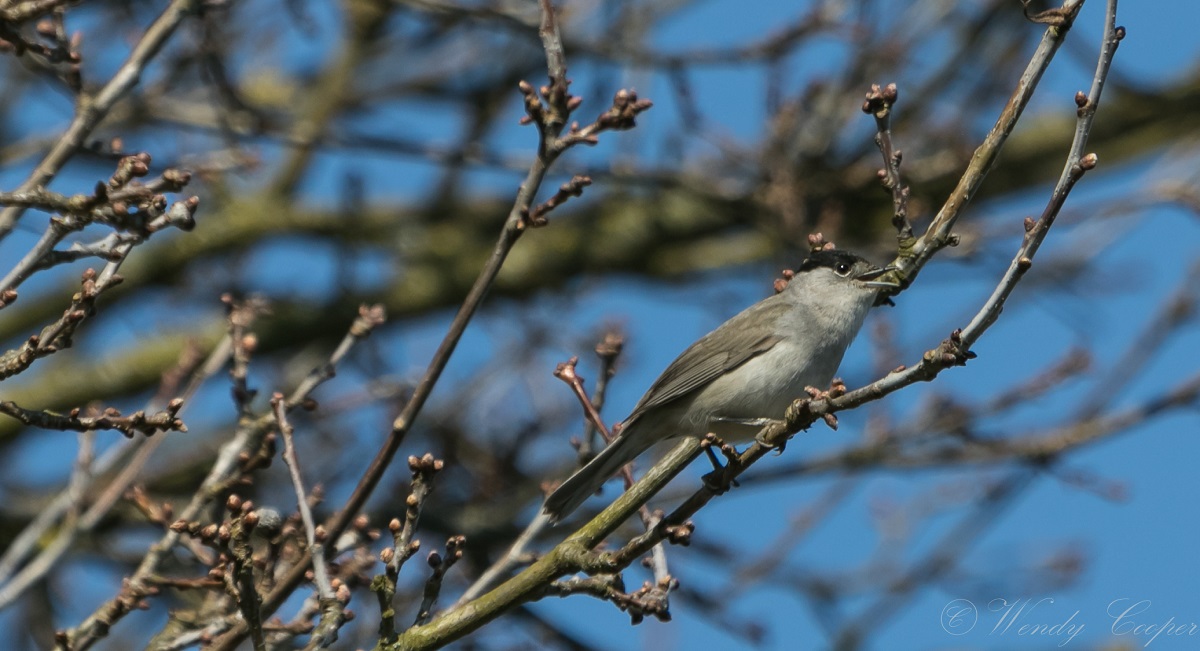 as well as Chiff Chaffs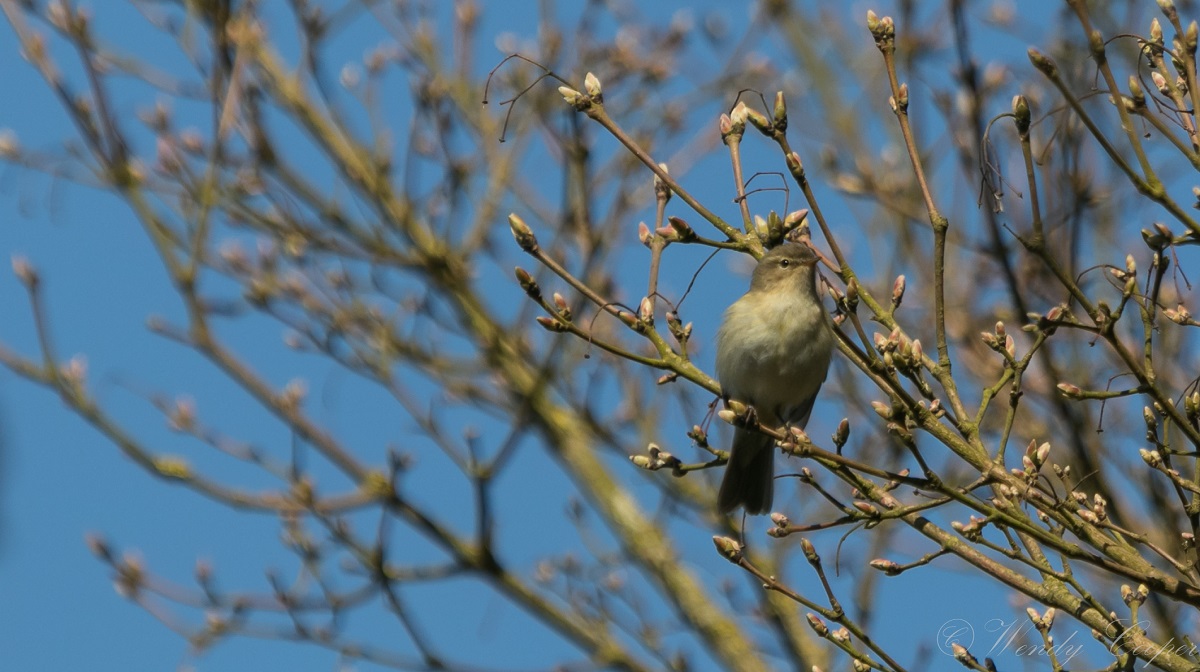 After a cup of tea (and watching the Sand Martins some more as they swirled about) we headed towards the Bittern Hide. Just ahead of us in the woods we spotted a female Muntjac, who was busy grazing. Not disturbed by onlookers, she continued happily, whilst we enjoyed watching her.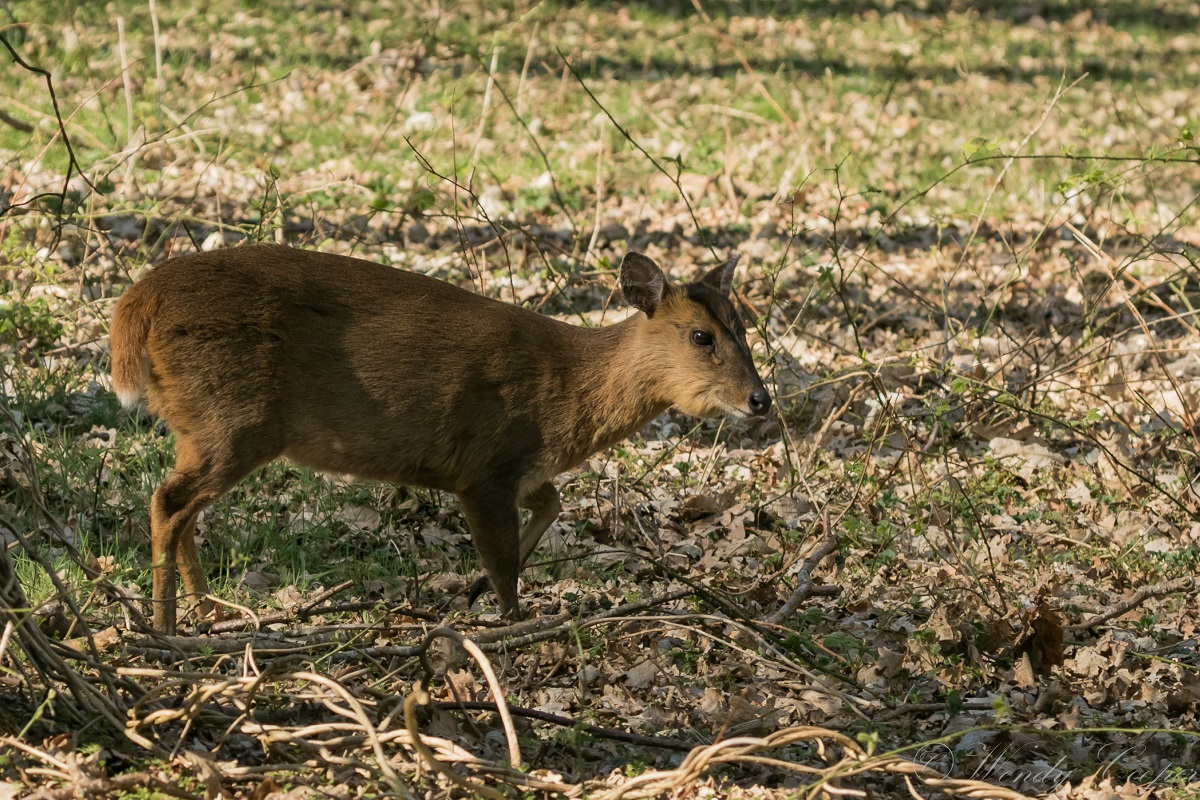 Once in the hide, all was quiet. A Bittern boomed distantly and there was a brief flyby from a Marsh Harrier.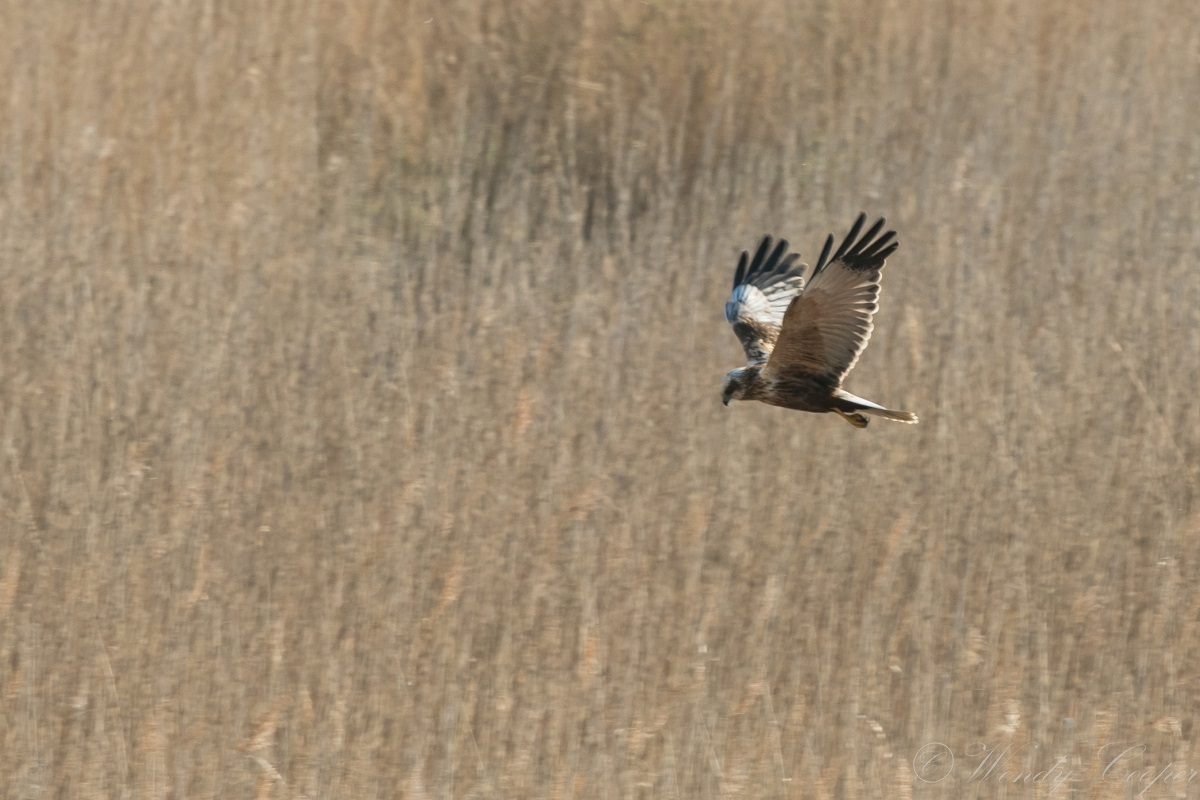 A moorhen skulked along the edge of the reeds and on the water at the back a Greylag goose floated. Suddenly in the shadows of the reeds, I saw something picking it's way along. We had heard squealing from time to time, but I didn't expect a Water Rail to break cover, so this was a rare treat indeed!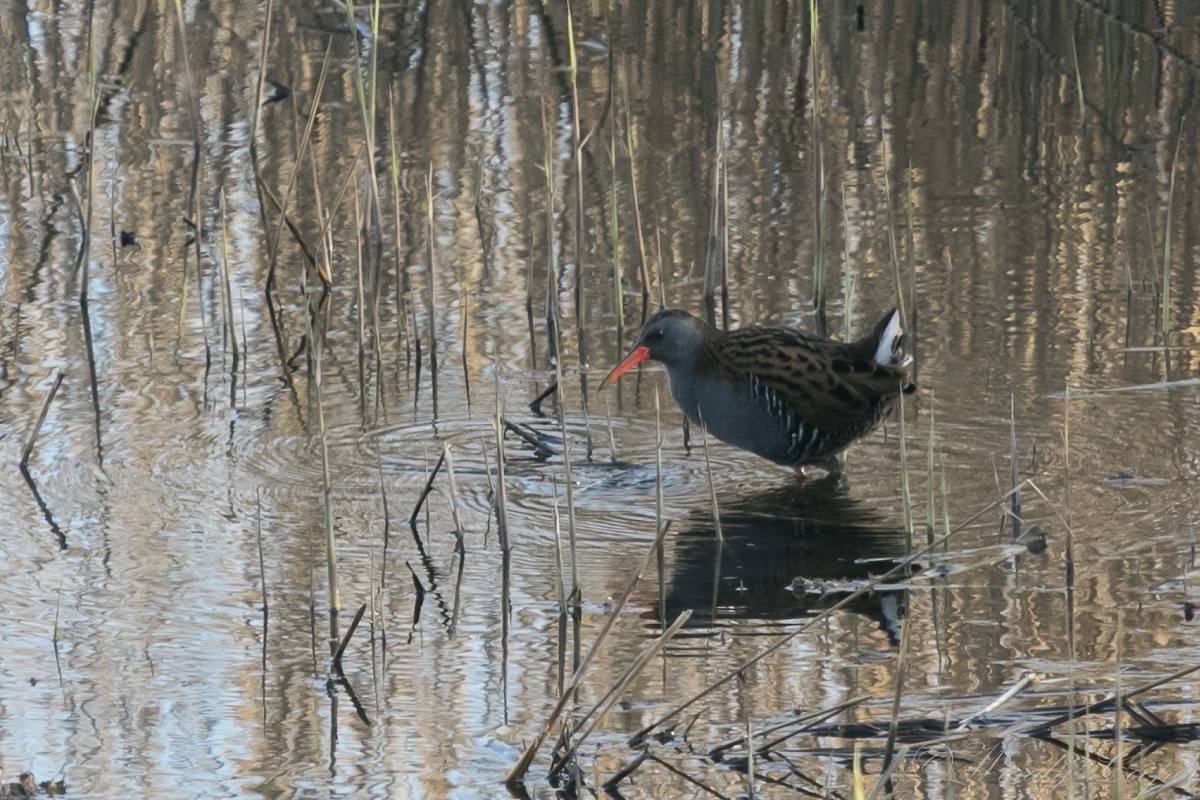 We watched as this incredibly shy bird foraged out in the open for several minutes, before disappearing back into the cover of the reeds - sometimes it's not quantity, it's the quality of what you may see - there's always that unexpected treat!
On our drive back for dinner, a further treat was had - a small herd of Red Deer grazing, we pulled over and watched them for some time until we were spotted and they moved on.
Next day dawned bright and warm, but we decided to go at a slower pace and spent the morning in the Island Mere Hide. (Perfect with all the windows open and touch of breeze on what becam a very warm day). On our amble there, we paused at the Adder trail, where one of the Wardens was giving a commentary. There was an Adder in the leaf pile in front of us, however, I couldn't see it as it was so well camouflaged! Luckily for me though, another handsome male Adder (called Victory) decided to move to a new location, so We got to see an Adder :) (having seen my first Grass Snake on home turf a week before, I am a snake fan and think them amazing!)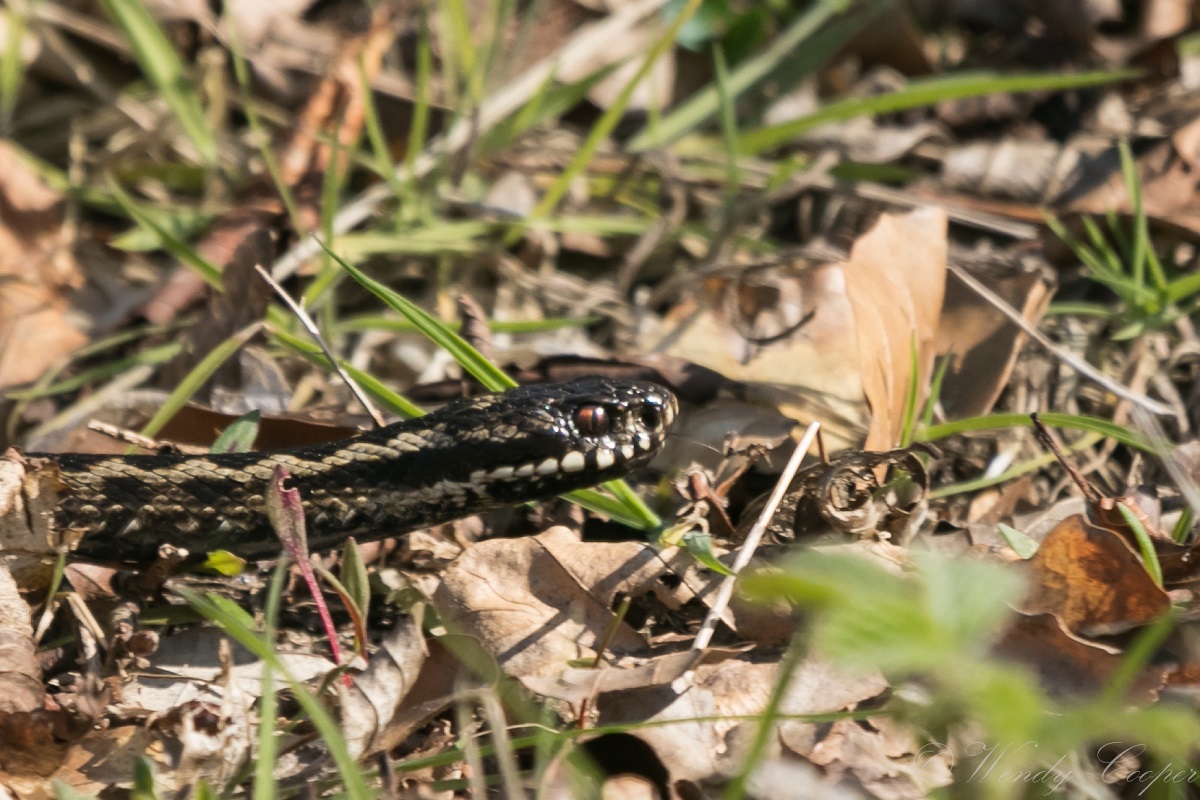 At Island Mere it was peaceful. Occasionally a Marsh Harrier would float out over the reeds, whilst across the mere, a female was sunbathing at the edge of the reeds. Far out, a few Mute swans were relaxing, apart from one, who decided to do a bit of a dash - not flight and not paddling - across the water to a new spot.

Out in front of us a Great Crested Grebe was fishing and occasionally from the reeds a distinct 'ping ping' could be heard.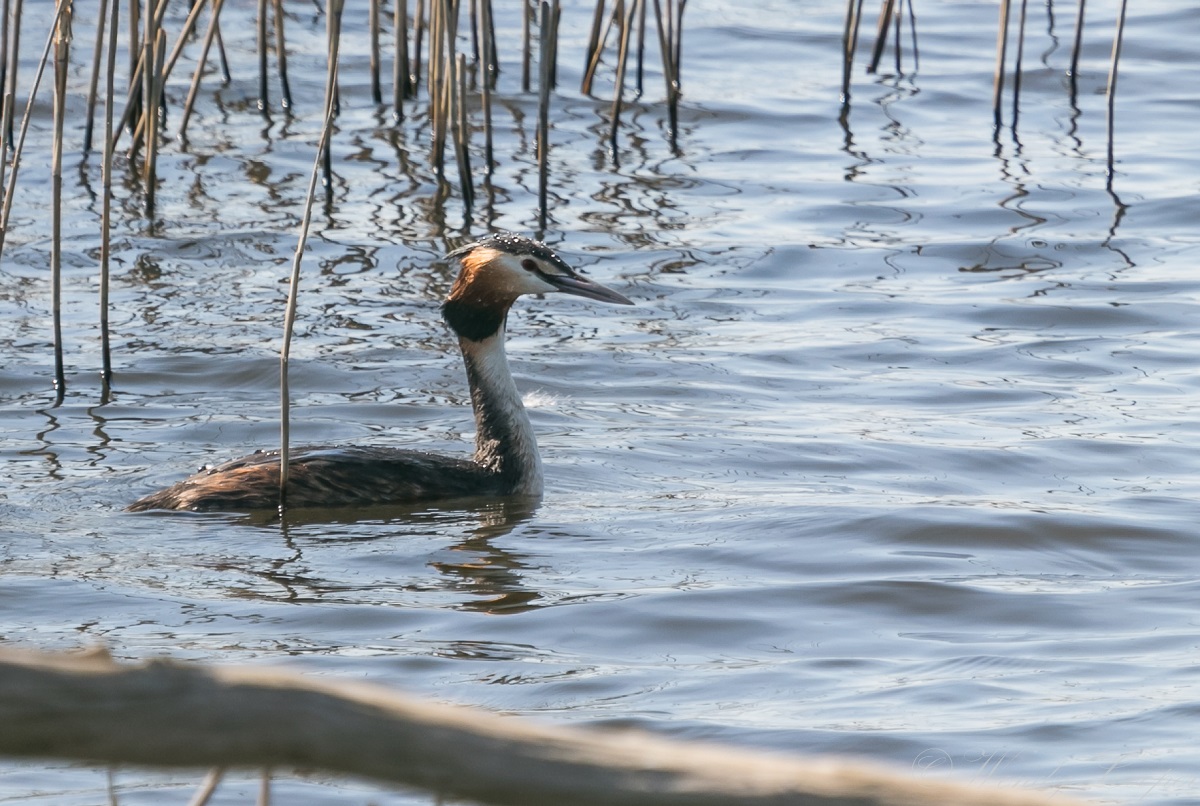 All of a sudden, the 'pings' got louder and a male Bearded Reedling flew into the edge of the reeds.. After he settled, then shimmied up the reed stem, I managed to capture this,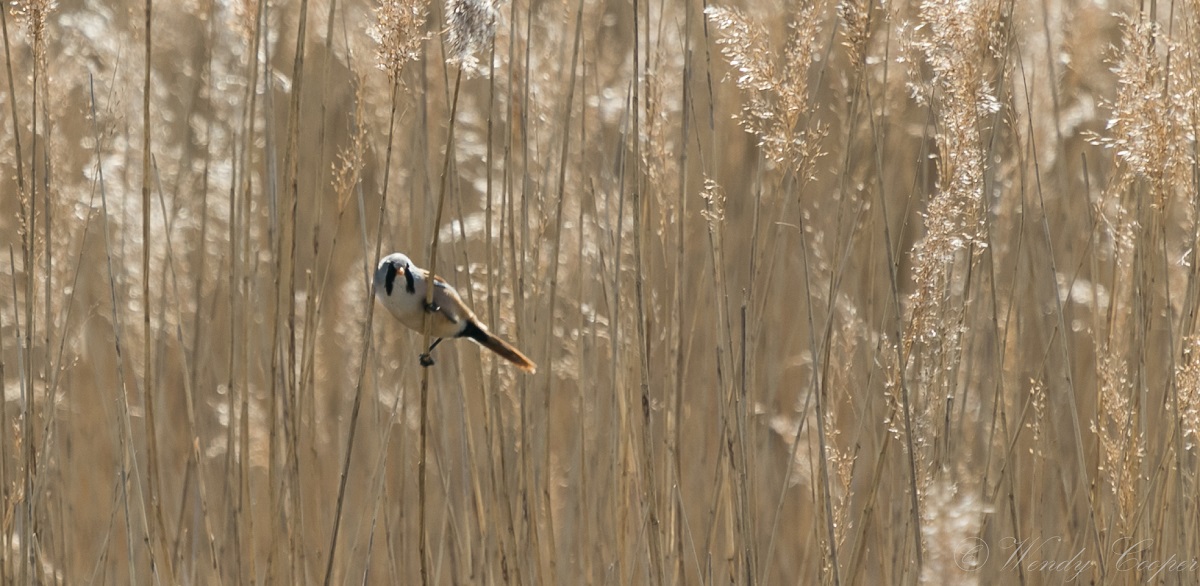 A few seconds later a female followed him, however she was far more bashful and hid deep in the reeds. I've seen them before at Lakenheath and delight in watching their antics, however we had never seen them before at Minsmere, so between these and the Adder sighting, there was a silly grin as we strolled back to get lunch!
After lunch we returned to Minsmere, where I paused in the carpark to try and figure out what was 'clicking' in one of the spruce trees. After several minute's watching and peering, it became apparent that there were a few Greenfinches making a good meal!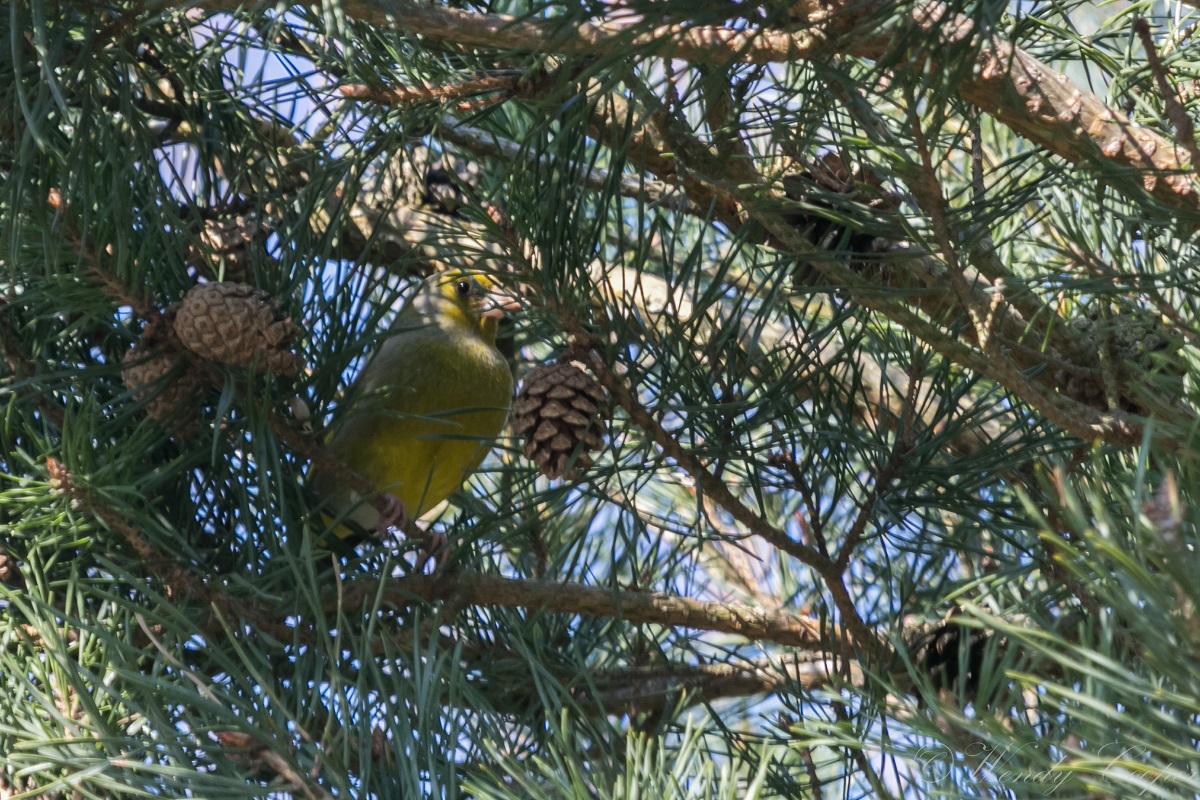 After watching for a while longer, we stopped off by the Sand Martins again, by now it seemed that some burrows had been chosen and in some cases, further excavations were going on! (If you look carefully, you can see excess spoil being kicked out of the burrow)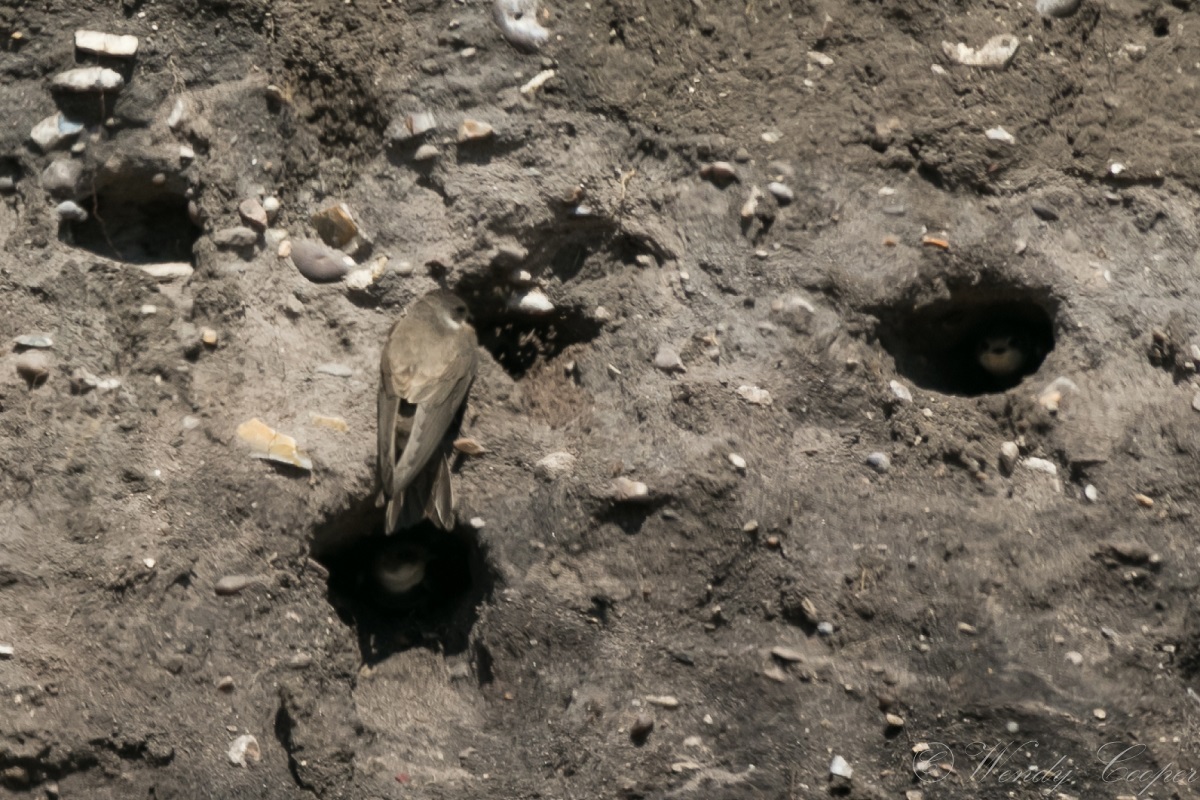 Others meanwhile were apparently guarding the burrows they had chosen.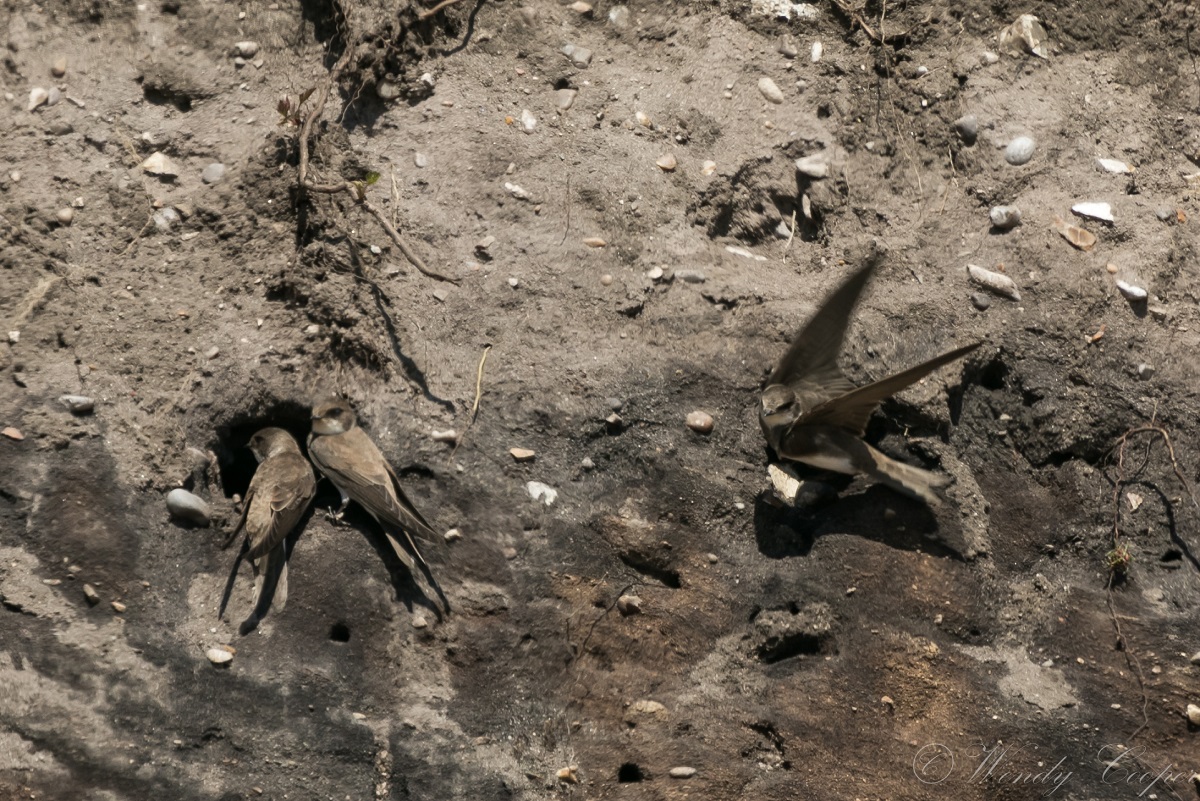 On our walk through to the Bittern Hide, we watched a pair of Muntjac grazing, a stag, distinguised by his antlers and tusks,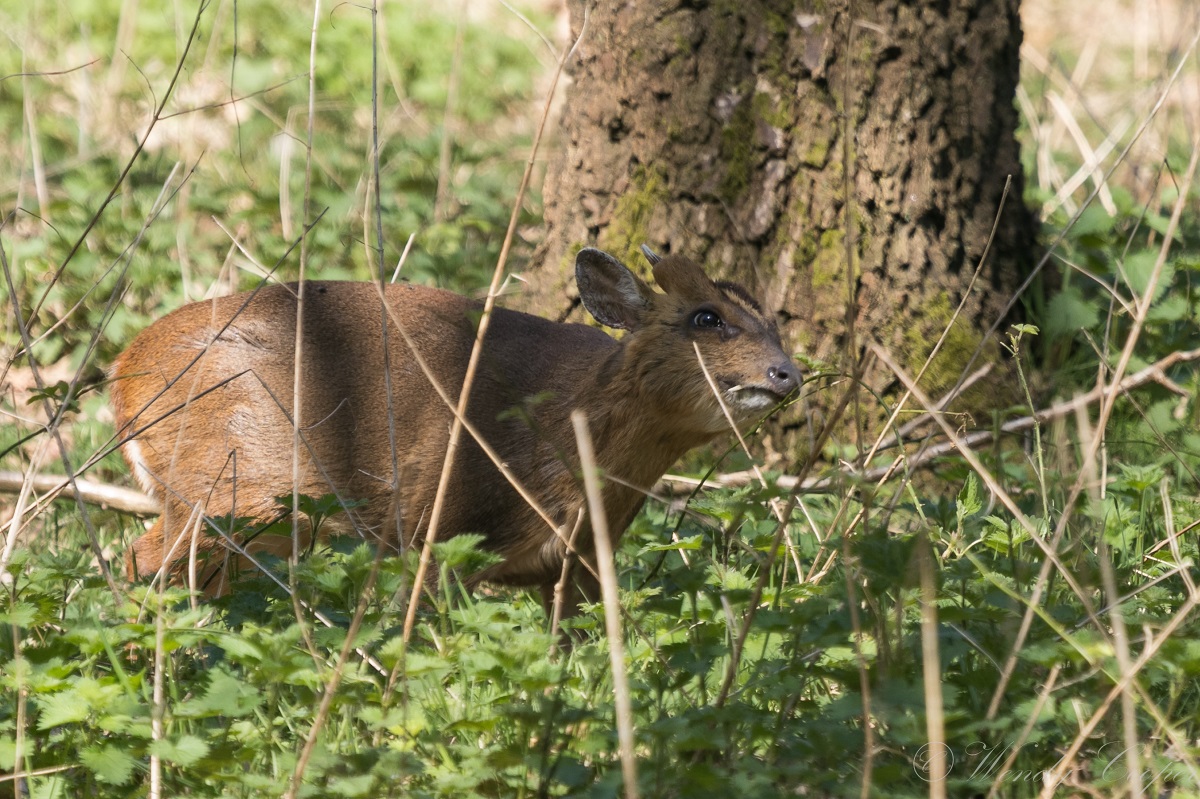 and a doe, who was making short work of the brambles.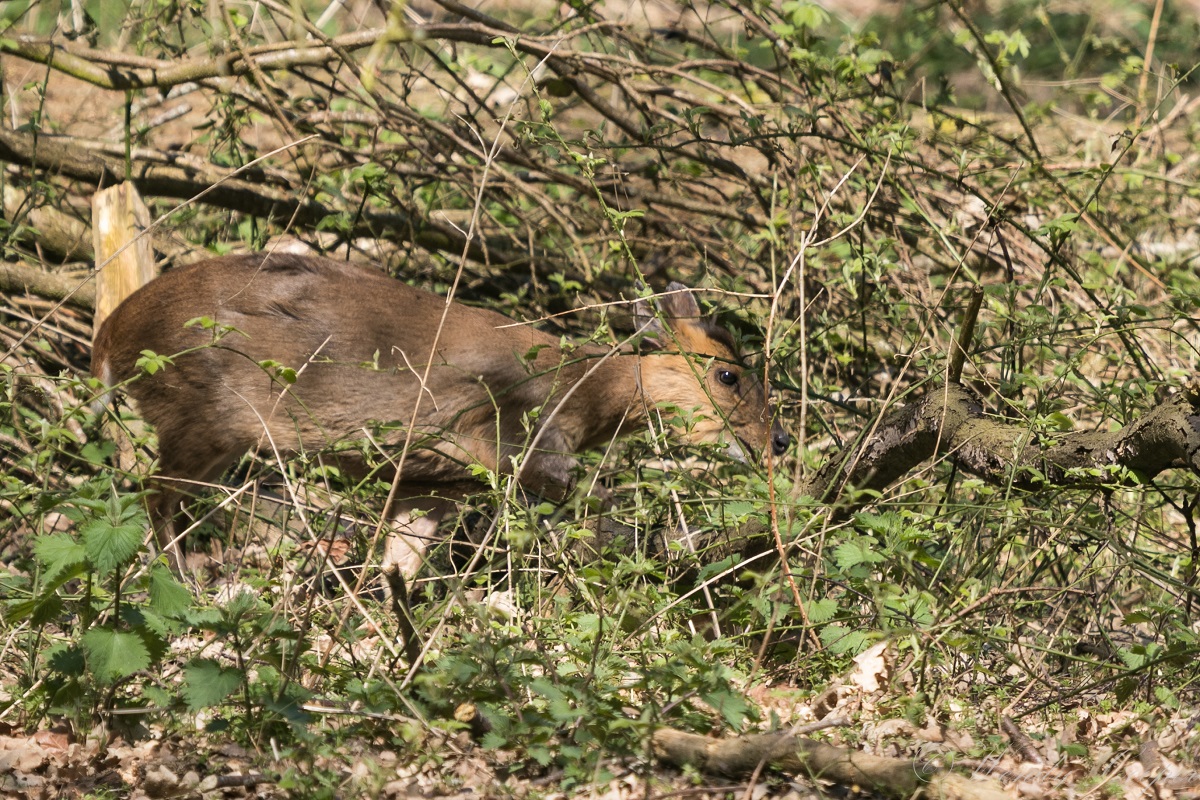 Once in the Bittern Hide, the male Marsh Harrier was hunting close to the hide and with the sun on the reeds behind him was an absolutely breathtaking sight,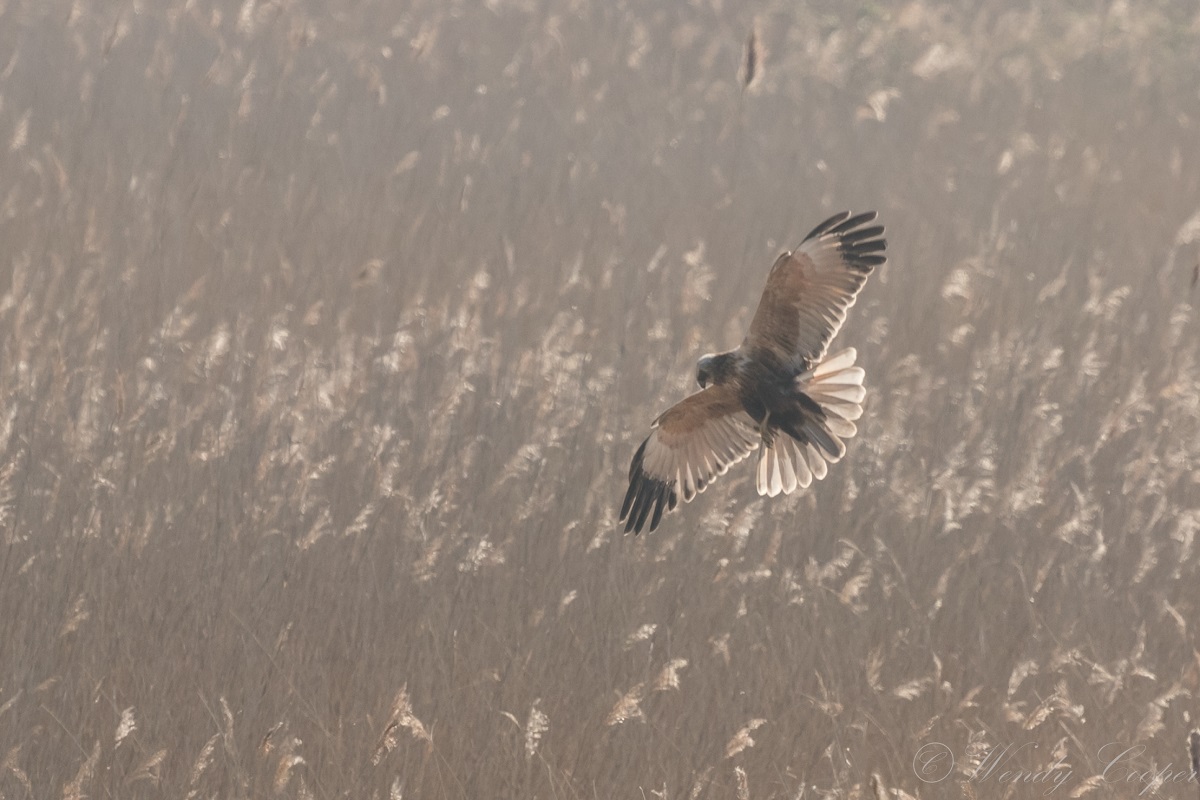 Especially when he came right across in front of us! With that as a beautiful finale to our few days away, we headed off for dinner.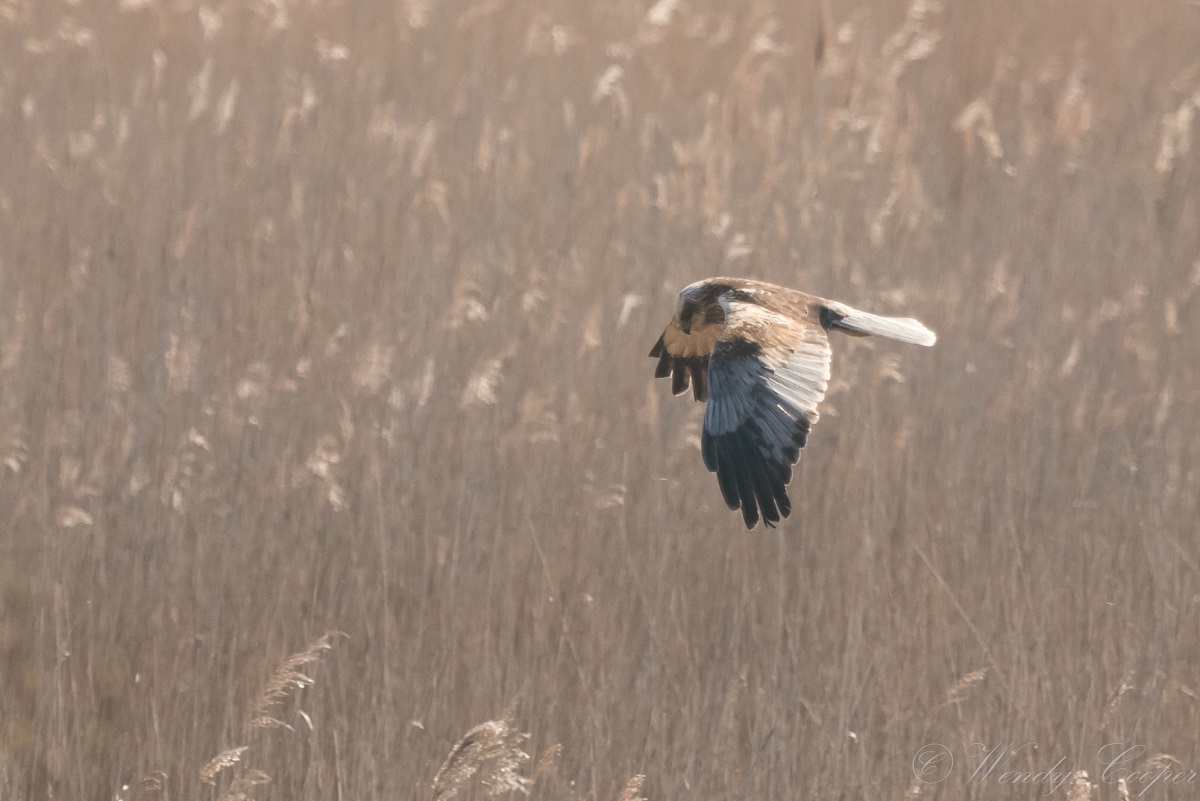 I hope you have enjoyed my blog, if you would like an email notification when my next blog is published, please add your email address to the 'Sign Up' box below, you will then receive an email with which to confirm your subscription.
As always, comments, feedback or questions are welcome, so please feel free to contact me via the comments section below or via the guestbook.
Comments