A Flying Trip to Norfolk!
11/12/2016 - 16:05
Well hello there!
We recently had a couple of days up on the North Norfolk coast, an area we have not been to for quite sometime, with trips to Suffolk, the Forest of Dean and of course the Isle of Mull having been taken between times, so a visit to a few of our favourite haunts there was long overdue.
The weather was bright but very cold when we arrived on the Sunday and after a nice lunch in Blakeney, we decided to forgo our usual stroll on the marsh and head to Cley instead. On arriving at Norfolk Wildlife Trust Cley Marshes we decided to go to the single hide on the roadside of the scrapes where the three main hides are first. As we walked along, we could hear geese honking to each other and there was a distant Kestrel hovering above the reeds.
Once settled in the hide, looking out across the water, there were a selection of Teal and Shovellers dabbling or snoozing and Godwits probing about for food. From time to time we could see gulls arriving far over the back of the scrape and could still hear the geese honking, with occasional skeins of them passing overhead.
Teal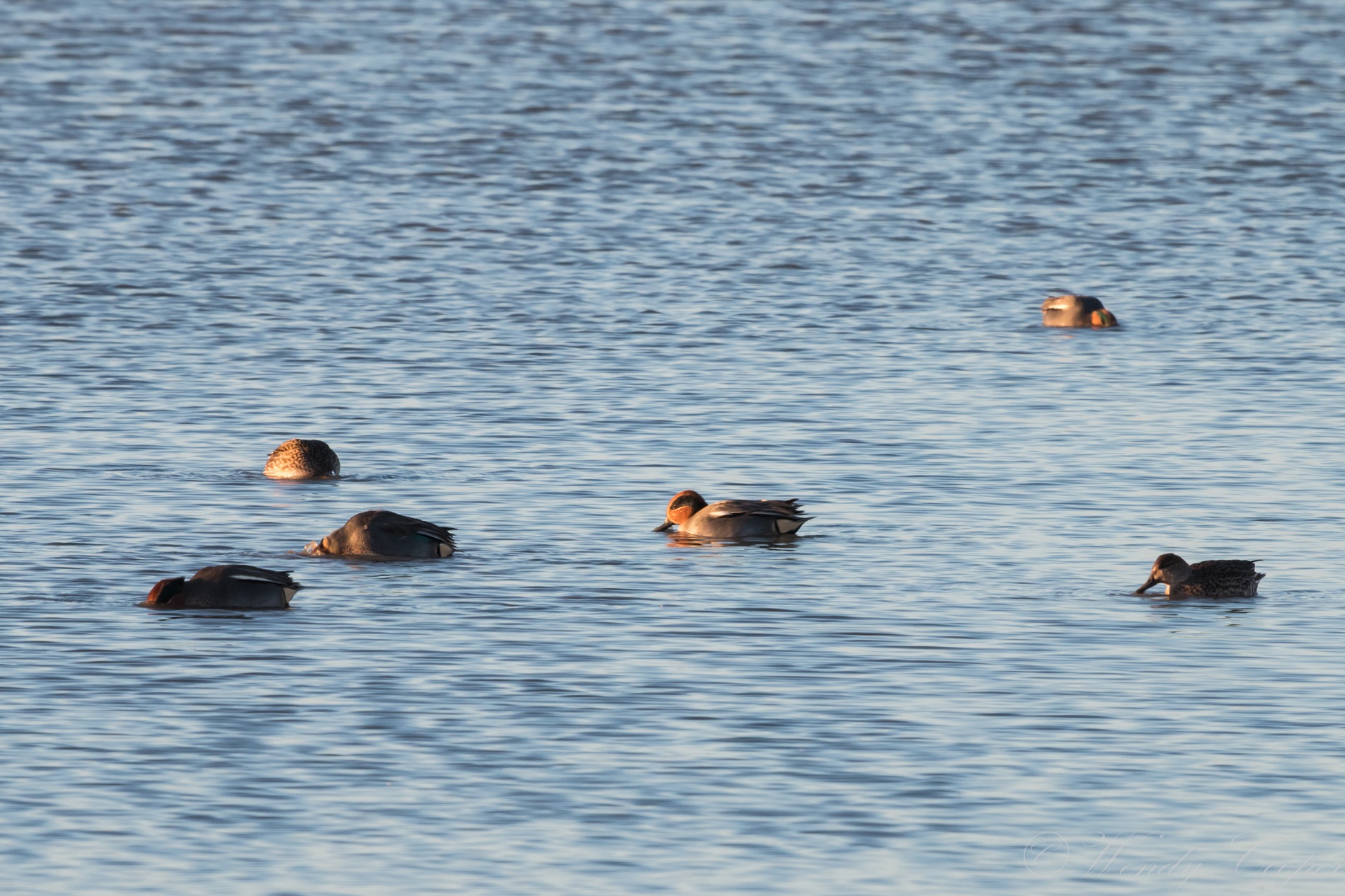 A couple of metres from the front of the hide, there is a little waterway, which is often good for waterfowl wanting a quiet spot to themselves, particularly Moorhens who like to have a good forage there; as I was peering about along it, suddenly a bird, slightly smaller than a Moorhen, stepped elegantly across to the far side and disappeared behind the vegetation. Managing to suppress a squeal of delight, it was a Water Rail! Now I have only ever seen one before (also in Norfolk), but have often stood at Fowlmere, Wicken Fen and Minsmere, peering into the reeds upon hearing one squealing away deep in the reeds but never appearing. This was a real treat!
Water Rail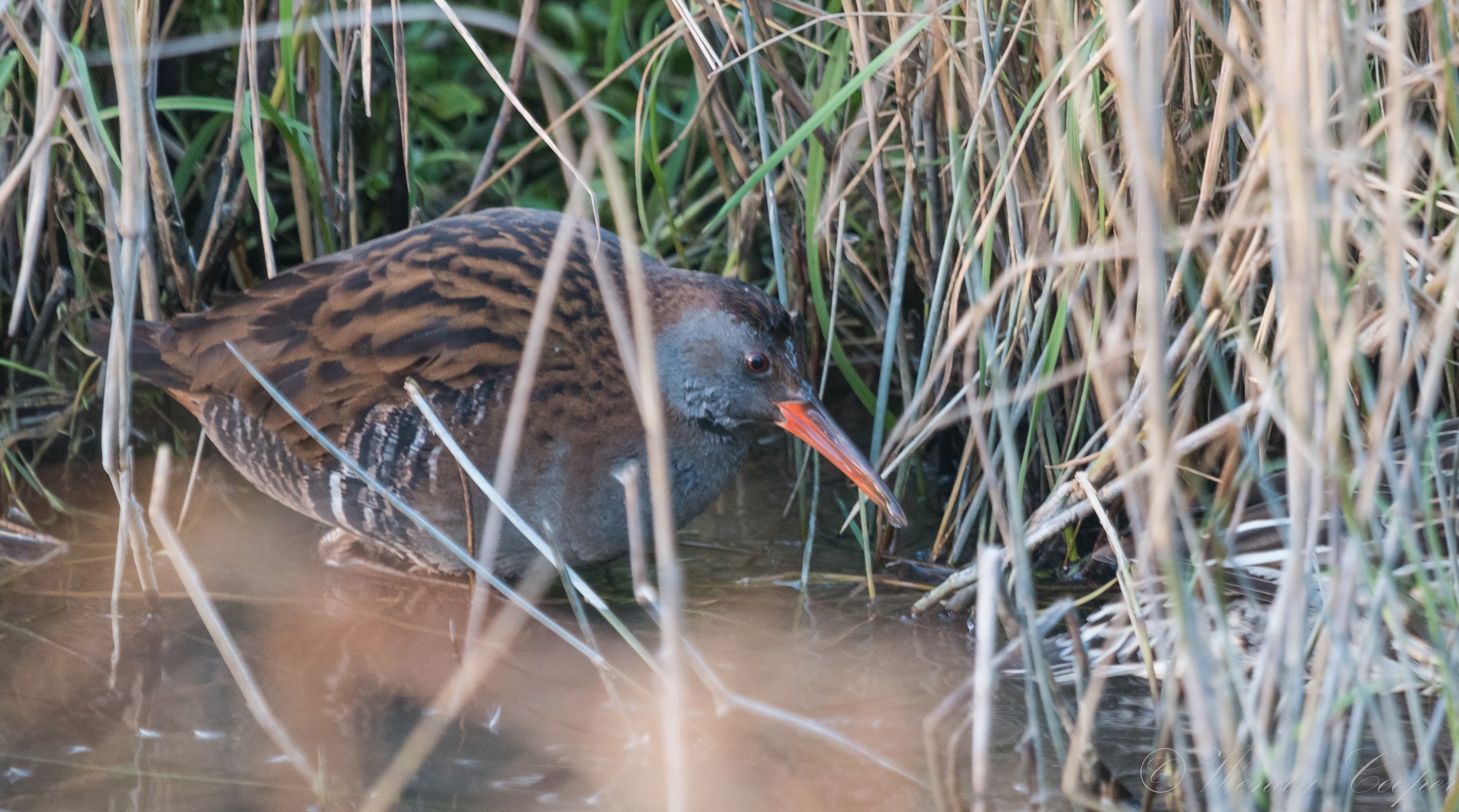 A member of the Rail family, which also includes Coots, Moorhens and Crakes, the Water Rail is an extremely secretive resident of freshwater habitats, preferring to stay hidden deep in the reeds or other vegetation. It is slightly smaller than a Moorhen and it's colouring provides excellent camouflage as it forages quickly in watery margins. There is a thinly spread breeding population of them, however in the winter, their numbers increase with visitors from Europe. Of the two I have watched, they rarely stay still and with this particular one, it was a case of waiting for it to progress to a relatively clear space in the grasses to attempt a photo - I simply had to preserve the moment! Peering at the grasses, there was only the slightest hint that the bird was moving through them with hardly a ripple in the water or a stem moving.
I decided to head round to the central hides before the light went, whilst Hubby went for a cup of tea; as I was walking, the Kestrel we'd seen earlier was right ahead of me hovering over the field.
Kestrel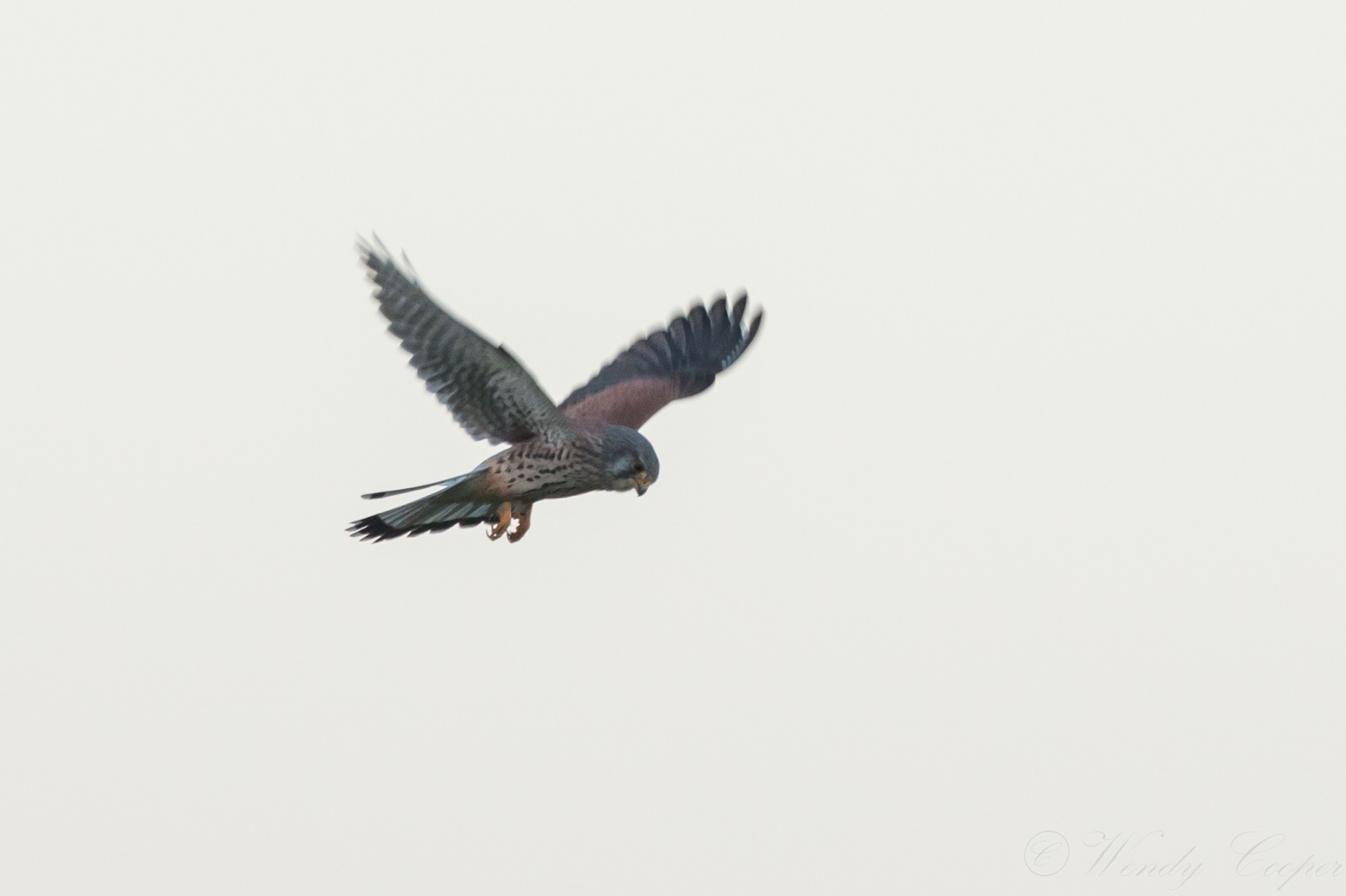 It was a very smart male, intent on something on the ground, however despite getting lower and lower, the prey seemed to get away as he flew off to survey another spot. (I stayed well back so as not to interrupt him - his dinner being more important than a photo - the advantages of a long lense!). After he had moved off, I carried on to the hide where a gentleman kindly pointed out a Water Pipit that was busily working it's way along the water's edge - a first for me! I sat for a while watching it - they don't hang about and are quite fast - as it foraged, before it disappeared out of sight.
Water Pipit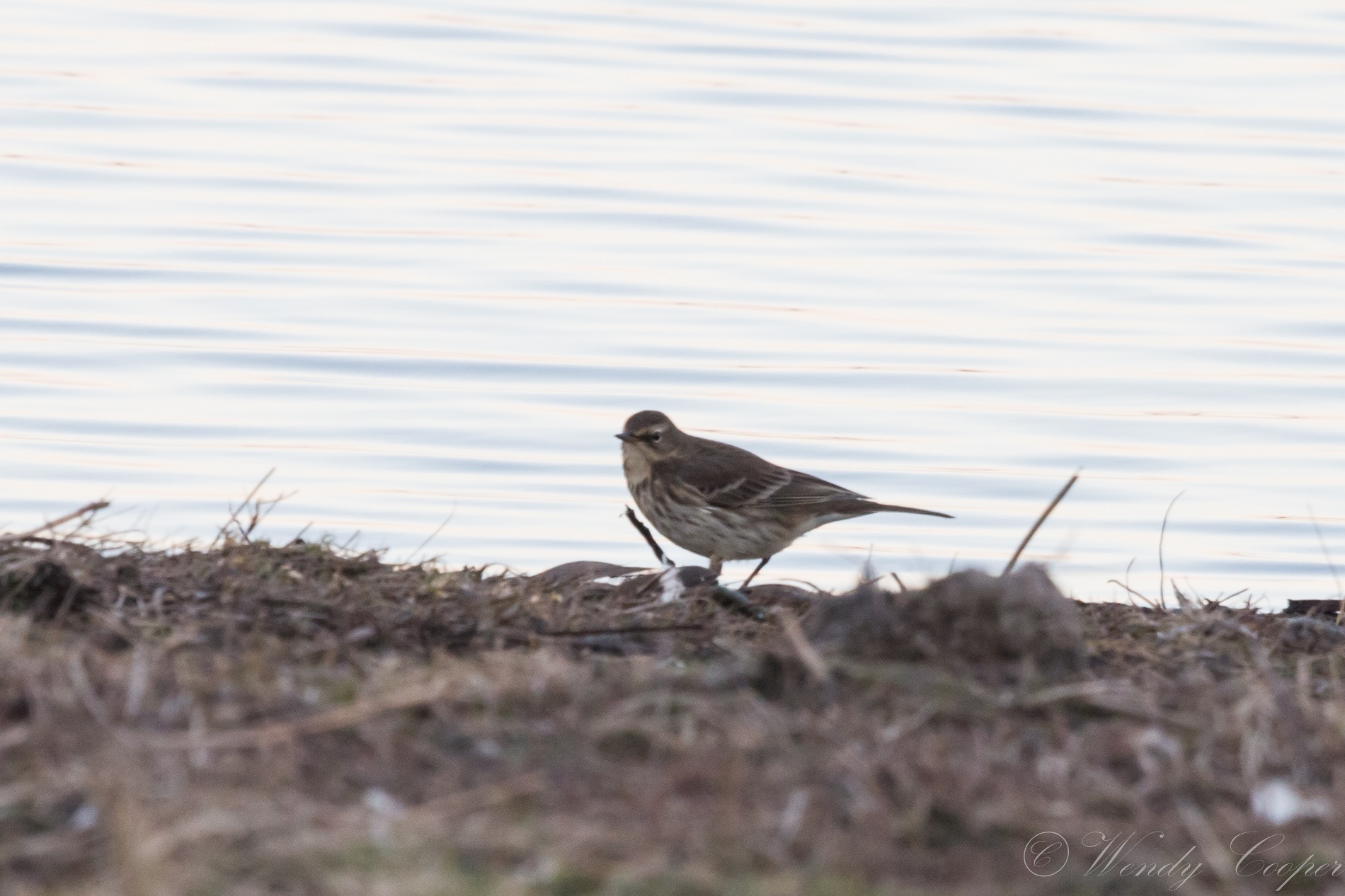 Water Pipits are mostly winter visitors, but can also be seen passing through in spring and autumn. They breed in Central or Southern Europe and whilst they are freshwater habitat birds, preferring flooded margins of freshwater marshes, they are not resident here.
Further out on the marsh, there were a large group of gulls, Black Headed and Great Black Backed as well as a number of juveniles
A bit of an assortment!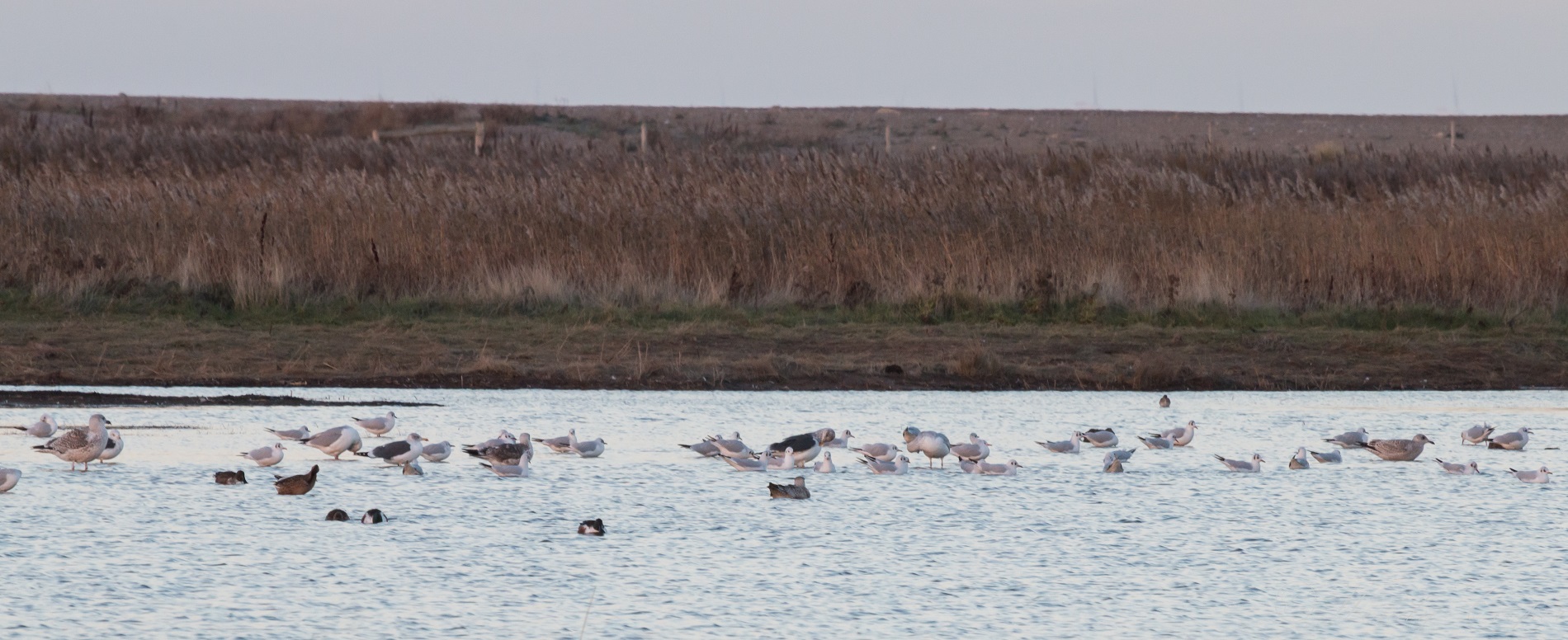 and in a quiet corner close to the hide was a handsome Shoveller duck.
Male Shoveller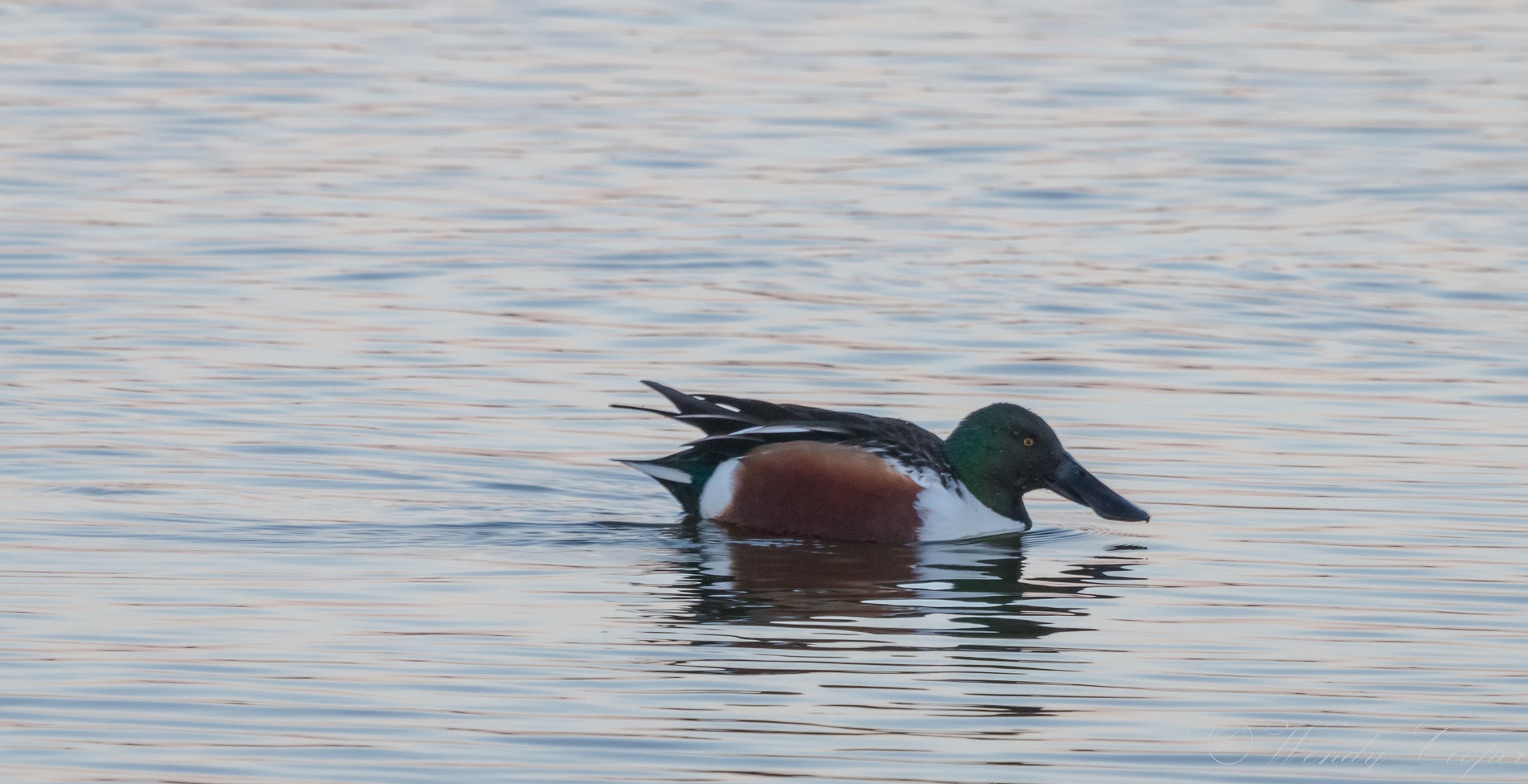 The light was really starting to go, so rather than a walk back in the dark, after a last watch of a solitary Redhsanks foraging, I decided to head back to meet up with Hubby.
The evening Redshanks.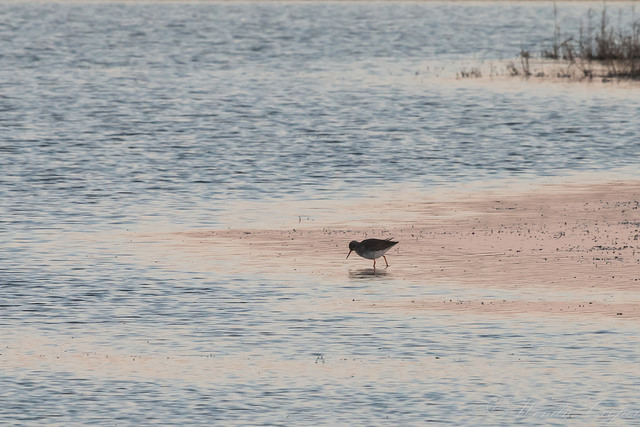 The next morning dawned bright, frosty and extremely cold! After a hearty breakfast, we set off for a walk at RSPB Titchwell, a favourite haunt as there is always something to see and just along from our hotel, where we have stayed many times over the years.
On arriving at the car park, as I was getting myself organised (boots, binoculars and camera - right order or I'll lynch myself with the straps!) I looked up at the tree above the car and could see a couple of small birds foraging and fluttering amongst the branches.. Chiff Chaffs!
Chiff Chaff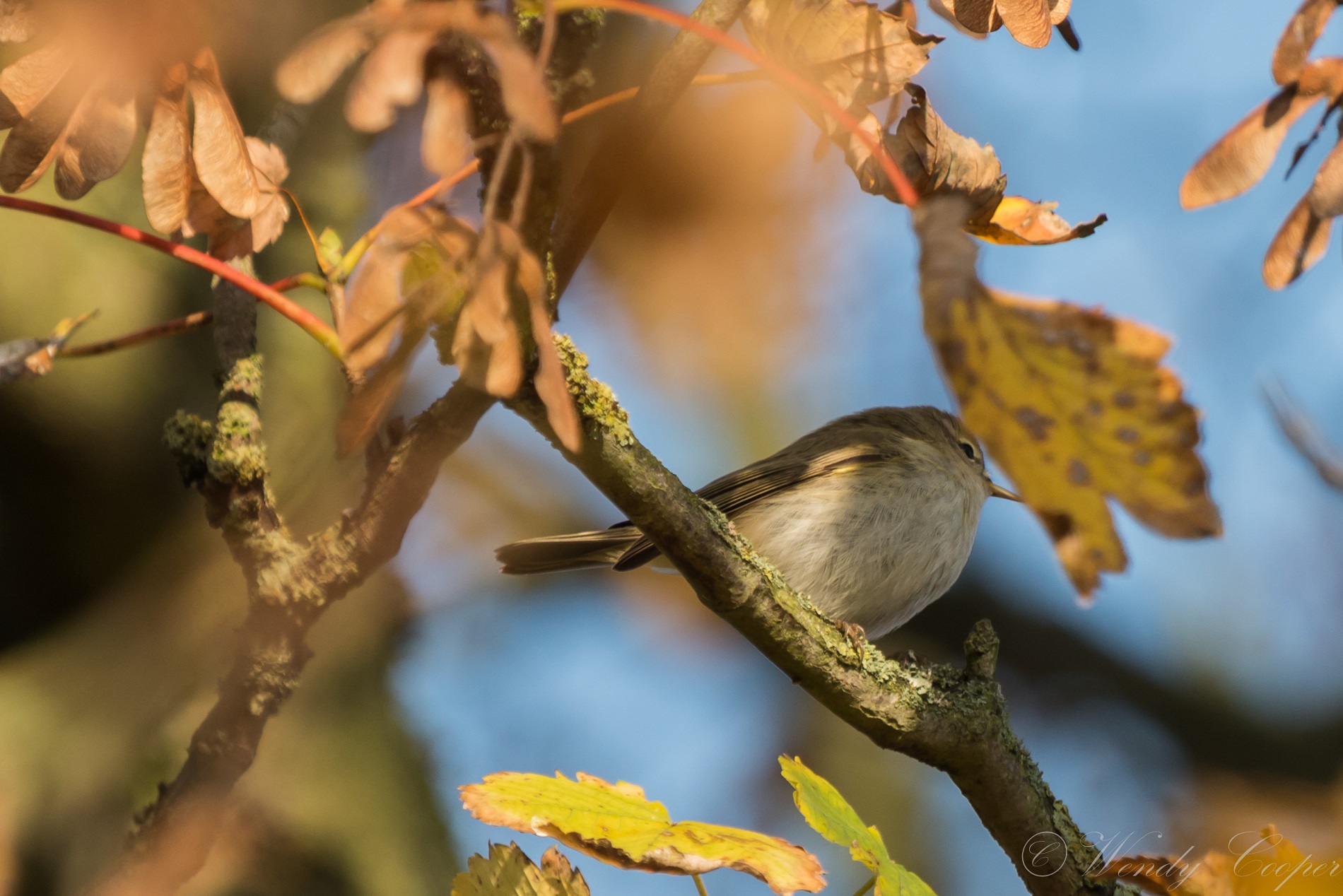 Now I know that a few of these overwinter here, however I've never seen them about as late as December, so this was a surprise to see two busily working their way through the branches.
After the excitement of the car park, we headed over to the East Trail and Viewpoint. All along our walk there were a lot of Robins hopping about, perching and singing, with a background chorus from Goldfinches and the occasional declaration from a Wren.
Robin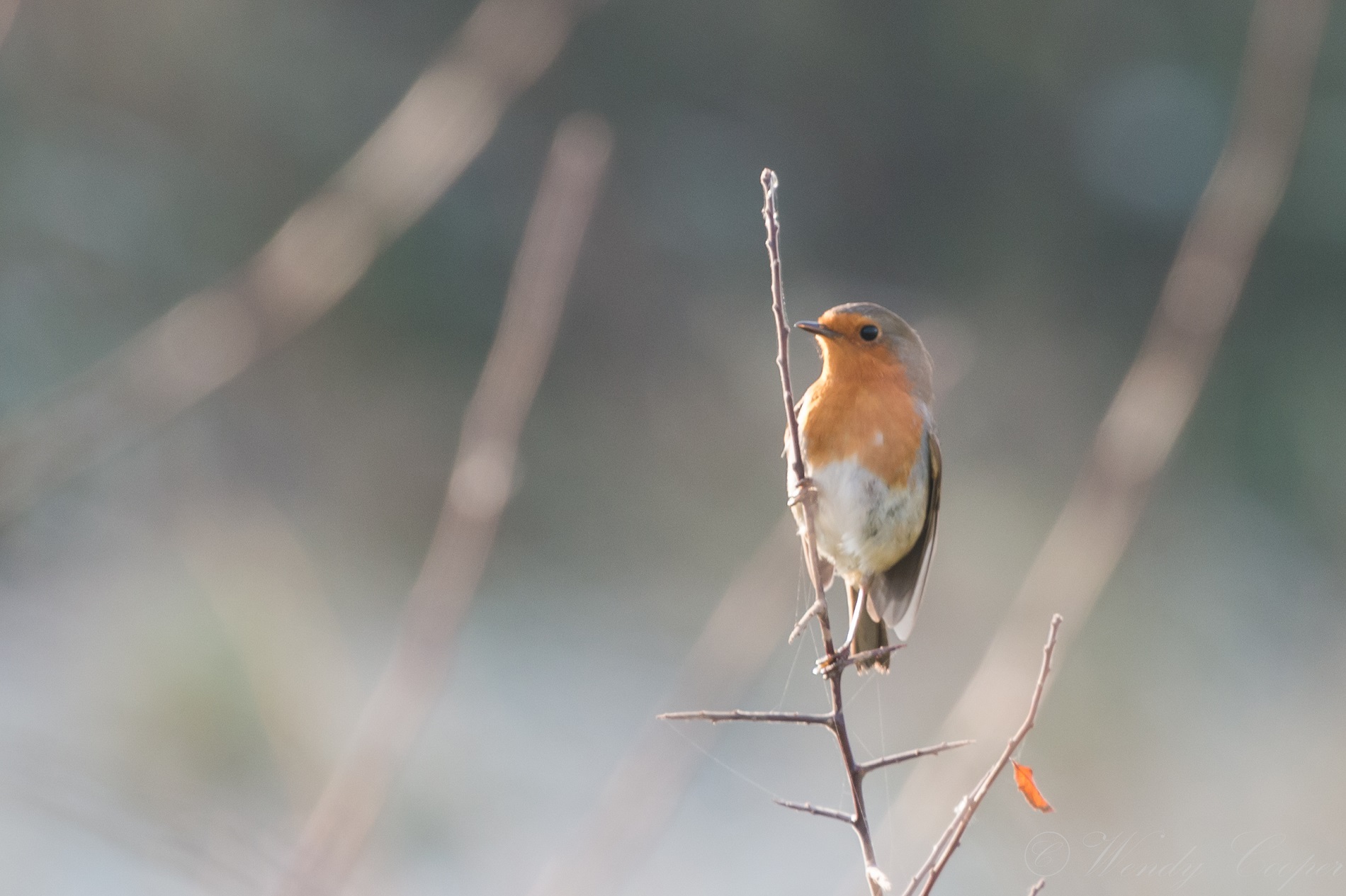 We walked along, escorted by a friendly Robin, heading towards the start of the autumn trail (now closed) and watching across the reeds, we saw three Marsh Harriers deciding amongst themselves, where to perch. Two settled for lookout spots in the line of dead trees, however one came somewhat closer over the reeds and decided to try one of the willow trees. The branches were not strong enough to support her however, so after a spot of undignified flapping amongst bendy branches, she quartered for a while, before heading off to find another perch.
Marsh Harrier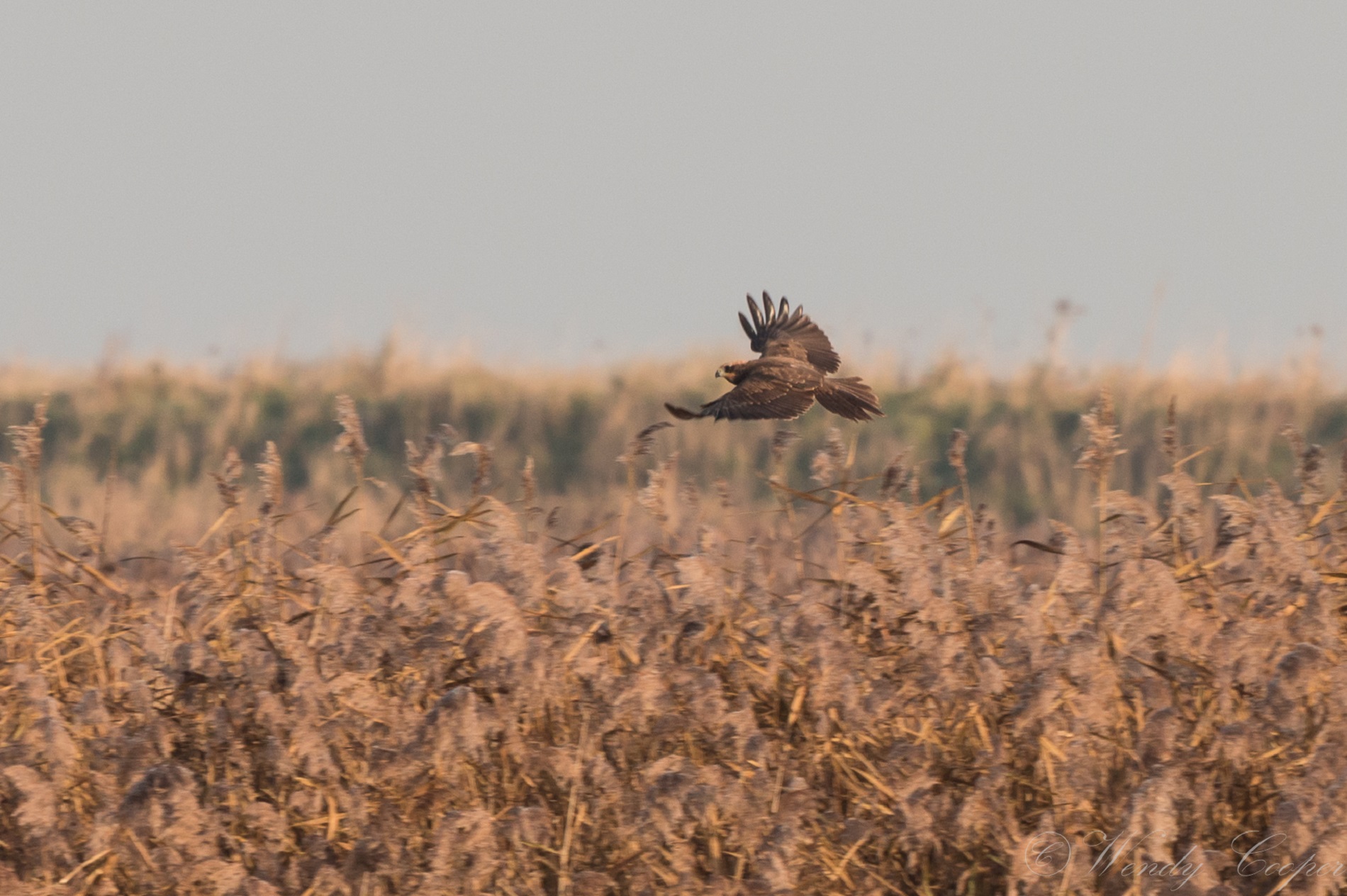 On returning to the viewpoint, we watched a few Teal come in and slide to a halt on the frozen mere, then a movement in the grasses right in front of us caught my eye... could it be another Water Pipit?
Meadow Pipit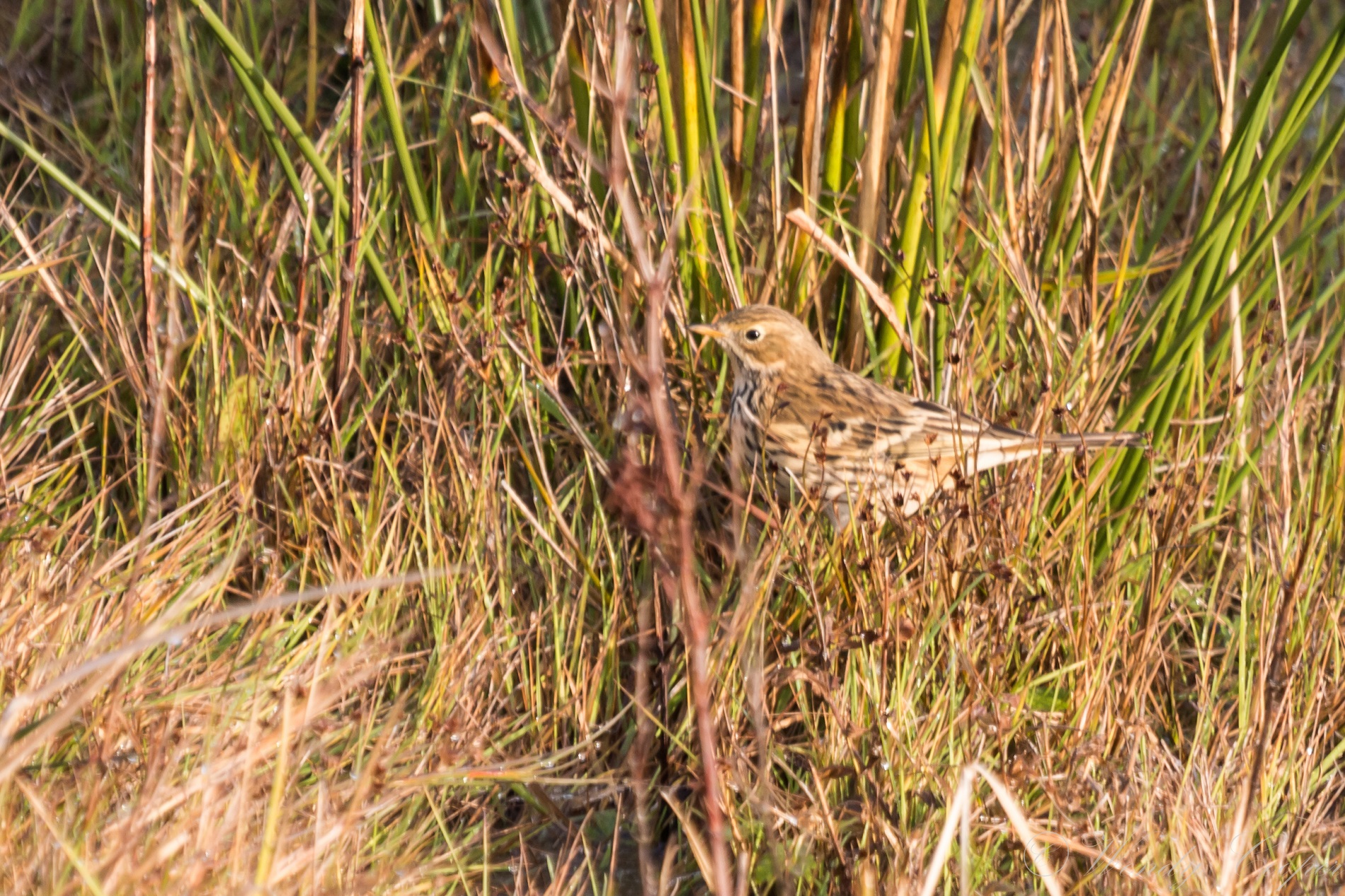 Watching carefully, eventually the bird came out of the grasses just long enough and in full view, it was a Meadow Pipit (orange legs against the darker ones of the Water Pipit). It quickly disappeared back into the undergrowth, but I could just about make out two of them pecking around. Whilst I was watching them, a small fast brown arrow flew along the reed margin and dove into the same patch of grasses and morphed into the vegetation.
Looking around at the water's edge, we could see a few small birds flitting and also singing from deep undercover! We heard an elusive Cetti's warbler a few times and there were also a few Wrens about. This one popped up for a good look around before flitting off into a nearby clump of reeds,
Wren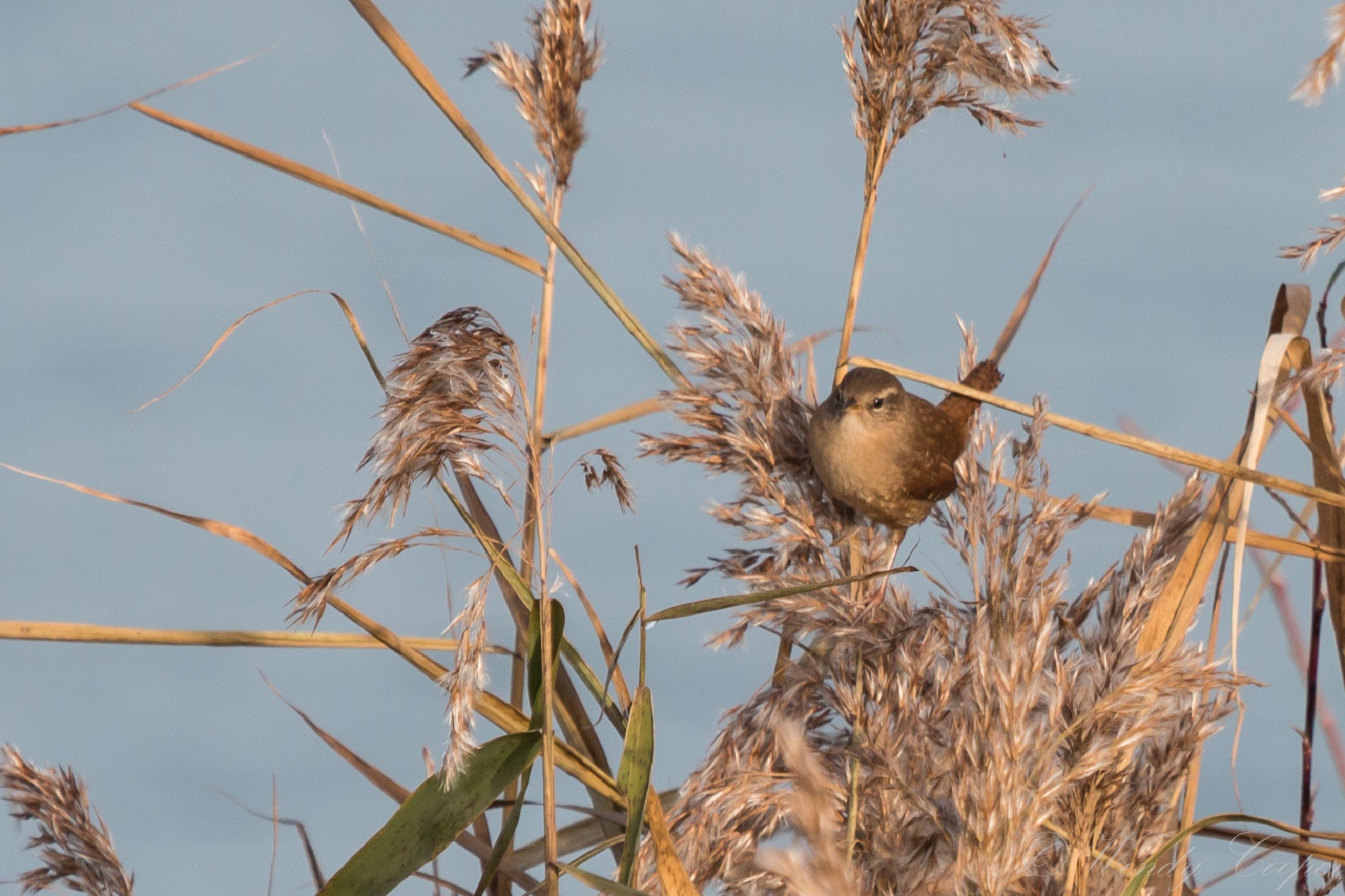 where moments later a Stonechat also appeared.
Stonechat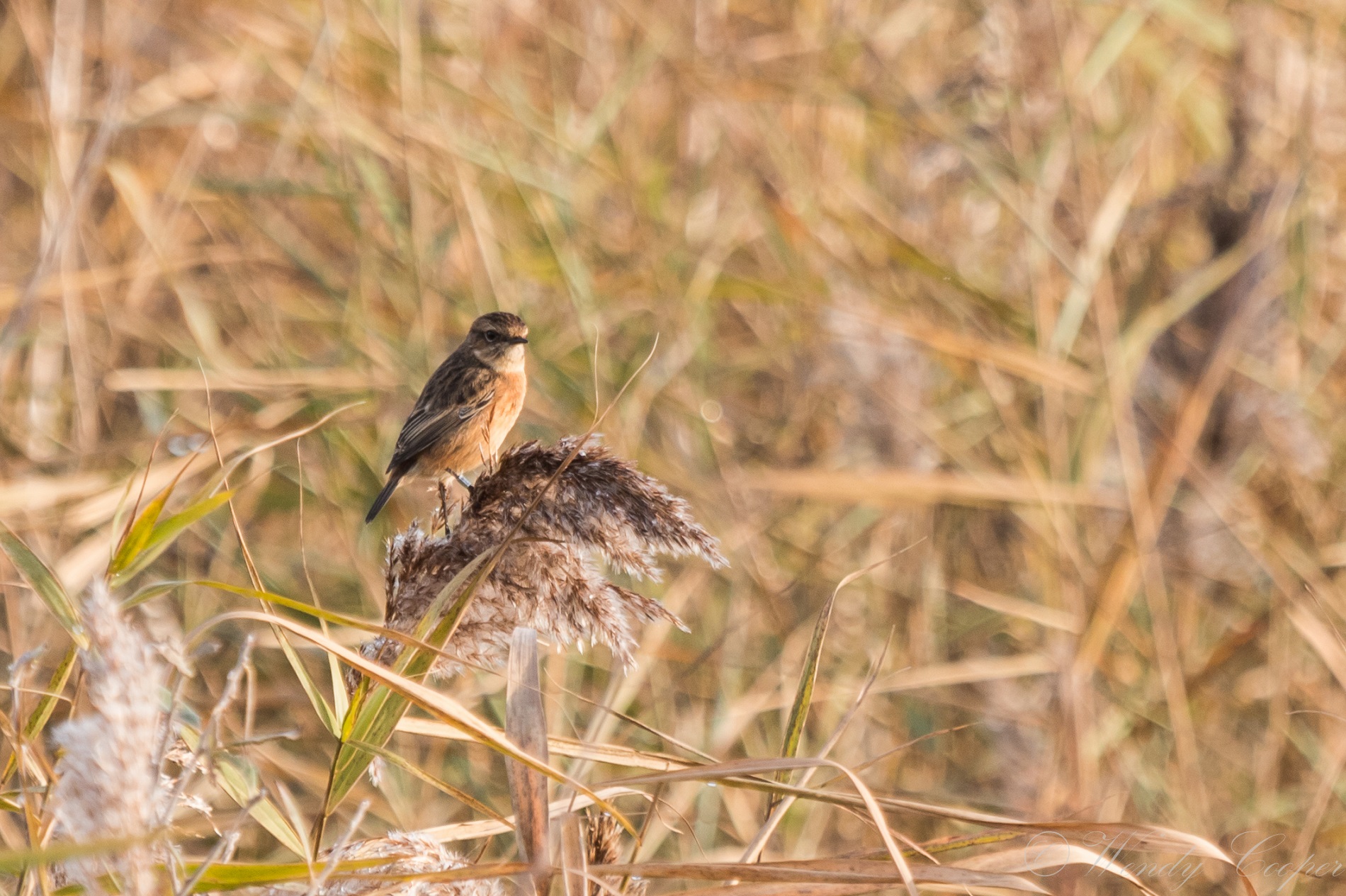 Watching the clump of grasses in front of me again, I could see movement and horizontal brown and gold stripes through the verticals of the grasses, after a while I got a better glimpse - it was a Snipe! Now I've seen these before at a great distance, so to see one up close, well, they are beautiful little birds and certainly masters of disguise!
Snipe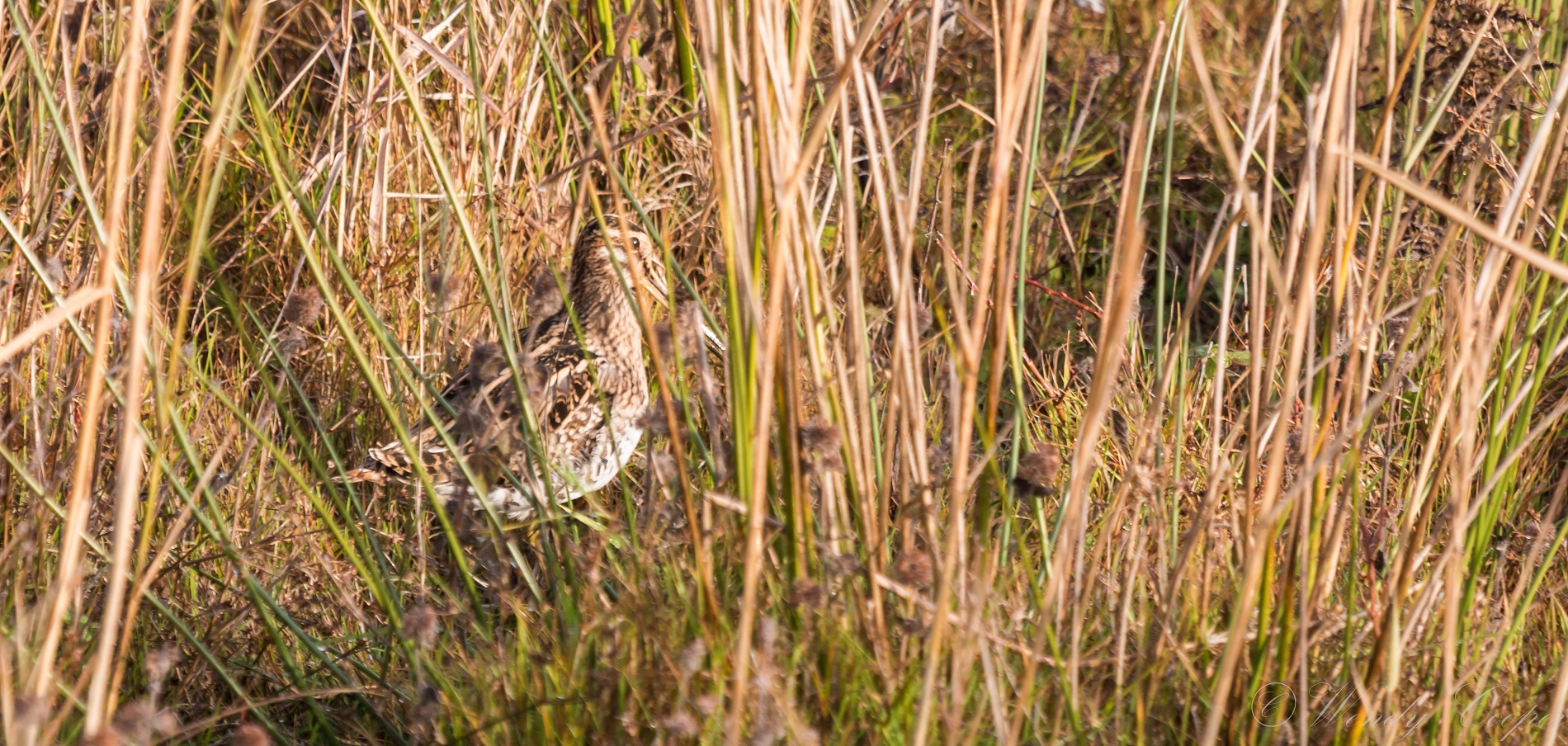 Snipe are a medium sized wader, part of the sandpiper family of birds and are widespread in the UK, although they are Amber listed. In the winter their population increases with migrants and they can mostly be found on marshes and boggy ground apart from in the breeding season when they favour moorland bogs and meadows. Snipe forage for small invertebrates by probing their long beak into soft mud.
After a final, rather cheeky glance from the Snipe, we headed off for a cup of tea, before starting a walk out to the beach.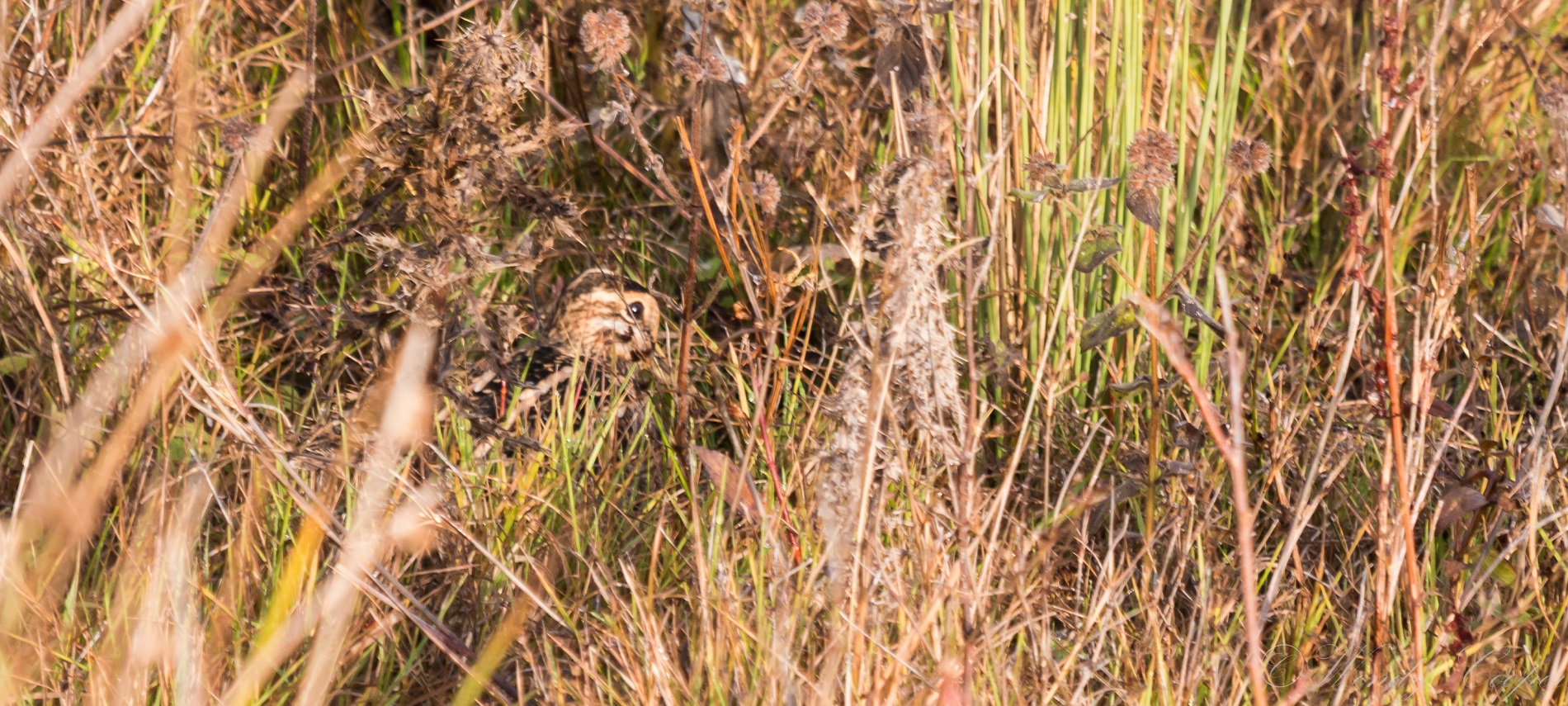 After a nice hot cuppa, we started off towards the beach. In the ditch and trees alongside the start of the path, were Long Tailed Tits, Chaffinches, Dunnocks and a number of Goldfinches preening after a very cold bath! Looking down into the little stream, there was a lot of splashing and flapping going on - I could see a grumpy looking Goldcrest bathing - it must have been freezing in there!
Goldfinch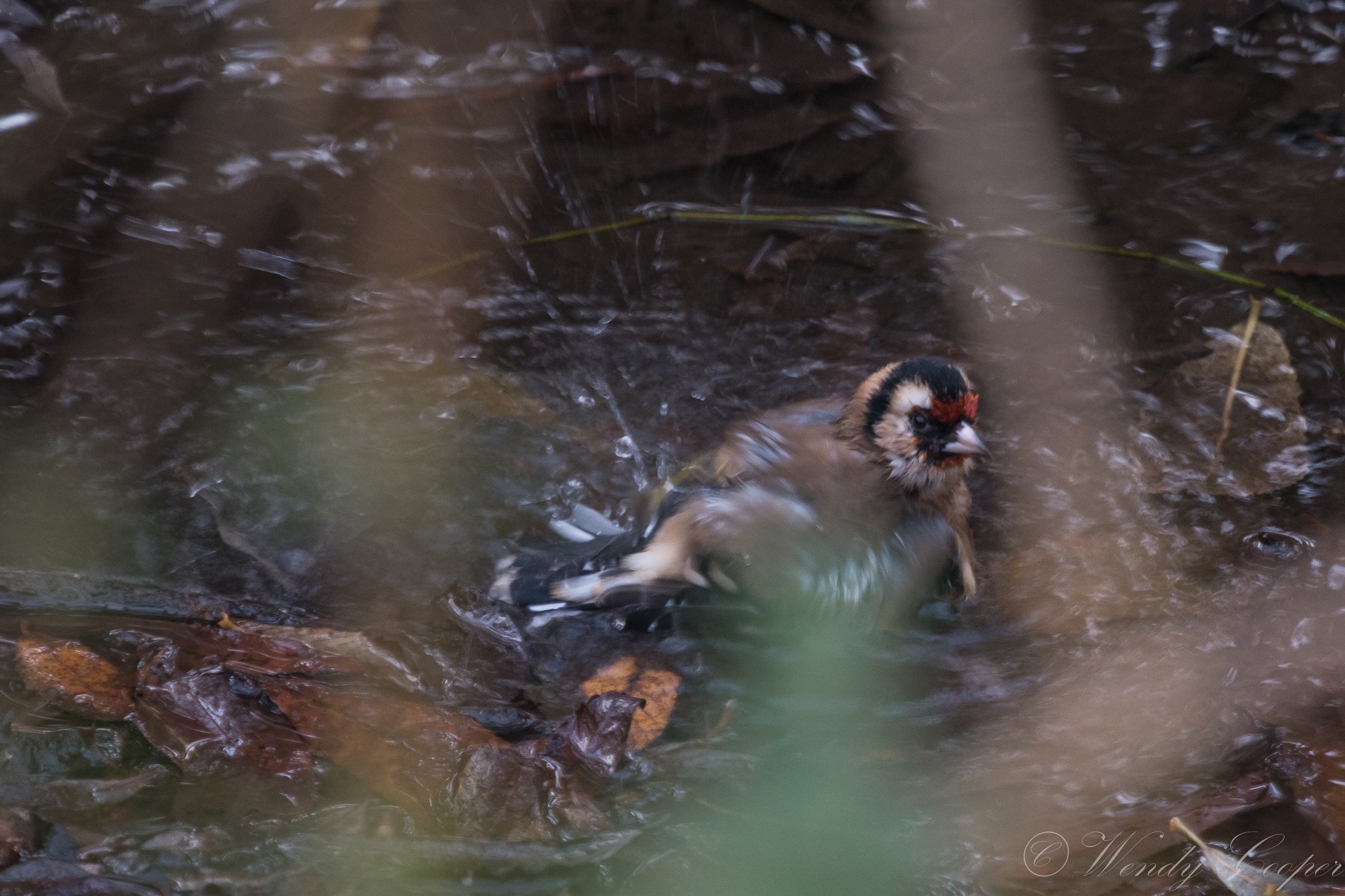 We continued on our stroll, peering over the marsh on one side and at the partly frozen meres on the other. The freshwater mere was almost completey frozen, although there were a number of waterfowl congregated in front of the Parinder hide, which were occasionally joined by small flocks of Brent Geese.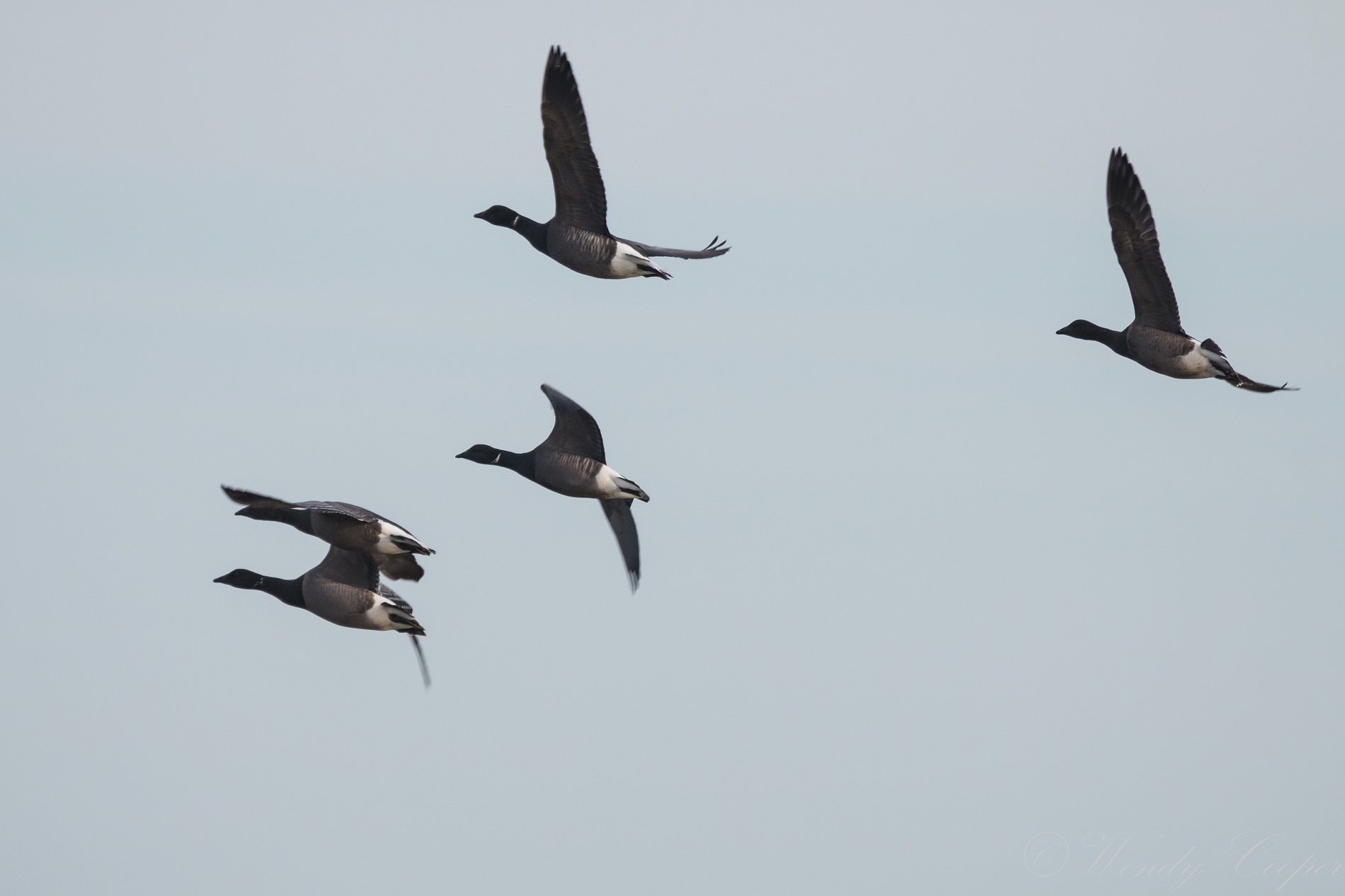 Continuing along, I spotted a pair of Wrens chasing amongst the stems on the slope down to the water. One disappeared to the water's edge, the other surveyed the area before flitting off over to better cover on the marsh.
Wren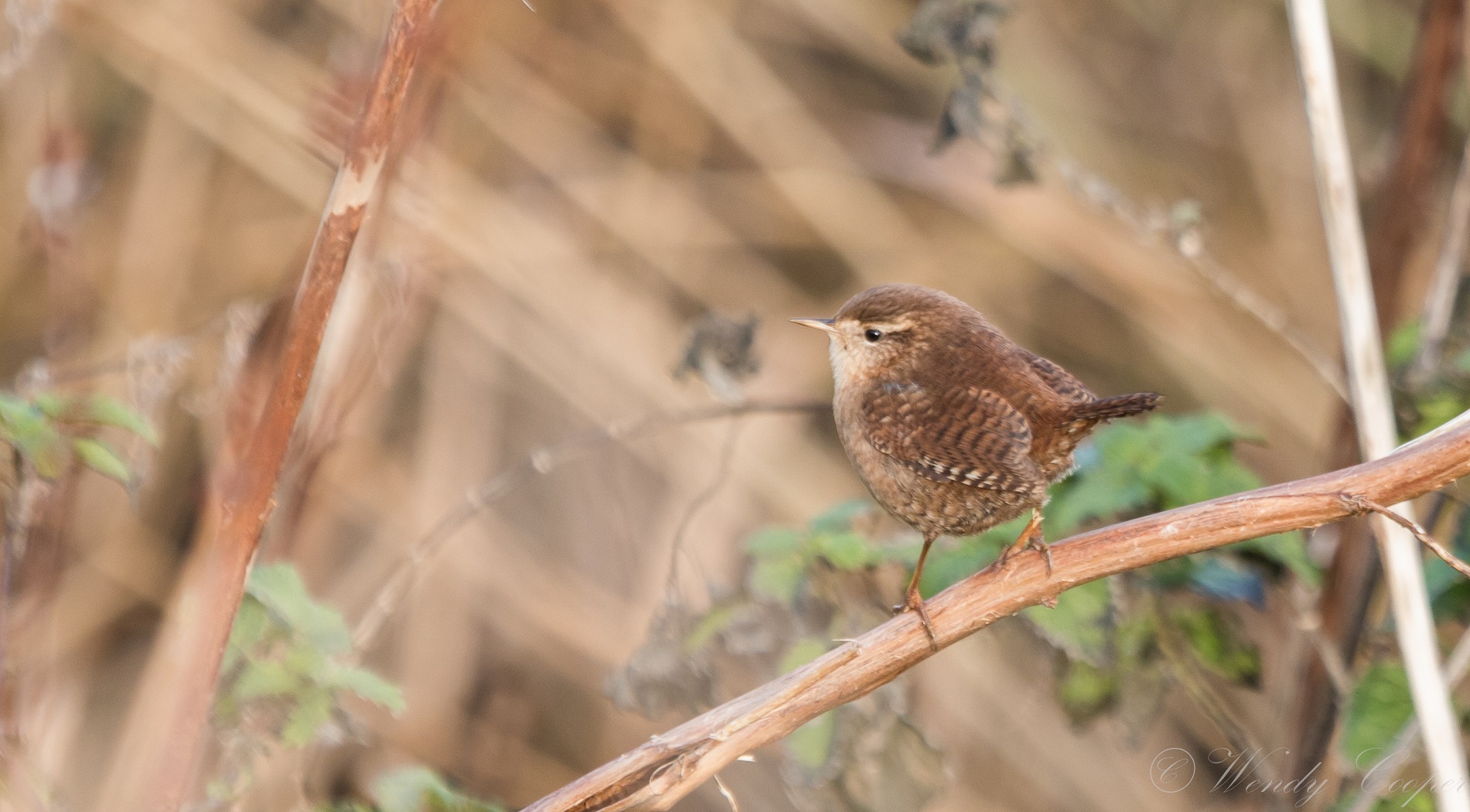 There were quite a selection of waders and ducks going about their business on the briny mere; along one bank, there was a Redshanks foraging - going along the water's edge and probing the mud for morsels to eat;
Redshanks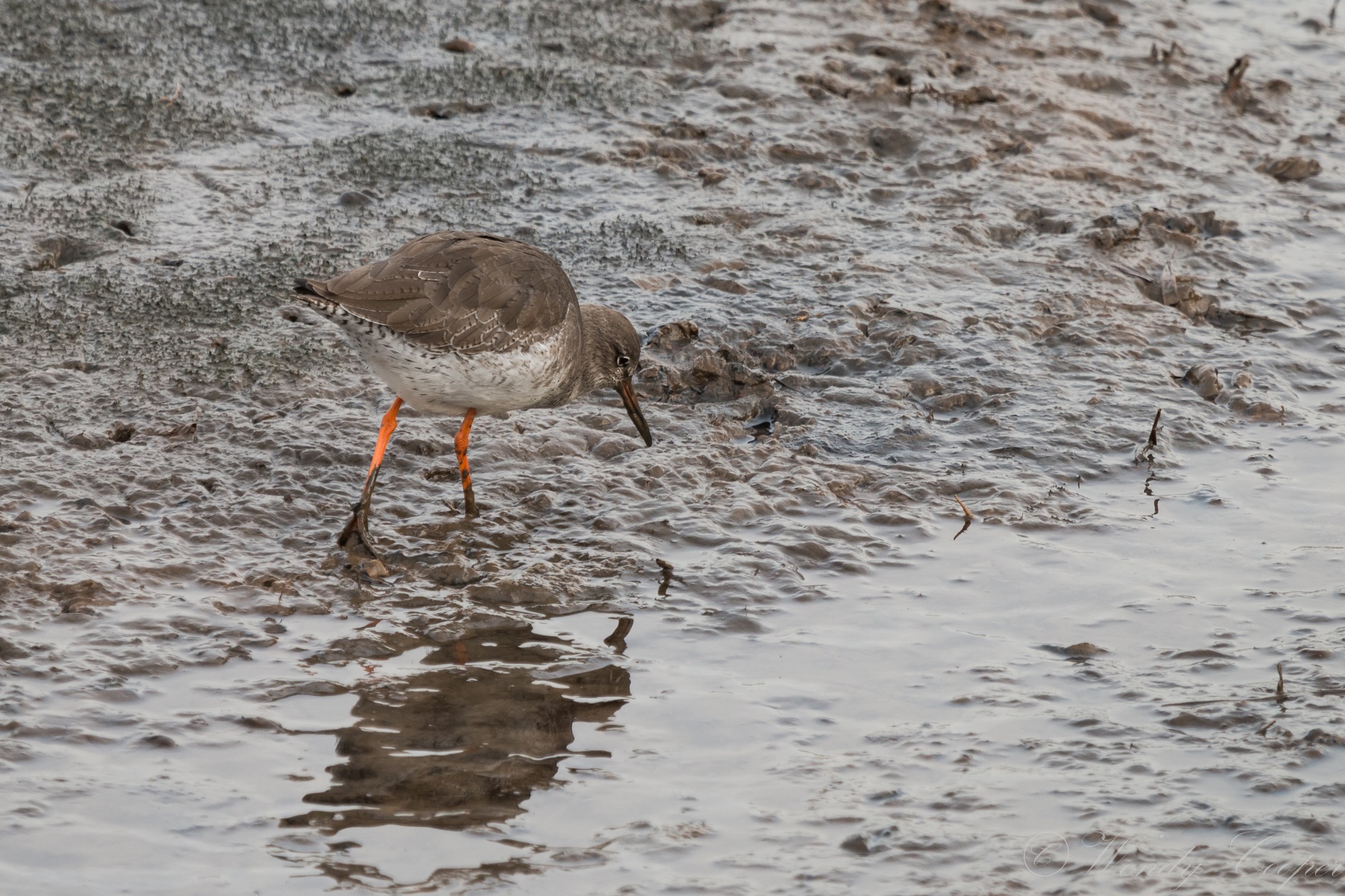 whilst having a bit of a potter about, there was one of a few Lapwings.
Lapwing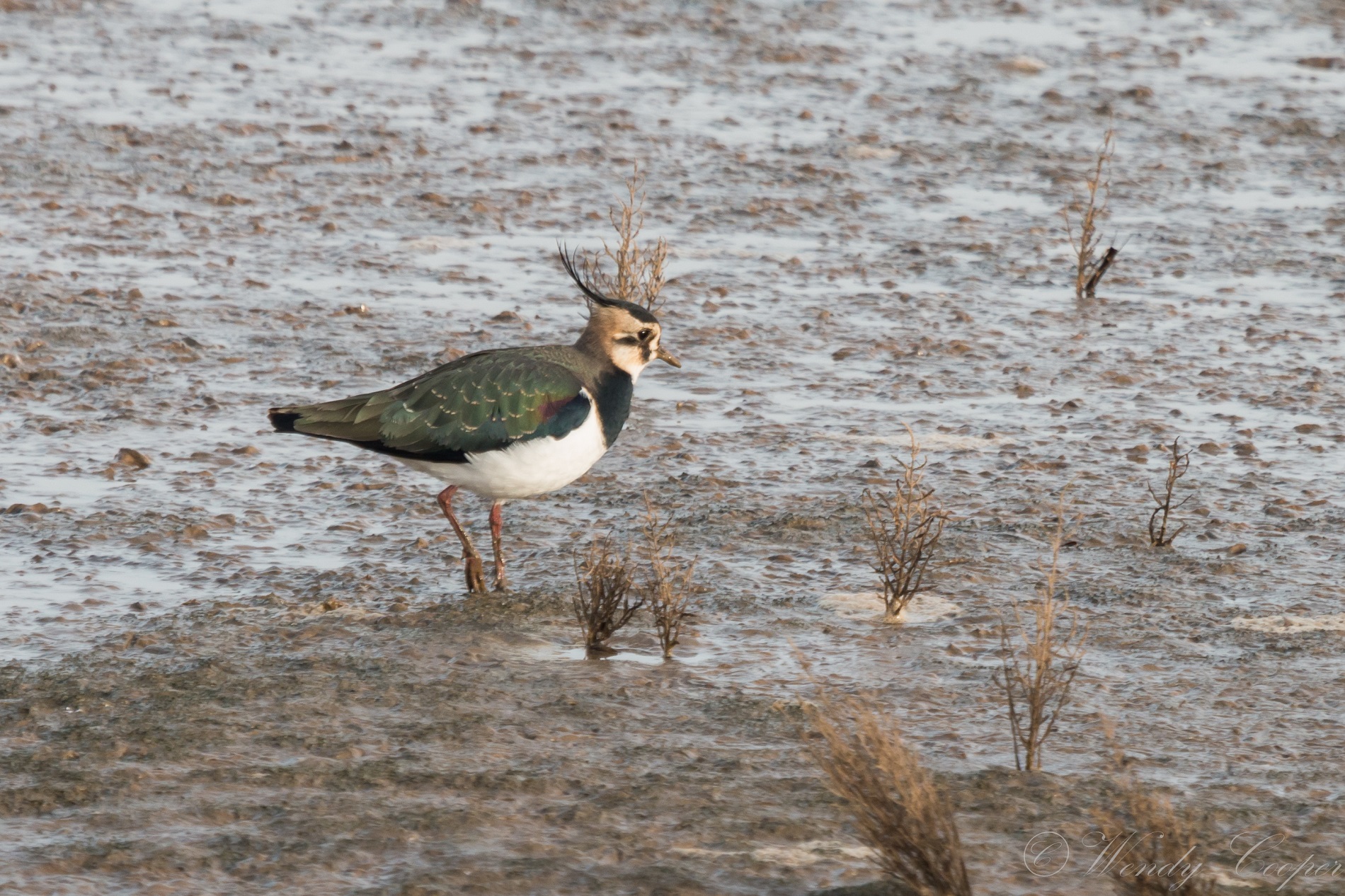 There were a couple of smaller waders too, Dunlin and Ringed Plovers, also picking about in the mud.
Dunlin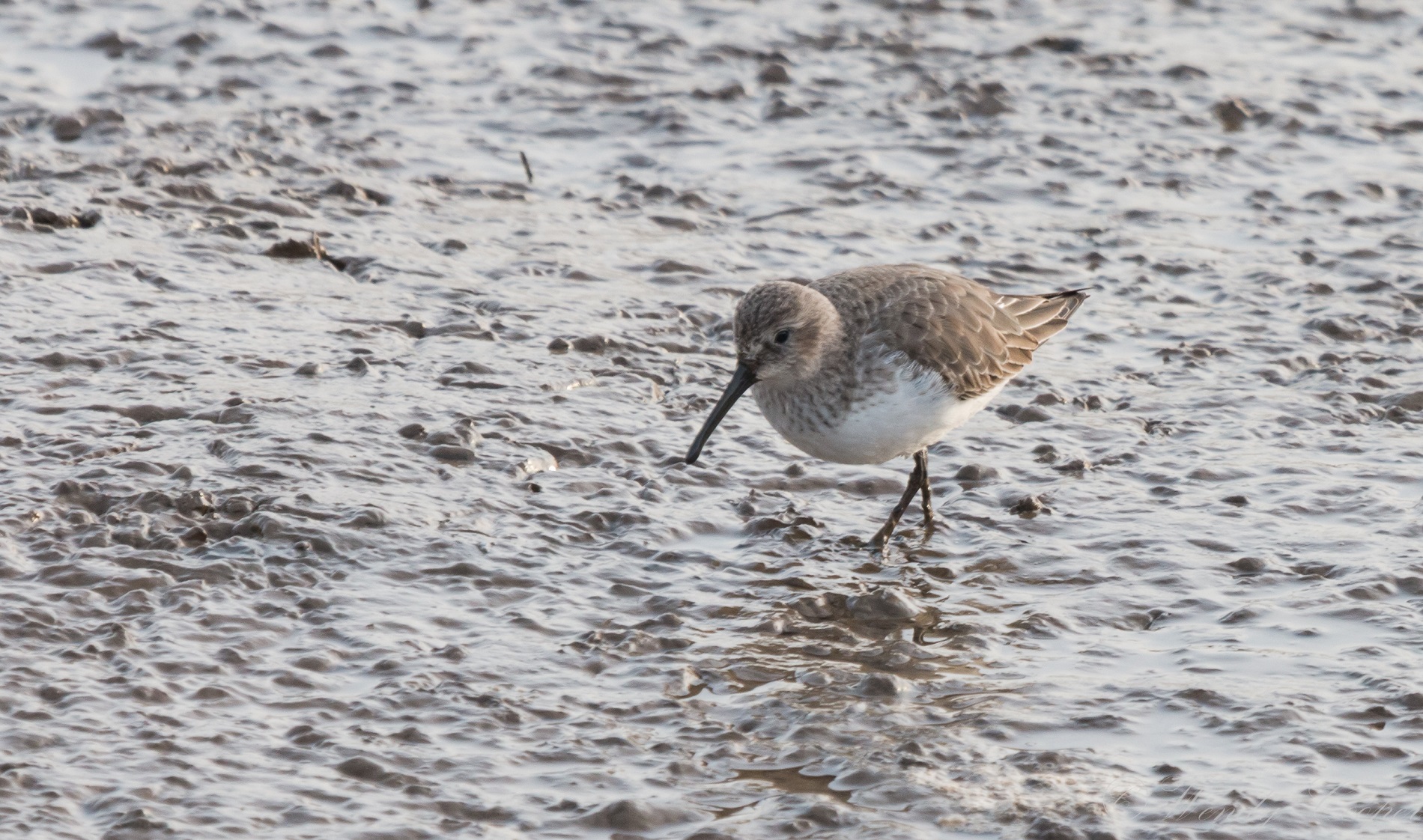 Ringed Plover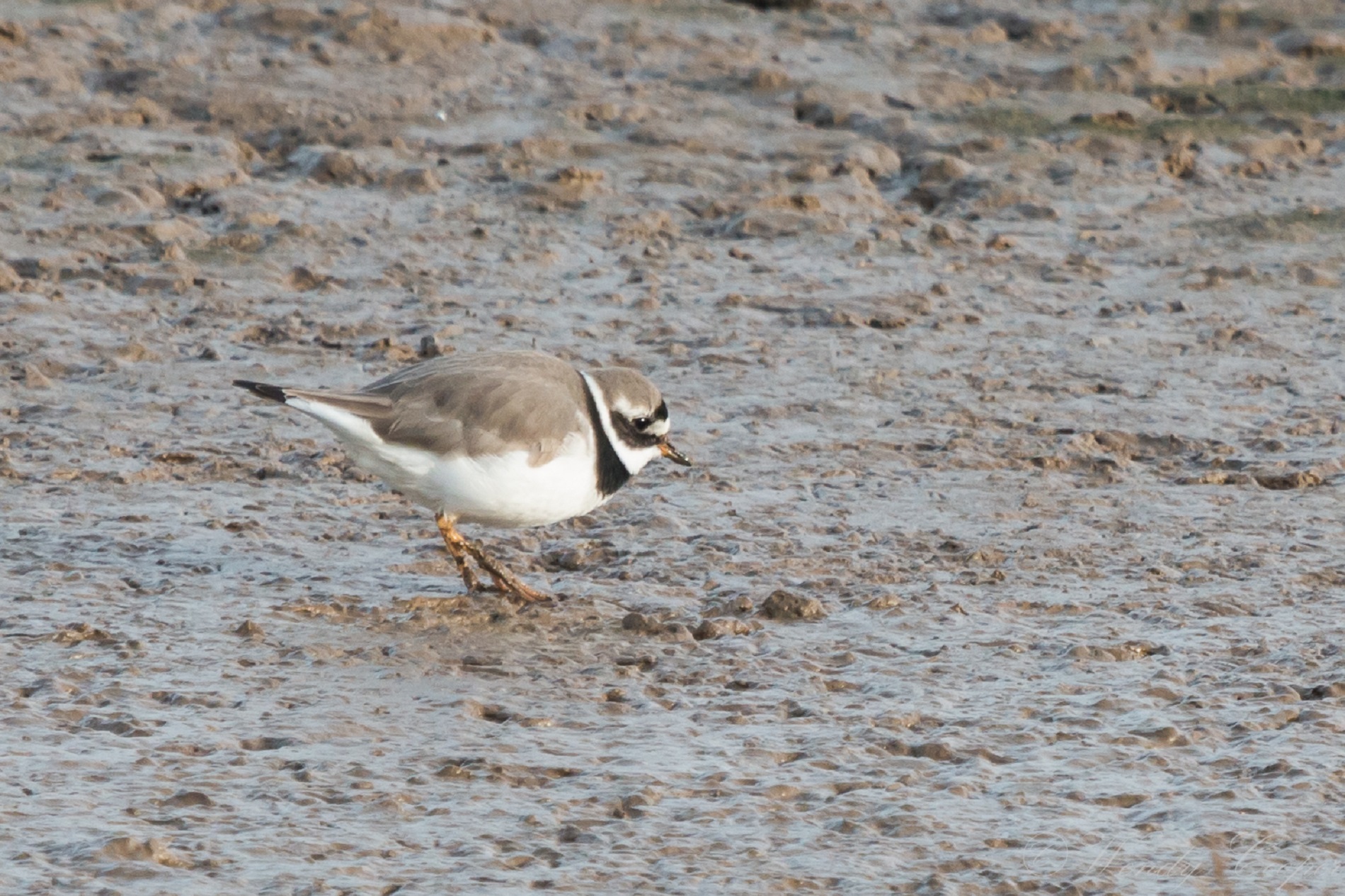 whilst in the little water channel alongside the path two Little Grebes were busy diving underwater for their lunch.
Little Grebe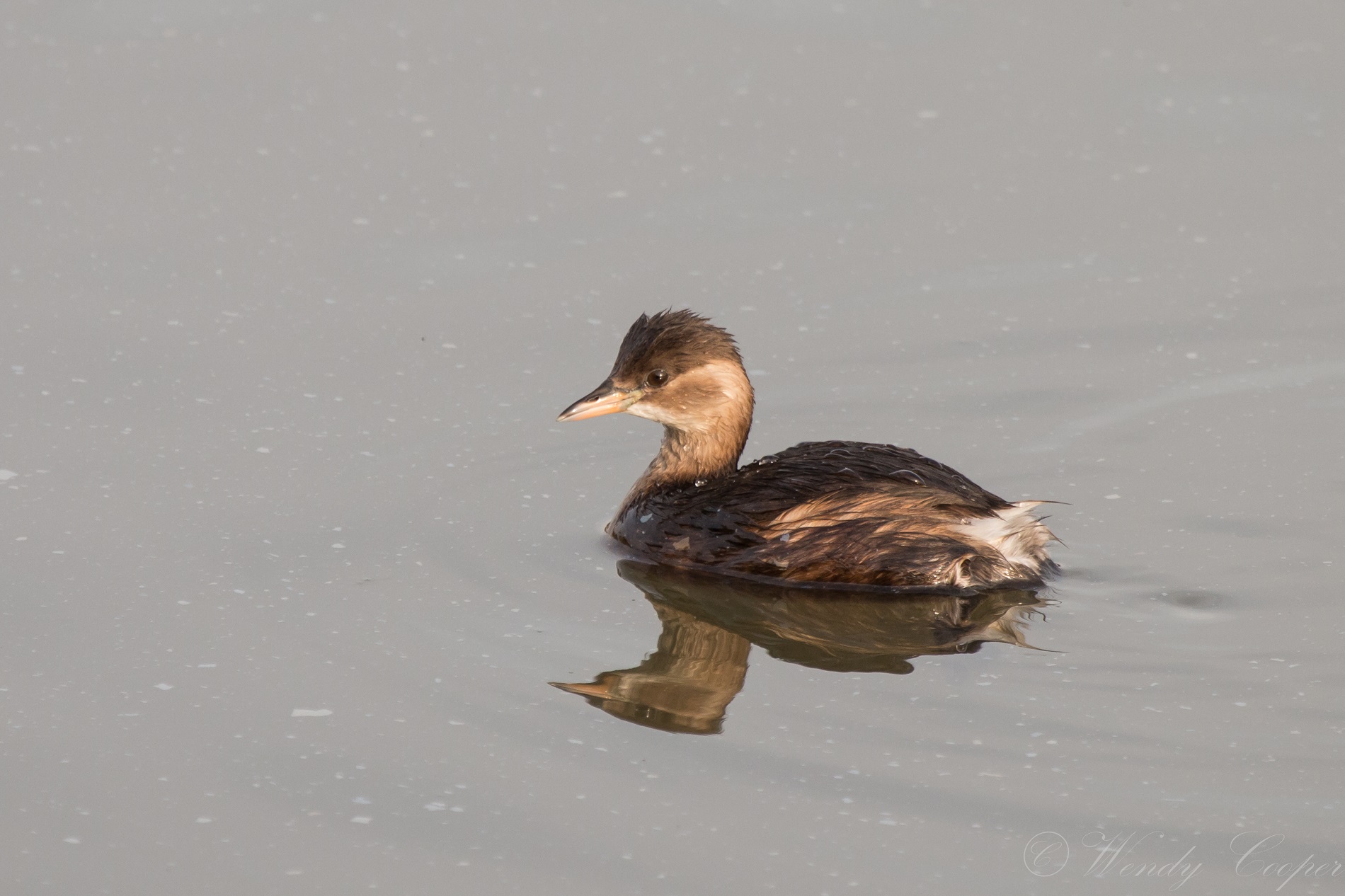 Here and there out on the marsh, we could see Little Egrets dotted about as well as small knots of Brent Geese. Suddenly I could see something moving through the grasses - a Curlew! Now back at the hotel and all morning we had been hearing them calling from time to time, but now we had a lovely view of our largest wader.
Curlew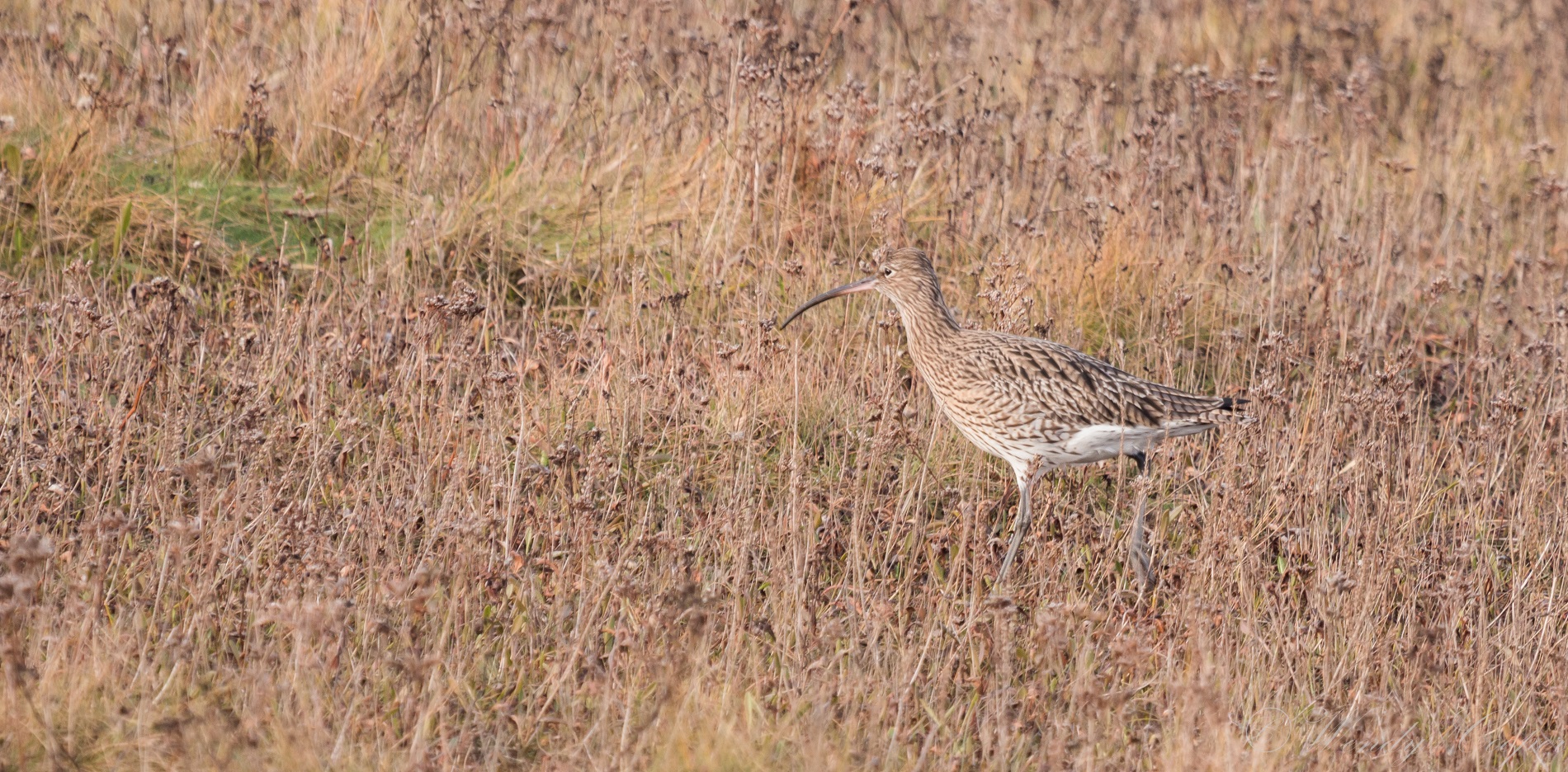 Then we reached the beach!
As we stepped onto the beach, there were a few Sanderling amongst the razorclam shells, however they departed before we got anywhere near, so we decided to wander down towards the water's edge, as the tide was some way out.
There were quite a few ducks out at sea towards Thornham, however, I started to wander in Brancaster direction, from which I was hearing quite a lot of Oystercatchers chattering. As I walked, I was treated to the sight of several of them flying along over the waves, all calling out their arrival.
Oystercatchers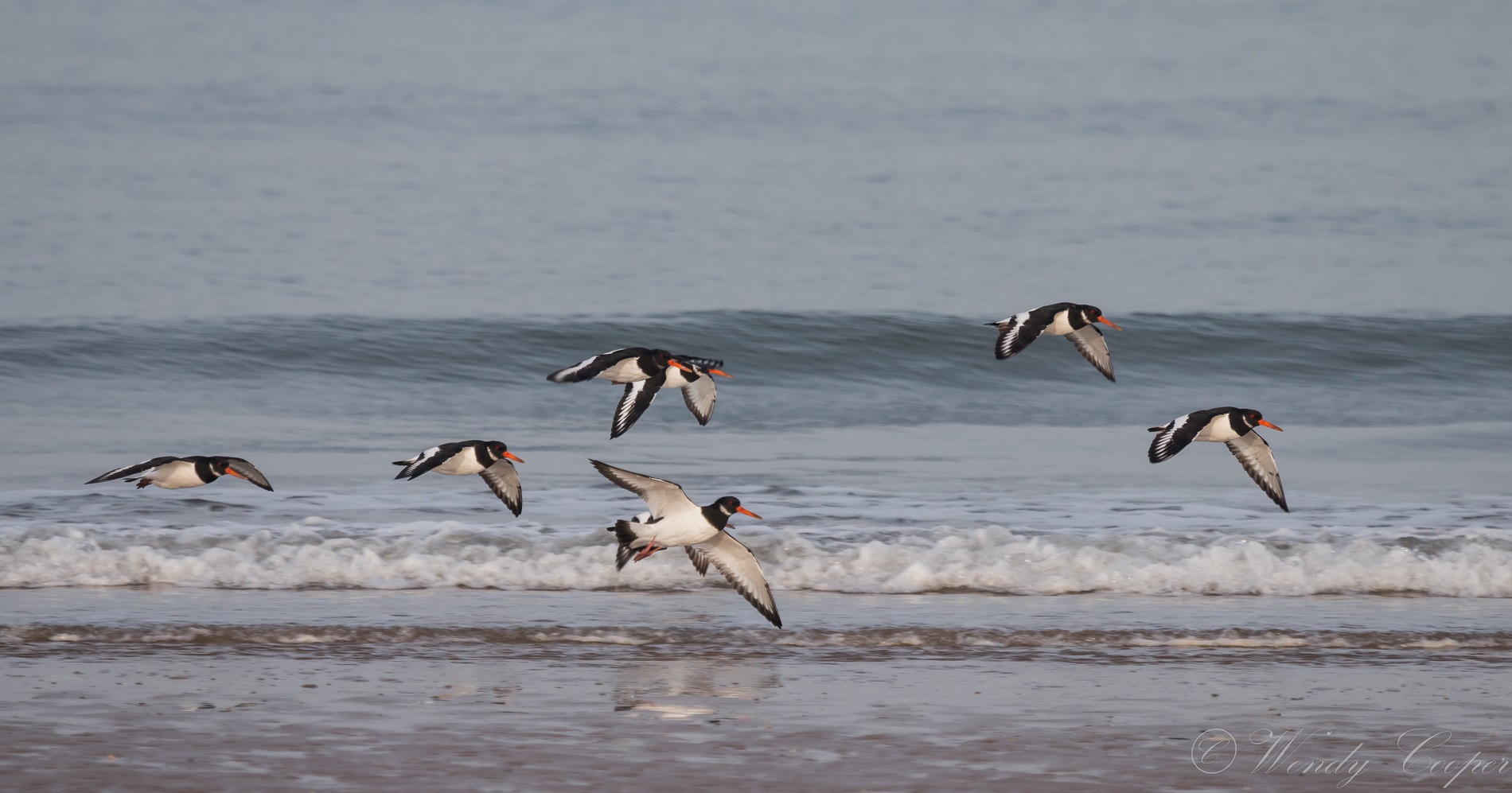 These landed a little further along amidst a group who were sharing a small waterway with some Turnstones.
Turnstones & Oystercatchers.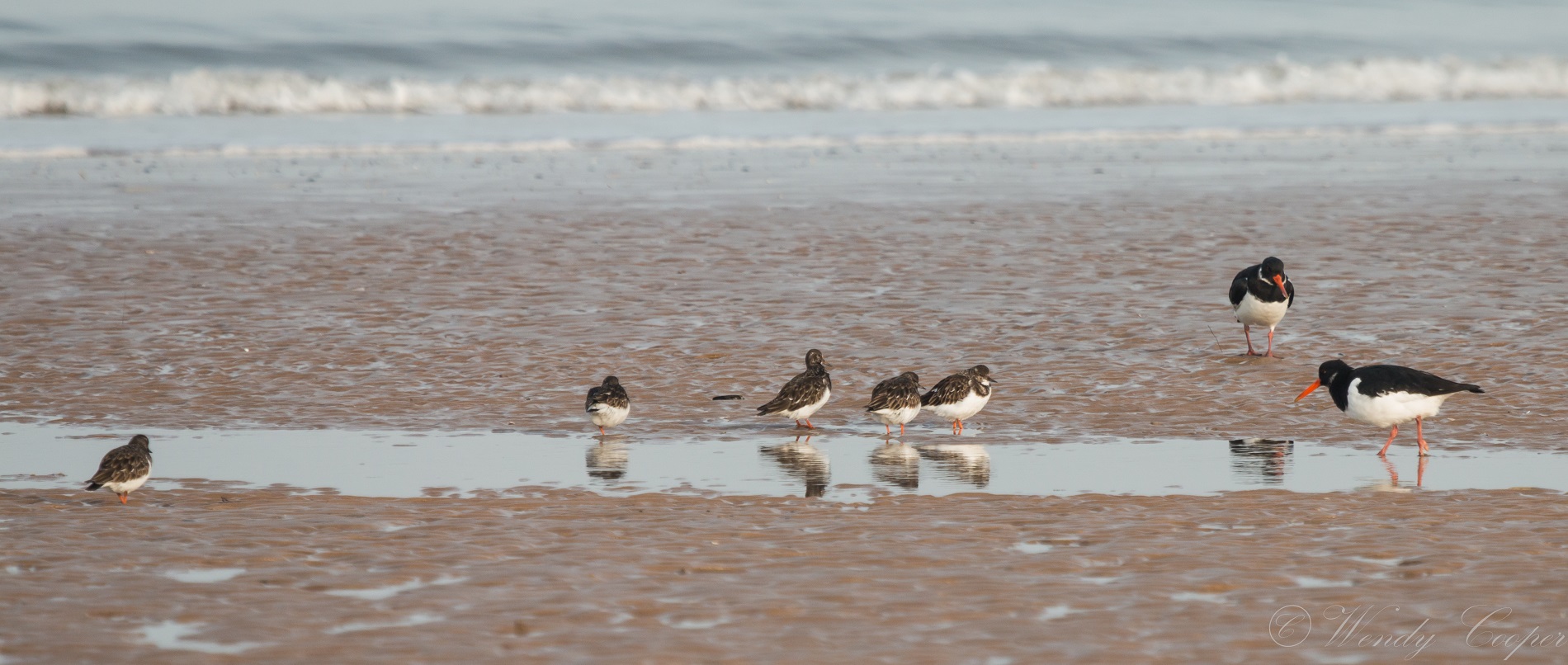 Whilst the Turnstones pecked about in the sand, there was the occasional noisy discussion amongst the Oystercatchers, whilst others decided to try and have a little doze.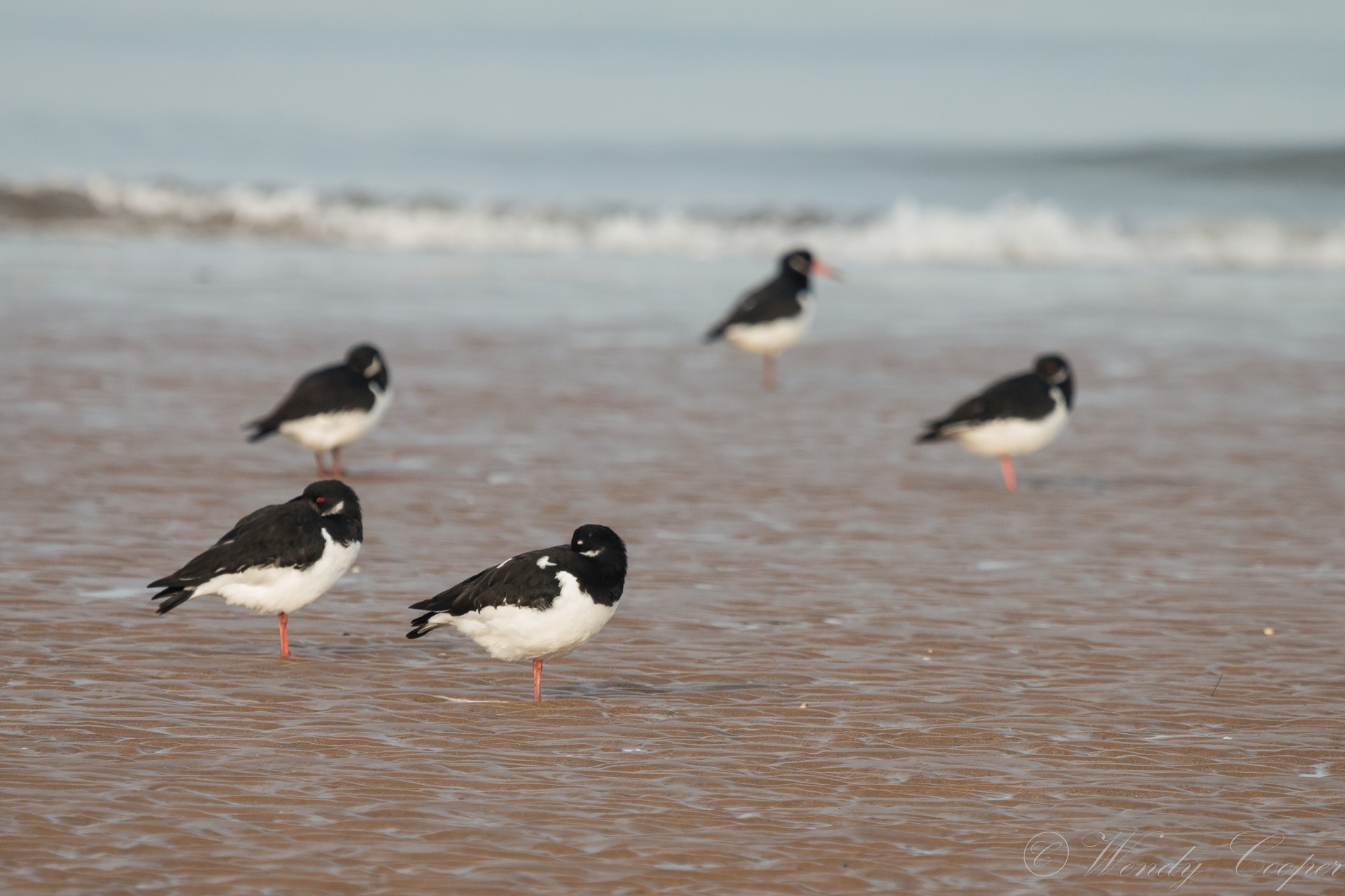 As I started walking back, there was a tiny little bird scooting about on the sand ahead of me. It was a Ringed Plover.
Ringed Plover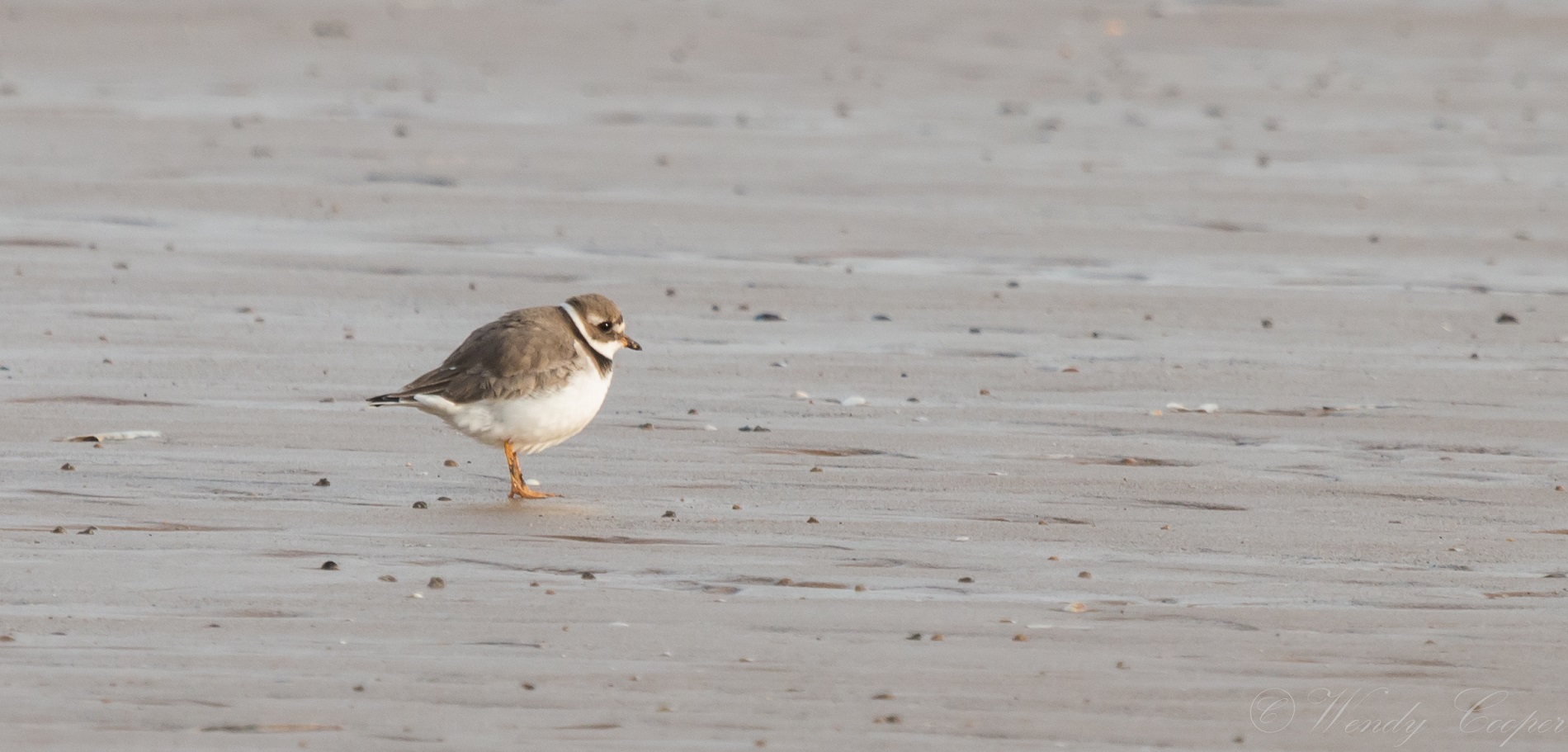 During the breeding season, these nest on shingly beaches or can sometimes be found in gravel-pit type habitats, however outside of the breeding season, they are almost exclusively coastal. The ones I have observed are rarely still for long, running around, pausing to pick up a morsel, then continuing on. This one was no different, I knelt down on the sand to get a better view and it paused briefly and watched me a while before continuing to scoot about. Later, on our walk back I saw another darting around on one of the mud flats alongside the path.
Watching along the waterline, I could see a Bar Tailed Godwit probing the sand in between pausing for a break every so often.
Bar Tailed Godwit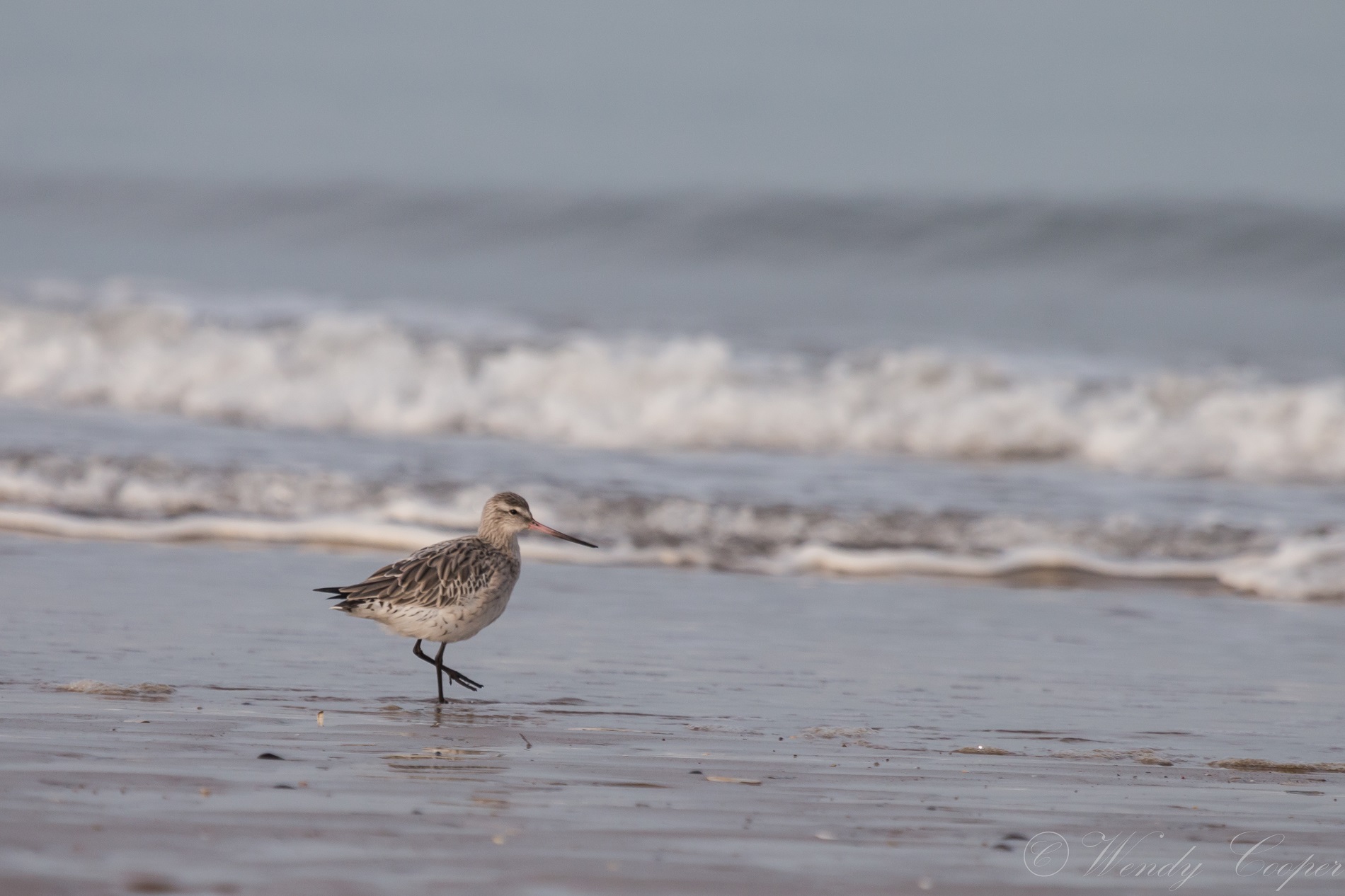 Bar Tailed Godwits are visitors and are quite commonly seen around the coast and on muddy estuaries. They do not breed here, instead, they breed in the Arctic, so have quite a trip to get here!
Just as we left the beach, a small flock of Dark Bellied Brent Geese arrived, in formation at the water's edge.
Brent Geese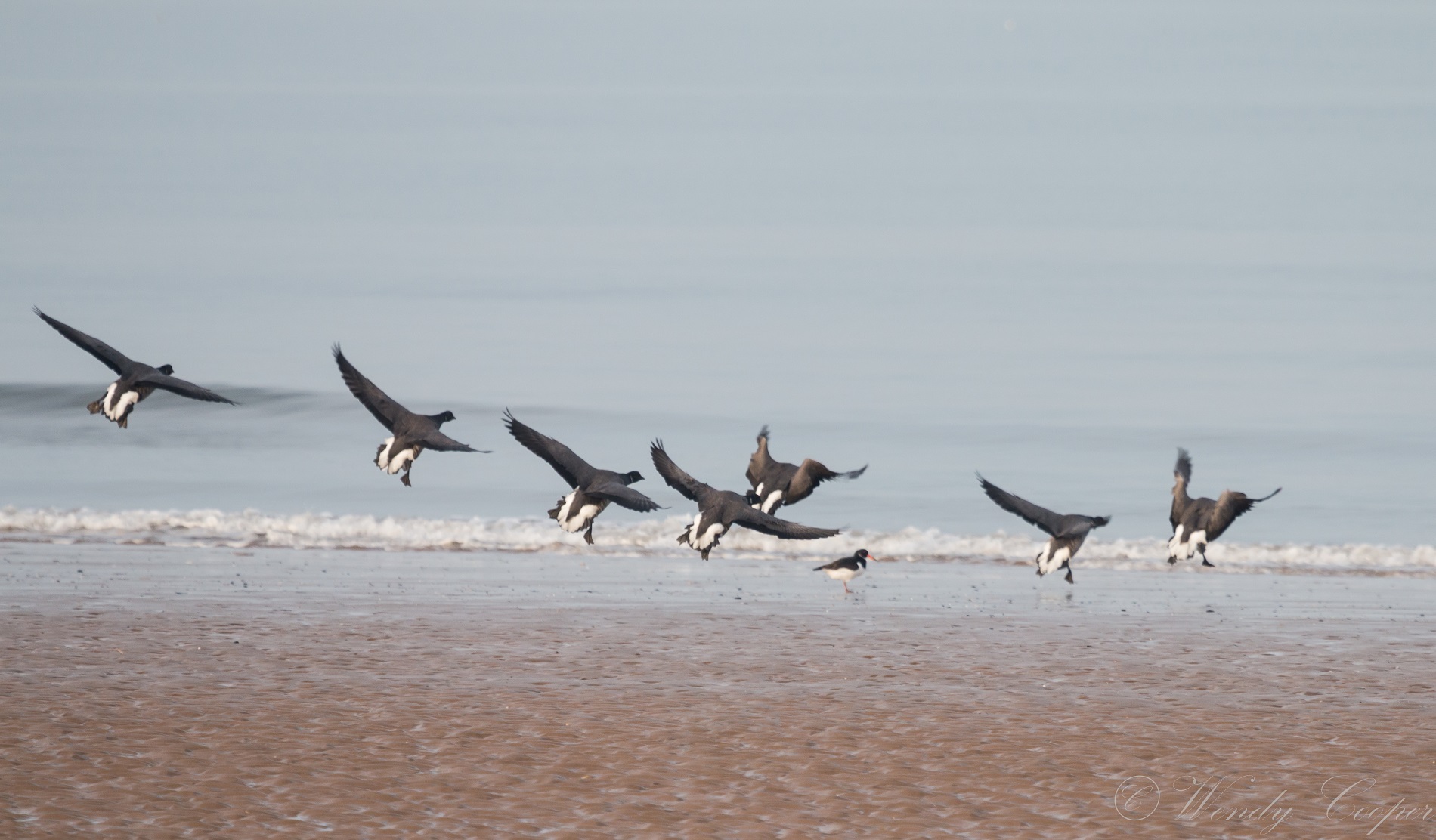 Brent Geese are a coastal winter visitor, the ones arriving in Norfolk, most often from Russia. They are our smallest goose and favour saltmarsh vegetation to graze on. Brent often congregate in large noisy flocks - quite a spectacle in flight - a while back we watched a huge flock of them at Cley as they went off to find a safe roost for the night, that flock was certainly in the hundreds!
Heading back inland, I kept a watch along the meres, getting some nice views of Wigeon and Teal as they paddled about to new spots for dabbling.
Wigeon pair.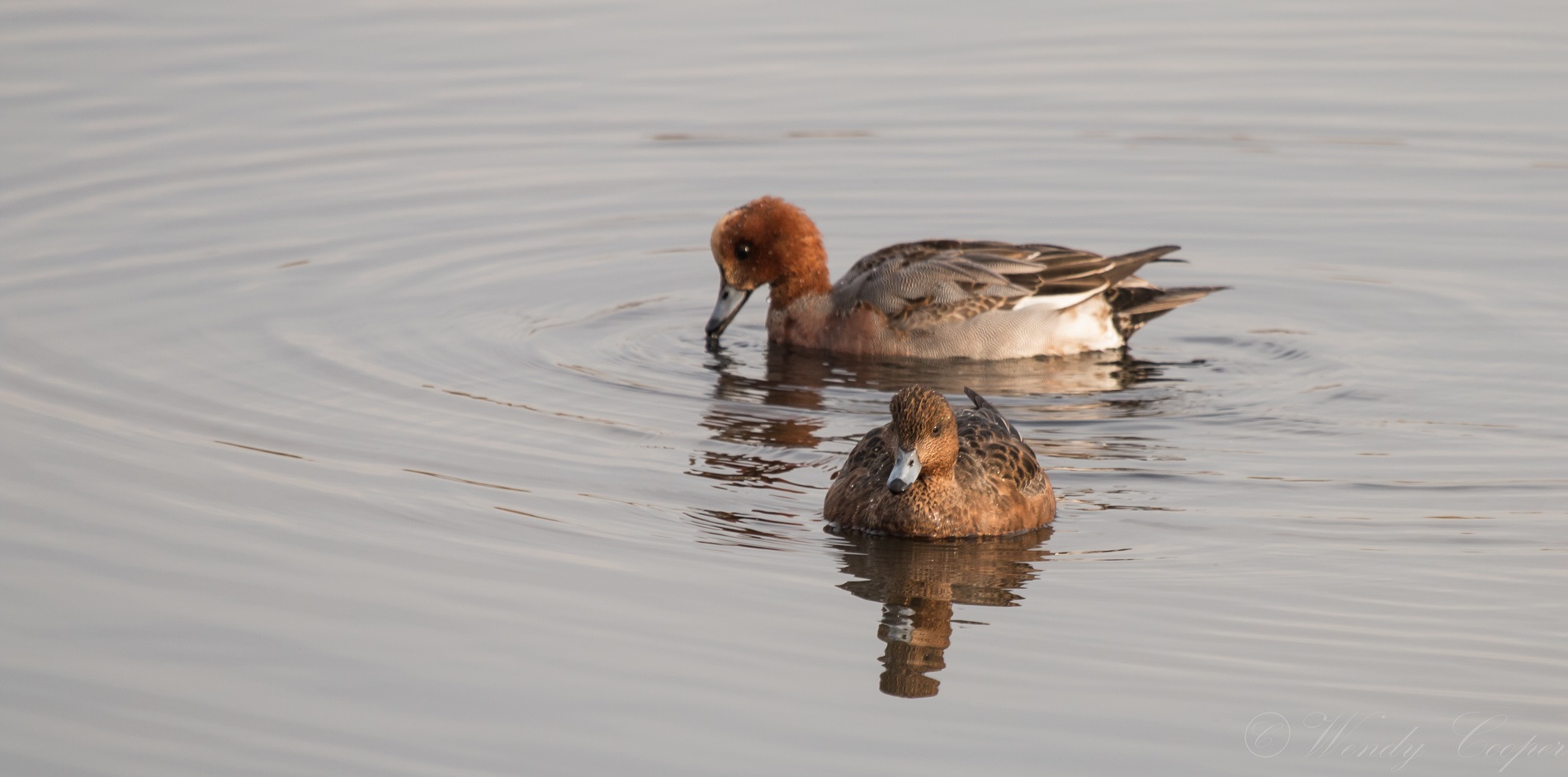 There was also a little group of Dunlin, all foraging together at the edge of the briny mere,
Dunlin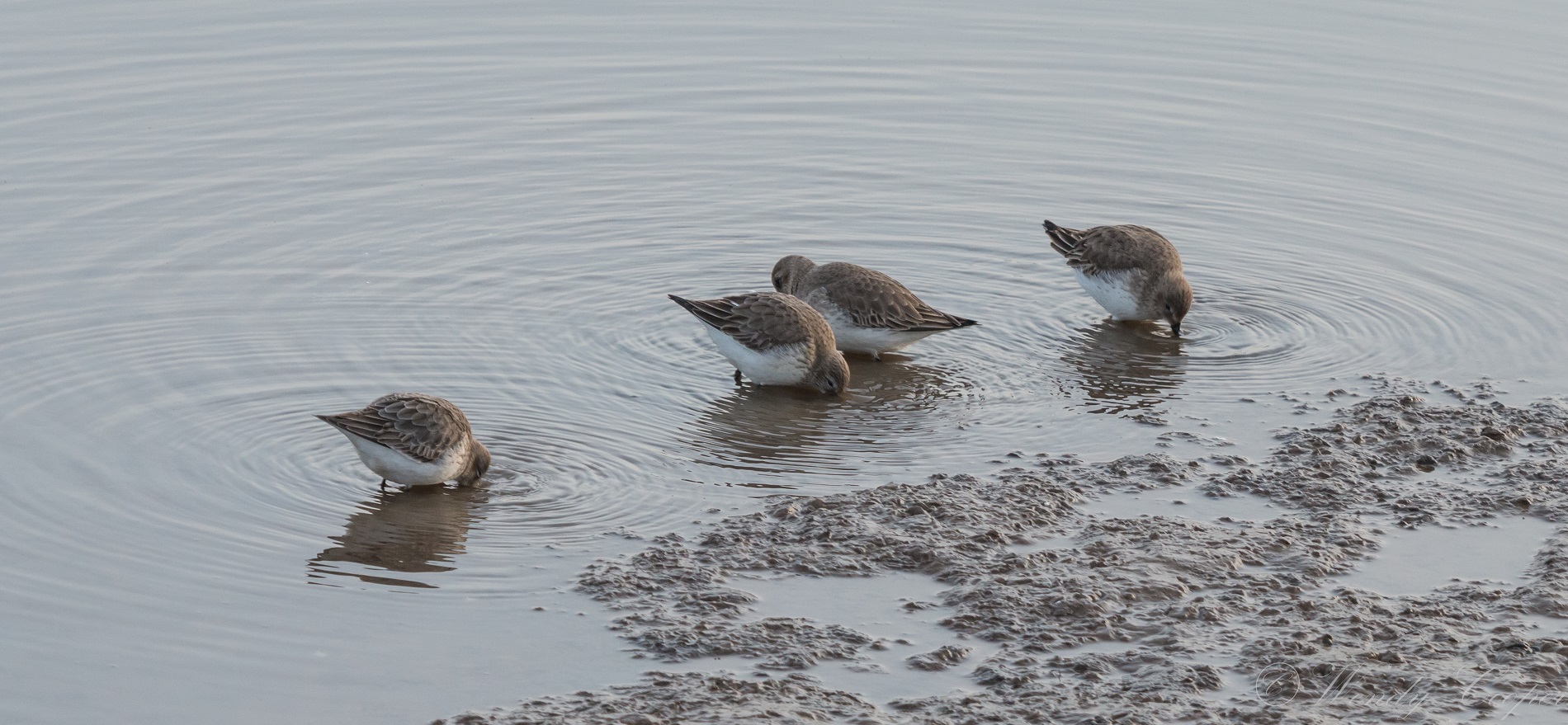 Whilst nearby was a Black Tailed Godwit probing the mud for food. A number of these Godwits do breed in the UK, however in the winter months their numbers are greatly boosted by Icelandic visitors. This one is in winter plumage, their breeding colours being more of a russety-red colour.
Black Tailed Godwit.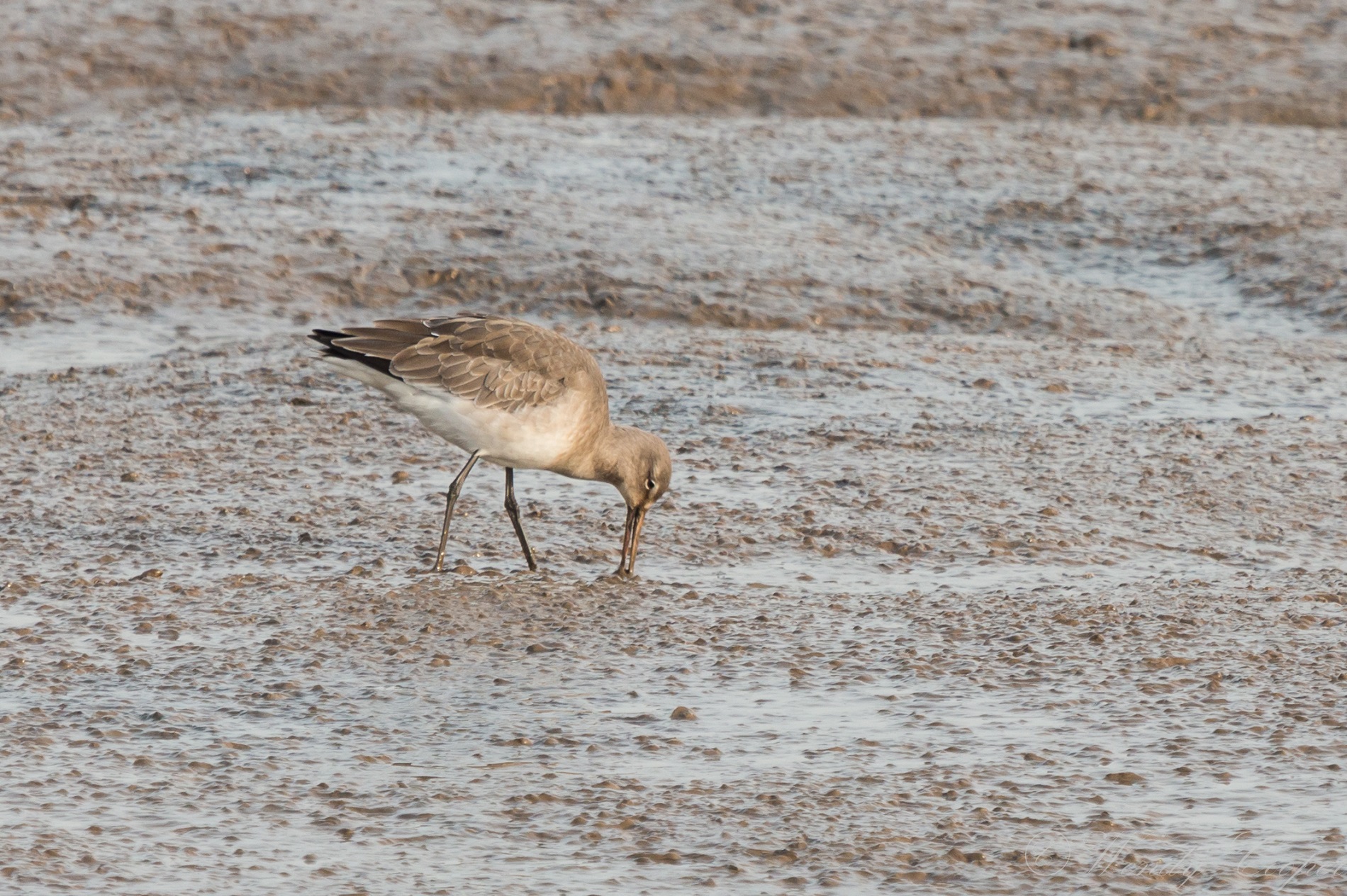 From out over the marsh, suddenly, there was a lot of commotion between a group of Little Egrets, who had no wish to share fishing rights with each other! After a bit of undignified flapping about, two of them took of, one chasing the other, before heading off to a new spot. We were therefore treated to a bit of a flyby from one of the Egrets,
Little Egret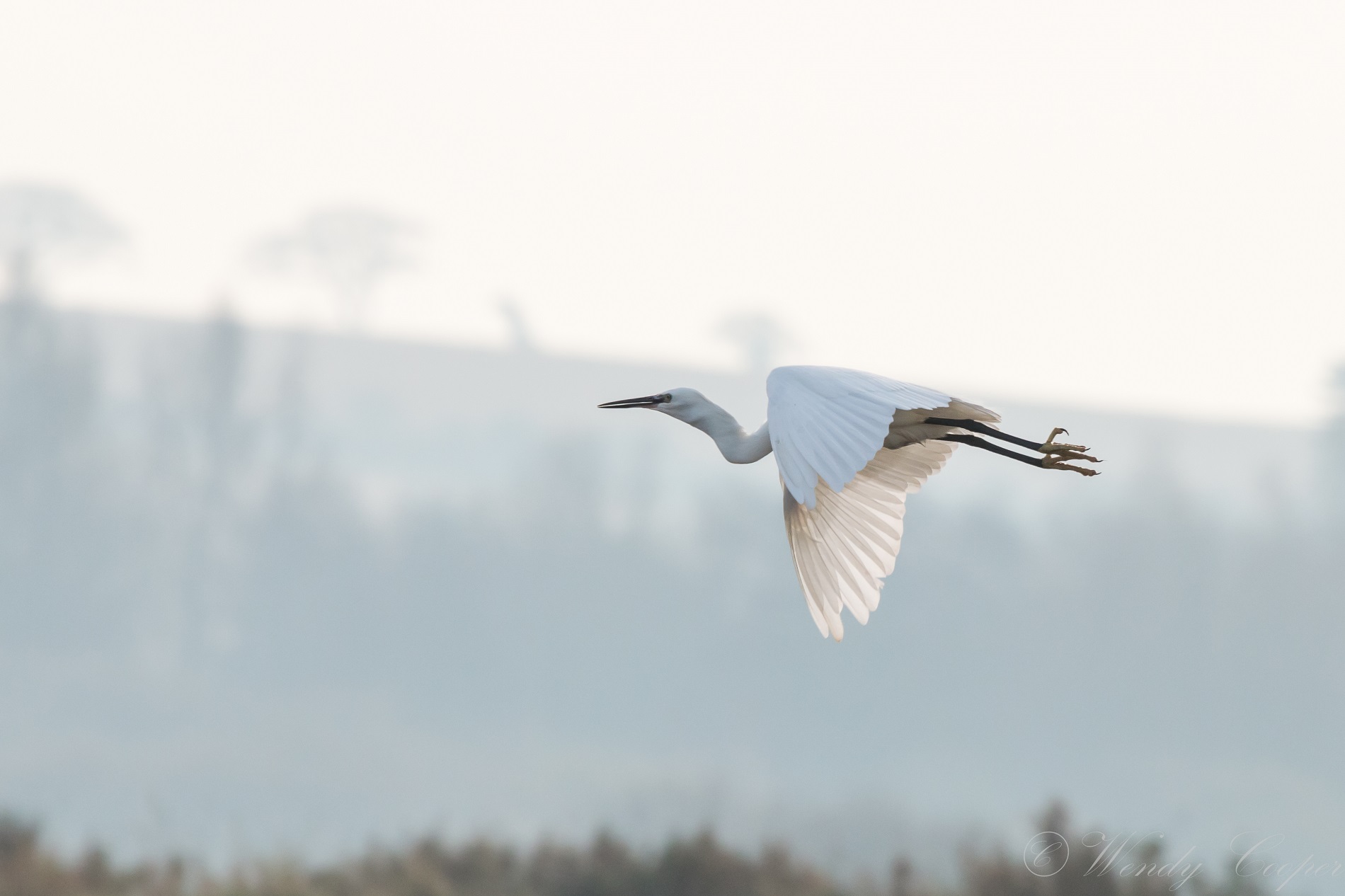 before landing with dignity restored and starting to look around for lunch.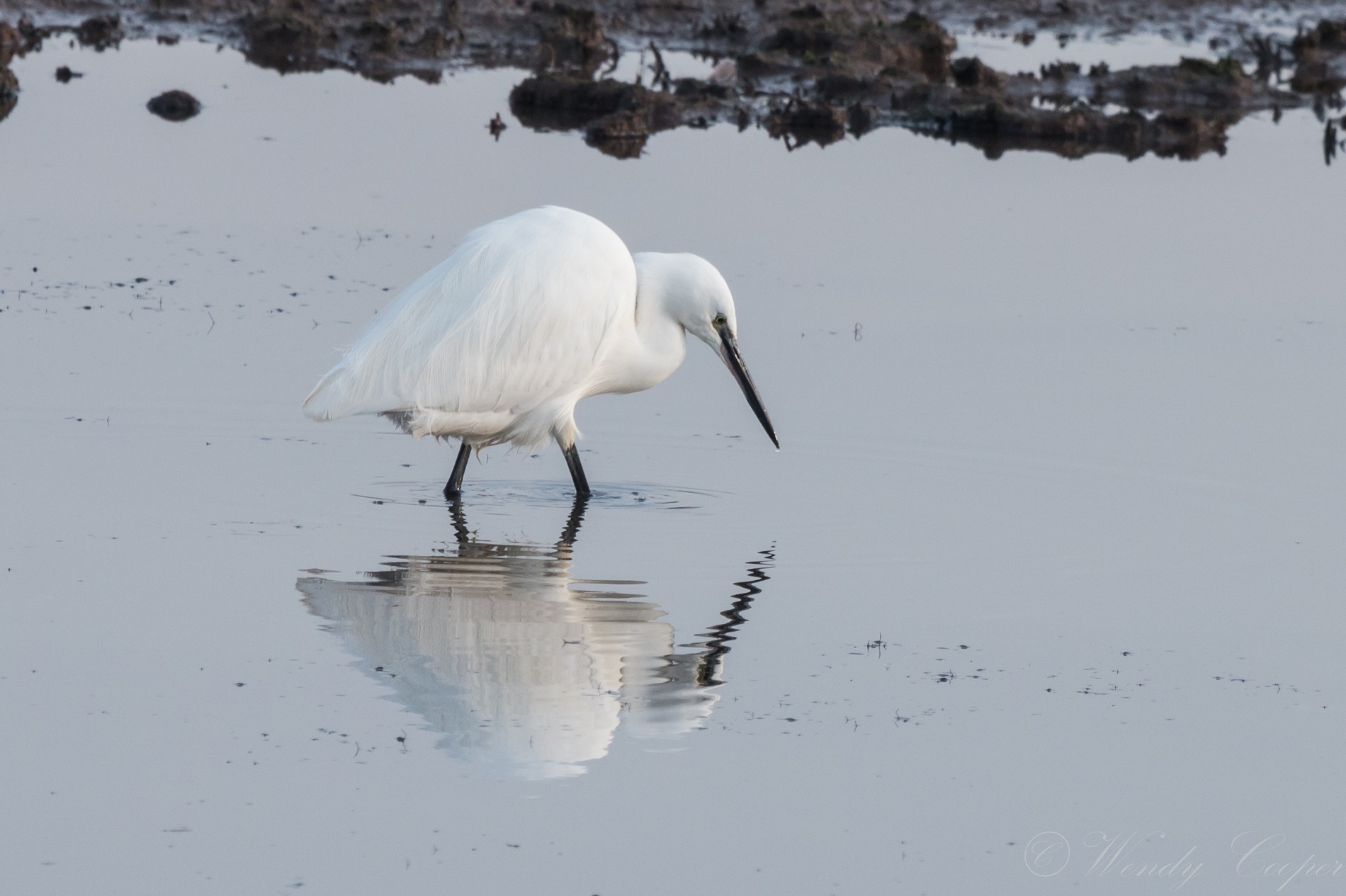 With that in mind, we realised that breakfast had 'run-out' sometime ago, so we set off to follow the example of these Shelduck and to find something tasty for our lunch as well!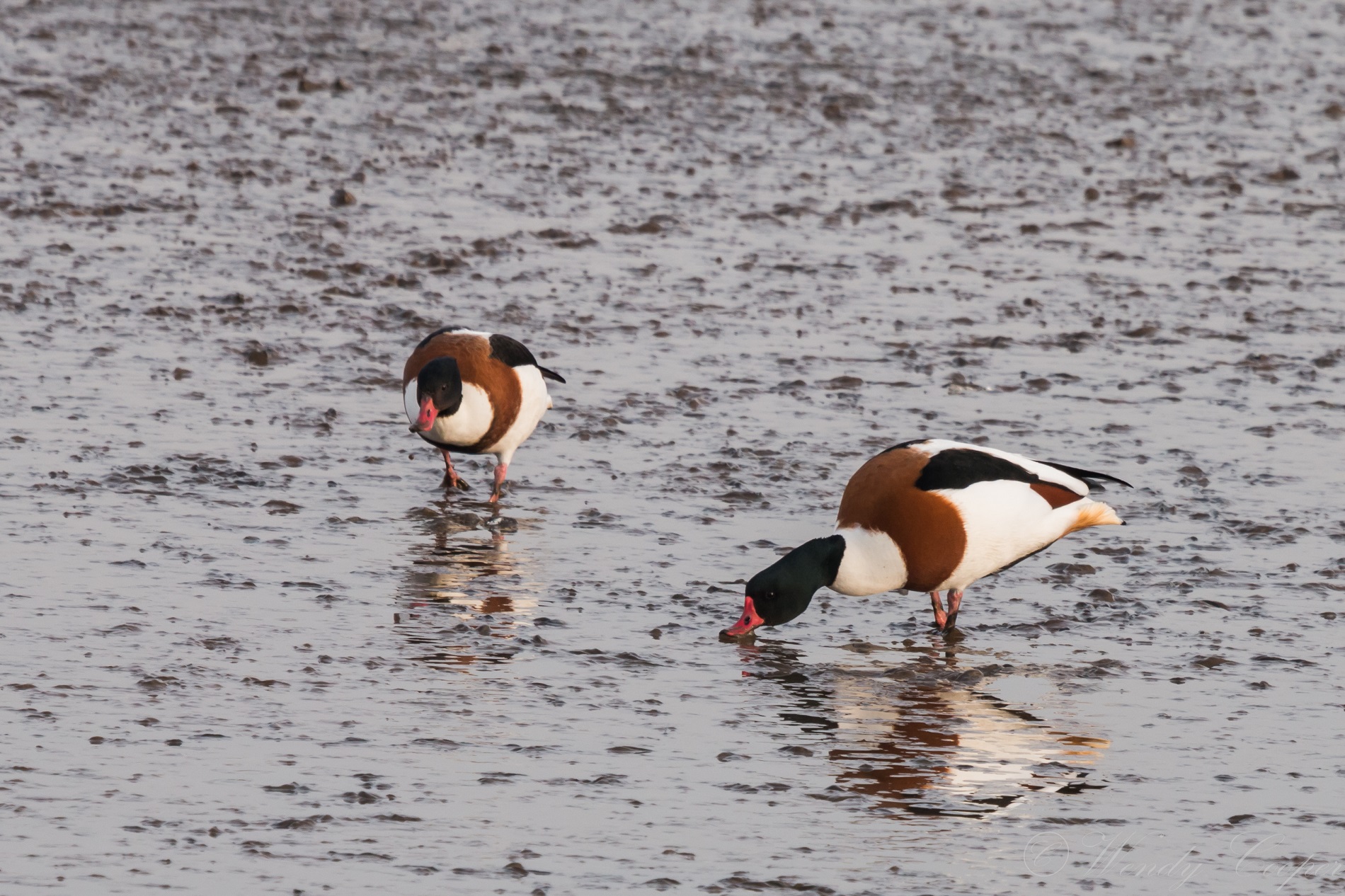 After lunch, there was a little daylight left, so we stopped off at Brancaster Staithe to see what was about. Across the marsh in front of us, we could hear geese honking as they began to organise themselves for the evening, with groups of them flying east across the marsh.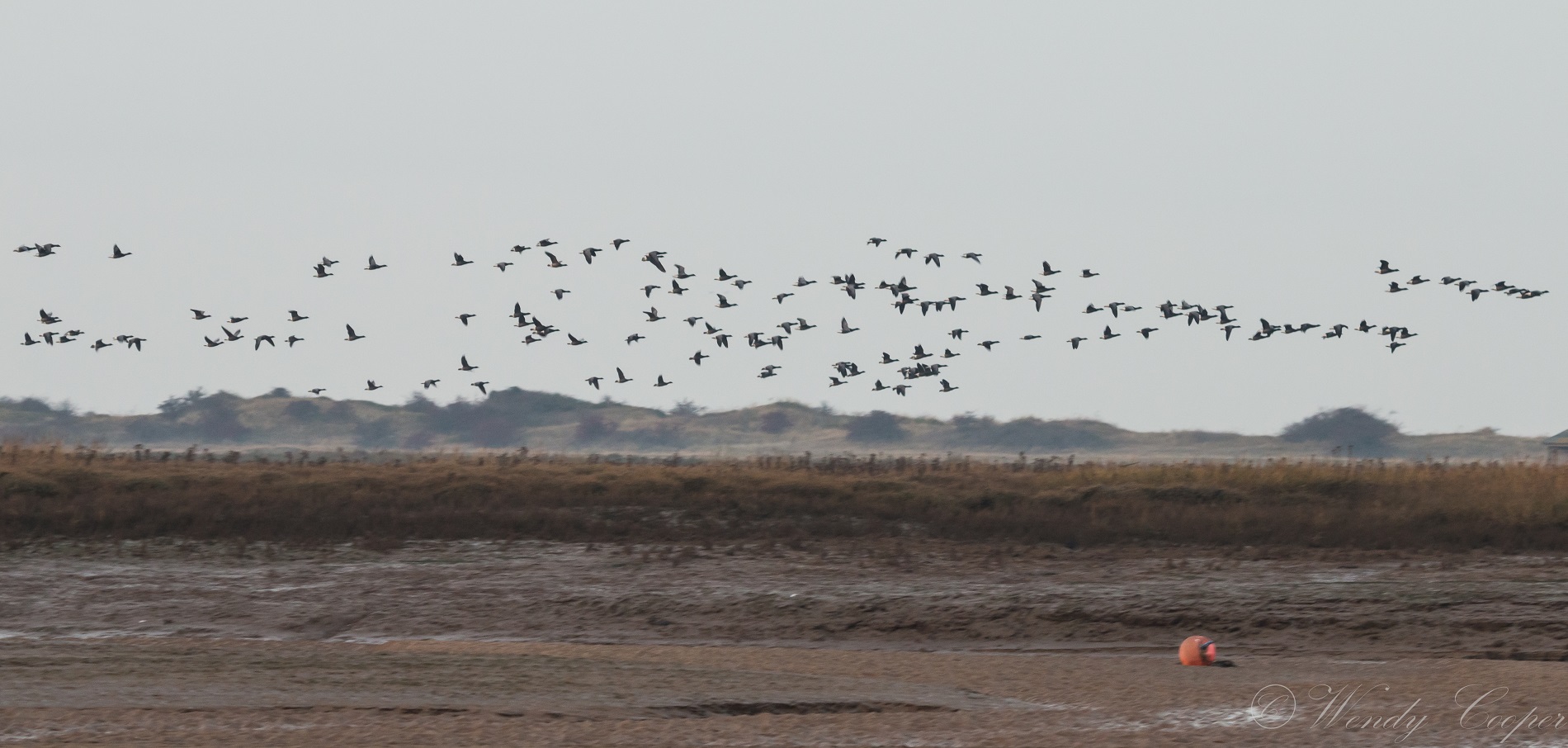 Closeby to where I was standing, there were a few Turnstones scurrying about, literally turning over pebbles and shells as they foraged for supper.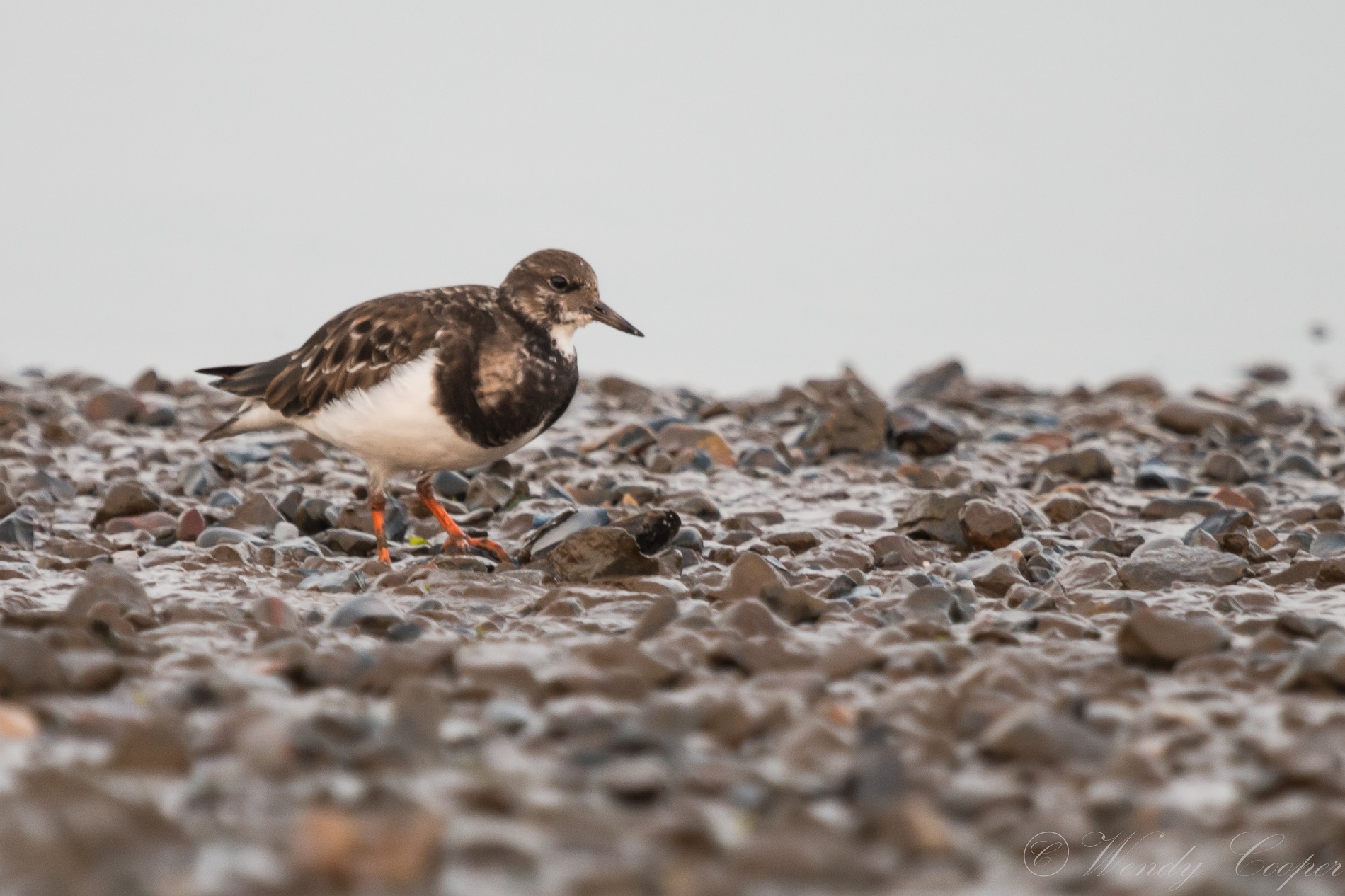 Whilst far across a gully, there were a rowdy group of Oystercatchers pecking around for food. The side of the gully closest to me was basically mud, however, as always when we visit here a regular character was probing the mud for supper, a Black Tailed Godwit,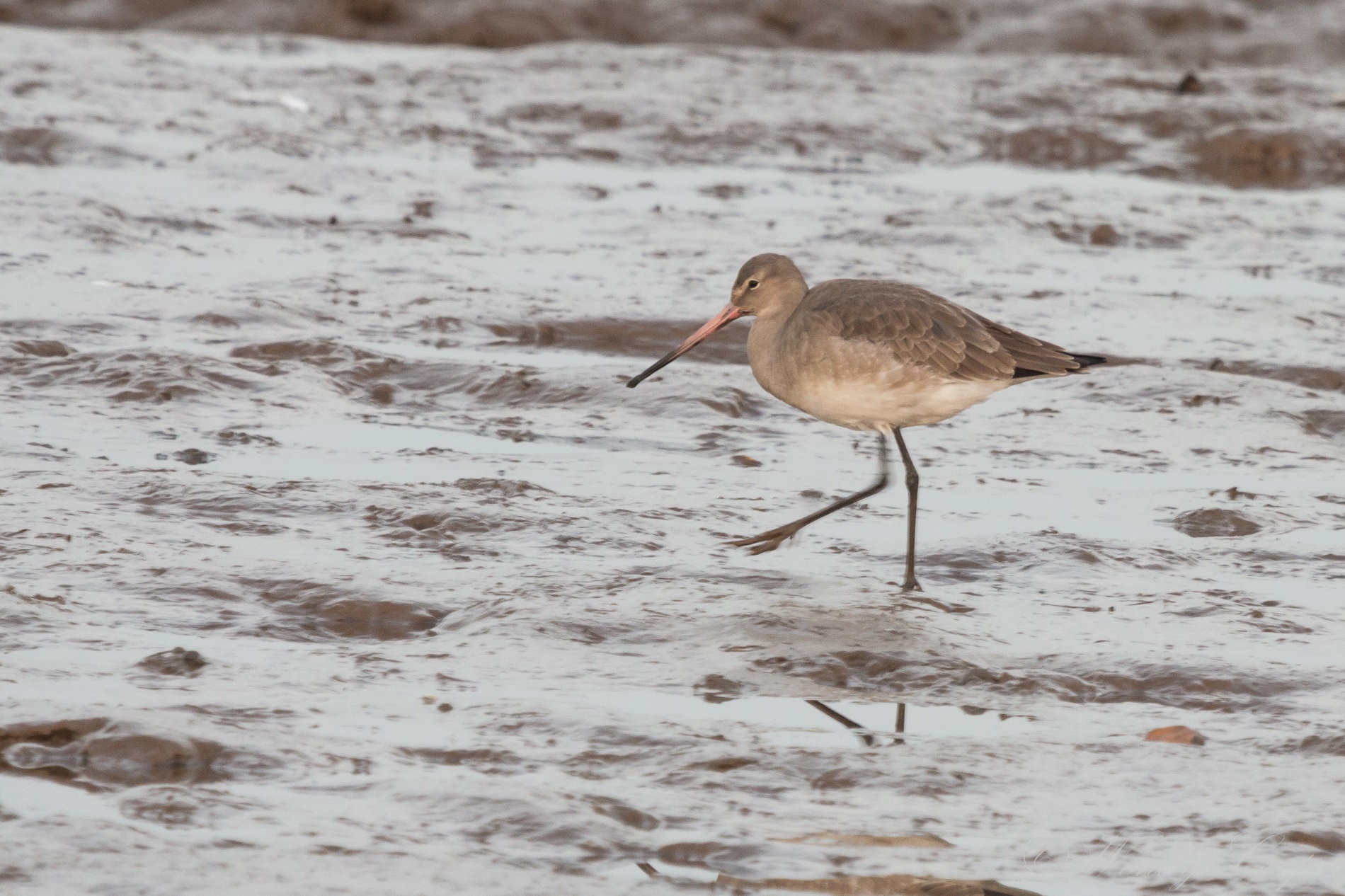 with a few Bar Tailed Godwits across the otherside of the water channel as well. The waterway was quite busy with Teal, Wigeon, Mallards and assorted Gulls and here and there Cormorants were either perched drying their wings or bobbing along in the water and diving for fish.
Just the other side of the water, a Curlew was briskly working it's way along the sand, probing for food as it went,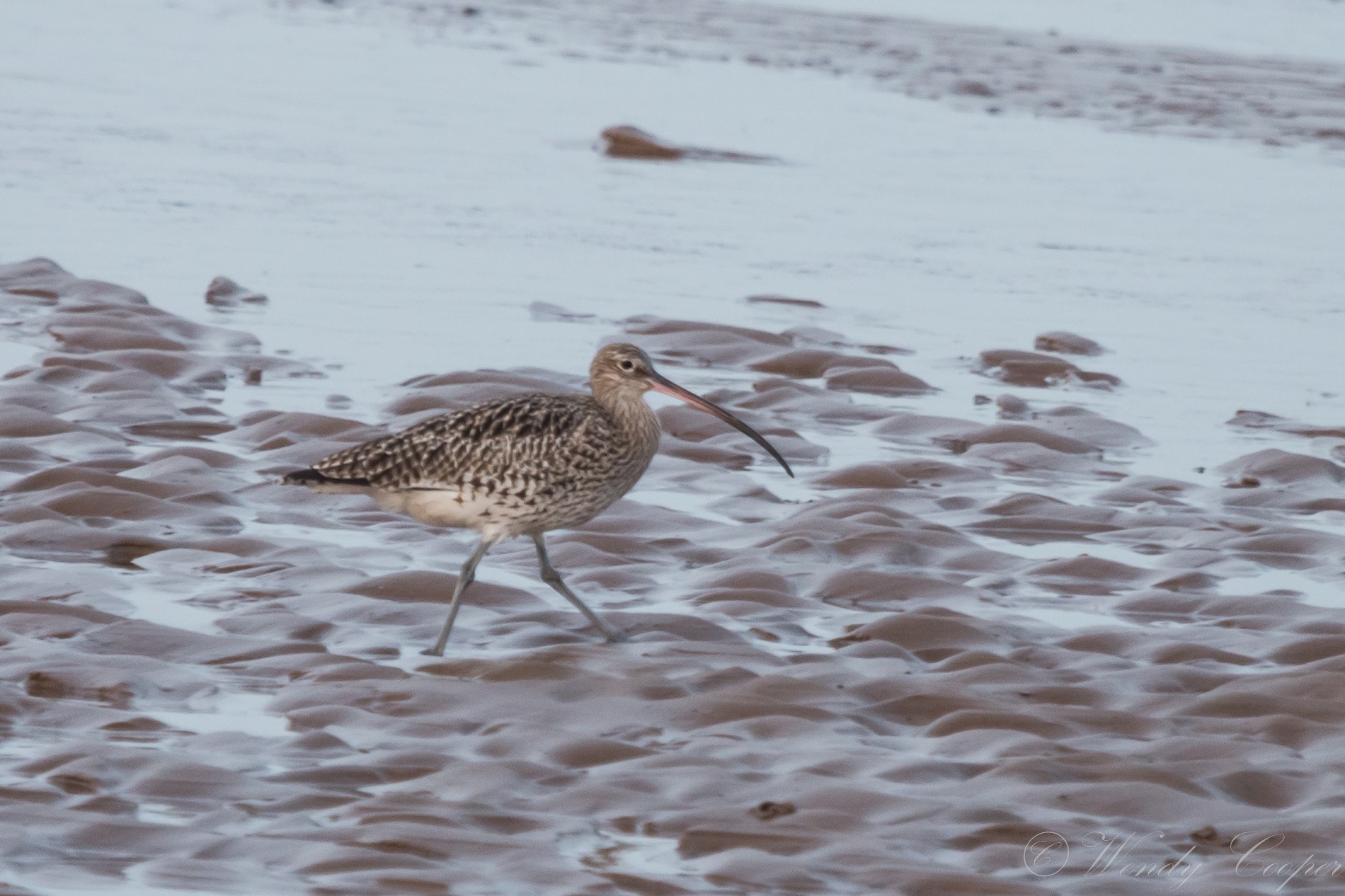 whilst midstream, unconcerned by other passers by, a Little Egret fished for supper.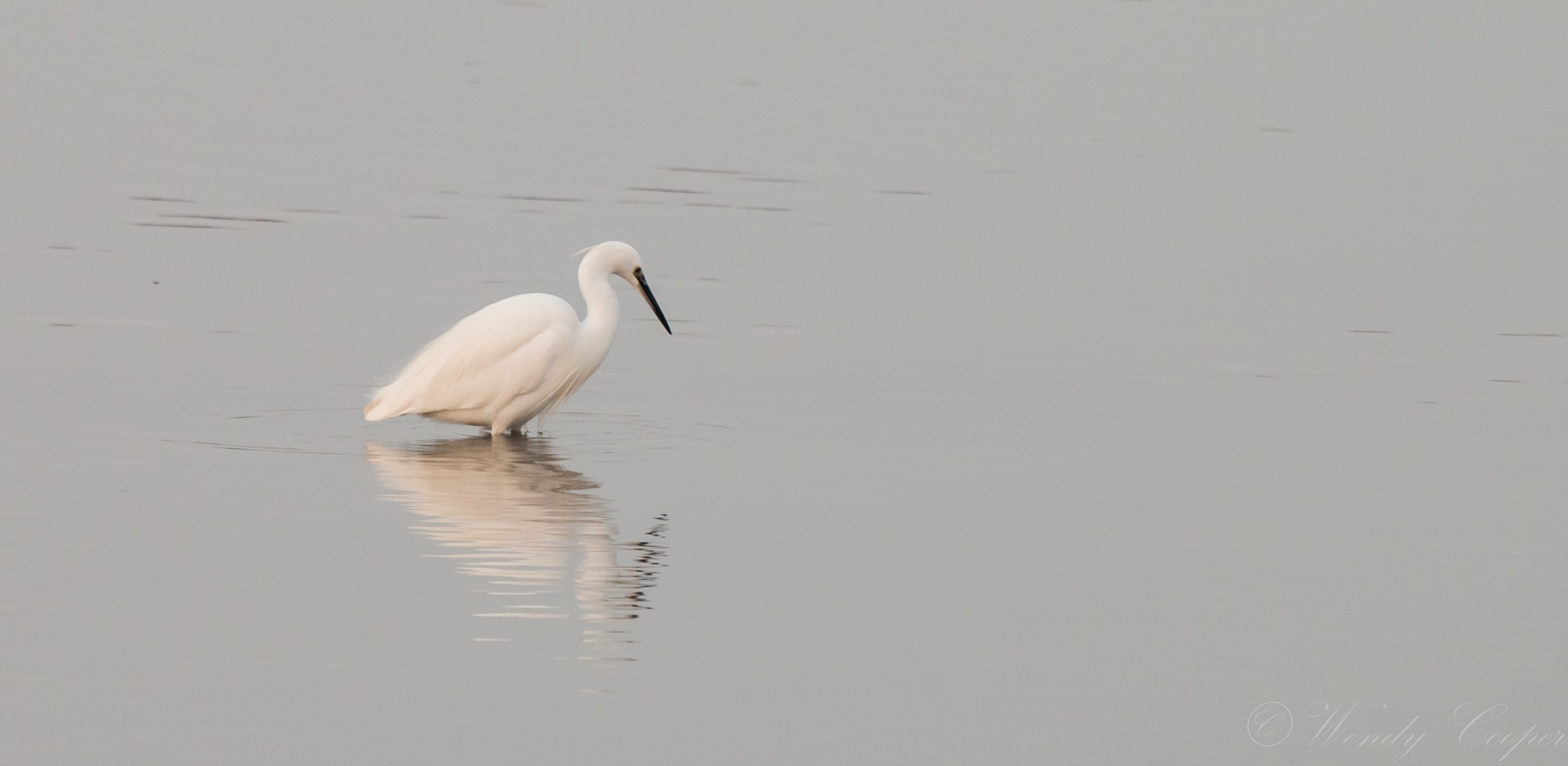 From behind me, there was a familiar call, a Pied Wagtail was sitting on a small rowing boat. In the summer at this spot I have seen lots of them running and flitting about catching insects.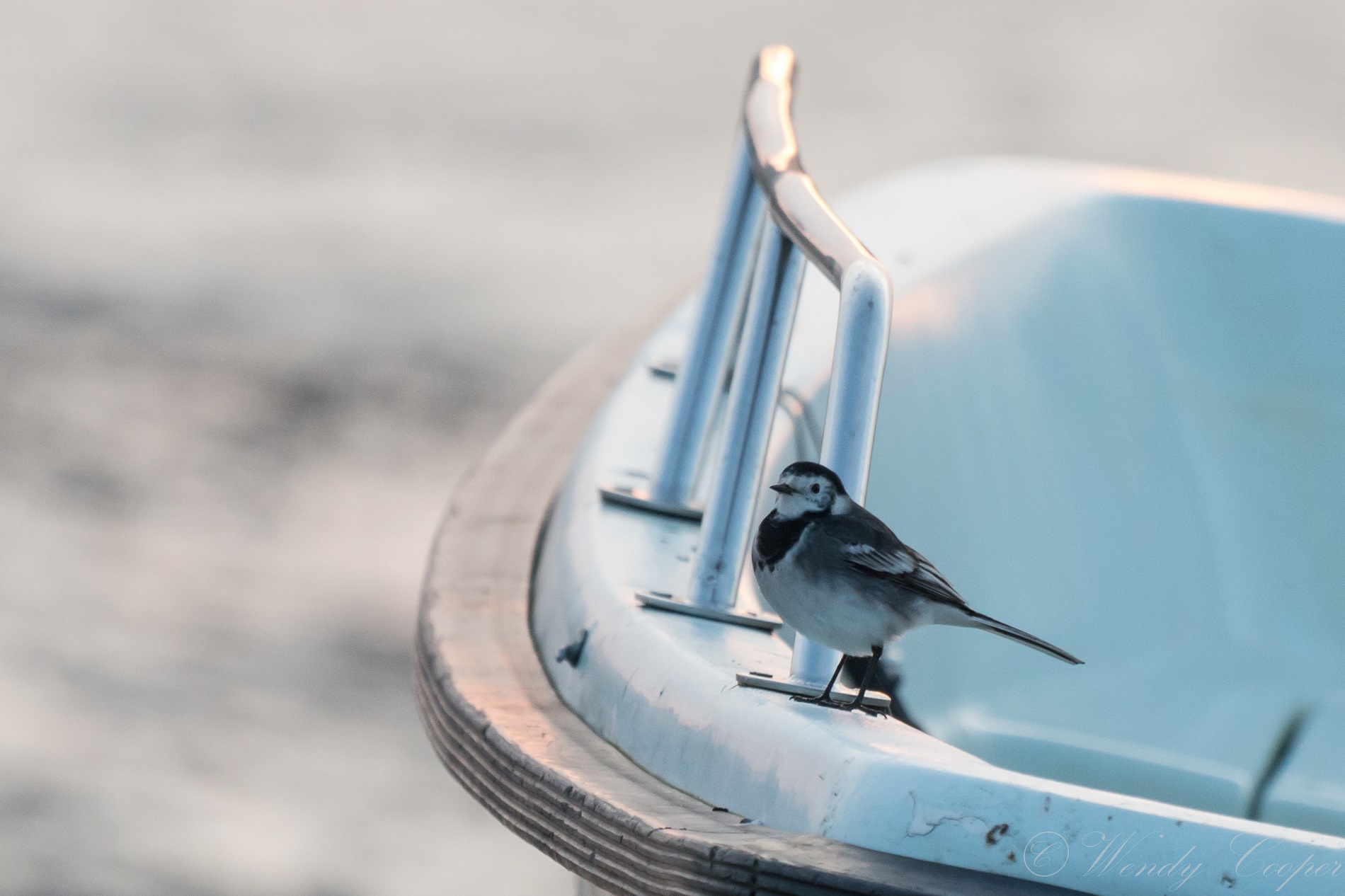 Watching a few more Brent geese flying out in front of me, I realised how chilly it was getting, so having enjoyed the view for a little longer, it was time to go!.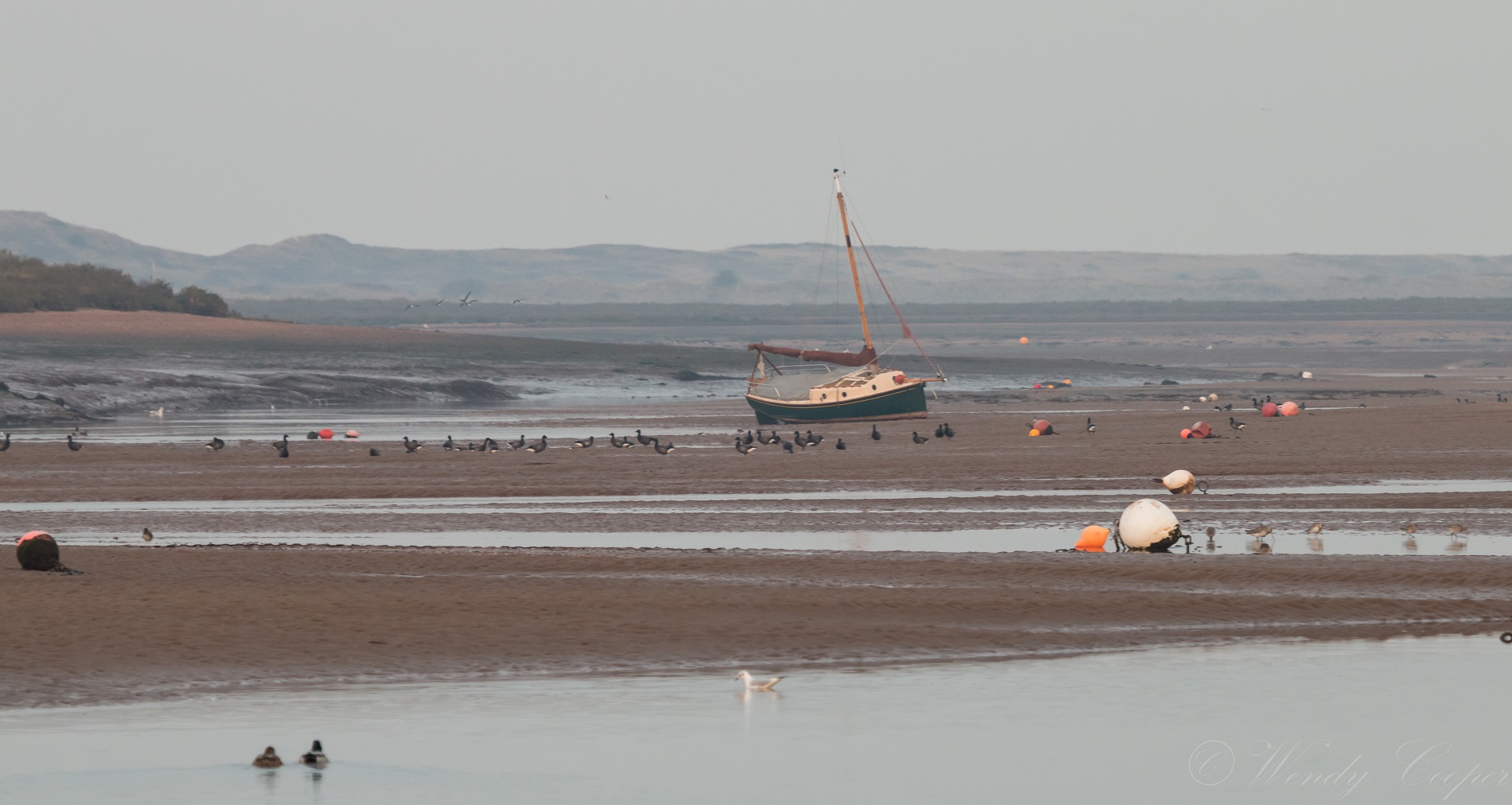 I hope you have enjoyed my blog, if you would like an email notification when my next blog is published, please add your email address to the 'Sign Up' box below.
Comments