A Few Days in the Forest of Dean
04/06/2016 - 16:20
At the end of April we had a few days away in the Forest of Dean. It was our fourth visit and, as always, there was plenty to see. Whilst there is much of the forest that we have not yet explored, we have a few favoured locations, around Cannop, Woorgreens, Wenchford and RSPB Nagshead.
The landscape is a complete contrast to the gentle fields and curves of East Angia, extremely hilly and very rugged. Much of the Forest is Forestry Commision land and is given over to pine plantations, however there are many areas of beautiful old deciduous woodland as well. There are areas of clearfell, full of brackens, gorse and saplings which provide a rich heath type habitat and there are also disused quarries, which nature has gradually reclaimed and that are full of vegetation. From the days when there were mining works, there are quite a few water habitats, from lakes created to power watermills to various natural ponds and streams throughout.
Whilst on my home patch We get to see a considerable number of species, the Forest holds more than a few that I either don't get to see at home, or, by virtue of their numbers, are easier to watch!
After a good journey down, when 'Count the Kite' was played - the morning's tally was in the forties, with Buzzards and Kestrels also being seen, we had a spot of lunch and as it was a beautiful bright afternoon, decided that an extended stretch of the legs was in order. Off we went to Woorgreens, which is a nature reserve managed by Gloucestershire Wildlife Trust .
We started off walking around the lake, where we were treated to the sound of several Willow Warblers singing. After wandering along peering upwards for a while, I managed to spot a few of them, high up in the branches of the willows.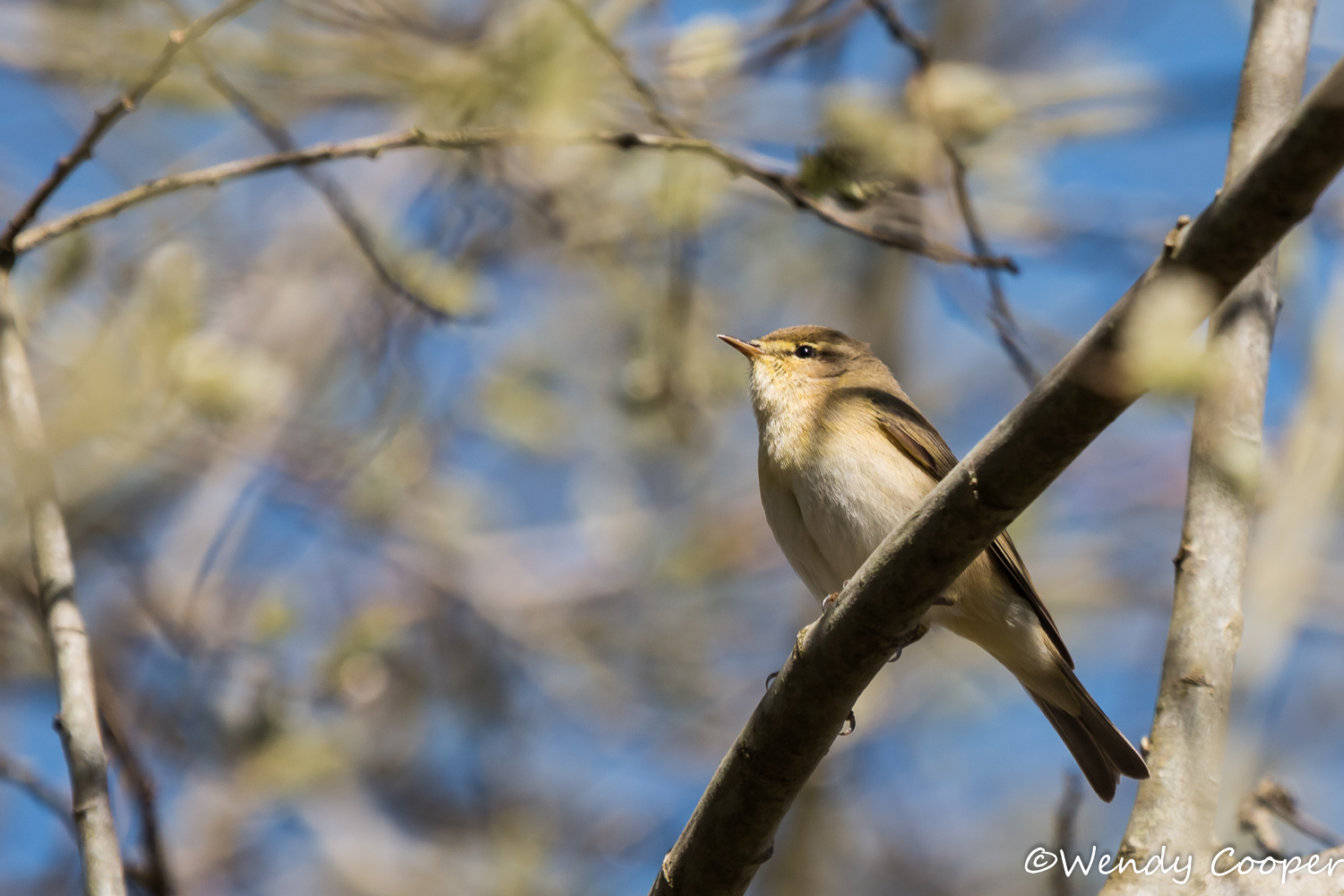 These, like Chiff Chaffs are visitors, arriving in the spring from Africa to breed, before returning in the autumn. In colour they are similar, but slightly brighter than the Chiff Chaff, however I have found the easiest way to identify them is by their song, a twinkling melody which descends on the end flourish. They seem to favour partly wooded habitats, particulary where is plentiful willow scrub.
As we progessed around the lake, we saw one of the Mute Swans sitting and tidying a huge nest, further out Coots were squabbling and chasing and there were a few distant Greylag geese paddling. Pausing at one 'inlet' I watched a most imperious Greylag Goose survey the area,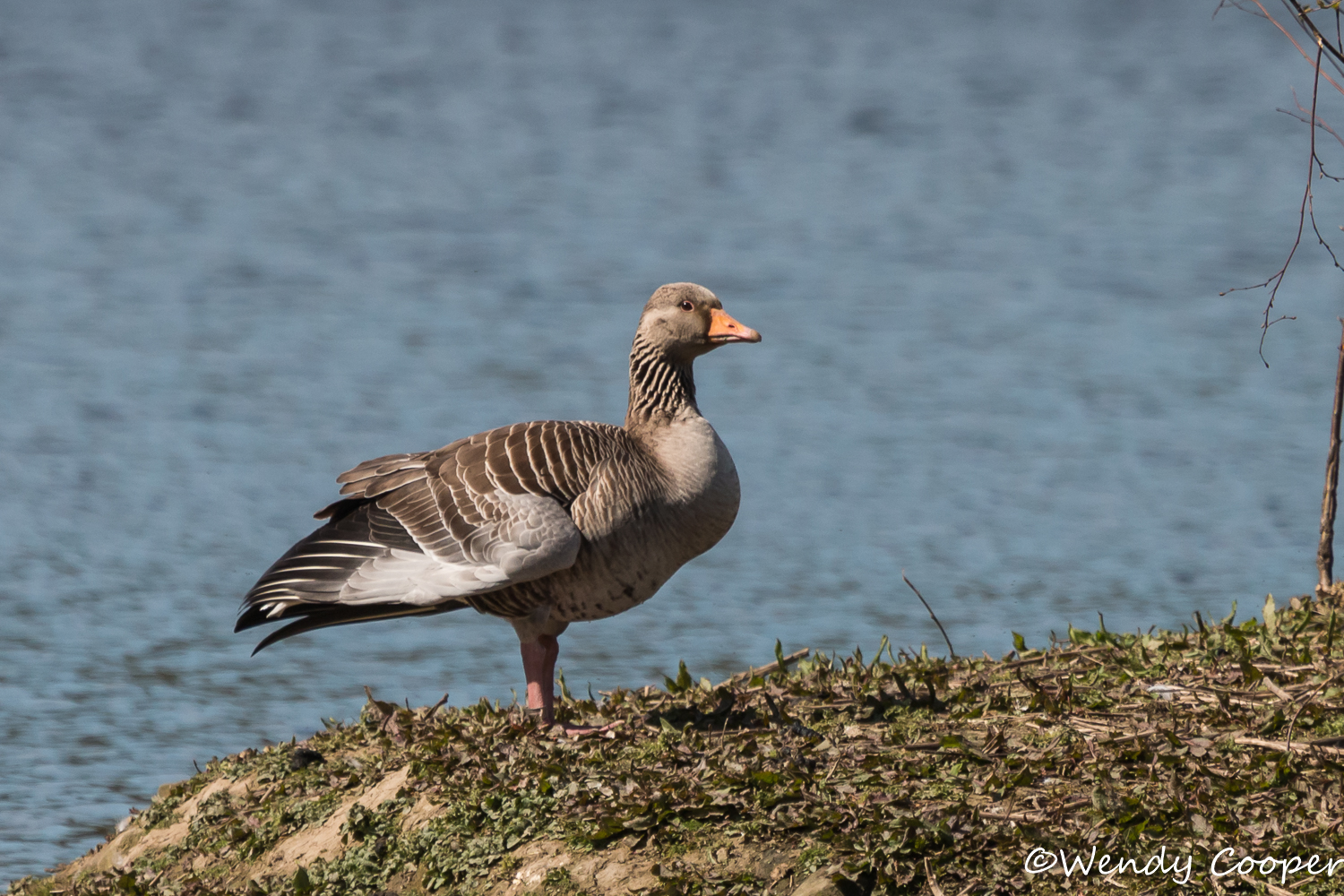 Whilst a Canada Goose and female Mallard paddled towards me at full steam, probably in the hope of food!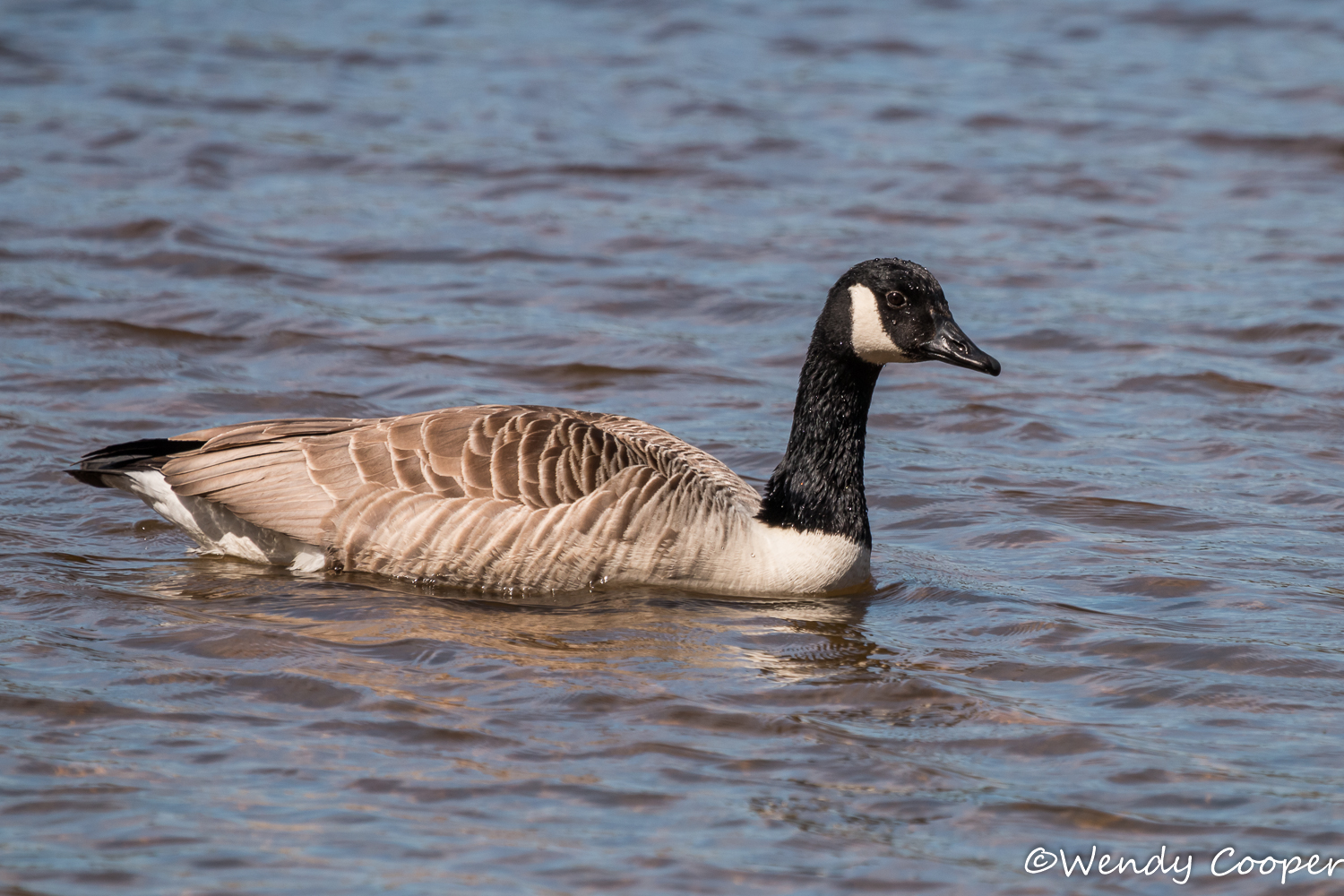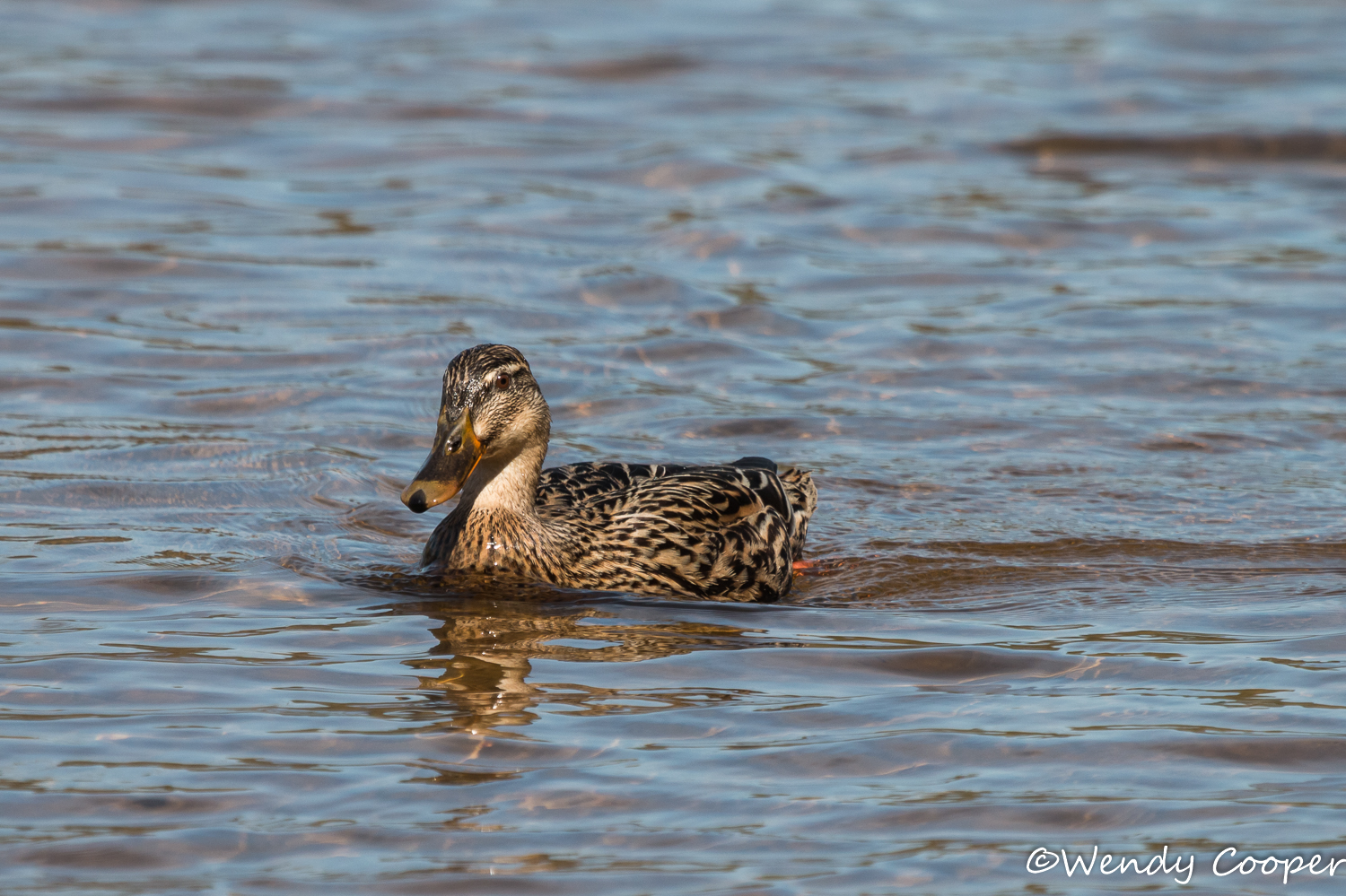 Closely followed by another Greylag.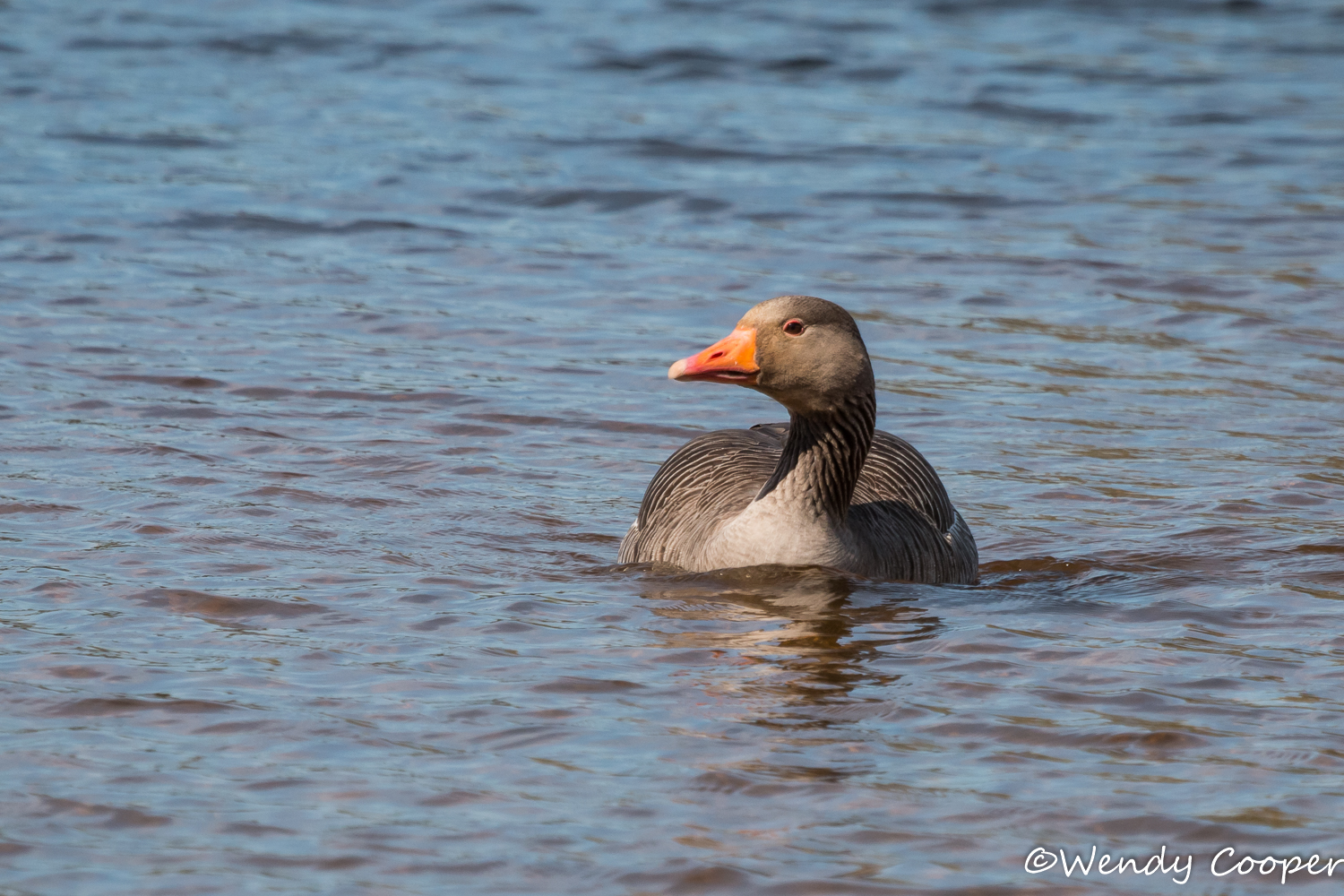 Continuing along, at the edge of a green ride, which leads to Crabtree Hill, some more good views were had of one of the Willow Warblers and it was lovely to pause in the sunshine to watch and listen..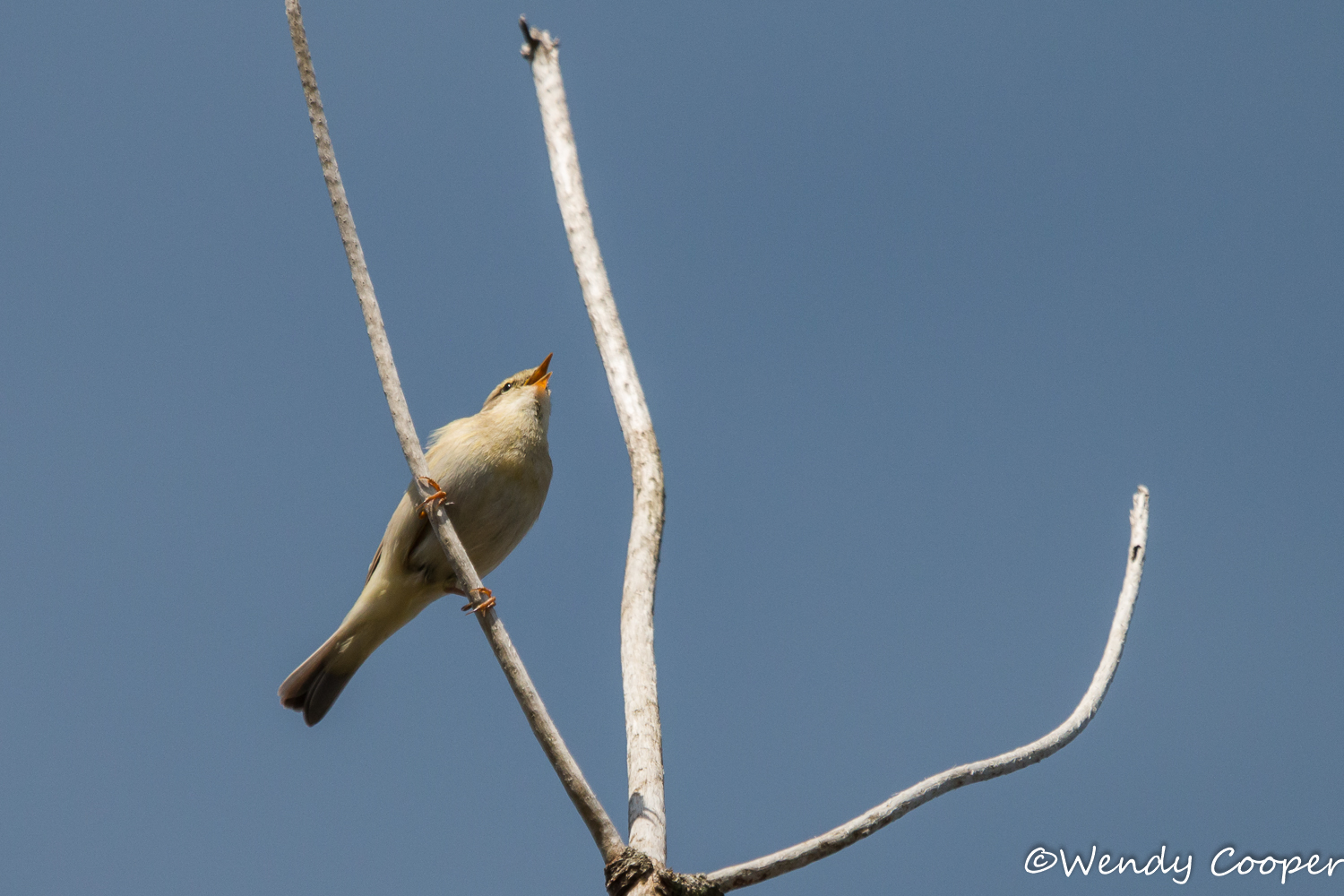 At the top of the ride, we came out onto a forest track, which runs along the edge of Crabtree Hill, a huge area of heathland which provides a beautiful habitat for Common Lizards, snakes, many ground nesting birds, large and small mammals and where there are many little pools, many insects.
As we stepped onto the track, way ahead of us, we spotted a beautiful Red Fox, I'm not sure who was more surprised, the Fox or us, however after a few seconds it bounded across the track and disappeared in the undergrowth on the heath.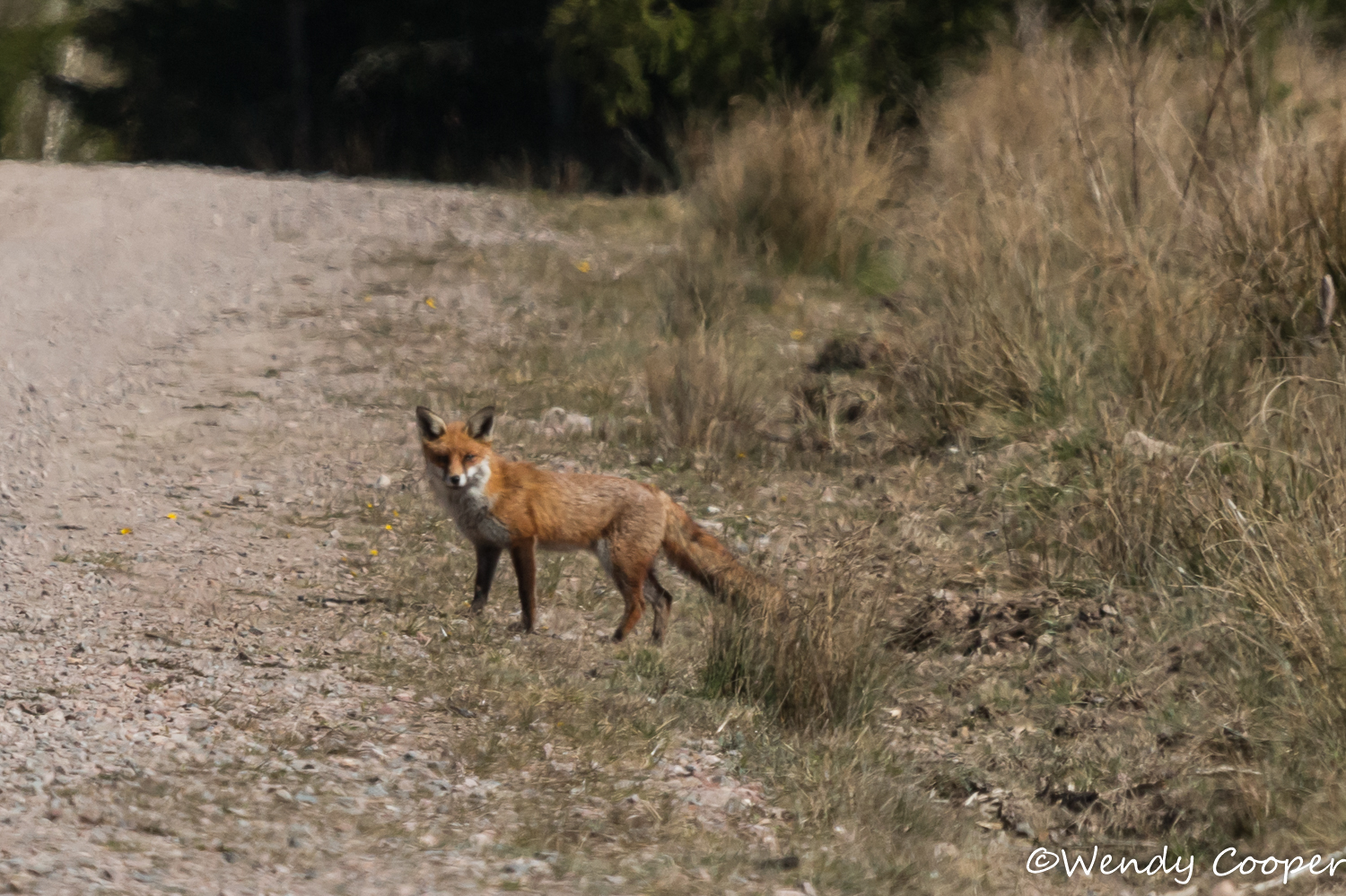 Walking along the track, towards the central path on the heath, I heard a familiar song and started to look about for a small brown bird, fluttering up, then parachuting down onto a bush or tree. After a few moments, we spotted him, a Tree Pipit.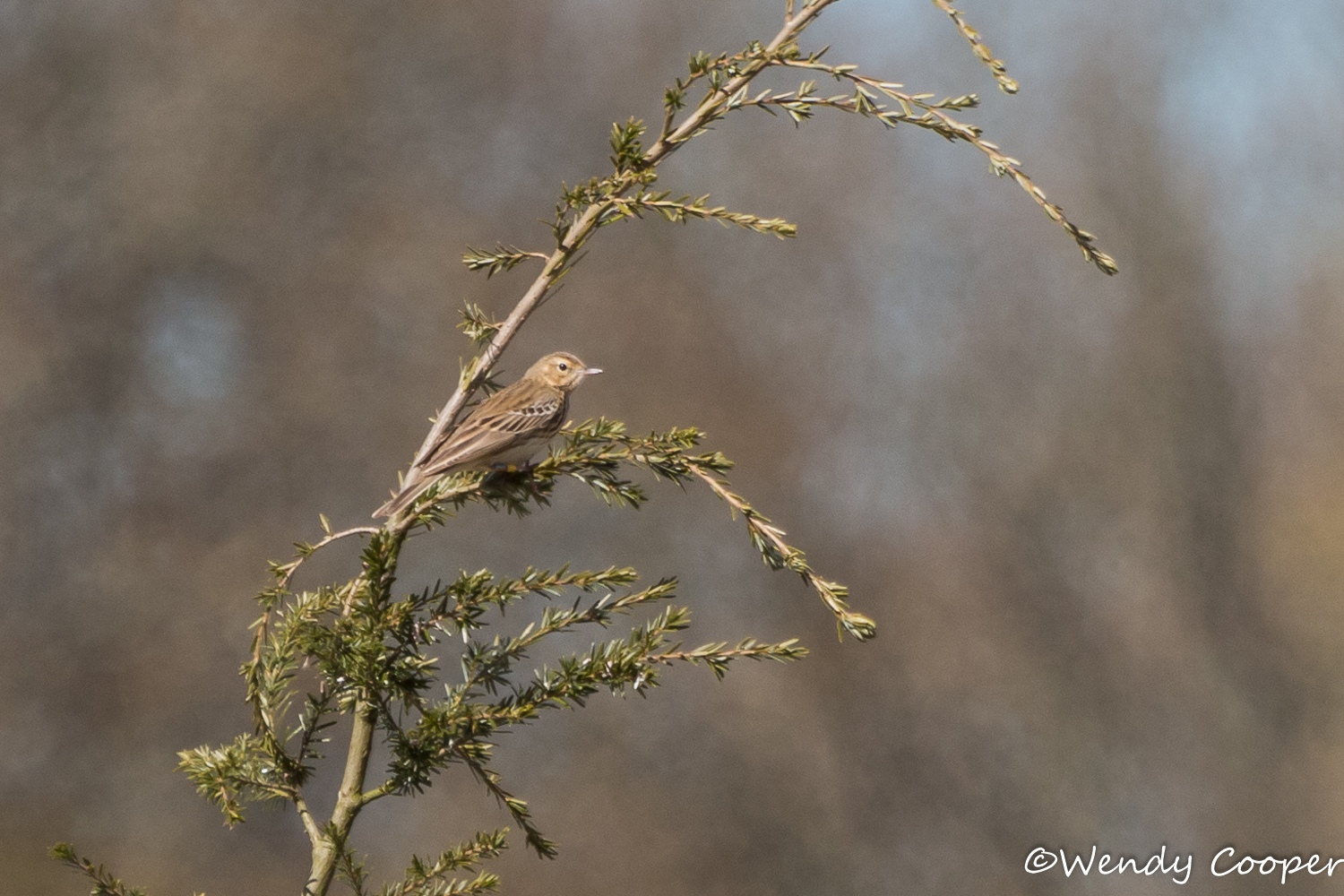 Tree Pipits are another of our summer visitors from Africa, mainly favouring heathland with scattered trees and open woodland. One identifying feature is a short hind claw compared to the long one of the Meadow Pipit. This one had also been ringed in the same area - it was sporting some snazzy legware! (On our visit to the same location last April, we saw another one which had also been ringed in the same area - so it looks as though they like to return to a similar location each year.)
As we walked up the central path, we saw a small group of Fallow Deer at the edge of the trees. They had been foraging and also keeping a lookout as well.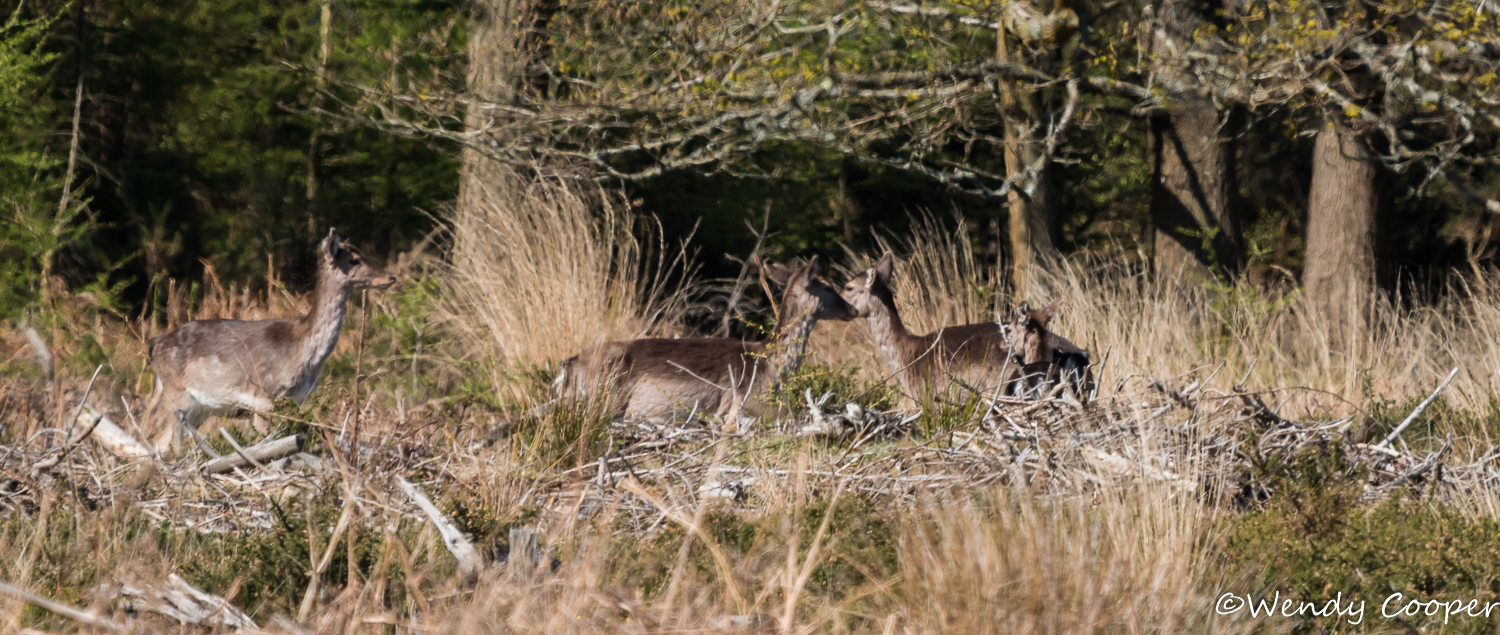 They quietly returned to the cover of the woodland, however, throughout our walk, we were afforded many distant views of a small group of deer feeding on the far side of the heath.
Perching up on various pieces of old bracken and brambles, there were quite a few Stonechats, this is ideal habitat for them and they are year round residents.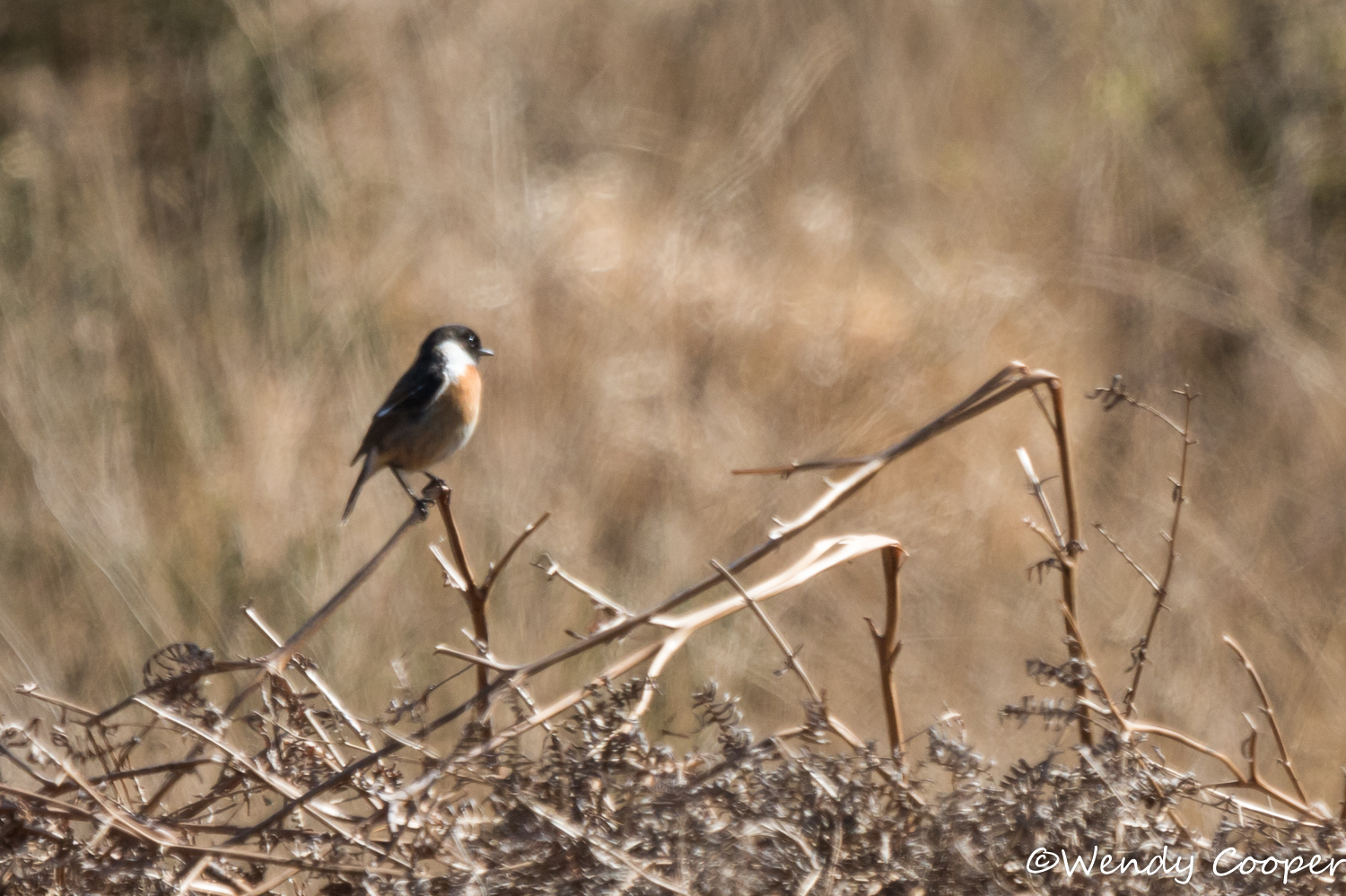 I could hear a mixture of their 'clack clack' call, a bit like two pebbles being rapped together, interspersed with their warbly song as here and there I'd see them flutter up, before returning to the same perch.
Towards the top of the path, we could again hear a Willow Warbler singing, so after peering into the trees next to the path, after a few moments we spotted him.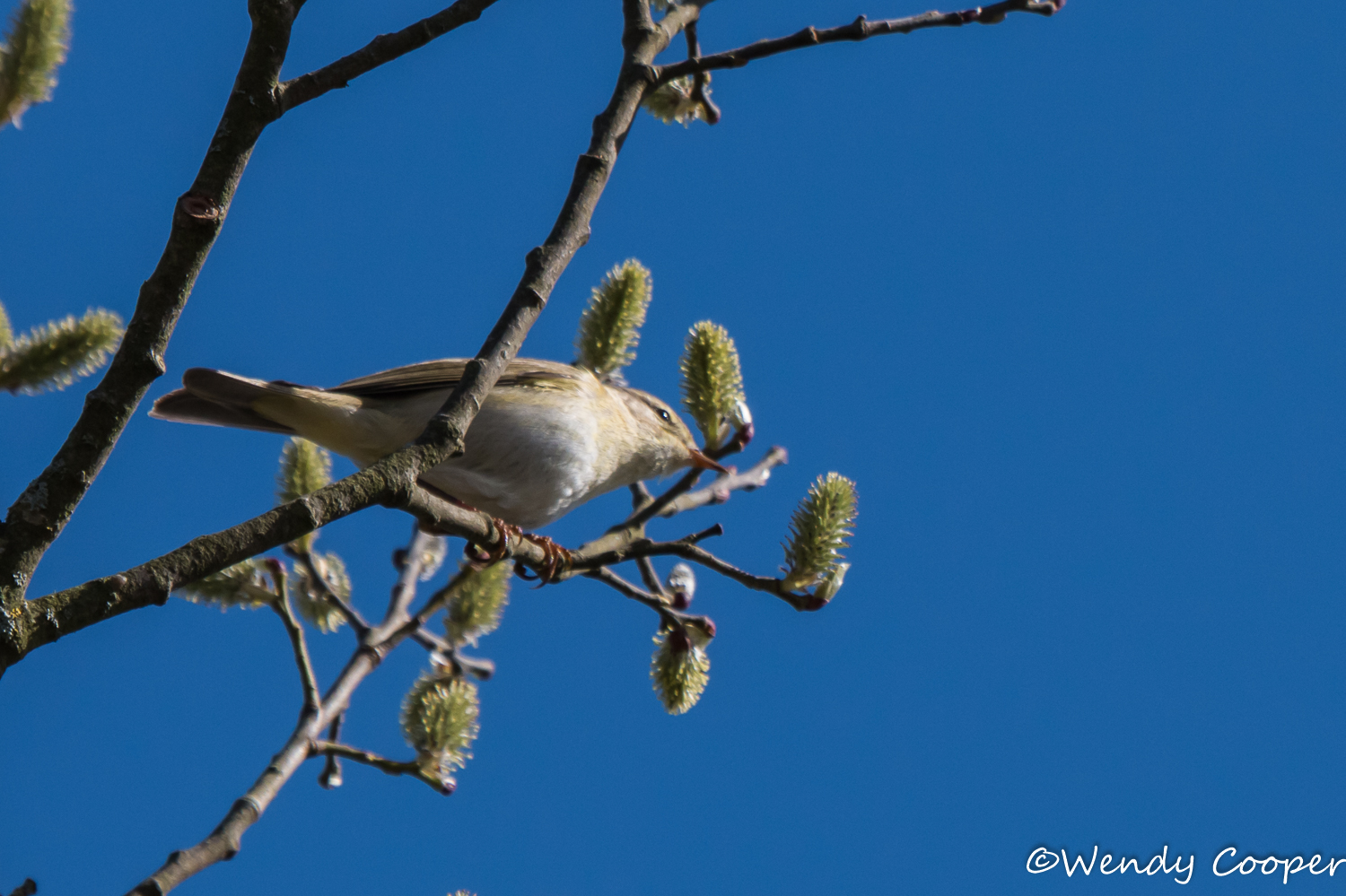 He was on the far side of a willow, singing out across the heath, for a moment or two singing solo, then another voice, a few trees away, rose in competition.....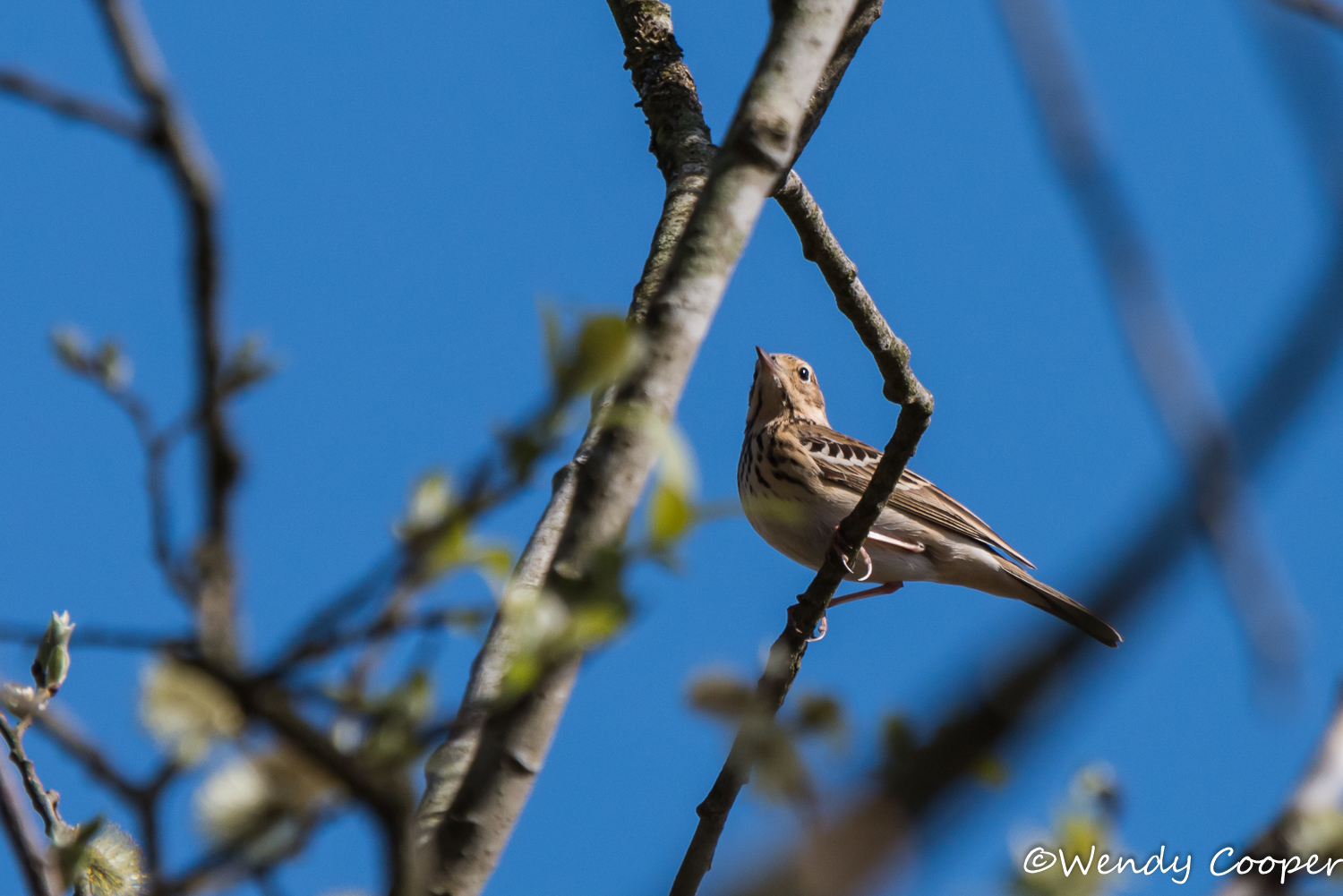 It was an exceedingly handsome Tree Pipit, which we were able to watch close up for quite a while, before he flew off to another more distant perch.
On our walk back, there were a few Robins and Wrens about, as well as quite a few Blue and Great Tits and Blackbirds, all out foraging or in the case of the Wrens 'declaring' territories.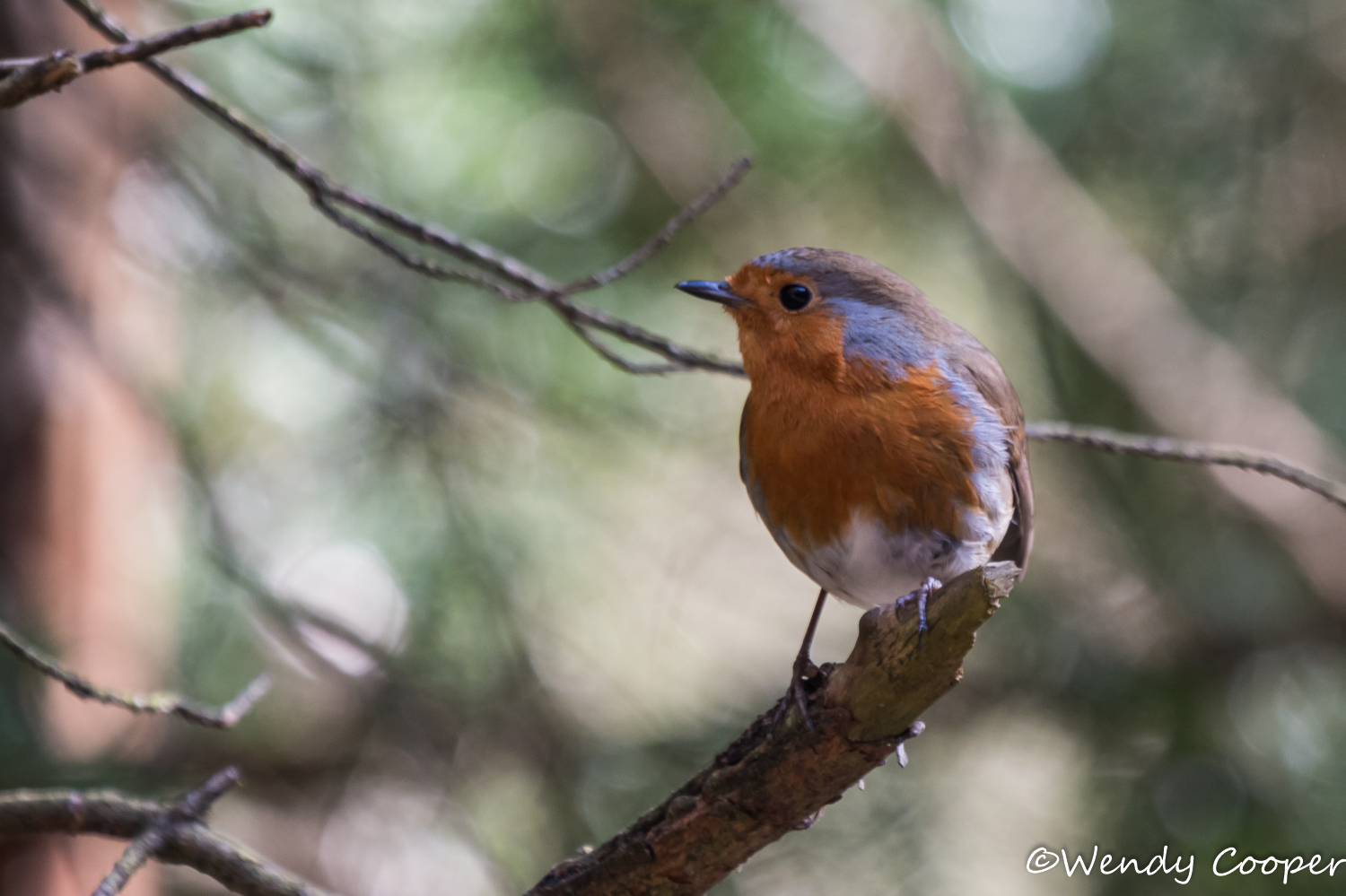 One thing I did notice, was that in comparison to last year, far fewer spring flowers were out, the gorse was blooming in places, which a few Bees were taking advantage of, however there was very little Ladies Mantle, although we did find a few sizeable clumps of Primroses. There were also far fewer butterflies - last year, this was where we had seen our first Orange Tips and Speckled Woods, however apart from one Speckled Wood flashing past, no others were seen on this trip.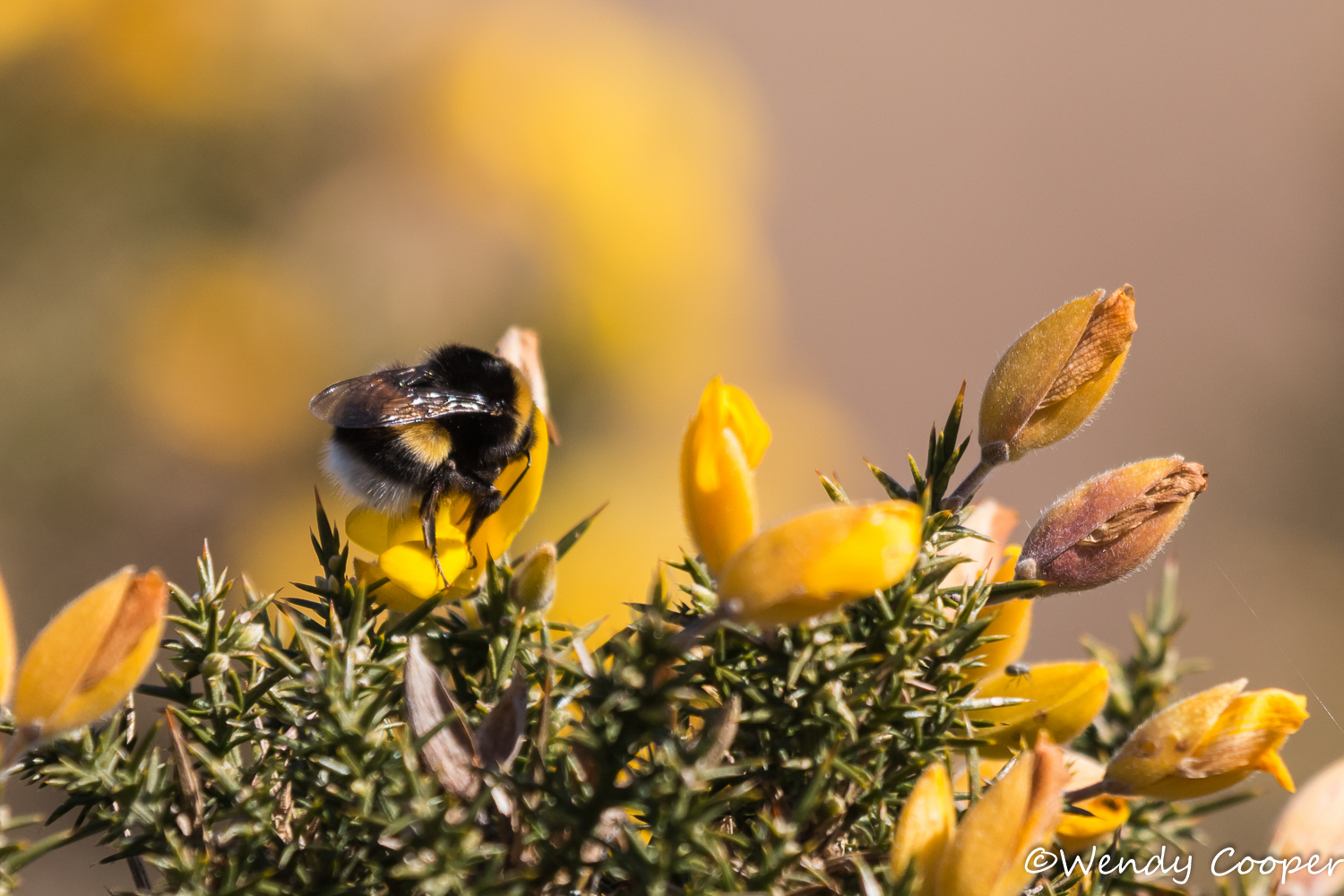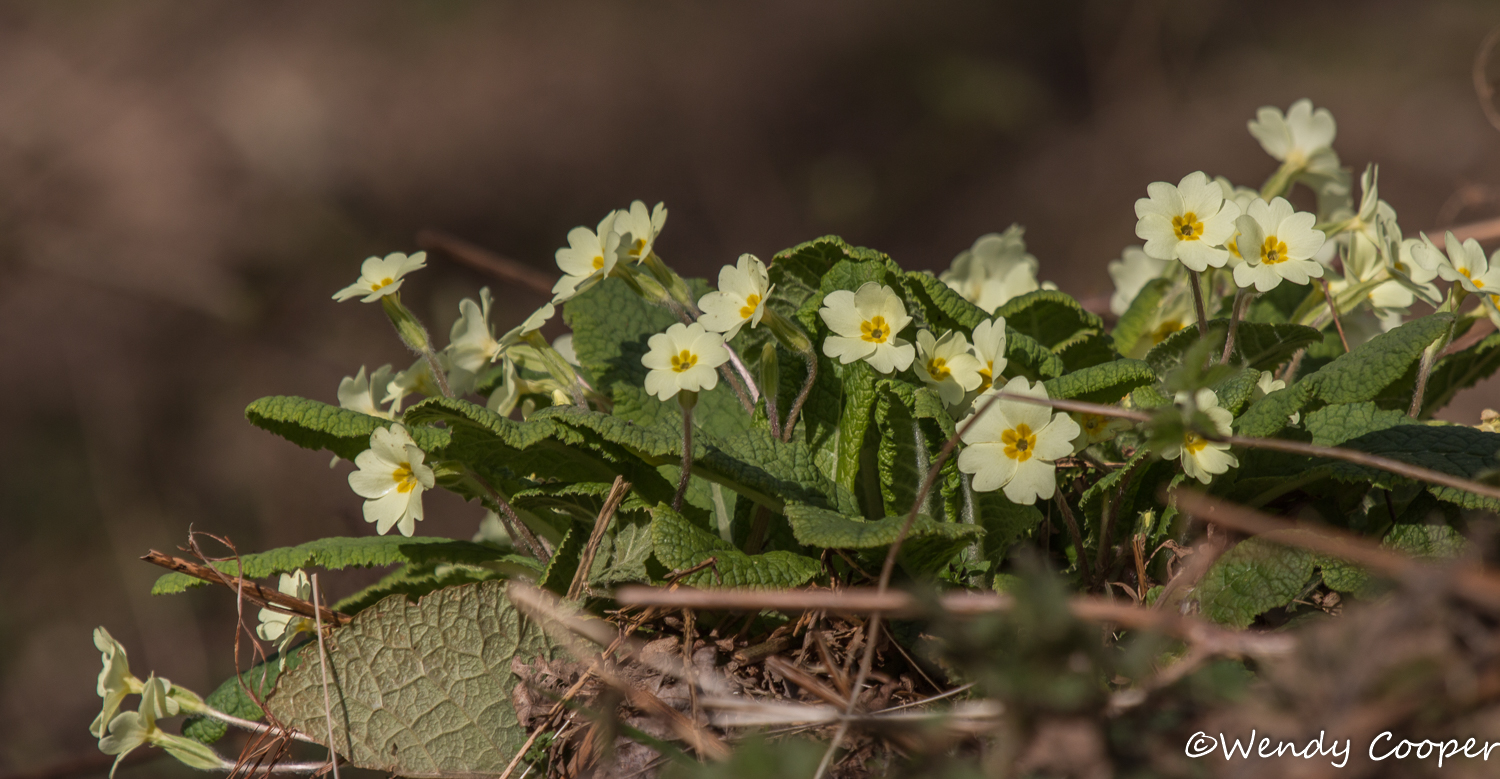 The next day we decided to go for a stroll at RSPB Nagshead , which is over at Parkend. It is a lovely little reserve which has ponds, beautiful old deciduous woodland and a few clear grassy areas and quite a variety of birdlife to hear or see.
On the first pond as we arrived, were a pair of very smart male Mandarins. Throughout the Forest, there is a sizeable population of these colourful ducks, they are not native, however over time have escaped from private collections and have become acclimatised to living in the wild. They actually nest some way away from water, in trees, before leading their duckings through a woodland assault course to water!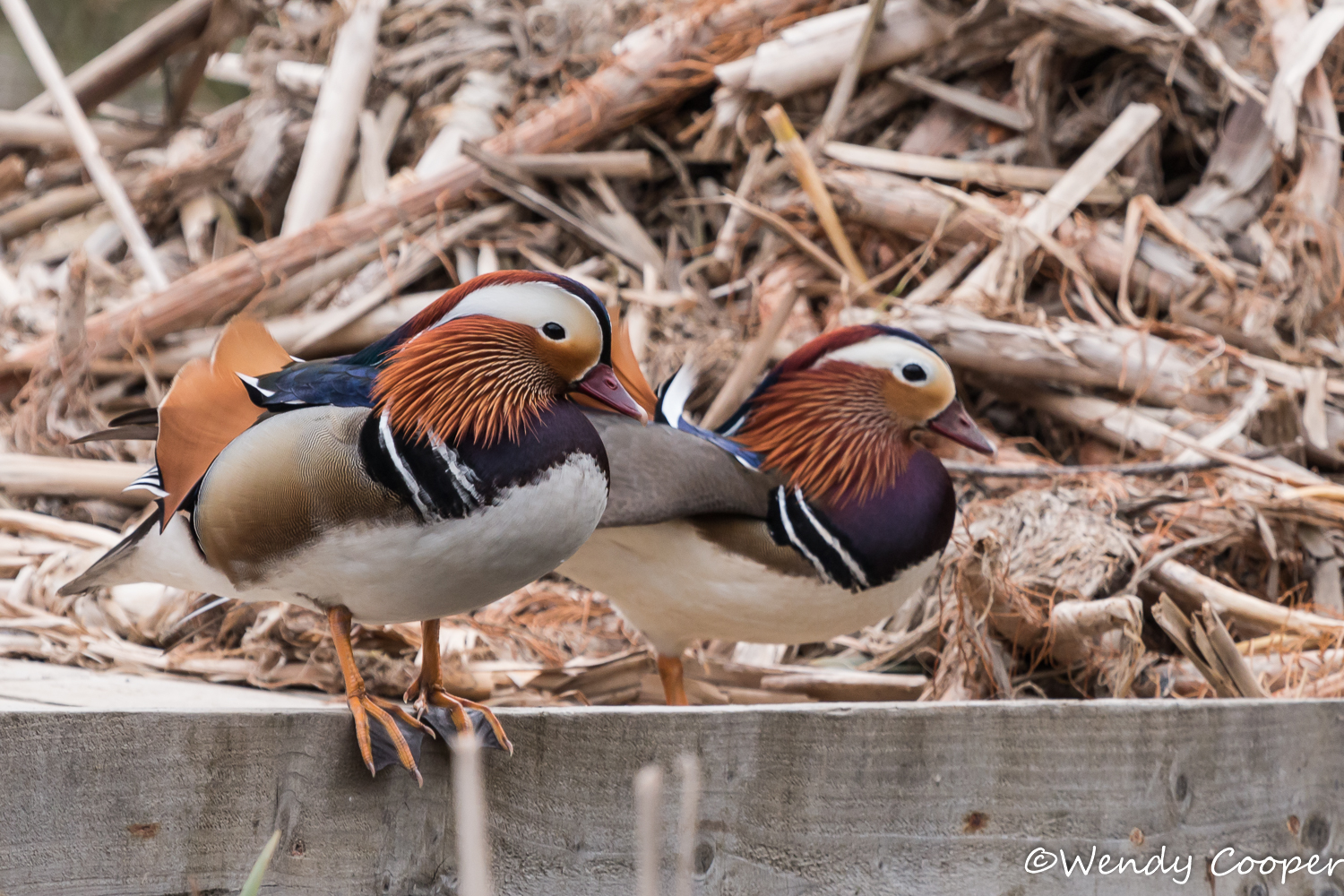 These two were just waking after a morning siesta it appeared, before getting ready to go for a paddle.
As we walked from the pond towards the path for one of the hides, I got the feeling of being watched.. turning around, a Blackbird was suspiciously watching me, whilst a little further away, a curious Greylag goose was having a good stare!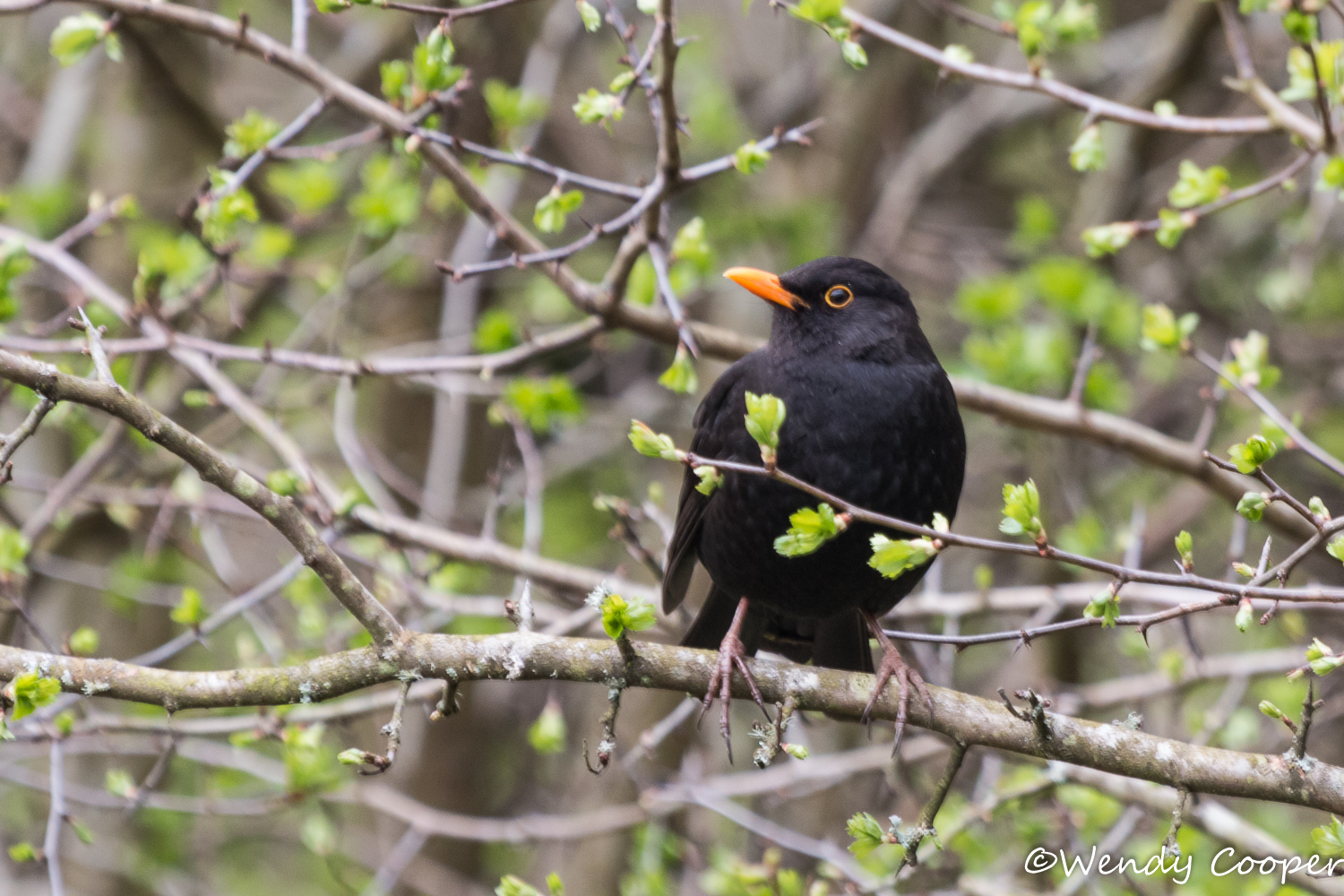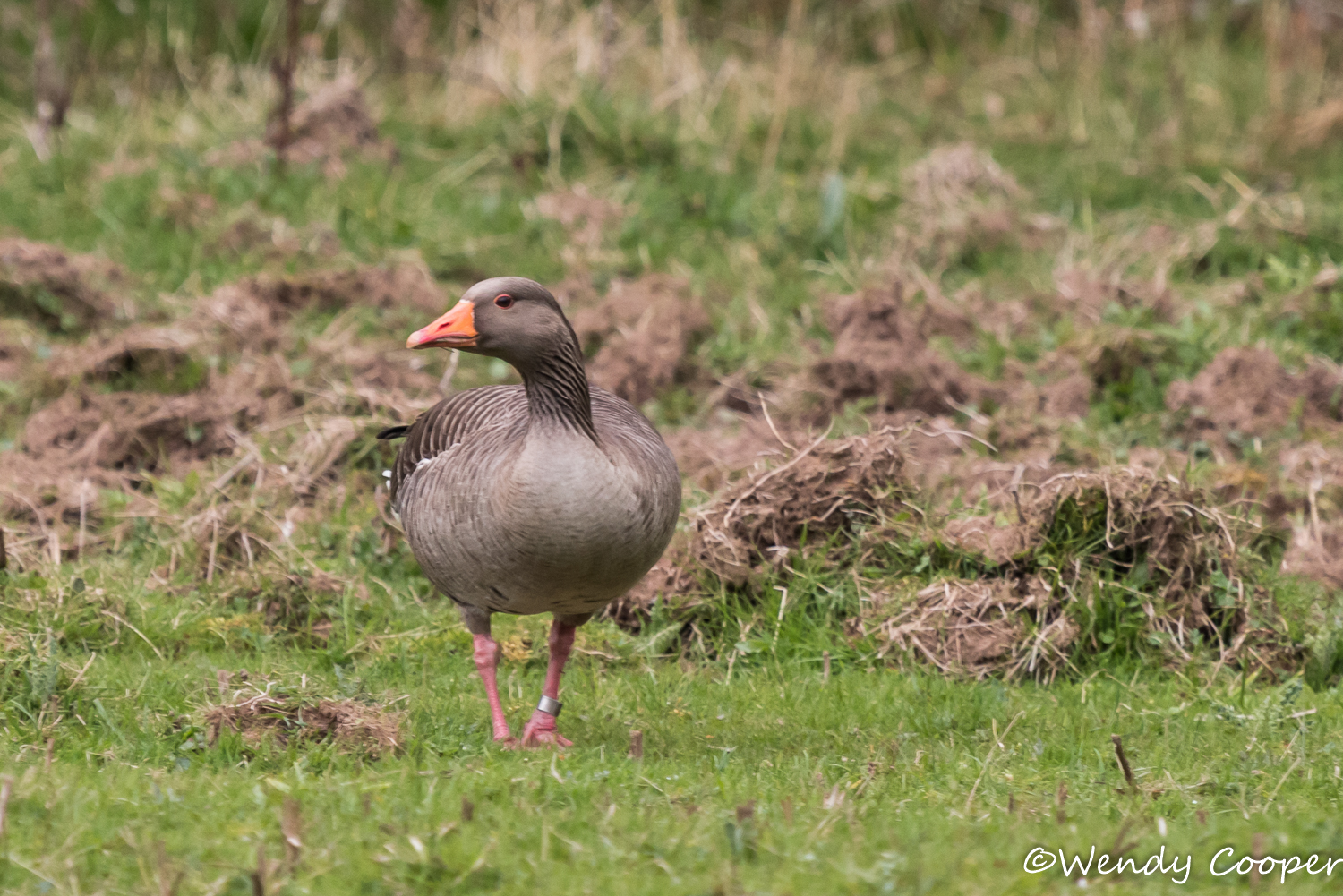 Above us, we could see a Buzzard turning lazy circles, before heading off into the distance.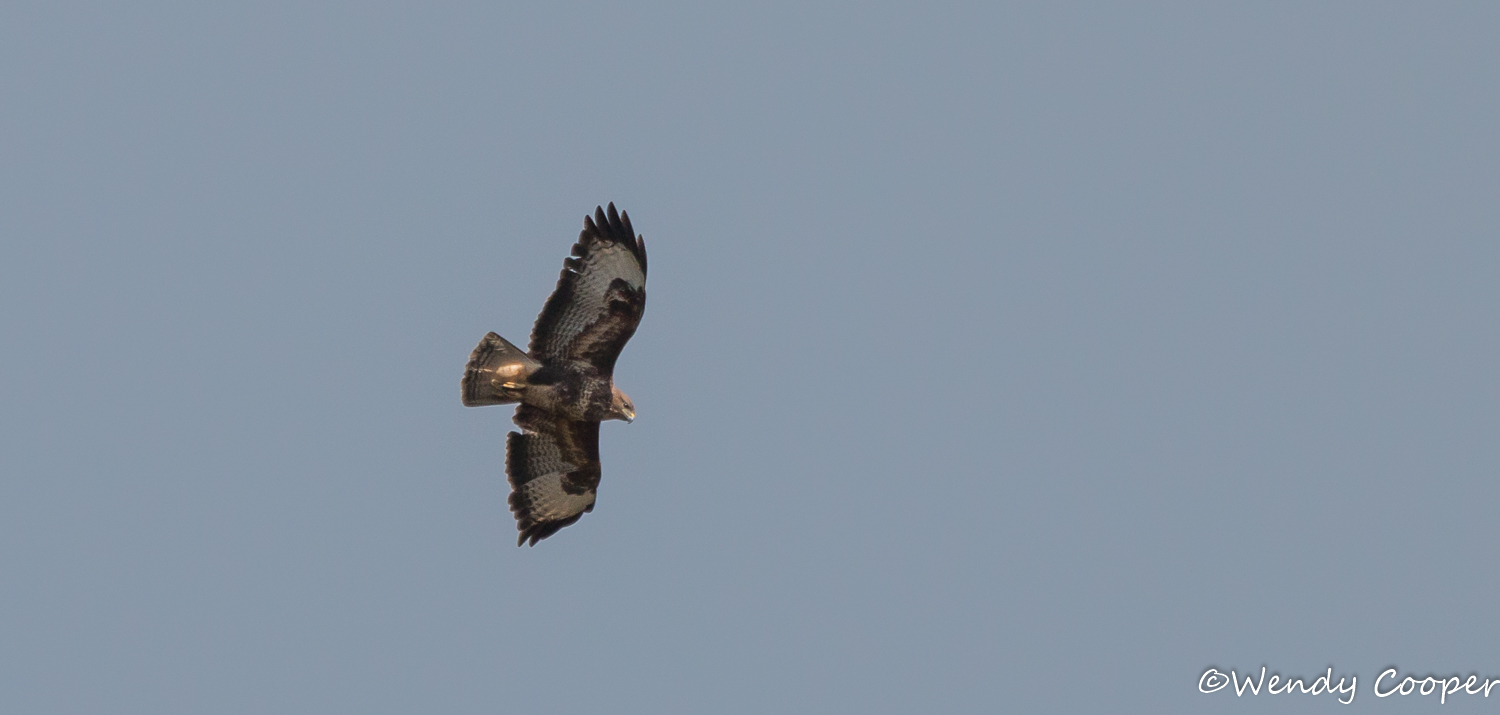 Inside the woods, we could hear Wrens declaring and Nuthatches 'pinging' as well as the occasional drumming and 'kicking' from Great Spotted Woodpeckers. They mostly remained out of sight, however, quite a way off from the path, I spotted a tiny black and white bird flitting about between two trees..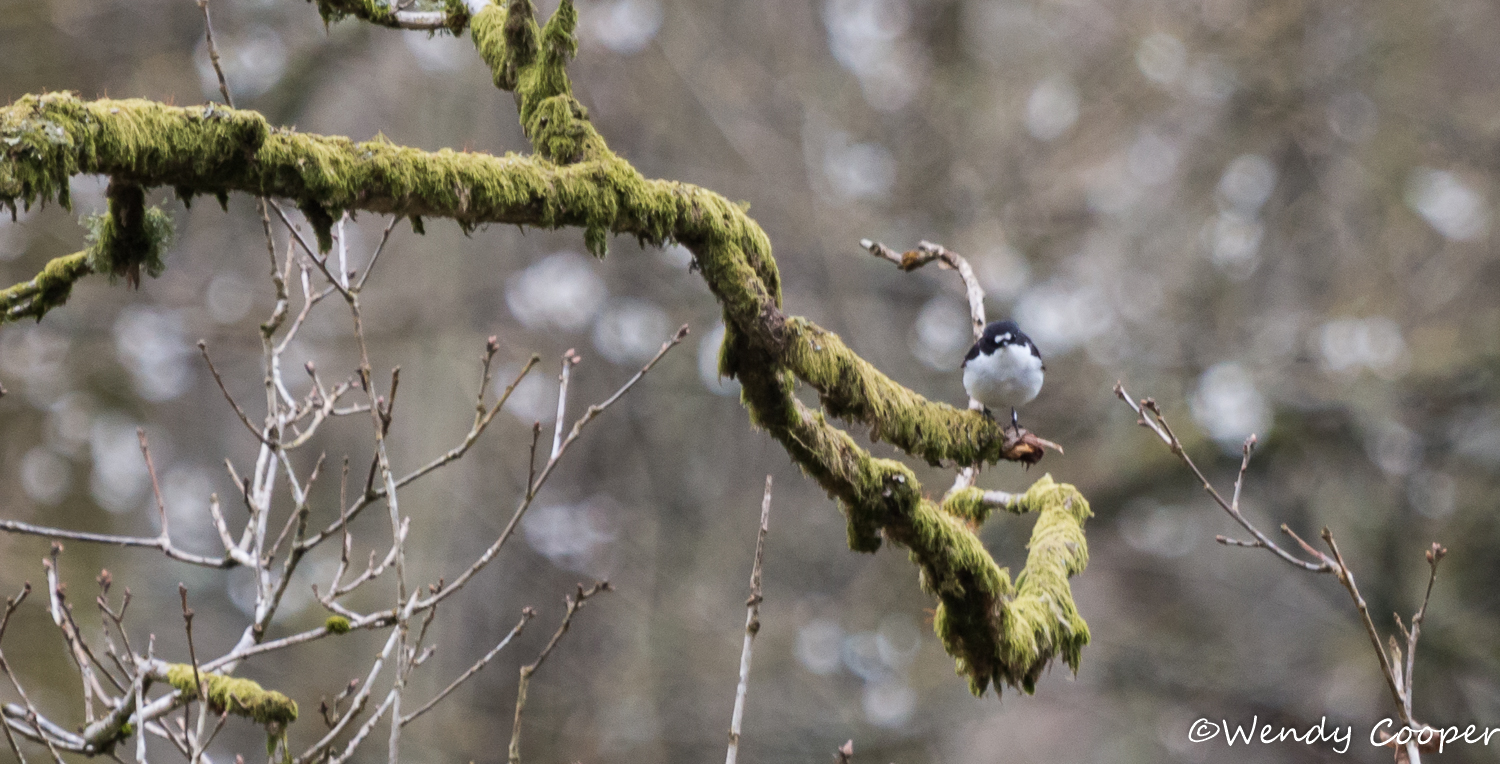 It was my first Pied Flycatcher! These are migrants, from Africa and come here to breed in the summer months, favouring Oak woodlands and are mostly found in the western parts of the UK.
This smart little bird was fluttering in a most aerobatic fashion around the branches as it was catching food - there were quite a few tiny minibeasts flying about, brought out by the mild weather.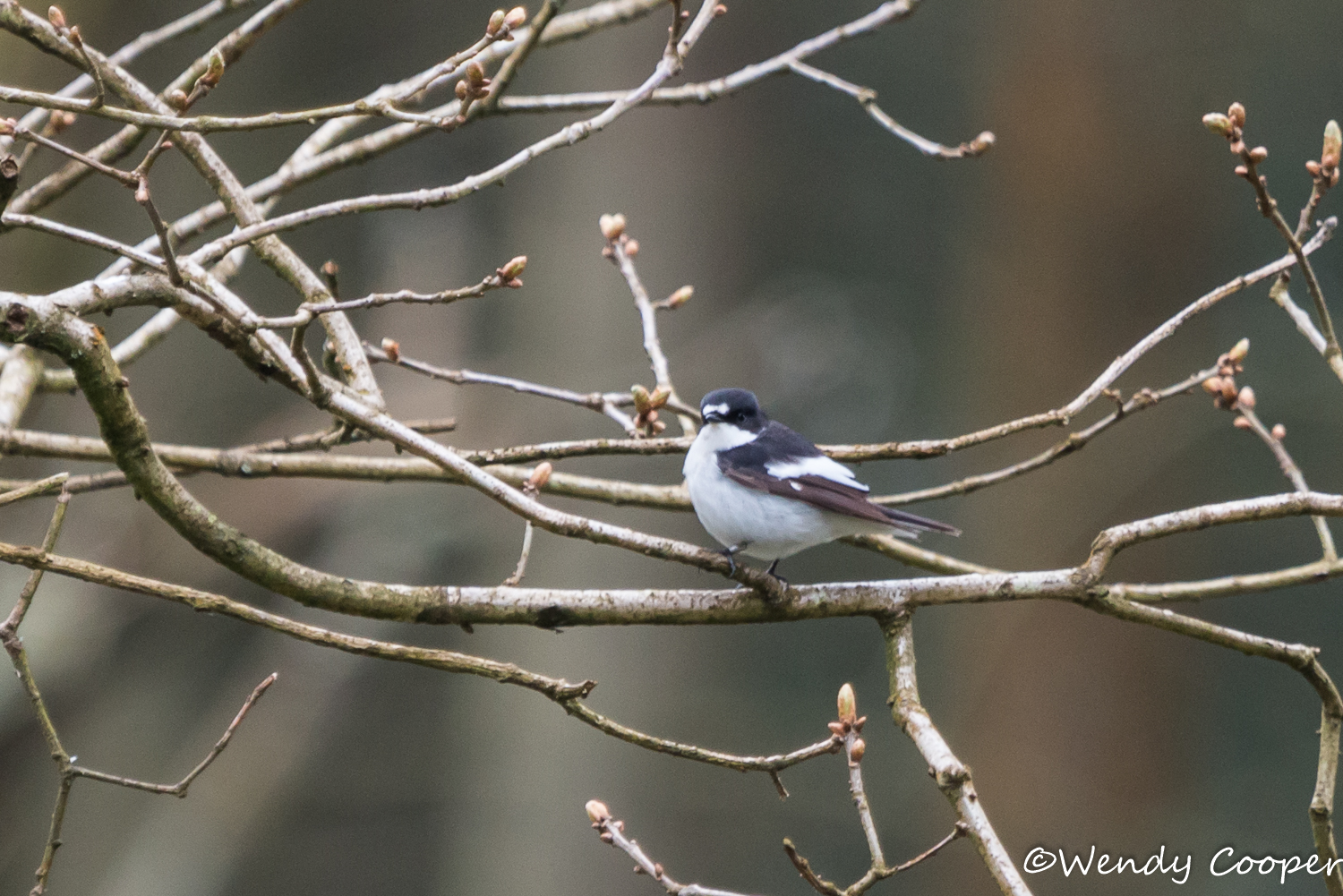 These were far off views that I had, however, once we entered the hide, we were able to watch a further three fluttering around from a tree in the middle of the pond, as well as a few Blackcaps and closer there was a Nuthatch exploring a tree, before it came down onto the ground and found something of interest in a pile of leaf litter.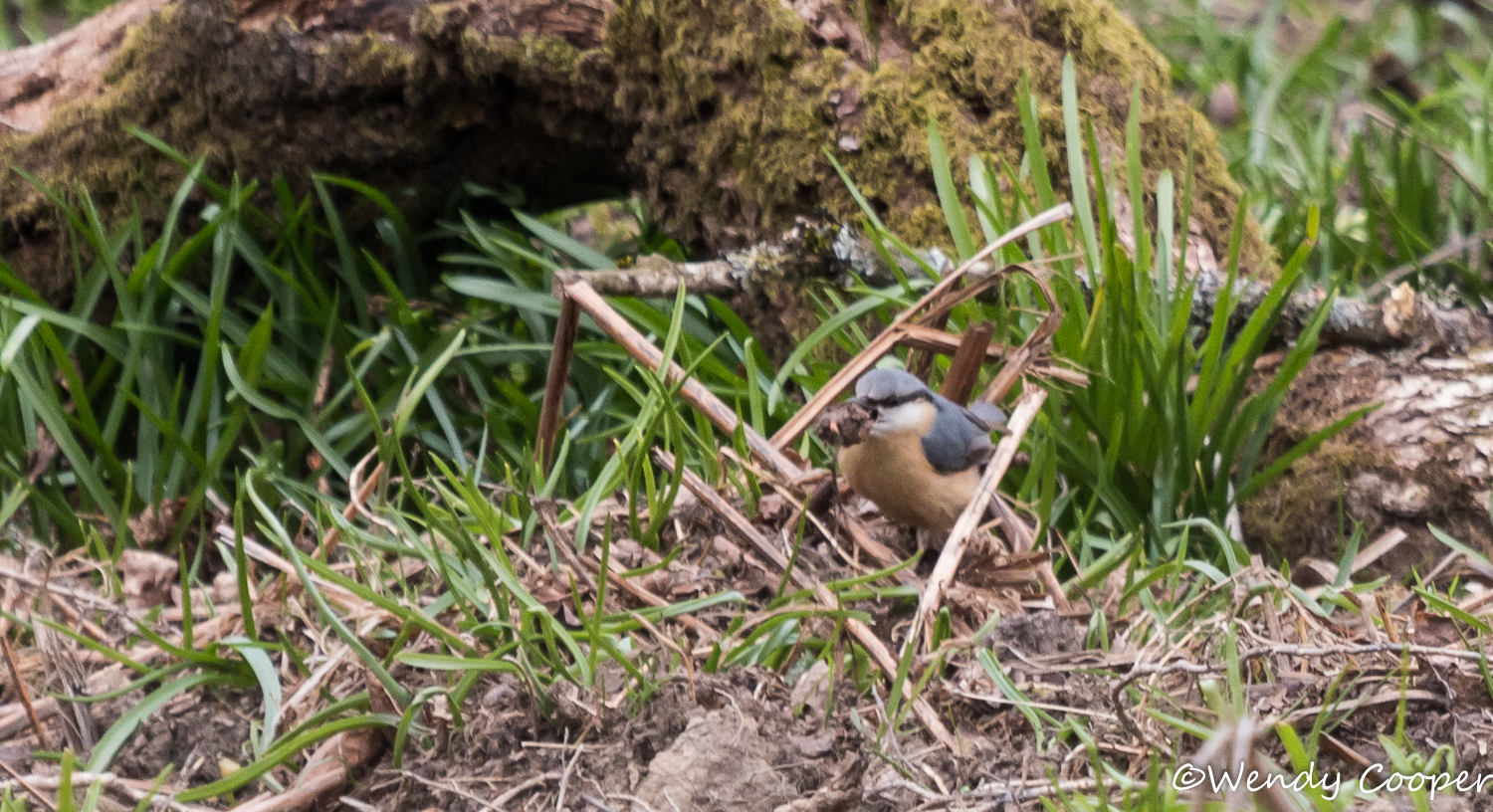 On our walk back, we sat for a while in one of the little clearings and enjoyed a serenade from a male Blackcap, who had become rather brave and instead of hiding in one of the trees, chose to give his performance from the top of some Brambles.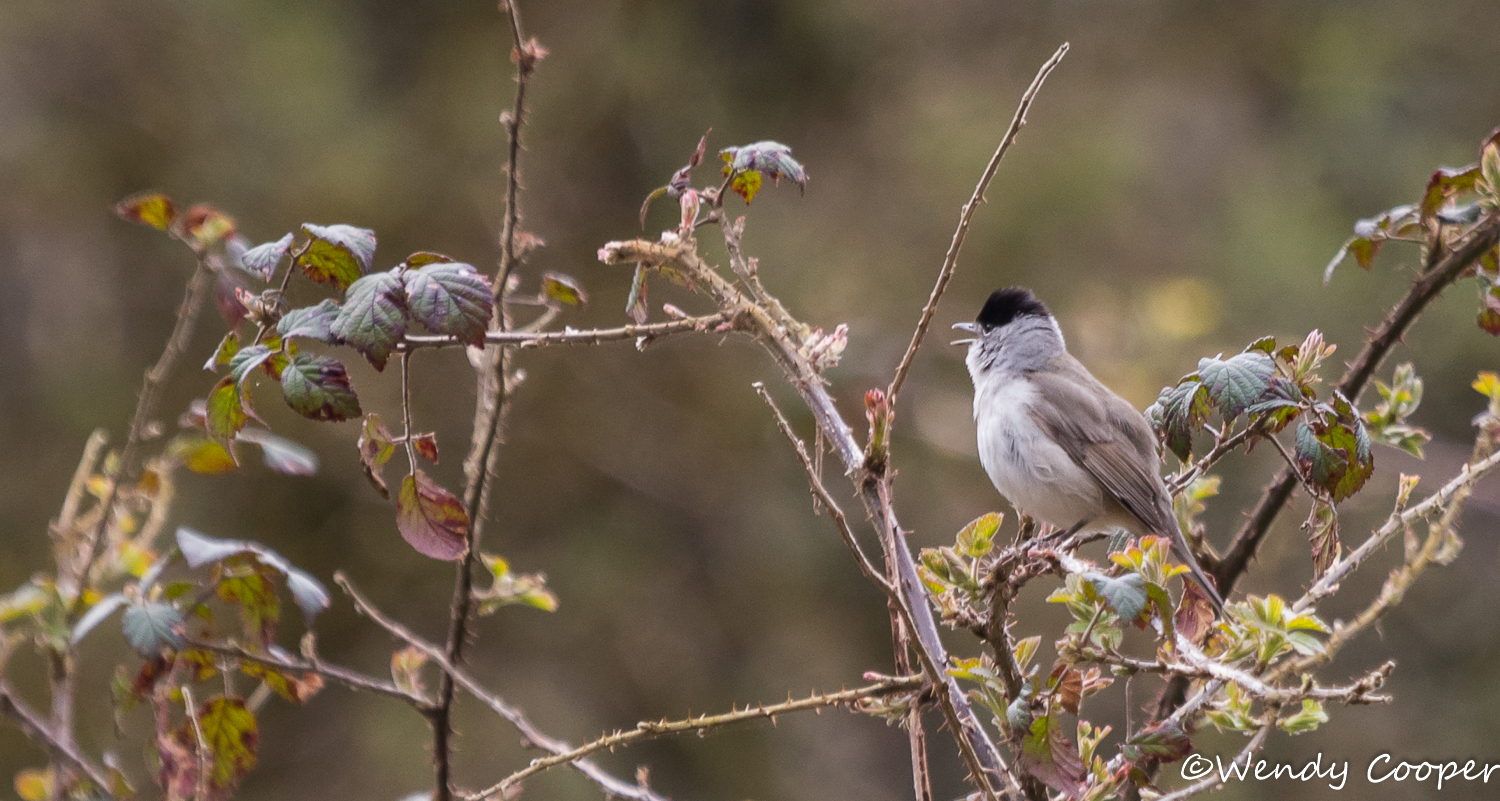 And back at the first pond, the Mandarins had ventured into the water...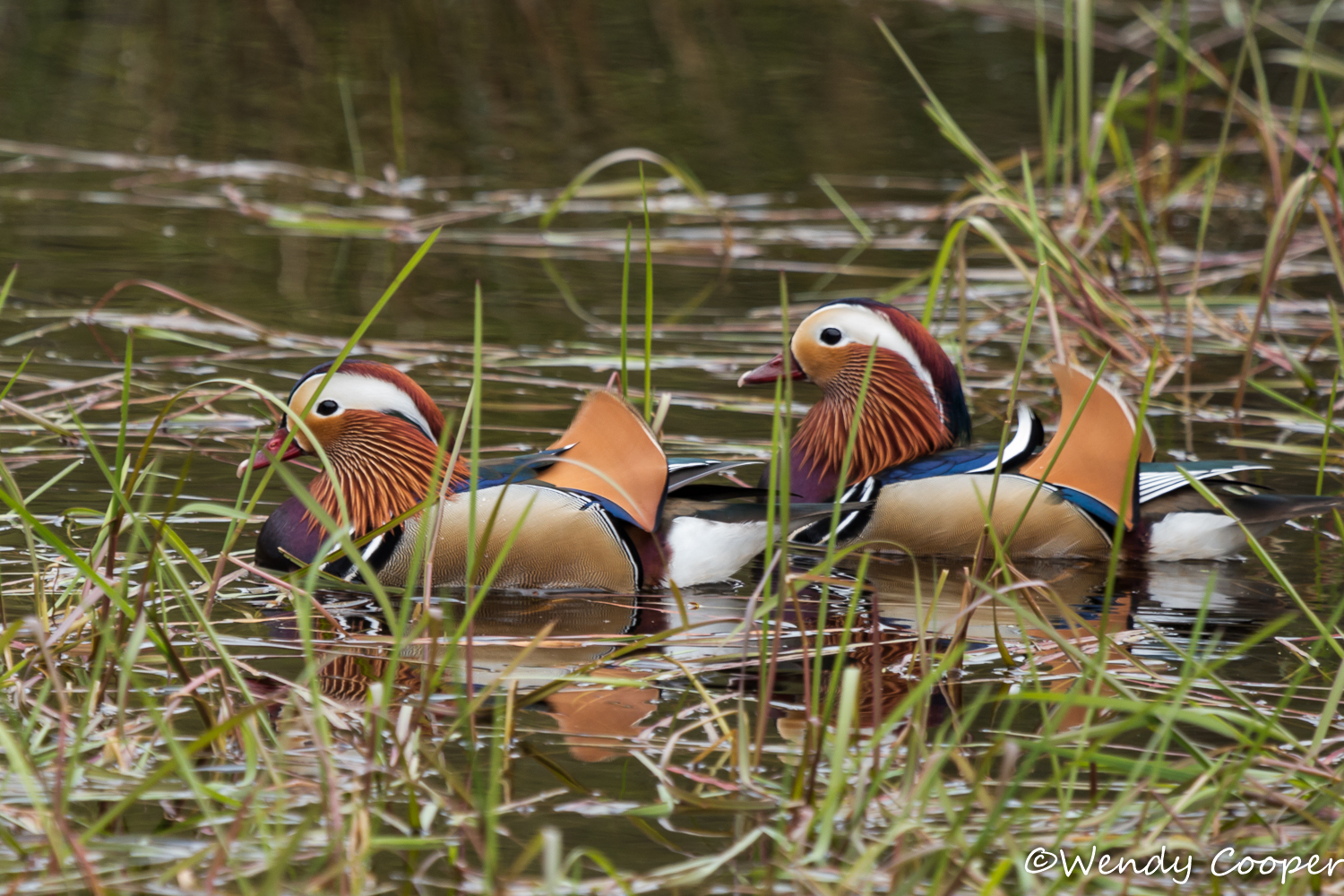 Whilst nearby, a Greylag goose had decided it was all too much and had settled down for a morning nap.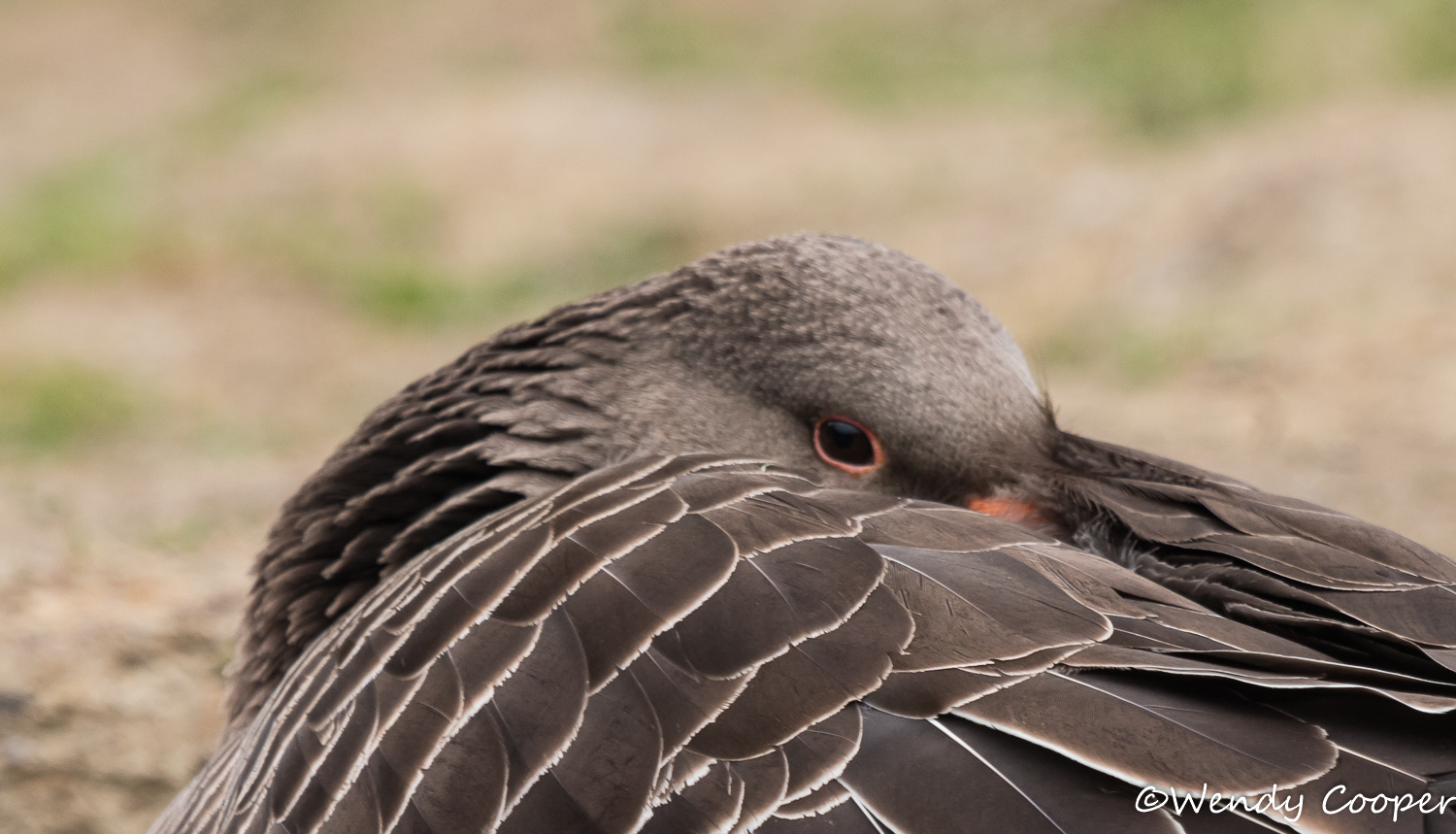 We then decided to go for a little walk at Soudely Ponds part of which is used by a fishing club and part is classed as a nature reserve. It was a little quiet on the birds front, with just a solitary Moorhen and a male Mallard mooching about on the first pond. Along the banks and up the slopes into the woodland, there was a considerable variety of fauna, from Hart's Tongue ferns to Wood Violets growing, as well as Bluebells beginning to come into bloom.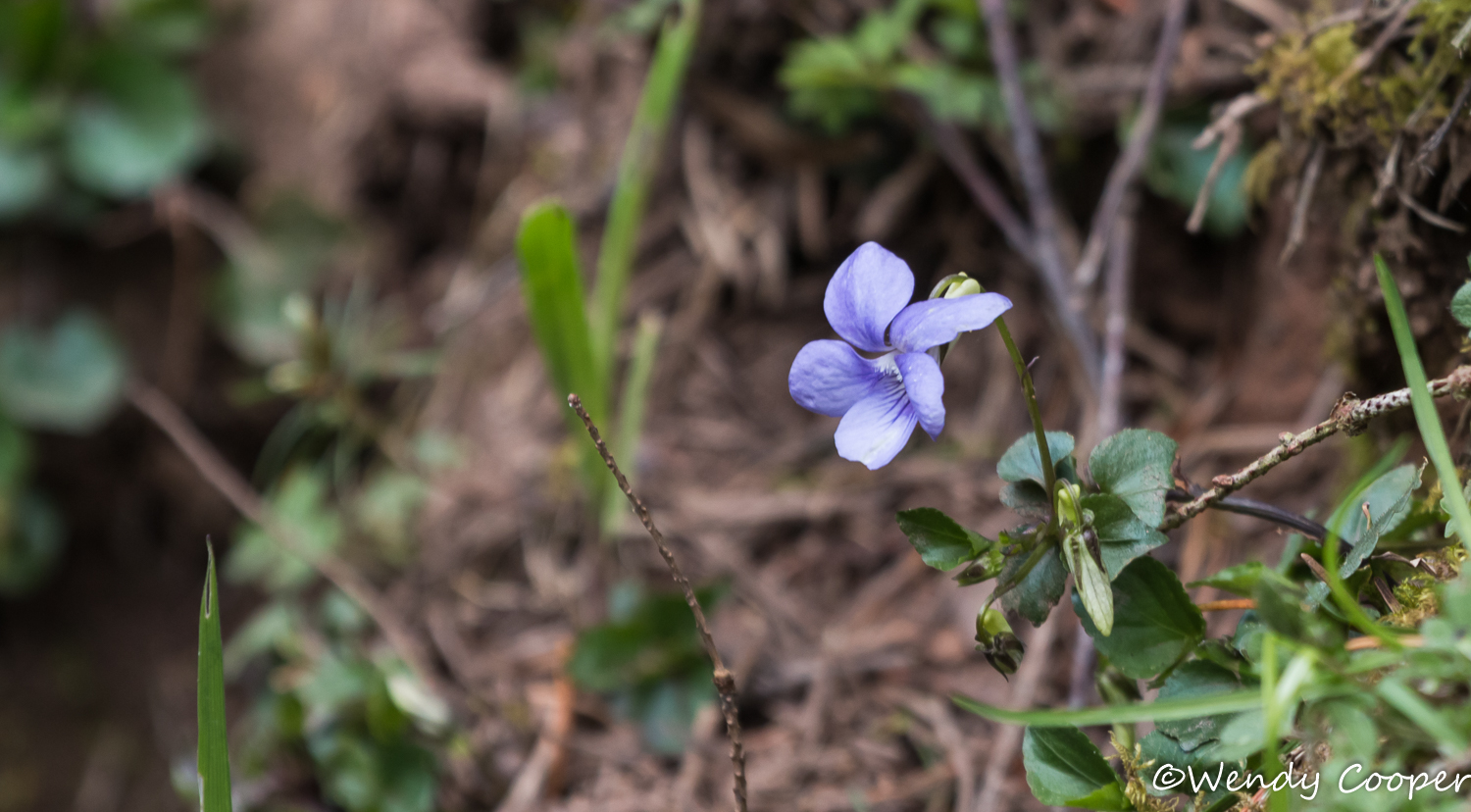 Crossing over between the two ponds, there was a small fidgety bird hopping from stone to stone in the spillway/stream. It was a Grey Wagtail.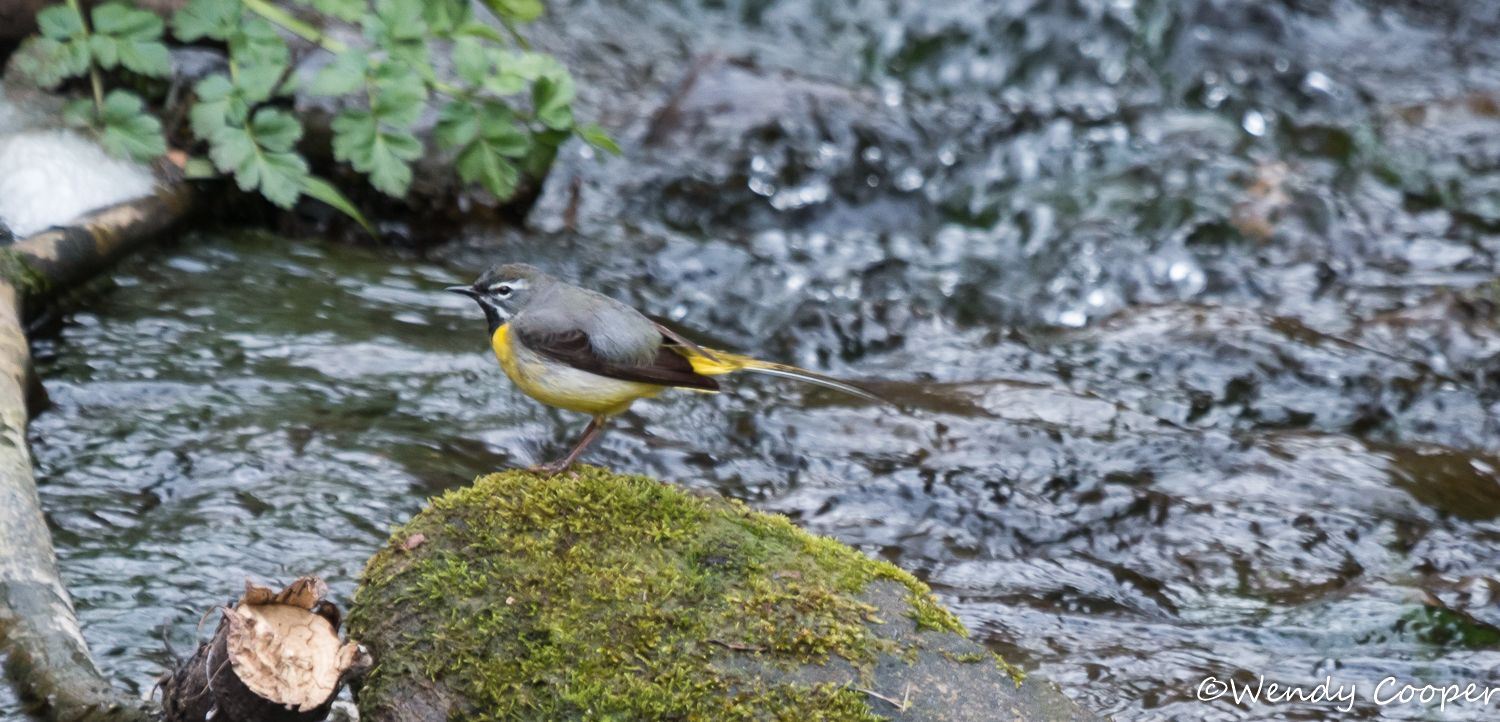 These colourful busy little birds can often be found around ponds or on fast moving streams, foraging amongst mosses and leaf litter. I was hard pushed to catch this one when it was still!
We've earmarked the ponds for a return visit and explore at a later date, but decided that a cup of tea was in order, so headed to Symonds Yat for a cuppa and to see if we would finally be lucky on the Peregrine front - after all our previous visits when we had been unlucky and never seen them.
Whilst we were having our tea, we were entertained by Long Tailed Tits, Robins and Coal Tits who were feeding in the trees nearby. Away in the distance we could see a Buzzard soaring.
Once we got out to the Viewpoint, we could see the usual corvids and gulls over the river below and there were a few Nuthatches and Great Tits taking advantage of some seed that had been left.
We kept a close eye on the cliff and could see pigeons and other birds flying about nearby. Suddenly, over head, at speed was a Peregrine falcon!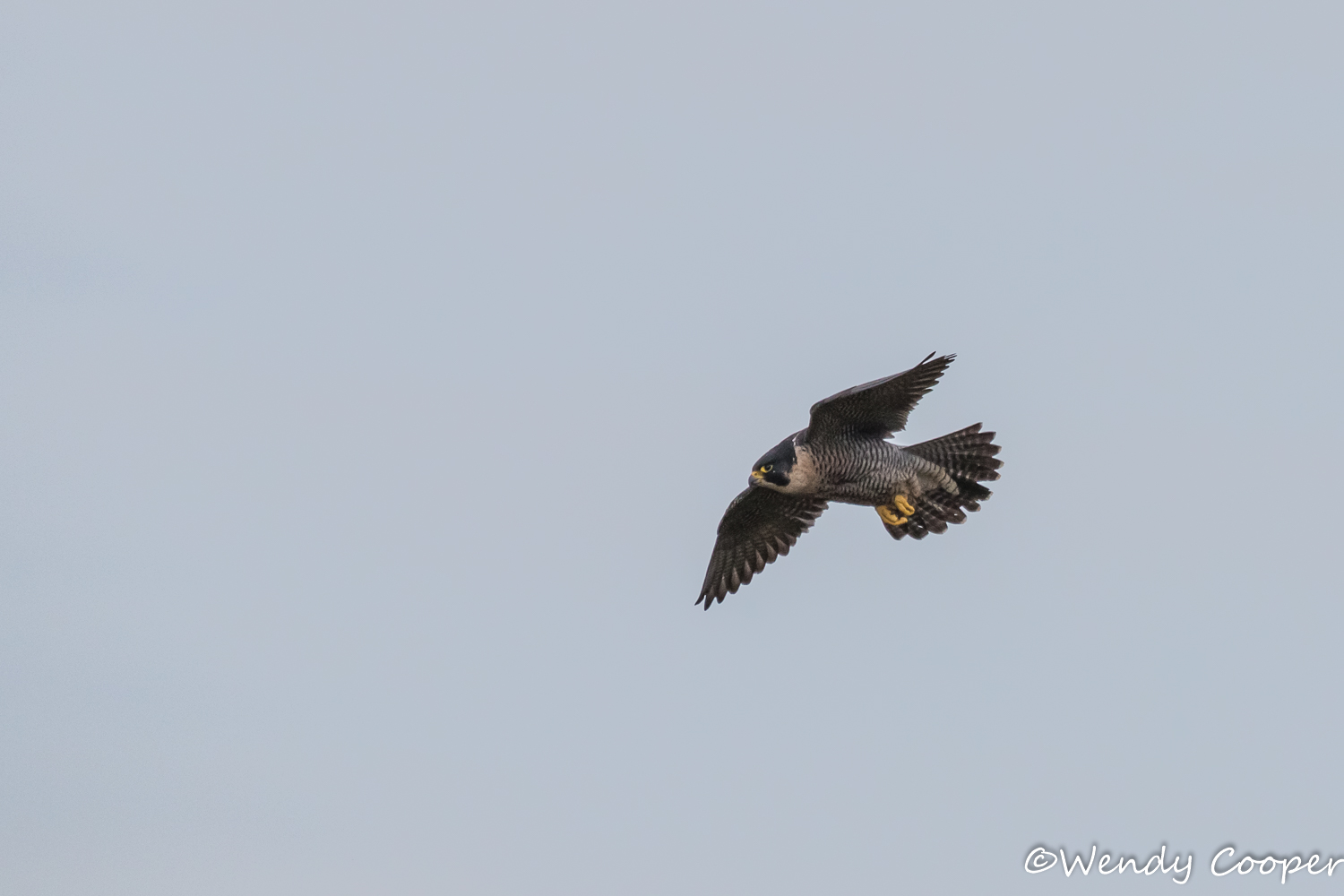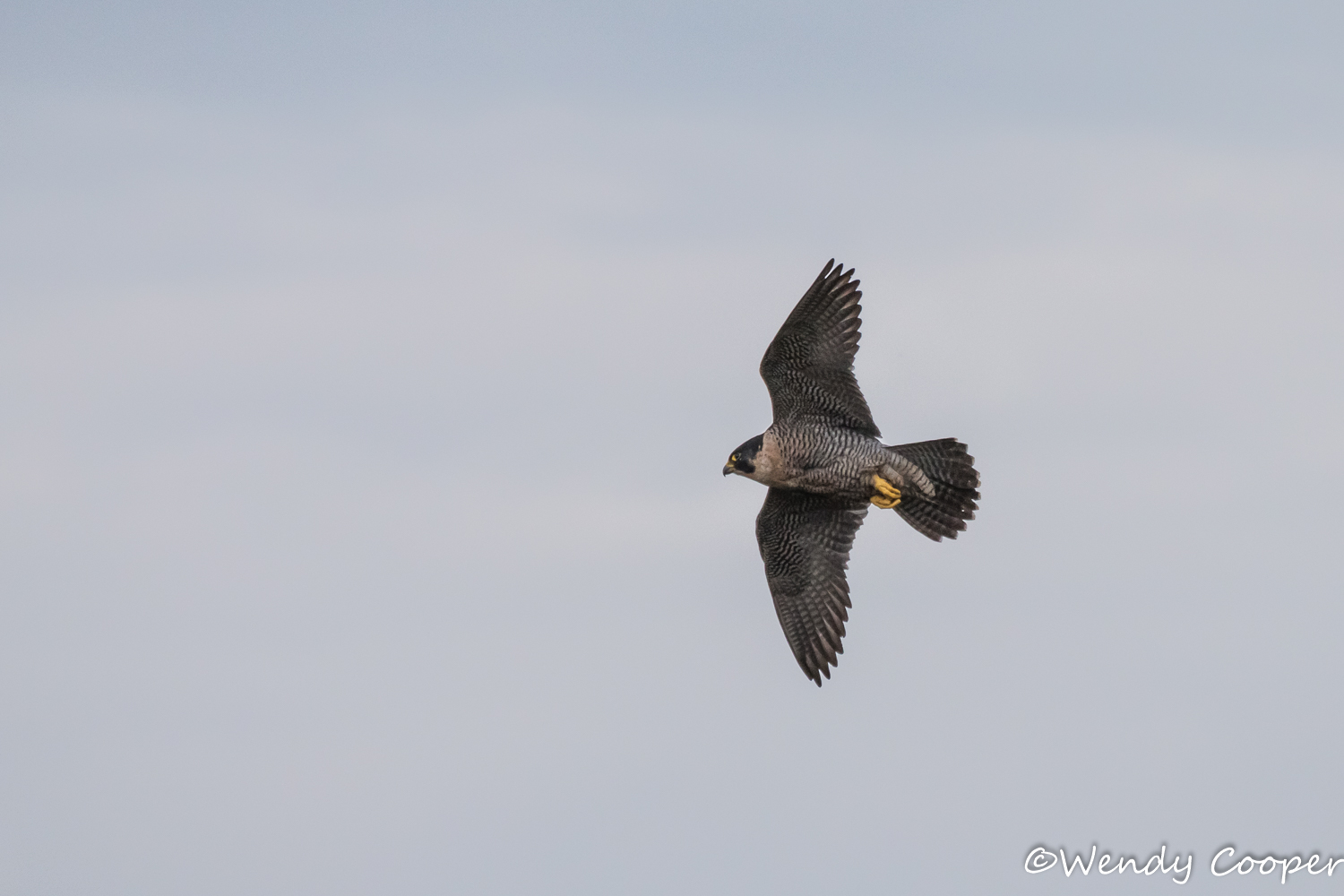 Now granted they are not the best pictures in the world, but, this was the first time EVER that I had seen one, fairly close up too, so am not entirely sure how I had control of the camera.. Have to admit it was a rather emotional moment! Anyway, we were treated to quite a flyby, before the falcon headed off and I later found when going through my photo's that I had some record shots of one of them arriving back at one of the ledges on the cliff..
Whenever we have visited the Forest, we try to see some of it's more elusive inhabitants, Wild Boar. This visit was no different and so we began to expore a location carefully and quietly, peering into the trees and waiting along a track in the hopes of seeing both adults and youngsters.
Wild Boar (Sus Scrofa) are native to the UK, however were hunted to extinction many centuries ago. They have been farmed in the UK since the 1980's, when it is thought that some escaped and they have now colonised in a few isolated locations. They do not seek out human company and live under cover in the Forest in sounders or matriarchal family groups - the males lead a mostly solitary life. They do not just favour woodland, they will utilise a variety of habitats to forage for food.
Evidence of the Boars' feeding habits can often be seen along verges or along the edges of the forest tracks, where the ground has been rooted up and turned over. This is excellent for the woodland floor - reducing bracken growth and uncovering the seeds of other plants - nature's gardeners, however this is not so good when it is crops, or the local cricket pitch - however, nature is not always neat and tidy and some folk do consider them to be a 'marmite' species.
Mindful of how secretive they are, we decided to try.
On one of our stop/look/listen visits, just as we were about to call time, at the edge of a row of young conifers alongside the track, a twig snapped and I could see the lower branches moving. We waited... and waited, about fifteen metres up the track from us, a little face appeared, peered cautiously about and stepped out of the undergrowth.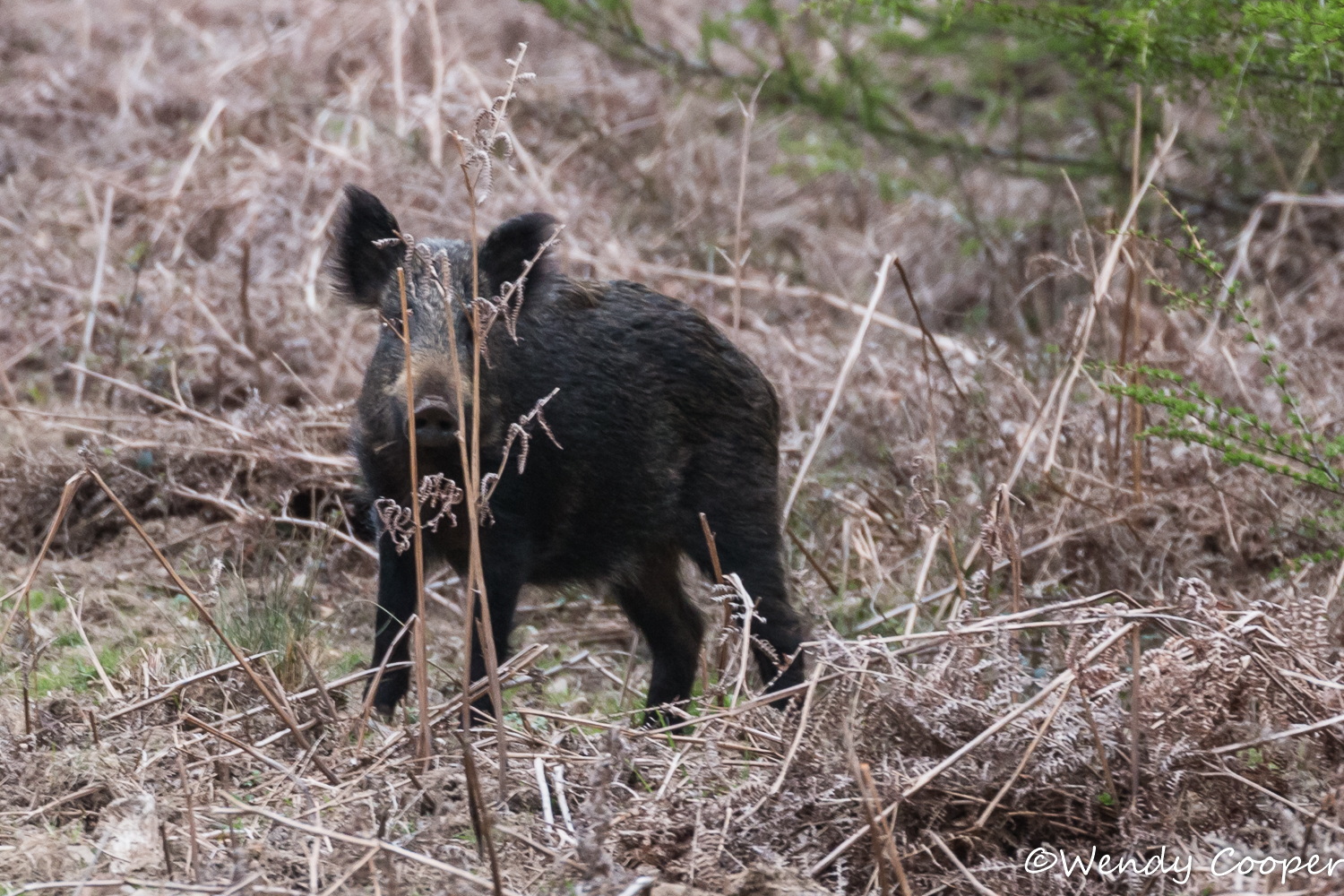 I'm fairly sure that this Boar was convinced we couldn't see it hiding behind the bracken stems, but it ventured a little further onto the track, thinking itself unseen. We stood there quietly, fortunate that we were downwind, so delaying detection (Boar have poor eyesight, but acute hearing and an incredible sense of smell).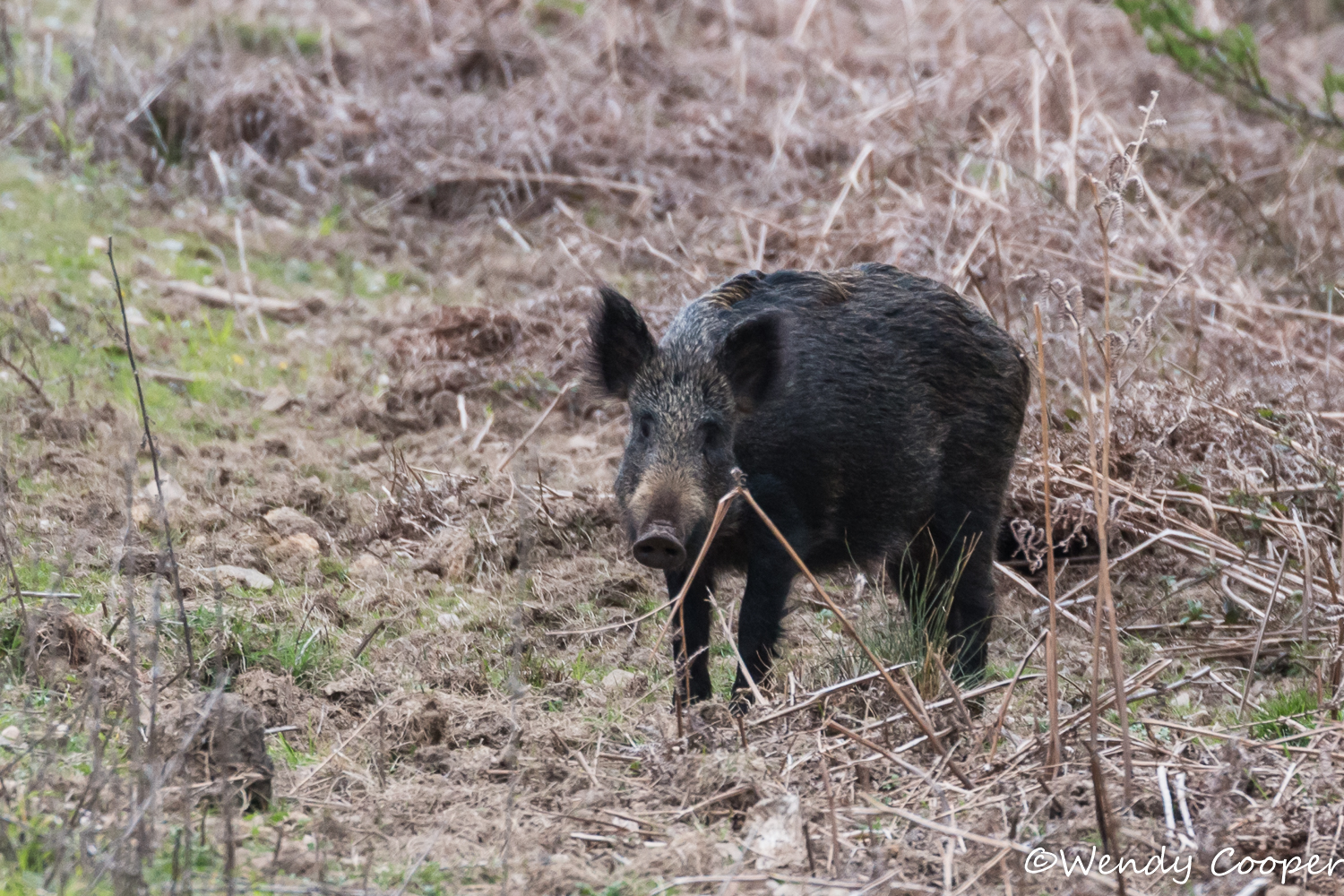 After peering in our direction, it ventured a little further out into the open,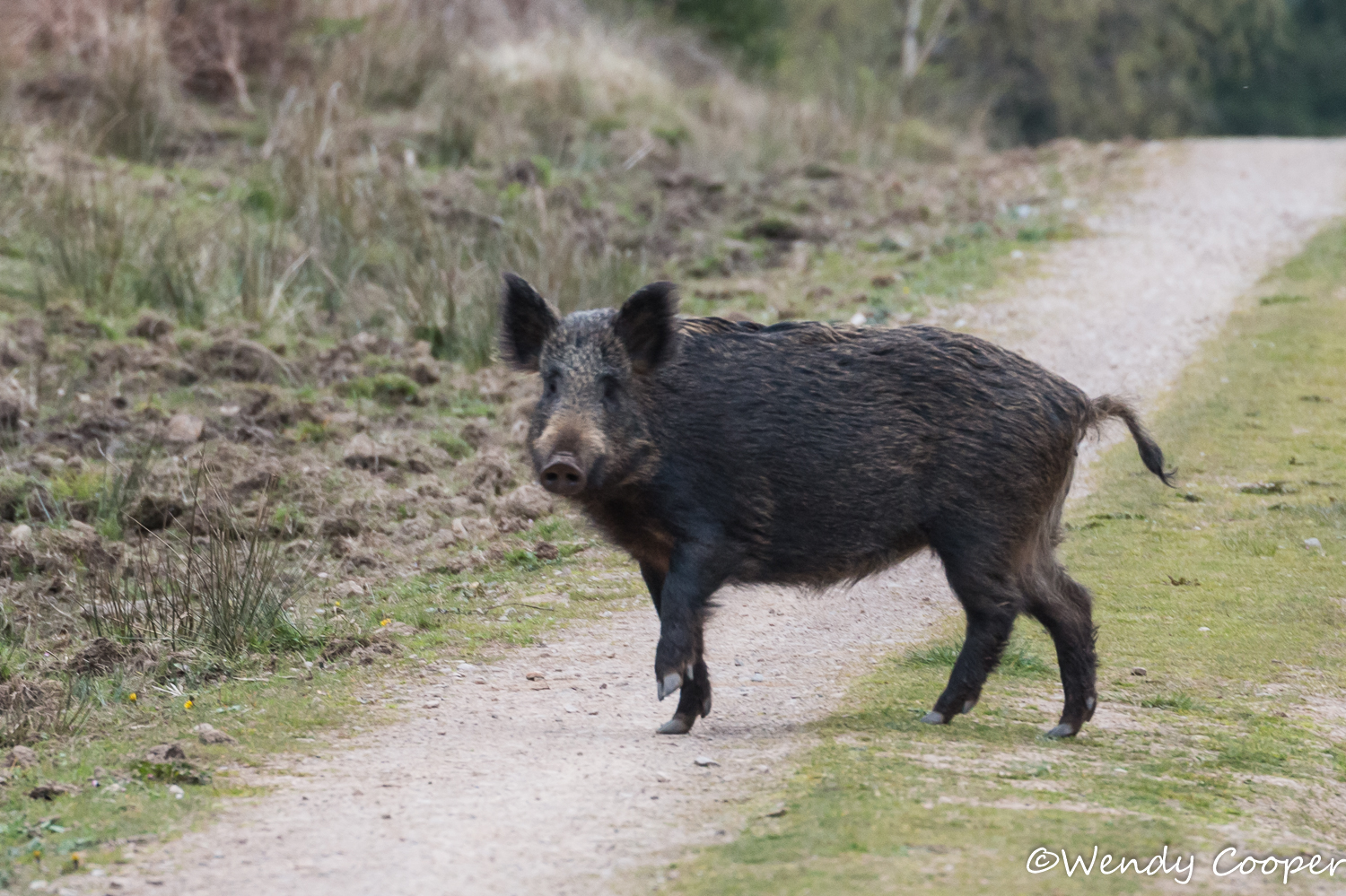 Where it paused, slightly uncertainly as it must have heard the camera. A sort of step towards us, pause, turn and peer more closely...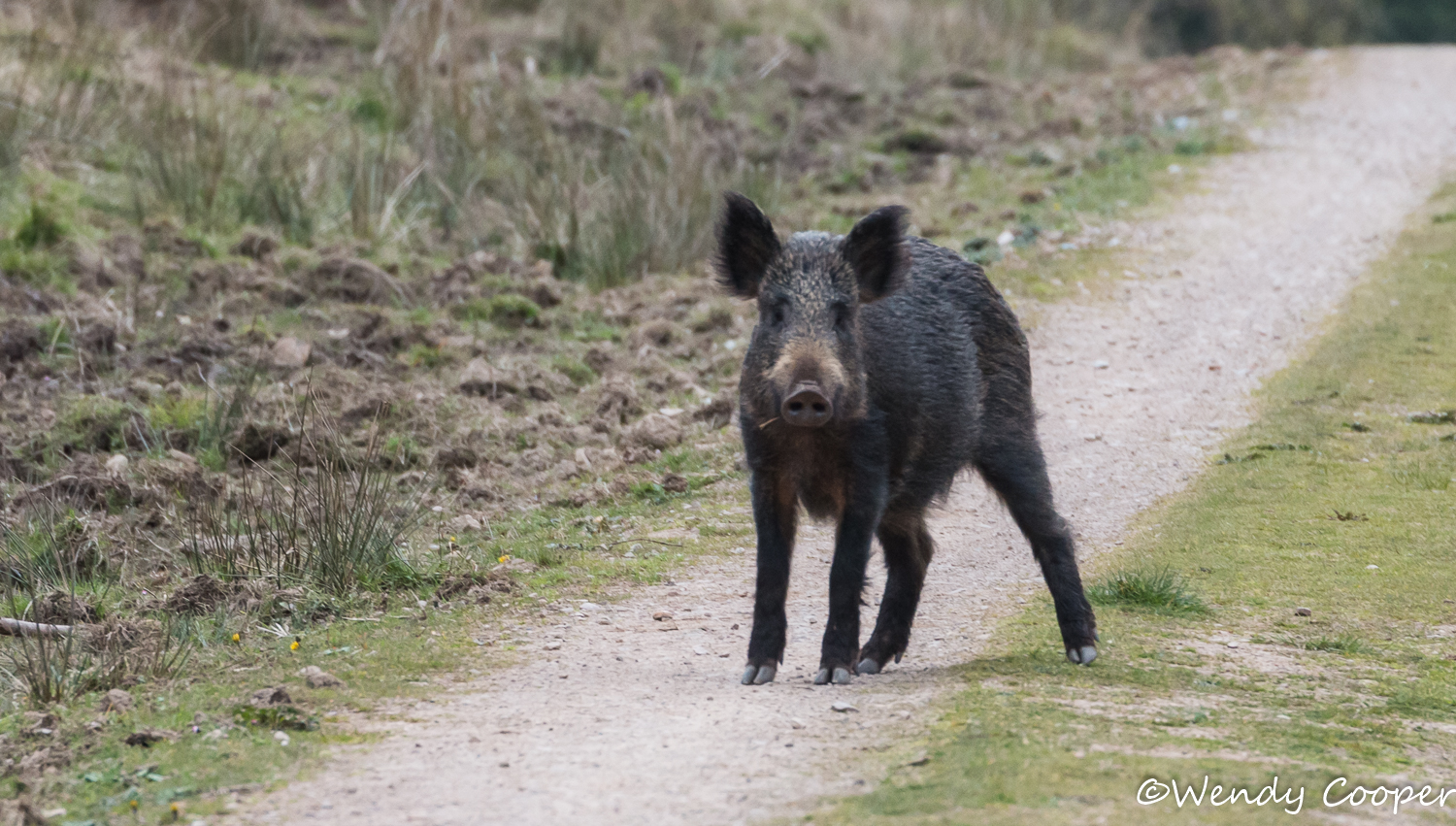 and decision made, it shot off into the undergrowth the other side of the track. A few magic moments, at having such a brilliant view of one of these animals.
On another of our sorties, we had a slightly closer encounter as an adult emerged from the bracken, looking for all the world as if it had just awoken and was about to have a look around for a meal.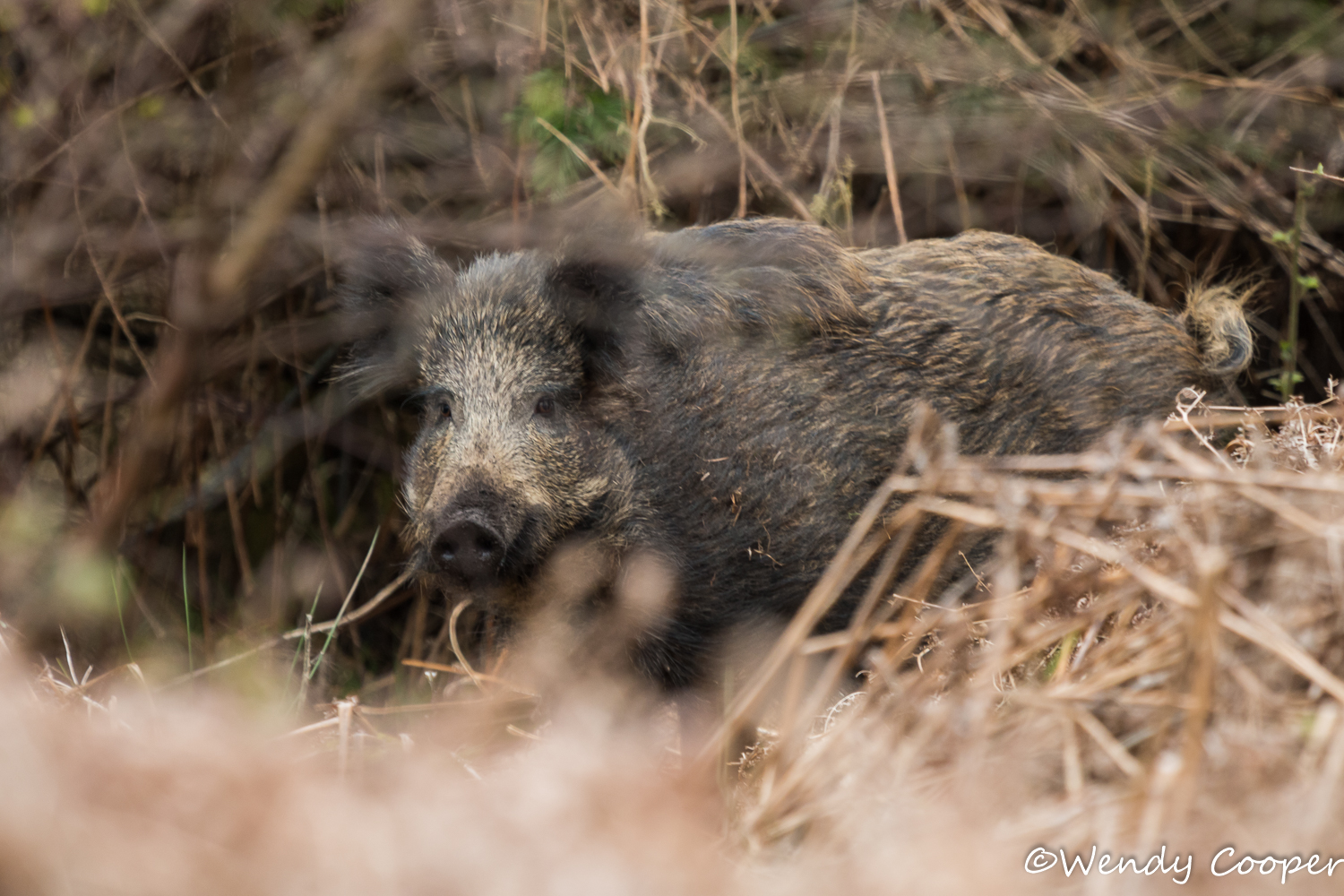 That was a much closer view, six or seven metres away at the edge of the track, however, there was no aggression from the Boar, it simply gazed inquisitively at us before silently morphing back into the bracken and pine trees.
Whilst we didn't get to see a sounder, with Mum's and Humbugs (the young are ginger and stripey) we did catch a glimpse through the trees and vegetation of a Sow, another adult and just about under the trees, a little glimpse of ginger and stripes. We were absolutely delighted with the views that we did manage and were in 'silly grin' mode each time and just looking at the photo's takes me right back to being there with priviledged views.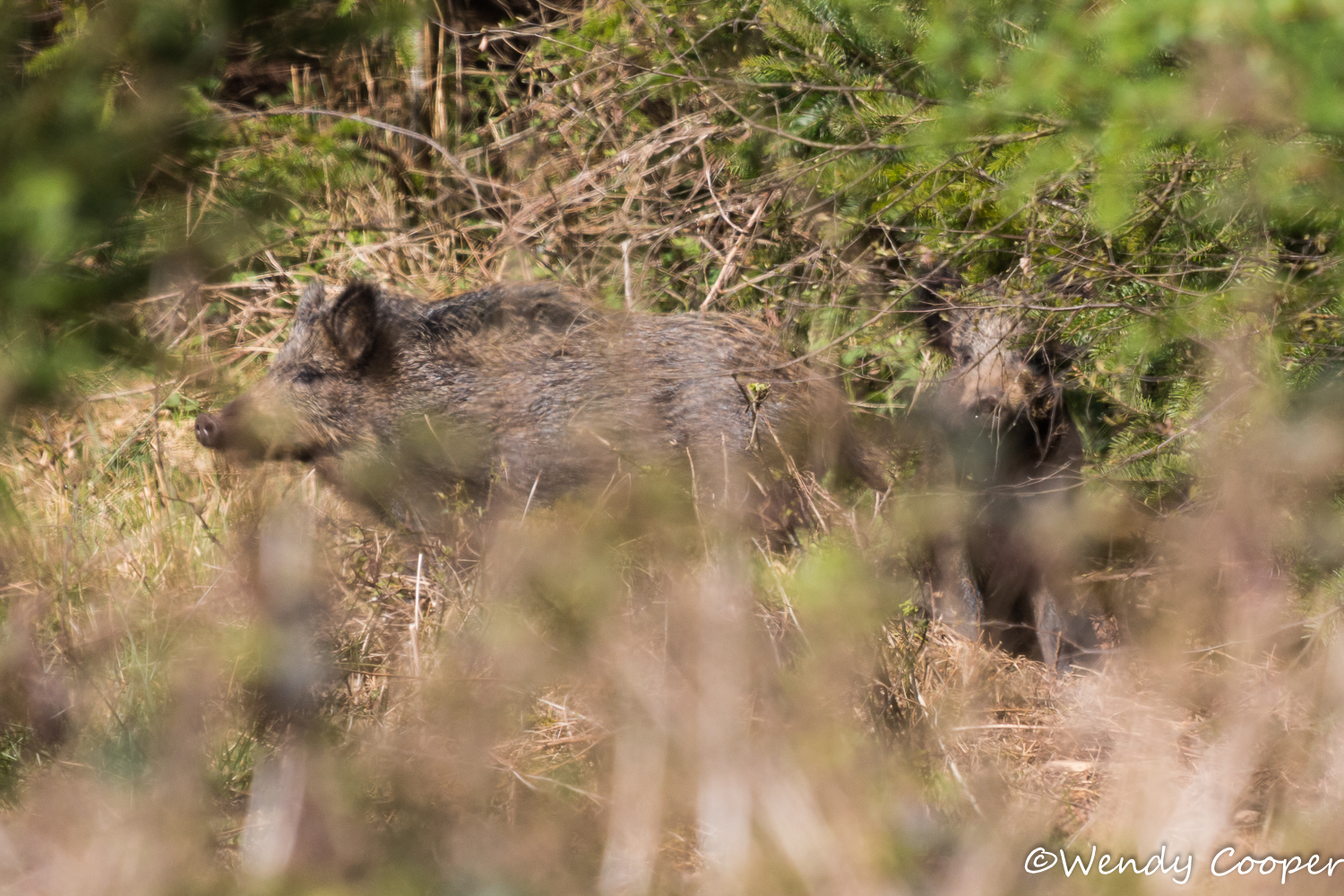 Another place we like to visit is New Fancy, which is a watchpoint created from the spoil of the old mineworks there. We have previously had a wander around near the old mine works, however for a quick visit, we went up to the watchpoint - sometimes it can give good views of raptors, but also gives a stunning panoramic view over the treetops of the surrounding forest. On this particular visit, we were treated to a flyby from one of the local Buzzards,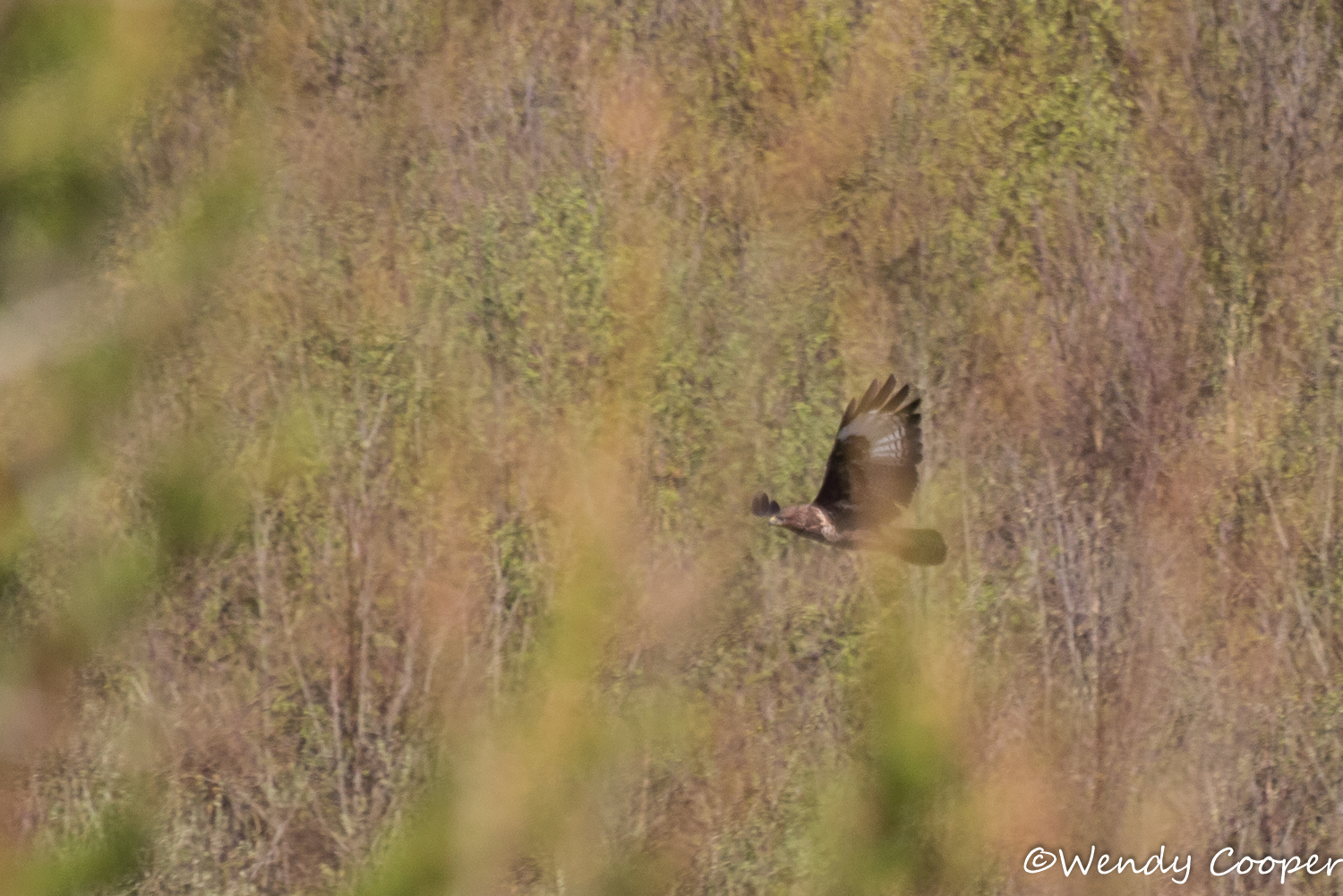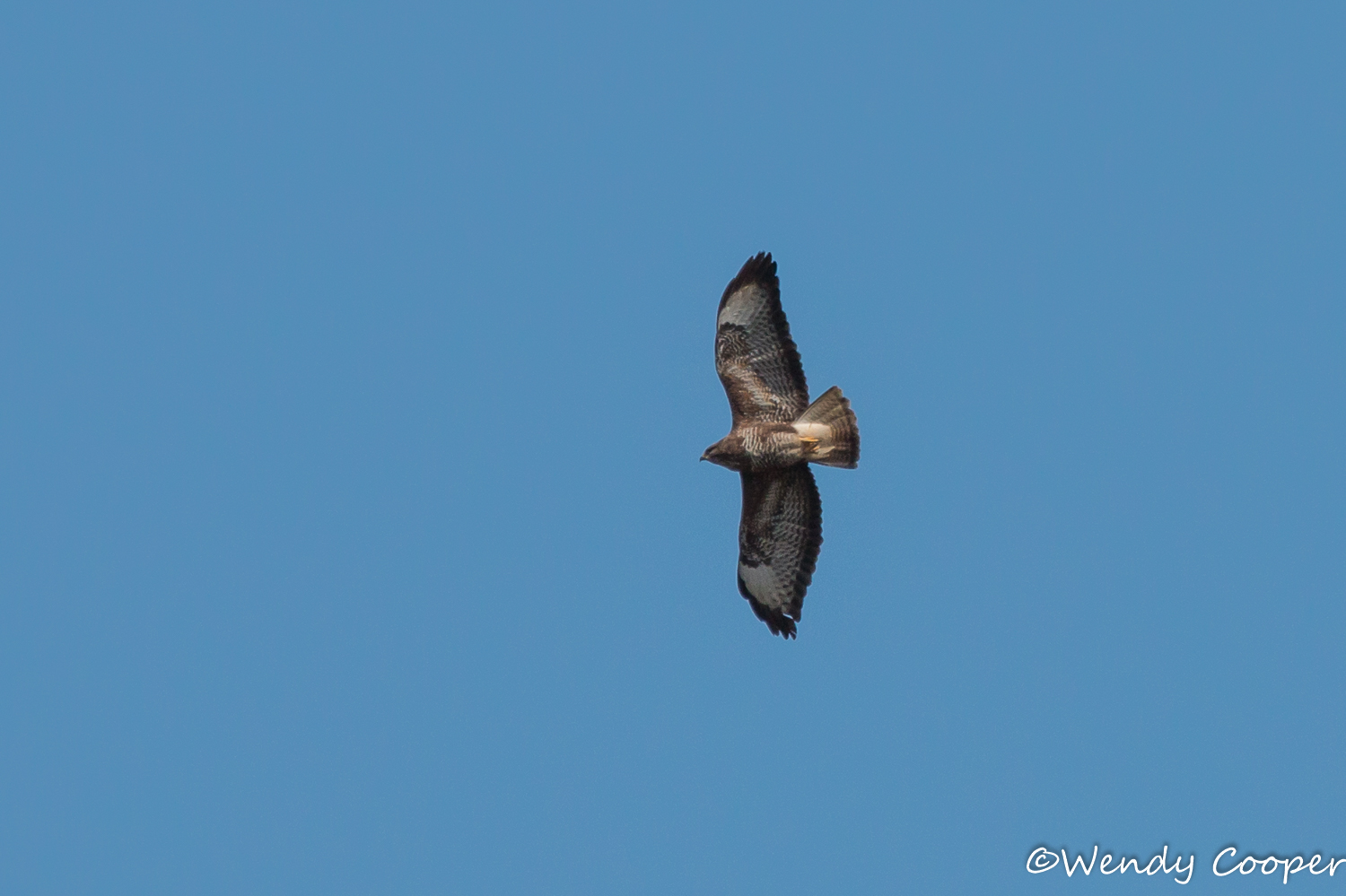 As well as an incredibly distant view of a Goshawk over the ridge of a hill in the direction of Staple Edge. Whilst we were there, we also had a careful look about in the vegetation for Adders - we saw our first ones there last year, however were unlucky as none were seen on this occasion.
Our final visit was to Wenchford , another Forestry Commission site, with a brook, open area and bordered by some lovely, albeit steep woodland. We chose to walk the 'there and back again' route along the length of it, enjoying seeing and hearing a variety of our smaller birds as we did so.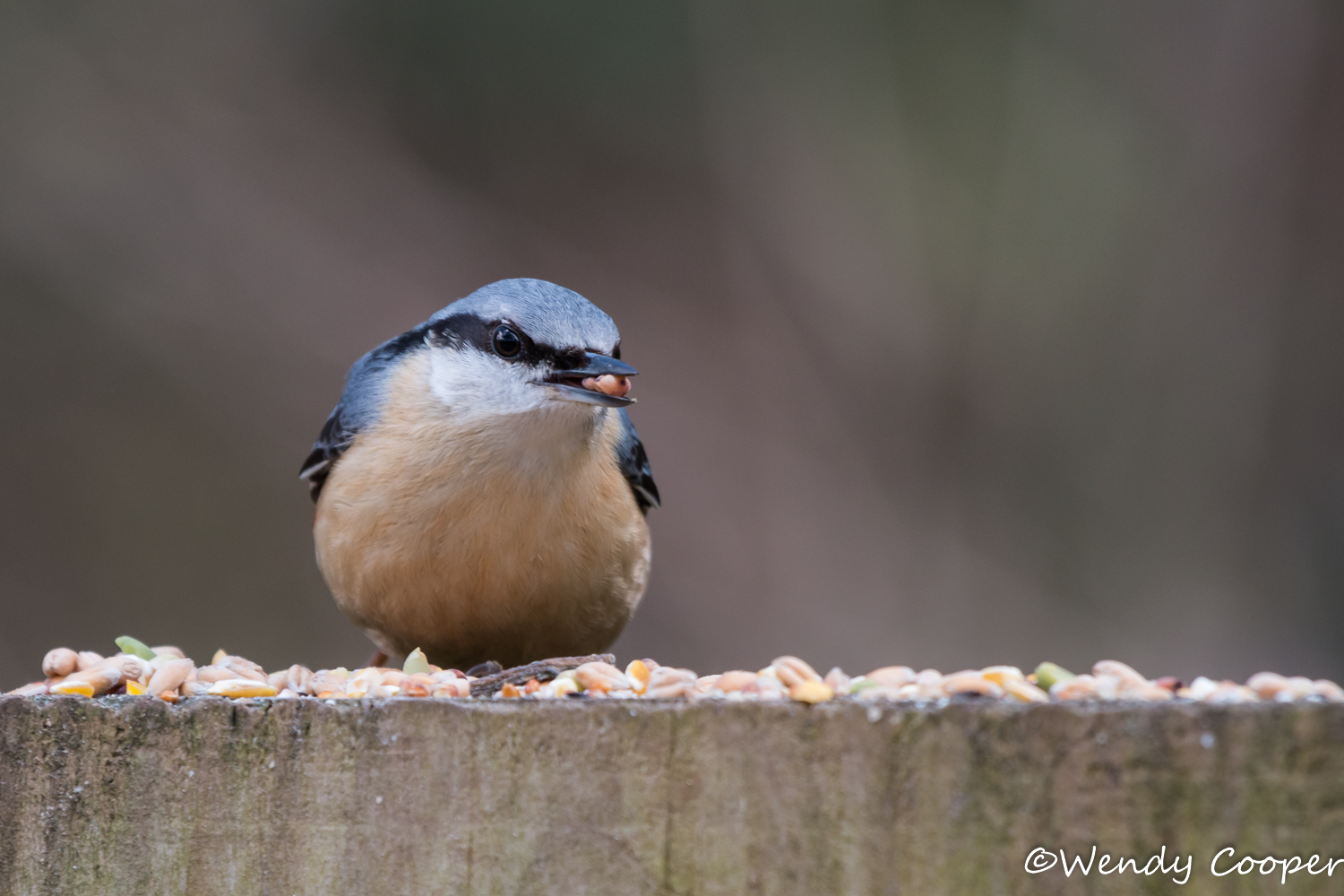 As we arrived, a Lady was putting out birdseed in quite a few spots and the birds were certainly taking advantage, Blue Tits, Nuthatches and Chaffinches were taking seed from one spot close to us.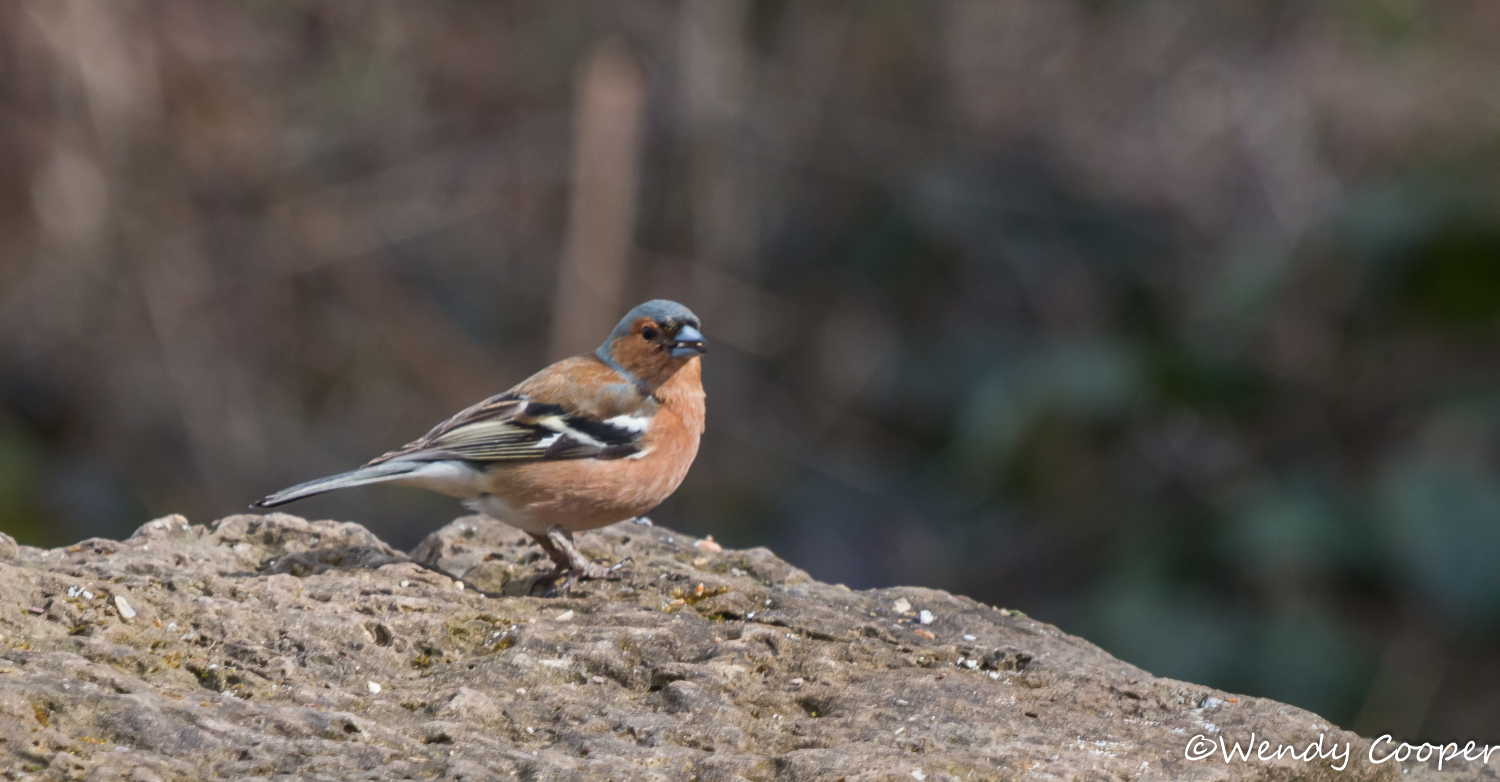 Along the edge of the woodland, Great Tits were hopping about in the branches...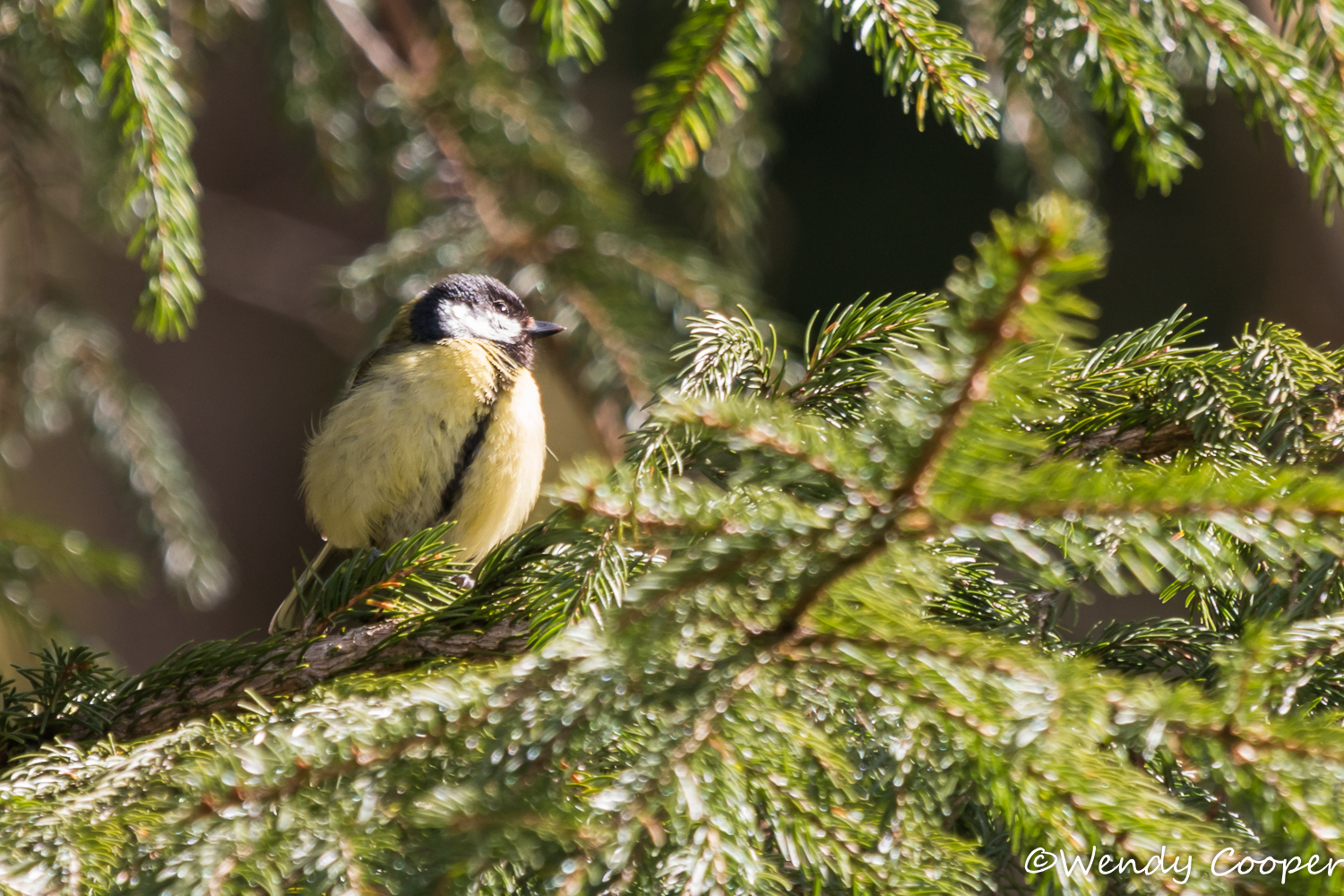 And after a while of listening and peering through the branches I managed to spot a favourite songster, another Blackcap.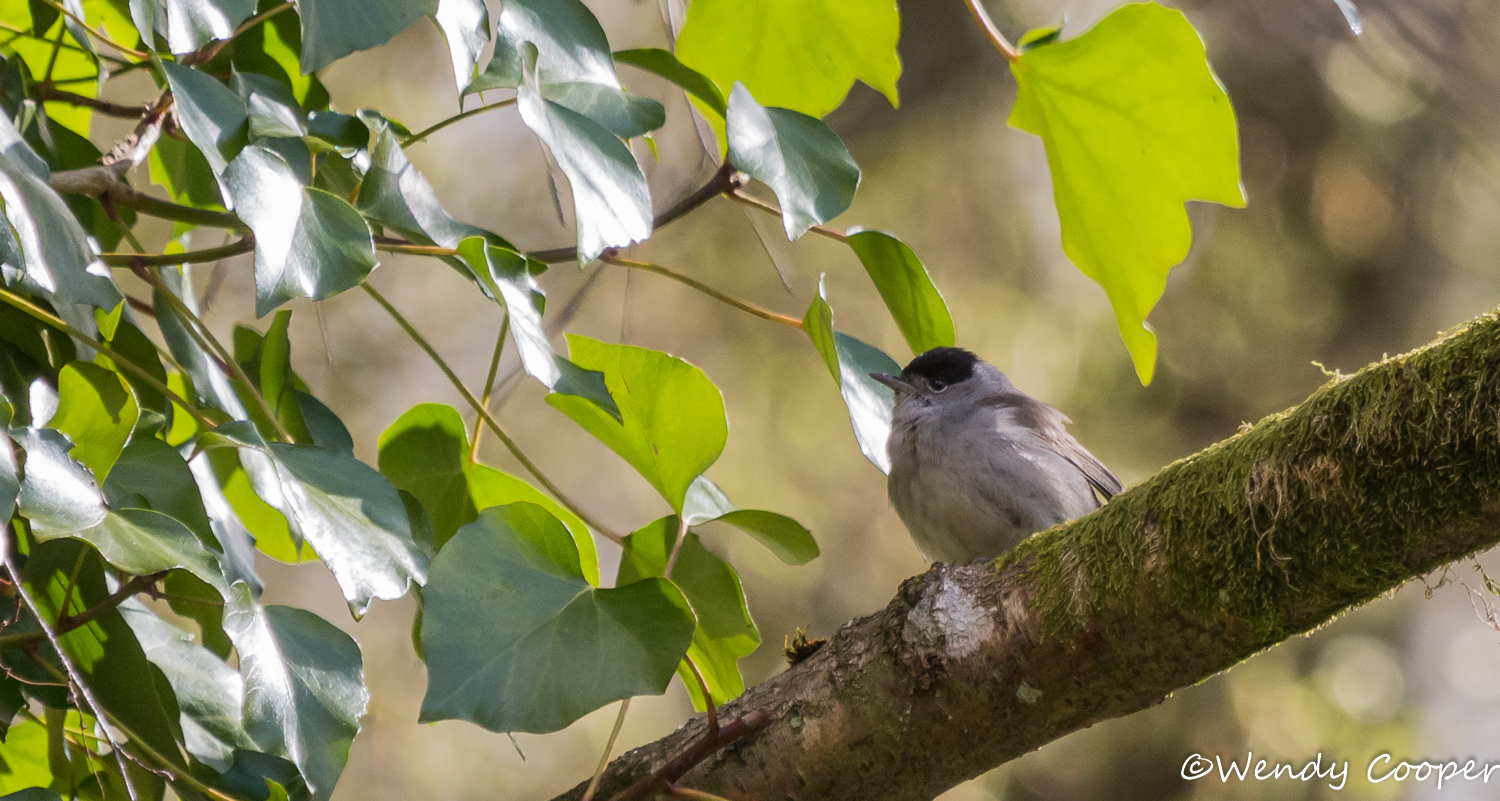 Whilst on our return walk, we had a sit at one of the picnic tables and watched a Blue Tit and Coal Tit collecting titbits from nearby.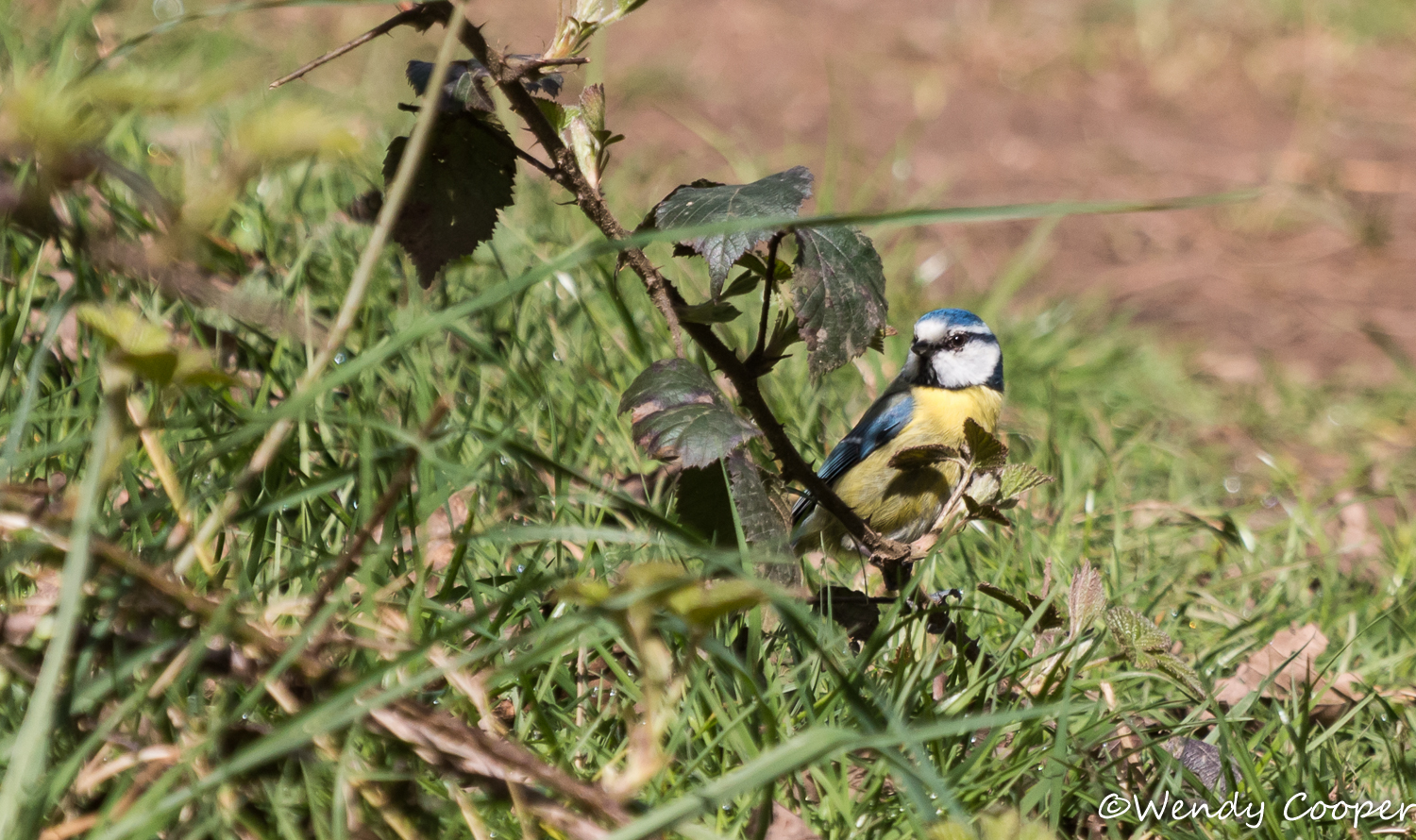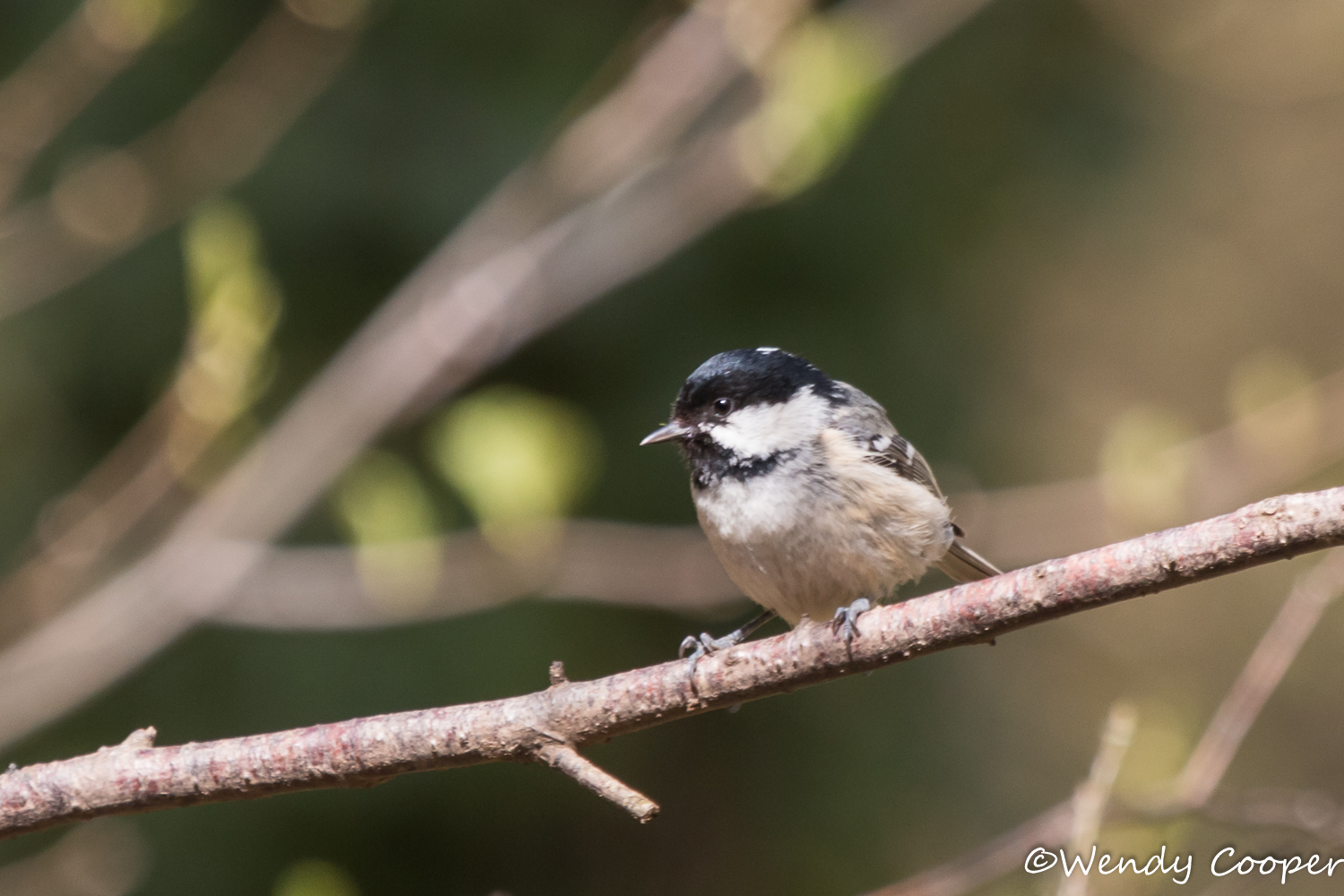 Our four days were over far too quickly, however, I would thoroughly recommend a visit to the area, whether for walking, cycling or just for exploring - it is just one of the most beautiful places to be outside in, whatever the time of year!
I hope you have enjoyed my blog, if you would like an email notification when my next blog is published, please add your email address to the 'Sign Up' box below.
As always, comments, feedback or questions are welcome, so please feel free to contact me via the comments section below or via the guestbook.
Comments