A Bumble around Burwell...
18/11/2017 - 16:40
Well the other day I decided that a trip out off my Local Patch was in order, so I took myself off to Burwell Fen for a bit more of a walk than I have had on previous visits.
It was a bright and sunny, albeit chilly start to the morning, with a bit of a knifelike breeze, however as I set off from the visitor center car park up at Wicken, I soon warmed up. It was a glorious morning! As I walked along the lane, I passed the Fen cottages, where I was greeted (and inspected by) the little flock of House Sparrows that flit between the gardens there. Most were hopping from branch to branch or bush to bush, however this smart fellow paused for a moment or two.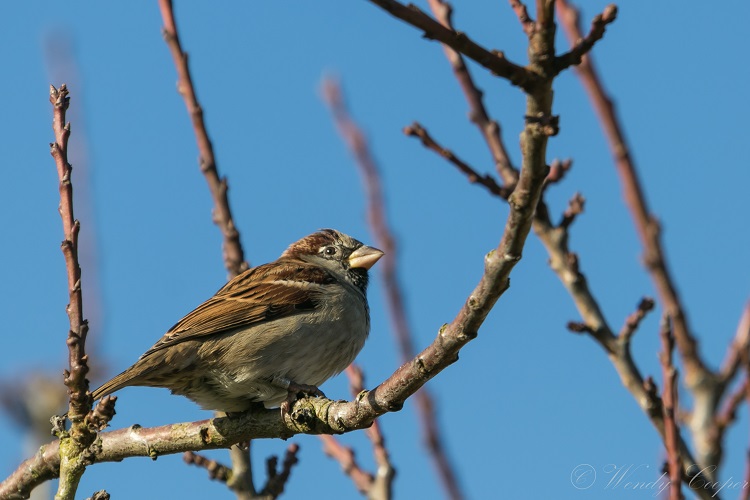 Wandering along by the lode, I could hear small birds chattering and a way off hear Jackdaws and geese having 'Monday Morning' discussions. Now and then I could hear Wrens declaring whilst remaining out of sight down in the vegetation. The Lode was smooth as a mirror and reflecting the blue sky.
Crossing the bridge and turning left, I could see a juvenile Mute Swan (not quite in the snowy white garb of an adult) tugging away furiously at the weed in the bottom of the lode. It was right next to the bank, such were it's exertions, it had even managed to end up wearing strands of whatever it was pulling up across it's back; after a few duckings however that soon washed off.
At the corner, I was greeted by one of the local Crows atop the tree, so I turned right along the path after spending a few minutes watching the host of Greylag Geese amongst the grasses at the edge of the water.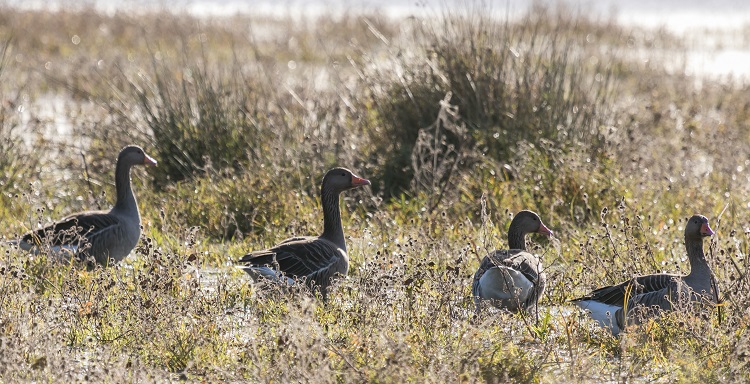 There was a fairly sizeable group of them, with smaller ducks mixed in, gradually they collected themselves together and moved down onto the water as one big group. They were continually chattering amongst themselves and throughout the day I could hear them from time to time when talks became a little heated or there was cause for alarm.
Having negotiated the cattle gate (it gets a bit slippy) I walked westwards toward Burwell. This path is bordered by sallow and reeds, with Baker's Fen to the left and reedbeds backing on the East and West hides on the right.
Far across Bakers Fen I could see a little group of Wigeon having a morning snoozing and preening session, whilst as I walked, I could hear squealing from the reeds - a Water Rail! I stopped for quite some time, peering along the edges in the hope of a glimpse, but whilst I heard at least one more along this section, they were staying true to form and out of sight.
From time to time the 'chack chack' of Fieldfares could be heard, either from within the trees or as small flocks flew past. Across Bakers Fen I could see the occasional Crow and now and then a small flight of ducks (Teal) as they chose better spots for foraging or for doing 'duck' things.
Ahead of me and against the sun was a single spot, fluttering and holding it's own in the breeze - a Kestrel on the hover over the grassy parts of the Fen. As it surveyed the ground beneath it, I walked and watched and walked and watched... until eventually it swooped down onto something on the ground, it must have been a 'miss' however as it soon was up again and hovering a lot further off.
Turning down Harrison's Drove, I decided to stop in at the little hide. Once settled, I sat and watched the antics of an adult and a juvenile Pied Wagtail as they fluttered, hopped and foraged on the water weeds and clumps of sod in the shallow water.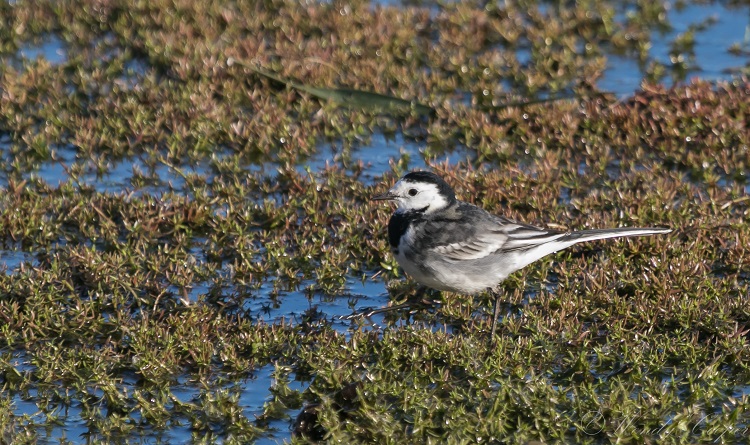 The adult bird, (above) led by example, with Junior following and foraging after the adult bird and occasionally pausing to admire it's reflection in the water!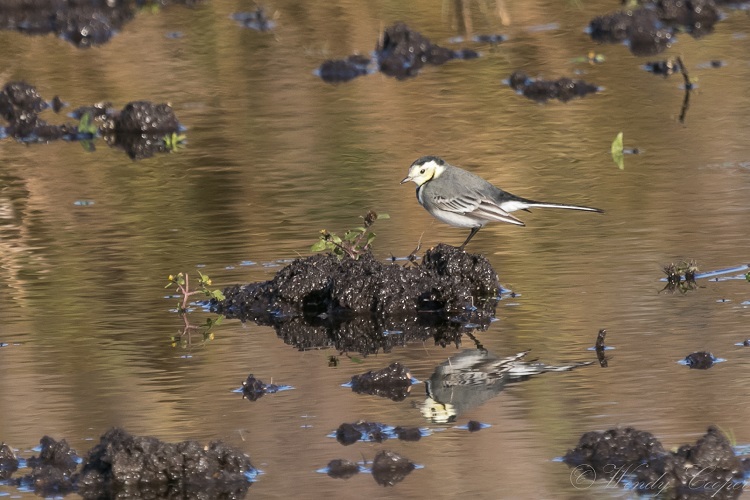 Further out across the water, amidst an area of water weeds, I could see a mixed group of duck - Teal, Gadwall, Wigeon and Shelduck all resting and preening. Someone must have caused alarm however, as at one point, the Lapwings amongst them took to the air in a bit of a panic before settling down again.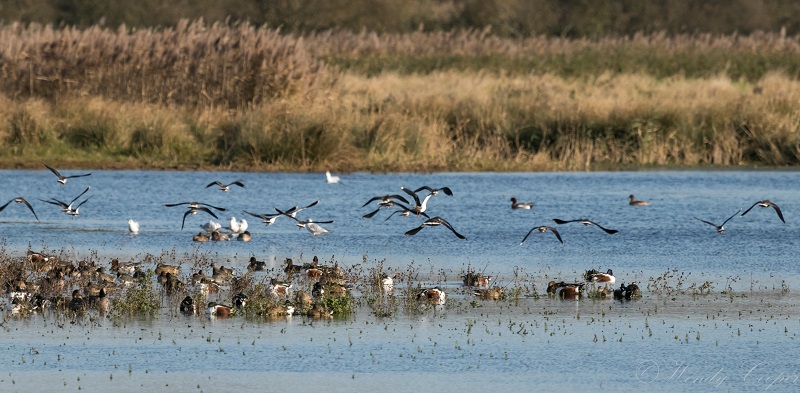 As I watched the Wagtails, I saw a small blonde bird flit up into the reeds behind.. it was a female Reed Bunting. She sat there watching back, whilst keeping a good lookout from time to time, before disappearing deeper into the reeds. Just in front of the hide, two female and one very smart male Teal were having a good dabble, whilst a little further off a pair of male Gadwall were also doing the same.
From deep within the reeds to the right, there was a definite 'ping ping' calling heard. Suddenly, in a loop out over the water, a fleeting glimpse of a tiny red-gold bird. A few moments later, a smart male Bearded Reedling flit onto a reedstem in front of the hide, before disappearing off deep undercover again.
Continuing my walk, ahead of me and against the sun, I could see another Kestrel hovering closeby. I stopped to watch for some while - a close view of these birds is a real treat! After a while I also chanced a few shots (well quite a few actually!) and ended up with some rather 'high key' ones which I rather liked. (still a bit of refinement needed on technique, but hey :) )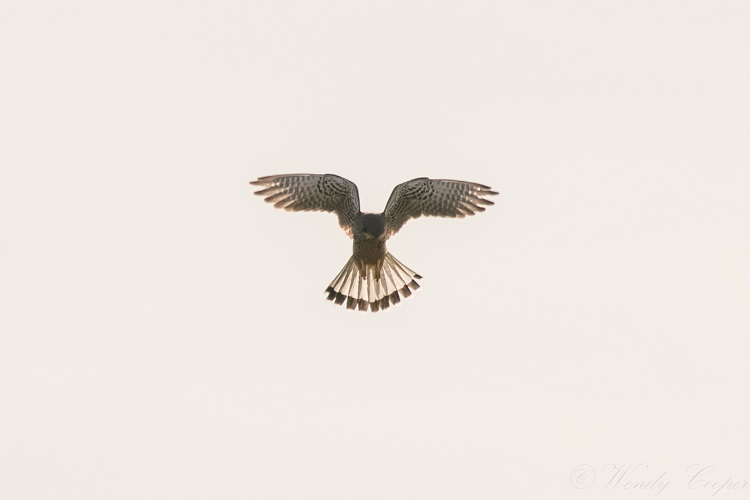 Arty moment over, I wandered on when I heard a distinctive 'whoop whoop' chant across the fen. Figuring out the direction, I realised it was from across Burwell Fen, so sorted out the camera... sure enough I'd recognised the sound correctly, a small group of Whooper Swans were flying across above me.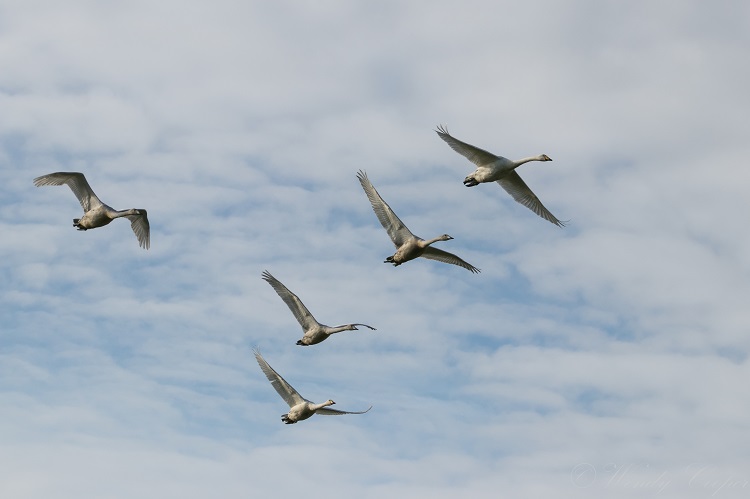 Whooper Swans are generally winter visitors from Iceland, so this little group had already had quite a journey. They were the first of a few groups I saw and heard throughout my day.
Watching them head off over Bakers Fen, I could hear a small voice in the reeds next to me. Peering along the reeds, a little blonde face was peering coyly back at me. A female Reed Bunting, breakfasting on the reedheads and keeping a shy eye on me too.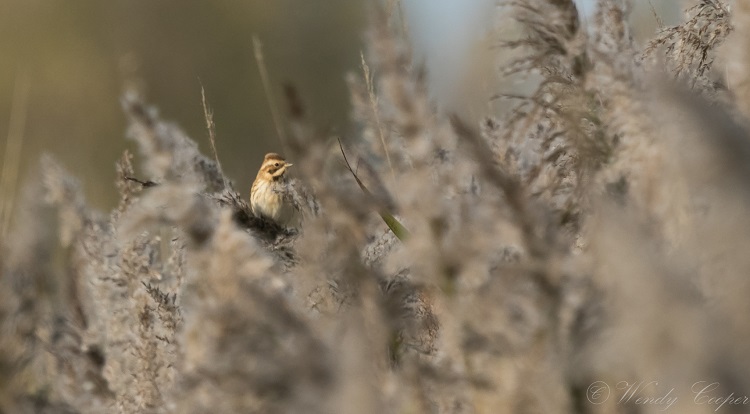 After a while she flew further along the reeds and out of sight, so I continued along the drove, hearing Geese to my left and the occasional chatter overhead of passing Fieldfares. Crossing the cycle bridge, I paused at the top to enjoy the view out across Burwell Fen.
This time of year it is all tones of green and various blondes as the vegetation dries out or stays lush. The Konik ponies were all busy grazing and far off in the distance I could also see some of the Highland cattle as they were munching their way around.
Sun on my face and the cold breeze dropping, I decided to take the middle path across the Fen. Ahead of me I could see three Little Egrets along the ditch, occasionally flying up and along as one or other of them infringed on another's space. After a little while, irritated by the disturbancecs they were making, a Grey Heron floated up out the ditch with a grumpy croak and headed off across the Fen.
Every now and then small charms of Gold finches fluttered across the remaining teasels and grasses and from time to time there would be a small swirl of Starlings overhead. Looking ahead of me along the fence, one of the little groups of Starlings had all perched on a row along the fence...

With the song ' ten green bottles' in my head, I stood and watched them chattering and preening before they took off again.
Continuing across the Fen, it was quite quiet, just the Little Egrets passing overhead, a few gulls or Swans in the distance and an occasionaly fluttering far off speck of a Kestrel. On reaching the far end and the Lodes Way bridge, A Kestrel took off from one of the trees and flew west.
Lunch was in order, so I looked for somewhere to sit and headed under the bridge, as I did so, something on the ground caught my eye, a HUGE freshwater mussel in a puddle. Well, this bivalve was as big as my hand! I carefully picked it up and looked it over. Apart fron a small scraped area on it's shell, it seemed in perfect condition, so I decided to put it back in the Lode nearby. (completely forgot to take a record shot in my surprise!) I think that most likely it came to be there after a Gull or other predator had retrieved it, however whoever it was must have been disturbed as lunch was abandoned!
After a bite to eat, I started walking again, to be greeted first on this path by a very dapper male Chaffinch for a few moments.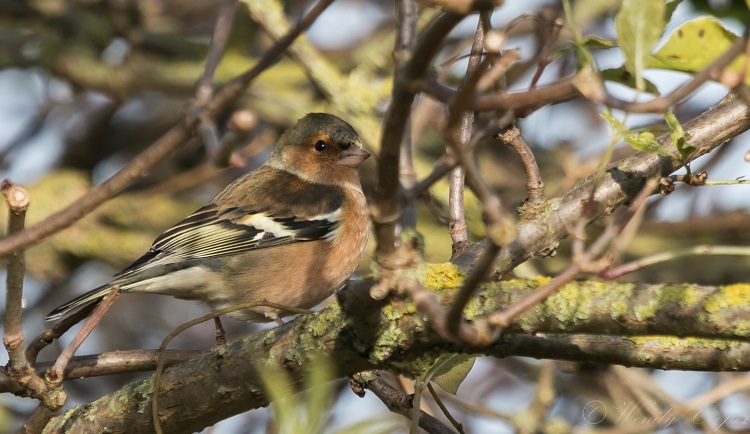 After posing very nicely for me, he went off about his business, however, next tree along and I was greeted by a cheeky Blue Tit!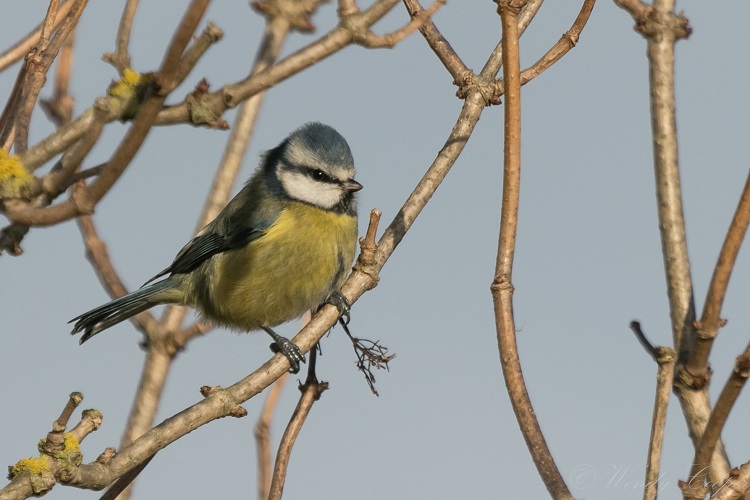 After a few moments mutual appreciation, I wandered on, watching out to my left - across to the path I had come along. Some way off I could see one of the Kestrels which holds court over this area, then I could see a pair of ears out in the grasses, looking through the binoculars, I could see the ears belonged to a female Roe Deer.
I watched for a while and gradually five females cautiously emerged from where they had been resting - I had walked straight past them earlier (and being vertically challanged) had not seem them amongst the vegetation - next time I wll be looking more carefully!
Anyway, my wait was rewarded with a group view...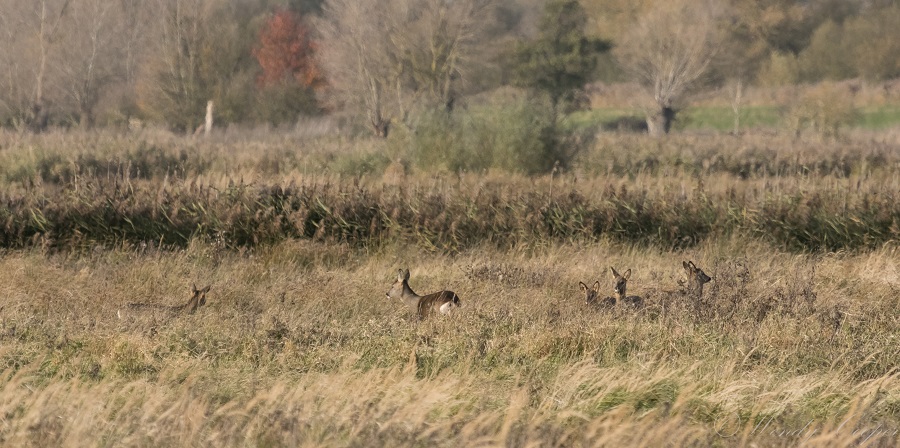 Just the other side of the fence, were a couple of shallow pools and I was distracted from watching the deer as I heard the tinkling song of Goldfinches. First they landed at the edge of one pool, before deciding that the next one along was better for a drink and gossip amongst themselves.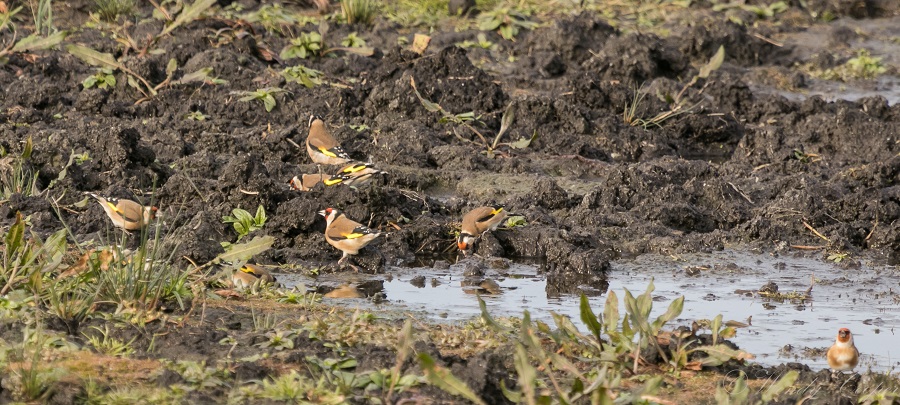 They made quite a colourful sight against the black earth and remaining greenery. Looking out across to where the deer were, the ladies had dispersed somewhat to graze. One pair were at the edge on a bank of grasses and nettles, but seemed distracted. The reason for their distraction became clearer as a rather handsome male emerged from the vegetation as well and stood nearby them.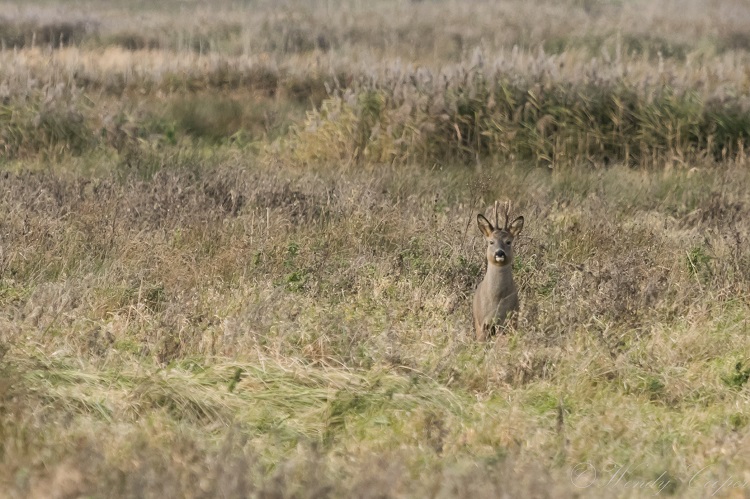 As I watched the Buck and Does gradually morphed back into the vegetation and I wandered along the path a little further.
Along the southern side, looking out towards Burwell, there is a ditch with reeds and the remains of hogweed stems along it. From down in the ditch I heard a fanfare from a Wren, so paused to see if I could see this one (there had been quite a few previous pauses along my route as I heard but failed to spot them!). Sure enough, at the junction with another ditch, a feisty chestnut coloured Wren was foraging around.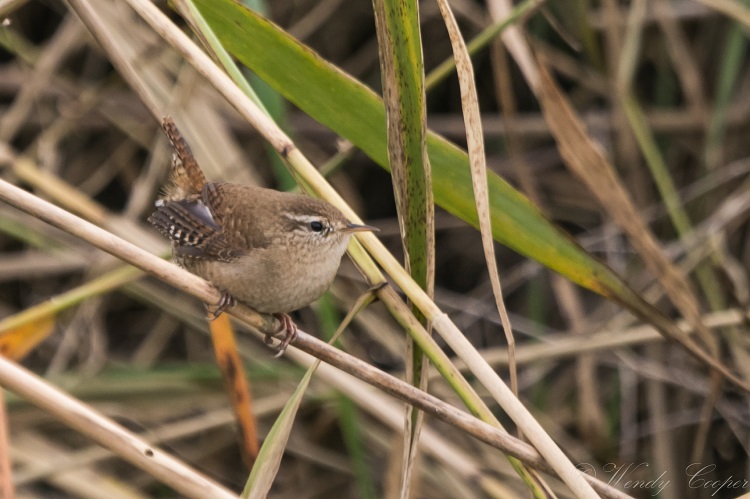 After a few moments it disappeared back into the vegetation and I wandered on. Up ahead of me I could see a small dot atop some brittle Common Hogweed. Slowing my pace, as the bird seemed quite skitty, I could see it was a female Stonechat. After watching her flit on and off the fence, out onto some of the taller plants in the neighbouring field, eventually she settled long enough for me to get some very nice views of her.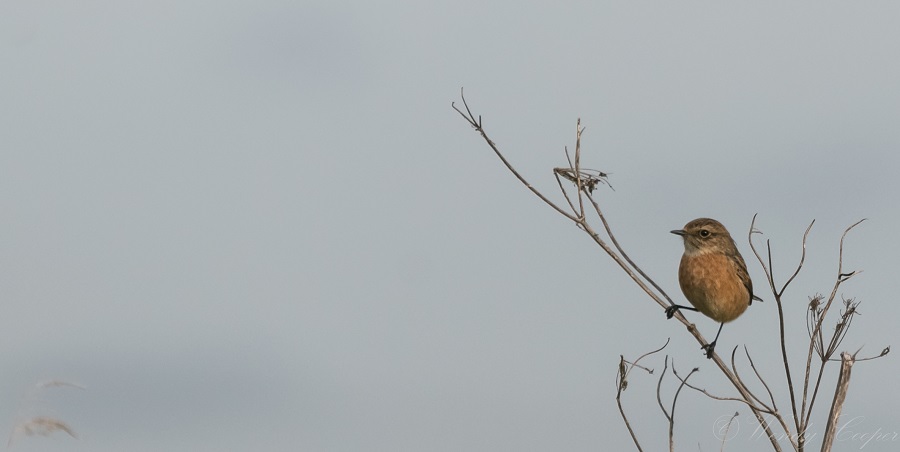 Progressing along the footpath, I could see that Kestrel again and when I reached the 'crossroads' I could see him perched some way down along the fence.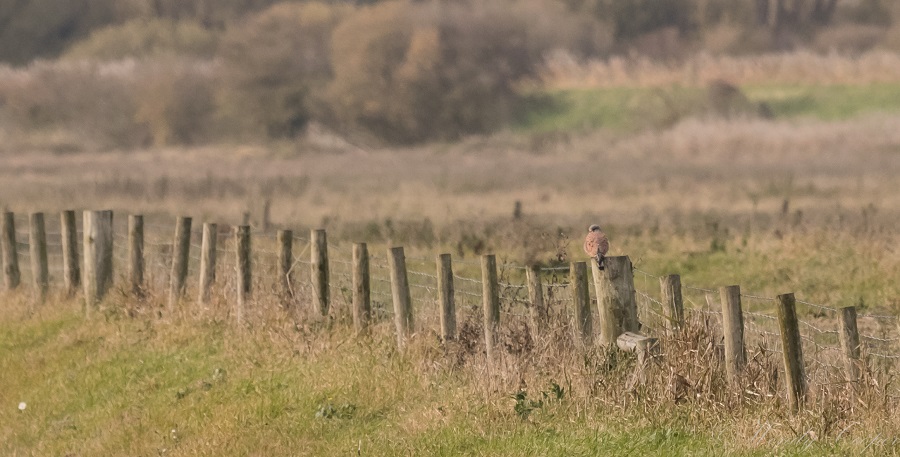 As there was plenty of time before sundown, I decided to sit a while and just take in the view.. The Kestrel watched me back and I watched a distant male Marsh Harrier quartering and the Konik ponies grazing towards the cycle bridge.
Occasionally there would be a flyby from a Little Egret or Heron and I had glimpses of little flocks of Starlings or charms or Goldfinches as they flew around. It was lovely sitting in the sunshine - that breeze had dropped to nothing. Behind me I could hear a little voice, so scanned along the reeds bordering the ditch. I was being kept company by a very smart male Reed Bunting.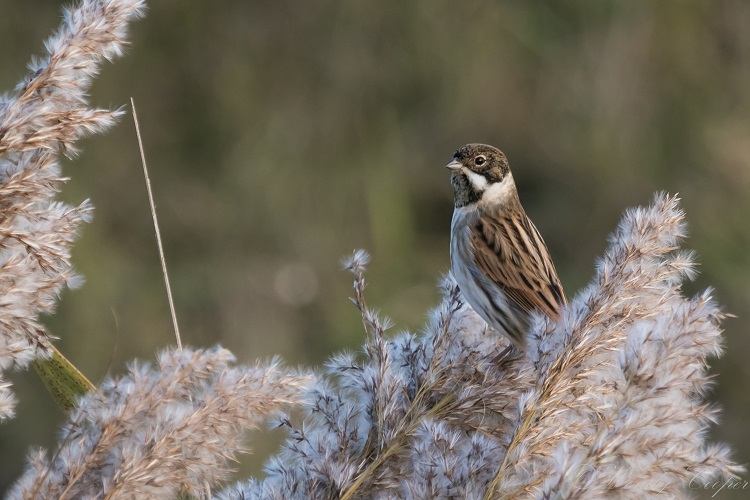 He watched me and also fed on the reedhead for a while, before flying off further along the ditch in search of a further meal.
A passing dog-walker got chatting to me and asked what I'd seen. As we were talking, a Short Eared Owl rose out of the grass some way off and was busy seeing off a Crow. I have to admit I was somewhat distracted from the conversation, however, excusing my self, I managed to grab a couple of shots and was delighted when I saw this!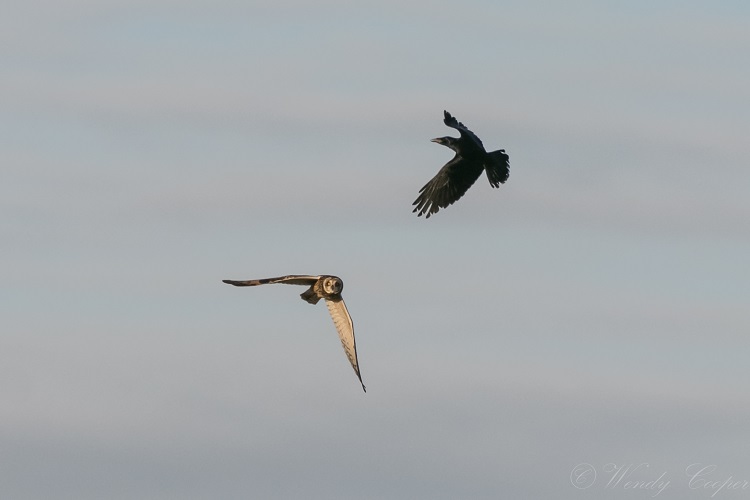 After the walker had continued on his way, I spent a while trying to see where the Owl had gone. After a few moments I spied him high above me, drifting west. I decided to head back in the same direction and eventually saw the Owl quartering, gradually flying back towards where it had emerged from. The light was not great, however I and a couple of other birdwatchers had some lovely views of the bird as it hunted, occasionally disappearing into the grasses, before skimming the tops again.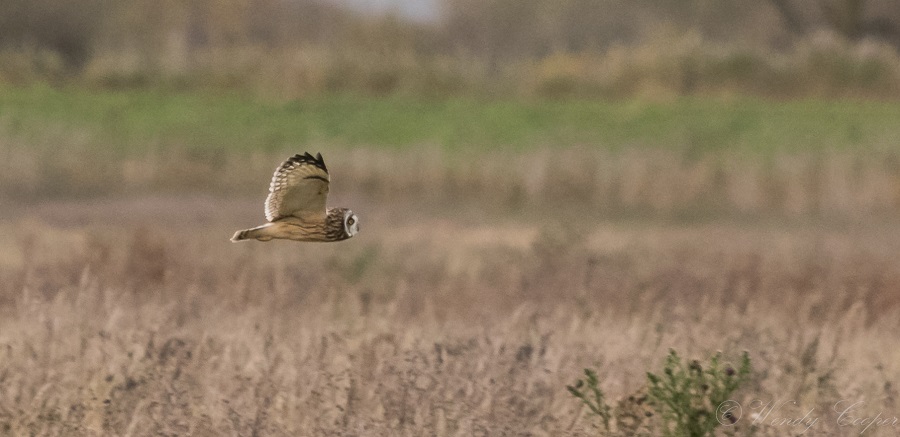 With the light beginning to fade rapidly, I began the return leg of my journey, seeing Whooper Swans and a Barn Owl from the cycle bridge and watching an incredible sky as the daylight finally went.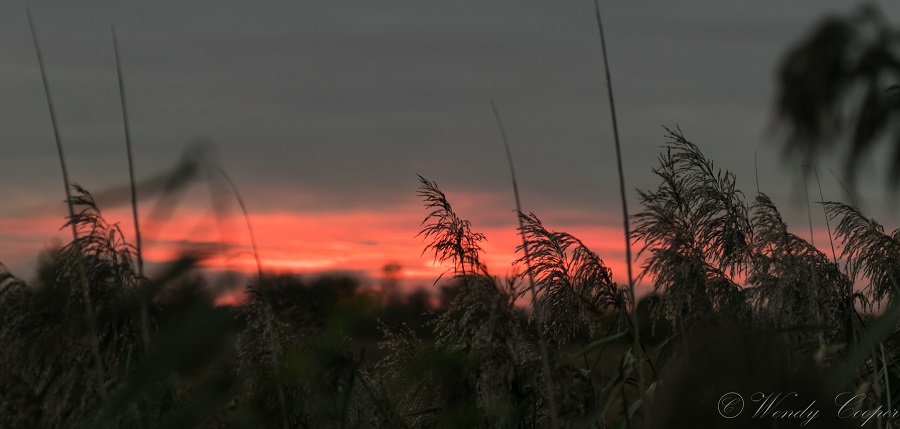 My walk back to the visitor centre car park gave me birdcalls to listen to (who needs an ipod outdoors?) and wonderful views of a huge flock of jackdaws as they took to the air, almost murmerating as they flew before settling to roost. The Greylag Geese I watched in the morning also took off as one for a circuit and I could still hear the Water Rail down in the Reeds as it called goodnight!
Home with a silly grin on my face - a good start to the week!
I hope you have enjoyed my blog, if you would like an email notification when my next blog is published, please add your email address to the 'Sign Up' box below, you will then receive an email where you can confirm your subscription!
As always, comments, feedback or questions are welcome, so please feel free to contact me via the comments section below or via the guestbook.
Next
Comments